Culture, Politics, Ideology and Reproductive Health in Turkey
©2022
Edited Collection
184 Pages
Summary
The main objective of the book is to evaluate the impact of education
programs targeting women's reproductive health, initiated and sponsored
by Willows International. The book focuses on Turkey, and the
fi eldwork was carried out in Istanbul.
The analyses of Turkey's cultural values and their relation to reproductive
attitudes and behavior are a unique contribution based on the
fi ndings of a recent nationwide survey while the chapter on the historical
background of Turkey's family planning policies provides a useful
background to interpret the fi ndings from the field.
The book will serve as a reference and a useful resource for scholars and
policymakers interested in family planning and reproductive health in
Turkey as well as those with a broader and theoretical perspective.
Excerpt
Table Of Contents
Cover
Title
Copyright
About the editor
About the book
This eBook can be cited
Contents
Part One Culture and Politics of Fertility Behavior: The National Perspective
2. Cultural Values, Reproductive Health and Family Planning: The Turkish Case (Yilmaz Esmer)
3. Politics of Family Planning in Turkey: Ideological Polarization and Demographic Policies (Rahime Süleymanoğlu-Kürüm)
Part Two Dimensions of Fertility Behavior: An In-depth Study of a Multi-faceted and Controversial Issue
4. Studying the Impact of a Community-based Family Planning Intervention in Ghana, Pakistan, Tanzania and Turkey: Strengths and Challenges (Iqbal H. Shah)
5. Factors Influencing Reproductive Health Decision-Making (Duygu Karadon)
6. Ethnic and Regional Diversity in Family Planning Behaviors (Sarah Huber-Krum)
7. Associations between Women's Empowerment, Conservatism and Contraceptive Trends (Bahar Ayça Okçuoğlu, Sarah Huber-Krum)
8. Effect of Distance to, and Service Availability of, Health Facilities on Family Planning Use among Urban Turkish Women (Ryoko Sato)
9. Contraceptive Choices and Fertility Preferences (Julia Katherine Rohr)
←10 | 11→
Dr. Yılmaz Esmer is professor at Bahçeşehir University, Istanbul, Turkey. He has been the principal investigator for Turkey of the World Values Surveys since 1990. He is also a member of the TRU (Transformation Research Unit) research team based at Stellenbosch University in S. Africa. He has recently completed the latest values survey in Turkey and is the principal investigator of the project on reproductive health and family planning in collaboration with T. H. Chan School of Public Health of Harvard University. He has published extensively on comparative values, political culture, religion and politics, democratization, electoral behavior and, more recently, on political and affective polarization.
Dr. Sarah Huber-Krum completed a post-doctoral fellowship for the Willows Impact Evaluation Project at Harvard University's School of Public Health. Dr. Huber-Krum holds a PhD in Social Work, and an MSW and MPA from The Ohio State University. Her research focuses on global sexual and reproductive health, specifically the contributing factors to contraceptive nonuse and contraceptive decision making within social and structural contexts. She has collaborated on projects located in Malawi, Tanzania, Ghana, India, Nepal, Sri Lanka, Turkey, Pakistan and the U.S.
Duygu Karadon is a research assistant at Bahçeşehir University Center for Economic and Social Research (BETAM), Istanbul, Turkey. She received her B.A. in Sociology (Bahçeşehir University), M.A. in Sociology (Mimar Sinan Fine Arts University, Istanbul), and a second M.A. in Cinema-Television (Bahçeşehir University). She directed the fieldwork for the Turkish Values Survey (part of the World Values Survey, wave-7). She was the Senior Project Assistant and Project Manager for the "Implementation and Impact Evaluation of the Willows' Reproductive Health Programs in Ghana, Pakistan, Tanzania, and Turkey" (in cooperation with Harvard T. H. Chan School of Public Health). Her research interests include cultural studies, comparative values, electoral behavior, social stratification, and survey methodology.
Bahar Ayça Okçuoğlu is a doctoral candidate in Sociology at Koç University, Istanbul, Turkey. After completing her bachelor's degree in Sociology at Bahçeşehir University, she continued her studies at London School of Economics and Political Science where she received master's degree in European Studies. She ←11 | 12→worked as a research assistant at Bahçeşehir University's Center for Economic and Social Research for 5 years actively participating in several projects. Her academic interests include cultural values, identity and diaspora studies, and particularly Circassian diaspora.
Dr. Julia Katherine Rohr is an Epidemiologist and Research Scientist at the Harvard T.H. Chan School of Public Health. She has led research projects on the Post-Partum IUD Impact Evaluation study in Tanzania and the Willows Reproductive Health Impact Evaluation project in Turkey. She is currently the Project Director for the Health and Aging in Africa: A Longitudinal Study of an INDEPTH Community in South Africa (HAALSI) project. Dr. Rohr's background is in HIV treatment and sexual behavior. She holds a PhD in Epidemiology from Boston University, where she worked as a data analyst and project manager at the Center for Global Health and Development at the BU School of Public Health for studies in Kenya, South Africa and Uganda.
Dr. Ryoko Sato is a research associate at Harvard T.H. Chan School of Public Health and at Center for Health Decision Science. She is a development economist, interested in identifying barriers to and incentives for health behaviors in developing countries. She received a Ph.D. in Economics from University of Michigan in 2015. Her research focuses on three main areas: (1) Impact evaluation of health interventions on changes in health behaviors and outcomes through rigorous causal studies such as randomized controlled trials; (2) Evaluation of determinants of health behaviors, outcomes, and disparities; and (3) Cost-effectiveness analysis of health interventions.
Dr. Iqbal H. Shah is a Principal Research Scientist in the Department of Global Health and Population at the Harvard T. H. Chan School of Public Health. He was the Principal Investigator of two multi-country studies: (1) Studying the Impact and Performance of Institutionalizing Immediate Postpartum IUD Services as a Routine Part of Antenatal Counselling and Delivery Room Services in Nepal, Sri Lanka and Tanzania; and (2) Implementation and Impact Evaluation of the Willows' Reproductive Health Programs in Ghana, Pakistan, Tanzania, and Turkey. From 1985 to 2012, Dr. Shah worked in the Department of Reproductive Health and Research (RHR) and the Special Programme in Human Reproduction (HRP) at the World Health Organization (WHO) in Geneva, Switzerland. At WHO, Dr. Shah was responsible for research and research capacity-building activities in Social Science and Operations Research in sexual and reproductive health and coordinating the team on Preventing ←12 | 13→Unsafe Abortion. In 2016, he received The Marjorie C. Horn Operations Research Award from USAID in recognition of dedicated efforts "to building the capacity of social science researchers in developing countries, generating and utilizing research for policy development, and improving the lives of women and girls through better access to reproductive health care".
Dr. Rahime Süleymanoğlu-Kürüm is an associate professor in the Department of Political Science and International Relations at Bahçeşehir University. She is also an associate member of the Nottingham Interdisciplinary Centre for Economic and Political Research (NICEP). Her research focusses on Europeanization, EU foreign policy, Turkish foreign policy, gendering EU studies, gender and diplomacy and elite sociology. She is the author of Conditionality, the EU and Turkey: From Transformation to Retrenchment (Routledge, 2019) and co-editor of Feminist Framing of Europeanisation: Gender Equality Policies in Turkey and the EU (Palgrave Macmillan, 2021). Her scholarly articles have been published in prestigious journals such as Political Studies Review and Geopolitics.
←14 | 15→
YILMAZ ESMER
1

An Ambitious Research Project

This book results from a challenging but rewarding collaborative research project between Harvard University's School of Public Health and Bahçeşehir University. The fieldwork carried out in Istanbul was part of a larger design that, in addition to Turkey, included Ghana, Pakistan, and Tanzania. The project took off in 2017 and was concluded in 2020. The research design was meticulously crafted in a series of meetings in Boston under the coordination of Dr. Iqbal H. Shah and Dr. David Canning, both of Harvard University, and with the active participation of principal investigators and collaborators from all partner institutions as well as from the funding agency.

The main objective of the project was to evaluate the impact of education programs targeting women's reproductive health initiated and sponsored by Willows International – a nonprofit organization aiming to expand the "utilization of comprehensive reproductive health services by providing individualized information, education, counseling, and referrals to women in communities in need of such services."1

Willows International launched its first program in Turkey in 1999 with enthusiastic support from the Ministry of Health and full cooperation of local authorities. The program's main objective in Turkey and all countries covered was to educate women of reproductive age about family planning and reproductive health. The present book focuses on Turkey, and the fieldwork carried out in Istanbul.2 However, before analyzing the findings from the fieldwork, we first provide a brief background about the cultural and political setting in the country.

The empirical component of the project was quite comprehensive and included household, facility, exit, and pharmacy surveys and key informant interviews. For the household survey (also referred to as the baseline survey), the plan was to interview one woman of reproductive age (ages 16–44) in each selected household. The sites chosen were the districts of Bağcılar (Willows intervention site) and Küçükçekmece (comparison site), both in Istanbul. A total of 4,224 household interviews (2,112 in each site) were completed, providing satisfactory coverage of the target population, given that there were a total of 23,099 households at the intervention site and 14,981 households at the control site. ←15 | 16→The details of the household sample are shown in Fig. 1.1. Data collection for the baseline household survey occurred between March 27 and June 27, 2018. Interviews were conducted by an all-women team of experienced interviewers who completed a week-long training program led by a team of Harvard, BAU, and SIA-Insight experts.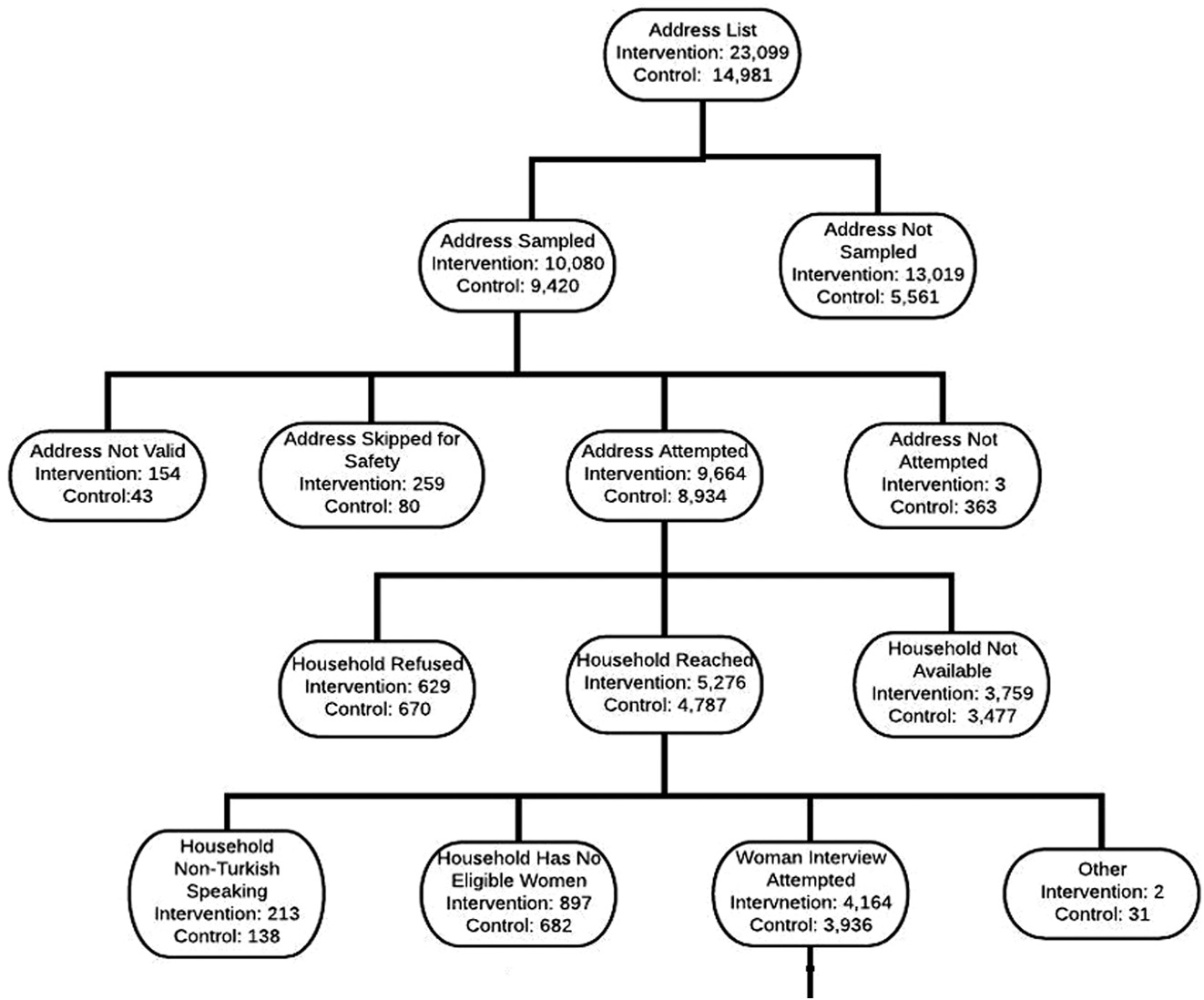 Household interviews were complemented with 35 neighborhood health facility surveys and 311 exit interviews. The team also conducted 126 pharmacy surveys (including 26 pharmacies and 100 shops). Finally, 16 key informant interviews with community stakeholders (8) and family planning providers (8) were completed.
A total of 40 health care facilities at both the intervention and control sites were targeted in collaboration with the Istanbul Office of Willows International. Data collection was completed in 35 of these 40 health facilities. (Of the remaining ←16 | 17→five, one was no longer in existence; two were no longer providing family planning services, and there were only two refusals.) Thus, the project intended to cover every major dimension of female reproductive health with data collected from all actors involved in the process.
Details
Pages

184

Year

2022

ISBN (PDF)

9783631879771

ISBN (ePUB)

9783631879788

ISBN (MOBI)

9783631879795

ISBN (Hardcover)

9783631848906

DOI

Language

English

Publication date

2022 (July)

Published

Berlin, Bern, Bruxelles, New York, Oxford, Warszawa, Wien, 2022. 184 pp., 9 fig. b/w, 31 tables.