IMAGES (V) – Images of (Cultural) Values
The Conference Proceedings
Conference proceedings
199 Pages
Excerpt
Table Of Content
Cover
Title
Copyright
About the author(s)/editor(s)
About the book
This eBook can be cited
Contents
Jutta Teuwsen (Düsseldorf/Germany) - Contemporary Japanese Arts: Religion and Technology in the Illustrations of Nature
Cinla Şeker (Izmir/Turkey) - Anatolian Folk Music Album Cover Images at the Beginning of the Third Millenium
Images of (Cultural) Values in Film
Ömer Alkın (Düsseldorf/Germany) - Making Cultural Values Visible in Early Turkish-German Cinema
Images of (Cultural) Values in Popular Culture
Simonetta Milli Konewko (Milwaukee, USA) - Images of Work in Collodi's Pinocchio
Selma Mokrani Barkaoui (Annaba/Algeria) - "The Gift of the Stranger": Elkader as a Cultural Utopia
Roberta Matkovic (Pula/Croatia)/Tanja Habrle (Pula/Croatia) - The Figure of the Mother
Images of (Cultural) Values in Public Space
Nerma Cridge (London/UK) - From Trivial to Extremely Serious: We Don't Even Own Public Space Images Anymore
Adriana De Angelis (Naples/Italy) - Skyscrapers – Strong Images of Culture and Art; Globalized
Veronika Bernard (Innsbruck and Kufstein/Austria) - Istanbul's İstiklal Caddesi Graffiti: Young Istanbul Sprayer Art Doing the Cat-Walk, and Testing Cultural Values
The Ethnic and Images of (Cultural) Values
Rubén Gregori (Valencia/Spain) - The Conversion of the Old Testament Patriarchs: The Image of Jewish Conversos in the Lands of the Crown of Aragon (14th–16th Centuries)
Itzea Goicolea-Amiano (Florence/Italy) - Ambivalent Images of Otherness(es) in the War and the Spanish Occupation of Tetouan (1859–1862)
Miloud Barkaoui (Annaba/Algeria) - The Case of Quartier Belsunce in Marseilles: of Maghrebi Immigration, Duality of Image, and Conflicting Cultural Values in France
Images of (Cultural) Values in Literature
Mirjana Marinkovic (Belgrade/Serbia) - Images of Cultural Values in the Novel A Strangeness in My Mind by Orhan Pamuk
Neval Berber (Passau/Germany) - "Interesting to be Seen and Experienced": Some Aspects of Modern Tourist Discourse in George Walter Thornbury's Accounts on Turkey and the Turks
Gönül Bakay (Istanbul/Turkey) - Representations of "the Primitive" in Things Fall Apart and Death and King's Horseman
Rear Matter
The Editor
Contributors
The IMAGES Project http://the-images-project.weebly.com/
The IMAGES project (http://the-images-project.weebly.com/) has originally been planned and scheduled as a series of conferences, publications, exhibitions and online photo contests for the years 2011–2014. It has been initiated by the research centre Cultures in Contact (Kulturen im Kontakt/KiK), which is part of the humanities research platform CEnT (Cultural Encounters and Transfers) and the research area Cultural Encounters – Cultural Conflicts (Kulturelle Begegnungen – Kulturelle Konflikte), all based at Leopold-Franzens University of Innsbruck, in Innsbruck/Austria. Throughout the years 2011–2013 the senior project partner was Kadir Has University in Istanbul/Turkey. The idea for the project has been developed by Associate Professor (Privatdozent) Dr. Veronika Bernard (Leopold-Franzens University of Innsbruck) and Associate Professor Dr. Serhan Oksay (Kadir Has University, until January 31, 2013) as a follow-up project of their previous project Breaking the Stereotype – Oriental and Occidental Stereotypes in the Course of Time (2006–2010).
IMAGES is an interdisciplinary project, and it strongly relies on the cooperation with international academic and non-academic partners.
IMAGES deals with the discourse of cultural encounters within the context of social co-existence. The project defines "discourse of cultural encounters" as the discourse within the context of cultural encounters, and as the discourse on cultural encounters. Within this scope, the project deals with both verbal and non-verbal communication and focuses on the thematic fields of cultural encounter, poverty, and migration.
IMAGES adopts a cultural studies definition of the term "culture". Cultural studies define culture by the concept of the group, seeing culture as the sum of all features and ways of behaviour people show and adopt deliberately in order to become distinct from others and to form their specific identities.
IMAGES, further, adopts perspectives on cultural phenomena developed by communication studies. The project starts from the idea that the images you form (of you and of others) essentially determine relations and communication between both individuals and communities and at the same time are ← 15 | 16 → their results. Contemporary communication studies see images (as the images an individual holds of his or her own self and the images others form of you) as part of a communicative system formed of values, evaluation and selective perception. No matter which our values are, as a whole they build the very system by which we evaluate and judge the ways others act, look and speak in order to decide whether they fit in with our values. In case they do, there is the realistic chance of a positive and fruitful communicational process; in case they do not, communication may go wrong and end soon – in a comparatively unspectacular way by cutting communicational ties or in a rather dramatic way by leading into conflict.
Intercultural communication studies analyse these mechanisms with individuals from different cultures. From an intercultural perspective (intercultural) communication means that you open your own culture to ideas rooting in the other's culture by dropping own cultural ideas and including ideas rooting in the communication partner's culture. This is possible only, however, if cultures have a minimum amount of ideas in common. Intercultural communication aims at increasing the number of ideas cultures have in common; increasing their number makes the difference between success and failure in terms of intercultural communication. In case there are no ideas in common, intercultural communication will be impossible and the cultures involved will not be able to reach a better mutual understanding.
Considering the communicative mechanism of selective perception, IMAGES understands cultural encounters and the ways they may take as circular patterns, and it sees itself as part of these circular patterns: the academic discourse on cultural encounters, poverty and migration, which is dealt with in the conference and publication series, is contrasted to the results originating from the scheduled online photo contests and being presented to the public in the exhibition series documenting the non-verbal everyday-life discourse. In this way IMAGES adds to the critical discussion on definitions of cultural encounters.
The IMAGES project opened with the online photo contest "Cultural Encounters" and "Images of the Poor" in January 2011. The IMAGES project exhibition series started with the joint exhibitions "Cultural Encounters" and "Images of the Poor" in April 2011; the exhibition opening taking place at Kadir Has University's Cibali Campus on 27 April 2011. The IMAGES project conference series opened with the IMAGES 2011 ← 16 | 17 → conference IMAGES – Films as Spaces of Cultural Encounters (Istanbul, Kadir Has University, 01–04 June 2011), which unfortunately had to be cancelled in short term.
However, the project directors have been able to offer registered participants the chance to publish their papers; the resulting volume of conference proceedings IMAGES (I) – Films as Spaces of Cultural Encounters. The 2011 IMAGES Project Publication opening the IMAGES publication series and being available online (http://cinej.pitt.edu) as a CINEJ special issue and as a select-articles print edition. Having applied the IMAGES project context to the conference topic, the CINEJ 2011 special issue IMAGES (I) – Films as Spaces of Cultural Encounters and the select-articles print edition include articles analysing films as spaces of cultural encounters from a cultural studies perspective in general, as well as from inter-cultural, multi-cultural, trans-cultural, semiotic, communication centred, historical, political, and all related perspectives. ← 17 | 18 →
The IMAGES project 2012 conference IMAGES (II) – Images of the Poor (05–07 September 2012, Austrian Cultural Forum Istanbul) continued the IMAGES conference series; its conference proceedings IMAGES (II) – Images of the Poor. The Conference Proceedings being the 2012 IMAGES project publication.
Co-edited by Veronika Bernard and Serhan Oksay, and launched in July 2013, IMAGES (II) – Images of the Poor offers readers a cross-section of current research both on the perception of poverty and on contemporary and historical representations of poverty coming from a variety of fields in people's daily lives all of which are of vital relevancy in shaping the individual's view on the existence, the implications, the consequences, and the possible roots and causes of poverty.
The IMAGES project 2013 conference IMAGES (III) – Images of the City (31 October – 01 November 2013, Austrian Cultural Forum Istanbul) took the IMAGES conference series another step further; its conference proceedings IMAGES (III) – Images of the City. The Conference Proceedings being the 2013 IMAGES project publication.
Published in July 2014, IMAGES (III) – Images of the City (co-edited by Veronika Bernard and Hatice Övgü Tüzün) provides the public with current research findings on the (contemporary and historical) perception and representation of urbanity.
The IMAGES project 2014 conference IMAGES (IV) – Images of the Other: Istanbul – Vienna – Venice (02–04 September 2014, Austrian Cultural Forum Istanbul) continued the IMAGES conference series.
The resulting conference proceedings IMAGES (IV) – Images of the Other: Istanbul – Vienna – Venice. The Conference Proceedings is the IMAGES project 2014 publication. Edited by Veronika Bernard and launched in August 2015 the volume focuses on current research findings discussing the (contemporary and historical) perception and representation of the three cities.
Motivated by the highly encouraging feedback from participants at the IMAGES conferences 2012–2014, the remaining IMAGES project director, Veronika Bernard, decided in 2014 to continue the conference series into 2015.
The IMAGES project 2015 conference IMAGES (V) – Images of (Cultural) Values took place in Istanbul at Manzara Istanbul's SUPA Business Salon from 02–03 September 2015. The respective conference proceedings, IMAGES (V) – Images of (Cultural) Values, will be the last IMAGES project publication, and the final IMAGES project activity.
No further IMAGES project activities are planned.
After the conferences IMAGES (I) – Films as Spaces of Cultural Encounters (2011), IMAGES (II) – Images of the Poor (2012), IMAGES (III) – Images of the City (2013), and IMAGES (IV) – Images of the Other: Istanbul – Vienna – Venice (2014), the IMAGES project focused on images of (cultural) values in its 2015 conference IMAGES (V) – Images of (Cultural) Values.
Contrastive culture studies1 have set the theoretical grounds to a structural understanding of (intercultural) communication processes by defining lists of cultural categories2 which all link to sets of relevant cultural values shaping the categories, and at the same time being shaped by them. According to the studies it is these cultural categories (and their inherent values) which determine our individual actions and reactions to the actions and reactions of others, and by this either encourage disastrous circles of misunderstanding and violence (when values clash), or, on the other hand, constructive and fruitful cultural encounters and (inter)cultural learning (when values are in harmony or when a working awareness of the others' values leads to mutual intercultural respect).
Studies on acculturation processes3 have taken our understanding of the relevance of cultural values to a migrant context, and thus beyond mere categorization to a more diverse understanding of the processes involved. ← 19 | 20 →
In terms of the definition of "culture" the studies mentioned seem widely informed in their thinking by the concept of nation cultures and/or cultural regions, though. Nevertheless, the categories defined by them may be worth applying to non-nation and/or non-regional cultures as well, i. e. to all cultures in a cultural studies understanding of the term; thus, including cultures defined by age and generation, professional, social and religious affiliations and else. In short, there is reason to argue that they can be applied to all communities who define themselves by their individual sets of (cultural) values.
Perspectives adopted in discussing cultural values involved in (inter)cultural processes are manifold. The focus applied by the IMAGES project is on the ways in which the cultural values involved in the cultural categorizations of our world have been visualized, i. e. turned into images and/or symbols present in the several fields of our everyday lives. The (historically) changing representations and perception of images of (cultural) values are seen as documentations of cultural concepts and also of cultural approaches. In this way, they create an unlimited number of potential cases of both cultural encounters and conflicts suitable to motivate academic discourse within socially relevant research fields such as politics, communication, culture and migration.
Following this idea, the IMAGES (V) – Images of (Cultural) Values conference organisers and the editor of this volume of conference proceedings opened several fields of research and interest for paper proposals when launching their Call for Papers in early 2015. In order to discuss the above issues they invited scholars – both senior scholars and PhD students – in their Call for Papers, but also architects, photographers, writers, artists, and filmmakers to participate in a two days interdisciplinary international conference in order to present their research findings in 20 minutes (paper) presentations in the following fields of research and interest: The relativity of cultural values and their communicational relevance (theoretical approaches and/or case studies), the relevance of cultural values symbols in constructing images of the (cultural) self and the (cultural) other (theoretical approaches and/or case studies), the psychology of a felt affiliation to images/symbols of (cultural) values (theoretical approaches and/or case studies), images of (cultural) values in public space as a statement, the impact of the media (news, internet, daily soaps) on images of (cultural) ← 20 | 21 → values, images of cultural values in feature films (present and past), images of cultural values in the Arts (present and past), images of cultural values as seen by photographers (present and past), and images of cultural values in literature (present and past).
Finally, the conference organisers found paper proposals largely focusing on case studies rather than on theoretical approaches to the fields defined. Still, the paper proposals selected have enabled the conference organisers to put together a well-balanced conference programme, and consequently, the editor of this publication to present a well-balanced volume of conference proceedings; the thematic focuses of the articles setting the following seven thematic chapters structuring this volume: General Aspects; Images of (Cultural) Values in the Arts; Images of (Cultural) Values in Film; Images of (Cultural) Values in Popular Culture; Images of (Cultural) Values in Public Space; The Ethnic and Images of (Cultural) Values; and Images of (Cultural) Values in Literature.
Like the conference IMAGES (V) – Images of (Cultural) Values this volume of conference proceedings also follows the principle of bringing together works by senior scholars with those by PhD students and postdoctoral academics in an attempt to provide a genuinely democratic academic exchange of ideas.
The order of chapters in this volume aims at first introducing readers to some concise thoughts on general aspects of the issue first; and next leading them step by step through a wide range of contributions de-constructing both traditional and current re-presentations of (cultural) values present in the Arts, the media, situations of everyday life, and in literature.
Hence, chapter one (General Aspects) consists of the article "Responsibility and Economy of Images" by Keti Shehu and artist Ambra Pittoni, in which the two authors combine the academic approach to discussing the issue of (cultural) values representation with the artistic one while examining the relation between gesture and image. They argue that "the materiality of images shapes our reality".
Chapter two (Images of Cultural Values in the Arts) includes articles by Sibel Almelek İşman ("The Vanitas: Moral Values in European Art"), Jutta Teuwsen ("Contemporary Japanese Arts: Religion and Technology in the Illustrations of Nature"), and Cinla Şeker ("Anatolian Folk Music Album Cover Images at the Beginning of the Third Millenium") stretching the ← 21 | 22 → scope from works of the European Renaissance to modern Japanese Art and Turkish modern popular Art. Sibel Almelek İşman introduces readers to the tradition of the "Vanitas" motif, starting the line of her thoughts at the Renaissance period and leading it well into presence by including works of contemporary English Art. Jutta Teuwsen looks into contemporary Japanese Arts in her attempt to analyse the Japanese relationship to nature; the relation to nature being "one of the deepest-rooted cultural values in Japan", following the Shintoism based idea of an essential need for harmony. Finally, Cinla Şeker's article aims at analysing contemporary Anatolian folk music album cover images formally and contextually, arguing the rootedness of their images in regional (i. e. Anatolian) culture.
Chapter three (Images of Cultural Values in Film) like chapter one consists of a single article. Ömer Alkın's study "Making Cultural Values Visible in Early Turkish-German Cinema" from a visual culture studies perspective discusses the shifts taken in Turkish, German and Turkish-German migration cinema in representing Turkish migrants in Germany during the past 60 years.
Chapter four (Images of Cultural Values in Popular Culture) provides readers with articles centring upon Italian and Algerian culture and written by Simonetta Milli Konewko ("Images of Work in Collodi's Pinocchio"), Selma Mokrani Barkaoui ("'The Gift of the Stranger' – Elkader from Cultural Utopia to Heterotopia"), Roberta Matkovic and Tanja Habrle ("The Figure of the Mother"). Simonetta Milli Konewko's study discusses the imagery of work in Pinocchio by Carlo Collodi in a context of both historical and current Italian politics and the concept of the "ideal citizen". Selma Mokrani Barkaoui's article discusses the cultural roots of the name of Iowa located town Elkader and analyses the "shift of Elkader from Utopia to Heterotopia and Third Space in the aftermath of 9/11"; arguing that the naming of the place after the Algerian revolutionary leader Emir Abd-el-Kader "has superimposed a utopian space onto the local geography by introducing a remote model of anti-colonial resistance into the American public sphere". Roberta Matkovic and Tanja Habrle take readers back to an Italian context by discussing the oscillating image of the mother in Italian culture.
Chapter five (Images of Cultural Values in Public Space) puts the focus on historical, contemporary, and international cultural, legal and political contexts. The articles written by Nerma Cridge ("From Trivial to Extremely Serious: We Don't Even Own Public Space Images Anymore"), Adriana De ← 22 | 23 → Angelis ("Skyscrapers: Strong Images of Culture and Art; Globalized"), and Veronika Bernard ("Istanbul's İstiklal Caddesi Graffiti: Young Istanbul Sprayer Art Doing the Cat-Walk, and Testing Cultural Values") stretch the scope of cases discussed from public space locations in the city of London to a beach on the Greek island of Lesbos, the "Vertical Wood" building in Milan and Istanbul's popular shopping (and, increasingly, protest) mile İstiklal Caddesi. Nerma Cridge in focusing on an individual's use of and presence in public space as a citizen's right within a context of a European values discussion "seeks to uncover several contradictions in images in public spaces in the globalized European city" and beyond; among them the most obvious absence of the "local people", the privacy-violating run of press photography for the spectacular, and the bizarre consequences of current and planned-for European panorama-copyright legislation. Adriana De Angelis turns readers' attention to the utopian quality attributed to skyscrapers by historical and contemporary political and conceptual cultural thinking. Veronika Bernard's article discusses the cultural implications becoming manifest in Beyoğlu's İstiklal Caddesi graffiti by reading them as images commenting on a society's (cultural) values and being informed by them.
Chapter six (The Ethnic and Images of Cultural Values) examines the issue of ethnicity from a historical, a sociological and a political perspective. It includes articles on "The Conversion of the Old Testament Patriarchs: The Image of Jewish Conversos in the Lands of the Crown of Aragon (14th –16th centuries)" (written by Rubén Gregori), on "Ambivalent Images of Otherness(es) in the War and the Spanish Occupation of Tetouan (1859–1862)" (written by Itzea Goicolea-Amiano), and on "The Case of Quartier Belsunce in Marseilles: of Maghrebi Immigration, Duality of Image, and Conflicting Cultural Values in France" (written by Miloud Barkaoui). While Rubén Gregori focuses on the similarities in the creation of (European) stereotypes of the Jewish populations throughout the continent, with special respect to Medieval and early Modern Iberia; Itzea Goicolea-Amiano argues for the "ambivalent nature of the constructions of both Spanish and internal Otherness(es)" pointing out that "through the mirror of the Spanish Other, Moroccanness arises as a complex puzzle". Miloud Barkaoui, finally, explores the "duality of image and conflicting cultural values in relation to the question of Maghrebi immigration in France" by introducing readers to his current field-work research on the neighbourhood of quartier Belsunce ← 23 | 24 → in Marseilles and the contexts of both historical and recent French policies concerning Maghrebi immigrants' status within French society.
Chapter seven (Images of Cultural Values in Literature) closes the volume by discussing the representation of cultural values in works of Turkish and English literature; the respective articles being written by Mirjana Marinkovic ("Images of Cultural Values in the Novel A Strangeness in My Mind by Orhan Pamuk"), Neval Berber ("'Interesting to be Seen and Experienced': Some Aspects of Modern Tourist Discourse in George Walter Thornbury's Accounts on Turkey and the Turks"), and Gönül Bakay ("Representations of 'the Primitive' in Things Fall Apart and Death and King's Horseman"). Mirjana Marinkovic concentrates on the images of cultural values in Pamuk's latest novel A Strangeness in My Mind (Kafamda Bir Tuhaflık); in particular, on the images of tradition and modernity which mirror Istanbul ever changing life, customs and conventions. Neval Berber, on the other hand, looks into the new approach to Turkey and the Turks rising in the early 1860s on the pages of All the Year Round, a journal edited by Charles Dickens and shifting the focus from the typically Orientalist topoi representing the Turks, which nonetheless persist, to the topics of aesthetic and anthropological interest. Gönül Bakay, drawing on John Berry's acculturation theories, discusses the representations of the "primitive" in novels by the postcolonial writers Chinua Achebe and Wole Soyinka, who "critically examine the uncomprehending view of the West towards so-called 'primitive' cultures".
This volume thus offers readers a cross-section of current research on contemporary and historical representations of (cultural) values coming from a variety of fields in people's daily lives. The fact that the contributors to this volume are from the USA, Algeria, Germany, Italy, Croatia, Albania, Serbia, Turkey, and Austria, and that they are writing from very different cultural, ideological, scientific, academic and non-academic perspectives and backgrounds is adding even more to the diversity of thought and ideas documented. It is the editor's hope that the arguments presented in the contributors' articles will add to both academic discussion on and social awareness of the role which images of (cultural) values play in the (cultural) perception and representation of our Selves and the "others".
---
1 By Geert Hofstede, Helen Spencer-Oatey, Edward Hall, Fons Trompenaars, and Shalom H. Schwartz.
2 The list of identified potential cultural categories is extensive. It includes, for example, power distance, uncertainty avoidance, individualism vs. collectivism, masculinity vs. femininity, time (e. g. monochronic vs. polychronic cultures), context-orientation (the relevance of context in communication of high context vs. low context cultures), information transfer speed, space (i. e. personal space vs. territory/proximity vs. distance), universalism vs. particularism, individualism vs. collectivism, neutrallity vs. affectivity, precision/specification vs. vagueness, performance vs. status, attitude towards time, attitude towards the environment, conservativism, intellectual and affective autonomy, hierarchy, mastery, egalitarism, and harmony.
3 For example, John Berry's work on migrant attitudes towards native and receiving culture, old and new identities.
Responsibility and Economy of Images
Abstract From the birth of digital technologies the proliferation of images, both stationary and in motion, has undergone exponential growth. The materiality of images shapes our reality; thus both individual and collective imagination comes alive in front of our eyes. This study is structured as a dialogue between different methodological approaches to the same subject.
Seit der Erfindung der digitalen Technologien hat die Verbreitung der Bilder ein exponentielles Wachstum durchlaufen. Die Materialität der Bilder formt unsere Realität; sie lässt individuelle wie kollektive Vorstellungen vor unseren Augen zum Leben erwachen. Dieser Beitrag ist als Dialog zwischen unterschiedlichen methodischen Herangehensweisen an denselben Gegenstand strukturiert.
1 Introduction
This study is structured as a dialogue between different methodological approaches to the same subject; on the one hand, there is the academic approach, which is based on the analysis of the sources, the iconological and iconographic study of the images and on the translation of the gesture depicted on them; on the other hand, there is the artistic approach that incorporates and assimilates the gesture and compose the image. From the birth of digital technologies the proliferation of images, both stationary and in motion, has undergone exponential growth upsetting the economy in quantitative and qualitative terms.
It is important to underline that throughout this study the authors will not try to present a history on the image or a history of art. These have been widely treated in all forms and from multiple points of view: from the drawings of Lascaux to the holy icons, from the allegories of Cesare Ripa to the analysis of the political nature of the image by Didi-Huberman, passing through Aby Warburg's Pathosformel and Gombrich's polyphonic structure of the image.
This is a reflection carried out following the cultural value of images today. In the presence of a cultural value, intended as the set of elements and qualities that define the image, the authors have looked into two of the ← 27 | 28 → components, which they believe are essential: responsibility and economy of images.
This research analyses the trend and evolution of the artistic image that will be mentioned only in broad terms so as to create a basic structure to the main phases and the multiple natures of the artistic image: such as the decorative, aesthetics and communicative, contemplative nature, etc. The evolution, which the authors refer to, is the historical evolution within which the image has been processed.
In this broad context the authors analyse, on the one hand, the responsibility of images, intended as the acceptance but also as the commitment to them and, on the other hand, the economy of images in relation to the caution of the image creating act.
2 Acceleration: Development and Evolution of Responsibility towards Images
A few years ago, on my birthday, a dear friend gave me a few pictures he took on film and printed on nice thick paper "old fashioned printed photos, not like those of today", he said while giving them to me. Michel, my friend, worked for many years for international organizations, he went on missions to Kosovo, Lebanon, Iraq and many other places. The pictures that he gave me date back to these years. The evening he gave them to me he also told me the names of those places, a detail I forgot. Many years later, after having moved into a new apartment in a new city, these photos came to light hidden in an old folder. I found these photos at the same time as similar images are daily scenarios of the destruction perpetrated by the Islamic State. Looking at them I began to wonder 'Could it be Syria? or maybe Iraq? Which archaeological site could it be?'
I thought about writing to him to ask for the name of these places; then I decided not to. I decided to imagine the possibility that this could be Palmyra or other Roman ruins … perhaps it could be Tyre or Baalbek, in Lebanon, the city where, for many years, the famous music and performing arts festival was held (fig. 1 and fig. 2). The only picture I have of Baalbek is, in fact, a copy of the poster of the concert that Miriam Makeba was going to hold in the 1975 edition of the festival, which didn't actually occur because shortly before that date the long Lebanese civil war began. Therefore, that ← 28 | 29 → image has an important value as it is the image of absence; of an announced event which took place through the poster, but that never really happened. Through this process, these beautiful photographs are already images in decay that, instead of being images of the world, cause the imagination of a world. It is this shattering that makes room for creation. In suspending the cognitive determination, the certainty of a name, of a place and of an image associated with it, all the Palmyras exist at the same time and will exist in spite of everything, thanks to the images.
I then think of the value that the images of Nimrod, Nineveh and Palmyra will have in the future, whether they will be venerated and if they become the only surviving thing from this destruction they will enter a higher kingdom, a paradise of images. These images I have just recounted are images of absences that are in some way related to the respect which refers to the production of images felt by some artists today.
I myself as an artist, I ask myself questions such as:
What is the meaning of creating an image today? What does creating an image really mean?
What are its life expectancies?1
Fig. 1 and fig. 2: Palmyra; photos by Michel Ferra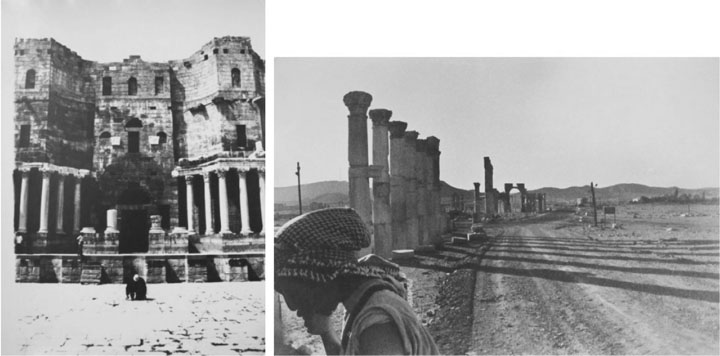 History of Art and its many research fields have always followed repetitive patterns, more or less recognizable, but absolutely traceable in both figurative canons, in their general character as well as in their represented iconographic schemes.
The Classical Era exalted "man as the measure of all things" and expressed balance, harmony, order and proportion shaping them in canons that defined an ideal of beauty and "formal perfection"2.
These canons were suspended during the Middle Ages, one of the longest periods in Art History which lasted over a thousand years, and came back and were revived during the Renaissance. Meanwhile the splendour of the Baroque identifies well with that abundance of ostentation typical of Byzantine Art.
The main feature and the main purpose of Byzantine Art as well as Medieval Art, is to describe human aspiration through the divine, to place human responsibility on intangible divine entity3. In Renaissance Age4 man's self-determination sees human potential at the basis of human dignity, the ambivalence of the responsibility of the individual compared to the historical background and consequently portrayed. ← 30 | 31 →
The figurative representation of Byzantine and Medieval Art is spiritual. The figure depicted is made through a de-materialization of the image. The responsibility is removed from the hands of the individual and, therefore, conveys his 'prudence', so sacral art is art of prudence. Prudence which is dictated by fear: an extremely human and earthly feeling. In front of an image, medieval men behave with the safety and certainty that their own responsibilities can be placed in the depicted subject. The feeling of fear it refers to, is an intimate feeling because it represents an acceptance of the emotional sphere which is not always displayed.
However, the fear of an image should not be confused with the fear that is assigned to an image and is absorbed into it, sending back an action and a meaning; a reflection of hope.
This fear is, at the same time, fear of discouragement, fear of anger, fear of love, fear of seduction, and is also all of these things together. But in these images the representation of this "fear" is calm; more prudent rather than intimidated.
The relationship between men and artistic images is oriented on an intimate, contemplative and individual level.
The image during the Renaissance, as opposed to the image during the Byzantine and Medieval periods, rereads the ancient past and investigates it with the aid of philology to draw as much as possible a more authentic and truthful image.
By valuing human potentials, the individual rejects the separation between soul and body and becomes responsible for his own place in the centre of the world. Another important fact is also the associated life, which acquires an especially positive value linked to dialectics, to the exchange of opinions and information and to comparison.
According to Aby Warburg,
"the artists of the Renaissance were particularly interested in the expressiveness of classical figures, capable of delivering with their intensified movements experiences of the human emotion in the entire spectrum of its tragic polarity, from the passive attitude of suffering to the active attitude of victory" (Warburg: Mnemosyne, pp. 28–30; Engl. transl. by K. Shehu/A. Pittoni).
It is also important to mention that part of Art History that established the foundations of Contemporary Art such as impressionists, symbolists and futurists. They collected the Classical, Medieval, Renaissance and Baroque ← 31 | 32 → heritage and re-elaborated it according to new canons of relevance, political accusation, and technical experimentations. They depicted and produced images of an increasingly structured world, and did it in a very passionate, desperate and intense manner.
From this moment onwards, the evolution of the image seems to no longer follow the slow, rigidly abstract and purely sacral pace, previously described, and even less it follows the Neoplatonic Renaissance one. Its evolution gains speed and courage penetrating even more into daily life and brings about a new form of intimacy: a shared intimacy.
This is thanks to the acceleration of artistic techniques (paintings): tempera evolves into oil painting. The means keeps the pace of the human need to represent in an increasingly rapid manner; consequently to the speeding up of the creative process the work is more easily shared because of it being more easily reproducible.
Tempera, oil paintings, film and digital photography: the representation of the world and its gestures proceeds throughout the centuries.
This bulimia and this proliferation of images are the unit of measure of this reality. This is a mere representation of a mental and figurative collective imagination. There are no traces in the contemporary image neither of sacral art prudence nor of Warburg's Pathosformel. The contemporary image has become the ridiculing of feared suffering and no longer is the passive contemplation of it.
It is fast, immediate, popular, ruthless, cynical and increasingly sharper. The last step is that from pixels to the retina. This is no longer an interior but exterior representation.
3 Quantity: The Collapse of Responsibility
The fast growth of the reproduction of images, this visual acceleration that nowadays is at the height confronts us with the issue of collectivity from a new perspective: that of survival.
There is no need to deepen the fundamental text on the subject neither of Benjamin's5 reproducibility of the artwork nor the much debated issue ← 32 | 33 → of the original, because the survival in question concerns more the absent than the present. It is not about the survival of the image but rather of the imagined portrayed.
Didi-Hubermann speaks of the survival of images, not only quoting Warburg, but also in purely historical and biological terms6 that legitimize the questions: What will happen to the millions of gigabytes that form the intangible heritage of our present? What is or where resides the aura of an image today?
Hito Steyerl, in her article "In defense of the poor images" (cf. http://www.e-flux.com/journal/in-defense-of-the-poor-image), redefines the aura of contemporary images; also understood as in the Benjaminian way, in which poor images are the images (both photographic and in movement) of low resolution. They are those images that have been manipulated many times, copied and recopied, which circulate freely on the web, creating enormous volumes of content and sinister archives. If these images allow, on the one hand, free movement of masterpieces, they, on the other hand, embrace and serve the neoliberal model.
Hito Steyerl says,
"This aura is no longer based on the permanence of the 'original' but on the transience of the copy. It is no longer anchored within a classical public sphere mediated and supported by the frame of the nation state or corporation, but floats on the surface of temporary and dubious data pools. By drifting away from the vaults of cinema, it is propelled onto new and ephemeral screens stitched together by the desires of dispersed spectators." (Steyerl: In defense of poor images).
It is important to realize that the free circulation engaged by poor images has several facets that go beyond the only free circulation of contents.
"The circulation of poor images feeds into both capitalist media assembly lines and alternative audiovisual economies. In addition to a lot of confusion and stupefaction, it also possibly creates disruptive movements of thought and affect. The poor image is no longer about the real thing – the originary original. Instead, it is about its own real conditions of existence: about swarm circulation, digital dispersion, fractured and flexible temporalities. It is about defiance and appropriation just as it is about conformism and exploitation. In short: it is about reality" (Steyerl: In defense of poor images). ← 33 | 34 →
If poor or rich images talk of reality, what kind of relationship is there between them and truth? What do the images of today reveal to us about the world?
The exaggerated quantity of visual information that is produced can be seen as a mass of insignificant and valueless information.
Regarding to this, there is often a lack of those solid references of the Modern Age as the current proliferation exceeds and overwhelms us. It is clearly impossible to have a critical spirit toward this mass of images, therefore, an interesting approach could be the suspension of judgment and the peaceful observation of how very different things and images may coexist.
It seems that the times we live in do not highlight the memory and time issues enclosed in an image, whether it be an art work or an advertising product; but it is characteristic of this period to underline the momentary survival, the temporary immortality of the absorption of the image and gestures from the collective to which this image is destined.
4 Conclusions
During one of the episodes of "Ways of seeing", John Berger7 describes the silent aspect of images. Yet, sharing implies a series of actions such as transfer, browsing, and movement; the speed involving physical exercise (metaphorical and not). All this, is noise.
David Freedberg, in an interview, states:
"We literally live surrounded by lots of images and it is impossible, in my opinion, to stand in an aseptic situation in which, for example, we can look at an image that portrays torture, a field of flowers or amorous themes without feeling the constant influence of all other images around us. It is impossible to observe Titian's 'Danae' excluding the experience of all the images around us.
We simply get used to certain effects and this certainly influences our most common emotional responses to works of art. Therefore, faced with an image, we have to unavoidably not only deal with the memories of the past, but also with ← 34 | 35 → the influence of the times which we live in." (Freedberg qutd. in Bruni, pp. 81–86; Engl. transl. by K. Shehu/A. Pittoni).8
The contemporary image is, therefore, 'noisy' as much as this excess of vision, as well as lack of prudence, blurs the attention from the deeper meaning which it represents.
Today the focus is on the surface and the clarity with which it reflects the image. It is like the revisiting of the story of the magic mirror of Snow White's stepmother. The clarity with which the mirror reflects the image has become a metaphor for the contemporary image.
We look for a gesture, a sign, a symbol in the clarity of the depicted, with which the image that contains them is reflected.
This reflection is nothing other than the proof of lack of respect toward content and quantity. What has been described as respect in sacral art, gestural research in the Renaissance, intensity in the Modern Era, should be prudence in our time. In the same measure, the economy of the image, intended as 'economizing', is treated in close relationship with the prudence of the production and creation act of an image. What has been called respect toward the quantity is clearly proven in relation to this messianic atmosphere of peaceful coexistence of images. This coexistence implies an assembly (editing). The idea of assembly (editing) is crucial in aesthetic procedures today.
There is no longer an image which stands out against a clear horizon; but moving archipelagos, in which the images constantly relate with other objects and with historical facts.
Images communicate in the same way they exist. In contrast to the radicalism of the Modern Era, today's proliferation recreates possible new stories also intended as possible narratives. This is the Post-Colonial Era of images, in which the only way to continue to be bearers of value is to play a mirror game.
This relationship between things and images questions if the revelation is still truth-seeking; or whether it is the search for the connections and coincidences that, in a completely different way from the past century, have become epistemic tools; speak of the world; from time to time rebuilding a new language, fragile like today. ← 35 | 36 →
List of References
Barale, Alice: La malinconia dell'immagine. Rappresentazione e significato in Walter Benjamin e Aby Warburg. Firenze University Press. Florence 2009.
Belting, Hans: I canoni dello sguardo: storia della cultura visiva tra Oriente e Occidente. Bollati Boringhieri: Turin 2010.
Belting, Hans: Il culto delle immagini: storia dell'icona dall'età imperiale al tardo Medioevo. Rome 2001.
Benhamou, Françoise: L'economia della cultura. Bologna 2012.
Berger, John: Ways of Seeing. Penguin Books: London 1972 (ed. Penguin Books: London 2008).
Bredekamp, Horst: Immagini che ci guardano. Teoria dell'atto iconico. Raffaello Cortina Editore: Milan 2015.
Bruni, Domenica: [An Interview with David Freedberg]. In: Rivista per la Formazione, Tendenze – Pratiche – Strumenti, 87, 2011, pp. 81–86.
Chastel, André: Il gesto nell'arte. Laterza: Rome 2008.
Debord, Guy: La società dello spettacolo. Milan 2008.
Didi-Huberman, Georges: Storia dell'arte e anacronismo delle immagini. Bollati Boringhieri: Torino 2007.
Didi-Huberman, Georges: L'immagine insepolta. Aby Warburg, la memoria dei fantasmi e la storia dell'arte. Bollati Boringhieri: Turin 2006.
Forster, Kurt/Mazzucco, Katia: Introduzione ad Aby Warburg e all'Atlante della Memoria. Bruno Mondadori: Milan 2002.
Freedberg, David: The Power of Images: Studies in the History and Theory of Response. University of Chicago Press: Chicago 1989.
Gombrich, Ernst: L'uso delle immagini. Studi sulla funzione sociale dell'arte e sulla comunicazione visiva. Phaidon Press Limited: London 2011.
Melot, Michel: Breve storia dell'immagine. Pagine d'arte: Ticino 2012.
Mondzain, Maria-José: Immagine, icona, economia. Le origini bizantine dell'immaginario contemporaneo. JacaBook: Milan 2001.
Steyerl, Hito: In defense of poor images, http://www.e-flux.com/journal/in-defense-of-the-poor-image/ (retrieved 21/07/2015).
Warburg, Aby: Mnemosyne. L'Atlante della memoria. Artemide: Rome 1998.
---
1 This is a short and true story by Ambra Pittoni, which served the authors as an opportunity to investigate aspects of this study, such as the value of the survival of the images and the creative act of the image in our days.
2 On Classical Art see Lionello Venturi: Storia della critica d'arte, Einaudi: Torino 1964; Rudolf Wittkower/Margot Wittkower: Nati sotto Saturno: la figura dell'artista dall'antichità alla rivoluzione francese, Einaudi: Torino 1967; Antonio Giuliano: Arte greca: Dall'età classica all'età ellenistica, Il saggiatore: Milano 1987; Marco Bussagli: La via dell'arte tra Oriente e Occidente. Dossier d'art, Giunti: Firenze 1986; Pierluigi De Vecchi/Elda Cerchiari: I tempi dell'arte, vol. 1, Bompiani: Milano 1999.
3 On Byzantine Art see David Talbot Rice: Byzantine art, Harmondswort 1935; Albert Maria Ammann: La pittura sacra Bizantina, Saggi: Rome 1957; David Talbot Rice: Art of the Byzantine era, London 1963; Manolis Chatzidakis/André Grabar: La pittura bizantina e dell'Alto Medioevo, Milan 1965; Etienne Coche de la Ferte: L'art de Byzance, Paris 1987; Jannic Durand: Arte Bizantina: Mille anni di splendore, Milan 2001; Henry Maguire: Art and Eloquence. Princeton 1994.
4 On Renaissance Art see Pasquale Sabbatino: La bellezza di Elena. L'imitazione nella letteratura e nelle arti figurative del Rinascimento, Firenze: Olschki 1997; Pierluigi De Vecchi: I tempi dell'arte, Ed. Elda Cerchiari, vol. 2, Bompiani: Milano 1999; Stefano Zuffi: Il Quattrocento, Electa: Milano 2004; Stefano Zuffi: Il Cinquecento, Electa: Milano 2005.
5 Walter Benjamin: L'opera d'arte nell'epoca della sua riproducibilità tecnica, Giulio Einaudi [1955 (posth.)]: Torino 2000.
6 Georges Didi Hubberman: Storia dell'arte e anacronismo delle immagini, Bollati Boringhieri: Torino 2007.
7 Ways of Seeing is a 1972 BBC four-part television series of 30-minute films created chiefly by writer John Berger and producer Mike Dibb. Berger's scripts were adapted into a book of the same name: John Berger: Ways of seeing, Penguin Books: London 1972.
8 See also David Freedberg: The Power of Images: Studies in the History and Theory of Response, University of Chicago Press: Chicago 1989.
Images of (Cultural) Values in the Arts
The Vanitas: Moral Values in European Art
Abstract The Vanitas is a type of still life picture depicting a collection of objects symbolizing the brevity of life. The Vanitas was especially popular in Dutch art of the 17th century. The aim of this article is to examine Vanitas pictures which have become vehicles for teaching moral lessons.
Vanitas-Bilder verkörpern einen bestimmten Typ Stilleben, das eine Sammlung von Objekten darstellt, die die Kürze des Lebens symbolisieren. Vanitas-Bilder waren insbesondere in der holländischen Kunst des 17. Jahrhunderts beliebt. Ziel dieses Artikels ist es, Vanitas-Bilder zu untersuchen, die zum Vehikel der moralischen Belehrung geworden sind.
The Vanitas is a type of still life picture depicting a collection of objects symbolizing the brevity of life and transience of all earthly pleasures and achievements. Typical motives are a skull, an hourglass, a watch, a smoking candle and a flower losing its petals. Such paintings were especially popular in Dutch and Spanish art of the 17th century (cf. Chilvers 2009, p. 646).
Vanitas still lives reflect the pride Dutch citizens held in their material possessions. But Calvinist morality and humanity tempered that pride (cf. Kleiner 2010, p. 568). Still lives exist above all to delight the senses; but they can also be tinged with a melancholic air. As a result of Holland's conversion to Calvinism, these visual feasts became vehicles for teaching moral lessons. Most Dutch Baroque still lives treat the theme of Vanitas. Overtly or implicitly, they preach the virtue of temperance and hard work by warning the viewer to contemplate the brevity of life (cf. Janson/Janson 2001, p. 568).
Pictorial arrangements of books, precious objects, terrestial and celestial globes, scientific and musical instruments, snuffed candles, timepieces and, above all, skulls are readily read as symbols of the vanity of all earthly endeavours. Often the artists continued the old tradition of including appropriate captions or texts in their pictures. The favourite was the admonition from Ecclesiates I: "Vanity of vanities; all is Vanity" (cf. Slive 1995, p. 282).
A vanitas is a representation of human life using symbolic subjects to highlight its tenuousness and fragility. It is closely connected to the sense of ← 39 | 40 → precariousness that pervaded Europe following the Thirty Years' War and the flood of plague epidemics (cf. Battistini 2005, p. 360).
Just as the first flower still lives were painted on the reverse side of portraits (such as Hans Memling's still life of 1490), the same was originally true of skull motifs, which subsequently became a recurring iconographic component in a large number of variants of the still life genre. They were intended to symbolize man's mortal nature (cf. Schneider 2009, p. 77).
One early example is the skull still life by the northern Renaissance artist Jan Gossaert (1478–1532), also known as Mabuse. It was painted on the reverse of the left side panel of the Carondelet Diptych (1517)1 and shows a skull which occupies a niche with a round arch. The skull includes a banderole with a quotation from St Jerome: "He who is perpetually aware of approaching death will overcome everything with ease" (cf. Slive, p. 277).
Northern Renaissance artist Hans Holbein the Younger (1497–1543) depicted two wealthy, educated and powerful young men in The Ambassadors (1533)2. On the left there is Jean de Dinteville, aged 29, French ambassador to England in 1533. To the right stands his friend, Georges de Selve, aged 25, bishop of Lavaur. The picture is in a tradition showing learned men with books and instruments. The objects on the upper shelf include a celestial globe, a portable sundial and various other instruments used for understanding the heavens and measuring time. Among the objects on the lower shelf is a lute, a case of flutes, a hymn book, a book of arithmetic and a terrestrial globe. Certain details could be interpreted as references to contemporary religious divisions. The broken lute string, for example, may signify religious discord, while the Lutheran hymn book may be a plea for Christian harmony (cf. www.nationalgallery.org.uk).
The musical and scientific instruments are highly symbolic, concealing a complex message about the transience of beauty, harmony and art. The death's head in the foreground, rendered almost unrecognizable by the distorting technique of anamorphosis, reveals the painting's hidden meaning: ← 40 | 41 → it is a refined allegory of the vanity of ambition and worldly knowledge (cf. Battistini, p. 361).
Vanitas Still Life of 16033 by the Baroque artist Jacques de Gheyn II (1565–1629) is the earliest existing Dutch painting of the type (cf. Slive, p. 283). Fame and wealth share the fate of vanity, as is suggested by the Spanish coins (one of which represents the former Habsburg emperor Charles V and his mother, Joanna of Aragon and Castile). The laughing and weeping philosophers, Democritus and Heraclitus, reflect upon the vanity of human life (cf. www.metmuseum.com).
The flowers in the vase, too, are symbols of vanity according to Psalm 103: 15–16, where man is compared to the flowers of the field, which will soon wither (cf. Schneider, p. 81).
Dutch artist Frans Hals (1582–1666) combined the image of a young man with a skull4. Although the young man holding a skull in his hand has occasionally been identified as Hamlet, this interpretation is probably incorrect. It is much more likely to be a Dutch vanitas allegory. It voices a warning, calling on the spectator to think of death even in youth (cf. Walther 2002, p. 295). There is no evidence of Shakespeare's play having been performed in the Netherlands or even translated into Dutch during Hals' lifetime. Rather, both the painting and Shakespeare's scene are rooted in the same tradition: A youth holding a skull is an emblem of mortality (cf. Langmuir 1996, p. 204).
Dutch artist Pieter Claesz (1597–1661) included himself among many objects in his work Vanitas with Violin and Glass Ball dated 16285. The overturned glass which is drained to the very last drop symbolizes the briefness of worldly pleasures. The pocket watch is facing away from the viewer and has its back open as if someone had tried to fathom the mysterious nature ← 41 | 42 → of time. The glass ball is a fascinating, unusual motif. The self portrait of the artist at his easel is reflected on its spherical surface.
Spanish artist Antonio de Pereda (1611–1678) has created a vanitas with a political undertone. His work entitled Allegory of Transience (c. 1640)6 is full of allusions to the problems of imperial power. This is especially reflected in the cameo which the angel is holding out towards the viewer in her left hand. The cameo which contains a portrait of the King of Spain and the Emperor of Germany Charles V is being held above a globe, intended to show the extent of the Hapsburg Empire, a realm in which "the sun never sets down". Nearly a century had passed since the Emperor's death. Nil omne (Everything is nothing) written on the table is the message of the painting. Pereda painted the picture at a time when Spain, under Philip IV (1612–1665), had already suffered the secession of Portugal and Catalonia (1640) and had lost its hegemony in the Low Countries (cf. Schneider, p. 85).
Dutch artist David Bailly (1584–1657) blurred the borderline between the genres of the still life and the portrait in Self-Portrait with Vanitas Symbols (1651)7. Several portraits form part of a still life arrangement on the table. The artist was in fact 67 years old when he painted this picture in 1651. His current features are shown in the small oval portrait. The youthful artist's face shows Bailly as he was at an earlier stage in his life, more than four decades before. The young man, who appears to be so real, in fact represents the past. Unlike the repetitive topics of the Dutch vanitas still lives, the misleading time scale in Bailly's painting adds a new dimension to the whole subject (cf. Schneider, p. 82–83).
The skull is also a symbol of the vital life-force contained in the head. It has become the emblem of the Saints Francis of Assisi, Jerome, Mary Magdalene and Paul (cf. Cooper 1984, p. 153–154). Artists depicted these saints with skulls in their works. ← 42 | 43 →
French artist Georges de la Tour (1593–1652) depicted Mary Magdalene8 with long and loosened hair in front of a mirror. The mirror is a symbol of vanity and inspires meditation on the transience of earthly things. The burning candle invites reflection on life's brevity. The jewellery which has been abandoned here with disdain is a memory of Mary's previous life. The skull is a hermit's emblem and invites contemplation of death (cf. Giorgi 2003, p. 260).
It is interesting to see that Postimpressionist artist Paul Cezanne (1839–1906) has also included skulls in several still life paintings in his final period between 1890 and 1905. The skull is included in Cezanne's repertory as an object of meditation for the human mind. In Young Man with a Skull9, Cezanne's son is posed in a meditative stance as if lost in his own thoughts. The inclusion of a skull with such a meditative pose recalls the classical portrayals of certain martyrs, such as the hermit Saint Jerome and the penitential Mary Magdalene (cf. Medina 1995, p. 159).
The theme of vanitas is still a source of inspiration for artists in the 21st century. Contemporary English artist James Hopkins (1976– ) rendered oversize skulls by gathering objects typically found in teenage bedrooms and arranged them on unadorned bookshelves. English artist Damien Hirst (1965– ) created a sculpture entitled For the Love of God in 2007. It consists of a platinum cast of an 18th century human skull encrusted with 8,601 flawless diamonds. An exhibition on vanitas, which displayed paintings and sculptures of 27 international contemporary artists, was organised in London in 2010. One of the most interesting works was British Wildlife (2000) by English artists Tim Noble (1966– ) and Sue Webster (1967– ). It is a shadow sculpture made of 88 taxidermised animals which projects a back-to-back self portrait of the two artists silhouetted on the wall behind. ← 43 | 44 →
It can be seen that the theme of vanitas has been an important source for giving moral lessons. Vanitas paintings of the 17th century or vanitas works of the 21st century including sculptures and installations as well remind the spectator how short life is. In the 18th century, which was dominated by rococo, romanticisim and neoclassicism, vanitas was not popular because these styles were focused on different subjects. Rococo was joyful and erotic; romanticism was dealing with the sublime nature and national issues; while neoclassicism was inspired by the grandeur of the classical past.
List of References
Battistini, Matilde: Symbols and Allegories in Art. Transl. by Stephen Sarterelli. Getty Publications: Los Angeles 2005.
Chilvers, Ian: Oxford Dictionary of Art & Artists. Oxford University Press: Oxford 2009.
Cooper, Jean C.: An Illustrated Encyclopedia of Traditional Symbols. Thames and Hudson: London 1984.
Janson, Horst Waldemar/Janson, Anthony F.: History of Art. Harry N. Abrams: New York 2001.
Giorgi, Rosa: Saints in Art. Transl. by T. M. Hartmann. Getty Publications: Los Angeles 2003.
Kleiner, Fred S.: Gardner's Art through the Ages: The Western Perspective, Vol II. Wadsworth Cengage Learning: Boston 2010.
Langmuir, Erika: The National Gallery Companion Guide. National Gallery Publications: London 1996.
Medina, Joyce: Cezanne and Modernism: The Poetics of Painting. State University of New York Press: New York 1995.
Schneider, Norbert: Still Life. Transl. by Hugh Beyer. Taschen: Köln 2009.
Slive, Seymour: Dutch Painting (1600–1800). Yale University Press: New Haven 1995.
Walther, Ingo F.: Masterpieces of Western Art. Transl. by Karen Williams, High Warden and Ishbel Flett. Taschen: Köln 2002.
http://www.nationalgallery.org.uk/paintings/hans-holbein-the-younger-the-ambassadors (retrieved 17/04/2015).
http://www.metmuseum.org/collection/the-collection-online/search/436485 (retrieved 20/04/2015).
---
1 Jan Gossaert: Diptych of Jean Carondelet (reverse side), 1517, Musée du Louvre, Paris. Source: http://www.louvre.fr/en/oeuvre-notices/diptych-jean-carondelet.
2 Hans Holbein the Younger: The Ambassadors, 1533, oil on oak, 207 x 209,5 cm, National Gallery, London. Source: http://www.nationalgallery.org.uk/paintings/hans-holbein-the-younger-the-ambassadors.
3 Jacques de Gheyn II: Vanitas Still-Life, 1603, oil on wood, 54 x 82,6 cm, Metropolitan Museum of Art, New York. Source: http://www.metmuseum.org/toah/works-of-art/1974.1.
4 Frans Hals: Young Man with a Skull, 1626–1628, oil on canvas, National Gallery, London. Source: http://www.nationalgallery.org.uk/paintings/hans-holbein-the-younger-the-ambassadors.
5 Pieter Claesz: Vanitas with Violin and Glass Ball, 1628, oil on panel, 36 x 59 cm, Germanisches Nationalmuseum, Nuremberg. Source: http://objektkatalog.gnm.de/objekt/Gm1409.
6 Antonio de Pereda: Allegory of Transience, c. 1640, oil on wood, 139,5 x 174 cm, Kunsthistorisches Museum, Vienna. Source: http://www.khm.at/en/visit/collections/picture-gallery/selected-masterpieces/.
7 David Bailly: Self-Portrait with Vanitas Symbols, 1651, oil on wood, 65 x 97,5 cm, Stedelijk Museum de Lakenhal, Leiden. Source: http://www.wga.hu/frames-e.html?/html/b/bailly/selfport.html.
8 Georges de la Tour: The Penitent Magdalen, c. 1640, oil on canvas, 102,2 x 133,4 cm, Metropolitan Museum of Art, New York. Source: http://www.metmuseum.org/collection/the-collection-online/search/436839?rpp=30&pg=1&rndkey=20151204&ft=*&who=La+Tour%2c+Georges+de%24Georges+de+La+Tour&pos=3.
9 Paul Cezanne: Young Man with a Skull, 1896–1898, oil on canvas, 97,5 x 130 cm, Barnes Foundation, Philadelphia. Source: http://www.barnesfoundation.org/collections/art-collection/object/5209/young-man-and-skull-jeune-homme-a-la-tate-de-mort?artistID=100&rNo=61.
Contemporary Japanese Arts: Religion and Technology in the Illustrations of Nature
Abstract Besides their Japanese background the contemporary Japanese artists Konoike Tomoko, teamLab and Kobayashi Nobuyuki share the main motif of nature within their arts. To explain and promote their works they refer to different, but both well-known cultural images of the Japanese: nature and technology.
Außer ihrer japanischen Herkunft verbindet die zeitgenössischen japanischen Künstler Konoike Tomoko, teamLab und Kobayashi Nobuyuki die Natur als das zentrale Motiv ihrer Kunst. Um ihre Werke zu erklären und zu vermarkten, beziehen sie sich auf verschiedene, aber dennoch weitläufig bekannte Bilder des Japanischen: Natur und Technologie.
1 Introduction: Nature and Religion in Japan
The intense and extraordinary relationship to nature is held as one crucial cultural value of the Japanese. This image is constructed and maintained diligently not only by foreigners, but especially by Japanese actors themselves. Notably in the field of representations of nature in contemporary Japanese arts this image is reproduced and maintained continuously.
To understand the relationship of the Japanese towards nature, the reference point most often quoted is religion. Namely, religion in Japan assumes a completely different human-nature-relationship than Western religions do (cf. Brechner 2000, p. 46). The idea of a duality between nature on the one side and human mind on the other side evolved in ancient Greece, and is one of the central assumptions in Western civilization.
In contrast to Christianity, the religions found in Japan are rather described as holistic and non-individualistic (cf. Brechner 2000, p. 45). This, especially, regards the human-nature-relationship. Here, human beings and nature are not seen as separate from each other but rather as the same thing. Humans are a part of nature and cannot be distracted or divided from it.
This idea of a human-nature-singularity can be traced back to various religious influences and tendencies in Asia; but Shintoism plays the most important role. Namely, in Shinto belief, as Japan is created by the deities ← 45 | 46 → Izanagi and Izanami, humans just arise from this process of coming into existence (cf. Brechner 2000, p. 58). Humans do not play any special role. The human being and the self are one minor category in the natural world.
In the end, these circumstances can be summed up into: "To think of Japanese religion is to think of nature" (Brechner 2000, p. 59). Japanese like to speak about themselves as nature-loving people and for foreigners this picture of the nature-bound Japanese serves their expectations well. "Mono no aware" describes the ability to be sensitive towards the impermanence of things and is especially coined on the reception of nature (cf. Hijiya-Kirschnereit 1988, p. 135). The idea of a unity of human mind and nature can be found in the theories of Japanese aesthetics. In fact, the idea of the human-nature-singularity is often described as the essence of Japanese aesthetics (cf. Brechner 2000, p. 60).
2 The Glistening Life: Teamlab and Konoike Tomoko
In this chapter a contemporary Japanese female artist and a Japanese artist collaboration will be introduced who in their artworks provide an extraordinarily vivid impression of nature and natural things.
Konoike Tomoko, born 1960 in Akita, Japan, is a multidisciplinary artist, known for her enormous crystalline works made of mosaic, glass and light. Her subjects, namely wolves, insects, and humans, but also mountains with faces, are presented in a sort of mystified world of dreams and imagination where there is no borderline between the animate, the inanimate, and the mind. At her first American solo exhibition named "Earthshine" at the Gallery Wendi Norris in San Francisco in 20131, she exhibited a large six-legged life-sized wolf with fur made of mirror shards, reflecting the installed light. The title of this work, "Donning animal skins and braided glass", brings the materiality to the center of the installation, and, therefore, redirects any attempt of metaphysical interpretation back to the tangible substance of the wolf. This is not completely in line with the six legs of the wolf, and in that can be located somewhere between our natural world of living things and a sort of dreamscape where entities and the way in which they are shaped do not follow higher physical ← 46 | 47 → or biological standards. Presented in a dark room, this installation casts numerous triangles of light to the wall, tiny warped triangles and large ones, and proper triangles with sharp boundaries likewise. The room creates an atmosphere of space, or a dream, or probably rather something in between. The wolf itself, while it seems to be frozen and solidified just while walking, is presented as an elaborate sort of entity; not just animal, not mind, not thing, not light, not life, but incorporating elements of all of these. Overall, this installation promotes a certain feeling of being one with nature and the world; though it might be a different world than the one we live in.
Konoike's works are dominated by images of the glistening life and a blurring boundary between the animate and the inanimate. Illustrating living things being caught in a splendid moment of life, but being stuck in inanimate material and being without possibility to move, she absorbs the recipients into her shiny world between nature and humankind.
TeamLab is a Japanese artist collaborative formed in 2001, bringing together specialists from different digital working spheres like artists, programmers, engineers, and graphic designers. Calling themselves "ultra-technologists", they are known for overwhelming installations in art spaces and public rooms, imitating nature and elements of nature while making those appear even livelier than the original in the real world. With various approaches from the digital fields they make their installations an astonishing experience for all recipients. One of their latest works was exhibited at the expo in Milan, Italy from 01 May until 31 October 2015. "Harmony" fills the whole dimmed room with movable plates on flexible sticks so that the visitors can make their way through them. These hundreds of mushroom-like objects move aside as soon as a person makes her way through them and close up again when the intruder is gone. The tops remind of ears of rice and reflect changing light installations with various themes. While the visitors can make their way through the green grass, again reminding of rice fields, the presentation changes and shows water with koi carps. Over and over again, the rice ears change their colour, but remain in action all the time, imitating a vivid nature. They seem to symbolize the change of seasons and invite the visitors to participate in this change.
Like "Harmony", the installation "Flowers and People, Cannot be Controllled but Live Together, for Eternity – Tokyo" refers to the change of ← 47 | 48 → seasons and illustrates the interdependency of nature and humankind. This installation is made of a long walkway in a darkened room and an open space that seems to be never ending. An ocean of flowers, different sorts of flowers, which change every hour, constitutes the floor. These flowers are moving, slightly changing their shape and their tone. Yet, it is not a beforehand-composed installation with programmed changes but it directly reacts to the visitors and their behaviour in the room. So, walking over a certain field of flowers will make it react to the visitors, and, therefore, evoke a certain synergy between the represented nature and the living human beings in the room. Nature and humans are one, depending on one another.
The titles of these two installations by Teamlab already spoil a certain intention behind these works. They are about presenting the inseparability of nature and humankind: they belong together, influence each other, and cannot be divided.
Both Konoike and Teamlab use light installations to provide a picture and an experience of nature that pretends to be even livelier and more vivid than real nature itself. In dark rooms and wide spaces they make nature come alive by glistening light and reflecting materials respectively LEDs. They lead the visitors back to the roots of nature without even constructing a contradiction between the artificial character of these highly technological spheres and the natural, which is not human-made.
3 For all Eternity: Kobayashi Nobuyuki
In this chapter the work of the photographer Kobayashi Nobuyuki will be described. Born in Yokoze, Japan, in 1970 he today mainly works on the topics of nature and landscape. He uses special Japanese paper, called washi; and platinum and palladium with printing to achieve the widest tonal range for monochrome printing. Upon that, he takes his pictures not with a digital camera. Instead, he uses an analogue full frame camera to strive for the best possible results.
In his exhibition "Portrait of Nature – Myriads of Gods on Platinum Palladium", 2014/15, he shows a series of platinum/palladium prints on the base of those pictures he took while walking through nature. The pictures, without titles, are dominated by certain motifs, which are repeated ← 48 | 49 → throughout the whole series. Instead of wide landscapes we can rather find details of nature portrayed in Kobayashi's works. The stone is one of the core elements. It can appear as a large rock, rearing up from the ground, or as a tiny little stone, almost vanishing inside of the surrounding nature. The second major element is water, and these two elements are illustrated together in manifold ways. Some pictures show just one stone, either shiny and clean or overgrown by plants and moss, as it is peacefully washed around by mild waters. Plants are an important motif in Kobayashi's photography, too. While several pictures show a couple of plants in the background, there are also pictures presenting one single plant on a rock or at a lake. Again, water is often to be found in the same picture, and both elements find their most obvious connection in the picture of some water lilies on a lake. Trees open up the rather close-up views of the elements explained above towards a wider scene of landscape.
It becomes obvious that Kobayashi diligently works out the perspective selection so that every picture seems to be composed and not naturally arranged. Yet, the title of the exhibition "Portrait of Nature" rather implies images of nature as it really is – as if the artist was not involved significantly in the outcome of the process of taking pictures of nature. But the photographs we see here do not remind us of taking a walk in the forest or going to the lake to throw some stones onto the water. Looking at them makes us feel like standing in front of something rather unreal or even artificial. By this strict composing of the motifs the pictures rather remind the spectator of the way Zen gardens are made up. Now, our approach towards Zen gardens, be it in pictures or in reality, is quite similar to the approach towards nature in these pictures here. Namely, we feel to be locked out from something special, even spiritual, over there which we are not allowed to enter.
Finally, what happens in Kobayashi's art is contrary to what Konoike and Teamlab do. Konoike stresses the intense relationship between nature and humankind and so does Teamlab. With those large installations where people can participate and influence the on-going, Teamlab seems to close any physical or mental gap between human beings and their surroundings. Kobayashi, by exhibiting the "Portrait of Nature" behind a glass frame, perfectly made up and in the right light for the photograph, creates a distance between us recipients and the represented nature. We see something beautiful and wonderful at the wall – not nature as we know ← 49 | 50 → it; but as it would look like if it was preserved perfectly for all eternity. Beautiful as it is we fail in trying to build up a connection between our reality and the portrayed nature.
4 Challenging the Stereotype
Up to this point the article has explained on which assumptions the widespread and well-accepted ideas about the so-believed special Japanese relationship towards nature ground; and three artists/artist collaborations seeming to fit this picture pretty well have been introduced. Now the article is turning to refer to the artists' motivation for being artists, their relationship towards nature, and what they aim to achieve with their art. So, the article will analyze whether the impression is correct that the artists make use of the picture of the nature-loving Japanese within their art.
The several hundred participants of teamLab ground their work on the potential of technology to enhance art. TeamLab founder Inoko Toshiyuki explains that he aims to combine art and technology to improve mankind (cf. teamLab1 2014: min 2:06). He wants to create a completely immersive environment. The inspiration for "Flowers and People, Cannot be Controlled but Live Together, for Eternity – Tokyo" came from an excursion to Kunisaki Peninsula during the cherry blossoming season:
"(…) that this large number of flowers was an ecosystem that is influenced by human intervention. The boundary between the work of nature and the work of humans is extremely vague. In other words, nature and humans are not antagonistic concepts, but rather, a pleasant nature is an ecosystem that also includes the work of humans" (teamLab2 2014).
Details
Pages

199

ISBN (PDF)

9783653064391

ISBN (ePUB)

9783653958416

ISBN (MOBI)

9783653958409

ISBN (Book)

9783631667774

Language

English

Publication date

2016 (March)

Published

Frankfurt am Main, Berlin, Bern, Bruxelles, New York, Oxford, Wien, 2016. 199 pp., 14 b/w fig.