Excerpt
Table Of Content
Cover
Title
Copyright
About the author
About the book
This eBook can be cited
Table of Contents
D. There Is A Need To Put Our Own Indigenous Languages, Knowledges, And Cultures At The Center of Our Education Revitalization
Chapter Five: Freeing Ourselves: An Indigenous Response to Neo colonial Dominance in Research, Classrooms, Schools, and Education Systems
Growth and Change
Wholeness
Conclusion
Note
References
Chapter Seven: Warfare as Pedagogy: Shaping Curriculum From the Margins; A Freirean Counter-Narrative of War
"At Peace Now"
The Official Story
The Original Uncertainty
Pedagogical Warfare
A Site For Hermeneutical Conflict
A Culture of Fear
L'Enfant Et Les Sortilèges
Depersonalizing War
Moral Progress
Something Cultural
References
Chapter Eight: Paulo Freire's Prophetic Voice at the Intersection of Liberation Pedagogy and Liberation Theology
Introduction
Paulo Freire—A Man of His Culture
A Historical Overview
The Former Christian Influences—Under the Shade of a Mango Tree
The Genesis of a New Church—Base Ecclesial Communities
The Prophetic Church—Committed To Transformation
Notes
References
Chapter Nine: Social Emancipation and Human Rights
Human Rights And Subordinate Cosmopolitism
Emancipation And Multiculturalism: Approximations Between Paulo Freire And Boaventura Santos
Multiculturality And Education For Emancipation
References
Section 2: Reading the World
Chapter Ten: The Popular Education Network of Australia (PENA) and Twenty-First-Century Critical Education
Introduction
History of Popular Education Network of Australia (Pena)
Places And Spaces For Sharing Critical Pedagogy
Context: The Backdrop of Neoliberal Education Systems In Australia
The Future: Critical Pedagogy And The Legacies of Freire And Darder
Conclusions And The Future of Pena
Acknowledgments
Notes
References
Chapter Eleven: Freire's Legacy for Communities Seeking Change in Sub-Saharan Africa
Introduction
References
Chapter Twelve: Autoethnography in a Kabyle Landscape
Introduction
Overcoming Fragmentation
Questions of Leadership And Knowledge
"Banking Education" (Freire, 1970)
Frantz Fanon In A Kabyle Life Story Today
Reclaiming A Kabyle Voice
Speaking Kabyle In Academia
Conclusion
References
Chapter Thirteen: Travellers in Time: A Critical Dialogue With the Gypsy Travellers of Lancashire
Introduction
The Cultural Context
The Pedagogy
Conclusion
Acknowledgments
Notes
References
Chapter Fourteen: How the MST's Educational Principles in Brazil Respond to Global Capitalism, Neoliberalism, and "Reactionary Postmodernity"
Introduction
"Globalizations"
Neoliberalism
"Reactionary Postmodernity"
Responses From The Mst's Educational Principles
An Overview of the Mst's Educational Work
Conclusion
Acknowledgment
Notes
References
Chapter Fifteen: Enough Is Enough—(de) Constructing Measurement Through Exposing Aspects of the Australian Curriculum in Mathematics as a White-Centric Epistemic Location
Introduction
The Freirean Culture-Nature Dichotomy
Views From The Field—Defining Numeracy And Quantification In The Australian Curriculum In Mathematics
Experience, Reality, And Cultural Creations
Example One (Oh) One
Multi-Logicality—Defined And Epistemically Decentred
Numeracy And Indifference In White Western Curricula
Decentering Pedagogy, (Re)Defining Literacy And The Criticality of Enough
Hegemonics Two (Oh) Two—Dialogue, Praxis, And The Quantification of Enough
Hegemonic Utilisation, Indigenous Knowledges, And Numerical Epistemic Locations
Urbane Abstractions And The Storied Self
(De) Constructing Numeracy—When Enough Is Enough
References
Chapter Sixteen: Shattering Silence in Kinshasa—Reading the World With Freire Under the Mango Tree
Introductory Notes: Silence—Reading—Mango Trees
Shattering Silence
Reading the World
Under the mango tree
The Relevance of Paulo Freire Today
Under the mango tree with Paulo Freire (1)—subjectivity
Under the mango tree with Paulo Freire (2)—humanistic stance
Colonial Silence—"Africa" And The White Noise
A Brief Foray Into Congolese (Colonial) History
Aspects of silence in Congolese education
Lingala and its language policies
Under the mango tree with Paulo Freire (3)—dialogue
The binary of right and wrong
Material conditions
In-Conclusion
Under The Mango Tree With Paulo Freire (4)—Parting
References
Chapter Seventeen: Re-claiming Traditional Māori Ways of Knowing, Being, and Doing, to Re-frame Our Realities and Transform Our Worlds
Introduction
The History of Schooling For Māori
Framing Māori
Forced Identities
Re-Claiming
Re-Framing
Kaupapa Maori
Conclusion
References
Chapter Eighteen: Pakistan in Praxis: The Development of a Peer Education Programme as a Tool Kit in Developing Young People for Critical Consciousness
Introduction
Methodology
Developing An Appropriate 'Tool Kit'
Conclusions
Acknowledgments
Notes
References
Chapter Nineteen: The Changing Life Patterns of the Veddhas of Sri Lanka: Translocation from a Forest Environment to an Agricultural Settlement
Introduction
Veddhas and Theories About Their Origin
Original Way of Life
Theory of Cultural Invasion
Research Design
The Purpose of the Study
Research Questions
Research Site
Research Sample
Research Methodology
Discussion
Living Conditions
Economic Activities
Occupations
Occupations of women
Marriage, Children, and Family Life
Marital Relationships and Family Life
Children, Family Size and Child-Rearing Practices
Socio-Cultural Practices
Changes In Values And Ethics
Education Levels and Aspirations
Social Life
Conclusions
References
Chapter Twenty: On the Streets With Paulo Freire and Simone Weil, Talking With Gamilaraay Students About Hèlio Oiticica
References
Chapter Twenty-One: Teaching English for Academic Purposes in a Japanese Setting: Problematizing and Dialogizing Essentialist Constructions of Language Pedagogy, Culture, and Identity
Introduction
Why Academic Courses In English At This Time?
Reasons For Interest In English
Powerful Ideologies And Narratives Linked To English And Elt
Concerning Curriculum and Assessment
Concerning Narrow Conceptualizations of English and English Speakers
Concerning Particularized Conceptualizations of Internationalization and Globalization
In The Wake of Invasive, Top-Down Impositions
Concerning Academic Faculty
Concerning Teachers and Students
Concerning Equivocal Tropes of Internationalization and Traumatizing Pushes and Pulls
Resistance And Critical Reponses
Classroom Strategies
Conclusion
References
Chapter Twenty-Two: The Customer Knows Best: The Opposite of the Banking Concept in the Case of the United Arab Emirates
Is Pedagogy of the Oppressed Universally Applicable?
Pedagogy of the Customer? Banking Education In The United Arab Emirates
Conclusion
References
Chapter Twenty-Three: Freire, Sublative Hope, and Early Childhood Education in Aotearoa New Zealand
Part One: Sublation And Hope
Sublation
Sublative Hope
Part Two: Freire, Sublative Hope, And Early Childhood Education In Aotearoa New Zealand
Sublation at Te Awhina Marae
Concluding statement
References
Section 3: Education as the Practice of Freedom
Chapter Twenty-Four: A Freirean Approach to Internationalization in Higher Education Within the Context of Globalization
Introduction
Internationalization's Response To Globalization
Internationalization And Social Transformation
Freire's Pedagogy of Social Transformation
Conclusion
References
Chapter Twenty-Five: A Dialogue About Dialogue: Freire and Bakhtin Talk Pedagogy in Response to Percy's "Problem"
Percy's "Problem"
Freire And Bakhtin On Dialogism
Pedagogical Orientations of Bakhtin And Freire
Returning To Percy
Taking Stock
Notes
References
Chapter Twenty-Six: Voices of Resistance: Positioning Steiner Education as a Living Expression of Freire's Pedagogy of Freedom
Introduction
Background
Education For Freedom: Steiner Meets Freire
Critical Pedagogy, The Pedagogy of Freedom And Love In The Time of Neoliberalism
Young Women As A Force of Change
The Voice of Resistance
Resistance To The Myth of Separation And The Myth of "Not Knowing"
Resistance To Anonymity And Prescriptive Living
Resistance To Displacement And Fear
Resistance To Dissociation, Loss of Voice, And Lack of Freedom: Belonging And Becoming
Concluding Comments
Notes
References
Chapter Twenty-Seven: Bilingual Education, Culture, and the Challenge of Developing Freirean Dispositions in Teacher Education
The Setting
Bilingual Education, Culture, And Freirean Dispositions
Conceptual And Practical Obstacles To Developing Freirean Dispositions
Conclusion
References
Chapter Twenty-Eight: A Contribution to Perspectives on Educational Partnerships for Social Justice
Introduction
Partnerships As A Third Way Neoliberal Agenda
Hegemony of Ideology
Freirean "Partnerships"—Solidarity, Struggle—As Alternative
Final Thoughts
Notes
References
Chapter Twenty-Nine: Working for the World
Working For The World
The Loss of Freire's Concept: Freedom As Technology
Free To Choose? Education As Palliative
A Problem of Freedom
References
Chapter Thirty: Education as an Aesthetic Exercise in Everyday School Performances
Introduction
A Glimpse of the Everyday School Experiences In A Hong Kong School
Constructivist Learning And Everyday School Performances
Drama As Method For Critical Discovery
Suspending Typified Roles In The Dramatic Elsewhere
Re-"Imaging" And Repositioning The Self And The Other Through Drama
Toward A Dialogic Pedagogy
Concluding Remarks
Notes
References
Chapter Thirty-One: Decolonizing Ways of Knowing: Communion, Conversion, and Conscientization
Introduction
Talking Back To The Oppressor: Three Moments of Bafflement
The First Tale: "Why Have You Taken So Long?"
The Second Tale: "I Don'T Trust You"
The Third Tale: "It's Not Proper Research Though, Is It?"
Decolonial Praxis: Freire, Fanon, And Du Bois
References
Chapter Thirty-Two: Music Education as a "Practice of Freedom"
Learning To Ask The Question: What Does It Mean To Educate?
Freirean Epistemology
Teaching As A Political Act
The Exercise of Freedom
Banking Education Versus Problem-Posing Education
Critical Dialogical Praxis And Music Education In New Zealand
Multiplicity of Practices
Transformative Music Education
Self-Reflexivity And Scepticism
Praxis Versus Methodolotry
An Example From The Classroom
Concluding Thoughts
References
Chapter Thirty-Three: Activism, Reflection, and Paulo Freire—an Embodied Pedagogy
Introduction
Methodology And Context of the Chapter
Freire's Activism
The Language of Possibility
Action, Reflection, And Praxis
A Living Pedagogy of Activism
Freire And "NaïVe" Activism
Conclusion
Notes
References
Chapter Thirty-Four: Entwining Three Threads: Working Within and Through a Culturally Responsive Pedagogy of Relations
Introduction
Historical Context
Current New Zealand Context
Te Kotahitanga: A Kaupapa Māori Response Within A Mainstream Setting
Positioning Our Narratives
Te Miro Pango : Iti's Story
Te Miro Mā: Dawn's Story
Te Miro Whero: Working Within A Relationally Autonomous Partnership
Power Is Shared Within Non-Dominating Rela-Tionships of Interdependence: Tino Rangatiratanga
Culture Counts: Whakapapa
Learning Is Interactive, Dialogic, And Spiraling: Wānanga
A Vision Is Shared: Kotahitanga
Conclusion
References
Chapter Thirty-Five: Freire's Theory as a Reference to Teaching Practice in Adult Education
Introduction
Teaching Practice By Freire: Adult Education Teacher Training And The Incursion Into The School
The Organization of Teaching Practice In Adult Education Studies
Strategies For Didactic-Pedagogical Orien-Tation
Strategies For Pedagogical Mediation In The Teaching Practice of Literacy
Final Thoughts
References
Chapter Thirty-Six: Freire and Skinner: Is There Space for a Dialogue on Education?
Introduction
Freire And Skinner: Is There Space For A Dialogue On Education?
Background
Paulo Reglus Neves Freire (1921–1997)
Education
Knowledge
The Role of the Teacher
Burrhus Frederic Skinner (1904–1989)
Education
Knowledge
The Role of the Teacher
Comparisons Between Freire's And Skinner's Proposals
Initial Reflections
References
Chapter Thirty-Seven: Appropriate/Critical Educational Technology Within Freire's Framework, Towards Overcoming Social Exclusion
Introduction
Objectives
Where Are We?
Freire's Framework Applied To Virtual Education
Analysis of Some Factors To Promote A Socio-Technological And Pedagogical Inclusion Mediated By Technologies
What Should We Do?
More Than Proposals, Concrete Actions
A Possible Anticipation of Ambitious And Feasible Thoughts In Freire's Frame-Work
Some Open Recommendations
References
Contributors
Name Index
---
Thanks to the Administrators at the Centre for Global Studies in Education, University of Waikato, Courtney White, Sabrina Van Saarloos and Maggie Lyall for editorial assistance in preparing this manuscript.
We are grateful for the continued excellent support from the Peter Lang team.
Thank you to the Philosophy of Education Society of Australasia for sponsorship funding assistance for the conference 'Paulo Freire: The Global Legacy,' from which this work is derived. ← xi | xii →

← xii | xiii →
The Understanding of Paulo Freire's Education: Ethics, Hope, and Human Rights
---
It is an honour being here for the first time in New Zealand, in Oceania, invited by the University of Waikato, to receive this tribute to my husband Paulo Freire for the legacy he left to the world, and to speak about this legacy. It is a joy which I will never forget.
Before I begin, I want to thank the Philosophy of Education Society of Australasia and the Centre for Global Studies in Education of Waikato University for organising the event and for the invitation. In addition, I would like to thank the support from the Faculty of Education, Waikato University, and Peter Lang Publishing, New York. Furthermore, I want to express nominally my gratitude to Professor Tina Besley and Professor Michael Peters of Waikato University.
I want to thank all of you who have come from different parts of the world to honour my husband. I regret that Donaldo Macedo cannot be with us. He is Paulo's and my great friend, and undoubtedly an authority when it comes to my husband's ideas.
MOMENT 1: A LITTLE ABOUT PAULO AND HIS LIFE
My subjectivity as a living partner has never allowed me to escape from the rigorous objectivity of the facts. Speaking of Paulo's grandeur and integrity, his personal ← xiii | xiv → virtues in his subjectivity, we will find the explanation of his theoretical comprehension. His virtues are evident in his knowledge of education and in his fundamental theoretical concepts.
Therefore, I must begin by speaking of the congruence1 between Paulo's feelings, his thinking, his behaviour, and his writing. Then, I will continue addressing his prudence in his boldness, his tolerance in respecting the different, and even his antagonists. Yet, it is important to speak of his perennial good humour even in the face of difficulties and adversities, of his enormous patience in his immense impatience, of his almost limitless generosity in giving himself to his peers, of his strength in resisting the irresponsible and those who practised misdoings, and of his humility in not whining or complaining or indulging in self-pity.
I acknowledge his childlike and spontaneous curiosity. He never gave up in the face of discouragements. He was never satisfied to conform to those intellectuals who said, "It must be so…this and only this truth forever." His common sense always challenged the nonsense of those continually repeating, "It must be so, because it has always been thus." I acknowledge his moral force that enabled him to understand the fragility of men and women without condemning them. I acknowledge his deliberate decisions and readiness to love, and to be in solidarity with people of all nations, colours, religions, ages, and sexual orientations.
He displayed intense passion in all events and circumstances of his daily living, and demonstrated above all his faithful communion with those who suffer because they are dehumanised. He firmly believed that from the oppressed one could build a better world. The values he lived were true, whole, and complete, born out of compassion for those marginalised, excluded, and oppressed.
Paulo was totally lacking in prejudice, anger, and desire for revenge or vindictiveness. He devoted his life to practising the awareness that enables men and women to transform themselves from being oppressed objects of elitist and authoritarian societies, into those who are indeed the subjects of history, thus enabling them to pronounce their world. They have studied and reflected, and therefore have the possibility of positioning themselves as critical subjects in society. As they become more and more critical, and engage more authentically in ethical and political struggles, they can ultimately transform the society where they live, which has previously oppressed them.
Paulo's many values and beliefs are grounded in the principles of human rights.
I met Paulo when I was only four years old, and he had just received a scholarship donated by my parents2 so that he could enroll in high school. He had lost his father, and his family had lost almost all their belongings. They moved from Recife3 to Jaboatão,4 where Paulo encountered many of his greatest sufferings, but where he also learned to fight for life and take an interest in social injustices that ← xiv | xv → afflicted the majority of Brazil's population. He studied hard, and earned a law degree.
He was a teacher of the Portuguese language before becoming the major educator of our country. Today, Paulo is the Patron of Brazilian Education. With this title, the greatest and most important among hundreds of others that Paulo received in life, or after his death, the country of Brazil recognises him as the greatest educator in all our history. Further, our educators, in acknowledging him as Patron, have benefited immeasurably themselves, as has the quality of the education they provide. We all win. The Brazilian Nation wins!
My relationship with Paulo lasted many years and had various nuances. I was his student, his friend, his student again in my master's degree, and finally, "when we changed the nature of our relations," his wife. We shared together ten years of affectionate, sexual, and intellectual maturity. Ten years of unlimited confidence in each other; of deep friendship; of unending fascination; of untainted admiration; of total openness and honesty of one towards the other. We never hid from one another our dreams, desires, doubts, sorrows, joys, frustrations, and disappointments.
We experienced wonderful things, and we experienced difficult things. All of these taught us to love above everything else and in all circumstances. We loved each other deeply. We gave ourselves to each other, to the full realisation of our lives.
MOMENT 2: THE WORLD'S READING OF PAULO WITH A FOCUS ON THE READING OF CONCRETE CONTEXT
Paulo understood that in order to become a good educator, we must cultivate and nurture our virtues. We are not born with them, but we are born with tendencies toward good or evil.
Our genetic heritage, our family environment, our school environment, and other opportunities that our society gives or denies us are what enable us to be what we are, and what we will become. We are not born determined to be this or that, but we become conditioned for this or that. It is up to us, within our freedom, and our autonomy as subjects, to make our own choices and educate ourselves about the virtues, and to perfect them or not. Paulo took the ontological path to fight for ethical behaviour, guided by virtues. He educated himself according to the principles of Greek arête.
Paulo's coherent legacy was that of a humanist educator. He understood that the act of knowing does not originate only in the brain, where it is said the intelligence of the world is processed—the "house" or the place of the logic of discernment. He used to say, "I do not know only by using my head, or only by using ← xv | xvi → my intelligence. My knowledge comes from the confluence of things emanating from my whole body, without compartmentalisation. Knowledge comes from the emotions, feelings, and other sentiments that go through my body, and because of my body, and also because of my mind. It is my body that tells me about what I must reflect. It is my body that becomes restless, that mobilises me for the search of knowledge. When I look repeatedly at the same thing, when my skin gets the chills, when my breast beats frenetically, my heart almost tells me, 'pay attention to it.'"
It is my body that tells me there is something that needs to be unveiled, to be made known, and to be shared socially. Indeed, there are signs in my body that warn me. "Paulo, focus your reflection on what makes you restless and uneasy." Thus, it is the conscious body that when instigated, provoked, and unsettled, leads to reflections that enable the establishment of an immaterial field of receptivity, where new knowledge can be "housed."
This new knowledge is still intuitive. It becomes possible then, in the light of reflexive reason, to sort out and systematise this new knowledge. This is how one produces knowledge—new knowledge. We do not discern only with the head, but with the whole body and everything it has, everything it processes, and everything it produces—emotions, feelings, experiences, intuitions, fears, terrors, joys, questions, myths, doubts, certainties, uncertainties….
Nobody acquires new knowledge because one has read, repeated, and memorised what was read. In order to know, we have in ourselves our primary and own condition of human existence, the knowability, i.e., the possibility created by us across thousands of years.
Starting from the gesture, the grunt, the cry, we stand up, walk, and the brain says, "I do, because I want to, intentionally." The very act of doing-thinking-doing has made available to us the conscience of the world, and the spoken languages, and then the written languages, through which we communicate today. In other words, with this millennia-long process, we have created in ourselves the knowability, we have created the ability to understand the reality, and thus we are able to create the romance, the poetry, the arts, the religions, the sciences, and the philosophies.
We have created the capacity to act on them, change them, and improve them. With knowability, we have the power to organise ourselves for social life that made, for example, this event possible, so that we can pay tribute to men like Paulo Freire.
We have turned ourselves into cognisant beings, beings capable of knowing, who constantly seek to know more, from the necessity and the curiosity to learn more. True knowledge implies apprehending the fact, the phenomenon, the object, so that we appropriate what we need to know, what we wish to know.
Another important understanding is the presence of one of many subjectivities open to what is new, stripped of the prior "givens," and open to the authentic and true act of knowing. We do not learn alone, but in communion with others. This ← xvi | xvii → original knowledge, being historical, is always being replaced by new knowledge, through the dynamism of all sorts of technologies, and the human desires to continually improve.
The act of knowledge, according to Paulo's theorising, requires, therefore, these three elements: the subject or cognisant subjects; the cognisable objects; and the dialectical and dialogical relationship between these two elements.
It is our cognisability, or knowability, built up by us, and within us, across the millennia, that allows us to apprehend the fact, the event, and/or the phenomenon or thing. Then, we appropriate to ourselves the object that was unveiled. Then, and only then, do we learn what was previously sought.
For Paulo, the dialogue is founded in the loving relationship established between cognisant subjects, and the objective possibility of knowing through questions: Why? For what purpose? What? And for whom? Against what? Against whom? How? Where? When? These questions and answers successively generate awareness, and new questions and unveilings. It is a process similar to Socratic maieutic, but differing from it because, in the Freirean dialogue, one does not seek only the ready-knowledge that needs only to be "discovered." The Socratic maieutic is idealistic, and the dialogue denies the Freiran reading of the world.
The knowledge that can be given only objectively between subjectivities in the reading of the world of concrete things, while it provokes and establishes inside us a relationship of dialogue between one another, is, at the same time, and conversely, an act in which knowledge is absolutely individual and subjective. It occurs in introspection.
Understanding the process of acquisition of knowledge, Paulo denounced the "banking" model education, in which the educator tries to deposit content in the students' empty minds, an act that precludes objectivity/subjectivity. Instead of theorising education as "banking", Paulo proposes the concept of critical education—education that is problematical, inquisitive, transformative, dialogic, dialectic, and liberating.
Furthermore, according to Paulo, our critical awareness of the world tells us that we know, and can know more. In the continuous dynamic of departing from the practice of what is known, and seeking the theory that explains it, and practising again, brings with it the learning, the common sense, the institutions, and the emotions. This is what Paulo called "the right thinking, the need to think the practice, to practice better, and to learn more, and to learn better."
If for Paulo, all true knowledge derives from thinking the practice of everyday life, lived in common sense and in intuitive sense, and if true knowledge derives also from the critical reading of the world, then we are speaking of the concrete social, political, anthropological, and religious contexts in which one lives, practises, and thinks. Thus there is no way to escape the fact that Freirean theory embodies a policity, an "anthropolicity," and an ethnicity, and consequently an "aestheticity" ← xvii | xviii → in understanding the act of seeking knowledge, of reading the world, and of acting in it.
And so, education for Paulo is a critical-ethical-political-educational activity, which involves an awareness that enables engagement in the struggle for political and social participation, and in the critical reading of the world, for the transformation of the world.
MOMENT 3: POLITICITY, DIALOGICITY, AND HOPEFUL PRAXIS: THE ETHICAL NATURE OF PAULO FREIRE'S THEORY
In the era of neoliberalism, it is customary to honor intellectuals who are exclusively rational, rationalist, or pragmatic. Pragmatics is beholden to a capitalist market economy. However, Paulo was truly a humanist intellectual, an educator with ideas absolutely connected to his "Northeastern Brazilianity," influenced by aspects of phenomenology, Marxism, and personalism. He was a humanist critic who never feared acknowledging that his knowledge came from his emotions, from his feelings, and from his commonsense intuitions. This motivated him to seek the 'raison d'être' or 'reason for being' of objects that could be known through reflection. Unlike the neoliberals, Paulo maintained that there is no such thing as neutrality in the choices, of options and actions, or in ideologies and practices, be they from the right or from the left. Paulo was a humanist critic who embraced the ethics of life because he was in favor of the destitute, the restricted, and the oppressed.
He was against the oppressors, oppressive conditions, and oppressive relations, which were the focus of his denunciations, and replaced with the announcement of a new man and a new woman living in a new society, more just, more fraternal, and more ethical, a society that respects human rights and upholds democracy.
In the era of economic globalization, which is supported by postmodern philosophies and by the most profound and rapid technological changes that history has known, a new "ethics" was established, the ethics of the market. According to the principles of this ethics, "human values" are dictated by market needs, and, as we know, this adopts values that serve the interests of those who have the capital and not the values inherent in more authentic human needs.
Today's ethics have become corrupted by a new and imperative paradigm of a highly technologised world that destroys, dehumanises living conditions and social relations. This "ethics," the "ethics of the market," is wrong. It is an ethic that is responsible for the concentration of income with the few, while the majority experience unemployment, hunger, and all different sorts of miseries that are "globalised" by the ease with which one corrupts and is corrupted, and by the lack of solidarity with and respect for others. This ethic is responsible for the disparities ← xviii | xix → that increase every day between those who have, know, want, can, desire, aspire, and achieve their wishes and those who cannot (or are not able to) achieve any of these things, and those who cannot even have the right to dream.
The ethics of life embedded in Paulo's understanding of the world counteracts the ethics of the market because it has as its ultimate principle the respect for life and aims to dignify life. It is a fundamental requirement of democracy. The "ethics of the market," which denies the ethics of life, is essentially an unethical positioning. It hurts, mistreats, ages the youth, kills children, and steals the humanity of millions of men and women. It promotes death and not life. It is the "ethics" that despises values and virtues that characterise the humanity of men and women.
Ultimately, the "ethics of the market" in which money becomes a god prohibits others from accessing and maintaining material goods. It commands, trains, oppresses, and forces people to exploit their brothers and sisters. It supports imperialist countries, and those who forged them, or joined them. Its "agenda" is conquest, cultural invasion, manipulation, and division, all of which are opposed to a dialogical action theory (Freire, 2011).
So, we must ask ourselves: Do we, or do we not, need to create a new social organisation from the ethics of life, which could establish the humanism that enables people to be truly alive and who actively care for each other? Do we want an ethics of life that can inhibit and dismantle what is destroying the environment, and can promote the being concerned for the planet and all human beings, especially those who, across the millennia, have strived to construct a social life characterized by tolerance, fraternity, and solidarity? "Is the dream over?"
Did neoliberalism, by declaring the end of history and the class struggle, ever consider, along its destructive pathway, the possibilities of reinventing a new society more ethical, or better yet, truly ethical? Has Paulo's possible dream been definitively erased by the cynical pragmatism, the selfish, usurpation, devastation, and misrepresentation of truths by those who command, order, enact, oppress, marginalise, and exclude the historical and ontological destiny of the great majority of the world's population?
The growing interest in and adherence to Freirean's praxis by numbers of Christians, Muslims, Jews, and Maoists, and their motivation to build a new world in which the ethics of life, dedicated to liberation, are guiding the world toward to new social behavior of their citizens.
The "philosopher of liberation," Enrique Dussel (2000), believes that the ethical-political-anthropological comprehension of Paulo's education embodies the essence of the ethics of liberation because in it "human life is the content of ethics."
"Freire is not just a pedagogue, in the specific sense of the term, he is more. He is an educator of 'ethical-critical consciousness' of the victims, the oppressed, the condemned of the earth, in the community" (Dussel, 2000, p. 427). Paulo Freire is ← xix | xx → "the pedagogue of an ethical-critical conscience" (Dussel, 2000, p. 487, footnote 161, emphasis mine).
We have no doubt that Paulo's understanding of education, enshrined in the essence of the ethics of life, has enabled the comprehension of what Dussel calls the "Ethics of Liberation", Paulo Freire's understanding of the impossibility of separating the concrete contexts of education as a practice for freedom and the process of liberation and transformation and life itself, as proposed by the "Ethics of Discourse." This ethic, in contrast with the ethics of life, understands education from a subjectivist view, which positions education as formation or as training or recycling of knowledge within a formal and universalist ethics that serves to maintain the status quo.
The issue of ethics always worried Paulo. In the last years of his life, he was devoted to thinking about it, and he intended to write, systematising his worries in the face of the calamities within an unethical world. His writing would have announced the redeeming of our humanity as a contribution from our presence in the world. I believe he would have been speaking of ethics that underlie the true human rights present in all his work, and implicitly or explicitly built in each of his words. In Paulo's view, the word is like "palavração" (word + action): Word is already action.
Therefore, Paulo's theory of knowledge is neither simply a progressive ideology nor a simple literacy methodology, as many claim. Paulo's theory is a theory of knowledge that incorporates an ethic that denies the ethics of discourse, but especially the ethics of the market. On the contrary, there is within Paulo's work an ethics of life that proposes a liberating education, an emancipatory education that allows the autonomy of subjectivities, grounded in respect for human rights.
I think I should say a few things about three premises of Paulo's theory. I have chosen: the Politicity, Dialogicity, and hopeful Praxis that are related dialectically. I see them as representing the unity in his theory and representing the constitutive ethical nature of his theory.
a.   We find the Politicity or the political nature of education (and not the neutrality) evident in Paulo's work and praxis in the relationship between awareness, commitment and solidarity—acting together to transform education.
People need to become aware of dehumanising facts that "limit" their lives. The educator or the militant should and must challenge these "limit situations," and act in ways that respect the dignity of all people. This implies educators should become committed to overcoming social injustices of all sorts and act in solidarity with the oppressed who are excluded from the educational process, and from the opportunities to participate in the destiny of their country. The educator should ← xx | xxi → share in taking risks with the oppressed and excluded so that they can abandon the magic, mythic, or ingenuous understanding of their world to appropriate a critical awareness which Paulo Freire's dialogical action theory provides. This critical consciousness allows the voiceless to pronounce their world, thus creating the possibility to restore the ontological humanity denied to the oppressed.
b.   We find the Dialogicity between subjectivity and objectivity in comprehension of the educational act in Paulo's work and praxis requires educators to be curious (epistemological curiosity),5 to authenticate themselves before others with respect, to be generous and to participate, to be tolerant of the different, to be tolerant of the multiplicity of ways that others read the world, and to open themselves up to revealing the knowledge with love and care. In other words, one must be curious, seeking to know more scientifically. One must respect the ethnic, racial, gender, religious, language, and cultural diversities; one must be generous and love others. One must be generous when showing solidarity toward all pains, distresses, and hardships of those vilipended and oppressed.
Educators should create an affective and restless atmosphere in their classrooms that helps students collaboratively and joyfully search for, create, and re-create knowledge with epistemological curiosity and scientific rigor. Educators also need to love the act of teaching and the school's curriculum. However, they are not obliged to love all pupils equally, but to respect and take care for them with equity.
The lovingness, as understood by Paulo in the pedagogical context, is a fundamental component of human rights, because it points to the need not only of respect and tolerance for differences, but also to exercise loving care and generosity toward the dignity of all participants.
c.   Hopeful Praxis can be understood as a lifelong and positive outlook on enhancing the quality of life, and achieving personal fulfillment, but realising that complete achievement of these things is difficult, but possible, which Paulo repeated without tiring over the last years of his life. In engaging in life's struggle, one must trust and have faith in oneself and others; one must be humble and understand human striving to do better and to become more.
Hope for Paulo is more than a state of mind or one of the theological virtues. To him, hope reaches beyond these conceptions. Hope is a result of the incompleteness of human existence. It belongs, therefore, to our ontological nature. From that incompleteness comes the possibility of education. Or, putting it another way, education allows us to constitute ourselves as human beings of human existence, which is much more than simple animal life. Hope is, therefore, an ontological ← xxi | xxii → human quality that justifies education. Hopelessness is the contradictory moment of hope.
Authentic humility that has no relationship with humiliation is the virtue that reinforces and reaffirms tolerance and caring. Acceptance without complaint of life's difficulties as well as its successes is authentic humility. The arrogance of many educators lacking in humility could be overcome if the reductionist dichotomies between teacher and learner, and between the all-knowing and the ignorant, could be rejected. Paulo's humble understanding informs us that people learn in communion with others.
Paulo's humility is evident in his book Pedagogy of the Oppressed. More and more people from all over the world came to tell him: "Professor, your work is brilliant, masterful…. It has changed my life." When he said this to me, Paulo commented: "If I had not focused on my humbleness I would have lost myself…. I would have lost my ontological positioning, the purpose for which I had written this book."
Paulo's greatest example of humility was to insist that people should not repeat or follow him, or try to re-create him. They could have him as a reference, if they wanted, but they needed to appreciate that he never thought he had said nor done everything.
Paulo and his theory of knowledge, which he preferred to call, humbly, "a certain critical understanding of education" is characterised by an attitude toward respecting and dignifying life, through enabling the liberation and empowering of historical subjectivities. His theory of knowledge has always been at the service of the oppressed and excluded. His theory was constructed from his feelings, emotions, intuitions, wariness of truisms, and his "recifenses"6 experiences, and reflections on the works of philosophers, sociologists, anthropologists, and educators from the ancient Greeks to the modern and postmodern eras.
In conclusion, Paulo's words that pronounce the world have within themselves their own liberating ethical force. They are deliberately imbued to the very core with Paulo's humanistic ethics. The word to him is liberative praxis, because in them, in his words, lead toward truth, understood as the dynamics of ethical praxis. Ethics for Paulo is truth. Paulo's understanding, education, and his epistemology based on his more radical ethics have permeated his studies of pedagogical, political, anthropological, philosophical, and sociological theories since his childhood and adolescence. All these understandings have equipped Paulo to propose his ethical paradigm for liberatory education that enables us to transform our societies for the better.
If today the world tries to understand its violence, lack of ethical decency, and naturalness with which it behaves toward a large measure of people facing hunger, disease, illiteracy, and wars, I would say that many people are looking to Paulo for his humanist understanding, soaked in rebellion and sweetness. They are looking ← xxii | xxiii → to Paulo and his ethics of life, the ethics of liberation that sees in all people dignity, happiness, and justice.
That is what, I believe, we gathered here have sought, in the legacy of my husband Paulo Freire.
Thank you.
São Paulo, October 27, 2012.
Hamilton, Waikato University, November 26, 2012.
Ana Maria Araujo Freire, PhD in Education by Pontifical Catholic University of São Paulo, is the widow and the legal successor of the educator Paulo Freire's work, Patron of the Brazilian Education.
  1.  Words in italics are from the original text in Portuguese. Translator's note.
  2.  Aluízio e Genove Araújo, the owners of Oswaldo Cruz School in Recife.
  3.  Recife is the capital and largest city of the state of Pernambuco, in the Northeast of Brazil. Currently the population of the city is 1,536,934 (Brazilian Institute of Geography and Statics —IBGE—IBGE, 2010). Translator's note.
  4.  Jaboatão is a part of the Recife metro area. Currently the population of the city is 650,000 (Brazilian Institute of Geography and Statics—IBGE—Census IBGE, 2010). Translator's note.
  5.  Paulo Freire valued the spontaneous curiosity that may become epistemological curiosity based on critical thinking.
  6.  Things or people that come from Recife, the birthplace of Paulo Freire. Translator's note.
Freire, P. (2011). Pedagogia do oprimido. Rio de Janeiro, Brazil: Paz e Terra.
Dussel, E. (2000). Ética da Libertação na Idade da Globalização e da Exclusão. Petrópolis, Brazil: Editora Vozes.
Translators of Nita Freire's keynote presentation and this foreword
Ana Lúcia S. Ratto
Débora B. Agra Junker
Vin and Ted Glynn ← xxiii | xxiv →
← xxiv | xxv →
Paulo Freire: The Global Legacy
---
Education either functions as an instrument which is used to facilitate integration of the younger generation into the logic of the present system and bring about conformity or it becomes the practice of freedom, the means by which men and women deal critically and creatively with reality and discover how to participate in the transformation of their world.
(PAULO FREIRE, PEDAGOGY OF THE OPPRESSED)
Paulo Freire, one of the greatest educators of all time, was born in Recife, Brazil, on September 19, 1921 and died of heart failure in Sao Paulo, Brazil on May 2, 1997. Freire taught Portuguese in secondary schools from 1941–1947 before becoming active in adult education and workers' training. He was the first Director of the Department of Cultural Extension of the University of Recife (1961–1964). Freire's Pedagogy of the Oppressed (1970) is an argument for a system of education that emphasizes learning as an act of culture and freedom. His works became justly famous as he gained an international reputation for his program of literacy education especially for the rural and dispossessed in Northeastern Brazil. He was jailed by the new government after 1964 and was forced into a political exile that lasted fifteen-years, eventually returning to Brazil in 1979. As a living testimony, his many works have been translated into many languages, and have inspired the tradition of critical pedagogy. (http://paulotgl.blogspot.co.nz/)
This paragraph was the basis of a notice to advertize the international conference Paulo Freire: The Global Legacy, held by the Centre for Global Studies in Education, University of Waikato, Te Whare Wananga o Waikato, Aotearoa/New Zealand, November 26–28, 2012. The conference aimed to involve experienced ← 1 | 2 → and new researchers, policy makers and practitioners from around the world who engage with Freire's work and it was organized into four broad themes that structured papers and presentations: Globalization; Decolonization; Indigenous Cultures; Cultural Studies.1 The four themes were designed to capture the global reception of Freire's work alongside the use made of his philosophy in specific contexts and especially by indigenous peoples. This coupling of "global reception/indigenous use" is developed as a means for theorizing Paulo Freire's legacy. We were very fortunate indeed to have Ana Maria Araújo Freire, Paulo's widow and an academic in her own right, to open the conference with some personal remarks and reflections on Freire's enduring legacy. Her warmth, friendliness, and participation in the whole conference were much appreciated and her speech provided the foreword for this collection. The keynote speakers also included Peter McLaren (see Chapter 1), Antonia Darder (see Chapter 2), and a number of New Zealand and Maori speakers who had modeled their own work, educational practice, and lifetime commitment on developing Freire's ideas: Graham Hingangaroa Smith (see Chapter 3), Russell Bishop (see Chapter 5), Linda Tuhiwai Smith and Peter Roberts (see Chapter 4)—all scholars with strong international profiles who have been responsible for keeping the Freire legacy alive.2 In addition, the conference was notable for the large number of visiting scholars from Freire's home country, Brazil, and from many other countries around the world. We were fortunate to have Dr. Ana Ratto, from Universidade Federal do Paraná, Curitiba, Brazil, as Visiting Scholar at the University of Waikato, who assisted Portuguese-speaking visitors. Débora Junker, Assistant Professor of Christian Education, Christian Theological Seminary, Indianapolis, Indiana, and Dante Romanó assisted with the translation of Nita Freire's presentation at the conference. The world premiere of the film Finding Freire directed by Julio Wainer and Dave Olive was also shown at the conference (see an excerpt from the film and commentary about the making of the film at http://paulotgl.blogspot.co.nz/ or http://www.youtube.com/watch?v=U8aExMg8foA).
In the New Zealand/Aotearoa context, the contributions to Maori education by three of the keynote speakers who have harnessed Freirean ideas are very important and highly significant for Maori and for all of New Zealand/Aotearoa. Graham Hingangaroa Smith (Ngati Apa, Ngati Kahungunu, Kai Tahu, and Ngati Porou) has been instrumental in developing the indigenous tertiary institution, Te Whare Wānanga o Awanuiārangi (http://www.wananga.ac.nz/). Along with Linda Tuhiwai Smith (Ngāti Awa, Ngāti Porou), who is the University of Waikato Pro-Vice Chancellor Maori, both have been leaders in establishing the state schooling system of Kura Kaupapa Māori, which positions the Māori language as the principal medium of instruction (see http://www.teara.govt.nz/en/maori-education-matauranga/page-5). Russell Bishop, a descendent of the Tainui and Ngati Pukeko iwi (tribes) ← 2 | 3 → of New Zealand and Scots and Irish peoples of Europe, was foundation Professor for Maori Education in the Faculty of Education at the University of Waikato. He was Director of Te Kotahitanga, a "research/professional development project that seeks to improve the educational achievement of Maori students in mainstream classrooms through the implementation of a culturally responsive pedagogy of relations and culturally responsive leadership" (see http://tekotahitanga.tki.org.nz/). By including three of the foremost scholar-researchers and innovators in the Freirean tradition who have devoted themselves to the cause of Maori education, together with Peter Roberts, Professor of Education at the University of Canterbury, an international scholar on Freire, this conference promised a great deal as evidenced by their work in the current volume. They demonstrate the currency and continuing legacy of Freire's work in contemporary neoliberal New Zealand.
Paulo Freire was an educator whose global legacy is of much the same stature as Nelson Mandela's; motivated by many of the same political sources; elevated by similar political ideas of freedom, equality, and emancipation; and shaped by the same decades of radical activity during the 1960s and 1970s. This is a very rare profile and reputation for an educator. It is often forgotten that during his university studies he taught Portuguese at the high school level, and while finishing his degree he began working with working-class people in Northeast Brazil, eventually becoming the director of education for an industrial service organization borne out of labor protests. In the ten years working for this organization, he became concerned with the "dehumanization of labor" and the effects of industrialization. In this phase, he was to be distinguished by his Christian (rather than communist) methods based on dialogue, and it was not long before he was appointed to Recife's Consultative Education Council (Kirkendall, 2010), partly on the strength of his participatory experiments with working-class literacy circles. During this period leading up the 1960s, Freire was influenced by a group of local thinkers dubbed "developmental nationalists" and by the generation of post-war existentialist and Catholic humanist thinkers such as Jean-Paul Sartre and Jacques Maritain. From the beginning of the evolution of his thought, it contained both the local and the global, an as-yet rudimentary notion of dialogue with the "Other", an emphasis on humanization together with an ontological commitment to "becoming" subjects of history, or author of one's own life and a notion of authenticity. One might speculate that this theoretical tool kit was a blend of Christian existential thought that focused on the collective dimension of existence in the concept of "class" (a notion still not theoretically realized in the early Freire).
Roberto Domingo Toledo in his "Existentialism and Latin America" (2014) indicates that the generative current of existentialism in Latin America considerably predated European and American sibling traditions, being forged in the crisis of identity of postcolonialism after the collapse of the Spanish empire. In terms of the Latin American tradition, Toledo mentions José Ortega y Gasset, Antonio ← 3 | 4 → Caso, and Miguel de Unamuno who was influenced by Søren Kierkegaard and Friedrich Nietzsche. He goes on to claim: "Ibero-American existentialism's precocious intersubjective focus has two historically intertwined roots: Ibero-American marginality and Ibero-American Catholicism" (p. 216) and to indicate that its roots lie in Miguel de Cervantes's novel Don Quixote, first published in the seventeenth century (1605, 1615). He also points out how Latin American existentialism has Catholic roots: not only Maritain as we have mentioned but also Max Scheler, Gabriel Marcel, and Maurice Blondel. (Freire is not mentioned in this survey).
We mention this historical element to illustrate the cultural complexities of the crafting and reception of Freire's work. Ibero-American Christian existentialism was already well established as a potent philosophical mix well before Freire became its heir and it became the basis for integrating a labor and popular cultural movement in Recife and part of Freire's thinking and opus on the eve of his gaining a university chair in the history and philosophy of education. Kirkendall (2010, p. 21) mentions that Freire was strongly influenced by Simone Weil and the Romanian psychologist Zevedei Barbu (on dictatorship and democracy). One might argue that Freire's innovation was to apply these ideas to adult and community education for illiterate working class people in the Brazilian Northeast. His ideas really caught fire in the English-speaking world with the publication of Pedagogy of the Oppressed in 1970 and yet the popularization of his life and work, now narrated and discussed many times, really started as a trickle with contributions from scholars such as Joel Spring, Henry Giroux, and Ira Shor in the late 1970s and early 1980s. Already with a home in Brazil and Latin America, Freire's classic was popularized in the English-speaking world and his place in the tradition of educational praxis was solidified in a number of collaborations with U.S.-based critical educators including Ira Shor, Donaldo Macedo, Antonia Faundez, Henry Giroux, and others during the late 1980s and early 1990s. It gathered momentum with authoritative interpretations in the 1990s (e.g., Gadotti, 1994; McLaren & Lankshear, 1994; McLaren & Leonard, 1993; Taylor, 1993), and a kind of literary canonization and globalization in the 2000s, especially after the initiation and flowering of the critical pedagogy project in the United States with Henry Giroux, Michael Apple, Ira Shor, Joe Kincheloe, Peter McLaren, Colin Lankshear, Patti Lather, bell hooks, and many others. From the first publication as Pedagogia do Oprimido (in Portuguese) in 1968 to its English translation by Myra Ramos, it has sold more than one million copies. It quickly became one of the foundational texts of critical pedagogy and is one of the most cited books in the field of education, regularly appearing on the reading list of most teacher education institutions.
The cultural reception of a text including its translation is a complex affair, especially when it reaches iconic status as a classic and its influence continues to grow across both the decades and different political eras. Freire's revolutionary text received its thirtieth anniversary edition in 2000 by Bloomsbury Academic and ← 4 | 5 → Continuum and a website was created to celebrate the book's fortieth anniversary at http://www.pedagogyoftheoppressed.com/. The website carries the section About the Book, an introduction by Donaldo Macedo, a bibliography of Freire's works (a list of some twenty-two works), a brief biography of Freire, resources for educators and students, praise and reviews, plus a new critical pedagogy series under the editorship of Shirley Steinberg and Ana Maria Araújo Freire, links (to four Freire Institutes), news and contacts.3 The biography starts:
Paulo Freire was born in 1921 in Recife, Brazil. He became familiar with poverty and hunger during the 1929 Great Depression. In school he fell behind and his social life revolved around playing pick up football with poorer kids, from whom he learned a great deal. These experiences would shape his concerns for the poor and would help to construct his particular educational viewpoint.
In another paragraph, the biography details Freire's revolutionary literacy methods and his exile after a U.S.-sponsored coup:
In 1961, he was appointed director of the Department of Cultural Extension of Recife University, and in 1962 he had the first opportunity for significant application of his theories, when 300 sugarcane workers were taught to read and write in just 45 days. In response to this experiment, the Brazilian government approved the creation of thousands of cultural circles across the country. In 1964, a military coup put an end to that effort. Freire was imprisoned as a traitor for 70 days. After a brief exile in Bolivia, he worked in Chile for five years for the Christian Democratic Agrarian Reform Movement and the Food and Agriculture Organization of the United Nations. In 1967, he published his first book, Education as the Practice of Freedom. He followed this with his most famous book, Pedagogy of the Oppressed, first published in Portuguese in 1968.
The website biography provides a glimpse of the application of his work in other countries during Freire's lifetime:
Freire was offered a visiting professorship at Harvard University in 1969. The next year, Pedagogy of the Oppressed was published in both Spanish and English, vastly expanding its reach. Because of the political feud between Freire, a Christian socialist, and the successive authoritarian military dictatorships, it wasn't published in his own country of Brazil until 1974. After a year in the United States, Freire moved to Switzerland to work as a special education advisor to the World Council of Churches. During this time he acted as an advisor on education reform in former Portuguese colonies in Africa, particularly Guinea-Bissau and Mozambique.
And finally, the last chapter of his life, so to speak:
Freire moved back to Brazil in 1980. He joined the Workers' Party in the city of São Paulo, and acted as a supervisor for its adult literacy project from 1980 to 1986. When the Party prevailed in the municipal elections in 1988, Freire was appointed Secretary of Education for São Paulo. In 1986, his wife Elza died. Freire married Ana Maria Araújo Freire, who ← 5 | 6 → continues with her own educational work. Paulo Freire died in 1997. (http://www.pedagogyoftheoppressed.com/author/)
In this encapsulated biography, we see a pressing lifetime of engagement with poverty, literacy, and empowerment, a preparedness to work in dialogue with others, a deep respect for the poor, illiterate, and the working class, and a profound spiritual philosophy of compassion and love that inspired Freire's praxis.4
The Pedagogy of the Oppressed is now undoubtedly a classic that joins the ranks of works by Plato, Kant, Rousseau, Piaget, Vygotsky, Dewey, Montessori, and A.S. Neil. It also occupies a special place in the canon of critical thought. It was forged as a synthesis of Latin American existentialism and liberation theology, and a range of contemporary global sources that inspired the radical decade of the sixties. It was the decade in which many countries gained independence from their European colonial powers, when widespread protests in the African American civil rights movement finally achieved national changes in racially discriminatory practices in a series of vital legislative changes, including the 1964 Civil Rights Act, the Voting Rights Act of 1965, the Immigration and Nationality Services Act of 1965, and the Fair Housing Act of 1968. The year 1968 was a momentous one, with Martin Luther King Jr. assassinated in April, and Andy Warhol shot and Robert Kennedy assassinated in June. It was the year that the "Prague Spring" in Czechoslovakia was crushed by the Soviet invasion and when the student riots in May in Paris sparked civil unrest, strikes, and fear of revolution. The sixties saw students around the globe protesting against the Vietnam War and for peace. It was a time when the "New Left" consolidated a range of freedom movements in gay, Hispanic, African American, second-wave feminist, and free speech rights and sparked a broad countercultural social revolution. This was an age when political protest and awareness became a civic duty for the postwar cohort called the "baby boomers".
The "New Left" was a term that was used to refer to activists and educators who sought reform on a broad front and was inspired by a range of continental thinkers who helped shape the student movement and the events of 1968: Albert Camus, Jean-Paul Sartre, Simone de Beauvoir, Frantz Fanon, Aimé Césaire, Emma Goldman, Guy Debord, Hannah Arendt, Henri Lefebvre, Mao Zedong, R.D. Laing, David Cooper, Ivan Illich, Rosa Luxemburg, Leon Trotsky, Bertrand Russell, Ernst Bloch, C. Wright Mills, Herbert Marcuse, André Gorz, Louis Althusser, Raymond Williams, Stuart Hall, and others. These thinkers and activists helped to mold a new generation of activists: Angela Davis, Daniel Cohn-Bendit, Abbie Hoffman, Malcolm X, Tom Nairn, Jerry Rubin, and Bill Ayers. To some extent, this loose confederation of thinkers and activists were united in their move away from the traditional "Old Left's" emphasis on labor as the vanguard of revolution to new student intellectuals (Cohen & Hale, 1966; Morgan, 1999). The New ← 6 | 7 → Left rearticulated a democratic vision of socialism based on grassroots movements across the board and departed from Stalinism to embrace the idea of a socialist humanism liberated from the domination of capitalism and the consumer society and much more oriented to questions of subjectivity, participation, and dialogue.
In the first footnote to Chapter 1 of Pedagogy of the Oppressed, Freire acknowledges the then contemporary reality, the political significance of youth and what he calls "the style of the age":
The current movements of rebellion, especially those of youth, while they necessarily reflect the peculiarities of their respective settings, manifest in their essence this preoccupation with people as beings in the world and with the world— preoccupation with what and how they are "being." As they place consumer civilization in judgment, denounce bureaucracies of all types, demand the transformation of the universities (changing the rigid nature of the teacher-student relationship and placing that relationship within the context of reality), propose the transformation of reality itself so that universities can be renewed, attack old orders and established institutions in the attempt to affirm human beings as the Subjects of decision, all these movements reflect the style of our age, which is more anthropological than anthropocentric. (Freire, 1970, fn 1, p. 43)
Freire's Pedagogy of the Oppressed reflected this new thinking. It is larded with references and footnotes (in order) to Hegel (2), Rosa Luxemburg, C. Wright Mills, Jose Luis Fiori, Karl Marx and Friedrich Engels (3), Georg Lukacs (2), Mao Tse-Tung (4), Erich Fromm (8), Herbert Marcuse, Candido Mendes, Frantz Fanon (2), Regis Debray, Alvaro Vieira Pinto (2), Simone de Beauvoir, Reinhold Niebuhr (3), Jean-Paul Sartre, Edmund Husserl, Ernani MariaJose-Luis Fiori, Che Guevara (5), Pierre Furter (2), Karl Marx (2), Karel Kosik, Hans Freyer, Maria Edy Ferreira, João Guimaraes Rosa, Lucien Goldman, Andre Nicolai, Patricio Lopes, Vladimir Lenin (2), Fidel Castro, Emma Goldman, Fernando Garcia, Gajo Petrovic, Pope John XXIII, Albert Memmi, Bishop Franic Split, Francisco Weffert, Getulio Varga, Mary Cole, Louis Althusser (3), Martin Buber, Mikel Dufrenne, M.D. Chenu, and Orlando Aguirre Ortiz.5
Eric Fromm, a psychoanalyst associated with the Frankfurt School, was a founding father of political psychology with path-breaking work such as Escape From Freedom (1941) and a humanism emphasizing relatedness, rootedness, sense of identity, transcendence, frame of reference, and other basic needs. It is clear why Freire also referred to Che Guevara, the Argentinian Marxist revolutionary who demonstrated an affinity with the poor and played a key role in the Cuban revolution. Among the luminaries that he referred to was a group of Latin American scholars and also, of course, the tradition of Marxist humanism, especially as it held hands with liberation theology.
There is one footnote that one of us (Michael Peters) learned a great deal from: "Having completed a BA Hons degree in Geography with Keith Buchanan ← 7 | 8 → at Victoria University of Wellington on the transformation of the Chinese landscape, I was particularly interested in Freire's use of Mao when I came to read him first in the early 1970s while a school teacher and then again as a scholar in the field of education in the late 1970s." Freire makes the following footnote to Mao that acknowledges the radical character of Mao's thought in relation to the transformative power of dialogue based on the lived experience of the so-called masses and the relation of the philosopher-teacher whose job is not one of correction or banking education but rather of clarification and "feedback":
In a long conversation with Malraux, Mao-Tse-Tung declared, "You know I've proclaimed for a long time: we must teach the masses clearly what we have received from them confusedly." Andre Malraux, Anti-Memoirs (New York, 1968), pp. 361–362. This affirmation contains an entire dialogical theory of how to construct the program content of education, which cannot be elaborated according to what the educator thinks best for the students. (fn 7, p. 93)
Given this scene, the flowering of the New Left, Freire's own experiences, and the struggles for self-determination that characterized the spirit of the age, it is not surprising how Freire's elegant Hegelian work captured and synthesized the kind of political humanization that recognized the agency of subjects working together to effect change for the better. One can only wonder why Pedagogy of the Oppressed has increased its readership during the neoliberal era.
On May 1, 2013, the Askwith Forum commemorated the forty-fifth anniversary of the publication of Paulo Freire's Pedagogy of the Oppressed with a discussion among Noam Chomsky, Howard Gardner, and Bruno della Chiesa about the book's impact and its relevance to education today. The discussion was published on YouTube on May 29, 2013.6 Chomsky begins by talking about the exile of Freire from a "nasty" dictatorship in 1968 before being offered a professorship at Harvard and publishing his book in English. The discussion focuses on the concept of liberation theology that attempted to bring back the Gospels, with its concern for the treatment of the poor, back to the center of Catholic teachings. Bruno della Chiesa mentions a number of the most prominent liberation theologists in Latin America popular at the time Freire was writing and Chomsky examines the United States' "vicious war against the church" to silence Jesuit scholars who supported this "heresy." Gardner mentions the international web of thought—German phenomenology, French existentialism, and German critical theory—that Freire drew on. Gardner suggests that "the fall of communism" in 1989 gave people the warrant to dismiss the significance and relevance of the 1960s counterculture.
But Freire himself was actively involved politically throughout his life. He was an acute observer and he theorized and analyzed the neoliberal era that began with the ascendency of Margaret Thatcher in 1979 and Ronald Reagan in 1980 that followed hard on the heels of the New Left and two decades of radical politics and ← 8 | 9 → social transformation. In a review essay, Peter Roberts (2003) reflects on Freire's engagement with postmodernism and neoliberalism, indicating that in the decade from 1987 to 1997 (the year of his death) Freire was actively willing to accept aspects of "progressive postmodernism" but absolutely opposed to the doctrine of neoliberalism.
If the reception of a text is a complex matter, then the reception of a dynamic and prolific author-activist such as Freire is even more complex. In terms of his readers and audiences, there has been almost fifty years separating his first readers from those who make up his audience today, many of whom are not a product of the radical sixties but have been born into the neoliberal era that is the dominant policy narrative for education (Peters, 2011). In essence, today, education as a form of human capital investment either by the state or the individual effectively recasts questions of agency, autonomy, and the subject in terms of market relations and robs Freire's political culture of its power of grassroots participation and democratic social action. Increasingly, as the State "responsibilizes" the individual for making investments in themselves, what Michel Foucault calls "entrepreneurs of themselves," the public dimension of education is eroded.
Much has changed since Paulo Freire's demise in 1997. While his work changed in response to the political environment and in particular the advent of neoliberalism, his classic work Pedagogy of the Oppressed that spelled out principles of public engagement, dialogue, and political action has a timeless quality because there are many different forms of oppression, and oppression is always with us as an inherent structural aspect of various economic and political systems that privilege elite groups over the majority. Witness the late twentieth-century and early twenty-first-century growth of inequalities under neoliberalism and the huge increase in poverty and youth unemployment in the so-called advanced economies of America and Western Europe, even though there has been some progress in reducing people in poverty in developing countries such as Brazil and China. Yet globalization brings new dangers and new forms of oppression or a new global awareness of old, entrenched problems such as the violence against women and girls by fundamentalist political, cultural, and religious movements that actively try to prevent the agency and education of girls. The core philosophy of Freire's classic, therefore, remains a critical part of a philosophy of engagement. It has strong significance and relevance in the contemporary world and its message is as vital as it was when Freire first drafted Pedagogy of the Oppressed nearly fifty years ago. It is a manual for organizing and educating, of providing the political education that returns to the ancient basis of people living together, of encountering each other, an inescapable encounter with the Other.
In one sense, with the failure of neoliberalism, especially since 2008 with the global financial crisis, the Great Recession, the Arab Spring, and the movements for democracy in Eastern Europe, some scholars suggest we are entering a new ← 9 | 10 → era of political activism, of people power, enhanced by greater world interconnectedness, by new forms of citizen engagement and journalism, and by a greater realization that world environmental problems threaten the very survival of humanity. There are some signs that a new era of political activism and grassroots movements is emerging, but this is different in some respects from the 1960s. In the Arab world, youth engage in the so-called Facebook and Twitter revolutions using new mobile technologies, especially smartphones, as tools for political protest, record, and coordination. In contrast, the burden of student debt in the United States, climbing above the $1 trillion mark as the largest form of mortgage after housing, has saddled students with financial commitments such that it has the effect of quieting their political behavior—of becoming docile bodies so they can compete in a highly selective job market. Even so, the Occupy movement that began in Zuccotti Park, Wall Street, in September 2011, and eventually spread globally, demonstrated a form of international solidarity against the corruption of the banking culture and the huge social and economic inequalities that finance capitalism had caused. Occupy went viral with protests in more than nine hundred cities in sixty-two countries, demonstrating a new level of awareness of the global stakes of the financial crisis (see http://en.wikipedia.org/wiki/Occupy_movement). Young people in Europe and especially in the Mediterranean economies are facing the highest unemployment rate in the postwar era and have been in the vanguard of mass protests in Greece, Spain, Cyprus, France, and Britain. It may be that in the West new forms of oppression have emerged alongside a greater global awareness of and resistance to the different faces of oppression associated with alienation, marginalization, sexual exploitation, and social exclusion. Meanwhile, elsewhere in the world there is a growing political movement that recognises and resists all forms of violence against women and girls, against domestic violence, against sex-trade trafficking, against practices such as female genital mutilation, and against fundamentalist religio-cultural practices promoted by Islamist extremist groups such as the Taliban, Boko Haram, and others opposed to girls' education, for example, in some parts of developing countries such as Pakistan, Afghanistan, and northern Nigeria.
In the 1960s, Freire's embrace of the Hegelian dialectics rendered the simple opposition between the oppressor and the oppressed based around the poor, the dispossessed, and the illiterate. Traditional class-based forms of organizing and mobilizing might be in decline but new forms of mass protest, including the Arab Spring, indigenous mobilization in Latin America, the anti-globalization and global justice movements, the movement against violence to women and girls, environmental and green movements, indigenous peoples' movements, children's rights movements, indicate the myriad forms of oppression and new forms of protest. Freire's political philosophy, his methodology for reading the world, his deep project of humanization based on love, and the ontological vocation to become ← 10 | 11 → more fully human all appear to bear witness to a universal message concerning freedom and emancipation.
Following the foreword by Nita Freire and this introduction, the thirty-seven chapters that make up this collection are divided into three sections: Section 1: Theoretical Perspectives—Reclaiming the Legacy, Section 2: Reading the World, and Section 3: Education as the Practice of Freedom. Section 1, with nine chapters, has a more theoretical focus and includes contributions by keynote speakers and others. Section 2, with fourteen chapters, shifts to a global focus in relation to Freirean approaches used throughout the world—in Australia, sub-Saharan Africa, the UK, Brazil, Democratic Republic of the Congo, New Zealand, Pakistan, Sri Lanka, Japan, and the United Arab Emirates. Section 3, also with fourteen chapters, combines many aspects of the first two sections as it looks at education and pedagogies as practices of freedom as they operate in many locations and take different forms. These include higher education, dialogue, Steiner education, bilingual education, social justice, decolonization, social inclusion, behaviorism, early childhood education, performance, music education, embodied pedagogy, culturally responsive pedagogy, and adult education.
As organizers of this conference and editors of this collection, we believe that the authors of these chapters clearly present a rich, deep, and valuable portrait of the extent of the spheres of influence in education in its broadest sense, of the contemporary state of Freire's global legacy over the decades since he published Pedagogy of the Oppressed. We believe this volume is a worthy addition to the Freire literature and will be useful to educators around the world. We have been working with Brazilian colleagues in anticipation of another conference on Freire's global legacy that will be held in Brazil in the future, in a continuation of the legacy he has given the world.
  1.  See Centre for Global Studies in Education website, http://www.waikato.ac.nz/globalstudies/home and the conference website at http://paulotgl.blogspot.co.nz/.
  2.  See the biographies of the keynote speakers at http://paulotgl.blogspot.co.nz/2012/03/keynote-speakers.html.
  3.  The full text of Pedagogy of the Oppressed is available at http://www.users.humboldt.edu/jwpowell/edreformFreire_pedagogy.pdf.
  4.  For other (auto)biographies, see Freire's (1995) Letters to Christina: Reflections on My Life and Work; see also his interviews listed under his Wikipedia entry at http://en.wikipedia.org/wiki/Paulo_Freire; and see his chronology at http://www.paulofreireinstitute.org/.
  5.  Recorded from the thirtieth anniversary edition, http://www.users.humboldt.edu/jwpowell/edreformFriere_pedagogy.pdf.
  6.  Available at http://www.youtube.com/watch?v=-SOw55BU7yg. ← 11 | 12 →
Castells, M., Flecha, R., Freire, P., Giroux, H.A., Macedo, D., & Willis, P. (1999). Critical education in the new information age. Lanham, MD: Rowman & Littlefield.
Cohen, M., & Hale, D. (Eds.). (1966). The new student left. Boston, MA: Beacon Press.
Collins, D.E. (1977). Paulo Freire: His life, works and thought. New York, NY: Paulist Press.
Escobar, M., Fernandez, A.L., Freire, P., & Guervara-Niebla, G. (1994). Paulo Freire on higher education. Albany, NY: SUNY Press.
Faundez, A., & Freire, P. (1972). Learning to question: A pedagogy of liberation (T. Coates, Trans.). New York, NY: Continuum.
Gadotti, M. (1994). Reading Paulo Freire: His life and work. Albany, NY: SUNY Press.
Giroux, H.A. (1982). Paulo Freire and the concept of critical literacy. In Radical pedagogy (pp. 77–82). Philadelphia, PA: Temple University Press.
Kirkendall, A.J. (2010). Paulo Freire and the cold war politics of literacy. Chapel Hill: University of North Carolina Press.
Mayo, P. (1994). Synthesizing Gramsci and Freire: Possibilities for a theory of radical adult education. International Journal of Lifelong Education, 13(2), 125–148.
McLaren, P., & Lankshear, C. (Eds.). (1994). Politics of liberation. Paths from Freire. London, England: Routledge.
McLaren, P., & Leonard, P. (Eds.). (1993). Paulo Freire: A critical encounter. London, England: Routledge.
Morgan, E. (1999). The 60s experience: Hard lessons about modern America. Philadelphia, PA: Temple University Press.
Peters, M.A. (1999). Freire and postmodernism. In P. Roberts (Ed.), Paulo Freire, politics and pedagogy: Reflections from Aotearoa–New Zealand (pp. 113–122). Palmerston North, New Zealand: Dunmore Press.
Peters, M.A. (2011). Neoliberalism and After? Education, Social Policy and the Crisis of Western Capitalism. New York: Peter Lang.
Roberts, P. (2003). Pedagogy, neoliberalism and postmodernity: Reflections on Freire's later work. Educational Philosophy and Theory, 35(4), 451–465.
Shor, I. (Ed.). (1987). Freire for the classroom: A sourcebook for liberatory teaching. Portsmouth, NH: Boynton/Cook.
Shor, I., & Freire, P. (1987). A pedagogy for liberation: Dialogues on transforming education. South Hadley, MA: Bergin & Garvey.
Spring, J. (1975). The growth of consciousness: Marx to Freire. In J. Spring, A primer of libertarian education (pp. 61–79). Montreal, Quebec, Canada: Black Rose Books.
Taylor, P. (1993). The texts of Paulo Freire. Buckingham, England: Open University Press.
Toledo, R.D. (2014). Existentialism and Latin America. In F. Joseph, J. Reynolds, & A. Woodward, The Bloomsbury companion to existentialism, (pp. 215–237). London: Bloomsbury.
WORKS BY PAULO FREIRE, LISTED BY PUBLICATION DATE
Freire, P. (1970). Pedagogy of the oppressed. New York, NY: Herder & Herder.
Freire, P. (1972). Cultural action for freedom. Harmondsworth, England: Penguin. ← 12 | 13 →
Freire, P. (1973). Education for critical consciousness. New York, NY: Seabury Press.
Freire, P. (1976). Education, the practice of freedom. London, England: Writers and Readers.
Freire, P. (1978). Pedagogy in process: The letters to Guinea-Bissau. New York, NY: Seabury Press.
Freire, P. (1980). A day with Paulo Freire. Delhi, India: I.S.P.C.K.
Freire, P. (1983). Pedagogy in process: The letters to Guinea-Bissau. New York, NY: Continuum.
Freire, P. (1985). The politics of education: Culture, power, and liberation. South Hadley, MA: Bergin & Garvey.
Freire, P., & Macedo, D. P. (1987). Literacy: Reading the word & the world. Critical Studies in Education series. South Hadley, MA: Bergin & Garvey.
Freire, P., & Faundez, A. (1989). Learning to question: A pedagogy of liberation. New York, NY: Continuum.
Freire, P. (1993). Pedagogy of the city. New York, NY: Continuum.
Freire, P. (1993). Pedagogy of the oppressed, 20th anniversary edition. New York, NY: Continuum.
Freire, P., & Freire, A. M. A. (1994). Pedagogy of hope: Reliving 'Pedagogy of the oppressed.' New York, NY: Continuum.
Freire, P., & Macedo, D.P. (1996). Letters to Cristina: Reflections on my life and work. New York, NY: Routledge.
Freire, P. (1997). Mentoring the mentor: A critical dialogue with Paulo Freire. New York, NY: Peter Lang.
Freire, P., & Ana Maria Araújo Freire, A. P. A. (1997). Pedagogy of the heart. New York, NY: Continuum.
Freire, P. (1998). Teachers as cultural workers: Letters to those who dare. Boulder, CO: Westview Press.
Freire, P., Freire, A. M. A., & Macedo, D. P. (1998). The Paulo Freire reader. New York, NY: Continuum.
Freire, P. (1998). Pedagogy of freedom: Ethics, democracy, and civic courage. Lanham, MD: Rowman & Littlefield. ← 13 | 14 →
← 14 | 15 →
Section 1:
Theoretical Perspectives— Reclaiming the Legacy
Reflections on Paulo Freire, Critical Pedagogy, and the Current Crisis of Capitalism
---
It surely is the case that the age in which we inhabit so precariously demands manifestos, not desiderata or credos. Unless, of course, those creeds can become manifest as a rallying cry, a canticle for the undead slaves toiling in capitalism's grim hostelry, forceful enough to be heard beyond the sepulchers and catacombs where schooling, as a proprietary field entombed by its own unforgiving success, has been consigned for all eternity for desecrating the very heart of what it means to live and to learn. It is my wager that words can howl and on this brittle quiver of hope I set mine into print.
I am in sympathy with many of the youth of today, whose full-throated screams meet the immemorial silence of the pedagogical tradition—an ear-shattering silence that compelled me as a youngster, in baggy denims stained with grease and oil and sporting a jaunty oversized newsboy cap, to keep my eyes squarely focused ahead and my hands folded together on top of my desk as neat as a crisply starched handkerchief. My experiences of those times are housed in the cold chambers of memory. The earliest recollections I have of being schooled are felt in the sockets and joints of monumental time and while they do not bear the fleshiness of a living presence, they seem much more real. As one of the first students among my primary school classmates to enter the room each day, I was welcomed by row upon row of chairs stacked upside down on desks, what looked to me like varnished, wind-worn bones of long-vanished creatures. In the fog-bound reaches of my mind I can still recall the pungent stench of the cleaning fluid used to wipe ← 17 | 18 → away the undeviating anxiety of the school day, but I cannot recall the face of a single teacher prior to my junior high years, save one industrial arts teacher with a jack-o-lantern rictus who struck me repeatedly on top of my hand with the sharp edge of a metal ruler, swift strokes that left deep bruises. The bleak archeology of the setting and the threat of violence kept me uncomfortably attentive, which was its purpose. I came to understand the meaning of tradition as the repetition of misery, tragically prolonged. All I recall are charts, tables and formulae, wall diagrams and lists—dead letters for the living dead. I had little sympathy in 1959 for teachers. That came much later, in 1965. The countercultural zeitgeist had enervated me and I felt alive for the first time inside the walls of the academic prison house, beginning with readings of Beowulf, Chaucer, and Shakespeare, in that historical order.
After years of being victimized by the bloviating gasbags of the corporate media who served as little more than capitalist cheerleaders, I realized that my fate as a student in the academy was not as in peril as much as those who took the brunt of capitalism's brutal neoliberal assault—reserve armies of low wage earners and the unemployed. Capitalism is a colossus that bestrides the world, wreaking havoc. As a self-validating and self-perpetuating discourse and social relation, capitalism works as a self-fueling engine whose capacity to travel around the globe and devour everything in its path is expanding exponentially. For those communities who have harrowed the hell of this world-eater, some explanation is necessary, especially since many of these communities are searching for a role that education can play to free them and their children from the death grip of this seemingly unstoppable and imperishable leviathan. As a discourse and social practice that in its current neoliberal incarnation is shorn of neither self-enrapture nor fanatical adherence by most business leaders and guardians of commerce, capitalism shatters collective experience into monadic bits and pieces, bifurcating students' relationship to their bodies, brutally taxonomizing human behavior into mind and body, into manual and mental labor. Capitalism is so powerful it possesses the ability to commodify our souls (by commodity I here refer to something created expressly for market exchange). It possesses a terrible power of psychologizing entrenched and dependent hierarchies of power and privilege and reformulating them into homogeneous and private individual experiences. The upshot is that 99% of the world are made to feel solely responsible for their own plight.
When we talk of the working class, it is easy to fall into the trap of seeing class solely or mainly in terms of culture, i.e., working class culture. But I want to emphasize that it is the social relations of labor that determine a person's class location, not the opportunities for engorging your powers of acquisition through deregulated consumptive practices. With gold-filled pockets as large as the pouched cheeks of Dizzy Gillespie playing his trumpet, the rich and famous have set the standard for success as measured by human greed and a thirst for power as unfillable as the ← 18 | 19 → Sistine Chapel. But for those who sell their labor power to earn a living (i.e., those who produce the profit for the capitalist) life is being enslaved to those who purchase human labor and take away the profits. While, for instance, the stock market may seem to produce wealth, it is really just redistributing the wealth produced by the labor of the workers. Profit does not come from market relations (buying low and selling high), but from human labor power. In this, I follow Marx's focus on the development of human productive forces—a very complex process that is historically related to the material conditions of production and the class struggle. The profound incompatibility between the forces and relations of production produces tremendous social conflict.
In the field of education, I want to draw attention to an irresoluble tension that exists between the possibilities of education and economic efficiency, threatening the professional autonomy and working conditions of educators and the very purpose of education itself. Marxism's protean focus on proletarian self-activity and the self-organization of the popular majorities are anathema to much of the work that falls under the dubious classification of social justice education. Although well-meaning progressive educators might be willing to criticize the manner in which humans are turned into dead objects (i.e., what Marxists refer to as fetishized commodities), they are often loathe to consider the fact that within capitalist society, all value originates in the sphere of production and a main role of schools is to serve as agents or functionaries of capital and its masters—the military industrial complex, the surveillance state and the transnational capitalist class. Furthermore, these educators fail to understand that education is more reproductive of an exploitative social order than a constitutive challenge to it precisely because it rests on the foundations of capitalist exchange value.
Taxpayer bailouts of the financial sector in 2009 have made billionaires of hedge fund managers, further widening the gap between the rich and poor, making the United States one of the most unequal countries in the so-called developed world. Faced with gargantuan cuts to school aid and an evisceration of programs designed to serve working-class communities, assaults on teachers and teacher unions, and a push for the privatization of schooling and test-based accountability, public schools are under siege, fighting for their very existence against the onslaught of the new Daddy Warbucks in postmodern corporate clothing—the Bill & Melinda Gates Foundations, the Eli & Edythe Broad Foundation, the Walton Family Foundation, the Laura and John Arnold Foundation, the Michael & Susan Dell Foundation, the Bradley Foundation, the Robertson Foundation, the Fisher Foundation and the Anschutz Foundation. And, as Diane Ravitch (2014) has pointed out, organizations that support privately-run school organizations with progressive sounding names such as "the American Federation for Children, the American Legislative Exchange Council (ALEC), Better Education for Kids (B$K), Black Alliance for Educational Options, the education program at ← 19 | 20 → the Brookings Institution, the Centre for Education Reforms, Chiefs for Change, ConnCAN (and its spin-off, 50CAN, as well as state-specific groups like MinnCAN, NYCAN, RI-CAN), Democrats for Education Reform, the Education Equality Project, Education Reform Now, Educators 4 Excellence, EdVoice, the Foundation for Excellence in Education, the National Council on Teacher Quality, New Leaders for New Schools, NewSchools Venture Fund, Parent Revolution, Stand for Children, Students for Education Reform, StudentsFirst, Teach for America, Teach Plus" and others. Under the rallying cry of accountability through test-based evaluations of teachers, wealthy entrepreneurs and hedge fund speculators who have never attended public schools or taught in a classroom have partnered with billionaires to advance a corporate reform agenda in our nation's schools. These new 'reformers' span the ideological spectrum from Bill Gates to the Koch brothers. In fact, among some of the very persons responsible for championing the neoliberal economic policies that led to the current recession are those who are now anointing themselves as leading educational reformers.
Savvy members of the business community fresh from power lunches with insider beltway lobbyists and underwritten by private education management firms cravenly cement their agendas to the desperate cries for help from aggrieved communities, despoiling education by turning sites of learning into deregulated enterprise zones such that the rhetoric of democracy and education has now become oxymoronic. This is not to say that all attempts to create community and business partnerships for the improvement of education are merely cynical attempts to use market-driven reforms to create an unstable and de-unionized teaching force. But it is no coincidence that the push to privatize education has in many instances had the tragic effect of intensifying inequality through reproducing a government-subsidized class-tiered system of education, leaving many schools in working-class communities with inadequate resources and languishing in despair.
To overcome this juggernaut of capitalist cruelty that would profit from the tears of the poor if it knew how to market them effectively, critical revolutionary pedagogy flouts the frontier between scholarship and activism in order to outflank consensus and, in this way, works to create a counter-public sphere. We are askew to traditional academia and are not enmortgaged to its status and do not represent the ivory tower. In fact, we are often marginalized in and excoriated by various and sundry academic organizations. We want to mediate human needs and social relations in publicly discussable form to create a transnational social movement of aggressively oppositional power. However, critical pedagogy is not yet in a position to play a substantial role in the struggle for a socialist future. A more productive role for critical pedagogy needs to be discovered so that educators can become more effective agents of revolutionary transformation.
Immiseration, capitalism's ferocity, leaves no semblance today of the unsundered world of the 1950s suburbia, as it haunts the world like a fallen Tharmas, the ← 20 | 21 → bellowing beast with sea jelly eyes and filament-riven skin that haunts Blake's Apocalype. Schooling in the United States has been successful to the extent that it has refused to examine itself outside of the hive of capitalist ideology and its cloistered elitism—its precepts, concepts, its epistemicides and its various literacies of power through which ideas become slurred over time and actions on their behalf are guaranteed to remain as inactive as a drunken fisherman lost at sea. It has accepted the fact that answers will remain predesigned before questions can even be formulated. The vision of democracy is inevitably preformed and must be engraved on the minds of its citizens through ideological state apparatuses such as schools. As long as the ideas of the ruling class rule us, and they can certainly rule us with the help of new information technologies, we will be apprentices to the anguish of the oppressed, and ideas will be guaranteed to remain vacant, hidden in a thicket of "feel-good" bourgeois aesthetics whose complicity with inequality bulks as large as its opposition to it, making it an appropriate ideological form for late capitalist society. Such ideas will be guaranteed not to transgress the 'comfort zone' of those who tenaciously cling to the belief that with hard work and a steeled will, we will reap the rewards of the American Dream.
We fight to make available those vernaculars that have been deemed oppositional and counter-hegemonic/contestatory/revolutionary. With a critical lexicon, borne in blood-soaked struggles by those who have over centuries fought against the forces of domination and exploitation through poetry, art, philosophy, literature, politics, science, technology and a search for justice and equality, we can envision and create a new world. And finally, we can see those things that interdict a learner's ability to read the word and the world critically.
Zygmunt Bauman and others have argued that vulnerability and uncertainty are the foundation of all political power. The protective functions of the state that were once directed toward mitigating the extent to which citizens were at the mercy of the vulnerability and uncertainty of the market were brutally rescinded by Thatcher and Reagan as the welfare state was systematically dismantled. Government restraints upon market forces and business activities were removed. The market regained its omniscience. Market-generated insecurity against which the state could no longer shield its citizens had to be replaced by something more ominous—the zombies of the underclass, those who were not able or forbidden to participate in the market. Entrenched and indomitable structures of privilege and power were no longer acknowledged as the poor and powerless were now held responsible for their own immiseration. They were no longer to be protected, but instead had to be criminalized for the sake of order-building. Those who were unable to participate successfully in the market were held responsible for their own failure instead of being benevolently assisted as personalized solutions were now expected to challenge the systemic contradictions of the capitalist marketplace. The uncomplaisant and increasingly belligerent state had to augment the ← 21 | 22 → insecurity of the market by intensifying it, transferring its legitimacy to its ability to protect the public from terrorists through preemptive wars and drone assassinations and so on and a profligacy of heinous acts justified as protecting its citizenry and its interests. This was facilitated by the construction of a national identity via the corporate media that was a toxic admixture of statecraft and garage sale apocalyptic mysticism: America must carry the torch of democracy to the far corners of the globe as our God-given duty, a providential version of manifest destiny, if it means preemptive military strikes and, as George W. Bush put it, "kicking some ass." The current crisis of neoliberal globalization is re-patterning not only the objective world, but the subjective world as well, constantly breaking down cultures of political solidarity by trying to create a post-ideological universe of human experiences and selfhood consisting of commodified subjects whose affinity for any type of political solidarity has been replaced by participation in orgies of capitalist consumption and the creation of self-gratifying designer identities. A new imperialist vision of manifest destiny (Harvey, 2003) has shaped the foreign policy of the United States, giving a grotesque new meaning to the phrase "military-industrialist complex." That we live in a democracy is largely an ideological fabrication or illusion that lends legitimacy to the reproduction of this complex. In the language of the transnational capitalist class, this might be called a "beneficial untruth."
In the present theater of class warfare there remains a profound confusion as to how to wage our fight against the global contagion unleashed by the Great Recession. The seriousness of this crisis extends beyond developing isolated tactics for deployment in the struggle against state repression, imperialist wars, climate change, geopolitical insecurity and forms of abstract labor that are crippling workers and their families with a cruel malignity. Some of our best-intentioned fighters who are putting themselves most at risk in the struggle for social justice are operating under ideological assumptions that are squarely encapsulated to serve the needs of capital, thereby recuperating the very conditions they are struggling against. What's missing is a well-defined strategic sense of how capital as a monstrous entity can neither be placated nor reformed—but must be utterly destroyed. When we plea to the behemoth for compassion, it curls its hands, pulls back its rictus to reveal a wickedly jeering skull beneath its corporate skin, and retreats across a field of dried bones only to return again with an even larger club with which to pound us laughingly into dust.
Any state devoted to abolishing terror must itself inspire terror and in fact become more terrifying than the terrorists whom it purports to be fighting. However, this crisis has been able to demonstrate to many that egalitarian justice can only be achieved against capitalism, that justice for all cannot be achieved within the framework of a capitalist market economy that relies on wars, the arms industry, and ecocide to slake its endless thirst. ← 22 | 23 →
One of the foundational social relations that interdicts a student's access to resources necessary to see the world critically is, I believe, class exploitation—an exploitation that despoils communities and dispossesses workers of their humanity. Education opposes schooling. Education is that which intrudes upon our instincts and instruments of mind and augments them; it pushes us along the arcs of the stars where our thoughts can give rise to new vistas of being and becoming and to new solidarities with our fellow humans. Our responsibilities for creating critical citizens should be proportional to our privilege. Today a good education is no longer seen as a social responsibility but as picking carefully from an array of consumer choices provided by a number of gluttonous new companies and corporations.
In the main, I would say that we need to strive for cooperative, freely associated labour that is not value-producing. We need to look to the new social movements and uprisings throughout the world for new organizational forms, including those of non-Western peoples. Socialism is not an inevitability, despite what teleologically driven Marxists might tell you. Right now capitalism is reorganizing itself and attempting to reconstitute the working class by criminalizing it and disaggregating its revolutionary potential through new information technologies. Can democracy survive this historical self-immolation? I would say, no, not without the rise of social fascism. And then what kind of democracy would that be? A democracy in name only—which is not far from what we already have in the United States at the moment.
As we fall prey to the all-pervasive influence of corporations and their attempts to re-create us as desiring-machines (desiring what the corporations have to sell us), we have become a less mindful, less vigilant citizenry, watching passively as civil life becomes swallowed up by the logic of capital, consumption, and corporatism. People no longer want to become actors—they want to become celebrities. Our rhizomatous culture has become corralled by capital, so that it appears as if we are autonomous and in a constant state of self-actualization but in reality we are making ourselves more vulnerable to the crippling control of Big Brother. But of course it is easy to sink into a dystopian malaise and to be so fearful of the future that we end up in the thrall of paralysis.
In our pedagogies, in our public pedagogies more specifically (this term was developed first by Henry Giroux), I follow the tradition of popular education, liberation theology, and Freirean-based education. Freire's standing within the lineage of critical pedagogy is that of a global advocate for praxis. Freire's work demonstrates the possibility of what I would call a transformative volition, or protagonistic intent, that is, a movement of the human spirit (that resides in the flesh of our bodies and of our dreams) in and on the world designed to transform the material and social conditions that shape us and are shaped by us so that our capacities are enhanced and our humanity enlarged. Here I would draw attention to ← 23 | 24 → the enfleshment of Freire's concept of praxis in which he weaves the human body into his materialist dialectics of consciousness and praxis. For Freire, reality was a concrete totality, a reality that is already a structured, self-forming dialectical whole in the process of coming into existence. As subjects, Freire believes we can break out of the prison house of discourse and its attendant subjectivism by changing the material conditions that shape us in our practical activity. Through a method of analysis and a conception of the world that involves a dialectical analysis of reality and a dialectical unity with the oppressed, Freire is able to avoid solipsism and idealism. In other words, Freire was concerned with interrogating the causal relationships that inform our material consciousness and subjective volition and intentionality. In the process of understanding the world, we deepen our consciousness precisely through our actions in and on the world that enable us not only to grasp our positionality in the world but also to transform the totality of social relations that constitute the contradictory character of our existence. Freire was committed to freeing ourselves and others from the relations bound up in the dialectical contradictions of everyday life. His work was thus connected to Marx's negative conception of ideology—to actions and symbols that are really only partial and fragmented and therefore distorted. Here Freire admonishes us not to free people from their chains but to prepare them to free themselves through a dialogical praxis linked to a materialist dialectics of consciousness (see Au, 2007). Freire believes that the forms of action people take is a function of how they perceive themselves in the world. The critical action for freedom that Freire advocates stems fundamentally from our dialogical relations with other human beings and leads to a critical consciousness embedded relationally in the word and the world as a form of praxis, an act of knowing through problem-posing/coding/decoding and reconstruction.
Critical pedagogy invites students to understand everyday life from the perspective of those who are the most powerless in our society so that society can be transformed in the interests of a more humane and just existence for all. Understanding social life from the perspective of the oppressed goes beyond mere empathy. Here I would draw upon the insights of Augusto Boal, in particular his important concept of metaxis as a pedagogical process. Boal, like Bertolt Brecht before him, was suspicious of the use of empathy and catharsis in theater, since empathy and catharsis can destroy the audience's capacity for critique. Brecht developed the concept of Verfremdung, or "alienation-effect," which helped to create a distance between the audience and the character, and the actor and the person portrayed. Boal's notion of metaxis replaced the Aristotelean mimetic relationship between the theater and reality, so that both "the real and the fictional could be experienced simultaneously" (O'Connor, 2013, p. 11), a process that Vygotsky described as a "dual affect" "whereby the person is directly engaged with what is ← 24 | 25 → happening in the drama, and at the same time is distanced from it, as he or she watches his or her own engagement with the drama" (as cited in O'Connor, 2013, p. 13). Gavin Bolton sees this dual affect as "the tension which exists between the concrete world and the 'as if' world, sometimes leading to contradictory emotions" (as cited in O'Connor, 2013, p. 11). This process is reflected in Freirean critical consciousness as participants remain distanced from problems that others are facing in the contexts of everyday life yet at the same time are open to an empathetic response to those facing problems. Critical consciousness demands acting "as if" you were experiencing a problem situation experienced by others and yet remaining at a critical distance as a percipient of your own actions. Here empathy toward the other is not uncritical and removed from critical reflection necessary to transform the conditions responsible for the problems.
A critical approach to education needs to expand the issue of pedagogy beyond questions of management and governance to that of reclaiming the world for humanity. Technological revolution and the market will not be enough to solve the growing environmental challenge and alleviate the problem of ecological decline and overcome necessity. Educational inquiry, as well as pedagogy as a social practice, must be rethought from the standpoint of those who exist at the bottom of the global capitalist hierarchy if we are to prevail in the continuing wars over scarce resources. Whether we support models of eco-communalism, eco-socialism or the new sustainability paradigm, it is clear that critical educational studies underwritten by a social justice agenda will require more than lifestyle change; they will require a concerted critique and transformation of the unbridled barbarism of capitalist social relations.
In order that our social amnesia remains, resolutely unacknowledged, we hide behind an almost puritanical fear of any pedagogy that insists on opening the door to doubt, to recognizing our entanglement in the larger conflictual arena of political and social relations and how such an entanglement is itself deeply ensconced in merging religiosity into political ends. If we wonder how it is that here in the twenty-first century we are witnessing the steady erosion of human rights and civil liberties, we only have to examine the extent of our political denial and its implication for mis-educating our citizenry.
At this moment in history, the work of Paulo Freire threatens the culture of silence that informs our everyday life as educators in the world's greatest capitalist democracy, one overarching saga of which has been the successful dismantling of public schooling by the juggernaut of neoliberal privatization and the corporatization of the public sphere.
I met Paulo for the first time at an AERA conference in Chicago in 1985. In 1986, his beloved wife Elza died. Shortly after Elza's death, Paulo wrote me a letter expressing the great sadness that had enveloped him completely. I was surprised to ← 25 | 26 → receive a letter from Paulo, and especially such a personal letter, having at the time met him only once. Years later, I came across the letter in my office at UCLA and I remember thinking to myself that I wish the letter would be lost, as I no longer wanted the temptation to show a letter of such intimacy to friends or to colleagues. Within days of finding the letter, I lost it, and have never been able to recover it. I also remember the unmitigated joy Paulo felt when he married Maria Araújo Freire, and became a devoted husband to "Nita" who blessed his life with a reciprocal devotion, a fierce intelligence, and a relentless dedication to social justice. Nita became an inspiration for Paulo; their mutual love saturated both their lives and their work. One might be tempted to compare Paulo and Nita with Sartre and De Beauvoir, Luxemburg and Kautsky or Karl and Jenny Marx, but that would be romanticizing a relationship that needs no comparison with other historical couples. They were simply Nita and Paulo, lovers and intellectuals who combined both dimensions in their protagonistic actions in the service of the people and their needs. And in so doing, they created a moral affinity that constituted the conditions for the possibility of love. This is the true meaning of revolutionary love, recognizing that love can only exist between free and equal people who share similar ideals and a commitment to serving the poor and the oppressed. The revolutionary love of Nita and Paulo thrived in such conditions.
I remember meeting Nita in an airplane in Rio, quite accidently, and asking her what she thought of my idea about writing a book about Paulo and Ernesto Che Guevara. Nita replied that she thought Paulo would approve of such an idea, and Nita's enthusiastic support helped to give me the confidence I needed to complete the book. Eventually, Nita wrote the preface to Che Guevara, Paulo Freire and the Pedagogy of Revolution in an emotionally riveting style that set a beautiful tone for the work that followed.
During the decade that I came to know Paulo professionally and as a friend, I was particularly impacted by Freire's discussion of university professors, since at the time I was frustrated with finding a place for myself in the academy. Freire, I noted, directed some harsh criticism toward university professors who maintained a willful ignorance about the dialectical relationship between pedagogy and politics:
I feel so sad concerning the future of these people who teach at universities and think that they are just professors. They don't put their hands into politics because they think that it is dirty. It's precisely in escaping from politics that you have to know that you are a politician, and that your tactics are not merely pedagogical ones. But we cannot escape from this fact that politics and education are interwoven. You must develop your tactics there in response to the situation you confront in the field, not here, in the university, unless you wish to stop the project. In that case you don't need tactics. You could just come back home and leave the project. (1985, p. 19) ← 26 | 27 →
Freire was especially disdainful of those professors who chose to remain isolated from the social contradictions of the day, and who ignored the historical conditions that helped to exacerbate those contradictions. To such professors, modes of inquiry and concepts are generally irrelevant to the pedagogical process. What matters most is how the teachers and students feel—not what they think or do—but whether or not they are enjoying what they do. Consequently and tragically, such professors exercise a "post" class pedagogy based on lifestyle, and irony, in which it is difficult—if not impossible—for students to confront the reality of others whose misery is the condition of their prosperity. At the very most, these professors muster their energy in order to free teachers and students from emotional distress rather than teach them about the social totality and its fatal entanglement in capitalist social relations. Such a pedagogy of domestication enforces anti-intellectual and trans-social individualism based on sharing one's lived experiences. Both Paulo and Nita recognize that a critical pedagogy needs to accomplish more than to facilitate the sharing of lived experiences with one another. What is needed is a concrete and critical analysis of experience, of experience effects, an analysis that, in fact, goes beyond experience, that teaches us something that we don't already know. This requires a language or languages to interpret experience, languages that can help us unpack the material conditions of experiences. Knowledge from our lived experiences cannot simply be read on their own terms; rather, critical educators must help students relate these experiences to their outside historical and social conditions. But also, we need to understand the loss of experience, including inner experience, as Walter Benjamin has distinguished this. Modernity has helped to replace remembering with memory, that is, collective memory (a magic disclosure of the world often accompanied by synaesthetic experience and self-forgetfulness) with memory in the service of the intellect (a purely instrumental form of lived experience expressed in corporeally established habits and mechanical and purposive rationality). Like Benjamin, Paulo understood the need for political and moral redemption as a step in restructuring our modes of experiencing a world that has been shattered by modernity. It was this lesson that stood out early in my university work and my task was to provide students with the most powerful theoretical tools to use to understand their own self and social formation in relation to larger social relations of capitalist production, relations created within a brutal and systematic extraction of surplus value from proletarianized regions of the world (usually festering in a climate of bourgeois-comprador nationalism) culminating in an condition of substantive inequality and an egregiously unequal division of labor. In my early work I would deploy contrapuntally critical pedagogy, neo-Marxist critique, and cultural analysis, and in my later work I utilize a revolutionary Marxist humanist perspective with a focus on the role of finance capitalism and the social relations of production and their ecocidal effects on the biosphere and planetary sustainability. ← 27 | 28 →
Paulo graciously wrote a preface for my 1995 book, Critical Pedagogy and Predatory Culture. In his preface he reflected on our "intellectual kinship" and our relationship as intellectual "cousins" while at the same time he lamented the preoccupation of so many academics and politicians with fighting among themselves when they should be uniting against their antagonists:
If someone should ask if intellectual kinship is a sine qua non to our ability to influence or be influenced, to work together, to exchange points of view, build each other's knowledge, I say no. When such a kinship develops we need to cultivate within ourselves the virtue of tolerance, which "teaches" us to live with that which is different; it is imperative that we learn from and that we teach our "intellectual relative," so that in the end we can unite in our fight against antagonistic forces. Unfortunately, as a group, we academics and politicians alike expend much of our energy on unjustifiable "fights" among ourselves, provoked by adjectival or, even worse, by purely adverbial differences. While we wear ourselves thin in petty "harangues," in which personal vanities are displayed and egos are scratched and bruised, we weaken ourselves for the real battle: the struggle against our antagonists. (1995, p. x)
Freire was able to break free from such "petty harangues" and the contemporary postmodern discourses that domesticate both the heart and mind, so that he could remain focused on his efforts to help students unlearn those myths produced by the dominant ideology that deform humanity.
It is surely striking the extent to which Freire's eviscerating pedagogical commentary, by planting the seed of catharsis and thereby placing in our hands the responsibility to overcome the political amnesia that has become the hallmark of teaching, cannot be welcomed into the classrooms of our nation by the guardians of the state. They have witnessed the unnerving intimacy and camaraderie he was able to forge among his admirers worldwide and how they were challenged by the disseminating force of his liberatory language of hope and possibility. And while they have not been able to root him out of the philosophy of teaching, they have managed to domesticate his presence. They have done this by transforming the political revolutionary with Marxist ideas into a friendly old man who advocates a love of dialogue, separating this notion from that of a dialogue of love—hence, the importance of reclaiming Paulo Freire for these times.
What Freire teaches us is that truth is never about unmediated reflections of a real object—something resolutely immutable and transparent. Rather, it is always dialogical, always about the self/other. Instead of heeding a Freirean call for a multi-vocal public and international dialogue on our responsibility as the world's sole superpower, one that acknowledges that we as a nation are also changed by our relationship to the way we treat others, we in the United States have let a fanatical cabal of politicians convince us that dialogue is weakness, is an obstacle to peace.
Freire's dialectics of the concrete (to borrow a phrase from Karel Kosik) is very unlike that of the postmodernists who, in their artful counterposing of the familiar ← 28 | 29 → and the strange in order to deconstruct the unified subject of bourgeois humanism, mock the pieties of monologic authoritarianism with sportive saber slashes across the horizon of familiarity and consensus. Whereas postmodern "resistance" results in a playful hemorrhaging of certainty, a spilling forth of fixed meanings into the submerged grammars of bourgeois society, remixed in the sewers of the social as 'resistance' and rematerialized in the art house jargon of fashionable apostasy, Freire's work retains an unshakable modernist faith in human agency consequent upon language's ineradicable sociality and dialogical embedment. What Freire has in common with the postmodernists is a desire to break free of contemporary discourses that domesticate both the heart and mind, but he is not content to remain in the nocturnal world of the subconscious; rather, he is compelled to take his critical pedagogy to the streets of the real.
Paulo Freire's legacy in the field of popular education and critical pedagogy is one characterized by an ontological commitment to deploying literacy and learning as a matrix of critical mediation, of humanization. The corpus of works left by Freire are like the rings of a tree; they cover every aspect of pedagogy, reflecting the history of meaning-making in both historical and mythical time.
Freire was one of the first educational philosophers to underscore repeatedly the concept of "knowing" as a political act. One way of examining knowledge that is highly indebted to the ideas of Freire is to see educators as working within the intersection of temporality and narrative as a dialectical event. Here, experience, temporality, reflection, and social action come together in what is commonly referred to in Freirean discourse as "praxis." In the field of anthropology, profane or historical time of contemporary social groups (involving the concreteness, linearity and irreversibility of time) is often juxtaposed with the mythical time of so-called archaic societies (time that repeats paradigmatic or archetypal gestures that are filled with deep meaning for the participants who use such recurrent mythical forms as a prism for personhood). Freire's notion of praxis, however, brings both conceptions of time into the narrative fabric of the emergent self. The act of knowing is grounded in a type of mythopoetic desire (a desire to raise our own existence to a level of greater meaningfulness; see Freeman, 1998) linked to community, to a new level of sacred authenticity, to organizing life in imaginatively new ways that refuse to reproduce the alienation and objectification necessarily found in the world of abstract labor. Here, revolutionary praxis folds historical and mythical time into an act of negating what is, in anticipation of what could be. Schematically put, the line (the perpetual reappearance of the present in historical time) is folded into the circle (the primordial horizon of the irredeemably configured past).
One of Freire's goals is becoming conscious of and transcending the limits in which we can make ourselves. We achieve this through externalizing, historicizing and objectifying our vision of liberation, in treating theory as a form of practice and practice as a form of theory as we contest the psychopathology of everyday ← 29 | 30 → life incarnate in capitalism's social division of labor. We do this with the intention of never separating the production of knowledge from praxis, from reading the world and the world dialectically (Stetsenko, 2002). In so doing we maintain that practice serves as the ultimate ground for advancing and verifying theories as well as for providing warrants for knowledge claims. These warrants are not connected to some fixed principles that exist outside of the knowledge claims themselves, but are derived by identifying and laying bare the ideological and ethical potentialities of a given theory as a form of practice (Stetsenko, 2002). Critical educators seek to uncover what at first blush may appear as the ordinary, transparent relations and practices that make up our quotidian existence—what we might even call mundane social realities. We take these relationships and practices and try to examine their contractions when seen in relation to the totality of social relations in which those particular relations and practices unfold. Such an examination takes place against a transdisciplinary backdrop that reads the word and the world historically.
Freire does not use literacy to impose a matrix of reality upon the educand like some abstract desideratum to be followed, but to interrupt the continuity of everyday life and seize opportunities at the intersection of historical and mythical time so that life can be grasped and lived within the horizon of the configured past and the anticipated future. The educand learns to live in the historical moment as a subject of history, but history is simultaneously re-animated and re-narrativized such that it is linked to the struggles of oppressed groups in various geopolitical contexts throughout the course of history and into the future.
Freire was one of the first educators to affirm that the process of understanding cannot be reduced to the formal properties of language alone but has to take into account its relationship to extra-linguistic forms of knowing, other forms of corporeal and praxiological meanings that are all bound up with the production of ideology. Meaningful knowledge is not solely nor mainly the property of the formal properties of language but is enfleshed. It is neither ultra-cognitivist nor traditionally intellectualist. It cannot be abstracted "from all the concrete, particular, embodied, erotic, and expressive features of language in order to invest emancipatory possibilities from its formal properties" (McNally, 2001, p. 109). Knowledge, in other words, is embodied in the way we read the world and the word simultaneously in our actions with, against, and alongside other human beings. Of course, as Freire made clear, only the pre-Hegelian philosophers could think of transforming history in the head alone.
Freire writes that it is "impossible to think of transformation without thinking of getting power to transform" (1987, p. 226). He goes on to say that "education means a kind of action which on the one hand is explained by the power which constitutes it, on the other hand it works in the direction of preserving the power which constituted it or works against the power which constituted it" (Freire, 1987, p. 226). But Freire did not wish simply to organize political power in order ← 30 | 31 → to transform the world; he wished to reinvent power. Political power, of course, is based on economic power. Freire believed that resources for a dignified survival should be socially available and not individually owned.
According to Freire, there are distinct ways of thinking practiced by the rich or the "non-poor" that lead to ways of defending the interests and privilege of the ruling class and preserving and immortalizing their history (Freire, 1987, p. 221). It is a fatalistic way of thinking about the poor that rationalizes poverty as a constituent condition of living in a class-divided society. Such a fatalism also leads to political immobilization as teachers focus on "techniques, on psychological, behavioral explanations, instead of trying or acting, of doing something, of understanding the situation globally, of thinking dialectically, dynamically" (1987, p. 223). Freire asserts that the non-poor are often very liberal and progressive in their politics, yet when it comes time for them to confront the possibility of the poor becoming better off economically, they become reactionary. In addition to a failure to grasp critically the significance of class struggle, what the non-poor lack is an understanding of the role of dialogue in the process of knowing, which admits a social, historical, and cultural relationship to knowledge production.
For Freire, dialectical inquiry should be at the heart of "the act of knowing," which is fundamentally an act of transformation that goes well beyond the epistemological domain. As Freire writes:
The act of knowing, which education implies, must be understood in connection with organization for changing, for transforming. The transformation, for example, about which we talk, constantly, has to go beyond the understanding that we have sometimes of transformation as something which happens inside of us. We have the tendency to stop the understanding of transformation at the level of some change in our way of thinking, in our way of speaking, for example, and it is not enough. The individual dimension of transformation has to be completed by the objective transformation, or the transformation of the objectivity, of reality, and it is a question again of politics. (1987, p. 223)
But in order to understand the process of knowing as a political act, and to complete the transformation of objective reality, we need to see this process in terms of the creation of historical, cultural, and material spaces where the dialogical nature of knowing is acknowledged and respected. As we begin to grasp its internal movement, it becomes clear that it can never be neutral. Part of Freire's task of dialogical education is to provide opportunities for students to recognize the unspoken ideological dimension of their everyday understanding and to encourage themselves to become part of the political process of transformation of structures of oppression to pathways to emancipation.
Recognizing that we live in a pluricentric world, Freire's approach to critical pedagogy is undertaken with a certain directiveness, not manipulation, with authority, not authoritarianism. While speaking with authority, it is important ← 31 | 32 → always to understand the place from which you speak, and from which you are being heard or ignored. On this note, Freire specifically urged U.S. educators to understand the role of their own country, especially in the context of the suffering masses of Latin America and other parts of the world. He warned:
You must discover that you cannot stop history. You have to know that your country (the US) is one of the greatest problems for the world. You have to discover that you have all these things because of the rest of the world. You must think of these things. (1985, p. 22)
For Freire, an important task for critical educators is to grasp, comprehend, and generalize forms of resistance to oppression on the part of the oppressed (that is, resistance on the plane of immanence) and give some direction in challenging capitalism at its very roots with the purpose of offering an alternative social universe outside of capitalism's value form (that is, creating a concrete utopia). Critical educators should not take a passive role when it comes to spontaneous struggles; instead, they should elicit from the workers an understanding of the meaning of their own everyday struggles. Peter Hudis (2010) notes that this follows Marx's concept of the task of the revolutionary: "not to imbue or impart consciousness to the masses but rather to generalize and develop the social consciousness that is generated from their actual struggles." This requires that critical educators not regard its constituents as blank slates that need to be filled with revolutionary knowledge and strongly endorses Freire's critique of banking education. Critical educators who utilize the banking form of education believe that socialist consciousness cannot arise spontaneously from the masses; in fact, they vehemently oppose the (Platonic) notion that the critical educator is the "midwife" of knowledge (Hudis, 2010) and claim that the masses should be given the "correct" knowledge by an elite cadre of intellectuals. I share Freire's position that workers who are struggling against the alienation wrought by capitalism (at the attendant antagonisms of racism, sexism, ableism, homophobia), have themselves already acquired a sense of what kind of new society they want and that critical educators should not bring this knowledge to them from the outside. Rather, the idea of this new society is already implicit in the dialectic of negativity that characterizes the struggle of workers from practice to theory, and from theory back to practice. In other words, such knowledge is immanent in the workers' drive for total freedom (Hudis, 2010). Freire believed that it wasn't a prerequisite to acquire a critical consciousness in order to struggle for social justice. Quite the contrary. Critical consciousness was the outcome—not the precondition—of struggle. It is in the act of struggling that educands become critically conscious. Indeed, if Freire is right on this issue, and I believe that he is, what then is the role of the critical educator in the struggle to transform the world? Critical educators need in my view to make what is implicit in the educands' experiences explicit by linking their spontaneous development of a critical or socialist consciousness to a larger, more comprehensive theory and ← 32 | 33 → philosophy of revolution (Hudis, 2010). In other words, critical educators can hasten the outcome of mass struggle. This, in my view, is the real meaning of critical pedagogy.
I would like to share a description that I made of Paulo for a book edited by Tom Wilson, Peter Park, and Anaida Colon-Muniz called Memories of Paulo:
He was a picaresque pedagogical wanderer, a timeless vagabond linked symbolically to Coal Yard Alley, to Rio's City of God, to the projects of Detroit and any and every neighborhood where working men and women have toiled throughout the centuries, a flaneur of the boulevards littered with fruiterers and fish vendors and tobacco and candy stalls, the hardscrabble causeways packed with migrant workers and the steampunk always of dystopian dreams. This man of the people was as much at home in the favelas as he was in the mango groves, a maestro who would cobble together the word and the world from the debris of everyday life, from its fury of dislocation, from the hoary senselessness of its cruelty, from its beautiful and frozen emptiness and wrathfulness of its violence. And in the midst of all of this he was able to fashion revolutionary hope from the tatters of humanity's fallen grace. This was Paulo Freire. (2010, p. 177)
It is impossible for me to think of Paulo in a strictly prosaic way. This is because Paulo is very much a poetic figure. This is not tantamount to saying that Paulo is larger than life, that he strides the world like some unmatchable pedagogical colossus, or that he is immune to critique. It simply means that I carry Paulo in my heart and memories of Paulo are stored by me in the language of poetry, not only to be emotionally caressed but to be unpacked, interrogated, analyzed, and understood with whatever theoretical tools I have available and under the historical conditions in which I am working. I learned to understand Freire differently while working in Venezuela than I did while working in Colombia, differently while working in Mexico than while working in Argentina, differently while working in Brazil than while working in Turkey, differently while working in Canada than while working in Greece.
If there is a spark of light in these very dark times, it can be found in the practices of resistance of which Paulo and Nita Freire speak, a resistance that I maintain is tethered to the fusty iron chassis of socialism. Too often, the term socialism evokes an image of spindle-shanked gangrels working the shop floor and agitating for better wages and improved working conditions, watched over in the panopticon of the factory by grim-faced men in dark frockcoats who report any infractions to the factory owners. Today, we have an example of the "electronic whip"—giant flat screen monitors that hang in the laundry rooms in the basements of the Disneyland hotels in Anaheim that serve to keep track of the fastest and slowest workers. But socialism is not something that can only or mainly be found in the European tradition. It is alive and well in indigenous communities throughout las Americas. I believe that a socialism for the twenty-first century will need to look to indigenous communities for ways to fight what Anibal Quijano ← 33 | 34 → calls "the coloniality of power" and to secure an ecologically sustainable socialist alternative to the barbarism of capitalism.
For those who believe that it is human nature for some groups to dominate and control others, the goal of liberation is to make both the despot and despotic regime more benign. For Freire, such a solution is tantamount to cutting off our legs in the hope that one day we shall grow wings. If we make the road to emancipation by walking, then we need to know at some point whether we are on the right path in freeing ourselves from the many antagonisms that beset us. For Freire, being on the right path is to have a coherent and consistent vision toward which progress is directed and that can serve as a template for living fearlessly, knowing that moving forward implies overcoming many obstacles. It is to be guided by a vision that ultimately and irrevocably can bring justice to a world in perilous imbalance. Grave changes are warranted in our political civilization—not only the abolition of the commercial helotry of the factories and sweatshops but also unclenching the fists we call our hearts, freeing us to reclaim our stolen humanity. Freire's struggle was to be humble enough to wonder yet courageous enough to defy, to be sufficiently self-assured to rebel yet possess enough self-doubt to keep from backsliding, to have the audacity to be creative yet remain unburdened by socio-cultural dogma, to be vigilant against the new faces of tyranny yet ever conscious of the flaws and insufficiencies of our own struggles. Freire worked with the generic potential to posit a world that does not make capitulation and defeat inevitable. Those liberals and conservatives alike who preach the virtues of democracy without recognizing that their vision remains beyond the recuperative powers of the prevailing capitalist system are laying the foundation for plutocracy, and in so doing sawing from the tree the branch upon which they are perched: wizened old vultures masquerading as feathery companions of Minerva. For Freire, understanding the alienation of human labor is the skeleton key that unlocks the bone yard of capitalism and makes it vulnerable for transformation into its opposite—a world of economic, social, cultural, racial, sexual, and gender equality. Freire's pedagogy is connected to the utopian impulse, freed from utopia's instrumental and petrified systematizing and idealist, totalizing form. It is a pedagogy committed to the historical, material and situationally specific needs of humanity. It is a pedagogy of and for our times.
The theogony of Freire's works is not derived from biblical scholarship and the hamartia of Adam nor does he reject this root and branch; rather, it can be linked at least implicitly to the pantheon of indigenous saints that stretch thousands of years into the past and that refuse to be whitened. This could be seen as anathema to those ensepulchred within the dogma of capitalist modernity for whom politics and spirituality are two fundamentally separable spheres, each of which somehow loses its integrity insofar as it loses autonomy to the other. However, Freire sees no ← 34 | 35 → contradiction in a pedagogy informed by both practical consciousness and spiritual conviction (see Rivage-Seul, 2006).
It was my privilege to have witnessed Freire walking among us, laughing and lightfooted, his tiny shoulders heaving like twin turbines beneath his crisp, freshly starched shirt, his slender legs gliding with a carefree, insouciant lilt, as if he were being helped along by a puckish breeze that served as a counterpoint to his steady, almost relentless gaze. To me it seemed as though he was always peering into the present somewhere from the future, in some future anterior where dreams are on a collision course with what is occurring in the laboratories of everyday life we call reality, where light breaks through dark chambers that cannot be illuminated without love. To understand that collision is to understand the essence of Freire's work. Without a careful reading of Freire's intellectual roots, one can only witness the collision without understanding the systems of intelligibility that make such a collision inevitable and without understanding the possibilities of sublating such a collision in order to bring about alternative futures linked to the sustainability of the planet and humanity as a whole. This is the grand mysterium of Freire's work.
The field of educational reform has been over-grazed, emerging as a multitude of conflicting opinions, varying according to the disposition of the reformer and the facts he or she has selected. The topsoil has worn thin as the sun withers and scorches seeds without roots. It is time to enrich the soil of our education reform if we are to once again grow roots. Until now, the socialist imaginary has lain buried deep within our pedagogical unconscious awaiting this historic moment to be revealed once again. We can begin by affirming our commitment to a communal self, one that implies a continuum between mind and spirit. We must fight for free expression of our productive capacities and free association with other workers in productive works. We need to learn how we can use our labor capacity outside and beyond capitalist production relations. This is what critical pedagogy is all about.
My goal is to develop transnational interactions from below—from the exploited and the excluded—and this may be called a counter-hegemonic globalization process if you want. These are local struggles that need to be globalized—and we know what they are. Boaventura de Sousa Santos has listed some of these as transnational solidarity networks, new labor internationalism, international networks of alternative legal aid, transnational human rights organizations, feminist movements, indigenous movements, ecological movements, alternative development movements and associations, literary, artistic and scientific movements on the periphery of the world system in search for non-imperialist, anti-hegemonic cultural and educational values.
Critical pedagogy needs to become activated through new social moments. The movements that I have witnessed of late—the Occupy Movement, the uprising in Greece, protests of university students in Mexico, the Indignados—are ← 35 | 36 → making more than minor demands; they are struggling for an entirely different kind of future and the originality and creativity of their protests speak to that future. They are not just about negating the present but also about reclaiming space—parks, public squares, university buildings, and other spaces where they can enact a new, more horizontal form of governance and decision making. They are moving beyond narrow sectarian interests and seeking to put participatory democracy into practice as an alternative to vertical forms of organization favored by liberal, representative democracy. And, of course, they are fighting state authoritarianism and a growing transnational fascism. They are seeking to challenge consumer citizens to become critical citizens again, as many citizens strove to become before the era of asset capitalism, or neoliberal capitalism. But the movement goes beyond nostalgia for the past, since most of the youth have known only neoliberal capitalism all of their lives. The youth have also figured out that parliamentary forms of representation can no longer suffice in creating democracy in a social universe of asset or finance capitalism that requires a neo-fascist reorganization of the state in order to preserve massive profits for the transnational capitalist class. Youth protesters today are struggling for participatory forms of association using new social media and new convergent media production as digital tools, as technological literacies to educate themselves and their comrades to link their experiences of struggle to goal-directed actions. They are struggling for different forms of social life. Here the digital media do not become ends in themselves but augment or supplement real-world experiences of struggle for popular sovereignty—and in the case of the Zapatistas in Chiapas or the Purepecha nation in Cheran, Mexico, an autonomous community within the state. As a result of these struggles, these tools become more integrated as part of an effort to create a collective intelligence with multiple visions of a socially just, fairer world.
The educational left needs to be more proactive in helping to transform such movements from spontaneous uprisings to historical blocs in the Gramscian sense. That said, I do believe there is an ongoing danger of communitarian popular fronts. Popular frontism could become reified as the "lost generation" versus the bankers and hedge fund profiteers. We have to be wary of the struggle becoming reduced to the "good capitalists" who are against monopolies, etc., versus the unproductive parasites in the finance sector who accumulate their fortunes on the sloping shoulders of others who are forced to sell their labor power for a wage. We must begin to wage a struggle for an alternative to capitalism based on the creation of real wealth rather than the value form of labor. Following Freire's pedagogically impassioned argument that freedom and education should never be separated, we cannot simply ride the crest of some cosmogenetic wave, merely going along for the ride, the winding sheet of humanity serving as our topsail. We cannot afford to rest our hope on the appearance of some galactic supernova of the soul, some ← 36 | 37 → parabolic flow into and out of historical time, as if merely a spectator in some arcane sideshow. We must liberate ourselves from the liberal indecisiveness that prevents us from escaping a sullied world. We must forge our vision on the anvil of class struggle, of revolutionary transformation, through a self-giving, interabiding collectivity of self-community grounded in an ethics of solidarity and love. We, as historical agents, are inseparable from the motion of praxis, entrusted to Marx but pluriversal in scope.
The battle is one that must be multipronged and coordinated with numerous interconnected struggles. One such struggle, while never independent from the struggle against capital, is the struggle over the production of knowledge and the meaning and purpose of teaching—in other words, the struggle over education. Popular education is a tree that throughout history has found a way to burst through the blood-soaked pitch of the battlefield, its roots firmly planted in the restitution of our planetary soul, its leaves finding shafts of sunlight slashing their way through the carnage.
This chapter includes material published in Peter McLaren, Contemporary Youth Resistance Culture and the Class Struggle, Critical Arts: South-North Cultural and Media Studies, Vol. 28, no. 1 (February), 2014, pp. 152–160; Peter McLaren, Reflections on Love and Revolution. The International Journal of Critical Pedagogy, Volume 5, no. 1., 2013, pp. 60–68; the afterword in Memories of Paulo (pp. 173–178), edited by Tom Wilson, Peter Park, and Anaida Colon-Muniz, Rotterdam, The Netherlands: Sense, 2010; Peter McLaren, the afterword in Paulo Freire's Intellectual Roots: Towards Historicity in Praxis (pp. 231–236), edited by Robert Lake and Tricia Kress, London, England: Bloomsbury, 2013; and Peter McLaren, the afterword in Paulo Freire: The Man From Recife (pp. 305–320), by James D. Kirlyo, New York, NY: Peter Lang, 2011.
Au, Wayne. (2007). Epistemology of the Oppressed: The Dialectics of Paulo Freire's Theory of Knowledge. Journal for Critical Education Policy Studies, volume 5, no. 2. Retrived from http://jeeps.com/imdex.php?pageID=article&articleID=100
Bauman, Z. (2010). Living on borrowed time: Conversations with Citlali Rovirsoa-Madrazo. Cambridge, England: Polity Press.
Boal, A. (1979). Theater of the oppressed. New York, NY: Urizen Books.
Brecht, B. (1964). Brecht on theater: The development of an aesthetic (J. Willett, Trans.). London, England: Methuen Drama.
Freeman, M. (1998). Mythical Time, Historical Time, and The Narrative Fabric of the Self. Narrative Inquiry, Vol. 8, Number 1: 27–50. ← 37 | 38 →
Freire, P. (1985). Dialogue is not a chaste event. Compiled by Paul Jurmo. The Center for International Education, School of Education. Hills House South. University of Massachusetts, Amherst.
Freire, P. (1987). Conversations with Paulo Freire on Pedagogies for the non-poor. In A. Frazer Evans, R. A. Evans, & W. B. Kennedy (Eds.), Pedagogies for the non-poor (pp. 219–231). Maryknoll, NY: Orbis Books.
Freire, P. (1995). Preface. In P. McLaren (Ed.), Critical pedagogy and predatory culture: Oppositional politics in a postmodern era (pp. ix–xi). New York, NY: Routledge.
Freire, P., & Macedo, D. (1987). Literacy: Reading the word and the world. Hove, England: Psychology Press.
Harvey, D. (2003). The new imperialism. Oxford, England: Oxford University Press.
Hudis, P. (2010, December). The critical pedagogy of Rosa Luxemburg. Paper presented at the Encuentro Internacional del Pensamiento Critico: Marxismo y Educacion Popular, Morelia, Michoacan, Mexico.
McLaren, Peter. (2010). Afterword. A Fado for Freire. In Tom Wilson, Peter Park, and Anaida Colon-Muniz (Eds.), Memories of Paulo. (pp. 173–178). Tapei and Rotterdam: Sense Publishers.
McNally, David. (2001). Bodies of Meaning: Studies on Language, Labor, and Liberation. Albany, New York: State University of New York Press.
O'Connor, P. (2013). Terrorists under the bridge: Applied theatre and empathy. Unpublished manuscript.
Quijano, Anibal. (2000). Coloniality of Power, Eurocentrism, and Latin America. Nepantla: Views from South 1, no. 3: 533–80.
Ravitch, Diane. (2014). Public Education: Who Are the Corporate Reformers? March 28. As retrieved from: http://billmoyers.com/2014/03/28/public-education-who-are-the-corporate-reformers/
Rivage-Seul, D. (2006). The emperor's god: Misunderstandings of Christianity. Berea, KY: Berea College.
Santos, Boaventura de Sousa (2005, 2009). General Introduction: Reinventing Social Emancipation: Toward New Manifestos. In Boaventura de Sousa Santos (Ed.), Democratizing Democracy. Beyond the Liberal Democratic Canon (pp. xvii–xxxiii). London: Verso.
Santos, B. S. (2009). A Non-Occidentalist West? Learned Ignorance and Ecology of Knowledge. Theory, Culture & Society, Vol. 26 (7–8): 103–125.
Stetsenko, Anna. (2002). Vygotsky's cultural-historical activity theory: Collaborative practice and knowledge construction process. In D. Robbins and A. Stetsenko (Eds.), Vygotsky's psychology: Voices from the past and present. New York: Nova Science Press. ← 38 | 39 →
Paulo Freire and the Continuing Struggle to Decolonize Education1
---
More than forty years after Paulo Freire's (1971) book Pedagogy of the Oppressed was first released in English, the inequalities and injustices that he was addressing then continue to persist in the United States and around the world. In many instances these conditions have worsened in the past two decades, with the infusion of neoliberal imperatives of privatization, deregulation, and the free market into practices of education. It is important then to begin our discussion about the legacy of Freire here, in that it has often been precisely Freire's revolutionary critique of capitalism and the link of schooling to class struggle that have been stripped away, resulting in watered-down, diluted versions of his ideas.
As a scholar of color who was born a colonized subject in Puerto Rico and reared in abject poverty in the United States, there is no way that anyone can convince me that the center of gravity of oppression for those of us deemed "other" is simply the psychological aberration of white people toward our so-called "race." Rather, I argue adamantly that the racialization processes experienced by the marginalized are intimately tied to the material domination and exploitation of our communities by the wealthy and powerful elite—and enacted, for the most part, by those who are not themselves affluent but answer the siren call of capital daily.
With this in mind, I want to argue that, although seldom spoken about or acknowledged in traditional discourses about Freire's work, there are particular ways in which radical black, Latino, Native American, and Asian American working-class communities of the '60s and '70s engaged the deep potential inherent ← 39 | 40 → in Paulo Freire's treatise. For many of us, Freire was one of a few educational theorists and philosophers of the time who spoke to our grounded understanding of racialized oppression as powerfully linked to the larger international imperialist project. In other words, if we were to counter the impact of the historical and contemporary wounds of slavery and colonialism on our lives, we had to begin by engaging the manner in which racism is inextricably tied to the imperatives of social class formation and material exclusion.
For activists of color, the struggle was not foremost about "celebrating diversity" or cultural identity or even the acknowledgement of our cultural legitimacy, but rather a struggle for our humanity and our survival, given that we had suffered, in the flesh, the violence of oppression at every level of our existence. With this in mind, the more radical arms of the civil rights era, such as the Black Panthers, the Young Lords, the American Indian Movement, the Chicano Movement, the Asian American Movement, the Third World Women's Alliance, and others, recognized that our local political struggles for self-determination had to also be anchored to the larger international class struggle against the ravages and advancement of capitalism. As formerly colonized populations, Chicano, Puerto Rican, American Indian, and Native Hawaiian groups also framed their struggle within the context and impact of a long history of colonization. Hence, important links were made between the economic imperatives that led to the colonization of our lands and the enslavement of our African American brothers and sisters. Moreover, the engagement of Paulo Freire's work was as much about the political decolonization of our communities, as it was a personal process of decolonizing of our hearts, bodies, and minds.
In this sense, Freire's recognition that the oppressor/oppressed dialectic was also housed within the oppressed, echoed concerns raised by W.E.B. Du Bois, Jose Marti, Pedro Albizu Campos, Frantz Fanon, and Albert Memmi to name a few—activists, educators, or writers of color of the 20th century who spoke to this phenomenon in their political articulations about the struggles of oppressed populations. Theorists of color wrote of our twin being, Black Skin/White Masks, double consciousness, biculturalism, and so on, which spoke to the collision of not simply two cultures, but where deep asymmetrical relations of power led to the subordination and systematic erasure of the histories of racialized populations located at the margins of U.S. hegemony.
Restoring the integrity of our voices and centering our cultural and historical knowledge of survival became an important political project, in an era when our voices and participation remained relatively absent or silent from the spheres of power and privilege. It was also a time during which the "other" was treated routinely as an object or thing to be manipulated, as a reserve army of workers or soldiers to defend the economic and military agendas of the wealthy and powerful. And traditional education, springing out of the one-dimensionality of capitalist logic, served as an institution of thingification, as articulated by Aime Cesaire ← 40 | 41 → (2001), who expressed great concern for the destruction of communities, societies, and nations and for the "millions of men [and women] torn from their gods, their land, their habits, their life—from life, from the dance, from wisdom" (p. 178). In response, radical theorists of color fought to challenge the racialized culture of class formation, which systematically worked to erode a sense of belonging, identity, and language, from poor working-class communities of color, while stripping us of our history, cultural knowledge, and language.
As a young woman, reading Pedagogy of the Oppressed changed the course of my life as an educator and political activist. This was for many reasons but perhaps, in particular, because he looked and felt more like my own people—people exiled from our lands. At the time, he was exiled from Brazil for his emancipatory efforts with the impoverished people from the countryside, yet he attributed so much of his pedagogical formulation to what he learned in his relationship with those who were dispossessed. Paulo inspired in activists and educators of color a political clarity and commitment.
Freire challenged us to embody our commitment to social consciousness and political transformation, within the relationships we forged with those within and outside of our cultural communities. What we sensed then, almost instinctually, was that a pedagogy of the oppressed was not only for the classroom, but rather a living pedagogy that had to be infused into all aspects of our lives, including our politics. This is to say that teaching to transgress constituted for us a moral stance, often belittled and diminished in mainstream political discourses—so much so that it brought bell hooks (1994) to write, "It always astounds me when progressive people act as though it is somehow a naive moral position to believe that our lives must be a living example of our politics" (p. 48).
For those who were betrayed by our schooling, Freire offered the possibility of an educational project for our children, tied to a larger democratic vision—one that resonated with our anti-colonial struggles for self-determination and our desire to control our own destinies. Hence, Freire's pedagogy was also a pedagogy of transgression—transgression of oppressive ideas, attitudes, structures, and practices within education that debilitate our humanity.
THE BETRAYAL OF MULTICULTURALISM
In the early history of the civil rights educational struggles, educators and activists of color saw multicultural education a possible counter-hegemonic mechanism for decolonizing the curriculum and transforming classroom life. In the '70s notions of biculturalism (tied to the struggle for bilingualism) began to evolve and efforts were forged toward developing culturally relevant pedagogy. Many of these pedagogical efforts were founded on principles of dialogue, reflection, problem posing, ← 41 | 42 → critique, and conscientizaçao that Freire evoked in Pedagogy of the Oppressed. These principles challenged cultural invasion and the banking model of education, and called for a problem-posing pedagogy that would support the evolution of critical consciousness in disenfranchised communities. Freire's notion of cultural invasion was overwhelmingly salient to those of us with histories of genocide, slavery, and colonization.
However, as critical multicultural education efforts began to take hold in the late 1970s and early '80s, reactionary conservative backlash and liberal rewriting of multiculturalism began to steadily erode the transformative intent of the project. Many of the multicultural education efforts that took hold in schools in the late '80s and '90s not only conserved a racializing hierarchical structure of power, but also intensified the process of hegemonic class formation within communities of color (Darder & Torres, 2004).
As communities of color utilized a politics of identity to call for fundamental changes to gross inequalities at work in the social and economic arenas of the nation, the Reagan administration's 1983 report, A Nation at Risk,2 served as an effective educational neoliberal strategy to thwart the social advancement for equality in the United States. With the veiled contention that schools should serve as economic engines to ensure the global superiority of the nation, the accountability movement began to gain traction. It is worth noting that the national policies brewing during this period were not only tied to education. The process of deregulation, privatization, and the erosion of the safety net resulted in an economic corporate boom in the decade that followed, while neoliberal policies countered the gains made by the civil rights movement (Darder, 2012a). One disastrous impact to communities of color was the unprecedented increase in the number of U.S. incarcerations from 1985 to 2010, which resulted in an overwhelming number of poor, working-class inmates of color—more than 70% of whom were considered to be functionally illiterate.3
Anchored in deficit notions, conservative "whitewashed" expectations of multicultural education became the vanguard, while discussions about the "race" problem or "race" as the determining factor in the academic underachievement of students of color prevailed in educational debates (Darder & Torres, 2004). True to the colonizing politics of the times, many radical educators, particularly those of color, who remained aligned with Freire's pedagogical and political concerns, were pushed out and marginalized as new mainstream multicultural education gurus descended on the stage offering more palatable approaches, which served to distort revolutionary pedagogical discourses that originated within the decolonizing struggles of oppressed communities.
Often well-meaning discourses of urgency, justified by "culture of poverty" interpretations that placed the blame for poverty on our children, families, and culture (Leacock, 1971), were used as handy rationale for curtailing efforts toward ← 42 | 43 → self-determination and opportunities to evolve and advance in the process of decision making, even within our own communities. As a consequence, many of us found our efforts warped into unrecognizable proportions, rationalizing once again the superiority of white multicultural educators. Token educators of color, who followed their lead, were effectively integrated into schools and teacher preparation programs to marginalize decolonizing discourses and practices of more radical educators of color—a phenomenon whose consequence is being dramatically felt across the entire educational landscape today, as scholarship tied to cultural and language subordination in schools has gone out of vogue and now is considered passé in the "flat world" of neoliberal multiculturalism (Darder, 2012b). In the process, the revolutionary potential of multicultural curriculum, text, and pedagogy has been all but stripped away, while a fractured curriculum of cultural songs, stories, holidays, and heroes prevails.
With the eclipse of the so-called "multicultural age" in education, persisting problems and concerns raised by educators of color for almost a century now fall on deaf ears, as the instrumental ideology of neoliberal education policies has created limited matrices of accountability, which deliberately discount historical and contemporary community concerns related to culture, language, poverty, pedagogy, and power. Instead, the numbers game of high-stakes testing, the standardization of knowledge, and teaching to the test are the order of the day, shrouded in the institutionalization of Common Core standards.
Consequently, we find ourselves more deeply mired in Western ethnocentric (universal) notions of humanity, in which individualism (object-based, future-focused), and materialism counter the legitimacy of subordinate cultural community values and traditions. Additionally, this leads to the negation of our worldviews—including the marginalization of communal life, ancestral knowledge, or spiritual traditions that might enhance the teaching and learning of all children. More often than not, well-meaning educators seeking to address the needs of working-class communities of color continue to be entrapped in a deficit paradigm of difference.
Even more disconcerting, when critical educators of color (at all levels of education) attempt to challenge deficit notions through our teaching and research, mainstream educators, many of whom pride themselves in being social justice advocates or anti-racist educators, greet us with resistance and unparalleled requests for legitimacy of claims, deeply anchored within our particular cultural paradigms and philosophical assumptions of humanity and community self-determination. These paradigms and assumptions often reside outside many well-intended but still colonizing social values and epistemological priorities or directives, which objectify and render students from poor and working-class communities of color passive agents of their own learning. ← 43 | 44 →
This, of course, echoes the historical project of colonization, anchored in a conceptual narrative and epistemological design that legitimizes and naturalizes the cultural, economic, and military domination, exploitation, and dispossession of the majority of the world's population—in the name of democracy, progress, and profit. There is no question that the dehumanizing currents of the contemporary neoliberal agenda—which show global trends of increasing inequalities—require us to grapple seriously with the struggle for our humanity, as Freire argued, in the face of oppressive forces that seek to colonize every aspect of our lives, from birth to death. This is precisely why the issue of the political economy must remain central to any decolonizing pedagogy or methodology of emancipatory leadership.
We need only consult history to confirm that the politics of colonization has been rooted in a violent project of economic exploitation and racialization, which has provided the hegemonic apparatus to justify imperialist expansionism, unmerciful genocide, and conquest of those deemed "less human." Here, Freire's notion of "capitalism as the root of domination" (Shor & Freire, 1986, p. 47) is useful in this analysis, in that it connects past and current colonizing forces to how the capacity for productivity of a population is perceived within a capitalist society. This is to say that the ultimate worth of an individual or a people has been literally tied to their capacity to contribute to capitalist accumulation. As such, rather than pedagogical concern for our humanity, sovereignty, or the evolution of critical consciousness in the interest of cultural democracy, educational objectives within the United States are directed toward the potential of students to become good consumers. In this context, democracy becomes conflated with unbridled consumption.
Moreover, schools, as economic engines, function effectively in the process of class formation and the production of a national workforce that is in sync with the requirements of the labor market and a reserve army that can meet the military demands of a culture of perpetual war. It is here, where the politics of meritocracy in the United States, in conjunction with high-stakes testing, is effectively normalized and utilized to sort, sift, reward, or exclude students, accordingly. As would be expected, the children of the affluent rise to the top, while the majority of poor and working-class students of color populate the rosters of the academically underachieving—where they, their families, their culture, their language, and even their intelligence are all deemed suspect and responsible for their academic failure (Darder, 2012a). All the while, the larger institutional structures, economic inequalities, and educational exclusions that negatively impact the lives of working-class students remain veiled in a victim-blaming discourse of accountability, personal choice, and the myth of equality for all. ← 44 | 45 →
Central to Freire's pedagogical thesis is the significance of the cultural context in the process of knowledge production. This is as true to the larger context of class formation as it is to the question of bicultural formation, wherein students must daily navigate the tensions and injustices of the subordinate/dominant divide. Hence, Freire's work has been and continues to be significant to critical educators, educational leaders, and activists of color, in that it reinforces the political necessity of contextual knowledge linked to communal and ancestral knowledge, which does not transcend the individual subject nor the material conditions that shape the histories and everyday relationships of formerly colonized and enslaved populations, both in the United States and abroad.
From this vantage point, if we are to genuinely contend with the educational difficulties of students from working-class, racialized communities, we must look beyond simply the personal or individual. We must seek answers, as Freire argued, within the histories of economic, social, and political structures of oppression, so that we might better understand the forces that give rise to inequalities and social exclusion, as they currently exist within our lives as educators and those of our students. Moreover, this call for the enfleshment of knowledge moves us away from those colonizing abstractions and separations of the body (and the land) that have always worked in the colonizing interest of the powerful and wealthy. This is to say that the underlying purpose of hegemonic power is to legitimize and conceal imperial/colonial relations. As such, the political work of the oppressed has always required the unveiling, naming, and challenging of asymmetrical relations of power and their consequences within schools, communities, and the larger society.
It is from this political imperative that philosophical critiques related to objectivity, absolute knowledge, reductionism, ethnocentrism, and elitism, as well as structural critiques of class inequalities, cultural invasion, racism, sexism, heterosexism, and so on have been waged. For some, this may echo the mantra of intersectionality, so often heard in oppositional discourses. However, as Rodolfo Torres and I have argued in After Race: Racism After Multiculturalism (2004), many intersectionality arguments still fail to confront the totalizing impact of capitalism. That is, racism, sexism, heterosexism, disablism, and all forms of oppression are implicated in an interlocking set of relations that preserve and sustain the interests of capital.
Beyond the obvious material dispossession, Freire spoke repeatedly about the manner in which conditions of economic exploitation and domination dehumanize us, distorting our capacity to love one another, the world, and ourselves. In concert with Antonio Gramsci (1971) before him, Freire was well aware of how even well-meaning educators, through lack of critical moral leadership, participate ← 45 | 46 → in disabling the hearts, minds, and bodies of students—an act that stunts the development of social agency and the political understanding necessary to challenge and transform the social and material conditions that betray our freedom.
Freire's notions of armed love and his dialectics of revolutionary practice have provided many activists and educators from disenfranchised communities a critical political foundation for liberatory struggles and a pedagogy committed to the collective and ongoing struggle for our emancipation. Freire (1971) insisted that while both humanization and dehumanization are alternatives, only the first could serve as our vocation—a vocation that he believed could be "thwarted by injustice, exploitation, oppression, and the violence perpetrated by oppressors, but affirmed by the yearning of the oppressed for freedom and justice" (p. 13).
Starting from the realization that we live in an "unfree" and unequal world, Freire (1971) affirmed that our struggle for our humanization had to "involve our struggle for the emancipation of labor and for the overcoming of our alienation" (p. 28), so that we might affirm ourselves as full subjects of our own lives and of history. However, the pursuit of our full humanity, he argued, could not "be carried out in isolation or as individuals, but only in the fellowship and solidarity" (p. 28) of community and social movement. Thus, relationships of solidarity, built through collective labor, remain central to our politics and our pedagogy, given that it is "in the process of revolution…that human beings in communion liberate each other" (Freire & Freire, 1994, p. 114).
For Freire, our capacity to live free required a fundamental shift in how leaders, educators, and students define our lives and the conditions of our labor. This requires decolonizing of the mind, through ridding ourselves of colonizing ideologies of domination, the establishment of solidarity with others, the existence of meaningful choices in our lives, the recognition of ourselves as subjects of history, the courage to speak out when necessary, and a well-developed sense of empowerment, in order that we might name, critique, decolonize, and reinvent our world collectively, in the interest of social justice, human rights, and economic democracy.
In waging struggles for social change, it has always been imperative that those who have been oppressed recognize that domination does not exist within a closed world from which there is no exit. Instead, Freire (1971) reminded us that "this struggle is possible only because dehumanization, although a concrete historical fact, is not a given destiny but the result of an unjust order that engenders violence,…which in turn dehumanizes the oppressed" (p. 16). Significant here is Paulo's acknowledgment of the psychological, physical, and spiritual violence that communities of color have endured for centuries at the hands of colonizers. ← 46 | 47 →
Moreover, his political and intellectual courage in linking this question of violence to intentionality was particularly important to our history of struggle. That is to say, although Freire never condoned violence in any of his speeches or his writings, he clearly recognized that there was a very different phenomenon at work in violence that is engendered by those who seek to dominate and exploit and violence that is generated by the fight of the oppressed to counter their dehumanization. "And this fight, because of the purpose given it by the oppressed, will actually constitute an act of love opposing the lovelessness which lies at the heart of the oppressors' violence, lovelessness even when clothed in false generosity" (p. 44).
And as such, Freire supported, until his death, our possibility and potential to remake history through our commitment to struggle. For it is precisely because "oppression exists as an impermanent, incomplete, and changing historical phenomenon—constructed by human beings" (p. 36) that we as empowered and decolonized subjects of history possess the possibility of transforming its configuration. Our task then as critical educators committed to a just world is to embrace fully this dialectical understanding of our relationship with the world, so that together we might transform our teaching and learning into a revolutionary praxis—a critical praxis that encompasses reflection, dialogue, and action, wherein theory and practice are regenerating and in an ongoing alliance.
Paulo knew that this way of life requires great discipline and a critical commitment to move beyond piety, sentimentalism, and individualistic gestures, so that we might "risk an act of love" (p. 35) and enter into sustaining and nurturing political relationships of dialogue and solidarity—communal relationships grounded in our unwavering fidelity to break out of the domesticating and colonizing conditions that trick us into complicity with "an economy that is incapable of developing programs according to human needs and that coexists indifferently to the hunger of millions to whom everything is denied" (Freire, 1997, p. 36).
In Pedagogy of the Heart, Freire (1997) urged us to construct within schools and communities what he called "advanced forms of social organizations…capable of surpassing this articulated chaos of corporate interests" (p. 36). This, of course, points to corporate policies of an economic Darwinism that promote deregulation, the free market, nationalism, and militarism through an ethnocentric ethos of "survival of the fittest," which shamelessly justifies its brutal impact upon millions of people and on the destruction of the earth's ecosystem.
Freire acknowledged that radical struggle by those who dare to exercise their political will and capacity within schools could be severely curtailed by a tendency to become "hardened," in response to the bureaucracy's backlash toward those who critique the system and seek change. He recognized that, more often than not, this phenomenon is prevalent because educators (and in particular, educators of color) committed to a liberatory pedagogy within schools and communities are perceived by institutional gatekeepers as disruptive or dangerous. Meanwhile, critical ← 47 | 48 → leadership practices to cultivate greater freedom and autonomy are discouraged or punished, even by those who would call themselves our allies. Educational policies of control not only work to inanimate teachers and students of color, but also serve to "deter the drive to search, that restlessness and creativity that characterizes life" (Freire, 1971, p. 60). In response, Freire insisted that the aim of true learning must expose the contradictions and courageously challenge those practices that objectify and dispirit us, preventing our political expression as full cultural citizens of the world.
Paulo recognized and often spoke of the enormity and difficulty of the pedagogical vision that he proposed. Nevertheless, he could see no other alternative to the restoration of our humanity than to eradicate the debilitating fatalism and imposing myths that seek to alienate and render us passive, while underhandedly seeking our consensus and participation in our own oppression, through notions of morality that reinforce our disempowerment. With this in mind, former Black Panther Assata Shakur (1987), who has lived exiled in Cuba since 1979, writes, "Nobody in the world, nobody in history, has ever gotten their freedom by appealing to the moral sense of the people who were oppressing them" (p. 139). Hence, Freire and others of his time argued that no one can empower the oppressed, but rather it is the oppressed who must empower themselves, if true liberation is to prevail.
Indeed, Freire's vision entails the need for an ongoing political process of personal and community struggle, which demands our ongoing critical vigilance. Fundamental here is our sustained, collective labor—a labor born of love, but deeply anchored in an unceasing political commitment to know, through both theory and practice, the nature of the beast that preys upon our humanity; and with this knowledge, fight with unwavering hope and solidarity. For many of us from poor and working-class communities of color, the option of struggle was never a choice, but rather a political necessity if we were to forge our self-determination and ensure our right to exist, in sync, with the cultural wisdom forged from our lived histories of survival as tribes, nations, and peoples.
Within Paulo Freire's (1993) revolutionary vision, education never is, has been, or will be a neutral enterprise. About this he wrote, "It does not matter where or when it has taken place, whether it is more or less complex, education has always been a political act" (p. 127). Paulo was adamant on this question, as were the educators of color during the last five decades who have followed his precepts. Moreover, Freire agreed that an activist and educator's political orientation had to be explicit. He wrote, "In the name of the respect I should have for my ← 48 | 49 → students, I do not see why I should omit or hide my political stance by proclaiming a neutral position that does not exist. On the contrary, my role as teacher is to assent the student's right to compare, to choose, to rupture, to decide"(Freire, 1998, p. 68).
Oftentimes this has been a significant point of contention for radical educators of color, given that within the classroom, whether conscious of it or not, teachers perpetuate dominant values, beliefs, myths, and meanings through the authority they exert over students. The rub here is that these dominant views are so normalized and naturalized that those enacting them are often oblivious of the colonizing imposition of their worldview on working-class students and parents from racialized communities. Hence, what is painfully clear again is that education can colonize or decolonize; it all depends on the assumptions, intent, and purpose of the pedagogical leadership we enact through our practice.
Unfortunately, more often than not, schooling conditions students to ascribe to the dominant norms and cultural assumptions of the prevailing social order. In addition, it socializes students to accept their prescribed role or place within the larger social order—a role or place that historically has been predicated by the political economy and its colonizing institutional structures. Schools, then, are both enmeshed in the political economy of a society and at its service. This is an aspect that receives little attention, for example, in the preparation of teachers. Yet, Freire in dialogue with Donaldo Macedo (1998) rightly asserted, "The more you deny the political dimension of education, the more you assume the moral potential to blame the victims" (p. 123) and to perpetuate deficit myths about those who are seen as "other." By so doing, one colludes with educational policies and practices that result in wholesale inequalities and social exclusions.
For this reason, our pedagogy with students from culturally marginalized communities must be shaped by a critical decolonizing epistemology, one that discards commonsensical acceptance of the racializing social order and unveils structures of capitalist exploitation that disable disenfranchised communities. Such a critical pedagogical approach embodies through curricula, activities, texts, and classroom relations the conditions for student empowerment as an ethical and moral imperative. Instead of educating students of color to become assimilated objects, reliable workers, complacent and obedient citizens, and out-of-control consumers, radical educators committed to a decolonizing education work to cultivate in their students a critical understanding of their everyday lives, while integrating, with respect and dignity, the wisdom of their lived cultural knowledge.
To accomplish this requires that educators understand how, as a consequence of cultural, linguistic, and economic subjugation, racialized populations everywhere have been systematically exploited and dispossessed. And, in the process, the impact of these histories creates particular challenges and struggles that are ← 49 | 50 → intimately addressed by the survival strategies of our communities. Hence, to divorce children of color from their cultural knowledge and histories is to set them up either to fail miserably or to live an imitation of life.
The debilitating impact of mainstream education in many communities poses a challenge, wherein critical educators must work to unveil the hidden curriculum that informs the current use of standardized curricula, materials, textbooks, testing and assessment tools, promotion criteria, and institutional relationships, in an effort to critically infuse our teaching with a decolonizing vision of schools and community life (Darder, 2012a). By so doing, the task at hand, then, is not to reproduce the traditional social arrangements that support and perpetuate inequality and suffering, but rather to actively work to transform them, in the interest of self-determination and culturally democratic life.
Furthermore, unwillingness to suspend belief in the superiority of Western culture and its mantra of modernity—attached to classed, racialized, patriarchal, and heterosexist codes of conduct and assumptions—has been one of the most difficult issues that activists and educators of color have confronted in trying to create alliances across dominant/subordinate divides. But what is clear for those of us who have remained in this protracted struggle is this: if there is to be a genuinely decolonizing approach to education, it demands the democratic participation of educators, parents, students, and members from historically marginalized communities.
Unfortunately, the unmerciful arrogance often still enacted by white educators who consider themselves more competent to tell our stories or to educate our children has been an area of major conflict for many black, Latino, and Native American educators over the years. It is like folks in a New Zealand context believing that because they have read books about Maori communities; perhaps have a Maori friend or two; and perhaps lived or hung out for awhile within a Maori community here and there, they are now equipped to proclaim and legitimize the needs of Maori communities, even without the participation of members from these communities.
It is this sort of mental border-crosser that frequently becomes tremendously problematic to the larger decolonizing project in education. Does this mean that whites cannot be part of this struggle? Of course they can and they must be! But they must enter carefully, aware of their privilege and their internalized hegemonic assumptions about the abilities and capacities of those who are racialized, which may inadvertently betray their well-meaning intentions if they are not self-vigilant. The only remedy here is the willingness to remain in ongoing dialogue as full peers and comrades, offering their privilege, knowledge and resources in the service of the larger struggle for emancipation. This is what Paulo often referred to as "class suicide." ← 50 | 51 →
Although there are pompous educational and political theorists who seek to discredit or render Paulo Freire's work irrelevant to the struggles of today, I argue that for working-class communities of color who continue to wage decolonizing struggles for educational justice, Freire's writings persist as an important intellectual force, inspiring literacy programs, popular education programs, youth programs, labor education initiatives, and independent schools in poor and working-class communities of color. Black New Yorkers for Educational Excellence, the Institute for Cultural and Linguistic Democracy, La Escuelita, El Centro de La Raza, Pedro Albizu Campo High School, and the Raza Studies High School program, in Tucson, Arizona, were all established on Freire's pedagogical principles. I want to very briefly speak to the Tucson program, a highly effective ethnic studies program shut down earlier this year. The program was eliminated after a prolonged, brutal campaign to demonize students, teachers, and their community.
One of the rights gains in the hard-fought struggle of the '60s and '70s was the inclusion of ethnic studies into the educational curriculum—a right that is steadily being eroded in the current climate of neoliberal multiculturalism. At its best, ethnic studies courses offered a place for African American, Puerto Rican, Chicano, Native American, and Asian American students to learn their histories and to forge political consciousness with respect to the larger struggle for democratic life. In the sanctuary of these classrooms, the different cultural histories and the dynamics of their location within the U.S. landscape found a place to be openly engaged, as simply a commonplace process of knowledge production. In this way, the knowledge and wisdom inherent in students' cultural histories and the epistemological power of different ways of knowing could find room for critical engagement. Similarly, a pedagogical process of decolonization, with social justice as a central concern, sat at the heart of the curriculum, as it did in the Raza Studies high school program.
For more than a decade, the high school program achieved unprecedented success with working-class students, most of whom were Chicano, Mexicano, or Native American—student populations that have been subjected to almost two centuries of marginalization and dispossession in the Southwest. Beyond the typical college enrollment marker of success, these high school students demonstrated through their practices in the community that they had undergone an effective process of cultural and political formation—one that assisted them to begin disrupting the cultural invasion of generations.
The program resulted in a large number of these students electing over the years to participate collectively in school and public forums to speak on issues and concerns related to their educational and community needs. The students formed political study circles and strategized ways in which they might work together ← 51 | 52 → toward greater self-determination in their communities. In the program, students read textbooks that spoke of their own histories and the conditions that shaped their lives. They learned about technology in ways that nurtured their critical understanding of media literacy, and they became media producers of videos and CDs that spoke of their everyday lives and their educational struggles.
Students who had never before felt so engaged in their education were now actively present and involved in a pedagogical process that was meaningful and that culturally resonated with their histories and community life. In the process of their intellectual formation, one of the books that was required reading was Pedagogy of the Oppressed. In 2012, the book, along with six others, was banned by public school officials. Teachers were told to stay away from any book that made "race, ethnicity and oppression…central themes."4
Today the Raza Studies program remains at the center of a major political struggle, as Arizona passed measures to ban the program, thwart undocumented immigrant mobility in the state, and reinforce English-only practices in the classroom. State educational officials harassed teachers in the Raza Studies program, accusing them of separatism, reversed racism, inclusion of subversive texts in the curriculum, dissemination of anti-American views, and brainwashing of students.5 Despite the inflammatory and reactionary tone of the accusations made against them in newspapers and during court proceedings, Tucson educators and activists continue to fight back, in an effort to provide a humanizing educational experience for their students—an educational experience that places texts about students' histories, cultural values, and traditions at the center of the pedagogical process, so these can be juxtaposed with the reading of required textbooks.
In place of the competitive and individualistic culture of mainstream education, the decolonizing pedagogy of the Raza Studies program focused on the communal learning of students. En lak'ech: Tu eres mi otro yo (You are my other I), for example, serves as one of their decolonizing principles for classroom life. The powerful principle of En lak'ech, derived from an indigenous reading of the world, pedagogically resonates with students' deep communal and interdependent relationships to one another, to the land, and to all living beings. And it is precisely the power of the collective political grace that such a decolonizing educational process has awakened in students that has caused the fear-based responses of modern-day white settlers of Arizona, many of whom came from big cities to stake their retirement claims on land that was systematically usurped from indigenous people.
For the Tucson activists and educators of color, Paulo Freire's pedagogical promise for the transformation of education remains a revolutionary inspiration today—just as it was for those who embraced his ideas in the '60s and '70s. Yes, there are many texts today that offer a new generation of educators an assortment of readings and varied interpretations regarding the experiences of racialized ← 52 | 53 → communities in the United States and abroad. Yet it was Paulo Freire's powerful and resounding message of revolutionary love and radical hope that ignited the minds and hearts of educators, students, and community members involved in the educational struggle in Tucson.
Despite the overwhelming nature of the political project that informed his dreams, Paulo Freire (1997) remains an emissary of hope for the oppressed. His ethical commitment to a radical hope is anchored in his lifelong revolutionary commitment to counter all forms of poverty and injustice, to contest the arbitrary power of the society's ruling class, to unveil the dehumanizing forces of violence within schools and society, and to confront the destructive consequences of capitalist dominion over the earth.
In Politics of Education, Freire (1985) spoke of revolutionary vision. "A revolutionary vision," he wrote, "tends to be dynamic rather than static; tends toward life rather than death; toward the future as a challenge to [our] creativity rather than as a repetition of the present; toward love as liberation of subjects rather than as possessiveness; toward the emotion of life rather than cold abstractions; toward men [and women] who organize themselves reflectively for actions rather than order; to creative and communicative language rather than prescriptive signals; to reflective challenges rather than domesticating slogans; and to values that are lived rather than myths that are imposed" (p. 82).
Whether the educators and students of Tucson are able to save the program or not is not the salient point here (although the hope is that the program will continue). Rather, what is extraordinary is that through their practice and experiences within a decolonizing pedagogical process, the students and their teachers accepted "the challenge to creativity," refusing to repeat the past. In similar ways, decolonizing struggles against racializing worldviews persists around the world today. Yet decolonizing struggles require of us a sincere thirst for freedom, tireless commitment, and a bountiful solidarity for others. Labor that is born of love and justice is what can make a new world possible; for only collectively, and in solidarity, can we reinvent the old histories of oppression and forge emancipatory futures.
Whether in Palestine, the streets of London or Greece, the Dine reservations of New Mexico, the Zapatistas in Chiapas, the indigenous struggle in Colombia, within Aboriginal or Maori communities of Australia and New Zealand, or the struggle for Raza Studies in Tucson, there are oppressed communities everywhere that persist in the fight for justice, and who still today embrace the man from Recife as a bright guiding light of liberation. ← 53 | 54 →
  1.  This chapter is the text of a keynote address given at the International Conference on Paulo Freire at Waikato University, Hamilton, New Zealand, on November 28, 2012.
  2.  See: http://datacenter.spps.org/uploads/SOTW_A_Nation_at_Risk_1983.pdf
  3.  See: http://www.teachsafeschools.org/literacy-programs.html
  4.  De la Torre, M. (2012). "Arizona schools forced to ban ethnic-studies books" in Ethicsdaily.com. See: http://www.ethicsdaily.com/arizona-schools-forced-to-ban-ethnic-studies-books-cms-19217
  5.  Richardson, V. (2009). "School head fights 'ethnic Chauvinism' in Arizona" in The Washington Times. See: http://www.washingtontimes.com/news/2009/jul/28/school-head-fights-ethnic-chauvinism-in-arizona/?page=all
Cesaire, A. (2001). Discourse on colonialism. New York, NY: Monthly Review Press.
Darder, A. (2012a). Culture and power in the classroom. Boulder, CO: Paradigm.
Darder, A. (2012b). Neoliberalism in the academic borderlands: A dialogue with Antonia Darder. In P. W. Orelus & C. S. Malott (Eds.), Radical voices for democratic schooling: Exposing neoliberal Inequalities. New York, NY: Palgrave Macmillan.
Darder, A., & Torres, R. D. (2004). After race: Racism after multiculturalism. Albany, NY: SUNY Press.
Freire, P. (1971). Pedagogy of the oppressed. New York, NY: Seabury Press.
Freire, P. (1985). Politics of education. Westport, CT: Bergin & Garvey.
Freire. P. (1997). Pedagogy of the heart. New York, NY: Continuum.
Freire, P. (1998). Pedagogy of freedom (p. 68). New York, NY: Continuum.
Freire, P., & Freire, A. M. A. (1994). Pedagogy of hope: Reliving "Pedagogy of the oppressed." New York, NY: Continuum.
Freire, P., & Macedo, D. (1998). Literacy: Reading the word and the world. Westport, CT: Bergin & Garvey.
Gramsci, A. (1971) Selections from "The prison notebooks." New York, NY: International.
hooks, b. (1994). Teaching to transgress. New York, NY: Routledge.
Leacock, E. (1971). The culture of poverty: A critique. New York, NY: Simon & Schuster.
Shakur, A. (1987). Assata: An autobiography. Brooklyn, NY: Lawrence Hill.
Shor, I., & Freire, P. (1986). Pedagogy of liberation. New York, NY: Praeger. ← 54 | 55 →
Equity as Critical Praxis: The Self-Development of Te Whare Wānanga o Awanuiārangi
---
Our struggle for equity in New Zealand (NZ) is both similar to and different from the struggle for equality by other indigenous peoples. Māori as a cultural minority have consistently argued for the recognition and validity of their own cultural frame of reference as well as increased economic and resource parity in their own right alongside the dominant Pakeha (non-Māori population) in NZ. Such arguments for cultural, social, and economic inclusion might simply be interpreted as potentially assimilating of different cultural groups into a homogenous form of capitalism and exploitation that in the end is a continuance of colonization. As Freire forewarned in his text Pedagogy of the Oppressed (1972) the danger here is that the oppressed may become the oppressors or in our sense the 'colonized become the colonizers' as they take on and replicate dominant hegemony.
In this sense education and schooling become important sites of struggle. An important task therefore is to redevelop schooling and education away from the inevitability of the reproduction of dominant cultural, social, and economic norms. This is the project that has been taken up by Te Whare Wānanga o Awanuiārangi, an indigenous higher education institution. While this project is enormous and ultimately reaches beyond education and into the realm of politics, the formation of a critical consciousness and a transforming politics that positively reposition ← 55 | 56 → education and schooling of Māori is important. This project is not developed against the notion of the national interest; rather, it engages the prevailing silence on important questions such as "Whose interests are represented in the notion of the national interest?" or indeed "Whose interests are served within the current definitions of what counts as the national interest?" On the contrary it is important to rescue the 'transforming possibilities' that reside within a notion of the "public good" responsibility of the state. Education and schooling need to encourage thinking that goes beyond narrow, captured manipulations of democratic practice that, in turn, enable the uncritical reproduction of social, cultural, and economic dominance.
For Māori the current accent on neoliberal, market-led education and schooling practice is detrimental to notions of collective responsibility embedded in words such as society, social, public and community. This is reinforced formally (government policy) and informally (public hegemony). In this latter example, dominant Pakeha consent to neoliberal hegemonies of the possessive individual, individual rights and freedoms, consumer sovereignty, consumption, and accumulation politics needs to be critically interrogated as these notions collide with Māori/indigenous cultural views and thereby have become a new formation of colonization formed at the intersection of cultural oppression and economic exploitation (see Apple, 1979, 1993, 2003).
This chapter describes the rise of a Whare Wānanga, a Māori institution of higher learning, and its struggle to grow within the neoliberal education context of NZ and to develop an educational site of resistance that simultaneously builds Māori citizens who have excellent skills in both Māori and Pakeha languages, knowledge, and culture and who also have the critical tools to resist and transform those aspects of the neoliberal economic thrust that continue to colonize and exploit our communities and their interests. In this sense this institution exemplifies the important concern not simply to describe our pathology but to do something about it as well.
Since the 1980s there have been three Wānanga (Māori cultural-based, tertiary institutions) that have developed within the provision of higher education in New Zealand. New Zealand has a total population of about 4 million people and a population of about 450,000 Māori who are resident in New Zealand and about 100,000 more residing in other countries, the majority in Australia. New Zealand was/is formally colonized by Britain, which signed a treaty (the Treaty of Waitangi, 1840) with Māori. This treaty ostensibly guaranteed rights and privileges to Māori including the protection of the British Crown in exchange for governance rights by the Crown over the lands and resources of New Zealand. Britain maintains a ← 56 | 57 → physical presence in the governance of New Zealand through the Office of the Governor General who is often referred to as the "Queen's Representative." Subsequent to the 1840 signing of the treaty, Māori experience of British colonization has been similar to that of other indigenous peoples within the outreach of the British Empire (now called the Commonwealth). While there have been benefits from this contact, the overall impact is that today Māori suffer widespread and highly disproportionate levels of social, cultural, and economic underdevelopment as compared with the dominant Pakeha (non-Māori) population. Education and schooling have been significant sites for colonization, through both the production and reproduction of educational underdevelopment that has been both intentionally and unintentionally perpetrated through multiple means and sites. There is an increasing body of research and literature from international and national sources that attempts to identify and analyse the causes of the underlying issues that impact Māori. Over the years various government interventions developed from within the educational system have been applied with limited success. In 1982 a significant self-development movement evolved out of Māori communities that initiated what I describe elsewhere as the "Māori Education Revolution" (Smith, G. H., 1997). At the seat of this revolution were some core ideas that have been generalized as Kaupapa Māori (Māori Philosophy and Principles). This revolution is marked by the following principles:
–  Conscientization: Coming to understand the stark realities of the neoliberal economic changes in New Zealand and its overt and inequitable impact on Māori and therefore the subsequent conscientizing of Māori to the fact that our struggle was not just about our culture, but also over structural elements such as economics, power, and ideology, that is, a need to simultaneously struggle for structuralist and culturalist change.
–  Resistance: Enactment of self-development.
–  Transforming: Not just transformation as an outcome, but a continuous cycle of reflective and reflexive transforming.
In the 1980s an educational self-development revolution by Māori was begun. This was the genesis of the Māori language revitalization movement beginning with Te Kohanga Reo (Pre-School Language Nests) to Kura Kaupapa Māori (Immersion Elementary Schools) to Kura Tuarua (Immersion Secondary Schools) to Wānanga (Māori Higher Education Institutions). All of these initiatives were started as alternative, self-developing responses by Māori communities outside of (and often in reaction to) the system. Each of the three Wānanga has developed differently and has shaped their institutions to respond to different Māori educational needs. Te Whare Wānanga o Awanuiārangi has developed itself within a context of the indigenous-university and aims to provide opportunities for Māori and Iwi development from doctoral to certificate level. I should note that our position is that we do not position ← 57 | 58 → ourselves as a university as described within the New Zealand Education Act. We are clear that we are a Whare Wānanga and have specific responsibilities to perform under the Education Act, but that we offer similar programmes as those offered at existing universities at graduate-level teaching as well as in research.
Te Whare Wānanga o Awanuiārangi is a relatively young institution within the overall context of tertiary education provision in New Zealand. It was begun by the Māori tribal nation of Ngāti Awa in 1989 as a self-development initiative. This development was not easy; in fact, it would be more accurate to say that its existence was very much the result of struggle against the dominant mono-cultural system on the part of key individuals who had the vision and the foresight to enact their dream. The key individual was Professor Hirini Moko Mead, who was also the Chairman of the tribal council of the Ngāti Awa tribe at that time. He announced his proposal that Ngāti Awa establish a Whare Wānanga some years ago at a specially convened Hui at Te Hokowhitu Marae of the Ngāti Pukeko Hapū of Ngāti Awa. I was also at this Hui and was asked to contribute, given my educational background, as a teacher and as the then Pro Vice Chancellor (Māori) at the University of Auckland. While the idea of the Whare Wānanga was positively received at the time, there was some scepticism expressed by those who worried about the resources that would be required to establish such an entity. It took a further two years for the ideas to become manifest. In the early stages of establishment, Professor Mead co-opted two local identities to assist: Mr. Hohepa (Joe) Mason and Mr. Peter McLay, both of whom had educational backgrounds. A further issue raised at this Hui was an appropriate name. It took some time before the name "Te Whare Wānanga o Awanuiārangi" emerged and Mr. Monte Ohia (an official with the New Zealand Qualifications Authority [NZQA] at that time) is credited with giving encouragement for this ancestoral name that embraced Mātaatua people as well as other tribes throughout New Zealand.
When I am asked today about how to establish a Whare Wānanga or an alternative institution, I usually respond by saying that you need a strong vision that is encapsulated in an inspiring name. If the vision is appropriately powerful it will provide the necessary impetus and direction to your struggle to establish your institution. All of the other important elements such as a strategic plan, funding, programmes and courses, staffing, and so on will flow from the vision and be enacted through the strategic plan.
An important part of the establishment of Te Whare Wānanga o Awanuiārangi has been the necessity to engage in a struggle to build it. Struggle might be seen as a positive element in this regard. In building the institution from the ground ← 58 | 59 → up, the supporters have not only had to get their hands dirty, they have also had to sort out in their heads what they are struggling for and what they are struggling against. This element is important as it strengthens the commitment to the kaupapa or the integrating philosophy, particularly when times become difficult.
Te Whare Wānanga o Awanuiārangi is an outcome of the embedded transforming philosophy within the Te Kohanga Reo (Language Nest—immersion pre-school) revolution. As such, this revolution should not be understood so much in terms of the physical manifestations of the institutional entities of Te Kohanga Reo, Kura Kaupapa Māori, or for that matter Wānanga. Indeed I would argue that the real Māori education revolution of the 1980s was much more profound; it "was a revolution in thinking; it was a shift by Māori from being 'reactive' to being 'proactive'—to taking more responsibility to make change for themselves and not wait for other people's permission." (G. H. Smith, 1999).
I will not go into detail concerning the historical struggle to establish Te Whare Wānanga o Awanuiārangi at this point, but there are some important elements that need to be understood. First, Te Whare Wānanga o Awanuiārangi (because it has also been established partially as a result of a Treaty Claim in 1999) is simultaneously a Crown and an Iwi tertiary partnership, which along with the other two Wānanga form part of a unique group, distinctive from other New Zealand tertiary institutions. Second, Te Whare Wānanga o Awanuiārangi has a foundational relationship with its founding Iwi of Ngāti Awa. Third, the Whare Wānanga itself and Ngāti Awa own its physical plant, buildings, and land, and this again is quite different from other New Zealand tertiary institutions and universities in which the government owns almost all their buildings and other capital assets. Thus, the government's fiscal investment in the Wānanga is limited to mostly operational support through EFT's funding. At one level this might be viewed as a structural inequity; on another, it could also be interpreted as being more independent of the system. Of course, all of the concerns related to the neoliberal strategies of devolution and privatization of responsibility of public education need to be countered. While these institutions use the Treaty of Waitangi to mediate these issues, there are still a large number of inequities that disproportionately accrue to the Wānanga Sector and Te Whare Wānanga o Awanuiārangi in particular as a result of not receiving (as the neoliberal level playing field of equity promises) the same treatment as other like institutions.
Te Whare Wānanga o Awanuiārangi adjusted its branding in 2011 and added the international descriptor indigenous-university to its title. This adjustment has been carefully positioned. Te Whare Wānanga o Awanuiārangi does not wish ← 59 | 60 → to be a university as prescribed within the University Act nor does it aspire to be constrained by the existing functions of a university. However, Te Whare Wānanga o Awanuiārangi aspires to be like a university in terms of its graduate and research aims, and its Māori and indigenous emphasis also needs to be seen as a distinctive characteristic. There are a number of other distinguishing features that are best captured in the adjectival description of the compound word indigenous-university, particularly our international alignment with other like institutions, for example, the Sami University College of Norway, the First Nations University of Canada, the Indigenous University of Bolivia, and Haskell Indian University of the United States.
Te Whare Wānanga o Awanuiārangi is an institution that is simultaneously responsive to both generic Māori and specific Iwi aspirations both within and through the educational programmes of the institution. Notwithstanding this, the Wānanga is also shaped by the Education Act 1989, which provides the official description and parameters of the academic responsibilities. Wānanga are given statutory recognition under section 162 of the Education Act 1989. Wānanga are regarded as the peers of universities, polytechnics, and colleges of education. Section 162(4)(b)(IV) states
A Wānanga is characterised by teaching and research that maintains, advances, and disseminates knowledge and develops intellectual independence, and assists the application of knowledge regarding āhuatanga Māori (Māori life) according to tikanga Māori (Māori custom).
Overall, there are two main underpinnings to the academic emphasis of the institution: Māori knowledge and cultural excellence and world knowledge excellence.
TE WHARE WĀNANGA O AWANUIĀRANGI
Te Whare Wānanga o Awanuiārangi in 2014 has approximately 3,200 EFTS (this translates to about 7,700 students including part-time students). It employs around 180 staff members, 90% of whom are of Māori descent. The institution has three major sites of delivery in Whakatāne, Auckland, and Northland; we also work with about 300 tribal marae (Māori Meeting House sites) over a three-year cycle.
We have three schools; the School of Iwi Development, the School of Undergraduate Studies and the School of Indigenous Graduate Studies. We also host five institutes; the National Institute of Māori and Indigenous Education; the Institute for Post-Treaty Settlement Futures; the Institute for Māori and Indigenous Science; the Institute for Technology, Design and Creativity; and the National Institute for Māori and Indigenous Performing Arts. ← 60 | 61 →
We have attracted a critical mass of Māori PhD-qualified staff and faculty including eleven Māori professors (this is a significant number compared with the university sector more generally). Our programmes extend from Adult Community Education (ACE) certificates and diplomas to degrees, graduate diplomas, and master's and doctoral degrees. All of our programmes are intentionally shaped to positively impact Māori social, economic, and cultural growth. More than 90% of students are Māori (approximately 51% of whom are engaged in degree programmes). Of our graduate student numbers, 190 are master's students and 90 are doctoral students. All of our degree students are expected to undertake "critical studies" as core components.
The word Whare distinguishes Te Whare Wānanga o Awanuiārangi from the other two Wānanga. We have always described ourselves as a Whare Wānanga1 as opposed to just using the single term Wānanga.2 Moreover, the term Whare Wānanga positions Awanuiārangi as a tertiary entity for higher learning including undergraduate and graduate studies. Thus, we teach a broad mandate of programmes from level one to doctoral level. Furthermore, we are able to deliver across the whole of New Zealand where and as appropriate to engage in transforming education.
The term transforming education is deliberately ambiguous and both meanings are intended. We need to focus on outcomes that are transforming given that for the most part the status quo way of educating is problematic in that Māori educational underdevelopment tends to be reproduced. In using the term transforming education we are calling attention to the need to enact change both in the process and the outcomes of Māori/indigenous education.
A further aspect of our institutional stance to transforming is a concern to move beyond a developmental emphasis of growing change from the bottom up. The problem here is the linear, instrumental, project-oriented approach derived from human development theory that sees change occurring through an incremental maturation process, beginning in childhood. We have attempted to problematize this approach. Our notion of transforming is premised on the assumption that the Māori struggle within and through education is not one struggle, but includes many struggles. We therefore accept the need to engage in a 360-degree approach to move beyond singular projects of change to engaging in multiple strategies, within multiple sites—sometimes these may need to be engaged with simultaneously. The point here is that colonization is not found in one place or is one shape; it is being perpetrated in many sites often in many guises; as a consequence ← 61 | 62 → there is a need to be critically literate and be able to respond appropriately to these new formations of colonizing.
Te Whare Wānanga o Awanuiārangi is also intentionally positioned to respond to its immediate social-geographic context of the Bay of Plenty and we therefore build our planning strategies and programmes accordingly. For example, the Māori population in the Bay of Plenty is growing faster than most other regions in New Zealand and it already contains more Māori than most provinces (see the BERL 2014 report). Furthermore, this region is significantly underdeveloped in respect of Māori access, participation, retention, and success in higher education.
We also have a focus on the emerging Māori economy and its associated workforce needs. The emerging Māori economy is estimated to be around $37 billion and growing. It is also significantly rural, located in tribal territories, and is therefore largely asset based (and not liquid). The challenge for the Wānanga is to assist building work opportunities and employment that derives from Māori organisations and tribal interests. This also connects with the post-Treaty settlement context and the need to help facilitate the post-Treaty environment given that a Treaty settlement is a beginning not an, ending. We should also be helping to fill the vacuum created by the settlement process as Māori and Pakeha contemplate new futures and new social and political arrangements in the new New Zealand going forward.
Te Whare Wānanga o Awanuiārangi is located in the rural resort town of Whakatāne. It attracts large numbers of tourists to attractive surf beaches and sunshine and brings in tourists chasing eco-tourism experiences. Whakatāne is also known as the sunshine capital of New Zealand. A key stance adopted by the Wānanga has been to position it within a context of rurality rather than rural. Rurality is a concept that puts rural experience and life at the centre of consideration rather than on the periphery. The notion of rurality acknowledges the reality of rural lifestyle as being at the forefront of consideration rather than being seen/constructed as the reflection of urban experience. This shift in perspective is important as Te Whare Wānanga o Awanuiārangi attempts to respond to the special needs of the Eastern Bay of Plenty and to the large population of Māori who still live in tribal and marae contexts. This understanding also helps shape our institutional programmes to link more effectively to our local needs and expectations.
CRITICALLY UNPACKING NEW FORMATIONS OF COLONIZATION
The Māori education revolution is predicated on the development of a critical analysis that examines culturalist and structuralist issues. We need to understand ← 62 | 63 → the politics of struggle and the critical importance of deconstructing neoliberal hegemony that legitimates and reproduces the existing dominant cultural, social, political, and economic order. Particular hegemonies accrue around the following issues:
Equity (Narrowing an assertion of the level playing field ideology has the effect of simply maintaining the status quo and reproducing existing inequalities)
Democracy (Dominant interests are reproduced when minority populations have to depend on a system of one person, one vote and majority rule)
Individualism (Individual rights and freedoms uphold capitalist values of the possessive individual and often conflict with Māori values of collectivity, social responsibility, reciprocity, and extended family responsibilities [whanaungatanga])
Devolution (Illusion of Power Sharing: the devolution of responsibility, but the power and control over funding and resources remain at the centre of government)
Choice (Choices are offered within defined parameters; choice is supposedly a natural derivative of individual freedoms; it becomes a way to explain failures of the system—the responsibility for failure resides with individuals who made poor choices, e.g., unemployment, educational failure. In this sense the state (government) exports failure back to citizens.)
Science Reification (The accent on Western science, the rise of positivism and the techno-rationality are accompanied by a rise in the attack on the arts and on non-mainstream language, knowledge, and culture. This trend is also marked by STEM curriculum, more targeted funding to sciences and associated research, e.g., in science scholarships)
Accountability (The rise of neoliberal economics and the free market is accompanied by a commensurate rise in the notion of the surveillance society, coercive power, and moral authoritarianism, e.g., more police, more rules and regulations, rise of traditional family values and conservative religious views, "dob in your neighbor" campaigns underpinned by whistle-blower legislation)
Privatization (The abdication by the state of its "public good" responsibilities needs to be resisted by Māori; the creation of private wealth off the back of publicly owned assets reproduces structured inequalities by potentially widening the gap between those already socially and economically advantaged and those who are not)

← 63 | 64 →
This is the new terrain on which the colonization of Māori needs to be fought against. This is why critically informed studies are important for Māori—first to recognize these new formations of colonization and second to do something about them. A further concern is to critically understand that colonization has not magically disappeared; rather, it is coming at us in new shapes and in multiples sites, sometimes simultaneously. While the traditional sites of colonization have been schooling, the church, and government policies, the new forms of colonization are significantly economic. As such the neoliberal economic emphasis might be considered a series of new formations of colonization shaped at the intersection of cultural oppression and economic exploitation. This phenomenon has seen a sharp rise in the interest in intellectual and cultural property rights by indigenous peoples as the commodification of culture takes effect. This point about multiple sites of colonization and resistance connects with Antonio Gramsci's (1971) strategic notions of war of position and war of manoever.
Staff and students interested in developing transforming education must develop understandings and practices that are founded on critical insights that enable Māori to respond appropriately to the societal context of unequal power relations. These power inequalities exist in multiple sites and are enabled in a complexity of ways. Things become more complicated when different shapes of inequality overlap and compound their impact. For example, the power differential that undermines Māori life chances are often multiplied in a convergence of 'dominant: Pakeha: economic' interests. This intersection of interests occurs because Māori exist within a societal context of unequal power, social, economic, and cultural relations. Subsequently there is a need to make more appropriate space for the existence of the validity and legitimacy of Māori ways of knowing, being, thinking, and acting. Most Māori still want to be Māori. For example, there is a need to protect Māori language, knowledge, and culture from the mono-cultural system that tends to reinforce and reproduce the dominant non-Māori cultural perspective, and perhaps even attack and undermine minority cultural forms. An important and distinctive feature of the programmes taught at Te Whare Wānanga o Awanuiārangi is that all students are exposed to critical studies and understandings. In this sense all students need to understand how these colonizing forces work and how they might be countered. This project involves a dual perspective, a critical view of one's own colonization as well as a critical view of how colonization is perpetrated over Māori by external interests. ← 64 | 65 →
One of the key struggles for Māori has been a long-standing contestation with the neoliberal state over the meaning and practice of equity. This struggle has been prominent since 1982 when New Zealand, under the David Lange–led government, formally moved away from a welfare-driven economy to the notion of the "free market" economy. This shift was announced on television during an interview with the prime minister of the time, David Lange. When pressed on the issue of equity, Lange proffered this definition—Equity is unequal input for equal outcome. The parameters of what was at stake were evident in a very awkward exchange that subsequently ensued between Lange and his minister of finance, the Hon. Roger Douglas, the architect of the neoliberal approach that was to be adopted (later referred to as Rogernomics). The very next night on television, Douglas publicly corrected Lange's statement by announcing that the prime minister had "got it wrong" and that equity was to be reframed going forward, stating that "equity means treating every New Zealander exactly the same."
The policy implications of these definition shifts are profound. In more colloquial speech we see a shift from compensatory forms of equity application and practice to the notion of the level playing field, an exporting of state/public responsibility to individual responsibility by means of a "user pays" hegemony. More recently we have seen other policy strategies as well, such as distributive equity—targeted applications of selected equity provision within groups of need. These different approaches need to be critically understood within the societal condition of unequal power relations. For example, the "level playing field" ideology may in the end simply reproduce and maintain existing inequalities and unequal relations of power.
Individualism (individual freedoms, rights, the possessive individual) undermines the capacity to enact social, public, and collective responsibilities. Even in the academy the privileging of individual academic achievement through the Performance-Based Research Fund (PBRF) and other competitive systems enables and rewards individual meritocracy to the detriment of building a more powerful and collaborative community of scholars. There are some important shifts that we should take up in order to become more effective in transforming our condition. We need to move from an emphasis on self-determination to being self-determining; from an emphasis on conscientization to enactment; from an emphasis on transformation (as goal) to transforming (as a process). Other concepts that should be engaged include the emphasis on the capitalistic notions of the possessive individual, techno-rationality and scientific reification.
We should understand the politics of distraction and to clearly know what we are struggling for and against. In this sense there is a need to move beyond simply ← 65 | 66 → describing what's gone wrong to enacting solutions and change. Put another way, this is a move beyond what counts to more precisely identifying what we want, how we get it, how we know when we have it, and whether or not it is effective and makes the appropriate difference.
We need to shift our transforming model from a linear conception to a circular praxis framework.
Underpinning the Māori intervention elements described above are important understandings about transformative praxis and, by extension, critical pedagogy. The intervention strategies applied by Māori in New Zealand are complex and respond simultaneously to multiple formations of oppression and exploitation. That is, multiple formed oppressions need to be responded to by multiple formed resistance strategies. This flexible response is necessary because the shape of the struggle with which Māori are engaged is neither singular, nor linear, nor instrumental.
The Kaupapa Māori educational interventions represent the evolution of a more sophisticated response by Māori to freeing themselves from multiple oppression(s) and exploitation. In particular, the very emergence of Kaupapa Māori as an intervention strategy critiques and reconstitutes the Western dominant notions of conscientization, resistance, and transformative praxis in different configurations. In particular, Māori reconfiguration rejects the notion that each of these concepts stands individually, or that they are necessarily to be interpreted as being an instrumental progression from conscientization, to resistance, to praxis. That is, one state is not necessarily a prerequisite or contingent on the other states. Thus the following popular representation of transformative action (based on a predominantly Western type of thinking) needs to be critically engaged.

The position implicit within the new formations of Māori intervention (and that may have wider significance for other indigenous populations) is that all of the ← 66 | 67 → above components are important; all need to be held simultaneously; all stand in equal relation to each other. This representation might best be understood as a cycle. For example: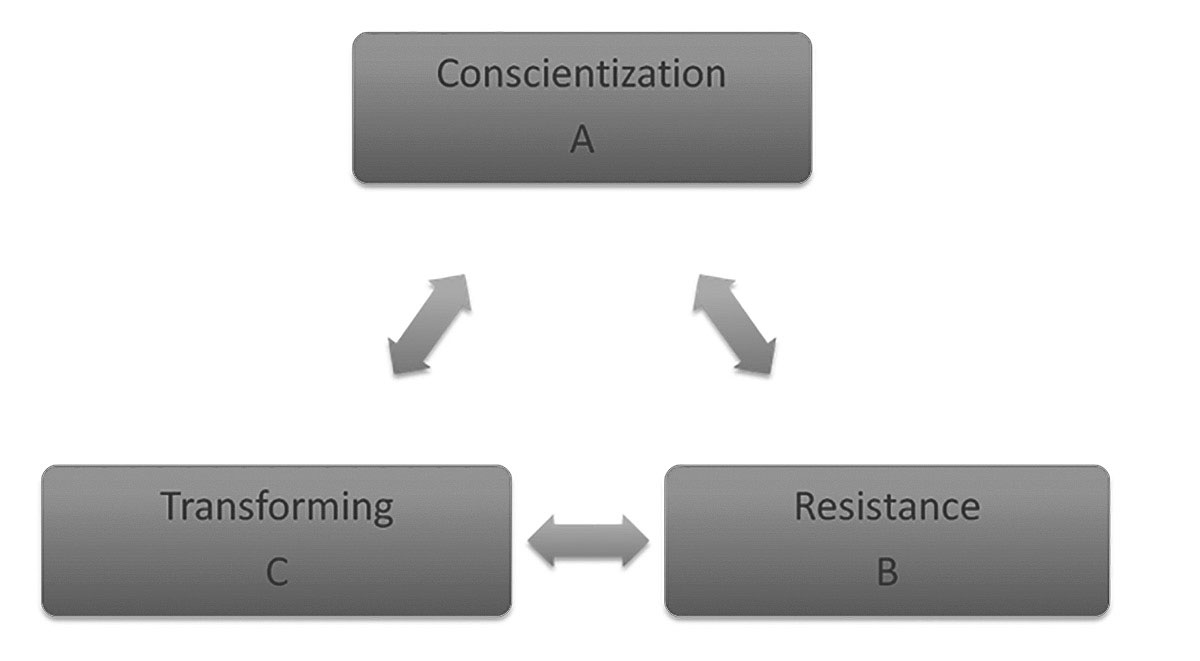 A further point here is that individuals and groups enter the cycle from any position and do not necessarily (in reflecting on Māori experience within Kaupapa Māori interventions) have to start at the point of conscientization. In other words, individuals have been caught up in a transformative praxis unconsciously, and subsequently conscientization and transforming action have developed later. For example, some parents took their children to Kohanga Reo (because it was the only early childhood option in the town), and this later led to the parents becoming conscientized about the politics of language revitalisation and highly active participants in a resistance movement (G. H. Smith, 1999). This is a significant critique of much of the writing on these concepts that tend to portray a linear, instrumental progression through the stages of conscientization, resistance, and transformative action. Māori experience tends to suggest that these elements may occur in any order and indeed may all occur simultaneously. It is important to note as well that the arrows in Figure 2 go in both directions, which reinforces the idea of simultaneous engagement with more than one element. It is also an inclusive representation of struggle and moves beyond the hierarchical representation implied in the linear model. In the figure 2 all Māori can be plotted somewhere on the circle (some are standing still, some are going backwards, others are well advanced)—the point is that every Māori is in the struggle whether they like it or not, whether they know it or not.
One of the most exciting developments with respect to the organic resistance initiatives of Māori in the 1980s and 1990s has been the discernible shift and maturing in the way resistance activities are being understood and practiced. ← 67 | 68 → Now a greater emphasis is placed on attempting to take into account structuralist concerns (economic, ideological, and power structures) as well as culturalist responses (related to agency). Some of the important factors that the Māori resistance initiatives attempt to engage with relate to economic, ideological, and power dimensions, which are derived from the nexus of state dominant Pakeha cultural interests (Smith, G. H., 1999).
Where indigenous people are in educational crises, indigenous educators and teachers must be trained to be "change agents" to develop transformation of the undesirable circumstances. They must develop a radical pedagogy (a teaching approach that will develop positive change). Such pedagogy must also be informed by their own cultural preferences and respond to their own critical circumstances. I believe there is much to inform other indigenous contexts from the lessons we have learned from the struggle established in Te Whare Wānanga o Awanuiārangi. In particular, the need to put a critical focus on the processes of transforming, and on positive transformative outcomes. What are they? How can they be achieved? Do indigenous people's needs and aspirations require different schooling approaches? Who benefits? Such critical questions, which relate to the task of teachers being change agents, must not only inform our teacher education approaches, they must also inform the work of all indigenous educators. Furthermore they must also ensure the buy-in from the communities they are purporting to serve.
I now share some of the key intervention elements that have underpinned this period of positive and proactive change since the 1980s and that have helped shape the Te Whare Wānanga o Awanuiārangi strategic direction. These change elements are worth identifying and sharing as they may provide insight or stimulate similar ideas for catalyzing transformation in other education sites. Again, it is important to critically reflect on these strategies—some may fit and be immediately relevant and applicable, yet others might need to be recast to fit your specific context, others again may be totally irrelevant. The few points that are shared here are merely a selection of a much larger number of key elements that have made the indigenous education and schooling revolution a relative success in our situation and we would recognize that we still have limitations in some areas.
In order to lead change and to support education transformation of indigenous learners the following strategies are important: ← 68 | 69 →
A. THERE IS A NEED TO MAKE AND LEAD CHANGE OURSELVES
A key learning that we have made within our Māori context is that no one else can make the changes for us—we have to make them ourselves. The commitment has to be ours—we have to lead it. Others can help, but ultimately it is indigenous people who have to act. We need to move beyond waiting for a "cargo plane to land" or for someone else to do it. We need to develop a transformative struggle that is inclusive and respectful of everyone. Doing it we should ensure greater buy-in from the people for whom the changes are intended. We need to draw on our cultural ways of collective work: of extended family obligation and our values of sharing and reciprocity. In New Zealand we have had to deliberately reteach much of this, as it had been lost to some of our culturally dislocated relatives and the generations who were raised in the urban settings.
Acting and doing sometimes require courage, or they require someone just to start something. This is how Te Wānanga Awanuiārangi began. Literally we started with our imaginations. As noted earlier, once we had decided what we wanted to do the next step was to get a board, four nails, and a pot of paint. An empty prefab was found, a name was chosen and written on the board, the board was nailed on the wall, and we had started a Māori tertiary institution. We knew we needed funding, a plan, a CEO, courses, faculty, and other facilities—but the critical thing was that we started; we nailed our name to the wall and began. Everything else has been methodically built over time, beginning with a strategic plan. Today, several years later, Te Whare Wānanga o Awanuiārangi teaches to the PhD level, has a wide range of programmes and is a multimillion-dollar entity, funded by the tribes with assistance from the government. Strategic planning was a very important factor here.
In summary, there is a need to see the distinction between self-determination (as an outcome) and being self-determining (as a process). That is, the focus of our struggle must be to be actively engaged (self-determining) rather than simply passively engaged with a utopian/rhetorical ideal (self-determination). Being self-determining in my view is to live out self-determination in everyday practice. In this sense, self-determination becomes the vision and the goal; to be self-determining describes the practice of enacting self-determination every moment. In many ways there is a profound question here for indigenous people who are already self-governing and/or who purport to have self-determination. That is, is the way in which we live our lives and engage with the structures of our society an enactment of self-determination? In other words, are we genuinely being self-determining? The implication of this question is that it is possible not only to have self-governance and self-determination politically, but also to live our ← 69 | 70 → everyday existence in culturally, socially, and economically oppressed ways. Many small states may understand these phenomena as development dependency or structural indebtedness. Both of these situations are good examples of what I view as new formations of colonization. For many small self-governing states, issues around education development become complicated when confronted with these issues and choices that may put into opposition cultural knowledge excellence on the one hand and the need to develop skills to enable access to labor markets in order to support economic goals on the other. Often and tragically, the international forces driving economic development seem to have little concern for the issue of localized cultural knowledge excellence (apart perhaps from a few individuals). It is apparent that many of the international funding and development agencies too often have narrow perspectives on these issues and often do not appreciate these ends, regarding them as impediments to economic outcomes. There is a large set of Pacific literature on this; see Sitiveni Halapua (1982), M. Meleisia and P. Meleisea (1987) and Thaman (2003). A subsequent tragedy is that often in these small nations, states, and tribes, the education and schooling opportunities that are offered may end up not delivering excellence in either the cultural or the economic development domain. There are important issues for Māori learning communities to reflect on here.
B. THERE IS A NEED TO CENTRALIZE THE ISSUE OF TRANSFORMING
Transforming needs to become our focus in education. Why? Because for the most part the status quo way of doing things has not delivered significant change in the existing circumstances of high and disproportionate levels of socioeconomic marginalization and/or of educational underachievement. We cannot simply go on reproducing the same poor outcomes.
The focus on transformation as outcomes of our transforming intent means that we need to know the answers to the following:
–  How do we get transformation?
–  What counts as real and meaningful transformation?
–  How do we know that transformation is effective and sustainable?
–  Whose interests are served by the transformation?
Furthermore, there is a need to understand the implicit rationale or theoretical basis to our preferred transformation strategies in order to make the intervention potential portable and therefore able to be transferred and applied in other sites where change is required such as health, economics, housing, and the like. We have learned from our experience that we need to move beyond linear, instrumental ← 70 | 71 → notions of transformation. These linear modes of transforming tend to create needs hierarchies and as a result develop competition for limited resources. Often these competitive strategies divide us against each other. Our new approach is to move away from an emphasis on linear models of transformation and reconceptualize our transforming strategies as a circular praxis (following G. H. Smith, 1997). This approach is predicated on the presumption that the necessary changes that need to occur are many; our needs are to be found in multiple sites; and our strategies also need to be multiple. This 360-degree approach to engage with multiple colonizing forces often requires multiple resistances that often need to be applied simultaneously. The important point here is that we must move beyond single policy initiatives of transformation (as implied in the linear framework) to asserting transformation needing to occur in multiple forms. In respect to policy, this may mean the need for government to focus on the "whole of government" strategies involving several ministries engaging with the same issue from different bases at the same time. For example, many of the education issues overlap with health, social development, economic development, and so on. We should also be able to relate our vision of what we are trying to achieve to the actual process of change and transformation, for example, around Claus Offe's legitimation-crisis' change cycle and Jurgen Habermas's incremental cycle of social change (Offe, 1984; Habermas, 1974). That is, a vision will usually be achieved incrementally and we need to understand the pace and nature of change and therefore identify and celebrate the incremental victories along the way to the realization of the ultimate or utopian vision.
More recently we have de-emphasized using the noun transformation to now emphasizing the verb transforming. We have moved to distinguish between transformation as an outcome and transforming as a process. That is, we have shifted from a focus on descriptive, long-term outcomes (utopian vision) to now recognizing the need to enact transforming in our everyday behaviours and to enact it as an ongoing dynamic process.
In shifting to a concentration on transforming we are able to celebrate the incremental victories along the way to the full realization of the transformation vision and goal. That is, we do not want to overly focus on realizing the end point of transformation—as some of these visions are more aspirational or utopian and may require a lot of time before they are realized. The collapse of overly generalized utopian visions such as civil rights and gender equity and so on lost a lot of support from the 1970s onwards, as people's interest waned in these movements because they lost faith waiting to realize the ultimate outcome. Having noted the prior importance of the notion of transforming as opposed to transformation, there is still a case for long-term, utopian visions. A utopian vision can give impetus and direction to our transforming struggles. ← 71 | 72 →
C. THERE IS A NEED TO BECOME MORE LITERATE ABOUT NEW FORMATIONS OF COLONIZATION
There is need to understand colonization more profoundly rather than simply within the traditional understandings of "the schools did it to us," "the missionaries and churches did it to us" or "the state and colonial governments did it to us." All of these traditional explanations have elements of truth and are part of the explanation. However, there are some who believe that because we understand these elements that colonization can be controlled or even that colonization has disappeared.
The term post-colonial is often confused as meaning this; it does not mean this—but I think a number of people misinterpret the preoccupation with post-colonial studies as being after the period of colonization. This is not the case—colonization has not gone away; in many instances it has just changed its form. This is the point—many are still looking through the old critical lenses and fail to see the new formations of colonization and subsequently how the new blockages are formed in the face of indigenous aspirations. We need to develop new critical literacies, which enable us to analyze the various scenarios correctly to enable the appropriate resistance or intervention to be developed. As long as we continue to misread this situation we will continue to produce ill-fitting and ineffective resistance measures.
Some of the old forms of colonization have been embedded in schooling and education and we know them by different labels. For example, we should still be aware of the contradictory and colonizing nature of curriculum that is driven by deficit theory and/or self-esteem theory; we also have critical theory understandings that illuminate the dangers for indigenous cultures contained in the notions of the selected curriculum and the social construction of knowledge. That is, any curriculum is a selection of knowledge by someone or by people with particular interests (cf. Bernstein, 1971, 1973, and Young, 1971). Once Māori understood this about the curriculum we could respond more effectively—hence the rise of alternative education and schooling where we could better influence what was to count as the curriculum. Examinations and testing are also socially and culturally constructed phenomena that need attention to ensure they are fairly and equitably applied.
There are other new formations of colonization that arise at the intersection of cultural oppression and economic exploitation. These occur around the commodification of knowledge—the buying and selling of knowledge through manipulating cultural and intellectual property regimes, enacting the regulatory effects of patents, copyrights, and trademarks. This is a major issue at present and is one of the key elements of the free trade agreements for example as regulated ← 72 | 73 → in the General Agreement on Tariffs and Trade (GATT) and Trade-Related Aspects of Intellectual Property Rights (TRIPs) initiatives. The attendant values that allow this kind of exploitation are contained in the neoliberal economic values of individualism, privatization, competition, the free market, and so on. Having rendered this critique, I do not want to completely dismiss the potential of neoliberal economics to also act in positive ways for indigenous interests.
D. THERE IS A NEED TO PUT OUR OWN INDIGENOUS LANGUAGES, KNOWLEDGES, AND CULTURES AT THE CENTER OF OUR EDUCATION REVITALIZATION
This is important in order to harness the emotional energy related to identity and culture to enhance learning more generally. Dr. Lee Brown, a colleague at the University of British Columbia, has written some powerful work on this aspect using the medicine wheel (Brown, 2004). The point here is that identity is linked to language, knowledge, and culture.
Place is also important: land, Mother Earth. I am reminded of a story about one of our elders, Rima Edwards,3 and his evidence that he presented in a land claim hearing in the Waitangi tribunal hearing. It took him a day and a half of giving the context of place before he actually reached the person whom he wanted to talk about in his evidence—his total evidence took two and a half days of traditional stories, chants, songs, and oral history. The point is that place, our traditional context, is important—but it may be that we have to begin the work of finding new concepts of place within our language and oral traditions as climate change and rising oceans threaten many of our traditional homelands. The portentous issue of climate change and its impact in the Pacific must be part of the context in which Pacific Rim nations plan for the future.
Some other examples of indigenous Māori knowledge being important in its own right are the work of the Elder Kino Hughes (over 400 traditional songs memorized, sung, and recorded); the work of Emily Schuster, a Māori weaver who worked on special knots for the NASA space programme; the Te Māori art exhibition at the New York Metropolitan Museum of Art, which had been considered artifacts in New Zealand and yet virtually overnight after being displayed in New York were then considered objects of art (and subsequently imbued with status and economic worth). The key point here is that knowledge is arbitrary.
In general it took a while to realize both as a people, as an education and schooling system and as a nation that fundamentally Māori still want to be Māori—that Māori were not prepared to sacrifice their culture, language, knowledge, or identities and become brown-skinned Pakeha (non-Māori New Zealanders). Most ← 73 | 74 → indigenous people I have encountered have the same sentiment—they still want to be indigenous.
CONCLUSION—OUR STRUGGLE IS TO BE TRANSFORMING
Finally I want to summarize some key points about Māori struggle for equity in New Zealand. Our struggle is not just for social and economic inclusion; it is also for our language, knowledge, and culture. For Māori, these issues are interdependent. While I am concerned about what happens in New Zealand, I do acknowledge the need and suffering of other peoples. An important point is that all of us need to struggle to transform our existing marginal conditions.
In this writing, I use struggle to encapsulate the contested, unequal power relationships between dominant Pakeha (non-Māori) and subordinate/d Māori social, cultural, and economic interests. Education and schooling are critical sites to be struggled over. Schools and education are implicated in the production and reproduction of these unequal relations of power and subsequent social, economic, and cultural inequities. My ultimate argument is to enable every citizen in our country to enjoy levels of social, economic, and cultural well-being that engender a positive national pride and sense of belonging.
I view the notion of struggle positively as it can also provide clarity of what we are for as much as what we stand against. We should be clear that our struggle for Māori educational liberation is also a struggle for the rescuing of the legitimacy of the educational and schooling system as a whole (e.g., for every 100 non-Māori children 75 will leave with a level 2 NCEA qualification as opposed to 48 Māori).4 While I have concentrated on Māori struggle, I do fully acknowledge that many of these issues also draw in educators more generally. In this sense some of the issues identified in relation to Māori may also transcend the specificities of cultural context.
Our struggle is now—Tomorrow is too late—today is tomorrow—we can not afford to continue to wait; to continue deciding on how we might react; to continue waiting for someone else to come up with answers; to continue to rely on others to lead. In regard to our cultural survival everyone must become a leader. Urgency is of the utmost priority to the extent that our talking should not be about what we might do but rather about what we have done (accent on the past tense). We need to move beyond the description of our morbidity to enacting change.
Our struggle is both cultural and structural—It is not either/or; institutional, government, and societal structures (as well as people) need to be challenged and where necessary changed. In other words we need to develop new literacies to enable transforming, to enable identifying systemic and people blockages and to ← 74 | 75 → react to them as appropriate. Otherwise our transforming endeavours will not be long term; they will simply be short-term, one-off projects.
Our struggle is not one struggle—It is composed of multiple struggles that occur in many places, often simultaneously. Our resistance has to be the same—to multiple sites of incursion, often at the same time. We need to move beyond being the recipients of the single policy approach with respect to government intervention strategies. The fact that the majority of our people still remain socially and economically marginalized is evidence that selected policy applications have had limited effect. Singular policy interventions are and have been insufficient. There is no silver bullet; no magic pill; no single policy. There is need to invest in change on a broad range of fronts—a 360-degree approach. Some of these investments in change we need to take responsibility for ourselves, and others are situated in the public policy domain (note Gramsci's war of position, war of manoeuvre, 1971; WE need to be alert to the criticism of essentialism when arguing for collective struggle as Maori and it is useful to draw notions like Spivak's 'strategic essentialism' to support the idea of collective struggle).
Our struggle is also with ourselves—It rests not just on the competitive or possessive individual, but also on our families, on our communities, on our tribes, on our people as a whole. We must defend our cultural propensity toward collectivity and to revitalize and re-empower our abilities to collaborate and socialize. We need to reinstate, value, and practice the collective power that resides in the group. We must proactively rebuild the social, rebuild the concept of the public interest and public good responsibilities against the hegemony of the primacy of the individual. It is not just about what "I" can do, but, perhaps more so about what "we" can do responsibly and collectively.
Our struggle must be positive and proactive—We must move beyond being debilitated by negative and reactive politics. Our struggle must shift from overemphasizing our pathology to accentuating our collective well-being. We cannot afford to remain trapped or debilitated by our historical discontent. While we must not forget our histories, they must become the levers for building and informing our futures. All minority interest groups must have a hand in naming our own world and futures; if we procrastinate others will do it for us.
Our struggle must be to become more self-determining—Indigenous communities who live in colonized situations of unequal power relations often need to break away from the disempowerment of social, economic, and intellectual dependency and to assume increased power and responsibility for their own well-being. We must move beyond the rhetoric of self-determination (an outcome) to being self-determining (a process). In other words, we must enact self-determination in our every day, every hour, every minute practice, not just hold it as a utopian ideal. We must recognize the incremental victories along the pathway to our ← 75 | 76 → transformative vision. This not a movement away or against dominant cultures—it is a positive assertion about the need to make space for minority cultures and to proactively protect languages and cultures that might be at risk. More often it is also about protecting the original cultures and languages that belong in the soil and landscapes of countries that have been colonized.
Our struggle is for our minds—There is a need to understand our own complicity in forming our own domination, exploitation, dependency, and oppression. We need to re-educate ourselves out of false consciousness and to free our minds from hegemony. Education has been a major factor in embedding indigenous inferiority. We must reclaim the power of education to act in our interests. An important decolonizing act therefore, is to struggle over the meaning and intention of education and schooling. It needs to serve all people and not simply be a means to reproduce dominant cultural expectations at the expense of indigenous interests. More positively, there is a need to reinstate a utopian vision in order to give direction and impetus to our transforming struggles.
Our struggle to become "more fully human" (Freire, 1971) is correlated to our ability to transform the education system. This task is urgent and critical. Failure to do so will give credence to the lament about the irrelevance of public education made by Janine Terbasket, an Okanagan graduate student from Kelowna, Canada: "My only problem is that I went to school to get educated!"
  1.  Traditional description for House of Higher Learning; note that all the existing universities use the phrase, "Te Whare Wānanga o…" when describing themselves.
  2.  A contemporary term that describes a site of Māori learning.
  3.  This story related by the Hon. Justice Joseph V. Williams, Te Whare Wānanga o Awanuiārangi Graduation Speech, April 19, 2013.
  4.  The National Certificate of Educational Achievement (NCEA) is the official secondary school qualification in New Zealand. Ministry of Education (2012).
Apple, M. W. (1979). Ideology and curriculum. London, England: Routledge & Kegan Paul.
Apple, M. W. (1993). Official knowledge. New York, NY: Routledge.
Apple, M. W. (Ed.). (2003). The state and the politics of knowledge. New York, NY: RoutledgeFalmer.
BERL Report. (2014, April). The economic contribution of the Wānanga sector.
Bernstein, B. (1971). Class, codes and control: Vol. 1. Theoretical studies towards a sociology of language. London, England: Routledge & Kegan Paul. ← 76 | 77 →
Bernstein, B. (Ed.). (1973). Class, codes and control: Vol. 2. Applied studies towards a sociology of language. London, England: Routledge & Kegan Paul.
Brown, L. (2004). Making the Classroom a Healthy Place: The Development of Affective Competency in Aboriginal Pedagogy. Unpublished PhD Thesis; Faculty of Graduate Studies, Dept. of Ed. Studies, University of British Columbia, B.C., Canada.
Gramsci, A. (1971). Selections from "The prison notebooks" (Q. Hoare & G. Smith, Eds. & Trans.). London, England: Lawrence & Wishart.
Habermas, J. (1974). Theory and practice (J. Viertel, Trans.). London, England: Heinemann.
Halapua, S. (1982). Fisherman of Tonga: Their means of survival. Institute of Pacific Studies in association with the Institute of Marine Resources, University of the South Pacific, Suva, Fiji.
Hoskins, T. & Jones, A. (Eds.). (2012). Interview Kaupapa Māori: The dangers of domestication. New Zealand Journal of Educational Studies, Vol 47(2).
McLean, M. & Orbell, M. (1975). Traditional songs of the Māori. Auckland, New Zealand: A.H. & A.W. Reed Ltd.
Meleisea, M., & Meleisea, P. (Eds.). (1987). Lagaga: A short history of Western Samoa. Suva, Fiji: Institute of Pacific Studies.
Ministry of Education. (2012). Me Kōrero—let's talk! Ka Hikitia—accelerating success 2013–2017. Wellington, New Zealand: Ministry of Education.
Offe, C. (1984). Contradictions of the welfare state. London, England: Hutchison.
Smith, G. H. (1990a). The politics of reforming Māori education. In H. Lauder & C. Wylie (Eds.), Towards successful schooling (pp. 73–88). London, England: Falmer.
Smith, G. H. (1990b). Taha Māori: Pakeha capture. In J. Codd, R. Harker, & R. Nash (Eds.), Political issues in N.Z. education (pp. 183–197). Palmerston North, New Zealand: Dunmore Press.
Smith, G. H. (1992) Education: Biculturalism or separatism? In D. Novitz & B. Willmott (Eds.), New Zealand in crisis (pp. 157–165). Wellington, New Zealand: G.P. Books.
Smith, G. H. (1997). Kaupapa Māori: Theory and praxis (Doctoral dissertation). Education Department, University of Auckland, New Zealand. International Research Institute for Māori and Indigenous Education.
Smith, G. H. (1999). Paulo Freire: Lessons in transformative praxis. In P. Roberts (Ed.), Paulo Freire, politics and pedagogy: Reflections from Aotearoa-New Zealand (pp. 35–43). Palmerston North, New Zealand: Dunmore Press.
Smith, G. H., & Smith, L. T. (1990). In J. Marshall et al. Myths and Realities. Palmerston North, New Zealand: Dunmore Press.
Smith, L. T. (1999). Decolonizing methodologies: Research and indigenous peoples. London, England: Zed Books.
Spivak, G. C. (1990). The Post Colonial Critic: Interviews, Strategies, Dialogues. London and New York: Routledge-Taylor Francis Group.
Stack, M., Coulter, D., Grosjean, G., Mazawi, A., & Smith, G. (Eds.). (2006). Fostering tomorrow's educational leaders. British Columbia, Canada: Gov. Print.
Thaman, K. (2003). Decolonizing Pacific studies: Indigenous perspectives, knowledge and wisdom in higher education. The Contemporary Pacific, 15(1), 7.
Young, M. (1971). Knowledge and control. London, England: Collier Macmillan. ← 77 | 78 →
← 78 | 79 →
Paulo Freire and the Idea of Openness
---
There has been a flurry of pronouncements over recent years about new forms of openness in scholarly and pedagogical activity. Reference has been made to open education, open learning, open knowledge, open technology, open content, open source, open access, and open courseware (Iiyoshi & Kumar, 2008). In surveying some of this work, it sometimes appears as if such initiatives have come from nowhere, with a history no older than a decade or two and no discernible epistemological or ethical roots. Openness is often viewed merely as an unfolding reality: an outcome of new social practices and modes of cultural life in the digital age. Attention also needs to be paid, however, to the philosophical heritage of discourses on openness and to some of the conceptual contours of openness as an ideal.
This chapter considers what it might mean to talk of openness as an educational virtue. Drawing principally on the work of Paulo Freire but with prior reference to Aristotle and a range of other thinkers, I set out to show that openness has ontological, epistemological, and ethical dimensions. Openness has application in multiple areas of educational life and can serve as a principle for both lifelong learning and social organization. The optimal pursuit of openness in pedagogical settings, I shall argue, requires the presence of other virtues and can be contrasted with various forms of closure, including dogmatism, excessive certainty, and an unreflective rejection of either the old or the new. Openness, it will be noted, also has its limits and education has an important role to play in identifying these. ← 79 | 80 →
In what senses might openness be considered a virtue? To address this question, it is first necessary to ask what we mean by virtue. A concern with virtues and the virtuous person has a lengthy history in Western philosophy and is often traced back to the ancient Greeks. Among the early Greek thinkers, it is Aristotle, in his Nichomachean Ethics, who pays closest attention to the nature and significance of virtues. For Aristotle, virtues are neither feelings nor faculties but dispositions (Aristotle, 1976, p. 99). Aristotle defines a virtue as "a purposive disposition, lying in a mean that is relative to us and determined by rational principle, and by that which a prudent man would use to determine it" (pp. 102–103). The doctrine of the mean specifies, in the realm of human virtue, that which is neither excessive nor deficient. Thus, in relation to fear and confidence, we might see rashness as the excessive tendency, cowardice as the deficiency, and courage as the mean (p. 104). Deficiency and excess, Aristotle notes, are "not one and the same for all" (p. 100, emphasis in original).
Aristotle distinguishes between two types of virtue: intellectual and moral. Intellectual virtue, he says, "owes both its inception and its growth chiefly to instruction, and for this reason needs time and experience" (p. 91). Moral virtues "are engendered in us neither by nor contrary to nature; we are constituted by nature to receive them, but their full development in us is due to habit" (p. 91, emphasis in original). We acquire virtues by exercising them; we learn, Aristotle maintains, by doing (p. 91). For Aristotle, the supreme good is happiness (eudaimonia), and art of living a good life is to be found in practical wisdom (phronesis). The happy person, according to Aristotle, is "one who is active in accordance with complete virtue, and who is adequately furnished with external goods, and that not for some unspecified period but throughout a complete life" (p. 84).
Aristotle does not identify openness as one of the virtues. He does, however, discuss a number of dispositions that might be said to be compatible with openness, such as truthfulness, resourcefulness, understanding, and patience. If we were to adopt an Aristotelian perspective on the question of virtue, we would want to ask whether openness might reasonably be said to constitute the mean, and if so, what might be seen as corresponding dispositions of excess or deficiency. This presupposes, however, that openness is best understood as a disposition. There is certainly a strong case that can be made for seeing it in this light, by focusing on the notion of open-mindedness. Open-mindedness, as Riggs (2010) points out, is often among the most highly valued of epistemic or intellectual virtues (see also Steutel & Spiecker, 1997).
But equating openness with open-mindedness and locating it within the tradition of virtue epistemology, which can be distinguished from virtue ethics (Crisp, 2010), arguably fails to capture adequately the connotations of the term in ← 80 | 81 → contemporary discourses on open education, open source, open access, and the like. Thus, while we might from an Aristotelian viewpoint regard open-mindedness as a virtue, with, say, closed-mindedness as the deficiency, it is not clear exactly how we should characterize the excess. A term such as intellectual permeability, indicating an indiscriminate openness to everything, could be a candidate, but this has a certain clumsiness to it. There are, moreover, some traditions of thought in which this kind of disposition is regarded as desirable. In the Tao Te Ching, for instance, Lao Tzu says: "My mind is that of a fool—how blank! / Vulgar people are clear / I alone am drowsy. / Vulgar people are alert" (Lao Tzu, 1963, ch. 20). As George Miller (1996) points out, we "can infer from Lao Tzu's perspective that the mind etched with intractable distinctions is the closed mind; the open mind is 'blank and muddled'" (p. 64). For a follower of the Tao Te Ching, then, permeability in allowing thoughts to pass freely, without a deliberate attempt to order the contents of the intellect or make judgments about quality, is a worthwhile state of mind and precisely the kind of openness that should be cultivated.
Openness, I want to suggest, is inclusive of, but not limited to, open-mindedness. Openness is, or can be, not merely an individual disposition (cf. McMahon, 1990) but also a particular orientation to action and relationships, a property of systems, and an organizing principle for social organization. Openness has not one but several opposites. Most have something to do with closure. Closed-mindedness is one example, but we might also talk about closed systems and closed societies. Indeed, when attention is drawn to the need for openness, it is frequently in response to something less than open in the social world—e.g., the censoring of websites or e-mails, or the withholding of institutional information, or the stifling of open debate.
Discussions of this kind have theoretical antecedents in earlier defenses of openness in social and economic organization, among the best known of which are Karl Popper's (1974) The Open Society and Its Enemies and Friedrich Hayek's (1944) The Road to Serfdom. In policy and political arenas, closure is often considered in relation to trade and other forms of international exchange. Thus, we find a burgeoning policy rhetoric on the need for free trade, portrayed as the easing of barriers to the movement of goods and services from one country to another. At the same time, countries such as North Korea and Iran are, in U.S. political discourse particularly, often portrayed as quintessential examples of closed societies, where involvement with the outside world is minimal.
An Aristotelian framework, then, does not take us far enough when analyzing openness as a virtue. It is helpful nonetheless in prompting deeper investigation of the philosophical underpinnings to any discussion of virtue, and Aristotle's influence on contemporary ethics cannot be underestimated. Aristotle's more recent interpreters, such as Alasdair MacIntyre (2007), have accepted the importance for ethical theory of examining virtues but have sought to go beyond Aristotle's ← 81 | 82 → "metaphysical biology." Following the initial publication of his modern philosophical classic After Virtue in 1981, MacIntyre, influenced by Aquinas, has gone on to qualify his critique of Aristotle's position. "What I came to recognize," MacIntyre observes, "was that my conception of human beings as virtuous or vicious needed not only a metaphysical, but also a biological grounding, although not an especially Aristotelian one" (2007, p. xi). Richard Rorty (1980), too, while respecting Aristotle's attempt to break away from Plato's theory of forms, is critical of the lingering universalism in Aristotelian epistemology. Aristotle, it seems, retained a conception of the intellect as something special—something immaterial and separable from the body (1976, pp. 40–41).
Neither MacIntyre nor Rorty has made openness a key subject of philosophical inquiry, but both might be said to be implicitly committed to it. Indeed, Rorty has often been seen as one of the main proponents of a new openness in conceptualizing the task of philosophy. Rorty (1980, 1989) has argued against foundationalist thinking in philosophy and demonstrated the value of other forms of writing—particularly literature—in advancing liberal goals such as solidarity. Stanley Cavell (1999) and Martha Nussbaum (1990) are among the other philosophers in a growing list who have taken literature seriously as a source of potential insight in addressing ethical questions. Nussbaum is self-consciously Aristotelian in her approach but Cavell owes more to Wittgenstein, who, along with Nietzsche, paved the way for a subsequent radical reappraisal of the nature and purpose of philosophical work. Nietzsche's task, as he saw it, was to provide a revaluation of all values (cf. Nietzsche, 1901/1968, 1883–1892/1976, 1887 & 1908/1989, 1886/1990), while Wittgenstein, in his later writings at least (Wittgenstein, 1958), was concerned principally with questions of language, meaning, and logic. Both, however, can be regarded as prophetic in foreshadowing a new ethos of openness not only as a philosophical concept but also as a mode of being and living.
The influence of Nietzsche in particular can also be detected in the work of other thinkers whom we might call philosophers of openness, such as Karl Jaspers, Simone de Beauvoir, Hans Gadamer, Jacques Derrida, and Gilles Deleuze, among others. Jaspers, who wrote a book on Nietzsche (Jaspers, 1965) and referred to him often in his other published writings, has been described by one commentator as "the metaphysician of tolerance" (Durfee, 1970). Others (e.g., Salamun, 1988, 1990) have stressed the importance of openness in Jaspers's ethical and political theory. Simone de Beauvoir's (1948) emphasis on ambiguity, a notion some see as distinctively female in its epistemological orientation (Miller, 1996), places her in a tradition of thought that values the openness of imagination and is comfortable with uncertainty. Beauvoir, along with her compatriots Jean-Paul Sartre and Albert Camus, developed her ideas not just through works of philosophical non-fiction but also via novels and other forms of literary expression. Gadamer ← 82 | 83 → and Derrida, while differing from each other in many ways, were responsible, perhaps more than any other thinkers in the second half of the twentieth century, for fostering an opening of the text: Gadamer in the tradition of hermeneutics, as exemplified in his magnum opus Truth and Method (2004), and Derrida through deconstruction, beginning with his classic work Of Grammatology (1976). Deleuze, alone and in collaboration with Felix Guattari, addressed openness in systems, including systems of thought (see, e.g., Deleuze, 1997; Deleuze & Guattari, 1996).
For these thinkers, however, education is not a key concern. In developing a distinctively educational account of openness as a virtue, the work of Paulo Freire is especially helpful. Born in 1921 in Recife, Brazil, Freire first came into international prominence through his work with illiterate adults. Freire developed a unique approach to the teaching of reading and writing, linking "word" with "world" and basing literacy programs on the realities of everyday life for impoverished Brazilians. Rather than employing a language for literacy instruction that was dislocated from the lives of learners, Freire would begin with words such as favela (slum) and tijolo (brick). He encouraged dialogue rather than monologue in literacy learning, built upon (but did not rest with) the experiences of learners, and allowed participants to learn to problematize aspects of their social world. He was later to apply similar principles, but with appropriate modifications for different contexts, in programs in Chile and Guinea-Bissau, among other countries.
Freire gained worldwide educational attention with the publication of his classic work, Pedagogy of the Oppressed (Freire, 1972b) in English in 1970. Forced into exile with the military coup in Brazil in 1964, he was not able to return permanently to his home country until 1980, after which he became active in the Brazilian Workers Party. He held the demanding position of Secretary of Education for the municipality of São Paulo from 1989 to 1991, and in his last years he devoted himself mainly to his writing. He published prolifically in the last ten years of his life, co-authoring a number of dialogical "talking" books with Ira Shor (Freire & Shor, 1987), Donaldo Macedo (Freire & Macedo, 1987), Antonio Faundez (Freire & Faundez, 1989), and Myles Horton (Horton & Freire, 1990), among others. He also authored several volumes on his own during this period, some of which were published posthumously (Freire, 1993, 1994, 1996, 1997a, 1998a, 1998b, 1998c, 2004, 2007).
Freire was in heavy demand as a speaker in many parts of the world from the early 1970s until his death in 1997. Numerous books and articles have been published on his theory and practice over the years; to date, however, relatively little direct attention has been paid to the importance of openness as a theme in his work. The next section takes up this theme, and in my conclusion I consider some of the implications of this analysis for the new discourses on open education, open knowledge, and open access. ← 83 | 84 →
A PEDAGOGY OF OPENNESS: THE WORK OF PAULO FREIRE
The theme of openness provides an arc connecting Freire's earliest books with his last. Openness can be regarded as a pivotal feature of both Freire's educational theory and his pedagogical practice. Openness has a close connection with other epistemological and ethical virtues in Freire's philosophy but it is not reducible to them. Openness, from a Freirean perspective, is tied tightly to the very essence of being human: the ontological and historical vocation of humanization. Humanization, as Freire conceives of it, is a process of becoming more fully human through critical, dialogical praxis: reflection and action upon the world in order to transform it (Freire, 1972b). As humans, we are unfinished beings. The process of humanization is never complete: as the world (and we ourselves) are transformed, there will always be a need for further reflection and action. Often, we are impeded in this pursuit, and thus dehumanized, by oppressive social structures, practices, and attitudes.
Addressing oppression in its myriad forms is, for Freire, a social process: we never liberate ourselves alone. Knowing, too, from a Freirean viewpoint, is necessarily incomplete: we can never know absolutely; instead, we can only come closer to knowing the essence that explains an object of study. Freire's account of liberating education grew from his practical experience as a literacy educator working with impoverished adults in both urban settings and rural peasant communities. As such, there is a close link between liberation and the process of struggle against oppression. This does not, however, explain Freire's theory of liberation fully, for there is also a heavy reliance, particularly in his later works, on a virtue-based account of human formation and flourishing. This is especially significant when considering the concept of openness.
Education: The Practice of Freedom (Freire, 1976), while not published in English until after Pedagogy of the Oppressed (Freire, 1972b), was written prior to the latter text and conveyed in careful detail not only Freire's approach to adult literacy education but also his commitment to openness as an ideal. Education: The Practice of Freedom was also published under the title Education for Critical Consciousness. Together with Pedagogy of the Oppressed (Freire, 1972b) and Cultural Action for Freedom (Freire, 1972a), it is one of three key works in Freire's first important phase as an international educational writer (see further, Roberts, 2000). In Education: The Practice of Freedom Freire discusses the concept of openness in relation to the historical development of Brazilian society and as a feature of what he called "critical consciousness."
Citing Popper's (1974) The Open Society and Its Enemies, among other sources, Freire charts some of the key features of Brazil's movement from a closed society through a transitional period in the 1950s and early 1960s toward greater openness. In a closed state, Brazil lacked autonomous status, generating cultural ← 84 | 85 → alienation and a reliance (as a raw materials export-based economy) on external markets. In the earlier decades of the twentieth century the country remained fundamentally "backward" (Freire's use of this word has not endeared him to all readers), with very high rates of illiteracy and deep social inequalities. Dialogue was discouraged. As changes that had begun with the industrial revolution gradually exerted an influence over Brazilian society, the steady state of closure that had been maintained for decades "was split apart with the rupture of the forces which had kept it in equilibrium" (Freire, 1976, p. 9). Yet, while urban centers became progressively more open, rural areas remained closed. Landowners maintained tight control over production and profits in peasant communities, with many in the northeast of Brazil in particular suffering horrific rates of disease, malnutrition, and infant mortality. As Freire puts it, "Brazil was a society no longer totally closed but not yet truly open: a society in the process of opening" (p. 9, emphasis in original). With the military coup in 1964, the risk of a "catastrophic" return to even greater closure was heightened (p. 10).
The path to greater openness, Freire (1976) argued, was to be found not through the naïve consciousness that prevailed in urban areas during the period of transition but in the development of a more critical consciousness. Among the features of critical consciousness, as a concept specifically applicable to the Brazilian context at that time (and not necessarily directly transferable to other settings), Freire speaks of "depth in the interpretation of problems," "the testing of one's findings," an "openness to revision," a refusal to transfer responsibility, "the practice of dialogue rather than polemics," and "receptivity to the new for reasons beyond mere novelty" (p. 18). Critical consciousness, Freire makes clear, demands "the good sense not to reject the old just because it is old"; we should, he says, accept what is valid in both the old and the new (p. 18). Under military rule, Brazil had become authoritarian and rigid, with a culture of silence and inaction. Critical consciousness stands opposed to this. It is "characteristic of authentically democratic regimes and corresponds to highly permeable, interrogative, restless and dialogical forms of life" (pp. 18–19).
These early ideas on openness find further elaboration in multiple books across the rest of Freire's writing career. There is not space to comment in detail on all such references, but several key points can be made. As Freire's thought developed, he paid increasing attention to what we might call educational virtues. (For a fuller discussion of this dimension of Freire's work, see Roberts, 2010.) Freire had in mind, among other things, dispositions, qualities, or characteristics of being human that had particular value in teaching and learning situations. Some of the most commonly mentioned virtues of this kind include humility, the ability to listen, care of and respect for those with whom we work in educational settings, tolerance, an inquiring and investigative frame of mind, and a willingness to take risks (Freire, 1998a, 1998c). ← 85 | 86 →
This virtues-based approach was consistent with, rather than an alternative to, the persistent Freirean theme of liberation as a process of struggling against oppression (Roberts, 2008). For it is exactly qualities of the kind identified above that must be present if the process of struggle is to be a liberating one. Not all forms of struggle, Freire demonstrated, are liberating. Educational virtues spring from broader human ideals, the most important of which, for Freire, is love (Freire, 1997a). Freire had taken heed in his early writings of Che Guevara's portrayal of love as a revolutionary virtue, and in later works this becomes a dominant theme. Love for Freire applies to multiple dimensions of human existence. It is love of the physical environment, of the process of study, and of our fellow human beings. We are, Freire insisted, beings of communication, and love, as exemplified by the respect we show to others, our commitment to them, and our willingness to enter into dialogue with them is an integral part of bringing this feature of our ontology to life.
Educational virtues can be found in individual teachers and students, but they can also be present in groups and evident in systems, structures, policies, and practices. An attitude of openness is a permanent orientation: as unfinished beings, we should, Freire believed, always be open to new ways of understanding the world, new approaches to addressing old problems, new forms of learning, and new modes of communication. Technology should neither be embraced uncritically nor rejected in a reactionary manner (Freire, 2004). Openness can be contrasted with dogmatism, which Freire spoke against repeatedly and had observed among those on both the political left and the political right (see Escobar, Fernandez, & Guevara-Niebla, with Freire, 1994; Freire, 1997a). Openness is closely connected with our creativity as human beings: our ability to make history (though not always, as Marx would have reminded us, under circumstances of our own choosing) and form ourselves as cultural beings (Freire, 1972a, 1972b, 1976, 1994, 1998a). Openness from a Freirean standpoint also implies other principles of educational importance.
To be open in our orientation to education, and to human life more generally, is to accept that the world (including the inner world of thoughts and feelings) is undergoing constant change. Transformation thus becomes not merely possible but one of the defining features of our existence. A commitment to openness, for Freire, also implies a willingness not only to live with but also to actively embrace uncertainty (Freire, 1997a, 1998a, 2007). In his later works, Freire spoke often of the need to become less certain of some of our certainties, and he continued to admit to his own doubts and restlessness right up to the time of his death.
The virtue of openness, as understood by Freire, can be found in reading, in dialogue, in seeking to know, in our relation to the Other, in the way we respond to criticism, and in our attitude to life itself. In reading, we must, Freire insisted, be open to being challenged by the text and to the possibility of challenging it (Freire ← 86 | 87 → & Shor, 1987). Dialogue cannot occur without an openness to the process of communication and a trust in the ability of others to engage likewise (Freire, 1972b, 1976). Without an openness to the Other, we remain locked in a self-centered or ethnocentric world (cf. Freire, 1996, 1998a, 2004, 2007). Openness to constructive criticism allows us to continue growing as learners, teachers, and researchers. While Freire did retain certain key pedagogical principles throughout his educational career (e.g., a commitment to dialogue and to the value of a critical orientation to the world), he also modified, deepened and extended his thinking in many areas—partly in response to criticism from feminist and postmodern scholars, among others (see Freire, 1997b; Freire & Macedo, 1993, 1995; Mayo, 1999; Roberts, 2000).
A passage from one of Freire's last books, Pedagogy of Freedom (Freire, 1998a), captures very effectively the position he had reached after a lifetime of reflection, writing, teaching, and social action, and is worth quoting in full:
In essence, the correct posture of one who does not consider him- or herself to be the sole possessor of the truth or the passive object of ideology or gossip is the attitude of permanent openness. Openness to approaching and being approached, to questioning and being questioned, to agreeing and disagreeing. It is an openness to life itself and to its vicissitudes. An openness to those who call on us and to the many and varied signs that catch our interests, from the song of the bird, to the falling rain or the rain that is about to drop from the darkening sky, to the gentle smile of innocence and the sullen face of disapproval, to the arms open to receive and the body stiff with refusal and fear. It is in my permanent openness to life that I give myself entirely, my critical thought, my feeling, my curiosity, my desire, all that I am. (p. 119)
This statement, almost poetic in its lyricism and quite unlike most forms of educational writing, completes the arc that started with Education: The Practice of Freedom (Freire, 1976). Freire was aware of the importance of openness from his earliest work. From an initial focus on openness as the open society and the open (critical) mind, Freire broadened the scope of his inquiry to include other dimensions of an open orientation to ourselves, others, and the wider world. When Freire's work is examined holistically, openness can be seen as a mode of educational life incorporating reason, emotion, and willing (Roberts, 2010). It is exemplified by a well-rounded critical consciousness, and it is forged through our actions, our relationships, and our dialogue with other human beings.
CONCLUSION: LIMITS AND POSSIBILITIES
While Freire was largely celebratory in his attitude toward openness, this does not mean he was unaware of its limits. Those limits were of more than one kind. Freire recognized that we are all shaped by social and cultural norms—by the dominant ← 87 | 88 → structures and ideas and practices of our time—and that these can limit our ability to identify problems, take a different perspective on complex issues, or conceive of alternatives. He argued, however, that we are conditioned rather than determined by these influences. Education has a key role to play in allowing us to confront our prejudices, encounter others who see the world in a different way, and, where appropriate, change our views. Freire also demonstrated that some limits to openness are justified. He made it plain, for example, that he did not favor an "anything goes" approach to pedagogy. Teaching and learning should not be so open that discipline and structure disappear altogether. Freire stressed that educational dialogue, while not closing off opportunities for going down potentially fruitful unanticipated pathways, should also have a strong sense of purpose and rigor (see Freire & Shor, 1987; Horton & Freire, 1990).
We also need to acknowledge Freire's limits. This is not the place to consider in detail the various critiques of Freire's work. These have been discussed at length elsewhere (e.g., Freire, 1997b; Freire & Macedo, 1993, 1995; Mayo, 1999; Roberts, 2000, 2003, 2010). Briefly, however, it can be noted that a number of dimensions of Freire's thought remained underdeveloped at the time of his death. He was just beginning, for example, to explore in a more focused manner questions relating to the world environmental crisis. In his last works he spoke about the importance of respecting the environment—caring for it, as we should care for others—and he was supportive of efforts to enhance ecological awareness, but his ideas were still in their early stages. Freire's acquaintance with postmodern and poststructuralist currents in social theory was also somewhat limited. In the 1990s he started to refer to a postmodern orientation to the world, seeing this as compatible with the spirit of openness and contrary to the dogmatism he had observed among some of his colleagues on the political left. Again, however, he said little about specific theorists and anyone searching in Freire's publications for a lengthy engagement with influential postmodern and poststructuralist texts will be disappointed. Despite the importance of virtues in his later work, Freire did not find it necessary to comment at length on other areas of inquiry where virtue is a central theme—e.g., virtue ethics. He spoke directly and indirectly about the significance of care but did not refer to scholarship on the ethics of care. He stressed the need for emotional as well as rational development but did not ground his discussion in the literature on the philosophy of emotion. These limits are not fatal to the coherence or rigor of Freire's work but they point to deeper questions relating to the ethics of the Other in Freire's approach to openness (see further, Peters & Roberts, 2011).
What can we learn from Freire that is worth knowing in considering current discourses on openness? Freire was not an Aristotelian scholar but he would have accepted much of what Aristotle had to say about the nature of virtue. The ← 88 | 89 → spirit of openness toward new ways of philosophizing, new ways of addressing ethical questions, characteristic of thinkers such as Nietzsche, Wittgenstein, Jaspers, Rorty, Cavell, Nussbaum, Derrida, and others, was also shared by Freire, even though he differed from these thinkers on some important matters of philosophical substance and style. Openness from a Freirean perspective is not merely open-mindedness, though that is no small part of it; openness for Freire is also always within certain limits—some of which need to be challenged, others of which are desirable for educational purposes. From Freire, we can learn that there is no one virtue of openness but many virtues of openness. Or, to put this another way, we might say that the virtue of openness can and should be conceived, displayed, and experienced in different ways, depending on the context. In the educational realm, some virtues of openness are evident in intellectual or epistemological dispositions; others are exhibited in our ethical conduct. It is possible, however, to go beyond this and speak of virtues of openness being evident in the way systems operate, institutions are organized, or societies are structured.
These distinctions are worth keeping in mind when contemplating contemporary claims about the need for greater openness in education and scholarship. It is often implied that openness is a virtue, but the senses in which this might be so are not always considered carefully. From Freire, we learn the value of unpacking some of the ontological, epistemological, ethical, and political assumptions that underpin our thinking about openness. Freire teaches us to be context-specific in the forms of openness we seek to uphold or explain or limit. Within some educational contexts, there may be multiple virtues of openness evident at any given time, and there is merit in analyzing these for the respective contributions they make to teaching and learning in those contexts. Freire shows that openness is not merely a technical matter, where changes in procedures alone will suffice, or a set of rules to be followed, or a prescription of dispositions to be developed, or a checklist of methods to be employed by the teacher. Educational openness, from a Freirean perspective, is an orientation to life itself—to the way we live in the world, individually and collectively, within and outside institutions, in countries with different histories and problems and opportunities. Embracing openness, but not uncritically so, and within limits, is very much a holistic commitment but one that has arguably never been more needed than at the current time.
An earlier version of this chapter was published in M.A. Peters and P. Roberts (2011), The Virtues of Openness: Education, Science, and Scholarship in the Digital Age, Boulder, CO: Paradigm. ← 89 | 90 →
Aristotle. (1976). Ethics (J.A.K. Thomson, Trans.). Harmondsworth, England: Penguin.
Beauvoir, de, S. (1948). The ethics of ambiguity (B. Frechtman, Trans.). New York, NY: Citadel Press.
Cavell, S. (1999). The claim of reason. New York, NY: Oxford University Press.
Crisp, R. (2010). Virtue ethics and virtue epistemology. Metaphilosophy, 41(1/2), 22–40.
Deleuze, G. (1997). Negotiations (M. Joughin, Trans.). New York, NY: Columbia University Press.
Deleuze, G., & Guattari, F. (1996). What is philosophy? (J. Tomlinson & G. Burchell, Trans.). New York, NY: Columbia University Press.
Derrida, J. (1976). Of grammatology (G. Spivak, Trans.). Baltimore, MD: Johns Hopkins University Press.
Durfee, H.A. (1970). Karl Jaspers as metaphysician of tolerance. International Journal for Philosophy of Religion, 1(4), 201–210.
Escobar, M., Fernandez, A.L., & Guevara-Niebla, G., with Freire, P. (1994). Paulo Freire on higher education: A dialogue at the National University of Mexico. Albany, NY: SUNY Press.
Freire, P. (1972a). Cultural action for freedom. Harmondsworth, England: Penguin.
Freire, P. (1972b). Pedagogy of the oppressed. Harmondsworth, England: Penguin.
Freire, P. (1976). Education: The practice of freedom. London, England: Writers and Readers.
Freire, P. (1985). The politics of education. London, England: Macmillan.
Freire, P. (1993). Pedagogy of the city. New York, NY: Continuum.
Freire, P. (1994). Pedagogy of hope. New York, NY: Continuum.
Freire, P. (1996). Letters to Cristina: Reflections on my life and work. London, England: Routledge.
Freire, P. (1997a). Pedagogy of the heart. New York, NY: Continuum.
Freire, P. (1997b). A response. In P. Freire, J.W. Fraser, D. Macedo, T. McKinnon, & W.T. Stokes (Eds.), Mentoring the mentor: A critical dialogue with Paulo Freire (pp. 303–329). New York, NY: Peter Lang.
Freire, P. (1998a). Pedagogy of freedom: Ethics, democracy, and civic courage. Lanham, MD: Rowman & Littlefield.
Freire, P. (1998b). Politics and education. Los Angeles, CA: UCLA Latin American Center Publications.
Freire, P. (1998c). Teachers as cultural workers: Letters to those who dare teach. Boulder, CO: Westview Press.
Freire, P. (2004). Pedagogy of indignation. Boulder, CO: Paradigm.
Freire, P. (2007). Daring to dream. Boulder, CO: Paradigm.
Freire, P., & Faundez, A. (1989). Learning to question: A pedagogy of liberation. Geneva, Switzerland: World Council of Churches.
Freire, P., & Macedo, D. (1987). Literacy: Reading the word and the world. London, England: Routledge.
Freire, P., & Macedo, D. (1993). A dialogue with Paulo Freire. In P. McLaren & P. Leonard (Eds.), Paulo Freire: A critical encounter (pp. 169–176). London, England: Routledge.
Freire, P., & Macedo, D. (1995). A dialogue: Culture, language, and race. Harvard Educational Review, 65(3), 377–402.
Freire, P., & Shor, I. (1987). A pedagogy for liberation. London, England: Macmillan.
Gadamer, H-G. (2004). Truth and method (J. Weinsheimer & D.G. Marshall, Trans.). London, England: Continuum.
Hayek, F. (1944). The road to serfdom. London, England: Routledge & Kegan Paul.
Heidegger, M. (1977). The question concerning technology and other essays (W. Lovitt, Trans.). New York, NY: Harper & Row. ← 90 | 91 →
Horton, M., & Freire, P. (1990). We make the road by walking: Conversations on education and social change. Philadelphia, PA: Temple University Press.
Iiyoshi, T., & Kumar, M. S. V. (Eds.). (2008). Opening up education. Cambridge, MA: MIT Press.
Jaspers, K. (1965). Nietzsche: An introduction to the understanding of his philosophical activity (C. F. Wallraff & F. J. Schmitz, Trans.). Tucson: University of Arizona Press.
Lao Tzu. (1963). Tao te ching (D. C. Lau, Trans.). London, England: Penguin.
MacIntyre, A. (2007). After virtue (3rd ed.). Notre Dame, IN: University of Notre Dame Press.
Mayo, P. (1999). Gramsci, Freire and adult education: Possibilities for transformative action. London, England: Zed Books.
McMahon, C. (1990). Openness. Canadian Journal of Philosophy, 20(1), 29–46.
Miller, G. D. (1996). Open-mindedness and muddled minds: Fusion in confusion. The Journal of Value Inquiry, 30, 63–80.
Nietzsche, F. (1968). The will to power (W. Kaufmann, Trans., W. Kaufman & R. J. Hollingdale, Eds.). New York, NY: Vintage Books. (Original work published 1901)
Nietzsche, F. (1976). Thus spoke Zarathustra. In W. Kaufmann (Ed.), The portable Nietzsche (pp. 103–439). Harmondsworth, England: Penguin. (Original work published 1883–1892)
Nietzsche, F. (1989). On the genealogy of morals and Ecce homo (W. Kaufmann, Trans.). New York: Vintage Books. (Original works published 1887 and 1908)
Nietzsche, F. (1990). Beyond good and evil (Rev. ed.) (R. J. Hollingdale, Trans.). Harmondsworth, England: Penguin. (Original work published 1886)
Nussbaum, M. (1990). Love's knowledge: Essays on philosophy and literature. New York, NY: Oxford University Press.
Peters, M.A., & Roberts, P. (2011). The virtues of openness: Education, science, and scholarship in the digital age. Boulder, CO: Paradigm.
Popper, K. (1974). The open society and its enemies (5th ed., Vols. 1 & 2) London, England: Routledge & Kegan Paul.
Riggs, W. (2010). Open-mindedness. Metaphilosophy, 41(1/2), 172–188.
Roberts, P. (2000). Education, literacy, and humanization: Exploring the work of Paulo Freire. Westport, CT: Bergin & Garvey.
Roberts, P. (2003). Epistemology, ethics and education: Addressing dilemmas of difference in the work of Paulo Freire. Studies in Philosophy of Education, 22(2), 157–173.
Roberts, P. (2008). Liberation, oppression and education: Extending Freirean ideas. Journal of Educational Thought, 42(1), 83–97.
Roberts, P. (2010). Paulo Freire in the 21st century: Education, dialogue and transformation. Boulder, CO: Paradigm.
Rorty, R. (1980). Philosophy and the mirror of nature. Princeton, NJ: Princeton University Press.
Rorty, R. (1989). Contingency, irony, and solidarity. Cambridge, England: Cambridge University Press.
Salamun, K. (1988). Moral implications of Karl Jaspers' existentialism. Philosophy and Phenomenological Research, 49(2), 317–323.
Salamun, K. (1990). The ethos of humanity in Karl Jaspers' political philosophy. Man and World, 23, 225–230.
Steutel, J., & Spiecker, B. (1997). Rational passions and intellectual virtues: A conceptual analysis. Studies in Philosophy and Education, 16, 59–71.
Wittgenstein, L. (1958). Philosophical investigations (2nd ed.) (G. E. M. Anscombe, Trans.). Oxford, England: Basil Blackwell. ← 91 | 92 →
Freeing Ourselves: An Indigenous Response to Neo colonial Dominance in Research, Classrooms, Schools, and Education Systems
---
This then is the great humanistic and historical task of the oppressed: to liberate themselves and their oppressors as well. The oppressors, who oppress, exploit and rape by virtue of their power, cannot find in this power the strength to liberate either the oppressed or themselves. Only power that springs from the weakness of the oppressed will be sufficiently strong to free both.
(FREIRE, 1972, p. 21)
This chapter draws from the book Freeing Ourselves, published in 2011 by Sense Publishers, which draws together many previously published articles and book chapters that I have produced during the past 20 years of work in the field of indigenous education. This journey over time has led me from researching the impact of colonisation on my mother's Māori family to an appreciation of just what research in Māori contexts involves. The lessons learnt here also appealed to me, as an ex–secondary school teacher, as being a means by which we could re-theorise the marginalisation of Māori students in mainstream classrooms. From this understanding we could develop a means whereby educators could reposition themselves discursively and create caring and learning relationships within mainstream classrooms that would see Māori students benefiting from their participation in education. From these theoretical beginnings grew a large-scale ← 93 | 94 → classroom-based project that eventually developed into a comprehensive principle-based education reform based on theory that is now being implemented, in two different forms, in 150 secondary schools in New Zealand.1 I have included in the text the full references to the original works that this book draws together so that the interested reader can follow up on some of the topics raised here in more detail. However, what I have attempted to produce in this chapter is not just a compilation of a series of papers, but rather a record of the development of a theoretical positioning that has grown into a project that has now begun to make a difference to Māori students' life chances.
Fundamental to this theorising and practice were the understandings promoted by Paulo Freire forty years ago, that the answers to the conditions that oppressed peoples found themselves in were not to be found in the language or epistemologies of the oppressors, but rather in that of the oppressed. This realisation was confirmed when I understood that research in Māori contexts needed to be conducted dialogically within the worldview and understandings of the people with whom I was working. This realisation also led me to understand how dialogue in its widest sense is crucial for developing a means whereby Māori students would be able to participate successfully in education.
I wish to acknowledge many of the people who have been supportive in this work during the past twenty years. The early theorising of Graham Smith who, in following Freire's notions of the essential interaction of conscientisation, resistance and praxis, developed the first iterations of what has become known as Kaupapa Māori research. Linda Smith's early work with decolonising methodologies was inspirational to developing my own understanding of how Kaupapa Māori research and pedagogy might work. Ted Glynn and Keith Ballard took on the unenviable task of teaching me the craft of being an academic and worked with me for many years. Mere Berryman then took on the task of partnering much of the work during the past decade, which has included her co-authoring many papers and books. Now I am working with many schools, their leaders, teachers, students, and communities and I can look back and see the genesis of the ideas in this book and I wish to thank them all for the parts they have played in the development of the theory and practice described in these pages.
The major challenge facing education in New Zealand today is the continuing social, economic, and political disparities within our nation, primarily between the descendants of the European colonisers (Pākehā) and the indigenous Māori people. Māori have higher levels of unemployment; are more likely to be employed in low-paying jobs; have much higher levels of incarceration, illness, and poverty ← 94 | 95 → than do the rest of the population; and are generally under-represented in the positive social and economic indicators of society. These disparities are outcomes of a process of colonisation that removed Māori control and power over their resource base, language, and culture and promoted non-Māori ways of making sense of the world.
Given a different set of relationships, we could have seen Māori people being full participants in the emerging economy and society of the new nation, instead of being marginalised and minoritised, a process of colonisation that has resulted in Māori being over-represented in the negative indices of society, and under-represented in the positive (Bishop & Glynn, 1999; Walker, 1990). As Colin James (2008) wrote recently in a New Zealand Herald column titled "Nation's Duty to Protect Vulnerable":
Iwi and hapū were protected in theory by the Treaty of Waitangi. Māori were made equal 'subjects' (citizens). In fact, they were largely dispossessed of their assets, their culture and their self-respect. It wasn't genocide but it crushed morale. Hapū and whānau were less able to ensure their members' welfare. In part the gang violence can be traced to that dispossession and demoralisation. In short, Governments here for 140 years failed the 'responsibility to protect' test for a large and distinguishable minority of our citizens. Only with the initiation of the Treaty of Waitangi process of truth and reconciliation and compensation a generation ago have governments recognised this past failure and attended to it…. Rebuilding assets and morale is a multi-generation task…[and indicates] the paramount necessity [for the state] to invest well in our children,…reversing the demoralisation of iwi is a demanding project, this responsibility to protect.
The necessity to invest well in our children was also the subject of a recent report to Parliament, Inquiry Into Making the Schooling System Work for Every Child, by the Education and Science Committee of the House of Representatives (2008). In their report, they point to the part education should play in addressing disparities in terms of the impact on Māori as a people, and as people expected to contribute to the nation. They pointed out that because Māori represent 28% of newborn New Zealanders, the increasing proportion of Māori in the population means that unless "the gap between the performance of Māori students and others is not addressed, the negative consequences for New Zealand will grow exponentially" (p. 10). Professor Mason Durie (1994) is quoted as saying that "until the disparity in Māori achievement is corrected, Māori will continue to feature disproportionately in indicators of poor outcomes, and will be a wasted resource for New Zealand" (p. 10, emphasis added). In other words, impact on society is seen as the result of a strong "connection between non-engagement with school and youth offending" (p. 11) and
as employment becomes less labour-intensive, and more dependent on the use of technology, fewer jobs will be available for those who lack functional literacy and numeracy. ← 95 | 96 → The larger the group, the more difficult will it be for New Zealand to create and sustain a high-performing, internationally competitive economy. (p. 11)
The Education Counts website2 also identifies a substantial body of evidence demonstrating that students who are not well served by the education system are heavily disadvantaged later in life, in terms of their earning and employment potential and their health and wellbeing. For example, those with higher levels of education are more likely to participate in the labour market, face lower risks of unemployment, have greater access to further training and receive higher earnings on average. Conversely, people with no formal school qualifications have unemployment rates far exceeding those with qualifications, and have the lowest median incomes:
In 2006, the unemployment rate for those with a bachelor's degree or higher was 2.1 percent; for those with another tertiary qualification 2.9 percent; with only a school qualification 4.1 percent; and with no qualification 5.2 percent…. The median weekly income for those with bachelors' and higher degrees was $785; for those with other tertiary qualifications it was $575; for those with school qualifications it was $335; and for those with no qualifications $310. (Education and Science Committee, 2008, pp. 10−11)
The Education Counts website also contends that young people leaving school without any qualifications may have difficulty performing in the workforce and may face difficulties in terms of lifelong learning or returning to formal study in later years. They suggest that a considerable number of research studies show a strong connection between those who leave school early and unemployment and/or lower incomes, which are in turn generally related to poverty and dependence on income support.
In his submission to the Education and Science Committee (cited above), Judge Andrew Becroft, the Principal Youth Court Judge, estimated that up to 80% of offenders in the Youth Court are not attending school, either because they are not enrolled or because they are suspended or excluded. He continued by suggesting that between 25% and 30% of youth offences takes place between 9:00 a.m. and 3:00 p.m. Judge Becroft proposed that "engaging all young people of compulsory school age in education would reduce the crime rate among this group significantly" (Education and Science Committee, p. 11).
In terms of offending, the report noted that young Māori offend at twice the rate of young Pasifika people and at four times the rate of young Pākehā, and in the experience of Judge Becroft, failure at school contributes to the establishment of a vicious circle that leads to recidivist offending. The Ministry of Social Development also presented evidence that gaining stable employment helps young offenders to desist from offending, particularly if their jobs offer learning opportunities. However, "students who fail at school clearly have less chance of obtaining such employment" (Education and Science Committee, pp. 10−11). The educational ← 96 | 97 → disparities that afflict Māori are stark. The overall academic achievement levels of Māori students are low; more leave school without any qualifications than do their non-Māori counterparts; their retention rate to age 17 is far less than that for non-Māori; their rate of suspension from school is three to five times higher, depending on gender; they are over-represented in special education programmes for behavioural issues; they enrol in preschool programmes in lower proportions than do other groups; they tend to be over-represented in low-stream education classes; they receive less academic feedback than do children of the majority culture; they are more likely than other students to be found in vocational curriculum streams; they leave school earlier, with fewer formal qualifications; and they enrol in tertiary education in lower proportions (Hood, 2008; Ministry of Education, 2005). Further, while these outcomes are most clearly exhibited in secondary schools, the foundations for these problems commence in the primary school years. Indeed there are indications (Crooks, Hamilton, & Caygill, 2000; Wylie, Thompson, & Lythe, 1999) that while there are achievement differentials evident on children entering primary school, it is by years 4 and 5 that these achievement differentials begin to stand out starkly.
Despite the choice provided by Māori-medium education in New Zealand,3 the vast majority of Māori students attend public/mainstream schools and are taught by non-Māori teachers who have problems relating to and addressing the educational needs of Māori students (Bishop & Berryman, 2006). In addition, decades of educational reforms and policies such as integration, multiculturalism, and biculturalism have failed to provide adequate support for teachers to address systemic shortcomings and models of reform based on deficiencies of the home in terms of literacy resources (Nash, 1993). More recently, neuro-philosophy claims about the deficiencies of the brain (Clark, 2006) have done little to alleviate the situation. These reforms have made very little difference for the large proportion of Māori students who have attended mainstream schools since these educational disparities were first statistically identified more than forty years ago (Hunn, 1960).
Addressing these educational disparities is a difficult, yet necessary, task for educators at all levels within our system. Most countries that have diverse ethnic student populations will attest to this fact, for this is where educational disparities really show themselves: among the marginalised and minoritised peoples within mainstream educational settings.
The book Freeing Ourselves looks at three examples of how an indigenous people have freed themselves from neo colonial oppression in a way that also suggests ← 97 | 98 → how other minoritised peoples can similarly liberate themselves. The book also highlights how such an approach has redirected the actions of the oppressors to discursively reposition themselves through an ongoing process of conscientisation in relation to the representations of Māori as a minoritised group.
Although the book primarily focuses on addressing educational disparities in mainstream/public school settings, the first example examines an indigenous initiative in research within Aotearoa/New Zealand termed Kaupapa (agenda/philosophy) Māori research. I commenced this project in 1990 as part of a group of people led by Graham and Linda Smith who were developing a means of wresting control over what constituted research into Māori people's lives away from the dominance of the traditional academy. This work has been through many iterations but it is fundamental to the study of addressing educational disparities because if sense-making and knowledge-producing processes remain in the control of the dominant group, what Scheurich and Young (1997) term epistemological racism is maintained; this is where the social history of the dominant group in society is used to produce solutions for those dominated. Hence, freeing ourselves from neo colonial dominance becomes of primary importance in research so that models of reform for the oppressed groups can be developed from within the epistemological frameworks of those groups rather than from within the dominant epistemology. Recent studies conducted within Māori contexts serve to illustrate this process. This agenda for research is concerned with how research practice might realise Māori desires for self-determination while addressing ongoing research issues of Initiation, Benefits, Representation, Legitimacy and Accountability (IBRLA).
Research such as this suggests that it is the cultural aspirations, understandings, and practices of Māori people that implement and organise the research process and positions researchers in such a way as to operationalise self-determination (agentic positioning and behaviour) for research participants. The cultural context positions the participants by constructing the story lines, and with them the cultural metaphors and images, as well as the "thinking as usual," the talk/language through which research participation and researcher/researched relationships are constituted. Kaupapa Māori research rejects outsider control over what constitutes the text's call for authority and truth. A Kaupapa Māori position therefore promotes what Lincoln and Denzin (1994) term an epistemological version of validity. Such an approach to validity locates the power within Māori cultural practices where what is acceptable and what is not acceptable research is determined and defined by the research community itself.
The second example in Freeing Ourselves addresses the situation in New Zealand where, despite decades of educational reform, there has been little if any shift in the educational disparities that afflict the large proportion of Māori students who attend mainstream/public schools. In contexts such as these, one must consider ← 98 | 99 → how theories and models of reform that draw from relational discourses, that are fundamental to indigenous people's epistemologies, may provide sufficient conditions for education reform. I commenced one such project in the late 1990s when considering education reform, from the theoretical position of Kaupapa Māori research, and making an examination of appropriate Māori cultural metaphors used in Māori medium schooling. I developed a model whereby educators could create learning contexts within their classrooms that would allow Māori students to bring their own sense-making processes into the classroom, where what they knew was legitimate and not marginalised. This model suggested that teachers needed to develop pedagogic relationships and interactions: where power is shared between self-determining individuals within non-dominating relations of interdependence; where culture counts; where learning is interactive, dialogic and spiraled; where participants are connected to one another through the establishment of a common vision for what constitutes excellence in educational outcomes. This pedagogy has since been developed further and termed a Culturally Responsive Pedagogy of Relations, which is in Freirean terms a "Pedagogy of Hope."
I was then fortunate enough to attract funding that provided me with the opportunity to examine what a culturally responsive pedagogy of relations might look like in practice. In 2001, we began a professional development project for teachers that eventually grew in to what is now called Te Kotahitanga, which is now a large-scale project that aims to improve the educational achievement of Māori students in mainstream/public schools (Bishop, Berryman, Powell, & Teddy, 2005; Bishop, Berryman, Tiakiwai, & Richardson, 2003).
The project commenced in 2001, seeking and sought to address the self-determination of Māori secondary school students by talking with them and others participating in their education about just what is involved in limiting and/or improving their educational achievement through an examination of the main influences on Māori students' educational achievement. The project sought to examine how a number of groups might address this issue and commenced with the gathering of a number of narratives of students' classroom experiences and meanings by the process of collaborative storying (Bishop, 1996) from a range of engaged and non-engaged Māori students (as defined by their schools), in five non-structurally modified mainstream secondary schools. These stories were also complemented by the gathering of stories of experience and meaning from those parenting these students, their principals, and their teachers. Since then the project has grown, and is now being implemented in fifty secondary schools in New Zealand where there is evidence of very acceptable changes in the schooling experiences and outcomes for Māori students (Bishop, Berryman, Cavanagh, & Teddy, 2007, 2009).
It is clear from working with teachers' attempts to address educational disparities in their own classrooms that what is effective for Māori is effective for ← 99 | 100 → other minoritised students. This understanding has major implications for what many educators are identifying as the most pressing problem facing us in education today. That problem is the interaction between increasingly diverse student populations and the associated persistent pattern of educational disparities affecting indigenous peoples and populations of colour, poverty, different abilities, and new migrants. This problem is exacerbated by the continuing lack of diversity among the teaching force who demonstrate discursive positionings and pedagogic practices more appropriate to monocultural populations.
The third example in Freeing Ourselves is about developing a model for freeing public schools and the education system that supports them from neo-colonial dominance by scaling up, that is, extending and sustaining effective, indigenous/minoritised-based education reform as opposed to education reform that is based on dominant group understandings. Scaling up such education reform has the potential to have a major impact on the disparities that exist in society, because deepening and expanding the benefits of effective education reform programmes will change the status quo of historical, ongoing, and seemingly immutable disparities. Nevertheless, I am not claiming that educational reform on its own can cure historical disparities; however, it is clear that educational reform can play a major part in a comprehensive approach to addressing social, economic, and political disparities.
Current approaches to scaling up educational reform have not worked for indigenous and other minoritised students. Most attempts are short term, poorly funded at the outset, and often abandoned before any real changes can be seen, soon to be replaced by some "bold new initiative." In contrast, the model identified in this chapter suggests that educational reforms need to have built into them, from the very outset, those elements that will see them sustained in the original sites and spread to others. These elements will allow educational reforms to be scaled up with the confidence that the reform will not only be able to be sustained in existing and new sites, but that, above all, will also work to reduce disparities and realise the potential of those students currently not well served by education. Put simply, educational reforms that can be sustained and extended can have an impact on educational and social disparities through increasing the educational opportunities for students previously denied these options, on a scale currently not available in most Western countries.
Again, I am fortunate that, with a group of colleagues, which this time includes those from another institution, Te Whare Wānanga o Awanuiārangi, a Māori tribal university, we have been able to attract sufficient funds to support one hundred secondary schools to implement this model as a means of moving their institutions toward being responsive to Māori students' learning needs.
So overall, Freeing Ourselves records the development of a means where, just as Paulo Freire predicted it should, educational reform has grown out of the power of the oppressed. It commenced by our initially wresting control over what ← 100 | 101 → constitutes research into Māori people's lives from the dominant groups. It then meant that we could use this control to establish professional development for teachers that makes sense to Māori students and not just to the teachers (although that happens as well), and then designing a model to expand this process to a large number of sites in New Zealand.
This chapter has been previously published as the Introduction to Russell Bishop's 2011 book, Freeing Ourselves (Rotterdam, The Netherlands: Sense Publishers) and has been edited by Mere Berryman. It formed the basis of Russell's keynote address at the Freire: The Global Legacy conference in Hamilton, New Zealand, November 2012, and here it appears with the kind permission of Peter de Liefde, Founder and Owner of Sense Publishers.
  1.  There are approximately 320 secondary schools in New Zealand.
  2.  This is the Ministry of Education website: https://www.educationcounts.govt.nz/. Its aim is to increase the availability and accessibility of information about education statistics and research in New Zealand via this website.
  3.  Adrienne Alton-Lee (2007, 2008) provides us with evidence that students in Māori-medium classrooms are achieving at higher rates than their contemporaries in mainstream schools.
Alton-Lee, A. (2007). The Iterative Best Evidence Synthesis Programme, New Zealand. In Evidence in education: Linking research and policy. Paris, France: Centre for Educational Research and Innovation (OECD).
Alton-Lee, A. (2008, November). Te Kotahitanga using research and development (R & D) to make a much bigger difference for our children and our society. Keynote address presented at the inaugural Te Kotahitanga Voices conference, University of Waikato, Hamilton, New Zealand.
Bishop, R. (1996). Collaborative research stories: Whakawhanaungatanga. Palmerston North, New Zealand: Dunmore Press.
Bishop, R. (2011). Freeing ourselves. Rotterdam, The Netherlands: Sense Publishers.
Bishop, R., & Berryman, M. (2006). Culture speaks: Cultural relationships and classroom learning. Wellington, New Zealand: Huia Publishers.
Bishop, R., Berryman, M., Cavanagh, T., & Teddy, L. (2007). Te Kotahitanga Phase 3 whanaungatanga: Establishing a culturally responsive pedagogy of relations in mainstream secondary school classrooms. Wellington, New Zealand: Ministry of Education. ← 101 | 102 →
Bishop, R., Berryman, M., Cavanagh, T., & Teddy, L. (2009). Te Kotahitanga: Addressing educational disparities facing Maori students in New Zealand. Teaching and Teacher Education, 25, 734–742.
Bishop, R., Berryman, M., Cavanagh, T., Teddy, L., & Clapham, S. (2005). Te Kotahitanga: Phase III: Whanaungatanga. Improving the educational achievement of Maori students in mainstream schools. Wellington, New Zealand: Ministry of Education.
Bishop, R., Berryman, M., Powell, A., & Teddy, L. (2005) Te Kotahitanga: Improving the educational achievement of Māori students in mainstream education Phase 2: Towards a whole school approach. Wellington, New Zealand: Ministry of Education.
Bishop, R., Berryman, M., Tiakiwai, S., & Richardson, C. (2003). Te Kotahitanga: The experiences of year 9 and 10 Maori students in mainstream classrooms. Wellington, New Zealand: Ministry of Education.
Bishop, R., & Glynn, T. (1999). Culture counts: Changing power relations in education. Palmerston North, New Zealand: Dunmore Press.
Clark, J. A. (2006). The gap between the highest and lowest school achievers: Philosophical arguments for downplaying teacher expectation theory. New Zealand Journal of Educational Studies, 41(2), 367–382.
Crooks, T., Hamilton, K., & Caygill, R. (2000). New Zealand's national education monitoring project: Maori student achievement, 1995–2000 [Electronic version]. Retrieved May 9, 2007, from http://nemp.otago.ac.nz/i_probe.htm
Durie, M. (1994) Whaiora: Maori health development. Oxford, UK: Oxford University Press.
Education and Science Committee. (2008). Inquiry into making the school system work for every child (I.2A). Retrieved December 23, 2008, from http://www.parliament.nz/en-NZ/SC/Reports/7/f/3/48DBSCH_SCR3979_1-Inquiry-into-making-the-school-system-work-for.htm
Freire, P. (1972). Pedagogy of the oppressed. New York, NY: Herder & Herder.
Hood, D. (2008). Statistical analysis of Maori students' participation and achievement data. Unpublished paper.
Hunn, J. (1960). Report on Department of Maori Affairs. Wellington, New Zealand: Department of Maori Affairs.
James, C. (2008, July 1). Nation's duty to protect vulnerable. New Zealand Herald. Retrieved December 23, 2008, from http://www.nzherald.co.nz/colin-james/news/article.cfm?a_ id=338&objected=10519201/
Lincoln, Y. S., & Denzin, N. K. (1994). The fifth moment. In N. K. Denzin & Y. S. Lincoln (Eds.), Handbook of qualitative research (pp. 575–586). Thousand Oaks, CA: Sage.
Ministry of Education. (2005). Making a bigger difference for all students: Hangaia he huarahi hei whakarewa ake i ngā tauira katoa. Schooling Strategy 2005–2010. Wellington, New Zealand: Ministry of Education.
Nash, R. (1993). Succeeding generations: Family resources and access to education in New Zealand. Auckland, New Zealand: Oxford University Press.
Scheurich, J. J., & Young, M. D. (1997). Coloring epistemologies: Are our research epistemologies racially biased? Educational Researcher, 26(4), 4–16.
Walker, R. (1990). Ka whawhai tonu matou: Struggle without end. Auckland, New Zealand: Penguin.
Wylie, C., Thompson, J., & Lythe, C. (1999). Competent children at 8: Families, early education, and schools. Wellington, New Zealand: New Zealand Council for Educational Research. ← 102 | 103 →
Humanization in Decolonizing Educational Research: A Tree of Life Metaphor
---
The Tree of Life is an ancient motif that appears in many cultures and religions. The Tree is symbolic of the interconnected nature of our world(s) and is often used as a reminder of the sacredness of life and its connection to the earth. This chapter uses the metaphor of the Tree of Life to explore the methodology of Participatory Action Research in a decolonizing educational project. A group of science teachers explored the possibilities of the mandated inclusion of Aboriginal and Torres Strait Islander Histories and Cultures in the new national Australian Curriculum. The chapter connects Freirean ideas of conscientizção and humanization through the processes explored by the teachers and the educational outcomes sought. The importance of nourishment, protection, and interconnectedness related to the Tree of Life is explored in this context.
Through the process of my doctoral work I spent much time musing on the methodology of Participatory Action Research (PAR) and searching for a way of representing my work that could relate to both critical and indigenous1 understandings. From the perspectives of both the critical tradition and indigenous methodologies, the theme of interconnectedness was one that recurred throughout my reading of theoretical underpinnings. More than this, interconnectedness was a ← 103 | 104 → theme through the work itself, manifesting in unexpected and serendipitous ways. In some Australian Aboriginal understandings, it was explained to me by a Kamilaroi woman that serendipity and intuition are intertwined (D. Moodie, personal communication, September 1, 2011). If a person is "on the right track," connected to country and listening to her or his intuition, serendipitous things would happen. This conversation led me to think of the fortunate and unexpected events that happened in the PAR journey as more than just mere coincidence. Trying to represent my newfound understanding of the methodology in a scholarly way became difficult. I was searching for a way of representing ideas quite separate from white Western epistemology. As a white researcher, this was a particular challenge.
It was at this juncture (serendipitously perhaps) that I picked up my volume of Native Science (Cajete, 2000) and re-read some chapters. In this book, I found a Native American description of the Tree of Life. In the cyclical development of the teachings of the Tree I found a parallel to the personal and professional development of myself as a researcher/participant and the teacher participants of my PAR project. The cycles within cycles, interconnectedness, and growth of the Tree of Life drew together the purpose and critical intent of the project. In this chapter I develop the Tree of Life metaphor for PAR and link the critical intent to a decolonizing educational research from a Freirean perspective.
The motif of the Tree of Life appears prominently in cultures around the world. The symbol is usually understood as a representation of the interconnectedness of life and the spiritual and physical worlds (Cook, 1974). The Tree is a metaphor for the cycles of renewal and dynamic creativity that has acquired a permanent significance and adaptability in changing worldviews, theological systems and ideologies (James, 1966). Tree metaphors are often also used in Western traditions of knowledge and truth. The Tree of Life metaphor seems to be in contrast to rationalist scientific thought. The eighteenth century saw Enlightenment thinking give credence to only two realms of experience, reason and sensory perception, giving no room for the recognition of imagination and non-physical realms (Cook, 1974). The scientific primacy placed on empirical, measurable cause and effect data marginalizes the idea of situated, interpretive, multiple realities as "soft" research (at best) (Semali & Kincheloe, 1999). Rather than a structural approach to a tree metaphor as might be found in the scientific tradition, the Tree of Life recognizes more than physical, measurable sensations as sources of information, also acknowledging intuition and inspiration.
Cajete (2000) describes the teachings of the Tree of Life as a "metaphor for life, healing, vision and transformation" (p. 285). Central to the teachings of the ← 104 | 105 → Tree are four great human development stages, which bring forth the key meanings and teachings of the Tree:
Through an understanding of "protection" (the shade of the Tree), we come to see how the Earth provides for human life and well-being. In understanding the nature of "nourishment" (the fruit of the Tree), we come to see what we need to grow, to live a good life. We come to understand how we are nourished through the relationships we have at all levels of our nature and from all other sources that share life with us. We also come to know that as we are nourished, so must we nourish others in return. As a tree grows through different stages—from seed to sapling, to mature tree, and to old tree—we see that growth and change are the key dynamics to life. We also learn that growth and change reflect self-determination, movement toward our true potential through the trials and tribulations, the "weather of our lives." "Wholeness" is the finding and reflection of the face, heart, and foundation through which our lives become a conscious part of a greater whole, of part of a life process rooted to a larger past, present and future ecology of the mind and spirit. (p. 286)
In linking the description by Cajete to my work with Aboriginal and Torres Strait Islander knowledges, I spoke with one of my cultural consultants about Aboriginal understandings of the Tree of Life. As a Ngarrindjeri man, he told me a story he'd recently adapted for a primary school student play:
There was once an old Goanna Lady who was a healer. She moved from tribe to tribe using her medicine to help people. By making her way between nations she brought the people together and gave them a common connection. When she died a medicine tree grew in the place where she was buried. The Goanna lady's tree continued to bring together the nations and provided a place of healing. (D. Nikkelson, personal communication, March 30, 2011)
Again, the theme of interconnectedness comes to the fore. There are several parallels in this Indigenous Australian understanding to the Native American representation of the Tree above. Through her healing knowledge and status as a healer the Goanna Lady connected to country and to people in a way that promoted peace. The Goanna Lady's tree provided a place of nourishment and protection for future generations. Growth and stages of life are present through the representation of age and death. There is also renewal through the continuation of the Goanna Lady's healing provided by the tree that grew where she was buried. Interconnectedness is present through all of these metaphors in terms of healing, country, and people.
In recognizing the similarities between the narratives of the Tree, while acknowledging the differences and not essentializing indigenous knowledge, the adoption of a metaphor of life, healing, vision, and transformation fitted with my own understandings of my PAR methodology, the personal and professional growth of myself and the other project participants, as well as our critical intent in working within the study. ← 105 | 106 →
The research project described in this chapter aimed to illuminate the intellectual, epistemological and pragmatic processes that teachers undertake when engaging with indigenous knowledges in science classrooms. The focus of the research was engagement of epistemologies and content outside of Western modern science traditions and the sense teachers made of these alternate ways of knowing in the context of science education. The methodology aimed to highlight the relationship between this (re)conceptualization of science education and teacher praxis. The implementation of the new Australian Curriculum provided an impetus for the inclusion of different cultural understandings (and specifically Indigenous Australian understandings), of science (Australian Curriculum Assessment and Reporting Authority, 2011).
I was the researcher/participant, and six mostly secondary school–based science teachers were part of the research group. All participants except one identified as white Australians, with the other participant identifing as a Murri person (Queensland Indigenous person). Although the research project began with six participants, owing to external factors such as teacher transfer and additional workloads gained during the project, not all participants were contributing by the project's conclusion. For the purposes of this chapter, data have been taken only from those who participated in the entire project.
In total four PAR cycles were completed. In the first cycle the group members considered what they wanted to achieve through the project and set some goals to work toward. The second cycle saw consideration of where the group saw indigenous knowledges fitting within the curriculum and discipline areas of science that they needed to teach. The third cycle saw the remaining participants implementing their teaching plans in the classroom, while the fourth cycle considered ways of moving forward with their pedagogical praxis. Data were collected in the form of recordings and resulting transcripts from group meetings and individual discussions with the participants, documentary evidence of lessons/units planned and classroom observation of teaching. This chapter draws on a small subset of the larger data pool of the research project, focusing on group meetings and individual discussions.
The choice of a PAR methodology allowed the teachers involved in the project to connect theory and practice to collectively (re)create knowledge (Kemmis, 1981; Kemmis & McTaggart, 2005; McIntyre, 2008). The cyclical process of PAR is one of continual reflection and action involving collaboration between participants in the research (Griffiths, 2009). The choice of PAR as a method and the strategies for data collection and analysis were reflective of a critical research perspective. The methodology showed a concern for locating the project within ← 106 | 107 → the social and political landscape, seeking emancipatory outcomes and reflected a concern with praxis. The underlying tenets of PAR as applied in the project can be described as a collective commitment to investigate an issue; a desire to engage in individual and collective action leading to a useful solution that benefits the people involved; and the building of alliances between the researcher and the participants in the planning, implementation, and dissemination of the research process (McIntyre, 2008). As knowledge is collectively generated, it was hoped that the practices that emerged from the PAR process would be aligned with teachers' pedagogies and promote a lasting opportunity for changes in practice.
The theoretical frameworks often identified as underpinning PAR were congruent with the critical concerns of the project. Critical theory has contributed to PAR through the examination of social, political, and economic structures that influence the social participation of individuals and their practice (Kemmis, 2008; McIntyre, 2008). The idea of conscientização (Freire, 1989), developing a critical consciousness, is inherent in the reflexive and social nature of the PAR process. Freire recognized the role of praxis as action in and reflection on the world in order to change it (Freire, 2009). The critical self-inquiry and reflection processes of PAR and the importance of these for effecting social change has been recognized by practitioners of PAR as drawing on Freire's work (Fals Borda & Rahman, 1991; Herr & Anderson, 2005; McIntyre, 2008).
PAR AND INDIGENOUS METHODOLOGIES
Because the research project was working with both Indigenous and non-Indigenous people and engaging with indigenous ways of knowing and being, I selected a method that could be deployed recognizing the cultural sensitivities inherent in the topic. I was conscious of the power differentials between indigenous knowledges and Western scientific knowledges as well as the potential for me as a white researcher to be seen as appropriating indigenous ways of knowing. As Semali and Kincheloe (1999) warn, it is important that Western people do not speak and act for indigenous people and that indigenous people form allies outside their local communities.
This project was formed with a focus on relationships and collaborative thought, action, and generation of knowledge. As Brydon-Miller, Kral, Maguire, Noffke, and Sabhlok (2013) highlight,
PAR is in keeping with Indigenous cosmologies where relationships are at the center, a form of research that is "evaluated by participant-driven criteria" (Denzin and Lincoln, 2008, p. 11). It is a decolonizing of methods of academia, a political stance in the redistribution of power with a focus on sharing and mutual respect. (p. 395) ← 107 | 108 →
Indigenous methodologies can be described as research by and for Indigenous people. Writing from a Maori standpoint, Smith (2012) emphasizes the importance of building trust in relationships within indigenous methodologies. Important questions around the researcher's intent are highlighted: Who owns the research? Who will benefit? and How will the results be disseminated? Smith sees these questions as part of larger judgments that indigenous communities make surrounding the researcher, in which questions such as Does he/she have a good heart? What baggage do they carry? and Can they actually do anything? (p. 10) are equally important. As the researcher in this project, I was always conscious of these types of questions as critiques of my methodology from an indigenous standpoint.
There is an intersection between most critically based PAR projects and indigenous methodologies in that both seek to critique the notion of the unproblematic creation of scientific knowledge. The frameworks employed by PAR can complement indigenous methodologies through challenging the positivist scientific positions of objectivism and neutrality (Shiva, 1997). In the case of this project, indigenous methodological stances informed the PAR process, in particular through my critical theory/pedagogy lens and engagement with the importance of reciprocity in relationships.
Freirean ideas have been used in indigenous methodologies as well as with PAR. Freire's theory of conscientization (Freire, 2009), "his belief in critical reflection as essential for individual and social change, and his commitment to the democratic dialectical unification of theory and practice have contributed significantly to the field of participatory action research" (McIntyre, 2008, p. 3). Similarly, Freire's development of counter-hegemonic approaches to knowledge construction within oppressed communities has informed many of the strategies practitioners use in PAR projects (McIntyre, 2008). Conscientization is also part of some indigenous methodologies; for example, Smith (2012) draws on Freire's thoughts around "naming the world" and the power that this gives to hegemonic groups in knowledge claims to suggest the Indigenous project of Naming to (re)name the landscape with indigenous names. Here the possibilities of synergies between indigenous methodologies and PAR emerge: both are aiming for a critical consciousness in analyzing the legitimacy and power of knowledge.
A TREE OF LIFE METAPHOR FOR THIS PROJECT
Protection—The shade of the Tree
Freire described the banking model of education as the act of a teacher making deposits of information that the students receive passively; he articulated this as an exercise of domination, indoctrinating the oppressed into the world ← 108 | 109 → of oppression (Freire, 2009). In the project described here, the teachers attempted to free themselves of the indoctrinating ways of schooling, while still acting within the prescribed system, to provide a liberating experience for their classes and themselves as educators. In providing a pedagogical space for well-being and growth, they were acting in the shade of the Tree, recognizing the need for human life and well-being.
Through expressions of alienation and domination, dehumanization takes place (Freire, 1970). In working to reduce the alienation of the Other, as indigenous cultures in the colonized world are still seen, the work was very much a humanizing and decolonial project. The process of working toward a pedagogy that was humanizing and liberating had the effect of promoting conscientization in the teachers themselves. In actively opposing oppression in their own praxis, the teachers advanced in terms of human becoming as they more clearly began to see the oppressive ways of the curriculum and their peers around them and actively engaged in promoting change. As Freire observed, "Liberation can not exist within men's consciousness, isolated from the world; it exists in the praxis of men" (Freire, 1970, p. 3).
In challenging the status quo of marginalization of indigenous ways of knowing within the scientific frame, the teachers promoted an educative space in which indigenous knowledge was seen as synergistic with Western scientific ideas. Freire, speaking of the humanist revolutionary educator, said of the teacher that "from the outset, her efforts must coincide with those of the students to engage in critical thinking and the process of mutual humanisation" (Freire, 2009, p. 75)
One of the teacher participants in the project, Cristy, told us of her experience in approaching the resistance some students had to seeing how indigenous knowledge could be science and the impact of presenting indigenous knowledge in the science classroom.
Aboriginal and indigenous knowledges and perspectives, "how is this science?," but that was the perfect way of promoting that this is science and that we can work together, irrespective of where we come from and what we bring to the table, to pass on knowledge and critical thinking.
Nourishment—the fruit of the Tree
In understanding what is needed for growth and promotion of a good life in terms of nourishment of the Tree, all participants, including me, thrived on the successes of the teachers in the classroom. For teacher participant Cristy, nourishment came through having one Aboriginal student actively involved in the teaching of a physics unit, incorporating didgeridoo playing and the sharing of his family's knowledge of traditional hunting and food gathering. She noted: ← 109 | 110 →
That was just so, so empowering for him but also for the other students as well because they were asking him questions. It was such an interactive lesson that—and the boys all responded so positively to it—I can't imagine why this whole concept is not a good idea.
In reflecting on Cristy's experience, another teacher participant, Alan, observed:
It could be the case that this is a lot more powerful than just making [connections]—I think the idea of recognition of value in other people's cultures is really important, recognition of Indigenous people [having] a long history in their countryside, in the land and what they have to offer is pretty big. The ability for our Indigenous students to say, well this is how this works and then use the science vocab to describe it, I think that was—I think for someone to do that, that's showing that they've thought about it.
For me as the researcher/participant in the process, one of the most nourishing moments in our group discussions came when one of the teachers articulated his thoughts on the power of indigenous knowledge in the classroom to promote conscientizção in students:
It opens up and it makes people think, oh there's value in that and there's value in you and value in [indigenous knowledge].
Through the PAR process, teaching experiences were shared, allowing for encouragement and critical reflection to build new ways of considering praxis in terms of pedagogy and challenging the status quo. Without this nourishment from successes and from one another, the potential of the project to stall was a real danger. Initially, the project had ten teacher participants. Perhaps those who did not find the nourishment they needed in the process found it more difficult to proceed through the PAR cycles. Several participants did not proceed past the first or second cycle. The implications of challenging their own praxis and the institutional status quo may have proved too difficult for them to proceed to actual implementation in the classroom. Fears of "stepping on cultural toes" and ensuring that their other reporting and curricular commitments were met became insurmountable obstacles to classroom implementation.
Details
Pages

XXIV, 606

ISBN (PDF)

9781453914083

ISBN (ePUB)

9781454196501

ISBN (MOBI)

9781454196495

ISBN (Book)

9781433125324

Language

English

Publication date

2014 (December)

Tags

Published

New York, Bern, Berlin, Bruxelles, Frankfurt am Main, Oxford, Wien, 2015. XXIV, 606 pp., num. ill.