The Dynamics of Mediatized Conflicts
Excerpt
Table Of Content
Cover
Title
Copyright
About the author(s)/editor(s)
About the book
Advance Praise For The Dynamics of Mediatized Conflicts
This eBook can be cited
Contents
Chapter Two: Mediatized Transnational Conflicts: Online Media and the Politicisation of the European Union in Times of Crisis
Chapter Three: Communicative Figurations of Financial Blogging: Deliberative and Moralising Modes of Crisis Communication During the Eurocrisis
Part Two: Mobilising the Personal: Crossing Public and Private Boundaries
Chapter Four: Personalised Scandalisation: Sensationalising Trivial Conflicts?
Chapter Five: Ritual Performance in Mediatized Conflict: The Death of a Princess and a Prime Minister
Chapter Six: Mediatized Asylum Conflicts: Human-Interest Framing and Common-Sense Public Morality
Part Three: Military, War, and Media
Chapter Seven: Mediatization and Globalisation: New Challenges for War Journalism
Chapter Eight: Imagining Influence: Logic(al) Tensions in War and Defence
Chapter Nine: Mediatized Death in Post–Arab Spring Conflicts
Conclusion: The Mediatization of Conflicts: Prospects and Challenges
Author Bios: The Dynamics of Mediatized Conflicts – Peter Lang
Index
Series index
| 1 →
Three Dynamics of Mediatized Conflicts
Media studies have a long tradition of considering how media influence the representation and public perception of conflicts (e.g., Allan & Zelizer, 2004; Carruthers, 2000; Thussu & Freedman, 2003). Especially in the case of military and political conflicts, the presence of propaganda and bias in the media has been a major field of enquiry. Such studies continue to provide valuable insights, but a growing awareness has emerged within media studies that the media's discursive framing of conflicts is only one of several important ways in which media have come to influence conflicts in contemporary society. Aside from reporting on preexisting conflicts, the media increasingly play both performative and constitutive roles (Cottle, 2006a, p. 9) for the development of conflicts in contemporary society. In this book, we build upon these insights and seek to theoretically and empirically develop the perspective of 'mediatized conflicts'. Conflicts are not only 'mediated' through various forms of mass media and social network media; they have also become 'mediatized' owing to the general process of mediatization in contemporary societies. Accordingly, we will pursue the argument that the media may add a series of dynamics to conflicts, namely, amplification, framing and performative agency, and co-structuring.
To theorise and analyse the various ways in which mediatization interacts with and influences conflicts, this book takes a deliberatively broad approach. Our notion of conflict covers armed, political, social, ethnic, cultural, and environmental conflicts. It ranges from political contestation to physical confrontation. ← 1 | 2 → However, the conflicts typically imply a public dimension: they are located in a public setting, involve public figures, or pertain to public or institutionalised activities. In this sense, conflicts refer to disputes between stakeholders which may or may not be formally organised but which are usually recognised as representing certain aims or interests. A working definition of conflict thus entails socially disruptive situations in which two or more actors (individuals or collective entities) recognise that they have differing goals, interests, or opinions and act (or plan to act) in order to change the balance of power between them (see also Cottle, 2006a, 2006b). To suggest that conflicts are socially disruptive does not imply that they are necessarily undesirable from a normative perspective. Conflicts may be socially functional or dysfunctional depending on their context (Putnam, 2013). Consequently, the concept of mediatized conflicts denotes how media and information technology may come to influence the balance of power between stakeholders, for instance through the ways in which media make strategic communication imperative for the maintenance of public legitimacy. Based on this broad notion of mediatized conflicts, this book seeks to open an interdisciplinary field for studying the interactions of media and conflicts, involving diverse research traditions such as media studies, journalism studies, political science, sociology, cultural studies, media anthropology, and environmental studies.
Our approach to mediatized conflicts has been informed by two recent lines of developments in the literature on media and conflict. First, the notion of conflict employed in this book encompasses a number of related phenomena that share certain dynamics. During the past decade, we have witnessed a growing body of studies on media and crisis (Cottle, 2009), media and disasters (Cottle, 2014; Pantti, Wahl-Jorgensen, & Cottle, 2012), media and terror (Kavoori & Fraley, 2006), media and armed conflicts (Hoskins & O'Loughlin, 2010), media and risk (Allen, 2002; Anderson, 2006), and media and social movements (Bennett & Segerberg, 2012, 2013). Stepping further back, we find adjoining research fields that also touch on questions of conflicts such as media scandals (Thompson, 2000), media rituals (Cottle 2006b; Couldry 2003; Rothenbuhler, 1998) and media events (Dayan & Katz, 1992; see also Couldry, Hepp, & Krotz, 2010). These various notions are interrelated in the sense that they frequently entail some sort of conflict (e.g., scandals), intend to quell conflict (e.g., rituals), reconcile conflict (e.g., events), eradiate conflict (war), instigate conflict (terror), or carry the potential for future conflict (disasters). While it is necessary to recognise the differences between various types of social conflicts and the particular contexts in which they appear, this book's inclusive notion of conflict allows us to consider the dynamics of mediatized conflicts across various types of conflicts (see also the final chapter of this book).
The second line of development is a new and more complex understanding of the role and function of media in relation to conflicts. The diverse nature and ← 2 | 3 → complex interrelations of modern conflicts have fostered growing recognition that various conflicts are being increasingly influenced and shaped by the omnipresence of media and information technology. Our notion of mediatized conflicts is based on the recognition that media today connect nearly every aspect of public and private life in new and unprecedented manners, thereby altering the structural and political impacts as well as personal and social significance of conflicts. In short, the social and cultural conditions of mediatization have to various degrees entered the study of conflicts (for studies specifically on mediatized conflict/war see Cottle, 2006a; Horten, 2011; Maltby, 2012; Mortensen, 2015).
The main assumption behind the concept of mediatized conflict is that the media have become integral to the social processes through which conflicts are defined, recognised, and in some cases resolved by social actors and that media are utilised for particular interests during conflicts. Conflicts have become 'mediatized', meaning that conflicts are not only represented and played out in media-saturated social environments but also that media have a profound impact on conflicts themselves, in terms of both internal organisation and external development. The emergence of digital media has both intensified and altered the interrelationships between media and conflict in today's global and convergent media environment. No longer limited to the realms of journalism and political communication, various forms of new media allow other social actors to communicate, establish relationships, and act through private and semi-public media networks. During times of conflict, this presents new opportunities and threats for individuals and organisations seeking to manage the flow of communication and control social networks to their own advantage.
The mediatization of conflict may be considered a side effect of the general mediatization of culture and society (Hepp, 2013; Hjarvard, 2013; Lundby, 2014a). Various social institutions or domains such as politics (Esser & Strömbäck, 2014), religion (Hjarvard & Lövheim, 2012), and organisations (Pallas, Strannegård, & Jonsson, 2014) have become mediatized and thereby dependent on the media for their routine, day-to-day practices. Conflicts are, however, especially influenced by the mediatized condition of contemporary society because they usually include an intensified fight over the 'hearts and minds' of various groups of supporters and opponents. By definition, conflicts involve contestation of existing power relationships and mobilisation of communication resources to coordinate organisation and action; produce public legitimacy; and gather, spread, or contain information. Since media systems are interwoven with existing power structures (e.g., elite dominance of news media, social stratification of media availability and use), social actors may have different communicative resources at their disposal. However, over the course of a conflict, the networked nature of today's global media environment may enable disadvantaged groups to challenge existing power holders despite their initial, structural disadvantage. Conflicts may also call into question the 'normal' mediatized ← 3 | 4 → condition of culture and society. Declaration of martial law is a very visible example of measures that may restrict the normal flow of information and the independence of news media, but conflicts may also involve less overt measures changing the mediatized condition from the normal day-to-day routines of society. As a result, our understanding of 'mediatized conflicts' builds on general theories of mediatization and takes into account the disruptive and extraordinary nature of conflicts.
By applying mediatization theory, this book illuminates how media are implicated in conflicts by conditioning or shaping the development of conflicts and by serving as a means by which social actors manage and communicate conflicts. The aim is to develop the concept of 'mediatized conflicts' through a series of empirically grounded studies. Mediatized conflict is studied with a global outlook across different political, social, and cultural contexts. The book places particular emphasis on the influence of digital media while also taking into account the overall, converging media environment.
In this introduction, we first consider the theoretical background of 'mediatized conflicts' by examining key contributions in the study of conflict and mediatization, respectively. Secondly, we present a theoretical framework that highlights the various dynamics governing mediatized conflicts as well as the various outcomes of mediatized conflicts to which the combination of these dynamics lead. In accordance with our framework, we propose that amplification, framing and performative agency, and co-structuring constitute the core dynamics of mediatized conflicts and that the specific combination and actualisation of these dynamics may either reduce or intensify conflicts and to varying degrees transform or perhaps even induce new conflicts. Our framework thus suggests that the interplay between media and conflict should be studied in a historical, social, and political context as well as it is possible to identify some general dynamics at work across diverse contexts. Following this general perspective on mediatized conflict, the structure, themes, and individual chapters of the book are presented.
CONFLICTS: FROM MEDIATION TO MEDIATIZATION
During the conflict in Gaza in the summer of 2014, a so-called Hashtag War played out in which the contending parties strived to gain the upper hand on social network sites in the local and international battle for public opinion (e.g., Finighan, 2014; Mackey, 2014). Political leaders, government officials from Israel and Hamas, NGOs, activists, journalists, and citizens alike took part in disseminating and mobilising pictures and words on social network sites. Much of this information seeped into the established mainstream news media's coverage of the conflict. The coverage included videos produced by Israeli soldiers and subsequently uploaded to social network sites by the Israeli army or the soldiers ← 4 | 5 → themselves as well as some of the numerous videos issued by Hamas showing attacks on Israeli soldiers. Political leaders used social network sites as the initial link in the chain of news to disseminate their messages. Representatives from the press published reports on Twitter, which were also quickly appropriated by the mainstream media's coverage of the conflict (e.g., Withnall, 2014). For example, an iPhone photo by a Danish newspaper correspondent showed cheerful citizens from the Israeli town of Sderot seated in plastic chairs and eating popcorn on a hilltop to watch the Israeli military's bombardment of the Gaza strip. The photo was first published on Twitter under the headline 'Sderot Cinema' and was rapidly circulated and mobilised as part of the ongoing conflict. As a consequence, the image became the eye of an international media storm in which the contending parties argued over its authenticity, veracity, newness, generalisability, and so on.
The deep and intricate infiltration of media into conflict constitutes more the rule than the exception of how contemporary conflicts are fought and communicated. Owing to the proliferation of digital media and what José van Dijck (2013) terms 'cultures of connectivity', a veritable landslide of information from areas of conflict has accumulated over the past decade, forming a stark contrast to the tight management of information conventionally exercised by nations involved in conflict. This development in the interrelation between media and conflict might be conceptualised in terms of a movement from mediation of conflict to mediatization of conflict. By 'mediation', we understand the use of a medium for communication and interaction (our notion of 'mediation' is thus grounded in media and communication studies and not in conflict studies, where 'mediation' often refers to various reconciliatory measures, such as negotiation). In contrast, 'mediatization' denotes the changing relationships between media, culture, and society, which create new conditions for communication and interaction (Hjarvard, 2013). Along the same lines, Cottle writes that mediation suggests that the media constitute a 'neutral "middle ground"' while the concept of mediatization seeks to 'deliberately capture something of the more complex, active and performative ways that the media are involved in conflicts today' (2006a, p. 9).
To introduce the scope and effect of this shift from mediation to mediatization, it is beneficial to undertake a brief historical overview of the literature on media and conflict. Consultations between mass media and states were traditionally seen as decisive for media representations of conflict. Today, media and communication are incorporated into practically all operational, strategic, and political levels of conflict: Various actors hold the ability to produce, distribute, and mobilise material, and media content circulates across platforms, most important, between social network sites and the mainstream news media. Consistent with this movement from mediation to mediatization of conflict, this section argues that earlier models for understanding the relationship between media and conflict do not suffice in today's digitalised, connective, and convergent media landscape. ← 5 | 6 →
Research on the relationship between media and conflict has typically focused on the news media's role in shaping the population's perception of the conflict (e.g., Allan & Zelizer, 2004; Messinger, 2011; Thussu & Freedman, 2003; Tumber & Palmer, 2004) and the communicative strategies deployed by belligerent nations, primarily censorship and propaganda (e.g., Culbert, Cull, & Welch, 2003; Lasswell, 1927; Taylor, 2003 [1990]; Welch, 2005). These two perspectives are mutually dependent insofar as the management of information and control over access to the combat zone exercised by state and military determine the conditions under which the news media cover conflicts. Conversely, censorship—and to an extent propaganda as well—has been instituted in response to the rise of war reporting since the mid-19th century (see also Mortensen, 2013).
The literature on media and conflict has often framed the interrelationship between media and state in terms of the distribution of power, that is, either as struggle or collaboration between the two parties. On the one hand, a tendency prevails across different historical contexts to credit the latest media technologies and their practitioners with innate power to revolutionise the flow of information from conflict zones. A famous case in point was the widespread belief that the Vietnam War constituted the first 'living room war' because of the way in which television reports from the frontline (allegedly) diminished public backing. Hallin's seminal study (1986) challenges this interpretation by asserting that the critical approach did not become significant until a shift in political climate from 1967 resulted in increasing dissent—in other words, reporting remained largely loyal to government policy as long as elite consensus ruled. Later examples of the propensity to attribute power to media innovations include the proclaimed 'CNN effect' in the 1980s, with the introduction of 24/7 live television from the frontlines, which was likewise later contested by researchers (e.g., Livingston, 1997; Perlmutter, 1998; Robinson, 2002, 2004). As the most recent offshoot of this framework for understanding the media-conflict relationship, the public uprisings in a number of countries in the Middle East, North Africa, and elsewhere have been labelled the 'YouTube revolution', 'Facebook revolution', 'Twitter revolution', again prompting researchers to provide nuance to these catchphrase models of explanation.
On the other hand, running counter to this technological optimism and determinism, other scholars have argued that the news media tends to be essentially loyal to government agendas in matters of conflict and national security (e.g., Boyd-Barrett, 2004; Thussu & Freedman, 2003). Per the famous dictum by Chomsky and Herman (1988), the mainstream news media are predisposed to 'manufacture consent' owing to their business models and journalists' inclinations to rely on elite sources and remain faithful to national interests. Seizing a middle ground, Robinson (2002, 2004) draws on Hallin (1986) to propose a more differentiated and historically variable 'policy-media interaction model', which outlines ← 6 | 7 → three degrees of media influence according to the level of elite consensus and policy certainty.
How and to which extent the thorough mediatization of conflict alters the basic distribution of power in relation to media and conflict remains a pertinent question for further empirical study in relation to different types of conflict. It nonetheless seems fair to say that concepts such as the 'policy-media interaction model' may not be capable of standing as independent theoretical frameworks in connection with a number of contemporary conflicts. One important reservation towards applying 'the policy-media interaction model' to the current media landscape is that it mainly takes a top-down perspective by focusing on the interrelations between public authorities (government, military, etc.) and the mainstream news media. Owing to cultures of connectivity, however, more actors have been enabled to take part in the production, distribution, and mobilisation of information about conflict. Accordingly, the study of mediatized conflict encompasses both top-down and bottom-up perspectives as well as internal and external dimensions (see also Mortensen, 2015): The state, military, and other authorities deploy various media to inform the public and frame their interpretations of the conflict in question at the same time as they increasingly use media as an integral part of their own work practices such as police surveillance and military warfare. Nevertheless, citizens, activists, grassroots individuals, whistle-blowers, insurgents, and so on use media to gain visibility, mobilise support, organise activities, and contest the legitimacy of authorities. Digital media have created a much more complex communication environment in which the possibilities for controlling and monitoring information flows and for leaking information have become manifold. By opening up the possibility for the interplay, antagonism, or merely co-existence of these two dimensions, our understanding of mediatized conflict may facilitate empirical approaches, which take into account how different actors engage in struggles and negotiations over the forms and contents of information disseminated from conflictual situations. This in turn suggests that mediatized conflicts may have different outcomes and involve different scenarios than the ones implied by the traditional 'policy-media interaction model'.
The inclusion of a bottom-up perspective on mediatized conflicts stipulates a changing gatekeeping role for the established news media. In the new media environment, news media have lost their traditional monopoly on conflict reporting—the most conspicuous example probably being the way in which breaking news events are often first visually documented by on-site participants or eyewitnesses equipped with mobile camera phones. In consequence, mainstream news media often function as brokers of sorts between the two dimensions. While they still constitute the most important platform from which the authorities can communicate to the public about conflictual events, other actors involved in the production and distribution of information also frequently seek to attract the attention ← 7 | 8 → of the news media to reach a larger audience. At the same time, the news media are themselves an active partner for the obvious reason that conflict makes up a major journalistic turf, entailing various forms of interaction with actors and other sources.
MEDIATIZED CONFLICTS: THREE TYPES OF DYNAMICS
The process of mediatization concerns the structural transformation of the relationships between media and other social spheres. In this process, other social spheres become dependent on the media and their various logics, that is, their institutional, technological, and aesthetic modus operandi (cf. Hjarvard, 2013; Lundby, 2014b). This growing interdependency is characterised by a dual development in which the media have developed into a semi-autonomous institution in society at the same time as various media have become integrated into the workings of other social institutions such as politics, education, and family. As a result, the media are simultaneously present 'out-there' in society at large, exercising influence on the public attention as a whole and present 'in-here' in the various social settings in which a variety of different media are employed for the practice of 'doing politics', 'doing family', and so on. The development of the news media as an important gatekeeper for public information and opinion over the course of the 20th century is the paradigmatic example of the media's rise to the status of a semi-independent institution, yet other forms of mass media such as the film industry, magazine press, and public service media have become important semi-autonomous providers of public information and opinions in the broader cultural field as well.
As mentioned above, the spread of interactive and network media in the latter part of the 20th century has clearly challenged the information control by mass media and allowed—in principle—all social actors to communicate and interact through the use of digital media. However, the various forms of interpersonal and social network media are not merely neutral instruments of social agency but have come to influence the logic of practices (Bourdieu, 1995) in the various contexts in which they have been employed. This is due both to their technological and aesthetic affordances (Gibson, 1979) and to their wider institutional embedding, for instance the policy regulations, ownerships structures, and commercial underpinning of media companies such as Google and Facebook. In consequence, the process of mediatization not only changes the relationships between media and other social spheres but also entails new conditions for communication and interaction by and through the media, including not just mass media but also interactive forms of media.
From a general perspective, media allow users to extend communication in time, space, and modality, and as such, they constitute a social and symbolic ← 8 | 9 → resource to connect to a wider audience, represent information in particular ways, and sustain social relationships (a public sphere, a network of 'friends', etc.). The production of (public) attention and consent relies heavily on these resources. During times of conflict, the control over these resources becomes important because the existing distribution of media resources in itself may represent a structural inequality between the parties involved and because the media introduce a series of dynamics into the further course of the conflict. To develop our understanding of particular dynamics that media may generate in conflicts, we take as a starting point Joshua Meyrowitz's (1993) distinction between three metaphors of media. Meyrowitz uses the distinction between media as conduits, languages, and environments as a means of specifying the different perceptions of media in existing research. Each metaphor thus entails a particular framing of what the media are and how we may conceptualise their possible influence on culture and society. We will not consider Meyrowitz's arguments in detail but will instead deploy his metaphors as a useful means of separating various dimensions and functions of the media. Accordingly, we suggest a typology of three dynamics, each of which may play an important role in the evolution of conflicts (see also Table 1).
(1) As 'conduits', the media may expand and amplify conflicts across time and space, that is, increase the speed, geographical reach, and level of involvement in conflicts. They may, of course, also be used to downplay or silence a conflict through, for instance, censorship or the non-reporting of events. In effect, amplification introduces a variable geography of conflict, allowing contestants to widen its scope, often with the side effect of making the conflict less controllable. The dissemination of news via international news services or the transnational sharing of content through social network media is an example of this dynamic.
(2) As 'languages', the media may be used to frame conflicts, allowing diverse social actors (including the media as actors) to perform in particular ways and resulting in a particular dramaturgy of the conflict in question. This dynamic involves the differing 'grammar' of the media and the ways in which media representations of conflict may in themselves actively contribute to the conflict. As languages, media have both a signifying function (representation/framing) and a performative function (agency with a particular dramaturgy).
(3) Considered as 'environment', media are integral to various social institutions and at the same time constitute a public sphere (to various degrees, depending on the context). Structural conditions thus influence initial access to and control over communicative resources at the same time as media are involved in co-structuring power relations over the course of a conflict. ← 9 | 10 →
Table 1. Three dynamics of mediatized conflicts
| | | |
| --- | --- | --- |
| Media Metaphor | Dynamics | Influence |
| Conduits | Amplification | Volume, speed, reach, level of involvement |
| Language | Framing and performative agency | Representation, performance, and dramaturgy |
| Environment | Co-structuring | Media practices both embedded in and constitutive of structural relations of power |
The three dynamics of mediatized conflict (see Table 1) reflect how media may influence conflicts in various ways, but it is important to stress that these dynamics are not exclusive to conflictual situations. In 'normal', non-disruptive social circumstances, the media may also amplify, frame, perform, or co-structure social interaction. As such, these dynamics reflect the general mediatized conditions of high modernity. We will, however, argue that these dynamics become particularly important during times of conflict since they are subjected to strategic usage by the actors involved and may influence subsequent development of the conflict in ways that are outside the control of these actors. The relationship between media and conflict does not constitute a one-way street from media to social actors. Various media are themselves affected and influenced by social actors seeking to make them serve political, religious, military, or other purposes, just as media systems are implicated in stratified systems of social power. It should also be emphasised that this typology concerns the media dynamics of conflicts and is not a typology of different kinds of conflicts. When we speak of 'mediatized conflicts', we refer to the mediatized conditions including a set of particular media dynamics that come to influence conflicts. The origins of conflict (e.g., national, ethnic, environmental, and class conflicts) may not necessarily be different from earlier times, but they often come to be acted out differently because of the mediatized conditions of contemporary societies. As we shall return to below, mediatization may also in itself give rise to new forms of conflicts, such as cyberbullying and identity theft.
VARIABLE OUTCOMES OF MEDIATIZED CONFLICTS
The three dynamics of mediatized conflicts accounted for above are not mutually exclusive. They often take place simultaneously in a given conflict, or they may follow one another in different consecutive orders. For instance, by framing a conflict in a given way, the media may amplify the course of action or the number of agents involved in a conflict. Or by amplifying the conflict, the media may attract the attention of a large number of different agents and stakeholders, ← 10 | 11 → thereby changing—and thus co-constructing—the nature of the conflict in new and unexpected manners.
Thus, while the three dynamics of mediatized conflict may be associated with different types of conflicts, they do not, as noted above, constitute a typology of mediatized conflicts as such. Rather, they represent the inner mechanisms that shape the course of action of mediatized conflicts. Along these lines, this section develops an overview of the possible scenarios that mediatized conflicts may involve. Our typology builds upon the basic assumption that conflict dynamics may have both 'quantitative' (the scale of the conflict) and 'qualitative' (the character of the conflict) outcomes. With regards to the quantitative dimension, dynamics may (I) result in a reduction or resolution of conflicts or (II) intensify and perhaps prolong a given conflict. Concerning the qualitative dimension, we find (A) that media dynamics generate new forms and kinds of conflicts as well as the much more frequent possibility (B) that media dynamics transform existing conflicts. We can thus distinguish between the four possible outcomes of mediatized conflicts as presented in Figure 1.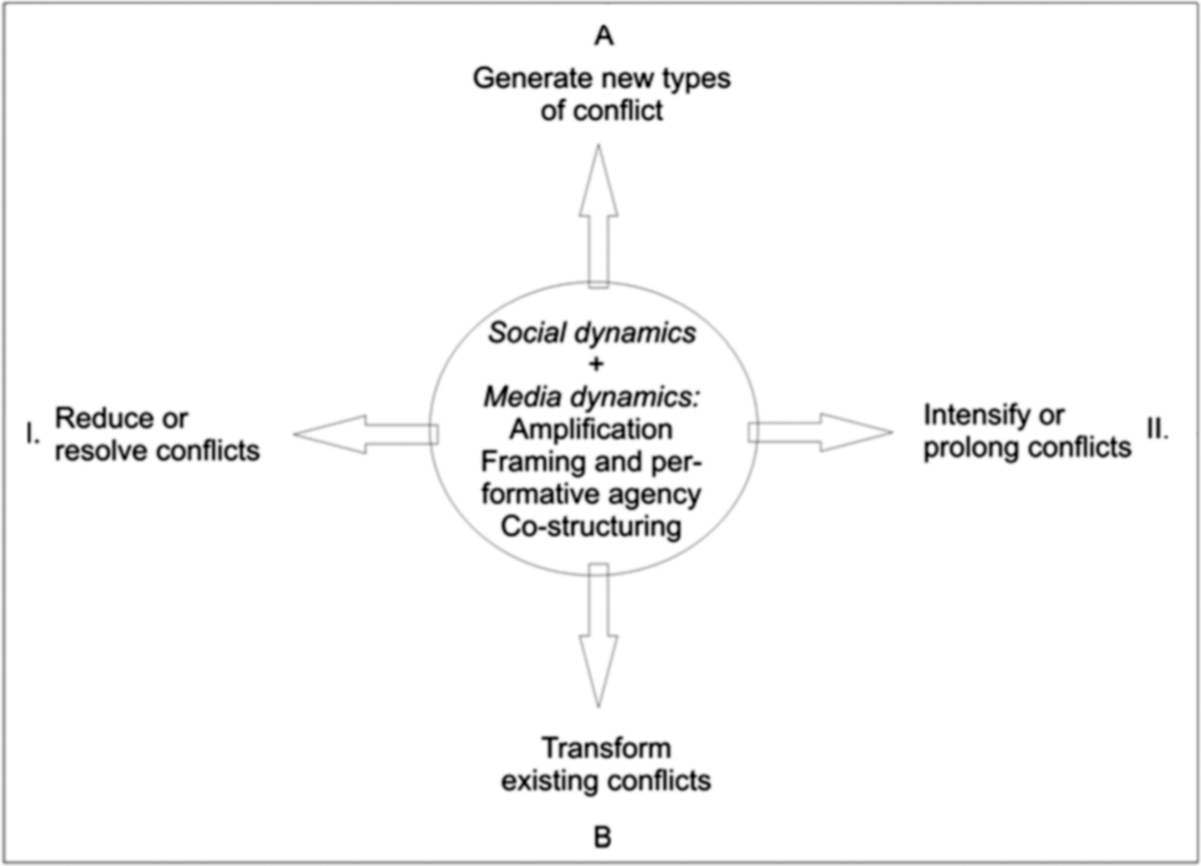 This model illustrates that although the outcomes of conflicts are influenced by the different dynamics at work (both media and non-media dynamics), they are never bound to a particular order or constellation of dynamics. Looking at the ← 11 | 12 → model's first axis, amplification may result in both (I) conflict reduction or (II) conflict intensification. A potential conflict may thus be reduced, perhaps even resolved, if the agents implied become aware of, or concerned with, too much public attention, for instance the prospect of negative publicity. Such an outcome constitutes a sort of systemic adjustment of expectations: One agent responds to opposition and critique from other (more influential) agents by lowering the stakes and thus reducing tensions. During the recent financial crisis, we have witnessed European governments renouncing the austerity economic measures suggested by the EU because of widely reported public protests and upheavals. Another example of global amplification is the worldwide uproar that followed international media coverage of the Tazreen factory fire (November 2012) and the Rana Plaza factory collapse (April 2013), which greatly changed the political playing field of the garment workers in Bangladesh. Not only has this coverage forced the Bangladeshi authorities to arrest the owners of Rana Plaza (the first time a garment factory owner has been put behind bars despite a long history of safety negligence and fatal factory accidents), it has also led to increased minimum wages for garment workers and a new law legalising trade unions in the garment industry.
Amplification may also result in the opposite, in the intensification of conflicts. If too many agents gravitate towards the same conflict owing to increased media exposure, the conflict may become increasingly difficult to settle. Frequently, certain agents will calculate that the spread and continuation of a conflict may eventually serve their goals. The Danish Cartoon crisis constitutes a paradigmatic example (cf. Hjarvard, 2010; Kunelius, Eide, Hahn, & Schrøder, 2007). The initial publication of the Mohammed cartoons by the daily newspaper Jyllands-Posten in September 2005 created both national and international controversy and diplomatic protests, but it was not until early 2006 that it escalated into a major international confrontation involving attacks on embassies, trade boycotts, and worldwide demonstrations estimated to have resulted in hundreds of deaths. The conflict has continued to flare up with reprinting of the cartoons in both Danish and international news media. In 2008, most Danish dailies republished the cartoons in response to a foiled assassination attempt on one of the cartoonists. The incident sparked new international protests, including a message from Osama Bin Laden threatening the EU as well as an al-Qaeda suicide bombing of the Danish Embassy in Islamabad, which killed six and wounded dozens. The attack on the French satirical magazine Charlie Hebdo in 2015, with the killing of 12 staff members and followed by the largest demonstrations in the history of France as well as widespread international reaction, reflects the globalised nature of this conflict in which satirical cartoons have become emblematic of the conflict between Islamic extremism and Western, democratic values.
Another example of how amplification may result in conflict is the so-called media scandal. The UK News of the World phone-hacking scandal (and similar ← 12 | 13 → scandals in other countries in the wake of the News of the World revelations) illustrates how the media themselves cause conflicts and controversies in their appetite for unravelling public scandals. Media scandals are thus not only amplified but also co-constructed by the media. As Thompson points out, a mediated scandal cannot be reduced to "a retrospective commentary on a scandalous event"; rather, it is "partly constitutive of the event as a scandal" (2005, p. 43).
These examples illustrate how the course of conflicts has changed due to the mediatized conditions and the dynamics that govern both traditional politics and the field of "contentious politics" (Tilly & Tarrow, 2007). In this manner, mediatized conditions also exert significant influence on the form of public engagement in the digital age. Bennett and Segerberg's concept of 'connective action' suggests that traditional forms of political contestation, exemplified by former types of collective action such as written petitions and mass demonstrations, have been supplemented by new digital forms of political activism (2012, 2013). Connective action is based on the structures of digital networks, which have become fundamental to social formations in post-industrial society (Baym, 2010; Castells, 2000, 2009), allowing an orientation towards individual self-expression that can be detected in most social institutions, including the political system (Inglehart, 1997, 2008).
The concept of mediatized conflict suggests that modern types of political activism are fuelled not only by personal action frames, with which individuals can easily identify, but also by personal information and communications tools, allowing individuals to share and distribute these highly personalised ideas. It is this communicative dimension, this digital connectiveness, that helps mobilise individuals:
In this connective logic, taking public action or contributing to a common good becomes an act of personal expression and recognition or self-validation achieved by sharing ideas and actions in trusted relationships. (Bennett & Segerberg, 2012, pp. 752–753; see also Bennett & Segerberg, 2013)
Although we should be cautious about over-expanding this logic (Dencik, in press), new examples of connective action continuously arise, from Gezi Park in Istanbul to Euromaiden in Ukraine, the latter name, quite tellingly, derived from a protest hashtag on Twitter (Hirst, 2013).
The combination of intensive media coverage and connective action illustrates the "transformation of visibility" (Thompson, 1995, 2005) that surrounds modern politics and modern conflicts. In this respect, connective action is an important contribution to the amplification and co-construction of mediatized conflict. It signals new forms of distributing political information as well as newly individualised calls for collective action, which have greatly accelerated processes of political mobilisation. However, there is nothing preordained about the outcome of connective action. Again, it must be stressed that amplification and co-construction ← 13 | 14 → through connective action may either result in reducing conflicts or lead to intensified conflicts, as indicated by the horizontal axis in Figure 1.
Connective action illustrates another effect of mediatization, namely, the potential transformation of conflicts as they migrate from one context to another. This transformation is illustrated by the vertical axis in Figure 1. Traditional forms of collective action associated with display of "worthiness, unity, numbers and commitment" (Tilly, 2004, p. 4) have been transformed into the context of "personal expression and … self-validation" (Bennett & Segerberg, 2012, p. 752; see also, e.g., McDonald, 2002). This, in turn, seems to have changed the longevity of certain conflicts. Some mediatized conflicts appear to be rather short-lived compared to classic political conflicts revolving around issues such as gender, class, and economic redistribution. At times, they have more in common with brief media events than with continuous political struggles. This transformed temporality of mediatized conflicts may itself reflect some of the attributes associated with global media technology, such as scale, speed, and saturation (Cottle, 2014, p. 5).
NEW FORMS OF CONFLICT
Apart from reducing or intensifying conflicts, media dynamics may also transform conflicts. In Figure 1, these 'qualitative' changes of mediatized conflicts stand diagonally relative to the 'quantitative' changes, indicating that they may even occur simultaneously. A classic example is to be found in the political system, which frequently seeks to control evolving or escalating conflicts by establishing commissions, public hearings, and working groups as a means of redirecting public attention, diminishing public scrutiny, and avoiding potential political confrontations.
Mediatization may furthermore alter and transform conflicts to such a degree that we are faced with new and emerging phenomena, some of which we are just beginning to recognise. One aspect of mediatization that has so far gained little attention in the research literature is thus how mediatization generates its own conflicts, what could be termed conflicts of mediatization. This concept refers to conflicts that are products of mediatization itself and did not exist in their present form prior to mediatization. In this sense, they are intrinsic, sui genesis conflicts emerging from processes of mediatization.
This is, however, a delicate distinction, as some of the following examples will demonstrate. The exact demarcation between transformed and emerging conflicts is hard to draw. Phenomena like cyberwar, cyberterrorism, and cybercrime clearly indicate that they are extensions of existing conflicts. However, the prefix 'cyber-' also indicates that we are entering new or unknown territory. Because of the dynamics of mediatization, these conflicts are now taking place in new contexts, transforming both the consequences and social relations involved. ← 14 | 15 →
A core assumption of mediatization theory is that media increasingly connect diverse social fields through information and communication flows. These connections take place on both institutional and interpersonal levels, resulting in new types of social interaction and integration. However, under mediatized conditions, interactions frequently entail their own risks and unintended consequences. Thus, online integration of citizens, companies, and businesses has produced unprecedented examples of both commercial and political surveillance. Moreover, it has sparked fears of cyberterrorism and facilitated the spread of spyware, scareware, ransomware, malware, adware, and new forms of e-fraud and identity theft. The mediatization of household economies in the West has given rise to new forms of economic cybercrime. According to Interpol: "Cybercrime is one of the fastest growing areas of crime" (Interpol, n.d.). In many cases, these criminal activities transcend national borders, thereby challenging the boundaries of the juridical system.
Obviously, cybercrime resembles existing crimes, especially in terms of its intention for harming others or for personal enrichment. However, from a sociological perspective, it is noteworthy how cybercrime changes social relations and interactions as a result of the new affordances and dynamics of online technology (Yar, 2013, pp. 11–12). Cybercrime has in this way changed the relationships between offenders and victims, for instance enabling offenders to target thousands of people or resulting in disguised offenders and automated victimisation. As Yar (2013) emphasises, cybercrime is a mediatized phenomenon in a dual sense. It depends first of all on information technology to carry out illegal activities. Information technology has created a new environment of social and professional practices that allow for new kinds of economic, political, and personal crimes. But cybercrime is also fed by mediatized fears and reports of runaway digital technologies, associating cyberfear with organised crimes (Levi, 2008). Today, personal media such as mobile phones, laptops, tablets, wearables, and so on probably represent the most integrated technology in people's lives. As Silverstone observes: "We have become dependent on the media for the conduct of everyday life. They have become the sine qua non of the quotidian" (2007, p. 5). By way of this mediatization of the everyday, traditional fear of technology has now acquired a very personal dimension in which people worry that their personal media platforms and devices may fall victim to malware, hacking, blackmailing, surveillance, or identity fraud. Widespread media reports of cybercrime are thus "generating insecurities and shaping public perceptions of cybercrime" by framing mediatized and digitized environments as inherently dangerous and insecure (Wall, 2008, p. 46).
In addition to mediatized conflicts at the institutional level, there are also emerging conflicts at the interpersonal level. Cyberbullying, for instance, has been described as "an emerging societal problem" (Notar, Padget, & Roden, 2013, p. 1). While bullying is a longstanding problem that predates any media and information ← 15 | 16 → technology, it can be argued that—as in the case of cybercrime—online technology has changed the scope and nature of the social relations involved. Cyberbullying comprises "its own unique characteristics" (Notar et al., 2013, p. 2), including possibilities for technological repetition and new types of power imbalance (Livingstone & Smith, 2014, p. 638). For instance, in December 2012, two girls created an account on Instagram called 'Sluts of Gothenburg', showing pictures of classmates alongside offensive remarks. The site came to the attention of a much larger group of individuals. At one point, a crowd of 500 locals turned up at the two girls' school, prompting intervention from the police and resulting in the arrest of 27 people. Moreover, two high schools in Gothenburg were closed for several days during the conflict. In the end, the girls were sentenced to juvenile detention and community service as well as made to pay a large fine (Gye, 2013). This example shows that, under particular conditions, semi-private conflicts may take on a much broader significance because of the unlimited nature of the Internet, turning an online conflict into an almost social conflict that involves school closure, police intervention, and court rulings. As such, it represents a new type of conflict generated by the dynamics of mediatization.
This introduction to the dynamics of mediatized conflicts has traced some of the tendencies in the literature on media and conflict as well as proposed a theoretical framework to conceptualise and explore mediatized conflicts. We have suggested that conflicts involving media and information technology are influenced in various ways by the mediatized conditions of contemporary society, though obviously to different degrees. This may in turn change the course of conflicts by reducing, intensifying, or transforming contestations and confrontations. We have also suggested that mediatization may produce its own sorts of conflict as information technology enables new types of illegal activity and political control. Some of these dynamics and outcomes of mediatized conflict are further explored in the chapters that follow, while others point towards existing and future research. Investigating the mediatization of conflicts creates space for an interdisciplinary field that expands the boundaries of conflict research as well as deepens our understanding of mediatization. The relationship between media technology and conflicts points back in time to the early use of mass media in propaganda and war reporting while also illustrating recent developments in the digitized media environment.
THEMES AND CHAPTERS OF THE BOOK
The contributions to this book are organised around three themes, each highlighting particular conditions under which media are involved in conflict. The first theme of the book, Transnational Networks, testifies to the global dimension ← 16 | 17 → of mediatized conflicts and addresses the opportunities and difficulties that transnational media networks pose for contestants seeking to engage in and manage conflicts. The second theme, Mobilising the Personal: Crossing Public and Private Boundaries, addresses the ways in which media frames and performances in conflictual situations often involve—and revolve around—personal aspects of a public persona. The third theme, Military, War, and Media, engages with a 'classic' theme of media studies, the power relationships between media, state, and military, but considered in light of the mediatized condition of modern warfare in which media have become an integrated component of the overall military strategy.
The theme Transnational Networks begins with Alison Anderson's chapter, 'The Mediatization of Environmental Conflict in the "Network Society''', in which she examines two Greenpeace campaigns concerning environmental issues: the 'Cokespotlight' campaign and the 'Save the Arctic' campaign. In her analysis, Anderson demonstrates how various forms of media are implicated in struggles between groups with competing definitions of reality. Media influence is thus not limited to the impact of messages but extends to access to and control over media, to the ability to form strategic alliances with existing power brokers, master media resources, and coordinate action in a visually engaging manner. Greenpeace's 'Cokespotlight' campaign circumvented Coca-Cola's existing use of polar bears as brand icons in order to mobilise against the use of hydrofluorocarbons (HFCs) in refrigerators. On the basis of strategic alliances with the organisers of the Olympic Games in Sydney and the Canadian Adbusters group, Greenpeace launched a campaign to put pressure on Coca-Cola, an official sponsor of the Olympic Games, to follow the green guidelines of the Olympics and cease using HFC refrigeration. Coca-Cola ended up meeting some of Greenpeace's demands and later co-opted symbols from their opponent for their 'Arctic Home' campaign to save the polar bear in collaboration with the World Wildlife Foundation (WWF). Greenpeace's 'Save the Arctic' campaign against oil drilling in the Arctic was launched at the Rio Earth Summit in 2012 with the support of numerous film and music celebrities. The globalised nature of Greenpeace's activism directed against oil companies like Shell and Gazprom took advantage of various collaborative media in order to organise actions and monitor developments at the same time as its media strategy demonstrated a sophisticated awareness of the traditional mass media's news values. However, it is important, Anderson argues, not to confuse the amount of media coverage with political influence or power in general. Orchestrating visibility alone rarely does the trick; the outcome of a conflict also depends on the capacity of implicated actors to build alliances with various actors—media as well as non-media actors—and to mould public awareness at the right time and place.
Asimina Michailidou and Hans-Jörg Trenz's chapter, 'Mediatized Transnational Conflicts: Online Media and the Politicisation of the European Union in ← 17 | 18 → Times of Crisis', analyses the fragmented character of online discussion forums concerning the Eurocrisis. The financial crisis from 2008 onwards has challenged the EU institution and its common currency the Euro. The emergence of online discussions has amplified the contestation of EU financial and economic policies. At the same time, the traditional providers of international news such as the BBC, The Economist, and Der Spiegel have been challenged by a popular voice articulated—among other places—in the online forums of various news media. Through a comprehensive analysis of the two most popular online news media in seven countries (France, Germany, Norway, the Netherlands, Spain, Sweden, and the United Kingdom), the authors document how news coverage was dominated by technocratic news framing in which EU and national political elite actors acquired a prominent position in coverage of the Eurocrisis. The new genre of news commenting came to challenge this framing of professional journalists and elite sources.
Focusing on the two countries at the epicentre of the political crisis, Germany and Greece, the analysis demonstrates that the widespread use of news commenting gives voice to a popular, anti-elite discourse of mistrust of mainstream political parties, government, and the EU, for instance through charged phrases such as 'the Brussels dictatorship'. Journalists too have come under attack for supporting elitist policies, for example through emotional accusations of 'bombing' the 'Greek freedom heroes'. Although transnational or European in content, the online debates often reaffirm the national public sphere and unite national citizens in a contestation of issues of shared concern. A quite uniform and critical framing and evaluation of EU legitimacy thus appears in online media, often contributing to a deepening of existing conflicts between member states. There are, however, also participants who reach beyond the local and national domain and articulate an international perspective on the crisis. In general, the study bears witness to the fact that the 'bottom-up mediatization' of conflict is adding new layers to the legitimacy claims under which political actors and institutions operate. News commenting has emerged as an independent genre, and although citizens often take the professional news framing as a point of departure, their responses are not necessarily limited to this framing but may draw upon other experiences and discourses.
Contestation of European politics and financial affairs is also the theme of the chapter by Stefanie Averbeck-Lietz, Andreas Hepp, and Rebecca Venema: 'Communicative Figurations of Financial Blogging: Deliberative and Moralising Modes of Crisis Communication During the Eurocrisis'. This chapter similarly analyses online commenting, though of a more elitist and specialised nature: financial blogging. Two German blogs, Blick Log and Die Wunderbare Welt der Wirtschaft, are used as empirical examples of 'media amateurs' that have developed into recognised commentators in the field of financial information. These blogs ← 18 | 19 → are not to be understood as professional media or journalistic outlets but rather as thematically focused and opinionated amateur media administered by laypersons who have become public figures within this particular subject. This public recognition is reflected, for instance, in the bloggers' regular appearances as commentators or columnists in the established news media. Conceptually, the analysis of financial blogging rests on a distinction between deliberative and moralising modes of crisis communication. Following Habermas (2004), deliberation over conflicting moral positions must not be confused with the moral or conflicting content itself but has an analytical dimension involving meta-communication and responsiveness to arguments. From a social-constructivist perspective, Bergmann and Luckmann (1999) inform the notion of a moralising mode of communication in which social actors praise or devalue other social actors (individuals and organisations) and actions, for instance through gossip or other forms of disrespectful communication.
The textual analysis demonstrates that discussions of moral values concerning 'responsibility' and 'justice' played an important role in financial blogging about the Eurocrisis. In particular, moral values regarding communication itself, including a prominent call for 'transparency', came to structure the arguments. These value debates were often simultaneously structured by moralising and deliberative communication modes. For instance, the denunciation of 'greed' both appeared in moralising communication and deliberative modes, in the latter case as a discussion of the benefits of public condemnation of 'greed' in the financial sector. This media genre of specialised commentary introduces a new dynamic into the Eurocrisis, mobilising external moral frames to contest financial and political actors. At the same time, the critique's authority depends on recognition of the bloggers by insiders of the field, for example, financial journalists and actors.
In the second part of the book, Mobilising the Personal: Crossing Public and Private Boundaries, we consider the ways in which mediatized conflicts often entail a dynamic through which actors' personal dimensions come to the fore, co-structuring subsequent developments once they have acquired attention. In her chapter, 'Personalised Scandalisation: Sensationalising Trivial Conflicts?', Ester Pollack takes her point of departure from the increasing mediatization of politics in general and the historical growth of political scandals in particular. Drawing on a recent comparative study of scandals in the Nordic countries (Denmark, Finland, Norway, and Sweden), she highlights that the type of scandals increasing most significantly are scandals involving personal misconduct outside the realm of politics, for example, sexual harassment, alcohol abuse, and misuse of financial assets for personal advantage. As Pollack's qualitative analyses of recent scandals demonstrate, scandalisation involves a particular dramatisation on behalf of the news media, which frames the misconduct as a 'scandal' and involves a typical sequence of actions, including ritual performances of confession and forgiveness. Following ← 19 | 20 → these dynamics, moral offences that often appear minor in retrospect are exaggerated at great political and personal cost. Once a scandal has been established as a social fact, the news media have the ability to create an almost warlike atmosphere in which resignation of the politician in question seems the logical outcome.
News media may not always seek to scandalise politicians but may also, as suggested by Entman (2012), be partly responsible for the silencing of politicians' misconduct. The scandalisation process is also contingent on other actors' actions and framing of the moral transgressions, including attempts by political adversaries to use the scandal for their own advantage. Part of the role of the media is a moral one, similar to that occupied by the church as evaluator of sinful conduct, recommending penance and—in some cases—forgiveness. This moral role includes the mandatory ritual of self-evaluation after the scandal has peaked, when the news media ask whether they went too far, exaggerated or otherwise violated journalistic ethics. Such ritual moral self-scrutiny seems, however, to have little lasting effect on the practices of journalism. When a potential new scandal appears on the horizon, the news dramaturgy of scandalisation is once again in place.
Whereas Ester Pollack's analysis discusses the personalisation of public political figures, Johanna Sumiala's chapter, 'Ritual Performance in Mediatized Conflict: The Death of a Princess and a Prime Minister', considers how an initially personal and private matter, death, is turned into public spectacle and implicated in political conflicts through the intervention of media and other social actors. In the case of Princess Diana's death, controversy arose mainly through the public's reactions to the media and the behaviour of the royal family. While initial blame for her death was directed towards the paparazzi of the tabloid press, the media coverage's idealised image of Diana as a cathartic object of grief helped turn the royal family into the object of criticism for showing insufficient grief. In the case of former Prime Minister Margaret Thatcher, her death renewed the political conflict over her legacy, and the moral rules governing appropriate public behaviour in such situations were challenged and circumvented.
Drawing on theories of ritualisation and performance, Sumiala suggests that, in a mediatized context, media become extensively integrated into the operations of existing rituals at the same time as they take on ritual functions of their own. Furthermore, certain victims are more suitable than others as objects of public mourning. The media's image of Princess Diana made her an ideal victim whereas Margaret Thatcher's image as the 'Iron Lady' made her an iconic victimiser for many people. Because the political establishment and mass media formed an alliance in favour of a full state funeral for Margaret Thatcher, social network sites came to play an important role in mobilising critiques of Margaret Thatcher and turning her death and burial into a celebration. For instance, a viral campaign was organised to get the song 'Ding, Dong, the Witch Is Dead', originally from The Wizard of Oz but now associated with Thatcher, to the top of the music charts. ← 20 | 21 → In effect, the media both mobilised and were mobilised by various segments of the populations and thereby came to amplify, frame, and co-structure the various events.
Tine Ustad Figenschou, Kjersti Thorbjørnsrud, and Anna Grøndahl Larsen's chapter, 'Mediatized Asylum Conflicts: Human-Interest Framing and Common-Sense Morality', examines how mainstream media personalise the consequences of asylum politics and how this emphasis on individual stories influences the stakeholders involved. Building on qualitative and quantitative analyses of various asylum conflicts, including the perceptions and actions of involved immigration authorities and organised immigration advocates, they examine the ways in which the logics of the news media co-structure the course of the conflicts. Immigration debates are often highly emotional and polarised due to—among other things—the human interest framing of news media, which juxtaposes the gruesome destiny of idealised asylum seekers with the bureaucratic rationality of immigration authorities.
For immigrant advocate groups, the media dramaturgy of personalisation has proved a powerful tool for raising public awareness and winning individual cases, but it may also have undesirable side effects. The idealisation of specific asylum seekers through victim narratives of individuals with flawless morals and extraordinary abilities may indirectly construct a political agenda of deserving and undeserving asylum seekers. Individual human-interest stories may be unrepresentative of a large proportion of asylum seekers and may furthermore obscure the structural problems—legal, social, and economic—of both global immigration and contemporary asylum politics. They may thus make it easier to mobilise support networks and general public opinion against the expulsion of a particular family but harder to muster support for a general revision of immigration laws. Furthermore, intensive media exposure may create difficulties for asylum seekers if they are rejected and must go back and face conflicts with local authorities or other political or ethnic groups from which they fled in the first place.
The third part of the book, Military, War, and Media, begins with Stig A. Nohrstedt and Rune Ottosen's chapter, 'Mediatization and Globalisation: New Challenges for War Journalism'. The intertwined processes of mediatization and globalisation have ontological consequences both for how wars are being fought and the media's role in military conflicts. In the global war on terror, asymmetrical forms of warfare have blurred the boundaries between war and peace, battlefield and non-combat zones, and soldiers and civilians while the media have simultaneously become crucial for legitimizing wars as primarily humanitarian and democratic interventions. Parallel to these developments, the traditional institutional relationship between journalism and the military has changed, making the two institutions more interdependent and less separable. Mediatization both implies an integration of media operations in the military's own activities directed ← 21 | 22 → towards military opponents and civilians as well as strategic efforts by the military to influence public opinion through news media and social network media. This places pressure on critical and independent reporting at the same time as reporters and photographers are being ever more frequently targeted (harassed, killed, kidnapped, etc.) by terrorists, insurgents, and regular military forces when seeking to report from conflict zones.
Stig A. Nohrstedt and Rune Ottosen argue specifically that developments make it important for journalists to understand not only national but also international laws regulating military conflicts and to investigate possible violations. War journalism has generally not become less competent in reporting legal issues on the national level, but international law and UN institutions have emerged as important and expanding regulatory frameworks of international security and regulation of international interventions. Global journalism can play an important role for international norm construction, in particular with respect to conflict management and collective security. A case study of the coverage by the Swedish press of President Obama's visit to Sweden illustrates how a neo-realist discourse has emerged on the necessity of military intervention in the Syrian war, which in effect devalues international legal security frameworks. Instead of building public legitimacy based upon 'what we do' (and whether that is legal), the news media tend to promote an identity discourse about 'who we are' (and whose side we are on) in the global war on terror. Journalistic news media are often embedded in national contexts, but in order to provide critical reporting on war, they need to develop skills and resources, for instance knowledge of international security, to meet the challenges of globalisation and mediatization.
Sarah Maltby explores the military's own media- and communication strategies in her chapter, 'Imagining Influence: Logic(al) Tensions in War and Defence'. The British military is actively using a variety of resources to impact the news media and through them general public opinion nationally and internationally. In addition, the British military's Information Operations attempt to affect the tactical space of military operations by influencing an adversary's perceptions of its own actions (e.g., by undermining the morale of an adversary's military personnel) or influencing the perceptions of civilians within the region (e.g., by communicating positively about those who oppose the enemy). In her chapter, Maltby not only analyses these special Information Operations but also critiques how the combination of military, marketing, and media logics at work may influence and obscure the imagined communicative effects of these operations.
Influencing activities may include the use of face-to-face dialogue and various media such as letters, flyers, posters, CDs, DVDs, radio broadcasts, television, mobile phones, email, and social media. Central to various influencing efforts is the identification of the target audience and the possible changes in perception and behaviour within the various target groups. Here, marketing and media logics ← 22 | 23 → come into play by providing a variety of techniques to identify various consumer and audience segments and measure the effectiveness of media exposure. Although some criticism has been raised within the military about appropriating such consumer-oriented techniques for conflict and war situations, many fail to recognise the problems inherent in the use of marketing principles per se within a non-consumerist, essentially coercive environment. Furthermore, the strategic imperatives behind the communication efforts may influence the very ways in which the military come to imagine various social groups and their potential change in attitudes without taking into account how real media users and audiences' interpretation of texts are often complex and context dependent. In this way, mediatization of the military may not only signal a new level of strategic communications but in some cases also end up reifying media and communicative strategies that have doubtful effects in the actual conflict zone.
Lilie Chouliaraki's chapter, 'Mediatized Death in Post–Arab Spring Conflicts', addresses how the widespread use of mobile digital cameras changes the condition of reporting and witnessing of war atrocities. In particular, she examines how six major UK news media recontextualise the pictures and videos of violent deaths in post–Arab Spring conflict reporting, using the paradigmatic examples of Gaddafi's death portrait (2011), Syrian children as gas victims (2013), and the jihadist beheading of the British humanitarian worker Alan Henning (2014). Through close textual analysis of indexical, iconic, and symbolic layers of newspaper front pages (paper and digital), she considers how discursive practices are part of representational regimes positioning each lost life within a continuum of lives-worth-living: from the de-humanisation of Arab leaders, to the suspended humanisation of civilian casualties and to the empathetic humanisation of beheaded Westerners.
Mobile media have contributed to the democratisation of conflict reporting. However, this is also an important reason (albeit not the only one) for the current crisis of authenticity. The camera is not only a tool of documenting and reporting conflict but, simultaneously, a weapon in the very conduct of conflict, in which those who record may also be precisely those who kill or get killed in the course of recording. We may, therefore, speak of the 'mediatization of death': producing footage of acts of killings or deceased victims is a performative agency through which involved actors seek to mobilise moral emotions such as vengeance, empathy, and outrage. The moral dimension has always been integral to the practice of witnessing, but today's witnessing through digital media involves a much more complex struggle between multiple actors competing for visibility and voice. The crisis of authenticity calls for a nuanced and context-sensitive approach to the moral implications of digital witnessing. Instead of simply dismissing such recordings as manipulative or celebrate them as democratic, Chouliaraki argues, we should develop contextually sensitive analytical approaches that map out and explicate the micro-practices of affect at work in digital witnessing. ← 23 | 24 →
In the concluding chapter of the book, we consider some of the mediatized dynamics outlined in this introduction in light of the various contributions, and we address some methodological issues in relation to the study of mediatized conflicts. On a final note, we wish to thank Mary Savigar, Senior Acquisitions Editor at Peter Lang, and Professor Simon Cottle, book series editor of Global Crises and the Media, for their interest and valuable comments for this book. Several of the contributions to the book were first presented at a research seminar at Sophienberg Manor near Copenhagen, Denmark, in October 2013 as part of the research program The Mediatization of Culture: The Challenge of New Media. We would like to thank the Danish Research Council for Culture and Communication for its financial support for this activity.
REFERENCES
Allan, S., & Zelizer, B. (Eds.). (2004). Reporting war: Journalism in wartime. London, England: Routledge.
Allen, S. (2002). Media, risk and science. Buckingham, England: Open University Press.
Anderson, A. (2006). Media and risk. In G. Mythen & S. Walklate (Eds.), Beyond the risk society: Critical reflections on risk and human security (pp. 114–132). Maidenhead, England: Open University Press.
Baym, N. K. (2010). Personal connections in the digital age. Cambridge, England: Polity.
Bennett, W. L., & Segerberg, A. (2012). The logic of connective action: Digital media and the personalization of contentious politics. Information, Communication & Society, 15(5), 739–768. doi: 10.1080/1369118X.2012.670661
Bennett, W. L., & Segerberg, A. (2013). The logic of connective action: Digital media and the personalization of contentious politics. Cambridge, England: Polity.
Bergmann, J., & Luckmann, T. (1999). Moral und Kommunikation. In J. Bergmann & T. Luckmann (Eds.), Moralische Kommunikation (pp. 13–38). Wiesbaden, Germany: Westdeutscher Verlag.
Bourdieu, P. (1995). The logic of practice. Cambridge, England: Polity.
Boyd-Barrett, O. (2004). Understanding the second casualty. In S. Allan & B. Zelizer (Eds.), Reporting war: Journalism in wartime (pp. 25–42). London, England: Routledge.
Carruthers, S. L. (2000). The media at war: Communication and conflict in the twentieth century. Houndmills, England: Macmillan.
Castells, M. (2000). Materials for an exploratory theory of network society. British Journal of Sociology, 51(1), 5–24.
Castells, M. (2009). Communication power. Oxford, England: Oxford University Press.
Chomsky, N., & Herman, E. S. (1988). Manufacturing consent: The political economy of the mass media. New York, NY: Pantheon.
Cottle, S. (2006a) Mediatized conflict. Maidenhead, England: Open University Press.
Cottle, S. (2006b). Mediatized rituals: Beyond manufacturing consent. Media, Culture & Society, 28(3), 411–432.
Cottle, S. (2009). Global crises in the news: Staging new wars, disasters, and climate change. International Journal of Communication, 3, 494–516. ← 24 | 25 →
Cottle, S. (2014). Rethinking media and disasters in a global age: What's changed and why it matters. Media, War & Conflict, 7(1), 3–22. doi: 10.1177/1750635213513229
Couldry, N. (2003). Media rituals: A critical approach. London, England: Routledge.
Couldry, N., Hepp, A., & Krotz, F. (Eds.) (2010). Media events in a global age. London, England: Routledge.
Culbert, N. J., Cull, D., & Welch, D. (2003). Propaganda and mass persuasion: A historical encyclopedia, 1500 to the present. Santa Barbara, CA: ABC-CLIO.
Dayan, D. & Katz, E. (1992). Media events: The live broadcasting of history. Cambridge, MA: Harvard University Press.
Dencik, L. (in press). Social media and the 'new authenticity' of protest. In L. Dencik & O. Leistert (Eds.), Critical approaches to social media protest: Contentions and debates. London, England: Rowman & Littlefield.
Dijck, J. van. (2013). The culture of connectivity: A critical history of social media. Oxford, England: Oxford University Press.
Entman, R. M. (2012). Scandal and silence: Media responses to presidential misconduct. Cambridge, England: Polity.
Esser, F., & Strömbäck, J. (Eds.). (2014). Mediatization of politics: Understanding the transformation of Western democracies. New York, NY: Palgrave Macmillan.
Finighan, A. (2014, July 22). Gaza and Israel: War of the hashtags. Al Jazeera. Retrieved from http://www.aljazeera.com/programmes/insidestory/2014/07/who-winning-social-media-war-over-gaza-2014722172425666235.html
Gibson, J. J. (1979). The ecological approach to visual perception. Boston, MA: Houghton Mifflin.
Gye, H. (2013, June 26). The Instagram 'slut shaming' which sparked a riot. Daily Mail Online. Retrieved from http://www.dailymail.co.uk/news/article-2348959/Teenage-girls-setup-slut-shaming-Instagram-account- sparked-Gothenburg-riots-jailed-fined-55-000.html
Habermas, J. (2004). The theory of communicative action: vol. 1. Reason and rationality. London, England: Polity.
Hallin, D. C. (1986). The 'uncensored war': The media and Vietnam. New York, NY: Oxford University Press.
Hepp, A. (2013). Cultures of mediatization. Cambridge, England: Polity.
Hirst, M. (2013, November 22). European square: Hashtag of Ukraine protest. BBC News. Retrieved February 25, 2015, from http://www.bbc.com/news/blogs-trending-25050141
Hjarvard, S. (2010). Die Mediendynamik der Mohammed-Karikaturen-Krisen. In A. Hepp, M. Höhn, & J. Wimmer (Eds.), Medienkultur im Wandel (pp. 169–180). Konstanz, Germany: UVK Verlagsgesellschaft.
Hjarvard, S. (2013). The mediatization of culture and society. London, England: Routledge.
Hjarvard, S., & Lövheim, M. (Eds.). (2012). Mediatization and religion: Nordic perspectives. Gothenburg, Sweden: Nordicom.
Horten, G. (2011). The mediatization of war: A comparison of the American and German media coverage of the Vietnam and Iraq wars. American Journalism 28(4), 215–229.
Hoskins, A., & O'Loughlin, B. (2010). War and media: The emergence of diffused war. Cambridge, England: Polity.
Inglehart, R. (1997). Modernization and postmodernization: Cultural, economic, and political change in 43 societies. Princeton, NJ: Princeton University Press.
Inglehart, R. (2008). Changing values among Western publics from 1970 to 2006. West Europe Politics 31(11–12), 130–146. ← 25 | 26 →
Interpol. (n.d.). Cybercrime. Retrieved February 25, 2015, from http://www.interpol.int/Crime- areas/Cybercrime/Cybercrime
Kavoori, A. P., & Fraley, T. (Eds.). (2006). Media, terrorism, and theory. Lanham, MD: Rowman & Littlefield.
Kunelius, R., Eide, E., Hahn, O., & Schrøder, R. (Eds.). (2007). Reading the Mohammed cartoons controversy. Bochum, Germany: Projekt Verlag.
Lasswell, H. D. (1927). The theory of political propaganda. The American Political Science Review, 21(3), 627–631.
Levi, M. (2008). White-collar, organised and cyber crimes in the media: Some contrasts and similarities. Crime, Law and Social Change, 49(5), 365–377. doi: 10.1007/s10611-008-9111-y
Livingston, S. (1997). Clarifying the CNN effect: An examination of media effects according to type of military intervention. Research Paper R-1. Harvard, USA: The Joan Shorenstein Center. Retrieved April 28, 2015 from http://shorensteincenter.org/wp-content/uploads/2012/03/r18_livingston.pdf
Livingstone, S., & Smith, P. K. (2014). Annual research review: Harms experienced by child users of online and mobile technologies; The nature, prevalence and management of sexual and aggressive risks in the digital age. Journal of Child Psychology and Psychiatry, 55(6), 635–654. doi: 10.1111/jcpp.12197
Lundby, K. (Ed.) (2014a). Mediatization of communication. Handbook of communication science, 21. Berlin, Germany: De Gruyter Mouton.
Lundby, K. (2014b). Mediatization of communication. In K. Lundby (Ed.), Mediatization of communication (pp. 3–35), Handbook of communication science, 21. Berlin, Germany: De Gruyter Mouton.
Mackey, R. (2014, July 15). Young Israelis fight hashtag battle to defend #IsraelUnderFire. The New York Times. Retrieved February 25, 2015, from http://www.nytimes.com/2014/07/16/world/middleeast/young-israelis-fight-hashtag-battle-to-defend-israelunderfire.html?_r=0
Maltby, S. (2012). Military media management. Negotiating the 'front' line in mediatized war. New York, NY: Routledge.
McDonald, K. (2002). From solidarity to fluidarity: Social movement beyond 'collective identity'—the case of globalization conflicts. Social Movement Studies, 1(2), 109–128.
Messinger, G. S. (2011). The battle for the mind: War and peace in the era of mass communication. Amherst: University of Massachusetts Press.
Meyrowitz, J. (1993). Images of media: Hidden ferment—and harmony—in the field. Journal of Communication, 43(3), 55–66.
Mortensen, M. (2013). War. In P. D. Simonson, J. Peck, R. T. Craig, & J. P. Jackson (Eds.), Handbook of communication history (pp. 331–347). New York, NY: Routledge.
Mortensen, M. (2015). Eyewitness images: Digital media, participation, and conflict. New York, NY: Routledge.
Notar, C. E., Padget, S., & Roden, J. (2013). Cyberbullying: A review of the literature. Universal Journal of Educational Research, 1(1), 1–9. doi: 10.13189/ujer.2013.010101
Pallas, J., Strannegård, L., & Jonsson, S. (Eds.). (2014). Organizations and the media: Organizing in a mediatized world. London, England: Routledge.
Pantti, M., Wahl-Jorgensen, K., & Cottle, S. (2012). Disasters and the media. New York, NY: Peter Lang.
Perlmutter, D. D. (1998). Photojournalism and foreign policy, icons of outrage in international crises. Westport, CT: Praeger. ← 26 | 27 →
Putnam, L. L. (2013). Definitions and approaches to conflict and communication. In J. G. Oetzel & S. Ting-Toomey (Eds.). The Sage handbook of conflict communication (2nd ed., pp. 1–32). London, England: Sage.
Robinson, P. (2002). The CNN effect: The myth of news, foreign policy, and intervention. London, England: Routledge.
Robinson, P. (2004). Researching US media–state relations and twenty-first century wars. In S. Allan & B. Zelizer (Eds.), Reporting war: Journalism in wartime (pp. 96–112). London, England: Routledge.
Rothenbuhler, E. W. (1998). Ritual communication. From everyday conversation to mediated ceremony. Thousand Oaks, CA: Sage.
Silverstone, R. (2007). Media and morality: On the rise of the mediapolis. Cambridge, England: Polity.
Taylor, P. M. (2003). Munitions of the mind: A history of propaganda from the ancient world to the present era. Manchester, England: Manchester University Press. (Originally published 1990)
Thompson, J. B. (1995). The media and modernity. A social theory of the media. Cambridge, England: Polity Press.
Thompson, J. B. (2000). Political scandal: Power and visibility in the media age. Cambridge, England: Polity Press.
Thompson, J. B. (2005). The new visibility. Theory, Culture & Society, 22(6), 31–51. doi: 10.1177/0263276405059413
Thussu, D., & Freedman, D. (2003). War and media: Reporting conflict 24/7. London, England: Sage.
Tilly, C. (2004). Social movements, 1768–2004. Boulder: Paradigm Publishers.
Tilly, C. & Tarrow, S. (2007). Contentious Politics. Boulder, Colo.: Paradigm Publishers.
Tumber, H. & Palmer, P. (2004). Media at war: the Iraq crisis. London, England: Sage.
Wall, D. S. (2008). Cybercrime, media and insecurity: The shaping of public perceptions of cybercrime. International Review of Law, Computers & Technology, 22(1–2), 45–63. doi: 10.1080/13600860801924907
Welch, D. (2005). Mobilizing the masses: The organization of German propaganda during World War One. In M. Connelly & D. Welch (Eds.), War and the media: Reportage and propaganda, 1900–2003 (pp. 19–46). New York, NY: I. B. Tauris.
Withnall, A. (2014, July 13). Israel-Gaza conflict: 'Sderot cinema' image shows Israelis with popcorn and chairs 'cheering as missiles strike Palestinian targets'. The Independent. Retrieved February 25, 2015, from http://www.independent.co.uk/news/world/middle-east/israelgaza-conflict-sderot-cinema-image-shows-israelis-with-popcorn-and-chairs-cheering-as-missiles-strike-palestinian-targets-9602704.html
Yar, M. (2013). Cybercrime and society (2nd ed.). Thousand Oaks, CA: Sage.
| 29 →
| 31 →
The Mediatization OF Environmental Conflict IN THE 'Network Society'
INTRODUCTION
This chapter examines the analytical utility of the concept of 'mediatization' for understanding the communication of environmental conflicts in contemporary society. A new media ecology is made up of complex, dynamic, overlapping flows, in which mainstream media frequently operate in tandem with new communication networks. Who gains media access, why, and how raises crucial questions about power relations in society and the nature of news production. Activists have long been at the forefront in using 'new' information technologies and digital networked communication, which enables environmental organisations to coordinate actions with increasing speed and transgressing traditional geographical boundaries. However, there is considerable variability in the extent to which environmental groups are adopting such tactical tools, and their objectives may be very different. Moreover, while this may achieve enhanced visibility, it does not necessarily subvert established structures of media and political power. Mediatization from this perspective involves recognising that what gets in the news is the product of struggles between groups with competing definitions of reality. The concept thus sheds important light on how media actively shape environmental conflict and challenger groups are forced to resort to creative tactics using new modes of communication to attempt to gain media space and symbolically counter established imbalances of power. I begin by providing an overview of the literature on ← 31 | 32 → environmental conflicts and the news, before moving on to discuss the concept of mediatization, which is then applied to two Greenpeace climate change campaigns: 'Cokespotlight' and 'Save the Arctic'.
ENVIRONMENTAL CONFLICTS IN THE NEWS
The number of environmental conflicts across the globe, it seems, are significantly on the increase. Green issues have become increasingly politicised and environmental conflict includes battles among stakeholders, politicians, pressure groups, industry, and citizens over the use of natural resources and civil unrest following environmental catastrophes. While the occurrence of geophysical events such as volcanic eruptions and earthquakes has remained relatively stable, there has been a marked increase in climate-related 'natural disasters' such as droughts, hurricanes, storms, and floods. Growing urbanisation and environmental degradation as well as intensifying climate factors such as more violent storms, extreme precipitation, and rising temperatures have all played their part (Leaning & Guha-Sapir, 2013). According to Oxfam, in the past 20 years the total number of 'natural disasters' has increased fourfold. A rise in the number of people exposed to disasters and better reporting tools only partly explains this trend (Jennings, 2011; Oxfam, 2007). Such disasters require urgent political action and civil unrest can quickly ensue. In some cases, notably Hurricane Katrina (2005), they can become an opportunity for the state to adopt a militarized response. Environmental conflicts can also emerge from more ongoing issues such as resource scarcity (e.g., food, water, and energy). Indeed, a significant number of violent conflicts are over natural resources; UNEP suggests this applies to almost half of all interstate conflicts during the past six decades (see Cottle, 2014).
Other environmental conflicts include organised protests such as the People's Climate March that took place on 21 September 2014 in New York (with other companion demonstrations taking place in capitals across the globe). Involving more than 400,000 participants advocating global action against climate change, it was claimed to be the largest climate march in history and timed to coincide with the United Nations Summit on Climate Change (Visser, 2014). This illustrates something about the way the nature of environmental protest itself is changing. It is increasingly transnational in scale and processes of globalisation have made the issues considerably more complex. This, together with the proliferation of global digital networks, marks a significant shift (see Anderson, 2014; Cottle, 2013).
Recent developments in social theory illustrate particular facets of the mediatization process, notably the work of Manuel Castells and Ulrich Beck. For Castells (2005, 2009) this is conceptualised in terms of the rise of the 'information ← 32 | 33 → society' and later, the 'network society'. Castells argues that networks represent the principal source of power in contemporary society, as opposed to the multinational companies, institutions, or even the state. But rather than acting as single operators they form strategic alliances with other social actors. And the media are the stage where such power struggles take place. Network society, then, is defined as 'a social structure constructed around (but not determined by) digital networks of communication' and these global networks are at the heart of all 21st-century societies (Castells, 2009, p. 53). Importantly, Castells draws attention to the increasing importance of 'mass self communication'—the host of self-generated messages that are posted by citizens (e.g., blogs, YouTube videos, wikis) that have the potential to be consumed by a global audience and potentially alter the balance of power (Castells, 2009, p. 55). Control over access to the media as nodal points in social networks thus becomes important for the development and resolution of conflicts.
Beck also attaches considerable importance to the role of the media. For Beck, the developments referred to above are a key element of 'risk society'—a society facing a series of damaging and potentially catastrophic side effects from modernisation and technological innovation (Beck, 2006, 2009). As Beck observes, global crises, often environmental in nature, are bound up with the very fabric of late modernity. The media become the space where 'experts' convey information about risks and thus play a role in managing public perceptions. While Castells and Beck offer useful broad starting points for thinking about the mediatization of environmental conflict, there is a need for more in-depth empirical analysis and detailed examination of how media intersect with other arenas (including parliament, regulatory institutions, interest and pressure groups, scientific communities, and industry).
During recent years there has been a growing interest among scholars in examining environmental conflicts in the media (see Anderson, 2014; Cox, 2015; Hansen, 2010; Lester, 2007; Lester & Hutchins, 2012, 2013). Dramatic environmental disasters such as large oil spills (particularly those affecting areas that possess strong symbolic cultural resonance) tend to attract news headlines. Environmental protests rarely attract much news interest unless they are tied to a major political event (for example, the UN Summit on Climate Change in the case of the 2014 People's Climate March, referred to above), or they involve very violent clashes between protestors and the police. It tends to be much harder to garner news media attention for ongoing, slowly evolving, and less visible environmental issues that are not oriented around specific 'events'. A very considerable amount of all news coverage is taken up with issues of law and order. In comparison, environmental news typically accounts for a minuscule proportion, according to the Project for Improved Environmental Coverage (PIEC, 2013). The Pew Research Centre study found that between January 2011 and May 2012 environmental ← 33 | 34 → stories accounted for only 1% of news headlines in the United States, while for some news organisations crime and entertainment stories attracted 20 times and 60 times more coverage, respectively. While levels of environmental coverage vary across countries and peak and wane over time, it is an area of news reporting that consistently attracts much less attention than does the regular round of crime and celebrity gossip news (Anderson, 2014).
There are interesting differences, though, in the amount of coverage some environmental conflict attracts in the local as opposed to national news media. Studies suggest that considerably more space tends to be devoted to environmental items in local media (see Anderson, 1997; PIEC, 2013). In the PIEC study, for example, local news media carried environmental stories nearly three times more often on average than did national platforms. By contrast, most national news media outlets were found to have very high crime-to-environment ratios (for morning network news this was 69 to 1) despite many crime stories being local in nature. Why should this be the case? As we shall see, it may partly be explained by media dependence on particular news sources and the perception that environmental issues tend to be of local, as opposed to national, interest. The dominant news values of drama, scandal, novelty, controversy, conflict, negativity, spectacular visuals, and human interest clearly guide journalists in selecting news stories. This together with the increased emphasis on celebrity and entertainment news has, I shall argue, shaped both the nature of environmental conflicts in the news and the strategies that news sources employ in order to capture media attention.
MEDIATION OR MEDIATIZATION?
Within media and cultural theory there has been much discussion about whether the concepts of 'mediation' or 'mediatization' most accurately capture the intensified social impact of the media. Both concepts are concerned with the extension of media influence into all aspects of society affecting all social institutions including politics, religion, and the family (Hjarvard, 2013). For Roger Silverstone (2002), mediation:
describes the fundamentally, but unevenly, dialectical process in which institutionalized media of communication (the press, broadcast radio and television, and increasingly the World Wide Web) are involved in the general circulation of symbols in social life … Mediation, in this sense of the term, is both technological and social. It is also increasingly pervasive, as social actors become progressively dependent on the supply of public meanings and accounts of the world in attempting to make sense of their own. (p. 762)
However, 'mediation' is a rather ambiguous term, because in education, psychology, and sociology it tends to be more widely used to imply a process of conflict ← 34 | 35 → resolution (Couldry, 2008; Lundby, 2009), whilst 'mediatization' is better able to capture macro power relations. As Cottle (2006) notes, in this sense:
'mediation' tends to suggest a view of media as a neutral 'middle-ground', equidistant perhaps between events that the media report on and the audiences that view/read/hear about them. Implicit to this view of 'mediation', then, is a view of media 'conveyance' or 'transmission' as well as, possibly, an 'arbitrating' role—again often neutrally conceived. (p. 9)
Silverstone's use of the term 'mediation' is similar to 'mediatization', given its nonlinear characterisation of the relationship between media and audience effects, so there is a sense in which the debate about the use of terminology is not particularly productive when they are assumed to be referring to the same thing (Hepp, 2013). Rather than presenting them as opposing exclusive categories, it is important to recognise that 'mediation' can be seen in a very general sense to describe the features of any media process whilst 'mediatization' is much more specific. For Hjarvard, mediatization is 'the process where society to an increasing degree is submitted to, or becomes dependent on, the media and their logic' (2008, p. 113), and for Krotz (2008), 'The specific relevance of mediatisation lies in the fact that it is a meta-process that changes communication and so the core of human action' (p. 24). Media logic, a term introduced by Altheide and Snow (1979), usefully captures the processes that frame media content (including ideas of newsworthiness). Thus, production processes shape media formats, making them more standardised, for example. But we need to be careful to avoid implying there is one single 'media logic' or that there has been a linear move from pre-media to a mediatized society (see Couldry, 2008). The reality is much more complex and differentiated, and increasingly so in our global media-convergent age. It is important to recognise the increasing number and diversity of technologically mediated forms of communication (Hepp, 2013). Mediatization affects different news actors in different ways and some have greater degrees of power than others; for example, media producers tend to have more power than media consumers, and there are inequalities of power among political actors over time. It may also unevenly affect different societies given that in some traditional non-Westernized cultures the media do not play such a central role in social life. Hjarvard (2008) is right to differentiate between weak (indirect) and strong (direct) media effects.
Just as we have observed that media coverage of environmental conflict is highly differentiated depending on media outlet, its regional or national identity, and its geographical location, audiences respond to media framing in multiple ways (Anderson, 1997; Philo & Happer, 2013). The concept of mediatization used here captures the dynamic role of the media wherein they go beyond simply representing or reflecting conflicts to being actively enmeshed in how they are played out across a range of arenas (see Cottle, 2006). They may variously open up or close down conflicts, they can give voice to certain news events or actors rather ← 35 | 36 → than others, and they can frame debates (verbally and visually) in different ways. As Cottle (2006) observes, 'Ideas of media "representation" approached through a lens of discursive democracy, where media representations seemingly register straightforwardly hierarchical formations of discourse, also fail to ground these in relation to the contexts of media production and how different media and forms of media elaboration impact their final public enactment' (pp. 185–186). It is important to avoid being too media-centric and to acknowledge the important role that news production processes play (Anderson, 1997; Mormont & Dasnoy, 1995). The modern communications environment is characterised by dynamic flows and counterflows. While some excellent work has emerged on 'public screens' that draws attention to the role of image politics in framing demonstrations (see, for example, DeLuca, 1999; DeLuca, Lawson, & Sun, 2012; DeLuca & Peeples, 2002), it has had little to say about the battle that goes on behind the scenes to shape the content of news. As Cottle (2006) remarks:
'Public screen' studies of mediatized protest are conspicuously silent about the role of production dynamics as well as strategic claims making and struggles over definition that are often at the centre of protests and demonstrations. This is unfortunate. Focusing exclusively on the spectacular and visual all too easily loses sight of the sociological and powered nature of strategic and discursive struggles enacted within and through such mediatized displays, and which may be animating many of them in the first place. (p. 53)
It is here that I think Wolfsfeld's 'Political Contest Model' and what Carlson calls the 'Competitive Definers' approach are particularly illuminating (Carlson, 2009; Wolfsfeld, 1997). What these analytical approaches share in common is an appreciation of the complex, shifting relationships between journalists and their sources which go beyond simply assuming that elite opinion automatically has dominance. This competition is not simply over who gains advantaged access to the media and gets their voice heard, but who successfully frames the issues. These perspectives recognise the importance of analysing the strategies that news sources develop in seeking to influence news agendas. In other words, it is too narrow to simply focus attention on the media; in order to really understand the power dynamics, we need to examine the battle that rages among news sources to define what is at stake in the first place. Importantly, they both recognise that the role of the media in political conflict is not linear; it shifts over time and takes different forms in different contexts. There are complex, overlapping flows between traditional media and digital media. Mediatization has brought about a new attention economy because there are so many different media forms that we are now exposed to in Western society. Mainstream media now have to compete with a whole range of online sources and, to varying degrees, have become more interactive. This new attention economy fosters a sound-bite culture in which images become paramount. This in ← 36 | 37 → turn has caused environmental NGOs to become more and more creative about finding new ways to challenge multinational corporations at a symbolic level. Traditional mass media still tend to possess more credibility but they cannot afford to stay on the sidelines of these new mediatized/symbolic conflicts. This is well demonstrated by the case of the Occupy Wall Street movement during which traditional media were forced to cover the protests following an initial mainstream media blackout and the story found its way to the Internet (DeLuca et al., 2012).
SPECTACLE AND IMAGE POLITICS: THE BATTLE OVER THE ARCTIC
The Arctic, with its vast mineral and energy resources, is home not just to polar bears but also to 30 different indigenous groups. A myriad of different visions for the Arctic are held by states, indigenous peoples, NGOs, and industry (Steinberg, Tasch, & Gerhardt, 2014). In particular Russia, the United States, and Canada have all asserted sovereignty claims and, as the thawing of the ice brings about new economic and geopolitical opportunities, it has become a site of fierce dispute with regards to boundaries and international law. As a place undergoing climate change's most extreme impacts, it has become a major battleground for environmentalists and oil companies. In the following sections I examine how mediatization has influenced the tactics and frames of environmental organisations such as Greenpeace and those of industry. I argue that visual signs have become a key currency in our supersaturated media culture. The icon of the polar bear has become a powerful symbol used by both environmental NGOs and industry but this is by no means a new development. Since the early 1990s, environmental groups have used the polar bear as a charismatic icon with powerful emotional resonance in their climate change campaigns (Slocum, 2004). Similarly, Coca-Cola have a long history of using the polar bear as an icon associated with their brand, with the Polar Bear mascot first appearing in their print advertising in 1922 and in TV commercials in 1993.
The Cokespotlight Campaign
Since the early 1990s, Greenpeace has been relentlessly campaigning about the use of hydrofluorocarbons (HFCs) in the refrigeration process by leading global manufacturers such as Coca-Cola and Unilever because of concerns over greenhouse gas emissions. In an unusual move in 1992, Greenpeace Germany campaigner Wolfgang Lohbeck partnered with an ailing manufacturer, Foron, to develop ← 37 | 38 → Greenfreeze, a natural refrigerant. Greenpeace then used their grassroots networks to obtain advance orders for the refrigerators but came under considerable attack from industry competitors who claimed that they did not meet safety requirements (Stafford & Hartman, 2013). This resulted in more publicity and government and scientific bodies intervened to demand tests, with Greenfreeze becoming certified by the German Safety Standards Authority in December 1992. While Greenpeace had some success in disrupting markets in Germany, it had very limited success in breaking into the North American market (where it was particularly hampered by regulatory issues) and more widely across the globe.
However, a window of opportunity presented itself at the 2000 Olympic Games, when Greenpeace took on Coca-Cola, official sponsor and soft drink provider of this global sports event. In the run-up to the Sydney Olympics—marketed as the world's first 'Green Games'—Greenpeace's campaign targeting the giant drinks manufacturer intensified. The environmental organisation gained additional weight and legitimacy through having been chosen in 1992 to work alongside organisers in planning the Olympic Village in Sydney and being given responsibility for producing a set of environmental guidelines. Framing their demands around a major global event gave Greenpeace important leverage. As Trumpy (2008) observes:
Greenpeace's involvement in planning the Sydney Olympics, an established international event, increased the organization's credibility in the eyes of the media and the public. In turn the media coverage and increased public interest in the Olympics made Greenpeace's claims more visible. Overall, the Sydney Olympics provided an opportunity for Greenpeace to make demands of Coca-Cola that otherwise might have been ignored by the public, the media and therefore, Coca-Cola. (p. 489)
In June of that year, Greenpeace partnered with the Canadian Adbusters group to create a counter image campaign for Coca-Cola's advertising featuring its polar bear icon (Bennett, 2003; Greenpeace, 2000; Trumpy, 2008). They demanded that Coca-Cola meet the environmental guidelines for the Olympics (which Greenpeace had drawn up) and replace HFCs with environmentally friendly Greenfreeze. The activists created a fake version of the company's Website, cokespotlight.org, subverting an image of a mother polar bear enjoying a drink on an ice flow, by depicting her huddled together with her cubs on a breakaway piece of ice (see Figure 1). The Website enabled concerned citizens to email the company's CEO directly to demand change as well as print out posters, postcards, and stickers. By focusing on an Internet campaign, Greenpeace particularly targeted young students, one of its most important customer bases. The Website encouraged students in schools that had signed soft drink deals to exclusively vend Coca-Cola to produce a 'campus campaign' to 'put some heat on Coke for its global warming record' (Roy, 2004, p. 123). ← 38 | 39 →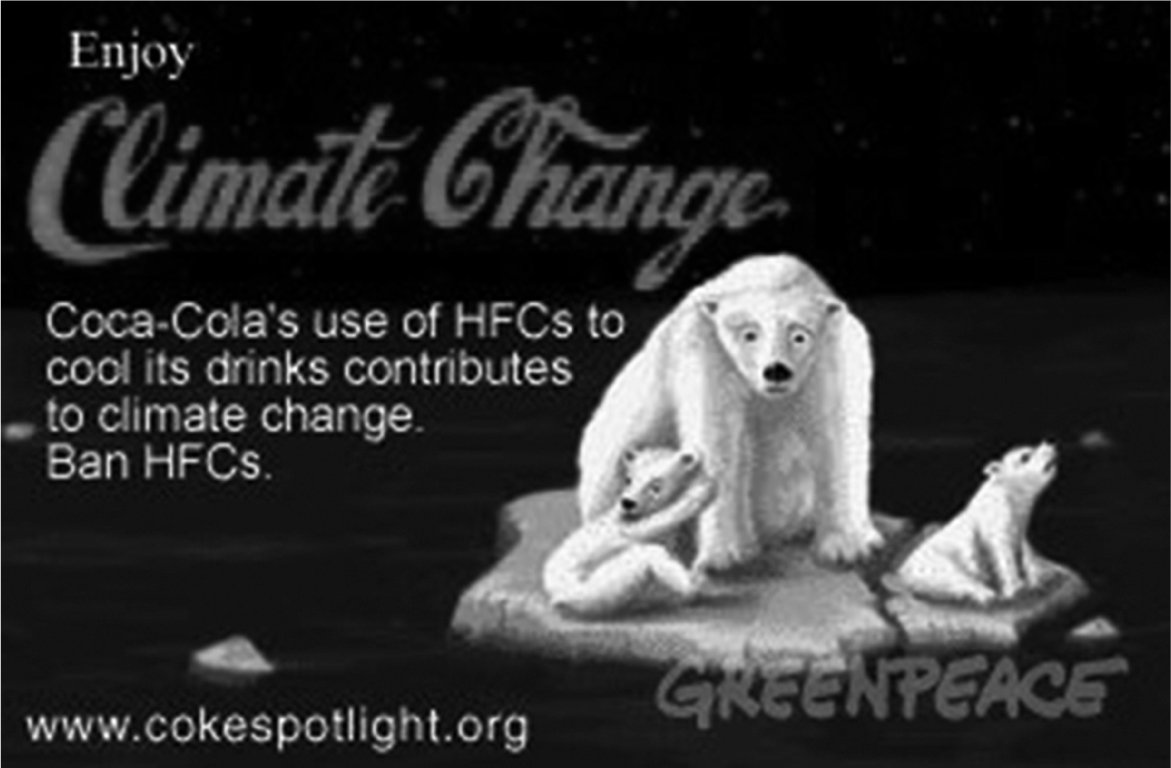 In June 2000, Greenpeace lobbied senior Coca-Cola executives gathered at a European meeting against the use of HFCs. Alongside this, Greenpeace held a series of protests in Sydney, Adelaide, Melbourne, and Perth in June 2000. Protesters dressed up as giant Coke cans and polar bears to visually draw attention to the issues (see Figure 2). They also placed stickers and posters on Coca-Cola products, refrigerators, and vending machines.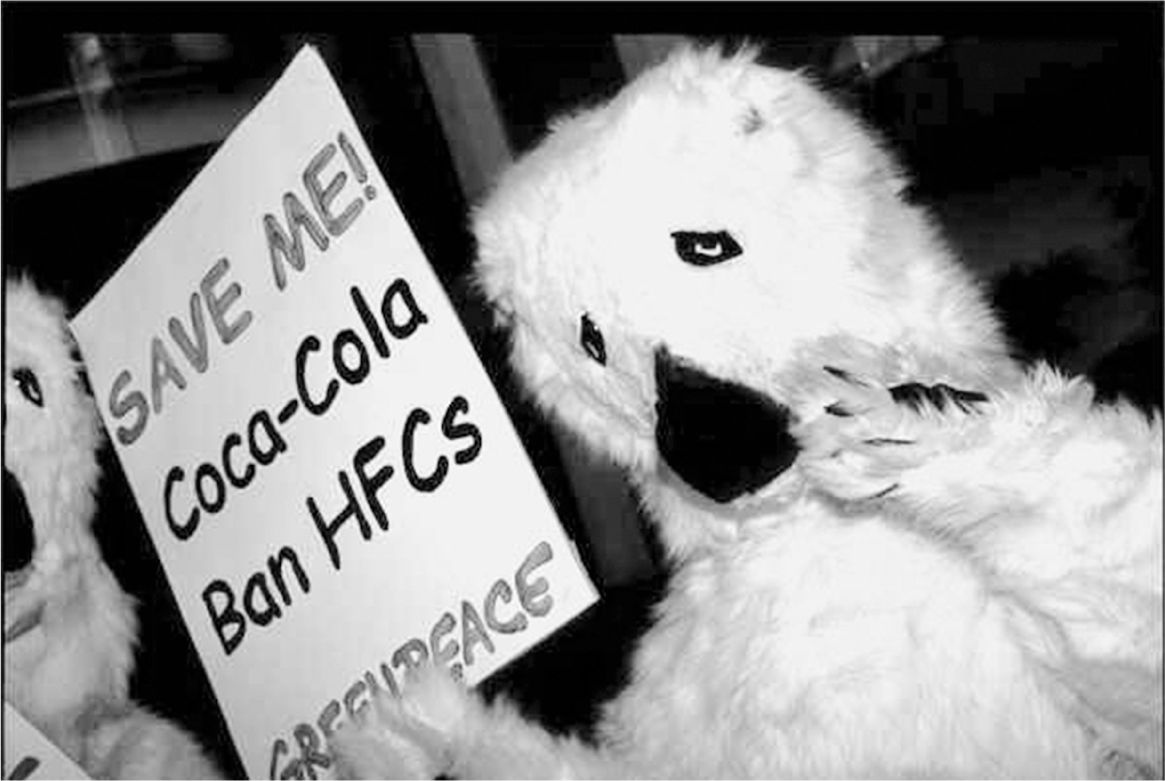 Their threat of subverting Coca-Cola's campaign during the 2000 Sydney Olympics clearly played a part in the company's decision to phase out using HFCs. Because Coca-Cola were sponsoring the Olympics, they had much to lose from a high-profile campaign attacking their environmental credentials. The company stated:
we do monitor the internet for mention of the Coca Cola Company and its brands … It did influence us, in the sense that it confirmed to us a keen societal interest in HFC-free refrigeration and it probably affected the timing and place of the announcement concerning our public commitment. (cited by Rosenkrands, 2004, p. 53)
The Internet has become a means by which many environmental NGOs have been able to bypass traditional gatekeepers, something that multinational companies cannot afford to ignore. Increasingly aware of the potential for brands to become tarnished by negative images circulating online, mediatization has intensified the extent to which big business monitor and screen alternative framings and, as we shall see later, co-opt the symbols of their opponents. The rise of digital media has provided new opportunities and threats for claims makers and increasingly shaped the political impact of environmental conflicts.
As Greenpeace was involved in organising the Games, they gained additional legitimacy and leverage which no doubt helped them to have a direct influence on policy change (Trumpy, 2008). Although it was too late to meet Greenpeace's demands in full for the 2000 Olympic Games, less than a month after the environmental group launched their global Internet campaign Coca-Cola CEO Douglas Daft agreed to stop buying appliances with HFCs, where it was possible to use cost-efficient alternatives, by the next Olympics in 2004. While Coca-Cola only implemented this on a large scale in a single country (which represented a compromise on Greenpeace's initial demands), they clearly bowed to pressure at the prospect of losing moral legitimacy, consumer trust, and profits (Trumpy, 2008).
Coca-Cola took a collaborative approach with Greenpeace and made use of their environmental expertise and network of experts. The company started by making relatively small steps, but over time Coca-Cola significantly increased their level of commitment. Greenpeace continued to exert pressure by monitoring their progress. In September 2007, the company announced its commitment to use HFC-free vending machines and coolers at the 2008 Beijing Olympic Games and was awarded the Green Medal by Greenpeace. The company publicly committed to having all of its vending machines and coolers HFC-free by 2015. By 2012, it was able to announce in its Ninth Annual Sustainability Report that approximately 24% of 2011 cold-drink equipment purchases were HFC-free (Shayon, 2012). Following Coca-Cola's example, McDonald's and Unilever also took steps to phase out the use of these chemicals in refrigeration. ← 40 | 41 →
The NGO also used traditional methods of communication. In the run-up to the Cokespotlight campaign, over a period of years they published around 80 scientific reports on the ozone layer, and in the run-up to the Sydney Olympic Games Greenpeace produced a press release on their 'Green Olympics: Dirty Sponsors' report released in April 2000 (Maté, 2002). This was picked up by news agencies such as Associated Press. As Roy (2004) observes:
In making their point to The Coca-Cola Company and in working within the structure of the newspaper news story, Greenpeace on the one hand stuck to the newsroom rules, offering the who, what, when, where, why, and how of the story. On the other hand, the group worked through the productive capacity of media to create an image event that would call attention to the moral failings of Coca-Cola's identity. (p. 121)
This case illustrates the growing pressures, often played out in a highly symbolic and visual manner, on leading corporate brands in a mediatized culture. Over time, such pressures have intensified as new media technologies collapse time and space and alternative framings proliferate. Networks have formed new alliances, potentially increasing their cultural capital and power. In some instances, celebrities, industry, and NGOs have joined forces in ways that can be seen to further their individual interests. Indeed, getting involved in green campaigns has become a key way in which companies and celebrities can market themselves to consumers as ethical and caring (Littler, 2009). For example, in late 2011 Coca-Cola partnered with the World Wide Fund for Nature (WWF) to launch their 'Arctic Home' campaign to protect the polar bear's habitat. The company promised to match each dollar donated by members of the public who purchased Coke cans in North America adorned by polar bears. Their marketing campaign backfired at first, however, when consumers protested via social media about the newly designed white cans replacing the traditional red variety (Esterla, 2011). The white cans were perceived by many to be confusing and the campaign manipulative and the shelves were soon only stocked with the red variety. This aside, the marketing campaign has been regarded as highly successful. To date, Coca-Cola has pledged $2 million over five years, and has raised over $3 million in consumer and matched donations for the project. The Arctic Home campaign (as with the Cokespotlight campaign) was designed to be international, and involved a mix of online and offline media. This was also the case with the next example we examine—the Greenpeace 'Save the Arctic' campaign of 2012.
The Save the Arctic Campaign
In 2012, Greenpeace began a campaign to ban oil drilling and unsustainable fishing in the Arctic. The 'Save the Arctic' campaign, as it became known, was launched in a high-profile press conference at the Rio Earth Summit held 20–22 June that ← 41 | 42 → year. In this way, the campaign had a powerful hook to a major news event; as noted earlier, this can help to give environmental news more leverage. The press event was hosted by Kumi Naidoo (Greenpeace International Executive Director) accompanied by Sir Richard Branson and actress Lucy Lawless, who was facing sentencing for scaling Shell's Arctic oil rig earlier that year. Greenpeace recruited a host of Hollywood stars to back their campaign, including Robert Redford, Cameron Diaz, and Penelope Cruz, as well as bands such as Radiohead and One Direction. The celebrities added their names to a symbolic 'Arctic Scroll' that was to be planted on the seabed at the North Pole, 4km beneath the ice and marked by a 'flag of the future'. Mediatization has intensified the cult of celebrity as opinion leaders, providing a news hook for environmental issues that otherwise would be viewed as having little intrinsic newsworthiness. Global public relations corporations that bring together celebrity personalities and news actors increasingly influence campaigns mounted by both NGOs and multinational businesses (Rojek, 2012). Engaging in these activities boosts the public image of celebrities and at the same time is designed to lend credibility to the campaign. The involvement of famous personalities is designed to thrust the issues into the media limelight and give the campaign popular appeal by associating it with lifestyles and aspirations that ordinary people are likely to want to 'buy into'. The rise of celebrity is historically connected with the spread of the mass media, especially visual media, and the growth of the public relations industry (Turner, 2013).
In our globalised, media-convergent environment, there are complex, overlapping flows between online and offline media. Protest groups have become more and more sophisticated in targeting different sections of the public with tailored messages using a wide range of media (Rucht, 2014). Greenpeace's news strategy combined targeting traditional media with online media. While social media have become increasingly central in a mediatized culture, traditional media still remain key agenda-setters (Gavin, 2009; Rucht, 2014). In the UK, the campaign attracted some national press coverage (mainly in the elite national newspapers) that mainly focused on celebrities (see Anderson, 2013). A dedicated Website, http://www.savethearctic.org/, was created, and a Facebook and Twitter page called #SavetheArctic.
Alongside the celebrity-focused part of their campaign, Greenpeace partnered with the culture-jamming organisation the Yes Men to mock oil giant Shell's 'Let's Go' advertising campaign advocating their Arctic oil-drilling programme. The Yes Men have been involved in creating fake news events and parodying corporate power structures since the late 1990s (Russell, 2011). Using a team of actors, Greenpeace and the Yes Men designed a hoax campaign for Arctic drilling purporting to be from Shell. They sent out invitations to local energy leaders asking them to attend a fake gala party/press conference at the Space Needle in Seattle, Washington, celebrating the launch of Shell's expansion into the Arctic. The ← 42 | 43 → centrepiece of the event was an ice sculpture that rested on a bath of cola beside a scale model of a drill rig. As the guest of honour switched on the drinks dispenser that was shaped like an oil rig, there was an uncontrolled blowout and black 'oil' spilled out over the crowd. The video of the event went viral.
The environmental activists also created ArcticReady.com, an almost identical version of Shell's own Website. A fake Twitter feed from Shell Social Media team, @ShellisPrepared, was also developed that seemed to be attempting to contain the negative advertisements from a social media tool on their site. The parody video fast reached the top position on Reddit and the number two position on YouTube, with half a million views in less than 24 hours. Hoax press releases were sent out supposedly from Shell in order to capture additional media attention, attacking the new Shell Website and threatening anyone who reposted the video (Greenpeace, 2012). False legal threats were sent to journalists and bloggers with the warning that 'Shell is monitoring the spread of potentially defamatory material on the internet and reporters are advised to avoid publishing such material' (Robbins, 2012).
The Save the Arctic campaign appears to have increased awareness of Shell's activities and a number of Shell petrol station protests took place throughout Europe in July 2012. A YouGov analysis of the social media coverage of over 70 protests that took part in London and Edinburgh on 16 July found that negative mentions of Shell substantially increased on Twitter (estimated to have reached 9% of the UK Twitter users, or around 1 million people) but that the most conversation was generated by Greenpeace's spoof Website. They concluded that 'while the petrol station protest is what got the social media conversation about Shell rolling, it was the online elements of the Save the Arctic campaign that kept it going' (MacLeod, 2012). However, it is unclear how far this reached beyond their supporter base to connect with wider audiences. Some UK newspapers, while devoting some coverage to protests, questioned their effectiveness. For example, a leading article in The Sun (the UK's highest selling red top newspaper) entitled 'Grin & Bear It' remarked:
It's hard to figure out if it was a PR triumph or a PR disaster for Greenpeace yesterday. The sight of cops grappling with an unruly polar bear guaranteed them plenty of coverage. But will anyone stop laughing long enough to get the message about their protest against drilling for oil in the Arctic? ('Grin & Bear It', 2012)
Greenpeace's campaign gained considerably heightened media exposure when Russian authorities seized 28 Greenpeace activists and two freelance journalists who were trying to board Russian oil company Gazprom's rig in the Arctic to protest at plans for oil drilling, and held them in custody with the possibility of a 15-year sentence (see Harala, 2014). The story now elevated in newsworthiness and became one of law and order and human rights. According to Greenpeace, the ← 43 | 44 → number of stories mentioning their polar campaign went from in the region of 300 in August to 1,500 in September and 3,800 in October—an estimated ten times the amount of usual exposure (Greenpeace, 2013). The hashtag #FreeTheArctic30 was tweeted more than 375,000 times with people from 41 different countries participating.
The 'Arctic 30', as they later became known, were charged with piracy, which was later downgraded to hooliganism. Given that much of the media in Russia are state-owned, and the oil company Gazprom has extensive media interests, such interlocking interests (business, media, and politics) meant Greenpeace got little sympathetic coverage there. They were, however, able to use social media and more traditional methods of communication such as pamphlets and town hall meetings (Wyatt, 2013). The human rights issues catapulted the campaign into newspaper and television headlines across the globe and there was an international outcry. A total of 860 protests were held in 46 countries, with over 2.6 million people writing to embassies to protest (Vidal, 2013). A number of celebrities were drafted in to help in the campaign for their release including Paul Simonon, former member of punk band the Clash, Paul McCartney, Jude Law, Ewan McGregor, and Madonna. The campaign to free the Arctic 30 also received the support of other NGOs, such as the World Wide Fund for Nature and Amnesty International, and key political figures including Angela Merkel, David Cameron, François Hollande, Ban Ki-moon, and Hillary Clinton. After spending more than two months behind bars, the Arctic 30 were granted amnesty in December 2013.
Given the intense international interest in the story and the fast-paced nature of social media conversations, Greenpeace initially struggled to keep up with developing a comprehensive monitoring of the situation. However, they joined with Greenpeace Mobilisation Lab, which describes itself as 'an open collaborative hub among networks—inside and outside of Greenpeace—to find, test, and push the envelope on the use of technology in campaigns' and partners at Upwell (another organisation skilled in online conversation analysis) and developed a new social listening and online media analysis program (MobLab, 2014). This enabled them to follow the overall volume of social media conversation trends and track the key frames (e.g., Arctic climate change, arrest pirates, fossil fuels, peaceful protest, Gazprom safety). They used crowdbooster to check what was working best on Facebook and Twitter and identify the top tweets and global Facebook posts. The analysis also highlighted the most popular videos and images and monitored Twitter hashtags. Their media strategy showed a sophisticated awareness of news values and how to grab media attention, in particular the importance of striking visuals, human interest, and simple 'David' versus 'Goliath' narratives that people can connect with (see Day, 2014). ← 44 | 45 →
CONCLUSIONS
Mediatized and symbolic conflicts allow actors to orchestrate conflicts in new and different manners. Given that mediatized conflicts are becoming more symbolic and visual, this will tend to favour protest groups that use novel and dramatic means to gain attention. However, at the same time they need to be regarded as legitimate and credible sources, so there is a delicate balance to achieve. Moreover, as Bennett and Segerberg (2013) observe:
As digital media become more prominent in contemporary contention, they too help to configure the protest space and the action that develops within it. Ultimately technology-enabled networks may become dynamic organizations in their own right. (p. 8)
The examples discussed in this chapter serve to illustrate the symbiotic relationship between environmental NGOs and the media and at the same time their unequal power (see also Gamson & Wolfsfeld, 1993; Hutchins & Lester, 2006). New digital technologies have increased the speed at which environmental groups communicate with their supporter base and wider publics. Visual signs have become a key currency and the icon of the polar bear has been used by both environmentalists and industry to signify a commitment to sustainability. However, it is important to note that a wide range of network organisations exists; while some NGOs concentrate on enabling more personalized, loosely tied mediated networks, others focus on more organisationally brokered networks with closer ties. Many environmental NGOs have adopted an adaptive media strategy whereby they have instrumentally used the rules of the mass media in order to play the game on their terms through staging highly visual events, for example, or producing media sound bites involving celebrities or high-profile politicians. At the same time, they have also employed alternative strategies using self-produced or controlled media, such as producing their own videos or Twitter campaigns (see Rucht, 2014). Greenpeace used a combination of both of these strategies in the examples discussed above. Given that they had some degree of positive access to mainstream media, online visibility via search engines, and a number of prominent allies, they did not need to resort to a strategy of attack involving explicit and radical criticism of the media, although they did seek to actively manipulate journalists by staging the mock press conference. Smaller, less well-resourced environmental challenger groups, however, may not be in such a fortunate position to be able to make their voices heard in the fiercely competitive attention economy (Gamson & Meyer, 1996).
Organisations such as Greenpeace have become increasingly sophisticated over time in managing and tracking their media presence (both online and offline) and skilled at packaging issues in ways which appeal to news values. But they are often forced to compromise and accommodate their goals to comply with those ← 45 | 46 → of mainstream media. As we have seen in the foregoing examples, conflict, drama, and spectacular imagery can catapult environmental issues into the limelight but the media are constantly searching for novel angles. In a mediatized culture, brands also have to constantly monitor public trends and screen the complex digital communications environment.
Mediatization has fostered the conditions for new alliances between industry and environmentalists to be formed (e.g., Coca-Cola and the World Wide Fund for Nature) and at the same time opened up greater potential to subvert corporate power through satire and parody via mass global communication channels such as YouTube. It has also enabled supporters to participate more actively in campaigns and assisted in mobilising individuals across the globe (Katz-Kimchi & Manosevitch, 2015). As Cottle (2006) argues:
The Internet while certainly no panacea for the inequalities of strategic and symbolic power mobilized in and through the mass media evidently contains a socially activated potential to unsettle, and possibly on occasion disrupt, the vertical flows of institutionally controlled 'top-down' communications and does so by inserting a horizontal communicative network into the wider communications environment. (pp. 50–51)
Celebrities have also become increasingly involved in environmental campaigns; as the new authorised definers of climate change, they have become perceived as an authoritative voice in their own right (see Anderson, 2013). Because environmental groups often find themselves at the whim of ever-changing political and media agendas, celebrities can lever news entry, providing them with a powerful hook. This is not to suggest, however, that media influence on environmental politics and policy is linear. The relationship between the media and other social actors is dynamic, multi-directional, and constantly in flux. As Christensen, Nilsson, and Wormbs (2013) observe, 'As regards mediatization and the role of the media in the climate-change debate, a dialectical understanding of the media as having significant social influence while at the same time being socially shaped remains essential' (p. 9, original emphasis).
A media-centric approach tends to overlook news production processes and the behind-the-scenes battles among news sources to frame the issues. Competition is not just over who gains advantaged access to the media and gets their voice heard, but who manages to successfully frame the issues. It is too short sighted to simply judge the success of a campaign by the amount of media presence it gains, as it is necessary to examine its impact on action and policy. Media coverage, after all, is rarely an end in itself. While international media coverage of the Arctic 30 no doubt influenced the decision by the Russian authorities to drop charges against them, persuading oil companies to stop drilling for oil in the Arctic is a much greater challenge. In a mediatized culture, there is a danger that increased ← 46 | 47 → visibility is mistaken for increased influence. Greenpeace's Cokespotlight was a single-issue campaign so it was much easier to achieve success. But online versions of traditional actions do not always have a forceful impact—it can be seen as taking too little effort to like by clicking a button or adding a name to a petition and the Internet tends to create weak as opposed to strong ties. In the second example, involving the Save the Arctic campaign, Greenpeace managed to grasp attention but experienced greater difficulty in framing the issues on its terms.
REFERENCES
Altheide, D., & Snow, R. P. (1979). Media logic. Beverly Hills, CA: Sage.
Anderson, A. (1997). Media, culture and the environment. London, England: Taylor & Francis.
Anderson, A. (2013). 'Together we can save the Arctic': Celebrity advocacy and the Rio Earth Summit 2012. Celebrity Studies, 4(3), 339–352.
Anderson, A. (2014). Media, environment and the network society. Basingstoke, England: Palgrave Macmillan.
Beck, U. (2006). Cosmopolitan vision. Cambridge, England: Polity.
Beck, U. (2009). World at risk. Cambridge, England: Polity Press.
Bennett, L. (2003). New media power: The Internet and global activism. In N. Couldry & J. Curran (Eds.), Contesting media power: Alternative media in a networked world (pp. 17–37). London, England: Rowman & Littlefield.
Bennett W. L., & Segerberg, A. (2013). The logic of connective action: Digital media and the personalization of contentious politics. Cambridge, England: Cambridge University Press.
Carlson, M. (2009). Dueling, dancing or dominating: Journalists and their sources. Sociology Compass, 3(4), 526–542.
Castells, M. (Ed.). (2005). The network society: A cross-cultural perspective. Cheltenham, England: Edward Elgar.
Castells, M. (2009). Communication power. Oxford, England: Oxford University Press.
Christensen, M., Nilsson, A. E., & Wormbs, N. (2013). Globalization, climate change and the media: An introduction. In M. Christensen, A. E. Nilsson, & N. Wormbs (Eds.), Media and the politics of Arctic climate change: When the ice breaks (pp. 1–25). Basingstoke, England: Palgrave Macmillan.
Cottle, S. (2006). Mediatized conflict. Maidenhead, England: Open University Press.
Cottle, S. (2013). Environmental conflict in a global, media age. In L. Lester & B. Hutchins (Eds.), Environmental conflict and the media (pp. 19–36). Oxford, England: Peter Lang.
Cottle, S. (2014). Rethinking media and disasters in a global age: What's changed and why it matters. Media, War & Conflict, 7(1), 3–22.
Couldry, N. (2008). Mediatization or mediation? Alternative understandings of the emergent space of digital storytelling. New Media and Society, 10(3), 373–391.
Cox, R. (2015). Environmental communication and the public sphere. London, England: Sage
Day, J. (2014, February 25). Digital storytelling lessons from the Campaign to Free the Arctic 30: 12 key characteristics of effective online storytelling. Mob Lab. Retrieved from http://www.mobilisationlab.org/digital-storytelling-lessons-from-the-campaign-to-free-the-arctic-30/
DeLuca, K. M. (1999). Image politics. New York, NY: Guilford. ← 47 | 48 →
DeLuca, K. M., Lawson, S., & Sun, Y. (2012). Occupy Wall Street on the public screens of social media: The many framings of the birth of a protest movement. Communication, Culture & Critique, 5(4), 483–509.
DeLuca, K. M., & Peeples, J. (2002). From public sphere to public screen: Democracy, activism, and the "violence" of Seattle. Critical Studies in Media Communication, 19(2), 125–151.
Esterla, M. (2011, December 1). A frosty reception for Coca-Cola's white Christmas cans. The Wall Street Journal. Retrieved from http://www.wsj.com/articles/SB10001424052970204012004577070521211375302
Gamson, W. A., & Meyer, D. (1996). Framing political opportunity. In D. McAdam, J. McCarthy, & M. Zald (Eds.), Comparative perspectives on social movements (pp. 275–290). Cambridge, England: Cambridge University Press.
Gamson, W. A., & Wolfsfeld, G. (1993). Media and movements as interacting systems. Annals of the American Academy of Political and Social Science, 528, 114–125.
Gavin, N. T. (2009). The Web and climate change: Lessons from Britain? In T. Boyce & J. Lewis (Eds.), Climate change and the media (pp. 129–142). Oxford, England: Peter Lang.
Greenpeace. (2000, June 1). Greenpeace unveils global campaign challenging Olympic polluter Coca-Cola. Retrieved February 24, 2015, from http://www.greenpeace.org/usa/en/media-center/news-releases/greenpeace-unveils-global-camp/
Greenpeace. (2012, June 8). Arcticready or #Shellfail? Shell's climate disaster gets a rehearsal. Retrieved February 24, 2015, from http://www.greenpeace.org/usa/en/media-center/news-releases/Arcticready-or-Shellfail-Shells-Climate-Disaster-Gets-a-Rehearsal/
Greenpeace. (2013). Greenpeace International annual report 2013. Retrieved January 27, 2015, from http://www.greenpeace.org/international/Global/international/publications/greenpeace/2014/472-AnnualReport2013.pdf
Grin & bear it. (2012, July 17). The Sun, p. 8.
Hansen, A. (2010). Environment, media and communication. London, England: Routledge.
Harala, M. (2014). Good bye ice, welcome business opportunities? Process tracing analysis on the change of the Finnish Arctic discourse 2011–2013 (Unpublished master's thesis). University of Tampere, Finland.
Hepp, A. (2013). Cultures of mediatization. Cambridge, England: Policy Press.
Hjarvard, S. (2008). The mediatization of society: A theory of the media as agents of social and cultural change. Nordicom Review, 29(2), 105–134.
Hjarvard, S. (2013). The mediatization of culture and society. London, England: Routledge.
Hutchins, B., & Lester, L. (2006). Environmental protest and tap-dancing with the media in the information age. Media, Culture & Society, 28(3), 433–451.
Details
Pages

VI, 221

ISBN (PDF)

9781453916209

ISBN (ePUB)

9781454193333

ISBN (MOBI)

9781454193326

ISBN (Book)

9781433128080

Language

English

Publication date

2016 (February)

Published

New York, Bern, Berlin, Bruxelles, Frankfurt am Main, Oxford, Wien, 2015. VI, 221 pp., num. ill.