Adolescents' Online Literacies
Connecting Classrooms, Digital Media, and Popular Culture – Revised edition
Excerpt
Table Of Content
Introductions to books with a shelf life longer than five years are ripe for storytelling. Of course, the story need not be long nor detract from newer material. It should, however, disclose a side of the book's development not shared before. Building on the first edition, the revised version of Adolescents' Online Literacies: Connecting Classrooms, Digital Media, & Popular Culture reveals new lines of inquiry that address some of the earlier chapter authors' calls for research. Scholarly answers to those calls have evoked a storyline, which in turn requires a narrator—a role I take up here, ever mindful that "to begin a story, someone in some way must break a particular silence" (Wiebe & Johnston, 1998, p. 4).
I do that in this introduction as a way of connecting the first edition's chapters to the four new ones. Beyond connecting, however, the notion of breaking particular silences that envelop adolescents' online literacies is a theme directly applicable to all 10 chapters. Also featured in this revised edition are numerous artistic representations of middle grades students' self-selected graphic novels and the fan fiction those choices prompted as part of an in-class multi-genre unit on fandom. Like the earlier edition, the book remains "dippable" in that its organizational structure invites skipping around without worry of losing sight of the broader theme. ← 1 | 2 →
Chapter Overviews
Chapter 1, which is new to this volume, announces a slight twist on the MacArthur Foundation's approach to connected learning. In "Connect(Ed) Learning: Fostering Digital Social Imagination Within a Humanizing Educational Framework," author Danielle Filipiak breaks a silence surrounding who (or what) is in the driver's seat when the agentive capacity of young people and technology's tools cross paths. In this chapter, Filipiak takes readers inside educational spaces that defy the existence of, or need for, separating digital tools from a humanizing pedagogy. The chapter offers in part an auto-ethnographic account of Filipiak's personal journey toward creating such spaces.
In chapter 2, "Multimodal Pedagogies: Playing, Teaching, and Learning with Adolescents' Digital Literacies," Lalitha Vasudevan, Tiffany DeJaynes, and Stephanie Schmier draw from research that vividly captures the multimodal worlds through which youth navigate daily. The authors outline various challenges facing educators in their bid to be pedagogically nimble and supportive of young people whose literacies move across spaces of home, community, and school in rapid succession. With multimodality as their frame of reference, Vasudevan and colleagues break earlier silences on how youth use myriad digital media tools to engage in literacies that expand what counts as communicating effectively in 21st-century contexts.
Chapter 3, "The Literacy Practices of an Adolescent Webcomics Creator," is also new to this volume. Its authors, Stergios Botzakis and Jason DeHart, are arguably the first in literacy education circles to document up close how a socially marginalized youth used his talents as a webcomics designer and online distributor of the same to subvert a school system's dated outlook on the value of comics for learning. The chapter also goes into considerable depth as it explores who and what constitute comics fandom in relation to certain literacy practices inside an online participatory culture.
In chapter 4, David E. Kirkland narrates a story he titled "4 Colored Girls Who Considered Suicide/When Social Networking was Enuf." Writing from a Black feminist perspective, Kirkland explores how one young Black woman's writings in MySpace revealed layers of oppression that for him gesture toward what he calls a therapeutic pedagogy. Using a conceptual lens that breaks silences at the same time it creates possibilities, Kirkland advocates for implementing therapeutic pedagogy in secondary classrooms. Specifically, he argues the need for educators to take seriously Black females' online narratives as critically grounded and academically rich texts that all students—regardless of race, gender, and other identity markers—can learn with and from. ← 2 | 3 →
Chapter 5, also new to this volume and titled "Fandom: Exploring Adolescent Pop Culture through Multiple Literacies," is authored by Rachel Kaminski Sanders. It is a carefully documented teacher-inquiry project that draws from her implementation (while a seventh grade teacher) of a multi-genre unit that focused on her students' participation in self-selected fandoms. Sanders traces how the original unit continued to grow over a two-year span, largely as a result of student feedback and her own reflections on how critical learning inched its way into students' engagement with the unit.
The authors of the next two chapters extend the notion of breaking silences by examining the literacy practices of adolescents and young adults whose access to print and/or digital media changed the way they viewed themselves. For example, in chapter 6, "Textual Play, Satire, and Counter Discourses of Street Youth Zining Practices," Theresa Rogers and Kari-Lynn Winters document through various artifacts the ways in which street youth use a monthly online zine to reposition themselves socially. By featuring textual play, satire, and discourse that runs counter to the way mainstream media construct street people, the youth-produced zine, Another Slice, offers a glimpse into alternative literacy and learning opportunities that have implications for classroom practice.
In chapter 7, "Digital Literacies and Hip Hop Texts," Jairus Joaquin breaks a long-time silence on such texts' potential for a pedagogy of difference. His research focuses on three young men whose hip hop practices inspire and sustain them during times of adversity. Using his interviews with these youth to reflect on an earlier time in his own life, Joaquin is able to show how hip hop became an avenue for making friends in his high school. He also pulls from Freirean principles in constructing a critical inquiry-based learning experience around digital hip hop texts that teachers can adapt and use in their classrooms.
Chapter 8, "Digital Media Literacy: Connecting Young People's Identities, Creative Production, and Learning about Video Games," describes author Michael Dezuanni's successful attempt to align 17 adolescent males' interests in video games with their high school's traditional curriculum in media literacy education. Using a poststructural case study analysis of data collected on the Video Games Immersion Unit, Dezuanni is able to demonstrate how classroom teachers and media specialists can involve young people in designing and producing their own games for the purpose of exposing certain assumed ideological impacts of gaming on learning.
In chapter 9, "'Experts on the Field': Redefining Literacy Boundaries," Amanda Gutierrez and Catherine Beavis delve into a curriculum unit that ← 3 | 4 → features SuperCoach, a fantasy online sports game. The authors present a compelling example of how young people's online and offline worlds converge as a result of their adeptness in reading and interpreting information presented in various formats from a variety of sources. They specifically call for research that has the potential to break silences encircling teacher expectations, curriculum design, and assessment of student learning in an online game environment.
Chapter 10, "'I Think They're Being Wired Differently': Secondary Teachers' Cultural Models of Adolescents and Their Online Literacies," authored by Kelly Chandler-Olcott and Elizabeth Lewis, is an interesting account of what happens when long-time silences on particular literacy practices open the way for essentialist and/or stereotypical thinking. To address a gap in the research literature on secondary teachers' perceptions of adolescents' online literacies, Chandler-Olcott and Lewis draw on cultural modeling theory to analyze data from a case study in which they interviewed 13 English teachers, 2 library media specialists, and an academic intervention specialist.
A New Afterword
Margaret Carmody Hagood's afterword brings this introduction to full circle. In her chapter, Hagood sets friendly but challenging expectations for how collectively, as educators broadly defined, we can be in the "now"—a space differently configured by each of the authors in Adolescents' Online Literacies: Connecting Classrooms, Digital Media, & Popular Culture. To take up her call would support what this book and its chapter authors are all about. To ignore it, on the other hand, would be analogous to denying the need for breaking silences that encompass young people's online literacies—especially those that point toward building identities in the nexus of digital media and popular culture. Or, as Friesen and Jardine (2009) might say, refusing the now is to create yet another "story that has forgotten and fallen silent of its telling" (p. 149).
References
Friesen, S., & Jardine, D. W. (2009). On field(ing) knowledge. In B. Sriraman & S. Goodchild (Eds.), Relatively and philosophically earnest (pp. 147–172). Charlotte, NC: Information Age.
Wiebe, R., & Johnston, Y. (1998). Stolen life: The journey of a Cree woman. Toronto, Canada: Alfred Knopf Canada.
Fostering Digital Social Imagination Within a Humanizing Educational Framework
It was midafternoon on December 1, 2014, when the g-chat window on my MacBook Air popped up on the lower right-hand corner of my screen: "PEACE MY SISTER!!"
This was a signature greeting from Mike Hawkins, a beautiful Chicago soul who went by the name "Brother Mike" in most circles, including the digital media and education worlds where our interests and passions had collided only two years earlier. Brother Mike's energy, even through the screen in this case, was magnetic. The delivery of something as small as hello offered a blessing and you felt it. Though I was busy with e-mails, transcribing interview data, and prepping for a course I had to teach an hour later, I dropped everything at Mike's initiation. That's just how it was. You knew that he cared about what you had to say, and he addressed you in a way that reciprocated that sentiment. I cherished the moments we shared.
Mike and I checked in on one another often over the course of our friendship, offering suggestions for readings (Baldwin was a favorite), articulating our visions for education, and toiling over what revolution might require of us. "We are kindred minds, sister," Brother Mike would remind me, and succeeded in directing nearly every g-chat, phone call, and text message exchange we had toward discussions of revolution. I'd insist that love was revolutionary, and he'd urge in return, "Yes queen, we are the (re)volution." At some point our discussions evolved into strategy sessions and check-ins concerning how ← 5 | 6 → to embody love. How to live and teach love. This was the revolution, we had agreed. This is what we promised we'd leverage every resource we had access to toward. And this conversation, like the many that came before it, was no different. Except it was. It was the last conversation I had with Mike Hawkins before he passed away less than 48 hours later.
The spirit of his work and the subject matter of our last conversation inspire this chapter, rooted in a concern for the life trajectories of city youth and a belief in the emancipatory role that literacy can, does, and should play in educational spaces—in school and out. With the proliferation of new media tools is a moment, Mike and I both agreed on several occasions, to imagine education anew. "To imagine things," as Maxine Greene (2001) so eloquently states, "as though they could be otherwise." What does it look like then to use these tools toward an investment in an authentic, revolutionary love for ourselves and for each other? And how might this help achieve the aim of educational equity in schools wrought with hyper-standardization, underprepared teachers, and inadequate resources to help mitigate the consequences of poverty on learning? I wouldn't be so foolish to say that I have the hard-and-fast answer to these questions, but I do think that there are human understandings that Mike and others whom I reference in this chapter possessed that are helpful as guideposts for educators looking to consider the affordances of digital media tools in service of a humanizing educational framework.
Leveraging Digital Media Tools Within a Humanizing Educational Framework
To be clear, a humanizing framework intentionally resists activity that requires students to divest from their cultural, linguistic, social, and familial assets in order to assimilate into U.S. schools. According to Freire (1970/2000), what makes us uniquely human is our capacity to engage in what he names as praxis, or "reflection and action upon the world in order to transform it" (p. 60). Taken in this light, a humanizing educational framework is one that intentionally builds upon the agentive capacity of youth, expanding with the formation of multiple literate, cultural, social, racial, and gendered identities that evolve as young people discover who it is that they wish to become. In this digital age, technology tools can be leveraged to direct young people toward purposeful activity that accounts for their plurality while at the same time equipping them to engage critically with issues that impact their lives. Digital ← 6 | 7 → media can bend, expand, remix, and retract words, ideas, and identities alongside a powerful pedagogical positioning that nourishes and sustains agency.
A growing body of scholarship is capturing what this marriage between digital tools and a humanizing pedagogy looks like inside of educational spaces. One example is Morrell, Duenas, Garcia, and Lopez's work (2013) in framing and developing what they name as a critical media pedagogy, an educational process that aims to make more explicit the relationship that students have with media, both as consumers and producers. In their book Critical Media Pedagogy: Teaching for Achievement in City Schools, the authors describe projects they designed that helped their students become acquainted with new media technologies and gain valuable literacy skills and critical understandings of themselves. Students invested in countercultural and countermedia productions such as critical ethnographies, documentary filmmaking, and youth participatory action research projects that equipped them to position themselves as experts in environments that normally approached them from a deficit framework (p. 106), gain a critical language to critique hegemonic media and understand the politics of oppression (p. 85), and improve their academic writing and in turn their perceptions of themselves as intellectuals (p. 131). Rooted in critical and sociocultural theories of learning, this text puts forth thorough, practical applications of critical pedagogy in action, advocating for the use of new media tools toward the ends of self-actualization, empowerment, and liberation.
The body of work attached to what has been named as "Connected Learning" also highlights the adoption of media projects in educational spaces, with an intentional focus placed upon addressing issues of equity, access, and social connection. In a recent volume curated by a cohort of National Writing Project educators (Garcia, 2014), Teaching in the Connected Learning Classroom offers windows into digital media projects designed by educators from across the country that exhibit the learning and design principles of Connected Learning—learning that is interest powered, peer supported, and academically oriented; happening inside of environments that cultivate a shared purpose between youth and adult mentors; and are both production centered and openly networked. A thread woven across these narratives is an authentic consideration for the social and cultural contexts that young people are navigating.
Contributors to this volume acknowledge across rich descriptions of projects that their pedagogical decisions are driven by the needs arising from the local contexts in which they teach. Readers learn, for instance, how media ← 7 | 8 → projects such as public service announcements, podcasts, short videos, digital self-portraits, interactive fiction games, and zines help students negotiate emerging sociopolitical identities, gain valuable literacy skills as transitional bilingual learners, process emotions as recent immigrant students, and connect with mentors outside of their schools. Media tools are leveraged as resources that help teachers make context-specific decisions about content and pedagogy in order to support multiple learners. This is no easy task, for sure. Dewey spoke of education as "the most complex, intricate, and subtle of all human enterprises" (Simpson et al., 2005, p. 6) and this collection aligns with this sentiment in that it makes visible the real intellectual work of the teacher, the complex thinking and sensitivity required to teach in the media age in ways that acknowledge students' plurality and, in turn, humanity.
Finally, in their edited volume Humanizing Research, Django Paris and Maisha Winn (2013) highlight humanizing approaches to qualitative and ethnographic inquiry with youth and their communities, including some that take a closer look at the epistemological shifts that youth media production necessitates. For instance, in her contribution to the book on youth media research, Korina Jocson explains how media productions generated by the young poets and filmmakers in her critical ethnographic study help her to not only understand their everyday experiences and the social conditions in which they live, but also the ways in which these experiences and conditions influence their use of digital media tools to render narratives. For example, the youth in her study wove concepts like race, gender, culture, body, and place into their digital media pieces in ways that privileged local knowledge and experiences. Media tools afforded them opportunities to remix artifacts and styles that captured the nuances of individual and collective stories at once.
Pieces like these are important in understanding a fuller picture of a humanizing education in lieu of the massive proliferation of new media tools. While concepts like "critical media pedagogy" and "connected learning" help educators and researchers name and understand the how and the what of the affordances of new media tools in service of a humanizing educational framework, Paris and Winn's collection on humanizing research methods brings us even closer to the who, or the young people with whom we are building. In the spirit of this who question, I wonder what it means to become an educator whose practice reflects the paradigmatic and epistemological spirit of a humanizing framework in the digital age? Who are the educators willing and able to do this work, and how did they find themselves engaged in such a commitment? ← 8 | 9 →
Teacher Journey Toward a Humanizing Pedagogy
This ontological question has been on my heart recently after transitioning from teaching in middle and high school English classrooms in Detroit to working with pre-service teachers at the postsecondary level. In this new educational context, I found it challenging to unpack the role I saw digital media tools playing in literacy instruction in practical ways, especially as it related to issues of equity. I could not articulate with clarity this idea of humanization inside of literacy classrooms nor was I equipped to speak of the role of digital media tools in this endeavor.
When I moved to New York to pursue a graduate degree, I was curious about the identity enactments of urban youth in digital spaces, seeing firsthand as a middle and high school English teacher the multiple and oftentimes powerful literacies that emerged and took root when I created a curriculum that centered critical pedagogy (Morrell et al., 2008; Freire, 1993), culturally relevant instruction (Howard, 2003; Ladson-Billings, 1995), and digital media production (Filipiak & Miller, 2014). Inside of digital spaces and away from the watchful eye of standardized assessments, I noticed that young people seemed to exercise more vulnerability and communicate more freely about content, ideas, and themselves. I saw this across the miniature documentaries we created, digital self-portraits, photojournalism projects, social media campaigns, and youth participatory action research collaboratives we invested in.
Each of these projects provided valuable entryways into the life worlds of young people and their multiple points of self-identity, revealing useful information that could help English teachers like me better understand how to engage youth in more humanizing and productive ways. The digital canvases they were composing upon were not yet cluttered by mandates and, in turn, solidified by teacher expectations, so they sometimes offered me more intimate views of young people as they were or saw themselves. Also, the projects that I began to take on toward the last few years of teaching were crafted with students' sociopolitical identities in mind. Together, we began using both print and digital media tools in the classroom in order to explore and draw attention to community and neighborhood issues that had a direct and almost immediate bearing on students' lives. With all of this said, the negotiation required of me as the teacher, especially the pedagogical understanding and intuition it demanded, was one that I felt could not be groomed by my interactions within traditional educational environments ← 9 | 10 → alone. This perhaps may be why my evolving teaching philosophy was difficult to articulate to the pre-service teachers in a standard teacher education program.
Instead, it emerged and blossomed across relationships I had with people like poet, mentor, and digital tinkerer Brother Mike Hawkins; with young men of color who identified as artists but were traditionally pushed outside of school (see Filipiak, forthcoming); and with my father, who used writing toward the ends of healing, forgiveness, and self-expression. Each of these people, I argue below, beginning with my last encounter with Brother Mike and ending with my father, exercised and made a case for literacy in ways that inform my belief in the necessity of fostering what I am naming as digital social imagination.
I offer this concept and the stories that inform its conceptualization to document a story that I have wanted to read, a story of how a teacher becomes an educator whose practice prioritizes humanization, and more recently, in the digital age. It has become a distracting practice as of late to fetishize the products that digital media tools allow for. Paid less attention is the imagination required to adopt an identity of agency as a young person navigating inhumane spaces, both in school and out, and the ways that this imagination manifests itself in digital arenas.
Moreover, it is even less often that we hear about the teachers who intentionally design learning opportunities where this imagination is permitted, how they came to be, and the relationships that inform their teaching philosophies. This is the gap I wish to address, offering in part an auto-ethnographic account of my journey toward attempts at creating said spaces.
Digital Social Imagination
Maxine Greene (1995) describes "social imagination" as the capacity "to invent visions of what should be and what might be in our deficit society, on the streets where we live, (and) in our schools" (p. 5). Digital social imagination then, in the context of education, is young people leveraging digital media tools toward ends that allow them to imagine how the world might be if it authentically valued everyone's humanity. What better place to explore and then leverage this potential than with young people who dance between and across societal margins and borders? Young people who navigate economic, political, social, and cultural landscapes that engender hope while at the same time birthing violence and despair? ← 10 | 11 →
It is oft said that the presence of media tools alone are not enough to address issues of access and equity. This is especially true when commitments to them are divorced from the authentic needs that young people have, especially those who have been historically marginalized. But teachers who decide to use these tools in service of fostering social imagination can equip youth with experiences that allow for radical envisioning and new ways of seeing their roles in shaping the future, a future that desperately needs transformed human relations and more participatory and distributed economies.
A pedagogy in service of a digital social imagination, I've learned through encounters narrated below, must honor and sustain a process of ongoing transformation that is riddled with uncertainty. This requires a pedagogical stance steeped in purpose, care, and healing. In an age of hyper-standardization and one-size-fits-all teaching approaches, these concepts can be challenging to make a case for. Nevertheless, during a period of rapid change, gross economic inequality, and increasing social fragmentation, it seems an urgent task to consider approaches to teaching that equip students to position themselves as power brokers who can exercise agency within the contexts that they occupy and/or participate, digital or otherwise. The narrated encounters I share below highlight how I have come to understand the necessity of digital social imagination, and why purpose, care, and healing sit at its pedagogical center.
Brother Mike and Shared Purpose
My first encounter with Brother Mike Hawkins happened a few years ago at a think-tank event that brought new media educators, mentors, and stakeholders together to talk about the role of technology in shaping the future of education. A few feet away, I noticed Mike snapping pictures of me, and soon thereafter he greeted me with a fist half-raised and a smile plastered across his face, "I'm just capturing this energy, Queen. I want to remember it. I heard you talking about your work over there. Youth Research in the D? Revolution!"
We talked for a long time this day, and I instantly felt a deep connection. Mike had tremendous energy and a commitment to young people that he made known immediately. In less than an hour, I learned of his love of photography, his work with young gamers, his investment in Chicago poets and hip hop artists, his collaborations with local museums to sponsor maker spaces, and his visions for more projects and collaborations with public institutions. Mike wore many hats but spent the bulk of his time as a mentor to ← 11 | 12 → young people. The various projects that he invested in grew from their needs and desires, and this grassroots approach is what captivated me. Mike learned how to code, how to mix and produce music, how to edit movies, and a multitude of other digital and technical skills, all from youth. Through interactions much like ours I'm sure, he tapped into what Connected Learning scholars name as a "shared purpose" (Ito et al., 2013). The concept of shared purpose embodies communities of practice (Lave, 1991) or groups of people who come together around a shared interest or purpose. The purpose alone is not the only focus of the group, however; the aim is also to solve an identified problem or to create new knowledge. It is this pursuance of solving a problem, or desire to create new knowledge, that Mike knew how to tap into. This was his gift and it was a valuable asset in the digital media circles that he was a part of.
Mike was able to quickly gauge, connect with, and then support an identified area of interest or purpose; he knew how to make you feel like what you were doing and where you came from mattered. For instance, in our first meeting he asked me questions about my experiences teaching in Detroit, how I was making sense of the amplified economic instability there, and how I worked with students to process and speak back to issues of inequity. He didn't just want to know about the products. He asked questions that helped me refine my own process of thinking about my purpose and offered an eager ear that listened unconditionally. He understood that learning was social and embedded within meaning-making processes attached to context, and that tapping into a sense of purpose meant to acknowledge this. When we parsed through our own commitments, we discovered alongside each other our own shared purpose of creating educational spaces where revolutionary love could be waged and expressed. This purpose was nourished and pruned through meaningful interactions that sparked my imagination and pushed my work in directions that I had not previously explored.
When Mike and I met I was in my first year of graduate school and serving as a curator and author for the National Writing Project's Digital Is, an open knowledge base of resources, reflections, and stories that explored what it meant to learn and teach writing in an increasingly digital and interconnected world. Mike at the time was the coordinator of the YOUmedia Center at the Harold Washington Library in Chicago, a digital teen media and hangout space sponsored by the MacArthur Foundation and the Chicago Public Library. Both of us were really excited to talk about our work with each other and had agreed that Digital Is would be a great space to document this dialogue and our emerging philosophies about what exactly it meant to read and ← 12 | 13 → write in a digital world. Over a year, we'd text ideas to each other or have an occasional chat on Google Hangout, where I would transcribe as best I could what Mike would share with me. During our chats, Mike would often dig into his teaching-mentoring philosophy, and he'd speak of the ways in which his relationships with students were informed by and intersected with an understanding of identity, history, and agency:
There are windows and mirrors in education—you are often told to look out the window—But here, you don't see yourself. You need to see a mirror—you need to see that you are beautiful; there is a legacy of art and Social Justice that comes before us. We have to make art and keep it going, make the world better for white and black people. We can't get free until they are, and vice versa. I come in with that lens. The first program I created, "I remix America," I was intentional about transforming education in America. Looking at society in terms of what we are taking in, looking at what is coming in and killing our communities—it is not our community—it's someone else constructing who we are. When we become aware, we become ready to fight it. That's how I approach curriculum, pedagogy, but also how I create partnerships and relationships. Students have to feel that they have the power to transform themselves.
I have pages of transcription from the conversations that I had with Mike. From here, my plan was to work these transcriptions and documentations into recommendations for a resource. But Mike was a busy guy. We couldn't seem to convene long enough to hammer it down and push out a completed piece. Nonetheless, we still kept in contact, and I continued to take notes after our conversations with hopes that when the time was right we'd see a publication through to its end.
During our last conversation, Mike spoke to me of a new position where he had agreed to help launch another teen media learning space at the McGaw YMCA in a local Chicago suburb. He began to speak with me about how, in all of the momentum that was building around digital learning, he feared that the people would be left behind. "None of this work," he warned, "is possible without building and maintaining relationships. I feel like some of that is starting to get lost with the digital media work. It's that idea of shared purpose and mentorship that we've been talking about that's gotta' be there. It's about the people and tapping into their purpose." In that moment, I was reminded of a dialogue we had a year prior that reflected a similar sentiment:
I try not to alienate what they (students) like and what they're into. I am able to have conversations with them about what they're into. These are my key points about what I believe about this work. I am not an authority figure; I know what I know, and students know things I don't. Everyone brings something to the table. A lot of folks don't get ← 13 | 14 → the window in—they see it on a very visceral level—black kids are making stuff. But they don't understand the why—the mentors, the teachers working with these folks, they are able to tap into what matters to the student, develop that sense of purpose.
I had never heard Mike speak in any less than hopeful terms, and so the level of concern he offered about the direction of digital learning has remained vivid. We continued to talk for a few more minutes before an abrupt departure brought on by tasks we both had to attend do, but the final words leading up to the end of our exchange focused on shared purpose; this was a concept that we saw as the glue of an educational philosophy anchored in revolutionary love. Mike told me that shared purpose fueled the digital spaces that he expanded with young people to reflect their hopes, dreams, ideas, and criticisms. He was also adamant about developing authentic relationships with young people before conceptualizing digital media projects. "It would never work otherwise. It's all about the purpose and the connection."
It is THIS conversation that led me to write this chapter, a year after Mike's passing. Mike emphasized again and again that technology should enhance our relationships, not replace them. Referring to himself as a "champion of new media," he saw digital media tools as a way to bolster young people's voices, and for him, this was the revolution. We just had to document it. "We've got to write all of this up, Queen. The revolution is happening." Yes it is, Brother Mike.
Jason and Critical Listening as a Practice of Care
As part of my graduate studies this past year, I conducted a qualitative, multiple-case study that aimed to better understand the literacy practices of five young men of color who self-identified as artists but were labeled as academically struggling in school. I wanted to learn about how these young men practiced literacy in their lives, and what they believed these engagements afforded them.
Inside of this exploration, I also asked them about the pedagogical moves that they recalled teachers and mentors making that supported them as readers, writers, and producers of text. One of the young men, Jason, was a former student in one of my 11th grade English classes in Detroit and was 21 when I interviewed him for my study. At this time, he was enrolled in an out-of-state community college, and had dreams of attending film school while tinkering as a filmmaker, poet, and blogger. ← 14 | 15 →
When I conversed with Jason through Google Hangout about what he thought was the most important skill he gained from our interactions in English class four years prior, he announces, "Listening" with an assurance that piques my attention, "at that time I was curious about what I wanted to do, what I was capable of, and my potential." He goes on to say:
Back then, I was questioning everything, but now I'm observing everyone else's experiences and learning from others' mistakes. I'm always willing to better myself and to listen. That's another thing; the Jason back then didn't really listen. I'll listen now. Then, you know—I wasn't a listener. But now, I know that listening was the biggest thing, you know. … I needed to learn how to do. I had to listen 'cuz then, I always thought I had the answers.
He references listening as a means to filling in gaps of understanding—both academic and interpersonal. When I ask him what brought about this change in thinking, this realization that listening was so important, he identifies a kind of self-revelation: "I realized I didn't know anything … like I wasn't the Jason I thought I was. That's when I started to humble myself."
Jason shares that, at the time, he wanted to connect to other caring adults in high school, "People were willing to, you know … give me more opportunities, and help me and encourage me, instead of saying 'that kid don't listen. He don't care about me.' … I wanted people to know I was a good person as well … and I just wanted people to know I cared for 'em." The prioritizing of listening in his learning environment, taken up by me as well as his classmates, urged him to reciprocate what he viewed as an ethic of care that he wanted initiation into. It is important to note that there was a classroom community that surrounded Jason that prioritized relationships, the collective over the individual, and encouraged students to work toward their personal best. Jason shared across our interview narrations of events when teachers pushed him and challenged him, citing these events as moments where he knew he "wasn't as good as (he) thought he was." He tells me that he developed his skills at this time as a student and writer not to get better at writing, per se, but to participate in a larger social community.
Later, this listening became a very important part of his literacy life at the postsecondary level. He told me that he often asks himself, "Why is it that this person sees the world this way? … Why couldn't someone see things the way I do? … And I'm always writing about these things in my journal … I'm interested in, you know, you as a person … you know? Because everyone is ← 15 | 16 → valuable. You know what I mean? Like everyone has a story to tell. Everyone you know … um, they're humans." When Jason begins to see the connection between his love for words and their agency in the world, he becomes inspired to create, to write. And later, he tells me that he likes to write about the people he meets, seeing them as inspirations for characters that he can use for movies he hopes to one day write scripts for or direct. He extends, "And um … even some of 'em are a piece of me." He recognizes that his story is deeply intertwined with the stories of others, and even begins to assert that his work in the world is tied to the larger project of contributing to a transformed society.
For instance, as a budding filmmaker, Jason expresses that he wants to use media to empower others to see the world differently, to not simply settle for the messages that are in front of them. He wants, he tells me, to create new messages. I think to myself, after several interviews with Jason, about the way he sees the world and its potential, and how important it was that people in his life, at various points, honored the relationships he had with literacy and with words. That they listened to him and encouraged him: his mother, who showed off his poetry to friends at church when he was younger; his peers and teachers who challenged him to do better when he was close to failing most of his classes; his friend who gave him a journal to record his thoughts; and countless others who refused to measure his academic potential by a test score, his performance on school-related tasks, or his initial proclamation that he would never go to college.
In many ways, the small but consistent acts of critical listening and care served as a buffer against the alienating bureaucratic structures of school. This care, at least in part, permitted Jason to maintain his commitments to creativity and innovation in spite of the many discourses around him that privileged obedience and replication. It also cultivated a sense of empathy that he is now carrying into his work as a media producer. Only last month, I learned that he gained admittance into Syracuse University's Media and Cultural Studies program, a far cry from his adamant stance in high school of never wanting to attend college and a report card through 11th grade of mostly Ds and Fs. As it relates to my own pedagogy, my interactions with Jason across years solidified my belief in the process of social imagination as a developmental one. Jason needed people to help him hear his own voice and see his emerging vision through, even in the face of what appeared to be tremendous failure and resignation. Listening and care were paramount. ← 16 | 17 →
My Father—Writing for Healing
Months after my father passed away eight years ago, I found his journal, typed up and bound. It spanned accounts that happened mostly during the four years that I was in high school, and it was filled with questions. He was not rich, did not have many friends, had a big mouth, and demanded honesty. He worked hard and loved harder. Within the pages of his four-year account, I learned about his divorce from my mother, heart attacks, his painful scoliosis, family secrets, lost jobs, parenting victories and defeats—but most important, about questions. While some may say that the deeds of his life were anything but heroic, I admire my father most for his questions—his ability to be human, accepting his own and others' frailties, and wanting desperately to know God. Inscribed across hundreds of pages were questions about family, race, hardship, religion, hope, friendship, education, and grace. In its most powerful sense, he used writing to understand what most would consider tremendous suffering and heartache—or discovering, as he would say, "How to find joy in the bottom of your bowl of grief."
My father wrote on his own terms, for purposes that mattered to him. Journal entries, coded letters, poetry, comics inside of love letters (see Figure 1.1), songs that he performed—he took up literacy in ways that fostered self-healing and creativity, investigating aspects of his identity while also working through life's challenges as they arose. In turn, those he gifted with his personal etchings received permission to enter into a dialogue with him and, perhaps just as important, with themselves. Writing events were transactions for healing and humor, discovery, and also for entertainment in my household. It might be no coincidence that as a first-generation college student, I chose to pursue a career in English education and that my interests have largely centered on generating spaces inside of classrooms where young people might be permitted to interact with literacy in humanizing ways.
I attribute my focus on agency and transformation in part to my witnessing of my father's writing life across my childhood and early adulthood; through him I saw firsthand how writing could change people's lives and carve out new possibilities—real and imagined. Writing could not heal my father's back, but it could mend his heart. It could not repair his relationship with my mother, but it did open up space for him to grieve their divorce. It did not help him find work that he needed to pay the bills, but it did usher in his dream of becoming a published author. ← 17 | 18 →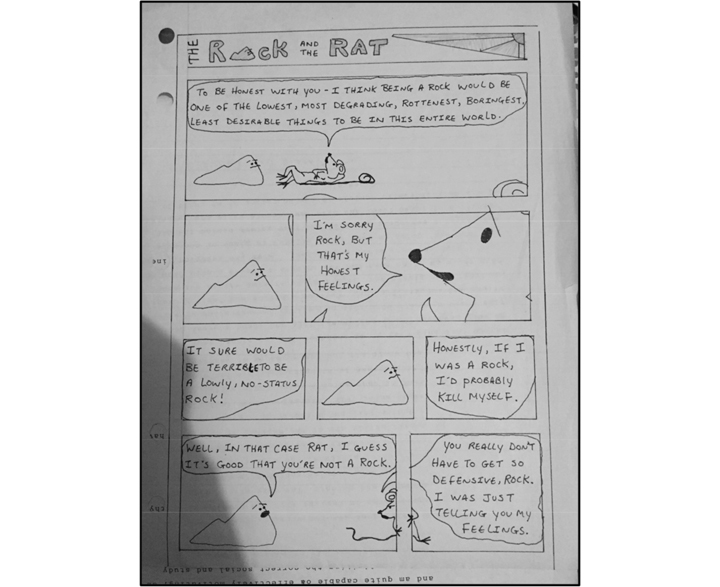 Figure 1.1. Comic written and illustrated by my father at age 17.
Healing is necessary for social imagination to germinate. To imagine spaces where everyone's humanity is valued, young people need to also have opportunities to acknowledge and speak back to those circumstances and spaces that do not. One unique affordance that digital media tools provide toward this end is the ability to share visions and struggles publicly and in a manner that is immediately accessible. We have seen this, for instance, in the #blacklivesmatter movement that initially saturated social media feeds in response to rampant police brutality. Over time, the organizers of this movement have used social media to not only draw attention to the pervasiveness of racism in our society but also to affirm and celebrate Black lives. Their strategic interventions, both in social media and physical spaces, have demonstrated how integral a part healing plays in resisting dehumanization. Critique alone, while valuable, is not enough. Organizers of this movement have made clear the urgency in also holding up narratives that amplify the contributions and humanity of those rendered invisible. ← 18 | 19 →
Conclusion
In many schools, toxic discourses need to be replaced with hopeful ones. Part of this work is in providing educational opportunities for young people to construct positive visions of themselves and of their communities. Digital media tools offer new avenues for young people to dissect the human experience and present it back to themselves and each other in new ways. In these transactions, they can gain a renewed sense of hope attached to ideas that might not be immediately present but possible. Along these lines, the belief that adults have or don't have in young people's ability to imagine a world different from what we currently have is important, as Brother Mike reminds us:
This ain't about just products, artifacts, or spaces, but this is about a process of change. And I think that process of change is really about loving these students, and believing they can do it. A lot of times, they are in spaces, a country, a place that doesn't believe they can do it. I want to transform this into an "I can society" … we really have no other choice. We are in a space right now, at this time, that if kids have access to what they need, we will likely have a different society.
References
Filipiak, D. (forthcoming). I love myself: Becoming designers of social futures in production-centered contexts. In D. Hucks, S. Carothers, C. Lewis, Y. Sealey-Ruiz, & V. Showunmi, (Eds.), Purposeful teaching and learning in diverse contexts: Implications for access, equity, and achievement. Charlotte, NC: Information Age Publishing.
Filipiak, D., & Miller, I. (2014). Me and the d: (Re)imagining literacy and Detroit's future. English Journal, 103(5), 59–66.
Freire, P. (1970/2000). Pedagogy of the oppressed. New York: Continuum.
Garcia, A. (Ed.). (2014). Teaching in the connected learning classroom. Irvine, CA: Digital Media & Learning Research Hub.
Greene, M. (1995). Releasing the imagination: Essay on education, the arts, and social change. San Francisco, CA: Jossey-Bass.
Greene, M. (2001). Variations on a blue guitar: The Lincoln Center Institute lectures on aesthetic education. New York: Teachers College Press.
Howard, T. C. (2003). Culturally relevant pedagogy: Ingredients for critical teacher reflection. Theory into Practice, 42(3), 195–202.
Ito, M., Gutierrez, K., Livingstone, S., Penuel, B., Rhodes, J., Salen, K., Schor, J., Sefton-Green, J., & Watkins, S. C. (2013). Connected learning: An agenda for research and design. Irvine, CA: Digital Media & Learning Research Hub.
Ladson-Billings, G. (1995). Toward a theory of culturally relevant pedagogy. American Educational Research Journal, 32(3), 465–491. ← 19 | 20 →
Lave, J. (1991). Situating learning in communities of practice. In L. B. Resnick, J. M. Levine, & S. D. Teasley (Eds.), Perspectives on socially shared cognition (pp. 63–84). Washington, DC: American Psychological Association.
Morrell, E. (2008). Critical literacy and urban youth: Pedagogies of access, dissent, and liberation. New York: Routledge.
Morrell, E., Duenas, R., Garcia, V., & Lopez, J. (2013). Critical media pedagogy: Teaching for achievement in city schools. New York: Teachers College Press.
Paris, D., & Winn, M. T. (2013). Humanizing research: Decolonizing qualitative inquiry with youth and communities. Thousand Oaks, CA: Sage.
Simpson, D. J., Jackson, M. J. B., & Aycock, J. C. (2005). John Dewey and the art of teaching: Toward reflective and imaginative practice. Thousand Oaks, CA: Sage.
Playing, Teaching, and Learning with Adolescents' Digital Literacies
Lalitha Vasudevan, Tiffany DeJaynes, and Stephanie Schmier
In a computer lab on the sixth floor of a federal building, four young men and one young woman spread themselves out across the machines. Three iMacs were brought in that day and set up adjacent to one another on a long folding table, and eight PCs lined the perimeter of the room. Frankie, the young woman, used one of the PCs connected to the Internet to search YouTube (youtube.com) for a video she had previously uploaded to the video-sharing site. Bruce sat down in front of an iMac, opened up iMovie, and named his file "slickone," after the moniker he had earned in his neighborhood. All of the images he wanted to use for his afternoon movie project were on his MySpace page, so he borrowed a flash drive from the facilitator of the digital media dropin hours and accessed his online profile on a PC. After selecting six images, and with Joey's help, he transferred the images onto the iMovie clip palette. Joey and Bruce worked together to drag and drop the images onto the iMovie timeline, where images and video can be organized into a desired sequence. When Mathu,1 the facilitator, asked if Bruce could find the "effects" tab so that he could apply them to his images, Joey, who was still sitting with Bruce, pointed to the tab and responded with laughter, "It says 'effects.'" Bruce spent the next hour applying and then removing effect after effect and made accompanying noises of exclamation and dissatisfaction at regular intervals. ← 21 | 22 → He left for work before he could finish his movie, but felt confident that he had mapped out the story he wanted to tell: one of himself as a former graffiti artist who was now seeking new canvases by painting clothing, hats, and signs for friends.
The youth who used the computer lab during the digital media drop-in hours moved seamlessly between "online" and "offline" spaces, and their digital literacies reveal hybridity in their multispatial navigations. While this vignette does not offer a definitive description of a completed project or product, the interactions across youth and adult reflect the pedagogical nature of a space in which multiple modalities for expression, communication, and representation are present. In this and other digitally rich contexts in which youth are engaged in the composition of multimodal texts (Hull & James, 2007; Ranker, 2008; Ware, 2008), experimentation and exploration are encouraged and literacies are not tethered to "in-school" and "out-of-school" binaries.
The well-documented literacies of adolescents reflect the shifting terrain of young people's communicative practices and the technologies that mediate them (Alvermann, Hinchman, Moore, Phelps, & Waff, 2006; Chandler-Olcott & Mahar, 2003; Skinner & Hagood, 2008). Virtual worlds, social networking sites, microblogging services, blogs, and wikis are among the several new kinds of spaces that Web 2.0 technologies make possible. Wesch (2007), a cultural anthropologist, in his highly popular video in which he analyzes the participatory culture of Web 2.0, suggests that among the concepts we need to rethink in light of the communicative, archival, and design affordances of evolving Internet technologies are authorship, identity, aesthetics, and even love. Recent studies of adolescents' literacies resonate with Wesch's claims and illustrate a range of emerging practices across a diverse digital landscape encompassing spaces online and offline. These emerging literacies are evident in the sophisticated layering of texts, images, and sounds involved in the production of anime music videos (Ito, 2006). Digital literacy proficiency is also required to navigate and communicate within the unfamiliar semiotic contexts of video games (Gee, 2005), in which participants confront new situations, assume a range of roles and identities, and find themselves in a variety of communicative interactions. These are not merely new forms of "letteracy" (Lankshear & Knobel, 2007) and not solely concerned with the production of written texts. The challenge to educators is to be pedagogically nimble in order to most effectively support the literacy learning of adolescents who are engaged in these and many other literacies, which move across spaces of home, community, and school. ← 22 | 23 →
Multimodal Play
To this discussion of youths' online and digital literacies we bring the concept of multimodal play (Vasudevan, 2006), which illuminates otherwise dismissed or overlooked interactions with digital media and technologies for purposes of composing. Often, youth use humor and playfulness to navigate their daily discourses. This approach is also evident in the ways that youth approach new technologies and cultivate new literacy practices. In this chapter, we draw on research with adolescents in media saturated contexts in order to advocate a "pedagogy of play" while making connections with adolescents' digital literacies landscapes. We suggest that through multimodal play—including textual explorations, reconfigured teaching and learning relationships, and the performance of new roles and identities with and through new media technologies and media texts—educators are better able to make pedagogical connections with adolescents' evolving literacies.
The theoretical concept of multimodality provides a framework for understanding new forms of composing—not only the composing of multiple texts out of multiple modes but also the engagement of myriad digital "tools" to participate in equally varied digital geographies (Vasudevan, under review). Multimodal composing, therefore, refers to more than bringing together separate modes of expression, such as sound or image, in the production of a text. Two ideas are important to consider when applying a multimodal approach to composing. First, it is important to recognize that reading and writing have always been multimodal. As Jewitt (2005) notes, even printed texts "require the interpretation and design of visual marks, space, colour, font or style, and, increasingly image, and other modes of representation and communication" (p. 315). A multimodal approach allows educators and researchers to attend to all of the resources involved in composing, which are especially visible in digital composing. Second, the ability to bring a variety of modes—for example, print, image, sound—together in the same text not only changes the way a text can be conveyed but also opens up new possibilities for what kinds of meaning can be conveyed (Hull & Nelson, 2005; Jewitt & Kress, 2003). Adolescents are engaged in these types of composing across the hybrid spaces they travel on a daily basis (e.g., instant messaging with written language within a virtual world in which they must communicate using an avatar; or incorporating photographs taken with a smartphone camera to their latest blog post). Portable technologies and increased wireless connectivity enable greater ← 23 | 24 → variation in what is composed, where and when composing happens, and reasons for composing.
We recognize that when youth are tethered to virtual spaces, such as microblogging sites like Twitter (twitter.com) and online video services like Hulu (hulu.com), their physical location also matters. Thus, we draw on this framework of multimodal play to extend the ongoing discourse about multimodal text production by considering the makeup of the physical spaces in which teaching and learning with multiple modalities occur. Outside of schools, in many youth-focused media organizations, the availability of a wide variety of expressive modes, multiple audiences, and opportunities for collaborative as well as individual composition is mediated through a shared understanding of what we refer to here as multimodal play. While many examples of multimodal play are found to exist outside of school and in spaces that afford different social arrangements, there is growing evidence that suggests ways in which this ethos is possible within school spaces (Fisher, 2007; Hill, 2009; Wissman, 2005, 2008). As the examples in this chapter illustrate, the pedagogical stance of multimodal play can be helpful when reimagining classrooms and can be generative of meaningful literacy practices and teaching and learning relationships.
In places like Youth Radio, which is a broadcast training program for youth in the San Francisco Bay Area, as well as other projects that provide youth with largely unrestricted access to technologies, their explorations yielded unexpected and unplanned digital innovations (e.g., the music sharing service, Napster; the footage shot by children involved with the documentary Born into Brothels; on the ground documentation by young soldiers of the war in Iraq) (Soep & Chavez, 2005). Soep and Chavez (2005) urge adults "to recognize that young people's media experiments are pushing the work of many adults and the institutions created 'for' youth"(p. 417) so that educators can build on these digital innovations in purposeful ways. In a youth media organization like Youth Radio, adults and youth engage in a "pedagogy of collegiality" to accomplish collective goals of youth development and media production. This "[c]ollegial pedagogy, then, characterizes situations in which young people and adults jointly frame and carry out projects in a relationship marked by interdependence, where both parties produce the work in a very hands-on sense" (2005, p. 419). This approach to pedagogy works in such a setting where a spirit of experimentation abounds, and where there is both physical and figurative room to play with roles, composing repertoires, literacies, and goals. Youth Radio and similar settings (Goodman, 2003; Hull & Katz, 2006) exist outside of the school walls. While calls for rethinking literacies pedagogies with adolescents abound (Alvermann, 2002; Burke & Hammett, 2009; ← 24 | 25 → Hull & Schultz, 2002; Pahl & Rowsell, 2006; Schultz, 2002), we have fewer examples of this call to action coming to fruition inside schools.
In this chapter, we present three instances of practice from our research with youth across three unique, urban educational settings and focus on the significance of play with technologies and media in literacy teaching and learning with adolescents. Each of us assumed different positionalities in our research, which afforded us varied entry into these multimodal educational spaces. We offer three different perspectives on creating and sustaining sites of multimodal pedagogy that are informed by understandings of adolescents' emerging literacies. One case explores an eighth grade journalism and media studies class and illustrates the ways in which the teacher utilized online tools and resources in the creation of a monthly school newspaper. A second case looks at the unexpected affordances of blogging in a high school English classroom. And a third case examines the engagement of social networking and video-sharing sites in the negotiation of identities and relationships between teachers and youth in an alternative to incarceration program. We conclude our chapter with a discussion on the implications of the increasingly digitally mediated lives of youth for the educational institutions in which they participate.
Becoming New Media Journalists in an Urban Middle School
Room 208 at East Side Middle School looks very different from most of the other classrooms in this large urban public school. Thirty-five eMac computers circle the perimeter of the room surrounding a large "conference" table in the center where the 43 students enrolled in the journalism and digital media studies class meet at the beginning of sixth period each day to discuss their current projects and ask for support or feedback from the class. Though many of these students did not have an interest in journalism or expertise in digital media prior to being randomly assigned to the class by the administration, most readily took up the task put forth on the first day of school by their teacher, Mr. Cardenas, "You report. Journalists report the facts …. [In] this class you will be journalists."
Over the three years that Mr. Cardenas has taught the journalism and digital media studies elective,2 he has transformed his classroom into an authentic workspace where he and his students explore both traditional and new media journalistic practices such as podcasting. During sixth period, students are journalists. They are provided with "press passes" that afford them freedom to move ← 25 | 26 → around the school to report on issues of interest and importance to the student body and access to a few digital still and video cameras which they use to perform their role as journalists. This freedom comes with responsibility. Students are required to make appointments to obtain interviews from their "sources" which include faculty and administration as well as fellow students and community members. Mr. Cardenas encourages the journalism students to work hard and be creative, and reminds them often of the importance of their jobs to "dig a little deeper to find something interesting that's happening, things that will matter to [our] students." He also takes his students on a field trip to the major newspaper in the city to learn about how and where journalists work.
As the above description of his classroom depicts, Mr. Cardenas employs a pedagogy of play in his classroom informed by a view of adolescents' literacies as meaningful and complex. His students play out their role as journalists, using props such as reporters' notebooks, cameras, and press passes to write about important issues in their school ranging from the academic curriculum to the nutritional quality of the cafeteria food. In contrast to some recent attempts we have heard about of teachers bringing out-of-school online literacy practices such as social networking on MySpace into their classrooms to engage students in academic content (e.g., create a MySpace profile for your favorite English poet), Mr. Cardenas acknowledged that many of his students had gained proficiency in a range of technologies through their participation in online communities and drew upon their expertise as he introduced them to new forms of composing with which most were not already familiar.
When I (Stephanie) interviewed one student, Casey, about her experiences in the class, she shared how she appreciated the way Mr. Cardenas respected the knowledge that students brought with them into the classroom and didn't "waste time" teaching the students skills they had already learned outside of school. Casey noted "Like he [Mr. Cardenas] knew that we use cameras outside of school. He knows that you [Casey and her fellow students] know how to use them." Furthermore, Casey valued how Mr. Cardenas pushed students to learn about new ways of using familiar equipment and tools to explore topics of interest, saying "He let us do our own topics and let us play around with the camera." Another student, Sabina, described how Mr. Cardenas incorporated new online literacies into the classroom in ways that valued what the students knew and positioned them as responsible. Unlike other teachers and her parents who she felt did not trust the students at the school to use the Internet appropriately without strict supervision and instruction, she felt that Mr. Cardenas created an environment where the ← 26 | 27 → students could learn to use the technology responsibly and in Sabina's words, "let us learn how to fly," something that she described as essential for the youth at her school to succeed in our increasingly digital world.
Mr. Cardenas and his students drew upon the affordances of a variety of online resources throughout the academic year as the school newspaper developed from a print-based PDF posted to the school website to a series of audio and video podcasts hosted through a free third-party online classroom resource. The podcast project required students to create a digital and downloadable audio file of one of their news stories using GarageBand software3 (http://www.apple.com/ilife/garageband), which Mr. Cardenas had introduced through a directed whole-class lesson. Just as with all new projects that Mr. Cardenas introduced, many students played with the format of the project in order to tell their stories in creative ways.
Rosy was one such student whose podcast documented the exceptional artwork of a student at the school. Through experimentation with the software, Rosy realized that she could use both iMovie and GarageBand together to create a video podcast. In her podcast, she juxtaposed an interview she conducted with the student artist with her artwork. In so doing, Rosy created a meaningful multimodal text that showcased the artist's work in a way that would not have been possible in a solely audio format. Rosy, who aspired to be a journalist, shared that the use of technology in the journalism and digital media studies class "open[ed] the doors to what is going to be in the future…Getting us prepared for what's going to come." In an era when traditional print newspapers are quickly becoming extinct, the curriculum that Mr. Cardenas designed clearly helped Rosy consider how she could blend her proficiency with online media and passion for journalistic writing. She was able to position herself as a "shape-shifting portfolio person" (Gee, 2002), with the ability to design and redesign her work processes and texts, a skill which some have argued will be essential for success in our emerging global economy (e.g., Gee, 2002; New London Group, 1996).
Marie was another student who played with the podcast project format, leading to the creation of a digital text that uncovered and critiqued concerns over the quality of the educational experiences available to students at East Side Middle School. In her core academic classrooms where the curriculum is mandated and designed primarily to prepare students for the state standardized tests, Marie, who is an avid writer and blogger in online spaces, often takes up the position of "disengaged student," especially when the task is a traditional type of print-based school assignment with strictly mandated ← 27 | 28 → parameters put forth by the teacher. However, this was not the case in the journalism and media studies class, as is exemplified in the way that Marie approached the podcast project. For the podcast, she chose one of the topics offered by Mr. Cardenas, a new teacher profile, though she had the option of coming up with a topic of her own as well. Marie wanted to interview her new English teacher, the fourth teacher that the eighth graders on her track had that year. Marie developed a list of thoughtful interview questions which included "What made you want to teach at our school?" and "Are you still in teacher school?" When I asked why she inquired about whether he was still in school, she replied, "He doesn't look like he has a lot of experience." She went on to articulate her frustration with some of the English teachers who had taught at her school previously but was impressed with the fact that this new teacher agreed to come in during lunch and be audiotaped. Marie spent her own time during lunch recording the interview, editing her podcast, writing and recording an introduction and conclusion, and adding her own touches to the piece including music. Clearly, the social space of the journalism and digital media studies class allowed Marie to take up a different subject position than in her core classes, and the multimodal affordances of the podcast project allowed her to reposition herself as a "successful and engaged" student in ways not available in her core classes. The space also allowed her to critique the circumstances in her school, and design a multimodal text, which articulated what she saw as a grave injustice: that she and her fellow classmates in this under-resourced school are not provided with the experienced teachers who can give them the quality education they deserve.
The case of Mr. Cardenas' journalism and digital media studies class exemplifies how educators can make pedagogical connections with adolescents' evolving literacies through creating an authentic and meaningful workspace in which they can explore topics and issues of importance to them and share their thoughts through the creation of multimodal online texts. Mr. Cardenas' openness and flexibility to both ideas from other educators as well as the students in the class created a different type of space than the classrooms where students spent most of their day taking core academic classes. In these spaces, strict pacing plans and standardized curriculum provided by the school district were employed, and a majority of the students in the school were positioned as "underperforming." By contrasting these dominant school spaces and routines, Mr. Cardenas afforded diverse students at East Side Middle School opportunities to tell the stories that they wanted to tell in new and different ways, allowing them to reposition themselves as successful authors ← 28 | 29 → and designers, as they played with literacies and identities through their roles as new media journalists.
Blogging and Other Social Media in the Classroom
In my bright, sunny classroom at a new, arts-focused small high school in Brooklyn, New York, I (Tiffany) have a small but revealing window into students' technology interests. I consciously incorporate media and various technologies into my class projects, have more technology tools available than any other classroom in the school, and invite students to participate in social networking spaces (i.e., Facebook, AIM) with me if they choose. In practice, this means that students often work on laptops from the school's computer cart during class and that I let them "get away with" more time on their sidekicks than many other teachers would, often to the dismay of my administrators. Over the course of the year, I've found that interacting with students through social media has been one of the key factors in knowing them more deeply and also building trusting relationships.
Being the "techy" teacher means that I have a broader range of media resources in my room. Most visible is the stationary Mac tower with a large flat screen monitor in the back of my classroom. As a teacher of 12th graders with college applications due and a yearbook to design, I negotiated having this nice and more or less unclaimed computer moved into my room. Because of my willingness to let students on the computer for various reasons any time of day (before and after school, during free periods, and often even during a lesson), a student is working on that computer almost all of the time. No less significant is that I have two drawers of my desk full of technology: two "unlocked" laptops that are special because they aren't blocked by Department of Education Internet filtering software and can be used to access YouTube and social networking sites. We often call these the "good" laptops, simply because of their unrestrained access to tools we need and use. Additionally, my desk drawers hold my personal SLR camera, a digital video camera purchased with an educational technology grant, a tripod, a projector, and speakers for streaming music into the classroom. Thus, the technology in the cart and desk drawers are used in this English classroom in a range of ways—from class work to college work, personal communications, and a range of visual documentation, presentation, and entertainment purposes.
Media have a real presence in our school often in terms of the arts; however, media rarely enter into content areas or literacy classes in ways beyond ← 29 | 30 → "typing up" papers or doing loosely guided Internet research. Of the various media projects that I've brought into my classroom this year, student-created blogs (short for web logs, journal-like personal web pages) have become the longstanding form of classroom multimodal text production that I've introduced as an educator. Student blogs fit into the classroom structure primarily as a "homework" assignment, free-writing that I read and comment on digitally and assess solely on completion. A content analysis of my students' blogs found that they focused their writing on the following issues: academic or financial stress, high school graduation, college, friendships, dating, national politics, hobbies, special events, identity, other media (i.e., games, music, films), and a few students used their blogs exclusively for creative writing—poetry and short stories.
Other technologies are brought into the classroom with implicit invitation. I often observe students with personal communication devices out on their desks—SideKicks, iTouches, BlackBerries, or the like. Students use these devices in class for a range of activities—from cell phone text messaging to instant messaging (i.e., AIM) to blogging to even typing up papers or doing research for class. My students have learned that only answering their phones in class will garner much disciplinary action, as it is distracting to others and socially inappropriate. Otherwise, small communication devices and social networking are invited into the classroom space when they aid in learning or do not get in the way of it.
As an English teacher who is a bit unconventional in her curriculum (more a writing and media teacher than a literature one), it has taken some time for students not only to trust me as an individual but also to trust my methods as a teacher. When I first asked them to start blogging many students expressed extreme dismay. "Why do we have to write so much? Can't you just give us a quiz? What's the point of all of these writing projects? Can't we learn the material another way?" Some of my students were fairly resistant to an unconventional, writing-based curriculum and my department peers weren't quite sure what to do with it either. Often these students are the ones who have been successful in more traditional literature-based classrooms. Other students, ones who struggle with print, were visibly delighted in being able to type in whatever script they like on their blogs, post photos and videos, and so on.
One particular student, A'idah, often does not want to do the assigned work for class and asks if she can blog. I don't always allow it, but her class happens to be at the end of the day and many students cut class. One afternoon A'idah asked if she could take a short story written by Junot Diaz (1997) with her to read on the train and blog during class instead. I nodded my head, ← 30 | 31 → handed her an "unlocked" or "good" laptop and told her I would check three entries at the end of the period. I'd learned to give her a goal and check it, because sometimes she only pretends to blog as she sifts through Facebook pages and music videos instead.
About midway through class, I sat down next to her and watched her type. She barely looked up but began to narrate without prompting. She said, "I'm trying to describe myself from the outside in." I watched as collected adjectives poured onto the page and she checked how they lined up visually next to the photo of herself that she'd pasted into the entry. Next, I watched her edit the html code in the entry, watched her delete the ads from the song she'd posted in the entry (from imeem, a social media outlet that allows users to watch, post, and share digital content). She didn't like how the ads cluttered up her post, so she went into the html code and started editing out the ads. She moved quickly and effortlessly in editing the code; however, when she had finished the html was broken. She said, "I hate that." I muttered, "yeah, me too, because I can never figure out where I broke the html when I was deleting stuff." Nonetheless, she persevered, quickly found the missing bit of code, repaired and published the entry. I was surprised when the next thing I saw on the screen was an entry that looked different than the one we'd seen in "preview"—the words didn't roll alongside the picture just as she'd planned. When I asked her about it, she shifted to the larger question of how limiting the blog layout was. However, she exclaimed she loved blogging despite these limitations. Of course, I asked why. She started talking rapidly, rambling on. I said, "This would help me with my dissertation. Can I take notes?" She nodded, watching me begin to type up her words as fast as I could. Here's what I wrote as she talked:
I hate writing stuff on paper because I feel like my hands can't keep up with my thoughts when I write on paper. When I get to the end of the page with my pen, I feel like I lost my thoughts.
I notice that I have more good thoughts when I'm on the Internet, clicking on stuff is more efficient than writing. I can get to everything I want on the Internet. If I click on Wikipedia I can get to what I want. I have more access to things like turtles…pet section. Plus online you can find a lot of other people who think the same thing you do. Google is my favorite thing. You can research forums and just anything. It expands my thinking more than books.
[She pauses; I redirect with "Why blogging?"]
Blogging is more exciting than a journal because people can appreciate writing more than if it's in a book. I also feel like people are more apt to read my stuff if it's on the Internet than it's in a book. ← 31 | 32 →
She was talking about how great it was to write quicker than on paper and I was barely keeping up transcribing her thoughts. She asked as I plugged away transcribing in real time, "You writing all this?" I nodded and kept typing. "Cool," she said. As she talked, she unplugged her SideKick from the wall, packed up her belongings, and when she'd said about all she needed to say, she mumbled toward the door, "Yeah, I'll text you Miss DJ, we can talk more about this when I get home." As she left, I handed her the short story and told her to read it on the train.
Audience is no small thing to A'idah. Her best friend often gets a shout out on her blog, and she was pretty delighted the day a girl she had a crush on began to publicly "follow" her blog. One afternoon, after I'd commented on something I'd liked in an earlier blog entry, she asked, "So do you really read all our blogs, Ms. DJ?" I said, "yeah." Her response: "You're a good teacher, Ms. DJ." I laughed, "so you like it that I read your stuff?" "Well a lot of teachers don't actually read stuff." Writers need readers and blogs are a good shot at making that happen, if an imperfect one. A'idah told me that her favorite entry of the day was the one titled "apathy," one that I suspect she wrote for the art teacher—a mentor of hers for four years who reads her blog and keeps telling her to move beyond her newfound apathy. Instead of simply moving beyond it, A'idah uses her blog to explain how her apathy is a matter of coping with stresses for her. Thus, the blog has provided a space for A'idah to connect through writing with a few trusted readers who give her feedback on dilemmas she has experienced.
A'idah's story is not unusual. Many of my students used the space of blogging to gain an audience of trusted readers—friends, teachers, and sometimes even parents and siblings. Throughout the year, student blogs have provided me as a teacher with a sense of students' emotional states and their practical progress through many of the stresses of 12th grade—high stakes high school exit exams, difficult classes, the college application progress, and more personal, individual issues. Thus, blogs provided a way to not only get to know my students better as writers and media-savvy young people but also enabled me to be a better advisor—to follow up digitally and in person, sharing in their successes and struggles and supporting students as they developed into independent young people.
Making Our Space by Engaging MySpace and YouTube
In a classroom context where new geographies of teaching and learning were being crafted on an ongoing basis (Vasudevan, 2009), the online literacies ← 32 | 33 → of both youth and adults played an important role. This was evident during a brief exchange I (Lalitha) witnessed while talking with two teachers one afternoon. Joey, a young man who was 18 years old at the time, walked into Christina's office as she, Norman, and I were discussing potential candidates for the Digital Media class I was planning. Joey, who we all agreed should certainly be one of the participants, was finished with classes for the day and had come to hang out with Christina for a few minutes before he headed off to his internship at a media design company.
The four of us squeezed into Christina's office and Joey, a born storyteller, regaled us with the latest tale of his adventures around town. He told us that while riding the subway on his way home the previous afternoon, he started talking with a young woman whose cell phone he admired aloud. It was the latest SideKick, a newer version of the phone he currently owned. Being a tech savvy teenager himself, Joey felt he had found a kindred spirit as he observed her navigate her multifunction communication device with ease. Not wanting to lose touch, Joey and the young woman "swapped URLs" so that they could access and be linked to each other's MySpace profiles. The three of us listening to the story laughed out of curiosity, and Joey clarified that "they"—presumably, youth of his generation—are more inclined to share online profile information than phone numbers. He identified a shifting communicative lexicon that is readily emerging in the social practices of youth.
Far from being dismissive, however, Norman and Christina were engaged in the story and probed Joey further. They asked him about his online profile, made note of his URL, and agreed to "friend" him so that his profile could be linked to each of their profiles as well. These teachers, like many of the other teachers, counselors, and other staff members at Alternative to Incarceration Program (ATIP), also used the social networking site and actively communicated with others via their online profiles. Some of them were linked to participants via the "friending" function of the site. As Christina once noted, MySpace messaging was sometimes the quickest and most consistent way of contacting the participants when they couldn't be reached otherwise. I created an online profile for myself as a way to maintain contact with some of the youth, particularly after they graduated from the program, and found Christina's observation to ring true. Sometimes cell phones and home phones were shut off for periods of time, but the youth could always find a way to access their MySpace pages.
At the ATIP where Christina and Norman taught, and where Joey was a participant, educational classes were organized to support participants' preparation for the General Equivalency Diploma (GED) test. ATIP provided a ← 33 | 34 → range of services for youth who had been arrested and mandated to attend their program by a judge, in consultation with a court representative who worked with the program. Only a small percentage of the mostly young men who attended the program already had their high school diplomas or equivalency certificates. Many had dropped out of high school prior to their arrest and most had a history of interrupted school experiences. However, many displayed a range of digital competencies including, but not limited to, participation in online social networking spaces. Amid a steady stream of photocopied math and grammar worksheets—that, on first glance, seem out of place in a context that places primacy on a holistic approach to education—are consistent pedagogical practices that draw on youths' digital literacies.
One afternoon, following the administration of a GED predictor that eligible participants take to assess their readiness for the GED exam a few weeks later, Norman was conducting a mini-lesson about basic economic principles. He asked the class of eight young men seated in the classroom what they knew about investing. There was a long pause, and then one young man asked for clarification: "You mean, like, how white people invest their money?" Norman, who was of South Asian descent and who had recently cut his long dreadlocks, looked at the young man wearing an over-sized plain white tee-shirt with curiosity. He probed for a longer response. The young man continued, "Cuz, people in the hood—they wear their investments." A smile began to creep across Norman's face and, seeing the computer lab unoccupied, Norman shifted the physical location of that afternoon's class across the hall. He asked Martin, the young man who made the observation about racial differences and investment strategies, to find evidence for his claim. A couple of the other participants sitting near Martin laughed when he initially logged into his profile. The humor was due in part to the cacophony between Martin's "tough-guy" pose seen in his profile photo and the good-natured persona he often displayed at ATIP. In response to Norman's invitation, Martin clicked on several of his friends' profiles, repeating "see?" after each one. As he brought up several images of youth adorned with large pieces of jewelry or pointing to customized accessories, Norman wrote terms on the whiteboard on the wall adjacent to Martin in a manner reflective of free association. He wrote "consumption" next to "supply/demand" and then underlined both with a double line and underneath wrote, "personal economics." During the next 45 minutes of class, everyone in class opened up their own MySpace profile and began identifying images that reflected some of the economic terms that Norman had highlighted. The room was filled with a steady stream of laughter ← 34 | 35 → as the young men looked over each other's shoulders, and as they waved Norman over to share their visual artifacts.
The teachers at ATIP recognize the importance of the visual media for the youth who filter through their classrooms every day. They are equally aware that these youth are inhabiting and participating in a variety of digital spaces that are multimodal and online in some way. Similar to Martin's navigation of MySpace to support his economic argument, ATIP participants routinely brought up video clips they had either viewed or uploaded to YouTube, the video-sharing site. Like Frankie, the young woman who used her YouTube video to simultaneously communicate a narrative about her sexuality and her identity as a multimedia artist, other participants named and shared videos they found terrifying, funny, realistic, and unbelievable.
Along with Norman and Christina, Tony was another teacher at ATIP whose pedagogy was responsive to the cultural funds of knowledge that youth brought with them into the classroom (Moje et al., 2004; Moll, 1992). One of the classes Tony taught was Next Steps, a college preparation seminar designed to meet the needs of ATIP participants who either had obtained their high school diploma or who had taken the complete GED test. During one of the cycles of Next Steps that I documented, the writings of James Baldwin served as the main texts for the seminar. Tony, who had been teaching at ATIP for four years at the time, had begun to explore the visual realm in his teaching and was increasingly aware of the participants' familiarity with digital technologies and YouTube in particular. He began to incorporate this resource into his teaching as a way of illuminating the words and messages of a prolific author like Baldwin. By using a familiar resource like this video-sharing site, whose access is blocked in many public schools, Tony aimed to disrupt any dichotomizing that might have occurred between a revered author and current popular texts. In doing so, he was not merely using "out of school" literacies and texts to bridge "in school" objectives, but rather strived to construct a hybrid space constructed of shared understandings—amongst Next Steps participants and teachers—toward the realization of collective goals.
On one particular afternoon, this hybrid space lived in the context of Tony's office where he had access to his computer and loudspeakers. Rather than continue a discussion on the way Baldwin moved and held his cigarette during interviews, Tony shifted the location of class so that he could share a video of the author in different contexts. What ensued was a visual journey of representations of Blackness across various media clips found on YouTube. Table 14 offers an overview of this journey: ← 35 | 36 →
Table 1. YouTube Exploration of Representations of Blackness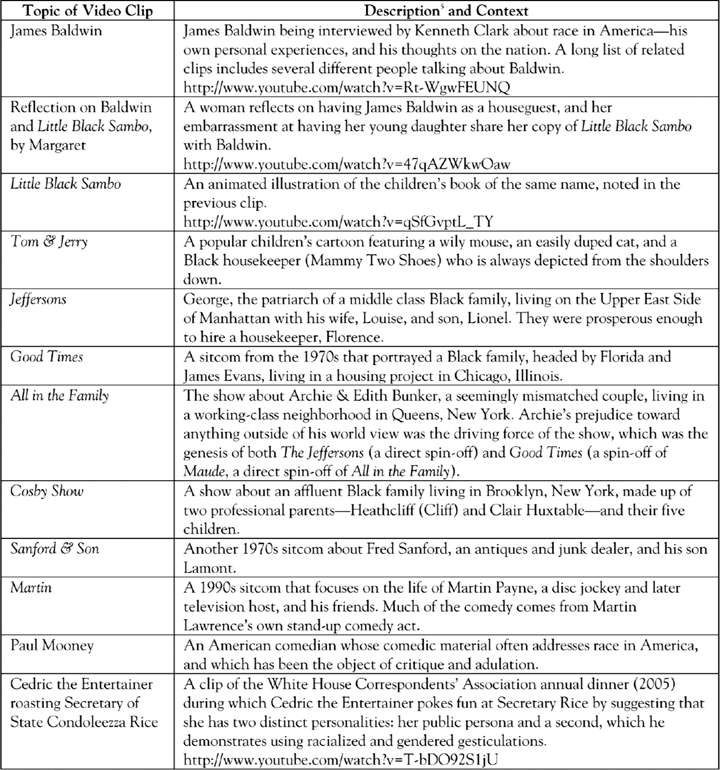 It was clear from Tony's enthusiasm and the ways he punctuated the video clips with commentary that this was a person and a subject for which he had great passion. Tony thought of himself as an artist and writer and used multimedia texts to elicit these and other identities from the young men who were enrolled in his classes. Tony's objective in this class session, and with his emphasis on Baldwin's work throughout Next Steps, was to illustrate the power of language for the youth seated around him. Not only did he share the writing of a beloved author with young men who had not been exposed to this ← 36 | 37 → work before, he also provided another way into reading Baldwin: by seeing and hearing the author, and interacting with other media texts, which Tony felt reflected the lasting impact of this pioneering African American author.
Afterwards, Tony reflected on his decision to move the class to his office with a characteristic smile and look of amusement on his face. He was surprised that "it worked," referring specifically to the conversational rhythm and observational insights about the representations of African Americans across various media that emerged in between the collective viewing of clips. The young men in the class took a cue from Tony's engagement with and spontaneous analysis of the texts and began to share their own intertextual connections: comparing reruns of the Cosby Show with current representations of Black families; recalling the cartoons they had watched as kids when the clip of Black Sambo appeared on the screen; musing about the ways in which President Obama had been characterized in the news as, alternatively, "not Black enough" or "too Black." Many of the video clips that the group watched were not familiar to most other than Tony, but each was evocative of multiple connections and engendered further inquiry that was nurtured during the next several weeks of the Next Steps seminar.
Although YouTube was a familiar resource for the young men in Next Steps, the setting and purpose of this class session suggested new uses for this popular video-sharing site. This pedagogical move, reminiscent of recommendations for educators to effectively leverage the funds of knowledge about popular culture that adolescents bring into the classroom (Alvermann, Moon, & Hagood, 1999; Morrell, 2004; Staples, 2008), was consistent with Tony's objective to connect with the youth with whom he interacted every day. Even in his role as a teacher, he sought to be a "student of students" (Staples, 2005). Like Norman and Christina, Tony embraced spontaneity and play in his pedagogy. Multimodal play is a pedagogical stance that holds real possibilities for the youth at ATIP to be reengaged in their educational trajectories. This is an approach that is culturally responsive, digitally intuitive, and grounded in a commitment to teaching and learning with youth.
Creating Classrooms of and for Multimodal Play
We conclude this chapter by widening the lens once more to consider the vast landscape of the increasingly digitally mediated lives and literacies of youth. In their three-year study of the online habits of teens, Ito and colleagues (2008) ← 37 | 38 → found that youth regularly navigate various new media and technologies including social networking sites, online games, video-sharing sites, mobile phones, MP3 players, and the like. While these artifacts of digital culture saturate the daily lives of youth, Ito and her colleagues assert that when youth engage in these practices and spaces, they are developing a range of social, intellectual, cultural, and technical knowledge that should not be dismissed. Thus, they argue, adults who impact the lives of youth—including educators, caregivers, and policymakers—must take seriously the ways in which "new media forms have altered how youth socialize and learn" (2008, p. 2). Their findings echo the arguments we have made in this chapter about the impact of youths' digital cultures and practices for literacy teaching and learning across contexts. As youth are engaged in the processes and practices of exploring, making, and remaking their identities across a wide array of representational modalities and spaces, both online and offline, the role of the educator becomes more complicated and, we would argue, ripe with possibilities.
In this chapter, we offered a brief look at three different classroom contexts in which we explored adolescents' online and digital literacies from a variety of perspectives. At the center of each example is the profound act of teachers and students knowing each other through multimodal play in order to teach and learn together. We invite readers of this chapter to consider the implications of these instances of practice for other settings, such as non-urban classrooms, school libraries, and after-school programs. We wonder how institutional spaces such as these might more effectively engage the digital knowledge and practices in which young people are already proficient. When educators are more aware of adolescents' digital literacies and composing repertoires, they can more effectively marry instructional goals that children and youth need to meet in order to successfully navigate formalized education with pedagogical agility that affords adolescents multiple ways to construct and represent knowledge. Thus, as our work and that of others (e.g., boyd, 2008; Soep & Chavez, 2005) suggests, educational institutions must become spaces that can more readily accommodate and encourage literacy experimentation, exploration, and discovery.
Notes
1. Mathangi (Mathu) Subramanian worked with Lalitha as a research assistant on the project Education In-Between: A Study of Youths' Lives, Learning, and Imagined Futures within and across the Justice System. ← 38 | 39 →
2. The class was referred to as an elective by school administrators though students were predominantly assigned to the class based on scheduling needs.
3. GarageBand is a software program available on Macintosh computers that allows users to author various types of audio recordings by composing, recording, and mixing music.
4. This table originally appeared in Vasudevan, L. (2009). Performing new geographies of literacy teaching and learning. English Education, 41(4), 356–374.
5. Some clips were only played for a few seconds and thus not all of the clip URLs were documented accurately. Here, I briefly note the context for each clip that was viewed, drawing from field notes of the ongoing, intermittent discussion. I intentionally do not offer an extensive analysis of these clips but rather present this table to provide additional background for the Next Steps class.
6. A children's book that originally depicted a caricature of a South Indian child given the name "Sambo." In the 1930s, newer versions of the book gained popularity in the United States but were widely criticized for depicting racially insensitive stereotypes.
References
Alvermann, D. (2002). Effective literacy instruction for adolescents. Journal of Literacy Research, 34(2), 189–208.
Alvermann, D., Hinchman, K., Moore, D. W., Phelps, S., & Waff, D. (2006). Reconceptualizing the literacies in adolescents' lives (2nd ed.). Mahwah, NJ: Lawrence Erlbaum.
Alvermann, D., Moon, J. S., & Hagood, M. C. (1999). Popular culture in the classroom: Teaching and researching critical media literacy. Chicago, IL: International Reading Association.
boyd, d. (2008). Why youth (heart) social network sites: The role of networked publics in teenage social life. In D. Buckingham (Ed.), Youth, identity, and digital media (pp. 119–142). Cambridge, MA: MIT Press.
Burke, A., & Hammett, R. F. (2009). Assessing new literacies: Perspectives from the classroom. New York: Peter Lang.
Chandler-Olcott, K., & Mahar, D. (2003). Adolescents' "Anime"-inspired "Fanfictions": An exploration of multiliteracies. Journal of Adolescent and Adult Literacy, 46(7), 556–566.
Diaz, J. (1997). Drown. New York: Riverhead Trade.
Fisher, M. T. (2007). Writing in rhythm: Spoken word poetry in urban classrooms. New York: Teachers College Press.
Gee, J. P. (2002). Millennials and Bobos, Blue's Clues and Sesame Street: A story for our times. In D. E. Alvermann (Ed.), Adolescents and literacies in a digital world (pp. 51–67). New York: Peter Lang.
Gee, J. P. (2005). Learning by design: Good video games as learning machines. E-Learning, 2(1), 5–16.
Goodman, S. (2003). Teaching youth media: A critical guide to literacy, video production, & social change. New York: Teachers College Press.
Hill, M. L. (2009). Beats, rhymes and classroom life: Hip-hop, pedagogy, and the politics of identity. New York: Teachers College Press. ← 39 | 40 →
Hull, G., & James, M. A. (2007). Geographies of hope: A study of urban landscapes and a university–community collaborative. In P. O'Neil (Ed.), Blurring boundaries: Developing writers, researchers, and teachers: A tribute to William L. Smith (pp. 250–289). Cresskill, NJ: Hampton Press.
Hull, G., & Katz, M. (2006). Crafting an agentive self: Case studies of digital storytelling. Research in the Teaching of English, 41(1), 43–81.
Hull, G., & Nelson, M. E. (2005). Locating the semiotic power of multimodality. Written Communication, 22(2), 224–261.
Hull, G., & Schultz, K. (2002). School's out!: Bridging out-of-school literacies with classroom practice. New York: Teachers College Press.
Ito, M. (2006). Japanese media mixes and amateur cultural exchange. In D. Buckingham & R. Willett (Eds.), Digital generations: Children, young people, and new media (pp. 49–66). London: Routledge.
Ito, M., Horst, H., Bittanti, M., et al. (2008). Living and learning with new media: Summary of findings from the digital youth project. The John D. and Catherine T. MacArthur Foundation Reports on Digital Media and Learning.
Jewitt, C. (2005). Multimodality, "reading," and "writing" for the 21st century. Discourse: Studies in the Cultural Politics of Education, 26(3), 315–331.
Jewitt, C., & Kress, G. R. (2003). Multimodal literacy. New York: Peter Lang.
Lankshear, C., & Knobel, M. (2007). Researching new literacies: Web 2.0 practices and insider perspectives. E-Learning, 4(3), 224–240.
Moje, E. B., Ciechanowski, K. M., Kramer, K., et al. (2004). Working toward third space in content area literacy: An examination of everyday funds of knowledge and discourse. Reading Research Quarterly, 39(1), 38–70.
Moll, L. C. (1992). Funds of knowledge for teaching: Using a qualitative approach to connect homes and classrooms. Theory into Practice, 31(1), 132–141.
Morrell, E. (2004). Linking literacy and popular culture: Finding connections for lifelong learning. Norwood, MA: Christopher-Gordon Publishers.
New London Group. (1996). A pedagogy of multiliteracies: Designing social futures. Harvard Educational Review, 66(1), 60–92.
Pahl, K., & Rowsell, J. (2006). Travel notes from the new literacy studies: Instances of practice. Buffalo, NY: Multilingual Matters.
Ranker, J. (2008). Composing across multiple media: A case study of digital video production in a fifth grade classroom. Written Communication, 25(2), 196–234.
Schultz, K. (2002). Looking across space and time: Reconceptualizing literacy learning in and out of school. Research in the Teaching of English, 36(3), 356–390.
Skinner, E., & Hagood, M. C. (2008). Developing literate identities with English language learners through digital storytelling. The Reading Matrix, 8(2), 12–38.
Soep, E., & Chavez, V. (2005). Youth Radio and the pedagogy of collegiality. Harvard Educational Review, 75(4), 409–434.
Staples, J. (2005). Reading the world and the word after school: African American urban adolescents' reading experiences and literacy practices in relationship to media texts. Unpublished doctoral dissertation, University of Pennsylvania. ← 40 | 41 →
Staples, J. M. (2008). "Hustle & Flow": A critical student and teacher-generated framework for re-authoring a representation of Black masculinity. Educational Action Research, 16(3), 377–390.
Vasudevan, L. (Under review). Education remixed: Digital geographies of youth.
Vasudevan, L. (2006). Pedagogies and pleasures: How multimodal play helps us reimagine and represent adolescents' literacies. Paper presented at the American Educational Research Association, San Jose, CA.
Vasudevan, L. (2009). Performing new geographies of teaching and learning. English Education, 41(4), 356–374.
Ware, P. D. (2008). In and after school: Teaching language learners using multimedia literacy. Pedagogies: An International Journal, 3(1), 37–51.
Wesch, M. (2007). Web 2.0…The machine is us/ing us. Retrieved April 20, 2009, from http://www.youtube.com/watch?v=6gmP4nk0EOE
Wissman, K. (2005). "Can't let it all go unsaid": Sistahs reading, writing, and photographing their lives. Penn GSE Perspectives on Urban Education, 2. Retrieved July 11, 2008, from http://www.urbanedjournal.org/archive/Issue3/notes/notes0006.html
Wissman, K. (2008). "This is what I see": (Re)envisioning photography as a social practice. In M. L. Hill & L. Vasudevan (Eds.), Media, learning, and sites of possibility (pp. 13–45). New York: Peter Lang.
THE LITERACY PRACTICES OF AN ADOLESCENT WEBCOMICS CREATOR
Stergios Botzakis and Jason DeHart
The current study is a descriptive exploration of how one adolescent used and made his own popular culture texts, extending from the works of cultural theorists like Jenkins (1992), who researched television and movie fans who took up those media texts and used them for their own purposes, what he called "poaching" (a term borrowed from de Certeau, 1984). This study also follows in the traditions of a number of educational researchers who focused on how adolescent youth navigate their lives in terms of popular culture and media consumption in the United States and abroad (Alvermann, 2001; Burn, Buckingham, Parry, & Powell, 2010; Guerra & Farr, 2002; Knobel, 1999; Moje, 2000; Smith & Wilhelm, 2002) and how those interactions inform their literate lives. The multitude of ways literacy is acquired and practiced (Brandt, 2001) points to "the distinctive individuality of each participant and of his or her approach to the cultural universe" (Mackey, 2007, p. 23), and one enterprise of new literacies research (e.g., Lankshear & Knobel, 2011) is documenting and describing these practices. Such literacies practices are myriad, and one consequence of their sheer multiplicity is that they often "jump [their] tracks" (Brandt, p. 9) and go off into unintended, unique directions.
Such a derailment happened to me (Botzakis) in my academic work with an afterschool comic book club at a local high school. I was working with two ← 43 | 44 → teachers to advise these students, and I was gathering data comparing what the teachers intended as the goals of the club and what outcomes the students desired and enacted. That is where I met defo18 (his online pseudonym), a very tall, dreadlocked African American adolescent who looked like he must be mistaken frequently for a football player, especially given how prestigious the sport was in his high school. But he was in this group of nascent comics creators and he stood out, not just for his imposing appearance but also because he was the only person in the club who published his work outside of it. It took him mere seconds to share that he had his own webcomic, and he was very eager to get me to read it and give him feedback. I was struck by his engaging personality and enthusiasm, and I found myself intrigued by what compelled him to be so creative and productive in ways that strongly contrasted with the other club members. This curiosity led to the current study, which is couched in prior research on comics in education.
Comics in Education
The existing research about webcomics and the people who create them in literacy education is scant. There is a recognition that webcomics exist as a potential career option (e.g., Liming, 2012) because of the perceived viability seen in a handful of artists who have transitioned to making and sharing their comics online as a means of supporting themselves. Additionally, electronic media have been suggested to assist in professional preparation of teachers (Cap & Black, 2012) at the University of Manitoba, with digital comics being an effective way to represent teaching principles and theories visually. In Greece, researchers (Vassilikopoulou, Retalis, Nezi, & Boloudakis, 2011) have also piloted a program where 12- and 13-year-old students created their own digital comic narratives using a program called ComicLab. Findings indicated that students found composing these comics much more pleasing than writing stories using pen and paper.
This last finding seems very much in line with education research on traditional print comics, with indications that youth are more motivated to read them than typical school texts (Norton, 2003). In addition, comic making has been a popular pursuit in afterschool settings (e.g., Bitz, 2004; Khurana, 2005), and not only have students been observed to be eager artists and authors, they have also demonstrated that making comics affords them opportunities to develop storytelling and literacy skills, develop and express their identities, and exercise creativity. Put simply, not only has making comics been shown to ← 44 | 45 → be an attractive and enjoyable pursuit for adolescents, these works also served multiple purposes for those who made them.
In the past, my research (Botzakis, 2009) has focused on comic book–reading adults because they were a resilient group, choosing to continue engaging with texts long after they were required to, a feature I wanted to encourage in my own middle grades students. My participants spoke about reading across their lifespans, from childhood to adulthood. I found that comic book reading served many purposes in their lives, including practices often associated with literary reading, such as reflection on their own lives or developing aesthetic appreciation, social proxies where readers developed kinship to specific characters, a platform for philosophical contemplation, and the consumption of a set of common texts to use in social discussions and meetings.
Adolescents' Literacies
Adolescence is a large, broad category that cannot be essentialized (Lesko, 2001), but more than ever, adolescents' literate lives include using electronic devices to communicate and interact via multiple media. According to the latest available figures, in addition to the near universal ownership of televisions, "93% of teens have a computer or access to one" (Madden, Lenhart, Duggan, Cortesi, & Gasser, 2013, p. 5), and "78% of teens now have a cell phone, and almost half (47%) of those own smartphones. That translates into 37% of all teens who have smartphones, up from just 23% in 2011" (p. 2). Additionally, "about three in four (74%) teens ages 12–17 say they access the internet on cell phones, tablets, and other mobile devices at least occasionally" (p. 2). Thus, it is not a far stretch to state that "even the most marginalized youth are participating in sophisticated and powerful textual practices outside of formal learning environments" (Rogers & Winters, 2010, p. 104).
Even adolescents who might seem otherwise quiet or reserved in person may actually be active in electronic media, finding more voice in online environments. Many adolescents take part in discrete conversations via social media such as tweeting or texting, which resemble one-on-one extended conversation, or in larger social spheres like Facebook or Instagram where users establish and define community and communication more broadly (Merchant, 2010). These communities where they interact may entail broader consciousness of identity categories like ethnicity and gender (Kirkland, 2010), as well as a more developed drive for social justice and concern about inequity. By ← 45 | 46 → means of digital immersion into the lives of others, adolescents can transcend their traditional views and subjectivity.
One intention with my current study was to combine these considerations about adolescents' literacy with my prior work about comic book–reading adults to explore what purposes creating webcomics served for defo18 and how those purposes related to and extended my earlier research findings, if at all. I feel that creating webcomics is an example of the out-of-school activities that engage adolescents and also "enrich our definitions of literacy" (Hull & Schultz, 2002, p. 44), pushing the theoretical boundaries of what constitutes reading and writing. The current study has implications for literacy practices of adolescents, including insights into how contemporary literacy practices operate, how people interact with others in textual communities, and how people use electronic texts in the course of their lives.
Theoretical Framework
For the purposes of this study, literacy is defined as a socially and ideologically situated practice (Street, 1995) intimately linked to people's "arts of existence" (Foucault, 1985) as practiced for millennia in Western culture. Literacy has long been promoted as part of the regimen for producing sound minds and sound bodies, and the transferring of information and development of mental acuity have been involved in the development of an able and informed citizenry. In this conception, literacy is very much related to identity, and how reading and writing are enacted is an important part of one's "identity kit" (Gee, 1996), and it can be parsed apart into units called literacy practices (Street, 1995).
Simultaneously, literacy practices are not always simply accepted from authoritative institutions. Individuals find ways to navigate their worlds by using texts, objects, and situations to their advantage. Foucault (1979) acknowledges as much, stating that institutions discipline individuals but individuals could find spaces to gain their own advantages. De Certeau (1984) expands on this notion and refers to such actions as tactics. He detailed how reading is an activity that encourages people to "poach" (p. 174) ideas or beliefs from texts and use them to gain certain advantages. Jenkins applies this concept of poaching to the study of media fans, finding that texts are often used in ways unintended by their producers. Media fans write alternate versions of stories, rearrange characters' relationships, form social networks, mobilize activism, or explore personal, political, and philosophical matters ← 46 | 47 → through their interactions with television and movies. This study similarly explored what one webcomic creator poached from the texts he read and wrote, but it went one step farther in also exploring the particular functions the poached practices offered the participant.
Research Methodology
Data collection centered on an interview, field notes, and artifacts (avatars, webcomic images, written notes) collected from my participant. I analyzed interview data using Kvale and Brinkmann's (2009) meaning interpretation method, where the researcher identifies key passages and then "recontextualizes the statements within broader frames of reference" (p. 207). This research project was also an example of poaching because I utilized ideas, theories, and practices from a variety of texts and used them to analyze the statements in an interview. Examining discursive practices described above, namely arts of existence (Foucault, 1985) and strategies and tactics (de Certeau, 1984), to explore the links between my participant's statements, I shed light on what making webcomics afforded him and how his literacy practices related to how he exercised his sense of identity. Put differently, I connected the literacy practices of an adolescent webcomic creator to larger conceptions of literacy, while also seeking to answer the question of what making webcomics added to his life. Before getting to what I learned, I give more context about my participant below.
defo18
When he spoke about the origins of his comics enthusiasm, defo18 explained that he first got into them when he was eight years old and in third grade. At the time his life was in turmoil; his parents had separated, and consequently he had moved to another state. He described himself as "a sort of lonely, depressed child." This situation changed soon afterward: "Then I met a friend. He introduced me to comics. We started reading and writing together and that's when I got hooked right there." At the time he was primarily reading superhero comic books, but he also explained to me that he read and discussed newspaper comic strips with his grandfather. Not only did comics figure into his social and familial interactions, he also read more because he found synergies between comics and his other media interests. He read comic books about video game characters as well as ones starring protagonists from ← 47 | 48 → popular television shows and movies, and he also eventually got into manga (Japanese comics), which very much influenced his art style and visual storytelling. Currently, he reads most of his comics online on a phone, tablet, computer, or, as he put it, "anything with an Internet connection." He started drawing and sharing his comics with friends starting at age eight, and he reveled in the attention his classmates paid to his artistic skills.
Over time, that attention waned, and he took to a different avenue for sharing his works with others. He began posting his work online, first at a site called DeviantArt (http://defo18.deviantart.com/) and later on the webcomics hosting site ComicFury (http://comicfury.com/profile.php?username=defo18). His longest-running series was called God Games, about a former Greek god who was depowered and looking for vengeance against his former peers. He posted episodes of God Games regularly for a year and then decided that he was no longer interested in telling that story. In its stead, he began a new narrative, Four Year Epic!, a more personal series about the high school experience of "two nerds." Those are the primary works we spoke about in our interview. This interview was conducted when he was in his first semester post-high school, when he was a freshman in community college.
Functions of defo18's Literacy Practices
When I asked defo18 about what he got out of creating webcomics he told me, "Enjoyment. I always loved it." He then elaborated about what he meant,
It's just the principle of the thing. You get to know these pictures and words mashed together and it tells a story. I guess that's what I do like about it, telling a story. That's the only way I've always been known to express myself.
So, he stated having a comfort and expertise with the medium of comics that contributed to his continued engagement with the art form that resulted in the positive feelings of love and joy. He told me that he felt most comfortable with them in a physical sense and that he still drew his comics using pen and paper. Later, he scanned the images and edited them in digital format, adding color and words before publishing them online. Although he spoke frankly of his feelings toward the medium of webcomics, he expressed other functions that making these comics served him in his descriptions of how he made, shared, and discussed his work with others. ← 48 | 49 →
Social Networking
More so than ever, young people like defo18 interact via conversations that take place in online locations (Merchant, 2010). Oftentimes, young people who would otherwise remain silent have discovered their voices in online formats, and that occurrence seemed to be the case here. Perhaps the most striking difference between what I observed talking to adults who read comic books and my interview with defo18 was how much social interaction was tied up in his webcomics work. For sure, there were elements of socialization present with those adults, but their interactions were dependent on face-to-face meetings, either in Wednesday visits to the comic book store or gaming events where they sat down together to role-play. They were not much interested in participating on message boards or other online venues for talking about comics. On the other hand, defo18's webcomic interactions occur much more frequently, even several times daily in the form of feedback and following others' work in comments sections and forums. The way that the ComicFury website is set up promotes such interactions, resembling other social networking sites like LiveJournal or Facebook.
Attention. defo18 explained to me that he had 20 dedicated followers for God Games and that he already had 9 for Four Year Epic!, even though it was less than a month old. What I heard in his descriptions of his online interactions about his webcomics was that those exchanges were as fruitful to him as the actual process of making the comics. Part of his focus on this place was for interaction because he stated, "I can never shut up about" comics, to the point where for most of his family and friends "it goes in one ear and out the other." So, talking to people online afforded him the opportunity to interact with more like-minded people who shared his interests and who did not tire of talking about comics. In fact, he told me that he did not really get much constructive or critical feedback from his followers but mostly affirmations of how much they enjoyed his work.
It may seem that his interactions about comics existed in an echo chamber, and his readers "were just there for the fun." He was not seeking feedback so much as connections and prolonged interaction, as he revealed in this interaction:
defo18:
If people comment, you comment back or if I'm reading another comic, I comment and the author will comment and that's usually how you get connected.
Interviewer:
You read other people's comics and comment on it, too?

← 49 | 50 →

defo18:
Mm-hmm (affirmative).
Interviewer:
The people that you read, do they read yours?
defo18:
Yeah, vice-versa. That's really how you get attention.
Attention, and not criticisms or critiques, was the desired outcome from posting his work online. defo18 was putting his work out into the world, but he was not seeking feedback on how to make it better, only to have it appreciated. And in actuality, the attention he received online often veered into non-comics-centered talk, frequently on mundane matters, like chatting about "What did I eat yesterday? What's going on in the news?"
I should note that defo18 was not entirely resistant to constructive feedback. In the course of our interview he recounted a tale about his favorite teacher, his freshman-year art teacher "who rode [him] like a horse" but also taught him much by being so exacting and critical. But the online environment of ComicFury was not a place where he sought or expected such criticism, only positive attention. But there was a further hope beyond attention and interaction that defo18 held in putting his work out into a social network.
Potential discovery. I was struck by another type of attention that defo18 sought with his webcomics, one that might bring him fortune or renown. By publishing his work publically, he was creating more of a possibility that someone might be able to give him a leg up in terms of building a career. He was endeavoring "to take the illustrations to the next level" and "get some buzz." His webcomics were potential means to get his foot in the door to what he called the "big name industry."
| | |
| --- | --- |
| Interviewer: | How is making comics different on paper than making webcomics, or is it different? |
| defo18: | There is a difference. For webcomics, anybody can see it all over the world. It's kind of quicker. You get instant feedback, someone comments on it, subscribes, or talks about them. As opposed to paper, a publisher might send out thousands of copies. They go to different places and people pick them up and read them but you don't exactly know who read them or who bought it or anything like that. It's like a gamble. |
| Interviewer: | How so? |
| defo18: | Of course, with publishing online you don't know who's all going to see it or if it's going to make it big or something, a breakout story. As opposed to having a publication, if you did make a comic with the name Marvel or DC beside it, people would instantly see it. |
The ease and utility of sharing work online opened up the potential for a wider audience to read and appreciate his work, including those who might be tasked with locating fresh talent or a hot new series. It seemed that defo18 ← 50 | 51 → was as much about creating his own brand as much as he was expressing himself via webcomics. Certainly, since the eventuality of being discovered was highly unlikely, what he called "a gamble," but even so defo18 continued to labor on his own work, with some sense of hope that a big break, or as he put it, a "breakout," could result.
Occupation
In many ways, reading and creating comics was something of an occupation for defo18. There were aspects of his descriptions like the one above where it seemed like a potential vocation, but it was also an occupation in the sense that making comics took up a good portion of his time. In part, his dedication was driven by his need for attention. He stated that getting comments from readers was a "great confidence boost," but added, "if there's people out there that care about what you write, it makes you work hard." So, feedback was a driving factor in his diligence and dedication in creating webcomics, and he has developed his craft in order to keep soliciting such responses.
defo18 described himself as self-taught, but not because he has a certain affinity or special ability. He credited the existence of video tutorials using free programs such as Inkscape and much trial and error for his work. He did admit that "there's always something that someone's going to bring to the table" and that "you're always going to put a little bit about yourself in it each and every time," but he did not really give himself credit for being especially gifted or talented. In the end, he also admitted that learning how to make webcomics was "not hard at all."
Even so, making comics did have its price for defo18, although it was not a financial one. He explained that what it cost himself was "time and energy." In terms of his schoolwork, he described himself as a "dedicated" student but also called high school "a long and boring obstacle." But he had a secondary occupation to being a student, namely being an artist, and it also was time intensive. He would extend himself to be productive in both school and online as an artist, stating, "Sometimes I will stay up too late, writing and drawing comics." As to how this affected his academics, he elaborated:
defo18:
Yeah. After all the other work's done, I'll just think to myself what do I do now. If I'm not sleepy, draw some comics. Of course, it'll affect the next day if I get up early.
Interviewer:
But it's worth it?
defo18:
It's always worth it.

← 51 | 52 →
It is worth noting that he called his schoolwork "other work," indicating that making comics was also a sort of work to him. Even though he was extending himself and foregoing sleep, he found his artistic endeavors worthwhile to keep pursuing over a period of years, perhaps even as a career path. Overall, it seemed to me that making comics was something that defo18 turned to in order to transform his circumstances in both a long- and short-term manner.
Reversing Power Relations
The examples of attention seeking discussed above pointed to a desire for defo18 to change his circumstances and gain some sort of power in terms of social interactions or career opportunities, but his comics work also demonstrated aspects of him trying to transform his life by subverting power relations. Perhaps the most telling instances of poaching I found in defo18's statements were in his descriptions of where he got his story ideas. When I asked him about what inspired his webcomics, he explained,
God Games, that is actually a funny story. I was at summer school one year, I had to make up this math class. Math's always been my worst subject. The way they do it in summer school, they put you basically in a computer lab and put you to a program called Odyssey. The word "Odyssey" struck my interest. I remember the story about the Odyssey, Odysseus, coming home from the Trojan War and … I was taking an English course and they brought up a bunch of old Greek myths and stories.
What struck me most in his description above is how he transformed aspects of his circumstances as a summer school student, a status that certainly comes with feelings of frustration and failure, and removed them to a different sphere where he had more authority and ownership. Ironically, he found inspiration for his longest-running work in a banal activity in his worst class. What is more, he subverted the role of the class, looking at the names of things instead of their content, finding a spark that interacted with what he was doing in another class and building it all up into a wider narrative and more developed characters.
He further elaborated his inspiration by reference to what he had learned that summer about the Greek gods:
They're jealous, evil. They have the same personalities and traits we do. But they are gods in a sense. They can't be killed, captured, entrapped, or anything like that. They'll always get away with it. It's always interesting to me how they did it, how the ancient world saw them. That's how I came up with the premise of God Games. I would hate to live around these type of people, Greek gods. Someone should do ← 52 | 53 → something about that. That's how I created the main character. He has this rage against the gods and it just all took off from there.
These characters were otherworldly yet still very much human, and in that combination of traits he found a vehicle for expressing some of his own frustrations, speaking through a character that "can't be killed, captured, entrapped" in a revenge fantasy where a beleaguered party strikes back against those who have debased him. The narrative set-up was a reflection of defo18's situation in a remedial program, and even though the main character was ostensibly fictional, he also featured autobiographical facets. Thus, a circumstance where he was at the mercy of a seemingly pointless computer program was changed into an exaggerated tale where a wronged party regained his agency and sought justice through his own innate abilities.
His second webcomic, Four Year Epic!, even though it was much more explicitly autobiographical, also featured a subversion of power relations in its execution. It was a look back at high school experiences cast in terms of a heroic or legendary journey, "an adventure in of itself and [that] should be enjoyed to the fullest" (from defo18's profile page on ComicFury). Only the twist here was that the focus was on "two nerds," marginalized students who were given center stage instead of the more typically popular students, such as athletes or cheerleaders.
His awareness of these power relations appeared in the comments section in chapter 1, page 9, where defo18 depicted a hapless Julius in the thrall of a cheerleader. He had an exchange with one of his commentators, who appeared to be ignorant or curious about U.S. high school student dynamics. They had a brief discussion about the etymology of the term "mack daddy," and how hierarchies in U.S. high schools tend to define cheerleaders or athletes like football players as popular. More so than in God Games, there seems to be an element of reflection in Four Year Epic!, but that may just be a function of defo18's having some hindsight now that he is a college student. As he told me, he did put a little bit of himself into his characters and "most of those situations that the characters will go through is some of the stuff [he] went through."
Conclusion
This look at an adolescent webcomic creator casts some light on the literacy practices (Street, 1995) that had an impact on his life. Overall, defo18's webcomics commented on his circumstances. They highlighted characters ← 53 | 54 → who were usually not in the spotlight, the wronged castoff or the socially awkward, a move that mirrored his desires to address or even subvert his own social standing. In a sense, creating webcomics was an opportunity for him to cast his life and experiences in a different light, one where he had agency and was more in charge of his actions and where he was not on the margins of the school population. However, defo18's webcomics were not merely simple power fantasies; they also served other functions for him in terms of reflection and socialization. They contributed to a sense of community where he could interact with like-minded individuals, talk about popular goings-on, and get complimented for his art and stories. As of yet, there are few if any such profiles of the adolescents who make and post comics online for consumption and dialogue, but it seemed that his interactions were very much in line with those of online fan fiction writers (Black, 2008), in terms of finding support, acquaintances, and a digital space for discourse.
The current study sheds some further light on adolescents' literacy practices, but it also extends understandings about who constitutes comics fandom. Up until recent times, comic books were the primary point of interaction with the medium. They had an almost completely male audience according to market research, with statistics stating 94% of those readers were male (Fetto, 2001). Not only that, typical comic book readers have been identified as being in their mid-20s (Fetto, 2001) who frequent comic book stores (Pustz, 1999), and most often they are long-term collectors who practice some sort of "curatorial consumption" (Tankel & Murphy, 1998, p. 53). These adults chose to read a medium that sometimes brought censure into their lives, namely that some older comic book readers felt "a sense of separation from others because of their involvement in a hobby that's supposedly for younger people" (Pustz, 1999, p. 107). Much of what these past studies found have been part of common stereotypes about comics readers, but they do not take into account the sea change of happenings in the past decade alone. Comics in the form of graphic novels are becoming increasingly popular in libraries, stores, and classrooms (Yang, 2008), and manga has been very popular with adolescent audiences that have been much more diverse than that of typical superhero comics (Schwartz & Rubinstein Ávila, 2006). In addition, making comics has become much more mainstream both in and out of school (e.g., Bitz, 2004; Cap & Black, 2012), not to mention that electronic media have drastically changed what it means to make, read, and publish comics. Given these transformations, the population of contemporary comics readers and creators necessarily must be different from that in past ← 54 | 55 → decades. The current study is a preliminary foray to cast light into who those people may be, what they do, and how they practice literacy.
References
Alvermann, D. E. (2001). Reading adolescents' reading identities: Looking back to see ahead. Journal of Adolescent & Adult Literacy, 44(8), 676–690.
Bitz, M. (2004). The comic book project: Forging alternative pathways to literacy. Journal of Adolescent & Adult Literacy, 47(7), 574–586.
Black, R. W. (2008). Adolescents and online fan fiction. New York: Peter Lang.
Botzakis, S. (2009). Adult fans of comic books: What they get out of reading. Journal of Adolescent & Adult Literacy, 53(1), 50–59.
Bové, P. A. (1995). Discourse. In F. Lentricchia & T. McLaughlin (Eds.), Critical terms for literacy study (pp. 50–65). Chicago: University of Chicago Press.
Brandt, D. (2001). Literacy in American lives. New York: Cambridge University Press.
Burn, A., Buckingham, D., Parry, B., & Powell, M. (2010). Minding the gaps: Teachers' cultures, students' cultures. In D. E. Alvermann (Ed.), Adolescents' online literacies: Connecting classrooms, digital media, and popular culture (pp. 183–201). New York: Peter Lang.
Cap, O., & Black, J. (2012). "Digital comics" in human ecology: Exploring learning possibilities using ICT with teacher education students. International Journal of Learning, 18(9), 27–44.
Details
Pages

VI, 233

ISBN (PDF)

9781453918197

ISBN (ePUB)

9781454189619

ISBN (MOBI)

9781454189602

ISBN (Book)

9781433130663

Language

English

Publication date

2016 (May)

Published

New York, Bern, Berlin, Bruxelles, Frankfurt am Main, Oxford, Wien, 2016. VI, 233 pp., num. b/w ill.