Summary
Top performers are typically seen as those experts in their fields with the most confidence, highest powers of concentration, and best training methods. Is this a realistic, comprehensive assessment of the components of artistic and athletic success? Stress situations can create vulnerability to mistakes, even in professionals. Not one strategy is known to consistently shelter humans from the fear of public scrutiny. As long as the factors underlying personal achievement are not sufficiently researched, sub-optimal performance will remain a possibility. An interdisciplinary understanding of human physiology, psychology and behavior can aid the development and implementation of training, motivational, and coping strategies that help performers to achieve their best, even under pressure.
Excerpt
Table Of Contents
Cover
Title
Copyright
About the author
About the book
This eBook can be cited
Table of Contents
Some of My Experiences With "Stage-Fright"
Choking under Pressure in Sport and Music: Exploring the Benefits of Theory Transfer Across Domains
The Impact of Stress and Recovery on Performance
Facing the Music: Investigating the Psychophysiology of Musical Performance
Psychological Skills to Support Performance Under Pressure
Relating Pianists' Efficiency in Memorization to Strategy Use and Experience
Applying Self-Determination and Self-Regulation Theories for Optimizing Music Performance
Under Pressure: Music-Related Interventions in High-Performance Domains
The Impact of Listening to Music on Musicians' Practice and Performance
Afterword: da capo al fine
Contributors
In the moment when I stepped onto the stage to greet the 400 attendees of the interdisciplinary and innovative conference "Art in Motion 2014" even I felt the pressure of performing in our large concert hall. Since English is not my native language, I tried to ease my stress by reading from a manuscript I had prepared. Nevertheless my heart was beating fast, and spontaneous thoughts disturbed my concentration. I didn´t sleep well the night before so I felt somewhat tired, though I was fully aware of the audience's high expectations. I wanted to appear competent and convincing, and was worried that if I failed, it might ruin my career.
All young musicians, dancers, actors and athletes face these problems in even more challenging situations. To cope with them is essential: An incredibly high level of perfection is demanded from each of them. The job market for performing artists is getting tighter and tighter. Competitive pressure is fierce. Many talented young artists and athletes are reaching the limits of the physiological and psychological load they can carry. This is the reason that medical prophylaxes are needed, based on the specific requirements of stage performers and athletes, as well as scientific, research-based learning and teaching strategies. Training for performance, presentation, and competition continues to become more and more important.
Institutions offering professional studies of music, dance, and theater are challenged to provide an intensive and direct network made up of research scientists, artists who teach, and teachers of the arts. This connectivity should be reflected in future curricula and structure of the university as well. Relationships and interdependencies have to be developed between the subjectivity of artistic choice on one hand, and the objectivity of a methodical, external and analytical perspective, on the other. An inclusion of both of these approaches will create an inspirational academic environment for artistic research.
Performing art without reflection and critical introspection is now obsolete. No young, unknown artist can afford to concentrate purely on creative work without considering the outside world. Both the highly sought after, but extremely rare permanent positions in cultural institutions (orchestra, opera house, theater), and jobs within public-supported educational institutions (e.g., music schools) offer less autonomy than being ← 7 | 8 → self-employed. On the other hand, these jobs provide a secure framework for artistic work, which eliminates the necessity for self-introspection. However, even musicians in orchestras and employees of the theater are increasingly expected to further educate and inform themselves, as well as to take responsibility for their own professional competence.
Thus, in preparation for a demanding labor market, today's students of music, dance, and theater need to develop complex skills within and beyond their main subject. Instrumentalists and singers, for example, cannot be content performing by memory with flawless technical perfection. In order to arrive at a high profile, originally distinctive interpretation, these artists must engage themselves intensively with the study of historical performance practice and the origins of the work, style, and genre of the piece. This requires an analysis of the structure of the work, an intellectual confrontation with the value of its artistic substance, and an understanding of the psychology of aural and visual perception. In order to find a niche for oneself as an independent artist, one must be equipped in the skills of self-management, know about the market, the repertoire, legal issues, entrepreneurial strategies, and have an understanding of the current methods of artist-audience communication, event organization, and the use of media. All of these are beyond the basic necessity that one speaks and writes about music. The self-employed need to be creative, produce innovative ideas, and be flexible and versatile, in order to develop their own products and methods of expression. They must keep up-to-date on the "scene" and interact with it, as well as be capable of adding a critical-reflective dimension to their creativity in order to develop artistic singularity.
In all of these areas one sees relationships and interdependencies between the subjectivity of artistic choice on one hand, and the objectivity of a methodical, external and analytical perspective, on the other. An inclusion of both approaches will create an inspirational academic environment for artistic research.
Based on these criteria for success in the performing arts, the University of Music and Performing Arts Munich hosted the interdisciplinary and innovative conference "Art in Motion 2014" in Munich. The symposium's theme "Performing under Pressure" reflects a field of greatest importance for every musician, stage performer, and athlete. While this book provides highlights of the symposium, it also includes additional chapters ← 8 | 9 → from performing under pressure experts whose research and opinions deserve to be part of this volume. The symposium set forth the series of biannual Art in Motion symposia that Adina Mornell brought to our university in 2010, and this book is the third in the series. Dear Adina, thank you for this great idea and fantastic work. I would also like to thank our partners for the collaboration that went into the symposium – the German Association of Sport Psychology (ASP) and the Department of Health Sciences of the Technische Universität München (TUM) – as well as the faculty, staff and students of our own university who contributed to its success. Let us hope that long-lasting interdisciplinary networks and joint research projects grow out of this symposium and this book. That would be an optimal way in which science could contribute to art.
President
University of Music and Performing Arts Munich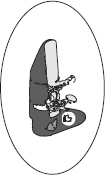 ← 10 | 11 →
Details
Pages

195

Year

2016

ISBN (PDF)

9783631694640

ISBN (ePUB)

9783631694749

ISBN (MOBI)

9783631694756

ISBN (Hardcover)

9783631671726

DOI

Language

English

Publication date

2019 (July)

Keywords

Published

Frankfurt am Main, Berlin, Bern, Bruxelles, New York, Oxford, Wien, 2016. 195 pp., 1 b/w fig., 5 tables, 11 graphs