Swiss Maid
The Untold Story of Women's Contributions to Switzerland's Success
©2017
Monographs
XLVI, 384 Pages
Summary
Swiss Maid corrects the omission of women from historical narratives of Switzerland. Women helped with herculean effort in the formation of the small but extraordinary nation, known for its political neutrality and stability, fierce independency, multiculturalism, successful economy, and innovation. The author's investigation and analysis of women's work in Switzerland correlates women's contributions with the country's sociopolitical and economic successes. Women have made historic change in religious institutions, domestic life, artisanry and trade, education, care work, the military, politics, industry and business, and service sectors. Chapters present the qualitative and quantitative data necessary to establish socioeconomic arguments. Women have indirectly contributed to the GNP but more importantly to social progress and the well-being of the nation. Stories of exemplary, pioneering women are highlighted, but silent and silenced common women are also featured and finally recognized. Although Judeo-Christian traditions placed women in subservient positions, they developed their own strength and contributed to the national economy. However, women's work was not sufficiently recognized and valued because of inadequate accounting and productivity models. Gender-specific education, division of labor, and gendered social structures of previous centuries are discussed in relation to women's productivity and social changes in more recent times. Multifactor productivity concepts and social progress measurements shed light on the value of women's work and care. Portraits of historical and contemporary women attest to their intrepid courage and extraordinary yield, without which the "Swiss brand" and the image of Switzerland could not flourish.
Excerpt
Table Of Contents
Cover
Title
Copyright
About the author(s)/editor(s)
About the book
Advance Praise for Swiss Maid
This eBook can be cited
Table of Contents
Notes
Preface
On Methodology
Notes
1 In Search of Women in Swiss History
Notes
2 Women and Religion: Serving God and His/Her People
Notes
3 The Power and Strength of the Swiss Domestic Realm
Notes
4 The Work of Wives of Farmers and Artisans
Notes
5 The Education of Swiss Women and Women in Education
Notes
6 Women in Early Swiss Industries
Notes
7 Women Serving in the Swiss Army—"The Women's Auxiliary Service"
Notes
8 The Politics of Women Leading to Women in Politics
Notes
9 Caring for the Sick and Healing the Nation
Notes
10 Women in the Modern Service Sectors
Notes
11 Female Entrepreneurs and Modern CEOs
Notes
12 Swiss Feminist Economics
Notes
Conclusion
Note
Appendix
Interview questions for evaluation and appreciation of women's work in Switzerland
Bibliography
Cover artwork by Jac Depczyk. Copyright 2017 by Jac Depczyk.
Figure 0.1: Mathilde Barth and Jakob Zellweger on their wedding day, 4 April 1916.
Figure 0.2: Mathilde and Hulda, 1944.
Figure 1.1: Memorial of the battle of St. Jakob near Basel in 1444. Artist: Lukas Ferdinand Schlöth (1818–1891). The Swiss allegorical figure Helvetia triumphantly stretching her arms. Four Swiss soldiers relenting at her feet.
Figure 1.2: "Helvetia auf Reisen" (Helvetia traveling) by Bettina Eichin (1980) resting next to the banks of the Rhine River in Basel.
Figure 1.3: Ruth Dreifuss, first woman elected president of the Swiss Federal Council.
Figure 2.1: Saint Catherine of Alexandria, wall fresco in chapel of St. John's Convent Mustair.
Figure 2.2: Prioress Sr. Domenica of St. John's Convent Mustair.
Figure 3.1: A 19th-century women's domestic workplace.
Figure 3.2: First German cookbook by Anna Weckerin of 1598.
Figure 4.1: A female farmer in a field in Switzerland. ← xi | xii →
Figure 4.2: Woman helping wagonmaker producing a wheel. Photo ca. 1940.
Figure 5.1: Lyceum School in Brugg, built in 1640; seven allegorical female figures representing the arts, one figure "Theologia." Restored in 1930 by painter Otto Kälin.
Figure 5.2: Typical Swiss elementary school room around 1900.
Figure 6.1: Loom in a farmhouse as used in Swiss cottage industry.
Figure 6.2: Christine Tschudi-Lütschg (1818–1877). First president of Benevolent Women's Organization of Glarus.
Figure 7.1: Women of the first Women's Auxiliary Service (FHD) wearing aprons reporting to General Guisan.
Figure 7.2: Fountain statue depicting Hedwig ab Burghalden by Gustav Siber (1804–1927).
Figure 7.3: "Der Landsturm von Anno 1798" by F. N. König. Women, children, and old people ready to attack the French invasion near Solothurn.
Figure 7.4: Sargent Chantal Sempach, professional Swiss military instructor.
Figure 8.1: Marthe Gosteli (1917–2017), Swiss women's activist, 2005.
Figure 8.2: The Swiss Federal Council 2010.
Figure 8.3: Doris Leuthard, president of the Swiss Federation 2017.
Figure 9.1: Helvetia as a Nurse. "We Swiss offer a hand, be welcome in our land! We help alleviate a warrior's pain, believe us, we do it with love."
Figure 9.2: Women bringing provisions (1876/1877). Oil painting by Edouard Casters (1838–1902); Study for Bourbaki- Panorama.
Figure 9.3: Lazaretto for French detainees of the Bourbaki army in the chapel des Terreaux in Lausanne in 1871.
Figure 10.1: Swissair stewardess Nelly Hedwig Diener, 1934.
Figure 10.2: Monika Lehmann-Wenger, bus driver in Thun.
Figure 11.1: "Sonnenbräu" Brewery in Rebstein.
Figure 11.2: Claudia Eberle-Fröhlich, marketing & sales director, entrepreneur.
Figure 11.3: Susanna Orelli-Rinderknecht and Else Züblin-Spiller. ← xii | xiii →
Figure 12.1: Girls on top of a map kiosk, Cathedral Plaza in Basel, symbolizing the conquest of young females in the public sphere.
Figure 13.1: Job satisfaction.
AHV Swiss Social Security Insurance
BSF Federation of Swiss Women's Associations; "alliance F" since 2011
BSJF-USFJ Swiss Federation of Jewish Women
CDC Centers for Disease Control and Prevention
ETH Technical University of Zurich
FCWI Federal Commission for Women's Issues
FHD Women's Auxiliary Military Service
FJM Friends of Young Women (Travel assistance for young women)
FSO Federal Statistical Office
GDS Die Geschichte der Schweiz (Kreis 2014). (The History of Switzerland)
GFZ Benevolent Women's Society of Zurich
HLS Historical Lexicon of Switzerland
ICCS The Islamic Central Council Switzerland
IRGZ Israelite Religious Society Zurich
RKD Red Cross Service
SAFFA Swiss Exhibition of Women's Work
SAV Swiss Women's Worker Association
SBLV The Swiss Association of Farming and Country Women
SBV Swiss Farmers' Union ← xv | xvi →
SECO Swiss State Secretariat for Economic Affairs
SGF Swiss Benevolent Women's Association
SGG Swiss Society of Benevolence
SGV Swiss Federation of Small & Medium Enterprises
SIG Swiss Israelite Federation
SJES Swiss Journal of Economics and Statistics
SKF Swiss Catholic Women's Association
SPI Social Progress Index
SVF Federal Association for Women's Rights
SV-Group Swiss Gastronomy Organization (formerly Swiss Association of People's Service)
TFP Total Factor Productivity
VCHU Association of Swiss Female Entrepreneurs
WEF World Economic Forum
WJC World Jewish Congress
WWI First World War
WWII Second World War
ZVF Women's Organization of Zurich
This book would not have come into existence had not my former student Bernadette Franklin presented me with R. James Breiding's book The Untold Story behind Switzerland's Success (2013) before she embarked for her internship in Germany. Thank you, Bernadette, for the inspiration your gift has spawned! I am grateful to Eastern Michigan University for granting me a Faculty Research Fellowship during winter semester 2016, allowing me to conduct research in the following libraries and institutions: the Swiss National Library; the Swiss Literary Archive; the Swiss Federal Archives; the Swiss Military Archive and the Gosteli Archive in Bern; the Swiss Business Archive in Basel; the Swiss Social Archives; the Swiss National Museum; the Women's Center in Zurich; the Archive for Women's, Gender, and Social History of Eastern Switzerland in St. Gallen; and the library of the Gastronomy Museum in Thun.
I am greatly indebted to the women of Swiss convents for opening their doors and talking so candidly with me: the sisters of St. John's Convent in Mustair, the sisters of the Convent in Melchtal, the sisters of St. Catherine's Convent in Wil, and the deaconesses of Riehen. Their profound and fearless faith and astute business acumen inspires me! Thank you, Gilla Bloch and Barbara Karasek of the Swiss Federal Association of Jewish Women for your affable insights. Thank you, Professor emer. Ruth Meyer and Training Officer Chantal Sempach for meeting ← xvii | xviii → with me to talk about your experiences in the Swiss Military. I am grateful for the opportunity to get together with Claudia Eberle-Fröhlich, Daniella Trefny, and Ms. Rüdt to discuss women in business, with Ms. Bieri of the Federal Association of Female Farmers to find out more about common women, and with Verena Parzer Epp of the agency Avenir Suisse to have a dialogue about women who were veritable pioneers.
A very special thank-you goes to my Swiss friend Renate Berendts—we share over 60 years of friendship—for the steady supply of interesting clip-outs from Swiss newspapers and magazines, and especially also for organizing meetings with the women of the Women's English Language Club in Affoltern, as well as with the astute women from the Rhine valley. Thank you, mother of Renate, the gracious Marianne Friedrich (94 years old), for hosting the lively discussion with a group of women in her house in Rebstein. Thank you to the women who filled out the questionnaires on women's work in Switzerland and to the friendly women and men who talked with me in trains, restaurants, shops, and your homes! Thanks to all who gave me permission to use their names, and to Professor emer. Richard Ruppel and Prof. emer. Ruth Schweizer Meyer for selected proofreading and insightful feedback.
I express my sincere gratitude to the Foundation Interfemina for their generous support in contributing to publication costs and reproduction fees, and for the ingenious and apt artwork by Jac Depczyik on the book cover. Jac, you have captured the essence of women's work more than words and data can express, thank you!
A healthy, little girl, named Hulda, was born on December 20, 1918, in the Swiss town of St. Gallen, the second child of Jakob Zellweger, a 52-year-old, poor famer in the hamlet of Rotenwies near Gais, in the Protestant half-canton of Appenzell-Ausserrhoden. His wife, Mathilde, 24 years his junior, was brought to the hospital in the town of St. Gallen. A horse-drawn buggy that resembled a hay wagon more than a carriage had to manage through foot-deep snow. Delivering babies in rather distant towns' hospitals was a life-saving development for women and babies in both Appenzell cantons and in all rural and mountainous areas of Switzerland. Women mostly had given birth on the farms with the help of a midwife or often alone. Hulda's mother, Mathilde Barth, born in 1890, was an orphan. When she was a toddler, her mother burned to death after she used petroleum to start a fire in the hearth. When her long skirts caught fire, she ran outside in panic, where the wind turned her into a flaming torch. Her devastated husband turned to alcohol in his grief and died a few years later. The only child, Mathilde, became a Verdingkind,1 living—over the years—with eight different families. She had to work hard in field, stable, and house, and tending to the small children. But luckily, Mathilde could attend elementary school; it was mandatory also for girls since the 1830s. School was her cherished escape. When she was about 19 years old, her resourceful aunt Verena Willi-Barth took her into her home, in ← xix | xx → which she operated a boarding house in St. Gallen. In the morning and in the evening, Mathilde helped cook the meals for the pensioners to whom rooms were rented out. She received further domestic education in the Frauenarbeitsschule (women's work school) besides working in a textile company, the Union Fabrik, an embroidery company that was founded in 1759, still existing today.2 Because Mathilde had beautiful handwriting, her task was to write the labels for merchandise with artful calligraphy. She was very talented with her hands, soon sewing beautiful dresses—based on designs that she saw at Union AG—for her aunt and for herself, which gave her a feeling of accomplishment and pride. The two women cherished a special bond, which a faded photograph from that time still conjures up. Although poor, Mathilde now wore a white embroidered dress, as it was the fashion for ladies of society, and her fancy curly hairdo matched the outfit. She had a lovely, somewhat reserved smile, like Mona Lisa. Her aunt, dressed in a matching dress but in black, lovingly looks at Mathilde from the side. One day, while visiting a relative in Rotenwies, Mathilde was sent to help an elderly bachelor at the neighboring farm on the hill to help him bring in the hay before the storm, which announced itself from the Säntis mountain range with dark clouds, could ruin the sparsely growing fodder. The lightning seemed to spark human emotions, and soon there was a wedding. Of course, Mathilde sewed her black wedding dress herself, and also her dowry with the help of her aunt.
A year later, she crafted a practical, cozy nursery for her first born, Hans-Jakob, named after his father. The stable, with a few sheep or goats, a pig, precious chickens, and a few cows that blessed the family with calves every year, was under the same roof as the living quarters, which was typical in the three-story Appenzell farm houses with low, wooden ceilings and a row of small windows with unique shutters. Every room facing south displayed magnificent views of the Säntis mountain range. Contriving Mathilde had used discarded fabric from Union AG and old dresses from her aunt to make baby clothing, which she adorned with artful stiches and embroideries fit for a prince. For the cold winter, she knitted warm jackets, pants, and socks. Daughter Hulda was born two years later, completing Mathilde's family. The babies look well fed and very happy in photographs. The loving young mother did everything for the well-being of her beloved children and to keep her household spic and span. Not only did she design and sew lovely dresses and craft artful toys from natural material found in the forest, she also understood magic when cooking meals from the meager resources on the farm. The surplus was bartered among neighbors or nearby relatives. Thanks to Mathilde's subsistence skills, the neglected, highly mortgaged house that was managed ← xx | xxi → ← xxi | xxii → for years by the staunch bachelor of over 50 years of age, now flourished again. Only when her husband could sell an animal or had butchered one himself did some money come in. Soon little Hulda was sent to sell the meat and butter in the neighborhood. With the cash, she ran to the small grocery store to buy flour, rice, and sugar. However, more often these necessities were debited to the family's account by the good-natured grocer. Hulda also ran errands for relatives, thus earning a few pennies, which she diligently saved for the annual fall fair in Gais, the nearby village. This yearly market was the highlight for her, since she loved the merry-go-round, the boat swing, and biking, "my most cherished pleasures" (meine liebsten Vergnügungen), she wrote in her biographical sketches. Hulda remembers in her stories that she never sat on her father's lap or had been held or embraced by him. In contrast, her mother raised the two children with tender love and intimate warmth, sitting on the sofa with arms around the children, telling them stories and looking at the few picture books they had received from their godparents. But her father took Hulda to the stable, showing her the newly born calves and sheep, which often had to be fed with a bottle. She helped her father with stable chores, haying and milking, while her brother, Hans-Jakob, preferred to stay with mother in the kitchen, reading and drawing. Both children attended the one-room elementary school in Rotenwies taught by the devoted Herr Schlegel; fourth to sixth graders in the morning, and first to third graders in the afternoon. Hulda was one of three first graders when she started school. She grew fast and was often sickly, the tallest girl in school pictures, wearing thick round glasses and her long hair braided. She was not only gifted in Handarbeit—handiwork for girls—because her mother had already taught her how to knit, embroider, crochet, and sew, she was indelibly smart in all subjects. She loved grammar and soon wrote the best essays in the old German Sütterlin script, a passion she cultivated into her nineties as member of a Sütterlin Correspondence Club, writing over 150 letters every year. Some of her childhood memories, such as learning how to swim in the local brook, exciting school excursions and presentations, local folk traditions, bringing the cows to the Alp with her father, and the modest Christmas celebrations, Hulda vividly describes in a handwritten notebook, which she titled "Jugenderinnerungen," her childhood memories. A magazine for seniors published one of her stories making her a published author at over 80 years old. The story tells of when she got lost at the fall market in St. Gallen, which she attended with her brother to have their picture taken in a photographer's studio. Eventually, she ended up at the police station, where her brother picked her up several hours later. They returned home very late at night. The deeply worried mother was so glad to see her children that they did not get punished. Hulda, however, had found the whole ordeal very ← xxii | xxiii → exciting and had never felt scared; rather, she had enjoyed being the center of attention in the busy police station.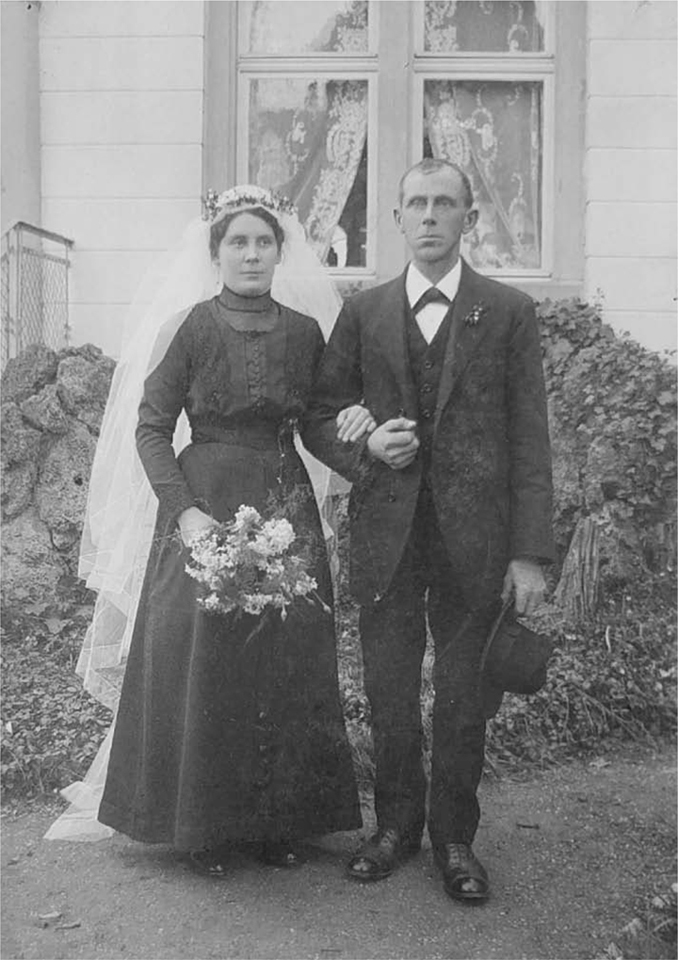 Source: Copyright 2017, author's family pictures.
Because she was as talented with yarn and needle as her mother, she even sewed her own underwear from white cotton fabric and soon most of her clothes. While stitching, she dreamed of becoming a teacher of these skills, a Handarbeitslehrerin. She knew how to crochet fine laces around a seam, a tradition well known in the area, where the cottage weaving and embroidery industry had flourished from the 18th well into the 20th century. Companies of St. Gallen embroidery textile still supply the top luxurious fashion houses in Paris, London, and New York.3 In school, Hulda was as skilled and fast with math exercises as her brother Hans-Jakob, who, after six years of elementary school, was allowed to go to secondary school in Gais, enabling him to become an apprentice in a bank upon graduation, eventually leading to a career in international trade. French was (and is) mandatory in secondary school. Imperious, and boasting Hans-Jakob spoke French phrases to Hulda to impress her. He told her she could never be so smart as to learn French, which of course wasn't true, but his bragging intimidated her profoundly, damaged her self-esteem, and made her accept female inferiority, which was a social norm at the time. His disparaging remarks and the family's hardship during the Depression years had further negative effects on her dreams. As a girl, she would have to finish school after eight years and earn her own living. For the first time, her vigorous spirit was broken and she became placable. Later, she always regretted that there was no Berufsberatung (professional advising), the Swiss federal agency later establish to help young people to chose a profession according to their aptitude, where her potential could have been recognized. Without her knowledge, Hulda's parents asked a neighbor girl, who worked in the only local embroidery factory, to inquire whether Hulda could work there too. So musste ich wohl oder übel gehen (thus, I willy-nilly had to go), she wrote in her diary, but only in the mornings, to her relief, since work was scarce and many sought employment. Her task in the factory was to cut model pieces of embroidery and glue the samples on paper cards, earning first 25 Rappen (cents), later 32 Rappen per hour. Fate changed, when Frau Lörtscher, a widowed neighbor, told her that she could start a Haushaltlehre (domestic apprenticeship) at the doctor's house in Gais. This type of apprenticeship was typical for lower-class girls. It was a path predestined for Hulda by society, her family, and her minimal schooling. Her father was old and ailing, and there were no social security benefits then, and the family had no health insurance either. There was no fund or any support available for Hulda, who would have loved to go to secondary school to become a Handarbeitsschullehrerin, a teacher for girl's handiwork, which was mandatory ← xxiii | xxiv → for all girls in the Swiss school system. Hulda would have become an outstanding teacher, because she was intelligent, she was the best student in Handarbeit, she could write flawlessly, and math was easy for her. Hulda treasured her elementary school successes of best grades throughout her life. She sentimentally kept her report cards along with most of her practice pieces and needlework samples from Handarbeitsschule. She collected many more items that she had sewn, and which demonstrated her fine sewing and knitting skills. She also sewed her own Appenzeller Tracht (traditional folkloristic dress) and eventually her dowry linens and towels adorned with the artistically embroidered monogram "HZ."
Glad to leave the boring factory work, Hulda, at age 15, enthusiastically started her domestic apprenticeship in the stately house of the esteemed doctor on July 1, 1933. She felt lucky to have been chosen to serve in such a prominent household. Although she first was often homesick, missing her family and the animals, she loved her new surroundings. Sunday was her day off, and she walked home to the beloved Rotenwies farm, but at 5:30 p.m. she had to be back to prepare dinner in the doctor's house. The family treated her well and with respect. The doctor's wife was the daughter of an affluent family. She had attended the "Gymnasium" to prepare her for university studies, but then married a doctor at age 20. She gave Hulda her old dresses and silk stockings, a luxury that Hulda never had seen or owned before. The doctor's wife knew the circumstances of Hulda's background. She was so kind as to have Hulda's black confirmation dress made by the seamstress who weekly attended to all sewing and mending needs of the household; of course, with Hulda's help. Hulda was confirmed in 1934 in the Protestant Church of Gais. The two children of the doctor's family, about the same age as Hulda, had to help dry the dishes, the only chore they had in the house. Hulda kept in contact with them throughout their lives. The boy eventually became a doctor like his father. The daughter completed the traditional Welschlandjahr in a "finishing," boarding school for the upper class in the French-speaking part of Switzerland, and then trained to become a nurse. All women Hulda knew were in a serving position. Her female role models served the husbands, the families, the sick, and those in need of female skills. All women did subsistence work. It was the norm and not questioned. After two years, Hulda completed the state examination for domestic apprentices in Herisau, the capital of Appenzell-Außerroden, with best grades, as expected. Hulda stayed two more years serving the doctor's family as a very dedicated household servant. She took pride in the position and in the fact that she was the only one in the house who could operate a newly purchased sewing machine.
Details
Pages

XLVI, 384

Year

2017

ISBN (PDF)

9781433148385

ISBN (ePUB)

9781433148392

ISBN (MOBI)

9781433148408

ISBN (Hardcover)

9781433130106

DOI

Language

English

Publication date

2017 (November)

Published

New York, Bern, Berlin, Bruxelles, Frankfurt am Main, Oxford, Wien, 2017. XLVI, 384 pp., 11 b/w ill., 21 coloured ill.