Thomas J. J. Altizer, America's 20th Century Religious Heretic
An Analytic Bibliography of the Writings of Altizer and the Death of God Theme
©2018
Monographs
XII, 658 Pages
Summary
Thomas J. J. Altizer, America's 20th Century Religious Heretic: An Analytic Bibliography of the Writings of Altizer and the Death of God Theme is a 50-year-plus analytical English-language bibliography covering: 1) all the published works by Thomas Altizer and 2) writings of others that have explored the "death of God" theme. The bibliography (including books, journal and magazine articles, newspaper stories, sermons, book reviews, and letters) is arranged chronologically by year. The first introductory essay addresses questions and concerns about Altizer and his writings; the second introductory essay provides a guide to the structure of the bibliography. Four extensive indexes covering persons named, essay titles, book titles, and periodical titles are included.
Excerpt
Table Of Contents
Cover
Title
Copyright
About the author(s)/editor(s)
About the book
This eBook can be cited
Table of Contents
12. The New Gospel of Christian Atheism (2002)
13. Godhead and the Nothing (2003)
14. Living the Death of God: A Theological Memoir (2006)
15. The Apocalyptic Trinity (2012)
16. The Call to Radical Theology (2012)
Summary
Summation
Notes
Introduction: The Bibliography
Bibliography Contents
Entry Format
The Indexes
The Bibliography
Altizer's Publications
Thesis
1951
Dissertation
1955
Monographs
1961
1963
1966
1967
1970
1977
1980
1985
1990
1993
1997
2002
2003
2006
2012
Polygraphs
1962
1966
1967
1977
Essays
1958
1959
1960
1962
1963
1964
1965
1966
1967
1968
1970
1971
1972
1973
1975
1976
1977
1978
1979
1980
1981
1982
1983
1985
1986
1988
1989
1990
1991
1993
1994
1995
1996
1997
1998
1999
2000
2001
2002
2003
2004
2007
2008
2009
2011
2012
2013
2014
2015
Book Reviews
1951
1954
1955
1956
1960
1963
1964
1965
1967
1968
1971
1973
1974
1975
1976
1977
1979
1982
1984
1985
1988
1989
1990
1993
1994
1995
1997
1998
1999
2000
2003
Commentaries and Critiques
1960
Essay in a book
1961
Book
Essays in a book
Essays in an academic journal
Essay in a popular periodical
Newspaper story
1962
Essay in an academic journal
Essay in a popular periodical
1963
Essays in a book
Essays in an academic journal
1964
Essays in a book
Essays in an academic journal
Essay in a popular periodical
1965
Essays in a book
Essays in an academic journal
Essays in a popular periodical
Newspaper stories
Poetry
Sermons
1966
Books
Pamphlets
Essays in a book
Essays in an academic journal
Essays in a popular periodical
Newspaper stories
Bibliography
Poetry
Sermons
1967
Thesis
Dissertation
Books
Pamphlet
Essays in a book
Essays in an academic journal
Essays in a popular periodical
Newspaper stories
Reference book entries
Bibliography
Poetry
Recording
Sermons
1968
Theses
Dissertations
Books
Essays in a book
Essays in an academic journal
Essays in a popular periodical
Reference book entry
Newspaper stories
Poetry
1969
Thesis
Books
Essays in a book
Essays in an academic journal
Essays in a popular periodical
Reference book entry
Bibliography
Sermons
1970
Dissertation
Books
Pamphlet
Essays in a book
Essays in an academic journal
Essays in a popular periodical
Reference book entry
Newspaper stories
1971
Theses
Dissertations
Books
Essays in a book
Essays in an academic journal
Essays in a popular periodical
Newspaper story
Poetry
1972
Thesis
Dissertations
Essays in a book
Essays in an academic journal
Essay in a popular periodical
Newspaper stories
1973
Theses
Essays in a book
Essays in an academic journal
1974
Thesis
Books
Essays in a book
Essays in an academic journal
1975
Dissertation
Essays in a book
Essays in an academic journal
Essays in a popular periodical
Newspaper story
1976
Dissertation
Pamphlet
Essays in a book
Essays in an academic journal
Essay in a popular periodical
Newspaper story
1977
Essays in a book
Essay in an academic journal
Essay in a popular periodical
Reference book entry
Newspaper story
1978
Essays in a book
Essays in an academic journal
Essays in a popular periodical
1979
Essays in a book
Essays in an academic journal
Reference book entry
1980
Essays in a book
Essays in an academic journal
1981
Essays in a book
Essay in an academic journal
Reference book entry
1982
Dissertation
Essays in a book
Essay in an academic journal
Newspaper story
1983
Essays in a book
Essays in an academic journal
Reference book entries
Newspaper story
1984
Book
Essays in a book
Essay in an academic journal
Reference book entries
1985
Essays in a book
Essay in an academic journal
Essays in a popular periodical
Newspaper stories
1986
Essays in a book
Essays in an academic journal
Reference book entry
1987
Essays in a book
Essays in an academic journal
Essay in a popular periodical
Reference book entries
1988
Essays in a book
Essays in an academic journal
Reference book entries
Poetry
1989
Dissertation
Book
Essays in a book
Essay in an academic journal
Essay in a popular periodical
Reference book entry
1990
Book
Essays in a book
Essay in an academic journal
Essay in a popular periodical
Reference book entries
1991
Thesis
Essays in a book
Essays in an academic journal
Reference book entries
1992
Essays in a book
Essays in an academic journal
1993
Dissertation
Essays in a book
Reference book entry
1994
Thesis
Dissertations
Essays in a book
Essays in an academic journal
Reference book entry
1995
Theses
Essays in a book
Essays in an academic journal
Reference book entries
1996
Book
Essays in a book
Essays in a popular periodical
Reference book entries
1997
Essays in a book
Essays in an academic journal
Reference book entries
1998
Essays in a book
Essays in an academic journal
Reference book entries
Obituaries: Paul M. van Buren [d. 18 June]
Poetry
1999
Dissertation
Book
Essays in a Book
Essay in an academic journal
Reference book entry
Poetry
2000
Dissertation
Essays in a book
Essays in an academic journal
Reference book entry
2001
Essays in a book
Essays in an academic journal
Reference book entries
2002
Thesis
Essays in a book
Essays in an academic journal
Essay in a popular magazine
Reference book entry
2003
Dissertation
Book
Essays in a book
Reference book entry
2004
Book
Essays in a book
Bibliography
2005
Thesis
Essays in a book
Essays in an academic journal
Reference book entry
Newspaper stories
2006
Essays in a book
Essay in an academic journal
Essay in a popular periodical
Reference book entries
Newspaper story
2007
Books
Essays in a book
Essays in an academic journal
Reference book entry
Newspaper story
2008
Dissertation
Essays in a book
Essay in an academic journal
Essays in a popular periodical
Reference book entry
Newspaper story
Poetry
2009
Essays in a book
Essays in an academic journal
Essays in a popular periodical
Newspaper story
2010
Essays in a book
Essays in an academic journal
Reference book entry
2011
Essays in a book
Essays in an academic journal
Reference book entries
2012
Book
Essays in a book
Essays in an academic journal
Obituaries: William Hamilton [d. 28 February]
Obituaries: Gabriel Vahanian [d. 30 August]
2013
Essays in a book
Essays in an academic journal
Reference book entry
2014
Books
Essays in a book
Essays in an academic journal
2015
Essays in a book
Essay in an academic journal
Addenda
The Indexes
Index of Names
Index of Essay Titles
Index of Book Titles
Index of Serial Publication Titles
Appendix
Book Dedications
About the Editor
I want, first of all, to acknowledge the free access I had to the following libraries in order to search holdings for material pertinent to the theme of this work: Roberts Library, Southwestern Baptist Theological Seminary; the Central and Bridwell libraries, Southern Methodist University; Turpin Library, Dallas Theological Seminary; the Mary Couts Burnett Library, Texas Christian University; Booher Library, Seminary of the Southwest; the Moody Memorial and Tidwell Bible libraries, Baylor University; the Chan Shun Centennial Library, Southwestern Adventist University; and the Dallas Public Library. I, likewise, need to mention the so ever helpful willingness of many more libraries who furnished photocopy versions of material not readily available in the greater Dallas, Texas area.
I wish, also, to extend my thanks to several Peter Lang employees; first of all to Meagan Simpson, Acquisitions Editor, for sponsoring the publication of this project; to the various copy editor people who transformed the manuscript according to policy style; and to Luke McCord for overseeing the production of the final product; many thanks indeed.
Dr. Glenn Kreider, a former colleague and friend, read and commented on the introductory material. And I thank my wife for her longsuffering spirit during my hours of work at the computer terminal.
Documenting Altizer and the "Death of God"
Thomas Altizer, famous for his advocacy of the heretical idea of the "death of God"1 is the primary focus of this bibliographic compilation. Educated at the University of Chicago (B.A. [1948], M.A. [1951], and Ph.D. [1955]) and at the time serving as associate professor of Bible and Religion at Emory University, Atlanta, Georgia, Altizer first made mention of the "death of God," his signature idea, in a publication published in 1960 ("The Influence of Nietzsche upon Contemporary Theology," Emory University Quarterly). Others such as Gabriel Vahanian, William Hamilton and Paul van Buren were likewise beginning to refer to the demise of God, although presented with varying nuances. By 1966, in a now famous Time magazine cover story, these religious academic's ideas were revealed to the non-academic world and a media firestorm ensued. The so called "death of God movement," however, even though hotly disputed, did not last long; it did not attract a wide following, and was quickly replaced by its antithesis "the theology of hope." Still, somewhat surprisingly after the demise of the movement, the idea of the death of God has persisted throughout the academic world, and still generates a fair number of essays per year. The idea of the death of God continues to be advocated and discussed. And Altizer has incorporated this heretical idea in almost every one of his subsequent monographic publications and in the vast majority of his essays. ← 3 | 4 → The scope of coverage of material on this bi-focal topic (the man and the idea) begins in 1960 and concludes in 2015; a span of fifty-five years.
The bibliography contained within this publication aims to document the writings of Thomas Altizer and his many responders (friends as well as critics). The focus of this part of the Introduction, however, will concentrate more on the man, the acknowledged leading spokesman for the radical idea of the death of God, and several interesting features of his writings. His biography has not yet been written; but neither will an attempt on this be made herein. Still, some attention will be offered in regard to a few personal experiences and to writing style and effort, both of which may bring about a clearer or better understanding of his output and/or accomplishments. The questions to be explored below stem from four topics: Altizer's disqualification for the ministry; his experience of an "epiphany of Satan"; his immersion into Blake, Hegel and Nietzsche; and his disbelief re: the authority of Scripture. Answers to these questions are not easily forthcoming, but the questions are raised because they deserve attention.
1. Altizer's disqualification for the ministry
While a theological student at Seabury-Western Seminary (Evanston, IL) Altizer was involved with an interracial Episcopal mission in South Chicago and thereby had some pastoral as well as preaching responsibilities. He was led to believe from these opportunities, by his "guiding pastor," that he could succeed in ministry. But after undergoing a psychiatric examination as a prerequisite for candidacy to the priesthood in the Episcopal Church he was informed that he had failed.
I unexpectedly and totally failed…. A variety of tests and interviews had resulted in the judgment that I was truly mentally ill, or so I was informed by the dean of the Seabury-Western Seminary … and I was seriously advised that I could expect to be in a psychiatric institution within a year. At last I received scientific confirmation of my madness.2
Dr. Joachim Wach, a "beloved professor," encouraged Altizer to pursue a vocation in theology instead because, as Altizer relates the story, it "could most ← 4 | 5 → effectively be conducted outside the church." The question, however, pertains to this assessment of mental illness, and its ensuing ramifications. Nothing further is mentioned by Altizer in the book from which the quotation has been extracted nor anywhere else throughout his career. Was he, in fact, mentally ill? Or was the judgment a fabrication? Was there any ensuing hospitalization or history of psychiatric consultations? If he was judged to be so seriously ill how then is nothing revealed about the "miracle" healing, if indeed he ever recovered from his "madness"? This question and the associated sub-questions are not spurious; they are significant in trying to understand the origin and development of Altizer's heretical ideas. This life episode occurred in close proximity to the next issue that will be discussed, and the two have to be regarded as being related.
2. Altizer's experience of the "epiphany of Satan"
This second questionable issue is related in some detail by Altizer in his memoir publication entitled Living the Death of God:
Shortly before this examination, I was in a turbulent condition. While crossing the Midway [at the University of Chicago] I would experience violent tremors in the ground, and I was visited by a deep depression, one that had occurred again and again throughout my life, but now with particular intensity. During this period I had perhaps the most ultimate experience of my life, and one that I believe profoundly affected my vocation as a theologian, and even my theological work itself. This occurred late at night, while I was in my room. I suddenly awoke and became truly possessed, and experienced an epiphany of Satan which I have never been able fully to deny, an experience in which I could actually feel Satan consuming me, absorbing me into his very being, as though this was the deepest possible initiation and bonding, and the deepest and yet most horrible union. Few who read me know of this experience, but it is not accidental that I am perhaps the only theologian who now writes of Satan, and can jokingly refer to myself as the world's leading Satanologist; indeed, Satan and Christ soon became my primary theological motifs, and my deepest theological goal eventually became one of discovering a coincidentia oppositorum between them.3
This confession came very late in his life/career, appearing in Living the Death of God published in 2006, (at which time he was 79 years old) yet it sheds interesting and curious light on his academic journey. It provides a foundation of sorts for understanding his continuing frame of reference that appears in all his writings. On the other hand, the confession still leaves much unanswered. Happening in close proximity to his psychiatric examination and subsequent ← 5 | 6 → rejection as a candidate for the ministry what does it say about his mental health and stability? He has not supplied a definite answer to the question, yet this experience has remained a conscious element in his life for all these subsequent years? How, as such, has it affected him; how has it manifested itself in his personality and behavior? And how does it contribute to his perverse (which he prefers calling "dialectic") thinking about God, that God becomes Satan? This issue has not been openly acknowledged or addressed by friend or foe but certainly appears to be germane in attempting to understand better Altizer's advocacy of the death of God. Just what did the epiphany involve; what does "consuming me," "absorbing me," "initiation and bonding," and "most horrible union" mean? Is Altizer best acknowledged as "God obsessed"4 or should he be better thought of, as Altizer here admits, "Satan obsessed"?5
3. Altizer's immersion into Blake, Hegel, and Nietzsche
The most frequently "mentioned"6 authors in all of Altizer's monographic writings are Blake, Hegel, and Nietzsche. (A fuller analysis of this fact will be presented later.) Blake and Hegel are seldom mentioned in his first two books (see Table 1.1) and Nietzsche is mentioned only a moderate number of times (47 and 85 times respectively). Chronologically Nietzsche had already been a focus of attention by Altizer as per an essay published in 1960 ("The Influence of Nietzsche upon Contemporary Theology," Emory University Quarterly). Thus it is understandable that Nietzsche was subsequently mentioned, to some moderate degree, in these early books (i.e., Oriental Mysticism, and Mircea Eliade). Hegel, in turn, was seldom mentioned, because, by Altizer's admission, he "resisted Hegel for many years, largely under the impact of Kierkegaard."7 It was not until Altizer's venture into the writings of Blake (1967) that Altizer "became overwhelmed by Hegel's thinking."8 Hegel was mentioned in that book (New Apocalypse) 124 times, more often than any other writer other than Blake. And as for Blake, he was barely mentioned at all in Altizer's first two books, but became the primary focus in The New Apocalypse. All three men were mentioned relatively frequently in The Gospel of Christian Atheism; the book, in turn, was assessed by a reviewer as simply offering a synthesis of these three authors.9
The question of interest here pertains to Altizer's initiation into the thought and writings of Blake, Hegel and Nietzsche. It was an admission by Altizer (mentioned in the previous paragraph) that he resisted paying attention to Hegel for many years. But once he overcame that resistance to Hegel he became overwhelmed by his thinking, and particularly by his use of the ← 6 | 7 → concept of coincidentia oppositorum. Thus here is an evident, although minor, introduction, by Altizer, into the world of Hegel. Still, no clue is offered as to whom or what actually led him to explore the writings of Hegel. And, even though Altizer produced an early essay on the thinking of Nietzsche, and nothing about Blake prior to the book on Blake, there is an absence of clues regarding his beginning interest in either of these two writers as well. What, then, is the genealogy on this matter? Who introduced Altizer to these writers, or what incident or idea sparked his curiosity in these thinkers? Was it via some graduate seminar discussion, or was it curiosity? How were they selected out of so many other possibilities? All three authors are prominently mentioned throughout The Gospel of Christian Atheism (seen in Table 1.1) but how were they chosen to be the leading spokespersons for his line of thinking? They may well be exemplary advocates, but what was Altizer's path to finding and identifying them? Altizer does not offer any autobiographical clues in this regard. Who or what led him to these authors? Altizer and a number of other writers have elaborated on the influence each of these three men have had on the development of Altizer's theological premise. It is not within the scope of this Introduction to develop this thought; the question simply remains: How was his focus directed this way?

4. Altizer's rejection re: the authority of Scripture
The issue to be addressed here entails two related topics: the authority of Scripture per se, and the scope of the canon of Scripture. Carl Trueman10 in addressing the first part of the topic offered some astute remarks on the position of the academy (the educational institutions) in this discussion. The academy, he says, must acknowledge the authority of Scripture. His comments are worth quoting in full: ← 7 | 8 →
Acknowledgement of the authority of scripture is surely basic to any theological work which claims the name of Christian and offers itself as in anyway useful to the Christian church. To say this is not to circumvent the complex problems that surround issues of canon, interpretation and hermeneutics, but it is to say that the Bible, as the Word of God, is unique in its relationship to God and in its function in the church, and that this must shape the methodological and material status it is given by Christian academics. To treat the Bible as any other piece of literature is a profoundly theological move because to do so involves an implicit denial of the Bible's own claims to theological significance. This is not to say that there is not much to be learned from textual, cultural and linguistic studies but it is to say that the application of these various approaches to the biblical text needs to take into account the fact that the uniqueness of the Bible requires that such applications are not used to relativize the Bible's message. There is something presupppositional at work here: as Christians, the assumption that the one God speaks through the one Bible is taken as basic, and this provides a basic hermeneutical framework for biblical interpretation. Thus, for example, the Bible's theological diversity can never be emphasized to the point where its basic theological unity, grounded in its divine origin and its central subject matter, is undermined. The Christian presupposes a basic theological unity which provides the framework for interpreting each verse within the context of the whole. Without the basic assumption of theological unity rooted in the relationship between God and scripture, one is left with no basis for theological coherence other than the particular preferences of the reader.11
Alister McGrath12 seconds the argument made by Trueman with the following remarks of his own:
The evangelical insistence upon the authority of Scripture reflects a determination not to permit anything from outside the Christian heritage to become the norm for what is truly "Christian." Critics of the notion of biblical authority [such as Thomas Altizer] sometimes suggest that we would be liberated if we were to abandon the authority of Scripture. It seems to me that this is simply a covert demand to acknowledge the authority of something—or someone—else. … Theological history has provided us with many all-too-uncomfortable examples of what happens when a theology cuts itself loose from the controlling influence of the Christian tradition, and seeks norms from outside that tradition.13 Many forms of theological liberalism invite us to seek norms drawn from human experience and culture…. The difficulty for liberalism is that its cultural accommodationism simply makes Christian theology a hostage to the dominant cultural ideology.14 For some writers, the notion of "the authority of Scripture" is unacceptable on account of a prior commitment to the authority of something else.15
Altizer is known to have advocated that "something else" mentioned by McGrath; he does not accept the literal truths of the Bible—he has abandoned ← 8 | 9 → the truthfulness of Scripture. Several statements to this effect can be drawn from The Gospel of Christian Atheism:
A theology that merely speaks a word of the past [as he claims the Bible does] is not engaged in the true task of Christian theology. Only a theology unveiling a new form of the Word, a form that is present or dawning in the immediate and contemporary life of faith, can be judged to be uniquely and authentically Christian.16
And: "the radical Christian rejects both the literal and the historical interpretation of the Bible, demanding instead a pneumatic or spiritual understanding of the Word."17 It can be said, therefore, that Altizer, as a member of the academy, is not defending the authority of Scripture.
Altizer, in regard to the second half of this topic, has also made statements disavowing a closed canon of Scripture.
We can learn from earlier radical Christians the root radical principle that the movement of the Spirit has passed beyond the revelation of the canonical Bible and is now revealing itself in such a way as to demand a whole new form of faith.
To refuse such a new revelation of the Spirit would be to repudiate the activity of the Word which is present and to bind oneself to a now empty and lifeless form of the Word.18
Now that historical scholarship has demonstrated the chasm existing between the Old Testament and the Christian visions of Paul and the gospel of John, might we not expect a comparable chasm to exist between the New Testament and a new revelation?19
The admission made by Altizer, in the statements just quoted, has been duly noted as well by Thomas Ogletree in his The Death of God Controversy ("Altizer is sharply critical of traditional Christian views of both Scripture and church. He rejects the idea of a closed canon and with it the assumption that revelation is finished and complete"20) and by Carl Braaten in an essay entitled "The 'Death of God' as Futureless Theology." ("Altizer has composed an arbitrary canon of inspired writings from Hegel, Blake, and Nietzsche in place of Paul, Luke, and John, and indulges in language so visionary as to be utterly divorced from empirical facts and concrete experiences."21) The second element of Ogletree's remark (above) mentions Altizer's view of the church. Altizer, in that context, likewise condemns the equation of the church with the body of Christ. He thinks it isolates Christ from the world.22 ← 9 | 10 →
So back to the basic question: If Altizer wanted to be a biblical theologian as well as a real ("a pure") theologian then why was he so adamantly hostile to the language and teaching of the Bible and the ecclesiastical structure and function of the church? What he has actually done (or accomplished) seems to be the very opposite of what he says he wanted to do or become. Why was the idea of real transcendence (not a loss of cultural transcendence) regarded as anathema to him to such an extreme extent that only immanence was a viable working alternative? Might not more formal, rather than self, training in theology have prevented a move in such a radical direction? Or is this rejection of the authority of Scripture another manifestation of the "epiphany of Satan" that still rules his life? John Warwick Montgomery, in a direct response to Altizer during their debate at the Rockefeller Memorial Chapel, Chicago, summarized the issue bluntly: "It seems to me that you've got to ask yourself whether you're going to bring your theology into line with the primitive theology of the Christian faith, or whether you're going to continue to create a religion on the basis of your own inner experience."23 Why is Altizer so determined to work within the academy (where he has worked for so many years)—but yet so against the church (for which he has so little regard)?24
Question three above explored the unanswered issue regarding the origins of Altizer's interest in the ideas of Blake, Hegel, and Nietzsche. It was acknowledged there that these three men were the most frequently mentioned authors in all of Altizer's monographic writings. In the following new section the results of a survey of all mentioned authors in Altizer's books will be presented. The objective of the survey was to establish a roster of Altizer's favorite and/or popular authors, or otherwise what might be regarded as his pantheon of authors.
It was quickly noted by reviewers—and readers—of Altizer's books that his most frequently mentioned authors were Blake, Hegel, and Nietzsche. From his third book forward these three Nineteenth century writers were mentioned more frequently than any other writer (but more on this later.) These three provided inspiration and various conceptual tools for Altizer's "creative vision."25 Blake was his "deepest theological model."26 His imagination, as Ramsey stated, was fired by the poetry of Blake27 and his writing, according to Weiland, is full of Blake's apocalyptic symbols.28 Altizer's fourth book (third actually written) amounted to an investigation of the radical Christian vision ← 10 | 11 → of Blake. After resisting Hegel for many years, Altizer was eventually overwhelmed by Hegel's thinking and advocacy of coincidentia oppositorum.29 He consequently adopted him as his philosophical master, but only, he acknowledges, by "conjoining Hegel and Nietzsche, thereby refusing Hegel's pure dissolution of mystery, and his consequent dissolution of theology itself."30 He henceforth employed Hegel's dialectic enthusiastically. And Altizer's supposed new form of mysticism comes from the profane mysticism of Nietzsche,31 while his understanding of the death of God is based heavily on readings of Nietzsche and Blake.32 In summary, Altizer affirms his interest in these three because he believes they are "our greatest modern thinkers and visionaries of the death of God."33
The frequency of mentions of these three writers (i.e., the number of times these names appeared in the text) throughout all of Altizer's books is displayed in Table 1.2. The names of Blake, Hegel, and Nietzsche appeared more than 1,200 times each in all of his books (see the "SUM" column at the far right), far and away greater than for any other ancient or modern author.34
Only nine more authors were mentioned a total of one hundred or more times each throughout his sixteen books: Augustine, Barth, Dante, Eliade, Heidegger, Joyce, Kierkegaard, Milton, and Spinoza. Three from this group were mentioned in at least five of his books: Augustine, Kierkegaard, and Milton, evidencing more than casual interest in these writers. Four of the remaining six were mentioned often enough in just one book to gain inclusion in this lower echelon of writers: Eliade the focus of attention in book two: Mircea Eliade and the Dialectic of the Sacred; Dante in chapter 6: "Dante and the Gothic Revolution" in History as Apocalypse; Heidegger the second most mentioned author (after Nietzsche) in the collection of essays constituting the Call to Radical Theology; and Spinoza in Genesis of God. Otherwise these four writers were mentioned only infrequently elsewhere or not at all. Still, an interesting observation was noted regarding Altizer's high opinion of Eliade: "No one whom I have known has influenced me more deeply than Eliade; certainly I own him an incalculable debt, but perhaps his deepest gift was his very support. No one else has encouraged me more deeply, or opened more vistas to be discovered, vistas inseparable from a truly new theology."35 The absence of any mention of Eliade in later writings (other than in Living the Death of God) is, therefore, surprising. The seldom mention of Paul Tillich (again other than in Living the Death) is likewise surprising. Tillich, a number of times, has been acclaimed as "the father of radical theology,"36 and Altizer, at the time of his writing The Gospel of Christian Atheism, admits that "it was Tillich who ← 11 | 12 → ← 12 | 13 → ← 13 | 14 → exercised the greatest theological influence upon [his] work."37 Still, Altizer fails to acknowledge (i.e., mention) Tillich in any book other than a couple of the early ones.38 Only a couple more authors were mentioned by Altizer between fifty and one hundred times; they are Crossan, and Freud. The pantheon of Altizer's favorite authors is not as great as might have been expected.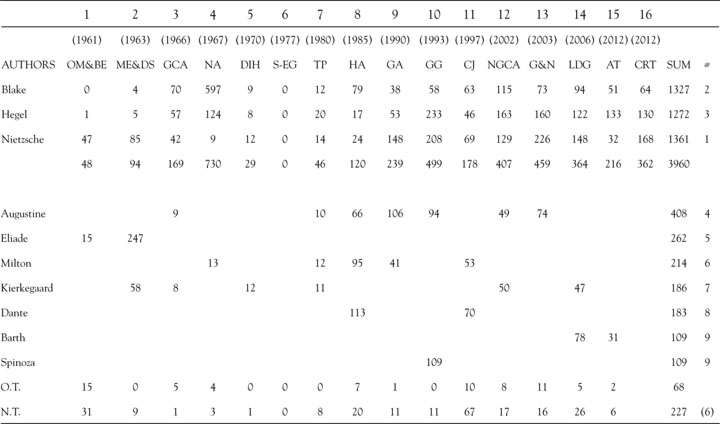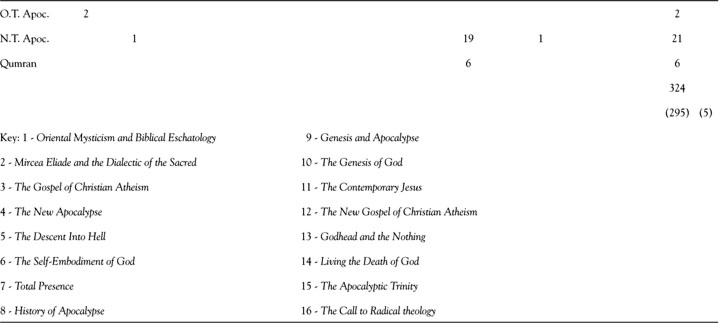 One more comparison in this context should, and can, be made. Several times in his career Altizer asserted his intention to be a biblical theologian39 and this claim was made particularly in regard to the writing of The Descent Into Hell. A tally of his mentions of Scripture, however, reveals an oddity in several respects. Only one scriptural passage (from the New Testament) was mentioned in this book (of 217 pages); quite an underwhelming number. The most mentions of passages from the Old Testament (15 times) appeared in his first book: Oriental Mysticism and Biblical Eschatology (1961), while the most mentions of New Testament passages was, again, a very modest 67 times in The Contemporary Jesus (1997). The overall picture is not, generally speaking, much better. A passage from the Old Testament was mentioned a mere 68 times within all sixteen books; and from the New Testament, the number of such passages was 227. Combining these two figures, a biblical passage was mentioned 295 times which would place it no higher than fifth in the hierarchy of favorite "authors," well below the top three of Blake, Hegel, and Nietzsche. In closing this section, it is worth reiterating the observation made by Carl Braaten (above): Altizer has compiled his own (substitute) canon of authors: Blake, Hegel, and Nietzsche.40
Altizer has authored sixteen books during his long academic career (and edited four others which will not be included in this survey). Many of these books have been reviewed in academic and popular publications numerous times (see Table 1.3. The prefatory code in the table [A##] represents the identification of the work within the Bibliography). Several interesting observations can be made in light of this presentation. The first eight of these books (from Oriental Mysticism (1961) to History as Apocalypse (1985) with the exception of The Gospel of Christian Atheism which proved to be an outlier in number of reviews) were reviewed on average almost 15 times (14.7) each. This average number of reviews per book is substantially greater than that generally received by most other theological publications. In turn, the average number of reviews per book for Altizer's last eight books, written during his more mature, or senior, years, is only 5.6, or 4.6 if the one outlier in this ← 14 | 15 → grouping (The Contemporary Jesus having 13 reviews) is excluded. Even this lower figure may be slightly higher than usual for theological publications. Reviews identified for Altizer's last two books were zero and one. This result is surprising too, in reverse, due to the name recognition of the author. One more comment: the most frequently reviewed work of Altizer was The Gospel of Christian Atheism which was released in 1966 at the very time of the media frenzy over the proclamation of the "death of God." In terms of book review coverage, this book was reviewed an amazing 43 times (according to the best calculations of the present writer). It will be noted below that this publication drew especially heavy negative criticism from the reviewers.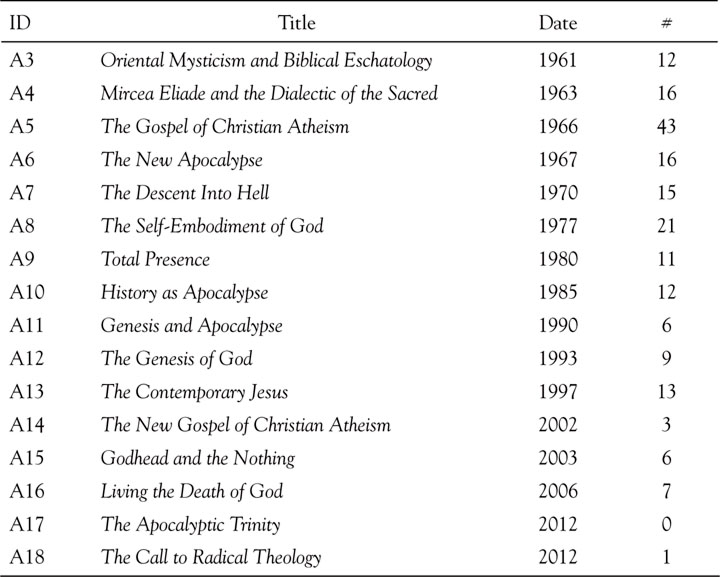 In 1978 The Christian Century initiated a "miniseries" in its Criticism section "featuring authors who wrote important and highly visible books in the 1960s." Selected authors were asked to "reassess their own works" and to tell the readers how their mind had changed "or whatever." Altizer's entry appeared in the June 7–14, 1978 issue under the title of "Overt Language About the Death of God." This early self-assessment of his books has since ← 15 | 16 → been expanded twice. A 2001 version appeared in Literature and Theology with a title of "Altizer on Altizer"; and the 2012 version appeared as Appendix B: "Altizer on Altizer: A Self-Critique" in The Call to Radical Theology, edited by Lissa McCullough. This last version (actually written in 2010) does not include any mention of The Apocalyptic Trinity or The Call to Radical Theology (both released in 2012).
In the following, a synopsis of what Altizer says about his own works, and what reviewers have said will be presented. In frank honesty Altizer has not always been kind in assessing all of his monographic writing. He has admitted inadequacies and failures. Comments about his later works, however, have more often been descriptive than evaluative. And, in turn, while the majority of the book reviews of his works have been published in academic journals that are usually sympathetic in outlook to most published material, even here criticism of Altizer's writings has been sometimes harsh as well as kind. Altizer's views, mostly excerpted from the three self-assessments mentioned above, are presented first—per book—under the subheading "Altizer's perspective"; reviewers reactions, derived almost totally from published book reviews, follow afterward.
1. Oriental Mysticism and Biblical Eschatology (1961)
Altizer's perspective: Altizer openly admits that this, his first book, is "badly written, pretentious and irresponsible in its claims and arguments, wholly lacking in historical sophistication and mastery of its sources, … spoiled both by premature publication and by the absence of scholarly and historical mastery in its author." … It is his "most regrettable nonbook."41
Particularly noteworthy is Altizer's admission that "he is neither a historian nor a historian of religions." He is, instead, "an ersatz theologian, a self-taught theologian, one who employs the history of religions only as a route into a nontheological theology" (i.e., one "grounded in the death of God").
Reviewer's reactions: On the plus side one reviewer regarded this book as "an imaginative—at moments brilliant—and certainly [a] provocative study."42 Another said the text showed "extensive reading, keen enthusiasm, and an easy-flowing style."43
Contrariwise others were less happy about the style and results. H.P. Sullivan in the Duke Divinity School Bulletin said Altizer's efforts even though worthy "are vitiated by his dogmatic and polemic style, which at times obliges the reader to work his way through a number of rather irrelevant causes celebres before getting to the main points of the discussion."44 Morton Smith in ← 16 | 17 → Religion and Life said the following: "the first part of the book is an almost unreadable tissue of incongruous quotations from 'authorities'—a parade of learning which reveals amazing ignorance."45 And, Altizer "writes like a young man suffering from an overdose of German homiletics."46 Yet another reviewer commented: "This volume … abounds with superlatives and ultimates, a writing mannerism which gives the impression that somehow the final and undisputed authority has been found on the subject."47
Another reviewer recognized Altizer's absorption with the history of religion; several others made reference to the book supposedly belonging within comparative religious studies. Charles Long in The Journal of Religion said "the volume [is best] defined as an essay in historical-theological methodology."48 One more reviewer questioned whether Altizer fully understood the "significance of the Buddhist experience of the immanent 'Nothing'" particularly when Altizer supposedly equates it with what he "styles the Christian experience of 'the hither side of God'."49
2. Mircea Eliade and the Dialectic of the Sacred (1963)
Altizer's perspective: This second "nonbook … is in fact two nonbooks only loosely and inadequately conjoined."50 The first part contains a critical study of the works of Mircea Eliade while the second portends to be a theological (rather than a scholarly) analysis "advancing the claim that it is precisely the most radical expressions of the profane in the modern world that can dialectically be identified as the purest expressions of the sacred."51
Reviewer's reactions: There were some definite positive comments about this book. Franklin Littell was most laudatory and effusive with the following: "a major and truly brilliant attempt to rescue Christianity from the corruptions which have attended its accommodations to the pretensions of Western Christendom"; "a highly original interpretation of the course of religion and its eventual emancipation"; "one of the most creative and insightful treatises in the philosophy of religion to come … in the last decade"; and "a magnificent achievement."52 Another reviewer wrote: "Altizer's book is very creative and deserves attention."53
On the negative side one reviewer judged Altizer's conception of the place of reason is narrow and his philosophy of value is sketchy. "His opening phenomenology and his later existentialism are never reconciled." This reviewer also asserted: "that the sacred should luminously but mysteriously emerge into the present moment without a transcendent Value Source" ← 17 | 18 → seemed preposterous. He further claimed that "Otto's Idea of the Holy rings truer to religious experience" than does Altizer's conceptualization.54 Penrose St. Amant, in his review appearing in Review & Expositor, offered some particularly harsh criticism. He wondered whether Altizer was actually "projecting his own skepticism into the theological situation as a whole." He also perceived "the entire introduction is pejorative and, therefore, ill-befits a work which seeks to engage in serious theological discourse."55 Another reviewer confirmed this latter idea; the book, he said, "is not a scholarly interpretation of Eliade's work."56
3. The New Apocalypse: The Radical Christian Vision of William Blake (1967)
Altizer's perspective: Altizer, here, claims to have written a "genuine book."57 He admits that "his long combat with Nietzsche has finally given birth to him as a writer, which here occurs by way of a full conjunction of an [sic] Hegelian dialectical understanding of pure negativity with the dialectical movement of the images and symbolic figures of Blake's imaginative world."58 He also, in a gusto of self-aggrandizement claims that "a fully systematic theology" can be found in this book. He says "it is a theology purporting to be the expression of a radical Christian tradition—a tradition unknown to the world of Christian theology, because that world is irredeemably satanic insofar as it is bound to the dead body of that God negated and left behind by the forward and apocalyptic movement of the incarnation."59 In his closing sentence to the "Introduction" for the book, Altizer admits the following: "I would be the first to acknowledge that this book only faintly and inadequately does justice to its theme; but if it serves in any way to lead the contemporary Christian to the living waters of William Blake, it will have more than fulfilled its purpose."60
Reviewer's reactions: David Hesla credited Altizer with writing "an impassioned, sympathetic account of the structure of Blake's thought."61 Another reviewer believes Altizer feels "a comradeship with Blake that he does not feel with" Nietzsche, Kierkegaard, or the Buddhists.62
F. W. Dillistone, however, in writing his review for Theology Today, openly admitted that this book was one of the most difficult that he had ever been asked to review. He found it "hard to see how the work of Blake [could] make an appeal to any beyond the extremely limited circle of those who are prepared to immerse themselves in his period, to learn the intricacies of his vocabulary, and to yield themselves up to the way of perception which he advocated."63 ← 18 | 19 → In regard to this admiration for Blake several other reviewers commented on the same idea. The reviewer in Choice [a library review journal] said: "Altizer values Blake as highly as the New Testament," and "the traditional theologian will be appalled by the authority accorded Blake."64 The unidentified reviewer in The Christian Century opined "Altizer makes a creative misuse of Blake. This interpretation is more Altizer than Blake."65 A similar opinion was offered by Hesla: "Altizer does not carefully distinguish between himself and his topic, so it is difficult to tell where Blake leaves off and Altizer begins."66 Dillistone's closing opinion of this book was that it "is not orthodox, traditional, or even Reformed Christian theology."67 Another strong, negative reaction to this book was offered by Jennifer Jesse. "The 'radical Christian' perspective" she says, that "Altizer personifies in this work certainly has been influential in various postmodern sensibilities at work today, but, for the most part, the context and problems Altizer addresses in this book are no longer the ones with which we (as postmodern theologians or Blake scholars) are now concerned."68
4. The Gospel of Christian Atheism (1966)
Altizer's perspective: While this book was written after, but released before, The New Apocalypse, Altizer says it was "wholly dependent upon that book's understanding of Blake and Hegel."69 He wrote it in popular terms for the general public. And while the book was "deplored," to use Altizer's assessment, by the theological community, it was published in the midst of the media storm over the "death of God" controversy. The book was reviled, as well, by religious lay people. In 1997 Altizer drafted a reexamination of this book which offered an assessment of the historical tone of the times and a defense for his writing such a book. This piece, however, did not provide a true self-analysis of what was accomplished in the writing of the book, similar to the three being referenced in these reviewer reviews.70
Reviewer's reactions: These first remarks represent some of the positive views regarding this work: "This volume turns out to be theological treatment of the highest seriousness."71 "The book should not be dismissed; it raises issues that every thinking Christian should face."72 It is "a significant book destined to produce an impact in theology."73 Here is "a clear and succinct statement of Altizer's revisionist position."74 "Altizer explicates his God-is-dead theology with clarity and suggestive insight."75 He "develops a theology which takes God's loving self-involvement in history with the utmost seriousness."76 ← 19 | 20 →
Somewhat descriptive, or reasonably neutral, comments of the book are as follows: "Altizer is attempting to respond effectively and searchingly to what may be called our contemporary 'experience of God's absence'."77 "The book is a deliberate effort to commend passionately a strange kind of atheism."78 James Daane was a bit more exacting when he claimed "the book goes a long way toward clarifying what is meant by the death of God, and what radical theology is asserting in its attempt to formulate an atheism within the possibilities of the Christian perspective."79 In reference to Altizer's non-use of a biblical perspective, Adcock's review in The Hibbert Journal said Altizer "offers us a synthesis of Blake, Hegel, and Nietzsche."80
More pungent/critical remarks were offered by Sam Keen: "The audacity of this book is embarrassing"81; David Jenkins: "Much of what Altizer says is so silly … His book consists of an amazing string of assertions drawn from, influenced by, or based on these very problematic and highly dated writers [i.e., Blake, Hegel, & Nietzsche]"82; Robert Jenson: "Altizer's premises so rarely support his conclusions"83; Sam Keen again: "Altizer states but does not demonstrate that any idea of a transcendent God is necessarily repressive in character" and "Altizer's high theological tone is … alien to the empirical and historical consciousness of our time"84; James Daane: Altizer's theology "is essentially anti-Christ, a quite new, free-wheeling, and impulsive syncretism of psychology, oriental mysticism, and an inverted definition of … kenotic incarnation"85; William Mallard: "Altizer's 'radical incarnation' shakes our customary thought-patterns"86; William Green: "a flimsy paperback from a young associate professor"87; and Ulrich Simon: This "work is almost entirely worthless in itself.… [Altizer] gets himself into many contradictions which he proudly displays as an artful dialectic."88
A couple remarks in regard to the use of biblical material are worth highlighting: Arthur Jentz claims Altizer "has chosen to dismiss from his considerations the whole field of contemporary Old Testament theology"89 and J. Robert Nelson made a similar claim in regard to Altizer's use of the New Testament: "[Altizer] has disposed of the New Testament as 'an exotic and alien form of religion'."90
One more reviewer and review merits mention. Robert McAfee Brown's twelve page review of this book was the most blistering, scathing review of an Altizer book, and particularly this one. It appeared in Theology Today published by Princeton Theological Seminary, July 1966. Excerpts from the review are presented here.
The formulation of the [death-of-God] issue seems to me so hastily constructed and so obscurely presented as to remove it from the category of writings that need to be ← 20 | 21 → taken seriously…. [And] if this sounds like a harsh judgment, I can only respond that since Altizer harshly writes off as irrelevant or wrong or both almost every other Christian theologian who has ever lived, there can hardly be objection if one theologian feels constrained to turn the compliment back upon its originator…. The book abounds in obscure terminology, loose use of language, sloganeering in place of argument, sweeping generalities, and unsupported conclusions…. Not only is the material unclear, but what is clear is far from having the self-evident quality that its author attributes to it…. [T]he gravamen of my charge is that Altizer has not given us a statement with which we can really come to grips. It may be that he has got a hold of something important, but if so the fact is not discoverable from his book…. [The reader] is constantly confronted by words and slogans whose meanings are never clarified. This is particularly frustrating when Altizer is using traditional terms but with a special meaning of his own…. One thing is absolutely clear [and that is] Altizer's total disavowal of the church, and any form of community. The Christian church is the real roadblock in the way of an understanding of "radical" Christian faith…. Altizer sees the church as positively evil … [and he] also disavows the entire Christian past…. If we need, as Altizer asserts again and again, a wholly new language, if we must disengage ourselves from all past forms and images of thought, then why retain archaic words like "God" and "Jesus" with the intolerable burden of outmoded freight they have to carry? … I find this one of the most confusing points in Altizer's whole approach.91
5. The Descent Into Hell: A Study of the Radical Reversal of the Christian Consciousness (1970)
Altizer's perspective: In this book Altizer claims to have "attempted a systematic theological exploration of the radical and apocalyptic faith and enactments of both Jesus and Paul."92 He approached this objective via his premise of a dialectical coincidence between "apocalyptic Christianity and Mahayana Buddhism." Still the "deepest flaw" of the book, by his own assessment, was that it was insufficiently theological; it failed "to focus [fully] upon the self-negation or the self-emptying of God."93 Altizer admits he did not enter deeply enough into the world of Buddhism.
A further oddity in Altizer's self-assessment (in general, yet made in context of this book) is that he "intends to be a Biblical theologian," and especially "a genuinely Biblical theologian."94 His self-delusion is mystifying; he seldom, if ever, cites Scripture in any of his writings or conducts any exegetical examinations. He additionally asserts that "his real hope and intention is to do pure (emphasis added) theology, a theology thinking about God alone, and thinking in such a manner and mode as to make possible a theological realization of revelation." ← 21 | 22 →
Reviewer's reactions: According to John Cobb, a long-time, close friend, this book is, naturally, "a rich and mature work by a major thinker." Cobb also asserts that it is "both radical and Christian,"95 because, as more fully expressed by Schlitzer, the book is "an attempt to think radically about the contemporary meaning of Christian faith."96 Tom Driver, of Union Theological Seminary, NYC, declared this book to be Altizer's "best treatise since Mircea Eliade and the Dialectic of the Sacred" because, he said, it "has an importance quite out of proportion to its merits."97
William Sullivan expressed a different opinion: he perceived this book to be "a difficult book and, incidentally, an exasperating book. Also a radically unsuccessful book." According to Sullivan the book "does not in reality further Altizer's project of relating the understanding of God with contemporary consciousness." The "substantial" difficulties of the book, he says, are twofold: "(1) the 'dialectical' method as Altizer uses it appears to be more verbal than real. The reality contact for the dialectic is lacking. (2) There is constant use of framework terms and reference terms which are never experientially grounded or defined."98 Daniel Cobb is also
baffled by Altizer's own imagery as he doggedly attempts to invert every tradition into its Hegelian antithesis…. The historical irrelevance of Altizer's radically eschatological vision seems to be as pronounced as that of the view he is attacking—a view that is in reality a "straw man"; that is to say, the richness of the traditional Christian imagery is so oversimplified and distorted by Altizer that not even slightly sophisticated theological thinkers would accept his presentation of it as representative of the "mainstream" of Christian thought…. As a constructive theological thinker he leaves us with little on which to build.99
After expressing a complimentary statement about the book (noted above), Tom Driver made several strong, negative assessments. (1) "The book, he says, is saturated with a certain absolutism," that gets in the way of Altizer's dialectic.100 (2) "The absence of any [expressed] concern for the Church" in the book, leads Driver to conclude that Altizer believes he is not "answerable to any community." This "solitary nature of his thought is [an] indication of his distrust of life."101 (3) The strong Gnostic and Manichaean tone of the book, leads Driver to perceive in Altizer a "negative valence toward life."102 (4) The book, Driver asserts, "is as romanticist a book" as he has ever read, yet "its few references to Romanticism are all pejorative.103 (5) Altizer, according to Driver's thinking, does not interpret Hell as punishment; rather he uses it to mean limbo."104 ← 22 | 23 →
6. The Self-Embodiment of God (1977)
One of the strangest books written by Altizer, as perceived by this compiler, is this one. It is comprised of five chapters (Genesis, Exodus, Judgment, Incarnation, Apocalypse), but has no introduction announcing a theme or audience. Only his 1978 and 2001 self-criticisms reveal the book's purpose, i.e., an attempt to fulfill a claim made in his previous book to do "pure theology," thinking about God alone.
Altizer's perspective: In Altizer's own words—after the book's publication—the book "attempts to re-enact biblical revelation in theological speech, and to do so by way of a meditation upon the actuality of speech and silence."105 His judgment regarding the book, at that time, was that he attempted too much, even if readers may have thought he attempted too little. Much later in life, as he was writing Living the Death of God, Altizer proclaimed this book to be his best. "It is a book which in a genuine sense wrote itself. … This book is far more truly writing than is any of my previous writing."106
Reviewer's reactions: John Cobb, Altizer's long standing friend, describes this book as "a series of subtle meditations on biblical themes."107 Louis Dupre sums up the content succinctly as being "entirely about God."108 And, Arthur A. Cohen, a bit more elaboratively, describes the content as "a splendidly difficult … meditation on divine self-embodiment in the metaphor and language of Scripture."109 Charles Hardwick, offering a general commendation, says the book "is one of the most important theological works to have appeared in America in a generation."110 Carl Raschke described the book as "substantial," "provocative," and "prophetic as well."111 Carl Scharlemann believes this book "represents a maturing of the theological theme with which Altizer has been concerned from the beginning."112 And Cobb, again, believes Altizer is here "at his dialectical best, exploring a new style of both theology and devotional literature."113
In a much less complimentary tenor, the following remarks have been offered. "This is [Altizer's] most difficult book."114 The reading of it is noted as being heavy and sometimes perplexing.115 The writing style has been described by various reviewers as being cryptic, dense and repetitious116; and presented in a language that does not communicate.117 William Narum is convinced "one needs a handbook of terms to fathom" the contorted dialectic Altizer incorporates. "The book makes no attempt to be intelligible to a reader who has not sat at the feet of the guru to learn his mystifying language. The style which Altizer affects here unfortunately renders it an arcane deliverance akin to the ← 23 | 24 → upanishadic notion of a 'secret teaching' which only the master can reveal."118 Narum continues with an even longer judgment against the book:
Altizer offers no relief from his unremitting dialectic, no explanatory passages which could serve to illuminate the dialectical passages. Therefore it is puzzling how he can expect this to be a renewal of theological languages. One is left with the impression that Altizer prefers to be concisely and consistently dialectical than to communicate, for then he would break his train of thought.119
"Many readers" he says "will consign [the book] quickly to the types of metaphysical writing which chase black cats down black alleys."120 The reviewer in Choice [a library review journal] accuses Altizer for not providing any explanation of the terms employed in the book; for not offering any rationale for their use; and for keeping his presuppositions unidentified. Is it, the reviewer asks, "because a more candid presentation would look much less oracular and would be much more open to criticism?"121 Scharlemann, likewise, bemoans the absence of a "commentary."122 Paul Knitter concluded that the theological language Altizer supposedly incorporates in this book may be new but it "is hardly biblical or contemporary in its intelligibility."123
7. Total Presence: The Language of Jesus and the Language of Today (1980)
Altizer's perspective: In this book Altizer believes he has presented a "miniature" (although later described as "a fully") apocalyptic theology, "a theology moving from the parabolic language of Jesus to a contemporary anonymity and solitude."124 The result, by his own admission, was that it proved to be a "very abbreviated book, and one that is probably meaningless to those who do not share or are not open to its own presuppositions." Still he praises the result, without elaboration, as "a fundamental innovation."125
Reviewer's reactions: Only a few positive, or neutral, comments were identified for this book. David Fisher, for one, notes favorably the "multiplicity of voices" that "coinhere" in this book along with Altizer's legacy of study in the history of religions and dialectical theology. He, likewise, believes Altizer "illuminates, as no other contemporary theologian, the exigencies of contemporary liberalism."126 John Godsey was also impressed by Altizer's command of literature, philosophy, and religion.127 And whether it was meant to be positive or negative, Carl Raschke asserted that this book "represents the now familiar 'death-of-God-theology' in extremis."128 ← 24 | 25 →
Two of these reviewers, and others, still had much to say negatively particularly in regard to Altizer's writing style. John Fisher (again): Altizer has produced a "text which is both polysemous [i.e., ambiguous] and dense." And, because Altizer "frequently fails to indicate whose voice is speaking, it is difficult to know what is going on at times."129 Godsey added that Altizer's writing is "difficult, if not abstruse. And whether his thesis is true certainly seems conjectural."130 The reviewer in Choice thought "Altizer is unnecessarily obtuse, given to unwanted generalizations." Neil McEleney, in Theological Studies, offered a number of evaluations. First of all he thought it was impossible to summarize the book, "since its chapters do not visibly cohere or present a viewpoint argued consistently through the work. Each chapter makes its own assertion, and the reader is left to fit them all together." After that opening McEleney presented five "principle shortcomings": (1) "Gratuitous, even outrageous, assertions are made without evidence or reasoned argument to support them or logic to recommend them"; (2) "Previous theological positions are blurred in Altizer's usage"; (3) "Outmoded positions are espoused"; (4) "Altizer plays words, evacuating their normal content"; and (5) "Often Altizer indulges in sheer or opaque nonsense."131 Michael Root judges the book "unconvincing at a variety of levels. The presentation takes a form closer to a virtuoso soliloquy than to a contribution to public discussion. Contemporary theologians and philosophers are never mentioned nor is their impact evident. Various major figures of the past are mentioned over and over again, but their ideas are never analyzed or discussed in detail."132 A couple other remarks from Root are: (1) "Altizer's downfall in discussing the parables is the downfall of the entire book: sweeping statements with little evident supporting analysis." (2) "Nothing is ever partial for Altizer. Everything is absolute and total. In Altizer's world there are no shades of grey, blue, or green. There is only black and white." (3) "His methods, his conclusions, and perhaps even his fundamental vision of the nature of Jesus's message are inadequate for the development of a theology for contemporary Christian existence."133
8. History as Apocalypse (1985)
Altizer's perspective: In this book Altizer claims to make "the (emphasis added) first attempt to understand the Western epic tradition as an organic and evolutionary tradition" and again "the first attempt to understand our greatest epic poetry as the poetry of revelation."134 Attention is centered on examinations of how Augustine, Dante, Milton, Blake, and Joyce embody the revelation ← 25 | 26 → of the Bible. Altizer, however, in this case, offers no evaluation of success or failure regarding his effort.
Reviewer's reactions: Reviewers generally agree that Altizer, in this book, surveys (or analyzes) the Western epic (i.e., its literary tradition), from Homer to Joyce.135 Michael Lieb grants credit to Altizer for succeeding "in integrating a vast amount of material within the scope of a unified analysis."136 And Warren Frisina regards the book as being a "magnificent work."137 The book, in turn, received relatively few negative criticisms. Joanne McWilliam, in the Toronto Journal of Theology, offered the following: "The corresponding theological heritage [to the Western epic] has been treated disappointingly simplistically," and was directed too much to a single inescapable end.138 Another reviewer had a similar perspective: "In trying to show that the epics can be understood as an organic whole, Altizer ignores all the qualifications that surround his views."139 David Fisher drew an interesting conclusion: "What Altizer seems to want to do, but cannot, is to approximate the 'night language' of Finnegans Wake or the Tibetan Book of the Dead."140
Writing style, again as in regard to other Altizer works, was an issue. Altizer's style, as per Fisher, "is a curious mixture. The rhetoric is most like that of Harold Bloom: highly assertive, even strident at times." And other times, Altizer's text "verges on Roland Barthes's ideas of 'writerly text,' one in which there is a loss of comforting presence, of a clear sense of boundary between text and commentary, and of genre."141 Altizer was criticized as well for his overuse of such words as "only" "unique" and "absolute" (a stylistic pattern commonly found in his other books as well).142
9. Genesis and Apocalypse: A Theological Voyage Toward Authentic Christianity (1991)
Altizer's perspective: First of all Altizer regards this book as his "fullest apocalyptic theology."143 Yet he acknowledges "critical and scholarly shortcomings." For example: the work "is the expression of one theological voyage … conducted in darkness and solitude … and influenced by the language of scandal and offence." In his circuitous way of expressing himself he proclaims that this apocalypse is a "celebration of a total darkness that is finally a total light, and while such light is absent in this book, a darkness is present which is its dialectical counterpart, and if darkness is finally light, this book may finally be theology."144
Reviewer's reactions: Altizer is regarded, by two reviewers, as "God-obsessed" and as "God-intoxicated." As for the first opinion, Altizer is proclaimed to be ← 26 | 27 → obsessed with the aseity of God, which is described as consisting of pure negativity or nothingness.145 The second reviewer believes Altizer's rhetoric about God burns with the passion of someone seized by a magnificent vision.146 Both ideas are supposedly manifested in this book. Lissa McCullough, a true follower of Altizer, picks up on the subtitle and describes the book as "a voyage in quest of "authentic" Christianity; and authentic, of course, is understood as apocalyptic Christianity."147 Carolyn Craft, in essence, offers a complimentary statement: "Altizer provides a radical analysis of Christian apocalypse."148
According to Robert Corrington "the book's style and its often grandiose claims sometimes ring hollow." "The reader," he continues, "is entitled to more nuanced analyses that reflect greater craft in shaping a theological perspective that chooses to honor the entrance of the novum in our time."149 Stephen Duffy offered this further judgment: "Perhaps we have here less interpretation of history than exploitation of it to make a philosophical-religious point considered corrective of all other theologies now passe and of another epoch."150 Duffy also brought attention, as have others to earlier books, to Altizer's style of writing: "his style is incantatory, replete with overstatement."151
10. The Genesis of God: A Theological Genealogy (1993)
Altizer's perspective: Altizer labels this book a "companion volume" to Genesis and Apocalypse. It, he says, "attempts to reach both a purely Christological and a purely apocalyptic understanding of genesis," i.e., being simultaneously the self-embodiment and the self-emptying of God. Freedom and nothingness, he says, are the primal categories in this investigation; and freedom is defined as being "inseparable from a fully actual nothingness."152 Altizer again refrains from making any evaluative remarks about this book.
Reviewer's reactions: In regard to being a companion volume to Genesis and Apocalypse (1991), Peter Van Ness had this to say about both: "Both books seek to renew the apocalyptic vision of early Christianity by exploring the dialectical relationship of genesis and apocalypse."153 David Bryant interprets the bold thesis of the book: "since God has an absolute ending God must also have an absolute beginning."154 Lissa McCullough goes so far as to classify the book as "a thoroughly systemic theology." It is such, she says, because "the conceptual elements are dialectically interfused, realizing a dynamic complexity with no static center or ground."155
Van Ness, mentioned in the prior paragraph, also highlights a number of reservations about this book. They are: (1) "Altizer does not attend ← 27 | 28 → sufficiently to the poetic texts he cites nor does he appreciate their specifically poetic qualities." (2) "The dialectical cast of Altizer's theological thinking is too severe: apocalypse and genesis, crucifixion and resurrection, and other central notions are too readily transposed into one another, in the process losing determinate meaning and weakening the argumentation in which they occur." (3) "Most disappointing, Altizer's adoption of the theme of God's kenosis … is not used to effect connection and transformation with other religious traditions."156
Comments regarding Altizer's writing style are, again, offered by several reviewers. George Pattison, more descriptively than judgmentally, believes Altizer
cries out to be read as a lexical thinker. That is to say, his thought does not move forward by argument, evidence or the engagement with contrary positions. It is rather theology by incantation in which names and concepts are grouped and re-grouped until the shape of a vision begins to unfold. The net result is that the genesis of God bears a remarkable resemblance to the death of God refigured in apocalyptic mode.157
David Bryant and Don Cupitt offer more negative reactions. Bryant says "Altizer exhibits a fondness for sweeping generalizations that need more precision and support"158 and Cupitt thinks this book (and others as well) has been written, by Altizer, in a "relentless, hammering style that is too hard on the reader." Cupitt regrets that Altizer "insists on using such an unfriendly prose style."159
11. The Contemporary Jesus (1997)
Altizer's perspective: The opening statement in the 2001 self-analysis160 expresses Altizer's surprise/dismay (not sure which) about the poor "public response" to this work; it, according to his claim, was "far less" than for his other works. (What Altizer means by "public response" is unclear; whether via book reviews or some other measure. The tallied reviews, however, for this work was the highest (13) for the last eight books throughout his career, when his popularity was not as strong as in his younger years of the controversy; and the fifth most numerous of all his singly authored works. The number of reviews for each of his last eight books were remarkably less than for those written during his early years.)
As for the writing of the book Altizer attempted to illustrate scholarship's "deepest imaginative visions of Jesus … on the basis of a radical and ← 28 | 29 → apocalyptic theology."161 He covered such diverse persons and topics as the Apocalyptic Jesus, the Gnostic Jesus, the Pauline Jesus, Dante and Joyce, Milton and Blake, Dostoevsky and Nietzsche, the Buddhist Jesus, and the Anonymous Jesus. The last topic, according to Altizer's admission, was the weakest but also the most ambitious undertaking, "therefore perhaps an inevitable failure."
Reviewer's reactions: An Evangelical, Kevin Ellis in Themelios, praised the book as being "refreshing"; it, he said, "points to the fascination that the non-theological academe still has with Jesus of Nazareth." Ellis also described the book as a "religious studies look at the lives of Jesus."162 And David Jasper, who frequently writes on literature and theology topics, assessed this book as "truly literature and theology at the very cutting edge of thought and, dare one say, prayer." Jasper also thought the heart of the book lay in its "poetic engagements" with the various author subjects.163 Another reviewer was struck by Altizer's "attempt to engage New Testament studies with conceptions from different cultures and epochs"; and that Altizer seemed "surprisingly confident in New Testament scholarship's authority."164
On the negative side, the reviewer in Choice thinks the book "is more reflective and interpretive than analytical" even though the book was touted as being "a critical study." This reviewer asserts this book is "merely a rehash of the nihilistic 'Christian atheism' that brought Altizer to prominence" many years earlier, and that Altizer "argues for a Christianity predicated more on Buddhist soteriology and his famous 'death of God' theology than on the first-century apocalypticism he purports to reclaim."165 Along this same line, Gavin Hyman was thinking the book would be "unpopular" because "theological modernists will complain that Altizer has 'sold out' to the nihilists, while nihilist postmodernists will complain that he has not taken leave of modernity." Hyman also believes Altizer's "vision of Jesus is rather less contemporary and rather more dated than he would have us believe."166
Details
Pages

XII, 658

Year

2018

ISBN (PDF)

9781433150852

ISBN (ePUB)

9781433150869

ISBN (MOBI)

9781433150876

ISBN (Hardcover)

9781433150845

DOI

Language

English

Publication date

2018 (August)

Published

New York, Bern, Berlin, Bruxelles, Oxford, Wien, 2018. XII, 658 pp., 3 tables