Excerpt
Table Of Content
Acknowledgements
Foreword: Culture's Monsters: Monster Marks (Lindquist 2018) (Sherry C. M. Lindquist)
Introduction (Simon Bacon)
Part I    Home
Madness: The Babadook (Kent, 2014) – Monsters of Mental Illness (Angela M. Smith)
Domestic Abuse: The Invisible Man (Whannell, 2020) – Domestic Monsters (Simon Bacon)
Paedophilia: The Nightingale (Kent, 2018) – Monsters of Abuse (Phil Fitzsimmons)
Immigrants: The Lure (Smoczyńska, 2015) – Monstrous Outsiders (Agnieszka Kotwasińska)
Part II    Society
The Mask: Slasher Cinema (1978–1998) – Teaching the Monster (John Edgar Browning)
The Cyberbully: Cyberbully (Binamé, 2011) – Monsters of Cyberspace (Lauren Rosewarne)
Lady Gaga: Stefani Joanne Angelina Germanotta (1986–present) – Monsters of Celebrity (Anthony Curtis Adler)
The Slit-Mouthed Woman: Carved (Shiraishi, 2007) – Monsters of Urban Legend (Alexandra Heller-Nicholas)
Melmoth: Melmoth (Perry, 2018) – Monsters of War (W. Scott Poole)
Part III     Cultural Intersections
Phi Krasue: Inhuman Kiss (Mongkolsiri, 2019) – Thai Monsters (Benjamin Baumann)
La habitación del desahogo (2012) – Mexican Monsters (Inés Ordiz)
Baba Yaga: Hellboy (Mignola, 1997–2004) – Russian Monsters (Gail de Vos)
Deumo: Indiana Jones and the Temple of Doom (Spielberg, 1984) – Monsters of Colonialism (Partha Mitter)
The Hairies: Cleverman (Griffen, 2016–2017) – Aboriginal Monsters (Yasmine Musharbash)
Part IV    Gender
Satan: The Witch (Eggers, 2015) – Patriarchal Monsters (Eddie Falvey)
Warlocks: AHS Apocalypse (Murphy and Falchuk, 2011–present) – Monsters of Masculinity (Emily Brick)
She-Wolves: When Animals Dream (Arnby, 2014) – Monsters of Femininity (Craig Ian Mann)
Serial Killers: Bates Motel (Ehrin, 2013–2017) – The Queer Monster (Daniel Sheppard)
The Skeleton: Game of Thrones (Benioff, 2011–2019) – Monsters of Death (Murray Leeder)
Part V     Futures
Clones: Orphan Black (Manson and Fawcett, 2013–2017) – Monsters of Reproduction (Leah Richards)
The Master: The Strain (del Toro and Hogan, 2014–2017) – Monsters of Contagion (Dahlia Schweitzer)
The Ecomonster: Megalohydrothalassophobia (Abhorrence, 2018) – Monsters of the Anthropocene (Carl H. Sederholm)
Aliens: District 9 (Blomkamp, 2009) – Monsters of Hybridity (Gerry Canavan)
Zombie: The Girl with All the Gifts (Carey, 2014) – Posthuman Monsters (Elana Gomel)
Afterword: Becoming Monstrous and the Monster Becoming: Hannibal (Fuller: 2013–2015) (Patricia MacCormack)
Bibliography
Notes on Contributors
Index
Series index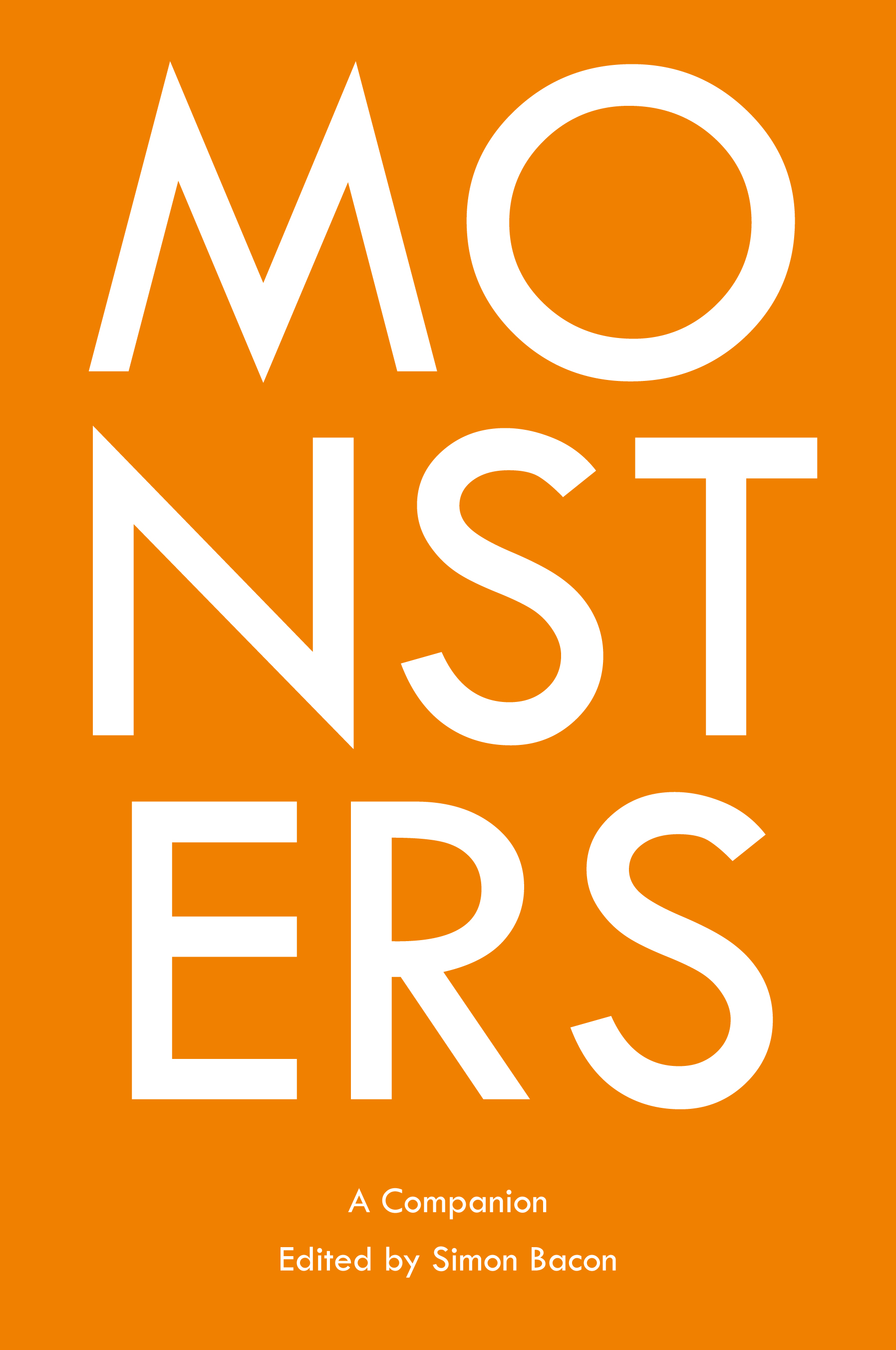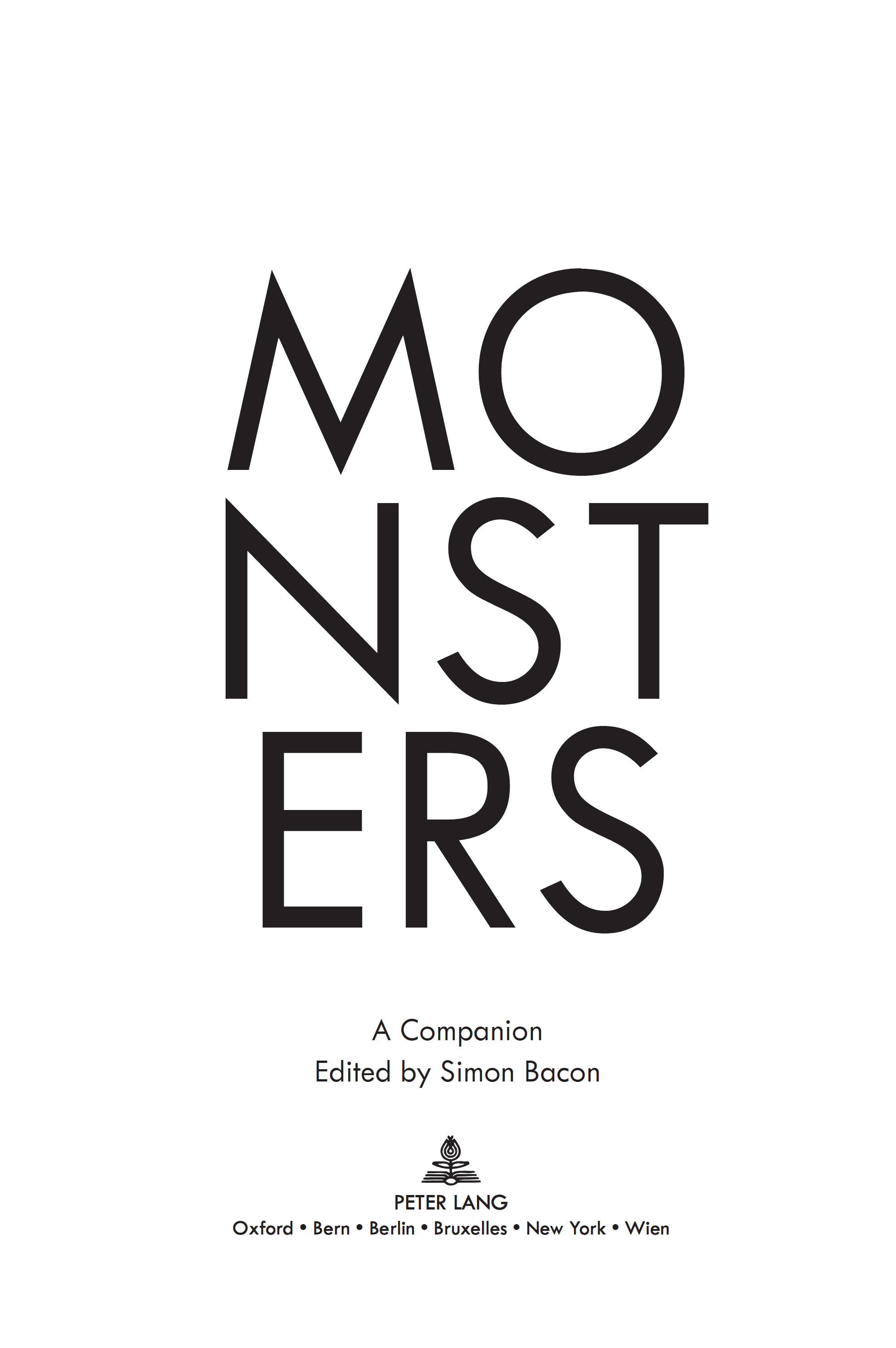 Bibliographic information published by Die Deutsche Nationalbibliothek. Die Deutsche Nationalbibliothek lists this publication in the Deutsche Nationalbibliografie; detailed bibliographic data is available on the Internet at http://dnb.d-nb.de.
A catalogue record for this book is available from the British Library.
Library of Congress Cataloging-in-Publication Data
Title: Monsters : a companion / [editor] Simon Bacon.
Description: Oxford ; New York : Peter Lang, 2020. | Series: Genre fiction
and film companions, 26318725 ; 5 | Includes bibliographical references.
Identifiers: LCCN 2020012239 (print) | LCCN 2020012240 (ebook) | ISBN
9781788746649 (paperback) | ISBN 9781788746656 (ebook) | ISBN
9781788746663 (epub) | ISBN 9781788746670 (mobi)
Classification: LCC P96.M6 M64 2020 (print) | LCC P96.M6 (ebook) | DDC
809/.9337--dc23
LC record available at https://lccn.loc.gov/2020012239
LC ebook record available at https://lccn.loc.gov/2020012240
Cover design by Peter Lang Ltd.
ISSN 2631-8725
ISBN 978-1-78874-664-9 (print) • ISBN 978-1-78874-665-6 (ePDF)
ISBN 978-1-78874-666-3 (ePUB) • ISBN 978-1-78874-667-0 (mobi)
© Peter Lang AG 2020
Published by Peter Lang Ltd, International Academic Publishers,
52 St Giles, Oxford, OX1 3LU, United Kingdom
oxford@peterlang.com, www.peterlang.com
Simon Bacon has asserted his right under the Copyright, Designs and Patents Act, 1988, to be identified as Editor of this Work.
All rights reserved.
All parts of this publication are protected by copyright.
Any utilisation outside the strict limits of the copyright law, without
the permission of the publisher, is forbidden and liable to prosecution.
This applies in particular to reproductions, translations, microfilming,
and storage and processing in electronic retrieval systems.
This publication has been peer reviewed.
About the author
Simon Bacon has edited books on various subjects including Undead Memory: Vampires and Human Memory in Popular Culture (2014) and Growing Up with Vampires: Essays on the Undead in Children's Media (2018), both with Katarzyna Bronk, and Gothic: A Reader (2018), Horror: A Companion (2019), and Transmedia: A Companion (forthcoming). He has published the monographs Becoming Vampire: Difference and the Vampire in Popular Culture (2016), Dracula as Absolute Other: The Troubling and Distracting Specter of Stoker's Vampire on Screen (2019), and Eco-Vampires: The Vampire as Environmentalist and Undead Eco-activist (2020) and is currently working on Invasion of Vampires From Another World: The Cinematic Alien Progeny of War of the Worlds and Dracula.
About the book
What are Monsters?
Monsters are everywhere, from cyberbullies online to vampires onscreen: the twenty-first century is a monstrous age. The root of the word 'monster' means 'omen' or 'warning', and if monsters frighten us, it's because they are here to warn us about something amiss in ourselves and in our society. Humanity has given birth to these monsters, and they grow and change with us, carrying the scars of their birth with them.
This collection of original and accessible essays looks at a variety of contemporary monsters from literature, film, television, music and the internet within their respective historical and cultural contexts. Beginning with a critical introduction that explores the concept of the monster in the work of Jeffrey Jerome Cohen, Jack Halberstam, Elaine Showalter and more, the book takes a broad approach to the monster, including not only classic slasher films, serial killers (Bates Motel), the living dead (Game of Thrones) and aliens (District 9), but also hyper-contemporary examples like clones (Orphan Black), cyberbullies (Cyberbully), viral outbreaks (The Strain) and celebrities (Lady Gaga). Gender and culture are especially emphasized in the volume, with essays on the role of gender and sexuality in defining the monster (AHS Apocalypse) and global monsters (Cleverman, La Llorona).
This compact guide to the monster in contemporary culture will be useful to teachers, students and fans looking to expand their understanding of this important cultural figure.
This eBook can be cited
This edition of the eBook can be cited. To enable this we have marked the start and end of a page. In cases where a word straddles a page break, the marker is placed inside the word at exactly the same position as in the physical book. This means that occasionally a word might be bifurcated by this marker.
Contents
Sherry C. M. Lindquist
Foreword: Culture's Monsters: Monster Marks (Lindquist 2018)
Simon Bacon
Angela M. Smith
Madness: The Babadook (Kent, 2014) – Monsters of Mental Illness
Simon Bacon
Domestic Abuse: The Invisible Man (Whannell, 2020) – Domestic Monsters
Phil Fitzsimmons
Paedophilia: The Nightingale (Kent, 2018) – Monsters of Abuse
Agnieszka Kotwasińska
Immigrants: The Lure (Smoczyńska, 2015) – Monstrous Outsiders
John Edgar Browning
The Mask: Slasher Cinema (1978–1998) – Teaching the Monster
Lauren Rosewarne
The Cyberbully: Cyberbully (Binamé, 2011) – Monsters of Cyberspace
Anthony Curtis Adler
Lady Gaga: Stefani Joanne Angelina Germanotta (1986–present) – Monsters of Celebrity
Alexandra Heller-Nicholas
The Slit-Mouthed Woman: Carved (Shiraishi, 2007) – Monsters of Urban Legend
W. Scott Poole
Melmoth: Melmoth (Perry, 2018) – Monsters of War
part iii    Cultural Intersections
Benjamin Baumann
Phi Krasue: Inhuman Kiss (Mongkolsiri, 2019) – Thai Monsters
Inés Ordiz
La habitación del desahogo (2012) – Mexican Monsters
Gail de Vos
Baba Yaga: Hellboy (Mignola, 1997–2004) – Russian Monsters
Partha Mitter
Deumo: Indiana Jones and the Temple of Doom (Spielberg, 1984) – Monsters of Colonialism
Yasmine Musharbash
The Hairies: Cleverman (Griffen, 2016–2017) – Aboriginal Monsters
Eddie Falvey
Satan: The Witch (Eggers, 2015) – Patriarchal Monsters
Emily Brick
Warlocks: AHS Apocalypse (Murphy and Falchuk, 2011–present) – Monsters of Masculinity
Craig Ian Mann
She-Wolves: When Animals Dream (Arnby, 2014) – Monsters of Femininity
Daniel Sheppard
Serial Killers: Bates Motel (Ehrin, 2013–2017) – The Queer Monster
Murray Leeder
The Skeleton: Game of Thrones (Benioff, 2011–2019) – Monsters of Death
Leah Richards
Clones: Orphan Black (Manson and Fawcett, 2013–2017) – Monsters of Reproduction
Dahlia Schweitzer
The Master: The Strain (del Toro and Hogan, 2014–2017) – Monsters of Contagion
Carl H. Sederholm
Details
Pages

XX, 280

ISBN (PDF)

9781788746656

ISBN (ePUB)

9781788746663

ISBN (MOBI)

9781788746670

ISBN (Book)

9781788746649

Language

English

Publication date

2020 (September)

Tags

The cultural and historical evolution of Monsters Manifestations of difference transgression and societal abjection Monsters: A Companion Simon Bacon

Published

Oxford, Bern, Berlin, Bruxelles, New York, Wien, 2020. XX, 280 pp., 65 fig. col., 11 fig. b/w.