Excerpt
Table Of Content
3 C. S. Lewis's Big Ideas
Longing: The Quest to Find Home
The Tao: Universal Truth
Christianity: Lewis's Primary Sense-Making Lens
Language: Metaphorical Shaper of Thought and Meaning
Summary: Lewis's Big Ideas
Longing
The Tao
Christianity
Language
4 Holistic
Principle One: Effective Communicators Are Holistic
One Style: Communicating for Both the Eye and the Ear
Two Lewises: The Integration of Reason and Imagination
Three Methods: The Integration of Rhetoric, Dialectic, and the Poetic
Rhetoric
Dialectic
Poetic
Summary: The "H" of HI TEA: The Principle of Being Holistic
5 Intentional
Principle Two: Effective Communicators Are Intentional
The Meaning of Meaning
Evidential Meaning
Psychological Meaning
Empirical (Symbolic) Meaning
Master of Invention
Clarity
Style
Summary: The "I" of "HI TEA": The Principle of Being Intentional
6 Transpositional
Principle Three: Effective Communicators Are Transpositional
Translation: A Prelude to Transposition
Transposition: Communicating from Higher to Lower, Richer to Poorer
Visual Metaphor: The Technique of Transposition
Summary: The "T" of "HI TEA": The Principle of Transposition
7 Evocative
Principle Four: Effective Communicators Evoke Emotions
Evoke by Selecting the Right Word
Evoke by Using Comparison
Evoke by Placing Us in the Middle of Things
Evoke by Telling Stories
Evoke by Using Myth
Summary: The "E" of "HI TEA": The Principle of Evoking Emotions
8 Audience Centered
Principle Five: Effective Communicators Are Audience Centered
Misanalysing His Audience: Learning from Communication Failures
Editing for the Audience
Relating to the Audience
Speaking to an Audience
Being a Good Audience Member
Summary: The "A" of "HI TEA": The Principle of Being Audience Centered
9 How to Communicate Like C. S. Lewis
How to Be Holistic
Communicate for the Eye and the Ear
Use Interesting and Varied Supporting Material
Communicate to the Whole Mind
How to Be Intentional
Have Something to Say
Develop a Clear Communication Objective
Use Language Precisely
How to Be Transpositional
Use Comparisons Skillfully
Communicate for the "Mind's Eye"
Craft Effective Visual Metaphors
How to Be Evocative
Tell Stories
Get Messages Out of People
Master Nonverbal Communication Skills
Maximize Eye Contact
Use Appropriate Gestures and Movement
Maintain Effective Posture
Use Appropriate Facial Expressions
How to Be an Audience-Centered Communicator
Enhance Your Credibility
Select the Appropriate Communication Channel
Analyze and Adapt to Your Audience
For Receptive Audiences,
For Neutral or Apathetic Audiences,
For an Unreceptive Audience,
Remember HI TEA
Be a Holistic Communicator
Be an Intentional Communicator
Be a Transpositional Communicator
Be an Evocative Communicator
Be an Audience-Centered Communicator
Index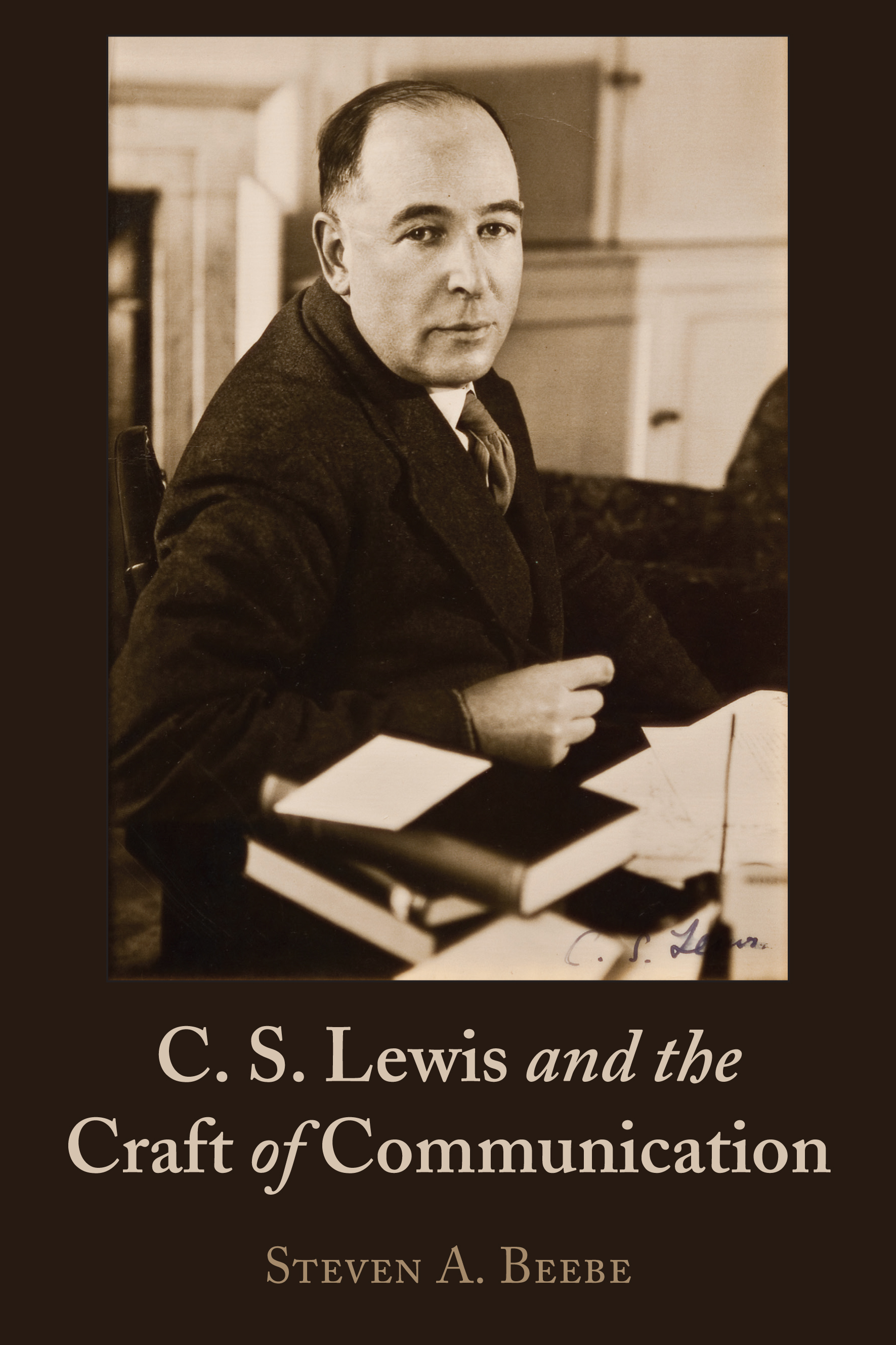 Library of Congress Cataloging-in-Publication Data
Names: Beebe, Steven A., author.
Title: C. S. Lewis and the craft of communication / Steven A. Beebe.
Description: New York: Peter Lang, 2020.
Includes bibliographical references and index.
Identifiers: LCCN 2019045758 (print) | LCCN 2019045759 (ebook)
ISBN 978-1-4331-7233-5 (hardback: alk. paper)
ISBN 978-1-4331-7234-2 (paperback: alk. paper) | ISBN 978-1-4331-7235-9 (ebook pdf)
ISBN 978-1-4331-7236-6 (epub) | ISBN 978-1-4331-7237-3 (mobi)
Subjects: LCSH: Lewis, C. S. (Clive Staples),
1898–1963—Knowledge—Communication. | Communication. | Written
communication. | Authorship. | Interpersonal communication.
Classification: LCC PR6023.E926 Z5856 2020 (print) |
LCC PR6023.E926 (ebook) | DDC 823/.912—dc23
LC record available at https://lccn.loc.gov/2019045758
LC ebook record available at https://lccn.loc.gov/2019045759
DOI 10.3726/b15950
Bibliographic information published by Die Deutsche Nationalbibliothek.
Die Deutsche Nationalbibliothek lists this publication in the "Deutsche
Nationalbibliografie"; detailed bibliographic data are available
on the Internet at http://dnb.d-nb.de/.
© 2020 Peter Lang Publishing, Inc., New York
29 Broadway, 18th floor, New York, NY 10006
www.peterlang.com
All rights reserved.
Reprint or reproduction, even partially, in all forms such as microfilm,
xerography, microfiche, microcard, and offset strictly prohibited.
About the author
Steven A. Beebe (Ph.D., University of Missouri-Columbia) is Regents' and University Distinguished Professor Emeritus of Communication Studies at Texas State University. He is an internationally recognized communication educator and prolific author and co-author of best-selling communication books used at universities throughout the world. He served as president of the National Communication Association and was named Outstanding Communication Professor in America by the National Speaker's Association.
About the book
C. S. Lewis, based on the popularity of his books and essays, is one of the best communicators of the twentieth century. C. S. Lewis and the Craft of Communication uses Lewis's own words to unlock the secrets that explain Lewis's success as a communicator so that you, too, can communicate like C. S. Lewis.
"I envy Dr. Beebe because he has learned from C. S. Lewis what it is like to be able to say exactly what he means. But I'm getting beyond the envy, thanks to Dr. Beebe's C. S. Lewis and the Craft of Communication. He wants us to be as clear in what we say, as in what we hear. And his book provides us with a framework and advice for how to do this well."
—Walter Hooper, former secretary to C. S. Lewis, Literary Advisor of the C. S. Lewis Estate, and author of C. S. Lewis: A Companion and Guide
"When Beebe turns his attention to C. S. Lewis, the combination is unbeatable: Lewis the master communicator, and Beebe the master teacher."
—Jerry Root, co-author of The Quotable C. S. Lewis
"…a thoughtful, insightful, delightful book that informs, instructs and illuminates."
—Michael Ward, Senior Research Fellow, University of Oxford, co-editor of The Cambridge Companion to C. S. Lewis and author of Planet Narnia
"This important book offers clear and surprisingly practical insight into a truly remarkable communicator.…I look forward to reading it again and again."
—Diana Pavlac Glyer, author of The Company They Keep: C. S. Lewis and J.R.R. Tolkien as Writers in Community
"Here indeed we find a great treasure…Beebe has brilliantly answered a question readers have long felt but perhaps never formed: How did Lewis communicate so clearly?"
—Andrew Lazo, co-editor of Mere Christians: Inspiring Stories of Encounters with C. S. Lewis
"This is a must-read for all who study the craft of communication."
—Will Vaus, author of Mere Theology: A Guide to the Thought of C. S. Lewis
This eBook can be cited
This edition of the eBook can be cited. To enable this we have marked the start and end of a page. In cases where a word straddles a page break, the marker is placed inside the word at exactly the same position as in the physical book. This means that occasionally a word might be bifurcated by this marker.
←x | xi→
When the Nobel Prize winning poet, Seamus Heaney, came to the door of The Kilns, C. S. Lewis's home in Oxford, he shouted, "I want to see the house where the Irishman lived!" Heaney grew up in North Ireland not all that far from where Lewis was raised. Ireland is a country that seems to have a disproportionate number of great writers, given the comparatively small population. Lewis thought it was in the genes to be a communicator. He once wrote, "I am an Irishman and a congenital rhetorician"1 Perhaps that is it. The Irish are simply great at communication, and there is nothing more to it: great storytellers; great at spinning a yarn, and great at holding the attention of an audience. Perhaps it is something in the water. Perhaps, it is the island's unique combination of extraordinary beauty. The landscapes take one's breath away. However, the beauty also coexists with the history of a people who have endured centuries of suffering. Beauty and sorrow weave the texture unique to Irish literature. Is this what Lewis had in mind when he connected his rhetorical skill to his being Irish? Whatever the case, Lewis was a brilliant communicator.
Professor Steven Beebe reveals that nobody can fully appreciate the genius of Lewis without seeing the brilliance of Lewis's skill as a communicator. Lewis's scholarly books like The Allegory of Love and English Literature in the Sixteenth Century: Excluding Drama are masterpieces for their ability to follow a narrative thread through such a wide fabric of material. They hold a reader's attention for ←xi | xii→their clarity, their imaginative depiction, and their delightful winsomeness. He was certainly a master communicator as an academic. Furthermore, The Chronicles of Narnia are stories admitted into the very canons of classical children's literature, next to likes of Lewis Carroll's Alice in Wonderland, Kenneth Grahame's The Wind in the Willows, the Brothers Grimm, and Hans Christian Anderson. Lewis the master communicator could tell a story to delight the hearts of children. His storytelling skills also classify his science fiction among some of the best of that genre, such as Ray Bradbury and Isaac Asimov. How was it possible that he could communicate with such skill across such wide territory?
Lewis was also a scintillating debater. As the first president of the Oxford Socratic Club, he became what Oxford Philosopher Austin Farrer called "Oxford's Bonny Fighter." Lewis could stand on his own two feet and debate the best minds in Britain during the 1940s to mid-1950s. Nevertheless, his communication skills were not limited merely to oral communication; he was also highly capable when it came to debating in print. His dispute with Professor E. M. W Tillyard in The Personal Heresy is a noteworthy model of academic engagement. There are no ad hominem arguments in the book, no straw man arguments, virtually no informal fallacies to be found in the entire volume—just the arguments of two men who knew how to communicate effectively. He could preach too. I knew a woman who was present at St. Mary's, the University Church at Oxford when Lewis delivered his sermon, "The Weight of Glory." She said the pews were crammed full and the students filled all the floor space as well. Furthermore, his skill as a communicator was not reserved for public or formal occasions. I once received a letter from Lewis's fellow Inkling, the Chaucer scholar Nevill Coghill, in which he said that as a conversationalist, Lewis was "a splendid talker, a lot like Dr. Johnson in bulk as well as in wit and learning." It does not stop there; Lewis was also a disciplined letter writer. He said he answered all of his mail. And the letters were full of wisdom and insight. Consequently, those who received letters from him saved them. As a result, there are eight volumes of collected correspondence. He wrote to fellow academics, he wrote to friends, he wrote to readers of his books, he wrote thoughtful letters to children, with no sign of condescension. His letters are pithy and thought provoking; some are clearly pastoral and full of spiritual direction. It is not merely that he wrote letters, but that the range of topics he discusses is encyclopedic.
Lewis was a master communicator on every imaginable level. Was it simply because he was Irish? I doubt it. He certainly was gifted, and honed his gifts to a well-practiced skill. We may never be the communicator Lewis was; even so, there is much one can learn from him if attentive to his craft, and willing to cultivate the discipline to develop the skill. If this is the reader's interest, then a guide would ←xii | xiii→be helpful. And I can think of no greater guide to define and clarify those elements that made Lewis a master communicator than Professor Steve Beebe. Dr. Beebe was the chairperson of one of the nation's largest communication departments at Texas State University, in San Marcos, Texas. Arguably, he has authored as many college and university textbooks on communication as anybody. Furthermore, he was president of the National Communication Association, the largest academic association for communicators in the world. Their annual meetings each year are where the experts in communication go to learn from one another. If you are going to learn about government you would like to have Abraham Lincoln at your elbow. If you want to learn about leadership, who would not love to tag along with Sir Winston Churchill? If you want to learn about American football, John Madden is the man to guide you. If you want to learn about art, Makoto Fujimura would be a great guide. For acting, Kenneth Branagh or Mark Rylands are the ones to seek out. When it comes to communication, Steve Beebe is the one to facilitate the process of learning. Furthermore, when Beebe turns his attention to C. S. Lewis, the combination is unbeatable: Lewis the master communicator, and Beebe the master teacher.
Not all of us will become communicators like Lewis; not all of us can teach like Beebe; but all of us can grow in skill. As Beebe reminds us, communication is audience centered. A good communicator speaking truth always gives hope to his or her audience. Professor Beebe gives double the hope. First, he points us to Lewis, whose written and oral communication is flush with hope. Furthermore, I know firsthand that Dr. Beebe is also a man whose insights and instruction breathe hope. When I sat for my doctoral defense at the Oxford Center for Mission Studies in Oxford, England, Steve Beebe was by my side. He was one of two supervisors who walked me through the seventh draft and the eight revision of my dissertation. I was nervous. He was confident. He knew his stuff and knew he had instructed me well. The topic was Lewis. He was my guide. I passed. It was a thrill. May you sense something of that thrill with Beebe at your elbow, guiding you through the corpus of Lewis as he teaches you about Lewis the master communicator.
Jerry Root, Ph.D.
Professor, Wheaton College
Note
    1. C. S. Lewis, Letter to Eliza Marian Butler, September 25, 1940. The Collected Letters of C. S. Lewis Volume II: Books, Broadcasts, and the War 1931–1949. ed. Walter Hooper (San Francisco: Harper San Francisco, 2004), 444.
←xiv | xv→
I had my "Indiana Jones" moment of discovery while watching my clothes tumble in a laundromat dryer in San Marcos, Texas. Several years before my laundry insight, in Oxford University's 400-year-old Bodleian Library, I had stumbled on an unpublished, unidentified partial book manuscript by author C. S. Lewis. But at the time I first read it, I didn't know its significance. Seven years later, in a single "Eureka!" laundromat moment, I realized what I had discovered. I had found a manuscript whose existence was doubted by most Lewis scholars: the opening pages of a planned collaboration between Lewis and The Lord of the Rings author J. R. R. Tolkien. Who would have thought that a laundry epiphany would solve a decades-old literary mystery involving two of the twentieth century's most famous authors? The contents of that manuscript provided just the evidence I needed that C. S. Lewis was, among his many talents, also a communication professor. Discovering that manuscript provided the principal impetus for this book.
Communication is my life. I have spent more than forty years as a communication professor and author and co-author of several widely-used communication college textbooks.2 I have also had the privilege of serving as president of the National Communication Association, the largest academic professional association of communication educators and scholars in the world. Yet discovering Lewis and ←xv | xvi→Tolkien's ideas about language and human nature was like finding the wardrobe door into some of the most important lessons I have ever learned about communication. This book includes those lessons.
At the time I found the manuscript I was relatively new to C. S. Lewis studies. I had not read The Chronicles of Narnia until I was in my 40s. In fact, I had not read a single word of Lewis until I spent Trinity Term 1993 in Oxford as a visiting scholar, attached to Wolfson College and the Department of Experimental Psychology.
While I was in Oxford, given that the city is where Lewis lived, studied and taught, I thought it would be a good place to learn about him. I picked up a biography of Lewis by A. N. Wilson, straightforwardly titled, C. S. Lewis: A Biography. I later learned that Wilson's biography, although engagingly written, was controversial among Lewis scholars for including several errors, over-speculating about Lewis's personal life, and being too "Freudian" in its analysis of Lewis's relationships.3 Unaware at the time that the biography had been criticized by many Lewis scholars for inaccuracies, I nonetheless found Lewis's life fascinating. The basic information in the book is true. I learned that Lewis was raised a Christian, then became an atheist, and then, in his late 20s and early 30s, slowly converted to Christianity, seeing it as the best way to make sense out of life. I also learned about Lewis's marriage (twice) to Jewish and former communist and atheist Joy Davidman.4
After reading about Lewis and then returning home to Texas to see the movie Shadowlands, a film about the romance between Lewis and Davidman, which had been filmed during the time we were in Oxford (my wife, two sons, and I are in one of the crowd scenes), I was motivated to learn more about Lewis. I began reading his work more systematically, attending weekend seminars in nearby Austin and San Antonio, and eventually joining a Lewis discussion group in Austin. Those monthly meetings were like taking a five-year graduate seminar in C. S. Lewis. There I met and learned from distinguished Lewis scholars such as Dr. Joel Heck, who wrote the well-received Irrigating Deserts: C. S. Lewis on Education, and Dr. George Musacchio, author of C. S. Lewis, Man & Writer. These individuals were generous in sharing their insights about Lewis, as well as patient with me and others who did not have their depth of understanding. As I more systematically studied Lewis, I became aware of his frequent references to language, meaning, communication, and words. As a communication professor, I recognized a number of insightful communication ideas embedded in his works. I thought it might be interesting to see if I could learn more about Lewis's perspective on communication.
←xvi | xvii→
With my emerging fascination with C. S. Lewis, I returned to Oxford in 2002 on a second sabbatical from Texas State University. I wanted to read original, handwritten C. S. Lewis manuscripts in Oxford University's centuries-old Bodleian Library. I enjoyed leisurely leafing through manuscript pages that Lewis's pen had touched. Lewis was ahead of the sustainability curve, as he would re-use paper and often write on the back of old manuscripts. Among my favorite documents are Lewis essays written on the back of student papers that had been corrected in a firm hand by his friend J. R. R. Tolkien.
As a communication professor, I was interested in what Lewis thought about language, meaning, and communication, but also in how he thought about these topics. I wondered if I could glean new insights into what the ancient Roman rhetoricians called invention: how Lewis's thoughts emerged and took shape. Could looking at his original manuscripts help me better understand him as a thinker, author, and speaker? I hoped so.
Upon returning my first batch of Lewis manuscripts to the library staff, I ordered a notebook described in the Lewis manuscript catalogue as a collection of miscellaneous notes and scraps. If you are granted access to the holdings at the Bodleian Library (requiring that you swear a centuries-old oath that you will not "kindle a fire" in the library), you first complete a form to request a book or manuscript from the archives, and then wait a few hours (or sometimes a day or more) to retrieve what was ordered. Since the Bodleian is a non-lending library, books and manuscripts are under tight security and read in special reading rooms; even the Queen cannot take a book out of the library! (Other monarchs have tried, with no success.) When the manuscript I had requested arrived in the reading room, it was a somewhat worn and slightly frayed, small, orange-covered paper notebook. I smiled when I saw that Lewis had penciled the word "SCRAPS" in capital letters on the outside cover.
The Lewis catalogue had accurately described the little notebook as containing drafts of Lewis's ideas on a variety of topics. Other researchers had read these scraps before I did—it is quite famous because its pages include one of the only existing fragment drafts for The Chronicles of Narnia held in the Bodleian Library. Early ideas for The Magician's Nephew can be found beginning on page 9. This early fragment of The Magician's Nephew is called "The Lefay Manuscript" because of a character named Mrs. Lefay that appears in the story.5
It was on the first page of the notebook—actually the first page when I turned the book upside down and read it back to front—where I read the words, "In a book like this it might be expected that we should begin with the origins of language …"6 I froze. I held my breath. "What's this?" Having already read the ←xvii | xviii→manuscript of Studies in Words, I knew that it did not start this way. I knew immediately that these words were important. What I did not realize at the time was that they were the beginning of a planned collaborative book with none other than J. R. R. Tolkien. In fact, I was slow to make the connection. Very slow. It took seven years for my laundry room insight to occur. The manuscript I was reading was intended to be a collaboration between Lewis and Tolkien that scholars had assumed was never started.
Because Lewis's handwriting is sometimes difficult to read (my friend and Lewis scholar Charlie Starr labels Lewis's handwriting "villainous"),7 I had actually hoped the manuscript was already published. I scoured his published works, searching for it. And given that this was the beginning of a book about language and meaning, a topic right up my alley, I was keenly interested to find out what he had to say on this topic. Because of my impatience, I did not want to spend time trying to decode Lewis's penmanship; I wanted to get on with reading what he wrote, to learn his communication insights.
No luck in finding the book in print. I was disappointed because that meant I would have to decipher Lewis's "villainous" handwriting myself.8 But my research did uncover references to the manuscript. It was catalogued by Lewis manuscript curator, Dr. Judith Priestman. Walter Hooper, Lewis's former secretary, editor, and literary executor, made a brief reference to the little notebook in his book Past Watchful Dragons, describing it as a manuscript about "English literature" and even suggesting that Lewis saved the little notebook of miscellaneous ideas because of the "English literature" essay.9
Because some of the handwriting was challenging to read, three years after first seeing the manuscript, I received special permission from the library (thanks to Walter Hooper, the original depositor of the manuscript) to make a photocopy. Walter and I met in 2002; he invited me to his home for tea, and we have been friends ever since. Being able to take a photocopy of the manuscript back to Texas was a great help in scrutinizing the scribbles I could not quite decipher. With the photocopied manuscript in hand, Hooper, who came to Texas State University to give a lecture five years after I started decoding the manuscript, helped me figure out a few additional illegible words. Another good friend and prominent Lewis scholar, Dr. Michael Ward, who also guest lectured at Texas State (and is the author of the groundbreaking books Planet Narnia and The Narnia Code) kindly helped me decipher a few remaining puzzling words. But even after painstakingly transcribing the manuscript, I still did not realize that it was the beginning of the book he had planned to write with Tolkien. It would take me a couple more years to connect those literary dots.
←xviii | xix→
When I left Oxford to return to Texas after this second sabbatical, I did not fully understand the significance of what I had found, but I did have a bolstered belief that Lewis was interested in communication. Based on the content of the manuscript, I proposed an honors course at Texas State called "C. S. Lewis: Chronicles of a Master Communicator." My colleagues in the Honors College liked the idea. The course filled on the first day it was available to students, and more students wanted to enroll; I soon had more than 70 students on a waiting list hoping to take the course. I learned that C. S. Lewis generates interest. In addition to teaching a Lewis course on the Texas State campus, I also started teaching the course during the summer at Oxford University for Texas State students.
When in Oxford, I rarely held class in one of the well-appointed Victorian seminar rooms in St. Hilda's College, Oxford, where we were based. Instead, we used the city of Oxford as our educational canvas. (St. Hilda's College was the site of a famous debate between C. S. Lewis and philosopher Elizabeth Anscombe held on February 2, 1948).10 We took walking tours of notable Lewis sites, including the numerous pubs he and his fellow Inklings used as locations for their literary conversations. For example, the day we talked about Lewis and interpersonal relationships, we held class in the room in the Eastgate Hotel, where some claim Lewis initially met his wife Joy. We visited his home, "The Kilns," toured University College, where Lewis was a student (and where President Bill Clinton later studied as a Rhodes scholar), and spent an afternoon at Magdalen College, the Oxford college where Lewis taught from 1925 to 1954. A highlight for many students (and for me) was the Bodleian Library, where they saw original Lewis manuscripts, including his own hand-drawn map of Narnia and, of course, the orange-colored paper notebook labeled "SCRAPS."
Despite the success of the Honors course, and although I had received encouragement and interest from many people to pursue investigating Lewis from a communication angle, some of my communication faculty colleagues from my home department were at first less impressed. On my annual faculty evaluations, written anonymously, I would find such occasional comments as: "Why is he making his hobby about C. S. Lewis into a communication class?" Or "Not really much information to justify teaching a communication class focused on Lewis." And even "Beebe is just using his interest in Oxford as an excuse to teach a course about Lewis." Well, it was true that I had a passionate interest in the City of Oxford and Oxford University. And it was also true that I found C. S. Lewis intriguing—not just because of what he wrote, but because his own life story captivated me. Yet I also firmly believed that Lewis had something to say about human communication.
←xix | xx→
Despite the collegial criticism, I forged ahead and continued to teach the Honors class about Lewis. Although I still did not comprehend what that manuscript was, its content formed a key part of the information I shared with my students about Lewis and communication. In the manuscript fragment, Lewis develops an interesting definition of language, a definition I have not seen in any of his other published works. He further presents a thoughtful discussion of the nature of meaning, including how we derive meaning from language. (These ideas will be discussed in Chapter 5.) What is most interesting to me, as a professor of communication, is Lewis's focus on the oral nature of language. Each of his examples and illustrations are about spoken rather than written language—unusual since he specialized in sixteenth century English literature and spent so much of his time writing.
Earlier on the morning of my laundromat epiphany, as my wife Sue and I left our house because our home washing machine had broken, I had randomly grabbed a book from my bookshelf—The Company They Keep, by Diana Pavlac Glyer—to help pass the time. It is a well-researched and masterfully written book that I had read a couple of years prior, but I thought I would re-read it.11 Glyer's book chronicles the relationships among the Inklings, a group of Christian writers who met together weekly in Oxford, England, beginning in the 1930s and continuing for several decades. Glyer was so thorough that she read all 365 books written by Inklings authors, in order to better understand their collaborative alchemy. The two lead Inklings were C. S. Lewis and J. R. R. Tolkien. As Glyer has documented, the Inklings served as resonators, collaborators, opponents, and editors for one another's writing.12 Tolkien read part of The Hobbit to the group, as well as chapter installments of The Lord of the Rings. Lewis read serialized portions of his first science fiction book, Out of the Silent Planet,13 along with many other now-classic works.
My wife Sue and I were both reading silently as our clothes tumbled in the laundromat dryer on that bleak March Saturday afternoon. It was only when I came to page 146 of Glyer's summary of Lewis and Tolkien's planned collaboration about a book called Language and Human Nature that it hit me.14 Like rusty tumblers of a combination lock clicking into place, I suddenly recognized what I had meticulously transcribed those past seven years: Lewis's opening chapter of Language and Human Nature! I paused. I set the book down. I looked up. My eyes widened. I smiled broadly and much too loudly blurted, "I KNOW WHAT IT IS!" My wife, used to my non-sequiturs, and looking only slightly embarrassed, coolly deadpanned, "What what is?" To the bewilderment of fellow laundry patrons mindlessly folding their clothes, I ear-splittingly burbled, "I KNOW ←xx | xxi→WHAT THE LEWIS MANSUCRIPT IS! IT'S THE BEGINNING OF THE BOOK LEWIS WAS PLANNING TO WRITE WITH J. R. R. TOLKIEN!"
All the scholars who were aware of the planned Lewis-Tolkien collaboration had concluded that the book was likely never started and certainly never completed. Although the publisher announced the Lewis-Tolkien book as forthcoming in 1949, Tolkien seems never to have started work on the project. According to a November 29, 1944, letter J. R. R. Tolkien wrote to his son Christopher, Tolkien and Lewis were "to begin to consider writing a book in collaboration on 'Language' (Nature, Origins, Functions)."15 Perhaps Tolkien would like to have written the book but simply was too busy or distracted working on The Lord of the Rings and a myriad of other projects. At any rate, Tolkien seemed to recognize that he had more ideas than time; after telling Christopher about the planned book about language with Lewis, he wrote, "Would [that] there were time for all these projects!"16 In conversations I have had with J. R. R. Tolkien's daughter, Priscilla, she does not recall seeing her father work on the planned Lewis and Tolkien book.
In a 1950 letter to a friend, Lewis confided his own doubts that the book with Tolkien would ever be written. He added a few unflattering remarks about Tolkien's procrastinating writing habits and then added in exasperation, "My book with Professor Tolkien—any book in collaboration with that great but dilatory and unmethodical man—is dated, I fear to appear on the Greek Kalends!"17 Walter Hooper, who expertly edited the Lewis letters for publication, provides a footnote to explain that "Augustus [and apparently Lewis] used 'on the Greek Kalends' for 'Never.' "18
So why did this manuscript fragment survive, while drafts of other manuscripts, including manuscripts of The Chronicles of Narnia, did not? Lewis himself wondered, "Is there a discovered law by which important manuscripts survive and unimportant perish? Do you ever turn out an old drawer (say, at the breakup of your father's house) without wondering at the survival of trivial documents and the disappearance of those which everyone would have thought worth preservation?"19 Hooper speculates, "This one survived because the notebook in which it was written contains notes on English literature that Lewis made a point of preserving."20
After experiencing my laundry eureka moment, and having other Lewis scholars confirm my conclusion, I sent a manuscript detailing my claim that this was the collaborative Lewis-Tolkien book to SEVEN, the premier journal of C. S. Lewis studies published by the Marion E. Wade Center. I received a polite response from the editor indicating that there was a publishing backlog; it could be up to nine months before I would hear back from them. So I waited. But not for ←xxi | xxii→long. I received an email the next week confirming that my find was important and informing me that my manuscript was accepted.21 I have had many publication acceptance letters, but this notice was the most thrilling of my career! Once I had strong corroboration that the manuscript fragment was indeed Language and Human Nature, my university disseminated a news release about the discovery, and newspapers and blogs around the world picked up the story. When I was in Oxford later in the summer, I was invited to participate in a couple of BBC radio interviews describing my discovery. The interview with BBC Ireland seemed especially apropos, given that Lewis was born in Belfast.
Although Lewis once described himself in a letter to his father as "a born rhetorician … I love to 'ride like a cork on the ocean of eloquence,' "22 there is no evidence that he ever explicitly referred to his professional expertise as including "communication," "speech," or "rhetoric." This book, however, suggests that C. S. Lewis should be considered for his knowledge, insight, and expertise as a communication scholar. His life's work, what he wrote about, as well as his application of communication principles, provides evidence of his communication expertise.
C. S. Lewis and the Craft of Communication is not only about C. S. Lewis and his communication principles and practices. It is also about you. My hope is that this book will facilitate your learning lessons from Lewis about how you can enhance your skill as a communicator. Chapter 9, "How to Communicate Like C. S. Lewis," offers several specific applications about communication competencies inspired by what Lewis said about communication.
Lewis was a quintessential educator who would want his lessons about communication to endure. On describing the role of a good teacher, Lewis wrote, "The task of the modern educator is not to cut down jungles, but to irrigate deserts."23 This book is written to irrigate your understanding of communication. By better understanding Lewis's principles of communication, each of us can learn strategies to enhance our own ability to write, speak, and relate to others so that we, too, can become master communicators.
Steven Beebe
San Marcos, Texas
←xxii | xxiii→
Notes
  2. For example, see: Steven A. Beebe and Susan J. Beebe, Public Speaking: An Audience-Centered Approach 11th edition (Boston: Pearson, 2021); Steven A. Beebe, Susan J. Beebe and Diana K. Ivy, Communication: Principles for a Lifetime 7th edition (Boston: Pearson, 2019); Steven A. Beebe and John T. Masterson, Communicating in Small Groups: Principles and Practices 12th edition (Boston: Pearson, 2021); Steven A. Beebe, Susan J. Beebe and Mark V. Redmond, Interpersonal Communication: Relating to Others 9th edition (Boston: Pearson, 2020); Steven A. Beebe and Timothy P. Mottet, Business and Professional Communication: Principles and Skills for Leadership 3rd edition (Boston: Pearson, 2016); Steven A. Beebe, Timothy P. Mottet and K. David Roach, Training and Development: Communicating for Success 2nd edition (Boston: Pearson, 2014).
  3. See: Kathryn Lindskoog, "A. N. Wilson Errata," Into the Wardrobe: A C. S. Lewis Website. http://cslewis.drzeus.net/papers/wilson-errata/ Accessed April 21, 2017; Arend Smilde, "Sweetly Poisonous in a Welcome Way: Reflections on a Definitive Biography," Lewisana.NIL http://lewisiana.nl/definitivebiography/ Accessed April 21, 2017; Bruce L. Edwards, "A Review of A. N. Wilson's C. S. Lewis: A Biography," http://personal.bgsu.edu/~edwards/Wilson.html Accessed April 21, 2017.
  4. See: Abigail Santamaria, Joy: Poet, Seeker, and the Woman Who Captivated C. S. Lewis (Boston: Houghton Mifflin Harcourt, 2015).
  5. "The Lefay Manuscript" fragment is published in: Walter Hooper, Past Watchful Dragons: A Guide to C. S. Lewis's Chronicles of Narnia (Glasgow: Collins, 1979).
  6. See: Steven A. Beebe, "C. S. Lewis on Language and Meaning: Manuscript Fragment Identified," VII: An Anglo-American Literary Review 27 (2010): 7–24.
  7. Charlie W. Starr, "Villainous Handwriting": A Chronological Study of C. S. Lewis's Script, VII: Journal of the Marion E. Wade Center 33 (2016): 73–94.
  8. For an excellent overview of Lewis's handwriting and how it has evolved over the years and how the dates of a Lewis manuscript can be determined based on his handwriting see: Starr, "Villainous Handwriting."
  9. Walter Hooper, Past Watchful Dragons: A Guide to C. S. Lewis's Chronicles of Narnia (Glasgow: Collins, 1979), 56.
10. See: Elizabeth Anscome, "C. S. Lewis's Rewrite of Chapter III of Miracles," M. Roger White, Judith Wolfe and Brendan N. Wolfe ed. "C. S. Lewis & His Circle: Essays and Memoirs from the Oxford C. S. Lewis Society (Oxford: Oxford University Press, 2015), 15–23.
11. Diana. P. Glyer, The Company They Keep: C. S. Lewis and J. R. R. Tolkien as Writers in Community (Kent: Kent State University Press, 2007).
12. Glyer, The Company They Keep.
13. Colin Duriez, The Oxford Inklings: Lewis, Tolkien and Their Circle (Oxford: Lion Hudson, 2015), 78.
14. Glyer, The Company They Keep, 146.
15. J. R. R. Tolkien, Letter to Christopher Tolkien, November 29, 1944, Letters of J. R. R. Tolkien, ed. Humphrey Carpenter with Christopher Tolkien (London: George Allen & Unwin, 1981), 105.
16. Tolkien, Letters, 105.
←xxiii | xxiv→
17. C. S. Lewis, Letter to Sister Penelope, January 12, 1950, The Collected Letters of C. S. Lewis, Vol. III: Narnia, Cambridge, and Joy 1950–1963, ed. Walter Hooper (San Francisco: Harper San Francisco, 2007), 6.
18. Lewis, Collected Letters III, 6.
19. C. S. Lewis, Fern Seed and Elephants: And Other Essays on Christianity, ed. Walter Hooper (London: Collins, Fontana, 1975), 58.
20. Walter Hooper, Past Watchful Dragons, 56.
21. Beebe, "C. S. Lewis on Language and Meaning; C. S. Lewis," Language and Human Nature, VII: An Anglo-American Literary Review 27 (2010), 15.
22. C. S. Lewis, Letter to Albert Lewis, July 29, 1927, Collected Letters, Vol. I: Family Letters 1905–1931, ed. Walter Hooper (San Francisco: Harper San Francisco, 2004), 713.
23. C. S. Lewis, The Abolition of Man: Reflections on Education with Special Reference to the Teaching of English in the Upper Forms of Schools (London: Oxford University Press, 1943), 9.
←xxiv | xxv→
This book has been an important part of my life for more than a decade. I have many people to thank for their encouragement, ideas, support, and suggestions.
Several people spent many hours reading the manuscript and offered detailed comments, affirmations, corrections, and suggestions. Although all errors are mine, I benefited from the generous offering of wise counsel from many people: Diana Ivy (the first person I trusted to read this book offered unswerving encouragement), Joel Heck (whose knowledge of Lewis was invaluable), Jerry Root (a master communicator and Lewis scholar), Michael Ward (whose knowledge of Lewis is unbounded), Andrew Lazo (who has a considerable gift with words), Will Vaus (who helped me fine-tune my ideas), Karen Black (an astonishingly gifted proofreader), Greg Anderson (who was especially helpful with Chapter 6), William O'Flaherty (who helped confirm the validity of my Lewis quotes) and Susan Beebe (editor extraordinaire) each offered invaluable comments, critiques, and encouragement after carefully reading drafts of the manuscript. Thank you for the countless ways you made this a better book.
Several Oxford friends offered support, ideas, encouragement and a listening ear as I've developed ideas for the book.
←xxv | xxvi→
• Walter Hooper, a dear friend and the pre-eminent C. S. Lewis scholar in the world, offered enthusiastic encouragement, ideas, support, suggestions, inspiration, loan of manuscripts, and Lewis handwriting expertise. Thank you, Walter, for being such an important friend and inspiration to me.
• Priscilla Tolkien, a good and wise friend, offered her support, insights, and much appreciated encouragement.
• Jacob Imam is a good friend and brilliant scholar who offered generous support for my work both in Oxford and during happy visits to Texas.
• Colin Duriez, an outstanding C. S. Lewis scholar, offered valued advice and encouragement.
• Jill and Peter Collett, and their talented daughters Clemi and Katie, are cherished friends I've known for more than a quarter of a century. They offered ongoing love, support and enthusiastic encouragement during many visits to our beloved Oxford.
I owe much to many C. S. Lewis scholars for their ideas, information, and meticulous scholarship that appear in endnotes in this book and helped shape many of the ideas presented. Special thanks go to the following scholars:
• Terry Lindvall and his excellent dissertation C. S. Lewis' Theory of Communication was invaluable in helping me clarify my ideas about Lewis and communication.
• Greg Anderson provided friendship, joyful conversations, time in London hunting for Lewis first editions, and brilliant published scholarship about C. S. Lewis and rhetoric.
• Diana Pavlac Glyer provided support, encouragement, and outstanding scholarship that helped me solve a decades-old literary mystery. She is a role model for all Lewis scholars.
• The late Bruce Edwards offered his friendship, rich conversation, and outstanding published Lewis scholarship. I miss him and his enthusiastic support.
• Don King helped interpret Lewis's handwriting, confirmed my discovery of C. S. Lewis poems, and offered much appreciated encouragement and support.
• Charlie Starr provided invaluable help in interpreting Lewis's handwriting and offering support and encouragement.
• Andrew Lazo, who, in addition to carefully reading the manuscript, spent time with me in golden hours of friendship chasing after Lewis life details.
←xxvi | xxvii→
• Jerry Root, who not only read the manuscript, provided copious notes, and wrote the masterful Foreword, but was transformational in helping me develop as a Lewis researcher. I will always be grateful for his enduring friendship, love, and presence in my life.
I thank my editor at Peter Lang, Erika Hendrix, for her support of this project, excellent suggestions, and skilled editorial guidance.
The staff at the University of Oxford Bodleian Library provided outstanding support and expertise. Specifically, I thank:
• Judith Priestman, librarian and curator of Lewis manuscripts and papers, provided professional support and encouragement. Her personal presentation of original Lewis manuscripts was always a highlight for me and my students who visited the Bodleian Library.
• Collin Harris, who provided a cheerful presence in the Modern Papers Reading Room, and who always offered words of encouragement and professional acumen.
Members of the Austin C. S. Lewis Society were kind, generous, patient, and encouraging as I participated in their monthly meetings for more than half a decade.
• Margaret and Johnny Humphreys were especially generous in providing the initial funds for a C. S. Lewis workshop that lead to the founding of the Austin C. S. Lewis Reading Group. Their friendship, and their son Paul's taking my Oxford Lewis class, are treasured memories.
• Joel Heck and George Musacchio are outstanding Lewis scholars and educators who were like graduate faculty who patiently and skillfully helped me develop my ideas.
• Larry Linnenschmitd is a good friend and an avid Lewis reader, whose invitation to participate in a radio conversation on his program not only was fun, but also helped me develop my ideas about Lewis and communication.
Several dear friends offered excellent advice and encouragement just when I needed it:
• Mike Hennessey, a valued friend and eminent academic scholar and educator, proposed the title that you read on the cover of this book.
• Lancia Smith, who skillfully took my author photo, illuminates beauty with her gifts of friendship, wisdom, and encouragement.
←xxvii | xxviii→
• Ron and Judy Brown are long-time cherished friends who offer love and encouragement and were members of the travel group that let me commandeer the tour bus, with the unforgettable help of our Irish-ballad-singing bus driver Kevin Clancy, to make an unplanned stop during our Belfast, Ireland, tour to see Lewis's childhood home, "Little Lea."
I thank the many students who have taken my C. S. Lewis course, both on the Texas State University campus and at Oxford University. Your enthusiasm, curiosity, and passion for learning about C. S. Lewis provided the perfect educational pasture that helped me irrigate my ideas. I especially thank my former Oxford C. S. Lewis student and beloved nephew Luke Adam Dye, dubbed "The Magician's Nephew," who read the manuscript and offers love and enthusiasm cheering on his uncle.
Several colleagues—no, friends—including Tom Willett, John Masterson, Thompson Biggers, Deborah Uecker, Richard Cheatham, Tim Mottet, Rick Gonzalez, John Fleming, Phil Salem, Cookie Salem, Lee Williams, Cathy Fleuriet, Sue Stewart, Marian Houser, Erik Timmerman, Maureen Keeley, Sue Hall, and Bob Hannah, offered much encouragement and support on this journey.
To my beloved family, wife Sue, son Matt, daughter-in-law Kara, granddaughter Mary, son Mark, and daughter-in-law Amanda: Thank you for the two C. S. Lewis games you invented that made my work more joyful. Game one: Taking bets as to what time of the day I will first mention C. S. Lewis. Game two: If a member of my family is within earshot and they hear me mention Lewis's name, with just an ever-so-slight eye roll, they murmur "glug glug" and then mime taking a drink. Thank you for your abiding love, good humor, and unswerving support.
Finally, extra-special thanks go to my life editor-in-chief, frequent co-author, former college debate partner, fellow music-major-turned-communication major, personal grammar queen, life partner, and best friend, Sue. Sue was the last person who read the book before publication; her editing skills are simply the best I've encountered during the 50 years I've known her. Her "life music" is the soundtrack of my life. This book would not have been possible without her.
←0 | 1→
"I have an idea of what is good and bad language … Language is an instrument of communication. The language which can with the greatest ease make the finest and most numerous distinctions of meaning is best."1
- C. S. Lewis
"Be sure you know the meaning (or meanings) of every word you use."2
- C. S. Lewis
One of the first things I give my students when I teach my course, "C. S. Lewis: Chronicles of a Master Communicator," is the final examination; it appears on the last page of the syllabus. I realize that it is unusual to give the students the final exam questions early, especially on the first day of class. But giving students their final exam on day one helps them know what to look for as they begin to examine Lewis as communicator. (Education, I believe, should not be a game of "Guess what I want you to learn," but rather, a guided conversation with clear goals and objectives.) The final exam consists of two questions that form the overarching goals of the course:
1. What communication principles did C. S. Lewis discuss, either implicitly or explicitly, in his works?
←1 | 2→
2. What techniques of effective communication did Lewis use in his writing and speaking that contributed to his success as an author and speaker?
Underlying these two questions is a claim that informs the premise of this book: C. S. Lewis was one of the most effective communicators of the twentieth century as evidenced by his continued popularity. So, in effect, by writing this book I am taking my own final exam.
Lewis was a master communication craftsperson. He was also a mere communicator. As in the title of one of his most widely read books, Mere Christianity, mere means essential, absolute or, as derived from the Middle English use of the word, pure.3 (Lewis was not the first to use the phrase "Mere Christianity." Richard Baxter, a seventeenth-century Puritan, used those words to avoid denominational labels when describing Christians.)4 C. S. Lewis was a masterful, "pure communicator" who also wrote about essential principles of communication. This book makes the case that C. S. Lewis knew, discussed, and used effective principles of communication; his application of those principles explains, in part, his enduring success as an author, speaker, and broadcaster.
Being a skilled communication craftsperson does not mean he was a perfect communicator. Lewis sometimes made tactical errors. He misread his audience on rare occasions, and by his own admission, he was not always skilled at appealing to the emotions of his listeners or readers.5 Yet he learned from his experiences and drew upon a comprehensive set of principles about language, meaning, and communication to become one of the twentieth Century's most celebrated authors and speakers. He was not only a Christian apologist, literary scholar, and prolific author of both fiction and non-fiction, he was an accomplished communication practitioner who modeled what he said about communication.
The assumption that C. S. Lewis was a master at crafting enduring communication messages is supported by three arguments. First, Lewis was and continues to be an astoundingly popular author. People bought his books during his lifetime, and since his death more than five decades ago, his book sales continue to be strong. Both Samuel Joeckel's book The C. S. Lewis Phenomenon and Stephanie Derrick's book The Fame of C. S. Lewis document the continuing popularity of Lewis studies, an especially thriving industry in the U.S., with more books about C. S. Lewis published each year.6
A second argument to support his legacy as a communicator is that, in addition to continued popular success, Lewis has garnered considerable professional accolades. He earned his living teaching, writing, and speaking. His scholarly books remain required reading in many English department graduate programs ←2 | 3→that focus on literary criticism and English literature of the sixteenth century. Besides inclusion on undergraduate and graduate student reading lists, Lewis and his works remain a popular topic for doctoral dissertations, master's theses, and other academic research and scholarly inquiry.
Finally, both Lewis's continued popularity and professional contributions and influence support the third and most important argument for the "master communication craftsperson" label—Lewis embedded lessons about how to communicate effectively throughout his works. In addition to being an effective communicator, he also wrote about principles and strategies for communicating well. Many authors are popular, and a few also have impressive professional credentials, but only a select handful devote considerable attention to teaching others how to be effective communicators. Lewis was a professor of communication.
This chapter makes the case that C. S. Lewis should be the focus of a book about communication. He was prolific and endures as a multi-million-book popular author. Colleges and universities continue to assign his work; scholars continue to mine it for his insights about literature and language. And he often wrote about how to be an effective communicator. His spoken and written messages not only model communication principles, but also offer numerous prescriptions for communication effectiveness. Let's explore these three reasons in more detail.
Lewis sells. Millions of copies of his books are in print, with millions of new readers throughout the world discovering his writing each year. Although it is always challenging to identify the precise number of books Lewis has sold (a challenge both because the number keeps growing larger every year and because publishers typically keep that information proprietary), even modest estimates provide evidence of his astounding popularity. One source suggests that the Narnia books have sold more than 100 million copies.7 Michael Maudlin, an editor of HarperCollins's C. S. Lewis Bible, made this observation in 2011: "I would say in the last 10 years C. S. Lewis has sold more books than any other 10-year span since he started publishing."8 Maudlin added, "He's not only not declining, he is in the sweet spot."9 His book sales have continued to be strong moving into the third decade of the 21st Century. Lewis scholar James Como notes, "Since his death in November 1963, sales of his books have increased six-fold (with several titles selling more than one million copies per year in some twenty languages)."10 Estimates of Lewis's total book sales range from 150 to 200 million copies.11
←3 | 4→
There is substantial evidence that Lewis's books are not only widely read, but also widely celebrated. Both Lewis's fiction and non-fiction continue to make the "100 top book lists" of best-selling and most influential books of the twentieth century.
• A 2019 survey from the United Kingdom (UK) rated The Lion, the Witch and the Wardrobe the number one ranked "favorite book" of UK readers.12
• In the fall of 2018 the Public Broadcasting System (PBS) used a national (U.S.) survey to identify the 100 best novels ever written. During an eight-week period, PBS then asked people to nominate their most favorite book. The Chronicles of Narnia series was voted number nine on the list of 100.13
• According to a panel organized by the editor of the National Review, Lewis's Abolition of Man was ranked seventh; in a "top book" list prepared by Intercollegiate Studies, it was ranked second.14
• A survey of the most read Christian writers suggests that Lewis continues to appeal to a wide variety of readers from various denominational perspectives.15 Among mainline Protestants, Lewis's books were ranked sixth in popularity.16 According to the same poll, they were ranked eighth by conservative clergy and eleventh among Catholic priests.17
• The widely-read Christian magazine, Christianity Today, ranked Mere Christianity as the best book about Christianity of the twentieth century.18
Mere Christianity has influenced many notable people, including Thomas Monaghan, founder of Domino's Pizza, and Francis Collins, an award-winning scientist known for his leadership in the Human Genome Project and Director of the National Institutes of Health.19 Both have credited Lewis with their conversion to Christianity.20 The late Charles Colson, former counsel to President Nixon, who served seven months in prison for obstruction of justice associated with the Watergate scandal and later established a nationally-recognized prison ministry, credits Lewis with changing his life: "I opened Mere Christianity and found myself … face-to-face with an intellect so disciplined, so lucid, so relentlessly logical that I was glad I never had to face him in a court of law."21 In describing Lewis's style Colson wrote, "Lewis' words seemed to pound straight at me."22 He later added that Lewis's words, "ripped through the protective armor in which I had unknowingly encased myself for forty-one years."23 The number of people who have become Christians or had their Christian faith strengthened due to Lewis's writings is surely in the millions.24
←4 | 5→
Lewis is internationally popular. His books have been translated into 47 languages.25 Visitors from around the world visit his home, The Kilns, located about three miles from the center of Oxford. Lewis-themed stained-glass windows can be found not only in his home church in Headington Quarry, near Oxford, but also in St. Luke's Episcopal church in Monrovia, California, and St. David's Church, in Denton, Texas.
Not everyone, however, is enamored with treating Lewis as "St. Jack."26 (Lewis preferred to be called Jack). Lewis biographer A. N. Wilson finds the stained-glass window treatment unnecessarily over the top. Wilson's biography delves into Lewis's psychological motivations and peccadillos—something Lewis would have disdained and several Lewis scholars have refuted.27 Lewis undoubtedly would not have approved of the numerous other biographies that have sought to provide "back stage" perceptions of him. Subscribing to "new criticism," the theory that dominated mid-twentieth-century literary criticism, Lewis thought considering the personality and backstory of an author to be unnecessary and unhelpful when seeking to interpret what the author wrote.28 Lewis's sentiment: Just study the work, not the personal indulgences of the author.
Why does Lewis remain a best-selling author with a long list of popular titles? Books with Christian themes do not typically make The New York Times bestseller list. What did Lewis do that made his message so accessible? Some writers point to his liberal use of literary tropes such as metaphor and analogy. Others attribute his popularity to his clarity of expression.29 Lewis scholar Terry Lindvall suggest that one of the reasons Lewis remains popular is because of his keen sense of humor.30 Lewis loved to laugh and those who knew him attest to his jovial sense of fun and good humor that sparkles through his writing. Lewis's popularity is most likely the result of multiple principles and practices, among which is his ability to communicate—to forge a relationship between author and reader. The chapters ahead provide a detailed, panoramic look at his ability to communicate.
Lewis did not have to wait until he died to be famous. Britons readily recognized his voice in the 1940s because of his successful broadcast talks.31 His series of 15-minute BBC radio broadcasts began on August 6, 1941, at 7:45 P.M., and continued at regular intervals for more than two years to a war-weary Britain. His first talk had an audience of 560,000 people; his second talk, a week later, had more than 1.7 million listeners—triple his first night's broadcast.32 Although his biggest audience on a radio call-in program called Brains Trust had an audience of more than 5 million listeners, they did not hear Lewis at his best. It was one of his performances during which he gave long-winded, tedious answers, not always on point; he was not well received by many in this particular listening audience.33 ←5 | 6→But despite an occasional misstep, he consistently connected to his readers and listeners.
Lewis thought that after his death his popularity would decline and his book sales would decline as well, eventually dwindling to zero. Walter Hooper, Lewis's secretary during the last summer of Lewis's life, recalls a specific conversation with Lewis in which he expressed certainty his book sales would taper off after his death. Lewis was concerned about income for his brother, Warren (called "Warnie"), and worried that Warnie would have no substantial income beyond his small pension.34 But Lewis need not have worried. His book sales have continued to flourish, in part because Hooper agreed to edit an existing manuscript, resulting in a "new" book, if the publisher would also re-publish two out-of-print books.35 Because of this shrewd deal, all of Lewis's books continue to be in print. C. S. Lewis remains famous—more so in the U.S. than where he lived and taught in England, in part because his Christian message resonates with Americans more than it does in a less demonstrably Christian England.36
Although not as widely heralded in England, Lewis was memorialized on the 50th anniversary of his death with a stone in the floor of Poets' Corner in Westminster Abbey.37 Chiseled on the stone is one of his most quoted sentences: "I believe in Christianity as I believe that the Sun has risen not only because I see it but because by it I see everything else."38 The thousands who congregated there on November 22, 2013, heard former Archbishop of Canterbury, the Right Reverend Rowan Williams, deliver a memorial sermon focused on Lewis's skilled use of language.39
In addition to his book sales, Lewis's popularity as a communicator is further evidenced by his continued focal point as a subject of reading groups and Lewis societies. If you want to join a Lewis reading group, there is probably one near you. By one count more than 500 Lewis societies exist in the U.S.40 The C. S. Lewis Society that meets in Oxford during term time will welcome you, should you happen to be in Oxford on a Tuesday—the day the Inklings, the famed literary group, would meet at The Eagle and Child pub just a few doors from where the Lewis Society meets in the St. Giles area of Oxford. The book C. S. Lewis & His Circle is a collection of essays presented to the society over the years, including several by people who knew Lewis well.41 Google "C. S. Lewis" and you will find numerous websites, such as Into the Wardrobe, that feature his works and provide a virtual Lewis society. Both the stage play Shadowlands and the 1993 movie chronicle the intriguing love story between Lewis and the woman he married (twice),42 Joy Davidman, bringing the Lewis-Davidman story to millions. Several of Lewis's Narnia Chronicles (The Lion, the Witch and the Wardrobe; The Voyage of the Dawn ←6 | 7→Treader; Prince Caspian; and The Silver Chair) have been made into movies (with varying critical acclaim). Yet The Lion, the Witch and the Wardrobe set box office records when it debuted in 2005; with world-wide box office receipts of more than one billion dollars, it is the highest grossing Christian-themed movie ever made. More Narnia movies are in the works, as well as a movie chronicling the friendship of Lewis and Tolkien.43
Students are eager to learn from Lewis's ideas. One of the most popular courses at Harvard University, taught by Dr. Armand Nicholi, examines the dramatically contrasting life philosophies of Lewis and Psychologist Sigmund Freud. Nicholi's best-selling book A Question of God and the nationally broadcast PBS special and DVD of the same name brought an examination of Lewis's ideas to millions of readers and viewers.44 The creatively conceived play Freud's Last Session imagines a conversation between Lewis and Freud in 1939—late in Freud's life and just when Lewis was coming into his own as a writer. The crackling dialogue may be fiction (although there are direct quotations from both men's writings), but the play is a riveting and insightful drama that enjoyed positive reviews and broke box office records in New York and several U.S. national tours. The Most Reluctant Convert, a one-man play about Lewis's conversion starring Max McClean as Lewis, toured the U.S. and appeared on Broadway in New York to packed houses for months. Lewis's ideas and his life story continue to generate interest in various forms—from traditional academic classes to Broadway performances.
What additional evidence documents Lewis's popularity? His readers' responses. In his book An Experiment in Criticism, Lewis suggests that among the best ways to assess a literary work is to consider the impact the work has on those who read it. The impact of Lewis's own body of written and spoken communication, based on the responses of his readers, has been significant. Lewis's work has inspired institutes, societies, and artistic projects. Three C. S. Lewis academic institutes specifically feature his work and champion his legacy. The C. S. Lewis Foundation, based in Redlands, California, which owns Lewis's home, The Kilns, in Oxford, is actively working to establish a C. S. Lewis liberal arts college. The proposed college would be based on a Great Books foundation to mirror Lewis's wide-ranging knowledge in and application of the liberal arts and sciences.
And finally, C. S. Lewis has become a ubiquitous presence in American pulpits. In summarizing Lewis's impact, one could argue that he is the third most quoted person in Sunday morning sermons, right behind Jesus and the Apostle Paul. Given his continued popularity, it is worthwhile to investigate his communication strategies that contribute to his popularity.
←7 | 8→
C. S. Lewis earned his living teaching, writing and speaking: He was a professional communicator. The study of words and meaning was central to Lewis's professional life. Not only do C. S. Lewis's books remain popular, but he also enjoys a formidable professional reputation. He was and remains a respected scholar and literary historian. Literary scholar Doris Myers argues that Lewis should be recognized for his expertise primarily as a literary scholar, concluding, "It is literary craftsmanship, after all, that will ensure for Lewis a permanent place in the canon."45 As a literary scholar, Lewis was interested in the nature of language and how to use language effectively to connect with readers and listeners. As a Christian apologist, he was renowned for his rhetorical prowess. Lewis, who liked to talk, wrote in a letter to E. M. Butler, "I am also an Irishman and a congenital rhetorician."46 That even in this lighthearted comment he identified himself as a rhetorician is notable. It was integral to his identify.
C. S. Lewis's intellect is reflected in his highly-lauded professional achievements. He was one of the few people in the twentieth century to win a triple first at Oxford University, comparable to being Summa Cum Laude (with highest honors) in Latin and Greek (Classical Honor Mods), philosophy (called "Greats"), and English literature. His 1922 first degree in Classics included two curricular elements, the first part consisting of Latin and Greek and the second part, "Greats," focusing on philosophy. His second degree, just one year later in 1923, in English language and literature, was the most practical; it enhanced his employability as a tutor. Language and literature were to remain the focus of his academic work for the rest of his life. His scholarly books The Allegory of Love, A Preface to Paradise Lost, English Literature in the Sixteenth Century: Excluding Drama, and The Discarded Image remain required reading in graduate English literature programs. Lewis was clearly a scholar interested in the rhetorical impact of words and their meaning.
Lewis was prolific. He wrote or contributed to 37 books during his lifetime (with several books and essays published after his death).47 He also wrote dozens of essays, many first delivered as lectures, that are also still in print.48 If you go into a bookstore and ask where most authors' books may be found, you will be directed to a specific shelf or department. But go into a contemporary bookstore and ask, "Where are books by C. S. Lewis?" and you will be directed to several different shelves. His Narnia books can be found in the children's section, his Ransom trilogy (Out of the Silent Planet, Perelandra [recently performed as an opera], and That Hideous Strength) are housed in science fiction. His academic ←8 | 9→works are often found in the literary criticism section. Of course, several books are housed in the theology or Christian section. His novel Till We Have Faces is in fiction and literature. His published poetry books, including the book originally published under the pseudonym Clive Hamilton, are found in the poetry section. Although The Abolition of Man is often found in the Religion section, given its content it could be catalogued in philosophy. Lewis scholars Jerry Root and Mark Neal count 17 different literary genres in which Lewis wrote: apologetics, autobiography, educational philosophy, essays, fairy stories, journals, letters, literary criticism, literary history, lyric poetry, narrative poetry, novels, religious devotion, satire, science fiction, short stories, and translations.49 The argument for Lewis as a master communication craftsperson rests not only on his productivity and popularity, but also on his genre-spanning professional presence throughout a bookstore.
Besides Lewis's considerable professional and popular works, his skill as a communicator is evident in the thousands of letters he wrote. He considered writing responses to his letters both a burden and a responsibility, and he would respond to anyone who wrote to him. He believed that if he was sharing information with his readers and listeners and they responded to him with a letter, it was his obligation to acknowledge their response. With the help of his brother Warnie, Lewis would dedicate a portion of most workdays to answering letters. Lewis's close friend Owen Barfield observed, "Lewis used to sit down and answer his letters, which became very numerous indeed, either before or immediately after breakfast."50 Some of his responses were quite brief, but others were full of detailed explanations, heart-felt empathic response, or advice.
The massive three-volume publication of his letters, masterfully edited by Walter Hooper, fills 4,000 pages.51 Estimates for the number of Lewis letters range from 10,000 to 14,000.52 New discoveries of Lewis letters continue to emerge. For example, I own a short note Lewis wrote to Nobel Laureate Jacques Lucien Monod, thanking Monod for a letter extoling Lewis's literary contributions; the letter does not appear in any published collection. The skillfully edited book Letters to Children, compiled by Lyle Dorsett and Marjorie Lamp Mead, showcases Lewis's tenderness, sensitivity, and clarity in responding to the hundreds of letters he received from his younger fans.53 Letters to an American Lady includes the correspondence of Lewis to a woman known only as Mary in the book, who is now known to be Mary Willis Shelburne, then a widow from Washington, DC.54 Such letters provide a record of Lewis's stalwart, faithful friendship. (Lewis eventually provided a monthly stipend for Mary from royalties of his books published in the U.S.) Letters to his life-long friend and confidant Arthur Greeves published ←9 | 10→in They Stand Together55 and correspondence (originally written in Latin) to Don Giovanni Calabria56 also are compiled in separate published collections. Sheldon Vanauken's autobiographical book A Severe Mercy describes the author's friendship among himself, his wife Jean (called Davy) and C. S. Lewis; several letters between Lewis and Vanauken are included in the book.57
So we have a record of not only Lewis's "front stage" polished, professional communication with his readers and academic colleagues, but also his "back stage" communication with countless individuals, which he would never have imagined would be read by others. Such an extensive 360-degree view of an author is not available for many other communicators. With today's reliance on ephemeral, often-deleted electronic messages, we may no longer have such permanent records of an author's public and private communication. Although Lewis's letters did not have the benefit of careful editing by proofreaders (he sometimes struggled with spelling), Lewis letters provide a rich and comprehensive basis for analysis.
C. S. Lewis was often introduced at speaking events or described on the dust jackets of his books as "Professor Lewis." It was only during the last nine years of his life, however, that he officially acquired the title "professor," a prestigious rank bestowed by British colleges and universities on a select few. When at Magdalen College in Oxford, Lewis lost the election for Professor of Poetry to Cecil Day-Lewis (father of Oscar-winning actor Daniel Day-Lewis) in 1951. But three years later, in recognition of his academic accomplishments, he was appointed Chair of Medieval and Renaissance Literature at Cambridge, a position that also included the coveted title Professor. Lewis was well qualified for his professorial rank. Although he did not hold an earned doctorate, he had received honorary doctorates from several universities.58 His triple first honors at Oxford, along with his voluminous output as an author and scholar, and his skill as a tutor and lecturer, had firmly established his academic credentials. C. S. Lewis clearly deserved the title Professor.
But what did he profess? Lewis's title was Professor of Medieval and Renaissance Literature, yet he had eclectic academic interests in a variety of subjects. As noted earlier, his formal education included not only classical Greek and Roman literature, typical curricular components of an Oxford education, but also philosophy and English literature. His lectures at his first teaching position for University College focused on philosophy. His writing reflects his diverse interests and ←10 | 11→broad scope of knowledge, including an interest in words, language, meaning, and philology; this book suggests that in addition to his other diverse academic interests, he was a professor of communication.
To make the case that Lewis should be embraced for his knowledge of human communication, it helpful to know how the communication discipline and Lewis's interests intersect. The central focus of the communication discipline, according to former National Communication Association president David Zarefsky, is the study of the relationship between messages and people.59 Meaning, messages, and the importance of language are also consistent and pervasive themes running throughout Lewis's professional work. As this book documents, Lewis possessed a sophisticated understanding of the nature of meaning and the centrality of using language to develop human connections.
The communication discipline is interdisciplinary; it embraces several academic traditions, some as ancient as the study of rhetoric, and others more contemporary, including social media and critical cultural theory. Mirroring the multifaceted nature of the communication discipline, Lewis, too, had interdisciplinary interests; his study and writing ventured into literature, literary history, theology, psychology, philosophy and other topics found in both the humanities and social sciences. An essay or lecture about education and Natural Law blossomed into a multi-part lecture series that continues to be required reading in philosophy classes: The Abolition of Man.60 Lewis's writing reflects his own interdisciplinary approach to whatever topic or issue he is exploring. Ideas emanating from philosophy, literature, theology, and literary criticism are sprinkled throughout his writing and speaking.
The National Communication Association, the oldest and largest national professional academic communication association, defines communication as "how people use messages to generate meanings within and across various contexts" and "the discipline that studies all forms, modes, media, and consequences of communication through humanistic, social scientific, and aesthetic inquiry."61 The U.S. Department of Education defines the academic domain of communication as including "instruction in the theory and practice of interpersonal, group, organizational, professional, and intercultural communication; speaking and listening; verbal and nonverbal interaction; rhetorical theory and criticism; performance studies; argumentation and persuasion; technologically mediated communication; popular culture; and various contextual applications."62 C. S. Lewis was not just mildly interested in these topics, he had insightful and detailed observations about the theory and practice of human communication.
←11 | 12→
The growth of the contemporary communication discipline parallels C. S. Lewis's growing interest in language, words, and meaning. The academic discipline of communication studies has most fully developed in the United States in the years since World War II, as evidenced by the plethora of organized departments and schools of communication established in that interim. There were no U.S. departments of "speech" in 1900.63 By 1930 (the same time Lewis was coming into his own as a tutor at Magdalen College, Oxford), a survey of selected U. S. institutions found more than 25 U.S. departments that included the word "speech" in their titles.64 As Lewis's career began to soar, a 1948 survey reported 256 U. S. colleges and universities that included the word "speech" in a department title; 51 were titled "speech and drama," 18, "public speaking," 48, "English and speech," and 5, "communication."65 Today there are approximately 2,000 U.S. colleges, universities and community colleges that include a study of what used to be encompassed by the word "speech" or "public speaking" and what today is more often labeled "communication" or "communication studies."66
There are several reasons to consider C.S. Lewis a communication educator and scholar—a Professor of Communication. First, applications of communication ideas and principles, as well as explicit observations about words, meaning, messages and human behavior, can be found in virtually everything he wrote. C. S. Lewis was a meta-communicator. He communicated about communication; he wrote about the process of writing and speaking. His principles of how to communicate well are found in many of his works. Although some well-known authors write about the writing process (such as Stephen King67), only a handful of celebrated and prolific writers have described in such considerable detail how they developed their communication craft. Lewis's title "Communication Professor" is appropriate because of the number of words he devoted to writing about how he communicated. His former student V. Brown Patterson noted that Lewis "loved to talk about the sheer mechanics of turning thoughts into sentences."68 Had Lewis been only a popular author, or only a successful writer and teacher, this book probably would not have been written. But he made copious comments about the communication process. In addition to being an effective communicator, Lewis also discussed how to be an effective communicator. The chapters ahead, especially chapters four–eight, document the numerous principles, suggestions, and observations that he had about the human communication process.
A second reason to consider Lewis a professor of communication is that communication studies scholars historically tend to emphasize oral communication. Lewis was interested in writing and speaking, both in theory and in application; he gave special attention to the oral nature of messages. Lewis's academic training ←12 | 13→focused on English literature and the written word, but there is evidence Lewis was especially interested in oral communication, as evidenced by his definition of language as "spoken language."69 Reflecting Lewis's holistic interest in communication and supporting his Professor of Communication title, he was interested in both.
Lewis was a skilled writer and speaker. Gervase Mathew, who for nine years coordinated his lectures for the English faculty with Lewis, confirms, "His influence on his contemporaries was at least as much as orator as writer."70 In response to suggestions that Lewis thought lectures and tutorials a waste of his valuable time, Mathew vehemently disagreed: "No travesty could be further from the truth."71 In describing Lewis's oratorical skills, Mathew notes,
He took a vivid, perhaps rather sporting, interest in the numbers who came to him, and he was depressed when he failed to repeat his Oxford triumphs at Cambridge. At times he lectured from skeleton notes, at times from a written text; on occasion he improvised; it was hard to tell which method he was following. But always he forged a personal link with those who heard him.72
Lewis liked a good-sized audience. He was a popular lecturer who often had standing-room only audiences.
In addition to the evidence that he often wrote about communication and had a keen interest in oral communication, a third and final reason to consider Lewis as a Professor of Communication is that he applied communication principles to several communication contexts, including interpersonal and small group communication. He was a "catholic communicator" in the sense that he was interested in a variety of communication contexts and genres, from friendship to classical rhetoric.
Interpersonal communication is defined as a "distinctive, transactional form of human communication involving mutual influence, usually for the purpose of managing relationships."73 The study of human relationships is at the heart of the interpersonal communication context. C. S. Lewis was clearly interested in the quality of interpersonal relationships. Several of his books, including The Four Loves, Till We Have Faces, The Screwtape Letters, and all three of the books in his Ransom trilogy (Out of the Silent Planet, Perelandra, and That Hideous Strength) include both implicit and explicit observations about the nature and importance of human relationships.
He not only wrote about interpersonal communication topics, but also loved the joy of just visiting with his friends. Lewis was known to close friends as a marvelous conversationalist with a wonderful sense of humor. His good friend Owen ←13 | 14→Barfield describes how Lewis liked to tease by playing insulting word games with his friends:
It was much more like a 'language game,' particularly so in the case of sarcasm. There the object of the game was to come as near as possible to formulating an insult as if it were intended, while at the same time choosing one which would be particularly telling if it were. He once carried this so far, or I was so stupid, that I thought it was meant; and, for a time after that (but this was rather in correspondence than in conversation) we would preface with a solemn rubric to the effect that "this is a joke."74
Lewis seemed to take pleasure from the joy of conversation with his friends. Walter Hooper appreciatively recalls, "C. S. Lewis was the best listener I have ever talked with in my life. He was actually very interested in what you had to say."75
In addition to interpersonal communication, Lewis made astute observations about small group communication, defined as "communication among a small group of people who share a common purpose, who feel a sense of belonging to the group, and who exert influence on one another."76 The dynamics of what causes groups to form, stay together, and accomplish specific tasks through communication, are key elements of group communication study. As with applications of interpersonal communication, Lewis was ahead of his time when discussing group interaction. Although books with "group discussion" in the title were published in the 1930s, group communication textbooks that referenced social-psychological dynamics of groups emerged only after Lewis's death.77
In noting a standard observation of contemporary group communication textbooks, Lewis knew that "Two heads are better than one, not because either is infallible, but because they are unlikely to go wrong in the same direction."78 For Lewis, friendship among a group of people, in contrast to friendship between only two people, adds a new dynamic to the relationships. The 1945 loss of his friend Charles Williams gave Lewis insights about the collaborative nature of friendship. As Lewis put it, "[I];f, of three friends (A, B, and C), A should die, then B loses not only A but 'A's B."79 Lewis understood the dynamic of group interaction and the influence of individual members on the group. He adds, "In each of my friends there is something that only some other friend can fully bring out. By myself I am not large enough to call the whole man into activity; I want other lights than my own to show all his facets."80 The loss of his dear friend Williams (friend A) meant that he also lost observing the rich interaction between Williams and J. R. R. Tolkien (friend B). Without using the term synergy or referring to systems theory, Lewis illustrated a sophisticated understanding of group dynamics.
←14 | 15→
His address "Membership," given to the Society of St. Alban and St. Sergius in February 1945, is chock full of observations about the nature of groups, societies, organizations, and communities. For example, he makes a comparison between group membership and family membership with this observation:
How true membership in a body differs from inclusion in a collective may be seen in the structure of a family. The grandfather, the parents, the grown-up son, the child, the dog, and the cat are true members (in the organic sense) precisely because they are not members or units of a homogeneous class. They are not interchangeable.81
Although he doesn't use contemporary communication terminology, he goes on to describe the nature and function of roles, norms, and other classic group communication variables. Diana Pavlac Glyer's award-winning book Bandersnatch: C. S. Lewis, J. R. R. Tolkien and the Creative Collaboration of the Inklings, masterfully describes how the Inklings literary group illustrates principles and practices of group communication and collaboration.82 C. S. Lewis was interested in more than speaking and writing; he was also a keen observer of communication in several contexts.
Applications of communication ideas and principles, as well as explicit observations about words, meaning, messages, and human behavior, can be found in virtually everything he wrote, especially his scholarly publications such as A Preface to Paradise Lost. His friends and colleagues, J. R. R. Tolkien and Owen Barfield, were both celebrated philologists and Lewis was a philological scholar in his own right. Lewis wrote, "This book has grown out of a practice which was at first my necessity and later my hobby; whether at last it has attained the dignity of a study others must decide."83 This thesis sentence from Studies in Words, published in 1960 that evolved from a lecture series titled "Some Difficult Words," offers evidence of Lewis's life-long love of language and how words affect and reflect human nature.84 Lewis believed that through language we articulate our longing for joy and acknowledge objective truth. Therefore, a prime argument for viewing Lewis as a communication professor is both his "necessity" and "hobby" of thinking and writing about language and meaning.
Although Lewis wrote about words, meaning, and messages, he did not set out to develop a theory of communication. As noted earlier, it is unlikely that he studied contemporary communication theory—an area of study that has more fully blossomed in academia since his death in 1963. Lewis was known for applying principles rather than proposing new theories. Rhetorical scholar James Como suggests that when studying rhetoric, "[Lewis] had no grand theories and ←15 | 16→did not follow schools or invent intricate methodologies."85 In fact, Como argues that Lewis "did not lend himself to rhetorical theory with the same characteristic thoroughness that marked his other reading."86 Rhetorical scholar Greg Anderson chronicles Lewis's rhetorical roots and reaches this conclusion: "The extant evidence shows that Lewis did take rhetoric seriously as a student but even more so as a young don."87 Anderson additionally notes, "His focus was not so much on classical as on medieval and even modern rhetoricians."88 Regardless of the extent of his academic interest in and study of rhetoric, Lewis could have had little formal training in communication as presented in contemporary departments of communication studies.89 Yet Lewis was keenly interested in Communication Studies from the perspective of meaning, the nature of words, and the function of language.
If we were to enter a classroom with Lewis as our communication professor, we might not be immediately impressed, at least by his appearance. William Griffin describes Lewis as an unassuming persona: "[He was] something of an Everyman in that he was just a bloke."90 He apparently didn't look like a university don. Griffin continues,
Some thought he looked like a farmer, and he certainly enjoyed a ploughman's lunch as much as the next fellow, especially with a pint of cider or a bottle of stout … at The Trout, a public house near Oxford. But he was just one of the millions, trying to make his own spiritual way, and it was well known that he was not the best map-reader in his brigade.91
Based on photos and descriptions of those who knew Lewis during his years as a Fellow at Magdalen, he was slightly overweight and balding, with a ruddy complexion. Walter Hooper described him as just under 6 feet tall.92 Lewis usually dressed in baggy flannel pants and an old elbow-patched tweed jacket. (Some wondered if he only owned one jacket.) One of his students described him as "verging on the shabby."93
Just as Lewis was not a fashion icon, he was not always a perfect communicator. Even though he was valued as a friend and listener, at times he was perceived as distant and aloof.94 He was also known to sometimes withhold affection from those who sought a closer relationship with him. For example, his strained relationship with his father, as acknowledged in his autobiography Surprised by Joy, does not always reflect positively on his family communication skills.95 There were clearly times his father wanted a closer relationship with Lewis, but Lewis kept his distance. To be fair, there were also times when Lewis sought greater intimacy with his father and his father did not reciprocate, such as the time after Lewis was ←16 | 17→wounded in World War I and his father did not come visit him as Lewis requested. He sometimes felt his father was more a caricature of a father, acting the part of an irascible and eccentric parent rather than providing genuine support and affection.96 Reflecting Lewis's impatience with his father's inelegance and irritability, Lewis scholar Crystal Hurd suggests Lewis had "a straightforward and down-to-earth condemnation of the 'pseudo'—the shoddy and the insincere" in reference to his relationship with his father.97 Consequently, Lewis did not always evidence warm, supportive communication responses from or to his father.
It was not just with his father; there is evidence that he could be less than immediate with his students—some describing him as being belligerent at times.98 As a tutor he was occasionally perceived as a bully because of his perhaps too enthusiastic application of his debating skills. He famously did not respond charitably to John Betjeman, a student of Lewis's who eventually became the beloved Poet Laureate of England. He found Betjeman immature, unprepared, and non-responsive.99 Rather than modeling grace and an understanding of how students can often be impertinent, Lewis's verbal and nonverbal behavior did not always demonstrate grace. I once met an elderly couple in Oxford who had both been tutored by Lewis. They said that although they thought Lewis was brilliant, he could be tediously exacting as a tutor and sometimes unnecessarily harsh with students—although, they added, only with those whom he thought could take pointed criticism. So perhaps Lewis thought Betjeman could take his criticism.
George Bailey, an American student of Lewis's, observed that as a tutor Lewis was "interesting, colourful and lively" but then added, "but he was not a good teacher."100 Bailey's personal perception was that "Lewis lacked the warmth to fire his students with enthusiasm."101 In addition, Lewis apparently sometimes couldn't figure out who was who. Bailey notes, "Lewis consistently mistook me for Geoff Dutton, an Australian and an excellent student, and Dutton for me."102 Yet Bailey found a benefit in the mislabeling: "For three years I basked in my misgiven status of a talented dominionite while Dutton groaned in durance vile as the only American in the college—if not, indeed, in the university—with the temerity to read English."103 Bailey added, "Lewis credited Dutton's performances to me and penalized Dutton for mine."104
A few colleagues not in his inner circle reportedly perceived Lewis as impersonal. Lewis researcher Stephanie Derrick, after reviewing Lewis's perception among some of his colleagues, concluded that Lewis could sometimes be "a divisive person in the cultural life of his peers."105 She explains his sometimes "negative critiques" from his colleagues "in light of Lewis's persona of aggressive bravado and his platform as someone who looked back, to the authorities and ←17 | 18→sensibilities of a past age."106 Although, it should be noted, Derrick's description of Lewis has not been uniformly supported by other Lewis scholars. Lewis author and scholar James Spencer notes, "Derrick's insinuations are poorly supported by a fair reading of Lewis' voluminous correspondence, the common witness of a wide range of his friends and even critical biographers …"107
Yet one former Lewis student confirms Derrick's conclusions about his relationship with his colleagues. George Bailey concludes, "Lewis was not popular among his fellow dons. My impression was that he kept almost as aloof from dons as from undergraduates."108 Although Bailey suggests the underlying reason for the perception of relational coolness may have been jealousy and the fact that Lewis wrote books about Christianity: "The lack of rapport between Lewis and the dons at Magdalen, on their side, was due not only to their envy of his fame but also to their distaste of the nature of his fame …"109 Bailey speculates, "As popularizer of Christian dogma, Lewis was embarrassing to the academic community."110
Lewis's friend Own Barfield noted that when Lewis was ready to end a conversation he would betray his boredom nonverbally. Barfield notes, "For casual acquaintances he had a peculiarly, perhaps deliberately, expressionless stare to show when the limit had been reached."111 Famed zoologist Desmond Morris, who attended Magdalen College in Oxford and occasionally saw Lewis in the dining hall, told me Lewis could be standoffish and difficult to get to know well, often keeping to himself.112
Lewis also sometimes exhibited unusual, norm-violating, abrupt leave-taking cues. As reported in detailed notes, while meeting with some academics and publishers in the summer of 1955 at the Eastgate Hotel in Oxford about the possibility of Lewis serving as editor of a book series, Lewis was described as cordial, pleasant, and engaged in the conversation. Geoffrey Shepherd, a member of the editorial board for a publication for which they wanted Lewis to serve as General Editor, summarized the conversation as follows: "… we found ourselves talking about Tolkien and fairy stories and ancient Egyptians. We got rather noisy too and I saw a pale-faced solitary drinkers pressed back all round the sides of the room as if they were expecting an explosion."113 While in the middle of the conversation Shepherd noted, "… then suddenly at five to one CS stood up, wrapped himself up, shook hands and suddenly shot off like a cork out of a bottle."114 When it was time for Lewis to leave there was no pleasantries or dithering. Lewis simply left. Lewis had the same exiting approach when ending his academic lectures. Often, at the conclusion of an academic talk he would edge toward the door, pick up his hat and coat, and, while delivering his closing line, leave the ←18 | 19→lecture hall thus concluding the lecture and avoiding any questions or post-lecture conversations.115
It is easy for books about Lewis to be labeled mere hagiography, providing praise and adulation without noting his faults. Although Lewis was popular, professional, and professor of communication principles, he was also very human. He did not always demonstrate effective communication applications with his family, students, or some of his acquaintances. Yet perhaps his authentic struggles and challenges in his own personal and professional life helped him empathically connect with those who heard his lectures and broadcasts or read his works. C. S. Lewis was not a perfect communicator. In part because of his own grappling with the challenges of making human connections, he understood and applied principles of human communication that help explain his popularity, prolific output, and professional acumen.
In the next chapter we will look more closely at Lewis's life to provide a context for understanding Lewis as communicator. Many of his early experiences were traumatic. The death of his mother when he was nine, the series of inept boarding schools he attended, and his brief, harrowing foray into World War I were life-challenging experiences that influenced both the content of his messages and the way he connected to others. He knew pain and thus he could write about its problem. He observed grief yet wrote about Joy surprising him. Perhaps it is his own, sometimes eccentric but always interesting, life that continues to add to his mystique. Lewis lived a compartmentalized life in the sense that few people saw the "complete Lewis." He had secrets. He kept his marriage to Joy Davidman hidden from his friend J. R. R. Tolkien for a period of time. Michael Ward develops the widely-supported theory of Lewis's compartmentalization based on the fact that Lewis embedded a theme within The Chronicles of Narnia. Lewis, argues Ward, wanted to make this hidden theme implicit to all and explicit to none.116 C. S. Lewis remains both enigmatic as well as a focal point of interest, in part because of his multifaceted life experiences. Although it is true that Lewis's writing evidence common themes, as a person Lewis was sometimes secretive and complicated.
As his popularity as an author continues unabated, C. S. Lewis remains a person of great interest. Original Lewis letters are in high demand. (A one-page Lewis letter sold at auction in London in 2018 for $5,700. Another two-sided letter, ←19 | 20→written in 1952, is for sale with a suggested price of $46,000.)117 A first edition of some of his harder-to-find books can sell for tens of thousands of dollars.118 But the question many continue to ask is "Why?" Why do people continue to be enamored with his work? And more to the point of this book: What makes Lewis a successful communicator as evidenced by his continued book sales? What did he know about the craft of communication? What were his techniques of connecting to readers and, through his radio broadcasts and lectures, listeners?
Although many excellent biographies about Lewis exist, none comprehensively explore how Lewis's life experiences shaped his communication principles and practices.119 The discipline of communication encompasses a wide array of concepts, variables and skills. Specifically, communication is the process of making sense out of the world and sharing that sense with others by creating meaning through the use of verbal and nonverbal messages.120
There have been excellent summaries of selected elements of Lewis as communicator, but they typically focus on either his speaking skill, writing skill, or rhetorical applications. The book C. S. Lewis: Speaker and Teacher, published in 1971 edited by Carolyn Keefe, presents a clear description of his speaking skills from those who heard him (including a detailed analysis of his voice), but it does not highlight his overarching communication principles.121 Others have written about his literary skill or his rhetorical insights.122 Gary Tandy's well-written book The Rhetoric of Certitude: C. S. Lewis's Nonfiction Prose123 offers considerable insight about Lewis as rhetorician, as does James Como's excellent Branches to Heaven: The Geniuses of C. S. Lewis.124 Lewis scholar Greg Anderson's insightful essay "A Most Potent Rhetoric: C. S. Lewis Congenital Rhetorician" is a tour de force describing Lewis's rhetorical gifts.125 Another well-researched book, C. S. Lewis and the Art of Writing by Corey Latta, describes Lewis's skill as an author.126 Yet little has been written about his overall approach to and application of communication principles. One exception is the comprehensive doctoral dissertation by Terry Lindvall that provides an excellent summary of Lewis's observations about communication from a broad perspective.127 My efforts here are to draw upon these excellent previous summaries, as well as Lewis's own work, to present a comprehensive discussion of Lewis as communicator, not just as rhetorician, teacher, broadcaster, or speaker. My goal is to highlight Lewis's mere (essential) communication principles that help explain his popularity and continued presence in so many academic and literary genres, including communication. Although Lewis did offer explicit advice about writing and communication, including the unfinished Language and Human Nature that he planned to write with J. R. R. Tolkien, he did not develop a cogent set of principles in any single work. The principles ←20 | 21→presented here are not explicitly articulated by Lewis as his "five principles of communication." Nevertheless, his insights into and applications of principles of effective communication found throughout his work make the identification of these principles possible. Before highlighting each principle in a separate chapter, we begin by providing background information about his life and "big ideas."
Chapter 2 explores more fully how Lewis's life experiences shaped his communication talents. In order to be an effective communicator, it is imperative to have something to say. Chapter 3 examines the major themes and big ideas in Lewis's works. Owen Barfield, Lewis's friend, financial executor, and fellow Inkling, noted that all of Lewis's key themes were present in whatever Lewis wrote.128 So it is important to understand these ideas to appreciate his ability to communicate them.
After the opening chapters provide background and set the stage for a discussion of Lewis's key communication ideas, chapters four-eight then present five core principles, one for each chapter, that constitute the essence of Lewis's understanding of communication. Each of the five principles can be cogently summarized with one word: Holistic (Chapter 4), Intentional (Chapter 5), Transpositional (Chapter 6), Evocative (Chapter 7), Audience (Chapter 8) which form the acronym HI TEA. Here's a preview of these five principles that provide the core concepts of Lewis's communication ideas.
Effective Communicators Are Holistic
The first communication principle describes Lewis's holistic communication strategies. To be holistic is to be all-encompassing, drawing upon several elements to create an integrated, comprehensive approach to communicating with others. Lewis was a holistic communicator in that his messages appealed to both the eye and the ear; his written messages were not only designed to be read (an appeal to the eye) but also to have an auditory quality (an appeal to the ear), as reflected in his practice of speaking the words aloud as he wrote.
In addition, Lewis was holistic in that he integrated reasoning—the process of using evidence to reach a conclusion, with creative applications of his rich imagination to express his ideas. The nature of his subject matter made his ideas difficult to document with tangible, or observable evidence. Lewis sought to provide evidence for the nature of God, affirm the underlying logic of Christianity, while inviting his readers and listeners to use their own powers of reasoning to reach a conclusion. He constructed arguments either inductively (from specific examples to a general conclusion) or deductively (arguing from a general, ←21 | 22→assumed-to-be-true premise to reach a specific conclusion). Many of his readers appreciate his logical, structured way of clarifying murky or mysterious ideas. Lewis was holistic in that in addition to, and often simultaneously, he would spark the imagination with images, analogies, metaphors, and stories. It was his skilled use of both strategies that made him a holistic communicator.
Besides appealing to the eye and the ear, as well as reason and imagination, Lewis drew upon skills in persuasion (rhetoric), debate (dialectic), and romantic ideals (the poetic) to communicate his ideas and message. His apologetic works were unabashedly persuasive; he used his debating skills to refute the ideas of others in support of his own. He would also use language poetically to appeal to his reader's and listener's sense of aesthetics. Chapter 4 uses Lewis's own words as examples of his holistic communication strategies to look both "at" and "along" what he describes.129
Effective Communicators Are Intentional
The second principle posits that Lewis was an intentional communicator. To be intentional is to be mindful, purposeful, and aware of the communication goals and objectives to be accomplished. Lewis was intentional in that he planned his messages for maximum clarity and persuasive effect—he used the writing process to help sharpen his ideas and communication goals. Pre-writing activities, taking walks and being a voluminous reader, helped him think about what he was going to say before he said it. His communication objective, although sometimes intentionally but subversively masked from the reader until just the right moment, was always clear to Lewis. He knew where he was leading his readers. Lewis's letters and occasional diary entries modeled his journalistic skill of clear and memorable description. Lewis does not wander aimlessly—even though as a reader you may, at times, not know exactly where he is or where he is leading you, he knows. His books, essays, lectures, stories and poems focused on illuminating a specific idea linked to a precise purpose.
Clarity was an important communication goal for Lewis, whether writing a novel or helping a student express his or her ideas in a tutorial. A specific strategy for being clear is to use precisely the correct word. Having the command of a large vocabulary gave Lewis the ability to use just the right word rather than needing to pile on unneeded words. Brevity was more than the soul of wit; it was his pathway to clarity. Lewis marshalled words to achieve a memorable style. Chapter 5 describes Lewis's principle of intentionality.
←22 | 23→
Effective Communicators Are Transpositional
The third principle is that of transposition. Lewis described this unique communication concept in a sermon published as delivered at Mansfield College, Oxford University, in June 1944. To transpose is to transform something from one level to another. Transpose is a musical term. To transpose from one musical key to another is to play the same tune written in, for example, the key of D down a whole tone to the key of C. All notes in both the melody and harmony are played, or transposed, to a different key. Transposition for Lewis was always a process of going from the higher to the lower. As he described the process, transposition is moving from a richer, more-detailed, more-colorful, multidimensional experience to a less-rich, less-detailed but nonetheless accurate explanation in an attempt to communicate (or transpose). He sought a way to illustrate how an ineffable emotion could more easily be understood by someone. Some experiences, especially emotional ones, are simply too rich, "high," inexplicable, or foreign to the experiences of others, to adequately describe. "Symbolism," wrote Lewis to Sister Penelope in a March 25, 1943 letter, "exists precisely for the purpose of conveying to the imagination what the intellect is not ready for."130 Transposition is a communication process that uses similes and metaphors—especially visual metaphors—to express emotional ideas that the "intellect is not ready for."131
How do you describe the emotional impact of Grand Canyon to someone who is blind? How do you express the joy experienced when listening to Beethoven's Ninth Symphony to someone who is deaf? In each instance one would transpose—use a means of communication with which the listener is familiar—to describe a richer ("higher") experience that is completely foreign and unobtainable. Metaphor, simile, and allegory are key communication strategies to express the inexpressible. The story of the incarnation, suggests Lewis, is a classic example of the metaphorical process of transposition when myth became fact.
Effective communicators are able to select symbols, images, metaphors, or make other comparisons to clarify that which is difficult to explain prosaically. The principle of transposition makes the ineffable effable, the murky clear, and the difficult-to-comprehend more easily grasped. Lewis was a master of this technique often relying on visual metaphor, comparisons, "supposals," and other tropes to express complex or hard-to-explain ideas. Chapter 6 describes the process of transposition in detail and uses Lewis's own words and examples to illustrate the concept.
←23 | 24→
Effective Communicators Are Evocative
The fourth communication principle, that effective communicators are evocative, involves getting messages out of the reader or listener, stimulating both their hearts and minds to help them discover meaning. To evoke is to elicit, awaken, arouse, induce, and stimulate. C. S. Lewis used a variety of communication techniques to evoke images and emotions from his readers and listeners. Lewis knew that people are more likely to believe "data" drawn from their personal experiences, rather than to rely on the descriptions of others. Chapter 7 discusses Lewis's methods for evoking a response, especially an emotional response, from his readers and listeners.
How does Lewis evoke emotional meaning? He describes a situation for the reader or listener rather than tells someone how to feel. The key to evoking a response is not to tell someone what to feel, but to paint a picture with words so that the reader or listener experiences his or her own emotional reaction. Lewis once suggested that he didn't consider himself effective at making strong, explicit emotional appeals to listeners, such as making an emotion-infused, impassioned plea to persuade others.132 He would not, he said, be good at using strong emotional appeals to make successful "alter calls" in a religious service.133 He did, however, effectively describe emotion-evoking situations by telling stories, using illustrations, and creating visual metaphors that resulted strong emotional responses from his readers and listeners. His best-selling Narnia series is successful, in large part, because it connects emotionally with readers. Lewis called the evocation of emotional response a "surprisingness." The story of Aslan and other characters does more than tell a tale; it creates an emotional response that we want to experience again and again as we re-read the Narnia books.
When reading a book a second time we already know what will happen in the story; we re-read to experience the emotion of the story. We re-read a book or may see a favorite movie again and again not to be surprised by what will happen, but to evoke an emotional response to the story. Lewis suggested that an author or speaker should not tell someone what to feel, but rather, set the stage and create a scene that evokes a response.
Effective Communicators Are Audience Centered
Finally, Lewis was focused on his audience. To be audience centered is to know that ultimately it is the reader or listener who will make sense out of any message that is crafted. People who heard Lewis on the radio when he was delivering his ←24 | 25→Broadcast Talks attended to his message because he had a gift for making a direct connection with the listener. Readers find, too, a personal quality in his ability to connect to the reader. His journey from being raised a Christian, to becoming an atheist during his adolescence and young adulthood, and then returning to belief in God and ultimately a strong Christian belief in his 30s, gave him insight into the skeptical audience he was often trying to reach. Chad Walsh, one of the first scholars to study Lewis and his work aptly subtitled his book about Lewis Apostle to the Skeptics. Walsh knew that Lewis's message was designed to reach those who may have doubt and uncertainties, who may need their faith bolstered. That audience remains wide and vast, as do Lewis readers.
Mere Christianity was and remains popular because of Lewis's ability to keep his audience (his reader, or in the case of his broadcast talks, his listener) in his mind's eye. How does Lewis develop an author-listener relationship? He offers this pithy communication advice in his essay "Christian Apologetics" when he proclaims, "We must learn the language of our audience."134 As noted earlier, Lewis was not attempting to write the final word about Christianity but to provide an open invitation, especially for those who already believed in Christianity, to explore their beliefs more deeply. After delivering one of his early Broadcast Talks, he wrote to a friend with this assessment of his audience: "I assumed last night that I was talking to those who already believed. If I'd been speaking to those who didn't, of course everything I'd said would have been different."135
As you read the writing of C. S. Lewis, HI TEA (Holistic, Intentional, Transpositional, Evocative, Audience Centered) offers a framework for explaining why his message resonates with such power for so many people. Having high tea (literally) with Lewis who loved tea (he liked the Typhoo brand), liberally sweetened with several spoons of sugar, would have been a delight. He told Walter Hooper, "You can't get a cup of tea large enough or a book long enough to suit me."136 Those who had that pleasure of having tea with Lewis speak of those cherished moments as indelibly memorable. Lewis was not only a scintillating conversationalist but an especially attentive listener. But since we cannot visit with Lewis personally, we can glean from his writing and speaking how he would have communicated (HI TEA) with us over a nice "cuppa" and a biscuit.
When C. S. Lewis died, on the same day at almost the same hour as President John F. Kennedy—November 22, 1963, he left a legacy that continues to inform, persuade, and inspire. This book argues that Lewis's continued popularity, professional acumen, and his skill as a Professor of Communication stem in large part from an application of his principles and practices as a communicator. In a ←25 | 26→nutshell, C. S. Lewis holistically and intentionally crafted strategies to transpose his ideas and evoke appropriate emotions from his readers and listeners while keeping his focus on the most important aspect of communication—the audience.
Notes
    1. C. S. Lewis, Studies in Words (Cambridge: Cambridge University Press, 1960), 6.
    2. C. S. Lewis, Letter to Thomasine, December 14, 1959, Collected Letters III, 1108.
    3. See: Mark A. Pike, Mere Education: C. S. Lewis as Ethical Teacher for Our Time (Cambridge, England: Lutterworth Press, 2013); N. H. Keeble, "C. S. Lewis, Richard Baxter, and 'Mere Christianity,' " in Christianity and Literature 30, 3 (Spring 1981): 27–44.
    4. Richard Baxter, Church History of the Government of Bishops, 1680. Also see, Keeble, "C. S. Lewis, Richard Baxter, and 'Mere Christianity,' " 27–44.
    5. For a detailed discussion of some of Lewis's communication miss-steps see: Bruce R. Johnson, "C. S. Lewis and the BBC's Brains Trust: A Study in Resiliency," VII: An Anglo-American Literary Review 30 (2013): 67–92.
    6. Stephanie L. Derrick, The Fame of C. S. Lewis: A Controversialist's Reception in Britain and America (Oxford: Oxford University Press, 2018); Samuel Joeckel, The C. S. Lewis Phenomenon (Mercer: Mercer University Press, 2013).
    7. Greg Albrecht, "The Enduring Legacy of C. S. Lewis," Plain Truth Magazine (Summer 2012).
    8. As quoted in: Mark Oppenheimer, "C. S. Lewis's Legacy Lives on, and Not Just through the Wardrobe," The New York Times (March 5, 2011), A18.
    9. Oppenheimer, "C. S. Lewis's Legacy."
  10. James T. Como, Remembering C. S. Lewis (San Francisco: Ignatius Press, 2005), 33.
  11. Como, Remembering C. S. Lewis. Also see: Steven Erlanger, "The Chronicles of C. S. Lewis Lead to Poet's Corner," The New York Times (November 20, 2013). https://www.nytimes.com/2013/11/21/books/the-chronicles-of-c-s-lewis-lead-to-poets-corner.html, accessed February 3, 2019.
  12. The Daily Mail, London, England "The Lion the Witch and the Wardrobe Is Voted UK's Favorite Book," (August 7, 2019). https://www.dailymail.co.uk/news/article-7335205/The-Lion-Witch-Wardrobe-voted-UKs-favourite-book.html?fbclid=IwAR1pNubfey5DCIloCjGViPtK1Y3n4JGNrOfzN_AQUvpJYo4CM8Gx0PwxcTg
  13. The Great American Read https://www.pbs.org/the-great-american-read/home/ accessed February 4, 2019.
  14. Thomas M. Lessl, "The Legacy of C. S. Lewis and the Prospect of Religious Rhetoric," Journal of Communication and Religion 27, 1 (2004): 117–137.
  15. David Briggs, "Henri Nouwen Tops Clergy's Reading Lists," Atlanta Journal-Constitution (October 4, 2003). http://www.freerepublic.com/focus/f-religion/995088/posts accessed August 26, 2019.
←26 | 27→
  16. Briggs, "Henri Nouwen."
  17. Briggs, "Henri Nouwen."
  18. Christianity Today, "Books of the Century" (April 24, 2000). https://www.christianitytoday.com/ct/2000/april24/5.92.html
  19. See: Joseph Pearce, Monaghan: A Life (Charlotte: TAN Books, 2016); Francis S. Collins, The Language of God: A Scientist Presents Evidence for Belief (New York: Free Press, 2006).
  20. Christianity Today, "Books of the Century."
  21. Charles W. Colson, Born Again (Grand Rapids, MI: Chosen Books, 1976), 130.
  22. Colson, Born Again, 130.
  23. Charles W. Colson, "The Conversion of a Skeptic," Mere Christians: Inspiring Stories of Encounters with C. S. Lewis, ed. Mary Anne Phemister and Andrew Lazo (Friendswood: Bold Vision Books, 2017), 93.
  24. See: Phemister and Lazo, Mere Christians.
  25. See: Albrecht, "The Enduring Legacy of C. S. Lewis."
  26. For a discussion of less flattering perceptions of C. S. Lewis see: Stephanie L. Derrick, Chapter 2 "Lewis Among His Peers: Oxbridge, c.1930s–1950s," The Fame of C. S. Lewis: A Controversialist's Reception in Britain and America (Oxford: Oxford University Press, 2018), 46–78. For a refutation of Derrick's conclusions see: Andrew J. Spence, A Book Review from Books at a Glance, Review published, April 29, 2019. https://www.booksataglance.com/book-reviews/the-fame-of-c-s-lewis-a-controversialists-reception-in-britain-and-america-by-stephanie-derrick/ Accessed June 17, 2019.
  27. See: Kathryn Lindskoog, "A. N. Wilson Errata," Into the Wardrobe: A C. S. Lewis Website. http://cslewis.drzeus.net/papers/wilson-errata/ Accessed April 21, 2017; Arend Smilde, "Sweetly Poisonous in a Welcome Way: Reflections on a Definitive Biography," Lewisana.NIL http://lewisiana.nl/definitivebiography/ Accessed April 21, 2017; Bruce L. Edwards, "A Review of A. N. Wilson," C. S. Lewis: A Biography, http://personal.bgsu.edu/~edwards/Wilson.html Accessed April 21, 2017.
  28. See: "New Criticism," Poetry Foundation, www.poetryfoundation.org, 2016.
  29. See: George M. Marsden. C. S. Lewis's Mere Christianity: A Biography (Princeton: Princeton University Press, 2016).
  30. Terry Lindvall, Surprised by Laughter: The Comic World of C. S. Lewis (Nashville, Tennessee, Thomas Nelson, 1996).
  31. See: Kathryn Lindskoog, Sleuthing C. S. Lewis: More Light in the Shadowlands (Mercer University Press, 2001), 1.
  32. Bruce R. Johnson, "C. S. Lewis and the BBC's Brains Trust: A Study in Resiliency," VII: An Anglo-American Literary Review 30 (2013): 67–92.
  33. Johnson, "Brains Trust."
  34. Walter Hooper, "Remembering C. S. Lewis," C. S. Lewis at Poets' Corner, ed. Michael Ward and Peter Williams (Eugene: Cascade Books, 2016), 228.
  35. Hooper, "Remembering C. S. Lewis."
←27 | 28→
  36. Membership in the Church of England dropped to 14 percent in 2018 down from 31 percent in 2002. Regular attendance in Britain fell by 15 percent from 2007 to 2017. See: Megan Specia, "English Cathedrals Offer More Than Exalted Architecture. But Mini Golf?" New York Times (August 14, 2019), A 7.
  37. Ward and Williams, C. S. Lewis at Poets' Corner.
  38. C. S. Lewis, "Is Theology Poetry," They Asked for a Paper (London: Geoffrey Bles, 1962), 165.
  39. Rowan Williams, "Address to Commemorate Lewis in Poet's Corner, Westminster Abbey," November 22, 2013 http://www.lewisiana.nl/poetscorner/
  40. For a summary of Lewis's continued popularity see: Samuel Joeckel, The C. S. Lewis Phenomenon (Mercer: Mercer University Press, 2013).
  41. M. Roger White, Judith Wolfe and Brendan N. Wolfe ed. C. S. Lewis & His Circle: Essays and Memoirs from the Oxford C. S. Lewis Society (Oxford: Oxford University Press, 2015).
  42. Lewis married Joy in a civil ceremony in 1956. It was a "technical" marriage so that she could use Lewis's citizenship to remain in England. They were married the next year by an Anglican Priest after Joy discovered she had cancer and Lewis discovered that she really did love Joy.
  43. Nellie Andreeva, "Netflix to Develop 'The Chronicles of Narnia' TV Series & Films," Deadline Hollywood, October 3, 2018 https://deadline.com/2018/10/netflix-the-chronicles-of-narnia-tv-series-and-films-eone-1202475272/ accessed February 4, 2019; Tolkien & Lewis Movie in Development, IMDb, https://www.imdb.com/title/tt3230774/ accessed February 4, 2019. The Tolkien and Lewis movie has been in development for several years.
  44. Armand Nicholi, The Question of God: C. S. Lewis and Sigmund Freud Debate God, Love, Sex and the Meaning of Life (New York: Free Press, 2003).
  45. Doris T. Myers, C. S. Lewis in Context (Kent: The Kent State University Press, 1994), xvi.
  46. C. S. Lewis, Collected Letters II, 444.
  47. The precise count of C. S. Lewis books vary given that several books, essay collections and poetry collections were published posthumously. See: Jerry Root and Mark Neal, The Surprising Imagination of C. S. Lewis: An Introduction (Nashville: Abingdon Press, 2015).
  48. For collection of essays that began as oral presentations see: C. S. Lewis, They Asked for a Paper (London: Geoffrey Bles, 1962).
  49. Root and Neal, The Surprising Imagination of C. S. Lewis.
  50. Owen Barfield, "C. S. Lewis in Conversation," Owen Barfield on C. S. Lewis, ed. G. B. Tennyson (San Rafael: The Barfield Press in association with Wesleyan University Press, 1989), 38.
  51. C. S. Lewis, Collected Letters, Vol. I: Family Letters 1905–1931, ed. Walter Hooper (San Francisco: Harper San Francisco, 2004); C. S. Lewis, The Collected Letters of ←28 | 29→C. S. Lewis Vol. II: Books, Broadcasts, and the War 1931–1949, ed. Walter Hooper (London: HarperCollins, 2004); C. S. Lewis, Collected Letters, Vol. III: Narnia, Cambridge, and Joy 1950–1963, ed. Walter Hooper (San Francisco: Harper San Francisco, 2007).
  52. Don King, "Writing Tips from Lewis and Tolkien (King and Poe)," Podcast May 18, 2017, All About Jack: A C. S. Lewis Podcast, hosted by William O'Flaherty.
  53. C. S. Lewis, C. S. Lewis' Letters to Children, ed. Lyle Dorsett and Marjorie Lamp Mead. (New York: Scribner, 1996). A recent collection of 29 letters to children, many of them included in C. S. Lewis' Letters to Children, was listed for sale by the rare book dealer Peter Harrington, London for $260,000. See: Peter Harrington, Catalogue 160 (January 2020).
  54. C. S. Lewis, Letters to an American Lady (Grand Rapids: Eerdmans, 1967).
  55. C. S. Lewis, They Stand Together: The Letters of C. S. Lewis to Arthur Greeves (1914–1963), ed. Walter Hooper (London: Collins, 1979).
  56. C. S. Lewis and Don Giovanni Calabria, The Latin Letters of C. S. Lewis, ed. Martin Moynihan (South Bend: St. Augustine's Press, 1998).
  57. Sheldon Vanauken, A Severe Mercy (New York: Harper & Row, 1980).
  58. Lewis's honorary degrees include Doctor of Divinity from the University of St. Andrews (1946), Doctor of Letters from Laval University (1952), Doctor of Literature from the University of Manchester (1959), a Doctorate from the University of Dijon (1962), and a Doctorate from the University of Lyon (1963).
  59. David Zarefsky, "The State of the Communication Discipline," Address presented to the National Communication Association (San Francisco, November 14, 2010).
  60. C. S. Lewis, The Abolition of Man: Reflections on Education with Special Reference to the Teaching of English in the Upper Forms of Schools (London: Oxford University Press, 1943).
  61. The National Communication website, natcom.org Accessed April 17, 2019.
  62. United States Department of Education, Classification of Instructional Programs (Washington D.C., 2000).
  63. D. K. Smith, "Origin and Development of Departments of Speech," History of Speech Education in America: Background Studies, ed. K. R. Wallace (New York: Appleton-Century-Crofts, 1954), 447.
  64. Smith "Origin and Development," 462.
  65. Smith "Origin and Development," 462.
  66. Everett M. Rogers, A History of Communication Study: A Biographical Approach (New York: The Free Press, 1997).
  67. Stephen King, On Writing: 10th Anniversary Edition: A Memoir of the Craft (New York: Scribner, 2010).
  68. W. Brown Patterson, "C. S. Lewis: Personal Reflections," C. S. Lewis Remembered: Collected Reflections of Students, Friends & Colleagues, ed. Harry Lee Poe and Rebecca Whitten Poe (Grand Rapids: Zondervan, 2006), 90.
←29 | 30→
  69. C. S. Lewis, Language and Human Nature, VII: An Anglo-American Literary Review 27 (2010): 25–28.
  70. Gervase Matthew, "Orator," C. S. Lewis at the Breakfast Table, ed. James Como (San Diego: A Harvest Book Harcourt Brace and Company, 1992), 96.
  71. Matthew, "Orator," 97.
  72. Matthew, "Orator," 97.
  73. Steven A. Beebe, Susan J. Beebe and Mark V. Redmond, Interpersonal Communication: Relating to Others 9th edition (New York: Pearson, 2020), 3.
  74. Owen Barfield, "C. S. Lewis in Conversation," Owen Barfield on C. S. Lewis, ed. G. B. Tennyson (San Rafael: The Barfield Press, 1989), 34.
  75. Walter Hooper, personal conversation, July 14, 2002.
  76. Steven A. Beebe and John T. Masterson, Communicating in Small Groups: Principles and Practices 12th edition (New York: Pearson, 2021).
  77. See: Steven A. Beebe and John T. Masterson, Communicating in Small Groups: Principles and Practices 12th edition (Boston: Pearson, 2021).
  78. C. S. Lewis, "On the Reading of Old Books," God in the Dock: Essays on Theology, ed. Walter Hooper (London: Collins, 1979), 202
  79. C. S. Lewis, The Four Loves (New York: Harcourt Brace Jovanovitch, 1960), 78.
  80. Lewis, The Four Loves, 78.
  81. C. S. Lewis, "Membership," Transposition and Other Addresses (London: Geoffrey Bles, 1949), 37.
  82. Diana Pavlac Glyer, Bandersnatch (Kent: Kent State University Press, 2015).
  83. C. S. Lewis, Studies in Words (Cambridge: Cambridge University Press, 1960), 6.
  84. See: Alan Jacobs, The Narnian: The Life and Imagination of C. S. Lewis (San Francisco: HarperSanFrancisco, 2005), 283.
  85. James Como, Branches to Heaven: The Geniuses of C. S. Lewis (Dallas: Spence Publishing Company, 1998), 119.
  86. Como, Branches, 27.
  87. Greg M. Anderson, "A Most Potent Rhetoric: C. S. Lewis, 'Congenital Rhetorician'," C. S. Lewis: Life, Works, and Legacy, ed. Bruce L. Edwards (Wesport: Praeger Perspectives, 2007), 196.
  88. Greg M. Anderson, "A Most Potent Rhetoric," 196.
  89. Greg M. Anderson, "A Most Potent Rhetoric," 196.
  90. William Griffin, C. S. Lewis: Spirituality for Mere Christians (New York: The Crossroad Publishing Company, 1998), 16.
  91. Griffin, Spirituality for Mere Christians, 16.
  92. Walter Hooper, interview by Steven A. Beebe, (Oxford, England, June 25, 2015).
  93. Phillip Zaleski and Carol Zaleski, The Fellowship: The Literary Lives of the Inklings, ed. J. R. R. Tolkien, C. S. Lewis, Owen Barfield and Charles Williams (New York: Farrar, Straus and Giroux, 2015).
←30 | 31→
  94. Stephanie L. Derrick, Chapter 2 "Lewis Among His Peers: Oxbridge, c. 1930s–1950s" in The Fame of C. S. Lewis: A Controversialist's Reception in Britain and America (Oxford: Oxford University Press, 2018), 46–78.
  95. Also see: Crystal Hurd, "The Padaita Pie: Reflections on Albert Lewis," VII: Journal of the Marion E. Wade Center, 32 (2015), 47–58.
  96. Hurd, "Reflections on Albert Lewis," 47.
  97. Hurd, "Reflections on Albert Lewis," 47.
  98. See: Norman Bradshaw, "Impressions of a Pupil," In Search of C. S. Lewis, ed. Stephen Schofield (London: Bridge Logos, 1983), 18.
  99. John Betjeman, Letter to C. S. Lewis, December 13, 1939, John Betjeman Letters, Volume One; 1926 to 1951, ed. Candida Lycett Green (London: Methuen, 2006), 250–253.
100. George Bailey, "In the University," C. S. Lewis Speaker & Teacher, ed. Carolyn Keefe (London: Hodder and Stoughton, 1971), 114.
101. Bailey, "In the University," 114.
102. Bailey, "In the University," 115.
103. Bailey, "In the University," 115.
104. Bailey, "In the University," 115.
105. Stephanie L. Derrick, The Fame of C. S. Lewis: A Controversialist's Reception in Britain and America (Oxford: Oxford University Press, 2018), 76.
106. Derrick, The Fame of C. S. Lewis, 76.
107. See: Andrew J. Spence, A Book Review from Books at a Glance, Review published, April 29, 2019. https://www.booksataglance.com/book-reviews/the-fame-of-c-s-lewis-a-controversialists-reception-in-britain-and-america-by-stephanie-derrick/ Accessed June 17, 2019.
108. Bailey, "In the University," 120.
109. Bailey, "In the University," 120.
110. Bailey, "In the University," 120.
111. Owen Barfield, "C. S. Lewis in Conversation," Owen Barfield on C. S. Lewis, ed. G. B. Tennyson (San Rafael: The Barfield Press, 1989), 32.
112. Personal conversation with Desmond Morris, Oxford, England (July 17, 2011).
113. Geoffrey Shepherd, undated personal meeting notes in author's possession summarizing a meeting with C. S. Lewis, Derek Brewer, and Shepherd to "Mr. Murby" circa summer 1955 to seek Lewis's permission to be the General Editor for Thomas Nelson's Medieval and Renaissance Library.
114. Shepherd, meeting notes.
115. See: Roger Lancelyn Green and Walter Hooper, C. S. Lewis: A Biography (New York: HarperCollins, 1974) as published in Walter Hooper, "The Discarded Image: An Introduction to Medieval and Renaissance Literature (1964)," C. S. Lewis: Companion and Guide (San Francisco: HarperCollins, 1996), 525.
←31 | 32→
116. Michael Ward, Planet Narnia: The Seven Heavens in the Imagination of C. S. Lewis (Oxford: Oxford University Press, 2008); Also see: Michael Ward, The Narnia Code: C. S. Lewis and the Secret of the Seven Heavens (Carol Stream, IL: Tyndale House Publishers, 2010).
117. BBC News, C. S. Lewis Letters Sells for 4,600 pounds [$5,700] at Auction. http://www.bbc.com/news/uk-england-gloucestershire-30531079. Accessed April 17, 2017. In 2019, ABE books listed a C. S. Lewis letter for sale at $46,000 on their abebooks.com.
118. Edwin W. Brown with Dan Hamilton, In Pursuit of C. S. Lewis: Adventures in Collecting His Works (Bloomington: Author-House), 206.
119. Excellent C. S. Lewis biographies include: George Sayer, Jack: A Life of C. S. Lewis (Wheaton: Crossway Books, 1994); Alister McGrath, C. S. Lewis: A Life (Carol Stream: Tyndale House Publishers Inc., 2013); Roger Lancelyn Green and Walter Hooper. C. S. Lewis: A Biography (London: HarperCollins, 2002); Alan Jacobs, The Narnian: The Life and Imagination of C. S. Lewis (New York: HarperCollins, 2008); Devin Brown, A Life Observed: A Spiritual Biography of C. S. Lewis (Ada: Brazos Press, 2013).
120. Steven A. Beebe, Susan J. Beebe and Diana K. Ivy, Communication: Principles for a Lifetime (Boston: Pearson, 2019), 7.
121. Caroline Keefe, C. S. Lewis: Speaker and Teacher (Michigan: Zondervan, 1971).
122. Terry Lindvall. C. S. Lewis' Theory of Communication. Unpublished doctoral dissertation University of Southern California (1980). Dr. Lindvall's insightful and comprehensive work was especially helpful to me as I developed my own thoughts about Lewis and communication. Also see: Gary L. Tandy, The Rhetoric of Certitude: C. S. Lewis's Nonfiction Prose (Kent: Kent State University Press, 2009). Another excellent resource that was especially influential to my thinking: Greg M. Anderson, "A Most Potent Rhetoric: C. S. Lewis, 'Congenital Rhetorician'," C. S. Lewis: Life, Works, and Legacy, ed. Bruce L. Edwards (Westport: Praeger Perspectives, 2007), 195–228; Also see: James Como, Branches to Heaven: The Geniuses of C. S. Lewis (Dallas: Spence Publishing Company, 1998).
123. Gary L. Tandy, The Rhetoric of Certitude: C. S. Lewis's Nonfiction Prose (Kent: Kent State University Press, 2009).
124. Como, Branches to Heaven.
125. Greg M. Anderson, "A Most Potent Rhetoric."
126. Corey Latta, C. S. Lewis and the Art of Writing: What the Essayist, Poet, Novelist, Literary Critic, Apologist, Memoirist, Theologian Teaches Us about the Life and Craft of Writing (Eugene: Wipf and Stock, 2016).
127. Terry Lindvall, C. S. Lewis' Theory of Communication.
128. Owen Barfield, "Owen Barfield on C. S. Lewis." ed. G. B. Tennyson (Middletown: Wesleyan University Press, 1989 and San Rafael: Sophia Perennis, The Barfield Press, 2006), 121–122.
←32 | 33→
129. For a description of Lewis's argument to look holistically at and along what is observed see: C. S. Lewis. "Mediation in a Toolshed,"God in the Dock (Grand Rapids: Eerdmans, 1970), 212.
130. C. S. Lewis, Letter to Sister Penelope CSMV, March 25, 1943, Collected Letters. II, 565.
131. Lewis, Sister Penelope, Collected Letters II, 565.
132. See: Johnson, "C. S. Lewis and the BBC's Brains Trust," 67–92.
133. Johnson, "C. S. Lewis and the BBC's Brain's Trust," 67–92.
134. C. S. Lewis, "Christian Apologetics," God in the Dock, ed. Walter Hooper (Grand Rapids: Eerdmans, 1970), 96.
135. C. S. Lewis, Letter to Patricia Thomson, December 8, 1941, The Collected Letters of C. S. Lewis Vol. II: Books, Broadcasts, and the War 1931-1949, ed. Walter Hooper (London: HarperCollins, 2004), 499–500.
136. C. S. Lewis, as quoted by Walter Hooper, "Preface," Of Other Worlds: Essays and Stories (London: Geoffrey Bles, 1966), v.
←34 | 35→
"[T];he only thing of any importance (if that is) about me is what I have to say … I can't abide the idea that a man's books should be "set in their biographical context" and if I had some rare information about the private life of Shakespeare or Dante I'd throw it in the fire, tell no one, and re-read their works. All this biographical interest is only a device for indulging in gossip as an excuse for not reading what the chaps say, [which] is their only real claim on our attention. (I here resist a wild impulse to invent some really exciting background—that I am an illegitimate son of Edward VII, married to a chimpanzee, was rescued from the practice of magic by a Russian monk, and always eat eggs with the shells on.)"1
- C. S. Lewis
"In his rooms in the New Building … I found a medium-size, rather stout, ruddy-faced man with a fine, large head (what the Germans call a 'Charakterkopf'), and a booming voice much given to what someone once called 'rhetorical guffawing' ('Ho, ho, ho, so you think Milton was ascetic, do you? Ho, ho! You are quite wrong there!'). Lewis looked—and often acted—like the book description of Friar Tuck. His general manner was pronouncedly and—it often seemed—deliberately hearty. But he displayed no heartiness during my first interview with him. Just as I was about to take my leave, Lewis said to me: 'Are you aware, sir, that your fly is open?' My surprise was so great that it precluded embarrassment: "If I had been, sir, I should never admit it.' "2
- George Bailey
"I'm tall, fat, rather bald, red-faced, double-chinned, black-haired, have a deep voice, and wear glasses for reading."3
- C. S. Lewis
←35 | 36→
C. S. Lewis would not have approved of this chapter. In fact, he would have hated it. He did not think it was helpful to delve into the personal background, especially the personality, of an author to understand the author's work. His point: If you want to interpret someone's work, just read what he or she has written; the writing should stand on its own merits. Echoing excerpts from the letter that opens this chapter ("[T];he only thing of any importance (if that is) about me is what I have to say")4 is Lewis's contribution to The Personal Heresy, published in 1939 and written in point-counter-point with Milton scholar E. M. W. Tillyard. It was one of Lewis's few co-authored works.5 (Tillyard's first name was Eustace; although Lewis had great respect for Tillyard, some speculate he was the namesake of Eustace Clarence Scrub, a sometimes-obnoxious character featured in The Voyage of the Dawn Treader and The Silver Chair.) In contrast to Lewis, Tillyard's belief is that all poetry is about the poet's state of mind.6 Tillyard argues that to interpret any text, including Milton's Paradise Lost, insightfully and accurately, the reader must see the work as an expression of Milton's personality.7 The fact that this chapter appears in this book reflects a nod toward Tillyard's argument; understanding the background, experiences, and personality of an author can help put a work, or in this case, a communicator, in context.
Lewis, on the other hand, maintained that the poet's personality and personal life are superfluous: "I … maintain that when we read poetry as poetry should be read, we have before us no representation which claims to be the poet, and frequently no representation of a man, a character, or a personality at all."8 In other words, let the work speak for itself, or as Lewis put it: "I look with his eyes, not at him."9 Lewis added, "The poet is not a man who asks me to look at him; he is a man who says 'look at that' and points; the more I follow the pointing of his finger the less I can possibly see of him."10
Although Lewis and Tillyard were primarily debating the merits of delving into an author's background in reference to poetry, Lewis felt the argument applied to all literary genres. He wanted the reader's gaze to be directed toward what the author wrote, rather than at the author's psychological profile or family. However, although Lewis disapproved of biographical criticism as a means of interpreting a literary work, the fact that he wrote and published his autobiography in response to those who wanted to learn more about his journey to faith, suggests that he was not completely against providing context for the development of an author's ideas.
Many of Lewis's writings included autobiographical elements. Lewis appears as a character in The Great Divorce. Glimpses of Lewis as the patient emerge in The Screwtape Letters. The Four Loves includes many personal reflections from the ←36 | 37→author. Lewis's personal experiences echo through The Chronicles of Narnia. His trio of science fiction books and his novel Till We Have Faces also reference Lewisian life elements. Lewis certainly used his own personal experiences to illustrate his ideas, both in his fiction and his non-fiction. But Lewis was not against placing the development of a work in context only so long as such commentary didn't impinge on how the work was interpreted. He would nonetheless argue that the written or spoken word should stand on its own.
Notwithstanding Lewis's contempt for looking at the personality of an author to help better understand the author's meaning, this chapter identifies factors that helped to make C. S. Lewis one of the most popular communicators about Christian theology in the twentieth century. Of the many influences on Lewis as a communicator, chronicled here are seven influences that include his (1) family, (2) education (including his friendship with Arthur Greeves), (3) WWI experiences, (4) "adopted mother" Mrs. Moore, (5) friend and colleague J. R. R. Tolkien, (6) conversion, and (7) late-in-life marriage to Joy Davidman.
When Clive Staples Lewis was born in Belfast, Ireland, on Tuesday, November 29, 1898, his parents, Flora and Albert Lewis, and his two-and-a-half-year older brother Warnie, lived in the Dundela section of Belfast. Although 47 Dundela Village is the address listed in most Lewis biographies, census records document that the address was actually 21 Dundela Village. At any rate, neither dwelling still stands.
Our early relationships with our parents and siblings (if we have them) provide seminal life experiences that influence how we express ourselves to others. Lewis was no exception. His parents and brother Warnie, as well as the boys' nurse, Lizzie Endicott, were foundational to who Lewis was, how he related to others, and who he would become, including his skill as a communicator. As Lewis scholar Jerry Root observed, "Certainly, there were early formative experiences that shaped Lewis as a rhetorician. He was raised in an environment where a rhetorical approach to life was as native to him as the Irish air he breathed."11
Lewis's mother Flora had a quick mind and a talent for mathematics—a skill that was apparently not hereditary since Lewis struggled with math and made miserable math scores on the entrance exam to Oxford University. Had it not been for Lewis joining the Army in 1917, which allowed him to bypass the math examination, he never would have been admitted.
←37 | 38→
Lewis adored his mother. By every indication she was patient, and kind, and loved spending time with both her sons Clive and Warren. Her patience and indulgence are evident from the account that one day four-year-old Clive decided that his name would be "Jacksie" and thereafter simply would not respond to any other name.12 Jacksie was soon shortened to Jacks and eventually reduced to Jack—the name his closest friends, family, and colleagues called him for the rest of his life.13
Flora loved to read and modeled this pleasure that was to fill Lewis's time when he was not writing or interacting with others. She enjoyed her children and encouraged their innate abilities to express themselves. In a letter to her husband Albert, who was away at the time, she described how Clive would stand on top of a piano stool and imitate others, an early foray into public speaking.14 Lewis biographer and former student George Sayer interprets the scene as "revealing his precociousness and an early talent for mimicry."15 Lewis's public presentation proclivities were thus evident early on.
In addition to Flora, Lizzie Endicott and Warnie were important early influences in Lewis's life. He wrote that, as well as "good parents, good food, and a garden (which then seemed large) to play in, I began life with two other blessings. One was our nurse, Lizzie Endicott … The other blessing was my brother."16 Lewis describes Lizzie as someone "in whom even the exacting memory of childhood can discover no flaw—nothing but kindness, gaiety, and good sense."17 Flora did not spend much time reading to her children or teaching them classic tales and nursery rhymes; those tasks fell to Lizzie. His nurse was affectionate and nurturing, comforting him when there were frightening storms at night and especially attentive when Jack was ill.18 In short, Lizzie joined Flora at the center of young Jack's universe.
Warnie was a constant companion and confidant, and would remain so throughout Lewis's life. Jack and Warnie enjoyed reading, making up stories, and joyful, childhood play—activities that nurtured both of their imaginations. Lewis describes Warnie affectionately: "Though three years my senior, he never seemed to be an elder brother; we were allies, not to say confederates, from the first."19 Thus from his earliest years Lewis learned the importance of having empathic listeners.
While his mother Flora was cool, nurturing, and rational, Lewis's father, Albert James Lewis (1863–1929), was irascible and quick to express emotion when he became impatient or upset.20 Sayer suggests that Lewis inherited his talent for using words well and structuring logical arguments from Albert, whose speeches showed an authentic "rhetorical gift" and who "spoke in admirably rhythmic ←38 | 39→sentences, was shrewd in his attack on his opponents, convincing in his show of moderation, and above all, had the gift of presenting a complex argument in convincingly simple terms. Both his sons inherited the gift of simple exposition."21 Albert joined the Belmont Literary Society in 1881, where he was considered one of the best speakers in the society.22 Yet while Albert Lewis had the gift of speaking, his communication skills did not transfer to interpersonal interactions with his sons. His strong personality, emotional outbursts, and temper, as well as frequent trips resulting in absences from home, made him a less nurturing presence than Flora and Lizzie.
Warnie would muse in later years that "some awareness of my father's smothering tendency to dominate life and especially the conversation of his household is necessary to an understanding of Jack's mind and life."23 Lewis himself seemed to understand that he inherited his rhetorical talents from his father. Regarding his father's approach to reprimanding his sons, Lewis recalls, "He therefore relied wholly on his tongue as the instrument of domestic discipline. And here that fatal bent towards dramatization and rhetoric (I speak of it the more freely since I inherit it) …"24 Lewis notes in his autobiography Surprised by Joy that his father had "a fine presence, a resonant voice, great quickness of mind, eloquence, and memory."25 He adds that Albert "was found of oratory and had himself spoken on political platforms in England as a young man; if he had had independent means he would certainly have aimed at a political career."26 Lewis also says that his father "was fond of poetry provided it had elements of rhetoric or pathos, or both …"27
Although he seemed to admire some of his father's rhetorical attributes, Lewis was not always laudatory of his father's approach to communication. In Surprised by Joy Lewis writes that his father provided "simile piled on simile, rhetorical question on rhetorical question, the flash of an orator's eye and the thundercloud of an orator's brow …"28 And although a hallmark of Lewis's communication is his ability to connect with his audience, whether through the written word or during a lecture or sermon, he apparently did not learn this skill from his father. Lewis recalled that when his father disciplined him, Albert "forgot not only the offense but the capacities of his audience. All the resources of his immense vocabulary were poured forth."29
Both Jack and Warnie sometimes wearied of their father's presence and intrusion. Lewis describes one occasion with too much togetherness with his father as unnecessarily stressful:
For the whole rest of the day, whether sitting or walking, we were inseparable; and the speech (you see that it could hardly be called conversation), the speech ←39 | 40→with its cross-purposes, with its tone (inevitably) always set by him, continued intermittently till bedtime … It was extraordinarily tiring.30
For most of Lewis's life, the relationship between himself and his father would remain strained. In an essay titled, "The Failure to Communicate: The Communicative Relationship Between C. S. Lewis and his Father,"31 Michael McCray writes, "It is ironic that Jack Lewis, one of the most effective communicators of this century, and Albert Lewis, an eloquent court solicitor and pubic speaker known for his gift of simple exposition, struggled in their own communicative relationship."32
Then, in 1908, Lewis's childhood took a dramatic turn for the worse. Lewis writes, "There came a night when I was ill and crying both with headache and toothache and distressed because my mother did not come to me. That was because she was ill too …"33 Flora's illness proved to be terminal cancer. After writing a passage in his autobiography extoling the virtues of a life of books and nurturing, Lewis says, "I cannot be absolutely sure whether the things I have just been speaking of happened before or after the great loss which befell our family and to which I must now turn."34 The "great loss" was his mother's death. He describes in detail the heartbreaking scene when he was taken into the bedroom "… where my mother lay dead; as they said, 'to see her.' In reality, as I at once knew, 'to see it.' There was nothing that a grown-up would call disfigurement—except for that total disfigurement which is death itself. Grief was overwhelmed in terror."35 This previous sentence from his autobiography, published in 1955, foreshadowed another famous sentence, the opening line in his book A Grief Observed: "No one ever told me that grief felt so like fear."36
Lewis also echoes his mother's death in The Magician's Nephew, where he depicts a poignant scene where Digory's mother is dying and he feels helpless that he has no powers to stop it.37 Lewis wrote clearly and eloquently about pain, grief, loss, and longing because he experienced all of these feelings. He learned how to communicate about these universal emotions and experiences not by dictating how someone should feel, but by describing the situation and letting the reader bring her or his own experience to the scene.
Lewis reflects that when his mother died, "all settled happiness, all that was tranquil and reliable, disappeared from my life."38 Not only had Albert lost his wife, but also his own father earlier in the same year. And just ten days after Flora died, Albert's brother Joseph died. With so much sadness in his life, Albert knew that he could not fulfill both the role of mother and father to Jack. With Warnie already at boarding school, it seemed an obvious and simple solution: Send Jack to boarding school with Warnie.
←40 | 41→
C. S. Lewis's education could be described as having a disastrous beginning with a glorious conclusion, punctuated by unevenness in educational quality. His education had really begun at home. He refers frequently in his autobiography to "Little Lea," (formally known as Leeborough) the grand Belfast home into which the family had moved from Dundela Village in 1905, with its cozy little "end room" where he and Warnie would read, dream, and play. Little Lea was almost like another character in his life. Biographer A. N. Wilson notes that "In memory, [Jack and Warnie] returned to it again and again …"39 With books stuffed in shelves and stacked throughout, the home had space to let imagination soar.
Lewis's parents, Albert and Flora, had also contributed to their young son's education. Although Lewis had a sometimes challenging relationship with his father, he also picked up on his father's rhetorical skills, as well as his impressive memory.40 Lewis himself had a photographic (eidetic) memory that was to be a significant intellectual asset as both student and scholar. If not his math skills, his powers of logic had been passed on from his mother Flora, who had also started Lewis in Latin and French. Learning and mastering languages was a talent that further contributed to his academic and communication talents.
Before he could get to his ultimate educational experience at Oxford, however, he would attend four boarding schools, some better than others, before benefitting from the life-shaping instruction of William T. Kirkpatrick, tutor to both his father and Warnie.
The worst was to be first. Following his mother's death in August 1908, Jack was sent to Wynyard School, in Watford, Hertfordshire, England. Because Warnie was already attending Wynyard, it seemed the logical choice. But it was a bad choice. Wynyard was a dreadful school. The headmaster, Rev. Robert Capron (whom the boys nicknamed "Oldie") would sometimes mercilessly beat students for being unprepared.41 Capron was later declared insane. Jack's educational experience became even more unpleasant when, after his first year, he felt abandoned by his brother; Warnie left Wynyard to attend school in Malvern. After much pleading, Jack convinced his father to let him come home. Albert acquiesced and placed Jack in Campbell College, a fifteen-minute walk from the Lewis home in Belfast. Yet that brief matriculation may have helped shape Lewis's love of language. Lewis biographer Alan Jacobs noted that when enrolled at Campbell ←41 | 42→College, even for the one semester, "Jack became acquainted, perhaps for the first time, with the power of poetic language, especially the rhythm and propulsion it can give to a story."42
After only about three months at Campbell, Jack enrolled in Cherbourg House in Malvern, England, in January of 1911. One benefit of Cherbourg House was its being almost next door to Malvern College, where Warnie was now a pupil. Jack demonstrated promise at Cherbourg House, which was the first place where he received a consistent and proper formal education.
Jack Lewis joined his brother at Malvern College in the summer of 1913 to prepare for taking the entrance exams for university. In later years, Jack and Warnie agreed to disagree about the educational quality at Malvern College. Warnie thought that the education was quite good, but Jack was less impressed. The different recollections may have been due to their differing levels of enjoyment of athletic events. As in many boarding schools, to be part of the accepted social circle, participating in college sports teams was a must. For Jack it was a must not. While Warnie enjoyed sports, Jack did not like sports or most games. But he did like speaking and oral reading.
Friend and biographer George Sayer reports that as an adult, Lewis enjoyed good animated conversations. "How I like talking!"43 Sayer quotes Lewis as saying. This love for communication was nurtured at Malvern, where he found a role model in, and received direct instruction from, influential teacher Harry Wakelyn Smith, affectionately dubbed "Smewgy" by his students. Smewgy had a considerable dramatic flair for reading poetry. In him, Jack found someone who would develop his interest in words, language, and even performance. Smewgy taught Lewis two key communication skills: first, to analyze the grammar and syntax of a poem, and second, to read poetry with a focus on the sounds and rhythms of the poem. Sayer adds, "Although he [Lewis] did not have Smewgy's lovely musical voice and could not read romantic poetry with Smewgy's power to enchant, Jack excelled in reading heroic verse and such poetry as Milton's that required a grand style."44 Lewis biographer Harry Poe, who also noted the importance of Lewis's love of poetry in shaping his writing "voice" noted, "Jack was learning not merely to read the lines of poetry but also to hear them ringing in his ears even when reading silently."45
Lewis's talent for holding an audience with his speaking perhaps began with Smewgy's attention to not only the substance of a message, but also its sound. It was also at Malvern where Lewis developed a keen interest in Northernness—his fascination with Norse mythology. In addition to Norse mythology, Lewis was captivated by the Arthur Rackham illustrations of Wagner's opera Der Ring des Nibelungen, inspiring a life-long love of Wagner's music.
←42 | 43→
It was during Lewis's time at Malvern College that he met Arthur Greeves, a trusted confidant who had a personal influence on Lewis's experiential insights about the nature of friendship and interpersonal communication. Greeves lived just across the street from Lewis when the Lewis family moved to Little Lea in 1905, although the boys did not meet until 1914, when Greeves was home, ill, and confined to his room. When at last they did meet, they immediately discovered that they had a mutual love of Norse mythology and developed a close, personal friendship that would last for Lewis's entire life. Lewis wrote more letters to Greeves than to anyone else, and Greeves was one of Lewis's most loyal "audiences" and confidants. Lewis suggests that their compatible differences enriched their friendship:
Though my friendship with Arthur began from an identity of taste on a particular point [Norse mythology], we were sufficiently different to help one another. His home-life was almost the opposite of mine. His parents were members of the Plymouth Brothers, and he was the youngest of a large family; his home nevertheless, was almost as silent as ours was noisy …46
Lewis describes Greeves as a "First Friend"—someone whom Lewis describes as an "alter ego, the man who first reveals to you that you are not alone in the world by turning out (beyond hope) to share all your most secret delights."47 Lewis further adds, "There is nothing to be overcome in making him your friend; he and you join like rain-drops on a window."48 Lewis's close friendship with Greeves provided a comfortable "backstage" relationship in which Lewis could be his uncensored self and fearlessly propose kernels of new ideas that eventually grew into books, lectures, and essays. Although Greeves was gay and never married, no evidence suggests that his sexual orientation was an obstacle in his and Lewis's life-long relationship.49 Lewis remained loyal to his trusted friend and exchanged letters with him (although there were sometimes long gaps between letters over the course of their friendship) until the last few weeks of Lewis's life.
In The Four Loves, Lewis describes the nature of friendship. He may have had Greeves in mind when he wrote, "Friendship arises out of mere Companionship when two or more of the companions discover that they have in common some insight or interest or even taste which the others do not share and which, till that moment, each believed to be his own unique treasure (or burden)."50 Perhaps recalling when he and Arthur first met and both discovered their mutual interest in Norse mythology, Lewis adds, "The typical expression ←43 | 44→of opening Friendship would be something like, 'What? You too? I thought I was the only one.' "51
The correspondence between Arthur and Jack has been compiled in a book edited by Walter Hooper, aptly titled They Stand Together. Lewis used the phrase "they stand together" to describe the importance of friendship in several of his works, including both his autobiography Surprised by Joy and The Four Loves. Effective communicators need attentive sounding boards, safe places to try out new lines of thought, honest editors, and trusted confidants to share and develop ideas. Arthur was such a loyal friend to Jack. The two stood together their entire lives.
Lewis's four boarding schools, woeful Wynyard, close-by Campbell, challenging Cherbourg, and memorable Malvern, helped prepare him for the educational experience that tapped his true intellectual potential—his tutelage with William T. Kirkpatrick, also known as "the Great Knock." Kirkpatrick had also been Lewis's father Albert's tutor, as well as Warnie's tutor. Arriving in Surrey on September 19, 1914, and residing with Mr. and Mrs. Kirkpatrick, Lewis quickly discovered that "The Great Knock" lived up to his name by boldly inflicting his logical and analytical skills on others. September 19 was a significant date in C. S. Lewis's life. It was not only the date he met "The Great Knock," but the date on which, seventeen years later, he would have a late-night conversation with Hugo Dyson and J. R. R. Tolkien that appeared to be the final push to Lewis's believing in Christianity—what he eventually called "the true myth."52
Lewis learned an important lesson about language, meaning, and inference during an early interaction with Kirkpatrick, whom he describes as being "over six feet tall, very shabbily dressed (like a gardener, I thought), lean as a rake, and immensely muscular … he wore moustache and side whiskers with a clean-shaven chin like the Emperor Franz Joseph."53 Shortly after meeting Kirkpatrick, when riding in a carriage toward his new home, fifteen-year-old Lewis tried to make polite conversation. He writes in his autobiography, published on September 19, 1955 (another important September 19th), about his expectations for the landscape in Surrey: "I had been told that Surrey was 'suburban', and the landscape that actually flitted past the windows astonished me."54 He casually mentioned to Kirkpatrick that the countryside of Surrey seemed wilder than he had expected. Lewis writes of Kirkpatrick's startling retort: " 'Stop!' Shouted Kirk with a suddenness that made me jump. 'What do you mean by wildness and what grounds had you for not expecting it?' I replied I don't know what … As answer after answer ←44 | 45→was torn to shreds it at last dawned upon me that he really wanted to know."55 Lewis had learned an important lesson: Words have power to describe or to reveal a lack of understanding. This first, memorable, impromptu tutorial was a lesson in both language and logic. Lewis found in Kirkpatrick a teacher who would scrutinize every sentence for its logical construction—both in use of words and in how that sentence would add to the larger argument. Lewis later noted in his autobiography that "the most casual remark was taken as a summons to disputation."56 He says of his training in logic and argumentation by Kirkpatrick, "If ever a man came near to being a purely logical entity that man was Kirk."57
Lewis's time with Kirkpatrick was a turning point in his education. It was here in Surrey that Lewis learned the importance of precise communication. The Great Knock wrote to Albert Lewis in January 1915 that his son "was born with the literary temperament … By an unerring instinct he detects first rate quality in literary workmanship, and the second rate does not interest him in any way."58 Lewis loved having the attention and being pushed to excel. Learning from Kirkpatrick, says Lewis, was like "red beef and strong beer"—substantial and stout. It was on this foundation of logic, languages, and literature that Lewis polished his communication gifts. "Here was a man," Lewis says, "who thought not about you but about what you said."59
Lewis's Oxford education would certainly refine and add to his intellectual and rhetorical competencies, but without Kirkpatrick, it is questionable that Lewis would have become the communicator readers know today. Although Lewis thought orators Demosthenes and Cicero were "The Two Great Bores," he nonetheless fine-tuned his dialectical and rhetorical skills.60 Lewis acknowledges both Smewgy and Kirk for their skill in speaking, analytical thinking, and writing: "Smewgy and Kirk were my two greatest teachers. Roughly, one might say (in medieval language) that Smewgy taught me Grammar and Rhetoric and Kirk taught me Dialectic."61 Dialectic is the study and practice of argument and debate. From the Great Knock, Lewis learned to focus on the essence of what a book had to say. At the heart of Kirkpatrick's educational mission was to provide Lewis with a firm grounding in the liberal arts and, through the use of the Socratic question and answer teaching method, the development of his critical thinking skills. As Lewis reflected, "If Kirk's ruthless dialectic had been merely a pedagogic instrument I might have resented it."62 In a letter referring to Kirkpatrick Lewis notes, "A pure agnostic is a fine thing. I have known only one and he was the man who taught me how to think."63
Lewis also valued his education from The Great Knock in challenging ideas. In The Personal Heresy Lewis observed, "We have both [Lewis and co-author E. M. ←45 | 46→W. Tillyard] learnt our dialectic in rough academic arena where knocks that would frighten the London literary coteries are given and taken in good part."64 Rather than intimidate, the metaphorical "great knocks" Lewis received from Kirkpatrick helped to prepare him for the next phase of his education. Kirkpatrick clearly saw Lewis's ability to think and communicate well. By the winter of 1916, Lewis was ready to seek an Oxford education.
Lewis traveled to Oxford for the first time on December 5, 1916, to take his exam to be considered for a scholarship. Although not his first choice, University College, one of the oldest Colleges at Oxford, offered him a scholarship on December 13, 1916, and he enrolled in University College in April 1917. But he still had not passed Responsions, the Oxford University entrance exam dubbed the "little go," because it was an exam that required a prospective student to respond (hence the term responsions) to moderately easy questions from experts. It may have been called the "little go" but it was "no go" for Lewis because he failed the math portion of the exam. Lewis's talents lay in working with words, not numbers. Nonetheless, University College honored its scholarship offer on the assumption that he would eventually pass the required exam.
In May 1917, just a few weeks after "coming up" to Oxford, Lewis joined the Officers' Training Corps. (When accepted to Oxford one "came up"; if asked to leave one was "sent down.") It was because he served in the military that he was ultimately not required to complete and pass Responsions—a good thing because he might never have been admitted to Oxford otherwise.
It was at Oxford that Lewis's academic talents flourished, and his intellectual refinement at the hand of Kirkpatrick came to fruition. Lewis's rooms at University College were in the Front Quad, Number 5, accessed through staircase number 12. He had a lovely view overlooking the Radcliffe Quad.65 He was an excellent student.66 And he loved Oxford.
At Oxford, Lewis first studied Classical Honour Moderations—Greek and Latin. Lewis excelled. He then studied what was known as "Greats," which included ancient history and philosophy, as well as classical rhetoric and poetics (orators and poets). Lewis also read Homer, Demosthenes, Cicero, Virgil, Euripides, Sophocles, and Aeschylus as an Oxford student.67 Throughout his life, Lewis drew upon his early training in logic and his love of romance and story to enhance his communication talents.
←46 | 47→
But it is the classical roots of communication and rhetoric that Lewis would come to know best. During his pre-Oxford education Lewis wrote to his father, "In Greek we have begun Demosthenes. Of course oratory is not a sort of literature that I appreciate or understand in any language, so that I am hardly qualified to express an opinion on our friend with the mouthful of pebbles."68 Even though Lewis had pronounced Demosthenes as one of the two "great bores" he also noted, "However, compared with Cicero, he strikes me as a man with something to say, intent only upon saying it clearly and shortly."69 Lewis became well versed in the classical approaches to words and meaning. Lewis scholar Bruce Edwards concludes, "Lewis understood 'rhetoric' in its traditional classical and medieval sense—a compendium of verbal tools that assisted and equipped an artist or essayist with strategies to communicate truth more memorably, and, ultimately, to express difficult ideas more accessibly …"70 Edwards adds that through Lewis's study of rhetoric he was able "… to appeal to the imagination with greater aplomb and delight."71
As Lewis charted his educational course, especially attracted to the study of ideas, language, and literature, his academic experiences were abruptly interrupted by experiences that, although rarely explicitly discussed, were not far from the surface of his writing and thinking—World War I.
Lewis seldom talked about or wrote about his war experience with anyone. He did describe some of his army experiences in his chapter "Guns and Good Company," in Surprised by Joy, but he did not make explicit links between his war experiences and the ideas that would illuminate his speaking and writing.72 A case could be made that his military experience was not a major factor shaping his professional life. Yet in his book A Morning After War: C. S. Lewis and WWI, K. J. Gilchrist argues that although Lewis made little direct or even indirect reference to his brief war experience (he was in combat for less than three months), his war experience had a profound effect on him and his writing.73 Gilchrist noted, "C. S. Lewis once explained that communication requires a listener not only to hear a message and understand what has been said but also requires the listener to understand what has not been said."74 Gilchrist concludes, "Understanding what has not been said has been much of the difficulty in understanding Lewis's service in the First World War."75
←47 | 48→
Given Lewis's disdain for subjectivism, he would likely refute Gilchrist by cautioning him to avoid "reading between the lines."76 In commenting about the interpretation of scripture, Lewis noted, "These men ask me to believe they can read between the lines of the old texts; the evidence is their obvious inability to read (in any sense worth discussing) the lines themselves. They claim to see fern-seeds and can't see an elephant ten yards away in broad daylight."77 Lewis scholar Jerry Root notes, "It was this … practice of reading between the lines that led Lewis to question some of the work done by the higher critics of Scripture."78
Even if one heeds Lewis's caution about "reading between the lines," serving in the trenches in World War I was undoubtedly an indelible experience that gave Lewis seminal insights about war, death, pain, suffering, and loss—topics of Lewis's books, essays, and stories. As Gilchrist cogently describes, "As an adult, he was first a soldier; as a writer, first a war poet; as an adherent to reasoned beliefs, first an atheist."79 Here again, however, Lewis might caution against "The Personal Heresy" by suggesting that we look at what he actually wrote rather than trying to "read between the lines" to identify and attribute meaning to pieces of his past when interpreting his work.
When Lewis arrived in Oxford to start his studies at University College he volunteered to train with the university Officers' Training Corps (OTC). Owing his education to England could have been one motivation for patriotically deciding to enlist in the Army. The purpose of the OTC, according to the Oxford University Handbook, was to "give an opportunity to undergraduates to offer their services to the Country in the simplest and most practical way during peace, and to provide officers for His Majesty's Army (Regular and Territorial) from this University in time of national emergency."80 Lewis spent only a few weeks in his rooms at University College before he was shuttled off to a dreary room in Keble College to fulfill his OTC commitments. (With its angular exterior brick façade, Keble College remains one of the most architecturally distinctive of Oxford's 39 colleges.) With the war at full tilt, officers were needed, and Lewis's past and present educational experience made an OTC member a prime candidate for leadership.
Although he did not directly discuss his war experiences in his writing, his military and battlefield encounters were perhaps his inspiration for discussing pain and the nature of hell in The Great Divorce, The Screwtape Letters, and other essays and poems. Lewis's first book, Spirits in Bondage, published under the pseudonym Clive Hamilton in 1919—the year he returned to Oxford—includes allusions to dark and troublesome events in WWI.81 Although his war experiences ←48 | 49→cast shadows over his early 20s, it was his connection with one soldier who was to become his friend, which had an influence on him for the rest of his life.
Lewis first mentions his friend "Paddy" Moore (Edward Francis Courtenay Moore, 1898–1918) when they were both training for military service. In a letter to Arthur Greeves Lewis describes Paddy as a "good fellow."82 They undoubtedly became good friends because of their common Irish ancestry. Jack and Paddy made their pact that if either of them should be killed in the war, the survivor would care for the deceased's parent. In Lewis's case, his father Albert Lewis, and in Paddy's case, mother Janie King Askins Moore.
Lewis saw Mrs. Moore frequently because she had come to Oxford to be near Paddy. She was estranged from her husband and although never divorced, remained separated from him for the rest of their lives. George Sayer, a former student who became a trusted Lewis friend, reached the conclusion that Lewis was "infatuated" with Mrs. Moore.83 She was perhaps the nurturing mother that Lewis had lost when he was nine. Lewis had a month's leave before being sent into active service. Rather than going home to visit his father, Lewis spent his time in Bristol with Paddy and Mrs. Moore. Missing letters (Sayer suggests they were destroyed) between Lewis and his close confidant and perhaps confessor, Greeves, may have shed light on the Moore-Lewis relationship. But Sayer concludes, "The letters that are left make it quite clear that he loved Mrs. Moore."84 Despite their 25-year age difference, there seemed to be a deep and enduring emotional bond between them.
Paddy was killed in battle in 1918. Lewis had been wounded by shrapnel in the Battle of Arras at Mount Bernenchon (which, in reality, is a flat plain rather than a mountain),85 shrapnel that killed the Sergeant standing next to him. He was sent to a hospital and eventually returned to Oxford. He helped Mrs. Moore move from her home in Eastbourne to Bristol, and then later in the summer of 1919 to Headington, a village two miles to the northeast of Oxford City Center. By this time, Lewis and Mrs. Moore, along with her daughter Maureen, were inseparable. Lewis moved in with them, although he kept his living arrangements quiet. Lewis was expected to live in college, not out. The trio lived in several rental flats in Oxford before they bought The Kilns in 1930, a house about three miles from Oxford City Center. It was the house in which Lewis would write his best-known works and the house in which he would die. Lewis, Maureen and Mrs. ←49 | 50→Moore lived together until Maureen left to be married in 1940 and Mrs. Moore moved into a nursing home in 1950. Mrs. Moore died on January 12, 1951.
What was the true relationship between Mrs. Moore and C. S. Lewis? Most (but not all) Lewis biographers speculate that Lewis and Mrs. Moore had a brief, sexual relationship early in their association.86 No one will know for certain.
Lewis biographer and personal friend, George Sayer, revised the third edition of his biography to add this conclusion:
I have had to alter my opinion of Lewis's relationship with Mrs. Moore. In chapter eight of this book I wrote that I was uncertain about whether they were lovers. Now after conversations with Mrs. Moore's daughter, and a consideration of the way in which their bedrooms were arranged at The Kilns, I am quite certain that they were. They did not share a room, but Lewis had a room which, until an outside staircase was built some years later, could be entered only by going through Mrs. Moore's bedroom. Even close friends such as Owen Barfield did not know much of their relationship. Lewis had to be secretive because if the university authorities had found out about Mrs. Moore he would have been sent down and his academic career at Oxford would have been over.87
Others strongly argue that theirs was strictly a mother/son relationship and that evidence of their platonic relationship may be found in Lewis's letters.88 What is clear is that Mrs. Moore was an important fixture in Lewis's life until her death in 1951. It is a relationship shrouded in mystery that evokes varying opinions. Warnie writes that Jack never discussed the nature of their relationship with him. Jack's close friend, Owen Barfield, describes Mrs. Moore as "a sort of baleful stepmother."89 Although Sayer revised his conclusion suggesting that there was a sexual relationship, he also writes, "Some of those who have written about C.S. Lewis regard his living with Mrs. Moore as odd, even sinister."90 Yet, as one of Lewis's students at the time, Sayer adds, "This was not the view of those of us who visited his home in the thirties. Like his other pupils, I thought it completely normal that a woman, probably a widow, would make a home for a young bachelor. We had no difficulty accepting her, even when we came to realise that she was not his mother."91 John Tolkien, one of J. R. R. Tolkien's sons, said that Mrs. Moore was like a "Great Aunt" and that Edith Tolkien, John's mother and J. R. R. Tolkien's wife, had a very good friendship with her.92
Janie Moore could be demanding, sometimes summoning Jack home to run errands. Nonetheless, he remained a faithful adopted son. When illness forced Mrs. Moore to move into a nursing home in 1950, Lewis would visit her daily, usually walking the two miles from Magdalen College to her nursing home on ←50 | 51→the Woodstock Road, and then back again. His relationship with her remained important throughout her life.
What does Lewis's relationship with Mrs. Moore have to do with Lewis as communicator? As a highly educated Oxford scholar, and Oxford tutor and lecturer, Lewis lived in a world of rich intellectual privilege, with well-educated colleagues, and talented and motivated students striving for success. His close association with the Moores gave him a mooring (literally and figuratively) in communicating with the average, non-Oxford-educated person. Lewis was learning how to express ideas to those who would be his audience for his popular works—not the Oxford intelligentsia but the everyman and everywoman who would find his messages about Christianity useful. Lewis's writing appeals not only to the well-educated and well read, but also to those without the benefits of an elite education. His war experiences, although not explicitly discussed in his work, coupled with his new and enduring relationships with Janie and Maureen Moore, played an important role in helping Lewis understand his audience—one of his hallmarks as a communicator.
Besides her lack of education, Mrs. Moore was an atheist. After Lewis's conversion, when he and his brother would head to Holy Trinity Church in Headington Quarry, she would chide them, describing communion as a "blood feast."93 Lewis's own season of atheism and Mrs. Moores' constant presence as an atheist gave him an ever-present reminder of his audience as skeptical or outright non-believing in God. But Lewis had other companions, including J. R. R. Tolkien, who ultimately influenced his beliefs, writing, and life philosophy.
Lewis and Tolkien met at Oxford in 1926 and remained friends for the rest of their lives. After meeting him for the first time, Lewis wrote in his diary that Tolkien was, "a smooth, pale fluent little chap … no harm in him: only needs a smack or so."94 Although their contact diminished in later years when Lewis began teaching at Cambridge in 1955, both men attest to the importance their relationship had on their writing and thought. As evidence of their continued friendship and affection, Tolkien's son John said he drove his father weekly to see Lewis during the last six months of Lewis's life in the summer and fall of 1963 after Lewis had left Cambridge and returned to Oxford to live full time.95
Tolkien started a study group called the Kolbitar (an Icelandic word that means "coal-biters"), which Lewis attended and greatly enjoyed. Tolkien and ←51 | 52→Lewis shared an affinity for Norse mythology and enjoyed spirited conversations about all things Norse, which led them to other areas of mutual interest, including the power of stories in general and myth in particular. They were good for each other's creative sparks. Tolkien was a literary perfectionist. (It is perhaps because of his perfectionism and focus on The Lord of the Rings that the book Language and Human Nature was never written.) Diana Pavlac Glyer, in her insightful book, The Company They Keep: C. S. Lewis and J. R. R. Tolkien as Writers in Community (the book that helped me identify the Language and Human Nature manuscript), speaks of how these two literary giants influenced and strengthened each other.96 Glyer describes several collaborative writing projects among the Inklings, including projects by "Lewis and [Owen] Barfield, Lewis and Tolkien, Lewis and Williams, Lewis and [J. A.W.] Bennett, [Nevill] Coghill and Christopher Tolkien, Lewis and [Humphrey] Havard."97 She also describes the book the Inklings wrote as a group in tribute to their friend Charles Williams, Essays Presented to Charles Williams, started before Williams's death but completed after his death on May 15, 1945.
Lewis and Tolkien agreed that more books about science fiction needed to be written. Lewis agreed to write about space travel and Tolkien about time travel. Lewis wrote his space trilogy (also known as the Random trilogy because of the protagonist in all three stories) Out of the Silent Planet, Perelandra, and That Hideous Strength. Tolkien, however, did not fulfill his side of the bargain, but instead steadfastly worked on The Lord of the Rings. Although they encouraged each other, they were not always enamored with each other's work. Tolkien did not have a positive response to the Narnia books. He thought them too much a hodgepodge jumble of myths patched together from disconnected mythical genres.98 Tolkien also did not have praise for Lewis's Studies in Words. In a letter dated September 12, 1960, to his son Christopher Tolkien, after reading Lewis's Studies in Words J. R. R. Tolkien wrote, "I have just received a copy of C. S. L.'s latest Studies in Words. Alas! His ponderous silliness is becoming a fixed manner. I am deeply relieved to find I am not mentioned."99
This letter and other similar comments made about each other provide evidence that lead some biographers to conclude that their friendship may have cooled during the last 15 years of Lewis's life.100 (Some have speculated that Tolkien may have been jealous of Lewis's close friendship with Charles Williams, an editor for Oxford University Press, who admired Lewis.)101 Tolkien wrote to his son Michael a few days after Lewis's death noting that although he [Tolkien] and Lewis were not "intimates" he further explained, "We were separated first by the sudden apparition of Charles Williams, and then by his marriage" but, in ←52 | 53→admiration. adds, "… we owed each a great debt to the other, and that tie with the deep affection that is begot, remains. He was a great man of whom the cold-blooded official obituaries only scratched the surface, in places with injustice."102 There is additional evidence that their friendship remained strong throughout their lives and was important to each of them.103 Correspondence provides proof that Tolkien was instrumental in Lewis's receiving the prestigious Chair in Medieval and Renaissance Literature at Cambridge University in 1954.104 Lewis's relationship with and eventual marriage to Joy Davidman seems to have had an effect on the relationship between Lewis and Tolkien. (Lewis did not disclose his "first" marriage to Davidman to Tolkien.) Davidman's sometimes perceived as brash "American style" assertiveness did not always wear well among many of Lewis's friends. (Tolkien called her "That woman" and explicitly mentioned the marriage as a source of "separation" between Tolkien and Lewis.)105 Lewis and Tolkien's strong bond of friendship nonetheless provided a context for Lewis's conversion or return to Christianity. Without Lewis's conversion and the books and essays that flowed from his pen about Christianity, he may have remained an obscure Oxford tutor. But Lewis's conversion gave him something to communicate about.
Early in his academic career Lewis's primary goal was to be a poet—a published poet. He achieved that goal in 1919 with the publication of his collection of poems Spirits in Bondage. Few have read it, and most would not recognize it as Lewis's work if one saw a first edition on a bookshelf in an old bookshop. Lewis used the pseudonym Clive Hamilton (Hamilton was his mother's maiden name). Because of lackluster sales and the pseudonym, it is one of the rarest of Lewis's books to find in first edition. It is scarce not only because it did not sell well, as well as languish on a dusty shelf because it not immediately recognized as by Lewis, but also because the publisher had the unsold books destroyed. His poetry, although having flashes of exceptional insight, was not well received by readers. Scholars point to Lewis's pre-conversion, compared with his post-conversion, writing productivity as evidence that his conversion gave him intellectual fuel that would make him one of the most widely-read authors in multiple literary genres.
Lewis's conversion to Christianity was evolutionary rather than revolutionary; it evolved over a period of years. The key purpose of Lewis's autobiography, Surprised by Joy, was to tell the story of his conversion. People wanted to read the story of how a person raised in a Christian home became an atheist, then became ←53 | 54→a theist, and eventually a Christian. Lewis's autobiography and numerous biographies describe the story in detail.106 His parents were religious, his grandfather Hamilton a clergyman in the Church of Ireland, and Lewis was baptized and attended services with his family in Belfast at St. Mark's, Dundela. But his unanswered prayers for his mother and her devastating death, followed by his being sent to boarding schools he hated, left Lewis feeling there was no God—at least not the God he was led to believe in.
Lewis had role models who showed him that a life without God could be a good life. Several influential tutors, including "The Great Knock" Kirkpatrick, were atheists whom Lewis admired for their intellectual talents. Yet after attending Oxford, he found himself surrounded by believers as well as atheists. His close friend J. R. R. Tolkien was a Catholic and Owen Barfield, a theosophist. Lewis had read the Bible primarily as myth; yet when he was confronted with the observation that he believed myth and stories in all forms except the Bible, it jolted him to reconsider the significance of the Bible as a true myth.
Most biographies published before 2013 describe Lewis's belief in God occurring in the spring of 1929, based on Lewis's own description in his autobiography. After a careful reading of Lewis's letters, however, biographer Alister McGrath thinks Lewis got the date wrong.107 It was actually the spring of 1930 when his belief in God occurred. Lewis scholar Andrew Lazo also confirms that the date was 1930, based on an early draft of Lewis's autobiography.108 Lewis acknowledged in his published autobiography, "I am troubled by doubts about chronology" when he was describing his home life, so it is understandable that he may have been foggy on the date of his conversion.109 Although it should be noted that Lewis scholar Brendan Wolfe suggests that Lewis could have been referring to the academic year that spanned 1929–1930, rather than the calendar year 1929.110
George McDonald's Phantastes, randomly purchased from a bookseller's train station stall while Lewis was still a student of William T. Kirkpatrick, was an important discovery early in his drift away from atheism toward Christianity. Lewis would later say about the influence of Phantastes, "That night my imagination was, in a certain sense, baptized; the rest of me[,]; not unnaturally, took longer. I had not the faintest notion what I had let myself in for by buying Phantastes."111 G. K. Chesterton's 1926 The Everlasting Man was another literary influence on his ultimate conversion. He writes in his autobiography about being confronted with a choice: "The odd thing was that before God closed in on me, I was in fact offered what now appears a moment of wholly free choice." He remembers that moment:
←54 | 55→
I was going up Headington Hill on the top of a bus. Without words and (I think) almost without images, a fact about myself was somehow presented to me. I became aware that I was holding something at bay, or shutting something out. Or, if you like, that I was wearing some stiff clothing, like corsets, or even a suit of armor, as if I were a lobster.112
He also writes, "Really, a young Atheist cannot guard his faith too carefully. Dangers lie in wait for him on every side."113 In a letter dated February 3, 1930 Lewis wrote to his friend Owen Barfield, "Terrible things are happening to me. The 'spirit' or 'Real I' is showing an alarming tendency to become much more personal and is taking the offensive, and behaving just like God. You'd better come on Monday at the latest or I may have entered a monastery."114
Lewis describes his conversion to a belief in God in this often-quoted passage from his autobiography:
You must picture me alone in that room in Magdalen, night after night, feeling, whenever my mind lifted even for a second from my work, the steady unrelenting approach of Him whom I so earnestly desired not to meet. That which I greatly feared had at last come upon me. In the Trinity Term of 1929 [1930] I gave in, and admitted that God was God, and knelt and prayed; perhaps, that night, the most dejected and reluctant convert in all England.115
More than a year later, Lewis's conversion to Christianity took a major leap forward. He spent the night of September 19, 1931 in spirited conversation with Hugo Dyson and J. R. R. Tolkien about myth and Christianity. He tells the story to his friend Arthur Greeves in a letter dated September 22, 1931:
He [Dyson] stayed the night with me in College—I sleeping in in order to be able to talk far into the night as one cd.[could] hardly do out here. Tolkien came too, and did not leave till 3 in the morning … Dyson and I found still more to say to one another, strolling up and down the cloister of New Building, so that we did not get to bed till 4. It was really a memorable talk. We began (in Addison's walk just after dinner) on metaphor and myth—interrupted by a rush of wind which came so suddenly on the still, warm evening and sent so many leaves pattering down that we thought it was raining. We all held our breath, the other two appreciating the ecstasy of such a thing almost as you would. We continued (in my room) on Christianity: a good long satisfying talk in which I learned a lot: then discussed the difference between love and friendship—then finally drifted back to poetry and books.116
←55 | 56→
In Surprised by Joy Lewis reports planning an outing to the Whipsnade Zoo during which he rode in the sidecar of Warnie's motorcycle on September 28, 1931. He succinctly describes his final conversion to Christianity: "I know very well when, but hardly how, the final step was taken. I was driven to Whipsnade one sunny morning. When we set out I did not believe that Jesus Christ is the Son of God, and when we reached the zoo I did. Yet I had not exactly spent the journey in thought."117
Just a few days after his zoo epiphany, in a letter of October 1, 1931 Lewis tells Greeves, "I have just passed on from believing in God to definitely believing in Christ—in Christianity. I will try to explain this another time. My long night talk with Dyson and Tolkien had a good deal to do with it."118
Lewis's description in both his letters and in his autobiography provides a window into how Lewis thought and made decisions. He mulled things over. He took in a bit of information, processed an experience and then thought about it further. Then he tested the idea. Sometimes he shared his idea with friends. After additional thought he announced his conclusion. He talked about his ideas with others or in a lecture. And finally he wrote about it. This cycle of experience, think, mull, talk, and write is how he gave birth to some of the most enduring classics of the twentieth century. One of his virtues as a communicator is his season of pre-writing. Prior to penning his thoughts on paper, he cogitated. His ideas sat on the stove simmering before being served to others.
During the Summer of 1932, Lewis wrote his first book following his conversion. He dashed off The Pilgrim's Regress between August 15 and 29th while staying with Arthur Greeves—just across the road from Lewis's childhood home, Little Lea, which had recently been sold following the death of Lewis's father, Albert. The publication of The Pilgrim's Regress began a prolific writing career that would produce some of the best-known classics of the twentieth century.
As an author and educator Lewis had many friends and acquaintances, but there is scant record of Lewis's interest in a romantic relationship. In some respects, he was married to his work. But fast forwarding to the 1950s, his relationship with Joy Davidman, first by correspondence and then in person, eventually converted him to marriage. Not unlike his conversion to Christianity, his marriage(s) to Joy evolved slowly over time.
Lewis's relationship with and marriage to Joy Davidman, spanning a ten-year period during the zenith of Lewis's career (she first wrote to him in 1950 and died ←56 | 57→in 1960), had a significant role in Lewis's literary output. Joy influenced his life and work in ways that Lewis could not have imagined when he received his first letter from her in January 1950.119 At that time she was married to film writer William Gresham and had two sons, David (1944–2014) and Douglas (1945- ). Her early activism in the communist party was compatible with her then disbelief in God. Joy was intellectually restless and exceptionally bright; she was searching for another sense-making paradigm for her life. She became a Christian in 1946.120 Her conversion to Christianity was greatly influenced by Lewis's books (especially The Great Divorce and The Screwtape Letters), and eventually prompted her to write to Lewis in 1950. Lewis enjoyed her letters immensely; of the hundreds of letters that he received each year, her letters stood out for their wit and insightful questions.121
When Joy made a trip to England in 1952, she wrote asking to meet Lewis. He agreed. Her erotic love poems (discovered by others 60 years after she wrote them) suggest that she was infatuated with Lewis and sought a romantic relationship with him.122 The excellent biography Joy: Poet, Seeker, and the Woman who Captivated C. S. Lewis, by Abigail Santamaria, provides a fascinating description of Joy's life and eventual marriage to Lewis.123
By one account, Jack and Joy's first meeting occurred in September. George Sayer writes that they first met at the Eastgate Hotel in Oxford124 (although clues from Lewis's letters and other artifacts suggest they may have met a few days earlier or briefly earlier in the day).125 Their first visit went well with good conversation. Lewis must have enjoyed it because, according to George Sayer, he asked her to have lunch with him in his Magdalen College room along with Phyllis Williams, her London friend.126 Lewis liked to have "chaperones" when dining with women. (Warnie, or other colleagues and friends, often served this function.) When Warnie was not able to join them for the Magdalen luncheon Sayer was invited.127 After being served a single glass of sherry before lunch, Sayer recalls Joy proclaiming, "I call this civilized. In the States, they give you so much hard stuff that you start the meal drunk and end with a hangover."128
Jack and Joy met again in London on December 6th when Lewis invited Joy to spend Christmas at The Kilns with him and Warnie.129 While visiting at Christmas, she received a letter from her husband Bill, informing her that he was in love with Renee Pierce, a cousin of Joy's. Joy realized that their marriage was over. During the first Christmas that Joy and Jack celebrated together, Joy gave Jack a first edition copy of Ray Bradbury's The Illustrated Man. She signed it and included a quote, "And men may grow weary of green wine and sick of crimson seas," a slightly altered line from G. K. Chesterton's poem "The Ballad of the White ←57 | 58→Horse." (Who knows? Perhaps they had visited the White Horse chalk etching on a hillside not far from Oxford.) Lewis reciprocated by giving Joy George McDonald's Diary of an Old Soul.130 She also asked Lewis to inscribe her personal copy of The Great Divorce—her favorite Lewis book, which had been instrumental in her conversion to Christianity. He obliged and wrote, "There are three images in my mind which I must continually forsake and replace by better ones: the false image of God, the false image of my neighbours, and the false image of myself. C. S. Lewis 30 December 1952 (from an unwritten chapter on Iconoclasm)."131 Directly under this inscription, he wrote another related message: "Satire is a glass in which the reader commonly sees every face except his own.' Swift, quoted from memory."132 I know these are the exact quotes because both the Ray Bradbury book Joy gave to Lewis and her copy of The Great Divorce are now nestled side by side in my private collection as bibliophilic symbols of the beginning of this great twentieth century love story.
Joy separated from her husband and moved to England with her sons, David, age 9, and Douglas, age 8, in November 1953. The divorce was finalized in 1954.133 Jack and Joy saw each other infrequently at first and then more often in the mid-1950s and spent the Christmas holidays of 1954 at The Kilns Joy and her sons moved to Headington, just outside Oxford in August of 1955. By that time, Lewis had accepted a position at Cambridge but still resided at his home, The Kilns, on long weekends during the eight-week term time and when the terms were concluded. Even though Lewis was employed by "the Other Place"—the phrase Oxonians use for Cantabrigians (and Cantabrigians reciprocally used by Oxonians)—Joy's being in Headington put her in much closer proximity to him. (Unlike today, in the 1950s and early 60s, there was direct train service between Oxford and Cambridge that made the commute efficient.)
After Lewis's employment at Cambridge, he had no new ideas for books. His close friend George Sayer said, "No pictures came into his mind, he had nothing to say, and this is where Joy gave him invaluable help."134 Sayer and his wife Moira and invited Jack and Warnie to dinner and Lewis wrote back in an April 2, 1954, letter, "By bad luck Mrs. Gresham (our queer, Jewish, ex-Communist, American convert) and her two boys will be here all next week. So we can't come and dine."135 But still wanting to have a visit with is friend George asked, "But cd. [could] you both come in on the Tue. or Wed. and meet at the Eastgate at 11 for an hour or more's talk?"136 Lewis added, "She's a queer fish and I'm not at all sure that she's either yours or Moira's cup of tea (she is at any rate not a bore). But it wd. be a v. bright spot for W. [Warnie] and me. Do."137 Jack and Joy eventually did have dinner with George and Moira; Jack commented to Sayer at the end of ←58 | 59→the evening, "And, by the way, I've at last got a really good idea for a book."138 Whether it was by coincidence or, more probably, the influence of Joy, Lewis's creative juices were flowing again.
In 1955, when Joy and her sons were living at 10 Old High Street, Headington, (with rent paid by Jack) less than two miles from The Kilns Jack and Joy began to see each other more frequently. She helped type and edit Till We Have Faces, a novel based on the Greek myth of Cupid and Psyche that was also tellingly dedicated to Joy.139 By September Jack had talked with Arthur Greeves about the possibility of marrying Joy in a civil ceremony so that he could extend his citizenship to her and she and the boys could remain in England.140 That ceremony took place on April 23, 1956, at the Oxford Registry Office, then located just a couple of doors down from the Eagle and Child pub in a building that today is a Quaker "Friends" meeting house. Although it was only a "technical" marriage, it soon became more than technical, moving from friendship to affection and finally to romantic love—mirroring the relational escalation described in The Four Loves—a book that Joy also helped Lewis develop.
Joy had been experiencing some health issues—leg pains first diagnosed as merely fibrositis.141 On October 18, 1956, while reaching for a phone call from Katharine Farrer, Davidman fell and broke her leg. X-rays revealed more than just a broken leg—there was cancer.
With the news of Joy's illness Lewis realized that his relationship with Joy had become much more than a marriage of convenience—it had fully morphed into romantic love. As a first step in publicly acknowledging his feelings for Joy, he placed this simple announcement on Christmas Eve 1956 in The Times of London: "A marriage has taken place between Professor C. S. Lewis, of Magdalene College Cambridge, and Mrs. Joy Gresham, now a patient in the Wingfield Hospital, Oxford. It is requested that no letters be sent."142 Once aware of his love for Joy, Lewis began quietly seeking someone who could provide a proper ecclesiastical marriage ceremony. Because of Joy's previous marriage, he was initially unsuccessful in securing permission of an Anglican clergyman to perform the ceremony. Eventually his friend Peter Bide performed the service on March 21, 1957, at the Wingfield Hospital in Oxford.143
Joy returned home to The Kilns in April, not expected to live much longer—perhaps weeks. But with what Lewis believed to be a miracle, she regained strength and her cancer went into remission. They enjoyed their time together, especially as she showed signs of improvement. They traveled to Ireland and planned a longed-for trip to Greece with their friends Roger Lancelyn Green and his wife, June. Weeks before they were to leave for Greece, Joy and Jack learned ←59 | 60→that her cancer had returned. Notwithstanding the severe state of her health, the trip proceeded as planned in April 1960.
Tolkien called Jack and Joy's relationship a "very strange marriage."144 Yet this "strange" marriage worked. During the time of their relationship, Lewis gained renewed inspiration and wrote Till We Have Faces and The Four Loves (both greatly influenced by Joy), and Reflections on the Psalms. Joy gave Lewis's writing a shot in the arm. Reports from those who knew them were that she helped Lewis by sometimes critically challenging his ideas; she could be blunt. But her refreshing directness, as well as helping Lewis experience the joy of an intimate human relationship, significantly enriched his life and was a muse for his communication productivity. Cancer finally claimed Joy's life on July 13, 1960.
The making of C. S. Lewis as a master communication craftsperson involves not only the people who influenced him but also the books he read. In preparing his work English Literature in the Sixteenth Century: Excluding Drama, Lewis endeavored to read every piece of English literature he could find that existed in the Sixteenth Century.145 Lewis had a life-long voracious appetite for reading. Remember, Lewis said that not only could he find "a cup of tea large enough" but also "a book long enough" to suit him.146 Besides walking, and talking with friends by the fire with a drink at his elbow, reading remained one of his favorite pastimes. It was also a necessary task for his work as a tutor and author.
Which of the books did he read that influenced him the most? The editors of The Christian Century asked him, "What books did most to shape your vocational attitude and your philosophy of life?" Lewis's answer was published in the June 6, 1962 issue of the magazine.147 The question was well timed, given that Lewis had only a year and a half to live and had already written the bulk of his literary output. Here is his list, published in rank order:
Details
Pages

XXXII, 304

ISBN (PDF)

9781433172359

ISBN (ePUB)

9781433172366

ISBN (MOBI)

9781433172373

ISBN (Book)

9781433172335

Language

English

Publication date

2020 (April)

Published

New York, Bern, Berlin, Bruxelles, Oxford, Wien, 2020. XXXII, 304 pp.