Dimensions of Cultural Security for National and Linguistic Minorities
Edited Collection
512 Pages
Excerpt
Table Of Content
Cover
Title
Copyright
About the author
About the book
This eBook can be cited
Dedication
Contents
1 Reducing Cultural Insecurity among the Sorbs in Germany after 1945: The Significance of Legislation in Saxony and Brandenburg
3 Active Offer as a Norm for Public Services Delivery: A Path Toward Inclusion and Security for French-Language Minority Communities in Canada
4 Revitalization of Indigenous Political Cultures through Locally-Governed Protected Areas: The Case of Masko Cimakanic Aski
5 Cultural Insecurity, Social Change and Territorial Institutionalization: The Case of the French Basque Country
6 Tragedy of Rehabilitation: The Land Issue of Tibetans in India
7 Cultural Security in Post-mining Landscapes: The Case of the Sorbs in Middle Lusatia
Part III State Stability
8 Cultural Security in Tibet and the Example of Quebec
9 Cultural Security and Economic Development in China's West
10 The Reunification of Canada's Indigenous Nations: Political Power and Cultural Identity
Part IV Patterns of Collective Identification
11 Language Practices of Young Adults from Four Linguistic Minorities: Between Assimilation and Activism
12 Memories, Large-Group Identity and Political Participation: The Case of the Carinthian Slovenes
13 Between Spanish and Catalan Nation-Building: The Pursuit of Cultural Security in the Valencian Country
Part V Participatory Dimension
14 Parental Agency: Language Planning among Indigenous Families in Bolivia
15 The Sorbs in Germany: Cultural Practices and Cultural Security
16 Switzerland, a Language-Unfriendly Country? From Namelessness to Revitalization: The Long Journey of Francoprovençal
17 "Scope" of Linguistic Resources and the Social Participation of the Ukrainian Population in the Republic of Moldova
Series Titles
←12 | 13→
Laurie Camirand Lemyre
Université du Québec à Montréal (Canada)
Jean-Rémi Carbonneau
Sorbian Institute, Bautzen (Germany), Chaire de recherche du Canada en études québécoises et canadiennes, Montreal (Canada)
Nicole Dołowy-Rybińska
Institute of Slavic Studies, Polish Academy of Sciences, Warsaw
Uwe Gaul
Saxon State Ministry for Science and Arts (Germany)
A. Tom Grunfeld
Empire State College, State University of New York
Andreas Gruschke (†)
Institute of Social Development and Western China Development Studies, Sichuan University (China)
Nicolas Houde
Chaire de recherche du Canada en études québcoises et canadiennes, Université du Québec à Montréal (Canada)
Huang Yunsong
China Center for South Asian Studies, School of International Studies, Sichuan University (China)
Xabier Itçaina
Centre national de la recherche scientifique, Centre Émile Durkheim, Sciences Po Bordeaux (France) and Institute of Cooperative Law and Social Economy, University of the Basque Country (Spain)
Fabian Jacobs
Sorbian Institute, Bautzen (Germany)
Theresa Jacobs
Sorbian Institute, Bautzen (Germany)
←13 | 14→
Ines Keller
Sorbian Institute, Bautzen (Germany)
Ingo Kolboom
Chaire de recherche du Canada en études québécoises et canadiennes, Montreal (Canada)
Manuel Meune
Université de Montréal (Canada)
Martin Normand
University of Ottawa (Canada)
Peter Schurmann
Sorbian Institute, Bautzen (Germany)
Inge Sichra
Universidad Mayor de San Simón, Cochabamba (Bolivia)
Anton Sterbling
University of Applied Police Sciences, Rothenburg (Germany)
Pierre Trudel
Chaire de recherche du Canada en études québécoises et canadiennes, Université du Québec à Montréal (Canada)
Anna-Christine Weirich
Goethe-University, Frankfurt am Main (Germany)
Daniel Wutti
University College of Teacher Education, Klagenfurt (Austria)
←14 | 15→
Greetings from the Secretary of State1
UWE GAUL
Distinguished members of the Canada Research Chair in Quebec and Canadian Studies,
Distinguished members of the Institute of Social Development and Western China Development Studies at the Sichuan University in Chengdu, China,
Ladies and Gentlemen,
It is my great pleasure to welcome you to the Sorbian Institute's International Minorities Conference "Dimensions of Cultural Security for Ethnic and Linguistic Minorities." I am pleased that you came from near and far to meet here for the first time in Saxony, in the land of the Sorbs and in the beautiful, historical city of Bautzen. I am delighted to welcome you today at the start of the conference. And I am sure that Bautzen will give you wonderful impressions of the uniqueness of Sorbian culture in Saxony – the culture of a minority. We are proud that the Sorbs are a constituent part of Saxony and enrich us with their language and culture.
←15 | 16→
Today's conference will focus on minorities and "cultural security." As the researchers from the Sorbian Institute have demonstrated, this can be seen from two perspectives. First, from an external view, the larger society can provide national and linguistic minorities with institutional and societal possibilities for their further development, for example through appropriate legislation and institutions, so that minority language and culture can flourish. This is where direct politics are called for and we, in the Free State of Saxony, are doing a lot to contribute to the development of a cultural sense of security among the Sorbian minority. This is done first and foremost through the political and legal framework, and especially through the rights of the Sorbs that have been enshrined in section 6 of our Saxon Constitution. It states: "Citizens of Sorbian nationality living in the Land are equal in rights and are an integral part of the people of the Land [Staatsvolk]. The Land guarantees and protects the right to preserve their identity, and to practice and promote their language, culture and traditions, in particular through schools, pre-school facilities and cultural institutions."
In addition, the Saxon Sorbs Act of 19992 recognizes the right to Sorbian identity, the protection and preservation of the Sorbian ancestral homeland as well as the freedom of confession of the Sorbian people. We make sure that Sorbian representatives are adequately present in political structures at all levels, from the municipal level up to the institutions of the regional state (Land). The ministry I represent has its own representative for Sorbian affairs.
A second, internal perspective focuses on both the conditions for socio-cultural inclusion and identity processes unfolding within a minority community, starting with individual members. It raises concrete questions in relation to a common sense of cultural security, tries to understand people's needs and looks for the motivation that drives minority members to engage in cultural activities and political participation on behalf of a self-confident minority.
In 2012, the Saxon State Ministry for Science and Arts, together with the Council for Sorbian Affairs,3 presented a Saxon State Government's Plan of Measures to Encourage and Invigorate the Use of Sorbian Languages. You will certainly know this from your own work on national or linguistic minorities living in your respective countries: such encouragements are of great importance in order to create a sense of security among members of minorities. Language use is in itself the expression of a sense of security, the expression of a social climate in which multilingualism and cultural otherness are lived and become a matter of fact.
←16 | 17→
At this conference, you will attempt to bring together both perspectives: through the interdisciplinary exchange of political and cultural scientists, historians, anthropologists, linguists and geographers; and by comparing the experiences of various minorities from four continents. I wish you many inspiring and fruitful results!
At this point, I need to come back to Bautzen, the city where you will now spend the next few days. The name of this city, like that of other Saxon cities, has been mentioned in the media in the past few months in relation with the public debate on refugee and xenophobic violence. The Minister of State for Science and Arts, Madam Eva-Maria Stange and I condemn all forms of violence against refugees in our country. We cannot close our eyes on the attacks on Sorbian youths by right-minded extremists that have increased in the last two years and hit the headlines in the major German daily newspapers. Nor will we forget the many courageous people who oppose xenophobia and violence in this city. Media reports come out daily about these brave people who live in every Saxon city.
On the occasion of this conference, you will also demonstrate how cultural differences can be considered and discussed, how one can practice intercultural dialogue, and how important it is to consider fears and needs seriously. This will take place in a city with a thousand-year history of German-Sorbian interactions. Bautzen is a wonderful example of a city that has been living multi-culturally for centuries, in which minority culture is naturally present: through bilingual signage, through various community institutions such as the Sorbian Institute, the German-Sorbian Popular Theater, kindergartens and schools with an option for schooling in the Sorbian language, a publishing house, a professional folklore ensemble and the Sorbian Museum.4
←17 | 18→
More than twenty lectures await the participants of this conference. They will deal with different dimensions of cultural security, such as state stability, minority rights and institutions, the various modes of collective identification, cultural practices, language activities or territorial aspects of minority life. Research and experiences from Germany, Canada and China, France, Austria and Bolivia will be presented and discussed. We hope that the guests will feel comfortable and safe, that this will leave them with long lasting experiences and memories and that they will leave us with important discoveries so that we may continue to shape and improve minority policy in a constructive way, in its many areas of application.
---
1 Speech delivered in German on November 17, 2016, in the House of Sorbs (Serbski Dom). Translation by Jean-Rémi Carbonneau and Fabian Jacobs.
2 Act on the Sorbs' Rights in the Free State of Saxony, promulgated on March 31, 1999. All footnotes were added to the speech by the editors of the book.
3 According to section 6 of the Sorbs Act, the Sorbs can represent their interests before the Saxon government and parliament through a five-member Council for Sorbian Affairs, which is elected by parliament in each legislature.
4 These institutions are financed by the federal government and the states of Saxony and Brandenburg, where the Sorbian minority is historically established. Most of the Sorbian community institutions have their seat in the city of Bautzen.
←18 | 19→
Some Reflections on the Issue of Minorities
A Personal Roadmap1
INGO KOLBOOM
Ladies and Gentlemen,
Distinguished guests and colleagues,
And all you, dear friends from far and near who do appreciate and are concerned with minority issues
Dobry wječor, lubi hosco!
It is with great pleasure that I stand before you as the one who has been designated the "honoured guest speaker" for this event. Let me consider the word literally and reply: it is an honour for me to stand before you tonight, before such a gathering of experts and specialists from all over the world. You all have to deal with our complex world of sovereign states and how they manage the question of minorities within their borders. Such a delicate question has become more controversial and more complex in recent years.
←19 | 20→
And I wish to thank you and the organizers of this conference, who made it happen here in Bautzen/Budyšin. First and foremost, because this city is the capital of the most important autonomous national minority in Germany, the Sorbs of Upper Lusatia. And secondly, you have set a mark, by organizing this symposium, for all those here in the city of Bautzen, who believe in tolerance and liberal values. This is especially true since we have recently witnessed well-publicized, xenophobic incidents against Syrian refugees, carried out by right-wing extremists.2 Tolerance and liberal values are also essential values for the lives and survival of minorities as well as for the lives and survival of civilized societies. This had already been identified by Voltaire in 1763 in his Traité sur la tolérance, in which he raised the principle of tolerance to the status of a universal principle that should rule our world. Incidentally, in his mind, this included the protection of religious minorities in France, namely the Protestants and Huguenots, who, at the time, were persecuted. Who could have imagined, two decades ago, as the whole of Europe was reunited on the path to democracy that we would have to, once again, fiercely defend those values, even here in the city of Bautzen. But then again, who would have thought that Voltaire's treatise on the importance of tolerance would once again end up on the bestsellers list?
Ladies and Gentlemen, dear colleagues, a few months ago as Monsieur Carbonneau invited me to give this speech to the conference, I was tormented with a very existential dilemma. Try to understand my anguish: on this same evening, I should have been the master of ceremony for one of those gastronomic minorities, more specifically the Friends of the Beaujolais wine in Saxony. The Ordre des compagnons du Beaujolais, to which I belong, celebrates today, and every year on the third Thursday of November, the arrival of the Beaujolais nouveau. This is done throughout Europe and beyond, in North America and all the way to China, and is also a way of opening oneself to the world!
←20 | 21→
As I accepted Monsieur Carbonneau's invitation and renounced a nice evening spent drinking wine, my mind played a dirty trick on me and left me trying to decipher a logical fallacy – in the best tradition of the Surrealists – on how to connect and reflect on both wine and minorities. In fact, what links both subjects is the apparent ease in recognizing and naming them as such. What also links them is the sheer number and high visibility of the forms they take. Who has ever done a full count of the wines and minorities on this planet? But if one was ever to undertake such a compilation, he would be faced with a problem of selection. What constitutes wine? But then again, what constitutes a minority? In the case of wine, a solution has been to allow a high degree of dissidence. You simply drink a glass and out comes the truth. As they say: In vino veritas. Such a simple solution cannot be applied to the question of minorities. This approach cannot be used in the case of minority communities.
Seriously: in the case of minorities, dissidence has led to more than enough evictions and displacements of populations, armed violence and infamous actions. I'm thinking more specifically about Germany's parliamentary resolution (of the Bundestag) on the Armenian genocide adopted in June 2016.3 But who remembers and cares about the extermination of the minority people of Buryatia in the Mongolian Soviet Republic? (Bulag, 1998, pp. 81–89; Namsaraeva, 2017) These are just two examples among many. Who could have imagined that two decades after the end of the Cold War between East and West – and which engulfed Europe in a wave of democratic euphoria – that savage civil wars between the national minorities of south-eastern Europe would arise again? Or that a Russian President, after having marched and taken over Crimea, would declare his people to be the largest people scattered on the globe? That the subject of ethnic minorities, and not only in eastern Ukraine, would become the new warning, a sign of things to come in Eastern Europe? And who has the time or the inclination to worry about the long-bullied Tartars of Crimea in the conflict between Ukraine and Russia?
←21 | 22→
Ladies and Gentlemen, dear colleagues, today specialists are still trying to come up with a definition of what constitutes a minority. Both editors of an anthology published in 2004 with the title The Rights of National Minorities expressed it this way: "The definition of what constitutes minorities has to be put the larger context of the long-discussed question of minority rights" (Bielefeldt & Luer, 2004, p. 8). And when I consider the scope and variety of topics on minorities covered during this symposium, then I could well imagine that the competent experts gathered here probably had difficulty arriving at a consensus. They certainly spent the whole night on their position and were able to reach a compromise in the early morning hours. Or just think of the academic – or then again, of the political – disputes on the distinctions that have arisen on national minorities and minority nations. And that other important one: when does a minority become a people or a nation? And what does cultural security actually mean in this context? It looks to me like one would be opening a Pandora's Box without a definite solution!
But I will not go down this path tonight. As for myself, who is in no way considered a specialist on these questions, I would like to venture my own somewhat bemused interjection. In the programme here, you talk of ethnic and linguistic minorities. So far so good, and how very important! But why did no one mention any religious minorities? Please allow me a critical yet sympathetic tongue-in-cheek statement. Of course, one could reply, there are very well defined religious national minorities. Think only of the Muslim Bosnians living in the Balkans. Or of the lesser-known Buddhist Kalmuck minority, who lived in the Western part of Russia, just to mention two examples among many. And we should not forget another important aspect: in the Ottoman Empire and later in Yugoslavia, more specifically in Bosnia and Herzegovina, religion was used as a criterion to differentiate nationalities and thus national minorities. It is generally admitted that this differentiation is still being used today.
Let us also not forget the significance that religion has played in Northern Ireland, where the Catholic portion of the population was being oppressed, which led to a bloody civil war that lasted decades. Many of the subjects this conference has tried to tackle were concerned with minorities whose religions or denominations served as the basis for their identity-building, and are an important part of their cultural character. Think only of Tibet, which was discussed in panel discussions this morning, as well as Quebec and other francophone minorities in North America. And I ask you: What would the Tibetan identity be without their Buddhist belief system, which prior to the occupation of Tibet by the Peoples Republic of China in 1950, was even the state religion? And what do most Upper Sorbs have in common with the old French Canadians of North America and with the people of Saxony's French Partner region, the traditional Bretagne? For all these, their Catholic faith was part of their identity and played a major role in preserving their respective identities. While Protestant Sorbs largely assimilated, the Catholic Sorbs, just as the Catholic French Canadians, Acadians and Bretons (the latter having been restricted in the use of their language until the middle of the twentieth century) remained true to their native tongue. For the Brezhoneg people (Bretons), their resistance was for the use of the Celtic language and they defied the pressures of French assimilation for a long time.
←22 | 23→
In all these cases, it was historically the clergy – for different reasons – who turned out to be the pugnacious keepers of the faith and defenders of their respective mother tongue and cultural identity. The history of many minorities is intimately bound up with their religion, the discrimination, persecution or even destruction they faced. The fate of European Jews or of Christian Armenians is a dark illustration of this assessment. Therefore, it is easy to understand – just as theologian Konrad Hilpert wrote – that "religion apparently […] [had belonged] up to now, to the preferred elements which impart the newly and difficult to define category of what constitutes minority status and confer it a comprehensive and substantial importance. At least, they conform to a border line between a minority and a majority. And in many cases, it creates a link with the members of the respective different religious groups. We may infer from this that religion is a factor in majority versus minority conflicts and it can play a definite extensive role" (Hilpert, 2004, p. 57).
It is therefore no coincidence that the beginnings of minority rights in Europe and in the Ottoman Empire are to be found in early religious protection provisions. In Europe, they go back to the sixteenth century and will then come to the forefront in the nineteenth century, the century of national revivals. To expand on this subject even more, as would be logical, would be to dissect the famous Procedures for the Protection of Minorities launched by the League of Nations in 1919, with which the victorious powers wished to reconfigure the minority puzzle that had emerged in Europe from the ruins of the First World War. This topic alone would mean another extra day of discussion. Even that would only cover half of the question because it would not even include the new initiatives undertaken since 1945 for minority protection as understood in international law.
←23 | 24→
At this stage, I had arrived at the dilemma which Monsieur Carbonneau's invitation brought me to here tonight. You, dear colleagues, have heard and debated the papers and technical lectures about subjects as diverse as Tibet, Quebec, Indigenous First Nations, French Canadian minorities and the Sorbs. And I, myself, have experienced well enough the mood of elation that many highly motivated conference participants bring. And then, after a very long day, the evening keynote speaker appears at the lectern, stands within hearing range and can see the glasses of the wine being poured in his honor. So, I will avoid an attempt to make it easy for myself and take out my old unpublished manuscript from 1971 on the procedure for the protection of national minorities under the League of Nations after the First World War. Had I been a Sorb, maybe I would have even prepared a hopefully humorous speech on how our culture has been reduced to a folklore and become a sheer trivialization (but which I nonetheless highly appreciate). But then again, I am not a Sorb. For the rest of my speech, I would rather walk you through a very personal roadmap. Think of it as my own unscientific encounter with national minorities, more specifically with those that we identify as minority nations. This meeting alone will serve to illustrate how difficult it is to reduce these minorities to a common denominator. Such a roadmap is an unusual experiment, which up to now I have never tried. I hope we will all survive tonight's experiment.
←24 | 25→
Ladies and Gentlemen, dear colleagues, we are all born where we see the light of day and this is a fortuitous event. And it is always chance that decides whether we become members of a so-called majority or of a so-called minority. Someone like me could have become a citizen of Denmark or a member of the German minority of Denmark or still, a member of the Danish minority in Schleswig-Holstein. This potential relativity of my North German identity accompanied me throughout my younger years, because I grew up within visual range of the Danish occupation soldiers. In school, we would sell cards to support German minority politicians in Denmark and then saw them appear on election posters for a Danish political party at the exact location where a once long border struggle between Germans and Danes occurred, and where the Nazi occupation of Denmark left deep wounds. At that same site, a nationalist Danish movement remained active in the post-war era and demanded the annexation of Schleswig to Denmark. But it was also there, in the mid-1950s, that an exemplary peaceful European resolution of the German-Danish minority question was finally arrived at. Thus, the infamous "Schleswig-Holstein Question,"4 which had led to three European wars in the nineteenth century, was settled. Let us recall: The first Schleswig War, from 1848 to 1851, between German Schleswig-Holsteiners and Danish nationalists involved even Prussian and Swedish troops; the second war, 1864, involved Prussia and Austria who fought against Denmark. The third one involved Prussia and its Allies against Austria in 1866 and thus closed the book with a military solution to the national German question.
But let us go back to my biography and what I experienced at the time. Already, at the end of the 1950s, I understood that the German-Danish minority question was an integral part of the new European good neighborly relationship. The latter was embedded into the federal system of the young Federal Republic of Germany and the new West-European general peace framework. On both sides of the border a new type of national linguistic minority developed, which had at its disposal a linguistic mother nation (kin state) to which it could refer to beyond the border. In the end, this expressed itself without any bias or predisposition to irredentism,5 but with a loyal integration to the host country.
A few minutes ago, I mentioned the terms dissidence and armed violence. I was a 12-year-old boy and had begun – somewhat untypical for a boy this age – to read a daily newspaper. In the year 1959, I read about the outbreak of the Tibetan rebellion in China, about the flight into exile of the fourteenth Dalai Lama in India, about the Tibetan calls for independence and about the violent crushing of the insurrection by the Chinese military. At this point of the evening, I in no way want to start a debate about the still controversial and valid question of the Autonomous Region of Tibet.6 But I would be lying if I did not say that these early memories of Tibet still represent for me the first and most painful confrontation with the question of national minorities.
←25 | 26→
For my next encounter with a so-called national minority, I was still naive, but this time around, I was confronted with a more concrete case – with another people who had been included in another country against its own will. In the mid-1960s, I took a school-trip to the German-speaking area of South Tyrol (or Trentino-Alto Adige to the Italians). In the countryside just outside the city of Bolzano, I was confronted with the South Tyrol question, which had been simmering since 1919. Deep scars had been left in the area by the brutal oppression of the German-speaking population, which had been separated from Austria in 1919, and had been discriminated against by Italian fascism and by Hitler's large resettlement policy of repatriating German speakers back into the Reich (and whose fate was sealed by the Hitler-Mussolini Accord). After the war, South Tyrol remained within Italy, although politics did not stop the process of denationalization. Through it all, a treaty was signed in 1947 between Italy and Austria which laid the corner stone for the survival of the inhabitants of South Tyrol in a foreign state. Rolf Steiniger, the German-Austrian historian commented on this: "This 'Paris Convention' can be considered as the 'Magna Carta' of South Tyrol and – more importantly – an integral part of the Peace Accord signed in 1947 between Italy and the Allied Powers. Unlike in the 1920s, where the whole South Tyrol question was an internal Italian problem, it now became an international issue, resolved with Austria as one of the 'guarantors' " (2011, p. 208).
At this point, I have to skip a few comments and shall move forward. This attempt at a personal roadmap is based on my own particular impressions. And as part of these observations, I visited South Tyrol at the time when explosive attacks by local activists, claiming to be fighting for their freedom, occurred on a regular basis. The latter were subsequently brought to court in what were then spectacular trials. On the one hand, some called them freedom fighters, others, terrorists. I still remember meeting and plotting with South Tyrol youths claiming to be freedom fighters and feeling themselves to be like the historical Tyrolean military hero Andreas Hofer.7 And all of this was happening in Western Europe! This lasted until 1972 where all participants accepted an agreement on an autonomy status for the region. The conflict was settled once and for all in 1992, when it was put to rest with an agreement between Austria and Italy, under the auspices of the United Nations. What was never mentioned was that, as a precondition for this accord, Italy would not vote for Austria's entry in the European Union without a formal declaration on the end of the South Tyrol question. We can now speak of the Autonomous Province of Bolzano-South Tyrol as a prime example of how a minority should be treated.
←26 | 27→
Moving ahead, to 1967, just two years after my South Tyrol excursions, I had the opportunity to go to a French-German summer camp for young people. We were in the countryside, in a little village in Corsica. Back then, in my France and Paris enthusiasm, I had only known one France: a France that spoke only French, the language in which Molière wrote and expressed himself. But there, I met people who called themselves Corsicans and who even reluctantly spoke French. They even turned militant against France and the continent, because they wanted the Populu Corsu (Corsican nation) to be officially recognized. I later understood this complex set of problems as the old men of the village offered me a few glasses of wine and flattered me by making me a corsu d'onore. France, which still considers itself today as a République une et indivisible, in no way recognizes any collective national minorities on its territory. For instance, a concept like a people within a people, which has been included since 1992 in the Constitution of Saxony,8 has not found an equivalence in France.
As everyone knows, this is the reason why, until now, France has never ratified the European Charter on regional or minority languages since its adoption in 1992. As an aside: just for the fun of it, I looked up the word minorité for its definition in a few dictionaries dating back to the Third Republic. I sort of knew the answer: the term was loosely defined by its old meaning of not having reached the adult stage of life. For a long time, the encyclopaedic French Republic refused to admit the existence of real minorities on its territory. By the end of the 1960s, I completed my early encounters with regional differences in Brittany, where I ended up working on a farm at the western edge of the country. There, some older people still spoke the old Celtic language! But the young could no longer express themselves in this idiom. The Republic had effectively destroyed the Breton language. But there, I also met young people who, during the cover of the night, would take down road signs and paint over them with Breton names. Or they would put up posters for the defense of the Breton language (see Fig. 1).9 It is there and then that I – who at heart is a Franco-German citizen – started developing a peculiar affinity for Bretagne. Later on, in the 1970s and 1980s, I closely followed the fascinating and exciting struggle of the Breton for their Celtic identity. It first expressed itself with music and then spread to their traditions and on to their language.
←27 | 28→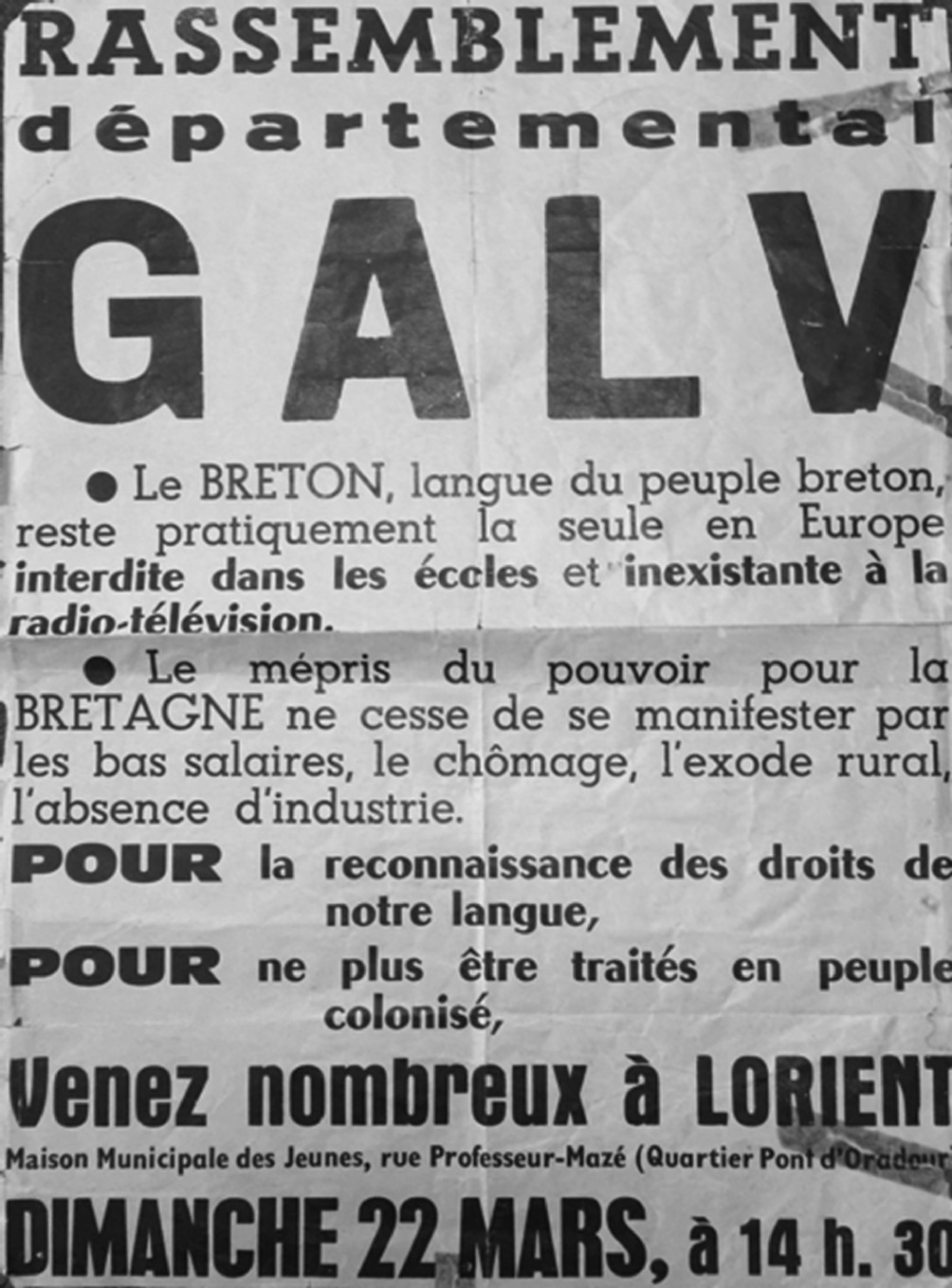 Fig. 1: Poster for the defense of the Breton language (1969)
Source: private archive Kolboom.
←28 | 29→
In the end, the then successful recapture of a regional cultural identity in Brittany was not a singular occurrence. It also happened elsewhere – but, we must add, not as successfully – in other areas at a cultural and linguistic level. It also took place in regions that had long been oppressed by the French policy of centralization. I kept discovering this fact in my travels throughout the country and, in particular, in the Occitan south. But much more was at play here: a universal quake happened to catch this wave and turn it into a tsunami which hit the minorities of Canada and the United States. It reverberated in the old Cajun communities of Louisiana, with the still francophone Quebeckers and in the still or newly francophone Acadians of the Maritime Provinces of Eastern Canada. This tremor did not have an identifiable epicentre. But if we were to use a more botanical analogy, it could be compared to a rhizome-like growth that proliferated as regional grassroots movements. This did not only occur locally but throughout the whole of the Western World. We now know to what degree these movements counteracted and accompanied our globalized economic modernity. But they also acted as critical and innovative factors for the later developments of our capitalistic societies.
At this point, I have to return to my personal roadmap. Because of the wonderful event that was German reunification, I was afforded the opportunity, in October 1990, to come to Canada and Quebec for the first time, as a guest professor sent by the German Society for Foreign Affairs. This was the beginning of a scientific love affair (which is still continuing today) with the French-speaking part of Canada, whose ancestors came a long time ago, in the seventeenth century, to help build New France. Their descendants later had to come to terms with the victorious British colonial authority and yet managed to keep their own language, customs and culture. All of this happened even though the Canadiens at the time formed the majority of the European population. What became of them, you will hear in a series of presentations during this conference. This fact frees me from going into more in-depth digressions.
←29 | 30→
Let me just add this: Canada was with Brittany the most exciting and prolific chapter of my minority roadmap. This in spite of the dramatic problems and setbacks that did not lead to the linguistic and cultural disappearance of French speakers in modern Canada. Although the erstwhile French founding majority could have become another one of those minority victims, the modern Canadian model has today become a success story in the way it manages to resolve conflicts, in contrast to the many other countries facing this majority-minority dilemma.10 I learned that one of the distinctive preconditions for this success story was the obstinate resistance of Catholic Francophones against the assimilation attempts of the British. But it was also, in the end, based on the loyal acceptance of the British colonial authority. I also learned that without French Canada's loyalty to the Confederation pact (the creation of modern Canada), this country would simply not exist. It would probably have been annexed to the United States at some point. I found out that this traditional Catholic Quebec has transformed itself in the twentieth century and has blossomed into a modern francophone and culturally creative bastion in a largely protestant English-speaking North America. And this modern society has been influencing and shaping what has in the meantime become an officially bilingual Canadian federation. In one of my first visits to Eastern Canada, a region I was largely ignorant of, I was confronted for the first time with the three colors of the Acadian flag. I discovered these people and later their tragic history.11 An attempt at genocide and the deportation of the Acadian minority in the British colony of Nova Scotia in 1755 undertaken by the authorities should have turned them into a special case in North America. Their coming back to life and cultural revival has happened largely because of the church. And as a result, today New Brunswick is the only officially bilingual province in Canada.
Ladies and Gentlemen, dear colleagues, I will now start summing up my findings as I come to the end of this narrative of my life as an observer of minorities. Thanks to the Canadian Francophonie, whose members were first a majority in their own country and then became a militantly resistant minority, Canada did not go down the assimilation path taken by the United States. Nor did it follow the more repressive French model in which the République une et indivisible does not even recognize any national minority living on its own territory. This Canadian model, which I personally described to you, can justly serve as an example of how a majority can easily harness the creative powers of a minority, while living together in the same state. One of the preconditions for this to happen is that the two must first meet and start talking to each other. Another is that both partners must not omit discussion of the inequities and injustices committed in the past, in the name of reconciliation.
←30 | 31→
I will not go into further details but refer you to the various cases presented here during the conference. That this conference took place here, in Budyšin, the capital city of the Upper Sorbs, is a symbol in itself. Lastly, I will call your attention to the very small and often forgotten minority which never fails to impress me. At a time where many of our fellow researchers are given to more pessimistic thoughts when reflecting on these questions, I propose to focus on two people dear to my heart. First, the Cadiens, or "Cajuns," these cousins of the Acadiens of the maritime provinces, little known in Europe, who live in Louisiana. And I would also add the people of our French partner region here in Saxony, the Bretons. Through this adventurous quest you have undertaken with me here tonight, you may have discovered the collective capacity of oppressed minorities to rise again. And you have heard of their ability to rediscover their almost lost traditions, languages and identities. This can be done partly in resistance to, but also in a creative partnership with, modernity. The examples I have used show how a defeat can be turned around in time to develop new unforeseen strengths. I call this a creative collective resilience, which can turn a cultural and linguistic loss into a new inspiring appropriation. All three of these French minority peoples have utilized music to help themselves out. In the meantime, a few have even known some success on the international stage. They transformed their folklore into Folk Music, into World Music. International exposure even allows them some cultural security.
Dear Sorb friends, I am no expert on your language and culture, I am just one of your supporters. That is why I wish that my apparently diverse and far away examples can be used as effective inspiration for you here, in Saxony. Minorities living at great distances from each other often do not know what links them together. A good start was the Breton Diwan linguistic immersion education which was applied by the Sorbs in Lusatia and is known there as the WITAJ concept. But what people seldom know is that the model was developed at the end of the 1960s by teachers in Quebec who applied it to the Cajuns of Louisiana. The goal was to revive the linguistic abilities of this French minority whose language had been prohibited for a long period.
←31 | 32→
Therewith, Ladies and Gentlemen, dear colleagues, I have come to the end of my own personal roadmap. But I could not do so without some sort of rhetorical grand finale, which would be appropriate to ending our conference. I found it in the writings of the former Prime minister of Canada, Pierre Elliott Trudeau (1996). Incidentally, he was the father of the current Canadian Prime minister, Justin Trudeau. In it, the father, who decreed the war measures Act in October 1970 and the suppression of individual liberties in the recalcitrant Province of Quebec, wrote:
In a democracy, the majority often easily forgets that a minority has its own rights. And it is often easy for a strong, cold-hearted or insensitive government to ignore the pleas and protestations of the minority. When (political) unrest breaks out, it is often too easy to suppress them brutally, and this in the name of Order and the Rule of democratic Law. We should never forget that in the end, for a democracy to function well, one has to look at how the majority treats its minority. The struggle of Louis Riel12 has not yet been attained (Trudeau, 1996, p. 295).
Not even Voltaire would contradict him. What is it he wrote again, in his Dictionnaire philosophique? "WHAT is tolerance? It is the consequence of humanity. We are all formed of frailty and error; let us pardon reciprocally each other's folly--that is the first law of nature" (Voltaire, 2001).
I thank you again for your attention!
Merci de votre attention!
Ich danke Ihnen für Ihre Aufmerksamkeit!
Dźakuju so!
Wutšobny źěk!
References
Bielefeldt, H., & Lüer, J. (eds.) (2004). Rechte nationaler Minderheiten: ethische Begründung, rechtliche Verankerung und historische Erfahrung. Bielefeld: Tanscript Verlag.
Bulag, U. E. (1998). Nationalism and Hybridity in Mongolia. Oxford: Oxford University Press.
←32 | 33→
Chen, J. (2006). The Tibetan Rebellion of 1959 and China's Changing Relations with India and the Soviet Union. Journal of Cold War Studies, 8(3), 54–101.
Dubois, J., & Saunders, K. (2017). Rebuilding Indigenous Nations through Constitutional Development: A Case Study of the Métis in Canada. Nations and Nationalism, 23(4), 878–901.
Hilpert, K. (2004). Schutz und Rechte von Minderheiten aus Sicht der katholischen Soziallehre. In H. Bielefeldt, & J. Lüer, (eds.). Rechte nationaler Minderheiten: ethische Begründung, rechtliche Verankerung und historische Erfahrung (pp. 57–70). Bielefeld: Tanscript Verlag.
Kolboom, I., & Mann, R. (2005). Akadien: ein französischer Traum in Amerika. Vier Jahrhunderte Geschichte und Literatur der Akadier. Heidelberg: Synchron Publishers.
Namsaraeva, S. (2017). Caught between States: Urjin Garvaev and the Conflicting Loyalties of Trans-Border Buryats. History and Anthropology, 28(4), 406–428.
Oltermann, P. (2016, 21 February). Crowd Cheer Fire at Hotel Being Converted into Refugee Shelter in Saxony. The Guardian. Retrieved January 22, 2021, from https://www.theguardian.com/world/2016/feb/21/crowd-cheers-fire-hotel-refugee-shelter-saxony-germany.
Sandiford, K. A. P. (1975). Great Britain and the Schleswig-Holstein Question, 1848–64: A Study in Diplomacy, Politics, and Public Opinion. Toronto: University of Toronto Press.
Stanley, G. F. G. (2013, 22 April). Louis Riel. The Canadian Encyclopedia. Version updated on May 9, 2016 by A. Gaudry. Retrieved January 22, 2021, from https://www.thecanadianencyclopedia.ca/en/article/louis-riel.
Steininger, R. (2011). Streiflichter des 20. Jahrhunderts. Zeitungsartikel von 1986 bis 2011: Eine Auswahl. Innsbruck: Innsbruck University Press.
Trudeau, P. E. (1996). À contre-courant. Textes choisis 1939–1996. Choix et présentation Gérard Pelletier. Montreal: Stanké.
Voltaire. (2001). The Philosophical Dictionary. Hanover College Department of History. Retrieved January 22, 2021, from https://history.hanover.edu/texts/voltaire/voltoler.html.
---
1 This text is the slightly modified English translation of the written version of my speech in the German language, which kept the oral character of my communication. The attached footnotes are specially included for this version. Thanks to Louis Bouchard (Montreal) for the translation, including all quotations.
2 In February 2016, right-wing extremists have set a building afire that was about to open to welcome refugees from the Middle East (see Oltermann, 2016).
3 For this Germany Parliament Resolution see the text in English: http://www.armenian-genocide.org/Affirmation.528/current_category.7/affirmation_detail.html.
4 "The Schleswig-Holstein question is so complicated; only three men in Europe have ever understood it. One was Prince Albert, who is dead. The second was a German professor who became mad. I am the third and I have forgotten all about it." Lord Palmerston (1784–1865). For further information about the Schleswig-Holstein Question see Sandiford (1975).
5 National policies advocating the acquisition of some region in another country by reason of common linguistic, cultural historical ethnic, or racial ties, were no longer possible after the Second World War.
6 For further information see Chen Jian (2006).
7 Andreas Hofer (1767–1810) led the 1809 Tyrolean rebellion against the Napoleonic invasion before being executed by the French the following year.
8 See the Secretary of State Uwe Gaul's opening address in this book.
9 At this point, I presented an original poster from 1969, which I distributed with Breton friends in the context of a campaign for the support of the Breton language.
10 It has to be said that the Canadian state was far less successful in resolving its centuries-old conflict with the Indigenous Peoples over their stolen lands, as recalled by Pierre Trudel, and Nicolas Houde and Laurie Camirand Lemyre, in their respective contributions in this book.
11 Because in Europe, the story and existence of the Acadians has remained somewhat unknown, I referenced my book about the Acadian History (Kolboom & Mann, 2005). See also the timeline highlights events and people related to Acadian history in:https://www.thecanadianencyclopedia.ca/en/timeline/acadian-history/.
12 Louis David Riel was a French Canadian rebel leader, co-founder of the Province of Manitoba, chief of the rebellious French speaking Métis-Indians in the Prairie region who were protesting against the encroachment of English-speaking settlers. His hanging, ordered in 1885 by the Canadian Federal government of the time, was considered by the French speaking minority of Canada as political murder (Stanley, 2013; Dubois & Saunders, 2017).
←33 | 35→
A Multidisciplinary Approach to Cultural Security in Minority Studies
JEAN-RÉMI CARBONNEAU, ANDREAS GRUSCHKE (†),1 FABIAN JACOBS AND INES KELLER
This volume arose from the international symposium Dimensions of Cultural Security for Ethnic and Linguistic Minorities that took place on November 17–19, 2016 in Bautzen/Budyšin in the Free State of Saxony. The symposium held in the House of the Sorbs (Serbski Dom) was jointly organized by the Sorbian Institute (Serbski institut), the Canada Research Chair in Quebec and Canadian Studies (CRÉQC) at Université du Québec à Montréal (UQÀM) and the Institute of Social Development & Western China Development Studies at the Sichuan University in Chengdu, China. At the same time, the conference was the second meeting of the International Symposia on Cultural Inclusion, held for the first time in 2015 in Freiburg im Breisgau (Germany). More than twenty social scientists from different disciplines (political and cultural sciences, history, anthropology, sociolinguistics, geography) met for three days in Bautzen to incite discussion on a variety of societal structures and institutional frameworks allowing national and linguistic minorities to develop a sense of belonging to their respective state through political participation and, thus, secure a certain degree of cultural autonomy. This would guarantee – such was the assumption of the organizers – social stability and the sustained development of both minorities and majorities.
←35 | 36→
Saxony's Secretary of State for Science and Arts, Uwe Gaul, opened the symposium staged under the auspices of State Minister, Eva-Maria Stange, whose greetings he conveyed. In his opening speech, which starts the series of contributions in this book, he examines various aspects of Saxony's minority policies toward the Lusatian Sorbs and their potential for cultural security. His remarks are followed by the address of the keynote speaker Ingo KOLBOOM, Professor Emeritus of the Technische Universität Dresden, president of the Saxon-Breton Society and associated researcher at the CRÉQC, who reflected on his personal experience with various national and linguistic minorities on the occasion of a public reception held at the Sorbian Museum the first evening of the symposium. In his reflections, he spans the globe, starting with his childhood memories of the old Danish-German conflicts in his native Schleswig-Holstein in Northern Germany, his early memory of the Tibet question in China, his encounters with the South Tyrolean Germans, Bretons and Corsicans in Europe, continuing with French speaking minorities in North America, establishing links to the Sorbs and drawing attention to the importance of the exchange of knowledge between minorities in their search for "creative resilience strategies." These two contributions follow the present introduction.
Such resilience strategies are essential for national and linguistic minorities' everyday relations with both the state and the larger society, since these are characterized by unequal power relationships, to varying degrees, depending on the context. New Zealand sociolinguist Stephen May, who devoted intensive research on the Maori minority, therefore begins his book on Language and Minority Rights by recalling one unmistakable fact: "The contest between 'majority' and 'minority' languages is, by definition, an uneven one – a mismatch. Much like a lightweight boxer taking on a heavyweight, we're almost certain what the outcome will be" (2012, p. 1). By the end of the 1970s, the Special Rapporteur of the United Nations sub-commission on the prevention of discrimination and protection of minorities, Francesco Capotorti, observed that "there is no generally accepted definition of the term 'minority'. The preparation of a definition capable of being universally accepted has always proved a task of such difficulty and complexity that neither the experts in this field nor the organs of the international agencies have been able to accomplish it to date" (1979, para 20). After analyzing the different definitions used around the world, he suggested his own that is now widely known, according to which a minority is:
←36 | 37→
A group numerically inferior to the rest of the population of a State, in a non-dominant position, whose members – being nationals of the State – possess ethnic, religious or linguistic characteristics differing from those of the rest of the population and show, if only implicitly, a sense of solidarity, directed towards preserving their culture, traditions, religion or language (1979, para. 567).
What emerges from this definition is a particular emphasis on a numerical and political constraint (in a non-dominant position), objective (characteristics differing from those of the rest of the population) and subjective dimensions (a sense of solidarity) as well as the will to preserve what distinguishes the group from others. From a sociological point of view, the subjective dimension is linked to the awareness of a constraint among the members of the group who share "the feeling of being economically, politically and symbolically subjected" to the larger society; in this respect, self-identification "as a minority is a performative act that signals that one is part of a power relationship and that one aspires to symbolic parity," that is, to the recognition of one's societal belonging as well as one's cultural otherness by the majority group (Meune, 2011, p. 42).2
For the purpose of this book, we shall consider "linguistic minorities" as groups speaking a vernacular – different from the majority's vehicular – language who were already established within the border of the state before its foundation. In many instances, as shown in this book and in the existing literature in Minority Studies at large, this category overlaps with that of "national minorities." Political philosopher Will Kymlicka describes these groups as "previously self-governing, territorially concentrated cultures [integrated] into a larger state" who "typically wish to maintain themselves as distinct societies alongside the majority culture, and demand various forms of autonomy or self-government to ensure their survival as distinct societies" (1995, p. 11).
Cultural security in social sciences
←37 | 38→
Cultural security is a multidimensional notion used in the social sciences. For the recognized expert on conflict resolution John Burton (1979), cultural security was – alongside physical safety, distributive justice, belongingness, identity, self-esteem, personal fulfillment, freedom and participation – one of the general human needs whose satisfaction could contribute to the prevention of violent conflicts, which is particularly true of national and ethnic conflicts. For example, the bloody conflict in Chechnya (1994– 2000) could have been defused or even avoided had the Russian authorities taken these needs into account (Kök, 2007). The notion of cultural security was also used in international agreements regarding the pillage or destruction of cultural artefacts during armed conflicts (Nemeth, 2015). The blasting of the archeological ruins in the oasis city of Palmyra in Syria in 2016 and the terrorist attacks in Catalonia in the summer of 2017 (both perpetrated by the organization Islamic State of Iraq and Syria, better known as ISIS), that was first intended against the Sagrada Família, remind us that the protection of world cultural heritage is an important aspect of cultural security.
What is more, the issue of cultural security was raised by signatory states and in international trade agreements and some of their regions to obtain cultural exception clauses. For example, the Canadian and Quebec governments have expressed concern since the 1990s about the intensity of cultural penetration from the United States. Both governments stressed their will to protect their respective markets against the cultural hegemony of the southern neighbor and affirm a higher degree of cultural sovereignty (Bélanger, 1999). The concept was also applied to the Westernization of academic education in an increasingly globalized world, a phenomenon representing a real sociocultural threat for non-Western societies (Samier, 2015). Thus, the uncritical adoption of globalized university systems and programs primarily elaborated in and for Anglo-Saxon societies lead to the spread of Western-centered and Eurocentrical values, ideals and aims in non-Western countries. The vision of the world imported in these regions is often seen as inappropriate for local cultures, their normative systems and societal institutions, and is rather interpreted as serving the economic and political interests of Western states and corporations.
←38 | 39→
More importantly, for the purpose of this volume, the idea of cultural security has also been used in domestic policies in the field of minority rights and protection. Against the background of decolonization, cultural security was especially relied upon with regard to the provision of culturally adequate health-care services to Indigenous populations in Australia, New Zealand and Canada, sometimes used as a complement to the notion of cultural safety, sometimes as a synonym (Coffin, 2007; Brascoupé, 2009; Blanchet Garneau & Pepin, 2012). According to Mick Gooda (2011), who was mandated by the Australian Human Rights Commission to investigate the ongoing discrimination against the Torres Strait Islanders between 2010 and 2016, an Indigenous people established in Queensland, cultural security refers not only to the creation of these services, but also to the achievement of a greater presence of Indigenous persons in state bodies responsible for providing services, with the overall goal of developing an extensive cultural competence within the state administration. Cultural security thus "imposes a stronger obligation on those that work with Aboriginal […] peoples to move beyond 'cultural awareness' to actively ensuring that cultural needs are met for individuals" (2011, p. 125).
Similar to the right to get culturally appropriate government services, cultural security for minorities can take the form of a right to linguistic security from which arises a duty for the state and the larger society to promote the language of the minority and to assure its continued existence as a cultural group. With reference to the situation of francophone minorities in Canada, Denise Réaume (1994, p. 129) defines the right to linguistic security "as the right to pursue normal processes of language transmission and maintenance without interference. This right would preclude any attempt to prohibit use of the language in the normal range of contexts or to prohibit the education of children of the group in the language." According to constitutionalist Christophe Parent, the best way to counter state interference in the process of transmitting minority languages is to make this right a "territorial right of nations to cultural security" (2011, p. 87, emphasis in original). Linguistic minorities historically established in multilingual states may need a territorial basis to survive as distinct national groups. "Language policy ultimately requires a territorial policy, otherwise minority languages will always end up becoming drowned in a majority bilingualism." In the end, "territorial settlement is often the only way to stop a process of linguistic extinction" (Parent, 2011, p. 88).
←39 | 40→
These aspects are part of a broader understanding of the notion of cultural security connecting all the contributions contained in this volume. As mentioned above, it places its focus on the societal and institutional frameworks that should be designed to facilitate the expression of cultural otherness and political participation and, at the same time, allow national and linguistic minorities to be a part and a counterpart of the society in different state contexts. In considering both minority claims for more inclusive policies and various strategies to cope appropriately with existing asymmetrical power relations within different societal systems, five main dimensions emerge where compensatory mechanisms are at work in order to achieve more cultural security. Beside (1) minority institutions, these dimensions of cultural security minorities concern (2) the issue of homeland and territory, (3) that of state stability, (4) the patterns of collective identity and belonging, and (5) the social and cultural incentives for individual participation in the national or linguistic collectivity.
Institutional dimension
The first dimension comprises the extent to which the state and the larger society can provide national and linguistic minorities with community institutions and a certain degree of political determination. The permanent asymmetry of power inherent in minority-majority relations and the resulting sense of cultural insecurity among national and linguistic minorities calls for an institutional response. According to Will Kymlicka, historically established minorities in modern states make collective claims involving external protections, "that is, the ethnic or national group may seek to protect its distinct existence and identity by limiting the impact of the decisions of the larger society" (1995, p. 36). Such mechanisms are essential to what he coined as societal cultures:
a culture which provides its members with meaningful ways of life across the full range of human activities, including social, educational, religious, recreational, and economic life, encompassing both public and private sphere. These cultures tend to be territorially concentrated, and based on a shared language. […] they involve not just shared memories or values, but also common institutions and practices (1995, p. 76).
←40 | 41→
External protections can take the form of autonomous or community institutions limiting the adverse effects of unequal power relationships and able to provide minorities with cultural security and a sense of belonging to the state. In countries like Hungary, Romania or Estonia, where such institutional arrangements have been negotiated and implemented, various forms of non-territorial autonomy have emerged for national and linguistic minorities (Smith, 2013). These arrangements originate from the autonomy model developed at the turn of the twentieth century by Austrian Marxists to facilitate the cohesion of the different nationalities living side by side within the then declining Austro-Hungarian Empire (Bauer, 1907; Cohen, 2007; Kuzmany, 2016). This also includes political participation in state institutions and bodies, for example through the introduction of minority quotas (Lijphart, 2004; Stojanović, 2013).
Cultural security can also be ensured to a certain extent by institutional completeness. According to French Canadian sociologist Raymond Breton (1964), institutional completeness reflects the degree of social cohesion of an ethnolinguistic minority depending on the attractiveness that their formal community organizations and informal networks exert on their members as well as on the ability of these institutions to meet individual needs in the different areas of community life (culture, language, education, economy, religion, leisure, etc.). As Breton points out, "[a] community with a global institutional system is one in which people can be born, live and die. This phenomenon is rather rare among minorities" (1985, p. 9). The institutional completeness of a minority is closely linked to its cultural and linguistic security, as is shown by the examples of French-speaking minority communities in Canada (Breton, 1985; Cardinal & González Hidalgo, 2012; Chouinard, 2014), the French Basques (Itçaina, 2017), the Sorbs of Lusatia (Carbonneau, 2017) and the Hakka minorities in Hong Kong and Taiwan (Dupré, 2017). These various institutional strategies have been taken up worldwide within the framework of minority and language policies in order to counter the cultural insecurity of a large number of national and linguistic minorities.
←41 | 42→
Cultural security can therefore develop where power asymmetries are compensated by the implementation of top-down measures and the establishment of language rights giving external protections and a greater degree of institutional completeness to national and linguistic minorities. Peter SCHURMANN shows this very clearly in his contribution using the example of the Lusatian Sorbs in post-war East Germany. There, after 1945, new regional legal regulations enormously strengthened the feeling of cultural security among the members of that small Slavic people, as well as their sense of belonging to the German Democratic Republic (1949–1990). After decades of Germanization policies that reached their peak under Nazi Germany, the East German authorities finally granted the Sorbs an institutional existence in the form of the 1948 Act to Safeguard the Rights of the Sorbian Population and the 1950 Government Ordinance for the Promotion and Development of Sorbian Cultural Aspirations, adopted in Saxony and Brandenburg respectively. These two pieces of legislation, to which the Sorbs owe the creation of language rights and a network of community institutions, survived the collapse of the East German socialist regime and represents the basis on which the current Sorbian legislation has been built in the Federal Republic of Germany since 1990.
Another example of a minority established in the former Eastern Bloc countries is provided by Anton STERBLING. In his contribution, he points out what significance cultural institutions and a school system in the vernacular language had for the German national minority in the various phases of post-war history in Romania. These institutions not only had a stabilizing effect on cultural values and identity conceptions but also made a lasting contribution to the cultural continuity and security of Romanian Germans. This was particularly evident during the so-called thaw era, at the end of the 1960s and the beginning of the 1970s, when institution-supported cultural security was stabilized for some time and the willingness to participate in community institutions grew visibly.
A contemporary development of the institutional dimension of cultural security can be found in Martin NORMAND'S contribution to this book. There, he explains how cultural security can be actively ensured in Canadian public institutions through the delivery of government services to official language minorities. Since the 2000s, the principle of active offer has been protected in federal and provincial institutions in order to better meet the needs of French speaking minority communities (present outside of the province of Quebec) and the obligations arising from legal regulations for the protection of minority languages. In addition, active offer has the potential for broader participation of civil society in the negotiation of institutional frameworks related to the provision of services in minority languages.
Territorial dimension
←42 | 43→
As already stated, the feeling of cultural insecurity and the overcoming of asymmetrical power relations between majority and minority requires an institutional response. This protection usually takes the form of representation rights in the institutions of the larger society, but can also translate into political autonomy, in the settlement area of the minority concerned. This leads us back to what Christophe Parent called the striving of minorities for "linguistic and cultural security offered by territory" (2011, p. 79). Cultural security – especially of linguistic minorities – can thus be guaranteed by territorial autonomy. This in turn implies territorial pluralism and federal arrangements, so that a minority within the state territory can become, at best, a local majority (Laponce, 1987; Kymlicka, 1995; Basta, McGarry, & Simeon, 2015; van Parijs, 2011), as in the case of Quebec and Nunavut in Canada, the Celtic nations in the United Kingdom, Spanish autonomous communities such as Catalonia and the Basque Country or the Kurdistan Region of Iraq. However, the territorial empowerment of minorities is only possible with a multinational reading of federalism, as Alain-G. Gagnon (2014) clearly illustrated.
The territorial dimension of cultural security does not only include the negotiation of legal claims on territory and the pursuit of territorial autonomy but also discourses on the territorialization of linguistic areas, settlement areas or notions of homeland and their impact on the cultural security of minority members, as well as questions relating to forced settlements and the creation of Indian reserves (Bartlett, 1990; Simard, 2003; Gentelet, Bissonnette, & Rocher, 2007; Ptačkova, 2013). In any case, territory constitutes an essential dimension of cultural security for national and linguistic minorities and it can be stated that this security will be all the higher as the area of establishment of a minority will simultaneously be a protected area for the practices that distinguish it from other groups (language, culture, religion, traditions, etc.). As political scientist Jean Laponce has shown, linguistic minorities have a particular interest in ensuring that the area they traditionally occupy becomes a "territorial niche" (1987) to protect their language from unequal socio-linguistic dynamics that promote the spread of the hegemonic language. Therefore, he assumes that the most effective of these protected areas is the one that the minority controls politically.
←43 | 44→
Nicolas HOUDE and Laurie CAMIRAND LEMYRE, in their contribution on the Atikamekw community of the Wemotaci Iriniwok people, located in the province of Quebec, describe the establishment of protected areas and their potential for providing territorial empowerment and cultural security to Indigenous peoples in Canada. The creation of these areas can be seen as a way not only to renew the connection of Indigenous individuals to their ancestral lands and to stimulate political innovation in the field of Indigenous governance, but also to regenerate biodiversity and reconcile it with Indigenous territoriality and value systems – a connection that was long forbidden by Canadian colonialism. This type of territorial arrangement is particularly promising in the absence of the consensus needed to amend the Canadian constitution in a truly multinational sense in establishing a third level of government (Papillon, 2009).
In his contribution, Xabier ITÇAINA outlines the emergence of innovative language regimes using the example of the French Basque Country, where the lack of institutional support from above could be partly compensated by some local arrangements, creating new conditions for the state recognition of the regional language. Despite several obstacles, recent language policy developments in that part of France had a measurable impact on the revitalization of Euskera. Itçaina explains the various steps undertaken since the early 1990s in the incremental institutionalization of a language regime in the French Basque Country and how this has had positive effects on the cultural security and institutional completeness of Basque speakers. More specifically, Itçaina shows the central role played by the creation of the Public Office for the Basque Language in 2005 and the cross-border influence of Spanish Basque language policy in the emergence of a language regime on a territorial basis.
Turning to the problems met by exiled Tibetans who want to acquire land property in India, HUANG Yunsong and Andreas GRUSCHKE show the extent to which unclarified property rights can become a major hurdle not only for regional development, but also for the social inclusion of national and linguistic minorities. They reveal that India's forestalling of Tibetans from obtaining citizenship has resulted in New Delhi's inability to address the land issue in a fundamental way. Cultural security for Tibetans in India thus became a bigger issue than expected since it is challenged at its very foundation: by a non-sustainable livelihood basis as well as by a sociopolitical environment that expects them to integrate and at the same time obstructs their attempts to avail themselves the right to citizenship by birth.
←44 | 45→
Fabian JACOBS explores another case of territorial claims at the local level, asking what role culture plays in reclaimed mining landscapes. He exemplifies this by looking at the Lusatian lignite mining area, which overlaps to a large extent with the settlement area of the Sorbian national minority. The resettlement of Sorbian inhabitants, as a result of the destruction of whole villages for mining purposes, has a severe effect on Sorbian cultural security and community cohesion. It not only symbolizes a breach in sociocultural structures but also in organic settlement structures within the cultural landscape. This leads to a loss of cultural security, which is bound to a collectively acquired territory in the sense of a homeland. Such a critical situation can be demonstrated by using the example of a village community in Central Lusatia. As a starting point for his analysis, Jacobs uses an approach based on the concept of "cultural landscape," in which the bicultural nature of the region is taken into account and in which the historical minority has the opportunity of following paths of active involvement in planning processes.
State stability
Beyond the political, technical and financial challenge they represent, minority claims for cultural security, whether institutional or territorial, can be viewed as a guarantee for internal stability from the perspective of state actors. In order to ensure stability, states have an interest in engendering historical minorities' loyalty by co-opting them politically and giving them linguistic and cultural rights on a territorial or a non-territorial basis. Such changes can often only be achieved during periods of political upheaval in the historical development of states when minorities are in a better position to negotiate (Liu, 2015). While for some (Nordlinger, 1972; Cornell, 2002; Meadwell, 2002) territorial pluralism inherent in federalism induces a "slippery slope" ultimately leading to secession, for others it is a valid institutional solution to ensure the stability of states with heterogeneous populations, provided that the autonomy granted is not too little too late (Lijphart, 1999; Basta & Simeon, 2015; Cederman, Hug, Schädel, & Wucherpfennig, 2015). Autonomy of national and linguistic minorities granted on a federal-territorial basis provided for both cultural security and state stability in several divided societies, including in Canada (Chevrier, 2009), Spain (Colomer, 1998; Guibernau, 2004), India (Stepan, 1999; Burgess, 2006), and Iraq (McGarry & O'Leary, 2007).
←45 | 46→
Still, many states have been suspicious of territorial pluralism and have looked instead at non-territorial solutions to ensure cultural security for their national and linguistic minorities. "It is this preoccupation with stability […] that does much to explain the heightened interest in and practice of non-territorial autonomy," as David Smith observed: "if minority demands can be de-territorialised, the reasoning goes, they will be easier to contain and thus pose less of a threat to state integrity" (Smith, 2013, p. 32). Viewed through the prism of state stability, non-territorial autonomy has been used as a tool to defuse territorial minority claims, as was the case in New Brunswick (Canada), where the bilingualization of political institutions and public life in the entire province in the early 1980s proved sufficient to halt the political momentum for the creation of a smaller French speaking province to meet the cultural needs of Acadians (Poplyansky, 2013). Just like in the original Austrian Marxists model, autonomy on a personal basis is often seen as a necessity in a wider context of reciprocity beyond state borders, especially to offset the destabilizing effects of so-called triadic nexuses between nationalizing states, national minorities and their external homelands, a common configuration in Eastern Europe (Brubaker, 1996).3
International governmental organizations such as the United Nations, the Conference – later renamed Organization – for Security and Cooperation in Europe (CSCE/OSCE), the Council of Europe and the African Union (AU) have acknowledged, in the last few decades, the close connection between cultural security for national minorities and state stability. As it is well known, the Concluding Document of CSCE held in Vienna in 1990 not only recognized "that respect for the rights of persons belonging to national minorities as part of universally recognized human rights is an essential factor for peace, justice, stability and democracy in the participating States" (art. 30), but also that this could be reached, among other means, "by establishing […] appropriate local or autonomous administrations corresponding to the specific historical and territorial circumstances of such minorities" (art. 35). Another example may be found in the African Commission on Human and Peoples' Rights of the AU and in "the way in which [it] has interpreted human rights to non-discrimination […] to ensure, to a limited extent, a right of cultural security for minority groups" and how this can contribute to stability of African states (Murray & Wheatley, 2003, p. 213, 219–220). Recent history has amply demonstrated that ignoring minority demands for autonomy or taking away already existing autonomy not only fosters cultural insecurity but can also lead to massive state instability, to say the least, as the cases of Northern Ireland, Kosovo or Sri Lanka reminds us.
←46 | 47→
According to A. Tom GRUNFELD, in a comparison of China and Canada, inclusive institutional frameworks fostering the security of minority cultures can contribute to the stability of the state and sustain the development of the society as a whole. In China state interference in the cultural affairs of Tibetans, especially in language instruction and the Buddhist religion, resulted in long-lasting tensions and impaired loyalty. While in Canada the high level of political autonomy enjoyed by the French-speaking province of Quebec provided the necessary basis for cultural development and thus contributed to maintain the loyalty of a majority of its citizens to the Canadian federation and to its stability despite the rise of a strong independence movement.
By linking previous definitions of cultural security and cultural inclusion, Andreas GRUSCHKE draws up different perspectives on cultural security based on the region-specific conditions in Western China and how these can be both preconditions and opportunities for more sustainable ways of local economic development – thus offering positive prospects for social and political stability. He points out that the cultural identity of national minorities needs to be taken into account in Chinese development state policies, not only in relation to economic activities such as local tourism and the development of other economic sectors, but also in relation to cultural identity as "raw material" for the development of areas historically marked by cultural diversity.
←47 | 48→
While the Canadian federation is the result of a compromise between the two main settler societies (English and French) assuring the stability of the nascent state to cope with the continental hegemony of the United States (LaSelva, 1996), the support and participation of the Indigenous peoples to the building of the new country was not deemed necessary. Instead, the Canadian state embarked since its foundation in 1867 upon a policy of assimilation and territorial dispossession of the first inhabitants already started under British colonial rule. A century and a half later, it is largely accepted that the Canadian "civilization" policy failed (Cairns, 2000; Truth and Reconciliation Commission [TRC], 2015) and Indigenous resilience has become an increasing source of state instability to be taken seriously. In his contribution, Pierre Trudel analyses the current situation of about 1,000 Indigenous communities, accounting for roughly four per cent of the Canadian population, and the challenges of their political integration in the Canadian federation. In its 1996 report, the Royal Commission on Aboriginal Peoples (RCAP) recommended that the many Indigenous communities merge into a maximum of 80 modern nations in order to gain political weight, facilitate the exercise of their inherent right to self-determination and ensure their cultural identity and traditions in the long term. The potential rebuilding of historical Indigenous nations represents a major challenge for the state as it becomes clear that the current status quo does not work anymore. Thus, the Canadian federation can no longer afford to ignore the ongoing marginalization of Indigenous peoples who are increasingly questioning the legitimacy of the constitutional order of the colonial society.
Patterns of collective identification
Just as the state recognition of the historical bond to a particular territory can offer cultural security to individuals belonging to national and linguistic minorities, the membership in such communities has in itself the capacity to convey a sense of security. However, performative identification with the minority is influenced – and in some cases massively impeded – by various factors, as shown by studies on the psychosocial effects of negative historical experiences of social discrimination based on cultural otherness (Walde, 2012), colonialism (RCAP, 1996; TRC, 2015), forced migration and expulsion (Günberg & Straub, 2001; Wutti, 2013; Zöchmeister, 2014), and even genocides (Dabag & Platt, 2015).
In addition, individuals who decide to belong to a minority group and to defend a given cultural heritage are often subject to language loss and cultural assimilation, the ongoing homogenization policies of citizens due to state centralization and majority nationalism (Gagnon, Lecours, & Nootens, 2011), the infringement of linguistic, cultural or religious rights (Skutnabb-Kangas & Phillipson, 1995) as well as a lack of political recognition by state institutions and the larger society (Taylor, 1992; Eisenberg, Webber, Coulthard, & Boisselle, 2014). As a result, collective identity offerings for historically established minorities – regarded here as a further dimension of their cultural security – can come under considerable pressure as these groups are competing with other national and linguistic communities for the cultural allegiance of their members (Breton, 1985). Moreover, in the "liquid modernity" (Bauman, 2000), the option of changing and multiplying affiliations represents an existential but not hopeless challenge for minorities.
←48 | 49→
From an emic perspective borrowed from cultural anthropology, Nicole DOŁOWY-RYBIŃSKA thus describes in her chapter the most important sources of cultural insecurity for individuals belonging to the young generation of Kashubs in Poland, Upper Sorbs in East Germany, Bretons in France and Welsh in the United Kingdom. Among the social mechanisms of constraint conducive to language-shift and cultural assimilation are the negative attitudes of individual members of the larger society toward minority languages, including their influence over their children, language ideologies and discrimination, intimidation, harassment and the folklorization of minority presence in these four countries. Dołowy-Rybińska also shows various strategies of security-giving and collective identification developed by these young adults through linguistic activism and cultural engagement, as well as the positive impacts of these strategies on their feeling of belonging and self-worth, their interest in protecting their language and preserving cultural diversity.
Similarly, Daniel WUTTI'S chapter on the Slovene minority in Carinthia (Austria) deals with mnemonic coping strategies in regard to decades of discrimination, assimilation and political exclusion going back to the end of World War I. He points to the influence these negative experiences had and still have on so-called large group identities. The Carinthian Slovenes responded to German nationalism in Austria by continuing to foster their cultural heritage within the confines of their community and, at the same time, closed themselves off from the world outside their group. More than 40 years after anti-Slovenian attacks on bilingual place names (a crisis known as "Ortstafelsturm"), the Slovenian minority is confronted with the challenge of achieving a new, more inclusive form of cultural security. It seems currently that, above all, the "dynamic identities" of young minority members determine the further development of the Slovenian minority.
Jean-Rémi CARBONNEAU provides a cultural-historical overview of the ambivalent ties of the Valencian Country with Catalonia and of the Valencian quest for cultural security since the nineteenth century, against the backdrop of a simultaneous belonging to the Spanish state and a cultural space known as the Catalan Countries. In this chapter, Carbonneau reviews the main national projects pursued by generations of cultural and political actors in the Valencian Country. The author shows that cognitive representations of the local language and the spread of linguistic secessionism in the region are closely linked to the Valencians' patterns of collective identification. In the light of his analysis, he concludes that there has been a growing overlap between the centerperiphery cleavage and the left-right axis in terms of national identification since the Spanish democratic transition.
←49 | 50→
Participatory dimension
While institutions, territory and state stability embody dimensions of cultural security where coping strategies tend to be top-down responses aimed at rebalancing power asymmetries between national/linguistic majorities and minorities, the participatory dimension focuses, like the use of collective identity offers, on cultural and political activism from below through a more bottom-up perspective. Cultural security is conveyed here through the individual preservation of collective practices inherent to belonging to national and linguistic minorities. Individual actors involved in this process are often caught in a dilemma between maintaining intact and transmitting inherited cultural practices on the one hand, and, on the other, the need to achieve cultural innovations and adapt – to a certain extent – their cultural practices to the norms of the dominant society if they are to see their societal culture survive in the long run. Other phenomena come into play in this area of conflict, such as linguistic revitalization programs (Fishman, 2001; May, 2012; Schulze, 2015) as well as policy debates on cultural tourism, intangible cultural heritage and the folklorization of minorities (Keller, Jacobs, & Jacobs, 2015).
Ultimately, these phenomena are forms of civic participation of national and linguistic communities (Tschernokoshewa, Keller, & F. Jacobs, 2015), which can be located on a "ladder of participation" (Arnstein, 1969; Hart, 1992; see also Polowy, 2015) elaborated for subaltern social groups and individuals, ranging from non-participation and heteronomy to self-determination and self-rule, through heteronomous participation and social involvement. Accordingly, cultural security can unfold wherever cultural opportunities allowing for a broader societal scope for action arise for minority members. These activities in the various areas of community life together form the institutional frame of community-based interaction and communication, which must have a certain level of completeness in order to be sustainable and viable – which once again refers to the concept of "institutional completeness" elaborated by Raymond Breton.
←50 | 51→
In her chapter, Inge SICHRA focuses on language policy and planning regarding Indigenous languages in Latin America through the example of Bolivia. She contrasts the shortcomings of top-down education systems based on the strengthening of the Spanish lingua franca with the bottom-up commitment of Indigenous parents as the main agency of Indigenous language transmission. Drawing on the personal experience of parents involved in bilingual education, Sichra analyses the attitude, behavior and strategies necessary both to compensate for the inadequacy of official language policies and to withstand an adverse sociolinguistic environment – often reaching the extended family – that disapprove of the use of Indigenous idioms and impose the dominating prestige language in public and private spheres of communication alike. In view of the many daily hurdles met by these agents of language transmission, the revitalization of Indigenous languages becomes a difficult task, generating cultural insecurity.
Ines KELLER and Theresa JACOBS examine how cultural practices of ethnic minorities can provide potential for self-assurance and identity construction and thus generate cultural security. Especially in times of social upheaval, strategies for coping with crises are sought. Transformations of cultural practices can then be seen in personal life plans as well as in cultural-practical, collective performances that are often marked by ambivalence. The use of Sorbian traditional costumes since the midtwentieth century and the staging of Sorbian folk dances serve as examples to show, on the one hand, how cultural heritage and practices were used for political purposes and, on the other, how they developed into important identity characteristics for individual lifestyles and led to reinterpretations of "traditional" patterns.
Manuel MEUNE'S contribution to this book is dedicated to the Francoprovençal language, whose speakers cannot refer to a common national territory and are scattered in France, Italy and Switzerland with various levels of official recognition. Unlike the case of Romansh, a minority language spoken in the canton of Grisons, the Francoprovençal idiom has never been able to develop into an administrative language in Switzerland. It therefore still consists of an array of regional varieties spoken in Romandy, the French speaking part of Switzerland, where it is historically anchored. More specifically, Meune explores the question of whether, beyond the conservation of its various endangered varieties, a revitalization can be envisaged in Switzerland that would allow Francoprovençal not only to function as a part of collective identity discourses, but could also be used as a concrete means of communication for its speaker community in Romandy.
←51 | 52→
In her contribution, Anna-Christine WEIRICH presents the biographies of female teachers participating to language transmission in a Ukrainian-speaking village in the Republic of Moldavia. As illustrated by the author, Moldovan citizens who belong to the Ukrainian national minority can only narrowly achieve cultural security since 1989 because of a disadvantageous institutional framework and a limited access to the new state language Romanian/Moldovan. Weirich observes that the Ukrainian-speaking population is doubly marginalized in the Moldavian educational system, whose purpose is the normalization of the new state language while Russian maintained its function as a supra-regional lingua franca in Moldavia. It is assumed that the resulting "languagebased injustice" (van Parijs, 2011) could be mitigated by a certain social mobility and opportunities for participation in Moldovan society.
***
In summary, it can be said that the provision of cultural security in multinational and multilingual states is of paramount importance for national and linguistic minorities, as it facilitates intercultural dialogue and, ultimately, the social co-existence of majorities and minorities in a way that is more conducive to equality of outcomes. However, cultural security goes far beyond the idea of the internal stability of the modern state. It is, in itself, a moral good, because it promotes cultural diversity in heterogeneous societies and calls on national and linguistic majorities to question the very idea of assimilatory state-building processes in favor of more tolerant and inclusive societal projects. The search for cultural security thus provides fertile ground for what Ingo Kolboom calls "creative collective resilience" in his personal roadmap, i.e. the invention, testing and rhizome-like dissemination of successful coping strategies for the protection, preservation and sustainable development of national minorities, for their societal cultures and their languages.
To conclude this introduction, the editors of the book would like to thank all people and institutions behind this publication, and especially the authors of the many contributions, the translation and editing assistants, the publisher Peter Lang and the editor of the series Diversitas, Alain-G. Gagnon. In addition to the Domowina-Verlag, which published the first (German) edition of this volume as a special issue of the Sorbian Institute's journal Lětopis (2017, Vol. 64, No. 2), we express our gratitude to the cooperation partners who made the Bautzen/Budyšin Conference in November 2016 possible through their financial support: the Domowina regional association Jakub Lorenc-Zalěski in Schleife/Slepo (Saxony), the Interregional Cooperation Program of the Government of Saxony, the CRÉQC and UQÀM in Montreal, the Sichuan University in Chengdu, and the Association internationale des études québécoises.
←52 | 53→
References
Arnstein, S. R. (1969). A Ladder of Citizen Participation. Journal of the American Institute of Planners, 35(4), 216–224.
Bartlett, R. (1990). Indian Reserves and Aboriginal Lands in Canada a Homeland. A Study in Law and History. Saskatoon: University of Saskatchewan, Native Law Centre.
Basta, K., McGarry, J., & Simeon, R. (eds.) (2015). Territorial Pluralism: Managing Difference in Multinational States. Vancouver: University of British Columbia Press.
Basta, K., & Simeon, R. (2015). Conclusion. The Continuing Relevance of Territorial Pluralism. In K. Basta, J. McGarry, & R. Simeon (eds.), Territorial Pluralism: Managing Difference in Multinational States (pp. 316–329). Vancouver: University of British Columbia Press.
Bauer, O. (1907). Die Nationalitätenfrage und die Sozialdemokratie. Vienna: Verlag der Wiener Volksbuchhandlung Ignaz Brand.
Bauman, Z. (2000). Liquid Modernity.Cambridge: Polity.
Bélanger, L. (1999). Redefining Cultural Diplomacy. Cultural Security and Foreign Policy in Canada. Political Psychology, 20(4), 677–699.
Blanchet Garneau, A., & Pepin, J. (2012). La sécurité culturelle: une analyse du concept. Recherche en soins infirmiers, (111), 22–35.
Brascoupé, S. (2009). Cultural Safety – Exploring the Applicability of the Concept of Cultural Safety to Aboriginal Health and Community Wellness. Journal of Aboriginal Health, 5(2), 6–41.
Breton, R. (1964). Institutional Completeness of Ethnic Communities and the Personal Relations of Immigrants. American Journal of Sociology, 70(2), 193–205.
Breton, R. (1985). Les institutions et les réseaux d'organisations des communautés ethnoculturelles. In Fédération des francophones hors Québec (ed.), État de la recherche sur les communautés francophones hors Québec, Actes du premier colloque national des chercheurs (pp. 4–19). Ottawa: Fédération des francophones hors Québec.
Brubaker, R. (1996). Nationalism Reframed. Nationhood and the National Question in the New Europe. Cambridge: Cambridge University Press.
Burton, J. (1979). Deviance, Terrorism & War. The Process of Solving Unsolved Social and Political Problems. London & New York: Palgrave Macmillan.
←53 | 54→
Cairns, A. (2000). Citizen Plus: Aboriginal People and the Canadian State. Vancouver: University of British Columbia Press.
Capotorti, F. (1979). Study on the Rights of Persons Belonging to Ethnic, Religious and Linguistic Minorities. New York: United Nations, UN Doc E/CN.4/Sub.2/384/Rev.I.
Carbonneau, J.-R. (2017). La complétude institutionnelle des Sorabes de Lusace depuis l'unification des États allemands. Politique et Sociétés, 36(3), 15–45.
Cardinal, L., & González Hidalgo, E. (2012). L'autonomie des minorités francophones hors Québec au regard du débat sur les minorités nationales et les minorités ethniques. Linguistic Minorities and Society, 1, 51–65.
Cederman, L.-E., Hug, S., Schädel, A., & Wucherpfennig, J. (2015). Territorial Autonomy in the Shadow of Conflict: Too Little, Too Late? American Political Science Review, 109(2), 354–370.
Chevrier, M. (2009). The Idea of Federalism amongst the Founding Fathers of the United States and Canada. In A.-G. Gagnon (ed.), Contemporary Canadian Federalism. Foundations, Traditions, Institutions (pp. 11–52). Toronto: University of Toronto Press.
Chouinard, S. (2014). The Rise of Non-Territorial Autonomy in Canada. Towards Doctrine of Institutional Completeness in the Domain of Minority Language Rights. Ethnopolitics, 13(2), 141–158.
Coffin, J. (2007). Rising to the Challenge in Aboriginal Health by Creating Cultural Security. Aboriginal and Islander Health Worker Journal, 31(3), 22–24.
Cohen, G. B. (2007). Nationalist Politics and the Dynamics of State and Civil Society in the Habsburg Monarchy, 1867–1914. Central European History, 40(2), 241–278.
Colomer, J. M. (1998). The Spanish State of Autonomies: Non-Institutional Federalism. West European Politics, 21(4), 40–52.
Cornell, S. E. (2002). Autonomy as a Source of Conflict. Caucasian Conflicts in Theoretical Perspective. World Politics, 54(2), 245–276.
Dabag, M., & Platt, K. (2015). Verlust und Vermächtnis. Überlebende des Genozids an den Armeniern erinnern sich. Paderborn: Ferdinand Schöningh.
←54 | 55→
Dupré, J.- F. (2017). Complétude institutionnelle et sécurité linguistique dans le monde sinophone: les Hakka à Hong Kong et à Taïwan. Politique et Sociétés, 36(3), 73–91.
Eisenberg, A., Webber, J., Coulthard, G., & Boisselle, A. (eds.) (2014). Recognition versus Self-Determination. Dilemmas of Emancipatory Politics. Vancouver: University of British Columbia Press.
Fishman, J. (ed.) (2001). Can Threatened Languages Be Saved? Reversing Language Shift, Revisited: A 21st Century Perspective. Clevedon: Multilingual Matters.
Gagnon, A.-G. (2014). Minority Nations in the Age of Uncertainty: New Paths to National Emancipation and Empowerment. Toronto: University of Toronto Press.
Gagnon, A.-G., Lecours, A., & Nootens, G. (eds.) (2011). Contemporary Majority Nationalism. Montreal: McGill-Queen's University Press.
Gentelet, K., Bissonnette, A., & Rocher, G. (2007). La sédentarisation: effets et suites chez des Innus et des Atikamekw. Montreal: Thémis.
Gooda, M. (2011). Social Justice Report 2011. Sydney: Australian Human Rights Commission.
Grünberg, K., & Straub, J. (eds.) (2001). Unverlierbare Zeit. Psychosoziale Spätfolgen des Nationalsozialismus bei Nachkommen von Opfern und Tätern.Tübingen: Edition Diskord.
Hart, R. (1992). Children's Participation. From Tokenism to Citizenship. Florence: UNICEF International Child Development Center.
Itçaina, X. (2017). Entre incomplétude institutionnelle et mobilisation sociale. Le cas de la langue basque en France. Politique et Sociétés, 36(3), 47–72.
Keller, I., Jacobs, T., & Jacobs, F. (2015). Immaterielles Kulturerbe und die Sorben. Die Chance auf einen neuen Umgang mit kulturellem Erbe. In E. Tschernokoshewa, I. Keller, & F. Jacobs (eds.), Einheit in Verschiedenheit. Kulturelle Diversität und gesellschaftliche Teilhabe von Minderheiten auf dem Prüfstand (pp. 87–101). Münster & New York: Waxmann.
Kök, H. (2007). Reducing Violence. Applying the Human Needs Theory to the Conflict in Chechnya. Uluslararasi Hukuk ve Politika/Review of International Law & Politics, 3(11), 89–108.
Kuzmany, B. (2016). Habsburg Austria: Experiments in Non-Territorial Autonomy. Ethnopolitics, 15(1), 43–65.
←55 | 56→
Kymlicka, W. (1995). Multicultural Citizenship. A Liberal Theory of Minority Rights. Oxford: Oxford University Press.
Laponce, J. (1987). Languages and Their Territories. Toronto: University of Toronto Press.
LaSelva, S. (1996). The Moral Foundation of Canadian Federalism: Paradoxes, Achievement, and Tragedies of Nationhood. Montreal: McGill-Queen's University Press.
Lijphart, A. (1999). Patterns of Democracy. Government Forms and Performance in Thirty-Six Countries (2nd ed.). New Haven and London: Yale University Press.
Lijphart, A. (2004). Constitutional Design for Divided Societies. Journal of Democracy, 15(2), 96–10.
May, S. (2012). Language and Minority Rights. Ethnicity, Nationalism, and the Politics of Language (2nd ed.). New York & London: Routledge.
McGarry, J., & O'Leary, B. (2007). Iraq's Constitution of 2005: Liberal Consociational as Political Prescription. International Journal of Constitutional Law, 5(4), 670–698.
Meadwell, H. (2002). When Voice Encourages Exit. In K. Archer, & L. Young (eds.), Regionalism and Party Politics in Canada (pp. 192–208). Toronto: Oxford University Press.
Meune, M. (2011). Au-delà du Röstigraben. Langues, minorités et identités dans les cantons suisses bilingues. Geneva: Georg.
Murray, R., & Wheatley, S. (2003). Groups ans the African Charter on Human and People's Rights. Human Rights Quarterly, 25(1), 213–236.
Nemeth, E. (2015). Cultural Security. Evaluating the Power of Culture in International Affairs. London: Imperial College Press.
Nordlinger, E. (1972). Conflict Regulation in Divided Societies. Cambridge: Center for International Affairs, Harvard University.
Papillon, M. (2009). Towards a Postcolonial Federalism? The Challenge of Aboriginal Self-Determination in the Canadian Context. In A.-G. Gagnon(ed.), Contemporary Canadian Federalism. Foundations, Traditions, Institutions (pp. 405–427). Toronto: University of Toronto Press.
Parent, C. (2011). Le concept d'État fédéral multinational. Brussels: P.I.E. Peter Lang.
←56 | 57→
Polowy, V. (2015). Stufen der Beteiligung. In E. Tschernokoshewa, I. Keller, & F. Jacobs (eds.), Einheit in Verschiedenheit. Kulturelle Diversität und gesellschaftliche Teilhabe von Minderheiten auf dem Prüfstand (pp. 173–184). Münster & New York: Waxmann.
Poplyansky, M. (2013). "L'Acadie aux Acadiens!": Le nationalisme du Parti acadien, 1977–1982. Acadiensis, 42(2), 75–91.
Ptačkova, J. (2013). The Great Opening of the West Development Strategy and Its Impact on the Life and Livelihood of Tibetan Pastoralists. Sedentarisation of Tibetan Pastoralists in Zeku County as a Result of Implementation of Socioeconomic and Environmental Development Projects in Qinghai Province, P.R. China. (Unpublished Doctoral dissertation.) Humboldt-Universität, Berlin, Germany.
Réaume, D. G. (1994). The Group Right to Linguistic Security. Whose Right, What Duties? In J. Baker (ed.), Group Rights (pp. 118–141). Toronto: University of Toronto Press.
Renner, K. (1908). Der nationale Streit um die Aemter und die Sozialdemokratie. Vienna: Vorwärtz.
Royal Commission on Aboriginal Peoples. (1996). A Relationship to be Redefined. Report of the Royal Commission on Aboriginal Peoples (Vol. 2). Ottawa: Supply and Services Canada.
Samier, E. A. (2015). The Globalization of Higher Education as a Societal and Cultural Security Problem. Policy Futures in Education, 13(5), 683–702.
Schulze, J. (2015). Bilingualer Spracherwerb im Witaj-Projekt. Bautzen: Domowina-Verlag.
Simard, J.-J. (2003). La réduction. L'autochtone inventé et les Amérindiens d'aujourd'hui. Quebec City: Septentrion.
Skutnabb-Kangas, T., & Phillipson, R. (eds.) (1995). Linguistic Human Rights. Overcoming Linguistic Discrimination. Berlin & New York: Mouton de Gruyter.
Smith, D. J. (2013). Non-Territorial Autonomy and Political Community in Contemporary Central and Eastern Europe. Journal on Ethnopolitics and Minority Issues in Europe, 12(1), 27–55.
Stojanović, N. (2013). Dialogue sur les quotas. Penser la représentation dans une démocratie multiculturelle. Paris: Presses de Sciences Po.
Taylor, C. (1992). The Politics of Recognition. In A. Gutmann (ed.),Multiculturalism. Examining the Politics of Recognition (pp. 25–73). Princeton: Princeton University Press.
←57 | 58→
Truth and Reconciliation Commission. (2015). Honouring the Truth, Reconciling for the Future. Summary of the Final Report of the Truth and Reconciliation Commission of Canada. Winnipeg: James Lorimier & Company.
Tschernokoshewa, E., Keller, I., & Jacobs, F. (eds.) (2015). Einheit in Verschiedenheit. Kulturelle Diversität und gesellschaftliche Teilhabe von Minderheiten auf dem Prüfstand. Münster & New York: Waxmann.
Van Parijs, P. (2011). Linguistic Justice for Europe & for the World. Oxford: Oxford University Press.
Walde, M. (2012). Wie man seine Sprache hassen lernt. Bautzen: Domowina-Verlag.
Wutti, D. (2013). Drei Familien, drei Generationen. Das Trauma des Nationalsozialismus im Leben dreier Generationen von Kärntner SlowenInnen. Klagenfurt & Celovec: Založba Drava Verlag.
Zöchmeister, M. (2014). Vom Leben danach. Eine transgenerationelle Studie über die Shoah. Gießen: Psychosozial.
---
1 Andreas Gruschke was one of the initiators of this book and intended as co-editor. After his regrettable passing on January 30, 2018, the revision of this introduction was taken over by the remaining editors.
2 All translations from French and German were done by the editors.
3 As one of the most important theorists of the Austrian-Hungarian social-democracy pointed out more than one century ago, with regard to personal autonomy given to the members of the various nationalities living in the different parts of the Empire, "you protect your own sons abroad by protecting foreigners in your homeland" (Renner, 1908, p. 19).
←58 | 59→
Part I Institutional Dimension
←59 | 61→
The Significance of Legislation in Saxony and Brandenburg1
PETER SCHURMANN
Abstract: Following the demise National Socialism in 1945, the new German authorities adopted a strategic program aiming for the recognition and protection of the Sorbian national minority. For the first time in history, German state authorities adopted specific provisions for the legally based promotion of the Sorb's language and culture. Despite good intentions at the outset, this did not necessarily lead to a feeling of greater cultural security for all Sorbs as time went on. This chapter examines the passing of two acts for the protection of the Lusatian Sorbs after World War II and the long-term effects they had on their sense of belonging to the German Democratic Republic and on their cultural security. The first section deals with the issue of ethnic inferiority felt among the Sorbs, as a result of the past minority policies, and the need to introduce countermeasures. The second section looks at the more realistic and pragmatic demands made by the Sorbian representatives, which led to appropriate regulations for the only recognized national minority in East Germany. Much effort was invested in their practical implementation and the reconstruction of Sorbian cultural life in spite of recurrent complications and setbacks.
Keywords: Sorbs, Saxony, Brandenburg, minority policies, cultural security, German Democratic Republic.
←61 | 62→
At the beginning of the twentieth century, the Sorbs, an Indigenous West Slavic people, lived in a historical region called Lusatia straddling the German states of Prussia2 and Saxony. They formed the majority of the population only in parts of Lower Lusatia (the Prussian administrative district Frankfurt/Oder in the Province of Brandenburg), Prussian Upper Lusatia (the administrative district Liegnitz in the Province of Brandenburg) and Saxon Upper Lusatia (encompassing the administrative district of Bautzen). In 1912, with the foundation of the Domowina (English: Homeland), the umbrella organization of most Sorbian civil associations, a supra-regional cultural actor emerged, that would increasingly support the political demands of the Sorbs toward cultural autonomy.3 Some of these demands would later find an echo in section 113 of post-war Germany's new Constitution of August 1919, known as the Weimar Constitution:
No laws or administrative orders may prejudice in their free and characteristic development the elements of the population of the Reich whose mother tongue is other than German, especially in regard to the use of their mother tongue in schools, in matters of internal administration, and the administration of justice (Office of U.S. Chief of Counsel, n.d.).
But the possibility of free development in their mother tongue both in school and in administration proved to be an optional provision in the Sorbian case and was not enforceable. The German approach to the Sorbian minority would only worsen under the National Socialist regime.
←62 | 63→
After the Second World War, the Sorbs in the Soviet occupation zone (SBZ)4 continued to be divided between the two states of Saxony and Brandenburg (formerly Prussia). They were concentrated respectively in five (Bautzen, Hoyerswerda, Kamenz, Löbau, Niesky) and six districts (Calau, Cottbus, Forst, Guben, Lübben, Spremberg). Their numbers continued to decline due to the former Germanization and denationalization policies on the one hand, and, on the other, because of the arrival of tens of thousands of new settlers coming from the former eastern territories of the German Reich. Having reorganized itself first in the Cottbus region of Brandenburg in 1946, the resurgent Domowina demanded anew both the recognition of the Sorbs' rights as a national minority and the obligations of the two Länder to make amends for the injustice suffered. After being initially opposed to it, the Socialist Unity Party of Germany (Sozialistische Einheitspartei Deutschlands [SED]), that had emerged in 1946 in the SBZ (then Eastern Germany) from the union of communists and social democrats, ultimately supported the Domowina's demands for legal security and the promotion of Sorbian culture and language. The two equal SED chairmen in Berlin, Wilhelm Pieck and Otto Grotewohl, had decisive influence on this.
On March 23, 1948, the Saxon Landtag, the highest parliamentary and legislative body in Saxony, passed the Act for the Safeguard of the Rights of the Sorbian Population, ensuring the Sorbs legal protection and state support in the cultivation and development of their language and culture. The law provided for the establishment of primary and secondary schools with Sorbian as a language of instruction, and in which instruction would also be given in German. In order to allow for the right to use Sorbian to communicate with the state authorities and their administrations, the law provided for the recruitment of Sorbian-speaking employees in the administration of all five Sorbian-German districts in Saxony. The act also foresaw the establishment, discussed after the end of the war, of an institution which, for the first time, was to manage and direct Sorbian cultural life in a relatively independant way (Schurmann, 2016, p. 19). Some commentators at the time regarded the law as a "Statute of Autonomy" and as "one of the few solutions to difficult cases that post-war Germany has so far succeeded in finding" (Markov, 1948, p. 105).
←63 | 64→
Two and a half years later, on September 12, 1950, the Council of Ministers of the Land of Brandenburg, its highest executive body, issued the Government Ordinance for the Promotion and the Development of Sorbian Cultural Aspirations. The wording of this decree, which unlike the Land of Saxony was not the result of parliamentary negotiations in the Landtag, was based on a proposal of the Domowina, whose representatives had successfully advocated in Brandenburg for the adoption of a regulation similar to the Saxon Sorbs Act. For the first time in the history of the Sorbian people, the German authorities had adopted a strategic program at the Länder level aiming for the material and ideational promotion of Sorbian language and culture. The adoption of the Brandenburg Sorbs Ordinance and of the Saxon Sorbs Act revealed an unprecedented paradigm shift in German history in favor of the interests of the Slavic national minority.
Based on various documents from Berlin and Saxon archives as well as historical secondary literature, this chapter examines the passing of two laws for the protection of the Lusatian Sorbs after World War II and the long-term effects they had on their cultural security in – and their sense of belonging to – the German Democratic Republic (GDR). The first section deals with the question of ethnic inferiority among the Sorbs, as a result of the policies of previous political regimes, and that of introducing countermeasures. On the Sorbian side, these culminated in maximalist demands, which proved unrealistic in light of the geopolitical context after World War II, as thousands of German refugees expulsed from the Eastern regions (as retaliation for the German invation) resettled in the region. The second section looks at the more realistic and pragmatic demands made by the Sorbian representatives within the Domowina, which led to appropriate regulations for the only recognized national minority in East Germany. Much effort was invested in their practical implementation and the reconstruction of Sorbian cultural life in spite of recurrent complications and setbacks. Finally, the conclusion emphasizes how the first legal anchoring of minority rights meant an unprecedented respite for the Sorbs. However, this did not necessarily lead to a feeling of greater cultural security and belonging to the new East German state for every Sorb.
←64 | 65→
1. Cultural insecurity after the end of the Second World War
The Sorbs were burdened by the "mortgage of an alleged 'cultural divide' " (Bömelburg & Kizik, 2014, p. 14) in comparison with the German(ic) majority of the population. This view had been considerably deepened by the work on the so-called Wends' Monographs (Wendenmonographie) under the direction of the Saxon state historian Rudolf Kötzschke from the second half of the 1920s onwards. Their authors, among them Rudolf Lehmann, already mentioned, proceeded with their research on the Sorbs in accordance with the following guideline: "to scientifically substantiate the formation of opinion of the primitiveness of the Wends and Slavs and to prove the natural law of the victory of the superior German culture" (quoted in Elle, 2013, p. 49). In addition, the Sorbs were represented in public discourse as a "people without history" and as a "culture of stagnation and backwardness" (Conrad & Randeria, 2002, p. 36).5 This had already unsettled leading representatives of the Sorbian national movement even before the National Socialists seized power, prompting them to publicly declare in 1929 that they were faced with decisions "that marked the end of our history so far," and that they intended, at least, to confront this end "with dignity and honor," as the Upper Sorbian daily Serbske Nowiny wrote in February 1929 (Sind wir Sorben ein nationale Mehrheit?, 1929).
←65 | 66→
Shortly after the founding of the Weimar Republic, federal and state authorities began to monitor the Sorbs, their associations and political actors, through the creation of a secret office.6 During the National Socialism era, the information collected was used by German authorities in accordance with the founding guidelines of the Wendenabteilung in order to ban and silence the Domowina and all its affiliated associations. After 1933, section 113 prevented neither the transfer of Sorbian teachers and priests to German-speaking areas nor the targeted Germanization of Sorbian or Slavic place names and landscapes.
In 1937, before Hitler's capitulation, the Sorbian policies of Nazi Germany became overtly focused on wiping out "a group identity that was rich in tradition, present in the everyday life, and largely determined by language, literature, faith and customs from a ethno-cultural perspective" (Jacob, 2005, p. 19). Simply put, Nazi policies toward Sorbs were aimed at making them irreversibly unrecognizable as a national Slavic group. Even nationalist social scientists such as the Lower Lusatian state historian Rudolf Lehmann, author of the History of Lower Lusatia, retrospectively admitted that the Sorbs had been systematically assimilated during the later years of National Socialism,7 and that, moreover, an attempt had been made to ethnically exterminate them during this specific period.
←66 | 67→
After having been subjected to a policy that not only sought their permanent assimilation but also considered them unworthy of integration and planned to liquidate them for "racial" reasons (Wippermann, 1996, p. 38), many members of the Slavic minority understandably behaved passively, and feelings of ethnic inferiority among them were more deeply rooted than ever. One indication of this was the reaction of Sorbian teachers to the first census in the SBZ on October 29, 1946, which asked the "mother tongue" and "national origin" of the citizens of Saxony and Brandenburg.8 The Sorbian publicist Mina Witkojc (1946) who, on behalf of the Domowina, promoted the participation in the census in Lower Lusatian villages around Cottbus, had to state disappointedly that "a great deal of insecurity and anxiety" prevailed, especially among Lower Sorbian teachers, as the question of their identification with a Sorbian national identity was raised. The view of the person responsible for school matters in the city of Cottbus, Fryco Grešeńc, was symptomatic of the atmosphere among many Sorbs. In one of his reports to his hierarchical superiors in July 1946, he wrote: "A Wendish people no longer exists!" From conversations with the population in his Sorbian mother tongue, Grešeńc concluded that it was simply impossible to "artificially revive the Wendish nationhood (Wendentum)" (quoted in Schurmann, 2016, p. 152).
There is no doubt that there were Sorbs who, in view of the opportunity to renegotiate societal and individual life conditions in postwar Upper and Lower Lusatia, confidently asserted their interests as a national minority. The reconsideration or "return of ethnicity" (Hall, 1994, p. 221) led to a radicalization of national demands, which – as the Austrian historian Michael Portmann noted – can "often stand at the end of a chain of conflicts" (2010, p. 45). Sorbian nationalism, which emanated from certain intellectual circles but not from the mass of the population, expressed itself with maximalist political demands. These were aimed at the administrative unification of the settlement area of the Sorbs in Upper and Lower Lusatia, the annexation of this area to Czechoslovakia or the creation of an independent Sorbian state (Schurmann, 1998, p. 42).
←67 | 68→
This recourse to old political strategies, as in 1918–1919 after the First World War (Schurmann, 2003, pp. 151–183), was opposed by a pragmatic position also represented in the ranks of the Domowina. In July 1945, speaking for the Domowina, its chairman Pawoł Nedo declared the "need of the hour" for Germans and Sorbs and demanded "that we take all things that concern us here in Lusatia into our hands and regulate them in joint work. I am sure that for such a cooperation, especially today, the Wends will bring with them prerequisites that will have fruitful effects for both parties in the long term" (Nedo, 1945, p. 20). The path to radicalization that emerged with the Sorbian memorandum of June 1945 addressed to the victorious powers of the anti-Hitler coalition, intended to deal exclusively with international diplomatic aid concerning the future political status of the Lusatian Sorbs, including territorial autonomy, was undoubtedly an expression of cultural insecurity. The signatories of this memorandum were united by their personal experience that the National Socialist era had been "terrible to such an extent" that many of them "no longer believed that a policy of reason toward the other nationalities would ever be adopted in Germany" (Cyž, 1955).
The behavior of the Soviet occupying power, which was also initially marked by uncertainty in regard to the Sorbian question, offered a limited margin of flexibility. On the one hand, the Domowina was provisionally admitted by the Soviet commandant's office in Bautzen on May 17, 1945 – even before the legalization of German parties at the beginning of June (Richter, 2017, p. 29). On the other hand, a clear strategy was pursued by the Soviet Military Administration in Germany, starting in early 1946 and dictated by Moscow, which rejected both Sorbian separatism and irredentism, such as the annexation of Lusatia to neighboring Czechoslovakia.
That refusal was taken into account in the Domowina's work pro-gramme of July 1947, in which only minimal demands were made regarding the promotion of Sorbian language and culture within the SBZ. By January 1948 at the latest, the Domowina leadership had adopted the view that the Sorbian question "could only be settled within the limits of the zone [SBZ]" because no help was to be expected for territorial demands (Domowina, 1948). This pragmatism had been laboriously developed in the course of the negotiations on a future Sorbs Act between Domowina and leading SED representatives in the Saxon Landtag and in the Bautzen district parliament. For the first time, the German-Sorbian convergence in the search for a legal definition of Sorbian cultural rights could be regarded both as a form of historical reparation and as a negotiation process almost on equal footing, something that Domowina leaders had previously considered unthinkable.
2. Political co-determination and the development of a sense of cultural belonging
←68 | 69→
The adoption of the Sorbs Act in 1948 by the Saxon Landtag, to which the Soviet occupying power had given its approval, was intended to send a signal to the Sorbian population in Upper and Lower Lusatia. It legally guaranteed the promotion of their language and culture and thus considerably contributed to their further development as well as to the regeneration of the minority community and, more generally, to national equality in Lusatia. The political actors of the Domowina felt strenghtened in their activities by the clarification of the minority question in the state of Saxony. They were also "pleasantly touched by the fact that the former communists were more relaxed about the problem of the nationalities, and did not reject or end discussions [on the concerns of the Sorbs]," said Korla Janak, a Sorbian SED member, in a statement to his party leadership in Berlin in November 1947(quoted in Schurmann, 2016, p. 175).
Leading representatives of the Domowina then made intensive efforts to implement the text of the Sorbs Act. From May 1948 onwards, Sorbian speakers were appointed in the five bilingual district offices of Bautzen, Kamenz, Löbau, Niesky and Hoyerswerda. In that same month, a Sorbian Cultural and Popular Education Office (Sorbische Kultur-und Volksbildungsamt, or "Sorbian Office") was opened in Bautzen, whose task was to ensure "the reconstruction of Sorbian cultural life and its further development" (Schurmann, 2016, p. 58). The staff positions in the Sorbian Office – which operated under the authority of the East-German Ministry of National Education (located in Dresden) – were filled by Sorbs, and its management was entrusted to the Domowina chairman Pawoł Nedo. Saxony's minister-president Max Seydewitz granted the Domowina, on March 24, 1949, the status of a public corporation, giving it greater freedom of action and co-determination leverage. After the founding of the Sorbian Teacher Training Institute in January 1946 and the Sorbian Secondary School in September 1947, the Sorbian Office functioned as the hub of the entire Sorbian cultural life. In other words, this meant for the Sorbian national minority the "recognition of both its societal belonging and cultural otherness" (Carbonneau, Gruschke, Jakobs, & Keller, 2017, p. 7).
The Saxon Sorbs Act gave members of both the Domowina and newly formed Sorbian institutions considerable political security and backing support to strive, as soon as possible, for regulations for the preservation of the Sorbian language and culture in Brandenburg as well, so that the scope of the law should be extended to parts of Lower Lusatia. From mid-1948, the focus of the Domowina's efforts to secure adequate minority regulations in Lusatia shifted from Saxony to the Land of Brandenburg. Resistance, however, was considerably greater, especially from members of the local authorities. On October 1947, for the first time, the Domowina cleary expressed its reservations on the difficult situation in Brandenburg to both SBZ and SED leadership in Berlin:
←69 | 70→
All approaches of the Domowina to begin with the Sorbian cultural work in Lower Lusatia were prevented by the German authorities there. Assemblies could only be held in German. Courses to learn Sorbian spelling are not permitted in Lower Lusatia. The use of the Sorbian language at school is prohibited. There is no authority there that would take care of Sorbian matters. The efforts of the Domowina to take care of Sorbian cultural affairs in Lower Lusatia are presented as reactionary and as separatist tendencies. These conditions undermine the confidence of the Sorbian population in Lower Lusatia in the honest democratic will of the progressive forces of the new Germany (quoted in Schurmann, 2016, p. 25).
The SED chairman in Brandenburg and president of the Landtag, Friedrich Ebert, initially maintained his view after the adoption of the Saxon Sorbs Act that it was inappropriate in Brandenburg to initiate "an action for the revival of the Sorbian nation" (Ebert, 1948). With this he contradicted the declaration agreed upon in Berlin on November 21, 1947, in the presence of the two equal SED party chairmen Wilhelm Pieck and Otto Grotewohl saying that
every support is to be granted by the municipal and state corporations to the Sorbian population for the care of their cultural life and their cultural institutions. In order to ensure the consistency of cultural activities, a cultural community of the Sorbian population with an independent direction transcending Länder and district borders shall be created.
By this, Pieck and Grotewohl (1947) had declared the Sorbian matters to be a priority issue in the Land of Brandenburg as well. The central SED leadership in Berlin was anxious to repress the influence of dissidents or doubters on this issue, including within its own ranks at the level of the Länder.
←70 | 71→
On January 20, 1949, the Brandenburg regional government informed the Domowina at the latter's request that the "establishment and operation of a secretariat" of the Sorbian umbrella organization "on the territory covering the districts of Cottbus, Spremberg, Calau and Lübben" had been approved (quoted in Schurmann, 2016, p. 190). Section 11 of the Constitution of the new GDR, founded on October 7, 1949, brought the Sorbian question into greater focus in the Land of Brandenburg. In this section – whose wording is very similar to that of section 113 of the Weimar Constitution –, the East German government committed itself, "through legislation and administration," to promote the "free and characteristic development" of the Sorbs of both Saxony and Brandenburg as "elements of the population of the Republic whose mother tongue is other than German." The political and financial support of the Sorbs thus shifted from "a regional problem, a problem of the Land of Saxony, to a task of the Republic" (Nowusch, 1978, p. 54). This gave rise to the adoption of the Sorbs Ordinance of the Brandenburg government one year later.
At that point, Sorbs in Upper Lusatia were a step ahead thanks to the Saxon Sorbs Actand already enjoyed considerable numerical representation in the district offices, as mayors, community representatives and even lay assessors. In view of their relatively high percentage within the overall population in some municipalities, it was in some case even possible to stop to consider the Sorbs "under the sole aspect of a minority" (Richter, 2017, p. 261). Thanks to the strong membership of its many local branches, the Domowina played a decisive socio-political role in Lusatia and was, at times, the only societal force able and willing to criticize the Communist Party and, as of 1946, its successor the SED (Schurmann, 1998, p. 103).
In the Fall of 1948, the Domowina direction had to admit, self-critically, that for the first time some of its members left the organization, because they "could no longer politically follow" the SED, with whom the Domowina was cooperating (Elle, 2010, p. 42). In March 1949, Domowina chairman Pawoł Nedo complained that the political openness toward the SED was no longer present in the ranks of the Sorbian population, as was still the case a year before when the Sorbs Act was passed. The reason for this was the "political-ideological enforced conformity" and "continued discrimination against the Sorbs by many Germans" (Richter, 2017, p. 283) that accompanied the dissolution of the association system at the beginning of 1949. This resulted from the decision made by state authorities in the SBZ, at the beginning of 1949, to dissolve all associations (including the Domowina) and integrate them into the so-called mass organizations, whose function was to legitimize the Communist regime in the eyes of the East German public (see Šurman, 1999, p. 10).
←71 | 72→
By mid-1949 at the latest, the SED saw the fight against "Titoism" within the Sorbian population as a priority of the Sorbian affairs. This primarily concerned the Sorbian youth that had provided help on the ground in Yugoslavia to build a railway line in 1947–1948. With the ideological conflict between the Soviet head of state Josef Stalin and the Yugoslav president Josep Broz Tito, who called for more democracy in the construction of socialism, anybody having direct contact with Yugoslav citizens was considered politically suspect.
In this tense confrontation fuelled by the Cold War, the newly elected chairman of the Saxon SED, Ernst Lohagen, now described the Sorbs Act as "a mistake" (Richter, 2017, p. 304) because its wording was particularly extensive. In his opinion, the Act offered the Sorbian population, for example in the places where they had the numerical majority, the possibility to use the Sorbian language exclusively. The SED delaying the implementation of the Saxon Sorbian Law reflected such concerns. At the same time, the legal regulations that had been planned for the Sorbs in Brandenburg were again called into question. At the beginning of February 1950 representatives of the Domowina held talks in Dresden with Saxon SED officials from the central and district levels, in which the following agreement was achieved: "The Politburo [of the SED]9 will instruct the Secretariat of State [Landessekretariat] to achieve a final clarification of the Sorbian question in Brandenburg. The implementing provisions of the Sorbs Act must now be dealt with as quickly as possible and issued by the government after examination" (Lohagen, 1950).
←72 | 73→
In the same month, on the occasion of a reception at the President of the GDR Wilhelm Pieck in Berlin, a delegation of Domowina representatives from Saxony and Brandenburg, led by Pawoł Nedos, was assured that "the Sorbian population [will be guaranteed] the foundations of a constant and unhindered ascent within the framework of our entire development in the context of the protection and promotion of [its] cultural and linguistic peculiarities" (quoted in Schurmann, 2016, p. 26). The ordinance was passed by the Brandenburg government in September 1950; the first implementing provision for the Saxon Sorbs Act followed four months later, providing that authorities, institutions and organizations at the district and municipal level would now assume more responsibility to respond to the needs of the Sorbian population. The ordinance contained guidelines for the training of Sorbian-speaking personnel, for the use of the Sorbian language in the administration, in official business with the administration and with the district courts. Bilingual signage also had to be observed in the German-Sorbian districts. Lastly, the councils of the districts of Bautzen, Hoyerswerda, Kamenz, Löbau and Niesky were urged to "continue to ensure the employment of Sorbian spokespersons [Referenten] to give effect to the rights of the Sorbian population laid down in the law" (Schurmann, 2016, p. 247).
In the following months, however, the debate escalated as to whether the Domowina was still necessary at all to represent Sorbian interests in view of the state's duty to promote the Sorbian language and culture. In November 1951, the SED Politburo addressed the question posed by the Saxon SED Land direction as to whether the Domowina was "an obstacle to the development of society and whether it should prepare for its death" (Domowina, 1951a) There seemed to be only one way out: If the Domowina wanted to be regarded and treated as a social organization with equal rights in order to actively participate in the implementation of the Sorbs Act, it had to become subservient to the leading political force in the GDR: the state party SED.
The new president of Domowina, Kurt Krjeńc, who had been elected on the occasion of its first congress in April 1951, explained that the representative body of Sorbian interests would become, just like the other social organizations of the GDR, one more "transmission belt carrying the political interests of the party into the large masses" (Domowina, 1951b, p. 166). At its second congress in April 1952, the Domowina defined itself as a "national, anti-fascist democratic organization" that wanted to work for a "unified, independent, democratic and peace-loving Germany, for the preservation of peace, the consolidation of the anti-fascist democratic order and for the progressive development of its people" (quoted in Schurmann, 2016, p. 40).
At the meeting of its executive board at the beginning of October 1952, the Domowina, in its role as Sorbs' mass organization, considered the "construction of socialism" as one of its tasks and made the resolutions of the Second Party Conference of the SED of June 1952 the basis of its further activities. The Domowina was thus "degraded to a simple communist mass organization thanks to Soviet intervention" (Richter, 2017, p. 496) instead of being dissolved. Nevertheless, the fact that the Domowina did not completely abandon its main function, as the representation body of Sorbian interests, and that it did not exclusively act as an ideological auxiliary for SED policies can be seen as one of its achievements. The Domowina owed this ambivalent approach primarily to its non-SED members.
←73 | 74→
Conclusion
As of 1948–1949, the social, and above all, institutional environment of the Sorbs contributed to strengthen both their cultural identity and security, and made possible the development of a feeling of loyalty and belonging to the GDR through cultural-political co-determination. Members of the Slavic minority in Lusatia were thus given the feeling that their language and culture were being taken seriously – at least more seriously than in the previous decades.
There is no doubt that this process did not run smoothly at all, and was again weakened or thwarted by various measures, such as the resettlements caused by the intensive lignite mining extraction in Lusatia needed to fuel the GDR's thermic power plants.10 The disregard of Sorbian sensitivities and perspectives generated, for many Sorbs, cultural insecurity and weakened their self-esteem in socialist Lusatia. This was not only one of the teething troubles of the new communist social system, but also one of the aftereffects and burdens that the Nazi regime had left behind as the culmination of a deeply sorbianphobic policy.
For the first time, legally anchored regulations for the promotion of Sorbian language and culture did not necessarily lead to a feeling of greater cultural security for all Sorbs.11 The personal commitment for the implementation of the Sorbs Act often required a positive attitude not only toward the GDR and the state party SED, but also toward its Marxist-Leninist ideology – something that was viewed with great skepticism by many Sorbs, especially those with a Christian background, whether Protestant or Catholic. In this respect, the degree of cultural security was also to be measured by how individuals felt.
←74 | 75→
The GDR had a considerable interest in making progress in the Sorbian question for the sake of its stability as a state. At the same time, it sought international recognition, especially in the communist community of states, whose members consisted mainly of Slavic countries. A key role was played here by Wilhelm Koenen, one of the main supporters and advocates of the Saxon Sorbs Act in the Landtag. As a member of the Central Committee of the SED, he emphasized, in the spring of 1952, that one had to "go beyond the idea of reparation" and "give the Sorbs more than they ever possessed – more rights, more spiritual, more cultural, more political life" (quoted in Richter, 2017, p. 466).
The credits for the partial achievement of this went above all to Sor-bian institutions and especially to the Domowina and its numerous local groups. But its function as the sole representative of Sorbian cultural and national interests remained limited, because the umbrella organization had to implement the policy of the SED, primarily among their members and, if possible, also among non-member Sorbs. Nevertheless, there could be no question that a majority of the Sorbian population supported the GDR and the SED state party in the mid-1950s.
The more realistic and pragmatic demands and activities of the Sorbs from 1947–1948 were decisive in creating the preconditions for the adoption of the Sorbs Act and the implementation of further regulations touching the Slavic minority, for instance regarding the place of Sorbian in school. A considerable part of these regulations would then be saved in the reunited Germany despite the collapse of the communist system in 1989–1990. The majority of Sorbian institutions, including the Domowina, thus continued their activities in the Federal Republic of Germany. The 1948 Sorbs Act and the 1950 Brandenburg Ordinance thus retained their validity for half a century until their replacement in 1994 (Brandenburg) and 1999 (Saxony) by new Sorbs Acts.
One of the observations drawn from this brief episode of German-Sorbian coexistence in Lusatia after 1948 is that the Sorbs' delegates continually maintained their commitment to articulate and represent the ethnic-national interests of their people, so as not to leave the legal anchoring of minority policy decisions and their implementation to chance. For this purpose, difficult political compromises had to be made bearable because they were not understood or could not be understood by their own people. The need for negotiation tactics was not limited to the communist period and is shown by developments in reunified Germany. But this is a different matter.
References
Bömelburg, H.-J., & Kizik, E. (2014). Altes Reich und Alte Republik. Deutsch-polnische Beziehungen und Verflechtungen 1500–1806. Einleitung (pp. 7–17). Darmstadt: Wissenschaftliche Buchgesellschaft.
←75 | 76→
Bundesministerium des Innern, für Bau und Heimat. (2020). Die nationalen Minderheiten in Deutschland. Retrieved January 21, 2021, from https://www.bmi.bund.de/DE/themen/heimat-integration/minderhe-iten/minderheiten-in-deutschland/minderheiten-in-deutschland-node.html.
Carbonneau, J.-R., Gruschke, A., Jacobs, F., & Keller, I. (2017). Dimensionen kultureller Sicherheit: Einführung. In J.-R. Carbonneau, A. Gruschke, F. Jacobs, I. Keller, & S. Wölke (eds.), Dimensionen kultureller Sicherheit bei ethnischen und sprachlichen Minderheiten [Special issue]. Lětopis, 64(2), 6–17.
Conrad, S., & Randeria, S. (2002). Einleitung: Geteilte Geschichten – Europa in einer postkolonialen Welt. In S. Conrad, & S. Randeria (eds.), Jenseits des Eurozentrismus. Postkoloniale Perspektiven in den Geschichts-und Kulturwissenschaften (pp. 9–49). Frankfurt: Campus-Verlag.
Cyž, J. (1955, February 22). Stellungnahme von Dr. Jan Cyž auf der Beratung der SED-Mitglieder des Bundesvorstandes der Domowina in Bautzen.Stiftung Archiv der Parteien und Massenorganisationen der DDR (SAPMO-BA, DY 30, IV 2/13/380). Bundesarchiv Berlin-Lichterfelde, Germany.
Domowina. (1948, January 13). Sitzung des Vorstands der Domowina in Bautzen. Sorbisches Kulturarchiv (SKA, D II, 1.6. B, p. 4). Serbski institut, Bautzen/Budyšin, Saxony, Germany.
Domowina. (1951a, November 29). Protokoll der Domowina zur Diskussion über die Sorbenfrage mit der SED-Landesleitung Sachsen. Sorbisches Kulturarchiv (SKA, D III, 5/9, pp. 17–60). Serbski institut, Bautzen/Budyšin, Saxony, Germany.
Domowina. (1951b). Diskussion mit der SED-Landesleitung Sachsen über die Ergebnisse des I. Bundeskongresses der Domowina. Sächsisches Hauptstaatsarchiv (SäHStA, SED-Landesleitung Sachsen, A/873). Dresden, Saxony, Germany.
Ebert, F. (1948, April 8). Friedrich Ebert an Wilhelm Pieck betreffs Belange der Sorben im Land Brandenburg. Stiftung Archiv der Parteien und Massenorganisationen der DDR(SAPMO-BA, NY 4036/741, p. 82). Bundesarchiv Berlin-Lichterfelde, Germany.
Elle, K. (2013). Von Geiz bis Gastfreundschaft. Analyse eines Stereotypensystems am Beispiel der Oberlausitzer Sorben. Bautzen: Domowina-Verlag.
←76 | 77→
Elle, L. (2010). Die Domowina in der DDR. Aufbau und Funktionsweise einer Minderheitenorganisation im staatlich-administrativen Sozialismus. Bautzen: Domowina-Verlag.
Hall, S. (1994). Rassismus und kulturelle Identität. Ausgewählte Schriften 2. U. Mehlem, J. Gutsche, & D. Bohle. (eds. & transl.). Hamburg: Argument-Verlag.
Hueglin, T. O., & Fenna, A. (2010). Comparative Federalism: A Systematic Inquiry. North York: University of Toronto Press.
Jacob, U. (2005). Sorben, Wenden, Spreewaldbauern. Ein problematischer Topos des Lausitzbildes im Dritten Reich. Lětopis, 52(2), 3–26.
Lehmann, R. (1963). Geschichte der Niederlausitz. Berlin (West): Walter de Gruyter & Co.
Lohagen, E. (1950, February 11). Niederschrift der Verhandlungen des sächsischen SED-Landesvorstands mit der Domowina in Dresden. Stiftung Archiv der Parteien und Massenorganisationen der DDR (SAPMO-BA, NY 4036/741, pp. 99–102). Bundesarchiv Berlin-Lichterfelde, Germany.
Markov, W. (1948). Pressestimme zur Regelung der sorbischen Frage in Sachsen. Sächsisches Hauptstaatsarchiv (SäHStA, Ministerium des Innern/Abt. Sorbenfragen, 0002, pp. 105–107). Dresden, Saxony, Germany.
Mills, D. (2017, March 20). Durham Report. In The Canadian Encyclopedia. Retrieved March 21, 2021, from https://www.thecanadianencyclope-dia.ca/en/article/durham-report.
Nedo, P. (1945, July). Vorschläge der Domowina für eine deutsch-wendische Zusammenarbeit in der Lausitz.Sorbisches Kulturarchiv (SKA, ZM XXIII, 26 E, pp. 12–25). Serbski institut, Bautzen/Budyšin, Saxony, Germany.
Nowusch, H. (1978). Die Gleichberechtigung der Bürger sorbischer Nationalität in der DDR – verwirklichtes Menschenrecht. Domowina-Verlag: Bautzen.
Office of U.S. Chief of Counsel. (n.d.). The Constitution of the German Reich. Ithaca: Cornell University Law Library (Translation of Document 2050-PS, Vol. 108, author of translation unknown). Retrieved March 21, 2021, from http://lawcollections.library.cornell.edu/nuremberg/catalog/nur:01840.
Pieck, W., & Grotewohl, O. (1947, November 21). Protokoll der Verhandlungen zwischen der Domowina und der SED-Parteiführung in Berlin. Stiftung Archiv der Parteien und Massenorganisationen der DDR (SAPMO-BA, NY 4036/741, pp. 68–74). Bundesarchiv Berlin-Lichterfelde, Germany.
←77 | 78→
Portmann, M. (2010). Die Nation als eine Form kollektiver Identität? Kritik und Konsequenzen für eine zeitgemäße Historiographie. In M. Wakounig, W. Mueller, & M. Portmann (eds.), Nation, Nationalitäten und Nationalismus im östlichen Europa. Festschrift für Arnold Suppan zum 65. Geburtstag (pp. 33–46). Münster & Vienna: Lit-Verlag.
Renzsch, W., Detterbeck, K., & Schieren, S. (2010). Einleitung: Föderalismus. In K. Detterbeck, W. Renzsch, & S. Schieren (eds.), Föderalismus in Deutschland (pp. 1–29). Munich: Oldenbourg Verlag.
Richter, M. (2017). Deutsche Parteien in der sorbischen Oberlausitz. Studie zur politischen Entwicklung in den zweisprachigen Kreisen nach dem Zweiten Weltkrieg. Domowina-Verlag: Bautzen.
Scholze, D. (2014). Wendenabteilung. In F. Schön, & D. Scholze (eds.), Sorbisches Kulturlexikon (pp. 489–490). Bautzen: Domowina-Verlag.
Schurmann, P. (1998). Die sorbische Bewegung 1945–1948 zwischen Selbstbehauptung und Anerkennung. Bautzen: Domowina-Verlag.
Schurmann, P. (2003). Die Sorbenfrage als Politikum. Gemeinsamkeiten und Unterschiede der sorbischen nationalen Bewegung nach dem Ersten und dem Zweiten Weltkrieg. In E. Pech, & D. Scholze (eds.), Zwischen Zwang und Beistand. Deutsche Politik gegenüber den Sorben vom Wiener Kongress bis zur Gegenwart (pp. 151–183). Bautzen: Domowina-Verlag.
Schurmann, P. (2016). Sorbische Interessen und staatliche Minderheitenpolitik in der DDR. Quellenedition (1947–1961). Bautzen: Domowina-Verlag.
Sind wir Sorben eine nationale Minderheit? Sorbische Antwort an das deutsche Volk und alle Kulturnationen der Welt. (1929, February 19–21). Serbske Nowiny, 88(42–44).
Šurman (=Schurmann), P. (1999). Mjez wobnowjenjom a rozpušćenjom. K wuwiću Maćicy Serbskeje wot 1946 hač do lěta 1949. Lětopis, 46(2), 3–18.
Wippermann, W. (1996). Sind die Sorben in der NS-Zeit aus 'rassischen' Gründen verfolgt worden? Lětopis, 43(1), 32–38.
Witkojc, M. (1946). Bericht anlässlich der Volkszählung im Oktober 1946. Sorbisches Kulturarchiv (SKA, D II, 9.6. A, p. 85). Sorbian Institute, Bautzen/Budyšin, Saxony, Germany.
---
1 Unless otherwise specified, this chapter, including all quotations, was translated from German by J.-R. Carbonneau.
2 Until its dissolution in 1947, imposed by the Allied powers, Prussia was not only the largest, the most populous and powerful of the German states, but also the military and diplomatic motor of their political unification. The Free State of Prussia, which succeeded the Kingdom of Prussia in 1918, was composed of thirteen provinces. Using a combination of federal power-sharing, economic diplomacy and military coercion, Prussia was the driving force behind the coming-together of the many German states during the nineteenth century. See Hueglin and Fenna (2010) and Detterbeck, Renzsch and Schieren (2010).
3 The Domowina is also known officially as the Federation of Lusatian Sorbs.
4 The Potsdam Agreement of August 1945 confirmed the division of post-war Germany into four administrative regions – the Soviet, American, British and French occupation zones – paving the way for the division of the country in 1949 between West and East Germany against the background of the emerging Cold War between the United States and the Soviet Union. The eastern border of the SBZ (that would later become the eastern border of the whole of Germany in 1990) followed, from north to south, the rivers Oder and Neiße. The new divided Germany had lost wide areas due to the war defeat, above all in the east (Silesia, East Prussia etc.).
5 It is possible here to draw a parallel with Lord Durham's 1839 report after an uprising in Lower Canada against the British authorities, where he described the French Canadians similarly as "a people with no literature and no history" (Mills, 2017).
6 The Wendenabteilung (Office for Wends Surveillance) began its activities in August 1923. Even if it was assigned to the Saxon district administration of Bautzen, it monitored and controlled all Sorbian related affairs in the Prussian administrative districts of Liegnitz and Frankfurt/Oder (Šołta, 2014, p. 489). The term Wenden (Wends), by which the Sorbs are meant, was common in German usage in Upper and Lower Lusatia until the end of the Second World War. From 1946 onwards, the word Sorben (Sorbs) gradually gained acceptance within the Slavic population in Upper Lusatia in the state of Saxony. In Lower Lusatia in Brandenburg, the term Wenden is still part of public discourse today. After the reunification of Germany in 1990, the use of the double designation Sorben/Wenden in the Land of Brandenburg is part of daily reality (in contrast to Saxony where only Sorben is used).
7 "The causes of this decline of the Sorbian minority or, rather, of the increasingly rapid assimilation of this part of the population, which has preserved its language over the centuries, are very diverse, but, apart from the later Nazi years, it was not the result of systematic oppression, Germanization or even extermination" (Lehmann, 1963, p. 682).
8 In the three western occupation zones which united to form the Federal Republic of Germany in September 1949, no population statistics and socio-economic data were collected on an ethnic basis between 1945 and 1990. The federal government has been defending the same position since German reunification in 1990 (Bundesministerium des Innern, für Bau und Heimat, 2014).
9 The political bureau within the Central Committee was the highest executive authority in the communist parties governing the countries of the Eastern Bloc.
10 On this specific topic, see Fabian Jacobs' contribution in this volume.
11 See Ines Keller and Theresa Jacobs' contribution in this book.
←78 | 79→
ANTON STERBLING
Abstract: This contribution investigates the significance of cultural institutions for Romanian Germans after the Second World War. It is divided into three parts. The first part deals with the general political parameters of Romanian policies towards the German minority. These policies fluctuated over time and can be analyzed along four political periods: the Stalinist post-war period; a "cultural thaw" in the 1960s and 1970s; the final and dark years of the increasingly totalitarian Communist dictatorship of Nicolas Ceauşescu; and the post-communist period from 1989 up to the present day. The second part looks at the substantial emigration of Romanian Germans to West Germany, which carried on growing from the end of the 1960s with the hostile policies of Ceauşescu towards minorities. The last part mainly focuses on the cultural constellation at the end of the 1960s and the beginning of the 1970s that made the thaw period possible, in which Romanian German culture and art achieved a highpoint.
Keywords: ethnic German resettlers, Germans of Romania, cultural institutions, Romanian German culture, Romanian German literature, Romanian thaw era, cultural security.
←79 | 80→
From the end of the Second World War to the present day, cultural institutions have consistently played a decisive role in the everyday life of the members of the German minority in Romania in preserving their collective identity.2 Institutions are always justified and legitimized through cultural values (Lepsius, 1990; Rehberg, 1996). They also have a stabilizing effect on both cultural value and identity conceptions of individuals, and for this reason make a lasting contribution to cultural continuity and security. This especially applies to national and cultural minorities and their specific institutions. Institutions have a significant impact on individuals through the setting of social norms and rules constraining the rationality criteria of action and, consequently, their behavior. In this respect, not only are the achievements and interactions of specific institutions of great significance for national minorities, such as the police, the courts, churches, schools and cultural associations, but also their adaptive capacity within the entire institutional structure of the state.3
In the specific case of the German minority in Romania, it is possible to observe, on the one hand, a certain continuity of cultural institutions, in the sense of their uninterrupted existence and activity, taking the form of a network of community institutions including schools in their native-language, German-language newspapers and magazines, theatres and churches. On the other hand, however, one can observe that the social impact and meanings of these institutions greatly varied for the German minority during the last 75 years. These differences depended on various political, cultural and societal variables inherent to the Romanian context, but also on the ongoing process of resettlement of Romanian Germans, which has been increasing since the end of the 1960s.
←80 | 81→
In the following contribution, I would like to examine both lines of development with a special emphasis on the changes undergone by the institutions of the German minority within the larger Romanian societal environment, as well as their interaction. In particular, I would like to focus on the period of the late 1960s and early 1970s which embodied a "window of opportunity" in which the two lines of development crossed. This period has been characterized simultaneously by the normalization of the socio-economic situation, the dynamization of living conditions (based on factors such as industrialization and the expansion of education), and the achievement of an acceptable level of cultural security for the German minority thanks to community institutions. Nevertheless, the same period witnessed the beginning of a resettlement process leading to the departure of many Germans from Romania. While this process opened up different future perspectives for many individuals, it also brought new tensions into the life of the remaining communities making up the German minority in Romania. This time frame simultaneously marked a turning point in the cultural and artistic development opportunities of the German minority in Romania. Finally, I would also like to take a closer look at what the arrival of modernity meant for Romanian Germans and their evolution within modernity, which is most evident in art and literature (Sterbling, 2008a).
1. Political periods in post-war Romania and their effects on the German minority
After the Second World War and the occupation of Romania by the Union of Soviet Socialists Republics (USSR), the communist autocracy was fully enforced by the end of 1948, as this was the case in most countries of what would then be called the Eastern Bloc. After years of hardcore Stalinist governance – reflecting a smaller scale version of Joseph Stalin's iron fist on the USSR's state and society –, the Romanian regime took a more national-communist turn in the second half of the 1950s, especially after the Red Army left Romania in 1958. This course was then maintained in the 1960s, accompanied by a cautious liberalization of society and opening to the West. After the suppression of the "Prague Spring" in the summer of 1968 by troops sent from the Soviet Union and other Eastern Bloc countries, a new massive process of national-communist re-ideologization began, especially in the 1970s. This paved the way for the advent of the increasingly repressive dictatorship of Nicolae Ceauşescu, structured around the cult of a strong personality. With the fall of the regime and the execution of Nicolae and Elena Ceauşescu in December 1989, a democratic change was also initiated in the country. On the fringes of the history of Romanian communism lived the Romanian Germans, a national minority that had lived in the region for several centuries.
←81 | 82→
The Germans in Romania – called Rumäniendeutschen in German – consist mainly of two groups based both on their (presumed) origin and their area of concentration within the Romanian state territory: the "Transylvanian Saxons" (or Siebenbürger Sachsen) settled in Transylvania by Hungarian kings as early as the twelfth century, and the "Banat Swabians" (Banater Schwaben) who settled in the eighteenth century in the southwestern Banat region around the city of Timişoara (German: Temeswar). There are several theories about the use of the term "Saxony" to describe the Transylvanian Germans, referred to as "Saxons" during the period of settlement in Southeastern Europe. The Banat Swabians, who came from different areas, especially Southern Germany, were so called because they mostly arrived from a concentration camp in the Swabian city of Ulm via the Danube into the Banat region. The Banat Swabians are Catholics, as this is common in Southern Germany, while the Saxons of Transylvania adhere to the Evangelical-Lutheran faith.
Apart from the immediate post-war period that was marked with the extensive disenfranchisement, persecution and expropriation of the Germans in Romania,4 one can identify four consecutive but clearly delimited political periods in the recent history of Romania when it comes to its German minority: (1) a period of Stalinism that started with the communist takeover at the end of the 1940s; (2) the so-called thaw period (Gabanyi, 1975, pp. 122–161), gradually starting at the beginning of the 1960s and reaching its peak in 1968, whose effects could be felt until the mid-1970s; (3) the final years of the national-communist dictatorship of the Ceauşescu regime which took on increasingly totalitarian traits, until its end in December 1989; and finally (4) the subsequent period going from the democratic turning point in 1989 until Romania's admission into the European Union in 2007 (Sterbling, 2007), and up to the present day. These different periods went hand in hand with distinct cultural policies and societal circumstances, and thus also had a variety of effects on the cultural activities of the German minority in Romania. Each period opened new possibilities, as well as risks, for their cultural and institutional self-development that had a significant impact on their cultural security.
←82 | 83→
Regarding the first period, it is remarkable that within the cultural and political context of Romanian Stalinism a German-speaking school system and other cultural institutions were developed or established at all; as elsewhere in the Eastern Bloc, national minorities were expected to fully integrate into the monolithic ruling system and to yield to the communist ideology. German cultural civil servants in Romania, at least those in the top positions, were convinced communists, many of which came from the time of illegality of the Communist Party. They were often also German-speaking Jews, for example from the circle of Bukovina poets, writers and artists, or were older and younger known cultural workers who expressly adhered to the communist ideology. These were, for example, the editors-in-chief of newspapers or the heads of publishing houses who, as a rule, held at the same time important positions in offices in the Communist Party and in other bodies related to the political regime, such as ideologically aligned mass organizations.
Although the ideological control and selection of school teachers was less strict, it had some significant repercussions in the field of education, starting with the re-examination of personal career path and attitudes, and extending to the selective admission to higher education based on the social and ethnic origin of candidates. The only social institutions that were more or less autonomous at that time, although still strongly persecuted by the communist regime, were the churches, which had a great and lasting cultural significance for the everyday life of the Germans in Romania. Thus, a certain normalization of the living conditions of Rumäniendeutschen took place under communist rule and the development of its socialist economy,5 albeit occurring in a minority context shaped by traditional and, especially, religious social and moral values.
←83 | 84→
With the beginning of the second political time span, the "thaw period" in the early to mid-1960s, a process of dissociation from the Soviet Union, the gradual opening of Romania to the West, and the relative liberalization of cultural policy became increasingly evident. This provided larger margins for the cultural and social development of national minorities, which became even more clear in the second half of the 1960s. Diplomatic relations with the United States and other Western states were normalized, and trade relations with the West were expanded. In 1967, Romania became the first and only country among the states of the Warsaw Pact to establish diplomatic relations with the Federal Republic of Germany (FRG) against the vehement resistance of the German Democratic Republic (Weiss, 2010). This not only led to an intensification of cultural exchange with West Germany but was also associated with a noticeable improvement in the Germans' cultural and political situation in Romania. For example, the network of German-language high schools (Lyzeen)6 and the availability of Germanlanguage newspapers and magazines were both expanded, and German state theatres were further developed.7 This "thaw period," in which a breakthrough of modernity in the arts, culture and literature took place, will be dealt with later in greater details, as will the ever-growing resettlement process of Germans, from Romania to Germany, which also had its starting point in the second half of the 1960s and, from then on, experienced a remarkable boost.
←84 | 85→
Despite that this first went unnoticed by intellectuals and the population in general, the suppression of the Prague Spring marked a turning point in the political and cultural developments of the country toward the third political period. This turning point found its striking expression, on July 6, 1971, in the publication of Nicolae Ceauşescu's notorious "Seventeen Theses" on "the improvement of [both] politicalideological work and cultural and educational activity" (Gabanyi, 1975, pp. 176–195) with which the national-communist ideological turn, or small "cultural revolution," was to be officially initiated. However, it was not until the mid-1970s that the intellectual and institutional resistance8 was subdued enough for the Ceauşescu regime to successfully implement its political agenda, whose developments gradually became more effective under the sign of a bizarre personality cult (Gabanyi, 2000; Ursprung, 2007). This shift was accompanied by the increasing discrimination and repression of national minorities and far-reaching restrictions in the field of cultural minority institutions which occurred directly and indirectly. "Humanities" (humanistische Lyzeen) and "real" lyceums (Reallyzeen), the two types of high schools that had prevailed up to that time, were thus replaced by a large number of specialized lyceums. This merging led almost inevitably to the ousting of minority language secondary schools insofar as new class size requirements for the establishment of departments in the national minority languages could not be met any longer.9 Press and publishing in minority languages were severely restricted – amongst other things, under the pretext of a paper shortage. Theaters in Romania were obliged to bear a large part of their costs themselves, which proved to be particularly difficult and disadvantageous for national minorities with a limited audience in numbers that was scattered all over the country (Lippet, 2009). This situation became acute in the particular case of the German minority who was facing important socio-demographic changes as a consequence of the ongoing resettlement process, which will be addressed in the next section.
←85 | 86→
During the fourth political period, covering the duration of the decline of communist rule and the democratic change in 1990, interethnic relations in Romania relaxed relatively quickly, albeit not immediately. The prospect of European integration and its conditioning processes certainly played an important and constructive role in this regard and ultimately led to Romania's accession to the European Union in 2007 (Sterbling, 2016, pp. 145–172).10 In addition to the possibility of participation in organizations in the defense of their political interests – something the Romanian Germans achieved within the framework of the "Democratic Forum"11 –, a remarkable revival took place during this period in several cultural domains, including German-speaking schools and other cultural institutions such as theaters, the press and publishing houses. At the same time, these developments were counteracted by the massive exodus of Germans from Romania, which continued even after the change of political system.
2. The resettlement of Romanian Germans
The loss of cultural security through the reduction of both rights and cultural development opportunities for the German minority as well as ethnic discrimination against its members must certainly be regarded as the main causes of their resettlement from Romania. After an intensive phase of persecution in the immediate post-war period and a temporary normalization of interethnic relations in the period that followed, repression and discrimination became more and more evident in the third political period, during the 1970s and 1980s, under the pressure of an increasingly nationalistic political regime (Sterbling, 1995, pp. 37–52). But this was not the only cause of resettlement. These factors were supplemented by various circumstances and social mechanisms, at least some of which should be mentioned briefly here.
←86 | 87→
Thus, a facilitation in the field of emigration with regard to family reunifications came into force with the establishment of diplomatic relations between the FRG and Romania in 1967. Moreover, another agreement negotiated in 1978 provided for the possibility for 12,000–16,000 Germans to leave Romania each year in return for the payment of a lump sum by the West German Government (Gabanyi, 1988, p. 38).12 This ensured the continuity of the resettlement process and offered many individuals the possibility of starting a new life, although it was difficult for them to gauge their chances of resettlement as trying to leaving the country remained an incalculable risk that could become a crime in the eyes of the state authorities and a means for extortion (Sterbling, 2008b, pp. 101–118). The repressive and arbitrary policies of the Ceauşescu regime, the ever-growing economic difficulties, the increasing pauperization and the moral crisis in Romania must also not be overlooked as important motives for emigration.
Tab. 1: Number of emigrants from Romania to the FRG (1950–1999)
| | | |
| --- | --- | --- |
| Periods | Total of emigrants | Yearly average |
| 1950–1969 | 19,748 | 987 |
| 1970–1976 | 38,643 | 5,520 |
| 1977–1979 | 32,772 | 10,924 |
| 1980–1988 | 127,770 | 14,197 |
| 1989 | 23,387 | 23,387 |
| 1990 | 111,150 | 111,150 |
| 1991–1992 | 48,338 | 24,169 |
| 1993–1999 | 26,866 | 3,838 |
| 1950–1999 | 428,674 | 8,573 |
Source: Bundesverwaltungsamt (2020).
Besides ethnic discrimination, the self-dynamic of the resettlement process was an essential cause of the departure of Romanian Germans.13 This, in turn, was closely linked to the specific requirements of integration into the FRG and, especially, to the possibility to modernize and restructure the sociocultural milieu of the Banat Swabians and Transylvanian Saxons. The resettlement process of the Germans from Romania can first be seen from the following overview of the chronological course of the overall process.
←87 | 88→
Between 1950 and 1969 the total number of German emigrants from Romania remained relatively stable at around 20,000 individuals, which corresponds to an average emigration of almost 1,000 persons per year (see Tab. 1). However, this number then grew in the period 1970–1976, with certain fluctuations, to an average of 5,500 persons every year. Between 1977 and 1979, the number of repatriates rose again, to a yearly average of 11,000 persons. Between 1980 and 1988, the number of emigrants reached an average of 14,200 per year. In the "Revolutionary Year" of 1989, which ended with the fall of the Ceauşescu regime in December, 23,400 Germans left Romania. The resettlement process reached its peak in 1990, after the abolition of all travel restrictions, with more than 111,000 resettled Rumäniendeutschen in the FRG. After that, tens of thousands of German repatriates from Romania arrived in the FRG every year – with decreasing annual figures.
These departures have considerably changed the demographic structure of Romanian Germans over the years. In the 1956 census, 384,700 inhabitants of "German nationality" were counted on the Romanian territory. In 1966, the official Romanian Bureau of Statistics reported 382,600 Germans. In the 1977 census, 348,000 people identified as "Germans" while the categories "Saxons" and "Swabians," which were also included in the census at the time, only accounted for about 10,000 individuals. Only fifteen years later, in the 1992 census, the number of Germans in Romania went down to about 119,000. By 2002, the German population had shrunk by half, at only just over 60,000 individuals, and in the last census in 2011 only about 36,000 Germans were found remaining in Romania.14
←88 | 89→
The continuous resettlement process and its increasing pace over the years shows the traits of a self-sustaining dynamic. At present, the resettlement of the Rumäniendeutschen can be analyzed as a "self-dynamic" under three important aspects: (1) from the angle of family reunification, which presented itself as a continuous and widespread chain reaction; (2) under the aspect of the flow of information brought about by the resettlement process, which evolved into an intensive communication process between the resettled persons and their milieu of origin, having a strong incentive on those Germans who remained in Romania; and (3) under the aspect of the structural and institutional changes that accompanied the resettlement process,15 which in turn contributed to the deterioration of the social and cultural living conditions for the remaining members of the German minority and thus created additional incentives for emigration (Sterbling, 2001a). The traditional feeling of cultural security of Germans in Romania thus experienced clear disruptions that upset their community equilibrium as both homeland-based institutions (especially schools, churches and cultural associations) and the process of identity-building became subject to progressive erosion.
3. The thaw period: a window of opportunity for Romanian Germans
The resettlement process which, from the end of the 1960s, took a dynamic upswing– and even a self-sustaining dynamic – crossed over with what was known as the "thaw period" in the countries of the Eastern Block, the most favorable time for the cultural development of Germans in Romania. This period of opportunity was however marked by the intensification of disputes among the Romanian Germans that were reflected in a debate between those who were in favor of remaining in their Romanian homeland and those who encouraged the resettlement of the minority in West Germany. At this point, a short review of this special time frame is necessary (Sterbling, 2017).
←89 | 90→
At least for a short period, and from the perspective of their contemporaries, especially of the Romanian intellectuals, several sociocultural, political and economic lines of development seemed to interlock more or less closely in Romania in 1968, although they again diverged significantly afterwards. Among these were the connection to "modernity" in Romanian arts, the gradual reintegration of the country into the international system of culture and science as well as societal changes under the ever stronger influence of Western forms of consumption and lifestyles, including the effects of Beat music and youth protest culture, which at that time quickly jumped beyond the limits tolerated by the regime. The "Prague Spring" also had a great political relevance and a significant impact on the whole of Eastern Europe, including Romania. Finally, the more liberal Romanian foreign and domestic policy as well as the awakening of a new generation of intellectuals during the "thaw period" in Romanian culture and cultural policies were also important factors that marked the zeitgeist.
All these lines of development seemed at first to come together in the horizon of that time frame and to follow two main strands, before people realized with disillusionment that this was by no means the case. The first strand led, after more than two decades of dark national-communist rule, to the collapse of the late-Stalinist Ceauşescu regime (Gabanyi, 1998). The other strand could have predicted, albeit in a speculative manner, that the intellectual and mental effects of the upheaval at the end of the 1960s would result ultimately in the democratic new beginning of 1990 and, ultimately, with Romania's admission to the European Union in 2007.
The comparatively favorable cultural, social, and political situation of the second half of the 1960s, which reached a climax in 1968 in terms of openings, freedom of movement, and expectations – but, at the same time, had already reached a turning point – can be outlined as follows in a few brief remarks: cautious changes began to emerge in culture and cultural state policies as early as the first half of the 1960s, with an increasingly open, liberal cultural climate from 1965 onward, which was quite appropriately referred to as the thaw period (Gabanyi, 1975; Solms, 1990). If one refers, for example, to literature – including Romanian German literature (Sterbling, 2008a, pp. 23–48) – one can speak without any limitation of a striking and lasting entry and, in a certain way, even of a breakthrough of "modernity," after almost two decades of hegemony of the dogmas and clichés of "socialist realism" in arts and literature. Avant-garde lyricism, such as concrete poetry, surrealist prose, and Theater of the Absurd, but also Western literature critical of society, were not only adopted, but in many cases they also determined the writing techniques and mindsets of some of the younger writers, and especially those affiliated to the "Action Group Banat," who included, among other members, the later Nobel Prize winner in Literature Herta Müller (Müller, 2011).16
←90 | 91→
Around 1968, many theatres, including provincial theatres, experienced an astonishing reorientation and revival, especially through contemporary plays. Romanian cinemas often screened sensational Western films; not only entertainment films, but also adaptations (such as The Trial [Der Prozess] by Franz Kafka, with Orson Welles), socially critical films by Vittorio de Sica, Federico Fellini or Elia Kazan, or political thrillers (like Blow up or Z), which also inspired Romanian filmmakers, at least for a short time, to do more risky productions (e.g. Die Macht und die Wahrheit or Kranke Tiere). In addition, rock, pop and beat music – not only the Beatles, the Rolling Stones, but also artists such as Jimi Hendrix, Janis Joplin, Bob Dylan or Joan Baez – were received with enthusiasm by a considerable number of young people in Romania in the 1960s, and perceived as the expression of a new, unconventional, emancipated attitude to life as well as a radical protest culture, a worldwide cultural and political upheaval. Probably even stronger than these influences were the effects of the Western consumer world and its lifestyles that came to Romania through the fields of arts and mass media, but also through the increasing flow of Western tourists to the country (Hütten & Sterbling, 1994). The idealized lifestyles and consumption of the Western world fascinated broad sections of the younger population and had lasting effects on their habits and behavior, especially on the cohorts who found themselves in the defining stages of their socialization in the 1960s.
During this period, Romania experienced far-reaching social and structural changes that lasted until the present day. In the 1960s, the country experienced a considerable surge in industrialization and urbanization, and a remarkable expansion in the field of education (Sterbling, 1993), which opened up more favorable educational opportunities (in lyceums and universities) for individuals and cultural self-development for the cohorts of the 1950s. These changes are also among the socialstructural causes and motives that contributed to the decline of communist rule and the democratic upheaval in 1989–1990.
←91 | 92→
Concluding remarks
Cultural institutions and the changes they have endured under the influence of both (external) political and (internal) community factors had and continue to have great significance in the everyday life and collective identity of Romanian Germans today. They had clear, albeit partly ambivalent, effects on the cultural sense of security as shown by the experience of German-speaking schools – just to take one example – , where pupils were taught the German language and literature while being highly exposed to Romanian state nationalism and the Marxist-Leninist ideology though educational content. This ambivalent relationship between the German minority and their Romanian homeland can be seen throughout the period under consideration, in connection with the resettlement process and, as in a burning glass, in the window of time of the thaw period in the second half of the 1960s and early 1970s, which was regarded as a time of special cultural and artistic influence and opportunities for development. This was also true for the Romanian Germans.
References
Bundesministerium für Vertriebene, Flüchtlinge und Kriegsgeschädigte (ed.) (1984). Dokumentation der Vertreibung der Deutschen aus Ost-Mitteleuropa III. Das Schicksal der Deutschen in Rumänien. Munich: Deutscher Taschenbuchverlag.
Bundesverwaltungsamt. (2020, June 22). Spätaussiedler und ihre Angehörigen. Zeitreihe 1950–2019. Cologne: Bundesverwaltungsamt. Retrieved January 23, 2021, from https://www.bva.bund.de/SharedDocs/Downloads/DE/Buerger/Migration-Integration/Spaetaussiedler/Statistik/Zeitreihe_1950_2019.pdf?__blob=publicationFile&v=5.
Gabanyi, A. U. (1975). Partei und Literatur in Rumänien seit 1945. Munich: Oldenbourg Wissenschaftsverlag.
Gabanyi, A. U. (1988). Die Deutschen in Rumänien. Aus Politik und Zeitgeschichte. Supplement of weekly newspaper Das Parlament, B 50, 28–39.
Gabanyi, A. U. (1998). Systemwechsel in Rumänien. Von der Revolution zur Transformation. Munich: Oldenbourg Wissenschaftsverlag.
←92 | 93→
Gabanyi, A. U. (2000). The Ceauşescu Cult. Propaganda and Power Policy in Communist Romania. Bucharest: Romanian Cultural Foundation Publishing House.
Hüsch, H. G. (2013). Kauf von Freiheit. Dr. Heinz Günther Hüsch im Interview mit Hannelore Baier und Ernst Meinhardt. Hermannstadt: Honterus Verlag.
Hüsch, H. G., Leber, P.-D., & Baier, H. (2016). Wege in die Freiheit. Deutsch-rumänische Dokumente zur Familienzusammenführung und Aussiedlung 1968–1989. Aachen, Munich & Neuss: Hüsch & Hüsch.
Hütten, S., & Sterbling, A. (1994). Expressiver Konsum. Die Entwicklung von Lebensstilen in Ost- und Westeuropa. In J. Blasius, & J. S. Dangschat (eds.), Lebensstile in den Städten. Konzepte und Methoden (pp. 122–134). Opladen: Leske & Budrich.
Landmannschaft der Banater Schwaben. (ed.) (1990). 40 Jahre Landsmannschaft 1949/50–1989/90. Eine Dokumentation. Munich: Renate Huth Verlag.
Lepsius, M. R. (1990). Interessen, Ideen und Institutionen. Opladen: Leske & Budrich.
Lippet, J. (2009). Das Leben einer Akte. Chronologie einer Bespitzelung. Heidelberg: Wunderhorn Verlag.
Mayntz, R., & Nedelmann, B. (1987). Eigendynamische soziale Prozesse. Anmerkungen zu einem analytischen Paradigma. Kölner Zeitschrift für Soziologie und Sozialpsychologie, 39, 648–668.
Mihok, B. (1990). Die rumänische Nationalitätenpolitik seit 1945. Südosteuropa. Zeitschrift für Gegenwartsforschung, 39, 204–221.
Müller, H. (2011). Immer derselbe Schnee und immer derselbe Onkel. Munich: Carl Hanser Verlag.
Rehberg, K.-S. (1996). Institutionenwandel und die Funktionsveränderung des Symbolischen. In G. Göhler (ed.), Institutionenwandel [Special issue]. Leviathan, 16, 94–118.
Schreiber, W. E. (1993). Demographische Entwicklungen bei den Rumäniendeutschen. Südosteuropa-Mitteilungen, 33, 204–211.
Solms, W. (ed.) (1990). Nachruf auf die rumäniendeutsche Literatur. Marburg: Hitzeroth.
←93 | 94→
Sterbling, A. (1993). Strukturfragen und Modernisierungsprobleme südosteuropäischer Gesellschaften. Hamburg: Krämer Verlag.
Sterbling, A. (1995). On the Development of Ethnic Relations and Conflicts in Romania. In C. Giordano, & I.-M. Greverus (eds.), Ethnicity, Nationalism and Geopolitics in the Balkans (II) [Special issue]. Anthropological Journal on European Cultures, 4(2), 37–52.
Sterbling, A. (2001a). Intellektuelle, Eliten, Institutionenwandel. Untersuchungen zu Rumänien und Südosteuropa. Hamburg: Krämer Verlag.
Sterbling, A. (2001b). Die Aussiedlung der Deutschen aus Rumänien in die Bundesrepublik Deutschland und andere Migrationsprozesse in und aus Südosteuropa. In E. Currle, & T. Wunderlich (eds.), Deutschland – ein Einwanderungsland? Rückblick, Bilanz und neue Fragen (pp. 193–221). Stuttgart: Lucius & Lucius.
Sterbling, A. (2007). Rumänien und Bulgarien als neue Mitglieder der Europäischen Union. Spiegelungen. Zeitschrift für deutsche Kultur und Geschichte Südosteuropas, 56(1), 3–9.
Sterbling, A. (2008a). 'Am Anfang war das Gespräch.' Reflexionen und Beiträge zur 'Aktionsgruppe Banat' und andere literatur- und kunstbezogene Arbeiten. Hamburg: Krämer Verlag.
Sterbling, A. (2008b). Suchpfade und Wegspuren. Über Identität und Wanderung. Munich: Landsmannschaft der Banater Schwaben.
Sterbling, A. (2013). Grenzgänge, Heimat, Wanderungen. Narrative über das zerbrochene Sinnmuster der Vergangenheit. Ludwigsburg: Pop Verlag.
Sterbling, A. (2016). Europa zwischen Realität und Verblendung. Hamburg: Krämer Verlag.
Sterbling, A. (2017). Rumänien zwischen kulturpolitischem 'Tauwetter' und nationalkommunistischer Spätdiktatur. In T. Kovacs, P. Jankes, & T. Kovacs (eds.), Schreiben als Widerstand. Elfriede Jelinek und Herta Müller (pp. 66–78). Vienna: Praesens Verlag.
Sterbling, A. (2018). Nationalstaaten und Europa. Problemfacetten komplizierter Wechselbeziehungen. Dresden: Neiße Verlag.
Ursprung, D. (2007). Herrschaftslegitimation zwischen Tradition und Innovation. Repräsentation und Inszenierung von Herrschaft in der rumänischen Geschichte. Kronstadt & Braşov: Aldus Verlag.
Volkszählung in Rumänien. (2012, February 20). Banater Post, 57(4), p. 4.
←94 | 95→
Weiss, P. U. (2010). Kulturarbeit als diplomatischer Zankapfel. Die kulturellen Auslandsbeziehungen im Dreiecksverhältnis der beiden deutschen Staaten und Rumäniens von 1950 bis 1972. Munich: Oldenbourg Wissenschaftsverlag.
Wolf, J. (1994). Die Deutschen in Rumänien und im Banat im Zahlenspiegel der letzten Volkszählung (1992). Banater Post, 39(13–14), 8–9.
---
1 Translation of the original German text, including all quotations, by J.-R. Carbonneau.
2 For general remarks on this topic, see Sterbling (2008b, 2013).
3 I have addressed the relations between culture and institutions in more detail elsewhere (Sterbling, 2001a, pp. 13–35, 2018, pp. 69–78).
4 After the Second World War, most Germans living in Poland, Czechoslovakia, Hungary and Yugoslavia were expelled from these countries, but not from Romania, thanks to a decision made by the victorious Allies (the United States, Great Britain, France and the Soviet Union). The flight and expulsion of 12 to 15 million Germans brought them from the former German settlement areas in Eastern Europe to the four occupation zones of Germany that later became the Federal Republic of Germany and the German Democratic Republic.
5 It seems appropriate to label the economic order of the countries of the Eastern Block as "socialist" or "real-socialist" and the ideology and political rule as "communist."
6 Romanian lyceums are secondary school for pupils in classes 9–12 with both entrance exams as admission requirements and exit exams at the end of their schooling. In this respect, Romanian lyceums for German pupils are similar to the Gymnasien and grammar schools existing in Germany today. Initially lyceums mostly had only "humanistic" (linguistics) and "realistic" (natural sciences) branches. Later, from the mid-1970s on, a series of specialized lyceums (for training in the chemical or textile industries, mechanical engineering, etc.) were added. For further details, see Sterbling (2008b, pp. 26–34, 2013, pp. 113–118).
7 "State theater" was the official designation of theaters financed by the Romanian communist state. Professional private theaters also existed in the interwar period, and amateur theaters (for example, theaters run by German literature students) were common in the communist era. The German theaters in Temeswar (Timişoara) and Hermannstadt (Sibiu) had a permanent ensemble, their own theater halls, a repertoire with several theatre and music pieces every season, which were performed regularly in their own theaters or on tours through towns with Germanspeaking communities.
8 This political resistance included both activists striving to liberalize the communist regime and ideological supporters of dogmatic communist tendencies.
9 More specifically, this meant that not enough children from the same minority came together to have their own class in their mother tongue. Until that time, most German children went to a Reallyzeum. In larger cities there was usually a Germanspeaking branch within the humanistic lyceums and one or more German-speaking departments in the real lyceums. In many of the new specialized lyceums, however, German pupils were often so scattered that no German-speaking classes came together anymore. From the 1960s on, national minorities no longer had their own schools. Those were replaced by German, Hungarian (etc.) departments within the various school types, provided there were enough pupils.
10 The admission to the EU (the European Economic Community before 1993) was subject to certain conditions in various areas that the candidate countries had to fulfill. These pre-accession conditions are known as the "conditionality process."
11 After 1990, the "Demokratisches Forum der Deutschen in Rümanien" was the main political, social and cultural interest organization of the Germans in Romania, but not a political party in the narrower sense, even though many of its members were also members of district and city councils and of the Romanian parliament.
12 On this specific topic see Hüsch (2013) and Hüsch, Leber and Baier (2016).
13 On the issue of social processes' self-dynamics, see Mayntz and Nedelmann (1987, pp. 648–649) and Sterbling (2001b).
14 For further information on the demographic changes of Romanian Germans, see Bundesministerium für Vertriebene, Flüchtlinge und Kriegsgeschädigte (1984, p. 5E, 119E); Landmannschaft der Banater Schwaben (1990, p. 348); Mihok (1990, p. 204); Schreiber (1993, p. 205); Wolf (1994, pp. 8–9); Volkszählung in Rumänien (2012, p. 4).
15 In particular, this concerns the changes that occurred in the demographic structure of local populations, the decline in the number of Germans, and their importance in the local economy and in the social life of their respective regions, but also of far-reaching changes in schools and churches.
16 The AktionsgruppeBanat existed between 1972 and 1975 and was crushed in 1975 by the Romanian political police "Securitate." It is regarded as the most important German group of authors critical of the regime, played an important role for Herta Müller, and also had a certain influence on modern Romanian literature. The founding members of the Action Group, which have been, in the meantime, the focus of a number of dissertations, qualification papers, books and other publications worldwide, were: Albert Bohn, Rolf Bossert, Werner Kremm, Johann Lippet, Anton Sterbling, William Totok, Richard Wagner and Ernest Wichner. A worthwhile reading in this regard is the "Dinner speech" given by Herta Müller (2011, pp. 22–24) at the award ceremony of the Nobel Prize for Literature in which she emphasized the great importance the Action Group Banat had for her life and creation process.
←95 | 97→
A Path Toward Inclusion and Security for French-Language Minority Communities in Canada
MARTIN NORMAND
Abstract: In the 2000s, active offer gained attention from governments and scholars in Canada as a way to better answer official language minority communities' needs regarding public service delivery. This principle has been included in laws, policy statements and regulations at the federal level and in several provinces. Active offer has also been subject to particular scrutiny from language ombudsmen and from civil society organizations. Active offer can thus be comprehended as a state-driven principle developed as a way to respect linguistic obligations set forth in the language regime. But can it also be comprehended as a community-driven principle to foster inclusion and security for French language minority communities in Canada? We believe that the norms which support active offer can make way for a wider participation by civil society and citizens in service delivery and in determining which services should be actively offered in an official minority language by the state.
Keywords: Canada, official languages, public policy, language policy, active offer, government services, cultural security.
←97 | 98→
In the 2000s, active offer gained attention from governments and scholars in Canada as a way to better answer official language minority communities' needs regarding public service delivery. Succinctly, active offer can be understood as a formal verbal or written invitation to the public to communicate in the official language of its choice when using public services. Thus, the active offer of services in both official languages – French and English – must come before the demand. This principle has now been included in laws, policy statements and regulations at the federal level and in several provinces, among them Manitoba, New Brunswick, Ontario, Prince Edward Island and Alberta. Active offer has also been subjected to particular scrutiny from language ombudsmen and from civil society organizations.
Active offer can thus be comprehended as a state-driven principle developed as a way to respect linguistic obligations set forth in the language regime.1 But, can it also be comprehended as a community-driven principle to foster inclusion and security for French-language minority communities in Canada? We believe that the norms which support active offer can make way for a wider participation by civil society and citizens in service delivery and in determining which services should be actively offered in an official minority language by the State. To make such a claim, we rely upon Lascoumes and Le Galès's (2004, 2007) approach of public policy instruments. They see such instruments as not being neutral and as carrying particular representations of public problems. We thus believe that rather than a simply technical or mechanistic representation of active offer as a tool for state managers to offer services to an official language minority community, it is possible to imagine a representation of active offer which would foster community participation and cultural security.
←98 | 99→
The argument is organized in three parts. First, we will briefly discuss Canada's language regime, particularly from the standpoint of Frenchlanguage minority communities. This overview will help to understand why and how active offer has become a key principle in service delivery in Canada. Second, we will develop on this principle, offering definitions, explaining various stakeholders' interest in the principle and proposing how the norms underlying it can be understood to foster participation and inclusion in public services planning and delivery. Third, we will elaborate on two dimensions of security – namely cultural security and individual security – on which the active offer principle can have an impact, drawing examples from the health sector, which in Canada has been at the forefront of language mobilization from official language minority communities in the past decade. In short, active offer can contribute to the impression that the language has some legitimacy in institutions, but also to the security of individuals who are better understood by the providers when asking for services.
1

. The Canadian language regime
To present the full extent of the Canadian language regime would warrant way more than a few paragraphs. The aim here is rather to lay the ground for the discussion on the provision of French-language services in areas of the country where French speakers live in a minority situation. We will do this by discussing two features of the regime: demographics and federalism.
1.1. Demographics
While numerous languages are spoken throughout Canada, only French and English have an official status at the federal level.2 According to the 2016 census data (Statistics Canada, 2017), French is the first official language spoken by 7,705,755 Canadians, which represent just over 22 % of the total population. French speakers compose the majority of the population only in the province of Quebec. When we take these speakers who live in a majority situation out of the total, there remains 954,805 Canadians who declare French as their first official language spoken, which represents roughly 3,6 % of the population. These are the Canadians we refer to as French speakers living in a minority situation. The bulk of these speakers reside in the provinces of Ontario and New Brunswick (neighboring Quebec on the West and East sides respectively), while other speakers are spread out across the country, with some territorially concentrated populations on the East coast and in the Western provinces.
←99 | 100→
The data from the 2016 census show that there is an increasing number of French speakers in Canada, but the proportion is eroding since the number of English speakers is rising faster. Yet, there are a few factors that are worth mentioning regarding the growth of French speakers. First, the fastest growing French-language community in Canada is in the western province of Alberta, mainly because of interprovincial mobility motivated by economic reasons. It is in this province that is concentrated the oil sands industry in Canada, and the need for skilled workers enticed many to leave economically deprived regions of the country (some of which were traditionally French-speaking) to accept well-paid jobs in that industry. There is thus a migration pattern that affects how governments react to the demand for French-language services.
Second, there is a rather high demand for French-language immersion schools, resulting, in some areas, in long waiting lines on registration day. Often time, parents' decision to ensure their children learn proper French is based on an instrumental rationalization, meaning that some of those schools are perceived as being more exclusive and elitist, but also that knowing French can open doors to higher paying jobs, namely inside the federal government's institutions (Hayday, 2015). Nevertheless, this yields more French speakers who may be in a position to offer services to speakers of the minority language.
Third, there is a recent impetus within provincial governments to attract more immigrants from French-speaking countries, on the heel of demands expressed by civil society organizations within the Frenchspeaking minority community and of the federal government's ambition to act upon this issue.3 These newcomers to provinces where French speakers constitute a minority may not know sufficient English to easily navigate government services, namely integration and installation and then health-and justice-related services. Thus, there is a need for Frenchlanguage services in those instances where French speakers may not know English, despite widespread belief that French speakers all know English as well.
←100 | 101→
1.2. Federalism
Canada's language regime recognizes that French and English are equal and represent fundamental aspects of Canadian society. A cornerstone of that regime is the Official Languages Act (enacted in 1969 and replaced in 19884) which stipulates, among other things, that Canadians have the right to receive services from federal institutions and to communicate with these institutions in the official language of their choice. It also puts an obligation on the federal government to ensure the vitality and development of official language minorities.
Federalism in Canada is such that federated entities can act upon language issues, certainly in step with federal provisions but in ways that can differ from one province to the other. This is in part a result of the division of powers, as established at the foundation of Canada, according to which most social and cultural issues are provincial responsibilities, including health and education. As such, language provisions regarding French in provinces outside of Quebec vary widely. Most provinces have officialised French (New Brunswick), have legislated on French-language services (Manitoba, Nova Scotia, Ontario, and Prince Edward Island), or have adopted policies and regulations regarding the use of French in public institutions (Saskatchewan, Alberta and Newfoundland and Labrador), and revise on a continuous basis the extent of the measures toward the official language minority community.5 That is the context in which active offer has been developed and implemented. It has a different standing in different provinces, yet there is some consensus around a broad definition of the principle. We believe that the norms underlying active offer can go way beyond that consensus and generate a path toward cultural inclusion and security for French-language minority communities in Canada.6
←101 | 102→
2. Active offer of public services in a minority language
Active offer became a staple of service delivery to linguistic minorities in Canada because it was understood as a way to alleviate obstacles and problems French speakers were confronted to in a minority situation. It is also considered as a way to enhance vitality because of its effects on a citizen's linguistic behavior when using public services.
Embedded in the Official Languages Act is the notion that the public can receive services in the official language of their choice from federal institutions. But, despite this notion of choice, observers noted that French speakers in a minority situation scarcely ask for their services in French. Charbonneau (2011) suggests that linguistic behavior is influenced by minoritization. The higher the minoritization, the more linguistic insecurity conditions the use of one's mother tongue, and the less the French speakers consider important that public services be available in French. French speakers hesitate to ask for services in French because they fear they might disrupt an employee or that they might be perceived as capricious, temperamental or as asking for an undue privilege or committing a political gesture. Also, some users may think that their monolingualism might be perceived as ignorance and will prefer to show that they know the majority language (Tardif & Dallaire, 2010). Asking for services in French is a behavior that entails a commitment to an identity that can be difficult to achieve for a person who was socialized mainly in English. In sum, even if the notion of "language of choice" exists, users might have interiorized a behavior that will entice them not to ask for services in French (Deveau, Landry, & Allard, 2009). Language of choice is not sufficient in itself to bolster the use of French-language services.
←102 | 103→
This is where active offer stems from. French-language services should be made available at the same time as the services in the majority language, without relying on the users to ask for services in French, and be of equal quality in both languages. Thus, French speakers are encouraged to use French-language services without feeling like they are disturbing and without felling like they are using services of a lesser quality. Active offer becomes a public policy tool to materialize a government's responsibility to offer services and to bypass the criteria of demand, which in itself is not neutral, since conditions might not be conducive to demand.
2.1. What is active offer?
There are numerous definitions of active offer, but there seems to be a consensus around four notions: visibility, accessibility, availability and equal quality. Active offer can be understood as a verbal or written invitation to users to communicate in the official language of their choice. The offer must precede the demand, and it must be evident. Also, the delivery of services offered in each language must be of equivalent quality and be readily available. The Government of Canada developed a policy on Official languages which includes the following definition of active offer:
Clearly indicate visually and verbally that members of the public can communicate with and obtain services from a designated office in either English or French. Mechanisms are in place to ensure that services are available in the official language chosen. The availability of communications and services in both official languages can be promoted in a number of ways (Government of Canada, 2012).
Among those ways, the definition identifies displaying a widely used symbol within the federal government, greeting members of the public in both official languages, ensuring that the office's recorded messages are entirely in both official languages, displaying forms and brochures in a manner that respects the equal status of the languages, using both official languages on permanent and temporary signs and ensuring publicaccess computers permit the use of English and French software and keyboards.
In Ontario, the most populated Canadian province, active offer has been integrated in a regulation for third-party service providers on behalf of government institutions. The Ontarian Office of the French-language Services Commissioner (FLSC)7 developed the following definition:
←103 | 104→
Services are actively offered when members of the public are given a clear signal that, whether they are standing at a government service counter or speaking to a government employee over the telephone, they can receive service in French, because the agency's name and all of its posters, signage, brochures, literature, etc., are either bilingual or offered visually in English and in French. Active offer means that, from the moment they begin interacting with the public, government employees staffing a service counter or answering the telephone proactively offer service in both languages, creating an environment that is conducive to demand and that anticipates the specific needs of Francophones in their community. It is very important to reach out to ordinary citizens who do not realize that they have the possibility of obtaining better services for themselves, and for their community, in French (Office of the French-language Services Commissioner, 2010, p. 11).
These two definitions may serve as a starting point to discuss active offer, since many more definitions exist. We will not discuss here the differences or the discrepancies between the definitions. We will rather show why many stakeholders have looked toward active offer as a rallying point to request better access to services or to better organize service delivery.
2.2. Stakeholders' interest in active offer
←104 | 105→
The first group to show interest for active offer is composed of government institutions, be it at the federal or provincial/territorial levels. When language responsibilities are taken seriously, active offer embodies efficiency, which is paramount in an era of results-based management. It can bolster demand for public services delivery in the minority language and at the same time justify the investment made in the capacity to deliver them. It can also contribute to equal opportunities or to substantive equality for the speakers of the minority language. As for service providers (institutions, agencies, third-party), it can facilitate compliance and implementation of language-related regulations and responsibilities. Depending on how active offer is conceived within government, it can be summarized in comprehensive management tools to which institutions will aim to comply. This still leaves hanging the question of evaluating compliance to these management tools, be it regarding immediate availability of services or proper staffing allocation, or of training employees to be comfortable with the principle and to have the right reaction while delivering services to the public. As Lascoumes and Le Galès (2004, 2007) suggest, such tools are not neutral and may carry particular representations of the users and their needs. Here, tools that rely upon self-declarations from managers that are not subsequently validated may illustrate how serious language regulations are taken by governments and public institutions.
The second group to have manifested interest in active offer is composed of Canadian language commissioners8 (or language ombudsmen). Active offer has been a rallying point for language commissioners for many years now. They have adhered to that principle as a way to materialize linguistic obligations but also as a tool to promote the use of the services and to register complaints when institutions fail to offer French-language services. It is worth mentioning that in 2016, both the federal and the Ontario commissioners have released special reports on active offer.
The OFLSC notes that "the absence of active offer has detrimental effects on the quality of the services offered, with sometimes tragic consequences in emergency or crisis situations" (2016, p. 8). It goes on to listing particular citizens who may be in positions of vulnerability who are hit the hardest by these shortcomings, such as the elderly, children, victims of physical and psychological violence, newcomers, people dealing with an authority figure and individuals suffering from mental or physical illnesses. To better deal with these issues, it suggests an operational definition of active offer which should include six elements:
1. Ensure that the necessary measures are taken to inform the public of the availability of the services
2. Make the offer of service in both languages, starting with the first contact
3. Assure the person that they have the choice of using either language of service
4. Ensure that the service provided is provided in a culturally appropriate way
←105 | 106→
5. Ensure that the person feels comfortable with how the services are provided
6. Ensure the service offered is of equal or equivalent quality then the one offered in English (FLSC, 2016, p. 14).
As for the Office of the Commissioner of Official Languages (OCOL), it identifies the problem faced by users of services when active offer is deficient:
Without active offer, the interaction between the federal institution and the client starts off on the wrong foot, which has an impact on service delivery in the official language of the client's choice. Clients who are not immediately offered service in their preferred language may assume that service is not available in that language or that if it is available, asking for it may cause delays or embarrassment. Some people are intimidated by having to ask for service in their preferred language when it is crowded or when the employee seems to be very busy (OCOL, 2016, p. 1).
To act upon these issues, the OCOL has identified a list of factors that might impede active offer: an incomplete understanding of the obligations resulting from gaps in training and communication, an assumption that all clients are already aware that bilingual services are readily available and the fact that employees often assume what is the preferred official language of the client. All of these need to be addressed for a better compliance to active offer. But, it also lists factors affecting the work environment and which might make it difficult for institutions to comply to active offer, such as the impact of senior managers' commitment to language obligations, the challenge related to a small official language minority population in some areas, a large volume of clients which can result in forgetting active offer, or issues pertaining to staff scheduling that can affect awareness and bilingual capacity. In sum, language commissioners believe in the potential of active offer to better meet the needs of official language minority communities in Canada, yet they observe as of recently many obstacles that have to be surmounted.
←106 | 107→
A third group is composed of civil society organizations from the French-speaking minority communities. Many of them have integrated active offer in their repertoire of demands and actions, asking for it to be fully implemented in a culturally appropriate way. They stress the importance of access to training and education on the language situation of the minority communities, on language obligations set forth in laws, regulations and policies, and on active offer proper. Some have even developed specialized tools to disseminate knowledge and good practices on active offer, among which the Consortium national de formation en santé, an organization which regroups colleges and universities that offer post-secondary programs in the health sector in French where it is in a minority situation. It set up the Toolbox for the Active Offer specifically for the health sector. It stresses that in "healthcare, the active offer not only allows patients to communicate more easily and to be understood, but it also helps healthcare professionals to provide quality services that are safe, ethical and fair" (Consortium national de formation en santé, 2019). We will come back to health-related issues later on.
The last group is composed of scholars who have worked on language policy and language planning from a variety of fields. As we said earlier, we are using an approach to study instruments of public action, as developed by Lascoumes and Le Galès (2004, 2007). This approach posits that government decisions and commitments carry a representation of their role which is not neutral.9 The tools, procedures, and mechanisms governments use to deliver public services can illustrate the way in which governments envision their responsibilities.10 Thus, this approach can open the door to a more normative discussion on the delivery of services, namely of French-language services.
2.3. Active offer and minority communities' vitality
←107 | 108→
As noted above when discussing institutions and agencies, active offer can be broken down into a checklist for institutions to comply to. Often times, these checklists are limited to the effective offer of the services and to the environment in which they are delivered. We believe it is possible to go beyond that and recognize these checklists are not neutral. French-language users and civil society should be involved in the planning and the delivery of services, so that the services which are actively offered answer the needs of the French-speaking population, and also that these services can contribute to the vitality of the community. Building upon the existing literature on active offer, we believe there are two avenues for this.
The first avenue pertains to citizen involvement. Concerned users should be able to define their needs by being consulted by public institutions. Thus, in Canada, governments should count on citizen involvement and participation to organize the delivery of French-language services. That way, the concerns of the minority language speakers can be taken into account in the development of tools and mechanisms for service delivery. Authors have concluded that active offer should not be limited to the delivery of services but should be understood through a more global approach to service planning and delivery (Lortie & Lalonde, 2012). This new approach capitalizes on the participation of the community which will find ways to better organize the delivery of services so that they are more suited to its needs. In other words, the development of mechanisms for French-language services should count on a better understanding of the needs of the community, which can be done by consultations or forums during which it can participate to the planning of services. Sometimes, equal services might have differentiated effects. These need to be taken into account, and they can be through such a process.
←108 | 109→
The second avenue is that of self-determination, of control over key domains or of what is called in Canada "by and for the minority community." A way to ensure that services are offered in a culturally appropriate way is for institutions controlled by the minority to deliver these services. This means that services for the minority language speakers should be planned and delivered by institutions of that minority. That plays into institutional completeness11 in a way that the minority garners new spaces for action and self-determination. That also explains how active offer can be understood as a way to act upon the cultural security of the minority.
3. Active offer as a principle to act upon dimensions of security
Through active offer, members of the minority obtain an instant recognition from the institutions that they are part of a strong and respected community. This is where cultural security comes into play. The institutions which actively deliver public services in both official languages comfort citizens in their individuality, but also as members of a vibrant and dynamic community. When active offer is understood in such a way, it can enhance the political, social, economic and cultural vitality of the minority community. There is also a perception that the minority language has legitimacy in the public sphere and that the social context is conducive to using the minority language. There is thus a link between language behavior, community vitality and service delivery.
That link is even more potent in a context where active offer is used as a means to achieve institutional completeness or to develop new autonomous institutions by and for the minority community. When minority institutions are in charge of service delivery to the minority community, these institutions can become a rallying point for the community. They can have a leverage effect on other institutions. They can empower the local community and give it a sense that their language is not an obstacle, but an asset. This might not come as a surprise.
←109 | 110→
What must be added to our equation is the notion of individual security, which becomes even more evident in the delivery of healthcare services. There has been extensive literature on the effect of language barriers on the health of speakers of a minority language. Bowen (2015) developed a comprehensive study on this question in the Canadian context. In the health sector, difficulties related to accessibility can influence the well-being and physical security of French speakers. Language barriers have been associated with increased risks of being hospitalized, with inaccuracies in prescription and dosage of medication, and with unforeseen medical consequences. Even the use of interpreters cannot alleviate the risks of mis-presenting symptoms, of misdiagnosis and of inadequate treatment, on top of compromising patient confidentiality or the consent to services. Linguistic barriers have also been associated with an under-use of resources related to health promotion and education and a lower involvement in all sorts of preventative treatments, including regular health evaluation and consultation for non-urgent medical problems.
The FLSC observed that the consequences of the absence of active offer are always detrimental, and sometimes serious, particularly for groups in the population who are in a situation of vulnerability (be it that for some observers, all speakers of a minority language are vulnerable). It noted negative impacts on the extent of services available and the overall quality of the services. In its recent study on active offer (2016), it cites examples where patients did not receive adequate services pertaining to urgent calls to emergency services, risky pregnancies, interventions with suicidal patients, accidents with multiple traumas and support for the youth and the elderly. Many also note important problems in the delivery of services in the mental health sector, where language, culture and communication are key to a proper diagnosis (Cardinal et al., 2017).
But, according to Bowen and to other observers (de Moissac et al., 2012; Savard et al., 2015), the problem often resides in a low understanding of the adverse effects of linguistic barriers in the delivery of health services from the part of managers and practitioners, who consider language services as accessory rather than essential. Also, linguistic barriers might be perceived through a lens of cultural sensibility, rather than through quality and security. Thus, efforts related to quality and security, which are paramount in healthcare institutions, often neglect linguistic barriers. As it was alluded to in the OCOL report (2016), work environment can have an impact on active offer of French-language services. And, as it was mentioned by civil society actors, the problem often resides in training and promotion. Language barriers can be in part taken down by the implementation of active offer throughout the continuum of services in the health sector.
←110 | 111→
In sum, active offer has garnered attention from governments in Canada and has been gradually integrated as a mechanism to deliver Frenchlanguage services where French speakers constitute a minority. That concept has, of lately, been unique to Canada, but other minorities might benefit from what has been learned while implementing it. It is only recently, even though that concept has been in the public discourse in Canada since the late 1970s, that it has made headway in Wales, where healthcare practitioners have looked to that concept to better deliver services to Welsh speakers (Welsh Government, 2015). There is, thus, potential for active offer to be disseminated in varied contexts. It is even more interesting when it is understood as a way to act upon the cultural and individual security of members of a minority community. It can be empowering for them when the norms underlying active offer are broadened to foster inclusion and participation by community actors in the planning and delivery of services.
References
Bourhis, R. (2017). Bilingual Health Care in Quebec: Public Policy, Vitality, and Acculturation Issues. In M. Drolet, P. Bouchard, & J. Savard (eds.), Accessibility and Active Offer: Health Care and Social Services in Linguistic Minority Communities (pp. 349–396). Ottawa: University of Ottawa Press.
Bowen, S. (2015). Impact des barrières linguistiques sur la sécurité des patients et la qualité des soins. Ottawa: Société Santé en français. Retrieved January 25, 2021, from http://francosantesud.ca/wp-content/uploads/SSF-Bowen-S.-%C3%89tude-Barri%C3%A8res-linguistiques.pdf.
Breton, R. (1964). Institutional Completeness of Ethnic Communities and Personal Relations of Immigrants. American Journal of Sociology, 70(2), 193–205.
Breton, R. (1985). Les institutions et les réseaux d'organisations des communautés ethnoculturelles. In Fédération des francophones hors Québec (ed.), État de la recherche sur les communautés francophones hors Québec. Actes du premier colloque national des chercheurs (pp. 4–19). Ottawa: Fédération des francophones hors Québec.
Cardinal, L., & Gonzalez Hidalgo, É. (2012). L'autonomie des minorités francophones hors Québec au regard du débat sur les minorités nationales et les minorités ethniques. Minorités linguistiques et Société, 1, 51–65.
Cardinal, L., & Normand, M. (2013). Distinct Accents: The Language Regimes of Ontario and Quebec. In J.-F. Savard, A. Brassard, & L. Côté (eds.), Ontario Quebec Relations: A Shared Destiny? (pp. 119–144). Montreal: Presses de l'Université du Québec.
Cardinal, L., Normand, M., Gauthier, A. P., Laforest, R., Huot, S., Prud'homme, D., & Yaya, S. (2017). L'offre active de services de santé mentale en français en Ontario: données et enjeux. Minorités linguistiques et société, 9, 74–99.
Charbonneau, F. (2011). Dans la langue officielle de son choix: la loi canadienne sur les langues officielles et la notion de 'choix' en matière de services publics. Lien social et Politiques, 66, 39–63.
←111 | 112→
Consortium national de formation en santé. (2019). Toolbox for the Active Offer. Retrieved January 25, 2021, from http://www.offreactive.com/home/.
De Moissac, D., de Rocquigny, J., Giasson, F., Tremblay, C.-L., Aubin, N., Charron, M., & Allaire, G. (2012). Défis associés à l'offre de services de santé et de services sociaux en français au Manitoba: perceptions des professionnels. Reflets: Revue d' intervention sociale et communautaire, 18(2), 66–100.
Deveau, K., Landry, R., & Allard, R. (2009). Utilisation des services gouvernementaux de langue française. Une étude auprès des Acadiens et francophones de la Nouvelle-Écosse sur les facteurs associés à l'utilisation des services gouvernementaux en français. Moncton: Institut canadien de recherche sur les minorités linguistiques.
Drolet, M., Bouchard, P., & Savard, J. (eds.) (2017). Accessibility and Active Offer: Health Care and Social Services in Linguistic Minority Communities. Ottawa: University of Ottawa Press.
Government of Canada. (2012). Policy on Official Languages. Retrieved January 25, 2021, from https://www.tbs-sct.gc.ca/pol/doc-eng.aspx-?id=26160.
Hayday, M. (2015). So They Want Us to Learn French. Promoting and Opposing Bilingualism in English-Speaking Canada. Vancouver: University of British Columbia Press.
Lascoumes, P., & Le Galès, P. (2004). Gouverner par les instruments. Paris: Presses de Sciences Po.
Lascoumes, P., & Le Galès, P. (2007). La sociologie de l'action publique. Paris: Armand Colin.
Lortie, L., & Lalonde, A. J. (2012). Cadre de référence pour la formation à l'offre active de services de santé en français. Ottawa: Consortium national de formation en santé. Retrieved January 25, 2021, from http://cnfs.net/wp-content/uploads/2015/06/Cadre_de_reference_CNFS_pour_forma-tion_offre_active_services_de_sante_en_francais.pdf.
May, S. (2001). Language and Minority Rights: Ethnicity, Nationalism and the Politics of Language. Edinburgh Gate: Pearson Education Limited.
Normand, M. (2016). Mobilisation linguistique en Ontario français: entre action et rémanence. Revue du Nouvel-Ontario, 41, 273–309.
←112 | 113→
Office of the Commissioner of Official Languages. (2016). Bilingual Greetings in Federal Institutions: Let's Talk About It! Ottawa: Minister of Public Works and Government Services Canada. Retrieved January 25, 2021, from http://www.officiallanguages.gc.ca/sites/default/files/active-offer.pdf.
Office of the French Language Services Commissioner of Ontario. (2010). Annual Report 2009–2010: Open for Solutions. Toronto: Queen's Printer for Ontario. Retrieved January 25, 2021, from https://csfontario.ca/wp-content/uploads/2010/06/FLSC-AnnualReport-2009-2010.pdf.
Office of the French Language Services Commissioner of Ontario. (2016). Special Report. Active Offer of Services in French: The Cornerstone for Achieving the Objectives of Ontario's French Language Services Act. Toronto: Queen's Printer for Ontario. Retrieved January 25, 2021, from http://csfontario.ca/wp-content/uploads/2016/08/OFLSC-250851-Special-Report-2016-ENG_FINAL.pdf.
Patten, A., & Kymlicka, W. (2003). Language Rights and Political Theory: Context, Issues, and Approaches. In W. Kymlicka, & A. Patten (eds.), Language Rights and Political Theory (pp. 1–51). New York: Oxford University Press.
Ricento, T. (2015). Political Economy and English as a "Global Language". In T. Ricento (ed.), Language Policy and Political Economy: English in a Global Context (pp. 27–47). New York: Oxford University Press.
Savard, J., Casimiro, L., Bouchard, P., Benoît, J., Drolet, M., & Dubouloz, C.-J. (2015). Conception d'outils de mesure de l'offre active de services sociaux et de santé en français en contexte minoritaire. Minorités linguistiques et Société, 6, 131–156.
Statistics Canada. (2017). Update of the 2016 Census language data. Retrieved January 25, 2021, from https://www12.statcan.gc.ca/census-recensement/2016/ref/lang/lang-note-eng.cfm.
Tardif, C., & Dallaire, C. (2010). La satisfaction des patients francophones de l'est de l'Ontario traités en réadaptation à domicile. Francophonies d'Amérique, 30, 61–88.
Welsh Government. (2015). More Than Just Words… Delivering the Active Offer Information Pack. Health Services and Social Care. Cardiff: Welsh Language Policy Unit Health and Social Services. Retrieved January 25, 2021, from https://gov.wales/sites/default/files/publications/2019-04/delivering-the-active-offer-information-pack-social-services-and-social-care.pdf.
---
1 A language regime pertains to the legal, political, symbolic and operational dimensions of language. These guide the definition of problems and the decision-making on public policy as well as demands from civil society on language issues on a specific territory (Cardinal & Normand, 2013; Normand, 2016). In this book, Itçaina also refers to that definition of the language regime.
2 Only one province, New Brunswick, has declared French and English as two official languages. Two territories (Northwest Territories and Nunavut) have declared some indigenous languages official alongside French and English.
3 The federal government has set a yearly target of just around 5 % of immigrants settling elsewhere than Quebec that are French speakers. This target has always been missed. New initiatives have been announced in 2018 by the government to enhance promotion and recruitment and to help communities to better integrate and retain French-speaking immigrants.
4 In 2019, Canada is celebrating 50 years of official bilingualism. A diversity of actors – civil society groups, language ombudsmen, academics, politicians – are calling for a modernization of the Official Languages Act to better reflect changes in the composition of the French-speaking minority communities and those related to the development of new technological tools of communication, among other factors.
5 Outside of Quebec, only British Columbia has not taken any legislative or regulatory steps to protect French-language services.
6 The province of Quebec houses an English-speaking minority community concentrated in the greater Montreal area, but also present throughout the province. This population is entitled to receive the active offer of services in English from the federal government in designated offices in the province. But provincial institutions do not abide to active offer, as the Charter of the French Language makes French the primary language of institutions, bearing few exceptions. For a discussion on the active offer of English-language services in health care in Quebec, see Bourhis (2017).
7 In the Fall of 2018, the provincial government abolished the independent Office of the French-language Services Commissioner, though the team has been integrated to the office of the Ontario Ombudsman. This change came into effect on May 1, 2019. The consequences of this change have yet to be assessed.
8 In Canada, there are six institutions that operate as ombudsmen with linguistic mandates: the Office of the Commissioner of Official Languages (for issues pertaining to the federal government), the Office of the Commissioner of Official Languages for New Brunswick, the French-language Unit of the Ontario Ombudsman (formerly the OFLSC), the Language Commissioner of Nunavut, the Northwest Territories Languages Commissioner and, to some extent, the Office québécois de la langue française.
9 In a liberal tradition, state neutrality on language issues entails that a state should not favor a language over the others (Patten & Kymlicka, 2003). Critics of this tradition bring forth the idea that ethnicity can never be absent from the civic realm, clouding with doubts a state's neutrality (May, 2001). Even in its supposed neutrality, a state's action, be it toward language or other identity-related issues, are embedded in a clear vision of the dominant ethnicity which it reproduces (Ricento, 2015). Thus, as Lascoumes and Le Galès (2004, 2007) propose, the public policy choices made by a state are not neutral since they may help to sustain the dominant ethnicity, even when these choices are intended for minority communities.
10 On the multidisciplinary aspects of active offer, see Drolet, Bouchard & Savard (2017).
11 The concept of institutional completeness (Breton, 1964) brings forth the idea that by controlling institutions which can have a direct impact on a minority community's vitality and development, that community can substitute itself to the majority community and offer a distinct social life to its members. As a minority community gains distinct characteristics from the majority, it will also aspire to control more autonomous institutions. On the concept of institutional completeness for Frenchlanguage minority communities in Canada, see Breton (1985) and Cardinal and Gonzalez-Hidalgo (2012).
←113 | 115→
Details
Pages

512

ISBN (PDF)

9782807617285

ISBN (ePUB)

9782807617292

ISBN (MOBI)

9782807617308

ISBN (Book)

9782807617278

Language

English

Publication date

2021 (May)

Published

Bruxelles, Berlin, Bern, New York, Oxford, Warszawa, Wien, 2021. 512 pp., 9 fig. b/w, 6 tables.