The Europeanization of Industrial Relations in the Service Sector
Problems and Perspectives in a Heterogeneous Field
Monographs
XVI, 244 Pages
Excerpt
Table Of Content
Cover
Title
Copyright
About the editors
About the book
This eBook can be cited
Contents
Chapter 4: Accelerated development of European industrial relations after the establishment of an SE: The case of Allianz
Chapter 5: The scope and limits of extending a national model into the European space: The case of AXA
Chapter 6: Continuous development and differentiation of transnational industrial relations: The case of IKEA
Chapter 7: The development of European industrial relations: Kering
Chapter 8: Temporary surge of European industrial relations triggered by a dispute: The case of MM Packaging
Chapter 9: A great leap forward in European industrial relations: Post- acquisition developments in the case of DS Smith
Chapter 10: European company industrial relations in the service sector: Findings, challenges, perspectives
Chapter 11: The service sector and the Europeanization of industrial relations: Challenges and perspectives
References
Index
Series Index
| vii →
| ix →
| xi →
This study, the empirical core of which is based on a large number of expert interviews, would not have been possible without the cooperation of our interviewees: trade union officials, workplace employee representatives, and management. We are indebted to them for enabling our research to take place.
We are especially grateful to those individuals who made themselves available, as field research in the service sector proved to be more
difficult and time-consuming than previous comparable research in manufacturing industry. In one instance, for example, group management refused to grant us any access at all. We discuss the factors behind these difficulties both in the section on methodology as well as in the context of the individual case studies, insofar as they had implications for acquiring data.
Torsten Müller was a member of the project team during the initial stages of the project and, prior to his move to the European Trade Union Institute (ETUI), took part in the initial round of trade union interviews and also conducted interviews for two case studies. We are very grateful to Torsten for his contribution to the project.
We are also indebted to our 'foreign correspondents', Ingegerd Akselsson Le Douaron and Jean Claude Le Douaron, Magdalena Bernacziak, Marie Meixner and Lisa Schulte, who conducted and minuted interviews in Sweden, Poland, France, and the United Kingdom.
A two-day project workshop in Brussels, organized by Torsten Müller and financed by the ETUI, provided an opportunity for all those involved to reflect together on the findings from the case-study research.
We would like to express our thanks to the members of the project advisory committee both for their substantive engagement and their many helpful suggestions. ← xi | xii →
Finally, we are deeply indebted to the Hans Böckler Foundation for financially enabling the project and, in particular, to Stefan Lücking of the Foundation for his unflagging support and assistance.
Stefan Rüb and Hans-Wolfgang Platzer
Fulda, September 2014
| xiii →
| 1 →
The complexity and dynamics of change in the process of European integration are currently confronting industrial relations researchers with new, fascinating – and challenging – arrays of problems, irrespective of whether the concern is with developments and changes in national systems of industrial relations in EU Member States prompted by EU integration or, as in this case, principally with cross-border and supra-state processes.
This study, which addresses the issue of Europeanization in the service sector, is located within such a transnational perspective. Through a methodology based on qualitative empirical research, it aims to respond to the following research questions:
• What transnational networks, actors, and institutions are emerging in industrial relations at group-level within large companies in the EU?
• What interests shape the actions of managements, employee representatives and trade unions in addressing cross-border employment issues?
• What strategies and instruments are being deployed by companies and trade unions in their efforts to develop forms of employment regulation beyond the level of the nation state?
• Is the Europeanization of industrial relations at company level in the service sector characterized by a particular set of dynamics and sector-specific features?
Research in the field of industrial relations generally, and European integration in particular, is anything other than an academic growth industry, in which large data sets, tried-and-tested theoretical models and a canon of established academic literature offer a foundation for ongoing work (for an overview of the state of research, see Rüb and Müller, 2013). This situation also sets the context and poses the challenges for the present study. ← 1 | 2 →
The gaps in the availability of data and empirically grounded theorization are especially evident in the service sector. In addition, European industrial relations research has also been confronted with a host of fresh questions as a result of the protracted and complex set of crises in train since 2008 – global finance, banking and sovereign debt – which, in the form of the 'Euro-crisis', have shaken the EU to the core. It might be surprising, therefore, that within the field and time period covered by this research, we encountered no novel developments that would suggest that European group-level industrial relations has undergone a fundamental change or acquired new qualities. There are numerous reasons why – to use a very potent industrial relations symbol – there has been no Europe-wide general strike, despite the austerity policies imposed by the Troika. This does not mean that the Euro-crisis, which at time this study was concluded had been stabilized but by no means resolved, has not left deep marks – especially on the national industrial relations arrangements of individual countries – and that crisis management and the EU's 'New Economic Governance' does not have implications for the future development of transnational industrial relations in Europe. In the final chapter, we reflect on this changed context in considering the prospects for the Europeanization of industrial relations in the service sector.
Given its aims and objectives – and in view of the current state of research – this book could reasonably be denoted a pilot study as the economic, social and political significance of the service sector is in inverse proportion to the amount of research conducted in the industrial relations field. This applies with even greater force to the transnational European dimension. Academic research on European company-level industrial relations, in particular on the institution of the European Works Council (EWC), focuses disproportionally on those core industrial sectors characterized by large firms and a high level of internationalization (metalworking, and within that the car industry, and the chemicals industry). Although there have been occasional studies of European company-level industrial relations in the service sector in recent years (including Eurofound, 2014; Kotthoff and Whittall, 2014; Mis, 2013) and case study research by the present authors (Lecher et al., 2002; Rüb et al., 2013a), this field remains demonstrably under-researched. In particular, the issue as to whether and ← 2 | 3 → to what extent there are specific European patterns and industrial relations practices, and whether and to what extent these vary within branches and differ from other branches, has not yet been expressly raised or systematically engaged with. There are also gaps in the current state-of-research on the overall institutional configuration of industrial relations beyond the workplace and company level, where only a few basic building blocks have been laid down (see, for example, Platzer and Müller, 2011, on sectoral European Trade Union Federations or Weber, 2013, on sectoral social dialogue in selected service sectors). Finally, in the course of our research, we also noted that there was a marked lack of any contemporary branch-level analyses of the service sector in the fields of industrial and organizational sociology. All in all, this has meant that we had to undertake a good deal of pioneer work in a relatively sparsely surveyed field.
The fact that services are essentially negatively defined as everything that does not fall within industry or agriculture means that the service sector encompasses an extremely wide range of activities, branches and workplaces (Häußermann and Siebel, 1995: 23). This enormous degree of diversity also has implications for the methodology, substance and aims of this study. Methodologically, it obliged us to take adopt a markedly exploratory approach: that is, our prime aim has been to use documentary analysis and the qualitative data obtained through interviews to attempt to carve a path through a complex and, at times, impenetrable field. Based on the findings from this empirical research, we then hope to offer some – tentative – generalizations that in turn might yield initial hypotheses to guide future research.
In order to accomplish these objectives, and with due regard for the nature of the field, we made a number of initial decisions intended to render the study manageable by reducing its complexity.
1. The study focuses on the emergence and development of workplace and trade union structures of employee representation in European companies at group-level and the exchanges that take place within and through the relationships between these forms of representation and central (that is, group) management and external (non-workplace based) trade union organizations. ← 3 | 4 →
By concentrating on the company level, the study acknowledges that the dynamics of Europeanization and transnationalization are most evident at this level (when compared with the sectoral and cross-sectoral levels of industrial relations) but also the richest in terms of the forms through which this takes place. The objects of the study are the forms, direction and pace of the Europeanization of company-based industrial relations and the significance of the European level in resolving transnational employment-related problems. In addition to processes of Europeanization within companies, the Europeanization of trade unions – that is the development of their resources and governance capacities at the European organizational level – is also of importance for company-level industrial relations, and also wider corporate strategies. Within the various conceptualizations of 'Europeanization' in sociology, ethnology and political science, the main characteristic is what has come to be termed 'upload Europeanization' (see Chapter 2.1).
2. The case studies of Europeanization of group-level industrial relations focus on instances in which experience has already been accumulated in dealing with transnational corporate restructuring or the negotiation of European company agreements and in which the European level of industrial relations is already fairly well developed (high density of interaction, high level of activity).
This focus on well-developed cases is based on the supposition that these might constitute prime examples of the conditions – in terms of both structures and actors – possibilities and limits of European interest representation. The focus on European-level collective bargaining is warranted both on policy grounds as well in terms of the direction of the research agenda. In policy terms, European-level collective bargaining is on the legislative agenda of the EU; at the same time, trade union Europeanization also constitutes a sensitive field of interaction between (internal) company-level actors and (external) trade union organizations. In terms of the research agenda, this study aims to broaden out a relatively new field of research, one that we have already surveyed and theorized for the metalworking industry (Rüb et al., 2013a), to obtain findings for a sector that has, as yet, ← 4 | 5 → not been studied from this perspective. The relevance of this as an object of research lies in the fact that transnational company-level collective bargaining and collective agreements represent a new stage in the process of the development of cross-border and supra-state industrial relations. This raises a number of fundamental questions as to how this process should be located in the longer-term sweep of the Europeanization of industrial relations.
3. The study focuses on service sectors organized and represented by UNI Europa.
As already indicated, the analysis of European industrial relations at the group level cannot focus solely on how EWCs interact with managements but also needs to address the role and standpoint of trade unions at both national and European level. Our choice of UNI Europa was guided by both reasons of practicability as well more theoretical considerations.
UNI Europa is the largest European Trade Union Federation (ETUF) in the service sector and, as a multi-branch federation, represents a wide spectrum of service sector activities. This makes it possible to reduce the degree of potential complexity in the study by concentrating on the organization and policies of a single ETUF, while still being able to capture the heterogeneity and complexity of the service sector.
4. In order to facilitate a deeper level of analysis, three UNI Europa sectors were selected, each of which was characterized by different 'service segments' (in terms of the skill levels typical of that branch – high or low skill) and which represent different sectors within the spectrum represented by UNI Europa.
This additional restriction was intended to take account of the fact that the range of services represented by UNI Europa is too complex and heterogeneous to be captured within the framework of this study. In making the choice of case-study companies, these criteria required that two cases would be needed to cover each of the selected sectors. ← 5 | 6 →
5. The countries included in the survey encompass the five basic European industrial relations models typically deployed in comparative research, with one country representing each model. The case-study companies were chosen on the basis that they had either their corporate headquarters or main focus of their activities in one of these countries and were also well represented in the other countries in terms of the breadth of their operations.
The rationale for this decision was that an analysis of processes of Europeanization should ideally take account of the national preconditions and characteristics of all the national industrial relations cultures represented within a group. The countries chosen were Germany, France, the UK, Poland, and Sweden. Within this selection Germany represented the 'cooperative social partnership model', Sweden the 'Scandinavian model', France the 'Latin polarized model', the UK the liberal 'Anglo-Saxon model, and Poland the 'transformation model' in Central and Eastern Europe.
We take account of the complexity and heterogeneity of the service sector through a two-stage procedure, which is also reflected in the structure of this study.
In a first step, we review how UNI Europa assesses and deals with developments in European company-level industrial relations in general and in specific sectors (Chapter 3). In a second step, we consider the Europeanization of company-level industrial relations in detail through case-study research, with two companies from each of the three selected branches (Chapters 4–9).
The specifics of the methodology employed and the theoretical framework for the study are set out in Chapter 2. Finally, Chapter 10 draws together the main empirical results and offers a – tentative – set of generalizations based on these. The study concludes in Chapter 11 with some thoughts on the prospects for transnational European industrial relations in the sector, as well as the political challenges for actors in this field, and areas for future research.
| 7 →
2.1 Theoretical and conceptual framework
This study is guided by three analytic concepts that we have developed and detailed in previous studies of the Europeanization of company-level industrial relations and transnational collective bargaining for the metalworking industry (Rüb et al., 2013: 19ff.): the concept of multilevel transnational industrial relations, the concept of Europeanization, and a concept of negotiation that draws on the work of Anselm Strauss (1978).
2.1.1 The Multilevel System of Transnational Industrial Relations
The aim of conceptualizing transnational industrial relations as a multilevel arrangement is to structure the research field by revealing both the framework of levels and actors as well as the interdependence of a set of linked and overlapping levels.
The model is based on the idea that, as a consequence of globalization and EU integration, and in addition to national functional-institutional multilevel structures of industrial relations that have arisen over time (company, multi-employer, political levels), a European and global level of industrial relations has emerged, creating a complex and dynamic multi-tier structure of transnational industrial relations (see Table 1). The dynamics of this structure are generated through a process of constant change to which these interdependencies, interactions and balances between spatial and functional levels, including the roles of the actors, are subject. ← 7 | 8 →
This multilevel structure encompasses both horizontal and vertical processes of Europeanization.
Horizontally, company-level industrial relations are fragmented in spatial terms into different local and national arenas; and vertically, in terms of the various spatial levels (local, national, European, global). National and sub-national arenas are, therefore, embedded in different national legal systems and industrial relations traditions characterized by distinctive cultures of interaction and negotiation in which the actors exercise specific roles (in relation to structures for workplace representation and trade unions).
The institution of the European Works Council (EWC) or, where applicable, the SE-Works Council (SE-WC) plays a key role in the emergence of a European level of company-based industrial relations due to the fact these bodies are anchored in a framework of statute law that prescribes their resources and participation rights. This is also expressed in a corresponding focus by European industrial relations research. EWCs and SE-WCs are, as a rule, treated as an employee-side institution into which trade unions become assimilated. One consequence of this is that insufficient attention is paid to the autonomous role of trade unions, including union strategies for incorporating and controlling these non-trade union bodies. Trade union strategies at company level have a dual aspect. On the one hand, they are directed at supporting EWCs and SE-WCs, ensuring that they operate along lines conducive to trade union interests, and tying them to trade unions in institutional terms. However, trade unions also want a direct presence (or a greater presence) in European company-level industrial relations, either in the form of trade union coordination groups, union campaigns over transnational company restructuring, trade union alliances, and involvement in company-level collective bargaining. Trade union company-level policy and practice comes into its own at the point at which EWCs or SE-WCs come up against the limits of their legal rights (organizing resistance to restructuring) or when they try to go beyond their legal role (challenging trade unions' collective bargaining monopoly).
This model of a spatial-territorial and political-functional complex and dynamic multilevel system of industrial relations can now be linked ← 8 | 9 → with research questions posed by the issue of Europeanization. That is, the European multilevel industrial relations system constitutes the structural context within which a number of Europeanization processes take place (along the dimensions of 'uploading', 'downloading' and 'crossloading') and can be analysed. In turn, empirical exploration of the substantive shape of ← 9 | 10 → these processes, their direction of travel, and their strength and interaction offers access to the form and transformation of the European multilevel system itself, including its inherent barriers to, and potential for, the development of cross-border and supra-state industrial relations.
Table 1: Levels and actors in the multilevel structure of transnational industrial relations.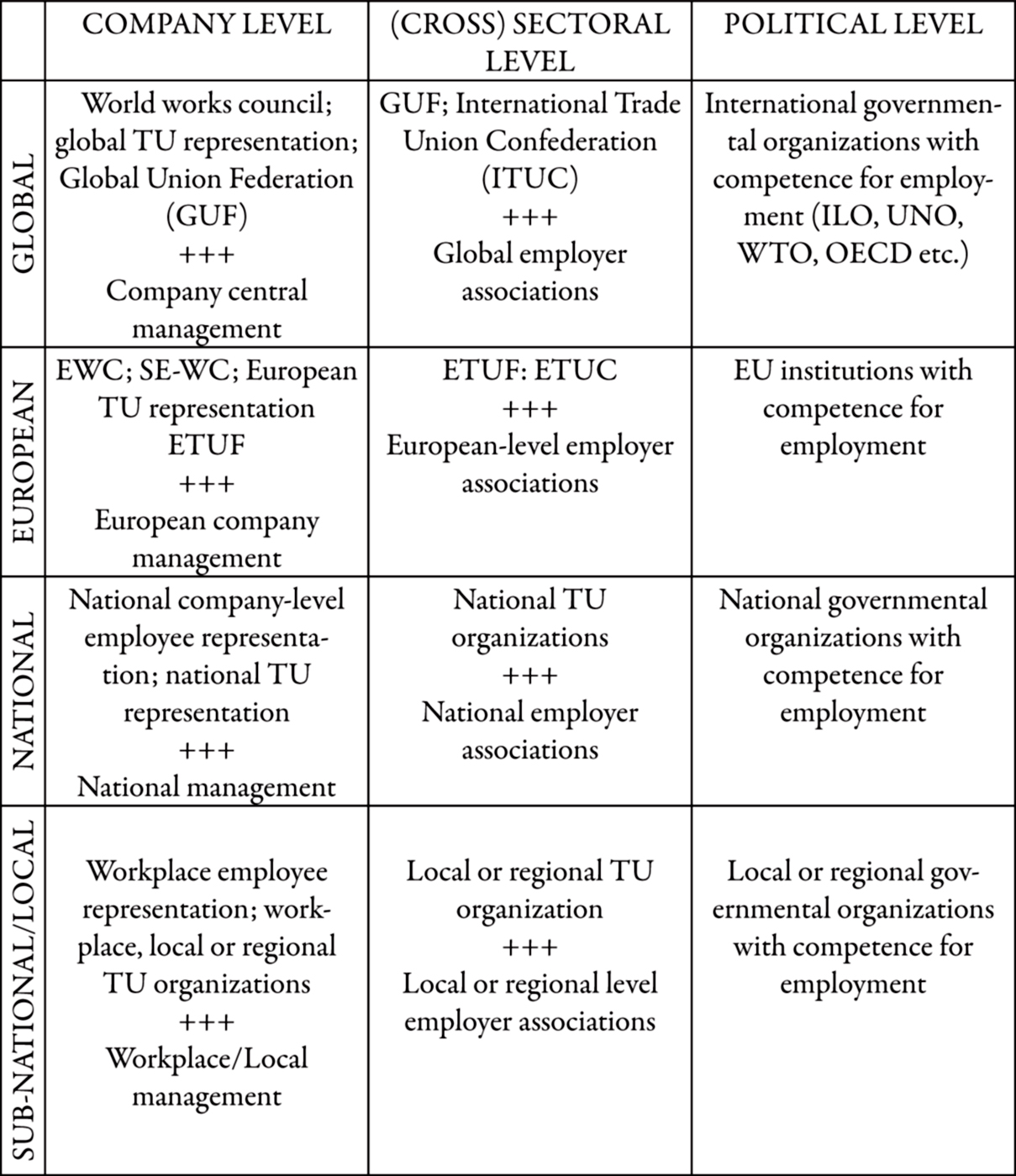 2.1.2 Europeanization
The Europeanization debate within the field of industrial relations research draws heavily on EU integration research in political science. One of the main strands of this field addresses the emergence of a distinct European level of institutions, formalized decision-making procedures and legal systems of regulation in a process encapsulated in the concept of 'Europeanization': Cowles et al. (2001) can serve as a general reference for this approach. A second strand addresses Europeanization primarily in terms of the diffusion of policies developed at European level within national political and social systems (see, for example, Radaelli, 2000). From this perspective, Europeanization is a question, firstly, of the 'institutional fit' between conditions prevailing in the Member States and the regulatory system developed at EU level; and, secondly, of the forms and scope of 'domestic change' induced by EU integration along a possible continuum of absorption, accommodation and transformation (Börzel and Risse, 2003). Finally, the treatment of Europeanization within political science also embraces efforts to integrate these two perspectives through consideration of 'uploading' and 'downloading' together with the chain of causation/effects between vertical and horizontal processes of Europeanization.1 ← 10 | 11 →
These perspectives, concepts and problematics also shape the debate around Europeanization for industrial relations research.
In analysing the structural transformation of national systems of industrial relations, comparative industrial relations research has traditionally adopted a convergence-divergence paradigm. Within this approach, the question of Europeanization is examined in terms of whether and to what extent the development of the EU towards a specific type of economic and political unit generates similar or comparable processes of adaptation within the industrial relations systems of EU Member States that differ significantly from the paths observable in other western industrialized countries (Traxler, 1995; Armingeon, 1994). The research findings offered within such a comparative macro-structural perspective, and on the basis of this definition of Europeanization, are largely undisputed. Industrial relations institutions and arrangements in all developed industrial societies (including those outside Europe) are neither subject to a process of convergence prompted by the advance of economic internationalization (an unstoppable process of disorganization and decentralization on the current version of the convergence thesis) and nor are EU Member States' national industrial relations systems tracking along a unidirectional process of transformation attributable to EU integration (Traxler, 1995; 1997). ← 11 | 12 → There is a degree of synchronicity of adaptation processes – including across EU Member States – in some sectors, in which the transnational correspondence between product and labour markets is particularly high (Marginson and Sisson, 2004).
Nonetheless, these overarching findings from a traditional comparativist perspective do not fully capture a number of Europeanization processes that are relevant both in research and policy terms, as 'the "Europeanization" of industrial relations takes place at different levels and in various arenas of interest representation and is not a homogeneous or integrated process of development' (Keller and Platzer, 2003: 3).
The model of a European multilevel system of industrial relations offers an appropriate conceptual framework for structuring this overall complex, also drawing on ideas from political science research on the EU, which models the EU as a dynamic multilevel system of governance. This approach is intended to overcome the protracted bifurcation of discourse on Europe either into dichotomous categories (confederation of states or federal state) or its being couched in teleological terms (EU 'finality', European as a emergent state and so forth) (see, for example, Jachtenfuchs and Kohler-Koch, 1996). Such a shift in perspective to a more nuanced formulation of the underlying model has also proved fruitful in industrial relations research, as the multilevel model allows the multi-layered structural pattern and contradictory processes of Europeanization to be captured empirically with a greater degree of refinement. In turn, this facilitates critical engagement, firstly, with 'Euro-pessimist' positions, according to which the nation state represents an ultimately insurmountable framework for any form of substantive employment regulation; and, secondly, with 'Euro-optimist' descriptions and normative aspirations, according to which an authentically European level of supranational industrial relations is set to emerge (or must emerge), as a type of vastly scaled up version of national structures.
Based on previous work in the field of industrial relations and European integration, we proceed on the basis that 'since the close of the 1980s a complex and dynamic European multilevel system of industrial relations has been taking shape' (Platzer, 1998: 267). Its constitutive features are as follows: ← 12 | 13 →
• Persisting diversity in the basic arrangements of national industrial relations in the context of national processes of social modernization.
• Increased incorporation and processing of the conditions of EU integration – both in terms of the transnationalization of economic processes and the transformation of governance structures – at the national level, leading to the Europeanization of national policy stances and decisions by actors that reflect both how their organizations are configured and how their interests are articulated and pursued. Europeanization manifests itself in national forms of adjustment, mostly in the area of adaptation and accommodation, in strongly transnationally integrated sectors and also in individual elements that have undergone transformation.
• The development and growing significance of cross-border frameworks for interaction in the field of employment and the emergence of transnational networks of actors.
• And finally, a steady but gradual growth in the importance of an authentically European level of action, decision-making, and governance.
This latter supranational dimension is wholly absent in 'Euro-pessimist' diagnoses. At the same time, this school also confirms that Europeanization does, in fact, exist, in the following terms:
Even if European integration in the industrial relations sphere does not take place vertically and hierarchically, European societies will still become 'more European'. The emerging Europe (…) is Europeanizing itself through the increasing orientation of national actors and institutions to their international environment, depending on national interests and circumstances. One could speak of a horizontal process of Europeanization, in which the horizon of both perception and action of actors who remain national also extends beyond national borders, as do their social relationships ('networks') and options. (Streeck, 1999: 17)
In contrast, we have argued elsewhere that within a developing European multilevel industrial relations system – and especially in the field of company-level industrial relations and the development of EWCs – there are also vertical processes of Europeanization that extend beyond the horizontal Europeanization depicted by Streeck (Müller and Platzer, 2003). On this ← 13 | 14 → view, the transnational and authentically European level of problem resolution will acquire a specific significance in relation to local and national contexts: this takes place largely in the form of complementary, and in a few instances supervening, levels of decision taking (or even the level at which a requirement for decisions is newly generated).
In line with this initial consideration, in this study we understand 'horizontal Europeanization' as the process of inter-state cross-border interdependence and the interlinking of (sub-) national industrial relations and the participating actors, on both the employer and employee sides. 'Vertical Europeanization' is a process of growing mutual interpenetration and influence between the (sub-) national and European levels, in which the latter tends to gain in significance as the level for information exchange, interest clearing, political steering, regulation, and negotiation. At the same time, advancing Europeanization will intensify the scope for friction and conflict between these various levels and the actors involved in their various capacities. This applies equally for the workplace/company and trade union processes of Europeanization analysed in this study. In analytical terms, as emphasized above, the main characteristic is 'uploading' – that is the conditions for the emergence of a European-transnational level of industrial relations, its structural features, and its potential as a level of governance. The quantitative dimension of Europeanization will be explored through data on the numbers and scope of EWCs. However, the core of the study is qualitative, with the process of Europeanization at company level explored and analysed through a case-study based reconstruction of the course of this process in concrete situations.
2.1.3 The concept of 'negotiation'
We view the Europeanization of company-level industrial relations as an iterative process of interest-oriented and power-based negotiations of social orders embedded in specific structural contexts.
The concept of 'negotiation' itself indicates that the process has a degree of openness. Which side prevails, and to what degree and with what concessions it makes or feels itself obliged to make, is not certain or ← 14 | 15 → discernible at the outset. Rather, negotiations refer to a social mechanism for coordination that is located between consensus and coercion, and which always entails compromise.
The 'social order' (Strauss, 1978) of collective industrial relations comprises:
Both the 'transient' arrangements that flow from everyday processes of negotiation as well as formalized and enduring rules and principles, together with established conventions and understandings that constitute the more stable elements of a social order, demarcate the limits of daily negotiation, and set the overall direction. (Rüb et al., 2013a: 36)
This highlights two points:
• Firstly, that the configuration (and hence also the Europeanization) of company-level industrial relations is not determined solely by negotiating processes internal to companies; other determinants include regulations established at the sectoral level (in countries in which sectoral bargaining is conducted by trade unions and employer associations) and wider legal orders and orders of social discourse at the political and social level, the results of which, in turn, figure as the structural context for internal company-level negotiations.
• Secondly, that the supranational-European order of company-level industrial relations is ultimately the outcome (in all cases a provisional outcome) of a large number of implicit and explicit negotiating processes that overlap, and can occur at a variety of locations simultaneously and at the same location successively. However, the fact that there are also orderings in the scope, efficacy and reach of these various negotiating processes, and that as a consequence significant negotiations will enter into decisive phases, means that it is possible to identify qualitative leaps in the form, direction and pace of development of the Europeanization of company-level industrial relations.
We make two assumptions in this area: firstly, that the supranational-European order of company-level industrial relations takes place primarily at the European level itself, with fairly large scope for negotiation ← 15 | 16 → within companies, in a process we have denoted elsewhere as 'negotiated Europeanization' (Lecher et al., 2002); and secondly, that negotiations to develop this order through formalized bargaining processes will become increasingly dense in character, possibly coming to a head in the wake of 'dramatic events' in which conflicts of interest take on an especially virulent character or seemingly stable equilibria between the parties, in terms of their respective power, collapse (for example in the case of large-scale transnational restructuring).
Social orders are not just a product of negotiation. They also serve as a medium for subsequent negotiations and set a structural context for negotiations in other spheres and at other levels. Which negotiations take place through which processes and with what outcomes is not an arbitrary matter but depends on structural contextual factors that exclude certain types and dynamics of negotiation or render them improbable, and facilitate others or make them more likely. Structural contexts constitute framework conditions the negotiating actors can revert to and rely on, and which they also have to take into account. It is the creativity, skill and effort of the actors that ultimately determines who succeeds, and how, in rendering the given contextual factors most useful and useable for their own interests.
In Strauss's concept of negotiation, the structural context is left largely undefined. Rather, the question as to which dimensions and characteristics of this context bear on the processes of negotiation, and hence in this case influence the form, direction and tempo of the Europeanization of company-level industrial relations, can only be answered in terms of the particular field of research. Drawing on prior research in the field of European industrial relations, we propose that the following structural contextual factors are relevant in this instance. As a consequence, we aim to take particular account of these both in the case studies and in our overall assessment in Chapter 10. They are:
• The rights that secure institutional power: European legislation in the field of employment and industrial relations (see, for example, Lecher et al., 2002).
• The corporate group level as the organization within which industrial relations are embedded: the degree and direction of corporate ← 16 | 17 → transnationalization (Hauser-Ditz et al., 2010; Marginson et al., 2004; Fetzer, 2008).
• The home – and formative – country: force of the 'home-country effect' in terms of the influence of national and national-sectoral systems of industrial relations and traditions (including the strength of national trade unions).
Our overall assessment of the case studies in Chapter 10 also raises the question as to whether, and to what extent, authentically sectoral influences need to be included in this set of structural contextual factors. As yet, the category of 'sector' has received comparatively little attention in European industrial relations research. Such sectoral factors might include: sector-specific configurations of actor (in particular union density and strength), sectoral social partner agreements, informal accords and arrangements concluded by European Trade Union Federations (for example, for European-level company agreements). Sectoral features could also be exhibited in terms of corporate structures, the degree and nature of corporate transnationalization, and the scope this offers to, or constraints it imposes on, the employee side.
2.2 Methodology
The initial phase of the empirical research consisted of semi-structured interviews with seven policy officers, responsible for European company policy either sectorally or cross-sectorally, at the UNI Europa head office in Brussels. These interviews constituted a core part of that aspect of the empirical research aimed at ascertaining UNI Europa's organization and strategies in the field of transnational company policy. In addition, we also evaluated relevant union documentation and secondary literature.
In a second phase, during the six company case studies, thirty-three semi-structured interviews were held with representatives of central and/or European HR management, members of the EWC or SE-WC in the ← 17 | 18 → home country of the company and at the case-study companies' foreign subsidiaries, and with trade union representatives with responsibilities for these companies in a number of countries. The referencing for the interviews is indicated further below, where the first interview source is referred to (footnote 9 in this chapter).
We also consulted and analysed relevant company documentation (such as annual reports) together with the texts of agreements and other available documents generated during the development of European company-level industrial relations. Interviews in the comparison countries were conducted by national 'correspondents' with the requisite language and subject skills.
On grounds of practicability, the first research phase with UNI Europa experts was also used as an opportunity to obtain an overview of EWC and trade union activity in the sectors in UNI Europa's scope, providing a basis for the final choice of sectors and companies. This exploratory phase also included discussions with officials at the head office of ver.di, the German services trade union.
In choosing the case studies, the following criteria were applied:
• The six companies should be evenly distributed across three UNI Europa sectors; in turn the chosen sectors should encompass different service sector segments (high and low skilled).
• Companies' headquarters, or the main focus of their operations, should be in one of the chosen comparator countries.
• The selected companies should have a wide range of operations across all the comparator countries.
• Finally, there should be a well-developed European level of industrial relations. One key indicator of this was that the employee side (EWC/SE-WC, trade union) should already have made an active attempt to use and extend its scope for participation and influence in relation to the employer (central or European management), and that it had already accumulated some experience with transnational company restructuring or negotiating European company agreements.
In practice, this latter criterion proved to be the critical bottleneck in choosing both the case-study companies and ultimately the branches. ← 18 | 19 → The reason was that the initial discussions on this issue conducted with experts at ver.di and UNI Europa, as envisaged in our research strategy, highlighted two issues. The first was that the full-time officials responsible for European company-level industrial relations at ver.di and UNI Europa were not as informed about company practice as we had expected, based on our experience in the metalworking sector. Because of the way that unions organized their support, it was not possible – aside from a few exceptions – to obtain a systematic assessment at this level of how far European group-level industrial relations had developed or a broad overview of how EWCs and SE-WCs operated in terms of the scope of their participation and activity. Moreover, aside from financial services, EWCs and SE-WCs in UNI Europa's scope had accumulated substantive experience with corporate restructuring and European collective bargaining in only a very small number of cases.
The choice of comparator countries (Germany, Sweden, France, United Kingdom and Poland) followed from the mix of two parameters relevant to the study. Firstly, the countries should include the five basic models customarily used in comparative industrial relations and trade union research. In this, we drew on the typology used by Kohl and Platzer, which supplemented the four basic Western European models proposed by Ebbinghaus and Visser (1997: 335ff.) with their own Central European model (Kohl and Platzer, 2004: 367ff.). On this account, industrial relations in Germany represents the 'social partnership' model (high level of juridification, strong statutory-based workplace representation, low level of industrial conflict on the part of recognized trade unions), Sweden for 'Nordic corporatism' (well organized unions and employer associations with wide organizational scope and coverage), France for 'Latin polarization' (competition between political trade unions, adversarialism), the UK for 'Anglo-Saxon pluralism' (voluntaristic negotiating relationships, monism), and Poland for the Central European transformation model (statist, relatively weak unions, fragmented social partner organizations). Secondly, within these basic models we chose countries in which there were a reasonable number of service sector companies with European employee representation (in particular EWCs and SE-WCs). This comparative aspect was solely related to the company case studies: we did not undertake any further analysis of national contexts or processes of ← 19 | 20 → Europeanization, which would not have been possible with the research methods employed in the study.
Given the small number of cases of EWCs and SE-WCs with substantive experience of corporate restructuring and European collective bargaining, we were faced with only a very narrow range of prospects in making a selection in line with our criteria.
The choice fell on the following branches and companies:
• The insurance branch as an example of an industry in which skilled white-collar work predominates. (Classification: highly skilled service work. Other branches of this type: banking, information and communication technology services).
• Retail as an example of a branch in which low-skilled, insecure and low-paid work predominates. (Classification: low-skilled service work. Other branches of this type: cleaning and security).
• Paper and cardboard packaging as an example of a branch at the interface between production and services, and in which production work plays a central role compared with the other sectors represented by UNI Europa. (Classification: production activity in a trade union service area. Other branches of this type: printing and publishing).
European company-level industrial relations have been established for a comparatively long period and are fairly well developed in the insurance and packaging branch. Both branches belong to UNI Europa sectors (finance, graphical), in which there are guidelines on EWC coordination and European company bargaining. Companies were chosen for case study research in insurance and retailing in which there was some previous experience with European company bargaining, including the conclusion of agreements. In the packaging industry, the two firms in the study were passing through a period of restructuring that was accompanied by conflicts and negotiations at European level.
Based on processes of actual negotiation, which had been identified beforehand and which served as the starting point and anchor of our ← 20 | 21 → investigation of the development of European company-level industrial relations, we selected the following companies:
• The German insurance group Allianz (based on the fact that a European company agreement on work-related stress had been negotiated and implemented in 2011).
• The French insurance group Axa (based on the fact that a European company agreement on anticipating change had been negotiated and implemented in 2011).
• The French retail group Kering (based on agreement and implementation of European Charters on Seniors and on Disability in 2008 and a European company agreement on work-related stress in 2010).
• The Swedish retail group IKEA (based on the negotiation and implementation of a Joint European Declaration on Health and Safety in 2003).
• The British firm DS Smith (based on negotiations on an agreement for merging an EWC in 2012 following the company's acquisition of the Swedish packaging manufacturer SCA Packaging).
• The Austrian packaging group MM Packaging (based on a dispute and negotiation prompted by the closure of the company's operations in Liverpool/England in 2012).
The country composition of the study in Table 2 indicates that two deviations from our original idea were necessary on pragmatic grounds. Firstly, we were unable to locate a Polish parent company that met our criteria. Secondly, we included MM Packaging – a group headquartered in Austria.
Our aim was to carry out seven interviews in each company where possible, as follows:
• one interview with the representative of central management responsible for European industrial relations (EWC/SE-WC);
• one interview in each case with a member of the EWC or SE-WC and one interview with the national trade union responsible for supporting the EWC or SE-WC (where present) at the company's headquarters; ← 21 | 22 →
• one interview with a member of the EWC or SE-WC and a trade union official at two of the company's foreign subsidiaries. In the case of MM Packaging, a third foreign subsidiary was included in order to cover three of the five comparator countries.
Table 2: National composition of the case-study companies.

Note: The shaded parent companies and subsidiaries were included in the study.
It was not possible to conduct all the proposed interviews, in part due to limitations caused by how employee representation was organized and in part due to problems of access. In terms of the organizational limitations, in four cases the EWC members representing foreign subsidiaries did not have a trade union official to whom they could take EWC issues;2 at Axa Poland, the EWC member was not a union member; and at MM Packaging Poland, no EWC member had been appointed.3 There was also ← 22 | 23 → the problem that three central managements declined to participate in the project4 and two interviews with workforce representatives could not be held due to other circumstances.5
2.3 Characteristics of the empirical field
2.3.1 The service sector, including trade union sectoral organization
The service sector is marked, above all, by its heterogeneity, which has left these branches as being negatively defined as a residual category.
The category of 'services' is a capacious drawer used to accommodate everything that is not farming and industry. (Häußermann and Siebel, 1995: 148)
According to the EU's NACE industrial classification system, the service sector encompasses a variety of very diverse branches and activities, including commerce (which also includes the maintenance and repair of motor ← 23 | 24 → vehicles); transport and storage; hospitality; information and communication; banking and insurance; property and housing; the provision of professional, scientific and technical services; public administration, defence and social insurance; education and training, health and social services (Eurostat, 2008).6 This heterogeneity is reflected in the heterogeneity of service sector work.
Service sector work is a single concept for set of branches, occupations and activities that are, in practice, highly amorphous. Call centre agents, professionally qualified bankers or an engineer working in research and development in an industrial company are worlds apart in terms of their skills, the nature of the activities they perform, and their professional requirements. (Haipeter, 2011: 94)
This heterogeneity also resists attempts to label service sector work using general characteristics, such as the uno-actu principle (simultaneity of the production and consumption of a service), customer orientation (Sauer, 2002) or as the labour of interaction (Dunkel and Weihrich, 2012; Baethge, 2011; Böhle, 2011). The fact that service work 'has its front and back stages, its front and back offices' also means some of these characteristics will apply to only parts – albeit large parts – of 'interactive services' (Voswinkel, 2000: 178).
Given this heterogeneity, it is also hardly justifiable simply to characterize the service sector as the 'area in which in general there are poorer working conditions, lower wages, frequently precarious employment, and a low incidence of works councils' (Ellguth and Kohaut, 2012: 258f.).7 ← 24 | 25 → Rather, the service sector is notable for the fact that it includes fields with highly skilled and highly paid employees as well as those in which precisely the opposite is the case: this is consistent with qualitative differences in working conditions, employment relationships, and industrial relations.
Far from this uniformity, within individual service sector branches, such as retailing or banking, there is an observable 'polarizing segmentation of service offers, customer segments, and workforce structures' (Baethge, 2001: 105).
According to Baethge, the standardization of the product offer in the mass consumer segment in banking is leading to the fact that semi-skilled employees or those with experience in the sector can be employed in call centres and as counter-staff, while intensive advice services for firms and high-value private customers are performed by highly skilled specialists. In retailing, differentiation is taking place via the forms of distribution that span advice-intensive sales in specialist retailing to the discounters, where there is no aspiration at all to provide advice to customers. (Haipeter, 2011: 99)
In view of this heterogeneity, the major difference in the transnationality of the production and service sectors noted by Bechter, Brandl and Meardi (2011) can also only be understood as a general trend.8 The following sections on retailing and insurance (2.3.2 and 2.3.3), as two typical service sector branches, point to a lagged process of transnationalization when compared ← 25 | 26 → with the production sector rather than a profoundly different degree of capacity for transnationalization (with due regard for qualitative distinctions, such as the transferability of production and business processes).
The wide spectrum of branches within the service sector is reflected in trade union terms in the fact that a number of ETUFs are responsible for different parts of it.
Table 3: ETUFs in the service sector.
ETUF
Service area
UNI Europa
Financial services (banking, insurance)
Hair and beauty
Commerce (retail, wholesale)
Information and communication (IT-services, telecomms)
Media, entertainment, the arts
Post und logistics
Social insurance and private health
Gaming
Tourism
Property services (cleaning, maintenance, security)
Temporary and agency workers
EFFAT
Tourism and hospitality
EPSU
Public services (public administration, social and health services, public utilities)
ETF
Transport (rail, road, inland navigation, ports, seafarers, civil aviation, tourism, logistics, local public transport)
ETUCE
Education and science
EJF
Media (journalists)
EAEA
Arts and entertainment
Eurocop
Police
EFFAT = European Federation of Foods, Agriculture and Tourism Trade Unions; EPSU = European Public Services Union; ETF = European Transport Workers' Federation; ETUCE = European Trade Union Committee for Education; EJF = European Federation of Journalists; EAEA = European Alliance for Entertainments and Arts (on the ETUFs in detail, see Platzer and Müller, 2011). ← 26 | 27 →
Table 3 indicates the breadth of services within UNI Europa's scope. This also corresponds with how UNI views itself – as the specialist and service international union confederation.
2.3.2 The retail sector and case-study retailers
For retailing, the rationalization and synergy effects obtained through internationalization are limited when compared with production industries given that its core activity – selling goods – has to take place on a decentralized basis and in close proximity to the customer. This might also explain why retailing has been slow to become internationalized in Europe and only took a noticeable leap forwards with the emergence and development of the Single European Market (Wortmann, 2003: 17).
In terms of turnover, international expansion has only been pursued aggressively, mainly by the large commercial companies in a range of branches. The basis for this dynamics, from the perspective of Western European firms, is the growing satiation and concentration on their home markets and the simultaneous opening up of new markets in Eastern Europe and Asia. (…) After first of all making market debuts in Western and then Central and Eastern European countries, the focus has shifted to culturally more remote, and fast growing, countries. (Swoboda and Foscht, 2014)
Retailers have adopted one of two distinctive approaches when internationalizing: international expansion has taken place either (1) through building up a chain of branches abroad, and exporting a tried-and-tested business model from their home country, and representing an innovation in the new host country or (2) acquiring existing companies, and as a consequence propelling increasing cross-border concentration (ibid. 28). The first strategy 'characterized as "global" in the literature, in which various national or regional markets are approached through a single retail strategy' (ibid. 21) has been pursued by IKEA. Kering has tended towards the second option.
IKEA represents a retail business model that rests on replicating a standard format at all the company's operations, irrespective of location, with the aim of maximizing economies of scale and establishing the company as a global brand (Johnsson and Foss, 2011: 1079). This uniformity ← 27 | 28 → is associated with a traditionally high level of organizational and spatial centralization of strategic functions, but also of operational planning and management. This high degree of centralization and the standard format employed at each location enables the corporate centre to prescribe in detail many operational aspects, such as standardized procedures and activities, including individual job descriptions.
In the field of HRM, a set of guidelines apply for all locations worldwide on such issues as pay and company benefits, health and safety, and employee development (INT IKEA CM NL 4–13).9
These are all matters that can be, and ought to be, dealt with at a transnational-centralized level, as they equally affect employees and employee representatives in different countries and constitute a comparatively narrowly drawn framework that is not amenable to negotiation at local level. At the same time, decisions on opening or closing stores are determined by market conditions. As such, transnational transfers only crop up in a few cross-functional areas, such as accounts or IT.
Transnational forms of interest representation, such as EWCs or transnational trade union alliances, could play an important role in a company with such a structure were they able to influence centrally developed procedures, manuals and guidelines, either through consultation or negotiation: or if the high degree of centralization and standardization enabled them to translate identical or similar problems experienced by employees (such as work intensification at IKEA) into a set of common positions and demands and convert these into the basis for more distributive, rather than integrative, forms of bargaining vis-à-vis central or European management. ← 28 | 29 → The case of IKEA also shows that central management will use the lack of alignment between the European scope of the EWC and the global reach of its central HRM to question the EWC's competence to shape central HRM and employment procedures and guidelines.
By contrast, Kering represents an instance 'in which the strategic direction is determined by portfolio management rather than long-term organic growth' (Kädtler and Sperling, 2002: 154). The company, a building materials undertaking between the 1960s and 1980s, transformed itself during the 1990s into a broad-based retailer and then into a primarily luxury goods firm during the 2000s, bringing together a large number of companies and brands with differing corporate cultures and industrial relations traditions. International growth was also pursued through acquisitions, with regular buying and selling of companies to assemble a portfolio of brands. This placed employee representatives in a situation that was characterized by Kädtler and Sperling in the following terms:
Where it is not possible to reliably specify the arena for negotiations because of the permanent need to bargain over the very basis of these, employee representatives are increasingly unable to cope. And where management itself does not know how the group will look in two years' time, and individual managers do not know where they will be within the group, the objective foundation for sustainable relationships based on trust disappears. (ibid.)
Industrial relations at the European central level acquire a particular significance as an integrative factor in such an unstable and heterogeneous set of arrangements.
2.3.3 The insurance branch and selected insurance companies
The market for insurance products is nationally fragmented in Europe, and even more so globally:
Only the beginnings, at best, of a process of true integration of national markets in the EU is discernible, such as in specific segments in industrial insurance or the first stages of pan-European product and distribution strategies on the part of some insurance groups. (Theis and Wolgast, 2010: 7) ← 29 | 30 →
The causes of this are, on the one hand, legal, tax and social policy barriers; and on the other, social factors, such as culture, language and mentality, which stand in the path of the greater integration of national insurance markets (ibid. 8). At the same time, the deregulation that took place during the 1990s (EU Single Market, GATS) opened up greater scope for insurance companies to enter foreign markets, leading to a marked increase in mutual market penetration (ibid. 5). International expansion has taken place less through establishing foreign subsidiaries than through mergers or acquisitions, mainly because the know-how required to operate in national markets can be bought in through takeovers or alliances. Improvements in IT and organizational scope have also facilitated a greater centralization of cross-functional areas and allowed transnational projects to be undertaken within the framework of a cross-border integrated structure (ibid. 7).
Spurred on by increased competition triggered by growing mutual market penetration and the economic crisis, and facilitated by the development of information technology, the insurance branch is now facing the prospect of a thoroughgoing transformation. On the one hand, the 'industrialization of the insurance business' and the 'optimization of value chains' is advancing rapidly in those areas that have already been standardized or are ripe for standardization (Dettmar et al., 2010: 2), threatening those employees with lower skills. On the other, given ageing workforces, insurance firms are also faced with a need to retain skilled and experienced staff (beyond usual retirement age) while making themselves attractive to young talent (UNI Europa Finance et al., 2010).
The internationalization strategies of Allianz and Axa conform to this pattern. Both groups have expanded strongly over the past two decades and have been engaged for some years in pursuing greater integration and centralized coordination of their parallel national businesses in order to gain scale and synergy effects and diffuse newly developed rationalization methods within the wider group. New transnational organizational units have been created for individual market segments and spheres.
In both companies, European employee representation bodies (EWC, SE-WC) have tried to keep step with the transnationalization of the organization (expansion, integration, consolidation) and ensure that they can effectively represent employee interests in the face of the associated changes ← 30 | 31 → in the composition of the workforce and the skills required. The bases of this have been, firstly, the statutory information and consultation rights of European employee representative bodies; and secondly, the need of both companies to retain and develop skilled staff, and recruit new employees as 'employers of choice'. The first point refers to the legally guaranteed requirement to consult the employee side in the event of transnational changes that affect employees; the second point highlights the opportunity for negotiation and agreement based on the existence of common interests. Retaining and developing employees and employability (in terms of skills, motivation and capacity) represent the common point of reference for negotiation in both companies.
2.3.4 The packaging industry and the selected case-study companies
The packaging industry encompasses a number of sub-segments (paper, plastic, metal, glass, wood), which, in turn, can be allotted to different branches, such as metalworking, the chemical industry, and paper processing and consequently to different trade union organizing spheres. UNI Europa is responsible for paper and cardboard packing (cartons, corrugated paper etc.) as a sub-area of the graphical industry. There are also overlapping responsibilities with IndustriAll Europe in the sphere of paper processing (chemicals) and with EFFAT for cigarette packaging (tobacco industry).
The degree of concentration in the paper- and cardboard packaging industry is comparatively low, with a large number of SMEs operating in the market. At the same time, the branch is undergoing profound restructuring. On the one hand, raw material and energy costs oscillate very widely; on the other, there is overcapacity in Europe, added to by the build up of fresh capacity in Central and Eastern Europe. These factors have combined to place companies, and the branch as a whole, under great pressures to restructure. SMEs are also confronted by the fact that they cannot finance investments in new and more efficient equipment from their own resources. Mergers and acquisitions are leading to a restructuring of the branch away from independent SMEs and towards groups operating on a European and global scale with several thousand employees and embracing a large ← 31 | 32 → number of small and medium-sized plants, usually with between fifty and 100 employees.
Packaging companies are typical supplier firms, highly dependent on orders from large customers and obliged to adjust output flexibly to their wishes and requirements. In many instances, suppliers must locate themselves in close proximity to their customers and adapt to their scheduling. As a consequence, it is generally difficult for production in the packaging sector to be geographically concentrated. Rather, packaging firms have customarily located their operations close to their customers in order to minimize distances and respond swiftly to customer demands. On the other hand, the fact that globally operating packaging groups are able to function as sole suppliers to globally operating customers, who offer a largely uniform range of goods, from a network of scattered operations worldwide represents a competitive advantage.
The two case-study companies, DS Smith and MM Packaging, operate in the carton and corrugated cardboard sectors, and are amongst the largest and leading manufacturers in their respective market segment (folding cartons in the case of MM Packaging and corrugated cardboard at DS Smith).
The takeover of SCA Packaging by DS Smith also represented a major restructuring event in the paper- and cardboard packaging industry, and our study includes an analysis of the course of negotiations over the EWC merger that this necessitated.
1 The current state-of-the-art in the field of Europeanization has been set out in the volume edited by Exadaktylos and Radaelli (2012). In the foreword to this, Egan notes that the concept of Europeanization 'has gone through several "waves" of research, from the early work on institutional adaption to membership, to the "second wave" of research on structural changes to domestic political systems that can be attributed to European integration, to the more recent "third wave" of research that does not focus on Europeanization only in terms of administrative and institutional adaption. This final wave also draws on the burgeoning research on civil society, parties and enlargement to processes that link Europeanization with transnationalism, partisan politics and party cleavages, as well as good governance and conditionality' (Egan 2012: xi). One characteristic of Europeanization research in political science is its focus on process and the attempt 'to establish causality by drawing on mechanisms-oriented explanations' (Exadaktylos and Radaelli, 2012: 32). Such 'mechanisms' through which Europeanization is manifested and mediated and the object of political science analyses can be 'ideational and discourse mechanisms (…); mechanisms of (mainly regulatory) compliance or competition (…); mechanisms of institutional change and goodness of fit (…); cognitive mechanisms: heresthetics, learning and diffusion (…)' (ibid: 33). Exadaktylos and Radaelli correctly note that 'Europeanization is not a theory' (ibid: 263). Finally, for recent studies Europeanization has also considered spaces outside of Europe and the EU when the concern has been with issues such as the diffusion of European values and standards in the context of EU neighbourbood policy.
2 For this reason, no interviews were held with union representatives in Sweden for Kering and in Poland for IKEA. We were only able to interview the ver.di full-time official responsible for the AXA central works council by phone, as this person was not directly involved in EWC work. This also applied at Kering, for which an IG BCE official who supported the Puma Central Works Council was responsible: although IG BCE is the German union for the chemical and energy sector, it merged with the leatherworkers' union (Gewerkschaft Leder) in 1997 and acquired responsibility for Puma, a Kering brand.
3 In the case of MM Packaging, despite efforts by the Polish graphical trade union ZPPP and the EWC, up to the time of our research no workplace trade union representative had been prepared to nominate themselves for the EWC. There is some evidence to suggest that there was a climate of intimidation within the Polish plants (INT MMP ZPPP PL 5–13). For explanation of references to interviews, see footnote 9 in this chapter.
4 At MM Packaging and Kering, management refused to participate in the study, without explanation, and was unwilling to be interviewed. At Kering, our request was originally made to the German member of the EWC, who approached the relevant management representative. Following their refusal, the German EWC member did not want to be interviewed. The French secretary of the Kering EWC was also unwilling to be interviewed, although it was unclear whether this was related to management's stance.
5 The EWC member from Axa Poland was on maternity leave at the time of our study. In the case of Kering France, although an EWC member had indicated they were willing in principle to cooperate with the study, in view of the extensive restructuring under way in their area of the company they felt unable to offer an interview during the period of our research.
6 NACE ('Nomenclature Générale des Activités Economiques dans I'Union Européene') is the Statistical Classification of Economic Activities in the European Union. Under NACE, the primary sector is grouped under A-B, the secondary sector C-F, and services G-U.
7 After evaluating official data from the German Federal Statistical Office and the Federal Employment Agency, Bosch and Weinkopf (2011) conclude for the service sector in Germany that although atypical and low paid work has played an increasing role, and is considerably more significant than in the secondary sector, there are substantial differences between individual service sector branches. The range is illustrated by the differing incidence of low pay, with a proportion of 24.6 per cent in the broad category of 'retail, maintenance and repair' compared with a mere 3 per cent in banking and insurance (ibid: 441).
8 They note: 'There is a considerable difference between the production industries and the service sector in terms of their transnationality, which is the result both of limits to the scope for regional consumption and production in their respective sectoral outputs, the presence of MNCs, as well the options for transferring production. While the consumption and production of services are usually subject to tight regional constraints, the outputs of the production sector are transnational in terms of their consumption and, in particular, their production. As a consequence, production industries are characterized by a very high degree of transnationality and services by a very low degree. For this reason, the presence of MNCs is much higher in production industries than in services. Between these two extremes of sectoral transnationality, there are other sectors and branches – notably in transport' (Bechter et al., 2011: 150).
9 The references to sources the interviews are as follows: the first part INT, refers to interview; the second part is the organization, either the company or trade union. The third part is the function: either European Works Council (EWC), SE-WC (SE-WC), central management (CM) or the name of the trade union. The fourth part is the home country of the interviewee (AT for Austria, BE for Belgium, DE for Germany, FR for France, NL for the Netherlands, PL for Poland, SW for Sweden, and UK for the United Kingdom). The fifth element is the month/year in which the interview took place. In above case, the interview was conducted by a representative of central management at IKEA, who worked in the Netherlands, and was held in April 2013.
| 33 →
UNI Europa and the policy field of transnational companies
The European Trade Union Federations (ETUF) play a major role in developing European-level company-based industrial relations in two key respects. Firstly, they represent employees and national trade unions in the political process through which the legal framework for European company-level industrial relations (EWC, SE-WC etc.) has been established; and secondly they are a directly active and influential party in the development of European industrial relations in transnational companies.
Given the size and heterogeneity of the service sector, together with broader processes of economic transformation that have enhanced the role of services, there is virtually no ETUF that is not represented, if only marginally, in this sector (for example, the manufacturing ETUF IndustriAll represents employees in software development). ETUFs such as EPSU (public services), ETF (transport), ETUCE (education and science), EJF (journalism) or EuroCop (police) operate wholly within the service sector.
This study focuses on UNI Europa, which, as a multi-sectoral federation, brings together a variety of service areas (finance, commerce, post, telecoms, property services etc.). Not all sectors represented by UNI Europa can be unambiguously assigned to the service sector: in particular, printing and packaging both have features typical of traditional manufacturing.1 ← 33 | 34 →
3.1 Organizational characteristics of UNI Europa
UNI Europa has more than 320 affiliated trade unions, representing some seven million individual members in fifty European countries. It was formed on 1 January 2000 as the regional organization of UNI Global through a merger of:
• Euro-FIET, established in 1972 as the regional organization of the global white-collar federation, FIET.
• Euro-CI, established in 1997 as the regional organization of the global federation Communications International from the preceding European Committee of the Postal Telegraph and Telephone International (IPTT).
• The European Graphical Federation (EGF), established in 1985.
• Euro-MEI, established in 1995 as the European regional organization of MEI (Media and Entertainment International) (Platzer and Müller, 2011: 385ff.).
UNI Europa has four organizational features that influence its approach to transnational companies.
(1) As a regional organization, UNI Europa is a sub-structure of UNI Global and, as such, is embedded in the latter's global matrix. The relationship between UNI Europa and UNI Global is a distinctive one, however; unlike IndustriAll Europe, UNI Europa is not formally incorporated into the global federation but is constituted independently, although closely aligned in terms of policies and on many practical issues. Nevertheless, and as with UNI Global's other three regional organizations (UNI Africa, UNI America, and UNI Asia & Pacific), UNI Europa acts largely autonomously in planning and implementing its activities. It has its own decision-making and executive structures and arrangements for internal democracy that parallel those of UNI Global (conference, executive committee, presidency, general secretary). It adopts its own action programme, including ← 34 | 35 → the required budget, and merely submits this for approval to UNI Global's world executive board. (On the organization of UNI Global and UNI Europa, see Platzer and Müller, 2011: 265ff. and 597ff.).
Compared with UNI regional organizations in other parts of the world, UNI Europa is notable in several respects (Platzer and Müller, 2011: 276, 598):
• UNI Europa represents some 50 per cent of all individual (contributing) members within UNI overall and is by far the largest regional organization. This is reflected in UNI Europa's status in shaping UNI Global's policies. Positions unsupported by European affiliates are unlikely to be adopted. This has led to a degree of policy synchronization between UNI Global and UNI Europa.
• UNI Europa is active within the European Union, which is both much more economically integrated than other UNI regions and has supra-national institutions and a regulatory framework. This creates specific demands (such as influencing the EU's legislative processes or coordinating collective bargaining in the context of the Single Market and EMU), but also offers a number of opportunities for European-level trade union policy and activity (for example, in relation to sectoral social dialogue, EWCs or codetermination within SEs).
• UNI Europa is not only the European regional organization of UNI Global but also a European Trade Union Federation (ETUF) officially recognized by the ETUC and Commission, a fact that lends the federation a particular status not shared by the other regional organizations. This includes, for example, scope for access to EU financial and infrastructural support.
• In contrast to UNI's other regional organizations, which do not levy membership fees, some two-thirds of UNI Europa's revenues come from its own resources, leading to a degree of financial independence from UNI Global. However, UNI Europa remains reliant on the voluntary contributions made by its affiliates as well as external donor organizations (such as the European Commission or Friedrich-Ebert-Stiftung) (Platzer and Müller, 2011: 602f.) ← 35 | 36 →
Within the field of transnational companies, the high level of integration between the two organizational levels can lead to tensions and frictions as both UNI Global and UNI Europa have representational competences for such firms. While UNI Global has overall responsibility for transnational company-based union work, UNI Europa deals with establishing and developing EWCs. At the same time, EWCs do not limit their activities to the European arena, and several have attempted to widen their scope to the global level. This situation has been given an additional edge by the fact that UNI Global's officials, who are less familiar with industrial relations in Europe, do not view EWCs as the basis for transnational trade union activity on the ground that they are not an authentically trade union institution deserving of any special status; some officials are even evidently hostile (Waddington, 2011: 43).
(2) UNI Europa is organized decentrally along sectoral lines. The sectoral departments or organizations represent the vertical axes of UNI's matrix structure. The high degree of autonomy enjoyed by these sectoral organizations is evident in their titles: as with UNI Global, UNI Europa is structured into the following thirteen sectors: UNI Europa Finance, UNI Europa Graphical and Packaging, UNI Europa Hair and Beauty, UNI Europa Commerce, UNI Europa ICTS (Information, Communication, Technology and Services Industries), UNI Europa Media – Entertainment and Arts, UNI Europa Post and Logistics, UNI Europa Property Services – Cleaning and Security, UNICARE – Social insurance and health, UNI Europa Gaming, UNI Europa Sport, UNI Europa Tourism and UNI Europa Temp and Agency Workers. There is a large variation in the number of members represented in these sectors, ranging from some 30,000 in UNI Europa Gaming to over 2 million in UNI Europa Commerce.
The global sectoral organizations have their own budgets and independent decision-making bodies (world sectoral conferences, steering groups, chairs, department heads), the composition, tasks and competences of which are stipulated in a governance framework for each UNI sector. The sectoral organizations of UNI's regional organizations (or regional sectoral organizations) also have decision-making bodies that mirror the global sectoral level. UNI Europa's sectoral organizations are embedded ← 36 | 37 → both in the sectoral structure and activities of UNI Global as well as the cross-sectoral structure and activities of UNI Europa. UNI Europa functions in some respects as the organizational framework and cross-sectoral coordinating unit for the thirteen relatively independent regional organizations of UNI's global sectoral organizations. As sectoral regional organizations at European level, they set policy autonomously and are answerable to their affiliates, while aligned with the action programme of their global sectoral organization. Resolutions adopted by European sectoral organizations must be submitted to the UNI Europa executive committee, just as global sectoral organizations are free to require reports from their European decision-making bodies to ensure that policies pursued at regional level are consistent with those adopted at global level. For example, governance arrangements for the global sectoral organization UNI Finance require that the conclusions of regional meetings should not only be forwarded to the regional executive but also to the UNI Finance steering committee.
Sectoral organizations constitute the backbone of UNI Europa's substantive work within the matrix structure. Embedded in UNI Global's regional and sectoral structures, these set their own priorities and implement them in line with the opportunities and exigencies of the European context and the specific interests of their affiliates, in so doing determining to a large extent UNI Europa's collective bargaining, industry and company policies, the focus of this study. Until fairly recently, UNI Europa's company-related work was solely a matter for the sectoral organizations and was not coordinated (see below).
(3) There is considerable variation in how sectoral organizations go about transnational company work. This applies less to setting strategic objectives than to developing specific policy priorities, internal organizational structures and resources, and how far approaches in this area have developed and been implemented. This variation reflects the relatively high degree of autonomy enjoyed by the sectoral organizations within the overall decentralized structure as well as the diversity of the challenges and circumstances of the branches covered by UNI Europa as a multi-branch union federation.
As already noted, UNI Europa's sphere encompasses branches characterized by low skilled and low paid white-collar work (commerce, cleaning ← 37 | 38 → and security), branches with mainly high-skilled (and highly paid) work (such as banking and insurance, information technology and telecomms), together with some classic production industries, such as printing and packaging. UNI Europa also represents fields in which working conditions and the scope for employee participation have traditionally been good and trade union influence high (notably formerly public undertakings in post and telecommunications) as well as branches where the opposite has been the case (cleaning and security). With a few exceptions (printing, packaging, former public undertakings), union density has traditionally been low and union efforts to organize handicapped by a number of structural factors (see Chapter 11).
In addition, in several sectors the boundaries of UNI Europa's scope are not clearly demarcated, leading to overlaps with other ETUFs (such as IndustriAll Europe in IT or ETF and EFFAT in tourism). This can generate problems of inter-union competition with other ETUFs or Global Union Federations. To deal with this, a coordination platform between EFFAT, ETF and UNI Europa Tourism, dubbed the European Trade Union Liaison Commission for Tourism (ETLC), was formed in 1995: its role is to ensure 'that decision-makers at European level take into consideration the specific interests and needs of the tourism workforce and, whenever possible, that the trade unions speak with one voice' (UNI Tourism, 2014).2 In the case-study firms, coordination was needed between UNI Europa Commerce and the European Federation of Building and Woodworkers (EFBWW), which covers IKEA's manufacturing operations.
(4) Policy is implemented by the secretariat, which is organized along matrix lines. In addition to the global federation's headquarters in Nyon, where the secretariat is located, UNI also has an extensive network of representatives in the four UNI regions. UNI Europa's head office is in Brussels. The sectors covered are also reflected in the responsibilities of the secretariat. When set against the scale and heterogeneity of the individual sectors, ← 38 | 39 → and the tasks required to support and organize them, both UNI Global (with fifty employees at the secretariat) and UNI Europa (with fewer than twenty in Brussels) have modest staff resources: about a third of the Nyon secretariat's work is spent on EU-level issues. This shortage of resources is a feature of all the ETUFs and GUFs and is largely due to the fact that trade union activity remains predominantly nationally (or locally) organized and continues to be viewed as a national (or local) task. In addition, the specific features of UNI Europa's organizational arrangements, in the form of its matrix structure, combined with trade union organizing weakness in the white-collar and service areas, compound UNI Europa's resource problems.
3.2 UNI Europa and sectoral social dialogue in the service sector
Sectoral social dialogue constitutes a field of research in itself (for a comprehensive qualitative study, see Weber, 2013). We address the issue of sectoral social dialogue in the service sector here, as this both widens the empirical field (see Chapter 2.3) and because the sectoral arena can and does set a number of framework conditions for company-level activity, both directly and indirectly.
Sectoral social dialogue has a fairly long history in terms of its role in the development of the EU and European integration. This extends back to the 1960s and 1970s when 'joint committees' were formed in industries in which there was Community policy, such as agriculture, fisheries, and transport. As Table 4 illustrates, the first dialogue arrangements in the service sector were set up in the mid-1980s in commerce. The development of sectoral dialogue within UNI Europa's scope to some extent reflects the broader process of the completion of the Single Market, but also the reform of Sectoral Social Dialogue Committees (SSDC) undertaken by the Commission in 1998/99. The most recently established SSDC in UNI Europa's area was for the graphical industry, formed in May 2013. At the time this study was concluded (autumn 2014), of the forty-two SSDCs in ← 39 | 40 → operation, UNI Europa is recognized by the Commission as the representative social partner for the employee side in ten.
Table 4: Sectoral social dialogue in UNI Europa's organizing sphere.
Sector
Formed
Joint advisory committee
SSDC
Commerce
1985
1999
Insurance
1987
1999
Telecommunications
1990
1999
Banking
1990
1999
Commercial cleaning
1992
1999
Private security
1992
1999
Postal services
1994
1999
Personal services – hairdressing
1998
1999
Temporary agency employment
 
1999
Graphical industry
 
2013
Source: based on European Commission (2013a: 231f.), updated to include the graphical industry SSDC.
Since the Maastricht Treaty (1993), social dialogue has been anchored in EU primary legislation: the current treaty basis is the Treaty on the Functioning of the EU, Articles 153–155. The overall trajectory of the development of sectoral social dialogue has been, and remains, characterized by an underlying configuration of actors' interests that can be summarized as follows.
The European Commission exercises the role of 'process manager' and, by offering incentives (recognition, logistical and financial support) and establishing structural and procedural preconditions, has attempted to create arenas for dialogue between the European sectoral social partner organizations. European branch federations, such as UNI Europa, have sought to pursue European sectoral-level collective bargaining since this framework was created, with the strategic aim of developing sectoral dialogue into a European level of negotiation. For their part, most sectoral ← 40 | 41 → employer associations have responded either defensively or actively rejected this aspiration. In particular, they are hostile to binding accords and agreements that might be implemented through the EU's legislative process, and have opted instead for 'soft' forms of regulation. This stance reflects their underlying governance philosophy, which acknowledges that European market liberalization requires supra-national rules on competition but no substantive supra-national regulation in the field of employment or social policy.
The defensiveness of the employer side is also rooted to some extent in organizational factors, as the majority of the c. 200 private employer bodies at European level, most of which operate at the level of the EU's Brussels institutions, are trade bodies, both in terms of history and membership. It required the provision of a number of incentives following the Commission's SSDC reform to 'compel' them to assume the role of 'social partner' (Platzer, 2009).
The central – and controversial – question both for academic research and trade unions is whether the significant growth of the SSDCs, and the steadily rising output of 'joint texts', is associated with corresponding governance outcomes and effective regulation, or whether such a development might be expected in the future as a consequence of mutual learning on the part of the actors.
According to Weber (2013), sectoral social dialogues can fulfil three functions, all of which can be empirically observed and can occur simultaneously: regulation, learning, and lobbying.
The most visible and effective regulatory output is represented by social partner agreements that have been implemented through the EU legislative process ('negotiated legislation'). Past experience suggests that such agreements come about mainly under the 'shadow of the law'; that is, when – in particular for the employer side – there is pressure to negotiate due to the 'threat' of imminent EU legislation. Such agreements have mainly been the product of multi-sectoral dialogue between 'peak' level social partner organizations (starting with the 1994 agreement on parental leave).
As yet, only very few social partner agreements at sectoral level have been implemented as Directives through the EU legislative mechanism. These are: the agreement on working time in the transport sector (rail 1998; ← 41 | 42 → shipping 1999; civil aviation 2000) and on safety standards in hospitals (2010). Within UNI Europa's organizing area, in April 2012 a framework agreement on health and safety in the hairdressing sector was concluded – the branch with the highest rate of occupational skin disease in Europe (European Commission, 2013a: 206ff.). This agreement is notable in two respects: firstly, it is the most substantive and binding regulatory instrument that UNI Europa has been able to agree in an SSDC; and secondly, in an opinion published in October 2013, the Commission refused to allow the agreement to become generally binding in the form of a Directive, arguing that it would impose a disproportionate administrative burden on businesses.
It is much more difficult to gauge the regulatory effect of 'autonomous' agreements. Between 2010 and 2012, a total of seventy 'joint texts' were agreed across all SSDCs (European Commission, 2103a). Frequent topics of agreement were sectoral structural change and industrial policy, the 'Green Economy', working conditions, and skills or capacity building for the social partners in new EU Member States. There is considerable variation in the extent to which implementation procedures impose binding obligations on the two sides. This depends on whether the texts are 'joint opinions' (mostly intended for joint lobbying of EU bodies), procedural texts establishing aims and monitoring procedures, or lists of actions and guidelines for the signatories' respective memberships. Overall, according to the current state of research (Keller, 2003, 2005; Goetschy, 2005; Pochet et al., 2006; Platzer and Müller, 2011; Weber, 2013), the regulatory function of outputs of sectoral social dialogue ranges between 'weak', 'hard to measure', and 'inconsequential'. In contrast, regular institutionalized exchange does have some value as a learning mechanism. The lobby function of social dialogue is particularly apparent in areas in which the economic and industrial interests of the sectoral social partners converge in relation to third parties.
Turning to the challenges of the Euro-crisis and its observable impacts on the development of SSDCs, and based on the evaluation of the European Commission's Industrial Relations Reports (European Commission, 2009, 2011a, 2013a), sectoral social dialogue has not proved able to exercise any direct regulatory function over the course of the crisis (such as bilateral collective bargaining coordination) in any branch. Nor have there been any ← 42 | 43 → indications that sectoral industrial relations at EU level have advanced over this period, either in terms of political quality or the prospects for further development. There is also little scope in the short and medium term for any joint (autonomous) collectively agreed regulations on an issue such as a European minimum wage (an issue raised by the EU Employment and Social Affairs Commissioner Andor), as the interests of the EU social partner organizations, both internally and as between them, are simply too divergent. It is conceivable, however, that social dialogue might find common cause with certain EU political objectives, such as its 'youth initiative' (see Chapter 11). This could encompass agreement on supportive measures on the part of the social partners, such as sector-specific guidelines with obligations to promote opportunities for training and employment for young people.
The overall assessment of sectoral dialogue offered above broadly applies to the SSDCs in UNI Europa's sphere. A more detailed consideration of SSDCs in the service sector also indicates that, as with the following analysis of company policy, sectoral dialogue is also subject to the enormous heterogeneity of the service sector. According to a classification suggested by Pochet et al. (2006: 54), the SSDCs in UNI Europa's scope can be divided into three groups or categories, depending on their degree of development and mechanisms for dialogue (see also Platzer and Müller, 2011: 621ff.).
The first category consists of the SSDCs in the telecomms and postal sectors. Since the 1990s, both these sectors have been caught up in a rapid process of liberalization, with the opening up of once protected markets leading to more intense cross-border competition. These far-reaching changes prompted the social partners in both sectors to cooperate to be able to influence the Commission's legislative activity some time before officially setting up an SSDC. In telecommunications, a joint committee for the sector was formed in 1990; and in the postal sector, the social partners began to work together in 1994, initially in an informal working party. Both forums were converted to SSDCs one year after the 1998 reform of social dialogue undertaken by the European Commission.
While the initial primary role of these bodies was to support lobbying, over time a number of 'soft' regulatory capacities were added. One ← 43 | 44 → indicator of this is the emphasis placed on joint social partner initiatives, primarily directed at their own affiliated organizations. One significant development in the postal sector was the first agreement on promoting employment in the postal services, in which the social partners agreed on guidelines for national actors on job security, recruitment, anti-discrimination, and improving working conditions. The agreement specified that the social partners would review the guidelines annually. There was an analogous development in the telecommunications sector, beginning in 2001, with the adoption of several guides and joint studies (on telework in 2001 and call centres in 2004), in which the social partners established standards on working conditions. Overall, the more recent phase of development (2008–2013) has been characterized by greater routinization in how dialogue operates.
Joint declarations on skills (2008), on accident prevention (2009) and on developments in the branch (2012) have been adopted within sectoral social dialogue for postal services. The social partners also agreed on a new instrument for the period 2008–2011 in the form of a 'social observatory' to monitor legislation covering the branch. Social dialogue in the telecommunications sector also led to a number of joint texts in this phase, including 'joint statements' on health, diversity management, and CSR.
The second category includes SSDCs in commerce, personal services (hair and beauty), private security, property services, and temporary agency work. These sectors are less exposed to international competition and, as predominantly national sectors, are less subject to Community policies (Pochet et al., 2006: 58). One further characteristic of these sectors is that they frequently involve challenging working conditions in the form of atypical employment relationships and irregular working hours. Well over half of the thirty million employees in retailing in the EU are also part-timers, for example.
The main motivation for both trade unions and the employer side in all the sectors in this second category to enter into social dialogue was less a desire to influence European Commission policy but rather the aspiration to support the social dimension to the Single Market through joint European initiatives and to communicate this to the national organizational level. ← 44 | 45 →
The fact that the activities of these SSDCs are targeted at the corresponding national organizations (to a much greater extent than those in the first category) is evident in the significance accorded to the shared involvement in compiling best practice guidelines, handbooks, and brochures (especially on training and on health and safety) as well as the joint organization of studies and social partner conferences on sector-specific topics. One fairly recent example of this is the project conducted by the SSDC for temporary agency work (TAW) on 'TAW & transitions in the labour market'. Overall, this group of SSDCs is notable for mutual learning by the social partners rather than a lobbying role. However, two SSDCs have recently been involved in exercising substantive regulatory tasks: in one case, the SSDC for private security services has been developing an autonomous agreement on training standards for cross-border cash-in-transit; and in the other, as noted above, the SSDC for personal services has adopted an agreement on health and safety in hairdressing.
Within UNI Europa's organizing area, commerce has the longest tradition of social dialogue, beginning in 1985. Initially, the social partners' activities were mainly shaped by two factors: the shared perception that insufficient attention was paid at European level to the sector's needs (Pochet et al., 2006: 97) and the fact that at that time there was no tradition of dialogue between trade unions and employer associations in the commerce sector in many European countries. As a consequence, the social partners felt it necessary to act autonomously at transnational level and define their objectives and standards for dialogue through adopting a number of joint declarations on challenges in the sector. This was expressed in purely quantitative terms in a steady and high output of joint statements and guidelines on a wide range of issues, the bulk of which were addressed to their respective national member organizations. In view of the intensifying competition in the sector – in part due to the emergence of the discounters – the issue of Corporate Social Responsibility (CSR) has played, and continues to play, a major role for this SSDC. A joint declaration on fundamental rights and principles at work, adopted in 1999, laid the groundwork for the agreement in November 2003 of a joint statement on corporate social responsibility. This statement represented an important qualitative step for the SSDC as it defined standards ← 45 | 46 → for how companies should relate to their employees and trade unions at European level and unambiguously advocated the promotion of social dialogue at all levels, including multinational companies. More recent 'joint opinions' have covered 'new skills and jobs' (2011) and a 'retail action plan' for the EU (2012).
The third group comprises the SSDCs for the banking and insurance sectors, both of which are represented by UNI Europa Finance. The activities of these SSDCs have been profoundly influenced by the intensification of competition in this sector, in part due to the cross-border transfer of many functions from high to low-cost countries. As a consequence, the aim of these SSDCs is to engage with the transformation currently under way in their sectors as a result of changes in technology and the competitive environment in order to maintain the traditions of cooperative industrial relations at national level (Pochet et al., 2006: 57). This has been more successful in banking than in insurance.
For example, in 2005 the social partners in the banking sector adopted a joint statement on core labour standards, life-long learning, work-life balance and equal opportunities. More recent joint statements in both sectors have focused on 'demographic change'. In both SSDCs, there is a mixture of regulatory, learning and lobbying activities. As yet, UNI Europa Finance has not been able to attain its ultimate objective of negotiating binding agreements.
Details
Pages

XVI, 244

ISBN (PDF)

9783035307399

ISBN (ePUB)

9783035395785

ISBN (MOBI)

9783035395778

ISBN (Book)

9783034319676

Language

English

Publication date

2015 (July)

Published

Oxford, Bern, Berlin, Bruxelles, Frankfurt am Main, New York, Wien, 2015. XVI, 244 pp.