Nineteenth-Century Transcriptions of Works by Fryderyk Chopin
Excerpt
Table Of Content
The practice of drawing on other composers' ideas and works is a universal phenomenon in the history of music. Many composers have enhanced their knowledge of the art by studying and copying the works of other masters. That engenders a desire to imitate the musical ideas of others and to recompose them in a more or less creative way. The process of transcribing the works of Fryderyk Chopin began in the 1830s and continues today, albeit in a modified form.
The subject of Chopin transcriptions, although present in the awareness of musicologists, has yet to be treated to a monographic study, being merely signalled in studies of a limited scope.1 This state of affairs may explain the lack of relevant documentation enabling the subject to be addressed from a broader research perspective. The first work to present the huge volume of Chopin transcriptions published during the nineteenth and twentieth centuries was the Katalog dzieł Fryderyka Chopina / A Catalogue of the Works of Frederick Chopin by Józef Michał Chomiński and Teresa Dalila Turło, published in 1990.2 That unique source of valuable information formed the inspiration and foundation for research into the little-known subject of Chopin transcriptions.
The present book is the first monographic study of Chopin transcriptions. For two main reasons – the specificities of the processes in music history and the huge amount of source material – the issue has been confined to nineteenth-century transcriptions.3 This book is based on the quantitatively and qualitatively rich source material, which formed the basis for considerations from the perspective of social history, music analysis and aesthetics. Thanks to these multiple perspectives, as well as the time range and the source base, this study may contribute to the history of the reception of Chopin's work in nineteenth-century culture; it may also prove significant in overcoming the attitude that aesthetically deprecates transcriptions and in adopting a different stance, regarding such adaptations as valuable texts of musical culture.
This work is informed by several main aims: (1) to define the qualitative and quantitative economic, legal and socio-cultural conditions in which transcriptions functioned in nineteenth-century musical culture; (2) to present a systematic approach to nineteenth-century transcriptions; (3) to evaluate transcriptions on ←13 | 14→the basis of axiological criteria. My extensive discussion of nineteenth-century transcriptions and proposed approach to them merely outline the subject. This book, the fruit of several years' research into nineteenth-century transcriptions of Chopin's compositions, is not the only possible approach to the subject, but it is the first proposition for tackling the phenomenon.
* * *
The present book is a considerably abridged version of my doctoral dissertation, prepared at the Institute of Musicology of the University of Warsaw. The public defence of that dissertation took place on 18 December 2002, and its outcome was confirmed by the Board of the History Faculty of Warsaw University in January 2003. A year later, this book was published in Cracow by Musica Iagellonica. Over the many years during which this work took shape, I was helped at every stage by many kind individuals. I am sincerely grateful to Teresa Lewandowska (Library of the Fryderyk Chopin Society in Warsaw), Mariola Nałęcz (National Library in Warsaw), Bożena Jankowska (Toruń University Library) and Marek Romańczyk (Wrocław University Library) for all their assistance with documenting sources. For their valuable hints, I am grateful to Professors Zofia Helman, Irena Poniatowska and Jeffrey Kallberg. For their evaluation of my dissertation, I am grateful to its reviewers: Professors Małgorzata Woźna-Stankiewicz, Alina Żórawska-Witkowska and Andrzej Tuchowski. Their comments inspired the ultimate shape of this book. I am particularly grateful to Professor Maria Zduniak, who gave me access to unpublished source material collected in preliminary library searches over many years. My greatest thanks go to my supervisor, Professor Maciej Gołąb, who accompanied me with great dedication and commitment in the realisation of this difficult undertaking and also helped bring about the publication of this book, fifteen years later, in an English translation.
←14 | 15→
---
1 See 'Primary subject literature'.
2 CT, 338–397.
3 The reasons for this limitation will be discussed in more detail in the second chapter.
1 Transcriptions of works by Chopin as sources for research into the reception of his music in nineteenth-century musical culture – methodological issues
1.1 The subject and terminology
The word transcription comes from the Latin transcriptio. Its equivalents in other languages are transcrizione (Italian), transcription (French) and Bearbeitung (German). A transcription is a rewriting of a musical text by means of other 'musical meanings', depending on the performance apparatus or the artistic competence of the transcriber. One basic aim of musical transcriptions is to obtain an artistic reworking that sounds different to and departs from the original to a specified degree. Similar terms are 'arrangement' and 'paraphrase'. Whilst an arrangement involves reorganising and recomposing a piece, transcription is devoid of that creative element. In musical reality, the two terms both involve reworking a musical composition, treated as a model for successive transformations. There are also elements that differentiate the two terms; these can be found in encyclopaedic and non-encyclopaedic definitions.4 Polish terminology is inexact: the meanings of the two related terms transkrypcja and aranżacja are not sufficiently specified and there is no reference to their etymology. Each of them is perceived as signifying a reworking of a composition for concert or artistic purposes. The words aranżacja and aranżowanie are often used in relation to popular music,5 while in relation to 'classical music' one speaks of transkrypcja and transkrybowanie. The lack of cohesion is evident in definitions of aranżacja and transkrypcja in Polish music encyclopaedias,6 from ←15 | 16→which it is difficult to determine which term has the broader semantic range and whether transkrypcja is a variety of aranżacja or vice versa. In the definition of transkrypcja, two basic features distinguishing this phenomenon from aranżacja are given: the artistic aim of a transcription (this argument is unconvincing, since the same aim appears in the definition of aranżacja) and the fact that the object of a transkrypcja is a whole work, whereas aranżacja involves merely parts of a work (this argument is also deflated by the definition of aranżacja). There are also contradictory opinions regarding a transkrypcja itself, now defined as the effect of rather uncreative procedures (in the definition of aranżacja), now as a rich creative practice (in the definition of transkrypcja). So the definitions are cross-explained and indistinct. We find similarly unclear definitions, equating one term with the other, in general lexicographic publications.7 Non-lexical sources carry similarly descriptions, invoking the above-mentioned encyclopaedic definitions. The difficulty with separating these two basic notions (and derivative terms) stems from the source – from Romantic times. It turns out that the nomenclature employed in those times was also marked by a lack of clarity. This was pointed out by Irena Poniatowska, evoking the figure of Franz Liszt, who used many different terms for his reworkings.8 This gave rise to two ←16 | 17→meanings of the term 'transcription', functioning on an equal footing during the nineteenth century: as a synonym of all reworkings and as a literal transferral of an orchestral, ensemble or vocal composition to piano.
The terms transcription, arrangement and paraphrase also function in English. The key word, with the broadest semantic scope, is arrangement, which is 'an adaptation: the musical counterpart of literary translation'.9 It is also defined as 'the reworking of a musical composition, usually for a different medium from that of the original'.10 The term arrangement can be understood in many different ways: as the transferral of a composition from one performance medium to another, with the composition either enhanced or expanded or else simplified, and with or without a change of forces. An arrangement can be a literal reproduction of the original, and transcription can signify adapting a work to a new performance medium while preserving the features of that new medium, admitting of changes to the original, but not as great as with a paraphrase.11 So in each case the effect of the recomposition procedures may vary: it can be a simple, almost literal transcription or a complicated paraphrase. However, in the opinion of Malcolm Boyd, definitions of 'arrangement', 'transcription' and 'paraphrase' are not universally accepted.12 Polish lexicographic sources are also supplemented by Boyd's remarks concerning yet another meaning of the word 'transcription', understood as a copy of a musical work 'translated' from entablature into modern musical notation.13 Such a definition of musical transcription is close to a linguistic definition, signifying the rewriting of an old text in orthography that is as close as possible to present-day usage.14
A somewhat different solution to the problem of reworkings is advanced by Hans Engel, who used the single term Bearbeitung for around a dozen varieties ←17 | 18→of the compositional practice of refashioning works – a practice that has varied down the ages.15 He treated Transkription, understood as an artistic adaptation of instrumental or vocal music for keyboard instruments, as one of the kinds of Bearbeitung. Engel used the term Bearbeitung in relation to refashioned works, themes, melodies and movements, and above all in relation to multipartite works. A Bearbeitung can represent a new compositional form (a whole work), a new version of a musical composition (part of a work – a theme, melody, movement or section) or an arrangement of a musical work for different forces. In each of these cases, a reworking can either be reduced to a simple, technical arrangement, retaining the form of the original composition, or else considerably transform the reworked composition into an individual form contrasting with the original version of the work. Engel distinguishes eleven categories of reworking. The first of them comprises reworkings in a contrapuntal style (Bearbeitungen im kontrapunktischen Stil), parodies and paraphrases. This category covers not only reworkings of other composers' works, but above all reference to compositional practice as broadly understood. Consequently, it is the least relevant to our study. The second category consists of Baroque reworkings of other composers' works which present a literal rewriting of a composition for different forces (these are primarily 'translations' from one instrument to another). One special example here is that of so-called self-transcriptions, where composers borrow from their own works; this involves the adaptation not so much of entire works as of individual themes. Engel also distinguishes reworkings which represent an artistic refashioning of instrumental or vocal music for keyboard instruments (organ, piano) and those which are instrumental arrangements of vocal music (e.g. a French chanson); the latter influenced the emergence and development of sonata form. Another category comprises arrangements for piano and organ which mainly discharge two basic functions: research (reductions of large-scale vocal-instrumental works) and popularisation (versions for piano for four hands). The sixth category is formed by compositions representing vocal arrangements of instrumental works. Another category comprises reworkings of instrumental works for a larger performance apparatus with the addition of a text (e.g. for choir, for orchestra or for choir and soloists), and this is juxtaposed with the category in which the forces are reduced – e.g. from orchestral to chamber. Engel gives a number of examples involving the modernisation of existing orchestral versions (these are arrangements from orchestra for orchestra). The enlargement of symphony orchestras during the eighteenth and nineteenth ←18 | 19→centuries gave rise to new versions of works, with considerably enhanced sound. A separate type consists of dual versions of a single work; reworkings of existing compositions made by the same composer (e.g. Ravel's Pavane pour une infante défunte for piano and for orchestra) or by a different composer (e.g. Franz Xavier Süssmayr's version of Mozart's Requiem in D minor, K. 626). The last kind of Bearbeitung distinguished by Engel consists of scholarly arrangements involving the palaeographic 'translation' of an old notation into a new notation.
The term Bearbeitung is presented differently by Gesine Schröder,16 who employs a problematic key, rather than an historical key like Engel. She gives a definition of the notion itself, discusses different forms of the phenomenon and accounts for the causes and aims of its functioning in musical practice. This rich approach is complemented by Thomas Bösche's legal conditions relating to the existence of reworkings as broadly understood.17 According to Schröder, the term Bearbeitung means varying, supplementing, reconstructing, improving, decomposing, creating a new composition and changing the sound of the original work (model).18 Arrangement and Transkription are among the modes of existence of Bearbeitung, and they are strictly linked to a change of forces. According to Schröder, arrangements were usually motivated by social stimuli, whereas transcriptions resulted from a demand for compositions characterised by superior artistic qualities.
The above definitions treat the question of reworkings or adaptations in a broad and detailed way, describing all the possible forms of their functioning. Importantly, however, these changes as a whole are subordinated to the key terms arrangement (Eng.) and Bearbeitung (Ger.).
The basic material for research into Chopin transcriptions consists of 324 music prints.19 These are direct sources which speak for themselves. That material is ←19 | 20→complemented by indirect sources, comprising opinions published in nineteenth-century music encyclopaedias, concert guides and the press or contained in Chopin's correspondence. Indirect sources form the basis for research into Chopin reception. Thanks to transcriptions, we can study musical reception,20 which, unlike the reception of music, concerns other areas of human activity: literature, art and academic thought. This is a new field of research into the resonance of Chopin's music, previously overlooked. Research to date has been based on reception as broadly understood – as the 'history of a work's impact' on social awareness,21 artistic creation (music, literature, theatre, film, art), concert life and scholarly work.22 There is also a perceived need to study Chopin reception in his epoch, at a given historical moment and cultural location.23 Of primary importance to research into the scope and quality of reception are comparative procedures, which concern concert life and the world of publishing.24 The publishing of Chopin's works,25 related to a certain social context that had a great effect on the composition and form of his works, and consequently on the production of their various social meanings, is a crucial aspect of nineteenth-century Chopin reception. The existence of two kinds of sources – direct (musical) and indirect (literary) – provides grounds for a wide-ranging approach to the subject, enabling us to present the musical features of transcriptions while taking account of the crucial historical-social context, as well as entitling us to pass judgment on particular transcriptions.
Transcriptions are the main source on which our knowledge is based and to which the present work is devoted. Yet that source replicates events that have already existed, namely, Chopin's first editions, which should be considered as the primary sources. Their existence was the sine qua non for the creation of the huge open collection of transcriptions. Given such a large number of transcriptions, it is difficult to establish the primary sources on which composers based them – Chopin's first editions or perhaps existing transcriptions. Hypothetically, we ←20 | 21→can assume that transcriptions produced within a short period of time from the date of the first edition referred directly to that edition, whereas transcriptions representing further links in the chain of existing copies could have been based either on first editions or else on those copies. Also hypothetically, we may consider that transcriptions issued by French publishers, for example, referred to first editions published there. And although it is impossible to indicate a secure source for each and every transcription, there is no doubt that they must have been works in circulation.26
Given these difficulties with unequivocally establishing primary sources, my analytical research procedure drew on comparative (auxiliary) sources, namely, Chopin's originals published in the Complete Works of Frédéric Chopin edited by Ignacy Jan Paderewski, Ludwik Bronarski and Józef Turczyński. All 324 transcriptions were dated on the basis of five catalogues:
– Otto Erich Deutsch, Musikverlagsnummern. Eine Auswahl von 40 datierten Listen 1710–1900 (Berlin, 1961),
– Adolf Hofmeister, Handbuch der musikalischen Literatur oder Verzeichniss der im deutschen Reiche und in den angrenzenden Ländern erschienenen Musikalien auch musikalischen Schriften, Abbildungen und plastischen Darstellungen mit Anzeige der Verleger und Preise (Leipzig, volumes from 1852–1919),
– Anik Devriès and François Lesure, Dictionnaire des éditeurs de musique français, ii: De 1820 à 1914 (Geneva, 1988),
– The Catalogue of Printed Music in the British Library to 1980 (London, 1982),
– Józef Michał Chomiński and Teresa Dalila Turło, Katalog dzieł Fryderyka Chopina / A Catalogue of the Works of Frederick Chopin (Cracow, 1990).
Two of them (Deutsch and Devriès) make it possible to establish the publication date on the basis of plate numbers and the publisher's address (Devriès). Two others (The Catalogue and Hofmeister) are catalogues of music publications containing information on approximate publication dates, the publisher's name and address and the price of the print. Chomiński and Turło's Catalogue was helpful in dating copies not included in the other four catalogues.
The research material of the present book comes from the holdings of the following Polish libraries: the university libraries of Cracow, Toruń and Wrocław, ←21 | 22→the libraries of Katowice Music Academy, Warsaw Music Society and the Fryderyk Chopin Society in Warsaw, and also the National Library in Warsaw. The initial characterisation of this material given below is intended to show how representative it is with regard to the phenomenon under analysis (nineteenth-century transcriptions). The characterisation is based on two basic criteria: the forces for which a transcription was produced and its publisher. With regard to forces, the collection of 324 transcriptions falls into four main groups:
– piano transcriptions (106),
– transcriptions for solo instruments and piano (188),
– vocal-instrumental transcriptions (26),
– transcriptions for ensemble (4).
Piano transcriptions represent a heterogeneous group. The clear majority consist of transcriptions for piano for four hands (68), although a considerable group is formed by transcriptions for solo piano (36), with arrangements for two pianos of only marginal significance (2). The group of transcriptions for solo instruments and piano (188 copies) is dominated by adaptations for two instruments, violin (88) and cello (80), followed by flute (19) and organ (1). The transcriptions for voice and piano (26) represent an interesting group. In the years 1882–1911, the Warsaw publishing firm of Gebethner & Wolff presented a series entitled Utwory Fryderyka Chopina ułożone do śpiewu [Works by Fryderyk Chopin arranged for singing].27 These compositions are grouped into four thematic blocks: (1) Zbiór śpiewów polskich [Collection of Polish songs],28 comprising sixteen Chopin songs and an arrangement of the Prelude in A major, Op. 28 No. 7 (by Piotr Maszyński); (2) Zbiór najpiękniejszych melodyi ułożonych do śpiewu [Collection of the most beautiful melodies arranged for singing],29 featuring arrangements of seven mazurkas by various composers;30 (3) transcriptions of fifteen mazurkas by Pauline Viardot;31 (4) a collection of ←22 | 23→Mélodies,32 which contains arrangements of six other Chopin compositions with Polish words by Jan Chęciński.33 This group of transcriptions replicates the French edition Six mélodies transcrites pour chant et piano (to words by Jules Ruelle) published by E. Girod of Paris in 1860.34 Of these four groups, one consists of original works by Chopin, while the other three are arrangements of his works. Interestingly, both the originals and the transcriptions functioned in musical life alongside one another as equally valid forms of Chopin's lyric output.35 The group of arrangements for voice and piano comprises 15 mazurkas, 4 waltzes, 5 nocturnes, 1 prelude and the single Berceuse. The transcriptions for ensemble – chamber ensemble or orchestra – are represented by an entirely marginal group of examples. And this is characteristic not just of our study material, but of the phenomenon of transcriptions in general, as is confirmed by analysis of the Catalogue by Chomiński and Turło.36 Scrutiny of the forces of these ensemble settings shows that string orchestra and female choir are new ensembles in this respect, whereas the other performance media (piano, soprano, violin, cello, organ) are familiar from earlier examples. In the research material presented here, there are no choral arrangements for male and mixed choir, be it with or without instrumental accompaniment. Evidence of the presence of such arrangements in nineteenth-century musical culture is provided by Irena Chomik.37
In seeking a plane of comparison for this research material, I can refer to the only source material that is general accessible, presented by Chomiński and Turło.38 Subjected to comparison were the number of transcriptions and the date of publication (Table 1), and the number of transcriptions and the place of publication (Table 2). One easily notes that in the former relationship there is a similar ←23 | 24→rule for both collections: the point of climax falls in the 1880s. The divergences occur after 1900: in the CT collection there is a tendency for growth, while in the source collections there is a clear decline in the number of transcriptions. The source material characterised here does not reflect the specificities of the work of all European publishing firms, and the hierarchy it reveals is merely approximate to that contained in CT. According to that catalogue, most active were German publishers (53.4 %), followed by French (12.9 %), Polish (from the Congress Kingdom and Galicia, 9.6 %), British (7.5 %) and Russian (6.3 %). Interestingly, Austrian (4.3 %), American (2.7 %) and Italian (1.9 %) firms had only a marginal role in propagating transcriptions of Chopin's works. In the collected source material of this treatise, the largest number of transcriptions were published in Germany (77.7 %),39 followed by Poland (9.8 %),40 then France (6.1 %).41 A few ←24 | 25→examples represent Russian (2.4 %), American (1.8 %),42 Austrian (1.2 %) and British publishers.43 One feature common to both collections is the clear domination of German material.
Table 1: Number of transcriptions published in successive decades.
| | | |
| --- | --- | --- |
| Date of publication | Group of transcriptions after CT | Source material of the present book |
| 1830–39 | 18 | 13 |
| 1840–49 | 155 | 12 |
| 1850–59 | 75 | 9 |
| 1860–69 | 223 | 27 |
| 1870–79 | 179 | 85 |
| 1880–89 | 836 | 120 |
| 1890–99 | 365 | 47 |
| 1900–09 | 618 | 9 |
| 1910–19 | 500 | 2 |
| total: | 2969 | 324 |
Table 2: Number of transcriptions published in different countries in 1830–1919.
| | | |
| --- | --- | --- |
| Publishers | Group of transcriptions after CT | Source material of the present book |
| German: | 1587 | 252 |
| French: | 383 | 20 |
| Polish:a | 287 | 32 |
| British: | 223 | 1 |
| Russian: | 189 | 8 |
| Austrian: | 129 | 4 |
| American: | 81 | 6 |
| Italian: | 57 | 0 |
| Czechb: | 14 | 0 |
| Swiss: | 5 | 0 |
| Hungarianc: | 5 | 0 |
| Dutch: | 3 | 1 |
| Swedish: | 3 | 0 |
| Belgian: | 2 | 0 |
| Argentinian: | 1 | 0 |
| total: | 2969 | 324 |
a Publishing firms from the Congress Kingdom and Galicia.
b Bohemian and Hungarian publishers could be assigned to the group of Austrian publishing firms, since at that time Bohemia was not a sovereign state, but an Austrian province, while Hungary was part of the dualist monarchy of Austria-Hungary. However, following that line of thinking, I would have to omit 'Polish publishers' and employ a 'Partition' nomenclature.
c As above.
On the basis of the two relationships presented above (the number of transcriptions against the time and place of their publication), the research material in my possession displays a character similar to the collection of sources included in the above-mentioned Catalogue.44 The source material I have ←25 | 26→gathered also takes account of the instruments most often used during the nineteenth century. However, this data should not be absolutised, since the source material is not complete. It represents just a sample, and the above numbers and lists are designed to underscore its approximate representative and reliable character with regard to the problem in hand.
←26 | 27→
---
4 Encyclopaedic definitions include 'Aranżacja', 'Transkrypcja' and 'Parafraza' in MEM, 52, 1009, 749; 'Aranżacja', 'Transkrypcja' and 'Parafraza' in EM, 49, 907, 672.Non-encyclopaedic definitions include Lissa, 'Inspiracje', 72–73; Bączyk, 'Z problematyki', 7–37; Pociej, 'Próby', 14–15.
5 Zofia Lissa draws attention to this in Inspiracje, 72.
6 Aranżacja is reworking a composition for the purposes of concert performance and above all study for different forces than in the original. In a transkrypcja, as a variety of aranżacja, the musical substance remains the same despite the transferral to different forces. Transkrypcja is the least creative kind of aranżacja (EM, 49; MEM, 52).Transkrypcja is reworking a composition for different forces. This is a similar term to aranżacja, 'but most often assumes an artistic purpose to the reworking and presentation of the work in an integral version'. A transkrypcja is generally farther removed from the original than an aranżacja; 'fantasias and paraphrases are examples of free transkrypcja' (EM, 907; MEM, 1009).
7 In KSJP and EMM, we find the following definitions: a transkrypcja is a musical reworking of a composition for a different instrument, voice or ensemble than in the original; the work is notated using a different system than in the original; an aranżacja is a musical reworking of a composition for a different musical instrument or ensemble than in the original; in jazz, the reworking of a theme is juxtaposed with improvised fragments; in popular music, it is an instrumentation of a sketch of a work or even the melody alone; a parafraza is an instrumental, often virtuosic, musical work in the form of a fantaisie on themes from other compositions, such as operas or songs; it was popular during the nineteenth century.
8 Poniatowska, Muzyka fortepianowa, 317. In Poniatowska's opinion, Liszt originally conceived of a transcription as a piano arrangement of a song, expanded with virtuosic passages of improvisation; a partition pour piano was a transcription that brought new elements to the original work; a reworking for orchestra was called an orchestral transcription. Liszt defined other free reworkings of themes as Bearbeitung, Fantaisie, Illustration, Paraphrase, Reminiscences and Souvenirs. This information is confirmed in BRML, 10576, where the author points to Thematisches Verzeichnis der Werke von Fr. Liszt (Leipzig, 1855; 1877), in which Liszt specifies the following terms: Bearbeitungen, Fantasien, Reminiszenzen, Illustrationen, Paraphrasen, Klavierauszügen and Transkription. Unfortunately, no Polish library is in possession of this catalogue of Liszt's works, which is an important source for the present considerations. Alan Walker points to different terminology employed by Liszt, in particular 'transcription' and 'paraphrase'. See Walker, 'Liszt', in NGD2nd, xiv:767–8.
9 GD, i:223.
10 NGD, i:627.
11 GD, i:223.
12 'In either case some degree of recomposition is usually involved, and the result may vary from a straightforward, almost literal, transcription to a paraphrase which is more the work of the arranger than of the original composer. It should be added, though, that the distinction implicit here between an arrangement and a transcription is by no means universally accepted'. Boyd, 'Arrangement', in NGD, i:627.
13 Only in EM do we find the following: 'In a broader sense, intabulations of vocal works in lute and keyboard tablatures are also transcriptions'. See 'Transkrypcja', in EM, 907.
14 See 'Transkrypcja', in EMM. For a linguistic definition, see STL, 541.
15 Engel, 'Bearbeitung', in MGG, i:1458–66.
16 Schröder, 'Bearbeitung', in MGG Sachteil, i:1321–31.
17 Bösche, in ibid., 1331–4.
18 'Bearbeitung nennt man allgemein den Umgang mit einer […] Vorlage, der diese abwandeln, sie ergänzen, fertigstellen, rekonstruieren, verbessern, dekomponieren, neukomponieren, nachdichten oder ihr eine andere klanglische Façon leihen, sie einem anderen Genre oder Zweck anpassen kann'. Ibid., 1321–2.
19 In deliberately forgoing a survey of manuscript sources, I was guided primarily by their far lesser impact compared to prints. In my opinion, the question of transcriptions in manuscripts merits separate research. There are extant manuscripts by such composers as Zygmunt Noskowski, Nikolay Rimsky-Korsakov and Auguste Franchomme.
20 The wording and definition of Ewa Czernek in 'Transkrypcje', 4.
21 See Poniatowska, 'Chopin – Paradygmaty', 11–24.
22 See Michałowski, 'Popularyzacja i recepcja', in Bibliografia, 171–96.
23 Cf. Lissa, 'Problemy', 7–26; Pisarenko, 'Wyraz', 27–43; Lissa, 'Recepcja'; Poniatowska, 'Twórczość', 100–112; Chechlińska, 'Chopin w kontekście', 60–67.
24 On concert life, see Ludvová, 'Twórczość', 107–24.On publishing, see Prychodko, 'Bibliografia', 141–51; Grabowski, 'Francuskie oryginalne wydania', 115–50; Kallberg, 'Chopin in the marketplace', in Chopin at the Boundaries, 161–214.
25 Samson, 'Chopin reception'.
26 An exception to this rule is Antoni Orłowski's Mazur z motywów Koncertu (f-moll op. 21) [Mazur from motifs of the Concerto (in F minor, Op. 21)] for piano, published by Antoni Brzezina of Warsaw in 1830 (see CT, 348). The original composition was written in 1829 and first published by Wessel & Co in England on 25 May 1836 (see CT, 107).
27 Dated after CT, 338–97.
28 Gebethner & Wolff, Warsaw, 1890, 1897, 1919. Dated after CT, 380 and 371–3.
29 Gebethner & Wolff, Warsaw, 1866, 1880, 1882, 1893, 1897, 1898, 1911. Dated after CT, 350–4 and 357.
30 'Zakochana' [The Love-Lorn Lassie], Op. 7 No. 2; 'Tęsknota' [Longing], Op. 6 No. 4; 'Zemsta dziewczyny' [A girl's revenge], Op. 24 No. 3; 'To nie on' [It's not him], Op. 24 No. 1; 'Terkotka' [The Cuckoo], Op. 30 No. 2; 'Dziewczyna mazowiecka' [Mazovian girl], Op. 17 No. 1; 'Czyjaż wina?' [Who's to blame?], Op. 50 No. 2.
31 Gebethner & Wolff, Warsaw, 1866–1922. Dated after CT, 350–60: 'Szesnaście lat' [Seize ans], Op. 50 No. 2; 'Kochaj mnie' [Aime-moi], Op. 33 No. 2; 'Zalotna' [Coquette], Op. 7 No. 1; 'Ptaszyna' [L'oiselet], Op. 68 No. 2; 'Rozstanie' [Séparation], Op. 24 No. 1; 'Przed mazurem' [La fête], Op. 6 No. 4; 'Biedne serce' [Faible cœur], Op. 7 No. 3; 'Dzieweczka' [La jeune fille], Op. 24 No. 2; 'Kołysanka' [Berceuse], Op. 33 No. 3; 'Pierwsza para' [La danse], Op. 50 No. 1; 'Do pięknej' [La beauté], Op. 67 No. 1; 'Opuszczona' [L'Inondation], Op. 7 No. 3; 'Swaty' [Beau rossignol], Op. 17 No. 4 and Op. 14 No. 1; 'Sanna' [Les traîneaux], Op. 59 No. 1.
32 Gebethner & Wolff, Warsaw, 1867. Dated after CT, 339, 354, 361, 364, 365, 369.
33 Berceuse, Op. 57; 'Na łące' [Dans la prairie], Op. 15 No. 1; 'Żal' [Plainte], Op. 9 No. 1; 'Piosnka miłości' [Chanson d'amour], Op. 62 No. 1; 'Powiastka' [Fabliau], Op. 30 No. 1; 'Cisza nocy' [Aspiration], Op. 9 No. 2.
34 Dated after CT, 339, 354, 361, 364, 365, 369.
35 My own wording, designed to distinguish compositions with an added verbal text.
36 CT, 338–97.
37 Chomik, 'Warszawskie Towarzystwo', 263–92.
38 CT, 338–97.
39 Germany is represented by the following:Leipzig: F. Kistner, J. H. Zimmermann, Breitkopf & Härtel and C. F. Peters;Brunswick: H. Litolff;Berlin: A. M. Schlesinger.
40 These are the Warsaw publishers: A. Brzezina, Gebethner & Wolff, J. Kaufmann, G. A. Sennewald, A. Rajchman, C. Witanowski and Hoesick.
41 France is represented by Paris publishers: Brandus, E. Girod, Heugel & Fils, S. Richault, Richault et Cie Editeurs, J. Hamelle, M. Schlesinger, Benoît Ainé, E. Gérard and A. Durand & Fils.
42 E. Schubert & C0.
43 I am in possession of just one transcription from Augener.
44 CT.
2 Composers, publishers and receivers: transcriptions of works by Chopin in nineteenth-century cultural communication
The aim of this chapter is to forge a picture of the musical reception of Chopin through the form of transcription in nineteenth-century European musical culture. That aim will be served by resolving many detailed questions. Transcriptions as the subject of historical research will be closely profiled in terms of quantity and quality and will be described as a subject of compositional work, an object of publishing work and a 'product' with its 'consumers' – performers, listeners and reviewers. The quantitative profile will show the scale of transcribing and reveal certain preferences in the choice of original compositions. The aim of the further considerations will be to obtain answers to a number of questions. Who composed the transcriptions – what class of musicians? Was the quality of their musical training reflected in the quality of the transcriptions they produced? One issue of crucial importance to the cultural scope and dimensions of Chopin's musical reception will be to determine the place of transcriptions in the publishing market. We can resolve that issue by answering detailed questions. Which publishers popularised transcriptions? How many copies did they print? Another issue that needs resolving is that of the legal conditions behind the practice of transcribing. Answers to these questions will enable us to determine the place of transcriptions in nineteenth-century publishing work and their legal status. In order to trace a picture of Chopin's musical reception, its social context will be outlined. The ultimate question, which is the reception of his music, identified with 'the description of its institutional functioning',45 will be exemplified by musical life in nineteenth-century Wrocław.
I will study transcriptions produced during the period 1830–1919. The duration of the phenomenon of transcription has been defined mainly on the basis of the nature of the subject of research itself, and also on the basis of the changes that occurred in music history, connected with political and social events. Analysis of the information contained in the Chomiński and Turło Catalogue shows that the first Chopin transcriptions appeared shortly after the publication of their originals, during the period from 1830 to 1838.46 These are adaptations ←27 | 28→of the Mazurka in B flat major, Op. 7 No. 1,47 Mazurka in D major, Op. 24 No. 3,48 Introduction and Polonaise brillante in C major, Op. 3,49 Grand Duo concertant in E major,50 Rondo in C minor, Op. 1,51 Trio in G minor, Op. 852 and part of the Concerto in F minor, Op. 21.53 The earliest dated is Antoni Orłowski's transcription of the Concerto in F minor from 1830, entitled Mazur z motywów Koncertu [Mazur from motifs of the Concerto]. The reworking concerns only part of the original composition – just a few motifs from its last movement. One unquestionable asset of this adaptation is the fact that it was the first published composition referring to a Chopin manuscript.54 Although Chomiński and Turło classified this work as a transcription,55 from our point of view it is merely a reminiscence of Chopin's work. The year 1833 seems more distinctive. Of the three arrangements published that year, the composers of two are known, although full information is known only about the third adaptation, Friedrich Kalkbrenner's Variations brillantes for solo piano.56 And although that arrangement goes far beyond the framework of a pure transcription (it is rather a new composition – a set of variations on the Mazurka in B flat major, Op. 7 No. 1 for which Chopin's work was merely the inspiration), it is the first such extensive reference to a published Chopin composition.57 And only in that sense can one justifiably highlight this historical fact both in the present work and in the Catalogue.58
←28 | 29→
The unequivocal pinpointing of the year 1830 as marking the start of the process of the transcribing of Chopin is based solely on musical premises. The closing date for the phenomenon of nineteenth-century transcriptions, meanwhile, based on the nature of the material and changes in music history connected with the most crucial political and social events at that time, was set at 1919. I adopted this date during the initial phase in my research, based on the Chomiński & Turło Catalogue, which showed that transcriptions produced up to that date represent a homogeneous complex in terms of forces (there are no instruments signalling later times, such as ukulele, balalaika, bayan, zither or mandolin orchestra). Just as crucially, the years 1920–29 saw a fall in the number of transcriptions being published. The second argument in favour of this date was based on irrefutable political-social premises: after the First World War, Europe entered a new era of civilisation. Works discussing world history during the nineteenth century contain a variety of periodisations,59 but many of them concur that the nineteenth century began with the outbreak of the French Revolution of 1789 and ended with the conclusion of the First World War.60 That political watershed was not linked to any distinct musical-cultural watershed. The borderline between nineteenth- and twentieth-century music is based on a change in the pitch organisation of the musical material, and the distinct negation of the tonal system in compositional practice had already occurred in 1908, when Arnold Schönberg 'broke the barriers of the past aesthetic' with his Book of the Hanging Garden, Op. 15.61 That beginning, known as the 'hemitonic watershed',62 bore consequences in the form of twelve-note technique, which reached a wide audience in 1924, with the first performance of Schönberg's Serenade for voice and instruments.63 And although the search for a new order and a new ←29 | 30→organisation of sounds in composition practice is marked by the date 1908, fully conscious actions, backed by theoretical thinking, occurred close to 1920.64
The transcribing of Chopin's works, begun in 1830, has continued to the present day. It is a continuously evolving process, in which it is difficult to point to a single work that clearly brings the sequence of nineteenth-century transcriptions to an end. The difficulties are compounded by the plethora of existing adaptations and the impossibility of gaining access to each and every one of them. In my belief, such a state of affairs, allied to the political, social and musical situation and to the very nature of transcription, allows us to adopt the year 1919 as marking the end to nineteenth-century transcriptions of Chopin's works.
2.1 Works by Chopin and their transcriptions in nineteenth-century musical culture – quantitative aspects
The main source for quantitative profiling is the Catalogue of the Works of Frederick Chopin by Chomiński and Turło. The Catalogue's list of transcriptions is based on arrangements of 201 original works (of the 230 compositions by Chopin). Those numbers indicate the massive scale of Chopin transcription during the nineteenth century. At this point in our considerations, we are interested in the dynamic behind the quantitative development of transcription over the course of the nineteenth century, as well as grasping certain trends in the figures.
The quantitative information taken from the Catalogue is presented here in the form of tables organised according to genre, which appear on the last pages of this subchapter.65 In order to indicate the circumstances surrounding the production of transcriptions, the dates of the original work's composition (Comp.) and publication (Pub.) are given in the tables. The period when the transcriptions were written is divided into decades, and it should be noted that adaptations straddling decades (e.g. 1879–1882) are assigned to the earlier decade (in this case the 70s). For this reason, the numbers of transcriptions in particular decades differs slightly from those given in the Catalogue, but their overall total is the same. Furthermore, although we are interested here in nineteenth-century transcriptions, the table contains all transcriptions, even from the twentieth century. Their inclusion gives a broader perspective on the research subject, enabling it to be holistically presented, and points to the existence of a separate ←30 | 31→research problem (nineteenth-century transcriptions). Placed beneath each generic table are graphs conveying the quantitative dynamic behind the production of transcriptions.
The transcribing of etudes (Table 3) began during the 1840s, so ten years after the originals were composed. Interest in this genre gradually increased from the 1860s onwards. A clear watershed occurred during the 1880s, but the heyday of etude transcriptions occurred during the first five decades of the twentieth century. Dating from earlier years (1840–99) are single examples, representing 15.5 % of the total. The graph clearly shows that the transcribing of etudes reaches a climax in the first decade of the twentieth century (during which 14.1 % of all transcriptions were produced) and extends into the 1950s. This is a significant period, during which 75.6 % of all etude transcriptions were written. After that fifty-year period, the transcribing of etudes clearly dwindles. It is interesting to note that during the nineteenth century every single one of Chopin's etudes was transcribed at least once, which is not the rule in Chopin transcription in general. Of the twenty-seven Chopin etudes, the most popular during both the nineteenth and the twentieth century were the following: in F minor, Op. 25 No. 2, E major, Op. 10 No. 3, C sharp minor, Op. 25 No. 7, E flat minor, Op. 10 No. 6, C major, Op. 10 No. 1, A minor, Op. 10 No. 2 and G flat major, Op. 10 No. 5. The Etude in E major was particularly fashionable during the twentieth century. The Etudes, Op. 25 Nos. 2 and 7 and Op. 10 Nos. 3 and 6 stand out for their singing melodic line, whereas Op. 10 Nos. 1, 2 and 5 are figurational compositions in a rapid tempo.
Nearly all of Chopin's preludes were subjected to some sort of transcription (Table 4), with the exception of the Prelude in D major, Op. 28 No. 5. Distinct interest in this genre occurred rather late compared to the date of its publication, not until the 1880s. Nevertheless, nineteenth-century transcriptions represent 45.1 % of all the arrangements of this genre. The graph line is undulating, with three points of climax (the years 1880–89, 1910–19 and 1960–69). In terms of the quantity of transcriptions, four pieces stand out among the twenty-four transcribed preludes (in A major, Op. 28 No. 7, C minor, Op. 28 No. 20, E minor, Op. 28 No. 4 and D flat major, Op. 28 No. 15), which were popular in this respect during both the nineteenth and the twentieth century. The Preludes in A major, No. 7, C minor, No. 20 and E minor No. 4 are short compositions in a slow tempo, characterised by a transparent texture and design. Those features may have determined the increased interest among performers – not just pianists, but also other instrumentalists. It should be added that the material transcribed was not always a whole composition, but sometimes just a part. That was the case with the Prelude in D flat major, No. 15, from which transcribers usually ←31 | 32→←32 | 33→←33 | 34→took the opening section (bars 1–27). In all four examples, one notes the songfulness, smoothness and succinctness of the distinctly presented melody. That condition is met also by other preludes transcribed in greater number (Nos. 6, 13, 17 and 21).
Of the fifty-seven Chopin mazurkas (Table 5), forty-six were transcribed, each of them at least several times. This genre was exceptionally popular among transcribers during the nineteenth century, when 76.6 % of all mazurka transcriptions were produced. Two decades of the nineteenth century in particular witnessed a huge explosion of mazurka arrangements: 1880–89 and 1900–09. That is visible on the graph, which also shows the gradual fall in the number of transcriptions over the period from 1910 to 1980. As much as 62.2 % of the total consists of transcriptions of works from Chopin's Opp. 6, 7, 17, 24 and 33. Of the forty-six mazurkas transcribed, five of them stand out the most: in B flat major, Op. 7 No. 1, D major, Op. 33 No. 3, A minor, Op. 7 No. 2, G minor, Op. 24 No. 1 and F sharp minor, Op. 6 No. 1. All these pieces are characterised by a transparent formal and harmonic design and a distinctive 'kujawiak' melodic line.
The changing quantities of polonaise transcriptions (Table 6) do not show any distinct trends. Of the fifteen polonaises transcribed, five of them make up 87.3 % of the total: Op. 40 No. 1, Op. 3, Op. 22, Op. 26 No. 1 and Op. 53. Three of them are particularly prominent: the Polonaise in C major, Op. 3 was frequently transcribed during the nineteenth century but was almost entirely overlooked during the twentieth century, being supplanted by the Polonaise in A flat major, Op. 53, which enjoyed unwaning popularity among transcribers, as did the Polonaise in A major, Op. 41 No. 1. Arrangements of the latter constitute 41.3 % of all polonaise transcriptions (from the nineteenth and twentieth centuries), which breaks down as follows: 31.7 % in the nineteenth century; 54.5 % in the twentieth century. The graphic line is undulating, with three notable climaxes (1880–89, 1900–09 and 1940–49), which are reached in a gradual way.
Songs (Table 7) were frequently transcribed, from several to even several dozen times. They began to appear during the 1860s, shortly after the publication of the original collection. Song transcriptions peaked in the years 1910–19 and maintained a high level over the next decade. Comparing this table with the previous tables, one notes a very even distribution of transcriptions of each song over successive decades. However, two songs stand out in quantitative terms: 'Życzenie' [A Maiden's Wish] and 'Pierścień' [The Ring]. Neither of them is formally complicated, and in character, metre and rhythm they refer to Chopin's mazurkas; they also deal with similar subjects.
←34 | 35→
←35 | 36→
←36 | 37→
Nocturnes (Table 8), like songs, were frequently transcribed above all during the nineteenth century. Their first transcriptions began to appear ten years after the publication of the originals, and a distinctive increase occurred during the 1880s; another peak is noticeable during the years 1900–09. Among the transcriptions of twenty nocturnes, clearly the most popular work was the Nocturne in E flat major, Op. 9 No. 2, transcriptions of which make up 36.3 % of all nineteenth-century nocturne transcriptions. There are also a considerable number of adaptations of the Nocturnes in B major, Op. 32 No. 1, G minor, Op. 37 No. 1 and F minor, Op. 55 No. 1. The most popular of these four works, the Nocturne in E flat major, Op. 9 No. 2, is calm in character and distinguished by its cantilena melodic line, played espressivo dolce.
Waltzes (Table 9) were transcribed continuously, in both the nineteenth and the twentieth century. They aroused the interest of transcribers almost immediately after the publication of the originals. Of the fifteen waltzes transcribed, seven of them form a distinct core (82.1 % of the whole collection, and 84 % of nineteenth-century transcriptions). The most frequently transcribed were the Waltzes in D flat major, Op. 64 No. 1, A minor, Op. 34 No. ←37 | 38→←38 | 39→←39 | 40→2 and E flat major, Op. 18. It would seem that while the latter two works are conducive to transcribing, in terms of both tempo and also the distinctness of the harmonies and form, the Waltz in D flat major could deter some transcribers with its tempo and virtuosity. However, it was the most frequently transcribed.
The other Chopin genres were adapted to a much lesser extent (Table 10), although here too certain compositions stand out (Berceuse, Op. 57, Impromptu in A flat major, Op. 29 and Impromptu in C sharp minor, Op. 66). The quantitative profile of larger-scale works – ballades, fantasies, scherzos and sonatas – is presented in Table 11, while the figures relating to the concertos are given in Table 12. One may be surprised at the singling-out of the Funeral March, which is part of the Sonata in B flat minor, Op. 35, but its arrangements constitute such a large group that it merits separate treatment. The Funeral March possesses the largest collection of transcriptions of any single work during the nineteenth century, and only the Nocturne in E flat major, Op. 9 No. 2 can compare in this respect (196 transcriptions).
←40 | 41→
←41 | 42→
The sum total of nineteenth-century transcriptions comes to 2,969, so more than fourteen times the number of original works (201), which points clearly to the considerable part played by transcriptions in the musical reception of Chopin. A quantitative profile of the body of nineteenth-century arrangements may be broken down into a few points:
←42 | 43→
Table 13: Quantitative comparison of Chopin's originals and transcriptions.
Genre

QUANTITY

Chopin originals

Nineteenth-century transcriptions of Chopin's works

Mazurkas

57

590

Nocturnes

21

539

Songs

19

378

Waltzes

19

363

Sonatasa

4

22+294 = 316

Etudes

27

215

Preludes

25

181

Polonaises

16

170

Concertos

3

63

Impromptus

4

31

Ballades

4

22

Rondos

4

22

Fantasies

2

19

Scherzos

4

12
a 294 of these are transcriptions of just one movement of the B flat minor Sonata, the Marche funèbre.
Table 14: Chopin compositions with the most transcriptions.
| | |
| --- | --- |
| Work of Chopin | Number of transcriptions |
| Sonata in B flat minor, Op. 35 | 294 |
| Nocturne in E flat major, Op. 9 No. 2 | 196 |
| Waltz in D flat major, Op. 64 No. 1 | 84 |
| 'Życzenie' [A Maiden's Wish], Op. 74 No. 1 | 71 |
| Mazurka in B flat major, Op. 7 No. 1 | 63 |
| Polonaise in A major, Op. 40 No. 1 | 54 |
| Prelude in A major, Op. 28 No. 7 | 44 |
| Polonaise in C major, Op. 3 | 37 |
| Concerto in E minor, Op.11a | 34 |
| Etude in C sharp minor, Op. 25 No. 7 | 19 |
| Ballade in F major, Op. 38b | 16 |
a The clear majority of transcriptions concern the second movement of this concerto: the Romance Larghetto. The whole concerto was only transcribed several times for easy piano, for piano for four hands and for harmonium.
b The first movement of this composition, Andantino, was transcribed particularly often.
Table 15: Generic ranking of transcriptions.
Genre

Number of transcriptions

nineteenth century

twentieth century

Mazurkas

590

179

Nocturnes

539

198

Songs

378

258

Waltzes

363

319

Sonatasa

22+294

8+61

Etudes

215

294

Preludes

181

220

Polonaises

170

123

Concertos

63

51

Impromptus

31

20

Ballades

22

10

Rondos

22

7

Fantasies

19

7

Scherzos

12

1
a The first of the totals concerns arrangements of whole sonatas; the second total relates to the Marche funèbre from the Sonata in B flat minor, Op. 35.
←45 | 46→
2.2 The musical professions of the transcribers of Chopin's works
The existence of a huge amount of Chopin transcriptions is an historical fact – a social and aesthetic phenomenon. Although the actual term 'transcription' (as already mentioned) was first used by Franz Liszt for piano settings of the songs,69 the phenomenon of transcribing works was a widespread musical practice during the nineteenth century. This mode of 'compositional' work was adopted by a wide range of composers, from professionals to dilettantes. One of the questions that arise when analysing transcriptions is that of the transcribers themselves. Who arranged Chopin's works and what was their motivation for doing so? There is a very long list of composers of Chopin arrangements in the Catalogue of Chomiński and Turło.70 The sheer number of individuals interested in Chopin's music proves its great popularity, in both the nineteenth and the twentieth century.71 Such a broad social reception undoubtedly attests to the greatness and universality of Chopin's music, and it also gives the lie to the widespread opinion of its exclusively piano character (these are largely transcriptions for different forces). One cannot trivialise the statistics (2,969 transcriptions and a host of transcribers), which speak unequivocally of the scale of the phenomenon. Its qualitative aspect will be presented here on the basis of the creative environment in which the transcribers worked.
The figure of a transcriber is linked to several elements that may influence the form of the transcription: level of musical training, nationality and historical time. So it is interesting to examine the extent to which those three factors could have affected the quality of transcriptions, and so also the quality of the reception of Chopin's music with regard to transcriptions. The list of professional musicians to have arranged Chopin's works includes Fritz Kreisler, Pablo Sarasate, Auguste Franchomme, Leopold Grützmacher, Emil Prill, Rafael Joseffy, Moriz Rosenthal, Pauline Viardot-García, Franz Liszt, Mieczysław Karłowicz,72 Ferruccio Busoni, Max Reger, Nikolay Rimsky-Korsakov, Mily Balakirev, Alexander Glazunov and Leopold Godowsky. They are nineteenth-century instrumental virtuosi, singers and composers. These musicians and others (less well known) no doubt had a variety of motives for arranging ←46 | 47→Chopin's music. Transcriptions could have been written, for instance, for personal reasons (friendship with Chopin73), repertorial reasons (a wish to expand one's repertoire with familiar and esteemed works74), didactic reasons (the popularisation of Chopin's music through a different performance medium75) or commercial reasons (the fashion for Chopin and his music, and consequently profits from publishing such arrangements76). Quite a large group is formed by individuals whose names are not familiar to music lovers today and cannot be found in the major music lexicons.77 That does not mean, however, that they were bad composers. From information contained in works published during the nineteenth century and the early twentieth century,78 we learn that they were professionals, helping to forge the nineteenth-century musical culture of Europe. Those lexicons formed the material basis for our research, key among them being the dictionaries edited by Mendel, Einstein, Frank and Sowiński,79 with less information gleaned from the lexicons prepared by Schilling, Fétis, Eitner and Roguski.80
Mendel's lexicon provides exhaustive profiles of these figures, but due to the time of publication it often fails to cover the whole of a musician's work. Crucially, it does cover nearly all the major figures in musical life at that time. We find more concise, but also exhaustive, biographical notes in both works edited by Einstein, with Hugo Riemanns Musik Lexikon particularly valuable for heuristic purposes. The title of Frank's dictionary indicates the succinctness ←47 | 48→of the biographical notes it contains; however, it does provide a basis on which to establish the time a given individual lived and specify the character of his or her musical activities. Particularly helpful for establishing the biographies of Polish transcribers proved to be Sowiński's dictionary, while Roguski's popular pocket-sized edition gives us an idea of the state of musical awareness among Poles in the early twentieth century.81 Schilling's encyclopaedia proved of little use on account of its time range, which coincided to only a minimal extent with the lives of transcribers. Equally sporadic are references to the studies of Fétis and Eitner, which possess rather a dearth of information of interest to us here.
All the lexicons listed here made it possible to prepare a survey of the musical professions of transcribers – the authors of the present work's source material.82 As the criterion for systematising this personal presentation, I chose the primary musical speciality of each transcriber. Hence the division into three main groups: [1] active instrumentalists and singers; [2] composers, [3] organisers of musical life. In my critical approach to the source material, I was guided by two criteria: in the case of well-known figures, I reduced the available biographical information; in the case of unknown figures, I presented what is sometimes rather trifling information, but often the only information available. My task was principally to introduce little-known figures, which accounts for the apparent neglect of excellent composers and the highlighting of minor composers. The first group is internally complex, and its variety is linked to the performance forces. It comprises pianists, violinists, cellists, flautists and vocalists, who produced arrangements for piano, for solo instrument with piano accompaniment, for vocal-instrumental forces and for ensembles. Also internally diversified is the third group, which consists of individuals holding a variety of functions: performers, organisers and teachers. Editors of musical publications should also be included in this group.
←48 | 49→
[1] Performers: instrumentalists, singers
The group of pianists to have produced Chopin transcriptions is represented by concert musicians, given here in alphabetical order: Carl Bial,83 Carl Czerny,84 Ferdinand Dulcken,85 Giuseppe Ferrata,86 Leopold ←49 | 50→Godowsky,87 August Hänsel,88 Rudolf Hasert,89 Rafael Joseffy,90 Friedrich Kalkbrenner,91 Richard Kleinmichel,92 Franz Liszt, Karol ←50 | 51→Mikuli,93 Józef Nowakowski,94 Moritz Rosenthal,95 Hermann ←51 | 52→Scholtz,96 Giovanni Sgambati,97 the organist Renaud de Vilbac98 and Michael von Zadora99. These pianists transcribing Chopin included musicians with a solid all-round training, aware of the qualities of Chopin's music, as it appeared in their artistic biography regardless of whether it was particularly close to them or lay on the margins of their interests. These musicians represent various nationalities: Polish, German, Italian, Moldovan, American, Hungarian and British. They performed in Europe, America, Africa and Australia. We may assume, therefore, that the transcriptions by these composers were produced mainly for concert purposes100 and represented an accordingly high musical ←52 | 53→standard.101 Consequently, they required performers of a suitable standard – pianists who were not necessarily the transcribers themselves. The audiences of these high-quality transcriptions tended to comprise musical connoisseurs who sought a suitable level of music and performance, which they associated with the names of virtuosi. It would be incredibly difficult to piece together the exact concert repertoire of these pianists, indicating the time and place of their concerts. We may assume, however, that they were the first performers of their own transcriptions. And as their composers, they could enhance them with new elements, linked to their nationality and to the individual features of their pianistic style.
The professionalism of a transcriber is expressed not just in his or her ability to produce elaborate and difficult adaptations, but also in composing transcriptions of middling difficulty that remain faithful to the original work. Besides this, the fact of being a pianist does not limit a musician to transcribing solely for piano. Such examples include Ferdinand Quentin Dulcken and Józef Nowakowski, who both wrote transcriptions of Chopin's music for voice and piano. Given the musical activities of these pianist transcribers, one may confidently assert that the reception of Chopin via their intermediary was of superior calibre.
In nineteenth-century performance practice, the violin family, which arose in the mid sixteenth century, still maintained a lofty status, which was underscored and boosted by the rich violin literature and the large number of violin virtuosi. As Alfred Einstein writes, in the nineteenth century 'The real, new virtuosity […] occupied itself particularly with two instruments, the violin and the piano.'102 The plethora of violin virtuosi was led by Niccolò Paganini, who around 1820 began performing in the finest European concert halls. He had a number of rivals and successors: the Poles Karol Lipiński and Henryk Wieniawski,103 the ←53 | 54→Germans Ferdinand David and his pupil August Wilhelmj,104 the Spaniard Pablo Sarasate,105 the Hungarian Eduard Reményi106 and the Austrian Fritz Kreisler107. Most of these excellent instrumentalists produced ←54 | 55→violin versions of works by Chopin.108 They were joined by a number of less prominent musicians (including violists), such as Julius Conus,109 Nikolay Galkin,110 Friedrich Hermann,111 August Schulz,112 Edmund Singer,113 ←55 | 56→Adolf Sonnenfeld,114 Karol Studziński115 and Stanisław Taborowski116.
In the nineteenth century, the cello was treated almost on a par with the violin, as is attested to by numerous transcriptions made by a number of cellists who ←56 | 57→participated actively in concert and didactic life. The best known among them were Auguste Franchomme,117 Adrien-François Servais118 and Karl Davidoff;119 lesser lights included Robert Bockmühl and Leopold Grützmacher.120 The violinists, violists and cellists, like the pianist transcribers, were mostly professionals. They were first and foremost soloists who made a name for themselves in Europe, America, Australia and Asia. For many others, the major occupation was ensemble playing (chamber ensemble or orchestra). Bearing in mind their multi-faceted musical work (including teaching), one may state that the transcriptions they produced may satisfy two basic functions: enhancing ←57 | 58→the concert repertoire (e.g. the arrangements of Sarasate and Lipiński) and enhancing the didactic repertoire, introducing violinists, violists and cellists to the Chopin literature (e.g. the transcriptions of Grützmacher). So their recipients consisted of the concert-going public and amateur musicians (violinists, violists and cellists).
Besides the piano and the violin, the most commonly used instrument for music making in the drawing-room was the flute. That popularity resulted no doubt from the qualities of the instrument's subtle, 'sinusoidal' sound, and also significant were the changes in design introduced by Theobald Böhm in 1832. That growth in interest, coupled with a lack of literature for the instrument, forced flautists – performers and teachers – to adapt works for piano and other instruments.121 Among those to have produced flute transcriptions were Wilhelm Barge,122 Ferdinand Büchner,123 Wilhelm Popp124 and Emil Prill125. The authors of flute transcriptions were professional musicians and experts on their instrument. Among their number, only Prill was a concert virtuoso, so it was through him that ←58 | 59→transcriptions reached concert halls in Germany, Sweden, Denmark and Russia. The character of the musical activity of the remaining flautists and the form of the transcriptions themselves allow us to surmise that they were designed for didactic and didactic-popularising purposes, although most of them could also be presented in public concerts. Hence the recipients of these adaptations could have been amateur flautists (e.g. the arrangements by Büchner), frequenters of bourgeois salons (Prill, Popp) and audiences of a relatively small number of public concerts (Prill).
The only singer to have produced vocal transcriptions of Chopin was Pauline Viardot-García.126 Arrangements of that kind were also produced by leading figures in Polish musical life at that time, centred on Warsaw: the composers Adam Münchheimer and Ludwik Grossman, the conductor Piotr Maszyński and the pianist Karol Studziński. Their transcriptions were performed by the Lutnia choir of Warsaw, among others. The Italian composer Luigi Bordèse also wrote vocal versions.
Being a composer is a precondition for assigning a person to the second group of transcribers. So we will be focussing here not on performers, but above all on composers. This group comprises the following: Mily Balakirev, Ferruccio Busoni, Alexander Glazunov, Leopold Godowsky, Franz Liszt, Mieczysław Karłowicz, Zygmunt Noskowski, Max Reger and Nikolay Rimsky-Korsakov, as well as Luigi Bordèse,127 Ludwik Grossman,128 Johann ←59 | 60→Valentin Hamm,129 August Horn,130 Adam Münchheimer,131 Martin Röder,132 ←60 | 61→Xaver Scharwenka133 and Nikolay Sokolov134. There is a clear division here into superior composers who influenced the course of music history and less prominent composers. The output of these composers is highly diverse and abounds in stage works and large vocal-instrumental compositions, as well as chamber and solo works. Consequently, their transcriptions lay on the margins of their output. Unfortunately, it is impossible to establish today how that music was received. Were it not for the biographical information available, it would be even more difficult to find detailed information about their musical activities. There is no doubt that these composers played some role in propagating Chopin's music in their environments (Russian, German, Italian and Polish). The quality of that transmission is documented in the adaptations themselves. Horn's transcriptions are simple adaptations for piano for four hands, Scharwenka's transcriptions are for two pianos, and others are for voice (Bordèse, Grossman, Münchheimer, Röder, Sokolov), violin (Hamm) and orchestra (Köhler-Wümbach). The form of the piano versions suggests that they were of a popularising character, enabling the original composition to be performed by two people. The vocal settings are clearly designed with popularisation in mind, as is indicated by their musical ←61 | 62→construction, the verbal text and the titles of the publications (e.g. Romanse i pieśni [Romances and songs], Zbiór najpiękniejszych melodyi ułożonych do śpiewu [Selection of the most beautiful melodies arranged for voice] and of the transcriptions themselves ('Dziewczyna mazowiecka' [Mazovian girl], 'Stroskana' [Troubled], 'Amorettenreigen'). Köhler-Wümbach's orchestral version of the Marche funèbre from the Sonata in B flat minor, Op. 35 bears the hallmarks of a functional transcription, intended for funerals.
As Chomiński and Turło write: 'With the aim of enhancing the list of arrangers with the names of the most outstanding composers, works on Chopin themes by Kalkbrenner, Rachmaninov and Mompou have been treated as piano transcriptions. […] as has – as a kind of exception – Władysław Żeleński's paraphrase Roma. […] Also included in the list of transcriptions are suites comprising orchestral arrangements of several works.'135 These last works include Mily Balakirev's four-part Suite for orchestra.136 This was treated as a 'Token of respect for the Committee for the Building of a Monument to Fryderyk Chopin in Warsaw' on the hundredth anniversary of the composer's birth.137 The successive parts of the Suite are transcriptions of works by Chopin: the Préambule is the Etude in E flat minor, Op. 10 No. 6, the Mazurka is the Mazurka in A flat major, Op. 41 No. 3, the Intermezzo is based on the Nocturne in G minor, Op. 15 No. 3, and arranged in the Finale is the Scherzo in C sharp minor, Op. 39. The work was published by J. H. Zimmermann of Leipzig in 1909.138 Each of the movements is characterised by different forces (the weakest are movts I and III, the richest movts II and IV) and a different degree of recomposition of the original. Balakirev made a substantial contribution to the propagation of Chopin's music in Russia as a pianist, the composer of arrangements for orchestra, piano and choir, and also the publisher of Chopin's sonatas. He helped to bring added splendour to the Polish solemnities marking the centenary of the composer's birth. For Ferruccio Busoni, transcribing was a crucial aspect of his creative art.139 He produced a piano arrangement of the ←62 | 63→Polonaise in A flat major, Op. 53 (1909140). Another composer, Alexander Glazunov, turned to five compositions in his orchestral suite Chopiniana (known from 1909 as Les Sylphides), published in 1894.141 This composer also wrote an orchestral adaptation of the Nocturne in C minor, Op. 48 No. 1, which exists only in manuscript.142 Glazunov also produced cello transcriptions of the Etude in E flat minor, Op. 10 No. 6 and the Etude in C sharp minor, Op. 25 No. 7.143 Leopold Godowsky wrote a collection of Studien für Pianoforte über die Etüden von Chopin, comprising five volumes and fifty-three arrangements based on twenty-six Chopin etudes.144 There are twenty-eight reworkings from opus 10, twenty-one from opus 25 and four from Méthode des méthodes. This collection was published successively from 1898 by ←63 | 64→Schlesinger of Berlin (1898–1903; 1909–1913; 1914). The same publisher also issued 22 Chopin – Studien für die linke Hand allein (1915), which is a reduction of the five-volume work. Transcriptions by this composer were also published by Schirmer of New York (1899, 1903, 1909) and Muzyka of Moscow (1968).145 Franz Liszt produced numerous piano transcriptions of songs by Schubert and Schumann, works by J. S. Bach, and operatic fantasies on themes from operas by Mozart, Verdi and Wagner. From the Chopin repertoire, he chose six songs ('Życzenie' [A Maiden's Wish], 'Wiosna' [The Spring], 'Pierścień' [The Ring], 'Hulanka' [Drinking Song], 'Moja Pieszczotka' [My Enchantress] and 'Narzeczony' [The Bridegroom's Return]), which he set in 6 Chants polonaises op. 74 de Fr. Chopin for piano. They were published by A. M. Schlesinger of Berlin c.1860.146 Max Reger's Fünf Spezialstudien für Pianoforte, published in Leipzig by Josef Aibl in 1898–1903,147 contains piano transcriptions of the Waltz in D flat major, Op. 64 No. 1, Grande Valse in A flat major, Op. 42, Waltz in C sharp minor, Op. 64 No. 2, Etude in G sharp minor, Op. 25 No. 6 and Impromptu in A flat major, Op. 29.148 This collection was enriched with a sixth work: another arrangement of the Waltz in D flat major, Op. 64 No. 1.149 We know much less about transcriptions by other composers. Władysław Żeleński based his paraphrase Roma, from 1910,150 on two compositions: the Fantaisie in F minor, Op. 49 and the Prelude in C minor, Op. 28 No. 20. Zygmunt Noskowski wrote a dozen or so transcriptions for various forces (voice and piano, easy piano, orchestra, orchestra and choir).151 They were written between 1888 and 1900, and most of them exist in manuscripts held at PWM Edition in Cracow and in the libraries of the Warsaw Music Society and the Fryderyk Chopin University of Music in Warsaw. Nikolay Rimsky-Korsakov also left in manuscript several transcriptions for string orchestra (Mazurkas in G major, Op. 50 No. 1 and C major, Op. 56 No. 2, Nocturnes in B flat minor, Op. 9 No. 1, E flat major, Op. 9 No. 2 and G minor, Op. 37 ←64 | 65→No. 1). These are accessible in the Saltykov-Shchedrin Library in St Petersburg, and their composition is dated to 1884–1885.152 Mieczysław Karłowicz turned to Chopin compositions to improve his mastery of instrumentation. Around 1898, he produced three versions of the Prelude in C minor, Op. 28 No. 20 for brass ensemble (two trumpets, four horns, three trombones, tuba) and three versions of the Berceuse, Op. 57 for full orchestra. Unfortunately, those transcriptions are lost, and their existence is evidenced solely by the sheet music and book inventories of the Karłowicz Section of the Warsaw Music Society.153
In producing their transcriptions, these outstanding composers were guided primarily by artistic considerations and the desire to perfect their compositional craftsmanship; their transcriptions were tributes to the great composer. Only Godowsky ascribed a didactic aim to his transcriptions, although knowing the degree of their difficulty, one realises that they were not popularising arrangements, but were addressed to an elite group of performers. The small number of 'compositional' transcriptions had different groups of recipients. The greatest popularity among pianists was gained by the readily performed Chants polonaises by Liszt, Glazunov's Chopiniana was familiar to audiences from ballet shows,154 and Balakirev's Suite, expressive of his admiration for Chopin, was intended for music lovers to whom Chopin's music was particularly dear. Godowsky's etudes were the subject of concert presentations, and they were recorded much later. In 1900, the American James Huneker prophesied that Godowsky had written his etudes for future generations, no doubt for the generation of Rosenthal.155 Huneker also advised his readers against delving into the problem of respect for Chopin's music.156 Another author, Harold Schonberg, wrote in the mid twentieth century, in The New York Times, about the diverse ways in which the Etudes were rendered more complicated and called them fantastic exercises, raising the level of pianistic technique to a degree that even ←65 | 66→Liszt had not dreamed of.157 In the cited reactions by critics, one sees above all admiration of Godowsky's work, while a matter of less importance, albeit signalled by Huneker, was the problem of respect for the original works. In light of these opinions, Godowsky's Etudes are above all splendid material for improving piano technique and developing sensitivity. And that was the aim pursued by Godowsky. Less well known were the arrangements made by Reger and Busoni, and the transcriptions by Noskowski and Rimsky-Korsakov, existing solely in manuscripts, had limited possibilities for becoming widely known. Karłowicz's transcriptions were probably never performed and were familiar to few people.158
[3] Organisers of musical life
Among arrangers, one can distinguish a group of people who helped to organise musical life. For the purposes of their various activities, they created adaptations that served two basic aims: teaching at an elementary level and popularising 'high' music. This group is represented by Richard Hoffmann,159 Jan Łusakowski,160 ←66 | 67→Piotr Maszyński,161 Friedrich Mockwitz,162 Alfred Edward Moffat,163 Christian Gottlieb Müller,164 Franz Louis Schubert,165 Gustav ←67 | 68→Zanger166 and Ernst David Wagner167. From the biographical notes of these individuals, we may conclude that for them the preparation of transcriptions was an important task, which served above all their didactic work and often represented considerable creative output.
Ordering the transcribers according to their primary profession reveals a relationship between that profession and the intention of their transcriptions. Concert musicians and composers produced artistic versions, while all the others prepared easier versions for didactic and popularising purposes. The universality of the profession of musicians, being at once performer, composer and teacher, explains why even first-rate artists produced didactic transcriptions. So the profile of transcribers accounts for the diversity of the adaptations, indicating their didactic, popularising, artistic or concert character. Irrespective of that primary musical profession, two groups emerge among transcribers: [1] the most accomplished musicians, whose quantitative contribution to the transcribing of Chopin was quite small; [2] professional composers who helped to shape nineteenth-century musical culture, but whose star later dimmed. This paradox results from many factors, above all the cult and respect which great nineteenth-century composers bestowed upon Chopin's original work, a negative attitude towards the idea of imitation and a wish to create their own music. It would seem that the much more numerous musicians of the second group were motivated by other considerations and no doubt sought to popularise Chopin's music through their numerous adaptations. The second group, which made ←68 | 69→the greatest contribution to the work of transcribing Chopin, is very large and difficult to characterise. That results from the lack of information about those composers in scholarly lexicons. However, of the seventy-eight individuals who produced our source material, only ten could not be identified, while information about the others can be found in nineteenth-century source lexicons, which attests to their contribution to the musical culture of their times. The work of all the transcribers clearly points to the secondary character of the adaptations they produced;168 this kind of 'output' accompanied the principal strand. Thanks to transcriptions, Chopin's music experienced a great 'augmentation', and the transcribers, who were responsible for the quality of that transmission, were the most crucial link in that process.
2.3 The economic and legal conditions behind the dissemination of transcriptions during the nineteenth century
The most crucial link in the process of 'augmenting' Chopin's oeuvre was formed by the institutions whose activities made it possible to disseminate transcriptions. Nineteenth-century Europe was characterised by a multitude of publishing firms, as we learn from the catalogues of Hofmeister, Deutsch, and Devriès and Lesure.169 An exhaustive bibliography of German music publishers was prepared by Hans-Martin Plesske, the specificities of French publishers are discussed by Krzysztof Grabowski, and Polish music publishing has been the subject of studies by Tadeusz Frączyk, Maria Prokopowicz, Barbara Zakrzewska-Nikiporczyk, Krzysztof Mazur and Władysław Hordyński.170
The first publishers of Chopin's works were Izydor Józef Cybulski (engraving) and Antoni Brzezina (lithography) in Warsaw and the Viennese publishers Tobias Haslinger and Pietro Mechetti. When Chopin was living in Paris, his original works and their transcriptions were published in three versions in London (Wessel), Paris (Maurice Schlesinger) and Leipzig (Breitkopf & Härtel). Chopin transcriptions were disseminated through many other major publishers: Kistner ←69 | 70→and Peters in Leipzig, A. M. Schlesinger in Berlin, Litolff in Brunswick, Schott's Söhne in Mainz, Hamelle, Benoît Ainé, Gérard and Durand & Fils in Paris, Bessel in St Petersburg, Jurgenson and Meikov in Moscow, and Kaufmann in Warsaw. It was through these publishers that transcriptions reached a large number of consumers in Germany, France, Russia and Poland.
One of the crucial features of publishing work is the print-run of particular titles. For our research, the size of the print-runs for transcriptions would be reliable information regarding the scale and scope of the musical reception of Chopin. Unfortunately, nineteenth-century music prints bear no direct information about print-runs and reprints,171 and information of this sort is also not given in any of the known publishing catalogues; only laborious and time-consuming archive searches might bring significant results. Wishing to present the scope and scale of transcribing based on the work of publishers, we can only rely on individual editions, that is, on the number of titles issued by a given publisher. For the map of the scope of transcriptions to be full and exact, this issue will be sketched on the basis of the source material for this book and on information concerning editions of all transcriptions of Chopin's works given in the Catalogue of Chomiński and Turło.172 That comparison is assisted by the tables given below and by graphs produced using the Excel computer program.
The most active Polish music publishers were Gebethner & Wolff and Michał Arct, both based in Warsaw. These two firms published easy arrangements for piano and for piano for four hands, as well as Pauline Viardot's arrangements for voice and piano of Chopin mazurkas. They were active essentially during the second half of the nineteenth century, with a temporary lull during the 70s (Table 16). Transcriptions issued by Russian publishers are popular versions for voice and piano, published in the series Romances and Songs, which also includes arrangements by instrumentalists, such as Conus and Wilhelmj. These publishing firms made a substantial contribution to disseminating Chopin transcriptions (Table 17). The work of French publishing firms in disseminating transcriptions is presented in Table 18. Although the number of published transcriptions changed, French publishers remained active throughout the whole of the period of interest to us here (1830–1919). They published adaptations by major composers of instrumental versions (Sarasate, Franchomme, Reményi, Vilbac) and vocal versions (Ruelle). The large number of publishers in Germany guaranteed continuity to the process of the publishing of transcriptions (Table 19). Breitkopf & ←70 | 71→Härtel reigned supreme in this area from the 1840s through to the 70s. The 80s were dominated by Litolff of Brunswick and Peters of Leipzig. German firms published mainly transcriptions by German composers. The work of German publishers was bolstered by Austrian firms, which 'specialised' in transcriptions for piano for four hands (Table 20). The English market was dominated by two London firms: Wessel and Augener. According to Chomiński and Turło's Catalogue, the distribution of editions of transcriptions is regular and points to their constant and substantial contribution to disseminating transcriptions (Table 21). Italian and Dutch publishers made only a symbolic contribution (Table 22). During the 1870s, and especially at the start of the twentieth century, interest in Chopin spread to Sweden and America, and transcriptions also began to be produced there (Table 23). The summary (Tables 24 and 25) is served by the collective data from Chomiński and Turło and the source material.
Table 16: Number of transcriptions published by Polish firms.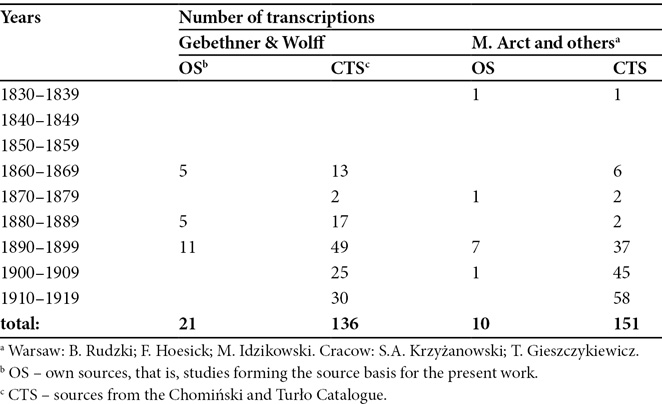 Years

Number of transcriptions

Gebethner & Wolff

M. Arct and othersa

OSb

CTSc

OS

CTS

1830–1839

1

1

1840–1849

1850–1859

1860–1869

5

13

6

1870–1879

2

1

2

1880–1889

5

17

2

1890–1899

11

49

7

37

1900–1909

25

1

45

1910–1919

30

58

total:

21

136

10

151

a Warsaw: B. Rudzki; F. Hoesick; M. Idzikowski. Cracow: S.A. Krzyżanowski; T. Gieszczykiewicz.

b OS – own sources, that is, studies forming the source basis for the present work.

c CTS – sources from the Chomiński and Turło Catalogue.
Table 17: Number of transcriptions published by Russian firms.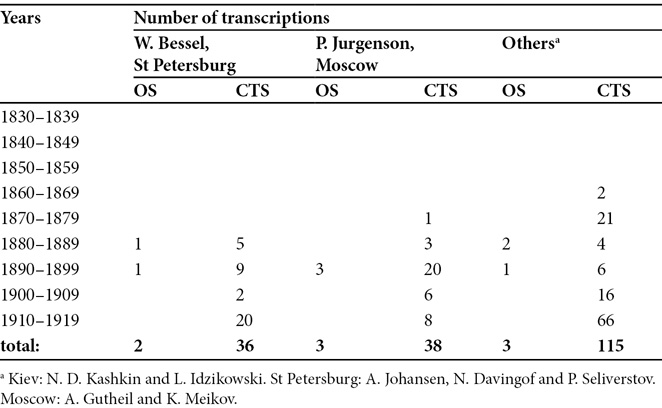 Years

Number of transcriptions

W. Bessel,

St Petersburg

P. Jurgenson,

Moscow

Othersa

OS

CTS

OS

CTS

OS

CTS

1830–1839

1840–1849

1850–1859

1860–1869

2

1870–1879

1

21

1880–1889

1

5

3

2

4

1890–1899

1

9

3

20

1

6

1900–1909

2

6

16

1910–1919

20

8

66

total:

2

36

3

38

3

115

a Kiev: N. D. Kashkin and L. Idzikowski. St Petersburg: A. Johansen, N. Davingof and P. Seliverstov. Moscow: A. Gutheil and K. Meikov.
Table 18: Number of transcriptions published by French firms.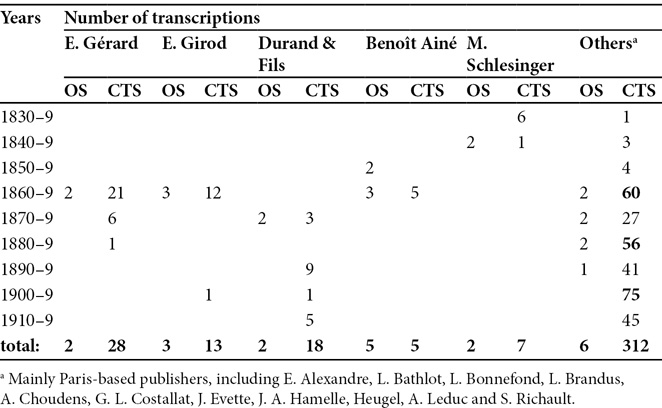 Years

Number of transcriptions

E. Gérard

E. Girod

Durand & Fils

Benoît Ainé

M.

Schlesinger

Othersa

OS

CTS

OS

CTS

OS

CTS

OS

CTS

OS

CTS

OS

CTS

1830–9

6

1

1840–9

2

1

3

1850–9

2

4

1860–9

2

21

3

12

3

5

2

60

1870–9

6

2

3

2

27

1880–9

1

2

56

1890–9

9

1

41

1900–9

1

1

75

1910–9

5

45

total:

2

28

3

13

2

18

5

5

2

7

6

312

a Mainly Paris-based publishers, including E. Alexandre, L. Bathlot, L. Bonnefond, L. Brandus, A. Choudens, G. L. Costallat, J. Evette, J. A. Hamelle, Heugel, A. Leduc and S. Richault.
Table 19: Number of transcriptions published by German firms.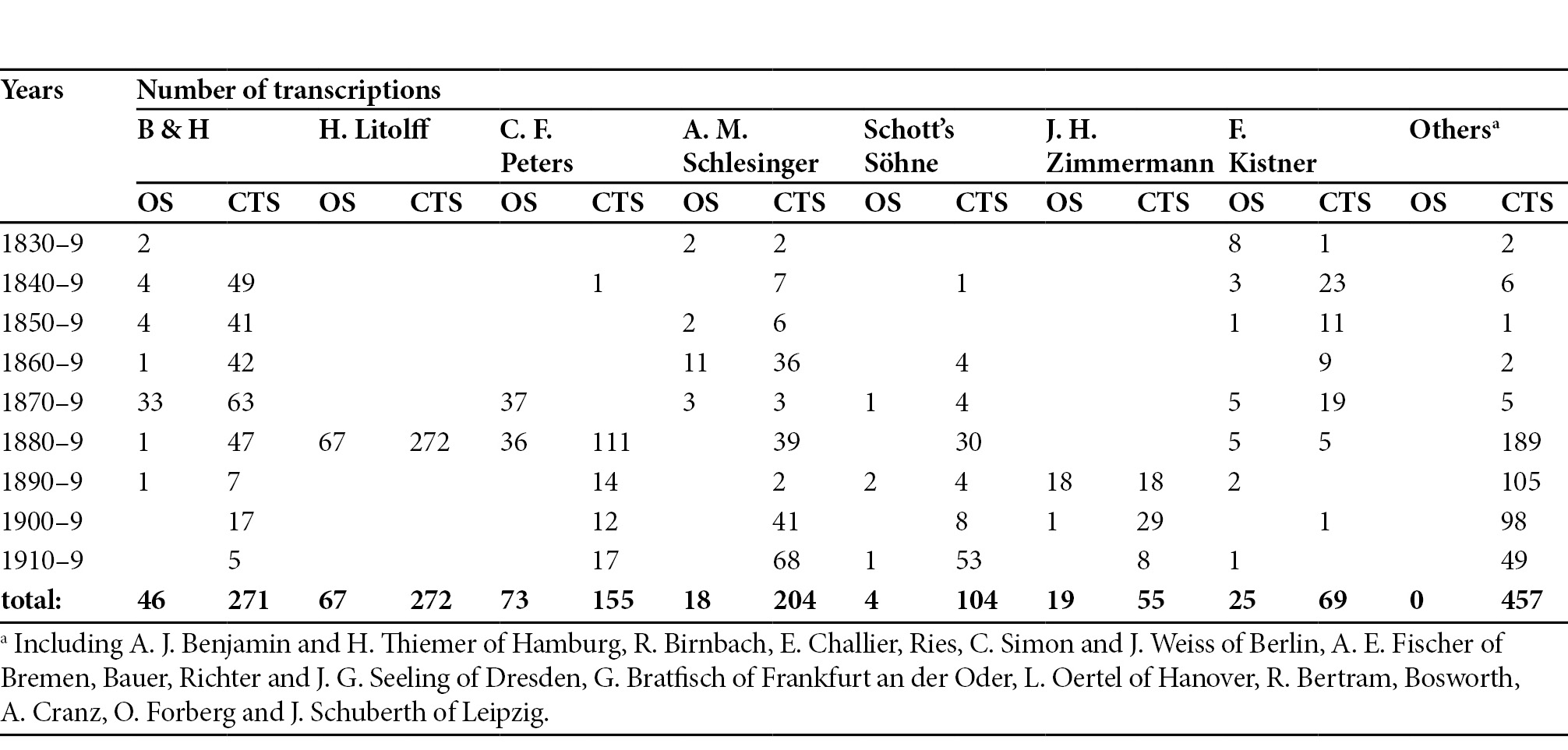 Years

Number of transcriptions

B & H

H. Litolff

C. F.

Peters

A. M.

Schlesinger

Schott's

Söhne

J. H.

Zimmermann

F.

Kistner

Othersa

OS

CTS

OS

CTS

OS

CTS

OS

CTS

OS

CTS

OS

CTS

OS

CTS

OS

CTS

1830–9

2

2

2

8

1

2

1840–9

4

49

1

7

1

3

23

6

1850–9

4

41

2

6

1

11

1

1860–9

1

42

11

36

4

9

2

1870–9

33

63

37

3

3

1

4

5

19

5

1880–9

1

47

67

272

36

111

39

30

5

5

189

1890–9

1

7

14

2

2

4

18

18

2

105

1900–9

17

12

41

8

1

29

1

98

1910–9

5

17

68

1

53

8

1

49

total:

46

271

67

272

73

155

18

204

4

104

19

55

25

69

0

457

a Including A. J. Benjamin and H. Thiemer of Hamburg, R. Birnbach, E. Challier, Ries, C. Simon and J. Weiss of Berlin, A. E. Fischer of Bremen, Bauer, Richter and J. G. Seeling of Dresden, G. Bratfisch of Frankfurt an der Oder, L. Oertel of Hanover, R. Bertram, Bosworth, A. Cranz, O. Forberg and J. Schuberth of Leipzig.
Table 20: Number of transcriptions published by Austrian firms.
Years

Number of transcriptions

P. Mechetti and others,a Vienna

UE, Vienna

OS

CTS

OS

CTS

1830–1839

1840–1849

3

7

1850–1859

1

1860–1869

1870–1879

1

1880–1889

2

1890–1899

1900–1909

1

101

1910–1919

17

total:

4

11

0

118

a Viennese publishers: T. Haslinger, C. A. Spina and Umlauf.
Table 21: Number of transcriptions published by British firms.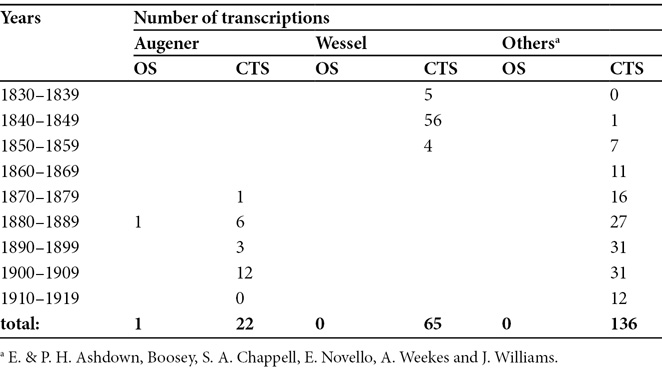 Years

Number of transcriptions

Augener

Wessel

Othersa

OS

CTS

OS

CTS

OS

CTS

1830–1839

5

0

1840–1849

56

1

1850–1859

4

7

1860–1869

11

1870–1879

1

16

1880–1889

1

6

27

1890–1899

3

31

1900–1909

12

31

1910–1919

0

12

total:

1

22

0

65

0

136

a E. & P. H. Ashdown, Boosey, S. A. Chappell, E. Novello, A. Weekes and J. Williams.
Table 22: Number of transcriptions published by Italian and Dutch firms.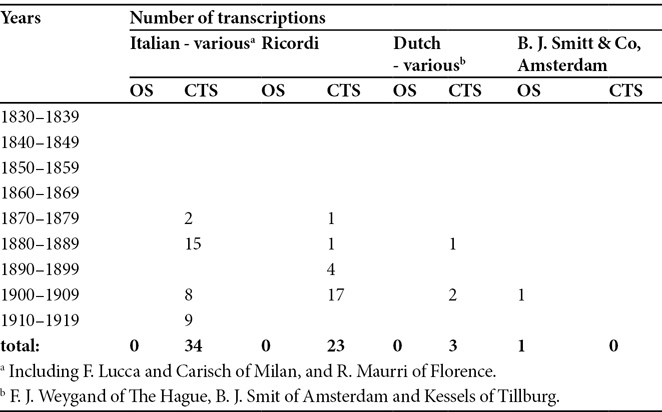 Years

Number of transcriptions

Italian - variousa

Ricordi

Dutch - variousb

B. J. Smitt & Co, Amsterdam

OS

CTS

OS

CTS

OS

CTS

OS

CTS

1830–1839

1840–1849

1850–1859

1860–1869

1870–1879

2

1

1880–1889

15

1

1

1890–1899

4

1900–1909

8

17

2

1

1910–1919

9

total:

0

34

0

23

0

3

1

0

a Including F. Lucca and Carisch of Milan, and R. Maurri of Florence.

b F. J. Weygand of The Hague, B. J. Smit of Amsterdam and Kessels of Tillburg.
Table 23: Number of transcriptions published by Swedish and American firms.
Years

Number of transcriptions

Swedish – various

G. Schirmer,

New York

American – variousa

OS

CTS

OS

CTS

OS

CTS

1830–1839

1840–1849

1850–1859

1860–1869

1870–1879

1

1

1880–1889

1

1890–1899

1

1

2

1900–1909

3

3

26

2

23

1910–1919

11

16

total:

0

3

3

38

4

43

a Including W. Jacobs of Boston, C. Fischer, J. W. Stern and E. Schuberth & Co. of New York.
Table 24: Collective tabulation of sources from the Chomiński and Turło Catalogue: number of transcriptions in particular countries.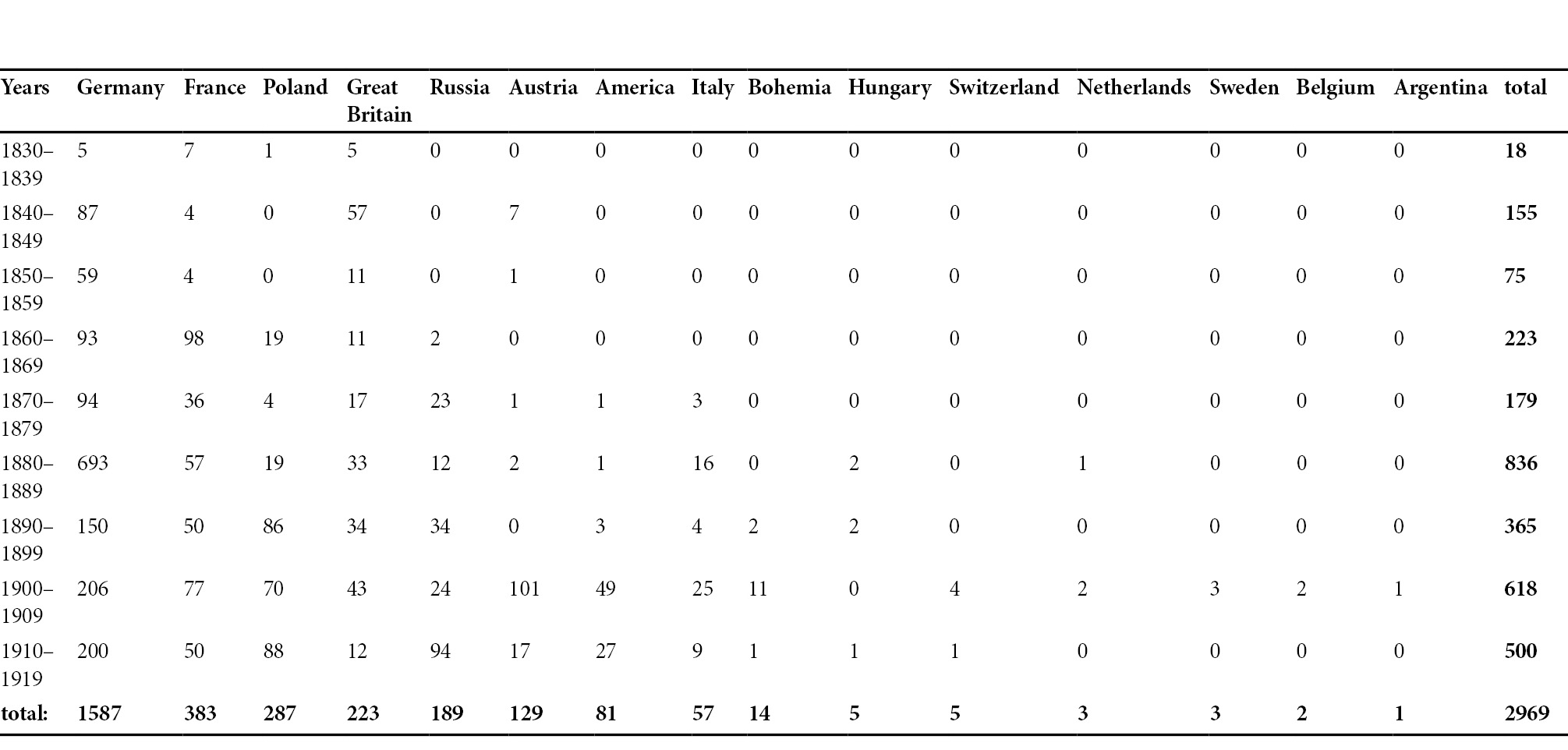 | | | | | | | | | | | | | | | | | |
| --- | --- | --- | --- | --- | --- | --- | --- | --- | --- | --- | --- | --- | --- | --- | --- | --- |
| Years | Germany | France | Poland | Great Britain | Russia | Austria | America | Italy | Bohemia | Hungary | Switzerland | Netherlands | Sweden | Belgium | Argentina | total |
| 1830–1839 | 5 | 7 | 1 | 5 | 0 | 0 | 0 | 0 | 0 | 0 | 0 | 0 | 0 | 0 | 0 | 18 |
| 1840–1849 | 87 | 4 | 0 | 57 | 0 | 7 | 0 | 0 | 0 | 0 | 0 | 0 | 0 | 0 | 0 | 155 |
| 1850–1859 | 59 | 4 | 0 | 11 | 0 | 1 | 0 | 0 | 0 | 0 | 0 | 0 | 0 | 0 | 0 | 75 |
| 1860–1869 | 93 | 98 | 19 | 11 | 2 | 0 | 0 | 0 | 0 | 0 | 0 | 0 | 0 | 0 | 0 | 223 |
| 1870–1879 | 94 | 36 | 4 | 17 | 23 | 1 | 1 | 3 | 0 | 0 | 0 | 0 | 0 | 0 | 0 | 179 |
| 1880–1889 | 693 | 57 | 19 | 33 | 12 | 2 | 1 | 16 | 0 | 2 | 0 | 1 | 0 | 0 | 0 | 836 |
| 1890–1899 | 150 | 50 | 86 | 34 | 34 | 0 | 3 | 4 | 2 | 2 | 0 | 0 | 0 | 0 | 0 | 365 |
| 1900–1909 | 206 | 77 | 70 | 43 | 24 | 101 | 49 | 25 | 11 | 0 | 4 | 2 | 3 | 2 | 1 | 618 |
| 1910–1919 | 200 | 50 | 88 | 12 | 94 | 17 | 27 | 9 | 1 | 1 | 1 | 0 | 0 | 0 | 0 | 500 |
| total: | 1587 | 383 | 287 | 223 | 189 | 129 | 81 | 57 | 14 | 5 | 5 | 3 | 3 | 2 | 1 | 2969 |
Table 25: Collective tabulation of own sources: number of transcriptions in particular countries.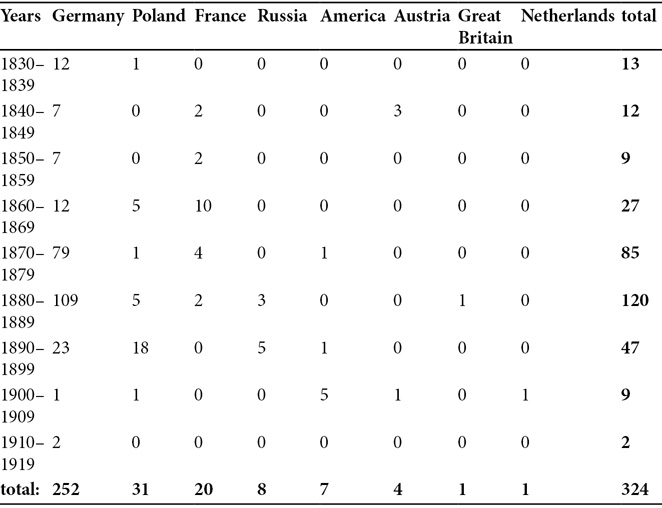 | | | | | | | | | | |
| --- | --- | --- | --- | --- | --- | --- | --- | --- | --- |
| Years | Germany | Poland | France | Russia | America | Austria | Great Britain | Netherlands | total |
| 1830–1839 | 12 | 1 | 0 | 0 | 0 | 0 | 0 | 0 | 13 |
| 1840–1849 | 7 | 0 | 2 | 0 | 0 | 3 | 0 | 0 | 12 |
| 1850–1859 | 7 | 0 | 2 | 0 | 0 | 0 | 0 | 0 | 9 |
| 1860–1869 | 12 | 5 | 10 | 0 | 0 | 0 | 0 | 0 | 27 |
| 1870–1879 | 79 | 1 | 4 | 0 | 1 | 0 | 0 | 0 | 85 |
| 1880–1889 | 109 | 5 | 2 | 3 | 0 | 0 | 1 | 0 | 120 |
| 1890–1899 | 23 | 18 | 0 | 5 | 1 | 0 | 0 | 0 | 47 |
| 1900–1909 | 1 | 1 | 0 | 0 | 5 | 1 | 0 | 1 | 9 |
| 1910–1919 | 2 | 0 | 0 | 0 | 0 | 0 | 0 | 0 | 2 |
| total: | 252 | 31 | 20 | 8 | 7 | 4 | 1 | 1 | 324 |
According to my own sources, it was the German, Polish and French editions that bore a decisive influence on the dissemination of the transcriptions they contained. Yet that picture is only verified by the publisher profiling of the Chomiński/Turło Catalogue collection, as it refers to the work of nearly all of the publishers disseminating transcriptions, which in the nineteenth century were highly fashionable. Data from both my own collection and the Catalogue ←72 | 73→←71 | 72→←73 | 74→collection help to trace a map of publishers contributing to the dissemination of transcriptions that accords with the facts. As more information becomes available, that map may be supplemented, although the hierarchy established here will remain unaffected. German, Polish, British and Russian publishers made ←75 | 76→←74 | 75→←76 | 77→a substantial contribution, while the participation of the other four groups of publishers in this process was marginal.
Taking account of the complementary results of research into both sets of sources enables one to state that German firms were most active in this area. Their work in publishing transcriptions began in 1830 and continued uninterrupted over subsequent decades, peaking in the years 1880–1889. A somewhat weaker position in this hierarchy is held by French publishers, who began working in this area during the 1830s and were particularly active during the 60s. These conclusions result above all from the sum totals of information concerning each of the two sets of sources examined here, and only the dominance of German publishers during the period 1880–1889 is characteristic of both sets. This publishing market for transcriptions of works by Chopin certainly resulted from the publication of his original compositions. From c.1880, collected editions of his works began to appear, critically edited by Chopin experts and scholars (Carl Reinecke, Ignaz Friedman, Claude Debussy, Charles Klindworth, Karol Mikuli, Louis Köhler, ←77 | 78→Hermann Scholtz, Riccardo Vitali, Stefano Golinelli, Xaver Scharwenka, Eduard Mertke, Raoul Pugno). Particularly distinguished in this respect is the German publisher Breitkopf & Härtel, which from 1878 to 1880 published the first edition of Chopin's complete works, Erste kritisch durchgesehene Gesammtausgabe,173 thereby helping to reinforce Chopin's image as a great Romantic.174 Collected editions were issued by many leading firms: Universal Edition of Vienna (Pugno 1902), B. Schott's Söhne of Mainz (1880–1885, 1909; Scharwenka 1909–1913; Emil Sauer 1917–1920), G. Schirmer Inc. of New York (Mikuli 1894–1898; Mikuli and Huneker 1915–1918), Edizione Ricordi of Milan (Vitali 1879–1880), C. F. Peters of Leipzig (Scholtz 1879, 1904–1907). H. Litolff's Verlag of Brunswick (Köhler 1880–1885), P. Jurgenson of Moscow (Klindworth 1873–1876; 1897; 1898–1916), Gebethner & Wolff of Warsaw (Kleczyński 1882, 1902) and Augener of London (Klindworth 1879).175 It would seem, however, that an equally crucial factor in stimulating the work of transcribers in Germany around the turn of the nineteenth century was the huge economic expansion of the German Reich and the corresponding growth in prosperity especially in bourgeois circles.
The places of residence of all the transcribers and the places of publication allow us to create a map of the scope of Chopin transcriptions. Unfortunately, the lack of information relating to the size of print-runs makes it impossible to determine more precisely that scope and the intensity of the phenomenon.
*
Transcriptions involve existing works, often written by other composers, so it is an activity based on interfering with other people's property. One particular instance of transcription is self-transcription, where the composer also wrote the original piece. The methods and motivation behind transcribing varied, and it was a very popular activity, since there were not yet any regulations governing this type of 'output'. There was no such thing as copyright in the seventeenth and eighteenth centuries assuring composers of the sole rights to their works. During the Enlightenment, all kinds of technical and artistic output began to be appreciated, with the creators of material and immaterial products regarded as their owners. France was the cradle of the protection of creative rights (technical, literary and artistic), as was expressed in two laws: in 1791, the legal protection of inventions; in 1793, the protection of literary and artistic works. This question ←78 | 79→was ultimately resolved with the Berne Convention on the protection of literary (scientific) and artistic property of 1886.176 During the first half of the nineteenth century, publishing rights were in force, thanks to a decree of 19–24 June 1794.177 Chopin, when living in France, possessed the same rights as French composers. So he sold his compositions to publishers, who purchased full rights to them and could make them available to transcribers or cede those rights to other publishers on the territory of France. It was important that the first registered edition of a work occur in France. In cases where a first edition was issued abroad and a publisher succeeded in issuing that work as a reprint from abroad without the composer's consent, that work automatically became 'public property', accessible to everybody. And it was those two elements – 'public property' and the extensive rights of a publisher at the moment he acquired a given composition – that provided very easy access to first editions and enabled them to be used in full.178
Those principles held sway in France during the first half of the nineteenth century, but on 5 December 1887 the Berne Convention of 9 September 1886 came into force.179 Under that convention, artistic and literary output was subject to international protection, with penal and civil liability for infringing an author's rights. Important for our considerations is article 6 bis of the 1928 version of the convention: '(1) Independently of the author's economic rights, and even after the transfer of the said rights, the author shall have the right to claim authorship ←79 | 80→of the work and to object to any distortion, mutilation or other modification of, or other derogatory action in relation to, the said work, which would be prejudicial to his honor or reputation'. In article 12 of the 1908 version, we read: 'The following shall be especially included among the unlawful reproductions to which the present Convention applies: unauthorized indirect appropriations of a literary or artistic work, such as adaptations, musical arrangements, transformations of a novel, tale, or piece of poetry into a dramatic piece and vice versa, etc., when they are only the reproduction of that work, in the same form or in another form without essential alterations, additions, or abridgments, and do not present the character of a new original work'.180 This paragraph applies to most Chopin adaptations, with the exception of Liszt's paraphrases and others that 'present the character of a new original work'. Therefore, if this law had been observed during the nineteenth century, the phenomenon of Chopin transcriptions could have been of a different character. The problem is that the duration of the legal protection of an artistic work was not exactly specified; not until the 1948 conference was it decided that it would constitute the lifetime of the author plus a minimum of fifty years after his death.181 And even if such regulations had applied during the nineteenth century, the final year for the protection of Chopin's work would have been 1899. So illegal transcriptions would have been those produced between 1887 (the date the legal act arose) and 1899.
So the legal instruments in force during the nineteenth century had not the slightest influence on transcriptions produced at that time. There were also few voices of protest against the procedure of 'distorting and mutilating' an original work. They appeared in the form of the above-mentioned open letter to publishers issued by Hector Berlioz in the press and in the correspondence of Chopin himself. Michał Biernacki, in a special edition of the Echo Muzyczne on the fiftieth anniversary of Chopin's death, wrote as follows:
they represent waltzes, mazurkas, nocturnes, polonaises, miscellanea, extracts, why, even etudes, in reworkings that are usually paltry, workmanlike, reckoning neither with the chosen subject nor with the properties of the instrument which they 'delight', and so often mutilating and masking the ideas of the musical Raphael, as Heine called him.182
←80 | 81→
Those words referred only to a certain group of arrangements which were, in Biernacki's opinion, worthless collections of transcriptions – 'cheap editions' published by Peters, Litolff, Schubert and Schmidt. In the same text, Biernacki also presented a sizeable group of worthy arrangements.183
A similarly dualistic attitude towards arrangements was evinced by Chopin himself, who expressed his disapproval, yet at the same time, without issuing his clear opposition, gave his consent for them. In the first of a series of three letters to Tytus Woyciechowski, Chopin merely stated the facts:
The young Moriolówna sent me a laurel wreath; even today I received poems from someone or other. Orłowski has composed a lot of mazurkas and waltzes on themes from my Concerto; Sennewald, Brzezina's partner, asked me for my portrait, but I couldn't allow it, as that would have been too much at once, and I have no wish to be wrapped up in butter, as happened with Lelewel's portrait.184
Orłowski's arrangements, like the laurel wreath, poem and portrait, expressed a listener's admiration of Chopin for his wonderful playing in the concert given in Warsaw on 17 March 1830. Of the four forms of that admiration, only the desire to immortalise Chopin's likeness met with the composer's distinct opposition; the remainder, including Orłowski's arrangements, were received without comment – without delight and without aversion to the arrangements themselves. In his next letter, however, he expressed his dissatisfaction that those adaptations had been published:
Apropos, among the amusing items of news is the fact that Orłowski has made mazurkas and galopades from my themes, which, however, I asked him not to have printed.185
This information represents a postscript to a lengthy letter, and it clearly shows Chopin's displeasure with the adaptations themselves, which he found rather frivolous, and above all his unhappiness at their publication. In the third letter, he justifies his indecision, and thereby consents to the publication of the transcriptions. We find his motivation for such an attitude by placing those words in the broader context of the letter:
Dmuszewski is ever the same, telling lies, creating various scandals for himself; I ran into him yesterday, and he gave me the hilarious piece of news that he would place some sort of sonnet for me in the Courier. I asked him for the love of God not to do anything ←81 | 82→stupid; 'it's already in print', he answered with a servile smile, thinking that I probably ought to be pleased at the honour I had received. Oh, what favours misunderstood! Once again those whom I have wronged will have the opportunity to sneer. As far as the mazurkas on themes of mine are concerned, a mercantile desire for profit has taken the upper hand. I don't wish to read anything more of what people are writing about me, or listen to what they say.186
It seems that Chopin was overwhelmed by his celebrity and the interest shown in him in the press and in conversations in society. His disapproval of the arrangements concerned not so much their quality (there is no mention of this), but the fact that their existence contributed to his fame; they were 'favours misunderstood'. Ultimately, however, the financial gains he derived from their publication led the composer to find peace with the world and with himself.
In a letter to his family, Chopin wrote positively about the arrangements by his friend Auguste Franchomme:
Today at 4 I have friends visiting from Tours – (Forest), for whom I promised to play the sonata with Franchomme. He rewrote, as you know, my Sonata with march for orchestra – and he brought me one notturno yesterday to which he set the words to O salutaris, and which sings well.187
In the 1840s, performing with Pauline Viardot at the Salle Pleyel in Paris (1842188) and in England, Chopin agreed to the performance of his mazurkas in versions for voice and piano with a French text. He wrote about this in a letter to Wojciech Grzymała:
And yesterday, at a concert in Covent Gard[en], Mrs Viardot sang my mazurkas, and they made her repeat them. She came to see me with her husband upon her arrival. I returned the visit, but I didn't find them in. She was wearing a different face than in Paris, and, without my asking, she sang my things. She appeared in Sonnambula in the same theatre as Brisi, Persiani, Alboni, Mario, etc. That theatre (Covent Gard[en]) competes with the Queen's theatre (Haymarket), where Lind and Lablache are performing. Mrs Lind also appeared for the first time in Sonnambula. […] Mrs Viardot had less success.189
He also mentions this in a letter to an unknown addressee in Paris:
←82 | 83→
I saw Mrs Viardot here again, most charming. She was so kind as to sing my mazurkas in a concert at her theatre, even though I had not asked her to at all.190
In the content of both these letters, we do not notice any antipathy on Chopin's part with regard to Viardot's arrangements, but rather satisfaction that they were performed by such an excellent singer. Chopin was not averse to transcribing himself, and he produced several transcriptions of his own works, two of which are known: arrangements of the Rondo in C major, NE 15 for two pianos (the original version is for one piano) and the Grand Duo concertant in E major for piano for four hands (the original is for piano and cello).
Throughout the nineteenth century, there were no robustly positive or negative assessments of Chopin transcriptions. Much later, Janusz Miketta, on the pages of Ruch Muzyczny, condemned vocal versions of Chopin and also the music adapted for the ballet Les Sylphides, declaring that Chopin's perfect music was untouchable, which made dancing and singing it tantamount to sacrilege.191 A similar attitude was adopted by Krystyna Kobylańska, who described adaptations of Chopin's works as 'beautiful things with fake noses, rouged, with shortened legs, or on stilts'.192 Irena Poniatowska also assigned arrangements and transcriptions to the trivial sphere of the popularity of Chopin's works.193 In my opinion, Kobylańska's paraphrase undeservingly disqualifies all transcriptions to the same extent as Poniatowska's aesthetic classification homogenises a qualitatively diverse body of sources. It should be stressed that besides a number of popular (easy) arrangements, we also have transcriptions produced by such composers as Liszt, Reger and Kreisler. Such unequivocally negative attitudes towards transcriptions were characteristic of twentieth-century thinking on music and accorded with an idea contained in the above-mentioned article 12 of the law on the protection of intellectual and creative property. Although Chopin's compositions were written too late to be covered by such protection, the safeguarding of a composer's personal rights applies continuously and may always be used as an argument when the effects of a transcriber's work violate a work's integrity or undermines the good name of the composer of the original work. However, this is a very slippery matter, since no law fixes the norms and limits of 'iconoclastic' arrangements and interpretations of familiar works. As Janusz Barta writes: 'A sense of the inability ←83 | 84→to directly interfere in the writing and publishing of arrangements and ignorance of the original composer's attitude towards them may engender a legal oversensitivity among third parties in relation to the violation of the reputation of recognised masters through the representation of their output in a modified form. Yet in determining the limits to the free usage of works no longer in copyright, one cannot entirely overlook the value of the newly written reworkings and arrangements'.194 So assessments of the phenomenon of Chopin transcriptions in both the nineteenth and the twentieth century are based on aesthetic and socio-historical criteria, with legal criteria the least significant.
2.4 The cultural contexts of the social reception of transcriptions of works by Chopin (taking nineteenth-century Wrocław as an example)
The context of a musical work is expressed through the definition of its social causes, the indication of social traces left in the work and the social production of its meanings (the dissemination of those meanings).195 In light of the profiling of transcribers and the publishing market, two questions arise. Did the socio-cultural situation stimulate the work of both and affect the choice and character of the works written and published? Is that social trace visible in Chopin transcriptions?
The two strands of Hausmusik and Salonmusik were characteristic of nineteenth-century European musical culture.196 Music making in the home was based on the bourgeois Biedermeier style.197 Hausmusik was linked to the ←84 | 85→image of a German bourgeois family which spent its entire social and cultural life in peace, which favoured meetings among family, friends and acquaintances. 'House music' was closely related to the place it was cultivated. It accompanied everyday life in the home, so was warm, sincere music, devoid of the barriers, finery and exaltation of the salons and concert halls. The task of Hausmusik was to emotionally soothe those involved and to separate them from the musical grand monde. In domestic music making, the musicians (singers and instrumentalists) were at the same time also the listeners; thus the division into performers and audience was blurred. Music making in bourgeois homes was based on playing the piano, which stood in nearly every home, in its 'proper' guise or in 'substitute versions' (Flügel, Tafelklavier, Pianino).198 The Hausmusik repertoire was varied, covering not only various kinds of medley, potpourri, collections of popular songs, reworkings, and so on, but also original music. According to an opinion presented in Neuen Musik-Zeitung in 1902, Hausmusik was 'professional music, genuinely passionate, religiously exalted and created in genuine concentration', with examples including Schumann's Kinderszenen and Mendelssohn's Songs without Words.199
Hausmusik as thus defined impressed its semantic and social mark on Chopin transcriptions issued by German publishers. The 'domestic' character of numerous arrangements is suggested by their publication in popular collections and by their forces: they were scored for piano for four hands, for easy piano and for voice and piano. One must remember, however, that those features enabled people to become acquainted with the great music of Fryderyk Chopin and, crucially, in most arrangements the form of that music remained unaltered, the only possible differences deriving from the responsibility for their performance being shared by two people.
The repertoire of nineteenth-century salon music – music intended for the elegant, distinguished society that gathered in the drawing-rooms of wealthy townsfolk and aristocrats – was based mainly on French music.200 Alongside ←85 | 86→piano compositions (for piano or with piano accompaniment), one of the forms of music making in the salons consisted of chamber music (mainly string quartets by such composers as Zemlinsky and Debussy).201 The commercialisation that engulfed music during the second half of the nineteenth century brought the opportunity of financial gain, which encouraged serious musicians to write salon pieces and publish them under pseudonyms.202 Thus arose a dual division into high and low music. The former was free from the musical demands of the public, so from the tastes of potential listeners; low music, meanwhile, kept those tastes in mind. The different appraisals of salon music resulted from the different ways in which it was understood. The boundaries between good and bad salon music were always fluid and depended on individual works. Such a state of affairs is confirmed by the above-quoted opinions of nineteenth-century figures to have influenced culture, who often displayed a kind of dualism in their definitions of salon music.203
During the nineteenth century, the term 'salon' had many different uses.204 Robert Schumann, for instance, employed the notions of Salonvirtuosen (Eduard ←86 | 87→Röckel, Theodor Döhler, Sigismond Thalberg), Salonkomponisten (J. Stocks) and Salonspieler (Thalberg). He also spoke of salon manners (Salonmanier) and works (sentimentales or brillante Salonstücke). In 1836, Schumann distinguished two kinds of salon characteristic of his day: aristocratic and bourgeois.205 The former type defined a circle of enlightened people for whom music was an important art. This salon remained under the patronage of the aristocracy and the intellectual auspices of prominent, great composers. The second type was dubbed 'tea circles' (Teekränzen), for which music merely made conversation more pleasant; so it was an art of little importance, which discharged a social function.
Within 'high' salon music, Schumann distinguished three varieties: (1) the superior form of salon music that was the music of Chopin, (2) virtuosic music, (3) romantic-leaning music.206 And assessments of this salon music, as broadly understood, varied. Chopin's Waltz in A flat major, Op. 42, for example, was described as a 'salon piece of the noblest art'.207 Similarly appraised was the salon music of Thalberg, whom Schumann placed higher than his predecessor (Czerny), although over time he noticed a distinct decline in the quality of such music among the pupils of Thalberg and Bellini. In 1843, he was already questioning its value, drawing attention to its superficiality, which resulted from a combination of sentimentality and bravura piano playing. It clearly became low music aimed at dilettantes.208 Schumann had a special term for compositions based on arrangements of themes from other works: 'kleiner Salonstil'.
It was not just Schumann who passed judgment on salon music. From 1853, we have Friedrich Wieck's term 'bessere Salonmusik', which was represented by Chopin nocturnes and waltzes, and compositions by Stephen Heller, Schilhoff, Henselt and Carl Meyer.209 Somewhat later, in 1865, Louis Köhler, in characterising the piano literature, distinguished five genres in which salon pieces and works of 'Unterhaltungsmusik' could be found, clearly distinguished from compositions of the exercise and study kind, works from the Classical and neo-Romantic literature (Beethoven, Brahms, Schumann, Kirchner, Klengel, Chopin's sonatas) and virtuosic works (Czerny, Hummel, Herz, Thalberg). Another author, Louis Ehlert, distinguished low ('niedrigster') and high ('höchster Gattung') genres of music. To the former, he assigned salon music; among the latter, he included compositions by Bach, Beethoven, Schumann, Franz, Brahms, Kirchner and ←87 | 88→Kiel. Yet that same Ehlert, in 1879, with works by great nineteenth-century composers in mind (Mendelssohn, Chopin, Rubinstein, Liszt, Gounod, Saint-Saëns, Schubert), defined salon music as 'graceful, devoid of triviality and base thoughts', as 'music for the educated world'.210 A duality in the understanding and judgment of salon music was also indicated by Eduard Krüger, who in 1878 defined it as 'dilettantish amusement in the parlour and the salon, which varies wildly between great virtuosity and mystical holiness'.211 Elsewhere, he used the word 'Salon' in a positive sense when evoking Viardot-García, Gounod and Saint-Saëns, stating that 'the salon is the temple of domestic music making (Hausmusik212)', whereby he conflated two musical-sociological phenomena: Salonmusik and Hausmusik.
During the 1870s, a new term appeared, 'moderne Salonmusik', this time defining unequivocally the morphological features of works thus described. These were compositions in the style of Italian arias, distinguished by their cantilena melody and the symmetrical design of their musical sentences, and intended for piano for four hands, piano, violin, cello or flute and piano. The term 'moderne Salonmusik' was normally used for works written to public commission, marked by the tastes of those who commissioned them, often intended for beginners playing solely for pleasure ('Unterhaltungsmusik').213 Also dating from those times is the term 'vornehme Salonmusik' (elegant salon music), which was used in reference to the music of Max Reger.
According to views characteristic of the nineteenth century, the salon music of those times was varied and fell into two semantic ranges: artistic and non-artistic. Both the art understood as pseudo-art, or 'niedrige Salonmusik', and its opposite, 'high', or 'gehobene', salon music endured into the early twentieth century. The question of 'niedrige Salonmusik' was discussed by Hans Christof Worbs, who defined it as popular, simple, direct and sentimental music for the masses.214 Unlike high music, closely linked to the compositional act of creation, salon music was perceived as an act of craftsmanship. Worbs pointed out that salon music was linked above all to ladies from the bourgeoisie who played the piano at every time and in every place. With this observation, he assimilated ←88 | 89→salon music with Hausmusik. Worbs unequivocally presented this music as a kitsch, sentimental property of music making in the home, in which women led the way. To back such an assessment, he drew on a term used by nineteenth-century music critics who classified it as 'suitable nourishment for the musical riff-raff'.215
This very general profile of two forms of nineteenth-century musical life, Hausmusik and Salonmusik, was based on German musicological thinking.216 As can be seen, the character of these phenomena and their interpenetration prevents us from giving clear, concise definitions. Detailed information on the subject of salon music can also be found in the work of Irena Poniatowska,217 who precisely characterises salon compositions and defines the features of their basic musical elements.218
Both 'house' and 'salon' music were closely linked to the musical realities of the nineteenth century. They were phenomena of a social character, since they were associated not so much with specific musical genres and their unequivocal structure and character, as with the place where music was made and the social class to which the music was addressed. The selection of specific repertoire resulted from the musical training of the salon-goers and the German bourgeoisie, since compositions regarded as 'salon' could be heard just as well during family music making, and the standard example of Hausmusik, Robert Schumann's Kinderszenen, could also be performed in the salon. And for the same reasons, arrangements of works by Chopin are termed both Haus- and Salonmusik. That is confirmed by the chamber-like character of the forces employed, which made it possible to perform an adaptation not only for a large audience, but also for a small group of listeners gathered in a bourgeois parlour or an aristocratic salon.
A clear social trace in transcriptions generated their meanings: in the collection of Chopin arrangements, we find some that may present the so-called kleiner Salonstil, representing (according to Schumann's definition) work based on arrangements of themes from other compositions. Ascribed to the 'Unterhaltungsmusik' strand should be primarily those Chopin arrangements which do not have the character of an exercise or a study and are not highly ←89 | 90→virtuosic compositions. Adaptations corresponding to the term 'moderne Salonmusik' are transcriptions for piano, for piano for four hands, for violin, for cello or for flute and piano intended for beginners. Representative of 'vornehme Salonmusik' and 'bessere Salonmusik' are the refined arrangements by Liszt, Reger, Godowsky, Viardot and others. However, that production of the meanings of Chopin arrangements creates terminological turmoil and is not conducive to a clear classification of transcriptions. We realise that the same adaptations could have been (and indeed were219) performed for a broad audience gathered in concert halls, upon which they acquired another meaning: they became concert works.
The historical changes in music reception, understood as the way a musical work is heard, interpreted and experienced, can be traced on the basis of the crucial element of culture that is music criticism.220 That provides the principal material for studying music reception in a particular time and milieu.221 From our considerations thus far, we know that transcriptions were present throughout Europe and undoubtedly functioned within the strands of 'salon' and 'house' music. They also contributed to concert life, as we learn from the above-mentioned letters by Chopin. The question of the reception of transcriptions in light of nineteenth-century music criticism has yet to attract the interest of scholars, so the attempt made here is of a pioneering character. The issue worded in the title of this subchapter indicates a distinct confinement of the research field to the city of Wrocław.222 That limitation was necessary due to the character of the concert reviews themselves and also the problems with accessing them: the only way of gathering together these scattered opinions was to survey the press from the period 1830–1900.223
During the second half of the nineteenth century, Wrocław was a powerful industrial and cultural centre, expanding economically in a similar way ←90 | 91→to other European cities.224 The development of the city's musical culture, subordinated to economic pressures, served the large burgher class and was expressed in the work of the opera house, in active concert life, in the church music movement and in widespread music making in the home. Lying on a main communications route, Wrocław was able to welcome many outstanding figures of the musical world who were familiar in Warsaw, Poznań, St Petersburg, Dresden, Leipzig, Berlin, Vienna, Paris and London.225 As Maria Zduniak writes: 'Throughout the nineteenth century and in the early twentieth century, travelling musicians willingly and frequently visited Wrocław. Among the well-known instrumentalists, conductors and vocalists to perform in Wrocław were the Pixis brothers, Ludwig Spohr, Angelica Catalani, Henriette Sontag, Johann Nepomuk Hummel, Niccolò Paganini, Clara Schumann, Henri Vieuxtemps, Ole Bull, Anton Rubinstein, Franz Liszt, Hector Berlioz, Heinrich Wilhelm Ernst, Sigismond Thalberg, Hans von Bülow, Jenny Lind, Richard Wagner, Adelina Patti, Pauline Viardot-García, Johannes Brahms, Pablo Sarasate, Désirée Artôt, Joseph Joachim, Edvard Grieg, Ferruccio Busoni, Pietro Mascagni, Eugène Ysaÿe, Felix Weingartner, Jacques Thibaud, Jan Kubelik, Richard Strauss, Wilhelm Backhaus, Artur Schnabel, Serge Koussevitzky, Wilhelm Furtwängler, Pablo Casals, Josef Szigeti, Alfred Cortot, Carl Flesch and Frederick Lamond.'226 Although the economic and cultural standing of Wrocław allows us to judge that the quality of the reception of Chopin transcriptions there was close to that in other centres, that represents just a fragment of the full picture that we would obtain by analysing the press of the centres of European cultural life of those times: Berlin, Paris, Vienna and London. However, that is an extremely difficult and laborious challenge for researchers, requiring many years of library and archive searches.
←91 | 92→
Indirect sources for such research are provided by the valuable studies of Maria Zduniak.227 Direct sources comprise concert announcements and reviews in the Breslauer Zeitung and Schlesische Zeitung. Announcements appeared in both those leading Wrocław newspapers, while reviews were published mainly in the former, two or three days after a concert. They took the form of very lengthy column pieces, published on the first or second page of the morning edition of the newspaper (Morgenblatt). Cultural events were also noted in the monthly Schlesische Provizialblätter, where theatrical events were discussed in detail in the 'Theaterbrief' rubric, while subscription concerts were merely mentioned in the Schlesische Chronik, which referred readers to the daily press (BZ and SZ). Yet not all the concerts announced in the press were subsequently reviewed. With this in mind, press sources may be divided into two groups: announcements and reviews. From the former, we learn of the date, venue and programme of a concert and also its performers; from the latter, we learn of the details of the performance and the assessment of the audience and the critics. All the source material, gathered as the result of a meticulous survey of microfilms, is included in an appendix to this study.
Based on information contained in Maria Zduniak's 'Chronological list of performances of works by Polish composers in Wrocław during the nineteenth century', I have prepared a 'Chronological list of performances of Chopin transcriptions in nineteenth-century Wrocław' (Table 26). Due to the large amount of information, it has been treated as an integral part of this chapter and forms the starting point for detailed discussion, organised according to the following questions: (1) Who performed the transcriptions? (2) Who wrote the transcriptions? (3) Which Chopin compositions were transcribed? (4) What was the quantitative contribution made by transcriptions to the musical reception of Chopin? (5) Of what character were the concerts in which transcriptions were performed? (6) How were the transcriptions assessed in the press?
Transcriptions were performed by Heinrich de Ahna, Désirée Artôt (twice), Leopold Auer, Michael Banner, Antonio Bazzini, Franz Bendel, Wanda Bogdani, Adolf Brodsky, Hans von Bülow, Bernhard Cossmann (twice), Leopold Damrosch (twice), Josef Drechsler, Adolf Fischer, Jettka Finkenstein, Ossip Gabrilowitsch, Charles Gregorowicz, Richard Himmelstoss, Lilli Höhnen, Mathilde Kaufmann, Paul Kindt, Julius Klengel, Lili Lehmann, Jenny Lind, Louis Lüstner, Alice Mattersdorff, Elza Menzel, Regina Moszkowska, David Popper, Alfred Reisenauer, Moriz Rosenthal (twice), Pablo Sarasate (five times), Paulina ←93 | 94→←92 | 93→←94 | 95→←95 | 96→←96 | 97→Szalit, Teresina Tua (twice), Erika Wedekind, Ludwig Wiedemann and August Wilhelmj (three times), and by the Legnica Orchestra and Beniamin Bilse (twice), the Eduard Strauss Orchestra and the Wrocław Concert Orchestra (four times). Those musicians sometimes included their own transcriptions in their repertoire, as well as well-known transcriptions by Sarasate, Liszt and Wilhelmj.
Table 26: Chronological list of performances of Chopin transcriptions in nineteenth-century Wrocław.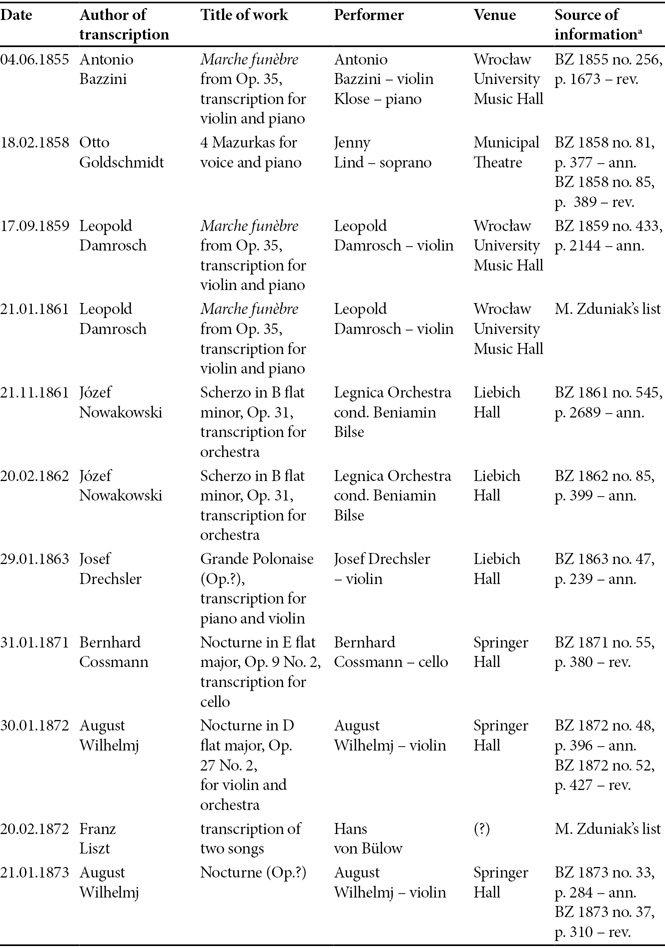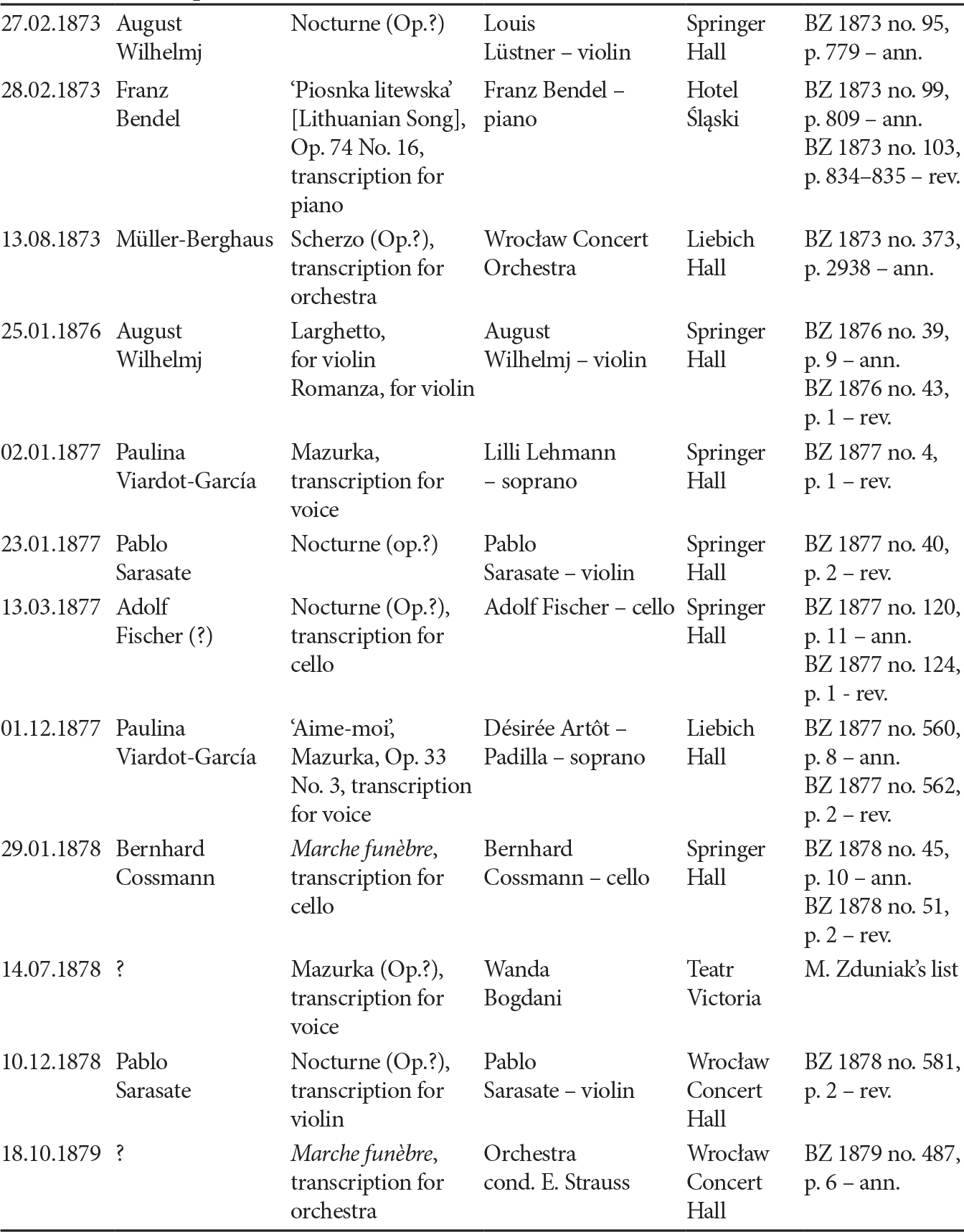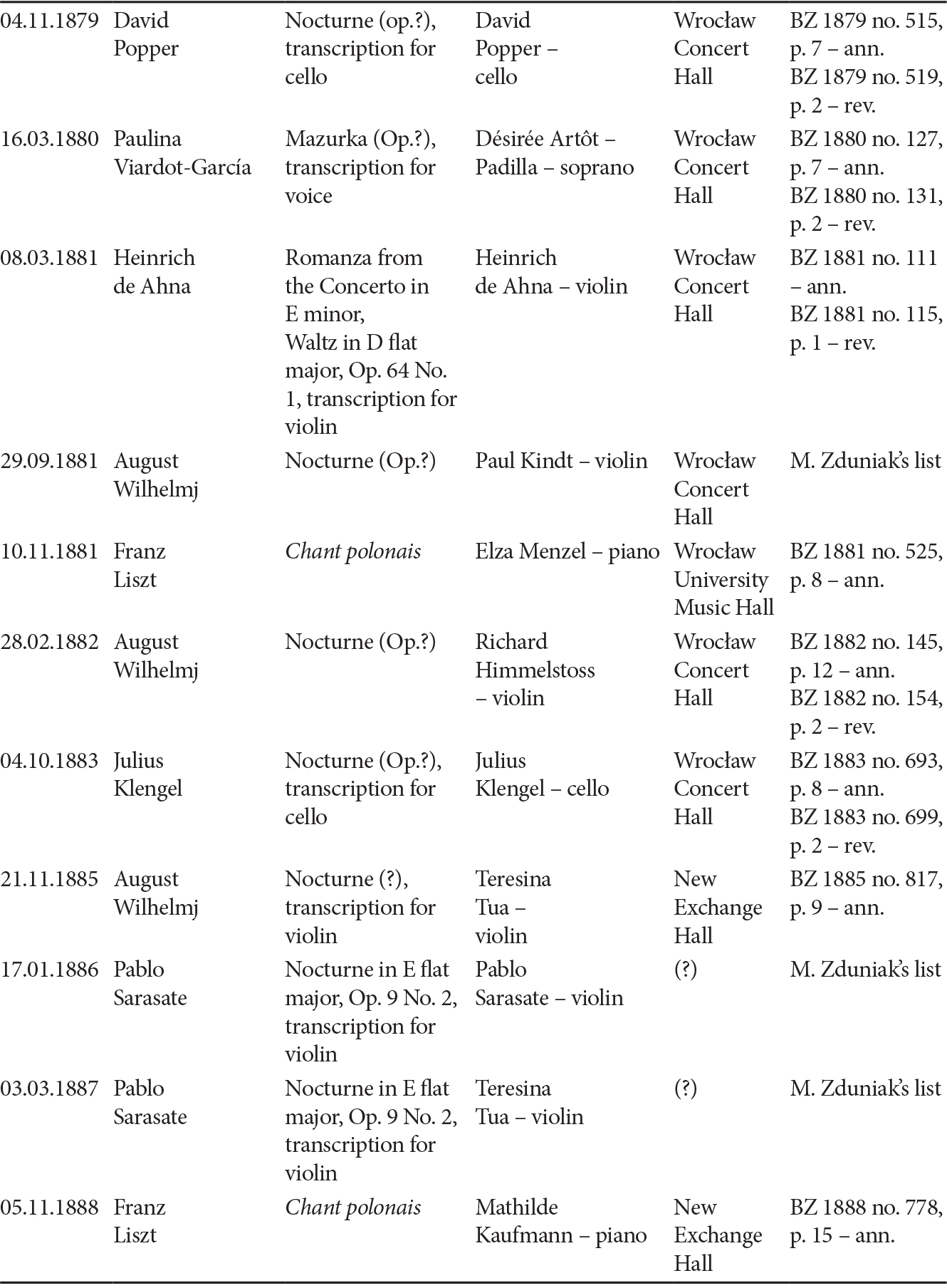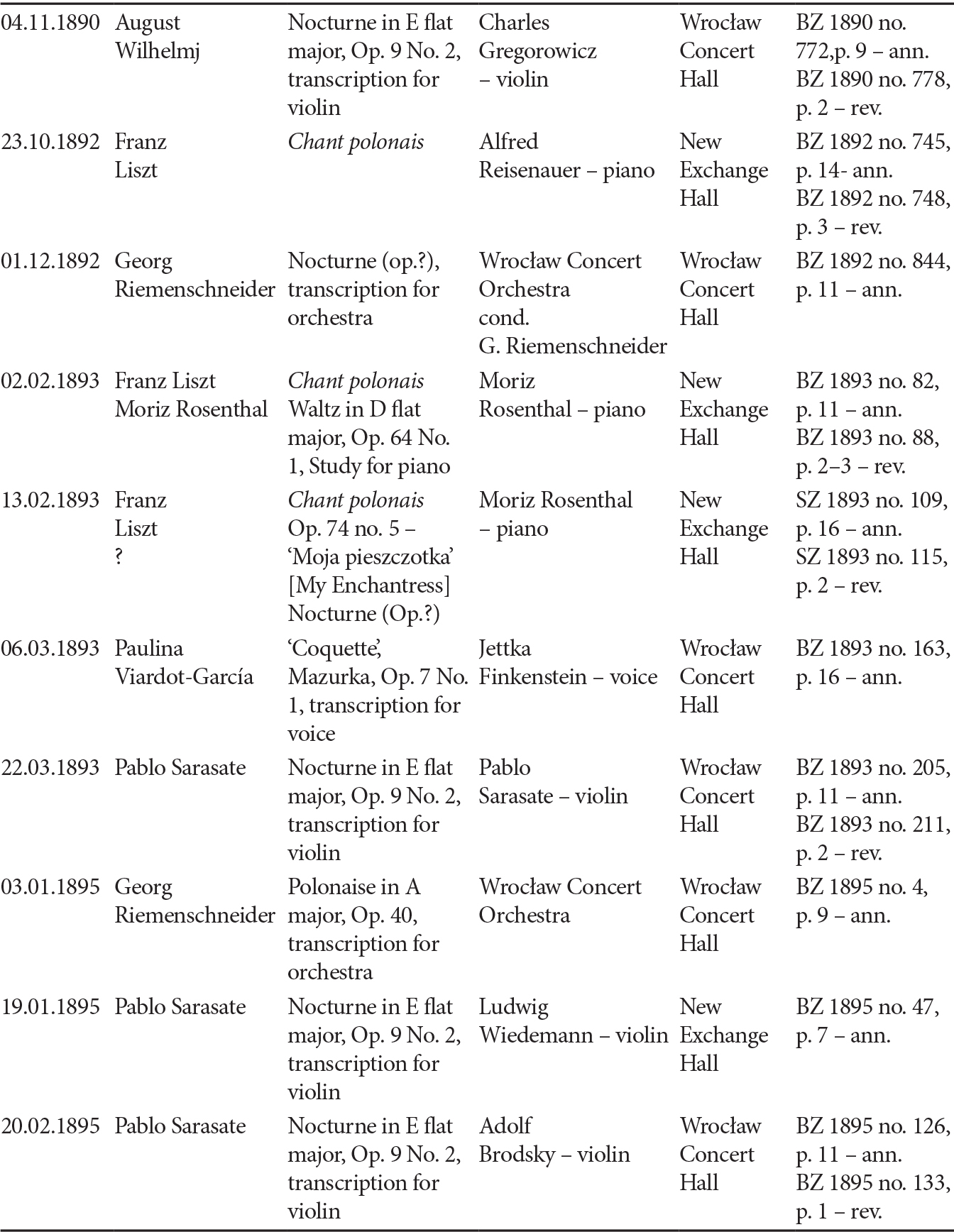 Date

Author of transcription

Title of work

Performer

Venue

Source of informationa

04.06.1855

Antonio

Bazzini

Marche funèbre from Op. 35,

transcription for violin and piano

Antonio

Bazzini – violin

Klose – piano

Wrocław University Music Hall

BZ 1855 no. 256,

p. 1673 – rev.

18.02.1858

Otto

Goldschmidt

4 Mazurkas for voice and piano

Jenny Lind – soprano

Municipal Theatre

BZ 1858 no. 81, p. 377 – ann.

BZ 1858 no. 85, p. 389 – rev.

17.09.1859

Leopold

Damrosch

Marche funèbre from Op. 35,

transcription for violin and piano

Leopold

Damrosch – violin

Wrocław University Music Hall

BZ 1859 no. 433,

p. 2144 – ann.

21.01.1861

Leopold

Damrosch

Marche funèbre from Op. 35,

transcription for violin and piano

Leopold

Damrosch – violin

Wrocław University Music Hall

M. Zduniak's list

21.11.1861

Józef

Nowakowski

Scherzo in B flat minor, Op. 31,

transcription for orchestra

Legnica Orchestra

cond. Beniamin Bilse

Liebich Hall

BZ 1861 no. 545,

p. 2689 – ann.

20.02.1862

Józef

Nowakowski

Scherzo in B flat minor, Op. 31,

transcription for orchestra

Legnica Orchestra

cond. Beniamin Bilse

Liebich Hall

BZ 1862 no. 85,

p. 399 – ann.

29.01.1863

Josef

Drechsler