REGIONAL IMBALANCES AND REGIONAL DEVELOPMENT POLICIES
TURKEY EXPERIENCE VOLUME 1
©2020
Edited Collection
202 Pages
Summary
The book subjects the regional imbalances and regional development policies. The book investigates the factors causing the regional imbalances. The book results that Turkey's policies struggles with the regional imbalance and Turkey should make more effective regional development policies.
Excerpt
Table Of Contents
Introduction Region, Regional Imbalance and Regional Development Policies: Haktan Sevinç
Chapter 1 Regional Income Inequality and Its Measurement: Sabri Azgün, Berna Ak Bingül and Demet Eroğlu Sevinç
Chapter 2 Regions and Sustainable Development: Sertaç Hopoğlu and Demet Eroğlu Sevinç
Chapter 3 The Relationship Between Regional Development and Regional Development Agencies: Nazım Çatalbaş
Chapter 4 The Innovation Systems from National to Regional Level: The Role of RIS in the Regional Development: Emine Demet Ekinci Hamamcı
Chapter 5 The Process of Regional Development in Turkey and the Interaction of Non-governmental Organizations: İdil Gülnihal Yazici
Chapter 6 The Impact of the Change in the Investment Incentive System Application in Turkey on Regional Income Convergence: Esra Doğan
Chapter 7 The Division and Specialization Proposals to Regions in Line with the Spatial and Sectoral Concentration Patterns of Turkey: Necmettin Çelik
Chapter 8 Regional Clustering in Social Service Workers: An Application with Three Star Analysis (2008–2017): Murat Çiftçi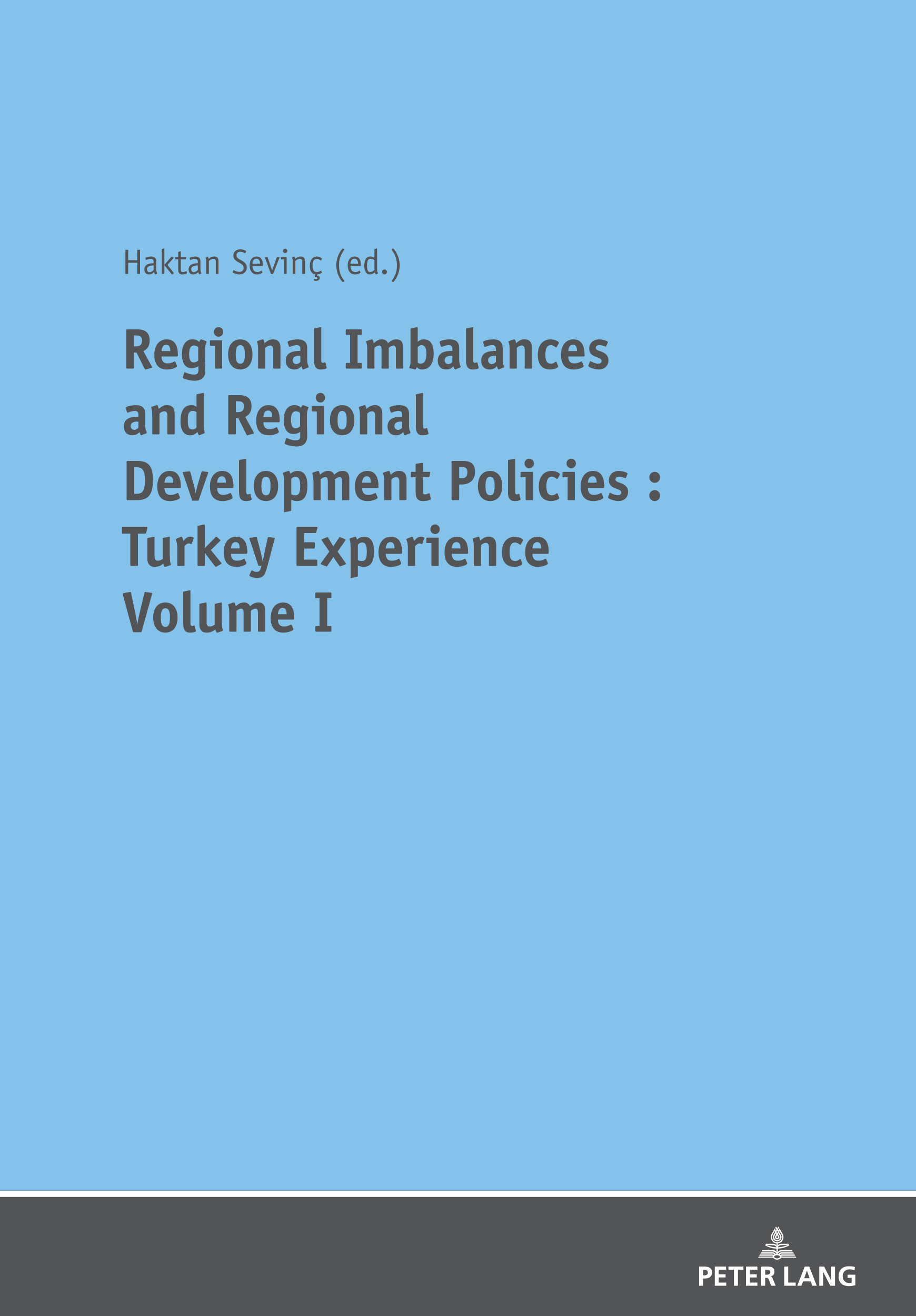 Haktan Sevinç (ed.)
Regional Imbalances and Regional
Development Policies : Turkey
Experience Volume I

Bibliographic Information published by the
Deutsche Nationalbibliothek
The Deutsche Nationalbibliothek lists this publication in the Deutsche
Nationalbibliografie; detailed bibliographic data is available online at
http://dnb.d-nb.de.
Library of Congress Cataloging-in-Publication Data
A CIP catalog record for this book has been applied for at the
Library of Congress.
ISBN 978-3-631-81368-3 (Print)
E-ISBN 978-3-631-82199-2 (E-PDF)
E-ISBN 978-3-631-82200-5 (EPUB)
E-ISBN 978-3-631-82201-2 (MOBI)
DOI 10.3726/b16971
© Peter Lang GmbH
Internationaler Verlag der Wissenschaften
Berlin 2020
All rights reserved.
Peter Lang – Berlin ∙ Bern ∙ Bruxelles ∙ New York ∙ Oxford ∙ Warszawa ∙ Wien
All parts of this publication are protected by copyright. Any
utilisation outside the strict limits of the copyright law, without
the permission of the publisher, is forbidden and liable to
prosecution. This applies in particular to reproductions,
translations, microfilming, and storage and processing in
electronic retrieval systems.
This publication has been peer reviewed.
About the author
The Editor
Haktan Sevinç is an Associate Professor of International Economics at the Ig˘dır University in Turkey. He holds a PhD from the Atatürk University in Turkey, where he works at the International Economics and Regional Development. His research interests include regional development, investment incentives and political economics.
About the book
Haktan Sevinç (ed.)
Regional Imbalances
and Regional Development Policies :
Turkey Experience Volume I
The book discusses regional imbalances and regional development policies. It investigates the factors that cause regional imbalances. It concludes that Turkey's policies to address regional imbalances do not meet their end and Turkey should devise more effective regional development policies.
This eBook can be cited
This edition of the eBook can be cited. To enable this we have marked the start and end of a page. In cases where a word straddles a page break, the marker is placed inside the word at exactly the same position as in the physical book. This means that occasionally a word might be bifurcated by this marker.
Preface
This book refers many regional disparities and regional development issues of developed, emerging or underdeveloped countries. Regional imbalances that arises because of economic, geographical, historical or sociocultural reasons, can turn into an important development problem when required preventions are not taken. Therefore, Turkey tries to solve its regional development problems by using regional development policy tools applied seen in many places of the World. For these purposes, each chapter of the book contains the effects and consequences of regional development policies carried out by specific characteristics of regions of Turkey. Therefore, I would like to express my gratitude to the authors who wrote these chapters.
Details
Pages

202

Year

2020

ISBN (PDF)

9783631821992

ISBN (ePUB)

9783631822005

ISBN (MOBI)

9783631822012

ISBN (Softcover)

9783631813683

DOI

Language

English

Publication date

2020 (April)

Keywords

Published

Berlin, Bern, Bruxelles, New York, Oxford, Warszawa, Wien, 2020. 202 pp., 6 fig. b/w, 12 tables.