Genesis
A Hypertextual Commentary
Excerpt
Table Of Content
Genesis and Deuteronomy
Date of composition
Place of composition
Chapter 1. Gen 1–3 as a sequential hypertextual reworking of Deut 1:1–2:1
1.1. Gen 1:1–2:3 (cf. Deut 1:1–5)
1.2. Gen 2:4–25 (cf. Deut 1:6–18)
1.3. Gen 3:1–19 (cf. Deut 1:19–40)
1.4. Gen 3:20–24 (cf. Deut 1:41–2:1)
Chapter 2. Gen 4–11 as a sequential hypertextual reworking of Deut 2:2–5:33
2.1. Gen 4:1–16 (cf. Deut 2:2–8)
2.2. Gen 4:17–5:32 (cf. Deut 2:9–18)
2.3. Gen 6:1–4 (cf. Deut 2:19–23)
2.4. Gen 6:5–8:19 (cf. Deut 2:24–3:12b)
2.5. Gen 8:20–9:7 (cf. Deut 3:12c–29)
2.6. Gen 9:8–19 (cf. Deut 4:1–20)
2.7. Gen 9:20–27 (cf. Deut 4:21–38)
2.8. Gen 9:28–10:32 (cf. Deut 4:39–49)
2.9. Gen 11:1–9 (cf. Deut 5:1–9)
2.10. Gen 11:10–32 (cf. Deut 5:10–33)
Chapter 3. Gen 12:1–22:19 as a sequential hypertextual reworking of Deut 6–13
3.1. Gen 12:1–9 (cf. Deut 6:1–19)
3.2. Gen 12:10–20 (cf. Deut 6:20–22)
3.3. Gen 13 (cf. Deut 6:23–7:9)
3.4. Gen 14 (cf. Deut 7:10–16)
3.5. Gen 15 (cf. Deut 7:17–8:10)
3.6. Gen 16 (cf. Deut 8:11–20)
3.7. Gen 17:1–9 (cf. Deut 9:1–10:15)
3.8. Gen 17:10–27 (cf. Deut 10:16–22)
3.9. Gen 18:1–19:29 (cf. Deut 11:1–7)
3.10. Gen 19:30–20:18 (cf. Deut 11:8–18)
3.11. Gen 21 (cf. Deut 11:19–28)
3.12. Gen 22:1–10 (cf. Deut 11:29–12:28)
3.13. Gen 22:11–19 (cf. Deut 12:29–13:19)
Chapter 4. Gen 22:20–36:43 as a sequential hypertextual reworking of Deut 14:1–23:9
4.1. Gen 22:20–26:35 (cf. Deut 14:1–2)
4.2. Gen 27:1–28:9 (cf. Deut 14:3–21)
4.3. Gen 28:10–22 (cf. Deut 14:22–26)
4.4. Gen 29:1–31:43 (cf. Deut 14:27–15:15)
4.5. Gen 31:44–32:2a (cf. Deut 15:16–16:17)
4.6. Gen 32:2b–33:17 (cf. Deut 16:18–20:9)
4.7. Gen 33:18–34:31 (cf. Deut 20:10–23:5)
4.8. Gen 35–36 (cf. Deut 23:6–9)
Chapter 5. Gen 37–50 as a sequential hypertextual reworking of Deut 23:10–34:12
5.1. Gen 37 (cf. Deut 23:10–24:22)
5.2. Gen 38 (cf. Deut 25:1–10)
5.3. Gen 39 (cf. Deut 25:11–19)
5.4. Gen 40 (cf. Deut 26:1–27:1)
5.5. Gen 41:1–32 (cf. Deut 27:2–26)
5.6. Gen 41:33–57 (cf. Deut 28:1–12)
5.7. Gen 42 (cf. Deut 28:13–22)
5.8. Gen 43 (cf. Deut 28:23–44)
5.9. Gen 44 (cf. Deut 28:45–57)
5.10. Gen 45 (cf. Deut 28:58–29:5)
5.11. Gen 46:1–47:12 (cf. Deut 29:6–21c)
5.12. Gen 47:13–26 (cf. Deut 29:21d–30:14)
5.13. Gen 47:27–31 (cf. Deut 30:15–20)
5.14. Gen 48 (cf. Deut 31:1–27)
5.15. Gen 49:1–50:1 (cf. Deut 31:28–34:5)
5.16. Gen 50:2–26 (cf. Deut 34:6–12)
General conclusions
Bibliography
Primary sources
General
Mesopotamian
Israelite-Jewish
Greek
Secondary literature
Index of ancient sources
Series index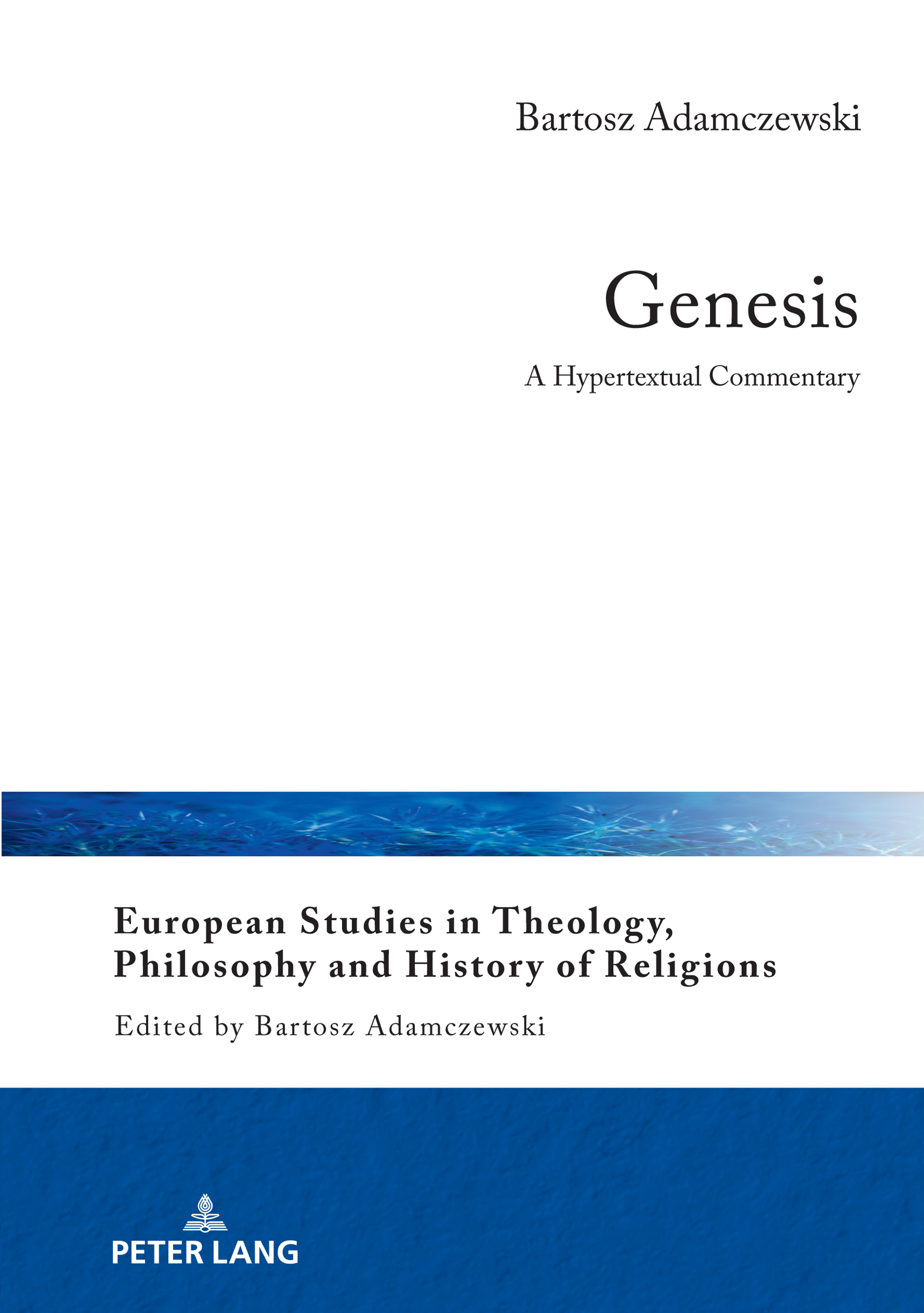 Bibliographic Information published by the Deutsche
Nationalbibliothek
The Deutsche Nationalbibliothek lists this publication in
the Deutsche Nationalbibliografie; detailed bibliographic
data is available online at http://dnb.d-nb.de.
Library of Congress Cataloging-in-Publication Data
A CIP catalog record for this book has been applied for at
the Library of Congress.
This publication was financially supported by
Cardinal Stefan Wyszyński University in Warsaw.
ISSN 2192-1857
ISBN 978-3-631-83756-6 (Print)
E-ISBN 978-3-631-83912-6 (E-PDF)
E-ISBN 978-3-631-83850-1 (EPUB)
E-ISBN 978-3-631-83851-8 (MOBI)
DOI 10.3726/b17720
© Peter Lang GmbH
Internationaler Verlag der Wissenschaften
Berlin 2020
All rights reserved.
Peter Lang – Berlin ∙ Bern ∙ Bruxelles ∙ New York ∙
Oxford ∙ Warszawa ∙ Wien
All parts of this publication are protected by copyright. Any
utilisation outside the strict limits of the copyright law, without
the permission of the publisher, is forbidden and liable to
prosecution. This applies in particular to reproductions,
translations, microfilming, and storage and processing in
electronic retrieval systems.
This publication has been peer reviewed.
About the author
Bartosz Adamczewski is Associate Professor of biblical sciences at Cardinal Stefan Wyszyński University in Warsaw (Poland). He has published eleven books and numerous articles on the relationships between biblical writings and also on their relationships with historical facts.
About the book
This monograph demonstrates that the book of Genesis is a result of highly creative, hypertextual reworking of the book of Deuteronomy. This detailed reworking consists of around 1,000 strictly sequentially organized conceptual, and at times also linguistic correspondences between Genesis and Deuteronomy. The strictly sequential, hypertextual dependence on Deuteronomy explains numerous surprising features of Genesis. The critical analysis of Genesis as a coherently composed hypertextual work disproves hypotheses of the existence in this writing of Priestly and non-Priestly materials or multiple literary layers.
This eBook can be cited
This edition of the eBook can be cited. To enable this we have marked the start and end of a page. In cases where a word straddles a page break, the marker is placed inside the word at exactly the same position as in the physical book. This means that occasionally a word might be bifurcated by this marker.
←10 | 11→
The style of this monograph is highly repetitive, resembling that of Gen 5. This 'minimalistic' style of scholarly analysis directs the attention of the reader to the hitherto unknown phenomenon of one thousand sequentially arranged, conceptual, but often also linguistic, hypertextual correspondences between Genesis and Deuteronomy. The discovery of this phenomenon radically changes our understanding of the book of Genesis: its origin, literary character, and theological ideas. It reveals that Genesis as a whole, and not just some fragments thereof (the story of Eden etc.), was consistently written as a hypertextual reworking of Deuteronomy.
The English translations of Hebrew words, phrases, and sentences of Genesis, which are used in this monograph, are often as literal as possible, even at the cost of incorrectness of the English grammar and style ('land' instead of 'earth,' 'do' instead of 'make,' etc.), to show the linguistic and conceptual connections between Genesis and Deuteronomy, which are often only detectable in the original Hebrew text.
The methodological approach adopted in this monograph is not based on any widely used modern exegetical method. These methods are generally based on various presuppositions, for example, that the biblical texts are similar to other ancient texts, that they have some diachrony, that they have some internal narrative coherence, that they convey some coherent ideas, etc., which are not necessarily true. The approach adopted in this monograph is therefore based on a close reading and a comparative analysis of the biblical texts as we have them, with paying particular attention to the order of their ideas and to their minor, somewhat surprising details, which are rarely scrutinized by other scholars. Thus, in a critical and verifiable way, it explains numerous data of the biblical texts which are very difficult to explain with the use of more widely known biblical methods, a feature which from a general methodological point of view constitutes its greatest advantage over them.1
←11 | 12→
This methodological approach was already adopted and refined in my earlier monographs concerning various biblical writings. These studies revealed that the sequentially arranged, hypertextual connections between the New Testament Gospels and their hypotexts can be counted not in tens, as I had earlier thought, but in hundreds.2 The present monograph likewise presupposes and develops the results of my earlier study on Genesis, in which I argued that there are thirty sequentially arranged, hypertextual connections between Genesis and Deuteronomy.3
According to the French literary theorist Gérard Genette, hypertextuality can be defined as any relationship uniting a text B (which is in such a case called hypertext) to an earlier text A (which is called hypotext), upon which it grafts itself in a manner that is not that of commentary.4 Accordingly, a hypertextual relationship of a given text to a hypotext by definition does not consist in directly commenting on the hypotext, its ideas, literary features, phraseology, etc. Therefore, a hypertextual relationship may include some linguistic connections between the hypertext and the hypotext, but it may also be purely conceptual. For this reason, although the presence of shared language, especially unique to two given texts, is a useful preliminary indicator of some kind of literary relationship between them, the volume of shared language should not be regarded as the primary criterion for detecting literary dependence between two given texts, especially ancient Near Eastern texts.5
←12 | 13→
My analyses of the phenomenon of hypertextuality in biblical writings reveal that the most important criterion for detecting a hypertextual relationship between two given biblical writings is the criterion of the order of their hypertextual correspondences. If two given works reveal conceptual and/or linguistic correspondences which follow a sequential pattern, it is reasonable to argue that the author of one of these works in a hypertextual way reworked the other work, preserving the basic sequence of its ideas, concepts, literary motifs, etc. In such a case, the relationship between these works may be called sequential hypertextuality.
Jeffrey M. Leonard makes use of this criterion in his identification of the allusive technique called 'narrative tracking.'6 Leonard's criterion of detecting the mimicking of the narrative structure of an earlier text in a later text can certainly be applied to the narrative parts of Deuteronomy and Genesis (God showing the good land, the entry to the paradisiacal land, the original sin of regarding good as bad, the expulsion from the paradisiacal land, dealing with a weaker brother, etc.). However, the phenomenon of the common order of ideas, concepts, motifs, specific vocabulary, etc. can be much broader than that of the presence of 'narrative tracking' because it can also be detected in non-narrative or only partly narrative texts.
In the cases in which the level of verbal agreement between the conceptually corresponding fragments of two given works is very low, and consequently the relationship between both works is truly hypertextual, the criterion of order is particularly useful. In such cases, the weakness of purely linguistic signals of literary dependence (quoted or imitated sentences, reproduced characteristic phrases, characteristic vocabulary, etc.) is recompensed by the consistency of the strictly sequential reworking of the conceptual elements (ideas, images, arguments, references to time, directions of movement in space, actions taken, features of the characters, etc.) of one work in the other one.
The criterion of the common order of the conceptually and/or linguistically corresponding elements is particularly compelling if it refers not only to larger thematic sections or pericopes, but also to individual sentences or even clauses, phrases, and words. In such cases, the argumentative force of this criterion is ←13 | 14→very high, even if the level of verbal or formal agreement between the compared texts is quite low. It should be admitted that the detection of a sequence of several similar elements, which is often used in structuralist-oriented scholarship for postulating the existence of various chiastic, concentric, and parallel patterns in biblical texts (ABCDC'B'A' etc.), can be regarded as more or less subjective. However, the degree of interpretative objectivity is much higher if the detected common sequence of conceptually corresponding elements consists of tens or hundreds of sequentially arranged items.
Moreover, instead of placing great emphasis on the presence or absence of shared language in two given texts, the analysis of literary dependence, especially that of a highly creative, hypertextual kind, may be based on the criterion of noticing and explaining the presence of somewhat surprising features in the later text.7 David M. Carr points to the presence of such features in the so-called 'blind motifs.'8
Details
Pages

288

ISBN (PDF)

9783631838495

ISBN (ePUB)

9783631838501

ISBN (MOBI)

9783631838518

ISBN (Book)

9783631837566

Language

English

Publication date

2021 (January)

Tags

Published

Berlin, Bern, Bruxelles, New York, Oxford, Warszawa, Wien, 2020. 288 pp.