Transformation of the Industry in a Brand New Normal:
Media, Music, and Performing Arts
©2022
Edited Collection
236 Pages
Summary
Transformation of the Industry in a Brand New Normal: Media, Music, and Performing Arts is a collection of contemporary research and interpretation that aims to discover the industrial
transformation in media, music, and performing arts. Featuring coverage of a broad range of topics,
including film studies, narrative theory, digital streaming platforms, subscription video-on-demand
services, marketing, promotional strategies of video games, distant music practices, music ecosystems,
contemporary orchestras, alternative music scenes, new voice-over techniques, changing
conservatory education methods, and visual arts, this manuscript of selected chapters is designed
for academics, researchers, media professionals, and students who intend to enhance their understanding
of transformation in media, music, and performing arts.
Excerpt
Table Of Contents
Cover
Title
Copyright
About the author
About the book
This eBook can be cited
Table of Contents
Evolution of Video on Demand Platforms' Revenue Models and Advertising Strategies Based on the Demand of Consumers/Audiences (Şafak Şahin, Neslihan Anul Yılmaz, and Yiğit Emre Özaltın)
No Need for a Camera Anymore: Hey There! (2021) and the New Digital Film Style in the Post-Pandemic Era (Sırrı Serhat Serter)
Transformation of Justice League (2017) to the Snyder Cut (2021) in the Digital Streaming Era: The Case of the Movie's Re-Release on HBO Max Four Years After the Global Theatrical Release (Tuna Tetik)
Local Case to Global Phenomenon: The Vanishing of Elisa Lam in the Digital Streaming Era (Ece Arıhan and Dilay Özgüven Tetik)
The Use of the Green Marketing Concept in Brand Communications: The Case of the H&M Fashion Brand (Hande Bilsel and Melike Gezgin)
"Immersion" as a Promotional Strategy: Case of Cyberpunk 2077 (Görkem Bir)
The Experience of Distant Music Practices in Istanbul in the Times of COVID-19 Pandemic (Aslıhan Adlin and Özlem Ayça Boyacıoğlu)
Re-culturation in Music Ecosystem: Digital Music Villages in Turkey (İsmet Aydın)
A Short Review on the Orchestras: From West-Eastern Divan Orchestra to the YouTube Symphony (Erman Türkili)
Independence in Music: Changing Experiences and Definitions in Turkish Alternative Music Scene (Nil İpek Küçükbaşlar)
The Adoption of Digital Devices Among Voice-Over Artists (Ömer Vatanartıran)
Transformation of Conventional Conservatory Educational Methods in Turkey During Pandemic (Bülent Sezgin)
Conclusion: Solidarity in Practice and Distribution of Precarity during the COVID-19 Pandemic Among Visual Artists (Nora Tataryan Aslan)
List of Figures
List of Tables
Biographines of the Authors
Şafak Şahin, Neslihan Anul Yılmaz, and Yiğit Emre Özaltın
Abstract: Hundreds of thousands of different digital content, including billions of hours of video content, are consumed daily on digital platforms. Whether it is social media like YouTube or global subscription video on demand services like Netflix, this enormous interaction enables firms to reach their customers via these platforms by using all different advertising methods. Nevertheless, many of these digital platforms are now offering add-free memberships, forcing companies and advertisers to find more creative advertising models. Paid memberships of these platforms, especially digital entertainment content platforms, made it possible to purchase a membership with different versions for almost every user budget. Therefore, revenue, income, and monetary models have become more important in today's marketing era. This chapter aims to explore leading digital platforms, covering both traditional and more creative ones. First, platforms are categorized and explained as digital streaming platforms. After categorization, streaming platforms are discussed, and different business models are presented. All platforms' revenue models and growth strategies are discussed by giving examples from different areas of the world. Besides, the forecast of these platforms' performances is shown in the light of the researches and reports. Not only forecast but also the trends, demands and attitudes of consumers/audiences are mentioned and explained in this chapter.
Keywords: SVOD, AVOD, TVOD, Digital Platforms, Revenue Models, Consumer Behavior
Introduction
In the field of advertising, like the other marketing communication areas, the models and structures have changed due to the new developing platforms. These platforms differ from media to media and are described based on their different features, such as revenue, subscriptions, and working models. In recent years, social media platforms have become so popular due to their social effects and their contribution to the marketing area (Lee, 2019; Schomer, 2019; Palomba, 2020). Brands, corporations, organizations, and even political parties compete to detect, analyze, and reach their target audience on social media platforms. Besides, new content platforms have also become an essential media with their rich content, and this situation affected the marketing strategies of the companies ←17 | 18→because of the segmentation issues. There are different approaches and models of these platforms to reach and catch the target audience. It is important to describe these models to understand their change, especially the revenues and investments of these platforms.
The primary category term for these platforms is OTT (over-the-counter) in general. It covers all groups within the scope of direct internet to consumers. It is a subsystem of VOD, and it differs from TV with its internet feature. Under this platform, there are three main categories of content with different subscriptions and models, including SVOD, AVOD, and TVOD (Palomba, 2020). Fig. 1 illustrates OTT monetization models, including SVOD, AVOD, TVOD, and Hybrid. Palomba creates the shapes of these platforms to be completed. Understanding these patterns is critical because, as Hamm says (2021), over-the-top (OTT) revenue is how future content creators will dominate the industry and leave their mark (Hamm, 2021).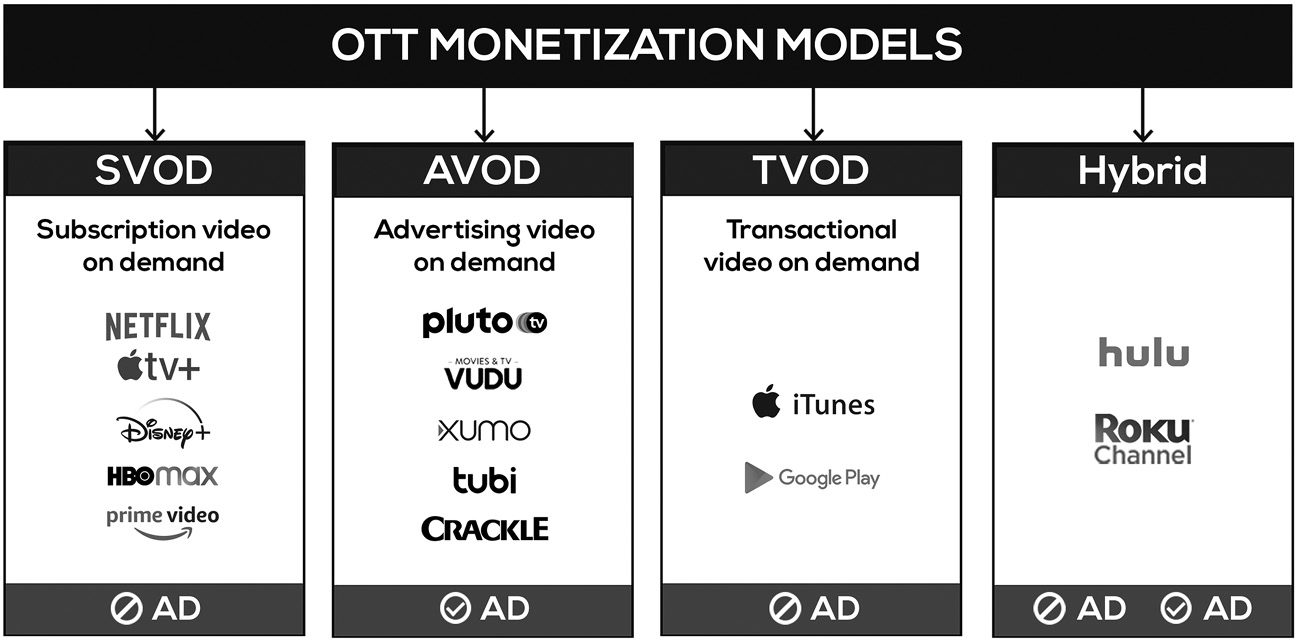 What is SVOD, AVOD, and TVOD?
SVOD: Subscription Video on Demand
In SVOD business models, platforms work on monthly or annual subscription plans. They could be subscribed and unsubscribed at any time. These ←18 | 19→opportunities give tremendous flexibility to users. In return, users can access all the content provided by the platform on any device with internet access, ad-free at any time. This was the most popular model in these three models. However, it has started to change in the last year. Besides the new customer acquisition, the biggest revenue item comes from the renewed subscriptions of existing subscribers. The prominent examples of these platforms are Netflix and HBO Max. The pricing model includes monthly and annual subscriptions. It offers different membership options, sometimes having features such as a single type, sometimes more than one profile, and monitoring from other devices. Memberships can be started and terminated at any time. The vast majority of platforms provide a one-day or one-week trial period before subscription (Maz Blog).
One of the most powerful features of the platform is that it is ad-free, and it offers subscribers an ad-free viewing experience with no interruptions while consuming content. Another feature that stands out is the freedom of subscribers to consume all content on the platform as many times as they wish, regardless of their subscription.
Algorithms working behind new technologies have started to offer consumers content based on their viewing habits and preferences in the new world where there is much content. This is a positive feature that cannot be ignored based on user experience, as with music platforms. Besides, consumers like being users of specific brands, as in other categories, and feeling like they belong to a shared community with other consumers who use it. Therefore, a membership in a platform provides similar feelings on content platforms.
AVOD: Advertising-Based Video on Demand
Accessing the content on these platforms is free. However, there are also ads on the platform and the content. The advertisements were embedded in the platform in various formats. The users come to know this information when they start using the platform. Unlike SVOD, consumers here sacrifice their time rather than their money to access free content. The crucial points, where it differs from TV, are that the ads on these platforms are more targeted, in different formats, and less intense. Although it was not very popular when it was first released, its use has increased in recent years. However, when compared in terms of income, it still provides less income than SVOD and TVOD in terms of long-term. The most up-to-date example of this structure is YouTube. All content is offered free of charge, and advertisements are placed in different formats according to the determined target audience. However, on YouTube, SVOD has ←19 | 20→now been released in a version; it has switched to the hybrid structure that we will talk about at the end of the episode. It offers different experiences for the two types of users and generates income in two different ways. Puhutv in Turkey can be given as an example.
This model, unlike both, requires a content-based payment. It is similar to the logic of VCD and DVD rented in the past. Consuming content on the platform does not require a general subscription requirement, and the platform is ad-free. The consumers make a purchase specific to the content, which they want to consume. During that, the consumer gains access to the content by paying different amounts for a limited or indefinite period based on the features of the platform (Maz Blog).
While this model provides high incomes to copyright holders, it also offers consumers an access to up-to-date content. While offering these content and opportunities, it tries to create loyalty for the consumers to come back again with reasonable price policies.
Hybrid Models
Because all these models appeal to different consumers and the habits of consumers are transformed, some platforms have switched to hybrid structures. As mentioned above, YouTube can be given as an example, and it offers SVOD and AVOD design together according to the preferences of the consumers. Besides, some platforms provide content-based purchases to non-subscribed consumers with TVOD in addition to their existing SVOD memberships. With these different options, they aim to add loyalty to their platforms in the long term by offering additional opportunities to meet all kinds of needs of consumers.
Another approach for the classification of the business models of VODs is value-based dimensions. The study of Ghezzi et al. (2015, quoted in Park, 2019) identifies four dimensions of business models: value proposition, value creation, value delivery, and value appropriation. The value proposition is the unique product or service that creates value for the customer; in the case of OTT, this is the audiovisual software, with the added functionalities of time-flexible viewing, alternative screen, or multi-screen capability, or mobile portability differentiating it from traditional video offerings. Value creation refers to the organizational characteristics of the provider and includes the supply chains, resources, and production modes enabling the creation of the value proposition. The value delivery implicates the key partnerships, distribution channels, and customer relationship strategies that convey the product or service to the customer. Finally, value appropriation refers to the revenue generation, pricing and sharing ←20 | 21→mechanisms that enable the profit realization and its allocation to various partners along the value chain.
Revenue Growth of VOD
The revenues of the platforms differ based on their content. It grows with the income from AVOD ads that generate revenue from SVOD qualifications, especially renewed resumes. According to a report emphasized by Dixit (2021), the worldwide premium (OTT) market recorded revenue of approximately $110.1 billion in 2018 and is expected to exceed $438.5 billion by 2026 at a CAGR of 19.1 %. While the platforms must maximize their income, the first thing they do is to gain customers' loyalty and differentiate themselves from competitors in this predatory market. There are three elements to maximize revenue; they did not focus on retaining existing subscribers, gaining new subscribers, and what they would cost the platform (Dixit, 2021).
Details
Pages

236

Year

2022

ISBN (PDF)

9783631873519

ISBN (ePUB)

9783631873526

ISBN (MOBI)

9783631873533

ISBN (Softcover)

9783631856079

DOI

Language

English

Publication date

2022 (February)

Published

Berlin, Bern, Bruxelles, New York, Oxford, Warszawa, Wien, 2022. 236 pp., 15 fig. b/w, 5 tables.