Summary
This monograph offers an incisive analysis of how the second language learner can achieve cultural proficiency, which is more than a set of rules and facts to be memorized by rote. How can the cultural dimension be taken into account, among the many choices of instructional material and language assessment tools? Is it possible to distinguish levels of cultural competence? How can the degree of cultural proximity between the source language and the target language influence the acquisition process? What strategies should be implemented in order to decode any cultural pitfalls? This handy guide addresses these and many other frequently asked questions underpinning language teaching methodology.
Illustrated with a broad range of classroom-based examples, this book presents language as inextricably intertwined with social relations. The variety of languages involved (Chinese, Russian, Arabic, Hungarian, French and English) makes the volume especially attractive for language educators seeking effective teaching strategies in specific local contexts around the globe.
Excerpt
Table Of Contents
Cover
Title
Copyright
About the author
About the book
This eBook can be cited
Contents
1.1.3 Distorting Lenses
1.2 Languages and Cultures in a Non-Natural Context
1.2.1 A Complex Mediation Field
1.2.2 An Integrative Discipline
1.2.3 Multilingual and Multicultural Situations
1.2.4 What Construction Procedures?
1.2.5 A Gateway to Culture
1.3 The Tables
1.3.1 The Translinguistic Scale
1.3.2 Observable Places
1.3.3 Communities of Meaning
1.3.4 Elementary Dichotomies
2. Languages – Cultures – Globalization
2.1 A Conceptual Ambiguity
2.2 The Territory of Culture
2.3 The Noble and the Trivial
2.4 Rooting and Memberships
2.5 Cultural Mixes and Identities
2.6 Lingua Franca – Cultura Franca
2.7 Languages Other than English
3. Mother Culture – Foreign Culture
3.1 A Unique Process
3.2 The Infinitely Small
3.3 Perception, Appreciation, Action
3.4 Unavoidable Experiences
3.4.1 Benchmarks and Universals
3.4.2 Space
3.4.3 Time
3.5 Places of Inculcation
3.5.1 When? What? with Whom? and How?
3.5.2 Knowledge Deemed Fundamental
3.5.3 The Real Curriculum of Individuals
3.6 The Second Occupant of the Land
3.7 The Illusive Finishing Line
4. Words and Ways of Saying Things
4.1 The Lexicon
4.1.1 Dissymmetrical Inventories
4.1.2 Identity Traces
4.1.3 The Linguistic and the Extra-Linguistic
4.1.4 Denotation and Connotation
4.1.5 Nuances and Values
4.1.6 Eat Your Soup!
4.1.7 The Cultural Markers
4.1.8 The Troublemakers
4.1.9 Involuntary Alliances
4.1.10 The Filament of Life Experience
4.1.11 The Specialized Term
4.1.12 Solidarities and Series
4.1.13 Norm and Variations
4.1.14 Discomfort and Collective Anxiety
4.1.15 Units of Social Functioning
4.1.16 Firewalls
4.1.17 The Word and the Soundscape
4.2 Frozenness
4.2.1 Combinatorics
4.2.2 Pre-Constructed Sequences
4.2.2.1 Idiomatic Expressions
4.2.2.2 Collocations
4.2.2.3 Discursive Routines
4.3 Defrosting
5. Discourse and Interaction
5.1 Transphrastic Organization
5.1.1 Text – Discourse
5.1.2 Cotext – Context
5.1.3 Cohesion – Coherence
5.1.4 Fluency and Discursive Realization
5.2 Social Space: Space of Tension
5.3 Discourse and Ideology
5.4 Discourse Genres
5.5 Discursive Memories
5.6 The Media
5.6.1 The Event
5.6.2 Sorting Operation
5.6.3 The Expectations of the Moment
5.7 Literature
5.7.1 Artistic and Linguistic Models
5.7.2 Essential Figures and Texts
5.7.3 Literary Options for L2
5.8 Interactional Stories
5.8.1 Participating in Social Practices
5.8.2 Acting on Others
5.8.3 The Implicit
5.8.4 Allusions and Citations
5.8.5 That's So Funny!
5.9 Interactional Rules
5.9.1 Cooperation – Competition
5.9.2 Speech Acts – Social Usages
5.9.3 The Most Appropriate Formulation
5.9.4 Prefabricated Scripts
5.9.5 Framing Sequences
5.9.6 The Common Mental Context
5.9.7 Exploring the Customary
5.10 The Non-Verbal and the Paraverbal
5.10.1 The Speaking Body
5.10.2 Socially Organized Silence
5.11 Modalities of Propriety
5.11.1 Mutual Contentment
5.11.2 Forms of Address
5.11.3 The Ritual Equilibrium
5.11.4 Semantically Empty Language
5.11.5 Status Politeness – Instantaneous Politeness
5.11.6 Culturally Situated Hospitality
6. Alterity and Imagination
6.1 Representations
6.2 The Intelligence of Exchanges
6.3 The Almighty Image
6.4 Categorization Patterns
6.5 Auto-Stereotypes and Hetero-Stereotypes
6.6 "Such an Ugly Language!"
6.7 Cultural Attraction
6.8 Ethnocentrism
6.9 Some Languages are More Foreign than Others
7 Culture: Pedagogical Challenges
7.1 The Classroom
7.1.1 A Strange Meeting Indeed!
7.1.2 Context Switching
7.1.3 The Real, the Simulated and the Fake
7.1.4 The Hyper-Availability of Information
7.2 The Instructor
7.2.1 A Cultural Intermediary
7.2.2 A Particular Sociological Profile
7.2.3 Native or Non-Native?
7.2.4 Traditions – Originality
7.3 The Textbook
7.3.1 Linguistic Content – Cultural Content
7.3.2 Glamorous View – Conflictual View
7.3.3 An Intermediary World
7.3.4 The Authentic and the Fabricated
7.4 The Learner
7.4.1 Motivation
7.4.1.1 External and Internal Factors
7.4.1.2 Towards the Ideal Self
7.4.2 Baggage and Trajectories
7.4.3 On the Subject of Error
7.5 Making Progress
7.6 Capacities
7.6.1 Communicative Competence
7.6.2 Skills and Learning Areas
7.6.3 The Cultural Component and the CEFR
7.6.4 Adjustment Aptitudes
7.6.5 Understanding Global Times
7.6.6 Cultural Sensitivity
7.6.7 Cultural Descriptors
7.7 The Strategies
7.7.1 Experiences and the Whole
7.7.2 A Reunion With Oneself
7.7.3 Learning to Decenter
7.7.4 Looking at the World Through Foreign Eyes
7.7.5 Intercomprehension
7.7.6 Intense Encounters
7.7.7 Stimulating Social Conscience
7.7.8 Panic Attacks
7.7.9 Masking Methods
7.7.10 The Real in the Absence of the Real
7.7.11 Translation
7.7.11.1 Translating with the Aim of Learning
7.7.11.2 Learning to Translate
7.7.11.3 Brioche and Raisins
7.7.11.4 The referents
7.7.12 Towards Authentic Social Acts
7.7.12.1 Real Life Tasks
7.7.12.2 From Communication to Co-Action
7.7.12.3 Language and Finality
7.7.12.4 Professional Reality
7.7.12.5 The Academic Environment
7.7.12.6 School Time Experienced in a Foreign Language
7.7.12.7 Urban space
Afterword
Index
References
Table 1:  Help! There's a fire!
Table 2:  Stop thief!
Table 3:  Open wide!
Table 4:  The mother figure.
Table 5:  Table manners.
Table 6:  He hung up on me!
Table 7:  Laurel and Hardy.
Table 8:  Cardinal points: the order of presentation.
Table 9:  Seasons: order of presentation.
Table 10:  'Never!'
Table 11:  'Dead and buried'.
Table 12:  Ouch!
Table 13:  I'm pregnant!
Table 14:  When the cat's away…!
Table 15:  Time flies!
Table 16:  Who's speaking please?
Table 17:  And so on, and so on […]
Table 18:  Waiter!
Table 19:  What will you have?
Table 20:  Wet paint!
Table 21:  Don't walk on the grass!
Table 22:  Don't tell anyone!
Table 23:  Keep away from children!
Table 24:  9/11…
Table 25:  Today's top stories.
Table 26:  Once upon a time…
Table 27:  What do you want to be when you grow up?
Table 28:  The Trojan Horse.
Table 29:  Here's a good one!
Table 30:  I have no idea!
Table 31:  On your marks…!
Table 32:  I'm just looking.
Table 33:  Surprise!
Table 34:  Shhhh!
Table 35:  Addressing a she-Minister.
Table 36:  You shouldn't have!
Table 37:  Shut the door!
Table 38:  Would you be so kind as to…
Table 39:  Say hello to the gentleman!
Table 40:  Naming @
Table 41:  You will never believe…
Table 42:  Please leave a message…
Table 43:  Sorry, I'm not from here!
"Making the strange familiar … making the familiar strange."
George Spindler & Louise Spindler
"Doing the Ethnography of Schooling. Educational Anthropology in Action",
Ed. By George Spindler, Holt, Rinehart and Winston,
New York, 1982, p. 43.
I.
All projects are born of dissatisfaction. There comes a point when the learning process of any given foreign language seems to run out of steam. Figuring prominently amongst the pockets of resistance is the inappropriate use of linguistically correct forms. For acting in a foreign language is not possible if one has not previously acquired a certain amount of the knowledge that is shared within the target society, and which linguistic practice stricto sensu cannot guarantee. Hence the bitterness in foreign language teachers and students alike, when they realize that their knowledge of the linguistic system is largely insufficient when it comes to being understood, to understanding and to communicating efficiently.
Which linguistics sectors allow us to locate the functioning modes and patterns of the target culture? Neustupný (1968: 413) discovers in language an "ordered concentration" of particularly saturated culture-zones (e.g., politeness matrices). When we wish to identify traces of collective representations in language, it is vocabulary that we turn to more readily, notably by observing the cultural load that the words carry at certain moments in a community's history, or their connotative and affective values, whose mastery is indispensable in decoding messages. As a zone of irregularity and of heterogeneity which is particularly exposed to society's ← 15 | 16 → evolution, the lexicon is the word, but it is also all the ways that words are combined within each community.
We need only go abroad to observe that language conventions are not the same as those of the community that we belong to. In the flow of social life, rituals define spaces with their specific rules – the so-called "social scenes" (Weber, 2007: 38). Language units, inscribed in the speaker's memory, are reproduced and juxtaposed according to the communication needs of the moment: "Biology can give us a basis for talk, but it is up to us how we talk, and it is up to us what we say." (Searle, 2007: 35).
The organization of all societies, as such, requires the use of specific phrases. In spite of semantic content which may at times seem universal, languages, in their great diversity, use varied sequences that can be shaped by constraint. Cultural competence is also the capacity to identify and produce context-appropriate discourse. According to Bakhtin (1984: 285), the speaker experiences language in an immediate way through the genres of discourse, which organize our speech, just as grammatical forms do. Similarly to the words and sequences that the lexical elements form, which are predictable to varying degrees, discursive and interactional configurations can be culturally marked and, in this sense, constitute a major obstacle in exchanges, by generating rupture in communication.
Second language learning can only occur through the progressive acquisition of possible utterances and preferred formulations, which contribute to the fluency of the message. The ways of telling, arguing or seducing are indeed the places of construction, modification or disappearance of representations.
II.
Reception involves a range of delicate foreign language skills. Understanding a message, be it verbal or non-verbal, means sharing knowledge and representations. The correct interpretation of a message necessitates various linguistic and extra-linguistic skills. Amongst a plethora of things which he does not know, the non-native speaker will seek to capture havens of security, allowing him to pick up new elements. For example, when living in France, sooner or later one learns that siren tests are run at midday on ← 16 | 17 → the first Wednesday of each month. The signal is long and strident: it is composed of three sequences of one minute and 41 seconds each, separated by five-second intervals of silence. Not knowing that these are the sirens of the Civil Defense network sounding once a month constitutes an encyclopedic knowledge gap, albeit a mundane one. Such a gap may however be perceived as a case of "deafness" to the rules governing language behavior within a community. Let us now imagine the following warning message:
‒  Nous vous demandons de quitter les lieux par les sorties les plus proches! (Everyone must evacuate the premises by way of the nearest exits!)
The comprehension of elementary messages may necessitate familiarity with fine nuances of meaning. The speaker must know the difference that exists in French between – 1. "le lieu" (the place, i.e., a setting) and – 2. "les lieux" (the premises, i.e., a place where something has happened). In this instance, it is the second meaning that applies. Here is a new message:
‒  Au feu! Au feu! Veuillez évacuer le bâtiment s'il vous plaît! (There's a fire! Please evacuate the building!)
In order to understand this message, the speaker must know that the French native can make a distinction between "le feu" (fire) (and its rich sphere of uses: light emission, flames, source of heat) and the expression "au feu !" (there's a fire!; actual meaning: "attention, fire"). In this language, a danger is announced by crying out: "au secours !" (help!), "au meurtre !" (somebody's been murdered!), "au voleur !" (stop thief!) and "au feu !" ("there's a fire!"). Every language expresses alarm loudly, in its own way, in order to alert people to a fire, (Table 1), or a robber in the area (Table 2), etc. ….

← 17 | 18 →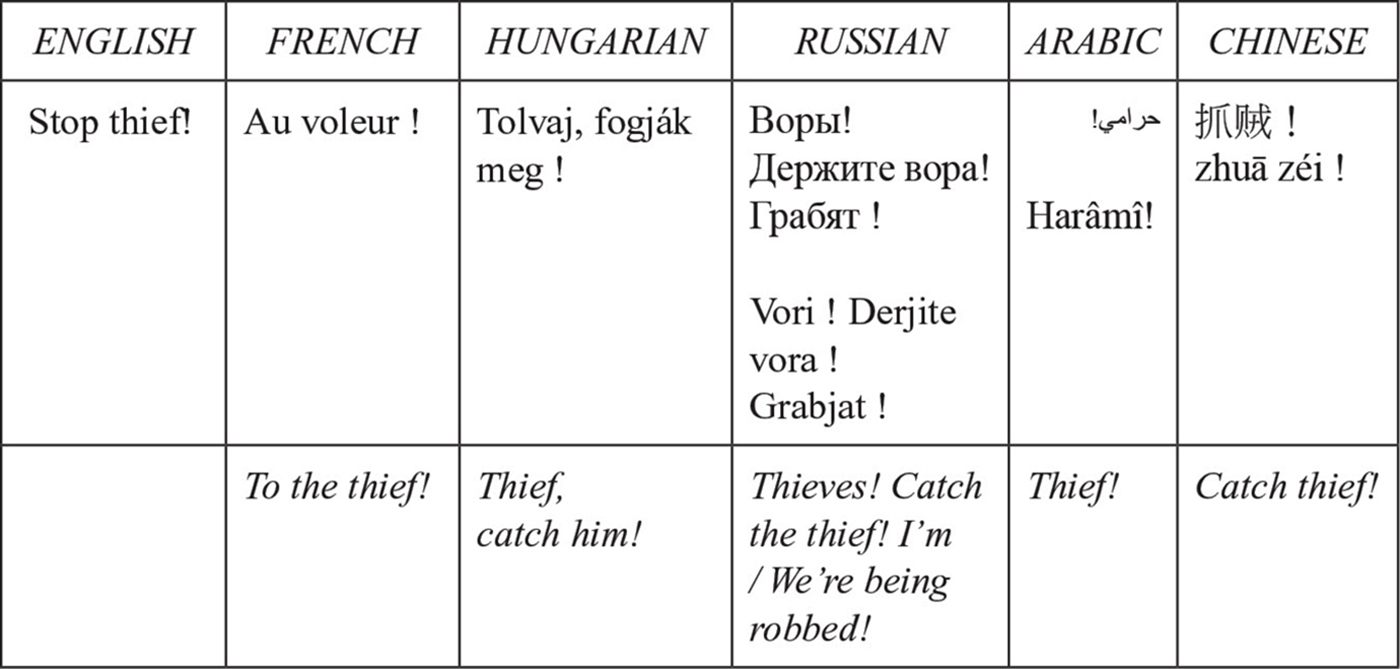 The identification of all of the above messages necessitates each time a kind of reasoning of the situation and recourse to resources which go beyond the strictly linguistic. There is no doubt that the specialization of the use of "feu" → "au feu !' (fire → help, there's a fire) brings us closer to social conventions. To suppose, however, that with this expression we abandon the world of language in order to enter into that of culture would be an error. Language and culture cannot be dissociated in thought: language is a component of culture and, at the same time, one of its vehicles. As for culture, it is everything at once: "doing" (material culture), "believing" (immaterial culture) and "saying" (language). Language is a fundamental building block of culture, and with respect to the ensemble of cultural phenomena, its role is that of an infrastructure, or of a universal substratum (Jakobson, 1973: 35).
III.
I take this opportunity to express my gratitude to professors who have taught me, and colleagues whom I have worked with, and who have influenced my reflection in a decisive way, through the originality of their approach and their charismatic personalities: Ilma Kovács, Imre Szabics, Imre Vörös, Jolán Kelemen, Miklós Magyar, Ilona Kovács, Mihály Péter, ← 18 | 19 → Ferenc Papp, Béla Tatár, Robert Galisson, Sophie Moirand, Francine Cicurel, Marie-Rose Simoni-Aurembou, André Clas, Igor Mel'čuk, Jean-Luc Moreau, Lajos Nyéki, Georges Kassai and Anne-Marie Laurian.
It would be difficult to cite everyone here who, to a greater or lesser extent, has allowed this project to come to completion. I am much indebted to Joël Bellassen, Claire Bourguignon, Patrice Pognan, Heba Lecocq, George Alao, Elli Suzuki, Jin-Ok Kim, Soyoung Yun-Roger, Louise Ouvrard, Arnaud Arslangul, Odile Issa, Delombera Negga, Martine Derivry, Diana Lemay, Anthippi Potolia, Nozomi Takahashi, Changying Shu, Miao Lin-Zucker, Min Liao, Monika Szirmai, Birgit Schädlich, Márta Fazekas, Mihály Bácskai, Szergej Tóth, Ferenc Fodor, Michel Bozdémir, Ardian Marashi, Frosa Bouchereau, Tatiana Sirotchouk, Jean-Paul Narcy-Combes, Gudrun Ziegler, Cristiana Teodorescu, Jean-Marc Dewaele, Aline Gohard-Radenkovic, Danielle Lévy, Claire Kramsch, Christiane Fäcke, Mojca Schlamberger-Brezar, Anne Pauwels, Itesh Sachdev and Noriko Iwasaki.
The material presented in the tables accompanying this work is the result of an enthusiastic collaboration with Delphine Taussig (French), Xinxia Wang (Chinese), Iman Sridi (Egyptian Arabic), Elena Akborisova (Russian). I would like to take this opportunity to convey to them my warmest and most amicable thanks. I am profoundly grateful to Sophie Loumanis without whom the final version of this book would not exist. I am particularly grateful to Mags Harnett who accepted to reread the manuscript with a critical eye.
Above all, I would like to express my profound recognition to Geneviève Zarate, professor at INALCO, who has associated me to the PLIDAM activities, and who, through her work, has never ceased to enrich my reflection. Her book, "Enseigner une culture étrangère" (Hachette, 1986), which has contributed in a decisive way to the construction of foreign culture pedagogy, remains, more than a quarter of a century after its publication, an indispensable reference. ← 19 | 20 →
← 20 | 21 →
Speaking a language implies that one is in a position to call upon the elements that are necessary for communication, and that one has mastered the references that populate the cultural and discursive memory of a social group. All languages are a vision and interpretation of the world, and constitute a major identity component, which blends in with daily existence. Language fluency is often confused with oral fluidity: "Do you speak French?" (Krashen, 1982: 74). Language that allows the conveying of thoughts or of meanings from one brain to another is also a system that organizes information (Hall, 1976: 57). More than a powerful and subtle tool for expression and communication, more than a marketable technical skill of the job market, a foreign language should be looked upon as a social practice, allowing access to a foreign culture.
We are well familiar with the banner brandished by language methods and schools in the name of modernity: "spontaneous oral/written communication, with native teachers, on ordinary subjects." Displaying (and, more especially, targeting) such an ensemble of objectives constitutes perhaps one of the most ambitious undertakings in language teaching (Szende, 2012a): comprehending, producing and interacting in a foreign language necessitate conformity to the norms of the target community; they imply that we share in its world with its truths; and they suppose complicity between its members, who acquired the target language naturally and effortlessly during their childhood (Cook, 2003: 28). To each culture and era correspond concepts and ideas that are regarded as legitimate by the community in question. All languages are part of reality and their function is to propose a construction of the real, indeed languages reinvent it in a certain way. Languages are not universal nomenclatures. Through numerous examples, Mounin (1987: 81–83) illustrates that every language constitutes a prism through which its users are "condemned" to seeing the world. Founding and prescribing ← 21 | 22 → myths, beliefs that are considered by the community to be true, and social values which are transmitted from generation to generation, all enrich the speakers' judgment, as well as their way of thinking, appropriating and interpreting daily reality and Otherness. These are all necessary factors for the appropriate use of language, and the more our codes correspond to those of our interlocutors, the better our intention will be conveyed. All messages need to be properly sent out and received, through collective knowledge. The lexicographer Sinclair (1991: 498) distinguishes four types of shared knowledge. The first two concern the structure of language, and the latter two deal with the way in which language is deployed in communication: 1) internalized command of the phraseology; 2) information on grammar and lexicon; 3) text/context relationship; and 4) culture. Regarding the fourth point, Sinclair also points out that the ideal reader shares the cultural presuppositions of the author: should that not be the case, he will not be able to read the book properly.
The transmitter must formulate information according to cultural criteria that are accepted or deemed acceptable by the receiver. The transmitter and the receiver adapt to one another, if not, they risk the penalty of being eliminated from the game. Communication can only be imperfect, however, and misunderstandings are unavoidable. Incomprehension is generally a banal event of human communication. In expressing himself in his native language, and despite the amount of experience that he may share with his interlocutor, the native speaker must nevertheless make a constant effort to be understood, and to behave in an appropriate manner. He has to comply with the rules as well as with the explicit or implicit presuppositions of his culture (except for any deliberate wish on his part to break with them), and this may necessitate comprehension and expression through hints or veiled words, by not taking words at face value, in short, by letting implicit messages be understood in the manner of that goes without saying. Man is programmed by culture in a massively redundant way: every time he speaks, he utters only a part of the message whereas a major part of what he has not said is understood implicitly (Hall, 1971: 102).
All human communication is based on knowledge of the world that is, to varying degrees, shared, and prior, while in all interactions speakers mobilize their more or less commonly shared encyclopedic knowledge. We will highlight two examples from Pottier (1992: 24 & 25–26) in order to illustrate the fact that encyclopedic covers elements of language awareness as well (e.g., if a novel is entitled "twice upon a time", ← 22 | 23 → comprehending it supposes knowledge of the mythical past "once upon a time", a reference phrase embedded in language), and of the world in a more general way (the evoking of a word such as "village" necessarily activates knowledge within us, whereas the sequence "We arrived at the village. The church was closed." can only sound natural to people who live in a region with such a customary habitat construction).
Encyclopedic competence, an unlimited ensemble of knowledge, varies with respect to each society and each individual's experience. It is enriched during the process of verbal activity: what we learn is added to the stock of knowledge and becomes the support mechanism for further comprehension and discourse production (Maingueneau, 2007: 22). Yule (1996: 24) points out that for the comprehension of "We had Chardonnay with dinner. The wine was the best part.", it is necessary to realize that Chardonnay = wine. Need one specify that in many cases, successful communication necessitates a degree of wider or more technical cultural knowledge? E.g., Chardonnay, a white wine from the area of Dijon, a Burgundy region, represents good taste, while its natural elegance predisposes it to be an apéritif, etc. And we have certainly not exhausted the entire semantic and connotative halo.
We all have experiences that we attempt to communicate to our interlocutors by postulating that they have experiences similar to ours. As such, we will admit, along with Vygotsky (1997: 495), that in order to understand the other's language, the mere comprehension of words is insufficient as it is necessary to understand the interlocutor's thought. Meanwhile comprehension of this thought is incomplete if one does not understand its motive. As social practices, interactions and discourse are determined by the interlocutors' expectations, and organized by the community's routines. Routine, everything that is accomplished in a habitual manner, is a basic element of everyday social activity, while routinization is essential to the psychological mechanisms that ensure the maintenance of a sentiment of confidence (Giddens, 2005: 33).
The wrong interpretation of an utterance either distorts communication or leads to its failure. In one's native language, despite all the shared experience, ellipses and innuendo often require clarification while dissymmetry phenomena in exchanges are common practice. Values are never totally shared, as there are those who refuse them, those who transgress them, and those who are simply unaware of them. This is all the truer of communication taking place between two speakers of culturally ← 23 | 24 → divergent experiences, one native and the other one non-native. In his use of the foreign language, the non-native speaker may very much remain attached to the values and routines of his first culture, which, on the other hand, his native interlocutor may not be able to easily decipher. The latter spontaneously seeks to impose on his interlocutor the habitual and culturally normative script of the interaction, at the risk of upsetting him, even if he is not underestimating his competence; the two speakers thus see their respective exchange projects weaken or collapse. School programs (often eloquent declarations of principles that are out of touch with social expectations or reality in the field) traditionally evoke the stakes of modern languages, whereas they refer less to modern cultures that exist with their codes and rules of civility. This is why a certain level of complicity – a vast territory that is difficult to conquer – constitutes, in our view, an initial, privileged, entrance towards grasping culture.
1.1.2  What the Natural Conceals
We would not be able to raise the subject of culture without emphasizing the challenge of the socially rooted – be they manifest or not – linguistic preferences. All means of discourse highlight certain facts, to the detriment of others: "talking is a highly selective process because of the way in which culture works" (Hall, 1990: 95). In any communication situation, the participants make a choice between various ways of expressing themselves. They orient their language not only according to contextual characteristics, but also with respect to their own experience, preconceived notions and interpersonal relationships.
Details
Pages

462

Year

2014

ISBN (PDF)

9783035106664

ISBN (ePUB)

9783035197730

ISBN (MOBI)

9783035197723

ISBN (Hardcover)

9783034314572

DOI

Language

English

Publication date

2014 (March)

Keywords

Published

Bern, Berlin, Bruxelles, Frankfurt am Main, New York, Oxford, Wien, 2014. 462 pp.