Dynamics of International Advertising
Theoretical and Practical Perspectives
Excerpt
Table Of Content
Cover
Title
Copyright
About the author(s)/editor(s)
About the book
This eBook can be cited
Table of Contents
CHAPTER THREE The International Marketing and Advertising Environment
DEMOGRAPHIC CHARACTERISTICS
Market Size
Population Growth
Population Distribution
ECONOMIC FACTORS
Classification Systems
Income
Urbanization
GEOGRAPHIC CHARACTERISTICS
THE POLITICAL-LEGAL ENVIRONMENT
Political-Legal Environment of the Home Country
Political-Legal Environment of the Host Country
Political Risk
International Law
SUMMARY
REFERENCES
CHAPTER FOUR The Cultural Environment
CONCEPT OF CULTURE
Self-Reference Criterion and Ethnocentrism
Subcultures
CULTURE AND COMMUNICATION
Verbal Communication
Nonverbal Communication
THE INFLUENCE OF CULTURE ON MARKETING AND ADVERTISING
Religion, Morals, and Ethical Standards
EXPRESSIONS OF CULTURE
VALUES
Internationally Based Frameworks for Examining Cultural Variation
Hofstede's Dimensions of Culture
Power Distance
Individualism versus Collectivism
Masculinity versus Femininity
Uncertainty Avoidance
Long-Term/Short-Term Orientation
The GLOBE Study
INFLUENCE OF CULTURE ON CONSUMER BEHAVIOR
Why Consumers Buy
What Consumers Buy
Who Makes Purchase Decisions
How Much Consumers Buy
CULTURAL UNIVERSALS
TOOLS FOR UNDERSTANDING CROSS-CULTURAL COMMUNICATION
Market Distance
SUMMARY
REFERENCES
CHAPTER FIVE Coordinating and Controlling International Advertising
CENTRALIZED VERSUS DECENTRALIZED CONTROL OF INTERNATIONAL ADVERTISING
Global Approach (Centralized Decision Process, Standardized Advertising Approach)
Local Approach (Decentralized Decision Process, Differentiated Advertising Approach)
Regcal Approach (Centralized Decision Process, Regional Approach)
Glocal Approach (Decentralized Decision Process, Standardized Approach)
AGENCY SELECTION
Domestic and In-House Agencies
International Agencies and Global Networks
Foreign (Local) Agencies
Agency Selection Criteria
MARKETING AND ADVERTISING STRATEGY OPTIONS
SUMMARY
REFERENCES
CHAPTER SIX Creative Strategy and Execution
STRATEGIC DECISIONS
Globalization of Advertising
Products Suitable for Globalized Advertising
Localization of Advertising
The Globalization-Localization Continuum
EXECUTION DECISIONS
Advertising Appeals
Verbal Communication: Copy and Dialogue
Music
Nonverbal Communication: Visuals and Illustrations
CREATIVITY IN THE INTERNATIONAL ARENA
SUMMARY
REFERENCES
CHAPTER SEVEN Advertising Media in the International Arena
NATIONAL/LOCAL VERSUS INTERNATIONAL MEDIA
NATIONAL/LOCAL MEDIA
Media Availability
Media Viability
Media Coverage
Media Cost
Media Quality
Role of Advertising in the Mass Media
Media Spillover
Local Broadcast Media
Radio
Local Print Media
Other Local Media
INTERNATIONAL MEDIA
International Print Media
International Broadcast Media
International Media Data
International Media-Buying Services
SUMMARY
REFERENCES
CHAPTER EIGHT Research in the International Arena
STEPS IN RESEARCH DESIGN
Problem Definition
Determination of Information Sources
Research Design
Data Collection
Data Analysis and Reporting
SECONDARY DATA
Problems with Secondary Data
Domestic Sources of Secondary Data
International Sources of Secondary Data
PRIMARY DATA
PRIMARY RESEARCH METHODS
Observation
Focus-Group Interviews and In-Depth Interviews
Experimental Techniques
Surveys
RESEARCH RELATING TO MESSAGE DESIGN AND PLACEMENT
TECHNOLOGICAL ADVANCES AND RESEARCH
Control of International Research
SUMMARY
REFERENCES
CHAPTER NINE Advertising Regulatory Considerations in the International Arena
INFLUENCES ON NATIONAL REGULATIONS
Types of Products That May Be Advertised
The Audiences That Advertisers May Address
The Content or Creative Approach That May Be Employed
The Media That Advertisers Are Permitted to Employ
The Use of Advertising Materials Prepared Outside the Country
The Use of Foreign Languages in Advertising and Marketing Materials
The Use of Local versus International Advertising Agencies
INTERNATIONAL AND REGIONAL REGULATION
The United Nations
World Trade Organization
The Organization for Economic Cooperation and Development
The European Union
The Gulf Cooperation Council
SELF-REGULATION
The Trend toward Self-Regulation
THE INTERNATIONAL CHAMBER OF COMMERCE
Implications for International Advertisers
SUMMARY
REFERENCES
CHAPTER TEN Ethics and Beyond: Corporate Social Responsibility and Doing Business in the Global Marketplace
BUSINESS ETHICS IN THE GLOBAL MARKETPLACE
APPLYING ETHICS TO THE MARKETING MIX
BEYOND ETHICS: CORPORATE SOCIAL RESPONSIBILITY
COMMUNICATING CORPORATE SOCIAL RESPONSIBILITY TO THE PUBLIC
SUMMARY
REFERENCES
Index
| ix →
My objective in preparing this second edition of Dynamics of International Advertising: Theoretical and Practical Perspectives was to reflect the dramatic changes that have impacted the field over the past 5 to 10 years. The current economic downturn has caused advertising budgets to shrink, agencies to lay off advertising professionals, and many consumers in developed and developing markets alike to tighten their belts. In response to the shifting demographics in more advanced countries, international advertisers are increasingly looking to developing markets for larger and more youthful consumer segments. New media forms are evolving—forms no one could have predicted when the first edition was published. And advertisers are increasingly being expected to behave in a socially responsible fashion—not only towards their customers, their employees, and the environment—but also to society at large. This new edition utilizes the best examples of contemporary advertising from around the globe to demonstrate how agencies are responding to these changes. The latest statistics are incorporated into each and every table. And new insights from academic research are highlighted.
This book introduces the reader to the challenges and difficulties of developing and implementing communications programs for foreign markets. Although advertising is the major focus, I recognize that an integrated marketing communications approach is critical to competing successfully in the international setting. In order to communicate effectively with audiences around the globe, marketers must coordinate not only advertising, direct marketing, sales promotions, personal selling, and public relations efforts, but all other aspects of the marketing mix as well. Therefore, the basics of international marketing are briefly reviewed in the first several chapters of this text. The remainder of the book then focuses on international advertising.
Significant changes are incorporated throughout the text, but I have kept the basic structure of the first edition. The text comprises a total of ten chapters. In Chapter 1, factors influencing the growth of international advertising are examined. Chapter 2 highlights the role that product, price, distribution, and promotion, play in selling abroad. Domestic advertising and international advertising differ not so much in concept as in environment; the international marketing and advertising environment is outlined in Chapter 3. Chapter 4 is devoted to developing a sensitivity to the various cultural factors that impact international marketing efforts. Chapter 5 addresses the coordination and control of international advertising. Chapter 6 deals with creative strategies and executions for foreign audiences. Chapters 7–9 explore media decisions in the global marketplace, international advertising research ← ix | x → and methods for obtaining the information necessary for making international advertising decisions, and, finally, regulatory considerations. Chapter 10 focuses on the social responsibility of international advertising agencies and multinational corporations in foreign markets.
Every attempt has been made to provide a balance of theoretical and practical perspectives. For example, the issues of centralization versus decentralization and standardization versus localization are addressed as they apply to the organization of international advertising programs, development and execution of creative strategy, media planning and buying, and advertising research. Readers will find that these are not black-and-white issues. Instead, they can be viewed as a continuum. Some marketing and advertising decisions can be centralized while others may not be. Similarly, depending on the product to be advertised and the audience to be targeted, some elements of the marketing and advertising mix may be standardized while others will be specialized.
First and foremost, Dynamics of International Advertising: Theoretical and Practical Perspectives is the ideal textbook for upper-division undergraduate and graduate students in specialized courses dealing with international advertising or marketing. It is also an effective supplemental text for introductory advertising, marketing, or mass communications courses seeking to expand coverage of the international dimension. The text should also prove useful to practitioners of international advertising, whether on the client side or within the advertising agency. Finally, researchers of international advertising and marketing will find it a valuable resource.
I am indebted to a number of individuals for the successful completion of this text. I am most grateful to the folks at Peter Lang Publishing. In particular, I'd like to acknowledge the editor of the first edition, Chris Myers. I wish that every author could have the kind of experience I had with Chris. He has the fine knack of making just about everything related to writing a textbook as painless and simple as it possibly can be. Many thanks to Mary Savigar, senior acquisitions editor, for encouraging the development of this second edition and for being such pleasure to work with. Bernadette Shade once again held my hand through the production process and oversaw the development of the eye-catching cover. On a personal note, this book—like my others—would not have been possible without the unconditional love and support of my husband, Juergen, and my daughter, Sophie. Both stood by me—as always—without complaint.
Barbara Mueller
| 1 →
Growth of International Business and Advertising
The keystone of our global economy is the multinational corporation. A growing number of corporations around the world have traversed geographical boundaries and become truly multinational in nature. As a result, consumers around the world write with Bic pens and wear Adidas running shoes, talk on Nokia cell phones and drive Toyota autos. Shoppers can stop in for a McDonald's burger in Paris or Beijing, and German and Japanese citizens alike increasingly make their purchases with the American Express Card. And, for most other domestic firms, the question is no longer, Should we go international? Rather, the questions relate to when, how, and where the companies should enter the international marketplace. The growth and expansion of firms operating internationally have led to the growth in international advertising. U.S. agencies are increasingly looking abroad for clients. At the same time, foreign agencies are rapidly expanding around the globe, even taking control of some of the most prestigious U.S. agencies. The United States continues to both produce and consume the bulk of the world's advertising. However, advertising's global presence is evidenced by the location of major advertising markets. In rank order, the top global advertising markets are the United States, Japan, the United Kingdom, Germany, China, France, Italy, Spain, Brazil, and South Korea. And today, 8 of the top 10 world advertising organizations are headquartered outside the United States (Johnson 2009). This chapter outlines the growth of international business and advertising.
HISTORICAL OVERVIEW
There have been three waves of globalization since 1870. The first wave, between 1870 and 1914, was led by improvements in transport technology (from sailing ships to steam ships) and by lower tariff barriers. Further driving this first wave of modern globalization were rising production scale economies due to advancements in technology that outpaced the growth of the world economy. Product needs ← 1 | 2 → also became more homogenized in different countries as knowledge and industrialization diffused. Communication became easier with the telegraph and, later, the telephone. By the early 1900s, firms such as Ford Motor, Singer, Gillette, National Cash Register, Otis, and Western Electric already had commanding world market shares. Exports during this first wave nearly doubled to about 8 percent of world income (World Bank 2002, 326).
The trend to globalization slowed between 1914 and the late 1940s. These decades were marked by a world economic crisis as well as two world wars, which resulted in a period of strong nationalism. Countries attempted to salvage and strengthen their own economies by imposing high tariffs and quotas so as to keep out foreign goods and protect domestic employment. It was not until after the Second World War that the number of U.S. firms operating internationally again began to grow significantly.
The second wave of globalization was from 1945 to 1980. International tensions—whether in the form of cold war or open conflict—tend to discourage international marketing. However, during this period, the world was, for the most part, relatively peaceful. This, paired with the creation of the International Monetary Fund (IMF) and the General Agreement on Tariffs and Trade (GATT) at the close of World War II, facilitated the growth of international trade and investment. Indeed, during this period, tariffs among the industrialized nations fell from about 40 percent in 1947 to roughly 5 percent by 1980. In 1950 U.S. foreign direct investment stood at $12 billion. By 1965 it had risen to $50 billion, and by the late 1970s to approximately $150 billion (U.S. Bureau of the Census 1995, 870).
The third wave of globalization has been from approximately 1980 to the present. Spurring this third wave has been further progress in transport (containerization and air freight) and communication technology (falling telecommunication costs associated with satellites, fiber-optic cable, cell telephones, and the Internet). Along with declining tariffs on manufactured goods (currently under 4 percent), many countries lowered barriers to foreign investment and improved their investment climates. After the September 11 attacks in the United States, some economists worried that the year 2001 would mark a reversal of the current era of globalization. Recession, U.S. security concerns, and resentment abroad seemed aligned against the forces that drove companies abroad in the 1990s in search of new markets. However, according to a PriceWaterhouseCoopers survey of 171 business executives at large U.S. multinationals, commitment to international expansion actually rose in the year after the September 11 attacks. Of those surveyed, 27 percent planned some sort of geographic expansion during the following year, up from 19 percent prior to the attacks (Hilsenrath 2002). And it appears that the same forces that drove globalization in the past might in fact be intensifying. A 2009 Fortune magazine survey reports that the top 500 multinational companies alone generated almost $25 trillion in sales in 2008. The United States led all countries, with 140 companies on the list (down from 153 the previous year); Japan ranked second (68 companies), and Germany third (38) (Fortune 2009). See Table 1.1 for ranking of the top 25 global firms.
In addition to these large corporations, thousands of smaller firms are engaging in international marketing. In the United States, smaller firms account for an amazing 97 percent of the companies involved in direct merchandise exporting. Indeed, smaller firms are grabbing an ever-growing share of U.S. exports. American businesses without international subsidiaries accounted for 46 percent of sales abroad in 2005—up from 38 percent in 1999, according to the Commerce Department (Schlisserman 2007). Smaller firms thus represent the largest pool for potential growth in export sales. Microbreweries provide an excellent example. With production normally limited to fewer than 15,000 barrels a year, microbreweries would seem more local than global players. But the microbrewery industry is going through a transition in which exports make sense. With more than 33 regional specialty breweries and ← 2 | 3 → 424 microbreweries in the United States, the field has become too competitive. As a result, several of the most successful "craft" brewers are among a growing number of smaller U.S. companies looking to foreign markets to expand sales. Brewers have had the greatest successes in Sweden, Italy, and, to a lesser extent, Great Britain.
Corporations look abroad for the very same reasons they seek to expand their markets at home. Where economies of scale are feasible, a large market is essential. However, if a single market is not large enough to absorb the entire output, a firm may look to other markets. If production equipment is not fully utilized in meeting the demands of one market, additional markets may be tapped. Seasonal fluctuations in demand in a particular market may also be evened out by sales in another. During economic downturns in one market, corporations may turn to new markets to absorb excess output. Firms may also find that a product's life cycle can be extended if the product is introduced in different markets—products already considered obsolete by one group may well be sold successfully to another. In addition to the reasons noted, significant changes in the United States and around the globe have helped fuel this phenomenal growth in international business.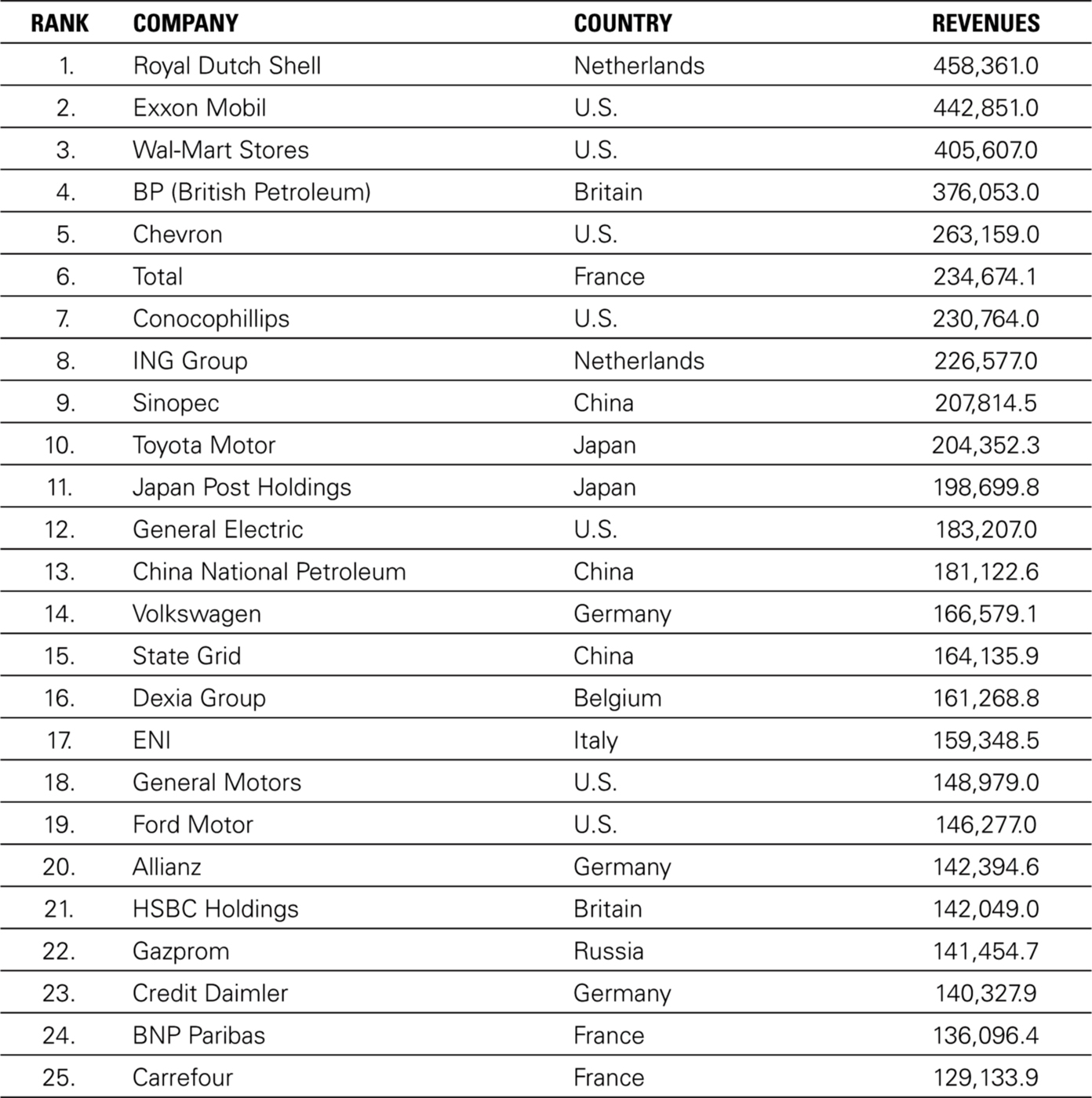 Source: Fortune (2009), F1–F8. ← 3 | 4 →
SATURATED DOMESTIC MARKETS
As many markets reach saturation, firms look to foreign countries for new customers. Take the case of Starbucks. Starbucks began with 17 coffee shops in Seattle just two decades ago. Starbucks currently has over 11,500 stores in the United States alone. In Manhattan's 24 square miles, Starbucks has 124 cafes, which translates into 1 for every 12,000 New Yorkers. In coffee-crazed Seattle, there is a Starbucks outlet for every 9,400 people, and the company considers that the upper limit of coffee-shop saturation. Indeed, the crowding of so many stores so close together has become a national joke, eliciting quips such as the headline in The Onion, a satirical publication: "A New Starbucks Opens in Restroom of Existing Starbucks" (Holmes 2002, 101). The company had been blessed with extraordinary growth in both store traffic and same-store sales until quite recently, when this trend reversed itself. While the reversal may be attributable to the U.S. economic slowdown, some investors fear that weak growth figures could indicate saturation in the U.S. market. Indeed, Starbucks closed 600 under-performing locations in 2006—apparently an admission that cannibalization seems to be a major problem, To keep up the growth, Starbucks realized it had no choice but to export its concept aggressively. In 1999, Starbucks had just 281 stores abroad. Today it has about 5,000 outlets in more than 40 countries—and it is still in the early stages of a plan of globalization. Starbucks expects to eventually increase the number of its stores worldwide to 40,000. Canada and the United Kingdom are currently Starbucks's strongest markets abroad (some 69 percent of foreign revenues). However, India, Russia, and China represent key areas of focused future expansion.
HIGHER PROFIT MARGINS IN FOREIGN MARKETS
For the typical Fortune 500 company today, domestic revenues account for just 62.5 percent of total sales—a figure that is bound to shrink even further as globalization continues to advance. For an ever-growing number of firms, foreign revenues as a percentage of total revenues are well over 50 percent. Consider McDonald's, which gets almost two-thirds of its revenue from overseas. For the quarter that ended September 30, 2007, it reported that sales at restaurants open at least 13 months grew 5.1 percent in the United States, 6.5 percent in Europe, and 11.4 percent in Asia/Pacific, the Middle East, and Africa (Pender 2007). General Motors Chairman Rick Wagoner estimates that foreign markets will soon account for 75 percent of the auto maker's global sales, a testament to the booming growth in Asia, Russia, and far-Eastern Europe, as well as the fierce competition and market share erosion in the developed markets of the United States and Western Europe (Howes 2008). Examples of other firms that derive more than half of their revenues from abroad include: Hewlett-Packard (65 percent), Exxon Mobil (69 percent), Coca-Cola (72 percent), and Intel (79 percent). This trend toward higher profit margins in foreign markets is clearly not limited to U.S. firms. Nokia sells over 97 percent of its products outside the home market, and Toyota sells more vehicles in the United States than it does in Japan. Analysts figure that almost two-thirds of the company's operating profits come from the United States. ← 4 | 5 →
INCREASED FOREIGN COMPETITION IN DOMESTIC MARKETS
Over the past decades, foreign products have played an increasingly significant role in the United States. Classic examples include the phonograph, color television, video- and audiotape recorders, telephone, and integrated circuit. Although all were invented in the United States, domestic producers accounted for only a small percentage of the U.S. market for most of these products—and an even smaller share of the world market. For example, in 1970, U.S. producers' share of the domestic market for color televisions stood at nearly 90 percent. By 1990 it had dropped to little more than 10 percent. The decline in sales of United States-produced stereo components was even more serious—from 90 percent of domestic sales to little more than 1 percent during the same time span. Brand names such as Sony and Panasonic became household words for most American consumers.
Foreign companies continue to play a prominent part in the daily lives of Americans today, and domestic firms face competition in nearly every sector. While McDonald's, Burger King, KFC, and Subway dominate the fast food scene, they face competition from every corner of the globe. Pollo Campero reigns from Guatemala. The chain has 52 U.S. locations to date, but has plans for 200 by 2014. It offers chicken so good KFC couldn't beat it in Central America. Jollibee, from the Philippines, started out in California in 1998 and in 2009 added locations in New York and Las Vegas. The fast food restaurant serves everything from burgers with pineapple to spaghetti. Nando's, a South African firm, serves up Afro-Portuguese chicken with a spicy "peri-peri" sauce. Nando's has two locations in Washington, D.C. And British import Wagamama offers diners cheap ramen at three locations in Boston, with more coming to D.C. by 2010 (Demos 2009). When a U.S. consumer buys new tires, shops for the latest best-seller, or purchases a jar of mayonnaise, chances are increasingly good that the supplier will be a local subsidiary of a company based in Japan, Europe, or elsewhere outside the United States. For example, both Firestone Rubber and CBS Records were acquired by Japanese firms, and Macmillan Publishing and Pillsbury are owned by British firms (Shaughnessy and Lindquist 1993). Switzerland's Nestlé and the Anglo-Dutch giant Unilever moved into the U.S. market to grow their businesses. Unilever set the pace, paying $20.3 billion for Bestfoods, whose brands include Hellmann's Mayonnaise and Skippy Peanut Butter, as well as acquiring Slim-Fast, a diet-supplement firm, and Ben & Jerry's Ice Cream. Meanwhile, Nestlé acquired pet food manufacturer Ralston Purina, best known for its Purina Dog Chow brand. It was a logical move, as the pet food market is growing faster than Nestlé's traditional, matured businesses—particularly in the United States, where animal owners are buying higher margin products that promise both dietary and health benefits for their pets (Bernard 2001). This "selling of America" has caused a good deal of concern among the business community as well as the general public. The United Kingdom is the biggest investor in the United States by far, followed by Japan, Germany, and Canada. Increased foreign competition on domestic soil is not unique to the United States, but rather is occurring both in developed countries and in emerging economies. Regarding developed markets, the United States remains the largest recipient of FDI, followed by the United Kingdom, France, Canada, and Germany.
Worldwide, foreign direct investment (FDI) fell in 2008 to an estimated $1.4 trillion, down from an all-time high of $1.8 trillion in 2007. This was due largely to the economic and financial crisis that dampened investors' appetites to pour money abroad, including into the United States. Developed economies so far have been the hardest hit, as FDI was cut by an estimated one-third in 2008. Direct foreign investment flow to the United States slowed by just over 5 percent to $220 billion, while Japan captured 23 percent less FDI ($17.4 billion). FDI in Britain slumped from $224 billion in 2007 to an estimated $109.4 billion in 2008. Eastern and Central European economies suffered mixed ← 5 | 6 → fortunes with a slip in FDI for Poland and Hungary, but growth for the Czech Republic, Romania, and Russia. Developing countries managed to hold on to some growth in inward direct investment in 2008. China (up 10 percent, $82 billion) and India (up 60 percent, $36.7 billion) attracted more FDI in 2008. But Indonesia (minus 21 percent, $5.5 billion) Singapore (minus 57 percent, $10.3 billion), and Thailand (minus 4 percent, $9.2 billion) were the exceptions in Asia with declines. The United Nations Conference on Development (UNCTAD) suggested that poorer countries had been sheltered so far from the worst impact of the economic crisis and warned that they could suffer from an overall decline in foreign investment in the coming year (Agence France-Presse 2009). Overall, the trend continued in 2009, with FDI slipping to a little more than $1 trillion, as leading companies continued to cut costs and investments due to the poor economic outlook. Fortunately, the United Nations Conference on Trade and Development sees a moderate recovery by the end of 2010 and expects the economy to gain momentum in 2011 (Schlein 2010).
THE TRADE DEFICIT
Exports are considered a central contributor to economic growth and well-being for a country. In 2008, U.S. exports increased 12 percent to $1.84 trillion. However, imports climbed 7.4 percent to $2.52 trillion. The trade deficit is the shortfall between what a country sells abroad and what it imports. In 2006, the U.S. trade deficit was a whopping $765 billion and was referred to as the "Grand Canyon" of trade deficits. In 2007, for the first time since 2001, it dropped to $708.5 billion. It further decreased in 2008, to $677.1 billion. The long-term trends that pushed the trade deficit to record highs in the first place still persist, and much of the improvement in recent quarters reflects slower import growth and the fact of a weakening economy (Weller and Wheeler 2008). Indeed, in 2009, the U.S. trade deficit shrank to just $390.1 billion. But the net improvement came entirely on the import side, as America's purchases of foreign goods and services shrank by more than 23 percent. Exports shrank, too—by just 15 percent. But because their fall-off was smaller, the deficit narrowed (Tonelson 2010). Amadeo (2010) provides an excellent analogy: "an on-going deficit is detrimental to the nation's economy over the long term because it is financed with debt. In other words, the United States can buy more than it makes because the countries that it buys from are lending it the money. It is like a party where you've run out of money, but the pizza place is willing to keep sending you pizzas and put it on your tab. Of course, this can only go on as long as there are no other customers for the pizza and the pizza place can afford to loan you the money. One day the lending countries may decide to ask the United States to repay the debt. On that day, the party is over." Table 1.2 presents U.S. trade with selected countries. Note that the United States exports much to its neighbors to the north and south.
THE EMERGENCE OF NEW MARKETS
European Union
The emergence of new markets has stimulated interest in international business. On December 31, 1992, many physical, fiscal, and technical barriers to trade among the 12-nation European Union (EU) began to disappear, giving birth to something akin to the United States of Europe. The original "European 12" (Belgium, Denmark, France, Germany, Greece, Ireland, Italy, Luxembourg, the Netherlands, Portugal, Spain, and the United Kingdom) were joined by Sweden, Finland, and Austria ← 6 | 7 → in 1999, bringing the total population to 375 million with an average per capita gross domestic product of $23,500. And in 2004, 10 additional countries joined the union, making a new "Mega-Europe" of 25 states and more than 450 million consumers. The newcomers were Poland, Hungary, the Czech Republic, Slovakia, Slovenia, Lithuania, Latvia, Estonia, Cyprus, and Malta. Most recently, in 2007, Bulgaria and Romania also joined the EU. In terms of GDP growth forecasts and average per capita income among the majority of member states, mega-Europe's economy is on a par with that of the United States. Many companies have already approached Europe as a single market—rather than as a group of distinct countries—by realigning their product lines and developing strategies that can be employed throughout the EU. For example, Nike, which has been marketing its "Just do it" slogan since 1988, is trying out a new softer catchphrase on young European women: "Here I am." Crafted by the Amsterdam office of the independent Wieden + Kennedy agency, the pan-European campaign includes five short animated web films about the life stories of five top European female athletes. One shows tennis player Maria Sharapova's rise from a childhood in Siberia to the number-one-ranked player in the world. The spots highlight the criticism and negativity that Maria had to overcome. "You're just another pretty face," critics in the spot say. "You won't be agile enough. You won't stay on top for long." At the end, the animated Sharapova morphs into the real Sharapova, who forms the "I" in "Here I am." The aim of the campaign is to deliver the message that there is more to sports than getting fit or competing. It's about building self-esteem. The idea for the slogan came out of research commissioned by Nike that found that university-aged women in Europe aren't as competitive about sports as men. "To appeal to them, agency copywriters decided they needed a different slogan from the 'Just do it' message," noted Mark Bernath, creative director for Nike at Wieden + Kennedy. "Here I am" promoted the personal benefit of exercise without being aggressive, he said (Patrick 2008). Nike executives liked the slogan because they thought it would be understood in English across Europe. Underscoring how marketers can use the Internet, particularly with younger consumers, Nike also paid for the spots to appear on Facebook, Bebo, and other social-networking sites popular with young women. In addition, Nike booked time for the ads on video screens in gyms and university student unions across Europe, including the U.K., France, Italy, Germany, and Russia. The campaign also included traditional television and print ads, on-line banners, and even a collection of athlete stories on the Nikewoman.com Web site (see Figure 1.1), as well as a gallery-worthy coffee table book featuring 22 young international female athletes.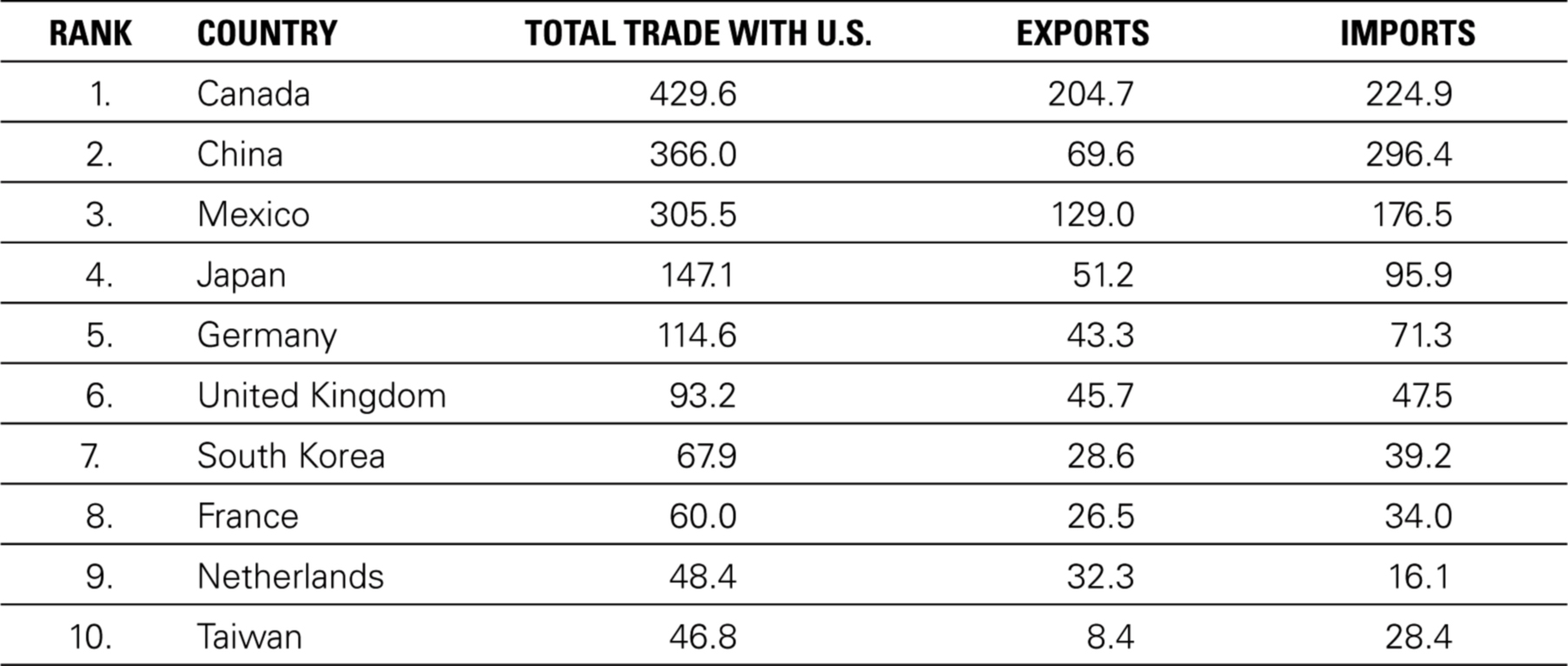 Source: U.S. Bureau of the Census (2010). ← 7 | 8 →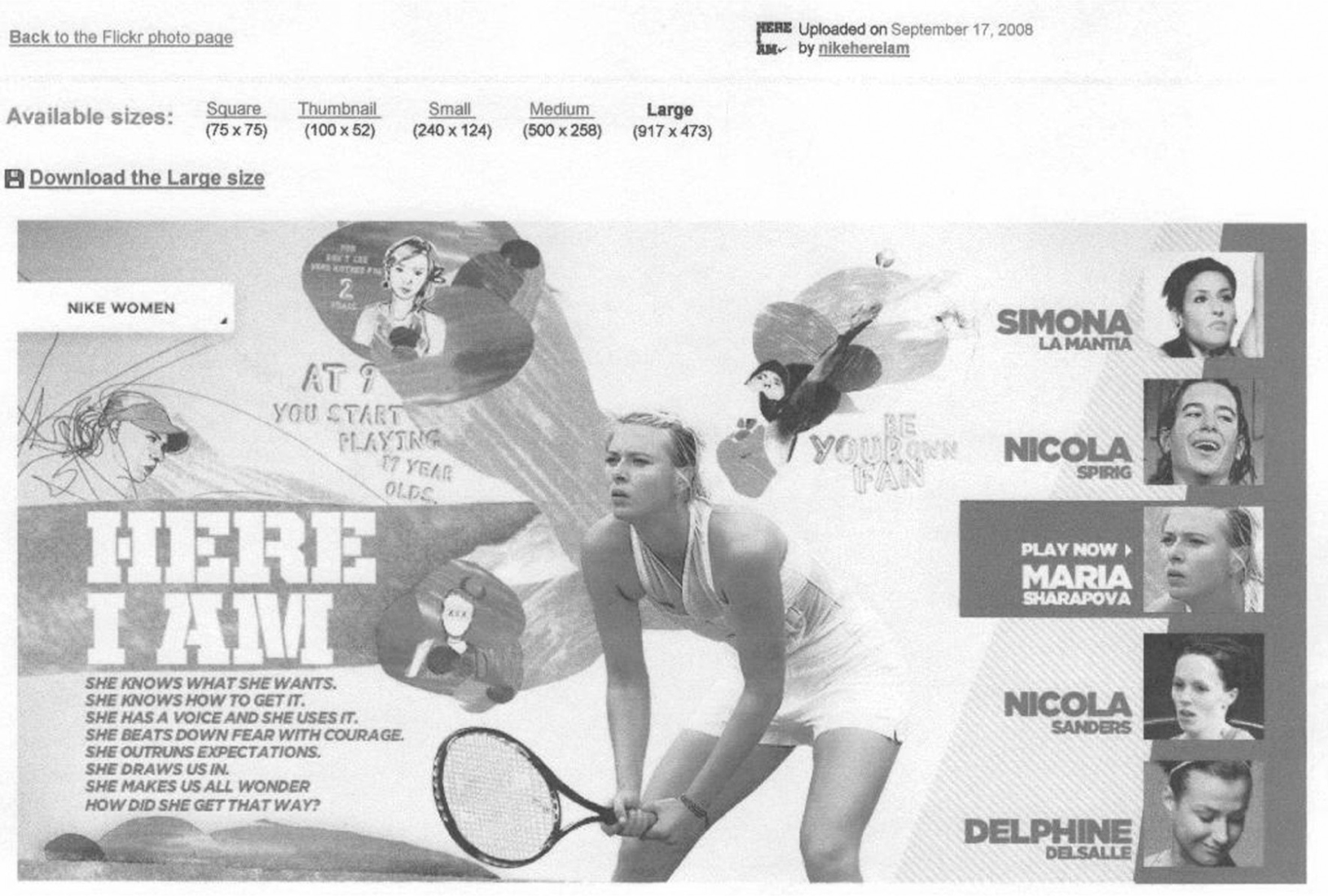 Commonwealth of Independent States
With the failed coup of August 1991, the subsequent resignation of President Mikhail Gorbachev, and the relegation of the former Soviet Union to official oblivion, trade and investment opportunities in the newly formed Commonwealth of Independent States (CIS) increased dramatically. Corporations around the globe eyed the CIS, with its population of over 275 million, as the next marketing frontier. The CIS was officially formed in December 1991 by Belarus, Russia, and Ukraine, when the leaders of the three countries signed a Creation Agreement on the dissolution of the Soviet Union and the creation of the CIS as a successor entity to the USSR. On 21 December 1991, eight additional former Soviet Republics (Armenia, Azerbaijan, Kazakhstan, the Kyrgyz Republic, Moldova, Tajikistan, Turkmenistan, and Uzbekistan) joined the CIS. Georgia joined two years later, bringing the total number of participating countries to 12. The three Baltic states—Estonia, Latvia, and Lithuania—decided not to join, preferring to pursue membership in the European Union. The Creation Agreement remained the primary constituent document of the CIS until January 1993, when the CIS Charter was adopted. This charter formalized the concept of membership in that it defined a member country as one that ratifies the CIS Charter. It is of interest to note that Turkmenistan has not ratified the charter and changed its standing to associate member in 2005, and Ukraine, one of the three founding countries, ← 8 | 9 → has never ratified the CIS Charter and is thus not legally a member. Further, following the South Ossetian war in 2008, Georgia's President Saakashvili announced that his country would leave the CIS, and the Georgian Parliament voted unanimously to withdraw from the regional organization. Georgia's withdrawal became effective on 17 August 2009. The population of the CIS is a heterogeneous one, and while the official language is Russian, there are more than 200 languages and dialects (at least 18 with more than 1 million speakers). Table 1.3 presents basic demographic information for the CIS. Note that Russia, with its 142 million consumers, is by far the largest of the republics, and also boasts the wealthiest consumers in terms of per capita income.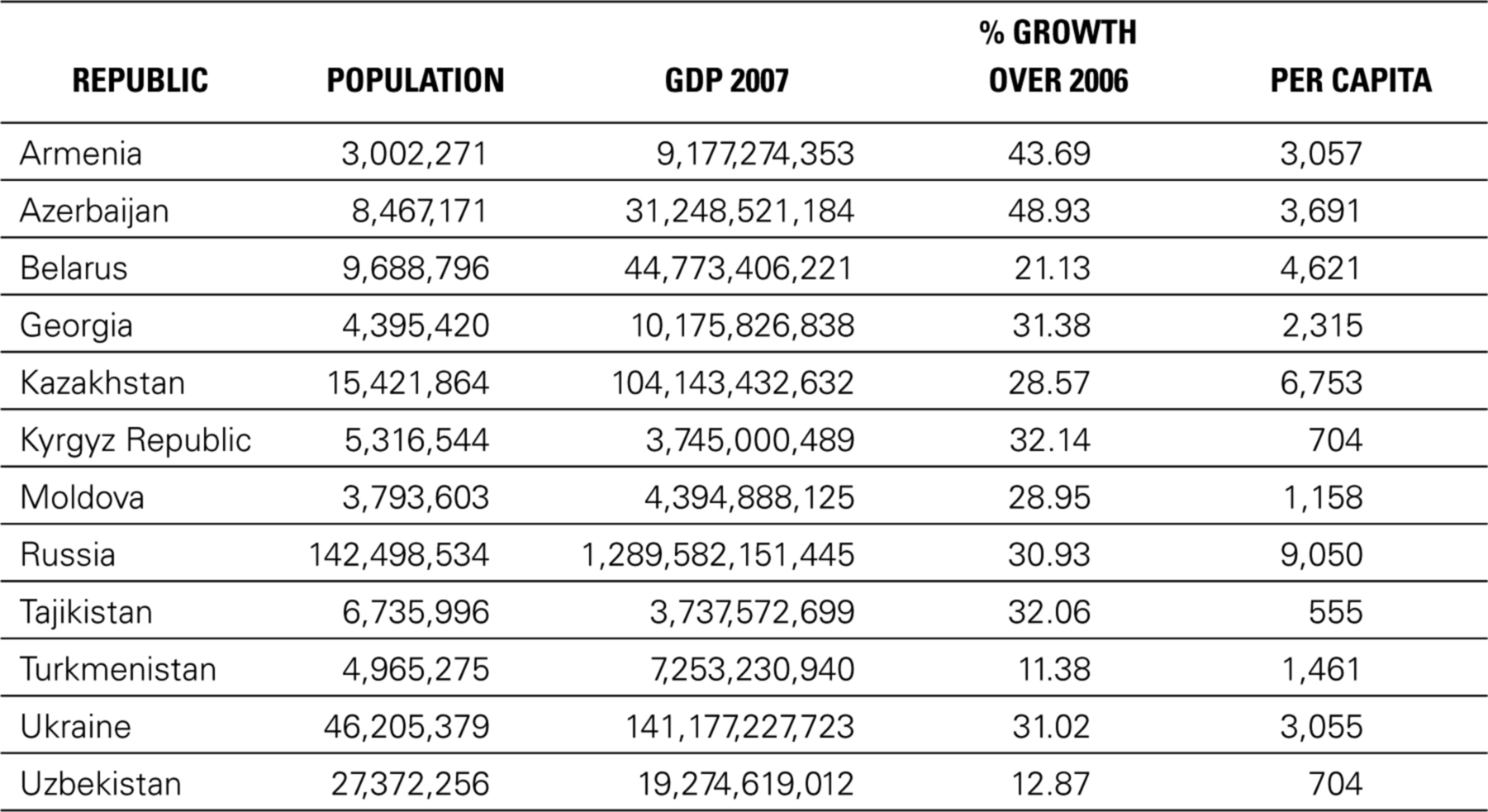 Source: http://unstats.un.org/unsd/snaama/selectionbasicFast.asp.
The Commonwealth's economy has experienced somewhat of a roller coaster ride over the past two decades. Immediately after the fall of the "Iron Curtain," a multitude of Western companies moved into this newly formed marketplace. For instance, Procter & Gamble signed a joint venture agreement in August 1991 with Leningrad State University to begin marketing and distributing consumer products such as Wash & Go shampoo (the European name for Pert Plus) throughout Ukraine and Baltics. Philip Morris signed agreements with the Russian republic to supply more than 20 billion cigarettes—the largest order in the company's history, but still only 5 percent of the market for cigarettes in the CIS. And, in late 1991, Visa became the first credit card available to the general public in the CIS. However, by late 1998, an overriding feeling of uncertainty replaced the rosy glow of optimism regarding marketing opportunities in the Commonwealth. Political and economic chaos in the region brought many marketing activities to a slowdown, if not an actual halt. Ruble values plummeted, inflation jumped, per capita income dropped, and the gap in income levels between the rich and poor increased. To make matters worse, crime and corruption flourished. According to a survey for the American Chamber of Commerce, nine out of ten companies significantly reduced their advertising budgets at the time. Nearly all shifted their emphasis to less expensive product lines to compete with ← 9 | 10 → domestic goods, and a few companies even suspended sales of products. For example, General Motors suspended sales of its Chevy Blazer, despite having just kicked off a new ad campaign for the vehicle. Fortunately the Commonwealth's economy rebounded by the turn of the century. For example, Russia's GDP between 1997 and 2000 reportedly rose almost 38 percent to $623.1 billion. The U.S. Department of Commerce reported that the GDP for the United States, by comparison, was nearly $10 trillion in 2000, up about 20 percent from its level in 1997. Inflation in Russia also dropped, from 36.5 percent in 1999 to 20 percent in 2000, and down to about 14 percent in 2001 (Bertagnoli 2001, 1). Russia's middle class grew to somewhere between 12 to 30 million people, or about 8 to 20 percent of that country's population. The list of Western companies that had made investments in Russia was a veritable Who's Who of multinational businesses. Ikea, the Swedish furniture manufacturer, had a vision of placing the firm's simple shelves, kitchens, bathrooms, and bedrooms in millions of Russian apartments that had not been remodelled since Soviet days. On the day that Ikea opened its first store in Moscow in 2000, the wait to get in was an hour. Highway traffic backed up for miles, and more than 40,000 customers crammed into the store and picked the shelves clean. Based on this phenomenal success, Ikea opened a second store in Moscow and, at the close of 2002, unveiled a "megamall" with two kilometers of shop fronts and 150,000 square meters of retail and restaurant space. The center is expected to attract between 25 to 40 million customers per year. The mall was built around a 31,000-square-meter Ikea store and a 24,000-square-meter hypermarket run by the French retailing group Auchan. The hypermarket sells over 40,000 items and requires more than 100 truck deliveries a day to keep its shelves stocked. A further 250 shops include international brand names such as Tommy Hilfiger, Reebok, Wolford, and Levi's, together with restaurants, a skating rink, and Russia's biggest multiplex cinema (FT.com 2002). Given the success of Ikea, and in particular Auchan, French rivals Carrefour and Casino, as well as the U.S. giant Wal-Mart, are also studying the market. Russia ended 2008 with GDP growth of 6 percent, following 10 straight years of growth averaging 7 percent annually since the financial crisis of 1998. During the past decade, poverty and unemployment declined steadily, and the middle class continued to expand. However, these "positive trends began to reverse yet again in the second half of 2008. Investor concerns over the Russia-Georgia conflict, corporate governance issues, and the global credit crunch in September of that year caused the Russian stock market to fall by roughly 70 percent. The economy took a further nosedive after the price of oil, its key export, collapsed, and investors pulled billions of dollars out of the country. The end result was growing unemployment, wage arrears, and a severe drop in production" (U.S. Central Intelligence Agency 2010). Officials had forecast earlier that Russia's GDP would decline by only 2.2 percent in 2009, but analysts expect an even sharper fall in GDP. Current estimates are that the economy contracted 7.9 percent in 2009 (Reuters.com 2009). What continues to make this an attractive market is that while the Russian population's propensity to consume is comparable to that of Western countries, the critical difference is that consumer needs are far from being satisfied. Indeed, Russian Prime Minister Viktor Zubkov expressed concern over rising imports of consumer goods, which have soared nearly 500 percent since 2000. Zubkov notes that imported products account for about 49 percent of consumer goods sold in Russia (Guerrero 2008).
China
As recently as 1977, the total volume of two-way trade between the People's Republic of China and the United States was under $400 million. Less than two years later, China began to experiment with open markets and continued to liberalize trade laws. In 1979 Coca-Cola became the first American product available in China when the company was awarded the sole privilege of selling soft drinks to ← 10 | 11 → the Chinese market. That same year, for the first time, Chinese authorities permitted domestic product advertising in newspapers. By 1988 two-way trade between the United States and China had jumped to almost $17 billion. Despite the events in Tiananmen Square in June 1989, U.S. businesses continued to knock on China's door. In 1992, in a joint venture with a Chinese state-owned company, McDonald's opened a restaurant in Beijing, with 700 seats and 29 cash registers—the biggest McDonald's in the world, slightly bigger than the one that opened in Moscow in early 1990. At the close of the first day of business, the restaurant had registered 13,214 transactions—representing approximately 40,000 customers—setting a one-day sales record for any McDonald's in the world.
With over 1.3 billion consumers, China is the world's largest single-country market. More than 22 million new consumers are added each year. With 273 of its cities home to more than 1 million inhabitants (compared with fewer than 10 in the United States), China is more like dozen of countries sprawled across five time zones and 22 provinces. It is a land of youth—almost 50 percent of the population is under age 24. The average family size ranges from 3.7 individuals in the Beijing municipality to 5.2 in the Yunnan and Qinghai provinces. In just the past two years, the average gross domestic product per capita has passed $2,000 and is now close to $2,500. That average lumps together 250 million affluent and "rising affluent" urban residents with another 500 to 600 million people living in rural areas (and whose income may or may not exceed a dollar a day). Another several hundred million more Chinese are somewhere in between. That core of 250 million Chinese consumers—especially in coastal cities—actually earns closer to $10,000 a year on average. Given their modest living expenses, they are left with considerable disposable income that they are eager to spend. Though China has one of the higher personal savings rates in the world (over 40 percent), this does not so much reflect a wariness to spend as much as the absence of things to buy. That is now changing. According to a McKinsey survey, the Chinese love to shop and spend 9.8 hours per week doing so. In contrast, the average American shops just 3.6 hours per week. Forty-one percent of Chinese said that shopping was their preferred leisure activity (Karabell 2008). Such statistics have foreign companies climbing over one another to get a piece of the market. Indeed, many perceive China as the new gold rush. For example, Yum! Brands, owner of Kentucky Fried Chicken and Pizza Hut, has expanded aggressively in China. "We are extremely bullish on China," chief executive Dave Novak told analysts. "It's an absolute gold mine for us" (Gu 2003). In the United States and Germany, the company is barely growing and has anemic margins. In contrast, KFC in China is hugely popular and growing more than 25 percent a year. It now has more than 2,000 outlets that constitute a fraction of KFC's global presence, but account for a staggering 20 percent of the company's total profits (Karabell 2008).
But China's potential is not limited to chicken wings and pizza. Zheng Xinli, vice minister of the Communist Party's central policy research office, estimated that 55 percent of China's population will be middle class by 2020, with 78 percent of city dwellers and 30 percent of those in rural areas reaching that status. ("Middle class" is currently defined as having an annual household income of between $8,700 and $29,215.) In 2008 prices, the annual disposable income per household will be $14,900 in 2020 (ZenithOptimedia 2001). China is already the world's largest mobile phone market, signing up about 4 million wireless users every month—or about the population of Kentucky—to its 200 million cell-phone user base. Mobile handsets maker Motorola Inc. now sells 13 percent of its products in China. China recently displaced Japan to become the No. 2 market for computers and Internet use, helping computer manufacturers, as well as chip makers. It is also an important market for cars, beer, cigarettes, and even luxury goods. Despite the weak economy, sales of luxury goods in China grew 12 percent in 2009—to $9.6 billion. China is now the second-biggest consumer of luxury goods behind only ← 11 | 12 → the United States (Japan ranks third) and accounts for an amazing 27.5 percent of the global market. In the next five years, China's luxury spending is expected to increase to $14.6 billion, making it the No. 1 luxury market globally (Madden 2010). Coach is among the luxury brands trying to carve out growth in Asia to make up for lagging U.S. sales. Coach has opened dozens of new stores in China, Hong Kong, and Macau, invested in advertising, and even created product lines specifically for the Chinese market, such as a special handbag to celebrate Elle magazine's 20th anniversary in that country. For an increasing number of firms, China is their best-performing market and top cash generator.
China's economic policies over the past few years have borne remarkable fruit. In 2001, China gained admission to the World Trade Organization (WTO). China has long held "most favored nation" trading status with the United States, which grants it the same tariff rates that many other foreign countries receive. China's admission to the WTO will now force places like the European Union, Mexico, and Taiwan to lower trade barriers against a host of Chinese products. At a time when growth stalled in most other parts of the world, China's growth rates for 2003–2005 were recorded at around 10 percent per year in real terms, and despite efforts to cool the overheating economy, the officially recorded GDP growth rate was 11.4 percent in 2007 (Zhiming 2008). In 2008, the global economic crisis began to reduce China's growth rate somewhat, and it is expected to have slowed to 8.7 percent in 2009. Economists predict that sometime in the next 10 to 15 years China may well surpass the economic might of Europe. China's advantages are numerous. Its wage rates are one-third of Mexico's and Hungary's, and 5 percent of those in the United States or Japan. China's investments in education and training have attracted research facilities from companies such as IBM, Motorola, and Microsoft. The critical mass of factories, subcontractors, and specialized vendors has created a manufacturing environment in which few can complete. But China is not simply an export platform. Its large and ever-expanding domestic market is another attraction. Mushrooming investment reflects the obsession of many global CEOs to lower production costs by outsourcing whatever they can to large-scale specialists. Indeed, estimates suggest that 50 percent of all manufacturing could be outsourced to China by 2010 (Garten 2002). Today China mainly manufactures goods that are labor-intensive. It makes 60 percent of the world's bicycles, including 85 percent of those sold in the United States, and is also dominant in the production of shoes, toys, clothing, and furniture. It is only a matter of time before China is also a big factor in capital-intensive industries, such as high tech. High tech manufacturing will have become centered in Asia and China by the 2006–2010 period (Bauder 2003). The dark cloud on the horizon is that the world economy may be growing increasingly reliant on these factories.
WORLD TRADE
World economic growth, as measured by total production, or gross domestic product (GDP), has slowed significantly over the past few years. World trade growth slid from 3.5 percent in 2007 to 1.7 percent in 2008. Growth in 2008 was the slowest since 2001 and well below the 10-year average rate of 2.9 percent. The financial market turbulence has considerably reduced economic growth projections for the major developed markets. Developed economies managed a meager 0.8 percent growth in 2008, compared with 2.5 percent in 2007 and an average rate of 2.2 percent between 2000 and 2008. In contrast, developing economies expanded their output in 2008 by 5.6 percent, down from 7.5 percent in 2007—but still equal to their average rate for the 2000–2008 period (World Trade Report 2009). The rate of future growth will largely depend on how soon developed countries can shake off the financial turmoil currently dogging the markets. ← 12 | 13 →
The United States was once considered the "hub" of world trade. While it remains a major player, U.S. participation in world trade, measured as a portion of world market share, has declined drastically. Whereas in 1950 the United States accounted for nearly 25 percent of the world trade flow, its current share is less than 10 percent. It is not that U.S. exports have actually dropped during this period; rather, these figures reflect the entrance of other trading partners into the picture. Fortune's 2009 list of the Global 500 shows the fewest U.S. businesses since Fortune began keeping its Global 500 count in 1995, confirming the rising prominence of the emerging markets. Less than 10 years ago Russia, India, and Mexico posted only one company on the Global 500. The 2009 list includes eight from Russia, seven from India, and four from Mexico. But China appears to be stealing the show. Joining petrochemical giant Sinopec—China's highest-ranking company at No. 9—are nine new arrivals, and the rest are climbing the ranks. With an unprecedented total of 37 companies on the list (up from 29 the previous year), China has more companies than Italy, Spain, and Australia combined. "In terms of size, speed, and directional flow, the transfer of global wealth and economic power now underway—roughly from West to East—is without precedent in modern history." Who says so? The U.S. Government. In a report called Global Trends 2025, the National Intelligence Council, a federal agency that does strategic analysis for the intelligence community, says, "If current trends persist, by 2025 China will have the world's second largest economy" (Gunther 2009). American corporations have slowly come to realize that the United States is no longer an isolated, self-sufficient national economy but rather just another player in the global marketplace.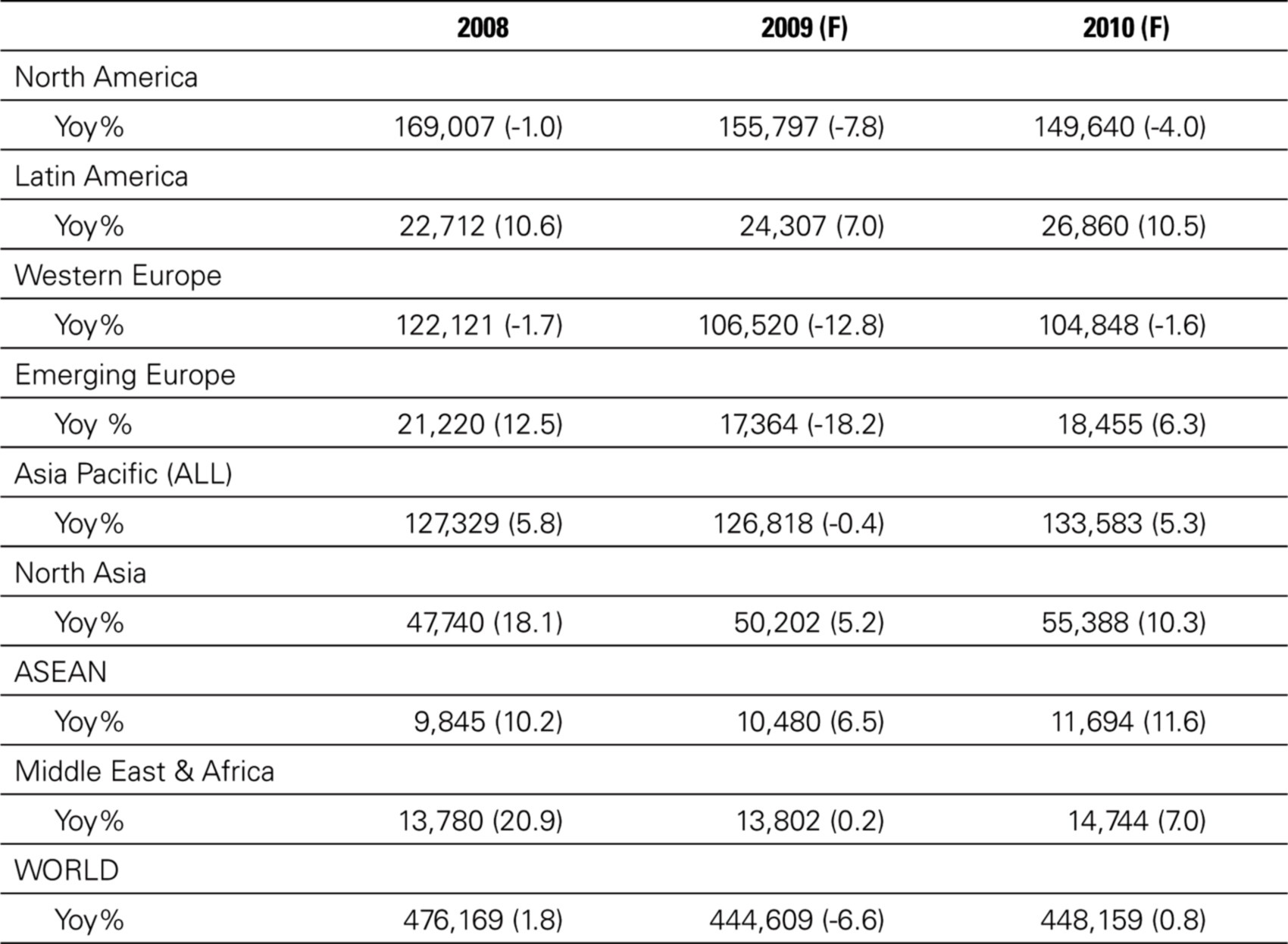 Source: American Association of Advertising Agencies Press Release (2009). ← 13 | 14 →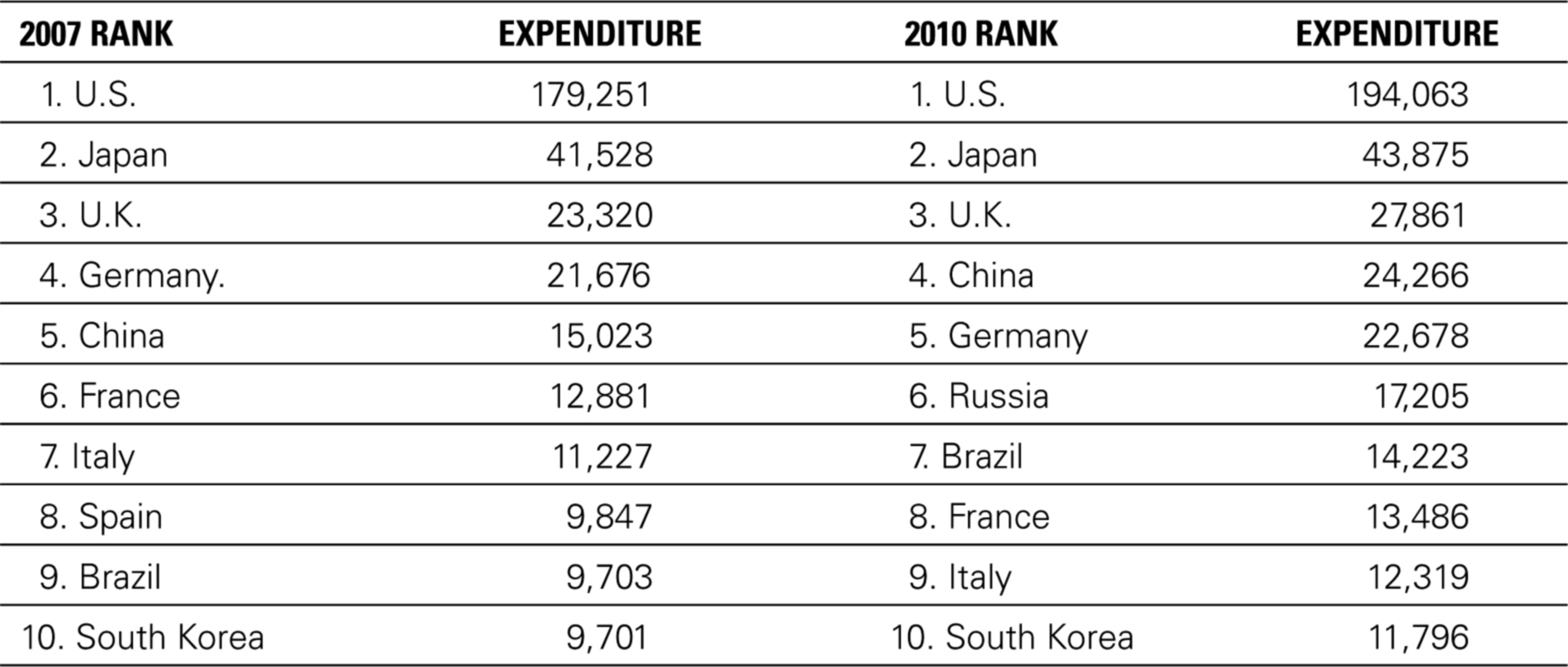 Source: ZenithOptimedia (2008).
GROWTH IN ADVERTISING EXPENDITURES WORLDWIDE
Patterns in the growth of international advertising mirror those of international business. At the end of World War II, the bulk of advertising activity was domestic, and 75 percent of recorded advertising expenditures worldwide were concentrated in the United States. Since then, the growth in advertising expenditure worldwide has been phenomenal. In 1950, estimated advertising expenditure totaled $7.4 billion worldwide, including $5.7 billion in the United States alone. By the late 1970s the advertising expenditure had swelled to nearly $72 billion worldwide, including $38 billion in the United States. Table 1.4 presents global ad spending for the period 2008–2010. Global figures in 2008 were $476 billion, according to the latest 70-country forecast by GroupM. GroupM's forecast for North America was rather gloomy for 2009, with a predicted fall of almost 8 percent in ad spending, and a mild recovery expected in 2010. Global ad spending in 2010 is expected to fall just 0.8 percent to $448 million. The so-called BRIC nations (Brazil, Russia, India, and China) are expected to lead the recovery, while ad spending in the United States and G7 nations (Canada, France, Germany, Italy, Japan, the United Kingdom, and the United States) will probably lag behind, according to the report, which is part of GroupM's media and marketing forecasting series drawn from data supplied by parent company WPP's worldwide resources in advertising, public relations, market research, and specialist communications. It appears that the global prospects for a limited ad recovery in 2010 are improving (American Association of Advertising Agencies Press Release 2009).
The role of advertising varies significantly from country to country, as the figures in Table 1.5 suggest. Table 1.5 lists countries with over $1 billion in advertising expenditures in 2007 and also provides projections for 2010. Countries spending the most on advertising are primarily the rich industrialized nations, such as the United States, which spent more on advertising than the next nine countries ← 14 | 15 → combined. The United States has traditionally been the world leader in total advertising expenditures, contributing 50 percent or more of the total figure year after year.
Source: Advertising Age (2009).
For the most part, the developing countries tend to be light advertisers. However, economic development is not the sole predictor of advertising expenditure. Some relatively rich countries, such as Canada or Austria, are not even on this list, while countries such as South Korea are. This suggests that other variables, such as culture, must be considered in attempting to understand the role of advertising in a particular country. Nor do the figures in the table reflect the relative costs of media time/space in each of the countries. It should be noted that media costs in many developing countries tend to be rather low, and this factor should be taken into consideration when making comparisons. It is of interest to note that for 2010, China moves up in the rankings, from fifth place to fourth, while Russia, previously not on the list, ranks sixth.
The leading 20 advertisers, based on total worldwide media spending, are listed in Table 1.6. Procter & Gamble Co. heads the list with worldwide media spending at $9.73 billion, followed by Unilever ← 15 | 16 → and L'Oréal. Advertising Age ranks marketers by total worldwide media spending in more than 90 countries, from Algeria to Zambia. A company must advertise on at least three continents to qualify as "global" regardless of its headquarters. Overall, the top 100 spent $117.9 billion in 2008—with 62 percent of their measured media budgets spent outside the United States. Eleven of the 44 U.S.-based companies among the Global 100 rely so heavily on international sales that they do more than half their ad spending abroad. For example, Procter & Gamble, the world's largest advertiser since overtaking Unilever in 2002, devotes 65 percent of its spending to international markets, slightly ahead of the 61 percent of P&G revenue that comes from outside the United States. The biggest marketers are investing ad dollars wherever they can find revenue or potential growth in a tough global economy—and increasingly, that's China. Some 39 of the Global 100 had measured media spending in China in 2008. Five of them invest more than 10 percent of their budgets there—Yum! Brands, Pernod Ricard, Avon Products, Colgate-Palmolive Co., and P&G. Overall, China represents 3.4 percent of total ad spending for the Global 100. In contrast, the United States accounted for 35 percent of worldwide media spending. Overall, total measured ad spending for the Global 100 increased 3.1 percent in 2008. The crucial question is when spending will return to the 5–6 percent growth rate considered normal. Projections suggest it won't be until 2012 (Wentz 2009).
TREND TOWARD INTERNATIONAL AGENCIES
Around the turn of the 20th century, in order to better service clients who were beginning to market their products internationally, advertising agencies also moved abroad. The first U.S. agency to establish itself overseas was J. Walter Thompson, which opened an office in London in 1899 to meet the needs of its client General Motors. By the early 1920s both J. Walter Thompson and McCann-Erickson had large overseas networks with offices in Europe, India, and Latin America. Overall, however, agency movement to foreign soil was rather slow prior to 1960.
A study of 15 large American multinational agencies revealed that in the 45 years between 1915 and 1959, these agencies had opened or acquired only 50 overseas branch offices. Yet in the subsequent 12-year period, 210 overseas branch offices were opened or acquired—a fourfold increase (Weinstein 1974, 29).
When firms began to expand to foreign markets, their advertising agencies were faced with the following options: (1) allow a local agency abroad to handle the account, (2) allow a U.S. agency with an established international network to service their client, or (3) open or acquire an overseas branch. Initially, when multinational clients were the exception rather than the rule, the second alternative was the most common practice. However, allowing another agency to handle a client's international business became rather risky. For example, when D'Arcy, the agency handling advertising for Coca-Cola, was unable to provide service to Coca-Cola's overseas branches, the client turned to McCann-Erickson to handle its international account. Shortly thereafter, Coca-Cola dropped D'Arcy altogether, giving McCann-Erickson both its international and domestic accounts (Tyler 1967, 366).
The 1960s were characterized by rampant expansion abroad by U.S. advertising agencies. Agencies began to see many advantages to joining their clients in foreign markets. By moving abroad, these agencies could not only service their domestic clients but also compete for the foreign accounts of other U.S.-based multinational firms and for the accounts of local foreign firms. Thus, as domestic advertising volume began to taper off, foreign markets looked increasingly appealing. In addition, there was the attraction of potentially higher profits. Overseas salaries of advertising staff members in the 1960s were as much as 70 percent lower than in the United States, while average agency profits were often twice what ← 16 | 17 → they were in the United States (Business Week 1970, 48). Setting up offices overseas had the additional benefit of freeing U.S. agencies from a total dependency on the performance of the U.S. economy as a whole. For example, during the 1970 recession, domestic advertising agency billings declined 1 percent while the foreign billings of multinational agencies increased 13 percent (International Advertiser 1971).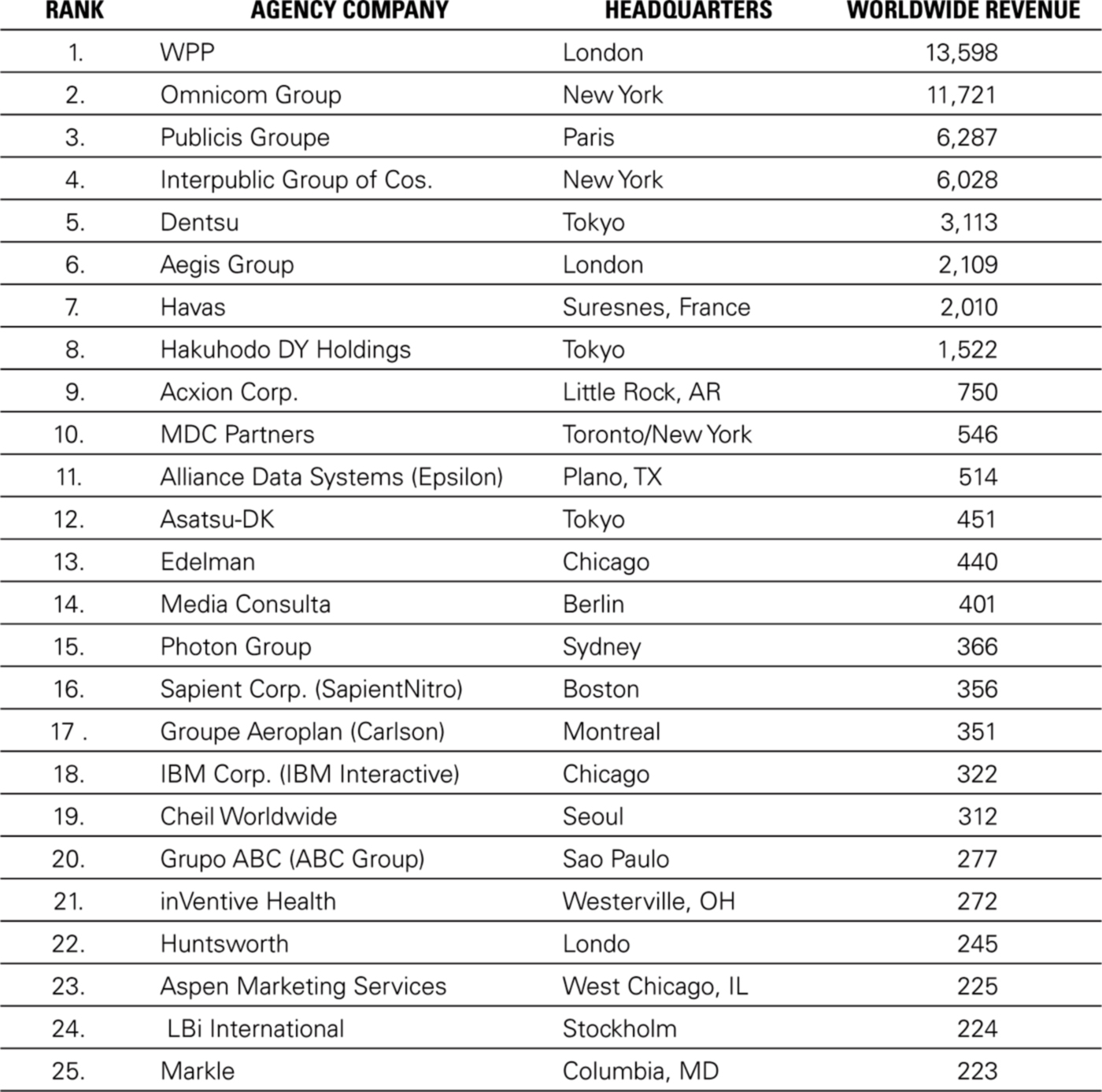 Source: Advertising Age (2010).
In contrast to the 1960s, the 1970s was a period of consolidation and retrenchment for many U.S. advertising agencies. While the combined annual billings of multinational agencies continued to increase, many smaller multinational agencies with a limited presence overseas were forced to withdraw from foreign markets. Many realized that in order to compete successfully, they had to maintain offices in almost all of the important countries of Europe, Latin America, and the Far East—a commitment ← 17 | 18 → that only the largest multinational agencies were prepared to make. In 1970 Advertising Age listed 58 agencies that had international billings; by 1977 that number had dropped to just 36.
In the late 1980s, the profile of the industry changed substantially. In 1986, BBDO International, Doyle Dane Bernbach, and Needham Harper Worldwide announced a three-way merger to create the world's largest advertising firm, the Omnicom Group. At about the same time, a small London-based agency, Saatchi & Saatchi, purchased three U.S. agencies—Dancer, Fitzgerald, Sample; Backer & Spielvogel; and Ted Bates—and immediately surpassed Omnicom as the world's largest advertising organization. In 1989 the British WPP Group brought two of U.S. advertising's most glamorous names—J. Walter Thompson and the Ogilvy Group—into its "family" via hostile takeovers. Madison Avenue, it was said, was being invaded by an army speaking the Queen's English (Rothenberg 1989, 14). French agencies, too, looked to U.S. soil. In 1988, Publicis Group formed the first big Franco-American alliance with Chicago-based Foote, Cone & Belding Communications. In 1989, Della Femina became a subsidiary of Eurocom, France's top agency. In 1990, Paris-based Boulet Dru Dupuy Petit bought 40 percent of Wells, Rich, Green. Then, in 1994, Publicis Group acquired Bloom FCA, with offices in New York and Dallas (Toy and Lindler 1990, 74). Two Japanese agencies, Dentsu (Japan's largest agency) and Hakuhodo, also opened offices in the United States. As part of Dentsu's plan to establish majority-owned advertising and sales promotion networks in the world's major markets, the agency opened Nova Promotion Group in New York (Kilburn 1991, 3).
Over the past decade, the United States has lost its unchallenged grip on hucksterism—not only at home but abroad as well. European, Japanese, Australian, and Brazilian agencies have expanded or merged operations with agencies in other countries in order to meet the needs of their clients. Today, many of the largest multinational agencies have regrouped, and regrouped again, into multimillion- and multibillion-dollar multiservice transnational mega-advertising organizations. Today, the top three holding companies, WPP, Omnicom, and Publicis, together control over one-third of the world's advertising agencies. Table 1.7 lists the world's top 25 advertising organizations. Advertising Age notes that an advertising organization may be either an agency or agency holding company and qualifies for the ranking if it owns 50 percent or more of itself. This table ranks advertising organizations by worldwide revenues. Only 10 of the top 25 agencies have their headquarters solely in the United States, and the top agency is British-based WPP, the parent of global ad networks such as Ogilvy & Mather and J. Walter Thompson, as well as other marketing, media, and public relations firms such as Wunderman, Mindshare, and Burson-Marsteller. Three agencies are headquartered in London, and two are based in Japan. Beyond their sheer size, such mega-advertising organizations offer a number of benefits to their clients. They can present clients with a significantly larger pool of talent, and the potential for service synergies exists as well. In addition, clients have the ability to shift portions of accounts from one agency to another without going through the time-consuming process of an agency review. On the downside, clients must contend with potential conflicts with competing accounts.
SUMMARY
The growth of international business has paralleled the growth of international advertising. Before turning our attention to the development of effective advertising programs for foreign markets, it is essential to understand the role that advertising plays in the international marketing mix and the challenges posed by the international marketing environment. These topics are the subject of Chapters 2 and 3. ← 18 | 19 →
REFERENCES
Advertising Age. 2009. Top 100 global advertisers heap their spending abroad. 30 November, 1, 11.
———. 2010. Agency report. 26 April, 22.
Agence France-Presse. 2009. Global investment flow slows sharply in 2008: UNCTAD. 20 January. <http://abs-cbnnews.com/business/01/19/09/global-investment-flow-s…>. Retrieved 29 May 2009.
Amadeo, Kimberly. 2010. The U.S. trade deficit. About.com Guide. <http://useconomy.about.com/od/tradepolicy/p/Trade_Deficit.htm>. Retrieved 14 May 2010.
American Association of Advertising Agencies Press Release. 2009. GroupM forecasts global ad spending recovery to begin in 2010. 8 December. <http://www2.aaaa.org/news/agency/Pages/120909_recovery.aspx?PF=1>. Retrieved 14 May 2010.
Bauder, Don. 2003. China factor involves hefty helping of angst. San Diego Union-Tribune, 19 February, C-1.
Bernard, Bruce. 2001. Food firms fight for world market. Europe, June, 16.
Bertagnoli, Lisa. 2001. To Russia with…reservations. Marketing News, 9 April, 1, 11.
Business Week. 1970. Madison Avenue goes multinational. 12 September, 48–51.
Demos, Telis. 2009. Fast, foreign food. Fortune, 31 August, 16.
Fortune. 2009. Fortune global 500. 20 July, F1–F8.
FT.com. 2002. Ikea is building a shopping center on a scale Russia has not seen before. 26 April. Financial Times (London). <http://80-proquest.umi.com.webgate.sdsu.edu:88/pgdweb?Did=0000001161046768fmt=3>.
Garten, Jeffrey. 2002. When everything is made in China. Business Week, 17 June, 20.
Gu, Wei. 2003. U.S. companies in China find the silk road. San Diego Union-Tribune, 23 February, H-3.
Guerrero, Antonio. 2008. Russia's retail therapy. Global Finance (New York) 22(6): June, 42–48.
Gunther, Marc. 2009. China Inc. takes off. Fortune, 20 July, 131–134.
Hilsenrath, Jon E. 2002. Globalization efforts will see revival—search for new consumers, low cost suppliers, power expansion abroad. Asian Wall Street Journal, 2 January, 1.
Holmes, Stanley. 2002. To keep up the growth it must go global quickly. Business Week, 9 September, 100–110.
Howes, Daniel. 2008. Auto-makers lust after emerging markets. Detroit News, 15 January, A-1.
International Advertiser. 1971. International agencies. 12(3): 44.
Johnson, Bradley. 2009. U.S. revenue rises 3.7% (but watch out for '09). Advertising Age, 27 April, 1.
Karabell, Zachary. 2008. Thank God for the Chinese consumer. Wall Street Journal (Eastern Edition), 8 August, A-15.
Kilburn, David. 1991. Dentsu opening U.S. promo shop. Advertising Age, 8 July, 3, 34.
Madden, Normandy. 2010. Luxury sales in China grew 12% in 2009. Advertising Age, 19 May. <http://adage.com/print?article_id=143946>. Retrieved 19 May 2010.
Patrick, Aaron. 2008. Softer Nike pitch woos Europe's women. 11 September. <http://online.wsj.com/article/SB122108023306820723.html?mod=h…>. Retrieved 8 June 2009.
Pender, Kathleen. 2007. Overseas markets in your sights? Try big U.S. firms. San Francisco Chronicle, 30 October, C1.
Reuters.com. 2009. World Bank cuts Russia GDP forecast to -7.9 percent in 2009. 24 June. <http://www.reuters.com/article/idUSLO68247420090624>. Retrieved 14 May 2010.
Rothenberg, Randall. 1989. Brits buying up the ad business. New York Times Magazine, 2 July, 14–38.
Schlein, Lisa. 2010. Foreign direct investment falls sharply in 2009. VOA News.com, 19 January. <http://www1.voanews.com/english/news/economy-and-business/Fore…>. Retrieved 14 May 2010.
Schlisserman, Courtney. 2007. Smaller companies grab bigger share of surging U.S. exports. 23 November. <http://www.bloomberg.com/apps/news?pid=20670001&sid=aXW>. Retrieved 25 May 2009.
Shaughnessy, Rick, and Diane Lindquist. 1993. Foreign investment in the United States drops 47 percent. San Diego Union-Tribune, 9 June, C2.
Tonelson, Alan. 2010. 2009 trade deficit reduction masks serious US competitiveness deficiencies. 22 February. <http://americaneconimicalert.org/view_art.asp?Prod_ID=3413>. Retrieved 14 May 2010. ← 19 | 20 →
Toy, Steward, and Mark Lindler. 1990. And now, rue de Madison. Business Week, 21 May, 74–75.
Tyler, Ralph. 1967. Agencies abroad: New horizons for U.S. advertising. In World marketing, ed. John K. Ryans and J. C. Baker. New York: Wiley, 366–380.
U.S. Bureau of the Census. 1995. Statistical history of the United States. New York: Basic Books.
———. 2010. Top trading partners. <http://www.census.gov/foreign-trade/statistics/highlights/top/top0912…>. Retrieved 14 May 2010.
U.S. Central Intelligence Agency. 2010. The world factbook.
Weinstein, Arnold K. 1974. The international expansion of U.S. multinational advertising agencies. MSU Business Topics, 22(3): 29–35.
Weller, Christian, and Holly Wheeler. 2008. Nothing to brag about. U.S. trade deficit remains high priority despite recent improvements. 26 March. <http://www.americanprogress.org/issues/2008/03/high_priority.html>. Retrieved 20 May 2009.
Wentz, Laurel. 2009. Top 100 global advertisers heap their spending abroad. Advertising Age, 30 November, 1.
World Bank. 2002. World development indicators.
World Trade Report. 2009. The trade situation in 2008–09. World Trade Organization. 1–3.
ZenithOptimedia. 2001. Advertising expenditure forecasts. 1–10. 11 March 2009. <http://www.euromonitor.com/Chinese_consumers_in_2020_A_look_into_the_future>. Retrieved 20 March 2009.
———. 2008. ZenithOptimedia ad forecast: Boom in developing markets, gloom in West. 2 April. <http://www.marketingvox.com/zenithoptimedia-ad-forecast-boom-in-developing-markets-gloom-in-west-037754/>.
Zhiming, Xin. 2008. WB: China's GDP to slow to 7.5% in 2009. China Daily, 28 November. <http://www.chinadaily.com.cn/bizchina/2008-11/25/content_72379>.
| 21 →
The International Marketing Mix
The primary focus of this text is international advertising. However, because an advertising campaign is part of an overall marketing strategy and must be coordinated with other marketing activities, the role of the other marketing mix elements will be reviewed. Companies operating in one or more foreign markets must decide whether to adapt their marketing mix to local conditions, and if so, to what degree. The concept of a marketing mix, popularized by Jerome McCarthy, includes the following four P's:
▪ Product: includes a product's design and development, as well as branding and packaging;
▪ Place (or distribution): includes the channels used in moving the product from manufacturer to consumer;
▪ Price: includes the price at which the product or service is offered for sale and establishes the level of profitability;
▪ Promotion: includes advertising, personal selling, sales promotions, direct marketing, and publicity. Broadly defined, it also includes sponsorships, product integration, and even trade fairs. (McCarthy 1960)
GLOBALIZATION VERSUS LOCALIZATION OF THE MARKETING MIX
Experts disagree over the degree to which firms should globalize, or standardize, their marketing programs across markets. At one extreme are companies that support the use of a fully standardized approach. Marshall McLuhan coined the term "global village" to describe an emerging world tightly linked through telecommunications. Many marketers believe that these advances in telecommunications, along with cheaper air transportation and the resulting increase in international travel, have created increasingly international consumers, making the world ripe for global marketing—at least for selected products. ← 21 | 22 →
This concept is not new. Debates regarding the viability of global marketing surfaced as far back as the late 1960s (Buzzell 1968). However, the concept was popularized by Harvard marketing professor Theodore Levitt, who suggested that people everywhere want goods of the best quality and reliability ← 22 | 23 → at the lowest price; and that differences in cultural preferences, tastes, and standards are vestiges of the past, because the world is becoming increasingly homogenized (Levitt 1983, 92). With a global approach to the marketing mix, a firm utilizes a common marketing plan for all the countries in which it operates—essentially selling the same product in the same way everywhere in the world. Major benefits associated with such standardization include lower production, distribution, management, and promotion costs. Yet the number of firms with the potential to standardize the majority of their marketing mix elements are indeed few.
Gillette is one such advertiser. Its line of male grooming products includes Gillette Fusion, Gillette Series Shave Gels, Gillette Styling, Gillette Clinical Strength Ultra Comfort anti-perspirant and deodorant, and Gillette Hydrating Body Washes. For a number of years, Gillette employed the global theme "The Best a Man Can Get" in communicating with the more than 600 million men worldwide who start each day with the brand. In 2009, the company debuted a new global brand campaign. Building on the brand's recent introduction of men's hair styling and personal care products, the campaign is part of Gillette's strategy to expand the brand beyond shaving and strengthen the emotional bond among men. The new campaign, entitled "The Moment," was developed from a deep understanding of men. Gillette conducted extensive global research among thousands of men and learned that even the most confident guys have doubts at many moments throughout their lives. Also revealed was that men are looking for products that give them the confidence they want and need to step up; perform; and look, feel, and be their best. The campaign features everyday guys as well as the Gillette Champions Tiger Woods, Roger Federer, and Derek Jeter experiencing moments of doubt and showing how they overcome them to succeed. A 30-second television spot depicts the doubt faced by every guy, whether it be the moment he steps on the doorstep before a date, just before he delivers a presentation, or giving a "best man" toast at a wedding, and the role Gillette's high-performance grooming products play in helping him gain the confidence to succeed in that moment (Entertainment Newsweekly 2009). See Figure 2.1 for a sample of this global campaign.
At the other extreme are companies committed to localization, or specialization. They argue that because consumers and marketing environments in different countries vary so greatly, it is necessary to tailor the marketing mix elements to each foreign market. Although such a customized approach typically results in higher costs, marketers hope that these costs will be offset by greater returns and a larger market share. Wal-Mart serves as an excellent example of the specialized approach.
Wal-Mart became an international company when it opened a Sam's Club near Mexico City in 1991. Today, Wal-Mart International is the fastest-growing part of Wal-Mart's overall operations. However, expansion into foreign markets has not always been easy. In markets such as Germany, South Korea, and Japan, where the giant retailer lost more than $1 billion, its troubles came in part from underestimating the local competition, battling labor unions, and failing to grasp the local culture. For Wal-Mart, China represents the biggest frontier since it conquered America, and when it entered the market in 1996, it vowed not to make the same mistakes. But success in China required more than replicating the company's formula of cheap, steep, and deep. It required the kind of flexibility Wal-Mart has rarely shown: it required going native. One of the biggest cultural changes for Wal-Mart has been its acceptance of organized labor in China. Domestically, Wal-Mart fiercely fights unions, and it took the same hard-line approach in its first eight years in China. Analysts suspect that Wal-Mart initially failed to appreciate the role unions play in China. In contrast to the United States, unions in China don't bargain contracts. Rather, they are an arm of the state, providing funding to the Communist Party, and—in the government's view—securing social order. In 2004, Wal-Mart softened and agreed ← 23 | 24 → to accept unions, but required workers to ask for representation. Finally, seeing organized labor as a cultural and political imperative in China, the company accepted the first union into its stores in 2006 (Naughton 2006).
The differences between Wal-Mart's presence in China and elsewhere don't stop there. At store grand openings—such as one in Chongqing, on the upper reaches of the Yangtze River—there are fire-breathing Sichuan opera dancers at the entrance who perform the traditional lion dance. The eye of a lion's head is painted to bring good luck. Inside the store, things get even more exotic. While Wal-Marts in China have stopped slaughtering poultry on the premises since the SARS epidemic in 2003 and no longer offer rabbits or snakes, customers can purchase spicy chicken feet and stinky tofu. Shoppers with nets typically mob the serve-yourself tanks swimming with grass fish, crabs, clams, and eels. Also available are turtles and live bull frogs the size of soccer balls. Wal-Mart in China also offers "retail-tainment." Stores provide space for local school groups to perform, and they organize daily activities for the elderly (Chandler 2005). Though store shelves are stocked with U.S. brands such as Crest toothpaste, Clairol shampoo, and Johnson's Baby Oil, these products sit alongside moisturizers infused with sheep placenta, which the Chinese swear reduces wrinkles. Wal-Mart buyers have even learned to chart the Chinese calendar. They stocked up on diapers in the Year of the Monkey because it's considered a lucky year to bear children. The Pampers flew off the shelves (Naughton 2006). And now, after more than a decade of ingratiating itself to Chinese consumers by adopting their customs and culture, Wal-Mart is making its move from a minor player to a dominant force. To date, the company's Web site boasts 266 Wal-Marts in China.
A great deal of confusion surrounds the issue of standardization versus specialization, in part because of the various terms employed. Marketing standardization has also been called globalization, while marketing specialization has been referred to as localization as well as customization. Regardless of the terminology, too often the issue of standardization versus specialization of international marketing is perceived as an either/or proposition. In fact, standardization versus specialization of the marketing mix may be seen as the end points on a continuum, with many possible approaches between these two extremes. A company may choose to standardize one element while customizing another. For example, Visa Inc. operates the world's largest retail electronic payments network, providing processing services and payment product platforms including consumer credit, debit, prepaid, and commercial payments. Visa enjoys unsurpassed acceptance around the world, and Visa/Plus is one of the world's largest global ATM networks, offering cash access in local currency in more than 170 countries. In 2009, the company unveiled its new campaign, "More people go with Visa." The campaign enables Visa to align its worldwide marketing under a single theme and highlights the superior value Visa delivers versus cash and checks—including more security, more control, and more convenience. Visa notes that the "More people go with Visa" platform is relevant across all geographic regions and demographic groups and will be used to promote the vast product choices that Visa offers, as well as the brand itself. But while the campaign establishes a single global marketing message, it will be executed locally for maximum relevance. In the United States, two national spots have appeared, one of which, entitled "Aquarium," celebrates moments in which Visa's debit product, the Visa Check Card, allows cardholders to experience the beauty of every day. In this spot, viewers are told the story of a father-daughter trip to the aquarium viewed through the eyes of a child. Visa's international markets launched with a television commercial named "Gofesto." The spot, which was customized by each Visa region, takes viewers on a journey across the globe showing people from different places enjoying what the world has to offer—from experiencing the great outdoors to taking simple trips to the supermarket. ← 24 | 25 → The spot reminds cardholders that life is not about collecting possessions but, more important, about collecting experiences (Business Wire 2009). Both traditional and new media are employed to deliver the message to Visa's target audience around the globe. See Figure 2.2 for an example of Visa's print ads in the United States.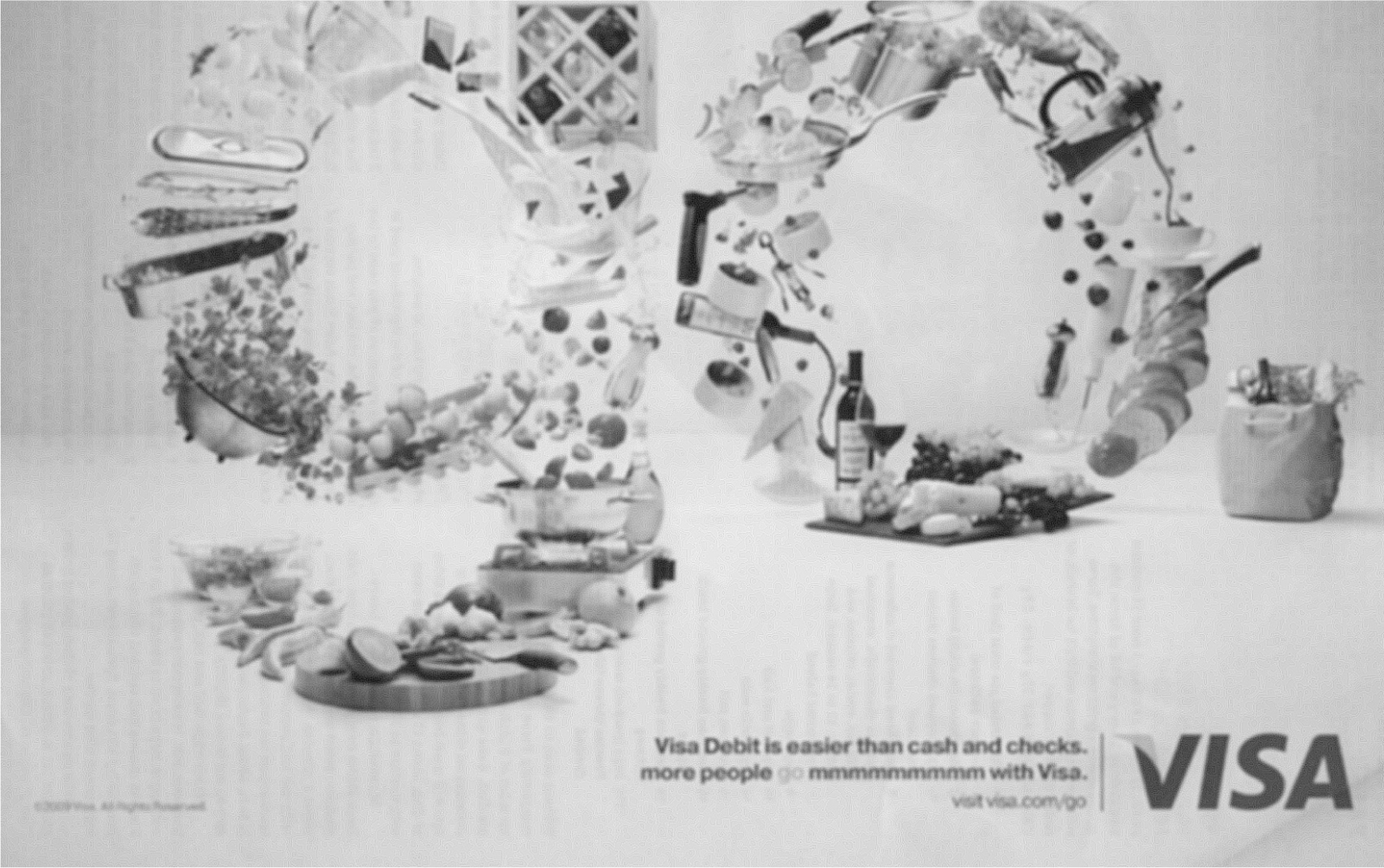 The issue of marketing standardization versus specialization, as it pertains to product, price, and distribution, will be addressed in this chapter. Globalization versus localization of advertising will be discussed in detail in Chapters 5 and 6.
PRODUCT
The American Marketing Association defines a product as "anything that can be offered to a market for attention, acquisition, use, or consumption that might satisfy a want or need" (American Marketing Association 1960). A product can be thought of in terms of three levels. These three levels, as outlined by Philip Kotler and Gary Armstrong (Kotler and Armstrong 1990, 221), are illustrated in Figure 2.3.
The core product refers to the bundle of benefits the consumer expects to receive from purchasing the item. These benefits can be functional, psychological, social, or economic in nature. For example, consumers may purchase an automobile for purposes of transportation (functional benefit), select a specific style because it is currently in fashion among their group of friends (social benefit), opt for a stick shift over an automatic because it provides better mileage (economic benefit), and choose the color red because it's their favorite (psychological benefit). ← 25 | 26 →
The actual product includes the specific features and styling of the product, its quality, the brand name, and its packaging; and the augmented product refers to product installation, delivery and credit provided to consumers, warranty, and postpurchase servicing.
Most products can be classified as durable goods, nondurable goods, or services. Durable goods are major products, often high-ticket items that tend to last for an extended period of time and, as a result, are purchased rather infrequently. Automobiles, appliances, and furniture are examples of durable goods. Nondurable goods are typically lower in price, consumed in a relatively short period of time, and thus purchased frequently. Examples of nondurable goods are food products and personal care items such as shampoos and toothpaste. Services are defined as activities or benefits offered by one party to another that are essentially intangible and do not result in the transfer of ownership of any kind. Obtaining health insurance, getting a haircut, or having an auto repaired are examples of services that consumers may purchase.
Products can be further distinguished between consumer goods and industrial goods. Consumer goods are items purchased by the end consumer for personal consumption. In contrast, industrial goods are items a firm purchases so that it may engage in business. Industrial goods include raw materials that actually become part of the end product (for example, in the garment industry, textiles purchased by a garment manufacturer that become part of its line of clothing), goods such as equipment and machinery used in the manufacturing process itself (for instance, industrial-quality sewing machines purchased to enable the creation of the fashions), and supplies and services (such as photocopier paper and long-distance telephone service). ← 26 | 27 →
Product planning in the international setting requires that marketers explore the needs and wants of consumers in different markets and determine how those needs and wants might be satisfied by the firm's products. In addition to deciding which products should be offered, the international marketer must determine whether product modifications are necessary.
PRODUCT STANDARDIZATION
One option available to the international marketer is to sell exactly the same product abroad as is sold in the home market—what is known as product standardization. The advantages of this strategy are numerous. Selling an identical product in a number of markets eliminates duplication of costs related to research and development, product design, and package design. Consider the case of Black & Decker, a classic example of the benefits of product standardization. In 1982, Black & Decker operated 25 plants in 13 countries on 6 continents, which led to considerable duplication of effort. Indeed, Black & Decker produced 260 different motor sizes before it undertook global restructuring of its operations. Employing the same raw materials, equipment, plants, and processes typically leads to manufacturing economies of scale. A standardized product also increases the potential for economies of scale related to promotional efforts. Coca-Cola, Kellogg's Corn Fakes, Perrier bottled water, Pond's cold cream, Mitsubishi autos, Gillette razor blades, Birkenstock sandals, and Colgate toothpaste are examples of products that are available in the same form in markets around the globe.
Studies have revealed that the feasibility of product standardization may depend on the specific product category. Among consumer goods, nondurables generally are believed to require greater customization than durable goods because they appeal more directly to tastes, habits, and customs, which tend to be country-specific (Douglas and Urban 1977, 53; Hoevell and Walters 1972, 69). Some research has indicated that industrial products are more amenable to standardization than are consumer goods (Boddewyn et al. 1986, 69; Cahn and Mauborgne 1987). Product standardization also may be effective for markets with highly similar target audiences (Sheth 1986, 9; Kale and Sudharshan 1987, 60). For example, the youth market around the world is said to be surprisingly similar. Marketers of jeans, records, and soft drinks find that they can sell essentially identical products to teens in Peoria and Paris. And marketers of "global village products"—essentially goods and services targeted to international travelers, such as hotels and rental cars—also find similarities in their target audience. Teresa Domzal and Lynette Unger propose that product standardization appears most feasible when products approach either end of the "high-tech/high-touch" spectrum:
Consumers around the world who are interested in high-tech products share a common language, in bytes or other technical features, which enable global strategies to be successful. The hypothesized success of global marketing of "high-touch" products is more difficult to explain beyond the fact that products such as fragrance, fashion, or jewelry, for example, simply touch on universal emotional themes or needs. The high-tech/high-touch hypothesis appears to be borne out in the recent success of certain global products. High-tech products such as personal computers, video and stereo equipment and automobiles, and high-touch categories such as health food, fitness clothing, mineral water and fragrances are popular the world over. (Domzal and Unger 1987, 23)
PRODUCT ADAPTATION
Although product standardization is the less costly approach, the international marketer may choose to engage in product adaptation for a variety of reasons. Marketing environments vary from country ← 27 | 28 → to country, and as a result, a product designed and developed for consumers in one market may not match needs in another.
Mandatory Product Adaptation: Mandatory adaptation refers to situations in which the international firm adapts its products because it literally has no other choice. Differing levels of technical sophistication may necessitate product simplification. For example, frozen foods cannot be marketed in countries where retailers do not have freezer storage facilities. Likewise, if consumers in these markets typically do not own refrigerators, demand for frozen foods is likely to be quite limited. Variations in electrical systems from one country to the next (and even within countries) must also be considered when marketing consumer or industrial electrical appliances. A television designed for the U.S. market simply will not run in Mexico or Germany because of differences in both the frequency and voltage of the electrical power supply and the broadcast standards in these countries. In addition, the United States still relies on the American/British measurement system, while almost every other country has converted to the metric system. Any American firm attempting to sell a product abroad for which measurement is an important variable must go metric. For example, as Louis Kraar recounts, Hewlett-Packard had little choice—and lots of incentive—but to modify one of its products for the Asian market:
The firm introduced its first Japanese-language computer printer. The Japanese version of the popular DeskJet 500 machine was followed by similar models with built-in software to print in Chinese characters and the Hankul alphabet of Korea. Localizing products is well worth the trouble and considerable expense. Hewlett-Packard's sales of $2 billion in Asia and the Pacific that year represented 16 percent of the corporate total. (Kraar 1991, 133)
Governmental regulations often present formidable barriers to product standardization. These regulations relate to product standards as well as testing and approval procedures. Each country has different product requirements designed to protect its citizens and its environment. For years, the Kellogg Co. has attempted to sell the same cereal across Europe, but the company has hit obstacle after obstacle in its efforts to persuade regulators to allow the U.S. cereal maker to sell the same vitamin-fortified cereals throughout Europe. Denmark doesn't want vitamins added, fearing that cereal eaters who take multi-vitamins might exceed recommended daily allowances, which some experts say can damage internal organs. Netherlands officials don't believe either Vitamin D or folic acid is beneficial, so it doesn't want them added. Finland wants more Vitamin D than other countries to help Finns make up for sun deprivation. And the list goes on. So Kellogg, of Battle Creek, Michigan, has to manufacture four varieties of corn flakes and other cereals in its plants in Manchester, England, and Bremen, Germany (Sims 2005).
Despite a "unified" European Union, persistent national differences continue to saddle companies with extra costs and hinder expansion. Examples abound. The German government long had strict guidelines regarding the purity of beers sold in that country, which prevented many brands from entering the market. Similarly, the United States has very specific safety restrictions on auto emissions that must be met by both foreign and domestic automobiles sold in this country. If such government-mandated standards force international firms to spend additional time and money modifying products, they can function as a non-tariff barrier and, in discouraging imports, help protect domestic manufacturers.
When faced with technical differences or governmental restrictions, the international firm has little choice but to adapt its product. In other instances the decision to standardize or adapt is not nearly so clear-cut. In these cases the international marketer must explore differences in consumption patterns, such as whether the product is purchased by relatively the same consumer income group from one country to another, whether most consumers use the product or service for the same purpose, and whether the method of preparation is the same for all target countries. In addition, the marketer must ← 28 | 29 → consider the psychosocial characteristics of consumers, such as whether the same basic psychological, social, and economic factors motivate the purchase and use of the product in all target countries; and whether the advantages and disadvantages of the product or service in the minds of consumers are basically the same from one country to another. Finally, the marketer must take into account more general cultural criteria, such as whether some stigma is attached to the product or service, or whether the product or service interferes with tradition in one or more of the targeted markets (Britt 1974, 32).
Campbell's Soup has clearly learned valuable lessons from its early mistakes. The firm would have benefited from a more in-depth analysis of both consumption and psychosocial factors when it initially moved overseas in the late 1950s. During the decade that followed, the company recorded some $30 million in losses in its overseas operations. The firm's difficulties stemmed mainly from its failure to adapt its product to suit local preferences (Ricks et al. 1974, 16; Sales Management 1967, 31). England comprised Campbell's most important foreign market. A primary mistake was the failure to explain to the English housewife how to prepare the soup. The English, accustomed to the ready-to-eat Heinz soups but unfamiliar with the concept of condensed soups, were unable to justify the cost of the smaller Campbell's soup can compared to the larger Heinz can. It took two years for Campbell's to provide the necessary explanations and to promote the idea of condensed soups. Failure to adapt the taste of their soups to local palates was another problem. The taste of established local varieties of tomato soup so differed from Campbell's that it was not until Campbell's made significant changes in its flavors that sales picked up. As a result, Campbell now creates new products to appeal to distinctly regional tastes. Taste-testing with consumers from around the world has resulted in the development of duck gizzard soup for Chinese consumers, creama de chile poblano soup for Mexicans, and flaki (a peppery tripe soup) for Poles (Weber 1993, 52).
McDonald's has successfully marketed its fast food worldwide for decades. While the restaurant provides its customers with a nearly identical eating experience wherever the Golden Arches appear, it also pays very close attention to local tastes and customs. For example, McDonald's first adapted its menu to European tastes when it began to offer beer in many of its German restaurants in the 1980s. Today, a separate food factory in Munich is assigned the task of coming up with new menus for the differing tastes in the 41 European countries, including Russia. In Portugal, McDonald's offers soup, and in France the menu includes "cheese saga" burgers with French cheeses. Also designed to appeal to French consumers is Croque McDo—a ham and melted Swiss cheese on toast. In the Netherlands, a popular item is the McKroket—a deep-fried patty of beef ragout. Such variation has become the norm, belying McDonald's monolithic image as a big American corporation that serves standard fare around the world. In catering to Singaporeans' penchant for spaghetti and preference for chicken, McDonald's launched McSpaghetti—a pasta-based meal served in a tangy chicken pomodoro sauce. Retailing for $2.20 and including a garlic McMuffin, McSpaghetti is served at all McDonald's island-wide, along with traditional McDonald's fare. This follows other product innovations such as the savory breakfast item chicken SingaPorridge. Porridge is a popular local breakfast item and is widely considered a comfort food in Singapore. Research clearly paid off for McDonald's, given that weekend breakfast now accounts for half of the chain's entire business across Singapore's 126 outlets. Menu tailoring is not unique to Singapore. In Japan, teriyaki burgers often appear alongside the Big Mac, and in Hong Kong, McDonald's has begun offering customers a rice-based alternative (see Figure 2.4). Tailoring its offerings appears to have paid off for the restaurant chain. Its worldwide operations are now far bigger than its U.S. domestic business, and they are growing substantially faster (Gumbel 2008). ← 29 | 30 →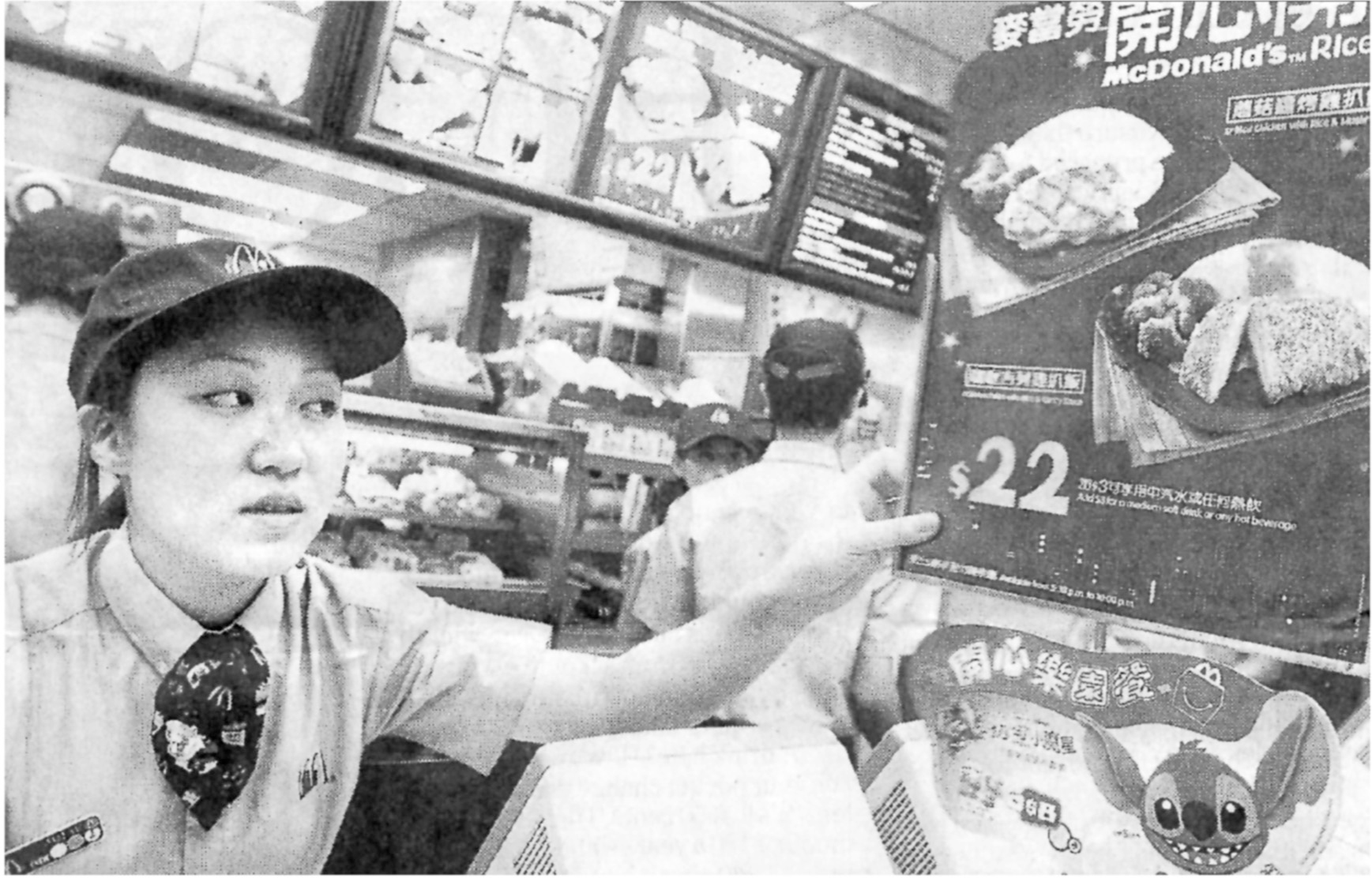 Regardless of the source of pressure for product modification, the international marketer must attempt to measure the costs and revenues associated with marketing a standardized product and compare them with the costs and revenues expected in a product adaption strategy. Further complicating the decision to standardize or adapt is the fact that this formula may vary on a market-by-market basis. As a case in point, two years after Mattel allowed its Japanese affiliate to "Japanize" Barbie Doll's features, sales blossomed from near zero to 2 million units. Interestingly, Barbie sold well without modification in 60 other countries (Kotler 1986, 13).
NEW PRODUCT DEVELOPMENT
Too often marketers have attempted to export products that, while appropriate to the home market, are not particularly well suited to the needs of consumers in other countries without significant modifications. In some instances product modifications may be so extensive that it is no longer profitable to market the item. Here marketers may find that creating a completely new product is the best way to meet the needs of a foreign market. For example, Martha Stewart found great success catering to Japanese tastes. Pairing with local retailer Seiyu, she has opened more than 200 outlets and annually sells over $1 million worth of products to women who want to bring a piece of New England to their crowded Japanese apartments. But products intended for the American market did not appeal to Japanese consumers. Towels targeted at American women in reds and browns, for example, were deemed "muddy." Instead, Martha sold linens in vibrant colors, along with chopsticks in pastels, square frying pans for making traditional cube-shaped omelettes, and bedroom slippers—a must in every Japanese home (Dawson ← 30 | 31 → and Brady 2002). P&G employs what it calls "reverse engineering" in selling to consumers in emerging countries. Rather than create an item and then assign a price to it—as in most developed markets—the company first considers what consumers need and what they can afford. For example, running water is in short supply for many low-income Mexican consumers. In response, P&G developed a fabric softener called Downy Single Rinse. It can be added to a load of laundry along with the detergent, eliminating an entire rinse cycle in the semiautomatic machines typically used there (Byron 2007).
COUNTRY-OF-ORIGIN EFFECT
Consumers base their product evaluations on a variety of criteria, including the country in which the product is produced. Marlboro is an American cigarette, Chanel No. 5 is a French perfume, Buitoni is an Italian pasta, and Johnny Walker is a Scotch whiskey. Each of these brands has national credentials, and anyone attempting to market worldwide a Scottish pasta or an Italian whiskey probably would have serious credibility problems because of this country-of-origin effect (Shalofsky 1987, 88). Some countries have particularly positive associations with specific product categories. For example, Germany and Japan are stereotypically seen as producing high-quality autos, France and Italy are typically associated with fine wines, and Russia is the home of vodka. A plausible national base or home market appears to be an important characteristic of the overall product and may influence perceptions of the product's quality. Figure 2.5 shows an example of an advertisement highlighting the country of origin.
In some instances a firm may wish to downplay a product's country of origin. It appears that Coca-Cola, McDonald's, and Colgate-Palmolive are among the blue-chip U.S. brands that are taking a beating when it comes to how well liked they are around the world, according to a study by GfK Roper Consulting, in part because of their country of origin. Attitudes toward Americans and their culture are increasingly negative, notes Jennifer James, senior consultant at Roper. "Our foreign policy has contributed." The Roper study tracked the so-called likability of 60 major brands, about half of them American. According to Roper, which has been conducting the study for a decade, American brands have been losing popularity in developed regions for several years. What was different in this most recent survey was that developing markets were also eschewing American classics. "This past year we're starting to see consumer favorability waning in the developing markets in Asia, Latin America and Central Europe," Ms. James said. "That's why we're seeing slippage." American companies posted four of the five biggest drops in likability, and Coca-Cola tumbled the furthest, nearly 40 percent. The biggest gainers were all foreign: Germany's BMW, Mercedes, and Volkswagen, along with Japan's Sony and Honda (York 2007). Marketers should be ready to drop the flag if national or global sentiment suddenly drops based on negative news. Of course, the reverse likely holds true as well.
Given our increasingly multinational corporate world, it is often difficult to determine exactly where a product comes from. According to a recent study from Anderson Analytics, most U.S. college consumers are not sure where their favorite products come from. For instance, only 4.4 percent of college students surveyed knew that Nokia is Finnish, while 53.6 percent guessed the brand was Japanese. Lego, LG, Samsung, and Adidas faced similar problems, with fewer than 10 percent of students knowing their respective countries of origin as Denmark, Korea, Korea, and Germany, instead guessing, also respectively: United States, United States, Japan, and the United States Not surprisingly, retail brand Ikea did comparatively well with this segment—likely because its stylish but inexpensive furniture is a college staple—with 31.2 percent correctly guessing Sweden. But even so, another 23.6 percent thought Ikea was a U.S. brand (Bulik 2007). And some manufactures are really products of a number ← 31 | 32 → of countries. Because they build their products all over the globe, companies like IBM, Mitsubishi, and Siemens AG are in fact American, Japanese, and German in name only. For example, IBM manufactures products in more than a dozen countries, and an IBM personal computer stamped "Made in U.S.A." might be assembled in Raleigh, North Carolina, yet contain a floppy disk drive from IBM's Japanese plants, a monitor from Korea, and a mixture of imported and domestic computer chips (San Diego Union-Tribune 1992a). "Almost any one product weighing more than 10 pounds and costing more than $10 these days is a global composite, combining parts or services from many different nations," notes Robert B. Reich, political economist and former secretary of labor (San Diego Union-Tribune 1992b).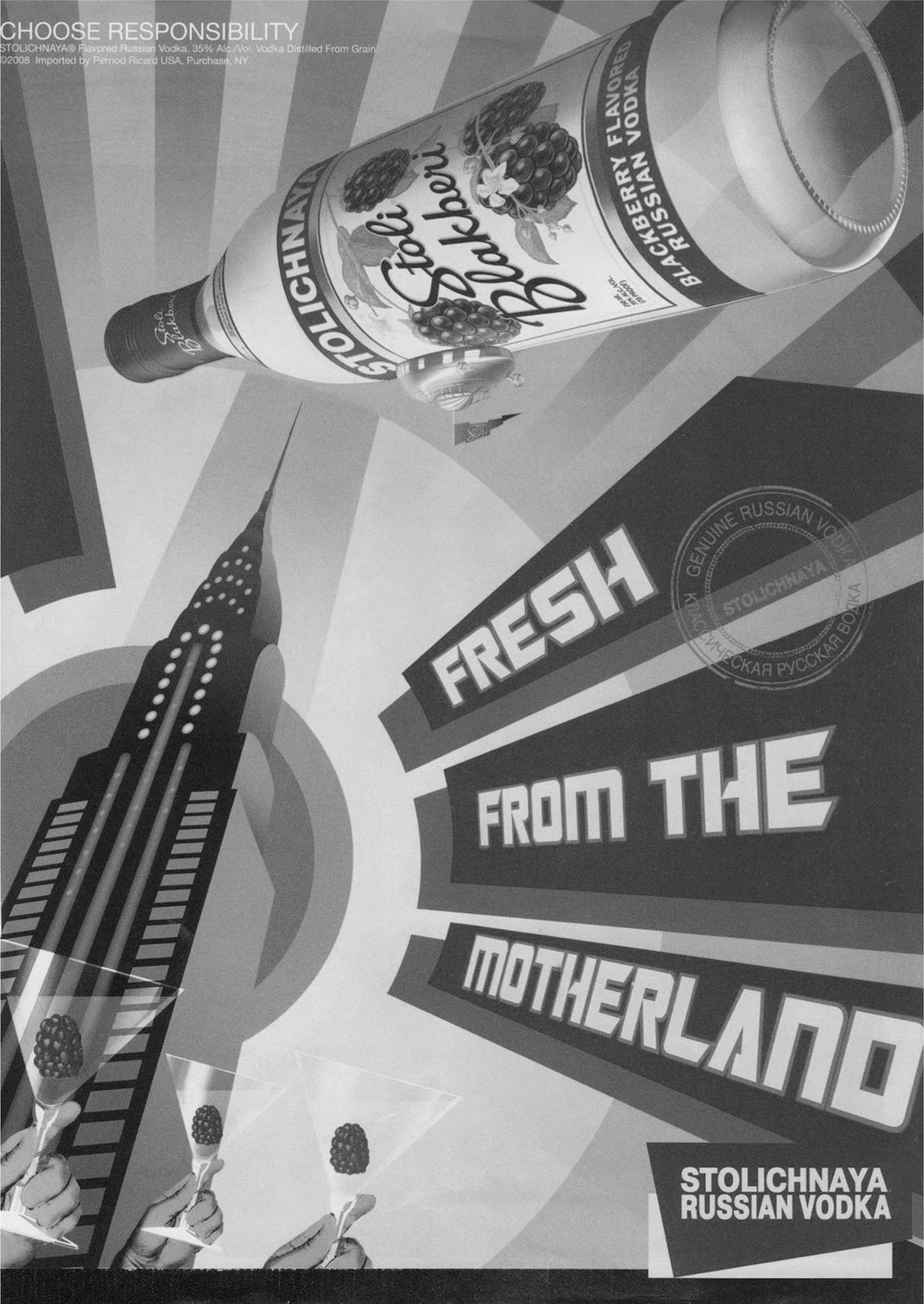 ← 32 | 33 →
BRANDING AND TRADEMARK DECISIONS
Branding decisions are an important part of international product marketing strategy. A brand is any name, term, sign, symbol, or design—or combination of these—intended to differentiate the goods or services of one seller from those of another. A trademark is a brand or part of a brand that is given legal protection. Registering a trademark protects the seller's exclusive rights to the use of that brand name. From the consumer's perspective, trademarks help to identify the origin of the product and provide a guarantee of consistent quality.
Protection of successful and well-known trademarks, while challenging in the home market, is doubly so internationally. Most countries offer some system of trademark registration and protection for both foreign and national firms. There are two basic systems of trademark registration:
Priority in registration: In Europe and elsewhere, the first firm to register a trademark is considered the rightful owner of that trademark.
Priority in use: In the United States and Britain, rights to a trademark are established and maintained through use. In order for a brand to be protected, it must both be registered and have, in fact, been sold in that particular country. "Use" is defined legally and varies from one country to the next. In some countries, the export sale of several cases of a product is sufficient to be defined as use; in others, the product might have to be manufactured locally.
When looking to register an international trademark, the registrant has several options. The three most common are outlined below.
1. Single International Trademark Application: The Madrid Protocol for International Registration of Trademarks allows a marketer to obtain international protection of a trademark in one or more of the 70 countries that are members of the Protocol. Under this system a U.S. applicant, for example, can file an application with the U.S. Patent and Trademark Office. The applicant indicates on the form the countries belonging to the Madrid Protocol in which it wants protection. The form can be submitted in French or English, eliminating the need for applying in multiple languages. The Patent and Trademark Office then forwards the application to the World Intellectual Property Organization (WIPO), and WIPO sends out an international registration for the mark. WIPO then sends the application to the relevant countries, where trademark examiners analyze the application. Each country may take 18 months to make a final decision—or longer if the application is opposed. If the trademark is approved, the Madrid Protocol gives it a lifespan of 10 years plus one renewal, for which the owner must pay a renewal fee. It is an easier, cheaper, and more efficient way for trademark holders to secure worldwide protection than submitting separate applications to each country ← 33 | 34 → involved. For small companies and independent inventors, the rule makes it feasible to invest in international trademarks by significantly reducing the red tape, local agents, language, and fees involved. For example, in 2000 the U.S. government estimated that a U.S. trademark owner who wanted to register his mark in 10 countries faced $14,000 in fees for 10 separate applications. The Madrid Protocol brings that cost down to about $4,700. But the new rule means that trademark applicants will have to search not only U.S. trademark archives but an international register of archives from all Madrid Protocol countries when checking whether the mark they want already belongs to someone else (Chartrand 2002).
2. Community Trademark Application: A second alternative is the Community Trademark Application, a single application that covers all countries of the European Union. Community Trademarks are administered through a central office located in Spain.
3. Individual Trademark Registration in Each Market: Multinational marketers can file individual applications in each country in which they seek a trademark. For trademarks in countries that are not members of the Madrid Protocol, this is the only avenue for obtaining a trademark.
In some countries the international marketer is required to renew registration rights periodically and pay a renewal fee. Registration fees are typically modest, but the associated legal fees can raise costs significantly. Given the costs and efforts required to register trademarks, the international marketer must carefully evaluate each market in order to determine whether to seek protection. The marketer must also continually monitor the foreign markets in which it operates to ensure that trademark infringement does not become a problem.
The international marketer must also decide whether to promote a single product brand worldwide—commonly referred to as a global brand—or to promote different brands for different regions or even individual markets. Certain advantages are associated with registering a single brand in all countries in which the firm operates. There is often a certain level of prestige associated with an international brand. Brands aren't usually listed on corporate balance sheets, but they can go further in determining a company's success than a new factory or technological breakthrough. That's because nurturing a strong brand, even in bad times, can allow companies to command premium prices. A strong brand also can open doors when growth depends on breaking into new markets (Khermouch 2002, 93). A recent survey of the world's most valuable brands, conducted annually by Business Week, found Coca-Cola to be the top brand worldwide. To determine which global brands are the most valuable, Business Week and Interbrand, a unit of Omnicom Group Inc., ranked brands by dollar value, based on the idea that strong brands have the power to lift sales and earnings. Interbrand attempts to figure out how much of a boost each brand delivers, how stable the boost is likely to be, and how much those future earnings are worth today. The value that is assigned is strictly for the products with the brand on them, not for others sold by the company. Therefore, Coca-Cola—with a value approaching $70 billion—is ranked just on those products carrying the Coke name, not Sprite or Powerade. Table 2.1 lists the top 25 global brands.
It is clearly less costly to prepare advertising campaigns and promotional literature for a single brand than for several. A single brand also allows the marketer to utilize international media and reap the benefits in places where media spill over national borders, such as in Europe. With increasing international travel, a single trademark will ensure that consumers recognize a firm's products, thereby eliminating brand confusion.
Collectively, however, local brands still account for the overwhelming majority of consumers' purchases. Of more than 10,000 brands in a database complied by market research firm Millward Brown, ← 34 | 35 → only 3 percent show up in seven or more countries (Pfanner 2009). Certain factors may necessitate modification of the brand name or trademark. Some brand names simply do not translate well. In other cases, a brand name in one market may mean something entirely different in another. Consider the case of the Japanese car manufacturer Mitsubishi Corp., which wanted to name one of its models Pajero. In certain Latin American countries, the term is slang for compulsive sexual behavior. Instead Mitsubishi adopted the name Montero for most markets around the world (Asher 2001). Also, different countries often prefer different types of brand names. For example, there is a pronounced difference in the names Americans and Japanese give to their cars. Whereas the Japanese lean toward pastoral names or names of girls—Bluebird, Bluebonnet, Sunny, Violet, Gloria—American cars have names such as Mustang, Cougar, and Thunderbird. The first sports car Nissan sent to the United States was named ← 35 | 36 → the Datsun Fair Lady. Nissan's head of sales for the western United States was so convinced that such a name would not sell cars in this country that he replaced it with one using the company's internal name for the car, the 240Z. The auto went on to become a big seller for Nissan (Johnston 1988, 33).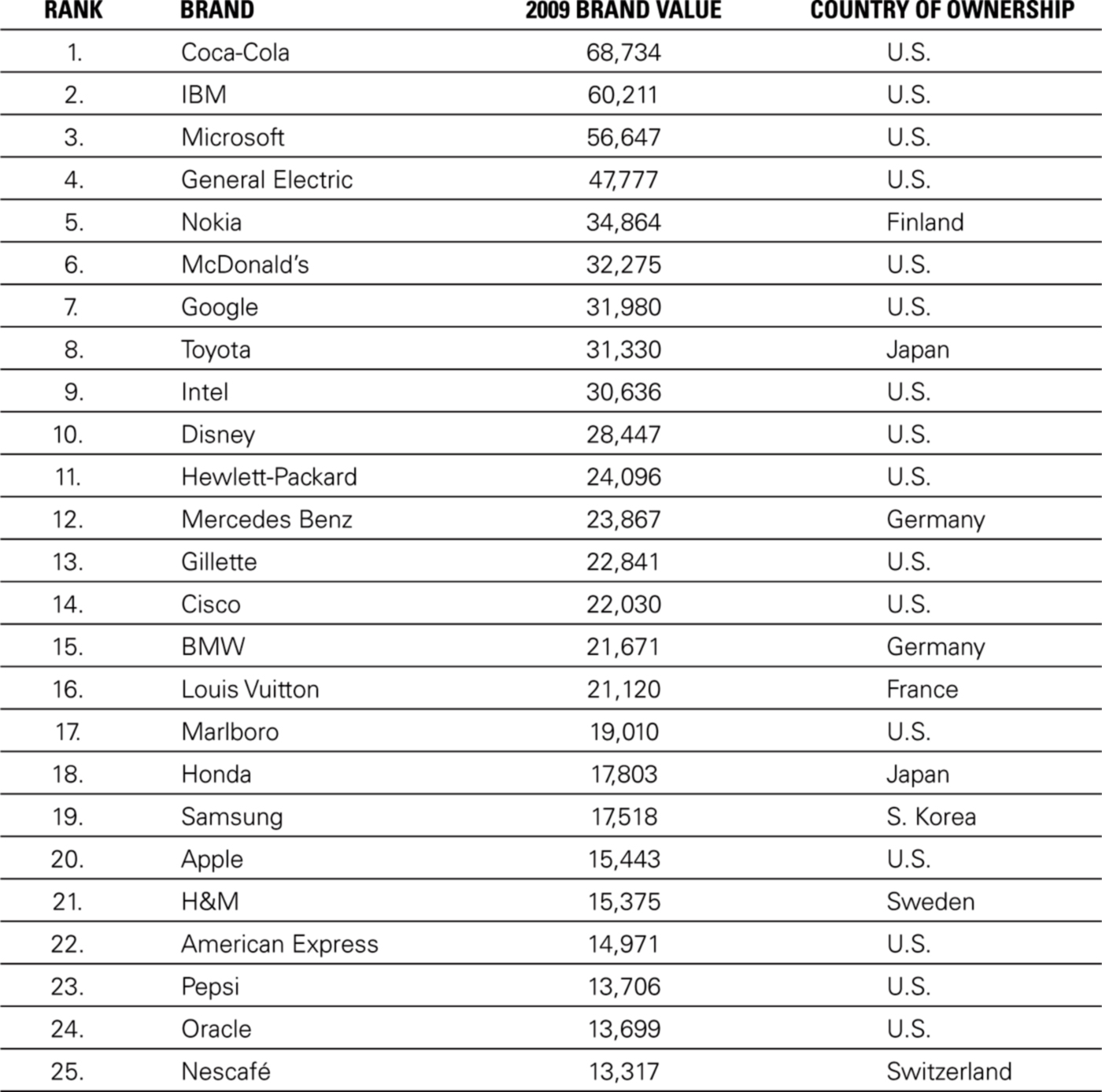 Source: BusinessWeek (2009).
Governmental restrictions may prohibit the use of a brand name. For example, in marketing Diet Coca-Cola to a number of European countries, the Coca-Cola company encountered restrictions regarding use of the word "diet." As shown in Figure 2.6, Coca-Cola solved the problem by changing the product name to Coca-Cola Light. However, packaging and graphics are standardized, so despite the name change, the product is quite familiar and reassuring to U.S. consumers travelling abroad.
Target audience preferences may also influence the brand name selected. The Coca-Cola Light name was also used for the Japanese market because Japanese consumers tend not to be overweight and do not like to admit they are dieting by purchasing products labeled as dietetic. Accompanying this new brand name was a shift in promotional strategy, which emphasized "figure maintenance" rather than "weight loss."
BRAND PIRACY
A problem that many well-known brands face in foreign markets is brand piracy. There are three distinct forms of piracy: imitation, faking, and preemption. Imitation involves producing a virtually identical copy of an established brand. For instance, LaCoste, manufacturer of the popular jerseys with the alligator logo, must combat knockoffs of its product sold in numerous countries. Faking refers ← 36 | 37 → to identifying the fraudulent product with a symbol, logo, or brand name that is very similar to the famous brand. For example, preference for foreign brands in Vietnam has led to knockoffs such as Volgate toothpaste and Lix soap. Coca-Cola, which manufactures the soft drink Sprite, asked a South Korean court to ban the production and sale in South Korea of Sprint, which was introduced with a name, logo, and taste much like Sprite's. Preemption of brand names occurs in those countries where the law permits wholesale registration of brand names. In such countries a person may register, in his or her name, a large number of well-known brand names and then sell them either to those interested in counterfeiting or—better still—to the multinational when it is ready to move into that country. China, for example, maintains a first-to-file system that generally grants protection to the first party to file a mark. In attempting to set up business in China, a number of large multinational corporations such as Starbucks, Dell, and Disney discovered that third parties had already registered their marks (or at least Chinese-language translations of their marks), often in hopes of extracting exorbitant sums. Yet trademark law in China does recognize an owner's prior right to a mark in some cases. If an owner discovers that his or her trademark has been preemptively registered, the owner may file a request with the Trademark Review and Adjudication Board to have the mark cancelled, as long as the request is filed within five years of the registration date of the disputed mark. If the owner's mark qualifies as "well known" under Chinese law, the cancellation action is not subject to the five-year limitation. The "well known" determination focuses on the reputation of the mark in the Chinese market, its duration of use, and other factors. According to one report, more than 400 trademarks have been recognized as well known in China so far, including foreign brands such as McDonald's and Ferrari (Perlman and Timaru 2008).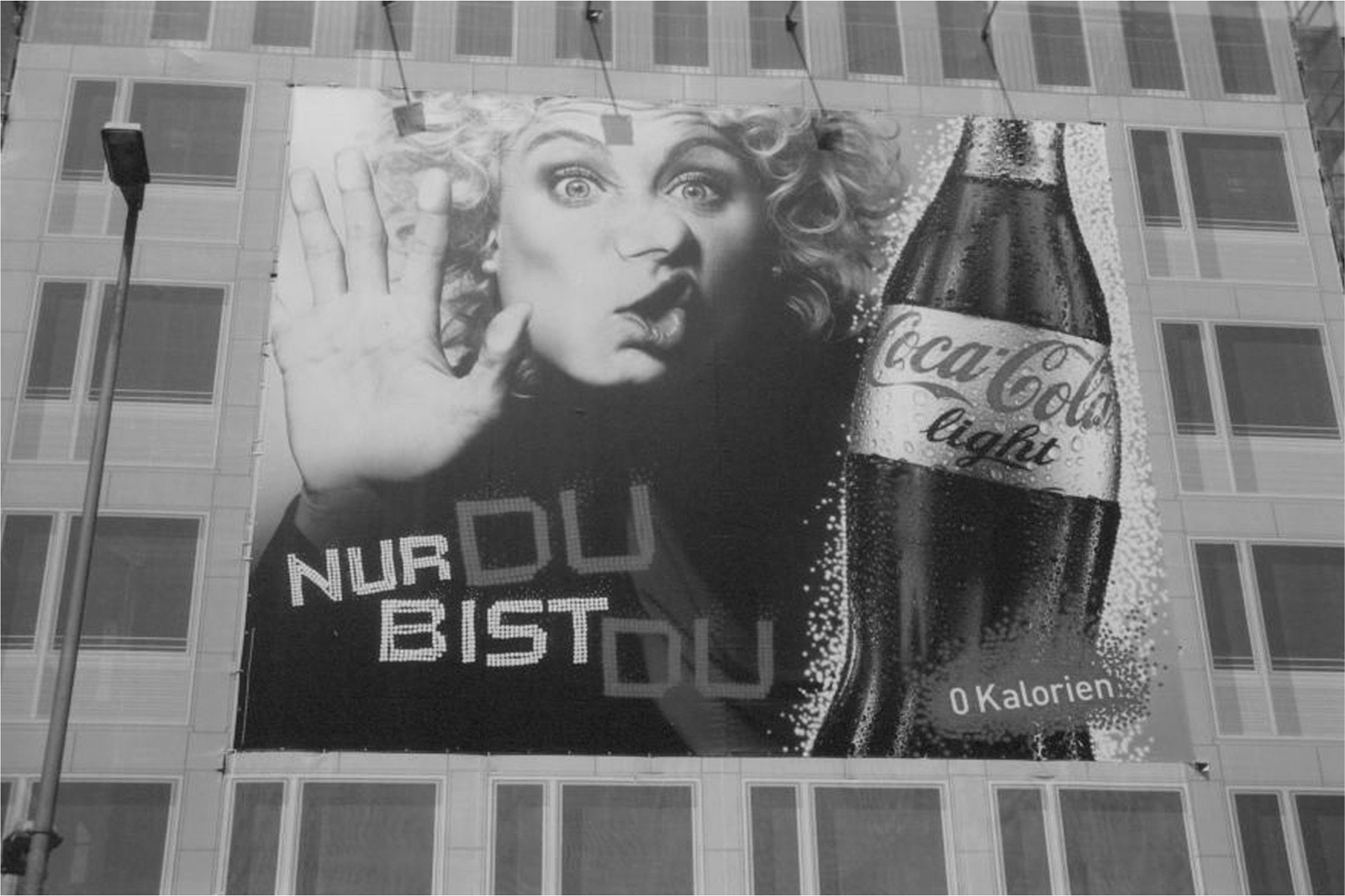 According to the International Chamber of Commerce, approximately 7 percent of world trade is in counterfeit goods. Some 40 percent of the counterfeited brands are the same 25 names (Brand Papers 2006). Counterfeiting is costing the U.S. economy more than $250 billion a year. According to U.S. Customs and Border Protection, this translates into more than 750,000 lost jobs. However, it is not just multinational firms that bear the costs. Consider the following:
▪ Governments bear much of the financial cost through loss of tax revenues.
▪ Consumer health and safety are threatened, especially with the widespread counterfeit production of pharmaceuticals, as well as aircraft and motor parts.
▪ Research and innovation efforts are stymied.
▪ Recent intelligence from Interpol shows that piracy and counterfeiting are increasingly used to fund organized crime.
▪ Low priorities for intellectual property rights in a country have a direct negative impact on foreign direct investment and economic growth.
▪ Counterfeit products pose the biggest problem to economies in Africa (particularly in Morocco, Kenya, and South Africa), the Commonwealth of Independent States (Kazakhstan and Russia), and the majority of Eastern European and Asian countries (International Chamber of Commerce's Commission on Commercial Law and Practice 2005).
There appear to be several reasons why brand piracy is at epidemic levels today. First and foremost is the economy. London-based intellectual property firm Marks & Clerk found that 97 percent of senior brand officials in the United Kingdom fear that the recession will increase counterfeiting activity. Further, 80 percent of executives consider brands to be at greater risk because of a combination of the recession and e-commerce. These two forces acting in concert have made the counterfeiting problem particularly intractable. "In the current climate, low-priced fake goods will be of increased interest ← 37 | 38 → to consumers looking to make their money go further," says Marks & Clerk attorney and intellectual property expert Pamela Withers. "Add the Web as a limitless, unregulated vehicle to do that," Withers says, "and you've got a runaway train for counterfeits" (Klara 2009). Most upscale brands have little hope of foiling the sale of an item made in China and purchased by a customer in California from a Web site based in Estonia. Another contributing factor appears to be the fact that some brands are shifting some or all of their manufacturing to developing markets (in particular, China, where 81 percent of the world's counterfeit goods now originate, according to the Department of Homeland Security). When a brand entrusts its production to a factory in Asia, it obviously saves money. But it also furnishes the factory owner with all the know-how he needs to produce knockoffs. It's no wonder that many fake goods look so authentic; they are made in the same factory as the real ones—the so-called third shift. Some marketers have taken aggressive measures to confront the counterfeiting problem. Louis Vuitton, for example, conducted more than 7,600 anti-counterfeiting raids globally in 2007. The company's lawyers initiated more than 24,000 lawsuits, and its e-investigators successfully shut down more than 750 Web sites trading in fake Vuitton merchandise (Klara 2009). Others have chosen to focus their efforts on those who purchase counterfeit products, as it is ultimately consumer demand that drives counterfeiting. Swiss watches have also been hit hard by the counterfeiting plague. The Federation of Swiss Watches estimates that over 40 million fake Swiss watches are made each year (compared with exports of almost 26 million authentic Swiss watches in 2007) and that they generate net profits of around $1 billion. This illicit trade, whose main victims are the most prestigious Swiss brands, is equivalent to about 6 percent of total Swiss watch exports in 2007. FHS recently unveiled "Fake Watches Are for Fake People," a global campaign running in various media (see Figure 2.7 for a sample ad). While luxury goods have long been counterfeited, knockoffs are turning up in the most mundane product lines: Duracell batteries, Head & Shoulders shampoo, extension cords with the UL-tested safety seal—anything with a recognized brand (Orr 2007).
Many multinational marketers have high expectations for the passage of the Anti-Counterfeiting Trade Agreement (ACTA). In talks since 2006, ACTA
aims to establish international standards for enforcing intellectual property rights among member nations—which include the U.S. and 27 member states of the European Union—including civil and criminal enforcement, border protection, and significantly, copyright infringement and the sale of counterfeit items on the Internet. The plurilateral agreement represents the best hope yet for a global policing of the counterfeit trade, but many hurdles remain. Though more countries have entered the talks since the 2006 preliminary session, one essential nation—China—is not among them. Nonetheless, ACTA is a start, and proponents are optimistic about its passing. (Klara 2009, 9)
PACKAGING AND LABELING DECISIONS
Packaging refers to the design and production of product containers or wrappings. Packaging includes the immediate container (for example, the tube surrounding Crest toothpaste), a secondary package that is discarded after purchase (the cardboard box that a tube of Crest is sold in), and any packaging necessary to ship the product to retailers (such as a cardboard carton containing dozens of packages of Crest toothpaste). Labeling is also considered part of the packaging, and consists of printed information appearing on or along with the packaging.
Packaging has both protective and promotional aspects. In determining whether the same packaging can be used for foreign markets, marketers must consider a variety of marketplace conditions. Packaging must allow the product to reach its destination without damage. Markets with long, slow, ← 38 | 39 → or poor distribution channels may require sturdier packaging. Climatic extremes may necessitate packaging modifications. For example, Quaker Oats adopted special vacuum-sealed tins to protect its products in hot and humid climates. Consumption rates directly influence storage time and may vary from one market to the next.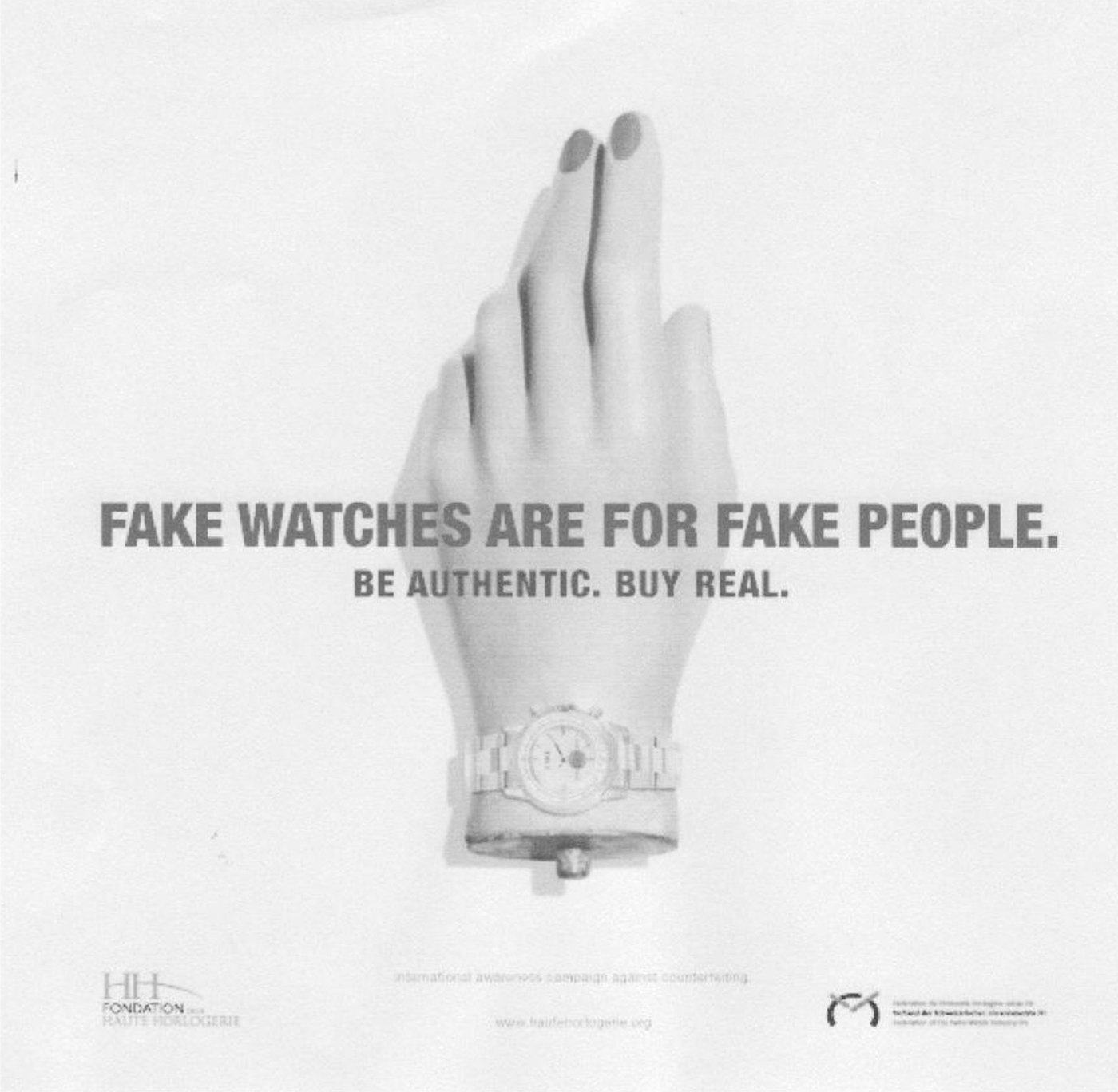 Packaging is often determined by the income level of a market. Unilever attempted to reach consumers in emerging markets by both modifying its packaging and using less expensive formulations. Using a concept with the code name "Project Everyman," Unilever added new customers too poor to regularly buy standard versions of the company's detergent or shampoo. For example, in Brazil, Unilever's research revealed that many Brazilians could not afford washing machines or Unilever's Omo brand of detergent, which was way beyond their financial means. Instead, many poorer Brazilians purchased bars of soap to wash clothes in rivers and lakes. The lack of washing machines made a simpler soap formula an option. And, because many consumers washed their clothes in rivers, the powder was packaged in plastic instead of paper that would get soggy. The newly developed detergent, named Ala, was ← 39 | 40 → also produced locally to cut transportation costs, further lowering its price. Within three months of its launch, Ala had captured at least 15 percent of the test market. Developing and emerging markets account for about 40 percent of total Unilever sales (up from just 16 percent in 1985) (Byron 2007).
Lower per capita income usually translates into lower usage rates and smaller purchase amounts, and it might even suggest that products such as razor blades, chewing gum, and cigarettes be individually packaged, so that consumers with limited incomes can afford them. Coca-Cola, for example, began testing 200-milliliter bottles in several rural areas. Coke's standard bottle is 300 milliliters, and the lower price for the smaller bottle aimed to increase consumption.
Smaller sizes may also be more appropriate for countries where consumers shop daily or have smaller homes and thus fewer storage facilities. For example, superconcentrated versions of laundry detergents (Fab Ultra and Wisk Power Scoop) introduced into the U.S. marketplace have sold successfully for well over a decade in Europe and Japan, where space in both the supermarket and the home is at a premium. Larger packages are appropriate for markets where shopping is conducted on a weekly basis and storage space is ample.
The type of retail outlet in which the product is sold may further influence the packaging. Self-service retailing, which plays an increasingly important role in most developed countries, dictates that packaging perform a multitude of promotional functions as well—from attracting the consumer's attention, to describing product features, to making the ultimate sale. In markets with predominantly small retail outlets, with limited floor or shelf space, it may be appropriate to modify the packaging. In terms of legal restrictions, some countries do not allow the promotional tactics commonly employed in other markets.
Customer preferences, often shaped by culture, may influence whether packaging is persuasive to consumers in various markets. Utilizing the same or similar packaging employed in the home market may prove ineffective. It could be that a particular visual resonates well with consumers in one market but not another. For the introduction of cholesterol-lowering Benecol margarine, designers created a package that included a mountain scene to communicate cross-culturally that the product's key ingredient is natural. But designers left considerable room for differences in the product shot to accommodate local needs. For example, in the U.S. market the package for the spread featured an English muffin, as opposed to Europe, where rolls, which are more commonly consumed, were depicted (Asher 2001). Even the color of a product's packaging may prove problematic for a marketer. For example, while white connotes purity and cleanliness in many regions and cultures, in the Far East it is also associated with mourning. Likewise, red is a positive color in Denmark as well as many Asian countries, but it represents witchcraft and death in a number of African nations. Using the colors of the national flag may be perceived as patriotic in some countries, yet disallowed in others.
In many countries—both developing and developed—the usefulness of the packaging plays a greater role. Often the package will be kept and reused as a container. Lego, the Danish toy manufacturer, employed a standardized marketing philosophy in over 100 countries to sell its building blocks. In recent years, however, Lego has encountered stiff competition from look-alike and lower-priced rival products from Japan, the United States, and elsewhere. The Harvard Business Review describes Lego's dilemma—and its response:
In the United States, where the competition has been the fiercest, Tyco, a leading competitor, began putting its toys in plastic buckets that could be used for storage after each play. This utilitarian approach contrasted with Lego's elegant see-through cartons standardized worldwide. But American parents seemed to prefer the functional toys-in-a-bucket idea over cartons. Seeing a potential for serious damage, Lego's alarmed U.S. management sought permission from Denmark to package Lego toys in buckets. The head office flatly refused the request. The denial was ← 40 | 41 → based on seemingly sound arguments. The bucket idea could cheapen Lego's reputation for high quality. Moreover, the Lego bucket would rightly be seen as a "me too" defensive reaction from a renowned innovator. Finally, and perhaps most important, buckets would be a radical deviation from the company's policy of standardized marketing everywhere. Even U.S. consumer survey results comparing buckets favorably with cartons weren't considered a good enough reason for change from the global concept. Two years later, however, headquarters in Billund reversed itself. The impetus was a massive loss of U.S. market share to competitive goods sold in buckets. Soon after, the American subsidiary began marketing some of its toys in a newly designed bucket of its own. Now to the delight of many in Billund, the buckets are outselling the cartons, and the share erosion has reassuringly halted. The bucket was introduced worldwide and became a smashing success. (Kashani 1989, 91)
Ecological concerns are an additional variable that must be considered in evaluating product packaging. In some countries certain forms of packaging are either banned or not condoned by consumers, or else there is a market preference for specific packaging materials, such as glass instead of aluminum or tin, or paper rather than plastic. In Denmark, for instance, soft drinks may be sold only in glass bottles with refundable deposits, and in the United States consumers' criticism of styrofoam packaging used by fast food outlets led to burgers and sandwiches wrapped in foil. Virtually all deodorant manufacturers have done away with the secondary cardboard packaging to cut down on unnecessary packaging material. Consumers in many foreign markets are not accustomed to the elaborate packaging so common in the United States, considering it quite wasteful. For example, 80 percent of British consumers say it is important that the brands they buy are committed to acting in a way that can be considered socially aware or environmentally responsible. More than three-quarters of Brits say minimal packaging, as well as packaging that is biodegradable or recycled, is an important consideration in terms of the brands they buy (Ridgley 2008). Indeed, in many countries shoppers bring their canvas or string totes to the grocery store in order to carry home purchases. Carrefour, the first supermarket in Spain to join the green movement, has introduced a campaign that equates plastic bags to excrement. The concept is straightforward, simple, and easy to remember: "Plastic bags = shit." The campaign, created by Publicis Madrid, informed consumers that "Plastic bags take 400 years to decompose. Shit = bags. 400 years. 400 shits. We must do something." The supermarket also suggested replacing plastic bags with a different kind of material, such as raffia, cotton, or biodegradable starching. "Carrefour is heading down a path that will soon become the only choice for stores and supermarkets. In 2008, the Spanish government approved the Plan Nacional Integrade de Residuos, or National Integrated Plan of Waste Materials, a set of rules aimed at restricting and eventually banning the use of plastic bags by 2015. Spain is the third-largest consumer of plastic bags in Europe. Spaniards use an average of 238 bags per year and supermarkets are a big provider" (Vescovi and Rocca 2009). In France, reusable plastic bags now account for more than half of the market. Taiwan has banned plastic bags, and a threat of fines of up to $300 has resulted in a 70 percent reduction in their use and a 25 percent cut in landfill waste. Interestingly, Bangladesh was the first country to ban plastic bags. A movement against them began in the 1980s in Dhaka, where bags clogged drains in the monsoon rains, causing flooding (Ridgley 2008). In just the past few years, an increasing number of American retailers have joined the trend and begun selling reusable shopping bags. San Francisco was the first city in the United States to ban plastic bags altogether.
Government regulations may affect labeling with regard to a product's origin, name of the producer, weight, description of contents and ingredients, use of additives and preservatives, and dietetic information. Twice a year, the European Union issues "Designation of Origin" labels. To qualify, products must come from a specific geographic region. For example, only cows that graze within 75 miles of Parma can provide the raw materials for "real" Parmesan cheese. Bresse chickens must come from France's Bresse region, and Jamon Serrano (ham) can only be cured in Spain's Serrano. Supporters argue that ← 41 | 42 → the labels safeguard against fraud, such as when the Dutch sell grated Gouda cheese as Parmesan. In addition, the labels also allow small-scale "artisan" producers to stay in business. "We want to protect traditional foods against imitators," noted Martine Poudelet, the European Union's food label director (Echikson 1998). To enforce the laws, the government created a division of the Ministry of Agriculture called the Institut National d'Appellations d'Origine (INAO).
The EU is working on the creation of a global register of geographically defined products that would ban producers from outside the traditional regions from using these names. A particularly bitter trademark problem involved the United States. "Americans can call any fizzy white wine 'Champagne,' any white wine 'Chablis,' and any red wine 'Burgundy.' They must stop or we'll take legal action," noted Poudelet. The threats were serious. Major U.S. food and wine producers countered that the changes were unreasonable and didn't come with reciprocal promises to protect U.S. designations, such as Idaho potatoes (Locke 2003). The EU, however, is not alone in its attempts at protecting regionally produced goods. India is keen to protect Darjeeling tea, Sri Lanka its Ceylon tea, Guatemala its Antigua coffee, and Australia its wines. In the United States, some fresh produce has used origin labeling as advertising for a number of years—for example, Vidalia onions from Georgia and orange juice from Florida. In 2002, a Country of Origin Labeling (COOL) law mandated that retailers were required to notify customers of the country of origin (including the United States) of raw beef, veal, lamb, pork, chicken, goat, wild and farm-raised fish and shellfish, fresh and frozen fruits and vegetables, peanuts, pecans, and macadamia nuts. But lobbying by the grocery stores and large meatpackers led Congress to delay the U.S. Department of Agriculture's implementation of it. Seafood labeling was phased in first in 2005, and the other categories followed in 2008. The new guidelines allow those who want to buy local (or who prefer, say, Chilean grapes and New Zealand lamb) to more easily exercise their purchasing power. However, the real benefit is that it provides a more comprehensive system for tracing food items during outbreaks. So, for example, the next time tomatoes are suspected of food poisoning, consumers may be able to tell investigators they bought only ones grown in a certain region, thereby speeding the probe (Neergaard 2008).
Regardless of governmental restrictions, the label must be written in a language that local consumers will understand—and this typically means different labels for different markets. Marketers may attempt to get around this by printing multilingual labels. Many companies are trying to maximize profits by selling the same product in the same package in as many different countries as they can. Product information on a package of Procter & Gamble's (P&G) Ariel Futur laundry detergent, sold across the European continent, now appears in 10 languages, with English at the bottom of the list. As a result, it takes 10 times as many words to convey information to consumers. However, a package of P&G's Pampers diapers contains information in up to 20 languages, ranging from Hungarian to Hebrew. P&G has tried to ease the pressure on space by substituting pictograms for some of the information (Tomkins 2000). In some instances, bilinguality is legally mandated. For instance, products destined for Canada must carry product information in both English and French.
Differing levels of literacy may necessitate greater use of visuals rather than extensive copy. This commonplace practice proved to be quite perplexing for one major marketer. As David Ricks explains, the firm attempted to sell baby food to the indigenous peoples of one developing country by using its regular label showing a baby and stating the type of baby food in the jar. "Unfortunately, the local population took one look at the labels and interpreted them to mean the jars contained ground-up babies. Sales, of course, were terrible" (Ricks 1983, 34). ← 42 | 43 →
PLACE
Once foreign markets have been selected, the international marketer must determine the appropriate channels of distribution. These channels essentially connect the producer of the goods with the end consumer. Firms operating internationally must determine appropriate channels between nations—commonly called market entry channels—which involve movement of the product to the borders of foreign countries, as well as channels within nations—those that move the product from the foreign entry point to the final consumer. Channels between nations include indirect export, direct export, and manufacture abroad (which includes licensing, franchising, management contracting, foreign assembly, joint ventures, and direct investment). Channels within nations involve decisions regarding wholesalers and retailers.
Channels between Nations: Indirect Export
Exporting is the most common as well as the simplest means of foreign market entry. Firms lacking the resources to build or acquire factories abroad can penetrate foreign markets through this method, in which all goods are produced in the home market, and the international marketer may or may not choose to modify the product for consumers abroad. In indirect export the firm works with independent international marketing middlemen who are responsible for the distribution process. Because a wide variety of middlemen providing these services exists, only the most common methods of indirect exporting will be discussed.
Firms unwilling or unable to establish their own export departments may opt to enter foreign markets with the assistance of domestic sales organizations, better known as export management companies (EMCs). EMCs produce no goods of their own; instead they act as export departments for several manufacturers of unrelated products. They may operate in one of two ways: (1) functioning as a distributor for the manufacturer or (2) serving as an agent of the domestic firm. As a distributor the EMC actually purchases products (takes title) from the domestic firm and then operates abroad on its own behalf. In an agency capacity the EMC's role is limited to establishing foreign contacts and developing foreign marketing strategies. As a distributor the EMC assumes greater risk but also has the opportunity to reap greater profits than it does acting as an agent. Because EMCs service a variety of clients, their mode of operation may vary from one domestic client to the next. Payment for services is made through commission, salary, or retainer plus commission. EMCs often specialize in a particular geographic area, enabling them to offer expertise to domestic corporations.
Firms planning to conduct business abroad may also deal with international trading companies, which buy, sell, transport, and distribute goods. They may also provide financing, assist in the development of joint ventures, provide technical assistance, and even produce goods. They are typically the major suppliers of goods to the markets they serve. Trading companies hail from a number of different countries, including Japan, the United States, and even the CIS. Some of these trading companies were designed primarily for export, while others were originally developed to supply import services. Among the most famous export trading companies are the sogo shosha of Japan. Contrary to what most Americans believe, these firms actually import more into Japan from the United States than they export from Japan to the United States. Mitsui and Mitsubishi alone account for well over half of all Japan's imports. Some trading companies are region-specific, handling commodities produced in only one geographic area. Others are product-specific, handling only a limited variety of goods. Still others are industry-oriented, handling only goods specific to a particular industry, such as pharmaceuticals or chemicals. ← 43 | 44 →
There are certain advantages associated with utilizing the services of independent middlemen. A firm commits neither time nor money to set up an overseas sales force, and it can rely on the established contacts and marketing know-how of the middlemen operating within foreign markets. And because the indirect approach involves a good deal less investment on the part of the exporting company, it faces considerably less risk. On the downside, the exporter typically has little or no control over the distribution process. Should a product more profitable to the marketing middleman come along, the manufacturer's product may simply be dropped. Also, should sales in a market expand significantly, the exporting firm may find itself without the services of an EMC.
Channels between Nations: Direct Export
In contrast to indirect export, when a firm engages in direct export it does so without the assistance of intermediaries. The manufacturer is responsible for conducting any necessary market research; identifying, evaluating, and selecting foreign markets as well as agents or distributors to represent the firm in those markets; setting product prices; handling international shipping and insurance and preparing export documentation; and coordinating international promotional activities. While both the investment and the risk involved in direct export are greater, the marketer also has more control over the distribution process, which typically results in increased sales and higher profits. For example, bottlers of Equil, Indonesia's only natural mineral water, export their product to Singapore and even Australia. The water is bottled at the source from a spring at the foot of a West Java mountain. Marketed in both sparkling and still varieties, the water is claimed to be free of contaminants and undergoes no processing. The product is said to have particular appeal among expatriates.
Channels between Nations: Manufacture Abroad
A variety of circumstances may prevent the international marketer from engaging in direct export. For example, tariffs or quotas may prevent a firm from selling its products in specific countries, or transportation costs may make products noncompetitive. Positive factors may also encourage a firm to produce its goods abroad. For instance, the size of some markets may justify setting up a plant in a foreign country, or local manufacture may allow the marketer to better respond to local market needs, or manufacturing costs may be lower in foreign markets. Foreign production can take the form of licensing, management contracting, foreign assembly, contract manufacturing, joint ownership, and direct investment.
Licensing: One method of market entry is licensing, in which a company offers a licensee in the foreign market rights to a trademark or patent, the use of a manufacturing process, technical advice, or marketing skills. In exchange for the rights or know-how provided by the licensor, the licensee produces and markets the product and pays the licensor a fee or royalty, typically related to the sales volume of the product. Franchising is a particular type of licensing agreement in which the franchisee typically operates under the name of the franchisor, who provides the franchisee with not only trademarks and know-how but also management and financial assistance. Table 2.2 lists the world's top 20 franchises.
Matthew Shay, president of the International Franchise Association, notes: "From a business perspective, the most important consideration is finding a partner who understands the culture, the customs and the consumer" (Gibson 2006). In late 2009, with some 31,800 locations around the globe, Subway is racing to match the 32,158 total restaurants of McDonald's (York 2009a). And Subway is just ← 44 | 45 → starting to get aggressive in its international development. "You pick some good ones, you pick some that aren't so good," Patricia Demarais, director of international operations for Subway, says of the company's experience in finding partners in more than 80 countries. Trusting a surrogate becomes vital because, she notes, "we're very much into delegating decisions. But, while we want them to be really aggressive and believe in the brand, we don't want them to reinvent it" (Gibson 2006). To establish its fast food chain in India, Subway relied on two Indian brothers who has been educated in the United States. Manpreet and Gurpreet Gulri were responsible for finding franchisees and helping them open stores while overseeing the brand's operations across India. To date, the Gulris have signed up 35 franchisees who operate a total of 60 restaurants in major cities (see Figure 2.8 for a Subway located in Hyderabad, India). Although Manpreet Gulri was experienced in Indian commerce, it nonetheless took two years of negotiating to win the necessary approvals to open India's first Subway outlet. Obtaining supplies proved a challenge as well—in particular finding flour suitable for making sandwich bread. The quality of the flour in India apparently was not on a par with the flour in the West. The Gulris also encountered a problem that Subway franchisees in other markets were unlikely to face: Indians are not a bread-eating community. So the two brothers had to continuously educate prospective customers on the merits of their products. And, to win over the vegetarian multitudes, five meatless sandwiches were introduced (Gibson 2006). The Gulri brothers' understanding of the Indian has proven invaluable in breaking into this marketplace.
RANK
FRANCHISE
1.
Subway (Submarine sandwiches & salads)
2.
McDonald's (Hamburgers, chicken, salads)
3.
Liberty Tax Service (Income tax preparation)
4.
Sonic Drive-in Restaurants (Drive-in restaurant)
5.
InterContinental Hotels Group (hotels)
6.
Ace Hardware Corp. (Hardware & home improvement store)
7.
Pizza Hut (pizza, pasta, wings)
8.
UPS Store, The/Mail Boxes Etc. (Postal, business & communication services)
9.
Circle K (Convenience store)
10.
Papa John's Int'l. Inc. (Pizza)
11.
Jiffy Lube Int'l. Inc. (Fast oil change)
12.
Baskin-Robbins USA Co. (Ice cream, frozen yogurt)
13.
KFC Corp. (Chicken)
14.
Jani-King (Commercial cleaning)
15.
Dairy Queen (Soft-serve dairy products and sandwiches)
16.
Super 8 Worldwide (Hotels)
17.
Arby's (Sandwiches, chicken, salads)
18.
Jan-Pro Franchising Int'l. Inc. (Commercial cleaning)
19.
Taco Bell Corp. (Quick-service Mexican restaurant)
20.
Hampton Inn/Hampton Inn & Suites (Mid-price hotels)

← 45 | 46 →
Source: Entrepreneur Magazine (2009).
A number of advantages are associated with licensing. It offers a quick and easy means of entry into foreign markets. It requires neither capital investment nor an in-depth understanding of the foreign market. In some instances licensing permits entry into markets that might otherwise be closed to imports or direct foreign investments. It can negate high transportation costs, which may make exports noncompetitive. Finally, it offers an alternate means to enter markets with high duty rates or import quotas. For many firms, licensing serves as an intermediate step on the road toward internationalization by providing a means to test foreign markets without an actual outlay of capital or management time.
However, licensing also entails potential disadvantages. The manufacturer has little control over the licensee or its production, distribution, or marketing of the product. From a revenue standpoint, licensing is unlikely to be as profitable as the returns that could be generated from a firm's own operations, as license fees are typically only a small percentage of sales—generally 3–5 percent. Licensing in no way guarantees a basis for future expansion into a market. In fact, when a licensing agreement expires, a firm may find it has created a competitor not only in the markets for which agreements were made but possibly in other markets as well. Firms intending to engage in licensing agreements also need to be aware that licensing regulations vary dramatically from country to country. Finally, there ← 46 | 47 → may be variations in restrictions regarding registration requirements, royalty and fee payments, and applicable taxes.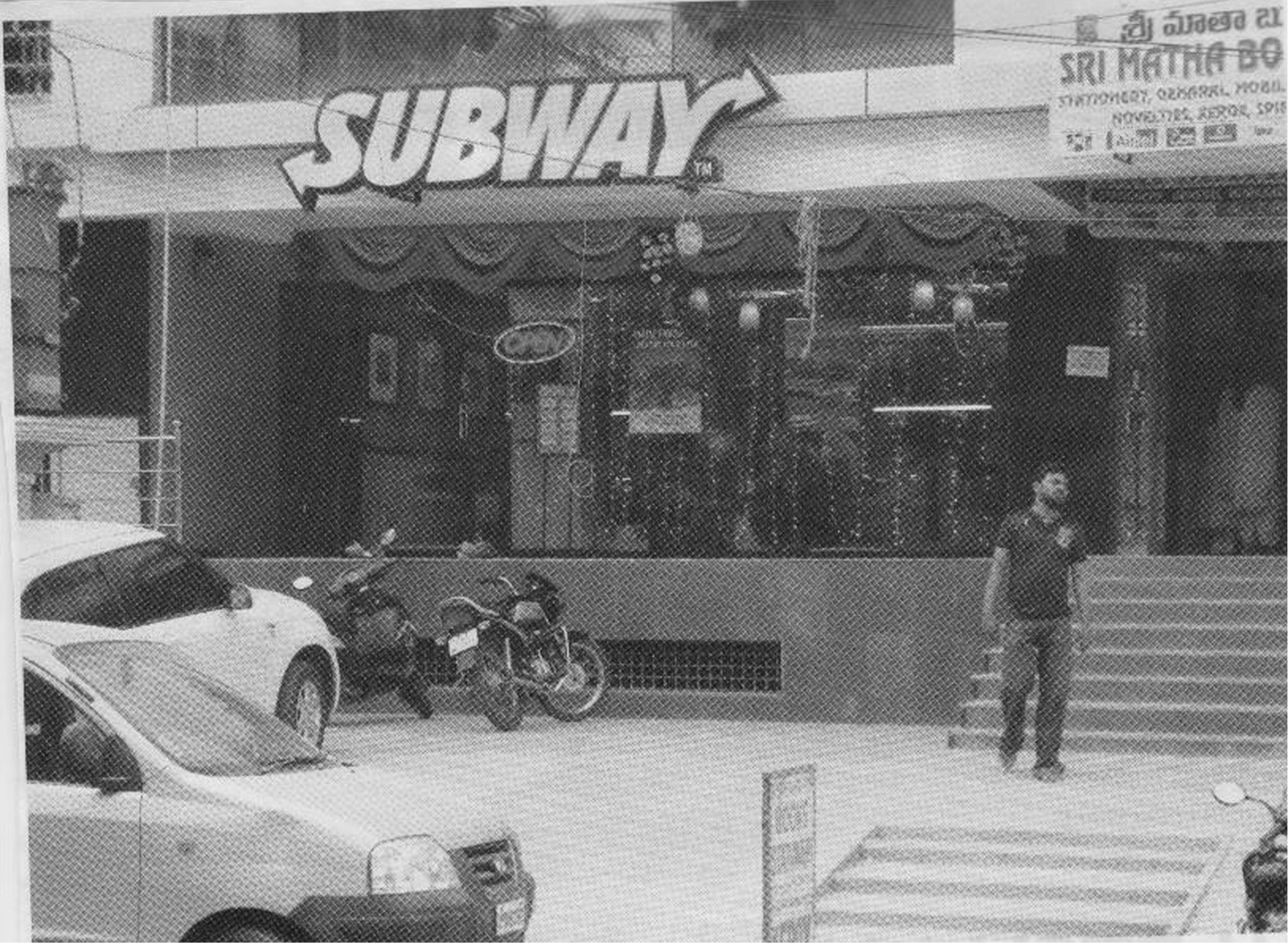 Management Contracting: A firm may choose to enter a foreign market through management contracting. Here the domestic firm supplies the management know-how to a foreign firm willing to invest the capital. The domestic firm is compensated through management fees, a share of the profits, and sometimes the option to buy some share in the managed firm at a later date. Management contracting is a low-risk means of market entry that requires no capital investment, capitalizes on the domestic firm's management skills, and assures a quick return. Here, the local investor has a greater say in how the investment is managed. Profits, however, are not likely to be as great as if the firm were to undertake the entire venture. Management contracting is most commonly used in the following sectors: public utilities, tourism (hotels, for example), and agriculture in developing countries.
Foreign Assembly: In foreign assembly, a firm produces all or most of the product's components or ingredients domestically and then ships them to foreign markets for final assembly. Many products may be more easily shipped broken down, and transportation costs may also be lower as a result. In some instances tariffs prevent a firm from shipping a fully assembled product. By forcing assembly in the local markets, foreign governments increase local employment.
Contract Manufacturing: Another option is contract manufacturing, which involves the actual production of a firm's product in a foreign market by another producer. Typically, the company placing the contract retains full control over both distribution and marketing of the goods. Benefits associated with contract manufacturing include limited local investment, potentially cheaper local labor, and the positive image associated with being locally produced. A marketer may also manufacture goods in one foreign country to be sold in another. Consider the case of Hennes & Mauritz (H&M), the Swedish retailer. H&M began its international expansion in 1976, the year it opened its store in London. By 2009, H&M boasted 1,840 stores in 27 countries, 175 of which are located in the United States. Even more stores are planned. Karl-Johan Persson, the retail chain's new chief executive, notes that H&M will focus most of its near-term expansion on the United States, United Kingdom, Germany, France, Spain, China, and Japan. It is the world's third-largest fashion chain by revenue, behind U.S.-based Gap Inc. and Spain's Inditex SA (Kinnander 2009). The stores are geared toward young, fashion-conscious females. H&M's formula for success is that it keeps its fashions fresh and affordable. H&M generates "buzz" and drives shoppers into its stores through tie-ins with big-name designers and celebrities. Britain's Matthew Williamson, who has dressed such celebrities as Keira Knightley and Gwyneth Paltrow, designed the summer 2009 collection. Previous collaborators included Rei Kawakubo (of Comme des Garçons fame), Roberto Cavalli, Stella McCartney, and Karl Lagerfeld (see Figure 2.9 for an H&M ad running in Spain). All merchandise is designed in-house. To keep costs down, the company outsources manufacturing to a network of 900 garment shops located in 21 mostly low-wage countries, primarily Bangladesh, China, and Turkey. H&M constantly shifts production to ensure that it gets the best deals on manufacturing (Capel and Khermouch 2002, 106). On the downside, it may prove difficult in some cases to locate a foreign firm that has the capability of manufacturing the product to the domestic firm's specifications. Extensive technical training of the subcontractor may be necessary, and even then, the firm has limited control over product quality. Here, too, at the end of a contract, the subcontractor may become a competitor. Types of products generally involved in such arrangements include electronics, textiles, and clothing. ← 47 | 48 →
Joint Ownership: When two or more firms in different countries join forces to create a local business in which they share ownership and control of management, manufacturing, and marketing, they have joint ownership. An international firm may purchase interest in a foreign company, or the two parties may form an entirely new business venture. In some joint ventures each partner holds an equal share; in others, one partner holds the majority share. Equity can range anywhere between 10 and 90 percent.
Joint ownership offers the potential for greater profits, as compared to contract manufacturing or licensing, and may also afford the international marketer greater control over production, distribution, and marketing activities. The national partner in a joint venture can offer the international marketer valuable knowledge about the local marketplace. The joint venture may also lead to better relationships with local organizations—government, local authorities, or labor unions. Finally, it may be the preferred option if 100 percent foreign equity ownership is not permitted by foreign governments. Mexico and India have traditionally been particularly restrictive about foreign firms owning more than 50 percent of any venture in their countries. In instances where political or other uncertainties call for some limitation of investment risks, joint ventures may be an appropriate entry method.
Ford provides an excellent example. In late 2009, Ford Motor Co. began building a new plant in China's southwestern city of Chongquing, primarily to produce the next-generation Focus car. Covering about 100 hectares with a total investment of $490 million, the plant is being built jointly by the Changan Ford Mazda Automobile Co. Ltd., a joint venture of Ford; the Chongqing-based Chana Auto Co., Ltd.; and Japan's Mazda Motor Corp. The plant, the second in Chongqing and third in China, will have an annual output of 150,000 cars after completion in 2012. "China is one of Ford's most important markets in the world and also the fastest growing market," noted Ford's CEO Allan Mulally at the foundation stone-laying ceremony of the new Ford plant. Notes Xu Liuping, board chairman of Changan, "I believe that with concerted efforts from all sides, Chanan Ford Mazda cars will win consumers' favour with excellent products and services, and the joint venture will become a model for China's auto market" (BBC Monitoring Asia Pacific 2009). The new plant is part of a broader effort to overcome Ford's late start in China and to catch up with key competitors in China—Volkswagen AG, General Motors Co., Hyndai Motor Co., and Toyota Motor Corp., the top-four car concerns in China's fast-growing auto market.
Certain drawbacks are associated with joint ownership. When compared with contract manufacturing or licensing, there is a greater investment of capital and management resources, as well as an increased level of risk. And, as with any partnership, the potential for conflict of interest always exists. The two parties may disagree about any or all of the marketing mix elements, as well as management style, research and development, personnel requirements, and the accumulation and distribution of profits. What is good for the national firms may not always be beneficial to the international company, and vice versa.
Direct Investment: The greatest commitment a firm can make to a foreign market is direct investment, which involves entering a foreign market by developing foreign-based manufacturing facilities. The international firm has the option of obtaining foreign production facilities by acquiring an existing foreign producer or by establishing its own facilities. Acquisition is typically a quicker way for a firm to move into a new market, and it also offers the firm benefits such as built-in political know-how and expertise. For example, when Procter & Gamble first entered the Japanese market by absorbing a soap company, it also acquired a well-trained Japanese sales staff. Because it had, in fact, saved the Japanese firm from bankruptcy, P&G immediately established good relations with not only the staff but also the Japanese government. However, establishing a new facility may be preferable if the international firm ← 48 | 49 → is unable to find a national company willing to sell, or if the national government prohibits the sale of domestic companies. Establishing a new facility also allows the international firm to incorporate the most up-to-date technology and equipment.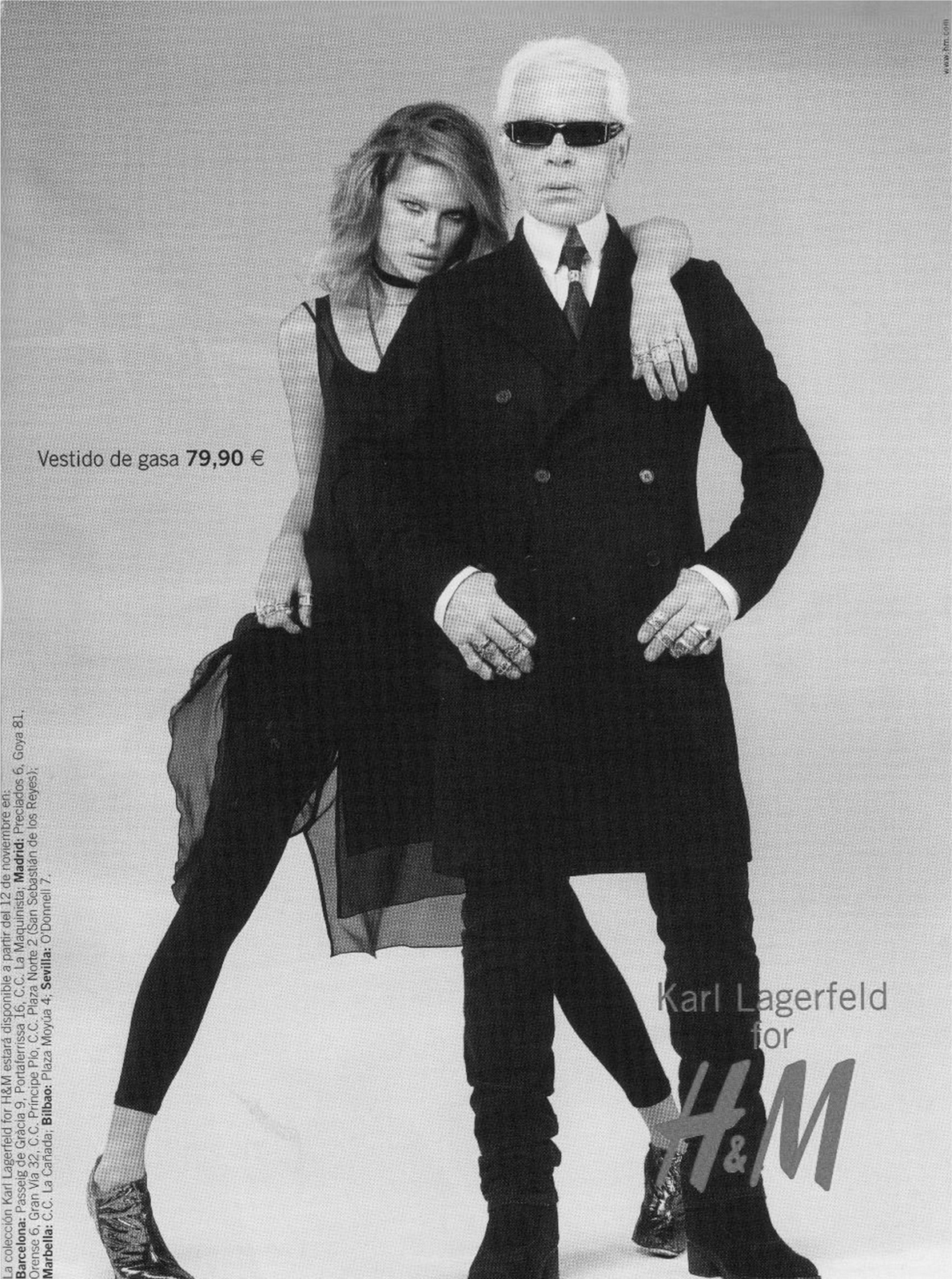 ← 49 | 50 →
Regardless of how acquired, foreign production facilities offer numerous advantages. Complete ownership means that 100 percent of the profits goes directly to the international firm. The firm keeps full control over its investment, and there is no possibility for conflict with a national partner. Foreign direct investment also allows corporations to sidestep trade barriers or tariffs and operate abroad as a domestic firm. Nationalism may also lead foreign customers to prefer locally produced goods and services. And, while some governments limit foreign investments, others actually offer incentives to international firms. For example, many governments are under increasing pressure to provide jobs for their citizens. As compared to direct or indirect exporting, the international firm may benefit from lower costs or increased availability in terms of natural or human resources. Mineral or agricultural resources may be more available in some foreign markets, and/or their costs may be lower than they are domestically. Similarly, a skilled work force may be more readily available and/or less costly.
The major disadvantage associated with direct investment is that it requires substantial investment in terms of capital and management resources. This factor typically prevents smaller firms from engaging in this mode of market entry. The international firm also faces increased risks, such as devalued currencies or even expropriation, which is more likely to happen to wholly owned firms. The international environment is growing increasingly hostile toward full ownership by multinational companies. A major concern is equitable profit repatriation. Therefore, many governments insist that foreign firms engage in licensing or even joint ventures as a means of sharing in the profits obtained in the local market.
Channels within Nations: Distribution to Consumers
The particular market entry strategy a firm selects will impact its decisions about distribution channels within nations. On the one hand, firms that make their products available in foreign markets via indirect exporting and some forms of direct exporting must rely on the distribution channels selected by their intermediaries. Firms engaging in joint ventures or direct investments, on the other hand, will be responsible for evaluating and selecting from among the available channels of distribution within those nations. The specific distribution channels a firm selects within a particular country will impact many of the other marketing elements. For example, product prices will need to reflect markups allowed to middlemen; where and how the product is available to the end user will impact promotional tactics. Channel decisions also involve long-term commitments to foreign organizations that are often difficult to change.
In some instances the international marketer will be faced with distribution channels that are a good deal more complex than those in the home market. For example, a U.S. company marketing in Japan will need to deal with a frustrating maze of middlemen. Larry Rosenberg explains that, historically, Japan has been a country of numerous small retailers, typically located in residential areas and near train stations where local people could shop daily for food and other necessities. Dependency relationships developed between consumers and retailers, and patronage was rewarded by guarantees of a constant supply of high-quality products and good service. Each retailer obtained goods from a long chain of middlemen, who in turn assured retailers of personalized service in exchange for continued patronage. Thus, dependency relationships developed along the entire chain from producer to consumer. The number of wholesalers and retailers is five times greater than in the United States. The sheer number ← 50 | 51 → of middlemen, in addition to the dependency relationships that have developed among them, makes it very difficult for foreigners to distribute goods in Japan (Rosenberg 1980, 47).
At the other extreme, an international marketer operating in a less developed country may well find that channels taken for granted in the home market simply do not exist. Or channels may have already been contracted on an exclusive basis to competitors. Under such circumstances the foreign investor may choose to lure away distributors by offering extra-high margins or other financial incentives. Other options include buying out local distributors or even building up parallel distribution channels from scratch. Finally, an international marketer may be forced to develop original methods of distribution.
Within-country channels of distribution—both wholesaling and retailing—vary greatly from one market to the next. These channels have typically evolved over many years and reflect differences not only in economic development but in culture as well. Each country poses a unique situation, and no general rules can be applied. The international marketer must carefully analyze the established distribution systems in order to uncover differences in the number, size, and types of middlemen, as well as the services they provide.
Channels within Nations: Wholesaling Abroad
Wholesaling patterns are typically reflective of the cultures and economies in which they operate. As a general rule, industrialized countries have many large-scale wholesaling organizations serving a large number of retailers. In contrast, in developing countries wholesaling is likely to be far more fragmented—smaller firms with fewer employees serving a limited number of retailers.
The spectrum of services offered by wholesalers typically relates to the size of their operations: the larger the wholesaler, the greater the variety of services it can provide. Larger wholesalers also generally have larger staffs available to assist the international firm. If it is necessary to utilize the services of a smaller wholesaler, this typically translates into greater responsibility for the international firm. Smaller wholesalers tend to carry less inventory, are less likely to provide adequate promotional efforts, and offer more limited geographic coverage than their larger counterparts.
Channels within Nations: Retailing Abroad
Differences in retailing from one international market to the next are at least as extensive as those in wholesaling. Here, too, the international marketer must carefully analyze each country to assess retailing opportunities as well as constraints. As with wholesaling, there is great variation in the number and size of retail operations in foreign markets and in the services they provide. Overall, the more developed the country, the more likely it is to have larger retail outlets. For example, supermarkets and department stores are the norm in the United States, while hyper-markets—huge facilities stocked with thousands of products—are popular in many European countries. Up to seven acres in size, hypermarkets sell everything from groceries to auto supplies to refrigerators. Carrefour, a French retailer that once had plans to open ten such hypermarkets in the United States, closed a number of locations in the early 1990s (Denitto 1993). Wal-Mart has also experimented with them, finding greater success. By the end of 2009, the company was operating 2,612 such "Supercenters." Wal-Mart's Supercenters average about 187,000 square feet in size (though some are upward of 230,000 square feet). However, Supercenters are just too large for some U.S. consumers. In response to weary shoppers who complained that the size of such stores made it too difficult to run in and grab just one item, Wal-Mart built 49 "neighborhood markets"—grocery and general merchandise outlets covering a mere 39,000 square feet. Neighborhood ← 51 | 52 → markets are quick-stop stores with additional checkouts and nearby parking. Other retailers, including Home Depot and Staples, are also following suit. Another reason retailers are scaling down the size of their stores in the United States is that the number of good locations in which to position oversize outlets is disappearing in many major markets. Also, in some areas there may not be a large enough customer base to support the superstore concept (Green 2003).
Typically, the number of retail outlets per capita in developed countries is limited. However, even here there is variation. The United States and Germany both have approximately 6 shops per 1,000 people, while France has about 11 and Japan has 13. Developing countries have a much larger number of overall outlets, but these tend to be significantly smaller in size. In emerging markets, Procter & Gamble estimates that 80 percent of people buy their wares from mom-and-pop stores no bigger than a closet. Crammed with food and a hodgepodge of household items, these retailers serve as the pantries of the world's poorest consumers, for whom both money and space are tight. P&G calls such locally owned bodegas, stalls, and kiosks "high-frequency stores" because of the multiple times shoppers visit them during a single day or week. It is estimated there are about 20 million high-frequency stores worldwide (Byron 2007). Table 2.3 shows some sample data on the number of retail outlets in both developed and developing markets. These numbers demonstrate the significant variation in retailing from market to market.
In most developed countries, international firms can expect to receive the following services from retailers: stocking the product, displaying and promoting the merchandise, extending credit to customers, providing service, and gathering market information. Because retail outlets are significantly smaller in developing countries, they typically carry very limited inventories. This may mean that the international firm cannot sell its full range of products, that adequate display of products may be a challenge, and that the use of point-of-purchase displays will be limited. The smaller the retailer, the less likely it is to be able to offer customers credit or to service the product.
An ever-increasing number of retailers are operating at an international level. Although Woolworth's and Sears are considered the "old-timers" of international retailing, in recent years Wal-Mart, Home Depot, Safeway, Target, and others have also ventured overseas. Table 2.4 lists the world's top 25 retailers, ranked by sales.
As of 2009, Wal-Mart was the largest retailer in the world. Wal-Mart operates 7,873 stores around the globe, with more than 3,000 of them outside the United States, where the company has increased its presence at an average annual rate of 30 percent between 2005 and 2008. Indeed, the company's Web site boasts that Wal-Mart serves more than 49 million international customers weekly. Wal-Mart ← 52 | 53 → operates international locations of its Wal-Mart and Sam's Club stores, as well as other retail stores and supermarkets. Of its 3,121 international locations, 7 percent are in China, 9 percent in Canada, 10 percent in the United Kingdom, 10 percent in Japan, 15 percent in Central America, 16 percent in South America, and 33 percent in Mexico. In 1997, international sales represented just 5 percent of Wal-Mart's revenue, but within a decade that figure had increased to 22 percent (Dunn 2007). In 2009, Wal-Mart's international locations generated $98.6 billion in revenue, a 9.1 percent increase over 2008. As the company begins to slow its square-footage growth in the United States, it is expected to turn to its international locations to continue its growth. Indeed, Wal-Mart plans to add 550 to 600 new international stores in 2010.

Source: Euromonitor (2002a); and Euromonitor (2002b).
In its most recent expansion efforts, Wal-Mart has moved into India. Under Indian rules governing foreign retailers, Wal-Mart and its joint-venture partner, Bharti Enterprises Ltd., cannot sell directly to consumers but will instead operate a cash-and-carry business selling 10,000 products to licensed store owners, schools, hospitals, hotels, and other institutions. Wal-Mart's efforts are targeted at a retail industry worth more than $350 billion a year, and made up almost entirely of small merchants. The more than 10 million tiny retailers in India are both the company's greatest challenge and opportunity. If Wal-Mart is successful in winning them over, they are likely to become the retailer's biggest customers. Though the government welcomes the investment and the jobs it will create, there is also concern about the effect Wal-Mart will have on small merchants, an issue that accompanied the firm as it expanded in the United States as well (Bellman 2009).
Foreign retailers are also exploring U.S. soil, as U.S. consumer familiarity with brands like Benneton, Laura Ashley, and Ikea indicates. European grocery chains are also conquering the United States. France's Carrefour and the United Kingdom's Tesco have both set up shop on American soil, as has Germany's Aldi, dubbed "the next Wal-Mart." Much like the Arkansas-based giant, Aldi boasts awesome margins, huge market clout, and seemingly unstoppable growth, including an estimated sales increase of 8 percent a year since 1998. It focuses relentlessly on efficiency, matching—or even beating—Wal-Mart stores in its ability to strip out costs (BusinessWeek 2004). Aldi opened its first U.S. store in Iowa in 1976, and by 2008, the nearly 1,000 stores in 28 states boasted sales of $7 billion (Rohwedder and Kesmodel 2009). In comparison, Wal-Mart has nearly $375 billion in U.S. sales. A typical Aldi has only about 1,300 different items, compared with more than 50,000 at a typical supermarket, or the more than 150,000 at a Wal-Mart Supercenter. Aldi stores average 10,000 square feet, much smaller than the 50,000 to 60,000 square feet of a standard, full-service supermarket (see Figure 2.10 for a typical Aldi store). The grocer is aggressive in driving down prices on branded consumer packaged goods through strongly negotiated deals with manufacturers. More important, it has created a wide range of store-brand products that keep the price of the average shopping basket down. While store-brand goods generally make up 22 percent of U.S. food sales in terms of unit volume at Aldi, 95 percent of the goods are the retailer's own brands, according to research by Nielsen Co. It purchases in bulk from suppliers and commissions them to make its own store brand of groceries cheaper than that of rivals. In the Midwest, for example, its prices are between 15 and 20 percent less than Wal-Mart and 30 to 40 percent less than regional grocery store chains (Rohwedder and Kesmodel 2009). The limited selection simplifies shipping and handling.
Aldi designs its stores to run lean. A typical store has five to ten employees and can open with as few as two people and up to a maximum of five working at one time. Shoppers who want to use a cart at Aldi must pay 25 cents to pull one from the storage rack, although they get their money back when they return the cart to the rack. There are no carts left in the parking lot, so the store doesn't have to ← 53 | 54 → pay staffers to round them up and bring them back. Aldi's longstanding policy on shopping bags is similarly frugal: bring your own or pay for one at the checkout. Finally, Aldi won't take checks or credit cards, a practice that also holds down expenses. Customers pay in cash or with debit cards (Hajewski 2008). Trader Joe's Co., a specialty grocer owned by a family trust that Aldi co-founder Theo Albrecht created for his sons, has become the hottest thing in U.S. retailing by extending the Aldi concept to upscale products like grappa and goat cheese.
Distribution Standardization versus Specialization
An international marketer will need to determine whether factors favor the utilization of uniform distribution patterns in foreign markets or whether a more specialized approach will be more profitable. A standardized approach may offer certain economies of scale. For example, if markets are sufficiently similar, the international marketing manager's skills in one market may be transferred to another. However, given the variation in the number, size, and nature of wholesalers and retailers described previously, a specialized approach may be the only viable option. And, if the market entry approaches vary from one market to another, the international marketer may have little choice but to adapt distribution efforts. For example, Kentucky Fried Chicken (KFC) was the first fast food outlet to enter the Japanese market. KFC and Mitsubishi established a 50–50 joint venture and opened the first KFC in 1970 at the Osaka Exposition; several additional restaurants were opened shortly thereafter. However, within a year after opening its doors, the local chain almost went bankrupt. KFC had made the mistake of locating its outlets in the suburbs and on highways, mimicking the U.S. model, only ← 54 | 55 → to learn that few Japanese had cars at the time. Only after putting aside the American distribution approach and opening downtown outlets did KFC experience steady growth.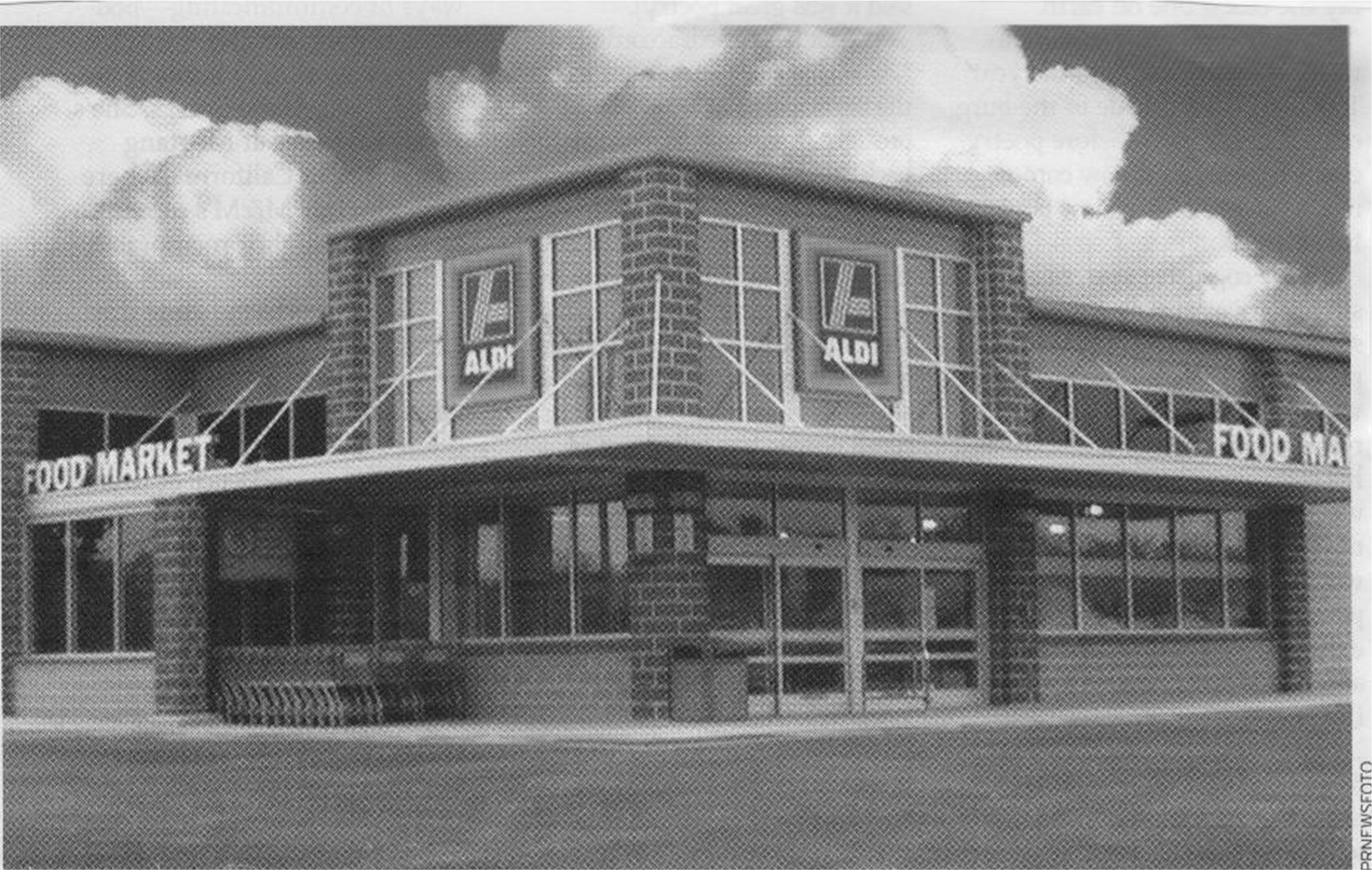 In moving into foreign markets, Domino's Pizza faced a number of distribution challenges. In the Philippines, locations of stores were chosen using feng shui, the Chinese art that positions buildings according to spiritual flow. In Japan, Domino's had to modify its delivery procedures, because addresses in Japan often aren't sequential but instead are determined by the age of the building. And, ← 55 | 56 → on the Caribbean island of Aruba, the company found that using motorcycles to deliver pizzas was too dangerous because of the island's strong winds; small trucks solved the problem (Gibson 2006).
Source: Deloitte (2009).
PRICE
In pricing products, international marketers must determine whether to standardize prices in markets worldwide or to differentiate prices among countries. In setting a standard worldwide price, a firm establishes a uniform price for its product all around the world. However, that price may be too high for consumers in less-developed countries. For example, Western brands are usually priced higher than domestic brands in transition economies. A pair of glasses at VisionExpress in Russia costs consumers about $60—half of what it costs in the United States, but more than 60 times what government stores charge (Alon and Banai 2000, 104). When Starbucks opened its first store in Mexico at the beginning of the decade, a major challenge was getting Mexican consumers to pay U.S.-style prices for coffee. A small cup of coffee at Starbucks's Mexico City store cost 16 pesos ($1.60), and specialty coffee drinks ran more than 50 pesos ($5). Mexicans were accustomed to far lower prices, with a cup of coffee at a corner café usually costing less than 50 cents. Mexico's minimum wage at the time was 43 pesos [$4.30] per day (Weissart 2002). Despite a high degree of price sensitivity in many developing markets, foreign brands nonetheless often remain competitive because of the high level of perceived quality and status that is associated with Western goods.
At other times the price may not be high enough for consumers in wealthier countries with higher levels of income. Here a marketer may opt to use a differentiated pricing strategy, in which price is based on a number of factors and not determined in isolation from the other marketing mix elements. For example, the prices of well-known household brands vary significantly across Europe, according to a major European study. The Internal Market Scoreboard Survey looked at 11 branded products in 15 European Union countries. British consumers spent 70 percent more for a tube of Colgate toothpaste than did shoppers in Portugal and Spain, and they paid 80 percent more for Nivea shaving foam than did the French. In Denmark, which along with Sweden is one of the most expensive European Union countries for grocery items, a Mars chocolate bar cost double what people paid in Belgium, and a bottle of Coca-Cola cost double the price in Germany. Heinz ketchup was twice as expensive in Italy as in Germany, and a bottle of Evian water cost four times as much in Finland as in France. The introduction of the euro has only highlighted these differences. No country was consistently expensive or cheap, but overall, Spain ranked the cheapest, followed by the Netherlands, Germany, and France. The United Kingdom was one of the more expensive countries, but Kellogg's Corn Flakes was a real bargain there, costing half what it did in Greece. In general, the richest countries tended to charge the most. However, Germany and the Netherlands, both with high per capita incomes, were exceptions. The survey found that prices were strongly influenced by what type of retail outlet has a big market share. Countries such as Spain, France, and Germany, in which hypermarkets had a relatively high market share, charged less. While variables such as market size, consumer tastes, landscape, and climate explained some of the discrepancies, the survey concluded that the price differences were too large to be explained away by natural factors. Instead, the survey claimed that the very large price differences for specific items suggested that producers exploit market fragmentation by operating different pricing policies in different national markets. There is still considerable scope for price convergence in the European Union (Bowes 2002). ← 56 | 57 →
A classic investigation found that, among U.S. multinational corporations, over two-thirds of consumer-nondurables marketers and almost 50 percent of industrial-products manufacturers adapted pricing to local conditions (Boddewyn 1976, 1). This adaptation is justified on the grounds that local market considerations play such a significant role in setting product prices. Among the factors influencing pricing are corporate objectives, competition, consumer demand, and governmental and regulatory considerations.
Pricing Objectives and Strategies
International marketers may adjust pricing objectives based on the specific conditions of the markets they enter. Typical pricing objectives include profit maximization, return on an investment, and increases in total sales volume or market share. In pursuing pricing objectives, a firm may select from a variety of pricing strategies. The pricing strategy adopted will, in turn, impact the other marketing factors. A firm might engage in a market penetration strategy, which entails establishing a relatively low price with the goal of stimulating consumer interest. The firm accepts a lower per unit return in hopes of capturing a large share of the market and discouraging competition. Once a satisfactory level of market share is obtained, the firm typically raises prices to increase profitability. Penetration pricing is commonly employed with low-cost consumer products and tends to be most effective with price-sensitive consumers and in countries with significant manufacturing economies of scale.
In a situation in which no competitors—or very few—exist, or in which consumers are willing to pay a high price, perhaps because a product is unique or innovative, marketers may opt to "skim the cream" from the market. The aim of a market skimming strategy is to obtain a premium price for a product—at least initially. This approach allows marketers to recoup research and development costs quickly, as well as to generate profits. Prices are typically reduced once competitors enter the market or in order to attract more price-conscious consumers.
If competitors already exist in a given market or if a product is essentially indistinguishable from the competition, a firm may engage in competitive pricing. Here, a manufacturer sets product prices at or just below those of competitors. This approach requires constant monitoring of competitors' prices so that the marketer can prominently display a lower price in promotional messages. In contrast, with a prestige pricing strategy, product prices are set high and remain high. Promotional messages are aimed at a select clientele who can afford to pay the higher prices, and product quality and service are highlighted.
Clearly, the actual cost involved in manufacturing, distributing, and promoting a product will play a role in the price charged. The actual costs may vary from country to country. If specific markets require product modifications, these will need to be factored in to the price of the product. The manufacturer will also need to factor in any additional operational costs related to the export operation, such as transportation and insurance costs. Further, costs incurred in entering the foreign market—including taxes, duties, and tariffs—must also be taken into account. Finally, wholesaler and retailer markups must be considered.
The number and nature of competitors' manufacturing similar products or providing similar services will influence pricing decisions. The fewer the competitors, the greater the pricing flexibility. The intensity of demand for a certain product also impacts its price. Higher prices may be charged where demand is buoyant, and lower prices charged where demand is weak—even if production costs are the same in both instances. Total demand for a product is the net result of the combination of (1) consumer satisfaction derived from the product's "bundle of benefits," (2) the size of the market, and ← 57 | 58 → (3) the market's ability to purchase the product. Not only must consumers be willing to purchase a product, they must also be able to.
Governmental Influences on Pricing
Pricing is often one of the most heavily regulated areas in international marketing. Host countries have a variety of means to influence pricing. International marketers frequently encounter specified price markups, price ceilings, price freezes, restrictions on price changes, restrictions on acceptable profit margins, and government subsidies. The international marketer may also encounter governmental monopolies that control all international selling and buying. Further, tariffs and other government-controlled barriers force prices up for selected goods. Drug prices are often cheaper in Canada than in the United States—even for drugs produced by U.S. manufacturers. This is because pharmaceutical prices are governed by a governmental price ceiling. For example, Vioxx, a popular arthritis pain treatment, sells for 43 percent less in Canada. As a result, for the past few years, bands of renegade U.S. shoppers have piled onto buses to stock up on medications across the border. This has raised the issue of permitting drugs from U.S. manufacturers to be literally reimported into the United States from Canada, and the debate over whether reimportation would, in fact, reduce costs without compromising safety (Calfee 2002).
Export Pricing
When U.S. firms export products to international markets, costs associated with freight and shipping, insurance, tariffs, taxes, storage fees, documentation costs, and middleman margins must all be added to the domestic price of the product. These costs typically inflate the final price to a level significantly higher than the price charged in domestic markets for the same product, in what is commonly known as price escalation. This higher price for the product may mean that it is out of line with domestically available substitutes—which, in turn, may have a negative impact on consumer demand. In some instances this may be offset by the fact that the foreign goods are perceived as exclusive. For example, U.S. consumers generally pay more for French perfumes, German beers, and Italian leather shoes than for their domestic counterparts, yet demand still remains high.
On the other hand, a variety of factors may lead to a situation in which the imported product costs less than domestic goods. As noted previously, a desire to price products competitively may result in lower prices. In some instances, overproduction may necessitate moving product inventories; storage space may not be available, or products may be perishable. This may result in a price lower than that charged in the home market.
Numerous international firms also have been accused of dumping goods on foreign markets. Dumping refers to the selling of goods in foreign markets for less than they are sold in the home market or to setting the product price below the cost of production. In some cases this may be unintentional on the part of the international marketer. Some firms, however, intentionally sell at a loss in foreign markets in order to increase their market share. In many countries, including the United States, domestic firms may petition their governments to impose antidumping measures on imports alleged to be dumped—for example, imposing additional import duties. Often, however, antidumping actions feed retaliatory responses. A generous attitude by one country to requests for antidumping actions triggers a similar attitude in the other markets. Indeed, dumping accusations have become somewhat of a trend in the current economic climate. Indonesia provides an interesting case. More than 20 countries have ← 58 | 59 → accused Indonesia of dumping its export products on the international market. Countries that have lodged reports include India, South Africa, Thailand, New Zealand, Australia, the Philippines, several countries in the European Union, Malaysia, the United States, Turkey, Canada, Peru, Argentina, Egypt, Brazil, Colombia, and South Korea. A list of 20 products Indonesia has been accused of dumping includes paper, toilet paper, stationery, aluminum, dry batteries, tires, steel, textiles, ready-to-wear garments, synthetic fibers, pharmaceuticals, bicycles, and motorcycles. Indeed, between 1995 and 2008, 180 accusations of dumping were lodged against Indonesia. However, 85 of these were dismissed because there was no proof. The country addressed another 76 of the complaints and is currently processing 19 others. Recently, the Indonesian government was urged by domestic manufacturers to take Australia to the World Trade Organization after it imposed anti-dumping duties on Indonesian tissue paper. However, the government is first analyzing all necessary legal aspects of the case before making such a decision (Jakarta Post 2009).
Pricing and Manufacture Abroad
When goods are both produced and distributed within the foreign country, the various marketing objectives and strategies discussed previously apply as well. The marketer must take into account consumer demand and the competitive environment. However, firms must take additional factors into consideration in pricing goods. When goods are manufactured abroad, foreign labor and material costs may be lower or higher than those in the home market, directly affecting overall production costs and, ultimately, product price.
Foreign governments in both developed and developing countries may impose price controls on goods produced within their borders. Should a firm wish to raise product prices, it typically must apply for a price increase and provide documentation supporting the request, which may or may not be granted. Such price controls can jeopardize not only the financial well-being but even the survival of a company. For example, Gerber began operations in Venezuela in the 1960s. Unprofitable operations forced the firm to close its doors in 1979. Gerber blamed price controls for its failure in the market—some of Gerber's products were still being sold at prices set more than 10 years earlier because the Venezuelan government had refused repeated requests for price increases.
Inflation rates around the world vary dramatically. In many foreign countries the rate is similar to that in the United States, or perhaps even lower. According to Bespoke Investment, the U.S. inflation rate is about 4.3 percent, while the inflation rate of Italy is 3.6 percent, and Japan's inflation rate is a mere 0.8 percent. However, in other countries, double-digit inflation rates are not uncommon. In Indonesia inflation stands at 10.3 percent, in Russia 15.1 percent, and in Venezuela an unbelievable 31.4 percent (Global Inflation Rates 2008). Firms operating in such markets face a definite challenge in terms of pricing products. In countries with no price controls, pricing strategy involves raising prices frequently enough to keep pace with inflation. The situation becomes even more problematic when price controls are also imposed.
PROMOTION
Promotion is the fourth and final component in the marketing mix. Promotion includes advertising, sales promotion, public relations and publicity, and personal selling. In addition, the areas of direct marketing, sponsorships, trade fairs, and product integrations will be addressed. ← 59 | 60 →
Advertising
Advertising, according to the Definitions Committee of the American Marketing Association, "is any paid form of non-personal presentation and promotion of ideas, goods or services by an identified sponsor" (Journal of Marketing 1948, 202).
Several aspects of this definition deserve further explanation. The "paid" aspect refers to the fact that the advertiser must purchase time and space for the message. "Non-personal" indicates that the message appears in the mass media, which means there is little opportunity for feedback from the message receiver. Because of this, advertisers utilize research to determine how a specific target audience might interpret and respond to a message prior to its distribution. Finally, the "identified" aspect refers to the fact that the media require sponsors to identify themselves.
The role that advertising plays in a society differs from one market to the next. In Chapter 1 we examined countries in terms of their total advertising expenditures. In comparing the role of advertising in various nations, it is also useful to examine per capita advertising expenditures. Table 2.5 presents this measure for 2007—the most recent year for which data were collected. These figures demonstrate the significant variation from one country to the next. Advertising expenditures per capita range from a high of $923 for Hong Kong and $533 for the United States, to a low of $5.40 per person in India and a mere 10 cents per person in Yemen.
As with the other marketing mix elements, advertising can be standardized (whereby the same advertising theme is employed for each foreign market) or specialized (whereby the messages are adapted for local markets). Agencies and advertisers alike are divided over the issue. While some agencies have jumped on the "globalization bandwagon," others remain committed to localization. Both Saatchi & Saatchi and BBD&O are believers in the global approach. Grey Advertising, on the other hand, suggests that each world business challenge is unique and, as a result, espouses "global vision with a local touch." Views regarding the effectiveness and practicality of the global approach to marketing messages are mixed. Exxon's "Put a tiger in your tank" theme, employed in many different markets, provided the firm with a uniform positioning across markets. Marlboro cigarettes have also been advertised in much the same fashion around the globe. Other marketers, due to a variety of constraints, opt to modify their advertising campaigns. Often, themes or appeals used in the home market may not be appropriate for specific foreign audiences. In a classic example, Pepsodent attempted to sell its toothpaste in a remote area of Southeast Asia via a message that stressed how the toothpaste helped whiten teeth. Unfortunately, this campaign had little effect, as this was an area where many local people deliberately chewed betel nut in order to achieve darkly stained teeth—a sign of prestige. A variety of other factors may also limit the feasibility of standardized campaigns. The issue of standardization versus specialization of advertising will be dealt with in greater detail in Chapters 5 and 6. It should be noted here, however, that of all the elements of the marketing mix, advertising is generally acknowledged to be the most difficult to standardize (Boddewyn et al. 1986, 69).
In addition to strategic decisions, such as whether to standardize or specialize campaigns, the international marketer must decide on the appropriate message content. Advertising is effective only if it is able to both gain the attention of the target audience and communicate the product benefits clearly. Creative considerations will be addressed in Chapter 6. If the target audience is to receive the advertising message, it must appear in the appropriate medium. Media decisions include whether to employ local or international media. Advertising media will be discussed in Chapter 7. Research guides both whom the advertising should be targeted to and what the content of the message should be. Creative appeals may be evaluated prior to dissemination to help predict whether the message appeals to the correct ← 60 | 61 → audience. Research is also undertaken after a campaign has run to determine whether objectives have been met. Research in the international setting is the focus of Chapter 8.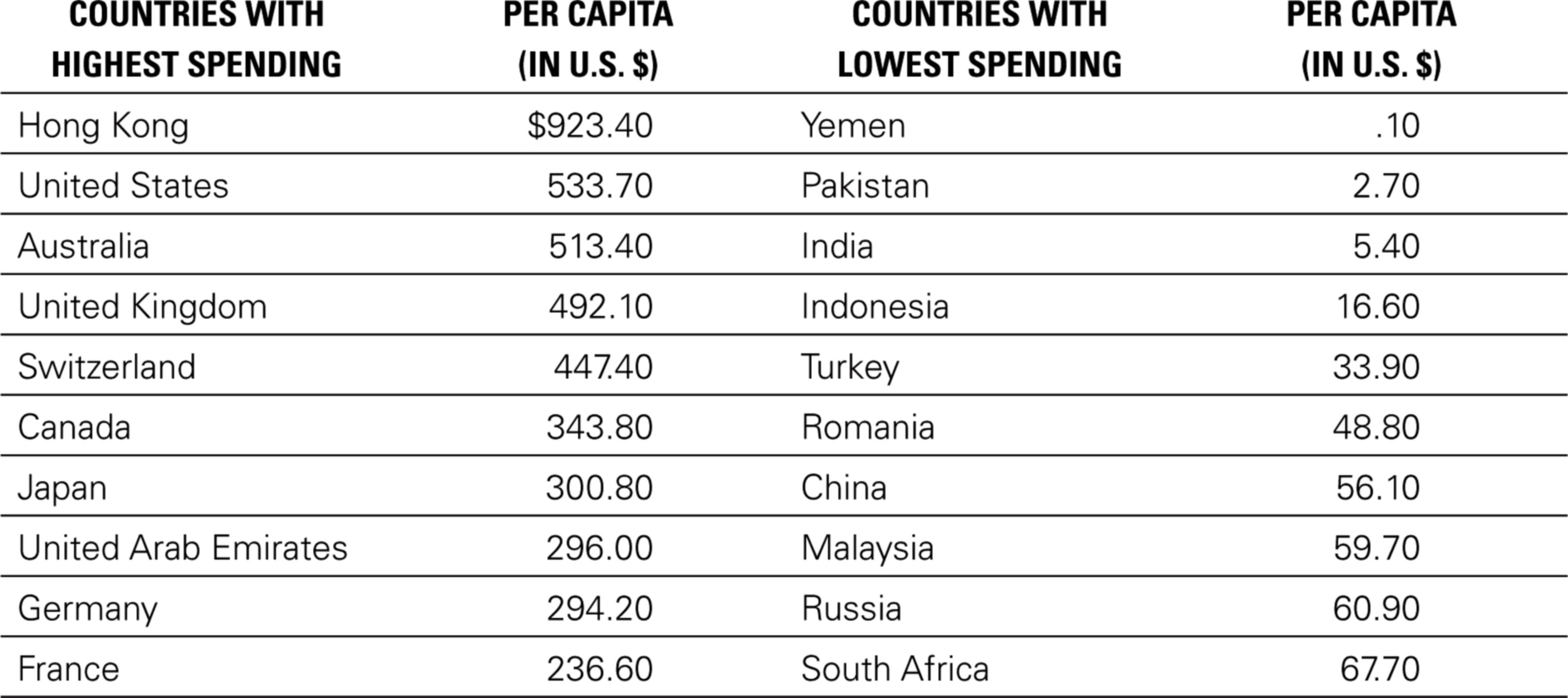 Source: World Advertising Research Center (2008).
Sales Promotion
Sales promotion consists of a variety of techniques designed to support and complement both advertising and personal selling. The goal of sales promotion is to stimulate immediate consumer purchasing or dealer effectiveness. Cents-off coupons, premiums, samples, and point-of-purchase displays may induce trial purchase of products as well as maintain consumer loyalty. Sweepstakes and contests can create interest in and excitement about a company's product or service and increase the likelihood that its advertising campaigns will receive attention. See Figure 2.11 for a British advertisement for Paul Mitchell hair care products incorporating a sweepstakes. To celebrate the release of the film He's Just Not That Into You, Paul Mitchell teamed up with Entertainment Films to offer readers of Glamour (Britain's number-one women's magazine) the chance to win a trip to Hollywood. Price deals, trade shows, and contests are typical trade promotion activities that may be directed at wholesalers, distributors, and retailers. The overall use of sales promotion efforts appears to be on the increase worldwide.
Here are just a few examples of successful, award-winning promotions from around the world:
▪ Marketers hit Brazilian bars and clubs to promote Johnnie Walker, the country's best-selling whisky. In addition to on-premises samples, they placed an alphanumeric pager at each table. Every 30 minutes, calls were made to the pagers, awarding prizes to some Johnnie Walker drinkers and telling others to wait for a chance to win. The four-month promotion also used e-mail to spread the word about participating bars, a Web site with screensavers, virtual postcards, event photos, and a blind-date service that electronically matched up cybersurfers' profiles. The promotion generated 7,000 e-mail addresses and increased consumption levels by as much as 120 percent. ← 61 | 62 →
▪ Another successful brand-building promotion was Coca-Cola's 2005 and 2006 "Win a Player" scheme to back its sponsorship of the English Football League and Scottish Premier League. British football (soccer) fans could text the name of their favorite team to a number promoted on 80 million Coke packs. The team with the most votes won £250,000 (approximately $500,000) to buy a player, while entrants who voted for that team stood to win £10,000 ($20,000) in a prize draw.
▪ To create awareness for the relaunch of Philips's Softone colored light bulbs while boosting trials among young homeowners and generating repair purchases, marketers distributed two million "Yes Please" promotional bags to British households. The bags contained a glossy, 16-page brochure, a coupon, a questionnaire, and a creative offer for a free Softone light bulb. Recipients filled out the questionnaire, which included a spot for them to select one of the seven colored bulbs. They then hung the bag and questionnaire outside their front door. The next morning, the questionnaire was withdrawn from the bag and the desired light bulb—a short-life, 10-hour bulb made just for the promotion—was left behind. The 700,000 bulb requests resulted in a 35 percent response rate. Another 8 percent of respondents redeemed the coupon, and 27 percent filled out the survey, supplying Philips with solid marketing information on a crop of new prospects. Brand awareness increased from 9 to 82 percent.
▪ While many companies effectively utilize sales promotion tools to help sell their products in foreign markets, marketers must be aware of potential pitfalls. Because of cultural differences among consumers, promotional incentives that have proven successful in the home market may not be as effective in foreign markets. For example, when Procter & Gamble mailed 580,000 free samples of Vidal Sassoon Wash & Go shampoo to consumers in Warsaw in the early 1990s, it never expected an adverse reaction. The samples were in such demand that some Poles wrecked mailboxes to steal them. Following what was believed to be the first mass mailing of free samples in Poland, about 2,000 mailboxes—mostly in large urban areas—were broken into by people who wanted the samples either to use or to sell. The samples turned up at open markets, selling for 60 cents each. P&G assured the Polish post office that it would pay for the damages (Gajewski 1991).
Differing legal restrictions and regulations from one country to the next may render some promotional efforts impossible while requiring that others be modified significantly. Such restrictions often mean that marketers must develop separate promotions for each country. Over the past few years, marketers and their agencies have experienced increasing frustration at the complex web of regulations regarding sales promotions in Europe. For example, in Germany, considered one of the most restrictive of the European Union nations, "buy one get one free" offers are illegal, as are mail-in offers and self-liquidating premiums. In France, on-pack premiums are restricted to 7 percent of the product's value. Italy does not allow cash rebates. And, the Netherlands, Belgium, Ireland, Sweden, and France prohibit or seriously restrict sweepstakes. Some countries, such as Spain and Italy, require pre-authorization from government for certain sales promotions. The idea of creating an internal market for sales promotion, allowing advertisers to run identical promotions across the EU, was first presented as a draft proposal in 2001. After four years of clashing over the guidelines, the proposal was jettisoned by the European Commission after member states failed to reach a consensus. The proposed regulation would have brought the countries with the most restrictive promotions laws, such as Germany, France, and Belgium, into line with the more liberal countries, such as the United Kingdom. It remains to be seen whether member states can hammer out an agreement regarding pan-European promotion guidelines ← 62 | 63 → in the future. The following are perceived to be quite liberal with regard to the regulation of premiums, gifts, and competitions: Australia, Canada, France, Hong Kong, Ireland, Malaysia, New Zealand, the Philippines, Singapore, Spain, Sweden, the United Kingdom, and the United States. In contrast, Austria, Belgium, Denmark, Germany, Italy, Japan, Korea, Mexico, the Netherlands, Switzerland, and Venezuela are seen as significantly more restrictive. Because both industrialized and developing countries appear on each list, any attempt to generalize is useless.
← 63 | 64 →
Because distribution channels in foreign markets generally are different from those in the United States, promotions that rely heavily on retailer involvement and cooperation may not be effective. For example, while U.S. retailers commonly handle processing of coupons and the display of point-of-purchase materials, international marketers cannot assume that this level of assistance exists in foreign markets. In the United States, 70 percent of dollars spent on consumer promotions go into coupons. This is not the case in many foreign markets. Coupons are far less common—or even nonexistent—in some countries simply because the cultures don't accept them. Also, retailers in many foreign markets may be smaller in size or greater in number, and as a result it may be more difficult to contact them. With regard to promotions directed at both consumers and the trade, international marketers must study each country separately.
PUBLIC RELATIONS
Public relations involves a variety of efforts to create and maintain a positive image of an organization with its various constituencies. Corporate public relations typically focuses on an organization's noncustomer constituencies, such as employees, stockholders, suppliers/distributors, governmental agencies, labor unions, the media, and various activist groups, as well as with the public at large. When the focus is specifically an organization's interactions with current and potential consumers, this marketing-oriented aspect of public relations is called marketing public relations, or MPR. MPR is defined as "the process of planning, executing and evaluating programs that encourage purchase and consumer satisfaction through credible communication of information and impressions that identify companies and their products with the needs, wants, concerns and interests of consumers" (Harris 1993, 12). In short, MPR supports marketing's product and sales focus by increasing the brand and company's credibility with consumers.
MPR is often further delineated as involving either proactive or reactive public relations (Goldman 1984, 16). Proactive MPR is offensively rather than defensively oriented and opportunistic rather than remedial. Proactive MPR is a tool for communicating a brand's merits and is typically used in conjunction with advertising, sales promotion, and personal selling. Proactive MPR is typically employed when introducing a new product and announcing product revisions. Unilever provides an excellent example of proactive MPR. The company markets Cif, a household cleaning product, in 52 countries. In introducing Cif to the Argentine market, the manufacturer demonstrated the product's effectiveness by scrubbing clean the 35-year-old planetarium located in the city of Buenos Aires. Nueva Comunicacion, the brand's press and public relations agency, organized the event. It included a print campaign. "Imagine what you can do in your home," the ads boasted below a picture of a sparkling-clean planetarium.
In contrast, Reactive MPR is undertaken as a result of pressures and challenges that might be brought on by competitive actions, shifts in consumer attitudes, changes in government policy, or other influences. Reactive MPR generally deals with changes that have negative consequences for a company. An unanticipated marketplace event or faulty product can place an organization in a vulnerable position, ← 64 | 65 → requiring reactive MPR (Shimp 2003, 569). Consider the case of Toyota. As far back as March 2007, Toyota began receiving complaints of gas pedals being slow to rise after being stepped on. Engineers fixed the problem in the Tundra pickup in 2008, but troubles persisted in other models. Toyota had adopted the practice of using the same part on several models, saving vast sums of money but exposing itself to the risk that a defect could cause global mayhem for the company (Foster 2010). The result: unintended acceleration was linked to at least 34 deaths by the U.S. National Highway Traffic Safety Administration (NHTSA). In early 2010 Toyota recalled more than 7.5 million vehicles in the United States alone, plus many more in Europe and China, for problems not only with the accelerators, but also the floor mats that could trap the gas pedal. Further, for a period of time, the sales and production of eight models were suspended in the United States. The NHTSA levied a $16.4 million fine against Toyota for "knowingly hiding" safety concerns from regulators. The company subsequently became the subject of negative global publicity for weeks. Further, the automaker was faulted for communicating too little, too late; however, it did ultimately launch an aggressive print, television, and social-media campaign featuring Toyota's U.S. President-Chief Operating Officer Jim Lentz. (See Figure 2.12 for a newspaper ad in which Lentz updates customers about the recall.)
Toyota's unprecedented recall cost it dearly in terms of both dollars and consumer attitudes. The financial impact on Toyota from the global recall was expected to total more than $5 billion over a one-year period due to increased incentive campaigns (post-recall, Toyota offered customers 0 percent interest, five-year loans, and competitive lease prices and free maintenance across 80 percent of its vehicle line-up), litigation costs, and marketing efforts (Sanchanta and Takahashi 2010). Regarding consumer attitudes, according to a USA Today/Gallup Poll, a majority (55 percent) of Americans believed that Toyota failed to respond quickly enough to the safety defects, and a significant minority (31 percent) felt it was unsafe to drive a Toyota or Lexus (Healey 2010). A Kelley Blue Book study showed that consideration of the Toyota brand was cut nearly in half, from 29 percent prior to the recall to 18 percent afterward. But the study also offered some good news for Toyota, showing that consumers believed that the world's leading automaker would learn from the crisis. Over 30 percent of those surveyed believed that, despite the current situation, Toyota would offer better products in the future, and another 28 percent noted that Toyota has had fewer recalls than other car manufacturers and that this recall "doesn't change the fact that they produce great products." Notes James Bell, VP-executive market analyst at Kelley Blue Book:
What you have here is the perfect storm of a corporate culture within Toyota that is very methodical, reasoned and conservative in its steps, which has served them exceptionally well and allowed them to build a stellar reputation and be profitable and successful. But it seems like they didn't have a play in their playbook for this. A company that is as wealthy from a financial and talent perspective like they are should have grabbed this problem in the first hour and thrown up their hands and said they know about the situation and here's what we are going to do to fix it. The recall would have seemed a bit crazy two months earlier, but it would have averted the trouble Toyota is having today…. They will recover and come out of this a better and smarter company, but the reputation they have nurtured for 30 years is severely stained. (Bush 2010)
Clearly, even seemingly invincible brands aren't immune to disaster. And when a major crisis strikes, judicious public relations strategies are essential to saving the brand's image. A mismanaged crisis brings on the dreaded "Seven Plagues of Unhappy Repercussions": extended duration/negative press, angry customers and shareholders, lawsuits, government investigations, public interest groups, low employee morale/productivity, and a drop in stock price and earnings (Cohn 2000, 16). ← 65 | 66 →
Each plague begets another. The longer the story is covered, the bigger the hit to a company's reputation and bottom line. While a company doesn't necessarily get off scot-free when it manages a crisis well, the damage is relatively short-term in contrast to damage caused by a problem that is poorly managed.
Publicity, as part of the broader function of public relations, involves seeking favorable comments on the product/service or firm itself via news stories, editorials, or announcements in the mass media. In contrast to advertising, publicity is not directly paid for by the company, nor does the company have control over the content or frequency of the coverage. The advantages of such "free publicity" are both credibility and message length. Information conveyed through non-advertising media are generally considered more credible by the public. In addition, a news or feature treatment of an issue is typically longer than a 30-second spot or an advertisement in the print media. While publicity is an important communication technique employed in public relations, public relations practitioners have a number of additional tools at their disposal, such as newsletters and other publications, press conferences, company-sponsored events, and participation in community activities.
Public relations often plays a more critical role for a firm operating abroad than it does domestically. Clearly, international marketers face fewer problems if their firm is perceived positively in the country in which it operates. A variety of groups, including local governments, local media, and the general public, for example, may feel threatened by the presence of a foreign multinational in their country. Thus it is the responsibility of public relations personnel to position the firm as a good corporate citizen that is involved with and concerned about the future of the host country. This is often best accomplished via community involvement. Company management and employees may contribute to the community's social and economic development through participation in a variety of activities: civic and youth groups, cultural or recreational activities, charitable fundraising events, and so on.
Personal Selling
Personal selling involves individual, personal contact with the customer, with the intent of either making an immediate sale or developing a long-term relationship that will eventually result in a sale. Personal selling can take a variety of forms, including sales calls at a customer's place of business or a consumer's home, or customer assistance at a retail outlet. As such, it is often the most expensive element in the promotion mix on a per customer basis. In addition to such face-to-face contact, personal selling may also include contact through some form of telecommunication, such as telephone sales, which can help to reduce costs. Personal selling generally involves a greater degree of feedback than advertising, as the impact of the sales presentation often can be assessed directly through consumers' reactions. This provides a sales representative with the opportunity to tailor the presentation.
The international marketer may choose to utilize a traveling sales force based at the company headquarters or perhaps to manage a team of expatriates based abroad. This approach tends to be expensive and is often challenging. While the global marketplace has somewhat narrowed the differences in business culture between the United States and the rest of the world, key differences remain for salespersons. U.S.-based salespersons operating overseas must often contend with longer sales cycles in nearly every country. Even within the European continent, there are variations, which tend to delay the closing of sales. For example, German customers tend to need strong reassurances in everything. They don't like risk. Notes Ute Zimmerman, president and founder of euroPResence, a public relations firm with offices in Frankfurt and Boston:
Forget about pointing out the product's new bells and whistles. Germans only want to hear about three product features: its bottom line benefits and how it will make life easier; that there will be strong service support for the ← 66 | 67 → product; and that the product is guaranteed. Germans are also fanatical when it comes to references. Instead of the two or three checks that an American executive would typically seek, Germans demand four, five, or six. As for closing a sale, all contracts are thoroughly reviewed by lawyers for both sides. In contrast, further south, in Spain and Italy, a salesperson should expect to spend more time on the social aspects of selling. U.S. salespeople may find themselves schmoozing not only the company decision maker, but his spouse, perhaps the children, and possibly even the extended family members, such as siblings, parents, aunts and uncles. (Bertagnoli 2001)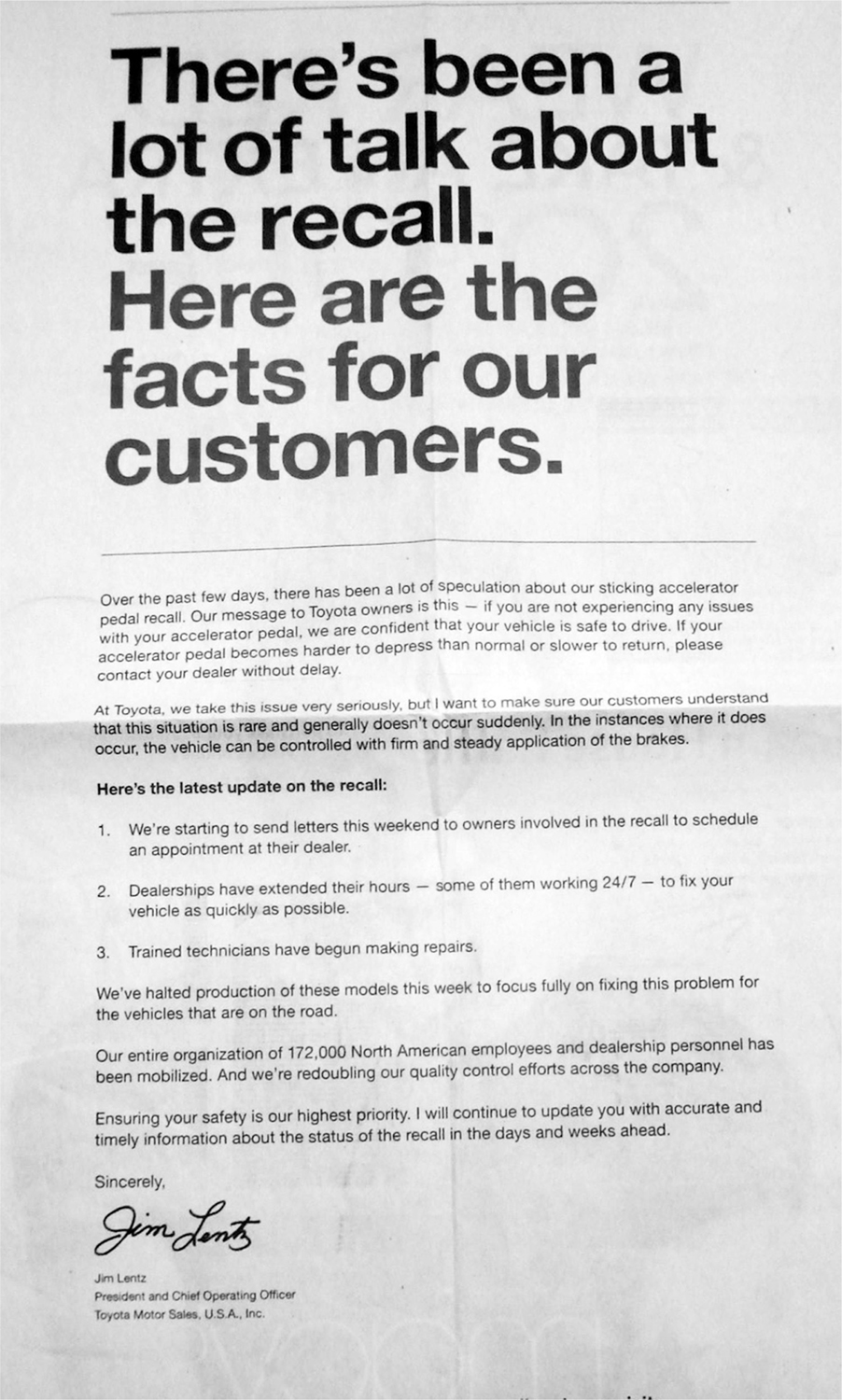 ← 67 | 68 →
Because it typically involves both communication and personal contact, personal selling is closely linked to national or even regional cultural characteristics. As a result, personal selling activities are often conducted on a national basis. Most companies, regardless of their size, prefer to use sales representatives from the host country to staff their sales force. Even in the European Union, personal selling is slow to cross national borders. With few exceptions, a German salesperson will not be particularly effective in Holland, nor will a French salesperson have much luck persuading a Swiss consumer. Nationals are quite simply more readily accepted than foreigners, and they are also more familiar with their country. The challenge in utilizing a national sales force lies in recruitment and training, as well as in adapting personal selling activities to fit the local market.
Personal selling often plays a greater role in foreign than in domestic markets. Government restrictions on advertising, limitations in available media, and low literacy rates may cause marketers to turn to personal selling as a means of communicating with foreign customers. Lower wages in many developing countries may make personal selling a more cost-efficient method of selling as well. However, in other instances, personal selling, and in particular door-to-door sales, may be less acceptable abroad. Amway distributes home and personal care products in more than 80 countries, normally via its door-to-door sales force. However, in China, Amway was forced to employ a different approach. Amway first entered China in 1995, but in 1998 the company was shut down by the Chinese government. Officials claimed that direct sales companies like Amway were providing cover for illegal pyramid schemes, which were widespread in the 1990s and resulted in thousands of people losing their life savings. After months of lobbying, Amway negotiated a compromise. It would survive in China by opening up retail shops—the only such ones in the world—and would make all sales representatives direct employees, garnering wages only for their sales and not their recruits. In 2005, as part of its World Trade Organization commitments, the Chinese government eased restrictions by allowing limited home-to-home sales. More than a decade after the original ban, Amway has learned to adjust to the new regulations by bending the rules. The vast majority of sales at Amway retail stores are to its salespeople, who use them as distribution centers. Special cards are required to purchase products in the stores—cards only sales representatives possess. If customers off the street come into the store to make a purchase, they are told to contact their sales representative. The company has also worked out a way to circumnavigate the recruitment incentive ban. It gives employees a bonus linked to performance—the bonus happens to be 40 percent of their recruit's sales. Amway sells its cosmetics, nutritional, and personal care products in nearly 200 outlets throughout China, and its 2008 sales jumped 28 percent to $2.5 billion. Today Amway counts 6,000 direct employees and an estimated 200,000 sales representatives across the country. Beijing now sees Amway as a model company that helps the Chinese government by increasing domestic consumption on a grand scale (Calinoff 2009).
Direct Marketing
Traditionally, direct marketing has not been considered an element in the promotions mix. However, because of the increasingly important role direct marketing plays in the communications programs ← 68 | 69 → of many different kinds of organizations, it is included here. Indeed, direct marketing is currently growing faster than virtually any other form of promotion. The reasons for this are numerous. The widespread use of credit cards and the convenience of toll-free numbers have made it significantly easier for consumers in most markets to respond to direct-marketing offers. From the marketer's perspective, the desire for greater accountability of the effectiveness of a promotional effort has encouraged the use of this approach. In most instances, messages are sent to a known individual, making it possible to track whether that customer did or did not respond. This is clearly a benefit that most advertising and promotions cannot offer. But probably the most significant recent advance has been the ability of firms to collect massive amounts of information about their customers via computer databases. The data are used to help marketers understand who their customers are and determine their likes and dislikes and when they are most likely to purchase. Such information, of course, helps to increase the likelihood that those receiving a direct marketing offer will indeed respond.
Direct marketing refers to a way of doing business—one in which the marketer attempts to sell goods directly to the consumer without the aid of a wholesaler or retailer. Messages are designed to solicit a measurable response or transaction from the target audience. Direct marketing is seen as much more personal than advertising because it incorporates a degree of two-way communication. Direct marketers may employ a variety of media, placing such messages on the Internet, on radio and television, and in newspapers and magazines. Procter & Gamble, for example, launched a general-interest women's magazine in the French market, demonstrating the household giant's intention to diversify product advertising away from mass-media campaigns and toward greater use of direct marketing. P&G has mailed out 2.7 million copies of the new 52-page French-language magazine entitled Mieux (Better). It has announced tentative plans to publish the magazine twice yearly. Editorial content in Mieux mimics the conventional subjects of women's magazines, with articles on children, decoration, entertaining, and the kitchen. The magazine is heavy on product placement (which will be discussed in the following pages), with frequent mention of leading P&G brands such as Ariel, Dash, Mr. Clean, Swiffer, and Tampax. A coupon booklet distributed with the magazine offers about $20 of savings on P&G products, which provides ample opportunity for follow-up on the effectiveness of the mailing. "We definitely want to see how many of the coupons were used, for which products, and where," notes P&G Communications Director Christian Vivier de Vaugouin. "This is the sort of information that allows us to move toward more of a one-to-one relationship with our consumers" (Advertising Age Global Daily News 2001).
Direct selling, direct mail, telemarketing, and catalog sales are also commonly employed in direct response campaigns. Otto Versand is the world's largest mail-order retailer, with subsidiaries and affiliates in Europe, Asia, South America, and the United States. Based in Hamburg, Germany, Otto Versand's numerous catalog businesses in 20 countries include Grattan and Freemans in the United Kingdom, 3 Suisses in France, and Heine, Schwab, and the flagship Otto in Germany. Otto Versand offers its customers a variety of ordering methods, including print and CD-ROM catalogs, as well as options via online services and the Internet. In the United States, Otto Versand acquired Spiegel Inc., known for its flagship Spiegel catalog, in the early 1980s. And in 1998, the company acquired a majority stake in Crate & Barrel, which sold primarily through its chain of more than 60 home furnishing stores but which also sold via catalog. Crate and Barrel agreed to the deal in order to tap into the deep pockets of its new parent for expansion; it also hoped that Otto Versand's mail-order expertise could bolster its catalog operation. ← 69 | 70 →
While direct-marketing techniques may be quite sophisticated in many markets, in others they may play a minimal role or even be nonexistent. For example, direct marketing is a relatively new and as yet underdeveloped promotional tool in the Middle East. One of the real obstacles to the growth of direct marketing in the Middle East is the problem of names. Some Arabs don't use surnames in the Western sense; others describe themselves one way for ordinary purposes but use other names, including tribal connections and family antecedents, for official purposes. Another challenge relates to mailing lists. While there are many list owners in the region (such as shops, banks, airlines, and conference organizers), not much effort is put into updating or cleaning files. Although direct mailing to the general public may still be some way off as a viable promotional tool, it appears that business-to-business offers a significant opportunity. Directories of businesses and chamber of commerce membership lists are a good deal easier to come by than data on individual consumers.
Sponsorships
Sponsorships are one of the fastest-growing forms of marketing today. Indeed, Mediaedge:cia, the WPP media agency, issued a report that forecasts significant global growth in the sector. At a time when ad budgets are shrinking, the report predicts that spending on sponsorships would climb worldwide by 15 percent in 2009, to $44 billion (McClellan 2009). A number of reasons have been given for this tremendous growth in sponsorship activities: the escalating costs of traditional advertising media, the fragmentation of media audiences, the growing diversity in leisure activities, and the ability to reach targeted groups of people economically. In addition, by attaching their names to special events and causes, companies are able to avoid the clutter inherent in traditional advertising media.
Sponsorship involves two main activities: 1) an exchange between a sponsor (such as a brand) and a sponsee (such as a sporting event) whereby the latter receives a fee and the former obtains the right to associate itself with the activity sponsored and 2) the marketing of the association by the sponsor. Both activities are necessary if the sponsorship fee is to be a meaningful investment. (Cornwell and Maignan 1998)
The objectives of sponsorships include increasing the awareness of a company and its brands, enhancing the corporate or brand image, and showing corporate responsibility. While the primary audience of current and potential consumers may be valuable, even more important may be the secondary audience. Sponsorships can be a powerful public relations tool. The company sponsoring an event may also be communicating with stockholders, community leaders, and employees.
The benefits of sponsorships were examined in a recent global study by Mediaedge:cia. The survey polled 12,000 consumers in 18 countries by telephone and over the Internet. Respondents were asked how much they notice sponsorships, whether they are influenced by them, and what their perceptions are about companies that do sponsorships. Fifty-three percent of male respondents said sports sponsorships strongly influence their buying habits; only 26 percent of women concurred. However, nearly 70 percent of women said they would buy a product if its maker sponsored a good cause, compared with 46 percent of men. Age also played a role. Slightly more than 40 percent of people aged 25–34 cited sports sponsorships as influencing purchases, and nearly 35 percent in that age group said sponsors are a factor in buying decisions. By contrast, 25 percent of respondents aged 35–44 and only 18 percent aged 45–55 said sponsorships were an influencing factor for them. Income was also a differentiator. Half of the respondents in households with incomes of more than $50,000 were aware of sponsors. However, mid-market households ($40,000–$50,000) were most likely to act on that awareness, with 40 percent indicating they would purchase products in response to a sponsorship (Kaplan 2002). ← 70 | 71 →
Sponsorships can take a variety of forms. The bulk of sponsorship dollars goes to sporting events. According to the sponsorship agency IEG, sports accounts for 68 percent of the $17 billion North American sponsorship market, and global sports sponsorships have doubled in the past 10 years to about $30 billion annually (Toms 2009). Sports sponsorships include golf and tennis tournaments, motor sports, professional sports leagues or teams, and, of course, the Olympics. Twelve companies (including Coca-Cola, Visa, McDonald's, and Samsung Electronics) paid $866 million, or an average of $72 million apiece, to sponsor the Turin and Beijing Olympics. That's almost one-third more than the $633 million total paid to back the Salt Lake City and Athens Games in 2002, and up from the $579 million for the Nagano and Sydney games in 1998 and 2000. Rowland Jack, a senior bid consultant in the sports marketing and sponsorship team at Hill & Knowlton, noted that the attractiveness of the Beijing Games was probably a big factor in the jump in sponsorship fees, as so many companies were interested in bidding. Yet some research suggests that few consumers even notice who is backing the games. In a survey of 1,500 Chinese city dwellers by London's Fournaise Marketing Group, only 15 percent could name two of the 12 global sponsors, and just 40 percent could name just one sponsor: Coca-Cola. Adding to the confusion for consumers were the 21 additional national-level sponsors, including Adidas and Volkswagen (Balfour and Jana 2008). This highlights two of the primary drawbacks of sponsorships in general. First, sponsorships can be quite costly, even in instances where events are cosponsored. Second, while cosponsoring an event may prove less expensive, a marketer must then contend with clutter. Indeed, some events have so many sponsors that no single sponsor's message ends up standing out.
Sponsors may also support entertainment attractions (rock concerts, for example, or the theater) or festivals, fairs, and annual events (such as the Macy's Thanksgiving Day Parade). Or companies may choose to form an alliance with a nonprofit organization. This is also known as cause-related marketing. Cause-related marketing allows firms to enhance their brands' images and sales while allowing nonprofit partners to obtain additional funding by aligning their causes with corporate sponsors. While the sponsored event or organization may be nonprofit, cause-related sponsorships are not the same as philanthropy. Philanthropy is support of a cause without any commercial incentive. Cause-related marketing is used to achieve specific commercial objectives.
Though there are several varieties of cause-related marketing, the most common form involves a company contributing to a designated cause every time a customer undertakes some action (such as buying a product or redeeming a coupon) that supports the company and its brands (Varadarajan and Menon 1988, 58). A fashionable brand of cosmetics provides an excellent example. M-A-C cosmetics, a unit of Estée Lauder, has distributed money to charities assisting people living with HIV/AIDS since the 1990s. As a by-product of its AIDS efforts, M-A-C has a best-selling lipstick known as Viva Glam. All proceeds from Viva Glam sales, including counter reps' commissions, go to the M-A-C AIDS Fund, which to date has raised more than $130 million—a tie M-A-C also promotes in its advertising. "We definitely believe the reason Viva Glam is our best seller is because it supports a charity," notes a M-A-C executive. "People care about being able to make a difference, even if they're just choosing one lipstick over another. As the face of AIDS has evolved, M-A-C now spends more time on the crisis outside the United States, targeting young people with education and prevention messages" (Bittar 2002, 18). In 2008, songstress Fergie became the M-A-C VIVA GLAM VI spokesperson, announcing 11 new grants aimed at preventing the spread of HIV among young people aged 15 to 25, who account for more than half of all new infections. Although cause-related marketing was initiated in the United States during the early 1980s, marketers around the globe have become active participants in supporting causes. ← 71 | 72 →
Regardless of the form that a sponsorship takes, successful sponsorships require a meaningful fit among the brand, the event or cause, and the target market. Avon provides an excellent example. The world's leading direct seller of beauty and related products, with $10 billion in annual revenues, Avon currently markets to women in more than 130 countries through 5.4 million independent sales representatives. Avon is committed to women through programs such the Avon Worldwide Fund for Women's Health, the Avon Global Women's Walking-Running Wellness Program, and Avon's Breast Cancer Crusade. The mission of the Crusade is to raise funds and awareness for advancing access to care and finding a cure for breast cancer, with a focus on the medically underserved. From its launch in 1992 through 2007, the multifaceted initiatives of the Avon Breast Cancer Crusade have raised and awarded more than $525 million to the breast cancer cause worldwide. Funding is awarded in five areas: breast cancer education and awareness, screening and diagnosis, access to treatment, support services, and scientific research. Avon now supports programs for breast cancer in some 50 countries around the world. The Crusade raises funds through many initiatives, including year-round sale of special Crusade "pink ribbon" products by Avon independent sales representatives around the world; special events, walks and runs worldwide, including the U.S. Avon Walk for Breast Cancer series and the global Walk Around the World; and direct online donations. See Figure 2.13 for an ad encouraging readers to register for the Avon Walk for Breast Cancer.
Trade Fairs
Trade fairs or trade shows, as they are also known, are a temporary forum (usually lasting from several days to up to a month) for sellers of a product category to exhibit and demonstrate their wares to prospective buyers. Thousands of trade fairs are conducted annually around the world. Trade fairs play an even larger role abroad than they do in the United States—indeed, some of the world's largest trade fairs take place overseas. (The Paris Air Show is an example.) Trade fairs account for up to one-third of a typical European firm's marketing budget. Business America publishes an annual listing of international trade fairs where U.S. manufacturers can exhibit their products. Trade fairs have many functions, including:
▪ servicing present customers
▪ identifying prospects
▪ introducing new or modified products
▪ gathering information about competitors' new products
▪ taking product orders
▪ enhancing the company's image (Kerin and Cron 1987)
In addition, at the international level, trade fairs can prove invaluable to firms in the early stages of internationalizing their business, such as in exporting, as they offer a means of checking out foreign markets. Exhibiting at trade fairs provides firms with a chance to explore market possibilities before making a commitment to an export country—particularly a developing country. Also, many countries offer subsidies to firms participating in joint sales efforts (de Mooij 1994, 371). Potential distributors and agents are also likely to attend such fairs.
There are two main types of trade fairs. Some are broad, general exhibitions, such as the China Import and Export Fair. This fair is so large it is held in three phases over a three-week period, boasting 55,000 exhibitors offering everything from consumer electronics to building materials to heath-related products. Figure 2.14 shows an advertisement promoting the 106th Canton Fair at the China Import and Export Fair Complex in Guangzhou. These are considered "horizontal" trade fairs. In contrast, "vertical" trade ← 72 | 73 → fairs are often sponsored by a specific industry group or field (such as food products, automobiles, or toys). For example, at the Frankfurt Book Fair, over 400,000 titles are on display each year. The fair typically occupies about a dozen floors of five huge halls. In 2008, the space housed more than 7,000 exhibitor booths, with more than half the exhibitors from abroad, and well over 250,000 visitors in attendance (Boos 2008). Trade fairs are not the only means of exhibiting products overseas. Manufacturers may also rent space in trade centers to display their merchandise on a more permanent basis.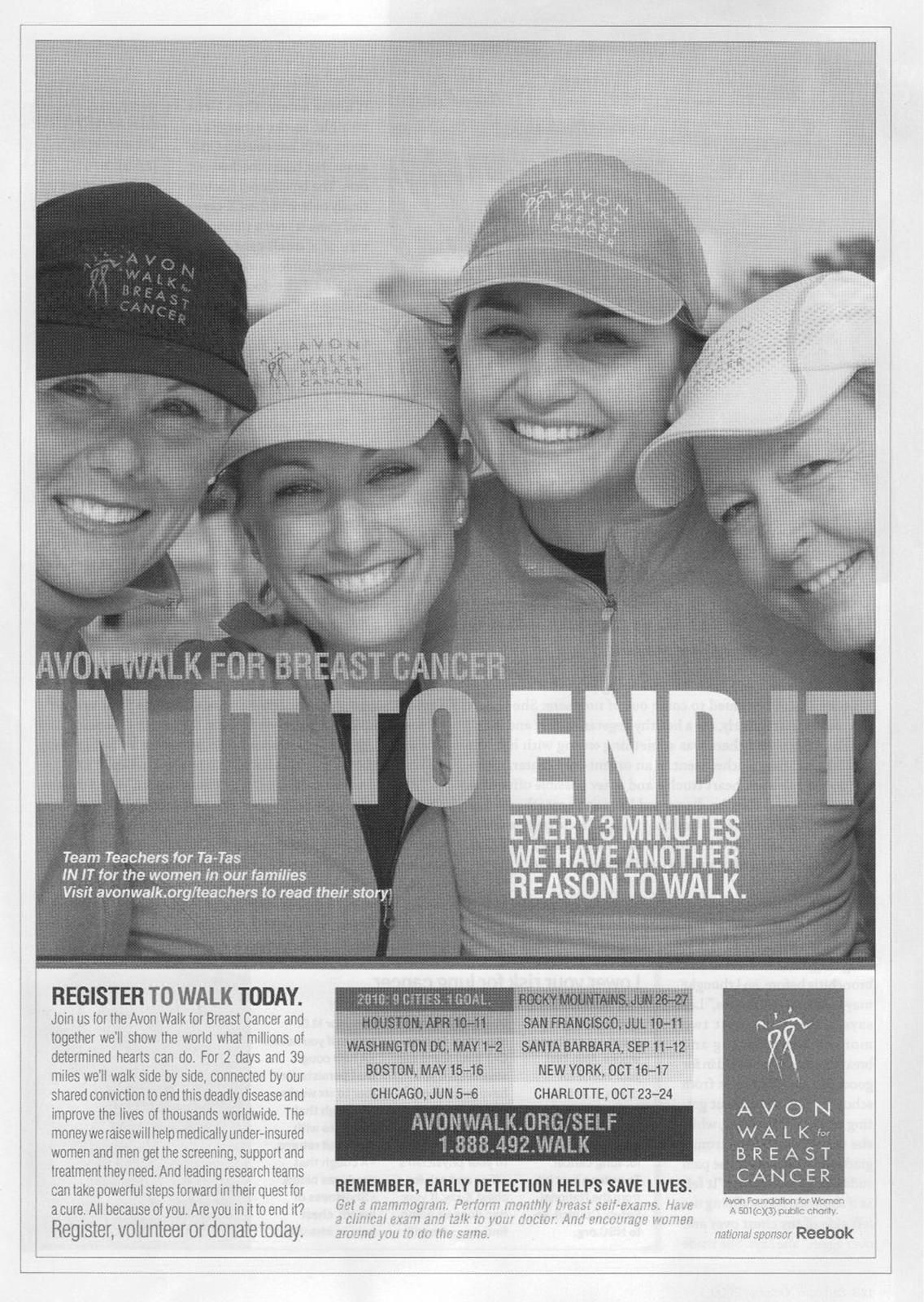 ← 73 | 74 →
A recent innovation is the online trade fair or digital trade fair. "The traditional trade show is typically conducted at a convention center in a major city. As noted in the example above, representatives for the multitude of exhibitors along with hundreds, if not thousands, of potential customers travel to the trade show site to participate in the event. Needless to say, millions of dollars are invested in renting space, setting up exhibits, travelling, lodging, dining, and so on. The online trade show eliminates most of these expenses, a significant benefit. On the downside, such online trade fairs lack the opportunity for physically inspecting products and interacting with trade-show exhibitors on a personal, one-to-one basis. Online trade shows will not eliminate their traditional counterparts, but this would appear to be a growth area" (Shimp 2003, 514).
Product Integration
Heralded by many as the next big development in marketing, consumer-product integration into media content, such as television, films, video games, and even music, is showing increasingly positive results. Originally known as product placement, the tactic is now beginning to go under the moniker of "product integration" (Fitzgerald 2003). In the United States, product placement in television dates back to the 1940s, when shows such as Texaco Star Theatre and The Colgate Comedy Hour were funded by advertisers. Back then, there were no separate commercials. Instead, the star of the show would break off to plug the sponsor's product. The system worked well as long as there were only three television networks, because advertisers were rewarded with enormous viewing figures. But as more channels were created, the economics of solo sponsorship were undermined by fragmenting audiences and rising production costs. Eventually the networks took over program production and introduced the concept of the multi-advertiser commercial break. Now, economics are undermining the system again. With hundreds of channels being created, heavy demand for programming is raising the cost of advertising while audiences per channel decline. As a result, the financially squeezed networks are having to rethink the rules that until recently kept advertisers out of programs (Tomkins 2002).
Product placement is also being driven by advertisers' concerns. Advertisers' confidence in the effectiveness of the traditional 30-second spot is waning, based in good part on the findings of a Roper poll. The survey revealed that 39 percent of Americans said they "often" switch to another channel when ads come on, a figure that is up 25 points from 1985. Another 19 percent said they turn down the television or mute it, a 10-point increase. In fact, one of the fastest growing gadgets respondents said they can't live without is the remote control, which 44 percent consider a necessity (only 23 percent did in 1992). And 76 percent feel advertising is "shown in far too many places now, you can't get away from it," a response that jumped 10 points since just 1998 (Ebenkamp 2001). Sprinkled into the mix is the fear of new technology that allows viewers to eliminate television commercials altogether. TiVo and and others in the United States have introduced digital videocassette recorders with internal hard drives instead of cassette tapes, allowing commercials to be skipped or eliminated with a click or two of the remote control. By 2007, an estimated 20.8 million U.S. homes had a DVR, compared to just over 15 million the year before. With around 112 million television homes in the country, this translates into a DVR ← 74 | 75 → penetration of under 20 percent. Interestingly, people in the United Kingdom are more likely to have a DVR than in any other country, relatively speaking. A recent Ofcom survey found that 30 percent of respondents in the United Kingdom said they owned a DVR, compared to one in five in the United States, Canada, or Italy. The figure in France was 17 percent, compared to 13 percent in Japan and just 11 percent in Germany (Digital Video Recorders 2008). By 2006 product placement worldwide was worth $2.21 billion, and, according to a report by PQ Media, the market will grow to nearly $7.6 billion by 2010, largely driven by advertising within dramas, sports, and reality programs. The United States is the world's biggest market for product placement, valued at $1.5 billion. Of that figure, $941 million was spent on television and $500 million on film. Brazil and Australia are the next biggest markets, owing to fewer regulatory controls, with $285 million and $104 million spent respectively. France is ranked fourth at $57 million, primarily due to product placement in its films, and Japan completes the top five at $53 million (Product Placement Set to Triple 2006). EU countries lag behind the rest of the world because of strict rules regarding advertising on television. Interestingly, while product placement on television was banned until quite recently in the United Kingdom, OFCOM announced in September 2009 that the ban would be lifted in an effort to raise funds for commercial broadcasters. However, the ban would remain in force in children's television and on the BBC (Product Placement for TV Approved 2009). While it is expected that the United States will still be the largest market for product placement in 2010, it will likely be overtaken by China as the fastest-growing market for the practice.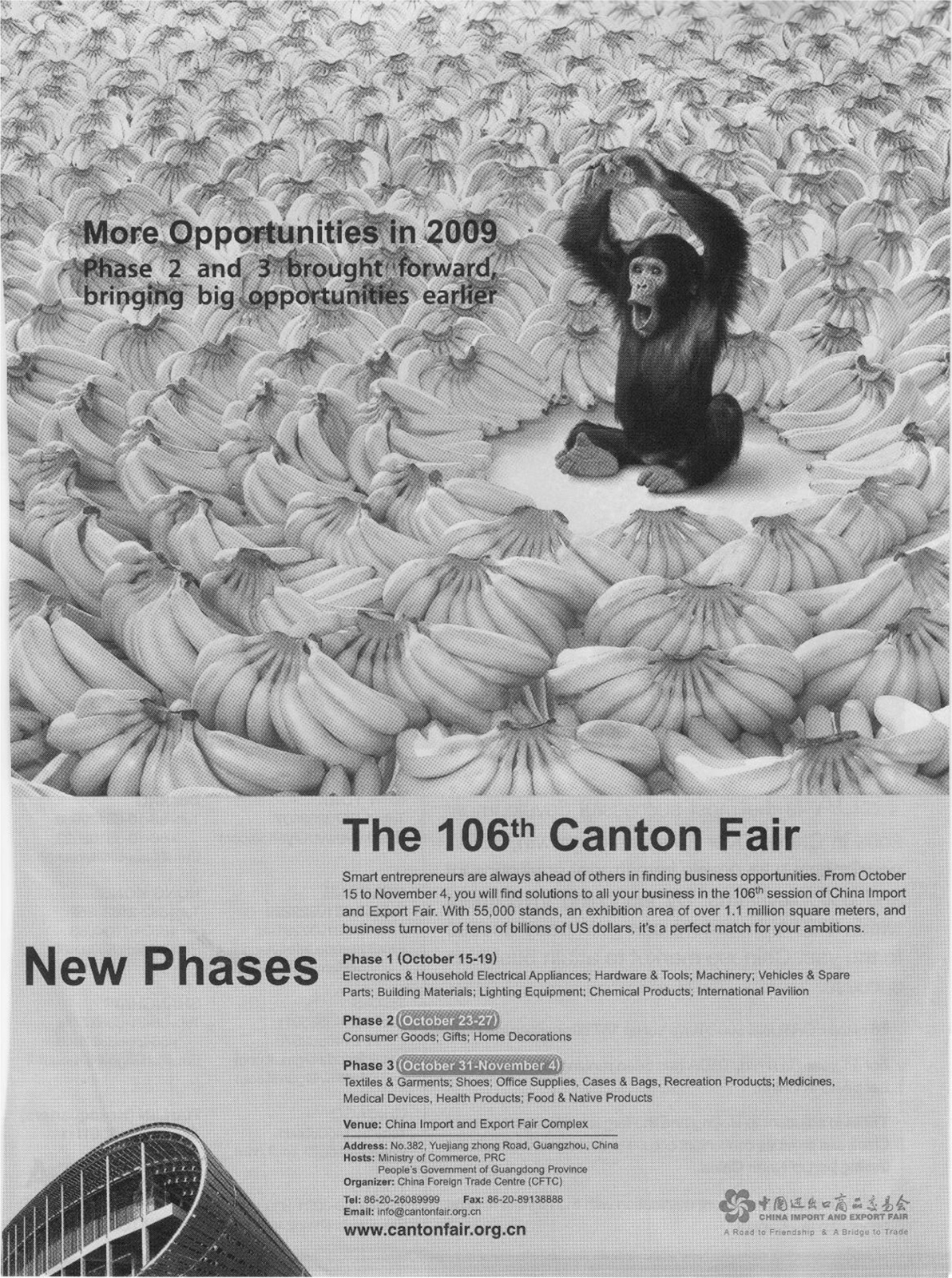 ← 75 | 76 →
The Federal Communications Commission's (FCC) code requires television broadcasters to acknowledge any paid promotions. Brand-name products can appear in television shows without acknowledgment only if the manufacturer has not paid for airtime and if the products are "reasonably related" to the content of the show (Jacobson and Mazur 1995, 71). But advertisers have found ways to get around the rules. In ABC's version of the British quiz show Who Wants to Be a Millionaire? for example, AT&T sponsored the program and bought advertising spots during the commercial breaks. Host Regis Philbin even invoked "our friends at AT&T" when contestants phoned a friend for help in answering a question, and an AT&T clock timed the 30-second call. A coalition of 31 groups reported that paid placements rose 13 percent in 2007—totaling 26,000 in the top 10 U.S. television shows. The Campaign for a Commercial-Free Childhood (CCFC) counted about 160,000 placements on cable programs, including placements for Big Macs, Doritos, and Cheerios (Trosclair 2008). According to Nielsen Media Research, television programs with the greatest number of product placements for the period 11/07—11/08, in rank order, are The Biggest Loser (6,248), American Idol (4,636), Extreme Makeover Home Edition (3,371), America's Toughest Jobs (2,807), One Tree Hill (2,575), America's Next Top Model (2,241), Last Comic Standing (1,993), Kitchen Nightmares (1,853), and Hell's Kitchen (1,807). As a result of this deluge, parental, consumer, and writers' groups are demanding better product placement disclosures than those currently employed, which are written in small type and displayed with the credits at the end of the show. Currently, the FCC is examining whether the placement notices should be written in larger print and displayed for a defined period of time.
Some advertising agencies are not only placing products in television programs but are also involved in making the programs. In an effort to gain control over how products are integrated into shows, one of the world's largest advertising agencies and a major producer of reality television are teaming up to make programs on behalf of sponsors and sell them to networks. They hope the networks, facing intense economic pressure and eroding audiences, will be willing to buy the shows—in good part because they should cost less. Under the venture, RDF Media, which makes Wife Swap and Secret Millionaire, has taken over management of Omnicom Media Group's Full Circle Entertainment, a firm formed in 2004 ← 76 | 77 → to develop television programs to showcase advertisers' products. Omnicom's clients include major sponsors Pepsi, McDonald's, and Visa. "The prime-time economic model is under increasing pressure," media analyst Larry Gerbrandt said. "If they bring advertisers in on the ground floor then that might offset some of the production costs. That also means these shows can be profitable even with lower ratings." At the same time, Gerbrandt noted, Omnicom and RDF will have to be careful about turning the programs they produce on behalf of advertisers into thinly disguised informercials. "To work, the show still has to stand on its own," he said (James 2009). For more than half a century, the networks have produced the programming, controlled the content, and invited advertisers to participate. The shows produced by this venture would flip that relationship by putting the advertisers in the driver's seat and the networks more in the passenger's role.
Product placements have also appeared in films for decades. However, until relatively recently, product plugs were the result of an informal barter system between advertisers and film producers. In exchange for featuring a particular brand of auto in a movie, for example, the auto manufacturer would provide wheels for the film's stars during the shoot. However, paid product placements were pioneered in the 1980s, and Steven Spielberg's 1982 film E.T. is widely credited with starting the trend—a trend that turned out to be quite profitable to the advertiser. When the alien in E.T. nibbled on Reese's Pieces onscreen, sales of the candy soared by over 60 percent. While in the past a film might have had one or two such "sponsors," today's films boast literally dozens. In Sex & the City: The Movie, viewers were exposed to 26 different clothing and accessory designers; 8 stores and services; 7 electronic gadgets (including Carrie's Apple computer, an iPhone, and a BlackBerry); 7 publications; 7 drinks and snacks; 5 beauty products; and 8 places or transportation brands (such as American Airlines, Mercedes Benz, and the Four Seasons Hotel).
But for many companies seeking to reach a global audience, an international box office smash can prove far more effective and efficient than domestically produced ads. Today there are dozens of agencies—both in the United States and abroad—that arrange cash deals between filmmakers and corporate sponsors. A corporation will typically retain a product-placement agency for an annual fee, then pay for each placement in a film. Placement fees vary according to the prominence of the plug. Variables include whether the product is used in the background or foreground, whether a character in the program touches the product, wears the product, or talks about the product, and whether it is featured in a product-centered episode. Clearly, the more prominent the placement, the greater the impact on brand-name awareness and recall.
A number of factors are driving the trend toward product integration in Latin America and Asia. but these factors vary on a market-by-market basis. For example, in Argentina, ad spending is down, and broadcasters are having trouble paying for programs to fill their schedules. In this economy, branded content ideas are inspired by survival as much as by a commitment to innovation. Brazil is using product placements in television shows to hype products for export to other countries. The idea is to use Brazil's soap operas, which are shown around the world, to promote Brazilian coffee and soft drinks, clothing, and even jet planes. The soap opera Esperanca (Portuguese for "hope") incorporated the quality of Brazilian coffee in its plot, and the program was slated for international sales. The cost of such initiatives is split between industry trade associations and the government's Agency of Export Promotion.
Marketers in India face an entirely different challenge. Here, many rural consumers lack television reception, making it difficult to reach them with this medium. However, the country boasts the world's largest movie industry, with more than 1,000 films being produced each year. Thus it makes sense for ← 77 | 78 → marketers to focus on placement in films. In 2001 Publicis Group's Leo Burnett Worldwide opened Leo Entertainment, specializing in creating ads to promote films and arranging product placement in movies. One of Leo Entertainment's first big projects was the film Kaante (Hindi for "thorns"). It was a natural fit for Burnett client Coca-Cola Co., which had been looking for ways to enhance the macho image of Thums Up, India's leading cola brand. Kaante, in which a gang of six Indians plans the perfect bank robbery in Los Angeles, has the image Thums Up wanted. Thums Up has a more macho, rugged appeal than Coca-Cola or Pepsi. During the movie, the bank robbers drink Thums Up, the cola's logo is visible on a tote bag used in the heist, and the robbers use the "thumbs up" gesture. According to Leo Entertainment, "it is very subliminal, very natural in the film," (Britt 2002, 18). So far, the blurring of advertising with programming worldwide is in its infancy, but all indications suggest that consumers will be seeing a lot more product integration in the future.
Integrated Marketing Communications
Until quite recently, most firms planned and managed their marketing and promotions functions separately. Increasingly, however, companies are moving toward integrated marketing communications. The American Association of Advertising Agencies defines integrated marketing communications (IMC) as:
a concept of marketing communications planning that recognizes the added value of a comprehensive plan that evaluates the strategic roles of a variety of communication disciplines, e.g., general advertising, direct response, sales promotion and public relations—and combines these disciplines to provide clarity, consistency and maximum impact. (Duncan and Everett 1993, 30)
A major benefit associated with IMC is synergism, "meaning that the individual efforts are mutually reinforced with the resulting effect being greater than if each functional area had selected its own targets, chosen its own message strategy, and set its own media schedule and timing" (Novelli 1989/1990, 7).
However, even this view of IMC is too narrow. Researchers and practitioners alike have noted that the messages consumers receive about a company and its products are not limited to advertisements, direct-marketing efforts, publicity, and sales promotions. Rather, as Don Schultz and colleagues claim, "almost everything the marketer does relates to or provides some form of communication to customers and prospects, from the design of the product through the packaging and distribution channel selected. These product contacts communicate something about the value and the person for whom the product was designed" (Schultz et al. 1994, 45).
The kind of customer service that is provided after the product is purchased also sends a message to consumers. Thus the other elements of the marketing mix—which have typically been isolated from the communication strategy—are, in fact, sources of information for the consumer as well. In addition, the target audience may gather information about a product or service from conversations with friends, relatives, and co-workers. Even retailers and the media have something to say about a manufacturer's product. According to Schultz and colleagues, "The marketer has very limited control over much of the information and data that the consumer receives…. That's why it's so critical for marketers to maintain some sort of control over the communication they initiate or influence" (Schultz et al. 1994, 45).
IMC, then, is all about managing the various contacts a firm has with its customers, since each of these contacts potentially influences consumer behavior. In order to better manage these contacts, the firm actively solicits responses from consumers. Response solicitation devices may include a telephone call, a direct-mail flyer, a purchase warranty card, or some other form through which the consumer can engage in two-way communications with the manufacturer. Response information is then stored in a ← 78 | 79 → database (along with demographic and psychographic data), providing the marketer with the necessary feedback to adjust future communications.
Schultz and colleagues note: "In short, marketing is communication and communication is marketing. The two are inseparable. And, for that reason, the proper integration of all marketing messages is that much more important" (Schultz et al. 1994, 45).
Because IMC was developed in the United States, it was initially practiced predominantly by innovative American firms such as IBM and Eastman Kodak. Today, an ever-increasing number of marketers are exploring the benefits that IMC has to offer. Indeed, integrated marketing communications was ranked as U.S. senior marketers' top priority for the second year in a row, according to a 2008 survey by the Association of National Advertisers (ANA), followed by marketing accountability and aligning marketing organization with innovation (World Federation of Advertisers 2008a). Another ANA study found that fully 74 percent of U.S. marketers now employ IMC campaigns for most of their brands. However, significant challenges to achieving optimal IMC performance remain, with only one-quarter of marketers giving their firms' IMC efforts a "very good" or "excellent" rating. Key barriers to effective IMC as cited in the study are: the existence of function silos (59 percent), the lack of strategic consistency across communication disciplines (42 percent), insufficient marketing budget (36 percent), lack of standard measurement process (36 percent), lack of needed skill sets among marketing staff (33 percent), and need to develop the "big creative idea" that can be leveraged across different media disciplines (32 percent) (World Federation of Advertisers 2008b).
Despite the challenges associated with implementing a fully integrated marketing communications program, most marketers today consider themselves proponents of the approach, and the benefits of IMC are just as applicable when operating in the global marketplace as in the domestic marketplace. In Communicating Globally: An Integrated Marketing Approach, authors Don Schultz and Philip Kitchen outline an eight-step integrated global marketing communication planning process:
Step 1: Global Customer/Prospect Databases. The authors note that a key ingredient in this approach to developing effective and efficient global marketing communication programs is substantive, continually updated knowledge about customers and prospects. Such information typically comes from databases that the organization maintains. Of particular value is capturing and using information that describes or illustrates the relationship the corporation has with a customer (this includes data on purchases, inquiries, responses to promotions, and any other behavioral data).
Step 2: Customer Prospect Valuation. Ideally, an organization should invest its finite resources in cultivating its best prospects. Thus some means of valuing each prospect is essential, and Schultz and Kitchen propose that the best way to value such potential consumers is financially. If the marketer has a sense of how much income a prospect might generate in the future, it can determine how much it is willing to invest to acquire that prospect and turn him or her into a customer.
Step 3: Contact Points and Preferences. The marketer should attempt to audit and value the various ways in which customers come into contact with an organization. Such contacts can come about not only through traditional advertising, but also through employees, channel partners, or other means. Then each of those contact points can be viewed as useful methods of communicating in the future.
Step 4: Brand or Organization Relationships. The authors note a common practice on the part of many global organizations of treating every customer as if he or she were the same—for example, by preparing a single advertisement and, using a variety of media, sending it out to everyone in the target ← 79 | 80 → audience. But relationships with customers vary, so the astute marketer will understand these differing relationships and apply this information in developing effective marketing communication programs.
Step 5: Message and Incentive Development and Delivery. At the heart of integrated marketing communication is the premise that you can't develop effective communications unless you understand the audience you are trying to communicate with. And these messages must be communicated via appropriate delivery systems—which may be the traditional forms of media (print, broadcast, direct mail, and so forth), but should be looked at more broadly to include unique forms of delivery as well.
Step 6: Estimate on Return on Customer Investment. A marketer's next step is to estimate what type of return or response might be generated from the firm's marketing activities. Clearly, the better the customers or prospects the marketer chooses to invest in, the better the return will be. By knowing the value of the prospects (Step 2) and what the investments in communications are, it becomes possible to estimate what type of return might be generated.
Step 7: Investment and Allocation. The next step in the process is the actual determination of financial investment the firm plans to make in customers and prospects. This involves matching up the costs of various marketing communication activities and testing them against estimated returns. For example, if a message needs to be delivered to a specific group, the marketer must determine whether media advertising, direct-marketing approaches, or in-store point-of-purchase efforts will provide the best returns on investment.
Step 8: Marketplace Measurement. The final step is to set up systems of measurement to determine marketplace results. This involves determining what the marketer got back for its investment in various prospects and just how long it took to achieve those returns. This information is then input back into the customer/prospect database. Schultz and Kitchen note that this closed-loop, circular system is what really differentiates the integrated marketing communication approach. "Only by using actual marketplace results as the basis for our next planning cycle can we truly become a learning organization. Knowing what worked and what didn't work, knowing what performed up to expectations and what didn't enables us to become better, more effective integrated global marketing communication managers. We can't succeed unless we close the loop" (Schultz and Kitchen 2000, 85).
It has been said that Starbucks's immense popularity is partly the result of its integrated marketing communication initiatives. The Starbucks brand signifies much more than just coffee in the minds of its various stakeholders: it represents a sense of community and shared ideals among employees, customers, and the world at large. Starbucks's marketing efforts include internal marketing, engaging in sustainable development projects, and encouraging customer participation (Storace 2009). The company's positive brand image is partly a manifestation of its efforts with its employees. Both part- and full-time "partners" qualify for a comprehensive package that includes healthcare benefits and stock option grants. Each partner participates in an extensive training program that facilitates strong coffee knowledge, product expertise, and a commitment to customer service. Baristas are encouraged to greet regulars by name and remember their beverage of choice. And customer satisfaction is guaranteed. Headlines from Starbucks's current print campaign read: "If your coffee isn't perfect, we'll make it over. If it's still not perfect, make sure you're in a Starbucks," and "This is what coffee tastes like when you put your heart into it." All bear the tagline: "It's not just coffee. It's Starbucks." The company's brand image is further enhanced through its commitment to sustainable development products. Starbucks realizes that ← 80 | 81 → the success of the farmers with whom it does business is intrinsically linked to the sustainability of its business, and it has adopted an integrated and sustainable model based on six fundamental principles:
▪ Making it their goal to pay premium prices to help farmers make profits and support their families;
▪ Encouraging participation in C.A.F.E (Coffee and Farmer Equity) Practices, including social and environmental guidelines for producing, processing, and buying coffee;
▪ Purchasing conservation (shade-grown) and certified coffees, including organic and Fair Trade Certified;
▪ Providing funds for farmers to access affordable credit so that they can invest in their farms and receive assistance to help them through cash shortages during crop cycles;
▪ Investing in social development projects in coffee-producing countries;
▪ Collaborating with coffee producers globally on coffee quality, production, processing, and research through their team of experts at the Starbucks Coffee Agronomy company, located in Costa Rica.
Customers feel that by supporting Starbucks they are helping the world at large. These efforts have helped Starbucks to successfully create a brand image with meaning that transcends tangible product and service benefits, resulting in both client satisfaction and retention. Finally, Starbucks is conscious of how increasing customer participation in its brand can result in heightened loyalty. In introducing Via—the instant coffee product that took 20 years to develop—Terry Davenport, Starbucks's senior VP of marketing, notes: "Instead of selling something at them, we ask them to participate with us" (York 2009b). Starbucks sent its 4 million Facebook friends invitations to participate in taste tests of the new product. The chain expected between 8 and 10 million consumers to visit its 7,500 company-run cafes in the United States and Canada to give the new product a try. Taste-test participants received a "thank you" card good for a free coffee on their next visit, and $1 off their purchase of Via at any Starbucks. Further, Starbucks has questionnaires in all of its stores urging customers to submit feedback about their experiences. These steps, among many others, have helped Starbucks to become one of the most recognized and respected brands in the world.
SUMMARY
Although the focus of this text is on advertising, the international marketer must realize that decisions relating to advertising in the international arena cannot be made without regard to other promotions efforts or the remaining elements of the marketing mix. From the international marketer's perspective, the elements of the marketing mix are generally seen as the "controllable elements" of the marketing decision. This is the case with both domestic and international marketing. However, international marketers must also deal with a number of elements outside their control when they enter a foreign market. Product, price, distribution, and promotion decisions must be made within a framework of several uncontrollable elements of the specific marketplace—what is commonly known as the marketing environment. Although marketing principles are universally applicable, the environment within which the marketer must implement the marketing plan can and usually does change dramatically from country to country. Thus we turn our attention to this topic in Chapter 3.← 81 | 82 →
REFERENCES
Advertising Age Global Daily News. 2001. P&G launches women's magazine in France. 10 January. <www.adageglobal.com/cgi-bin/daily.pl?daily_id=4187&post_date=2001–01–10>.
Alon, Ilan and Moshe Banai. 2000.  Executive insights: Franchising opportunities and threats in Russia.  Journal of International Marketing. 8(3),: 104-119.
American Marketing Association. 1960. Marketing definitions: A glossary of marketing terms. Compiled by the Committee on Definitions, Chicago.
Asher, Jonathan. 2001. Global branding: Same but different. Brandweek, 9 April, 25.
BBC Monitoring Asia Pacific. 2009. Ford begins construction of new car factory in China. 25 September. <http://proquest.umi.com.libproxy.sdsu.edu/pqdweb?index=2&did=1>. Retrieved 28 September 2009.
Balfour, Frederik, and Reena Jana. 2008. Are Olympics sponsorships worth it? BusinessWeek, 31 July. <http://businessweek.com/globalbiz/content/jul2008/gb200807>. Retrieved 2 October 2009.
Bellman, Eric. 2009. Corporate news: Wal-Mart exports its deep-discounting concept to India. The Wall Street Journal Asia (Hong Kong), 29 May, 4.
Bertagnoli, Lisa. 2001. Selling overseas complex endeavor. Marketing News, 30 July, 4.
Bittar, Christine. 2002. Seeking cause and effect. Brandweek, 11 November, 18–24.
Boddewyn, J. J. 1976. American marketing in the European Common Market 1963–1973. In Multicultural product management. Cambridge: Marketing Science Institute, 1–25.
Boddewyn, J. J., Robin Soehl, and Jacques Picard. 1986. Standardization in international marketing: Is Ted Levitt in fact right? Business Horizons, 29: November/December, 69–75.
Boos, Juergen. 2008. The 60th Frankfurt Book Fair shows how people and their ideas are at the heart of both print and digital media. Speech held by the Director of the Frankfurt Book Fair at the Preview Press Conference, September 10, in the Literaturhaus, Frankfurt, Germany.
Bowes, Elena. 2002. Where's the cheapest Coke in Europe? EC study investigates. Advertising Age Global Daily News, 30 May. <www.adageglobal.com/cgi-bin/daily.pl?daily_id=7663&post_date=2002–05–30.>
Brand Papers. 2006. Piracy: Faking it can be good. Brand Strategy (London), 8 May, 30.
Britt, Bill. 2002. Content, commerce deals offer answers in overseas markets. Advertising Age, 21 October, 18.
Britt, Stuart Henderson. 1974. Standardizing marketing for the international market. Columbia Journal of World Business 9: Winter, 32–40.
Details
Pages

X, 368

ISBN (PDF)

9781453914953

ISBN (ePUB)

9781454199991

ISBN (MOBI)

9781454200000

Language

English

Publication date

2011 (January)