Youth Culture Power
A #HipHopEd Guide to Building Teacher-Student Relationships and Increasing Student Engagement
Excerpt
Table Of Content
Cover
Title
Copyright
About the author(s)/editor(s)
About the book
This eBook can be cited
Table of Contents
Chapter 2. Classroom Chatter
Say What?
What's the Deal?
What's the Science?
MC Notes!
Ideas to Use Chatter in Your Classroom
Facts or Nah?
Bag of Questions
Miscellaneous Ideas to Use Classroom Chatter
Audi 5000
Interlude 1: Words from Dr. Ladson-Billings
Chapter 3. Don't Smile Till November
Say What?
What's the Deal?
What's the Science?
Relational Pedagogy
Care Ethics
MC Notes!
Introduce Yourself to Your Class
Starburst Game
Other Introductory Games
Scavenger Hunt
Who Are You—Bingo and Jeopardy
Move Away from Teacher vs Student Mindset
Using Youth Culture in Your Daily Lessons
Audi 5000
Interlude 2: Free
Chapter 4. Generation XYZ
Say What?
What's the Deal?
Things to Keep in Mind with Generation Z Students
Research on Generation Z
What's the Science?
Hip-hop as a Tool for Transaction
MC Notes!
The Power of Performance
Hype Man
Call and Response
Fill in the Blanks
Audi 5000
Chapter 5. We Ain't Failing
Say What?
What's the Deal?
What's the Science?
Redefine Intelligence
Revamp Assessment by Omitting Cultural Bias
MC Notes!
Building Community in the Classroom
Use What They Know
Use a Hook to Tie into the Lesson
Audi 5000
Interlude 3: No Phones, No Headphones, No Future
Chapter 6. B Plan
Say What?
What's the Deal?
Lesson Plan Implementation and Delivery
Reasons to Adjust the Lesson Plan
Controllable Items
What's the Science?
MC Notes!
Audi 5000
Chapter 7. Get on Board
Say What?
J Rawls
John Robinson
JayARE
What's the Deal?
What's the Science?
A Case Study
Expressed Care
Mutuality
Hip-Hop Mentality
Illustrations
Instructive Not Punitive
MC Notes!
Audi 5000
Interlude 4: How Did You Do That?
Series index
While cultural relevance in its many diverse and essential iterations has rightfully become part of the lexicon in schools of education and teacher preparation programs across the globe, teaching that reflects the culture of many of the most marginalized youth still remains absent or invisible. After decades of tireless work in advocating for culture, there has been an adoption of the language of cultural relevance and an overall acceptance that it has some role in teaching and learning. Unfortunately, this "progress" has been at the expense of populations whose culture holds tenets that challenge the very structure of schools. We accept only cultures that align to the existing structures of schools and search for justifications for why those that do not directly align are problematic. Cultural relevance then becomes the identification of cultures that maintain existing power structures or that makes power wielders comfortable. In particular, educators have not done much work interrogating the complexities of urban youth culture and identify its misalignment with the organizational and pedagogical structures of schools and schooling as a deficiency rather than a critique or alternate way of looking at schools. I assert that urban youth culture is not against education or being educated. It has rules of engagement and/or ways of knowing and being that support knowledge accumulation and creation. However, it is concurrently fundamentally ← ix | x → opposed to how knowledge is created, developed and transferred in traditional schools. In an era of linguistic allegiance to culturally relevant, responsive and sustaining pedagogies, educators operate with shared language but are divided on belief systems and practices even within a framework of relevance. This is why hip-hop culture and an understanding of its complexity is essential for culturally relevant educators. Hip-hop serves as the ultimate example of the complexities of culture. It has multiple signs and meanings which each require deconstruction and deep analysis. It teaches us to go beyond what we see because of all that lies right beneath its surface.
Not only is a consideration of hip-hop essential to claiming cultural relevance, one cannot engage in/with hip-hop culture without unearthing that it holds within it a number of models for both how to teach and what it means to teach. This is very different than teaching with artifacts or aspects of the elements of hip-hop culture. It is about a hip-hop philosophy of teaching, learning and engagement as separate from formal education, existing outside of traditional educational spaces, but possible to be used to reimagine schools. This is Hip-hop not for, or as a tool of education, but hip-hop AS education. To engage in hip-hop as education, one must identify if they are willing to engage with all of the culture. One cannot receive all that Jason Rawls and John Robinson have to offer in this text without accepting that the culture of hip-hop has as much value as (if not more value than) the culture of school. The work presupposes that school must align itself to and learn from hip-hop and not the other way around. This is a challenging perspective for educators that are deeply invested in an assimilationist perspective which expects that youth bend their cultures to the needs of school. An educator with the intentions to be culturally relevant who aligns with an assimilationist philosophy will enact violence on young people even with the use of hip-hop because a misuse of the culture or a rendering of a superficial aspect of their culture as the cultural anchor of the instruction will yield a defensive stance from the student.
Rawls and Robinson offer a response to the sophomoric critique of hip-hop in education that uses the negative themes in mainstream popular music as its anchor. It argues for the complexity of culture and a recognition that a negative lyric often comes out of societal conditions that induce a visceral response and guttural articulation that has truth value. Most importantly, the same culture that produces negative lyrics consistently critiques, responds to and reimagines them. Selected lyrics are not culture en masse and any attempt to simplify a complex culture to mainstream popular lyrics is disingenuous ← x | xi → at best. It is for this reason that this work takes up the challenge it does and expresses a more complex way to engage stakeholders in education.
This book is being released with/as an album to move us further towards reflecting hip-hop culture and its complexity in academic work. It is as much a sonic work as it is a text and is as much a sharing of information on how to teach as it is a critique of education. Rawls and Robinson offer a simple sophistication that is emblematic of who they have been in hip-hop for the last two decades. This offering of the self in written and audio formats represents a new direction for hip-hop education scholarship. It is a symbol of what Rawls offered hip-hop culture with his music production and creating/naming of Jazz-hop and its genre bending blending of Jazz and Hip-hop. In much the same way, this work moves the field and the culture towards what it professes to be—a space for all to share who they are in an authentic way while privileging the voice of youth and where they are in relation to schools and schooling.
A-Alikes: Two people who have the same behavioral characteristics. Often times they have similar personality traits, demeanor, taste and aesthetic.
Add on to the Cipher: To contribute valuable information to a conversation or project. To bring more resources to any situation in order to more productively build something.
Audi 5000: Hip-hop term from the Golden era of hip-hop meaning "good-bye" or "I am leaving"
CRP: Culturally Relevant Pedagogy—first described by Gloria Ladson-Billings
Do the Knowledge: Doing research to discover your own answers about a topic
Freaking Your Sneakers: This is how one manipulates shoelaces, usually involving sneakers or gym shoes
Free Free: Slang term used to describe free and reduced lunch
Freestyle: To Improvise Rap sentences without a plan or writing it down. Rapping whatever comes to mind right on the spot in the moment.
HHBE: Hip-hop Based Education
Micro-wave Generation: reference to the idea that Generation Z expects everything to happen in a quick and equally responsive manner ← xiii | xiv →
Old School: A term used to describe anything that is from a past era or something from an earlier tradition
The Real: A description of any nouns' authenticity, as in The Real HIP HOP!
The Science: A term used to describe instructions on how to do something
Youth Culture Pedagogy: A pedagogical approach which uses student culture to create scenarios to facilitate learning
The journey to complete this mission of a book on hip-hop education has been long and arduous. However, it originally just started out as an album. John and I both did not initially begin our careers in the field of education. Our paths crossed in the world of underground hip-hop in the late 90's. Our first album, The 1960's Jazz Revolution Again, was a project that was born out of our mutual respect for jazz music and jazz culture. With us both being hip-hop kids, we also wanted to infuse hip-hop into this project about jazz music. We both grew up as big fans of hip-hop artists who sampled jazz into their work. This influenced both of our careers. I had begun using the term "Jazz-Hop" to describe boom-bap hip-hop with jazz influences. So that is how we began describing our first album, The 1960's Jazz Revolution Again.
When creating that album, we studied both the music and culture to help immerse our creative pallets for an album which would be the true definition of Jazz-Hop. John and I had worked on several songs before, but this was our first album project. We wanted it to set a standard. While creating that album, our process for creativity involved phone discussions about jazz greats who influenced much of our music. As we created that album, most of it was done while we weren't in the same room. It was a good process and it worked for that album. As I said before, we had always discussed creating a second album, ← xv | xvi → but knew we wanted it to be more significant and more connected to the importance of culture and society.
With this album, our creative process grew exponentially. Instead of a few phone conversations, we felt it prudent to build and work primarily in the physical. We wanted this album to be more hands on. We spent more time together in the library (both in Brooklyn, New York, and Columbus, Ohio). We spent more time, on the phone or on video chats conceptualizing this project. We had a weekly phone conversation on Sundays to discuss and develop ideas for the album and book. We also took our time in the recording studio, actually only recording the album while we were in the same space. With this album, we made sure we added more of what we felt was a secret weapon on the first album; a singer named Tiffany Paige. She added such an important aspect to the first album. We wanted her to be more involved with this one. So she became a part of our creative process.
In addition, we added a new dimension to this project. Our focus was to use the songs to speak about what was going on in our classrooms. Then we thought we could take it a step further. What would happen if we not only used the album to introduce, define and categorize our theoretical perspectives but wrote a book which could be used by educators worldwide? It got us excited! We had even more motivation for this second project! For instance, as John and Tiffany finished each verse and hook for a song on the album, John would send me the lyrics as a word document. I would get to work outlining and formatting the song he wrote into a chapter for the book. I would then send John a draft of that chapter, and he would add on to the cipher. The whole process to creating this book and album project became more organic.
As we began to share our ideas with Dr. Emery Petchauer and Dr. Christopher Emdin, the whole project began to just flow together. This team would help us make this book project come to fruition in a way that was beyond our wildest dreams. The book and the album both just flowed naturally as the pair shared insight into this world of academia. Once we were able to share our ideas with members of the American Education Research Association Hip-Hop Sig, we were able to put the final pieces to this puzzle together. Consultation with these folks helped us shape and mold our ideas.
Our aim is to push forward the notion of using Hip-Hop Based Education (HHBE) to address issues of student engagement and teacher-student relationships using relational pedagogy and care. Additionally, this book seeks to expand the current theories of culturally relevant pedagogy and reality pedagogy. We will introduce you to our philosophy on education that we call ← xvi | xvii → Youth Culture Pedagogy (YCP). We also want to introduce you to the embodiment of YCP that we call the C.A.R.E. model. We hope this book will open the door to more conversations in order to advance this burgeoning notion of using hip-hop and possibly even youth culture as a catalyst for change in the American education system. We designed this book and album to speak to teachers, administrators and parents who are part of the hip-hop generation. We want to establish a foundation of thought which speaks to the issue of connecting with students in a meaningful way based on the culture in which they engage.
With respect to the albums, we also recognize that the contemporary hip-hop of today's generation is vastly different from many of today's hip-hop educators (Rawls & Petchauer, 2019). So rather than try to make hip-hop music for today's generation of students, we decided to focus on reaching our generation of hip-hop heads, who are generally the educators. Since the book and the album are designed to go together, we expect to touch on many different learning styles. Some will discover our ideas from the book and hopefully our references to the album will make them curious enough to want to hear the album. We also realize that some, if not most of you, will find out about our theories from hearing the album first. Regardless of how you find the information, we hope you are inclined to delve into the other medium. Whether you enjoy reading to learn information or would rather enjoy listening to a hip-hop album, both are purposefully designed to enhance your learning.
While this project started out as just an album, the ideas and concepts were so vast, we felt they warranted a thorough analysis. It led us to work on both the album and the book simultaneously. However, we believe both can stand on their own. Our hope with the album is to spark an educational revolution similar to the revolution which was sparked in us when Public Enemy dropped "It Takes a Nation of Millions to Hold Us Back." Before that album, I had not yet heard of Malcolm X, Huey Newton or Louis Farrakhan. That album sparked my interest in these leaders. It made me curious about their messages. I had to do the knowledge. We hope this album will spark the same interest in educators and parents. We want to introduce or re-introduce them to great thinkers such as Paulo Freire, Asa Hillard and Gloria Ladson-Billings. We hope to push forward the teachings of some of our current #HipHopEd scholars such as Chris, Emery, P. Thandi Hicks Harper, Joycelyn Wilson, Bettina Love, James "The Fresh Professor" Miles, Martha Diaz, Timothy Davis, Sam Seidel, Edmund Adjapong, Amil Cook and Ian Levy. We want this album to spark interest for people to do the knowledge on their ideas and principles. ← xvii | xviii →
Another goal with this book is to revolutionize the PD (Professional Development) for teachers. We aim to dive deeper into the concepts introduced on the album and give a new voice to educators who want to revolutionize education. In its current format, professional developments for educators are dry and filled with details that may or may not be relevant to what one is teaching. We have attended many PD's in which we watch the teachers become the students they teach on a daily basis. Administrators or whoever is running the PD are often heard telling the teachers to "put your phones away." Teachers can be seen drifting off or randomly doodling, rather than paying attention to the speaker. We envision a livelier PD with performances, hand clapping and crowd participation; basically like one of our live performances. When we share our ideas with you, our intent is to have you up on your feet; energized, inspired and excited.
Our PD's are designed to be full of life. They are designed to be presented in a different way. We are performers. We rap. We DJ. We make beats. We believe in crowd participation. You will be encouraged to get out your seat and participate. It's the same philosophy that we bring to our classroom. We want you to use this book to bring excitement back to your classroom. Remember what it was like when you were sitting in those chairs. Remember what it was like at your last PD. Our aim is to make you rethink your teaching practice. The best way to explain how to do this is to show you.
One way we chose to ensure the book coincides with the album was to have each song title on the album match a chapter in the book. To strengthen the connection between the book and the album, we begin each chapter with a lyric from the song. The book is organized in such a way as to break down our thoughts and ideas into easy to follow sections. We wanted to model congruency as well so each chapter is set up in the exact same manner to make it easy to find what you are looking for in the chapter. Each section within each chapter is named for a term that shares its origins from Hip-Hop/Black/African-American discourse.
The first section for each chapter is called "Say What." This section is basically an introduction to the chapter and will give a brief description of the problem and why we chose to address that problem. The next section is called "What's the Deal." In this section, we dig deeper into some of the facts of the issue at hand in addition to our thoughts on how this issue affects students. In the "What's the Science" section, we give our solution to the problem using principles from YCP. Our aim in this section is to give you some insight into our thought processes and how we feel that YCP can be effective in some of these different situations. ← xviii | xix →
The "MC Notes" section of each chapter will include John's thoughts and ideas which brought him to write each song on the album. This part of the book is very special to us because this is where we give insight into some of our logic and reasoning that inspired the album in addition to the book. Indeed, this section is how we connect the book to the album. We present these MC Notes as a case study of John's work as a teaching artist in the New York City public school system. It is where we see John's reflection on his direct experience using our methods. This section will be written in a less academic fashion and will be written in a more straightforward manner to give you "the real" of everyday issues encountered while teaching in an urban public school. Additionally, with the MC Notes section, our intention is to give you both the theoretical perspective of our concepts and to give you a practical perspective. The final section of each chapter is called "Audi 5000." This is the conclusion of each chapter in which you will find discussions and our final thoughts. We will also use this section to tie both our theoretical and practical perspectives.
Activities and ideas for classroom practice will be included in a separate YCP Activity Guide to accompany this book available as a pdf via our website www.itsjayare.com. This guide will include practical applications and examples of relationship building from our own classroom experiences. Also in this guide, you will find ideas that you can implement in your own classroom. These ideas can be used, changed, added to or subtracted from to fit the needs of your classroom.
References
Rawls, J. D. & Petchauer, E. (2019). Be current, or you become the old man: Crossing the generational divide in hip-hop education. Manuscript submitted for publication.
"We don't even gotta speak … and we do the same things … we stay connected worldwide … we all know the same slang … already changed the whole game"
As we were researching and writing this book, the newest phenomenon to take place in our schools were Fidget Spinners. The Fidget Spinner was originally designed for students who have attention disorders or high anxiety to help them remain calm and focused. For some reason around the spring of 2017, they became the hottest toy on the market. John and I noticed that not only younger children were playing with them, but so were our high school students. It amazed us how quickly the phenomenon had taken place. My son even wanted one. While John teaches in Brooklyn, New York, I teach in Columbus, Ohio and we both noticed that students had the spinners almost around the same time. We spoke with other educators we knew around the country and the spinners were all over. Even my local news station did a TV report on them. We even noticed they were a part of youth culture across the globe (Rutherford, 2017). They were everywhere. And then, almost as fast as they had arrived on the scene, they were gone. They had been replaced by something else, and of course soon that new item would be replaced as well. ← 1 | 2 →
When the worldwide Fidget Spinner phenomenon was at its peak, we also noticed that schools were quick to ban them. We saw teachers taking spinners if students had them in class. This decision perplexed us both. We looked at this a bit differently than many of the administrators and teachers in our schools. We wondered about the cultural ramifications of these spinners. How did this thing become such a huge phenomenon in such a short period of time? How did kids all over the country and indeed, the world, find out about, get hooked, and then STOP using these things around or about the same time? Students were all on the same page with these toys. They saw them as a toy for right now. It was fun. It was engaging. The most important characteristic that we noticed is that they all knew. Teachers were not on the same page. The majority of us were behind the eight ball on this phenomenon and before we could notice what was going on, fidget spinners were old news.
When this happened, we reflected on our careers in education. We remembered other occasions when students picked up on something, got on board and were finished with something all before teachers and schools even picked up on the phenomenon. From flipping the water bottle in the water bottle challenge to loom bands, we noticed that this was a trend that occurred quite often. For me personally, one of the earliest of such trends was the onset of Twitter. I remember being in class and having one of my 8th grade students show me this new app in which I could write 140 characters of my own personal thoughts and anyone in the world could comment on it within seconds. My students were the first to show me this! I remember speaking to my good friend, DJ Rhettmatic and remember him telling me that I needed to get on this format to help promote my music. By the time many of us Generation X'ers caught on to this phenomenon, the youth of Gen Y and Gen Z had already stopped using Twitter as their primary communication app. And as with most new things, adults have now taken over as Twitter is most often mentioned in conjunction with politicians. Kids have moved on to other apps such as Snapchat. As John and I reflected on instances such as these, we begin to gain insight on what we felt was really happening in education today. This helped us to narrow our focus on our approach at pedagogical practice.
We believe this is around the time that we envisioned approaching education from the standpoint of youth culture. We began to understand that youth culture is at most times unspoken but still very influential. They don't even need to say words sometimes but they are all on the same page. The chorus to the song for this chapter says in part "We don't even gotta speak … ← 2 | 3 → and we do the same things … we stay connected worldwide … we all know the same slang … already changed the whole game." In our minds, this is an important, often overlooked detail. How do they do this? How connected is it to popular culture? What can educators learn from this? It seemed to us that through technology and social media, they are all decisively linked and for the most part, all move in the same manner. We found it imperative to make it a priority to understand their culture to help us better understand their world, subsequently, allowing us to better educate them.
This chapter is our salute to youth culture. We will discuss the history of research behind it and also jump into our ideas about using youth culture as part of pedagogy. We will discuss the theories that helped us frame our ideas about youth culture as pedagogy. Subsequently, we will define YCP and explain the tenets intended to assist teachers with implementing it in the classroom. We will use the subsequent chapters to go into more depth about these tenets and to help further elaborate our thoughts on the role of youth culture in education.
I remember in 1995 or 1996, Talib Kweli (before he was signed) started one of his songs explaining that "all the great movements in history started with the youth …" This always stuck with me. The youth movement is powerful and generally a catalyst for change. The concept of youth culture first came into prominence around the turn of the century. Much of the research has been conducted in the United Kingdom. One thing we noticed during our research is that it can often times be paired with youth subculture or youth resistance (Shildrick, 2006; Tuck & Yang, 2014). All refer to the tendency of youth to be rebellious and have their own ways of doing, acting and living. Shildrick (2006) defined youth subculture as a subset or social group that acted differently than the dominant culture. Janssen, Deschesne and Van Knippenberg (1999) explained that there were two major lines of thinking to describe youth subculture, an aesthetic and empirical approach. The aesthetic approach is critical of the commercialized leisurely activities of young people. Many of these studies were done as just observation and without speaking to the young people. Conversely, the empirical approach to understanding youth culture focuses on positives and benefits that can be gleaned from young people. It settles on a more ethnographic form of data collecting and allows young people to express themselves. ← 3 | 4 →
For the last several years, scholars have advanced that an understanding of youth culture as part of pedagogy, specifically in the area of literacy, could be beneficial to student learning (Duncan-Andrade, 2004; Giroux, 2016; Mahiri, 2006; Morrell, 2002; Sandlin & Milan, 2008). Through paying attention to how youth express themselves through dress, music, activities even down to what apps they use can give teachers insight to help them become better readers (Janssen et al., 1999). Advancing ideas on hip-hop literacy, Mahiri (2001) assesses that teaching tools and methods have not advanced with the times. He suggests a method of what he calls "popular culture pedagogy" (Mahiri, 2001).
The idea of using popular culture as pedagogy is a concept that has been gaining popularity (Duncan-Andrade, 2004; Mahiri, 2006; Mojab & Taber, 2015; Morrell, 2002). The emphasis of this approach focuses on using mass media and its modes of transmission (television, video games, internet, movies etc.) as prompts for pedagogy. He adds that using these modes of transmission to teach offers educators a chance to reach students at a "multimodal, multitextual … multicultural" level, thereby allowing young people to conquer limits on learning and meaning because of the familiarity (Mahiri, 2001, p. 382). Gardner and Davis (2013) advance this notion, adding computer/mobile phone applications as an added mode of transmission. Janssen et al. (1999) affirm that mass media has had an effect on youth on a global scale and offers this as evidence as to why this form of pedagogy may be successful to help with literacy. Duncan-Andrade and Morrell (2008) further advanced these ideas by suggesting that teachers focus on adding hip-hop lyrics to aid in not only popular culture pedagogy but also in meeting students at their own level. Some teachers began to use Hip-Hop in the areas of literacy and English Language Arts. Petchauer (2015) labeled these early additions of hip-hop into pedagogy as the first wave of HHBE.
Scholars have termed this idea of meeting students at their level as critical pedagogy (Duncan-Andrade & Morrell, 2008; Emdin, 2009; McLaren, 1989). Meeting students at their level is defined as teachers working to enhance a students' current knowledge, using prior knowledge that students may already have. Stoval (2006) takes this concept a step further noting that critical should denote the active participation of both students and teachers. Both parties should actively work to learn and educate one another in the classroom. One possible way to employ this technique is tapping into a popular culture in which most students are involved (Emdin, 2009; Morrell, 2002). Morrell (2002) insists that educators pull elements from popular culture in order to reach students on a critical pedagogical level. Building from the ideology of McLaren (1989), Morrell (2002) theorizes using elements of popular ← 4 | 5 → culture as a catalyst to promote development in urban youth. The importance of reaching these students has been stressed in academia for quite some time. Freire (2007), Giroux (1989) and later McLaren (1989) theorized that critical pedagogy was important for students to develop a social justice stance and a consciousness of freedom.
The work of Gee (2003) also supports the idea of using popular culture, to inform the way that teachers educate. Gee (2003) declares that Discourse among social groups involving behavior, fashion, and perspectives among other characteristics, can lead to further understanding when working with students. Using literacy, he lays out tenets that characterize how learning is not a separate function of our lives and how students learn. Gee (2003) theorizes that (1) learning can occur both in formal and informal contexts, (2) learning is a social process, and finally, learning is grounded in historical precedence that shapes our ideas. These tenets directly align to meeting students at their level. They also support the idea that teachers should find out about their students' interests and experiences in order to become more effective teachers (Compton-Lilly, 2007; Gee, 2003). Thus, using popular culture as a means to tap into what students already know, and link it into something that they need to know, could possibly increase student engagement and learning outcomes (Christenson, Reschly & Wylie, 2012).
Scholars have successfully transferred these ideas to hip-hop literacy with studies on how the modes of transmission assist young people with constructing their identities (Dimitriadis, 2001; Morrell & Duncan-Andrade, 2002). Dimitriadis (2001) refers to Paul Willis's "common culture that young people create and sustain" (p. 30). This idea of youth having a common culture is exhibited in their fashion, creative consumption, hairstyles and overall identity (Willis, 2002). Willis (2002) goes on to describe common culture as a manifestation of how young people change the world around them to match their own interpretations. Dimitriadis (2001) adds that only by understanding these modes and themes of common culture can we understand young people and figure out how to work with them. With these ideas in mind, it seems to us that it only makes sense that we as educators should make an attempt to understand the common culture of young people.
So what's the science? The science is applying pedagogy of youth culture. We feel that applying ideas brought forth in popular culture pedagogy and ← 5 | 6 → common culture gives legs to our movement of using YCP. These theoretical perspectives supported our ideas that we gleaned from the fidget spinner phenomenon. Subsequently, we felt that we could add on to these ideas based on our own previous experiences.
When formulating our approach to education, we believe that relationships and care are most important in the classroom. The student voice is also a valuable asset for a classroom teacher. In our own classroom experiences, we try to keep in mind the importance of building from what students already know. We feel that trying to advance their knowledge without acceptance of their prior knowledge is a fundamental flaw of the current education system. We also believe that one should educate students using methods that make sense to one's students. Moreover, a teacher should have the freedom to build relationships with her students and use these relationships to help shape curriculum. It is no secret that today's youth have their own culture. They move to the beat of their own drum. These youth have similar beliefs and values, which are heavily influenced by popular culture. Moreover, in many instances, these groups have similar characteristics based on geographic area, class, or socio-economic status. As previously mentioned, numerous scholars have studied the phenomenon of youth culture, subculture and resistance (Blackman, 2005; Blackman, 2014; Porfilio & Carr, 2010; Shildrick, 2006; Tuck & Yang, 2014). However, we intend to focus our efforts on the beliefs, values, characteristics and behaviors of marginalized urban students.
Our thoughts on youth culture align with Dr. P. Thandi Harper Hicks's understanding of youth popular culture and how hip-hop has influenced it. Hicks Harper (2000) defines youth popular culture "as that which is 'in', contemporary, and has the stamp of approval of young people (p. 2). One of the most important distinctions that she makes is that youth popular culture transcends boundaries of race, geographical boundaries and socio-economic status. With these ideals in mind, we think it is imperative for teachers to at least have a working knowledge of this culture. It seems that it would be nearly impossible to effectively communicate with one's students without having an understanding of what "engulfs and contextualizes" their lives (Hicks Harper, 2000, p. 1).
We call our approach to education, Youth Culture Pedagogy (YCP). This book will lay the groundwork for YCP and how we envision its use within the classroom. YCP is rooted in a foundation of culturally relevant pedagogy (Ladson-Billings, 1995a), reality pedagogy (Emdin, 2016) and Hip-Hop Based Education (Hill, 2009; Hill & Petchauer, 2015). We define YCP as a ← 6 | 7 → pedagogical approach which uses student culture to create scenarios to facilitate learning. Because we believe that YCP must be embedded with characteristics of relational pedagogy (Sidorkin, 2002) and an ethic of care (Noddings, 2002), our explanation of it will be saturated within these models. Subsequent chapters of this book will be dedicated to painting YCP in the light of these theoretical platforms. In addition, we have created four tenets that teachers can adopt in order to practice YCP in their classrooms. These four tenets state that teachers should embrace youth culture, create an affable learning environment for students, build and maintain positive relationships with students and develop an egalitarian teaching style which allows students to be themselves in the classroom. We will go more in depth on these tenets later in this chapter.
Now that we have given you our definition of YCP, let us expound on what we feel are the roots of our theoretical perspective, outline our tenets to facilitate implementation, and finally, suggest why we feel it would work in the classroom.
The Roots of Youth Culture Pedagogy
When framing our pedagogical praxis, we were influenced by the concept that young people follow a common culture. We would often try out ideas using pedagogy based on popular culture and have successes in our classrooms. Students seemed to enjoy when the teacher brought things they understood into the classroom. We would often incorporate concepts and ideas from several scholars to try out in our classroom. But the ideas that seemed to work best for us was Ladson-Billings (1995a) CRP, Emdin's (2016) reality pedagogy, and, of course relevant ideology from HHBE (Hill, 2009; Hill & Petchauer, 2015). In the following paragraphs, we will define each of these theories and then explain how we used them to devise our own philosophies.
Culturally Relevant Pedagogy (CRP)
Culturally Relevant Pedagogy, as first described by Ladson-Billings (1995b) has become one of the most common approaches to teaching. As such, several extensions of her original idea, such as culturally responsive or sustained pedagogies, have become common teaching practices as well. We felt it prudent to speak about these extensions and discuss their differences. When it comes to culturally relevant, responsive or sustained pedagogy, sometimes these terms may be used interchangeably. We want to clearly denote how we define each ← 7 | 8 → term based on our research. We define culturally relevant pedagogy (CRP) as an approach to teaching that considers the unique cultural backgrounds of youth (Ladson-Billings, 1995a). Ladson-Billings further explains CRP as being "connected to students, their families, their communities and their daily lives" (Ladson-Billings, 2014, p. 74).
Similar to CRP, culturally responsive teaching is based on the premise that students' perform better in school when academics and policies are based on student culture (Gay, 2000). While many scholars have defined the idea of responsive pedagogy, we define culturally responsive pedagogy as a focus on teachers' acceptance of their own specific cultural heritage and that of the school and curriculum as it relates to the culture of their students (Delpit, 1995; Emdin, 2009; Emdin, 2011a). Emdin (2011a) further elaborates that teachers are more effective when "they know how to deliver content in a way that resonates with their students and causes (them) to take ownership of the content and explore it more deeply on their own" (p. 285). Later, Paris (2012) hypothesized an idea of Culturally Sustained Pedagogy (CSP). He defined this as a "teachers need to meaningfully value and maintain the practices of extending their students' repertoires of practice to include dominant language, literacies, and other cultural practices" (Paris, 2012, p. 95).
Culturally sustained pedagogy (CSP) is the next stage of development for culturally relevant pedagogy (Paris, 2012). Paris (2012) defines CSP as pedagogy that "perpetuates and fosters linguistic, literate and cultural pluralism as part of the democratic project of schooling" (p. 93). Ladson-Billings (2014) suggests that CSP is CRP in practice and is necessary for student growth. We believe that in order to practice any type of sustaining pedagogy, one must keep youth culture in mind. Ladson-Billings (2014) agrees stating that it is imperative that we keep youth culture in mind when discussing sustained or relevant pedagogy (Ladson-Billings, 2014). She further explains that culture is ever changing and as educators, we must be able to adjust and keep up with these changes.
Ladson-Billings concept of keeping youth culture in mind when striving toward culturally relevant pedagogy aligns with the tenets of YCP. First, by embracing youth culture, a teacher demonstrates a commitment to connecting with students in their daily lives, communities and families. Second, teachers who care enough to create an affable learning environment and developing an egalitarian teaching environment demonstrate a willingness to work to sustain a sense of cultural awareness in the classroom. Part of the success of creating this CRP model is working toward trying to maintain it ← 8 | 9 → over a period of time. Finally, teachers who build and maintain relationships with students embody Ladson-Billings (1995b) culturally relevant pedagogy because they inherently are working toward understanding the student for who they are as a person.
It's no secret that we are heavily influenced by Dr. Christopher Emdin and his work in urban science education. We were fortunate enough to collaborate with him for this project. One of his ideas that shed light on our path was his theory of reality pedagogy and the acknowledgement of students' cultural capital. Adjapong and Emdin (2015) describe cultural capital as the value (or capital) that students bring into the classroom based on their own culture. Emdin (2009) expresses the benefits of using hip-hop culture and embracing this understanding, or cultural capital, through his explanation of transactional levels in the classroom. Emdin believes that a transaction (an exchange of information) and not just an interaction (in which only one party receives information) should occur in the classroom (Elon University, 2012). This way, the teacher demonstrates that she not only values students' culture but also values information and ideas students bring from prior experiences.
With respects to reality pedagogy, Emdin (2016) declares that teachers should empower students and value the cultural capital they bring to the table. Moreover, in alignment with Ladson-Billings (1995b) and the CRP model, he posits that the highest level of learning occurs when students are actively involved in all aspects of classroom functions including the creation of lesson plans and implementation of procedures (Emdin, 2009). Emdin (2009) labels this approach as reality pedagogy. He defines it as "moving beyond efforts to address the challenges within urban schools that focus on the academic deficiencies of youth to instead support both teachers and their students in improving their classroom experiences" (Emdin, 2009, p. 9). With the implementation of such an approach, the benefits for students include empowerment, voice, self-efficacy, and the creation of a community of learners (Ladson-Billings, 1995b; Milner, 2011; Petchauer, 2011; Wallaert & Wessell, 2011).
Emdin (2011b) strengthens his explanation with his 5 C's of reality pedagogy. First, he speaks about co-generative dialogues which are structured dialogues that build on students' hip-hop sensibilities. Second, Emdin (2011b) uses co-teaching as a way to allow students a chance to be experts at pedagogy (p. 288). Thereby, allowing students and teachers to learn from one another ← 9 | 10 → (creating a transaction rather than an interaction) in the classroom. Third, his approach to Appaiah's (2007) cosmopolitanism states that all human beings are responsible for one another (Emdin, 2011b). Therefore, the classroom should be treated no differently. Students and teachers should care for one another and differences should be valued. Fourth, Emdin (2011b) expresses the importance of context in allowing students to connect their home lives and culture with the classroom. Finally, he explains that content in the classroom "evolves out of the willingness of the teacher to acknowledge his or her own limitations" (Emdin, 2011b, p. 291). Thereby teachers give up some authority, allowing student voice to be prominent within the classroom setting.
Through an understanding of students' cultural capital and these 5 C's, we can see how YCP begins to form. YCP inherently values students' cultural capital. Just by embracing youth culture, a teacher demonstrates that she is not only interested in students' cultural capital but relies on it to inform her decisions, policies and even lesson plans. By creating a pleasant learning environment, the teacher drives Emdin's (2011b) ideals of co-teaching, context and Cosmopolitanism. While co-generative dialogues and content align seamlessly with a classroom that follows YCP's egalitarian teaching format. The idea of building and maintaining relationships mesh well with Emdin's reality pedagogy because YCP places importance on the students' cultural capital.
Hip-hop Based Education (HHBE)
As our primary experiences have been in the classrooms of urban schools, and because we consider ourselves part of the hip-hop generation, we will focus our efforts through Hip-Hop Based Education (HHBE). In our schools, hip-hop culture is a dominant culture within the classroom. While we do admit that hip-hop is not the only culture that many youth relate to, we feel it is widespread enough to speak to many marginalized youth. According to Forbes, Nielsen confirms that rap music has taken over as the most prevalent genre of music (McIntyre, 2017). Sunday TODAY with Willie Geist reports that Rap and R&B combined make up 40% of the Billboard Top 100 list compared to 25% ten years ago (Mania & Janiak, 2018). With this in mind, we believe that hip-hop culture could be useful in building relationships and conveying care with students. We believe that one should use hip-hop aesthetics and practices in an effort to move toward hip hop theory and to assist teachers in making stronger connections to students real lived experiences (Hill & Petchauer, 2015). ← 10 | 11 →
In order to go in depth about HHBE, we must first take a step back and have a brief discussion about hip-hop and the culture created around it. Born in the Bronx in the early 1970's, hip-hop was created by DJ's who only had turntables and records. Many of them could not afford instruments to "create" music. They had to think of new and innovative ways to create music. They did this by finding the "breakbeat" (or solo drum break of the song) and using two of those records on two turntables to extend that beat for the B-Boys and B-Girls to dance to. The dancing to these breakbeats eventually became known by the mainstream as breakdancing. Coupled with graffiti and later emceeing (or rhythmically rhyming over these breakbeats) these would eventually be known as the four elements of hip-hop (DJing, B-Boying or Breakdancing, Graffiti, MCing). The behavior and norms that became associated with these four elements (and later several others that have been added such as knowledge and beatboxing) form the culture of hip-hop. Although it has grown and changed, this culture still thrives to this day. This is the culture on which HHBE is based.
As mentioned previously, the first wave of HHBE concentrated on using rap lyrics in the classroom as part English Language Arts (Dimitriadis, 2001; Morrell & Duncan-Andrade, 2002; Petchauer, 2015; Stovall, 2006). Scholars are now advancing the use of hip-hop culture and aesthetics in the classroom to reach more marginalized students (Emdin, 2016; Hill & Petchauer, 2015; Petchauer, 2015). In the last few years, scholars have pushed toward a trend of not just analyzing but actually using various modes of production hip-hop in pedagogy, such as women's studies and the sciences. Petchauer (2015) has labeled this new school of HHBE as the "second wave" of HHBE.
In the last two decades, HHBE has become extremely popular as a form of Ladson-Billings's (1995a) CRP. Originally used as content in classrooms to reach marginalized youth, the influence of HHBE has grown as the popularity of hip-hop music has become popular worldwide (Hill, 2009). HHBE has permeated the curriculum at the middle, secondary and collegiate levels of education (Chang, 2005; Emdin, 2009; Irizarry, 2009; Petchauer, 2009; Rodriguez, 2009; Stovall, 2006). In the "first wave" of HHBE, as educators began incorporating hip-hop into their pedagogy, many of them used rap lyrics to help engage students in English and Language Arts course work. During this time, hip-hop lyrics were mostly used to develop critical literacy skills (Hill, 2009; Duncan-Andrade & Morrell, 2008) and as text for language classes (Alim, 2007). Reading supplements to aid student learning, such as the Hip-Hop Educational Literacy Program (H.E.L.P.) by Gabriel "Asheru" Benn (Benn, n.d.) and Flocabulary (Beninghoff, 2006) became popular methods ← 11 | 12 → of engagement in the classroom. In her dissertation, Hall (2007) insists that hip-hop has an engaging "crossover appeal" with students (p. 38). This crossover appeal refers to the certain aspects of hip-hop culture that are desirable to some youth such as music, rapping and fashion. Hip-hop resonates with many youth and there has been a push to use its appeal to engage them in other aspects of their lives (Petchauer, 2012). Petchauer (2012) explains that initially there were three aspects of HHBE that a teacher could use to add to educational processes. These three aspects are as follows:
• Using hip-hop lyrics as an educational tool to teach academic content
• Studying hip-hop as a legitimate text in and of itself
• Using habits of body and mind inherent in hip-hop education
As mentioned previously, it is important to point out that HHBE has been vastly associated with CRP for quite some time (Hollie, n.d.; Irby, 2015). More recently, scholars have made a call for a more sustained use of HHBE in elementary and middle school education, women's and queer studies (Ladson-Billings, 2014; Lindsey, 2015; Love, 2015; Paris, 2012; Veel & Bredhauer, 2009; White, 2009; Young, 2010).
As HHBE has evolved, a new shift is occurring in the use of Hip-Hop in classrooms. The idea of using Hip-Hop culture in the classroom to shape classroom environment, strategies and policy has been termed the "second wave" of HHBE (Petchauer, 2015, p. 97). According to Petchauer (2015), the 'second wave' of HHBE should involve an aesthetic approach to practice and a more ethnographic approach to research. He clarifies that the culturally relevant pedagogy that embodied the first wave of HHBE was not "misguided" but "a natural progression" toward growth of the field (Petchauer, 2015, p. 97).
Part of this approach involves using the many nuances within hip-hop that guide and influence the culture. In many instances, teachers are not given the adequate training, resources or realistic time frame to achieve many of the goals set for them. Yet, they are still held by a standard that expects them to accomplish these goals and beyond. How can teachers achieve these lofty goals with limited resources? This is where HHBE comes into play. Similar to the origins of Hip-Hop music, HHBE calls on teachers to make something out of nothing. Going back almost 100 years, Dewey emphasizes the importance of developing student's critical thinking skills by encouraging further inquiry of students. Further, Freire (1970) and later, Ladson-Billings (1995b) insists that educators should even present material in ways that allow students to make connections with their own lives. ← 12 | 13 →
It is within this "second wave" of HHBE, which we feel our ideas align. Petchauer (2015) lays out how the aesthetic forms of HHBE could be instrumental in "harnessing abstract concepts from hip-hop expressions and applying them in specific educational settings" (Petchauer, 2015, p. 99). He explains how the classroom is similar to major Hip-Hop idiosyncrasies such as sampling & layering, flow & rupture, and performance & embodiment. In Hip-Hop music, beat makers sample notes and sounds from another source and proceed to chop and layer it to create new soundscapes. In this same sense, teachers can sample bits and pieces of information from old and new sources to layer new frameworks in which students can learn (Petchauer, 2010; Petchauer, 2015). While flow in Hip-Hop culture exemplifies aesthetics such as rapping, graffiti, B-Boying (dancing) and DJing (the four elements of Hip-Hop); flow can be defined in the classroom as normal everyday processes. These processes can include the rupture or disruption of those processes in the classroom that are comparable to the breaks in flow in all of the elements of Hip-Hop (i.e. The break in a DJ's beat juggling routine or the break in a dance routine for a B-Boy). These are changes to the routine that take place and allow progression to happen. As Petchauer (2015) explains, there must be flow before rupture can take place. In Hip-Hop, "catching wreck," means to achieve respect or receive accolades for a job well done. This means that, as in Hip-Hop, rupture (or wreck) is a natural break in flow and when it occurs in the classroom; this wreck can be a positive or negative experience for both teachers and students. The "affective engagement, performance and embodiment of Hip-Hop" are all expressed as 'doing' something in Hip-Hop. In Hip-Hop culture, participants are all involved, and movement is almost always required (Petchauer, 2015, p. 86). The classroom, in this second wave of HHBE, should also resemble this same scenario; as students should be actively engaged and involved. This is how we envision our classroom with regards to YCP. Quite frankly, this is also how we envision a PD course for teachers.
As mentioned before, up until now, HHBE has been primarily used as an extension of culturally relevant pedagogy. Now, HHBE is developing its own theories that are guided by culturally aesthetic frameworks and ethnographic research (Dimitriadis, 2015; Irby, 2015; Petchauer, 2015). HHBE should be a foundation of theory and not just a subset of culturally relevant pedagogy. As such, Petchauer (2015) suggests that researchers use HHBE approaches for other aspects of the educational process. In fact, Emdin and Adjapong (2018) argue "for a philosophical and conceptual understanding of hip-hop as education" (p. 3). The Fresh Prep program in New York City is an example of ← 13 | 14 → this process. The program is designed to draw on students' cultural tendencies to engage high school seniors at risk of not graduating (Cherfas, Casciano & Wiggins, 2018). It uses hip-hop and youth culture to re-conceptualize learning in order to pass the state test. Examples such as this elicit new directions in exploring different learning styles and multiple learning intelligences through HHBE (Gardner, 2011). Thus we are at a time when hip-hop can be used to assist scholars with creating theoretical constructs. It's time to revolutionize how we educate.
YCP is designed to be a part of this revolution. YCP is a practical based application that was born from the perspective of various educators experiences. In this line of pedagogical discourse, teachers use untraditional means to build relationships and express care. YCP says embracing youth culture is imperative and in HHBE, lessons are built around students' own culture. Instead of forcing students to give up the things they frequent, we feel teachers should discuss them and when possible, use them in lessons, thus creating an affable learning environment through an egalitarian teaching style. All of these characteristics are important when building and maintaining relationships with students.
We have given you some insight into YCP. But the real question we would like to answer right now is, "How can I implement YCP?" The last few sections have discussed how our ideas were informed by other scholars and theories. These are ideas we have been reading about and studying for years. We have practiced these ideas in our own classrooms but always realized that all of these ideas circled back to one important aspect of teaching. Quite frankly, it all boils down to caring for students. Keep this in mind as you read the next section.
The 4 Tenets of Youth Culture Pedagogy
In order to enact YCP, there are several characteristics teachers must exhibit. With a goal of empowering students, giving them a voice and imparting a sense of community, we developed 4 major attributes to which a classroom teacher should strive. As mentioned before they are as follows:
1. Teachers should embrace youth culture
2. Teachers should create an affable learning environment
3. Teachers should build and maintain positive relationships with students
4. Teachers should aim to develop an egalitarian teaching style ← 14 | 15 →
In this book, we have already spoken about and will continue to speak about culture to varying degrees. Culture is defined as a way of life shared by people in a place or time (Culture, n.d.). Culture is such a broad term and, in education, is often related to studying the ways of our students' lives. We use it in a similar fashion as Ladson-Billings and Emdin since we believe that it's important to understand our students' ways of life so that we can understand the best way to teach them. However, the following definition by Hilliard is the one we will use for our book. He explains "culture is nothing, more nor less, than the shared ways that groups of people have created to use and define their environment" (Hilliard, 2002, p. 89).
John Locke once described students as blank slates that need to be filled with curricular content. David Kirkland goes so far as to say that at this point we are even treating students as "dirty slates that need to be washed" (High Tech Slam, 2015). For years, teachers have tried to tailor schools today to fit the mode of how school was in their day. The problem with this thinking lies with one word; change. With the advent of new technologies and how fast paced society has become, this is not a plausible solution. Change is undeniable. Society in general has changed. Youth culture changes with each generation. The notion that students should just sit in a desk and be taught to is incredibly unrealistic in this day and age. The days of education based on students as blank tablets or empty vessels are far gone. Since this generation moves to the beat of their own drum, why not embrace this?
Embracing youth culture takes pressure off the teacher because instead of always saying "no", the teacher can ask youth to define why they do what they do. Teachers should have students explain why they have that Fidget Spinner. Tell them to describe why they enjoy trying to flip the bottle of water. By embracing youth culture, we mean teachers should be learning about the beliefs, values, characteristics and behaviors of this generation from their students.
As previously mentioned, a huge influence on our research was the work of Ladson-Billings. We wanted to expand on her work and use culture in a more meaningful way to impact student's lives. In our classrooms we noticed that often times, students had their own manner of being and doing. When we embraced this and showed an interest, we found much more success in our classroom. In fact, in later speeches, Ladson-Billings has said that she has been excited to see inquiries into CRP evolving into some new and exciting ways ← 15 | 16 → (UMH Hurley Convergence Center, 2017). She also expressed that one of the shortcomings of some of her early work was not focusing on youth culture (UMH Hurley Convergence Center, 2017).
When discussing what it means to be affable, we feel the best description is a state of being pleasant. The dictionary defines affability as "easy to approach and talk to; warm, friendly and polite" (Affability, n.d.). While it may be unrealistic to expect a teacher to be all of these things every day for each class period, we think by simply creating an environment in which students perceive this affability can contribute to a caring classroom. Moreover, an affable classroom combined with empathy and care leads to a more sustaining education (Jensen, 2016; Noddings, 2005).
In a study based on understanding why students gravitate toward which teachers, the affability of the teacher was considered most relevant to building relationships and trust (Kim & Wei, 2011). Furthermore, the approachability of the teacher was generally considered to be one of the most important factors of positive interactions between student and teacher (Kim & Wei, 2011). In another study, Richmond (1990) found that creating an environment of compliance vs. motivation led to negative student behaviors. She found that most authoritative or coercive classroom settings led to behaviors that may have led to short-term compliance but the overall effect on student behavior was negative. These findings add to our ideas on the importance of affability in the classroom. Later, we will explain why YCP is based on building relationships and expressing care for students. Creating an affable learning environment supports this as well and is an important first step toward shifting archaic behavioral methods toward more culturally relevant methods. An affable learning environment is a product of caring relationships.
When speaking about student engagement and outcome, some questions come to mind. Why are students more apt to trust some teachers rather than others? What makes a student confide in teacher A as opposed to teacher B? How is trust and harmony built in a relationship between teacher and student? How can I keep my students engaged and interested? These are questions that many teachers have possibly posed at some point in their career. While Hart, Stewart & Jimerson (2011) contend that student engagement is an important ← 16 | 17 → concept connected to student success, Jones (2008) believes that "strong positive relationships are critical" to student engagement (p. 6). Scholars posit that student learning outcomes and engagement are affected by far more than just what happens in the classroom (Aspelin, 2011; Ladson-Billings, 1995a; Mahiri, 2001). For instance, Gergen (2009) asserts that the relational aspect of teaching is not only important for understanding student engagement, but is the foundation for inspiring student performance.
We believe that strong positive relationships are at the core of what YCP is all about. Without a strong relationship with students, teachers will have a difficult time facilitating instruction. We have seen this time after time in our schools. Teachers struggle with classroom management or engagement because they haven't taken the time to build strong relationships with students. As a classroom teacher, I had very few discipline issues. Most times, I was able to speak to my students in a one-on-one setting and generally get to the root of the behavior issue. However, this is not plausible if there is no relationship. Teachers, who make connections with students early in the school year, will see decreased behavior incidences later. Moreover, these connections are important not only to a student's ability to learn, but to a student's socialization.
Similar concepts have been discussed in numerous studies. For example, Stuhlman and Pianta's (2001) study was designed to understand teacher-student relationships by assessing narratives from teachers about those relationships. They found that (1) the teacher's narratives corresponded to the observed behaviors of both teacher and student in the classroom, (2) teacher narratives were consistent to previous methods studied about the teacher-student relationship, and (3) teacher relationship narratives and child interactions support claims that there are emotional connections made within the classroom. Sidorkin (2000) theorizes about relationships between teachers and students, stating that building relationships with students should be a priority more so than monitoring behaviors in students. By focusing on building relationships rather than the present state of student behavior, the teacher promotes a growth opportunity for meaningful interaction. Noddings (2005) hypothesized about the importance of relationships and caring as a goal and fundamental aspect of education. Both Noddings (2002, 2005) and Sidorkin (2002) concluded that caring relations should be the foundation for educators as they build relationships with students in their classrooms.
Scholars have hypothesized on the importance of building relationships with students (Baker, Grant & Morlock, 2008; Barile, Donohue, Anthony, Baker, Weaver & Henrich, 2012; Clemmons, 2006; Frisby & Martin, 2010; ← 17 | 18 → Frisby & Myers, 2008; Wilson, Ryan & Pugh, 2010). Students seem to be interested in the personal experiences of their instructors. They are engaged when instructors share these experiences and use them for classroom knowledge (Catt, Miller & Schallenkamp, 2007). According to Sull (2009), instructors should strive to have an "ongoing positive connection" to students in order to build relationships and ultimately contribute to student success (p. 93).Student interpersonal relationships with instructors have been studied with respect to various fields such as: teacher-student interaction in an elementary school (Doumen, Koomen, Buyse, Wouters & Verschueren, 2012; Pianta, 1999), teacher-voice and student connections (Clemmons, 2006), and professor-college student relationships (Catt et al., 2007; Frisby & Martin, 2010; Frisby & Myers, 2008; Wilson et al., 2010). Catt et al. (2007) also found that teachers who built interpersonal relationship were paramount in developing students who valued education and learning. Additionally, in their study, Frisby and Martin (2010) found that teacher-student relationships were a consistent predictor in participation, affective learning and cognitive learning. Similarly, Frisby and Myers (2008) found students' level of engagement and motivation was directly correlated to the teacher-student relationship. Lastly, in their study of teacher immediacy, Wilson et al. (2010) found that the teacher-student relationship was a predictor of student outcomes.
Fullan (2003) declares teachers must gain their students' trust. He further explains that trust is one of the most important elements in developing teacher-student relationships. Weiner (2003) describes trust as the "bedrock" of teacher-student relationships (p. 370). Additionally, Docan-Morgan (2009) suggests that trust helps define and allows these relationships. According to Noddings (2002), this trust can be a result of care exhibited by a teacher in the classroom. In order to build relationships with students, teachers should meet students at their level (Emdin, 2009). This coincides with being culturally relevant.
With regards to maintaining this cultural relevancy, we keep in mind, Emdin's description of getting a transaction in the classroom and not just an interaction (Elon University, 2012). One way to do this is to allow students to have more control in the classroom. The next section describes how we achieve this within YCP.
Freire (1970) spoke of the importance of social change with his ideas about critical pedagogy. Generally, a classroom community can be run with several ← 18 | 19 → different structures. In some of classrooms, we have observed democracy, dictatorship. However, we think an egalitarian approach delineates our methods best. Merriam-Webster defines egalitarian as a belief in human equality with respect to social, political and economic affairs (Egalitarian, n.d.). Now let's be clear. Do we believe that students will be treated as equals with the same power as the teacher in the classroom? No. We do acknowledge that there is a power imbalance in the classroom. The teacher-student dynamic in the classroom is one that can easily fall into the "it's my classroom, do as I say" mode of thinking. True equality or mutuality in the classroom may be impossible to achieve (Rawls, 2017). However, the part of the definition we want to impress upon you the reader is that egalitarian is a "belief in human equality." Egalitarian thinking says that a person will respect other individual's ideas on social, political and economic affairs. One may not agree with those ideas, but they respect the other person's right to have these ideas. With a teaching style based on this belief, the teacher respects student's cultural capital. With this belief, YCP principles are possible. The path to this approach is in Sidorkin's (2000, 2002) relational pedagogy.
One of the leaders in the field of relational pedagogy is Sidorkin. Sidorkin (2000) believes "that education is a function of specific relations and not behaviors" (p. 1). He emphasizes that there must be a shift from a pedagogy of behavior to a pedagogy of relation. This concept will be an overarching theme of this book. Currently, behavior management is currently the most prevalent approach to classroom management. It is an approach we feel is archaic and stagnant. Sidorkin links relational ontology, as described by Biesta (2004) and Margonis (1999a, 1999b), to build a case for classifying relational pedagogy in a taxonomic light. Thus the term pedagogy of relation emerges and will be used in this book.
The majority of research in this field centers mostly on relationships at an interpersonal level. Its roots can be traced to Buber (1958) who explained relations in education with his I-Thou and I-It concept. Buber explains when the "I" relates to another human being, the "Thou" meets this "I." However, when the "I" relates to the world, the "It" meets the "I." In other words, a person reacts in a twofold way when met with distinct types of relational situations. The I-Thou is a mutual correlation between two human beings, while the I-It is an experience which connects how we personally experience, know and manage things around us. In this concept, participants immediately relate to one another or the relationship is mediated (Buber, 1958). With regards to education, Buber (2003) later believed that although mutuality is needed for ← 19 | 20 → relational education, this was unable to be achieved due to the power imbalance in schools between teacher and student.
In order to describe pedagogy of relation, Sidorkin (2002) disputes Buber's (2003) claim that true mutuality cannot exist in an I-Thou relationship for teachers and students. Sidorkin (2002) explains that a different viewpoint must be taken in order to understand how mutuality can work in the classroom. Teachers must pay attention to the relations in their classrooms rather than behaviors. Similar to Gergen (2009) and Aspelin (2011), Sidorkin (2002) notes that "relations do not describe an individual; they always describe a group or pair of people" (p. 1). Further, human relations always contain a "component of emotion, attitude, past history and social context" (Sidorkin, 2000, p. 3). Relations can change but they are always just there; they never disappear. Similar to Noddings (2002), Sidorkin (2002) explains that relations are usually associated with feminine qualities, such as feelings or intuition, but this is not enough to really explain what relations are. Since relations can only be described as being between two or more, Sidokin (2002) uses the term polyphonic authority to underscore the idea that student voice should be included in a classroom setting. He defines polyphonic authority as the power that teachers share with students in the classroom as a way to reconcile "the power imbalance with mutuality of relation" (Sidorkin, 2002, p. 145). Sidorkin (2002) further advances that teachers must relinquish power in the classroom in order to give students reason free participation and allow the dialogical process to occur. Students must be included in the dialogue about relations in schools in order to achieve true mutuality. More about the importance of this dialogue among students and teachers follows.
To move from theory to practice with respects to polyphonic authority, Sidorkin (2002) believes that we must include the student voice in all aspects of the educational process. Claiming that most of the educational books written today are for the teachers, he even implies that a book be written to be used by both teachers and students for educational practices. He sees this polyphonic authority as a solution to the central problem of achieving true mutuality in relational pedagogy. Sidorkin (2002) argues that dialogue in the classroom is so important that it should be considered to be the core of human existence, prompting that we cannot exist without it. Polyphonic authority creates mutuality by allowing the student voice to be central in activities and decision-making. In a later chapter, we will discuss how important this dialog with and between students can be to building relationships. In practice, Sidorkin (2002) describes the teacher making the classroom a novel. In this ← 20 | 21 → novel the teacher allows each student to share their stories and to learn from the stories of others in the class. In this respect, the teacher relinquishes her monophonic authority and is more of a guide as each student shares his or her story. We view the effort of a teacher to create this polyphonic authority as an egalitarian teaching style.
Freire (1970) suggests that all learning is relational. He argues that learning occurs due to interactions between people. Student experiences are the foundation for their own knowledge, and teachers who create a scenario such as the classroom as a novel allow students to share their voice. Yosso (2005) notes that valuing the views of socially marginalized individual's increases cultural capital within the classroom. As previously mentioned, Ladson-Billings (1994) first introduced her theory of culturally relevant (CRP) pedagogy by discussing the importance of teachers hearing the student voice. CRP aligns with relational pedagogy because it coincides with Sidorkin's (2002) approach to viewing the classroom as a novel. According to Catt et al. (2007) teachers cannot be effective without being able to communicate with students. Through building relations and effective communication, teachers can be able to guide positive development of the child. In order to guide them to academic success and global citizenship, we believe that a teacher should be able to relate to students through culture.
The primary words of our four tenets are Culture, Affability, Relationships and Egalitarian. If you look at the beginning of each word in our theory, you will see the true answer to using YCP in your classroom and striving toward being a successful teacher. Care is the most important aspect of being a teacher. Through concepts such as embracing youth culture, creating an affable learning environment, building and maintaining relationships and offering an egalitarian teaching style, teachers can display care to students. Most educators are most likely already doing some of even all of these things. However, YCP asks us to put them all together and use them to help make our classrooms a place where both the student and teacher get something out of the relationship.
As we said before, we believe that the profession of teaching is a calling. Due to the simple fact that it involves lives, feelings and interactions between at least two human beings, we feel that this is an altruistic profession that may not be for everyone. One must possess an innate disposition to want to help others. One of the most telling nuances of this profession is the students. ← 21 | 22 → They can very easily discern the true nature of a teacher's heart and quickly determine if they genuinely care for them or not. Quite simply, if you are in in the profession for them, they will know it and make the job of the teacher that much more difficult. A teacher who is miserable in her job is even more disheartening because it not only negatively affects her, but it can negatively impact her students as well. We use this as a caveat to explain that we do not feel the CARE method or any method can be effective if the teacher does not possess this genuine care.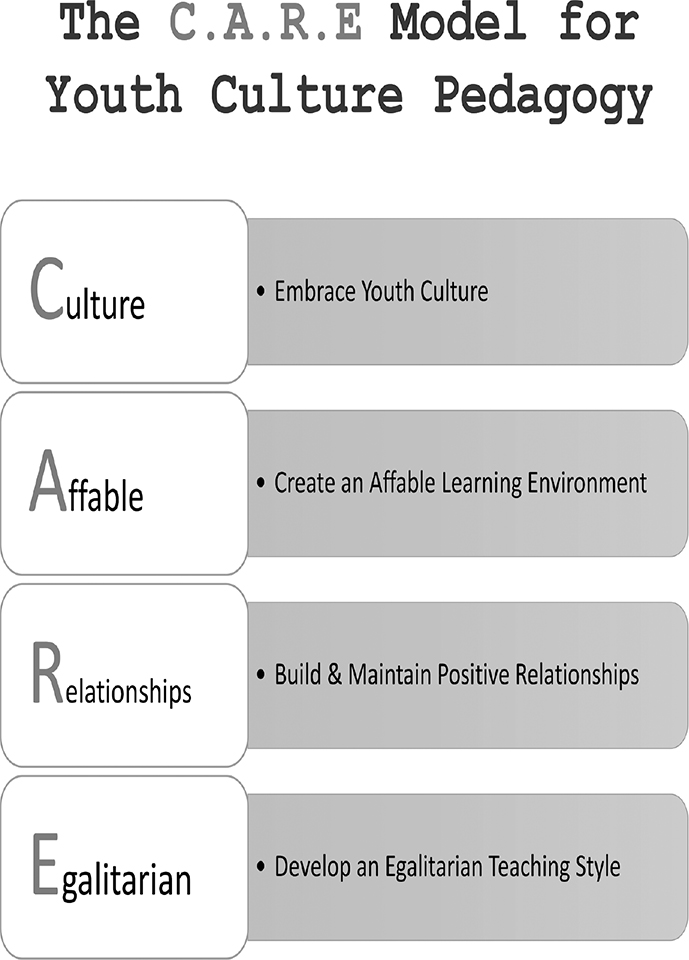 Now that you have been introduced to our C.A.R.E. Model, let us discuss how we will impart supporting evidence. We will lay the groundwork for our theoretical construct and, in each subsequent chapter, will give scenarios of how this theory can be applied to various educational situations that we, and undoubtedly, other educators have experienced on a daily basis. Through a theoretical framework of relational pedagogy and care, we will explore the tenets of YCP. In addition, we will demonstrate how YCP is rooted in the ideas of culturally relevant pedagogy, hip-hop based education and reality pedagogy. All of this leads to our belief that YCP should be placed as part of HHBE's second wave theory as advanced by Petchauer (2015).
"We don't even gotta speak YCP and we do the same things YCP, we stay connected worldwide YCP, this is how we live life YCP, already changed the whole game YCP, we all know the same slang YCP, y'all better all get to know about YCP, It's Rawls and Robinson we building on YCP word Youth Culture Power."
When we say Youth Culture Power we are speaking directly about the brilliant and dynamic cultural power of young people around the world. We are talking about how young people are connected worldwide without even speaking to each other, seeing what each other are doing or even knowing one another and yet, they are in sync and on the same page. Young people around the world in more cases than not are listening to the same music, wearing the same fashion, watching the same content, know about the same things and have a lot of the same interests in general. These connections are not coincidence, luck or magic; well maybe a little magical, but it is important to understand how these connections relate to culture. Although many of these connections are directly related to hip-hop culture we understand that youth culture is even bigger than hip-hop culture because it describes the way young people live around the world whether they are directly in tune with hip-hop culture or not. Even when young people are not listening to Hip Hop/Rap music they are still usually participating in some capacity through fashion, media, film, sports and other things in their daily lives that directly connects to hip-hop culture.
It is important to realize that we are in a time where young people wake up to a global platform every day due to their engagement on the internet via gaming, social media, mobile apps, streaming music and more. These are ← 23 | 24 → just a few of the consistencies happening in youth culture that continues to cause both hip-hop and youth culture to grow exponentially around the world. Young people are cut from the cloth of being technologically savvy and next level, they were literally born into it. We feel it is very important for us adults to embrace this reality as well as encourage and nurture the tech savvy of the younger generation because we understand that the society and most of the jobs that standard education of today are preparing our students for won't exist by time they graduate. The world is run by technology and as we all move into the future it is becoming more pertinent to be in touch with technology, otherwise it will be very difficult to prosper in modern society. When I reflect on my own life and being here only 40 plus years on the planet I can't count how many things have changed around the world and in society in general since I was a youngster. However, one of the things I can say hasn't changed a great deal is school and that's scary to me because we are failing our youth. The main reason we feel so strongly about technology is because it is directly connected to youth culture in so many ways and we also recognize it as a strong entry point into the minds and hearts of the youth.
To give a direct example, in 2013 at Legal Studies High School in Brooklyn I was a part of an initiative helping prepare students for the Regents Exam, which is the Statewide Standardized Test in NY that every student must pass in at least 5 subjects to graduate. The students I worked with there for the span of 4 years for the most part entered the classroom after failing this exam more than a few times which in most cases caused a lack confidence and many broken spirits. A lot of these students were literally stuck in high school and at risk of aging out or dropping out because they could not pass this exam. The main class I taught there was Global History Prep and after learning how well versed the students were in social media and other things that were directly school related. I began to figure out the most productive and safest ways to bring some of these things into the classroom and use them with different activities. I would do things like have students fill out printed mock up Facebook pages or Instagram posts for famous historical characters and have student fill in the information based on their knowledge of the content. What would Nelson Mandela or Gandhi's (or any other historical figures) Facebook page look like? Who would be their friends? Where are they from? What would they post on Instagram? and the list goes on. I have even used Snapchat and Instagram stories to have students shoot video reenacting a historical event and then play it for the class and reflect on it. To be fair every single student will not participate right away, being patient and consistent is ← 24 | 25 → very important, respect the process. In my experience once students are able to either see themselves or something that connects to them in the work they are learning it changes their perspective of the content and now they are more willing to engage in the material. Once this happens my main objective is to have students create something art related around the content and now they can embody it and think critically about what they are learning. It is usually at these moments of learning that the students remember them forever.
It is important to address that we more than understand the significance of young people having fundamental knowledge of reading, writing, mathematics, science and other foundational academics. We also understand the pros and cons of young people and new technology; however, we are strong advocates for innovation and feel it is important to have a balance. Teachers today need to be more mindful of the power that lies within these cultural nuances that your students are carrying into the classroom every day. To this point, I had the amazing opportunity to present some of the concepts and ideas directly from the initial creations that would become this book you are reading right now at the #HipHopEd Conference in 2018 at Teachers College, Columbia University. During my workshop I asked a group of educators, scholars, parents, and students etc. to raise their hand if they ever heard the saying "On Fleek" and the entire room raised their hands. I then asked who knows where that saying comes from. And no one raised their hand, which was pretty shocking but also made lots of sense all at the same time. I further explained that the saying "On Fleek" was popularized from a 7 sec video posted on the social media platform called "VINE" by Kayla Newman a Chicago based teen who had just gotten her eyebrows done for the first time and boasted in the post "Eyebrows on Fleek" under the handle (@PeachesMonroee). Soon After the video went viral on the now defunct "Vine" platform and the saying "On Fleek" has landed in the bars of hip-hop mega stars Nicki Minaj and Cardi B to popular fashion designers graphic tees. It is important to see that not only did Kayla go viral with her saying "On Fleek" but she added on to culture and communication that crossed barriers around the world to impact many different types of people. These are some of the many reasons I am an advocate for young people around the world. I have witnessed their brilliance over and over and they still don't get the props and recognition they deserve for it.
During my initial trainings as a Teaching Artist in NYC a group of fellow TA's would meet up weekly under the guidance of educators and professors to talk about what the group coined "The Fleek of the Week. This was how we ← 25 | 26 → described what was the most popular content and happenings in Youth Culture and Popular Culture around the world. Some honorable mentions are of course the "On Fleek" video, Michael Jordan (Cry Face Emoji), Young Cardi B Memes, Kiki Dance Challenge and Fidget Spinners to name a few. We would all literally bring in what we felt was the "FLEEK of the Week" in the form of memes, hashtags, SMS abbreviations, videos, pics, emojis, social conflict, reality show drama, social media characters, youtubers and so much more and talk about the best ways to use it in the classroom safely and productive. This was the start of my first-hand experience of witnessing the brilliance and influence of young people around the world that still sits close to my heart to this very day. I began to see how things like SMS abbreviations were being used around the world by a diverse group of people although; young people worldwide popularized them. Just like what happens in Hip Hop Culture young people continue to create new ways of innovating how we communicate and connect to the world by using many tools and resources that have been here in ways that haven't been thought of or considered before them. Although we have heard so many adults criticize SMS abbreviations and other fast and efficient methods of young people communicating, we see this no different from the symbols and codes that were used in the highly advanced ancient civilizations like the Sumerians Cuneiform and the Egyptian Hieroglyphics. It is because of all of these things and so much more that we stand firm in our advocacy for young people as we scream out Youth Culture Power.
How much power is really in youth culture? It really depends on you as the educator, administrator or parent. Are you in it for yourself or for your students? With this explanation of Youth Culture Pedagogy, we call this chapter (and the song it's named for) Youth Culture Power (YCP) because we believe in the power of youth culture. Youth culture is a powerful force and we believe that teachers can use it to help them gain an important perspective of students. Understanding cultural tropes that students embody, such as "on fleek" and the Michael Jordan crying face meme, provide educators a powerful peek into the world of young people. Using youth culture is like having a key to unlock some of the most powerful puzzles which are our youth. On several occasions, we have been asked "Well how do I find out about that world?" or "How can I dig into youth culture?" One of the most important ways to do this is to listen to young people. Let's discuss how that may look in the classroom. ← 26 | 27 →
References
Adjapong, E., & Emdin, C. (2015). Rethinking pedagogy in urban spaces: implementing hip-hop pedagogy in the urban science classroom. Journal of Urban Learning Teaching and Research, 11, 66–77.
Affability. (n.d.). In Merriam-Webster's online dictionary (11th ed.). Retrieved from http://www.m-w.com/dictionary/affability
Alim, H. S. (2007). Critical hip-hop language pedagogies: combat, consciousness, and the cultural politics of communication. Journal of Language Identity and Education, 6(2), 161–176.
Details
Pages

XX, 114

ISBN (PDF)

9781433171277

ISBN (ePUB)

9781433171284

ISBN (MOBI)

9781433171291

ISBN (Book)

9781433171253

Language

English

Publication date

2019 (June)

Published

New York, Bern, Berlin, Bruxelles, Oxford, Wien, 2019. XIV, 114 pp., 1 table