The Lexis of the Bay of Kotor: The Northwestern and Southeastern Area
The Language of the Boka Bay
Excerpt
Table Of Content
Scientific Review of "The Lexis of the Bay of Kotor: The Northwestern and the Southeastern Area" by Sanja Crnogorac
0. Introduction
1. The Infiltration of Words with Foreign Origin in the Language of the Bay of Kotor
2. Dialectic Divide of Montenegro and Adriatisms
3. Romance-Slavic Symbiosis
4. Phonological and Other Changes in Loanwords
5. Phonological Description of the Radović Variety (The Southeast of the Bay of Kotor)
6. Morphological Characteristics of the Variety of the Bay of Kotor (Urban Core)
7. Characteristics of the Rural Varieties of the Bay of Kotor
8. Some of the Syntactic Characteristics of the Variety of the Northwest Bay of Kotor
9. The Relationship Between the Loanwords and the Original Local Expressions
10. The Expressionism in the Romance Loanwords
11. Urban Romance Terminology in the Bay of Kotor
12. Rural Romance Terminology in the Bay of Kotor
13. Loanwords Regarding Terminology Taken from Different Areas
14. Specific Names of Ships and Sail Boats with the Morphological Forms
15. Fishing Lexis
16. Highlighted Lexemes of Pejorative and Non-pejorative Meaning
17. Lexemes from Folkloristics
18. Romance Expressions in Annual Journals and Magazines
19. Education and Arts in the Bay of Kotor
20. Manuscripts of Herceg Novi and Cultural Life of Kotor
21. Ledgers of Kotor
22. Language in the Works of Andrija Zmajević
23. Language in the Works of Lazar Tomanović
24. Turkish Loanwords in the Bay of Kotor
25. Interlingual Twining of Italian and Turkish Loanwords in the Bay of Kotor
26. Herzegovinian Varieties in the Bay of Kotor
27. Onomastics of the Bay of Kotor
28. Prosody of the Dialects of the Bay of Kotor
29. Linguistic Characteristics of Cyrillic Records
30. The Integration of Romance Expressions into the Area
31. Romance Expressions in the Time of Carnival in the Bay of Kotor
32. Dictionary of Romanisms in the Bay of Kotor
33. Conclusion
Appendixes
Literature
Series index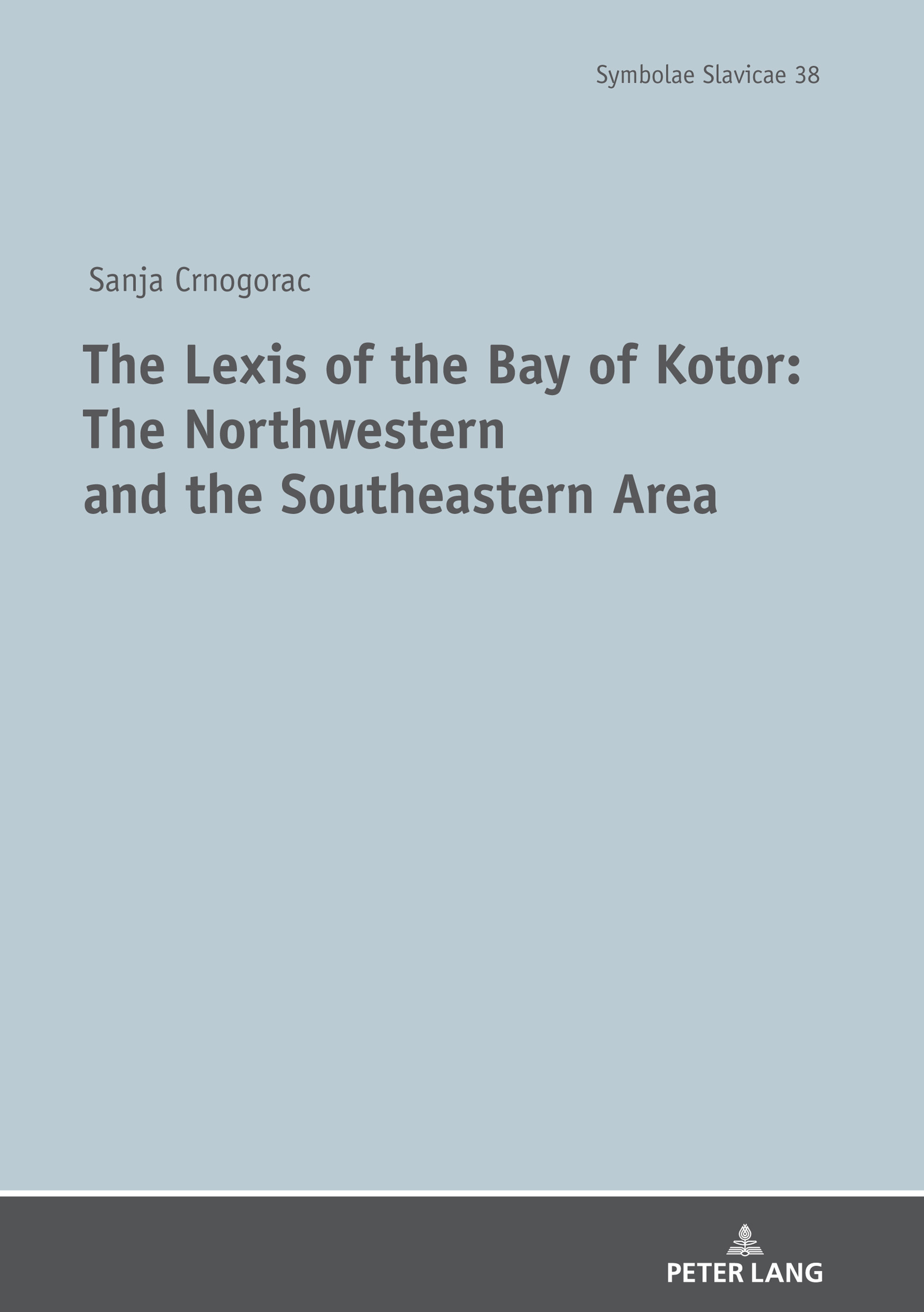 Sanja Crnogorac
The Lexis of the Bay of Kotor:
The Northwestern and the
Southeastern Area
The Language of the Boka Bay

Bibliographic Information published by the Deutsche
Nationalbibliothek
The Deutsche Nationalbibliothek lists this publication in
the Deutsche Nationalbibliografie; detailed bibliographic
data is available online at http://dnb.d-nb.de.
Library of Congress Cataloging-in-Publication Data
A CIP catalog record for this book has been applied for at the
Library of Congress.
ISSN 0170-852X
ISBN 978-3-631-80878-8 (Print)
E-ISBN 978-3-631-81598-4 (E-PDF)
E-ISBN 978-3-631-81599-1 (EPUB)
E-ISBN 978-3-631-81600-4 (MOBI)
DOI 10.3726/b16692
© Peter Lang GmbH
International publisher of the sciences
Berlin 2020
All rights reserved.
Peter Lang – Berlin · Bern · Bruxelles · New York ·
Oxford · Warszawa · Wien
All parts of this publication are protected by copyright. Any
utilisation outside the strict limits of the copyright law, without
the permission of the publisher, is forbidden and liable to
prosecution. This applies in particular to reproductions,
translations, microfilming, and storage and processing in
electronic retrieval systems.
This publication has been peer reviewed.
About the author
The Author
Sanja Crnogorac received a diploma in Serbo-Croatian Language and Yugoslav literature from the University of Montenegro, followed by an MSc in Linguistics from the same University. She earned a PhD in Slavistics at the Friedrich Schiller University in Jena. She works at the University Mediterranean in Podgorica, Montenegro.
About the book
Sanja Crnogorac
The Lexis of the Bay of Kotor:
The Northwestern and the Southeastern Area
The book examines the complex lexis of the northwestern and southeastern Bay of Kotor, Montenegro. The author analyzed loanwords which arrived by the influence of those who settled in the Bay (Venetians, Austro-Hungarians, Turks, Spaniards, and French). They were domesticated and spread to the continental part of Montenegro, a fact indicative of the level of linguistic integration. The analysis of the corpus was performed from phonological, morphological, etymological, accentual, phraseological, semantical, onomastic, lexical, and lexicographical perspectives. The principal intent is not only to present the infiltration of loanwords and changes in loans, but also of the variety of linguistic influences in the Bay, as well as to offer a dictionary of the most frequent Latinisms found in the Bay.
This eBook can be cited
This edition of the eBook can be cited. To enable this we have marked the start and end of a page. In cases where a word straddles a page break, the marker is placed inside the word at exactly the same position as in the physical book. This means that occasionally a word might be bifurcated by this marker.
Details
Pages

244

ISBN (PDF)

9783631815984

ISBN (ePUB)

9783631815991

ISBN (MOBI)

9783631816004

ISBN (Book)

9783631808788

Language

English

Publication date

2020 (May)

Published

Berlin, Bern, Bruxelles, New York, Oxford, Warszawa, Wien, 2020. 244 pp., 8 fig. b/w, 1 tables